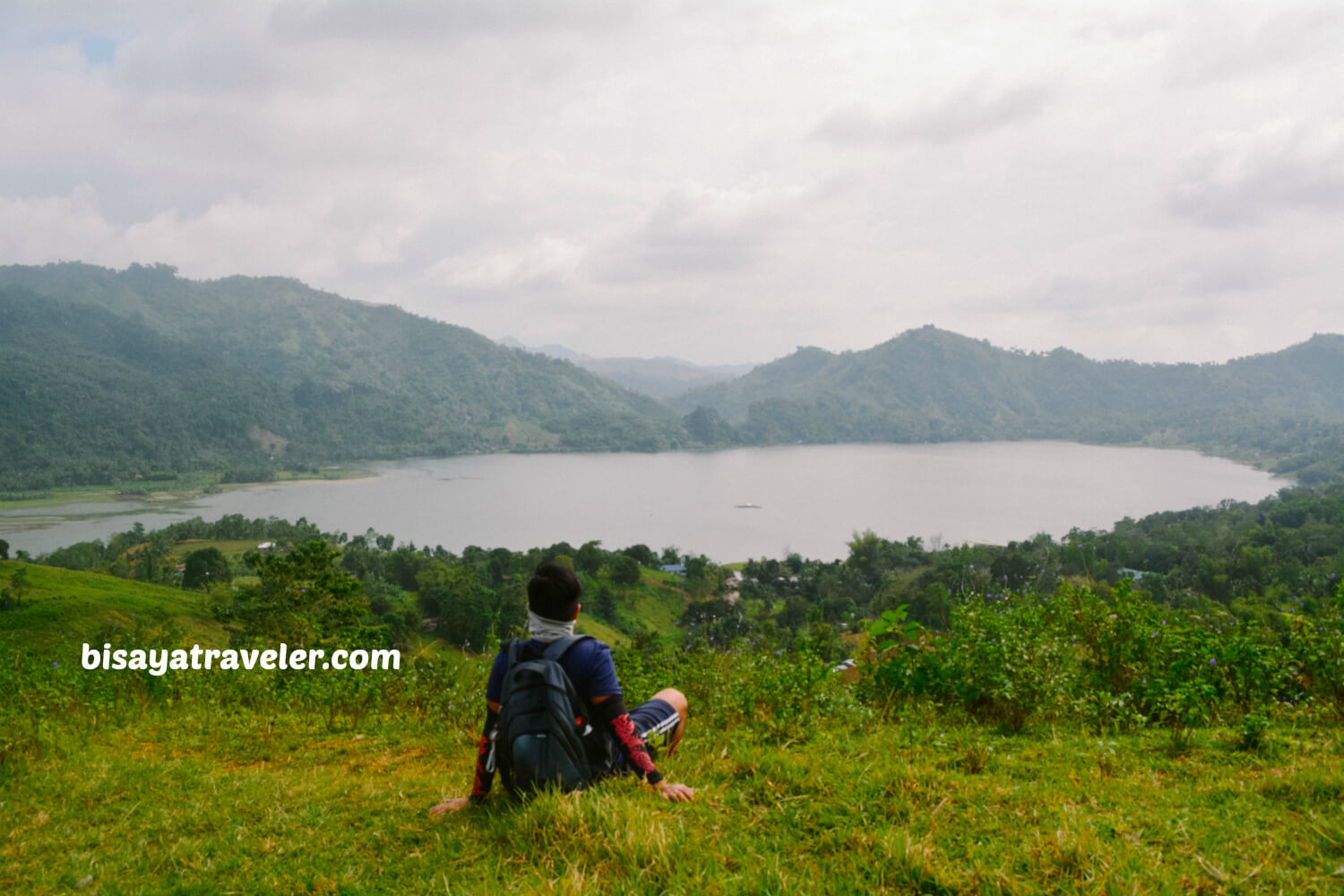 Tagaytay Hill In Toledo: One of Cebu's Most Stunning Hidden Gems
Need a break from the non-stop whirlwind and frenzy in Cebu city? I suggest that you pay a visit to Tagaytay Hill, or also known as Old Bucao, in Barangay General Climaco, Toledo City, Cebu. As far as I'm concerned, Tagaytay Hill is a mesmerizing spot and truly one of Cebu's best kept secrets. Sure, it's not as trendy and popular as O'Peak or Mount Naupa, but it is for me a must-see site for every travel junkie in Cebu. Trust me, I've been there, and it did take my breath away, literally and metaphorically.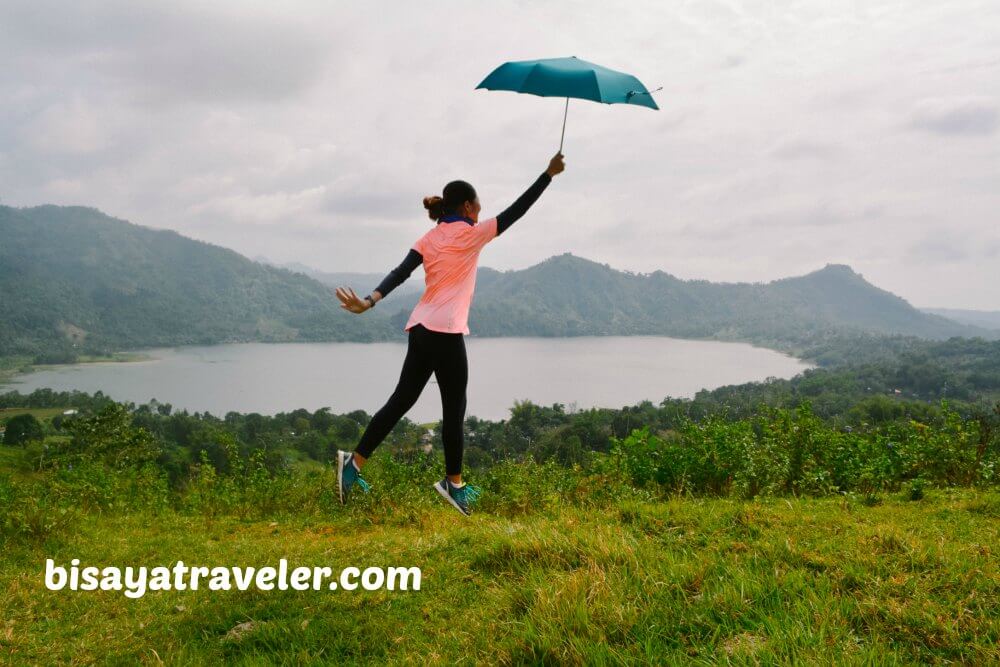 How did my experience in Tagaytay Hill go? Honestly, it's one of my favorite travel experiences with Team Bang this year, thus far. Not only did we find our bliss exploring this scenic hill, but we got to appease our wanderlust as well, visiting incredible places, like Malubog Lake, Malubog Falls, Malubog Tunnel and RC Tagaytay Gamefarm. What's more, we were treated to a mouthwatering and hearty lunch by RJ, Beth and her charming family.
Team Bang's Tagaytay Hill experiences
My recent sojourn with Team Bang to Toledo city was nothing short of amazing. Colorful and sprightly, our Toledo day trip was an absolute joy, full of jaw-dropping sights and giggles. Although the clique was fairly quiet at first, our infectious zest ultimately unfolded, making our trip even more fun. And to end our trip to this remote hilly area in Toledo on a high note, we had to visit one of Cebu's most underrated gems – Tagaytay Hill.
With Malubog Tunnel in the books, everyone in Team Bang was geared up for our next stop in our adventure. Based on the pictures we saw, we knew Tagaytay was going to be one of the high points of our trip. Without wasting any more time, we took a short walk to the nearest docking station, so we can hop on a boat that will take us to other side of Malubog Lake.
While waiting, the squad was busy talking about their careers and personal lives. As one of the older (or shall we say more seasoned) members of Team Bang, I did share some words of wisdom and encouragement to the younger ones. I'm not sure if it was the right word of advice, but hopefully they have learned a thing or two from me that day.
Meanwhile, Kevin was busy taking pictures of Malubog Lake, as well as doing his typical maoy-moay solitary moments.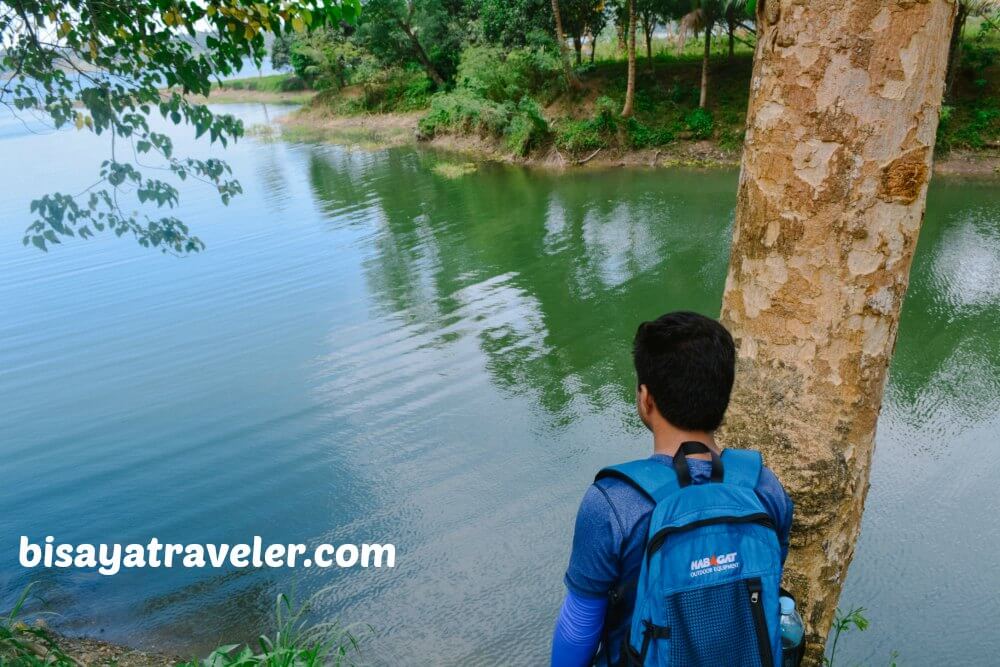 Unfortunately, the boat had some minor problems, meaning we had to look for other alternatives to get to the lake's other side. To make things worse, there weren't any habal-habal riders around to drive us to the base of Tagaytay Hill.
And since it was already lunchtime, and everybody was hungry, we decided to eat our lunch on an unfinished hut nearby.
Noel, whose stomach was grumbling practically the whole day, ate three pieces of hanging rice, paired with a slice of humba (pork stew) and a couple servings of bihon (Chinese rice noodles). I guess he was rather hungry, after all the jumping, walking and posing he did, along the way.
I, on the other hand, only ate a pair of sliced wheat bread since I was trying to fend off weight gain.
With no boats and motorcycles in sight, we opted to take a walk, and cross the shallow area of the lake. Like most of Team Bang's day hikes, we had fun hitting the trail, enjoying each other's company and cracking up jokes.
Eventually, we arrived at the base of Tagaytay Hill, where we took a short breather. Then, we ascended, passing by lush vegetation and striking panoramas.
Even though the slopes were gentle and gradual, there were some of us who felt a little frazzled since they haven't been climbing mountains lately. Still, they got to reach the top of the hill with a bang and big grins on their faces.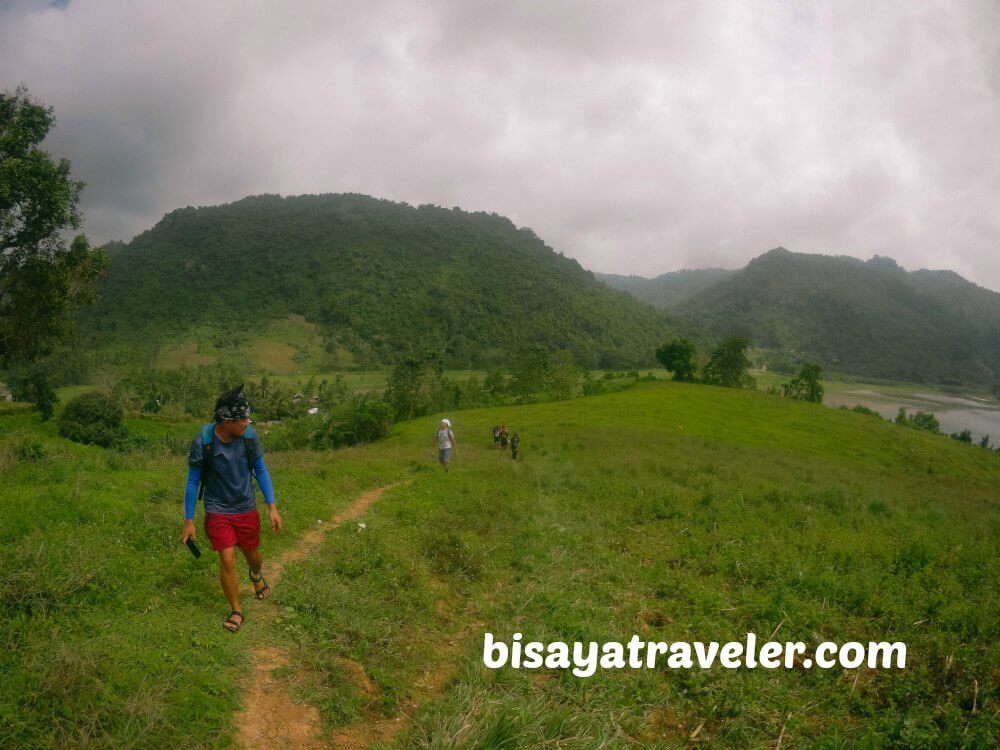 The area's landscapes look a bit like Mount Mago, wowing us with its rolling hills, picturesque scenery and verdant flora.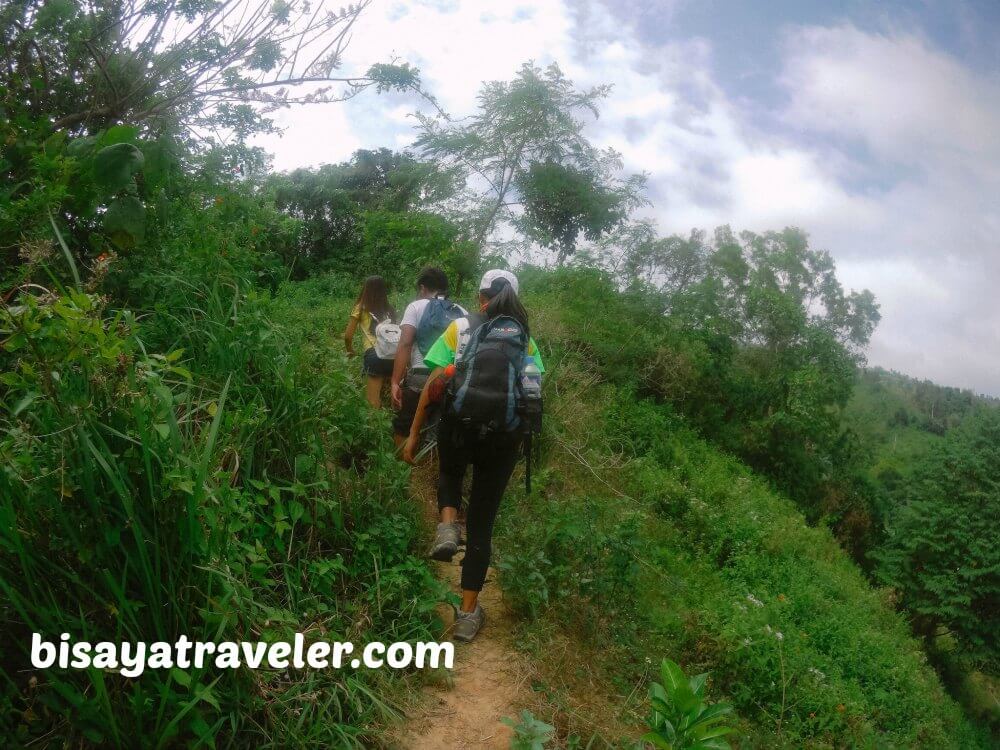 Of course, we did also take breaks along the way, to rest, take in the views, and snap pictures.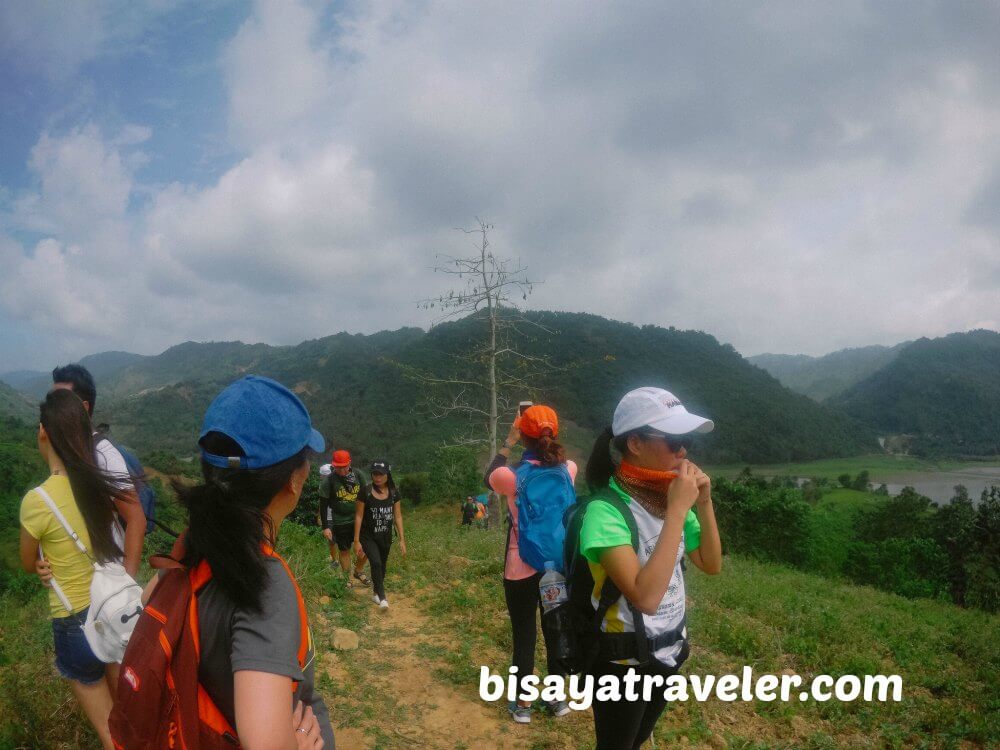 After a few minutes of hiking, we finally reached the top of Tagaytay Hill.
And the views of Malubog Lake and the surrounding mountains were superb, breath-snatching and relaxing. Everyone, including me, simply couldn't resist the natural beauty of Tagaytay Hill.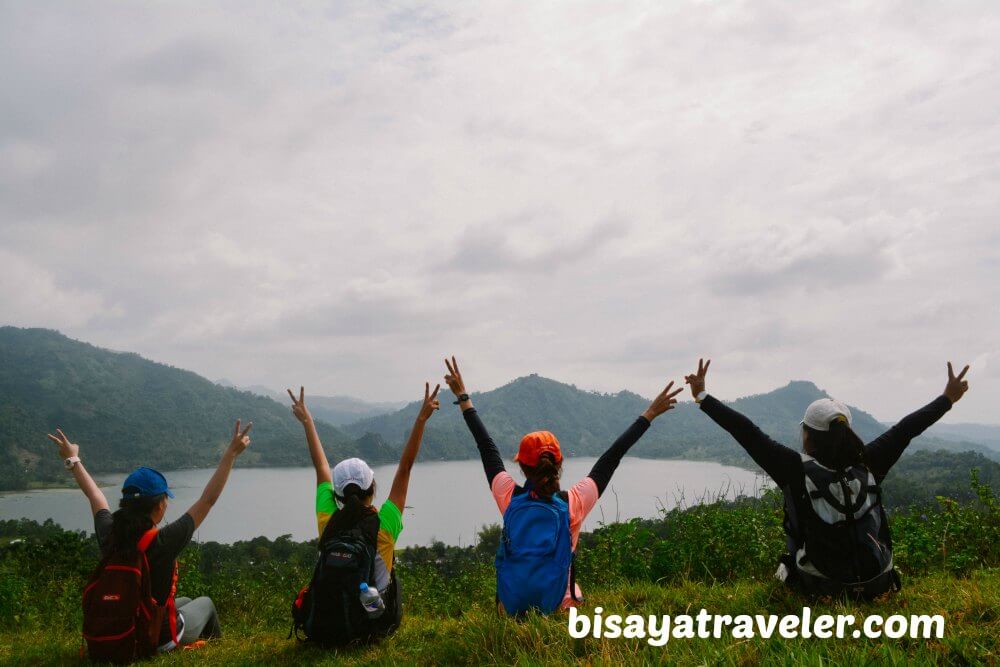 We made plenty of poses with different angles, to capture these pleasant moments and immortalize the charm of this place. From jump shots to the quintessential Team Bang talikodgenic pose, we took a plethora of captivating photos on Tagaytay Hill.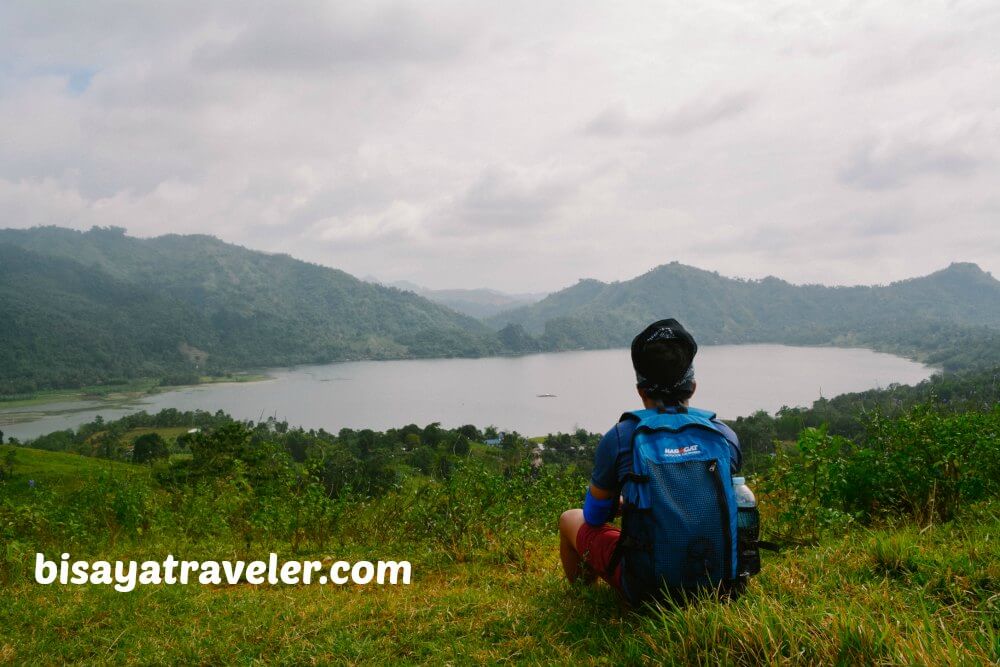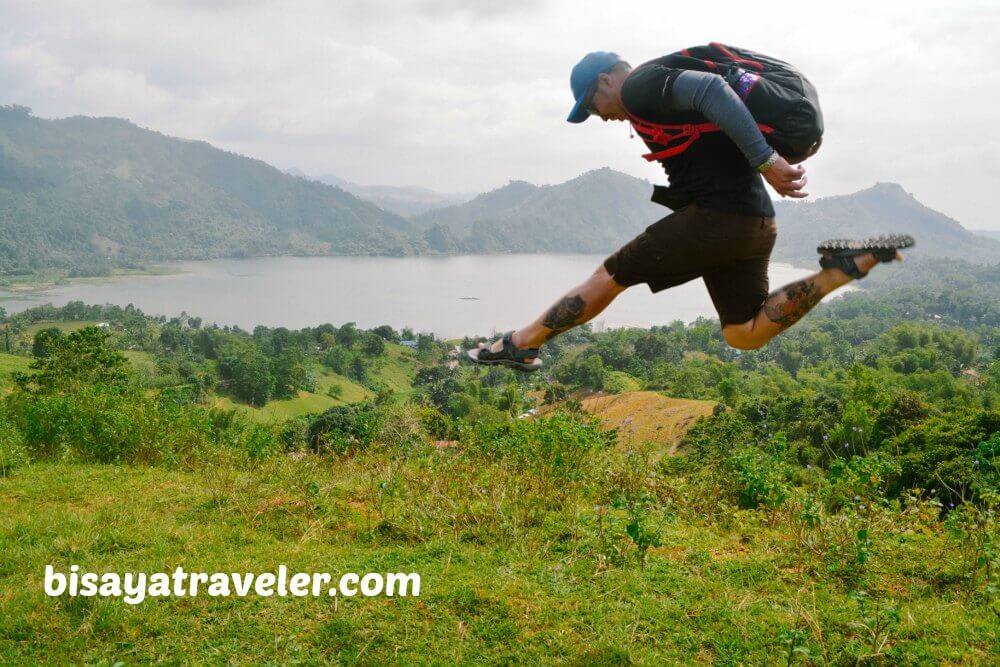 Moments later, Beth invited us to their house for refreshments and lunch.
Truth be told, I wasn't really planning on eating again. After all, two pieces of sliced wheat bread were more than enough for me, every time I take a day hike. Plus, I was also on a diet, trying to lose some extra pounds.
But, when I saw the irresistible linat-an manok (chicken stew), rice and Tilapia on the table, I just said to myself "forget diet, and live life to the fullest, chico".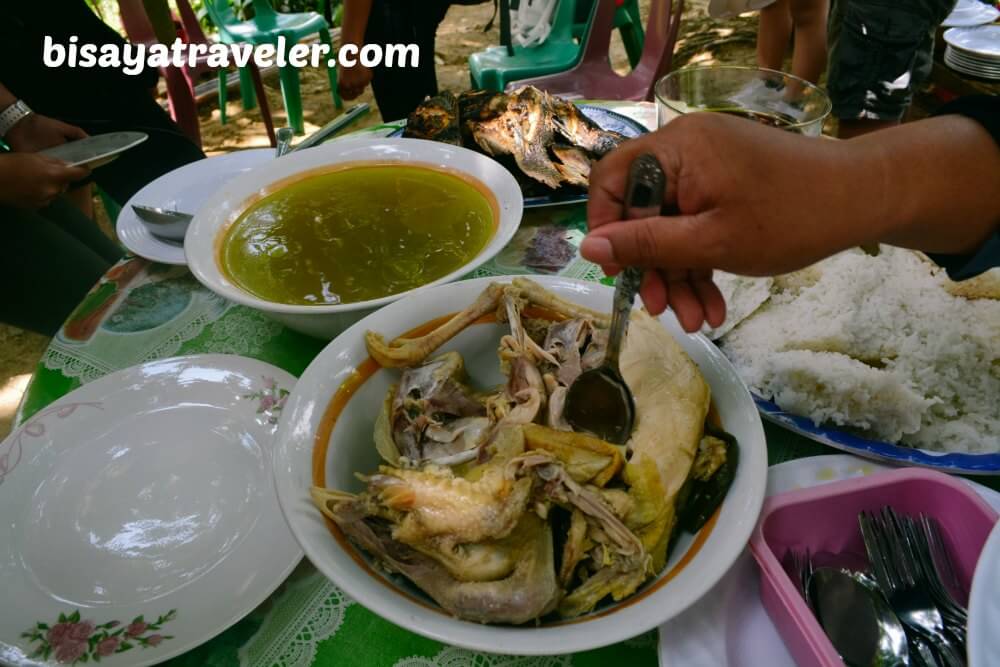 Everyone, except for Noel (who already had a loaded stomach), enjoyed the food offered to us by the Dacuma family. As you can see, we felt so relaxed and gratified, after indulging on these tasty treats (sakit sa baboy, in Bisaya).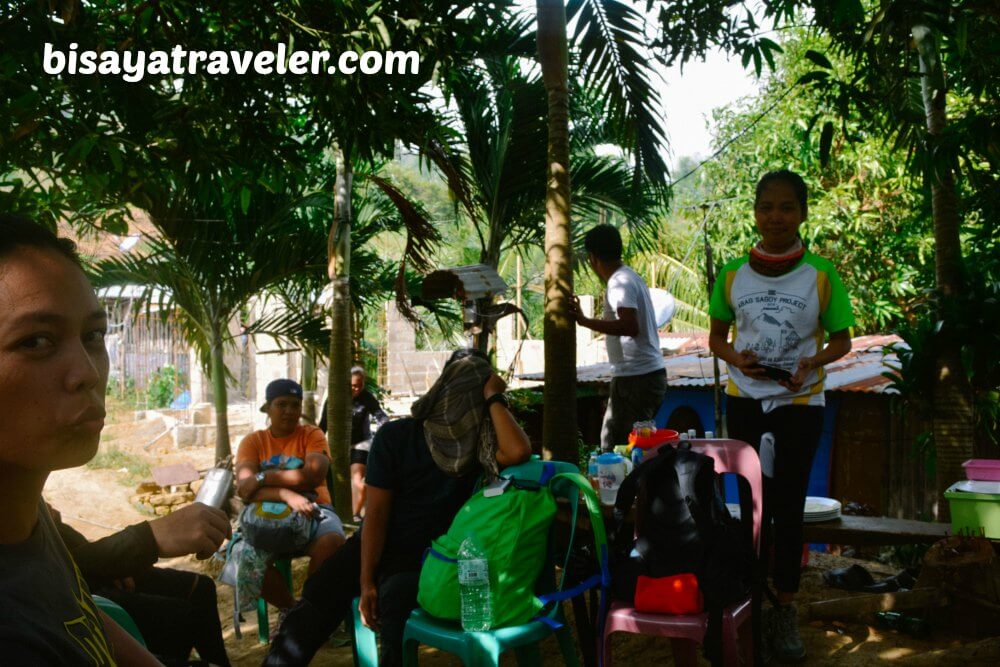 All of a sudden, there was nothing, but bones left on the two chicken stews. Romy and Marzi (fittingly nicknamed by Jesh and Lieve as Senyorita Lakwatsera) were the two main culprits for beating these chickens to the pulp.
As for Noel, there just wasn't enough room in his stomach for another meal, despite all his efforts to burn the food he ate earlier. Nevertheless, he did enjoy watching Romy ate the tasty chicken.
We, then, gathered around and had a short meeting to discuss our future travel plans and squad shirts.
Christine – Team Bang's official accountant – collected the money for our uniform.
Once the meeting was over, we went back to Tagaytay Hill, for more photo-ops and group pictures. Along the way, we passed RC Tagaytay Gamefarm, which was jam-packed with fighting roosters. As Jesh would say, he was surrounded by 10,000 cocks (pun intended).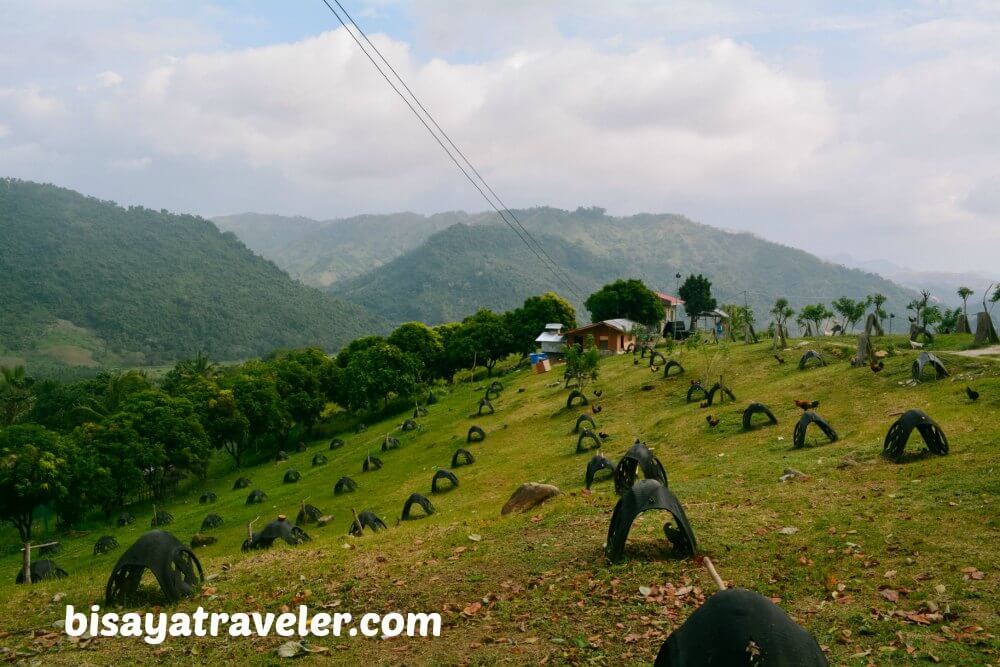 After our group pictures on Tagaytay Hill, we took a different downhill trail to Casoy Barangay Hall, where a jeepney bound for Toledo city proper was waiting for us.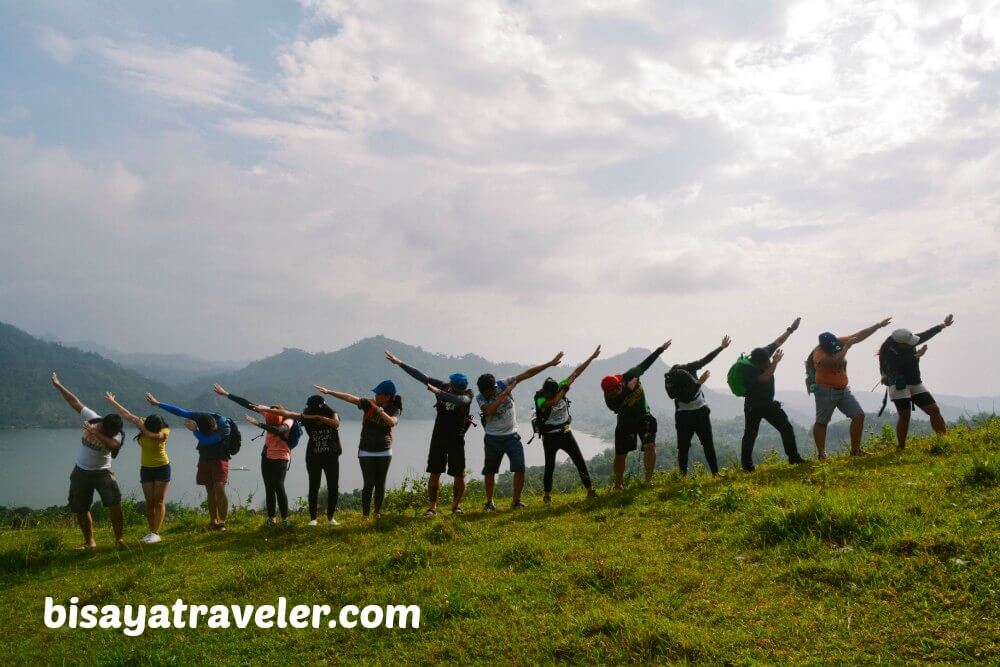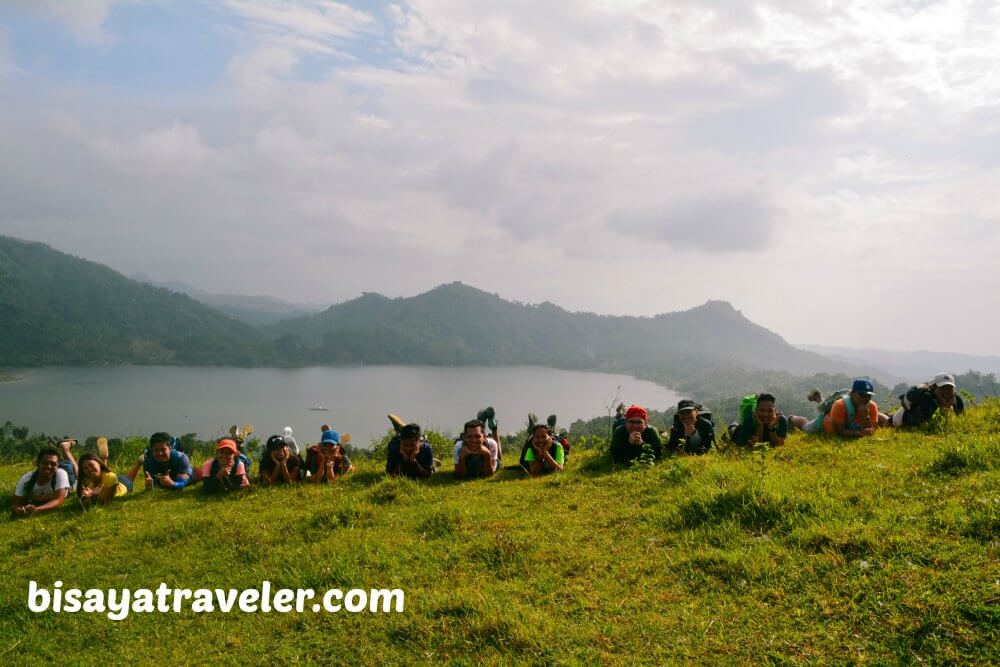 Before climbing the top-load area of the jeepney, we said our goodbyes to Beth and RJ, and thanked them for their time as well their kindness for hosting us.
Team Bang's Cost breakdown:
Bus fare to Toledo city: PHP 45
Habal-habal fare to Casoy: PHP 60
Jeepney ride from Casoy to Toledo City: PHP 20
V-hire fare to Cebu city: PHP 100
Important notes:
There are stores in the area that offer the food and drinks you'll need for your trip.
Practice the Leave No Trace principles.
Respect the place, and don't forget to greet the locals.
I don't care if you don't believe in the supernatural, but please avoid shouting and other disrespectful acts.
Take time to admire the views.
Locals often call Tagaytay Hill as "Old Bucao". If you need directions to get there from the Barangay Hall, just ask the locals, and tell them that you are going to Old Bucao or Pedring Caño's place. Better yet, save the pictures from this blog, and show it to the locals or habal-habal drivers.
Before you take pictures of the place, don't forget to ask permission from the people living in the area. Take note, there's private game-farm on Tagaytay Hill.
You may also take a habal-habal ride to reach the other attractions in the area, like the Malubog Falls.
It's best that you wear sandals or slippers during your trip. Remember, you'll be crossing streams of waters and climbing some slippery rocks in Malubog Falls.
How to get to Malubog Lake/Tagaytay Hills
From Cebu City South Bus Terminal, take a bus ride heading to the copper city – Toledo, Cebu (fare is about PHP 45). Ask the driver or conductor to drop you off at Julies Bakeshop in Barangay Magdugo. Then, charter a habal-habal ride (PHP 50 to 60 per person) that will take you to Casoy Barangay Hall.
Alternatively, you may take a jeepney ride (PHP 20 per person) to Casoy Barangay Hall from Toledo city proper. Even though it's cheaper and safer, the jeepney ride can be rather time-consuming, and sometimes may take a couple of hours.
We did, however, try their jeepney ride, on our way back to Toledo. Though the ride was bumpy, it was nevertheless full of giggles, thrills and fun. Just ask besh Jesh of his experience with this exciting ride.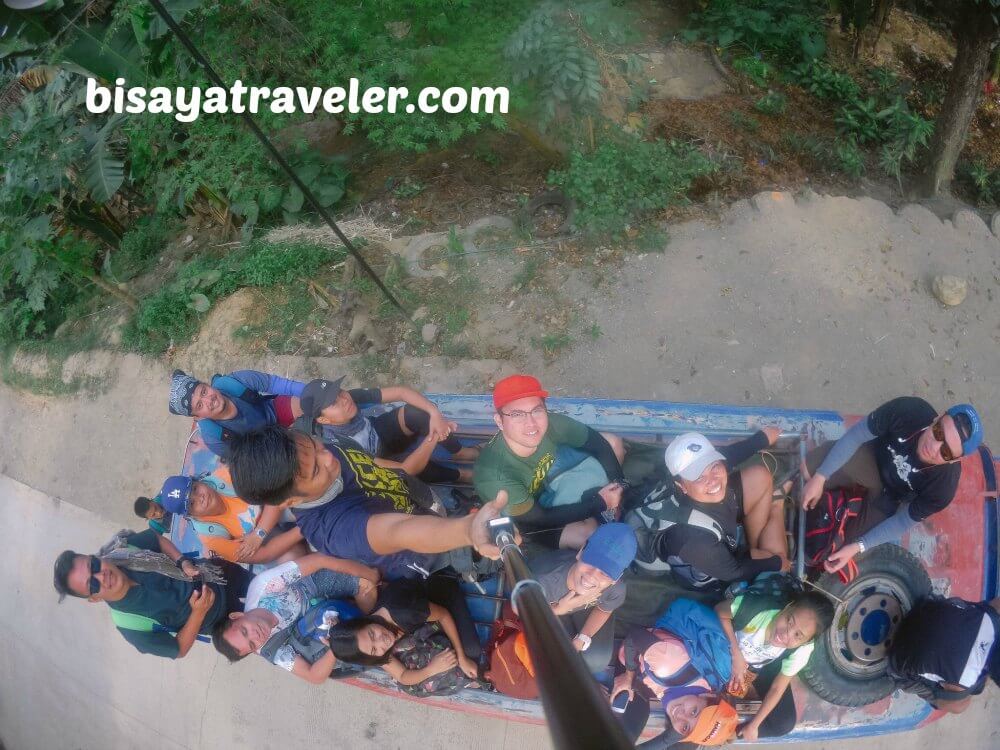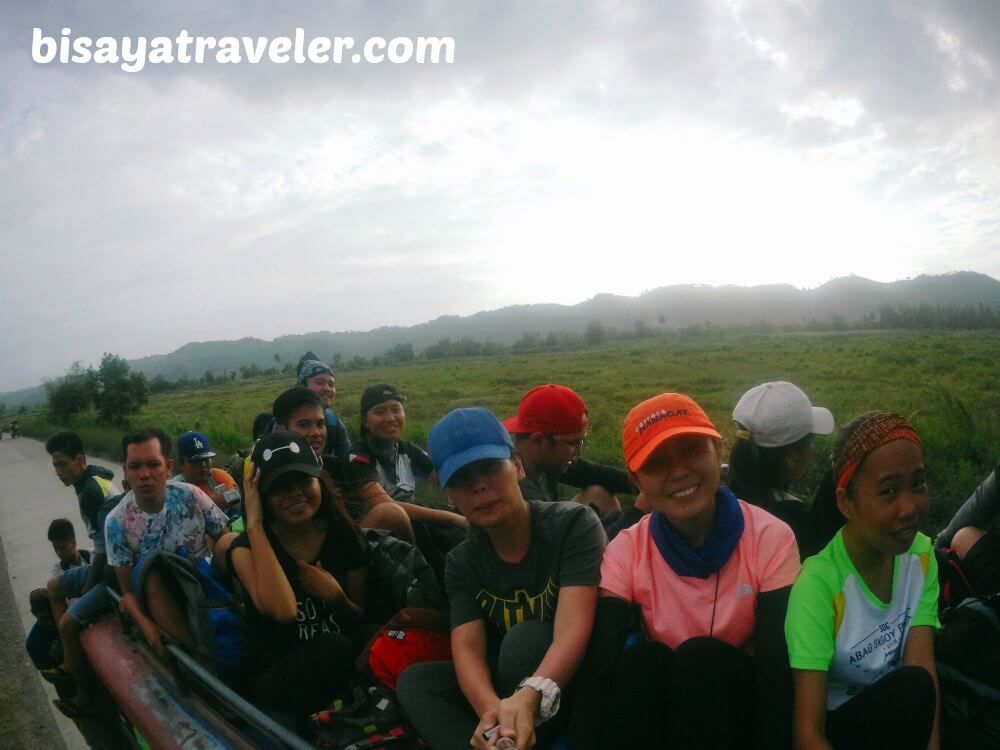 Sample Itinerary
04:30 AM: Meet-up at Cebu City South Bus Terminal
05:30 AM: Depart from Cebu City
07:30 AM: ETA Barangay Magdugo/ Depart for Casoy Barangay Hall
08:00 AM: Arrival at Barangay Hall/Buy food and snacks
08:30 AM: Admire Malubog Lake/Photo-shoot
09: 00 AM: Depart for Malubog Falls or also known as gamay na busay
09:45 AM: ETA Malubog Falls
10:30: AM: Depart from Malubog Falls
11:00 AM: ETA Malubog Tunnel/Explore the other side of the tunnel
12:00 NN: Return to tunnel/Lunch
01:00 PM: Start hike to Tagaytay Hill
02:30 PM: ETA Tagaytay Hill
03:30 PM: Start descend
04:00 PM: ETA Barangay Hall/Depart from the barangay
05:00 PM: ETA Toledo city Proper/Depart from the city
07:00 PM: Home sweet home
Final thoughts
From the moment I laid eyes on Malubog Lake to our bumpy one-of-a-kind jeepney ride, I did enjoy every minute of our trip in Toledo City. Meeting new people and learning the way of living in a place are for me the highlights of every trip. Everything else, including the spectacular sights, is actually a bonus. Hopefully, there will be more experiences like this with Team Bang in the near future.
I'd like to give special thanks to my Bosconian brother RJ, Beth and the rest of the Dacuma family for showing us the beauty and culture of their place. Without these folks, our Malubog experience may not be as meaningful and fun as it was. I'll see you guys, soon, guys!