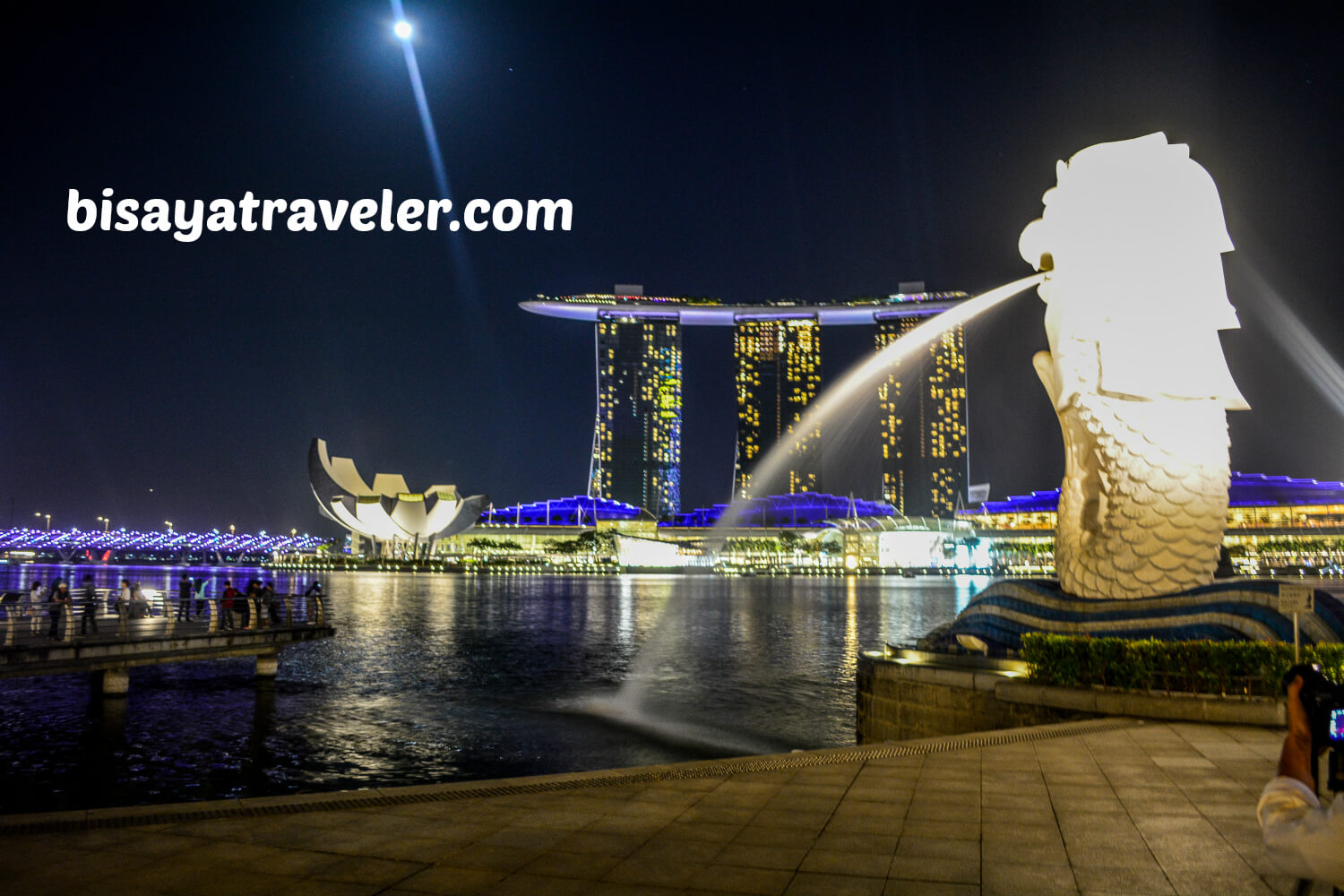 Exploring Singapore At Night Alone
Singapore is, for me, an absolute joy to watch at night. From the mesmerizing Supertree Groves in Gardens by the Bay to the iconic Merlion, Singapore dazzles and exudes a magical aura, with its gleaming nighttime spectacles. As a matter of fact, Singapore is so beautiful at night that I almost completely forgot that I was roaming around this hub alone.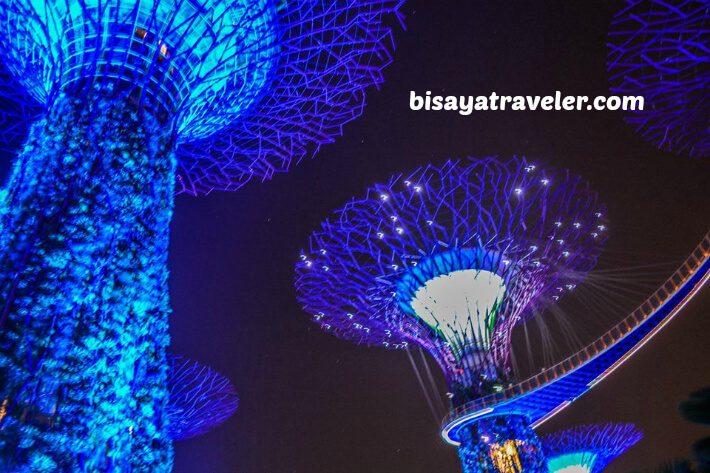 A few months ago, I was invited by Skyscanner, for a travel blogging and content hacking convention in Singapore. Of course, I was so thrilled and pumped up, when they invited me for this gathering. And like any savvy traveler, I didn't let this rare opportunity slip away.
My first day in Singapore
I arrived at the world-renowned Changi International Airport at 3 in the morning, and went directly to my hotel, Porcelain Hotel in Chinatown, to get some rest. Then, at 9 AM, I together with a bunch of other content writers and bloggers from other countries headed straight to Skyscanner HQ for Day 1 of our convention.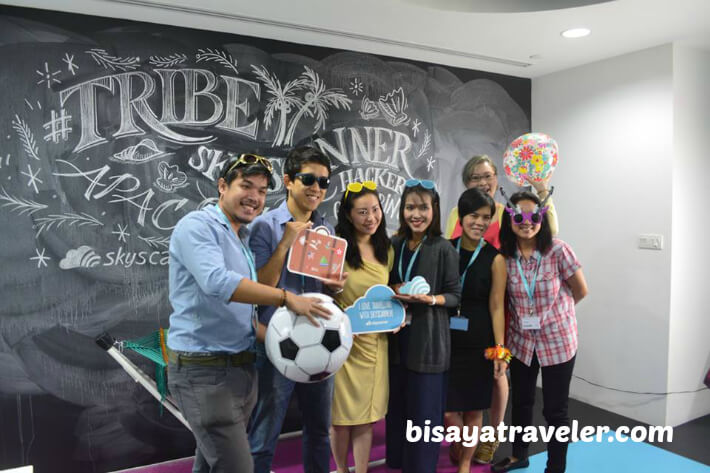 And the convention was nothing short of fun and amazing. Not only did I get to make a plethora of new friends, but I was also able to learn some new things that may come in handy in my work, as a freelance writer and social media manager.
After the first day of our clambake, we were treated to a mouthwatering dinner in a restaurant in Kampong Glam. But, before the munching began, me and a trio of other Filipinos explored the area. The tables weren't ready yet, so we stroll around, and took photos of the neighborhood's colorful graffiti, handicrafts and the Sultan Mosque. Honestly, I was a little tired at that time since I only had a few hours of sleep.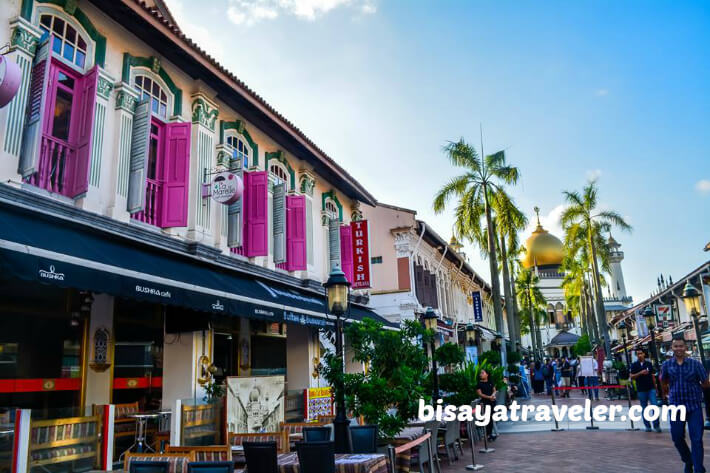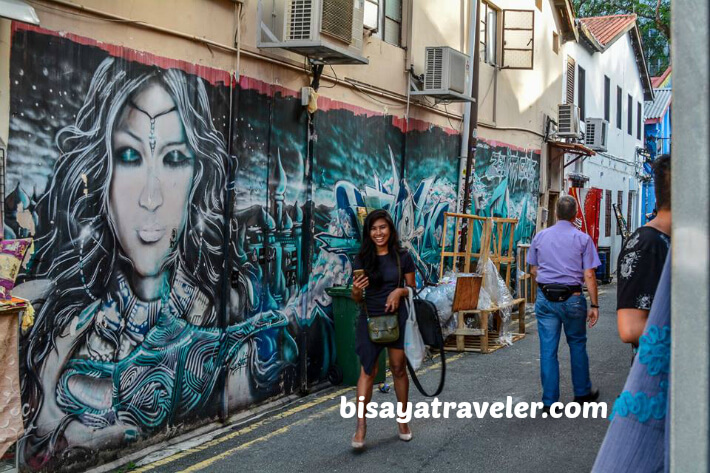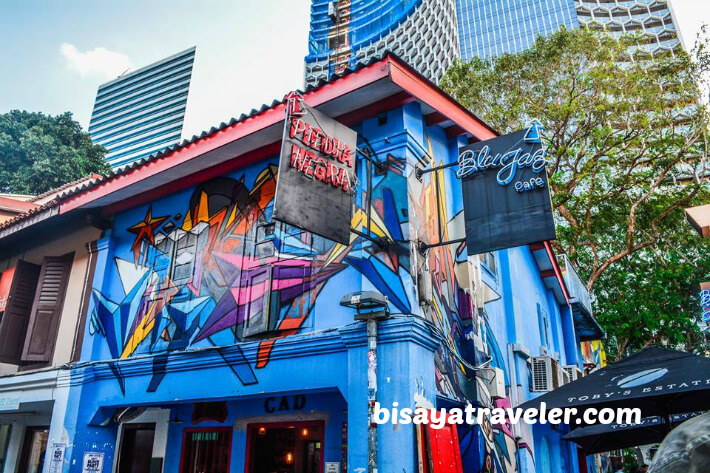 Once the dinner was over, I went back to the hotel, together with my new buddies from Indonesia. And all of sudden, I felt a bust of energy inside my body, once I realized that I'm free to explore the city on my own.
With the training held in the mornings, I knew had a small window of opportunity to discover some of Singapore's treasures. Armed only with a wallet, passport and a camera, I wandered solo in the "Lion City", and got to see a myriad of fascinating sights.
1st stop: Chinatown Singapore
My solo nighttime adventure in Singapore started on a high note, as I explored the bustling yet clean streets of Chinatown. From cheap eats to souvenirs, Chinatown in Singapore brims with great finds and goodies that come at very affordable rates. I didn't buy anything there, but it was still a pretty interesting experience that gave a peek into Singapore's Chinese heritage.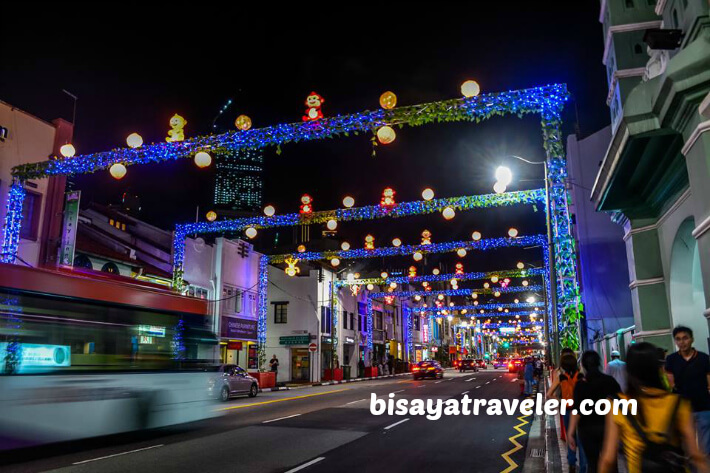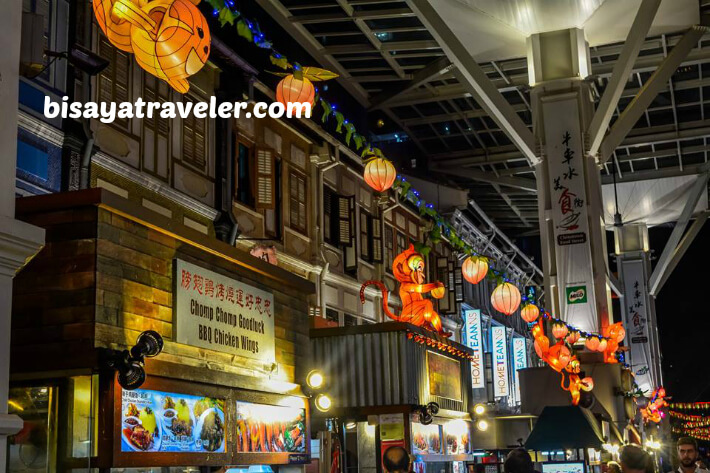 Then, I went to stop by the Buddha Relic Temple and the unusually beautiful Sri Mariamman Temple. Since the Buddha Relic Temple was already closed, I didn't get to snap photos of interior and wondrous exhibits.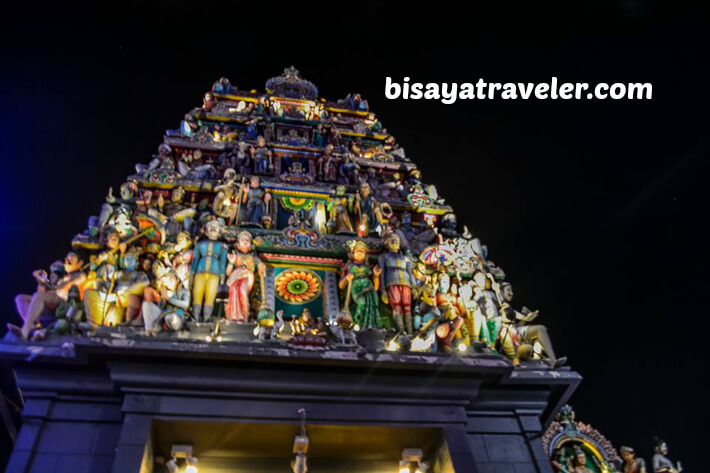 2nd stop: Gardens by the Bay
I thought my night was over, after I've explored much of Chinatown in Singapore. But, when I took a look at my wristwatch, I found out that it was too early for bedtime for me. It was already 10 in the evening, but my typical time for lights out in the Philippines is around 12 midnight.
So, I hailed a cab, and asked the driver politely to take me to Gardens by the Bay. Once we arrived at the site, I was awestruck by the luminous grandeur and sheer size of the Supertree Groves. And though I'm not a big fan of selfies, I can't resist taking one for myself with the trees on the background.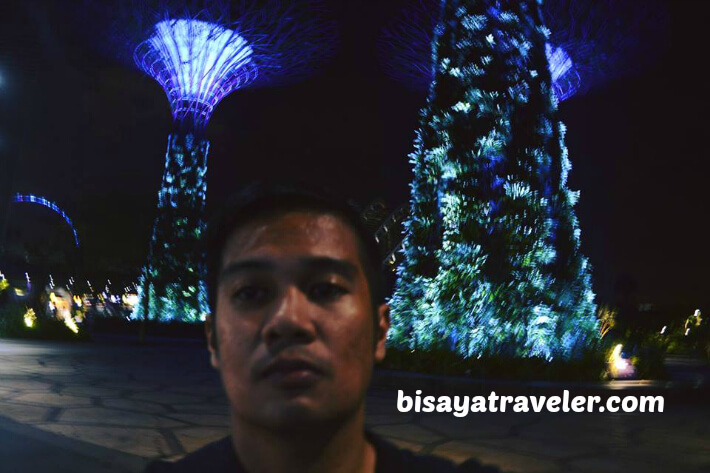 Unfortunately, though, I haven't yet mastered the art of selfie, and as a result, my photo looks rather awkward and unappealing.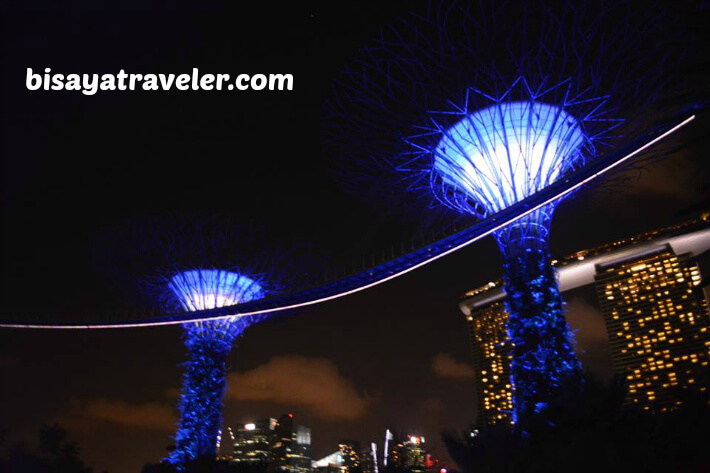 I went inside the facility, and spent a few minutes admiring these intricate and surreal figures. In some ways, these gigantic man-made trees reminded of some scenes from the blockbuster flick, "Avatar". As far as I'm concerned, these trees were the highlight of my little solo trip in Singapore.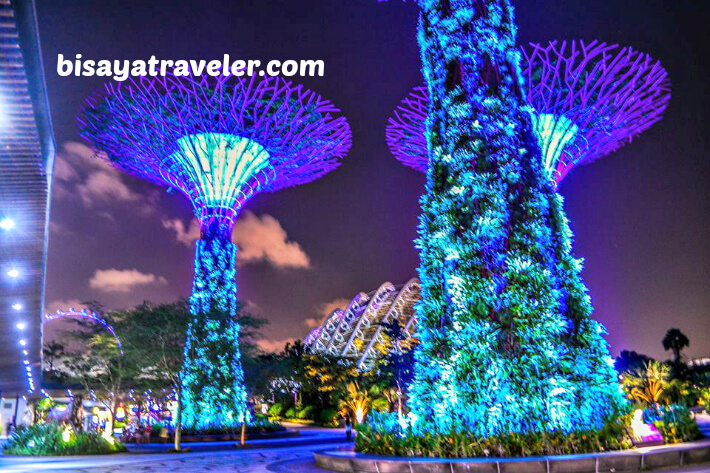 I continued to traverse around Gardens By Bay, until I was lost, literally. In fact, I walked into dark areas where there was totally no living person around. But instead of panicking, I didn't stop walking, trusting only my sense of direction, to lead me to the right path. Eventually, I found myself climbing the Marina Bay Overpass, enjoying a beautiful view of the towering Supertree Groves.
3rd stop: Marina Bay Sands
After crossing the walkway, I found a guard, and asked him for directions to the Merlion. He instructed to go inside The Shoppes, and head towards to Bayfront Avenue. Once I stepped foot into the avenue, I was treated to a spectacular water and light display known as Wonder Full. Not only was the show utterly amazing, but it completely free of charge as well.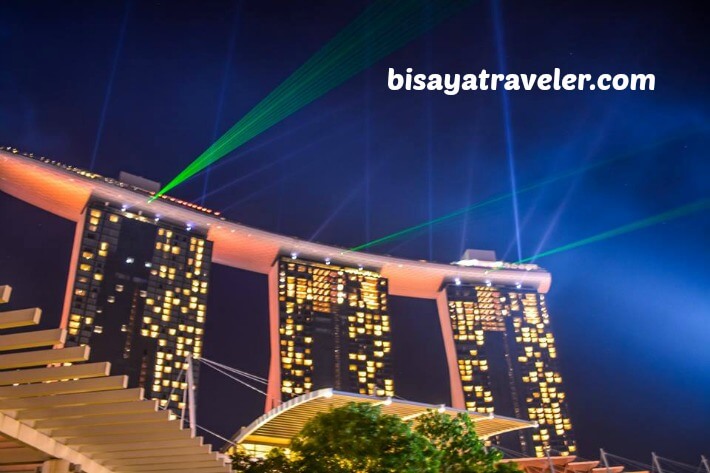 Lighting up the skies of Singapore with choreographed fountains, music, projections and laser, the Wonder Full was truly a breathtaking sound, light and water extravaganza.
As far as I know, Wonder Full is available every night at 8:30 and 9:30 PM. There's also an additional show on Friday and Saturday nights at 11:00 PM. Luckily for me, it was a Friday, and I did enjoy every moment of this one-of-a-kind spectacle.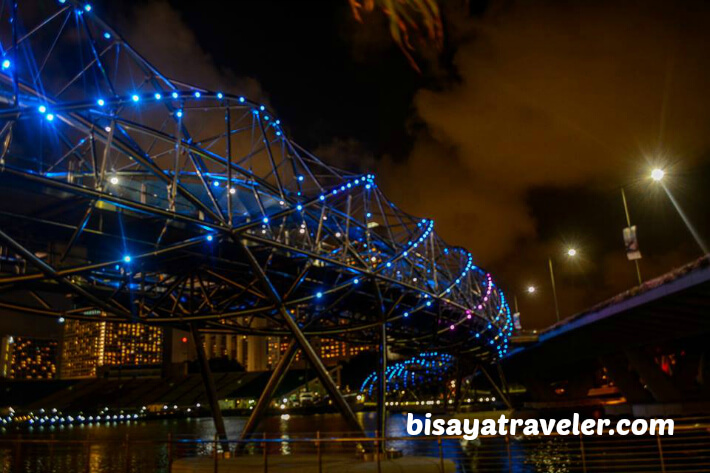 After the show, I strolled around the avenue, to snap photos of its iconic architecture and glistening lights. Then, I asked a local for directions to, as you might have guessed, The Merlion. With a lovely smile and a soft voice, the friendly local showed the path to the Singapore's Icon.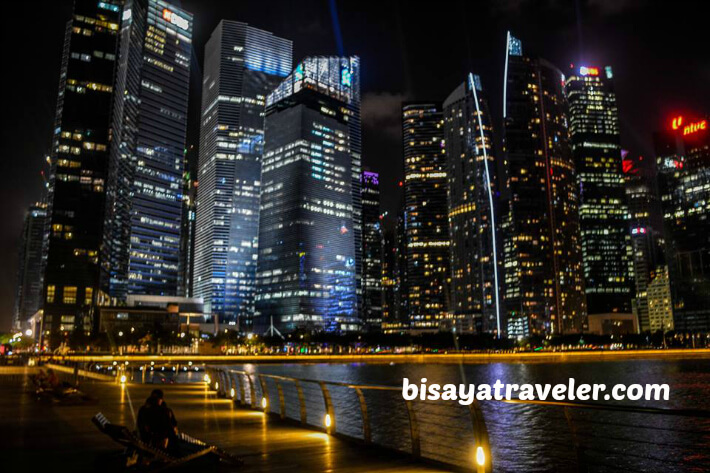 4th and final Stop: The Merlion
It was a few minutes past midnight, when I began my stroll towards the Singapore's most notable landmark. Along the way, I bumped into a ton of gorgeous discoveries, surprises and fabulous sights. Quite frankly, I couldn't stop snapping photos, as I made my way to one of the top attractions in Singapore. I saw a statue of "The Thinker", a garden with a pair of golden bears, and a bunch of people hoverboarding or biking.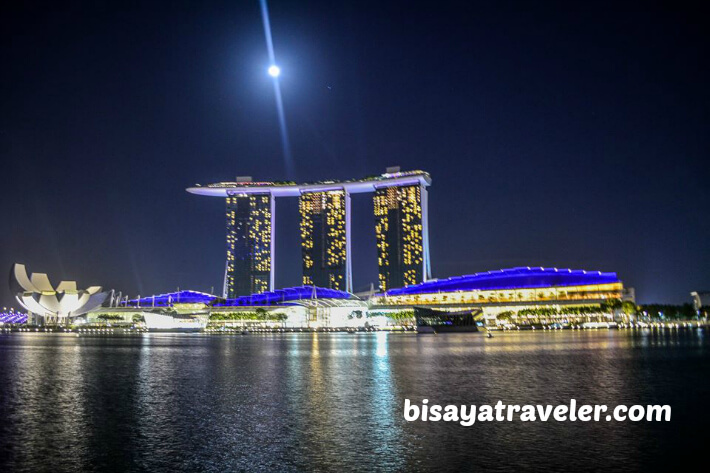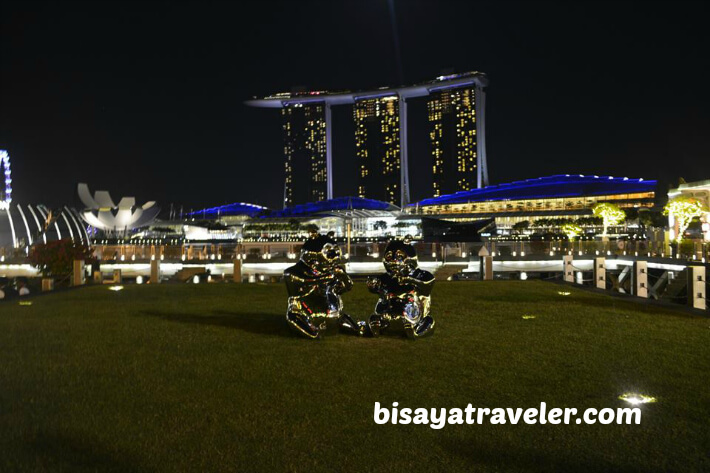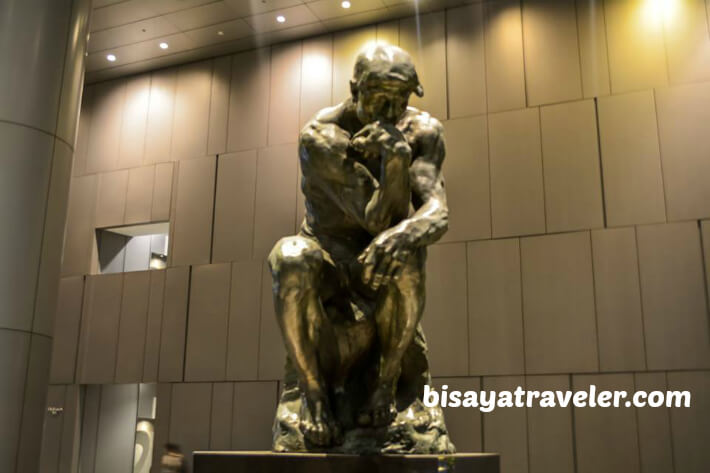 And finally, I saw the world-famous and beloved Merlion. Even though it was late, there were still dozens of people snapping selfies of this well-known Singaporean landmark. I spent a couple of minutes there, enjoying the view, taking in the sights, before calling it a night.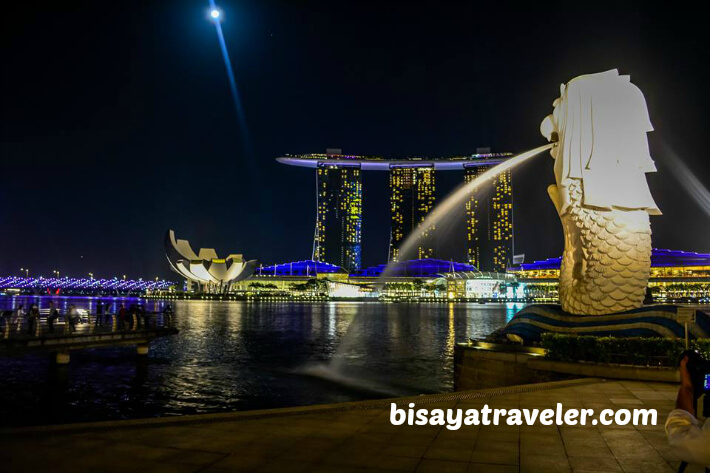 I went back to my hotel with a grin on my face, and a weary pair of feet. And as exhausting my nighttime solo escapade in Singapore, I would still say "yes" in a heartbeat, if given the chance to experience it again. Not only are the sights majestic and incredible, but Singapore, in general, is also an extremely safe place to travel alone, even at night.