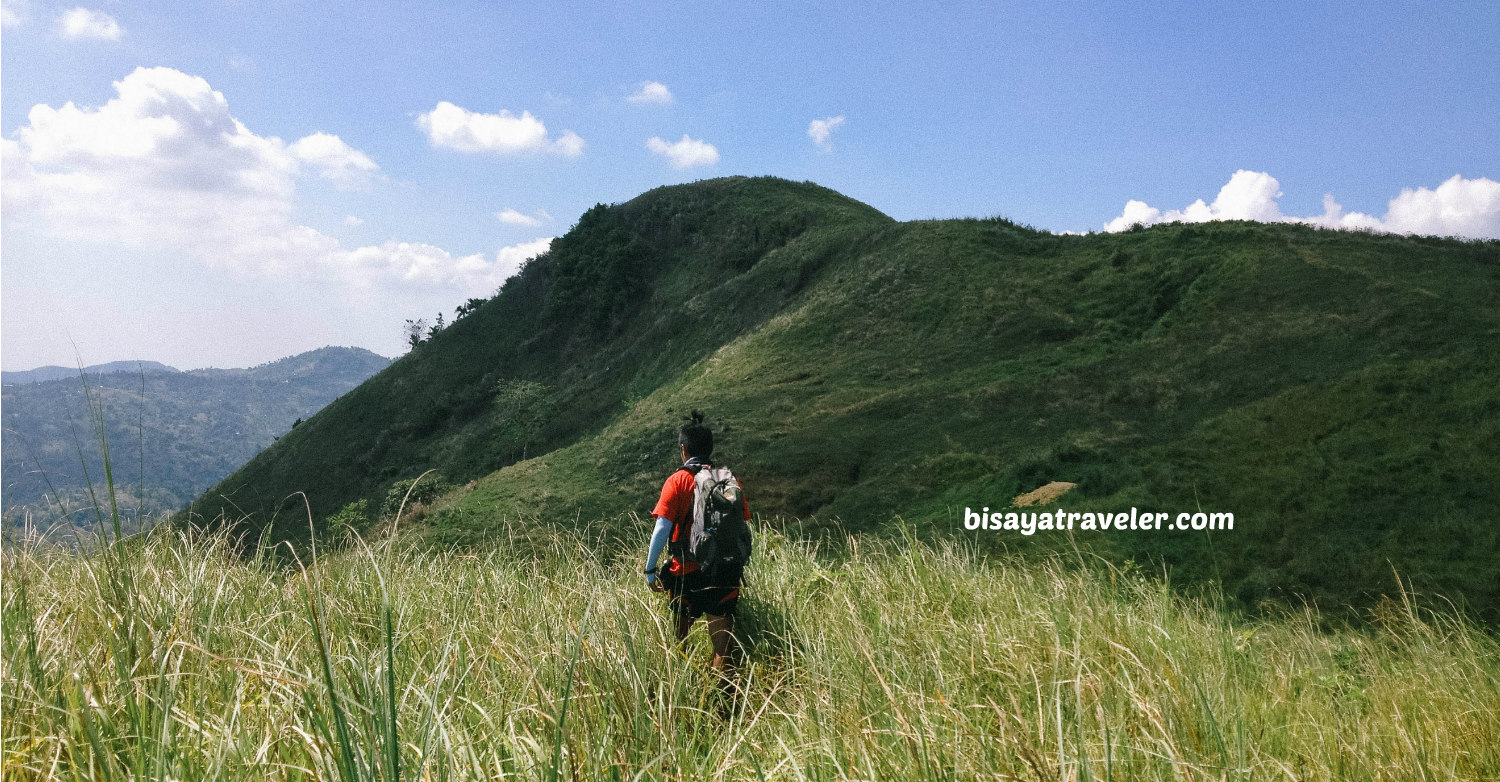 Balirong To Lamac Traverse: Uncovering Naga, Cebu's Unseen Natural Beauty
My new-look hiking crew has been truly a godsend, spicing up my getaways in 2018 in a variety of ways. Ever since I added a new bunch of hikers to my trips, my outdoor escapes have been nothing short of thrilling, eye-opening and mind-blowing. With their enthusiasm, cheeriness and insatiable craving for adventure, these wanderers have reinvigorated my spirit, injecting new life into my hikes. What's more, their innate adventurous nature and lighthearted attitude have led to a multitude of new discoveries, such as Balirong and Mount Makatol.  Even with all the scars and bruises in our escapades, I must say it has been a hell of a ride, exploring quaint and unheralded highlands with these guys.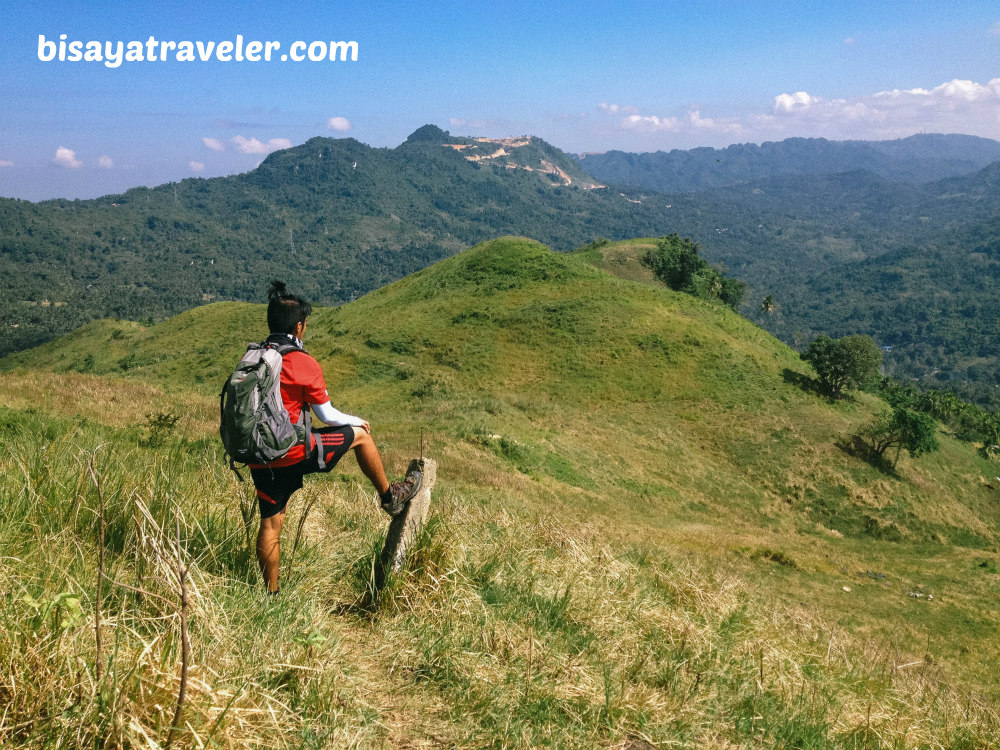 And, last Saturday, yours truly, together with my new and sprightly clique, once again, ventured into the unknown, hiking offbeat trails in Cebu. This time, we surveyed the picture-perfect peaks and hills of Lamac as well as Tagha and Balirong, Naga. And yes, it was quite a memorable outdoor trip, uncovering the hidden beauty of Naga and Pinamungajan. Not only was it full of mesmerizing sights and exciting moments, but it was also a terrific preparation climb. To top it all, we got to meet a handful of new friends and locals in the area.
My fun-filled Balirong To Lamac hike
Our Balirong hike started with a rendezvous at Cebu City South Bus Terminal. For this hike, there were 7 other hikers who joined me, including Beboi, newly-met Phoebe, Dian, Shiekinah, RJ, Beth and the legendary Tatay Wanderer – Raul.
Once everyone in Metro Cebu arrived at the meeting point, we didn't waste any time, and took a bus ride to Balirong.
Time is of the essence, whenever you're exploring an unknown territory. Unfortunately, the bus driver wasn't in a rush, and was (as Raul said) savoring the sunrise, while listening to Bon Jovi classics. Leisurely and amazingly relaxing, it felt like we were on the karaoke background or MTV of a Bon Jovi hit.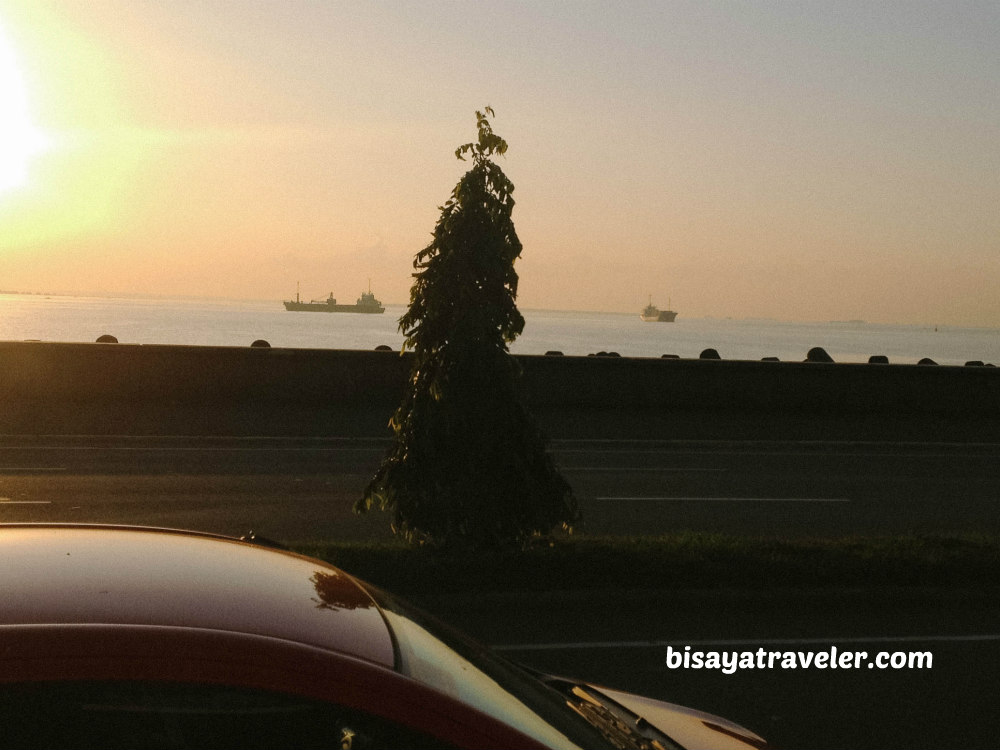 In spite of bus ride's unusual slow pace, we were still in a positive mood and psyched to hike the untouched mountains of Balirong.
Upon our arrival at Balirong bus stop, we made our final preparations and caught up with Beth, who was waiting patiently for us to arrive.
Before our Balirong hike, we had a little information and blueprint of our adventure in Naga. Thanks to the helpful habal-habal driver last week, we discovered the road leading to the beautiful summit in Balirong, Naga.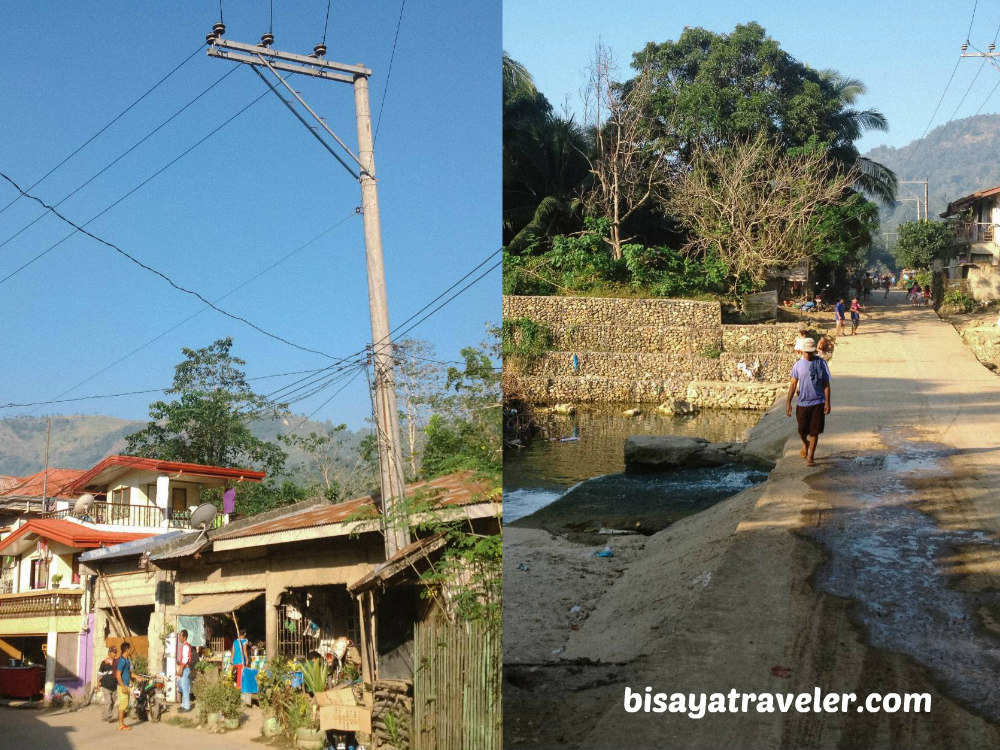 We, then, hit the road, and went on a hike on the paved road in Balirong.
At first, our Balirong hike seemed like a walk in park, strolling leisurely on a paved pathway. A few minutes later, the road got bit steeper and more challenging.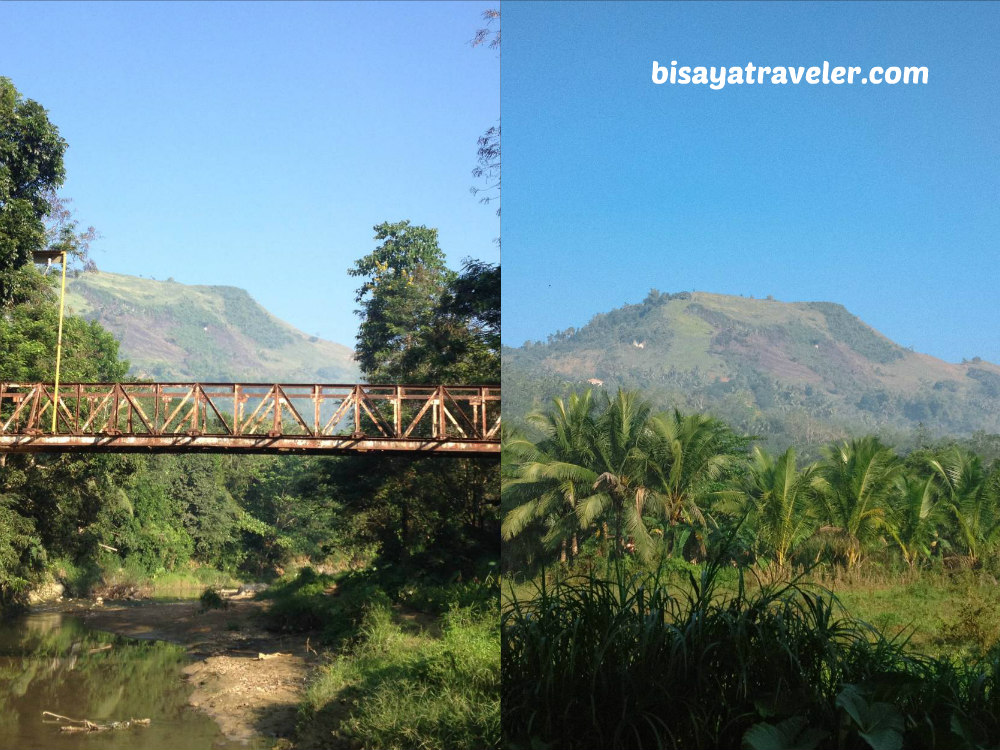 As part of my preparations for a big-time climb, I sprinted uphill, from time to time, to improve my conditioning. To my surprise, some of the group's hikers joined me on my crazy idea.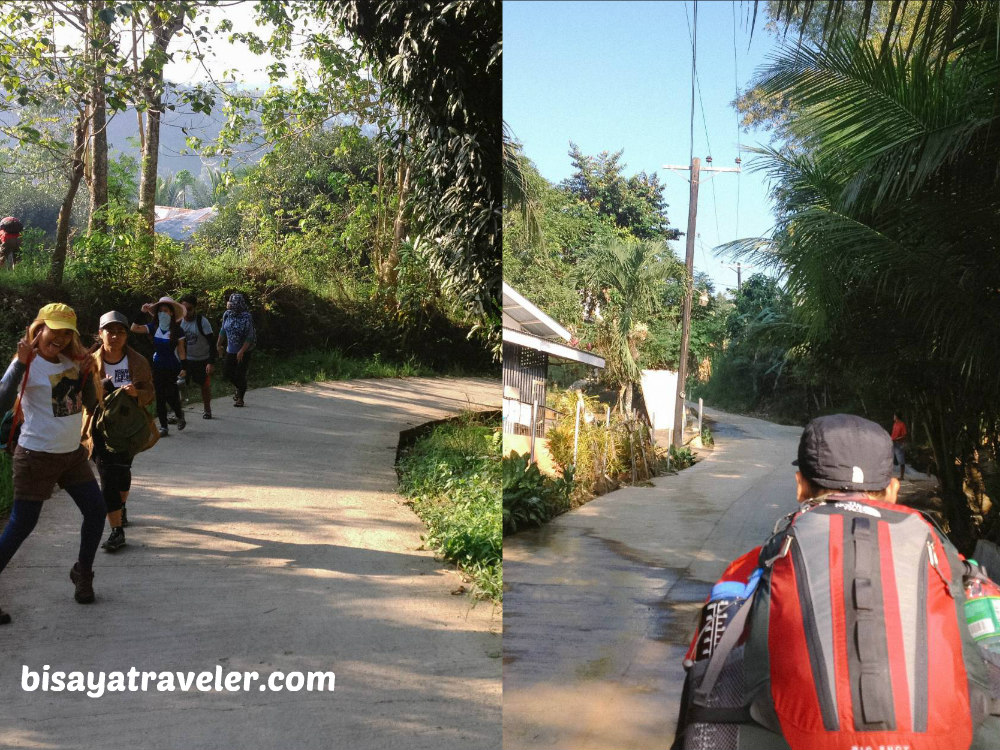 Since we have yet to make a formal opening to our Balirong hike, we paused for a while, said a prayer, and introduced ourselves to the new joiner – Phoebe.
Afterwards, we went on with our hike, passing by the colorful communities in this part of Balirong.
Along the way, we bumped into a cluster of locals who were puzzled and surprised to see us. Unlike Mount Naupa and other well-known attractions in Naga City, Balirong rarely gets visited by tourists, sightseers and mountaineers. As a matter of fact, some of them thought that we were a survey team working for the government.
We did make a couple of stops, on the way up in Balirong, with Phoebe struggling to catch up with us. As far as I can remember, it's been more than 6 months since Phoebe's last hike, meaning her system was shocked as we were hiking up in Balirong.
While Phoebe was resting, I, Beboi, Dian and Shiekinah had to carry on with our hike, so we can find the trail leading to our first stop. Raul, Beth and RJ, meanwhile, stayed behind, to provide some help, encouragement and company to Phoebe.
Originally, our plan was to summit a mountain that they call "Yuta ni Calderon". But as with most unplanned trips, we took a detour, once we found out that there was another scenic spot waiting for us there.
With the help of the locals in the area, we ascended on a trail that would ultimately lead us to arguably the highest point in Balirong.
And though the rest of the crew was far behind, we weren't really worried.  With Beboi's handy pair of two-way radios, we easily communicated with Raul, and gave them detailed instructions on how to get to our location.
As for us, we were ascending to the top of Balirong via hilly slopes with sharp and long grass.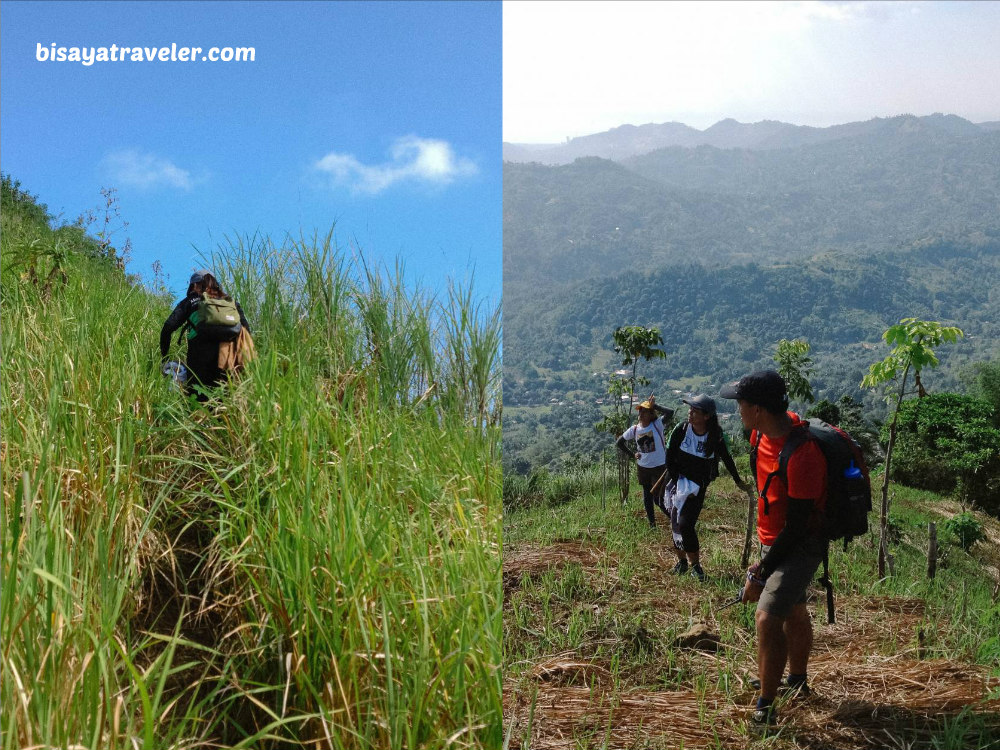 Soon after, we arrived at the peak of Balirong, where were treated to a breathtaking bird's eye views of Naga and Lutupan, Toledo City.
From here, we also caught a glimpse of the well-known summit in Naga City, Cebu – Mount Naupa.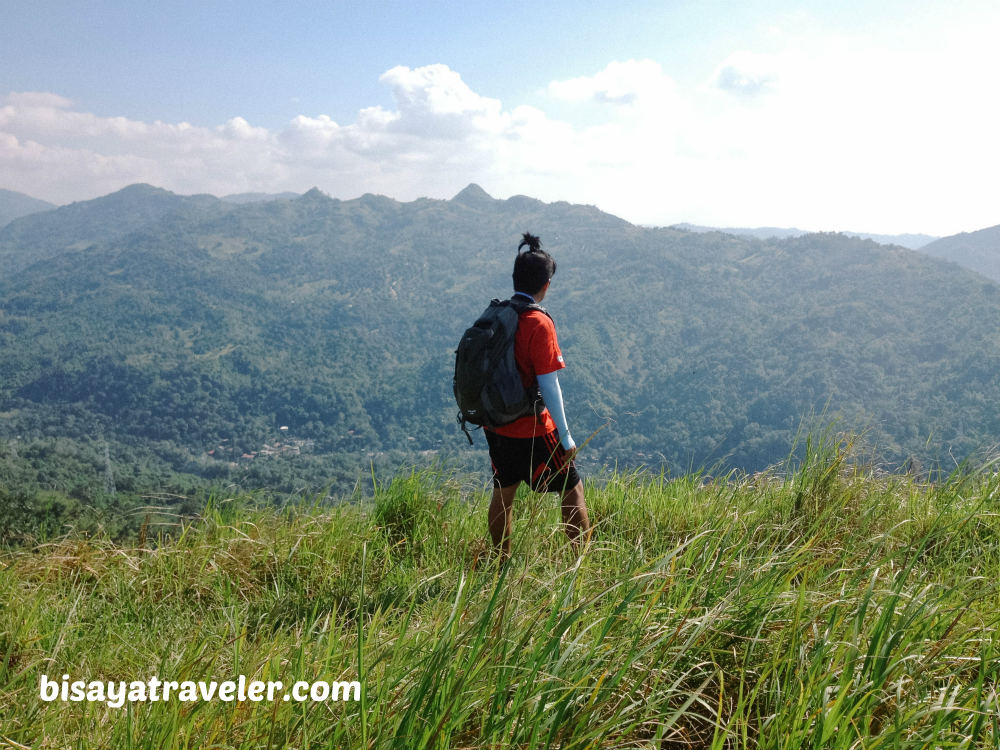 One of these days, we'll be connecting Balirong or another mountain in Cebu to Mount Naupa. And no, I'm not talking about Pangilatan Peak or Mount Magdook.
As we were waiting for the rest of the club to arrive, we spent some time soaking up the atmosphere, and snapping photos of the awe-inspiring scenery of Balirong.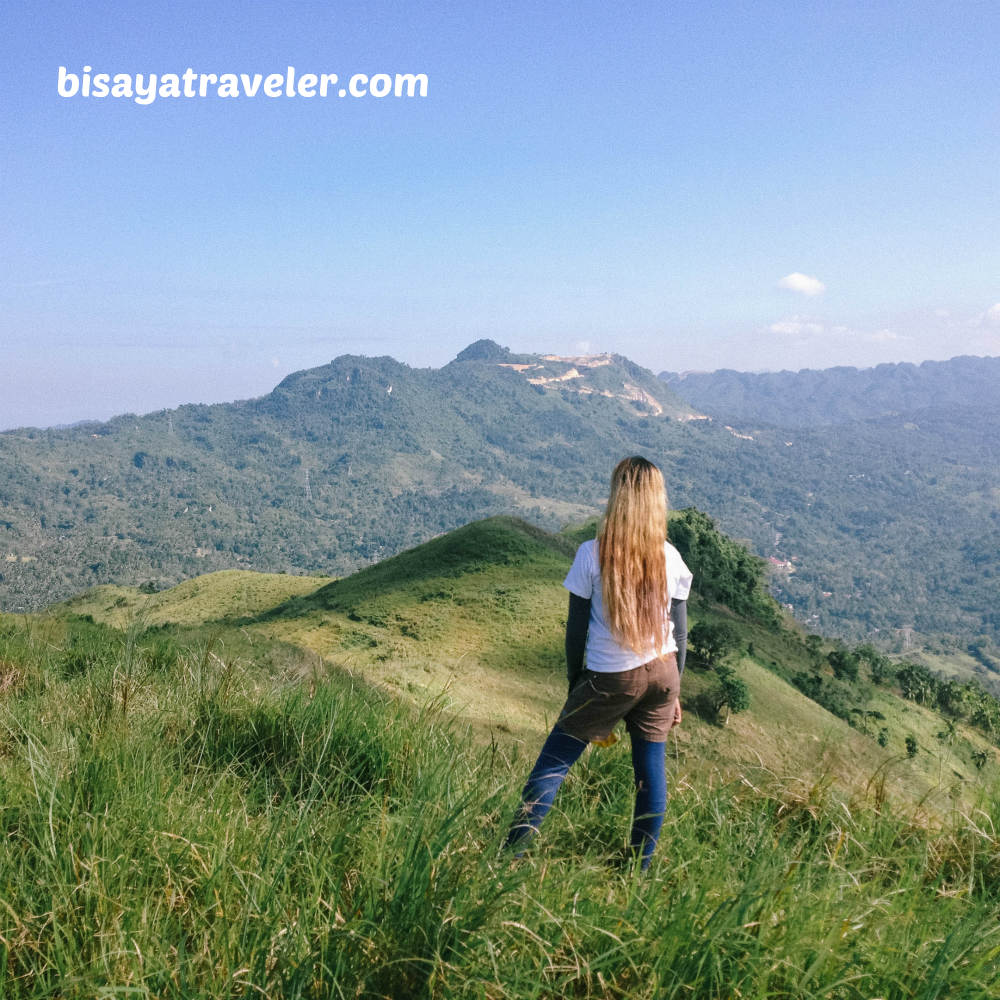 Shiekinah, who recently celebrated her birthday, said she couldn't think a better mountain to host her natal day hike.
Not only were views stunning, but this peak in Balirong also exuded a fairly relaxing feel, with its fresh mountain breeze. Furthermore, it's literally free from the maddening crowds of tourists.
Moments later, the rest of the gang arrived in this part of Balirong. And just like us, they were all enthralled and awestruck by the sheer beauty of this place.
Currently, there's no official name for this peak in Balirong, although a little girl in the area told us that they call this place "Panas". So, in the meantime, we're going to label this mountain as Balirong Peak.
From the peak, we hit the trail, and descended to the nearby hills for the sake of exploration and photography.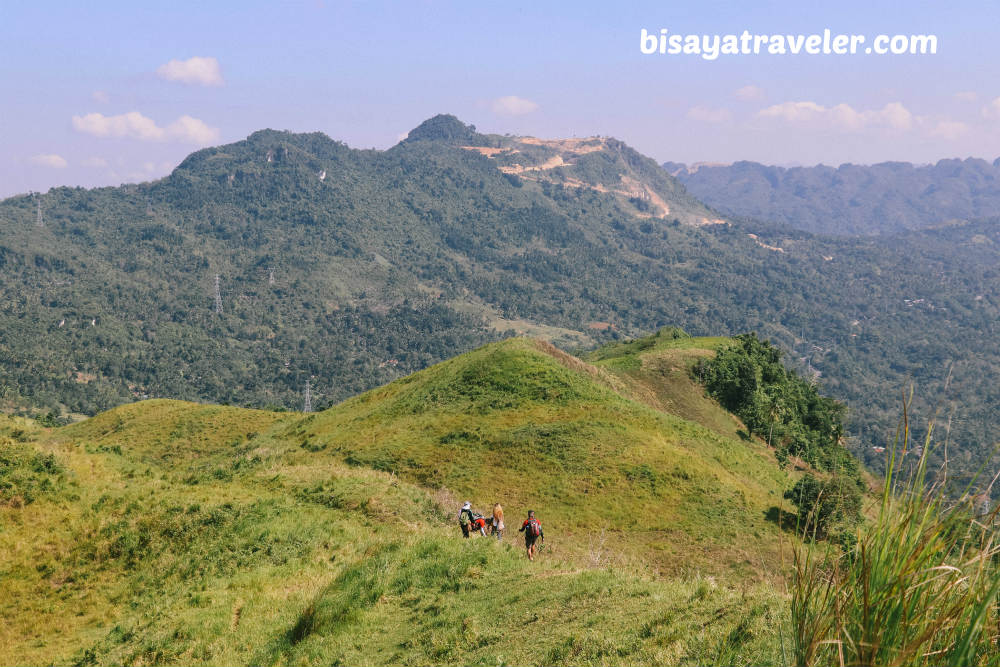 As expected, the views from these hills are just as Instagram-worthy as the ones from Balirong Peak. From our traditional talekogenic shots to groufies, we took a plethora of photos on this part of Balirong.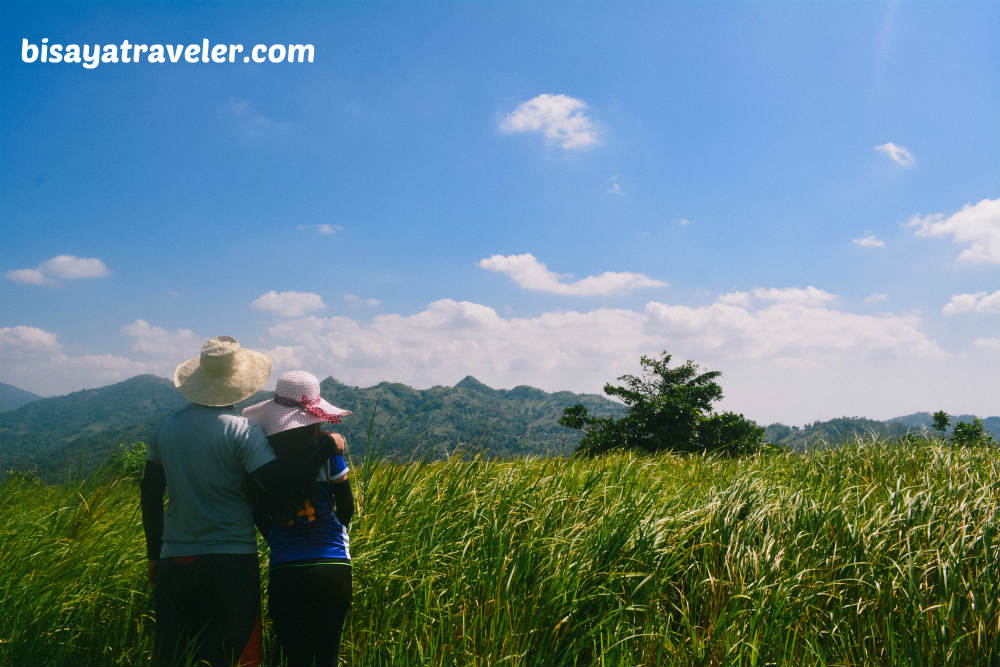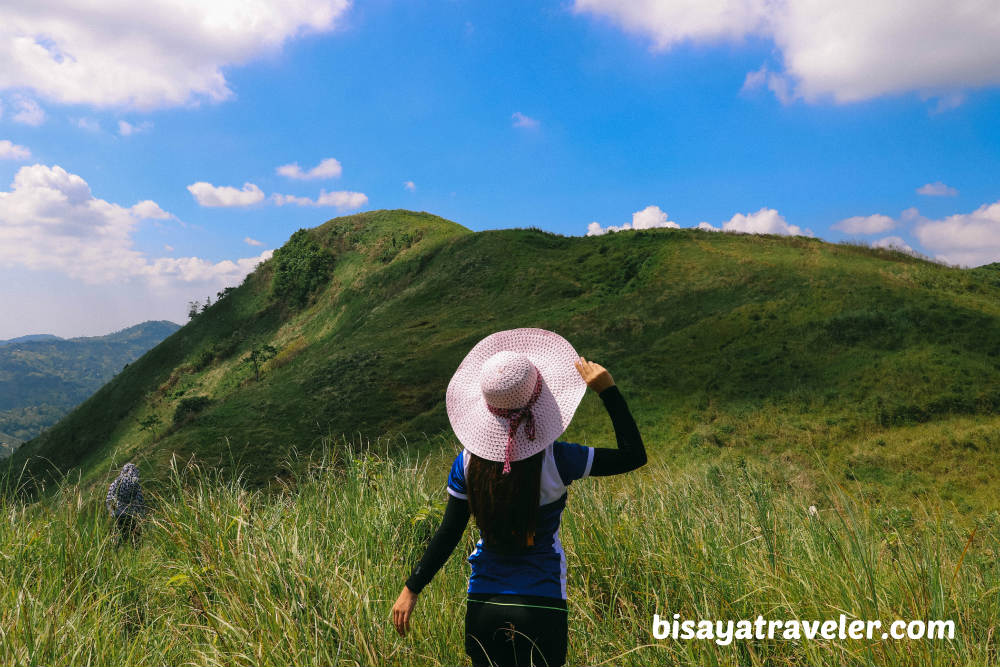 After our visit to these hills in Balirong, we went on with our hike, to get to our next destination of the day – Yuta ni Calderon.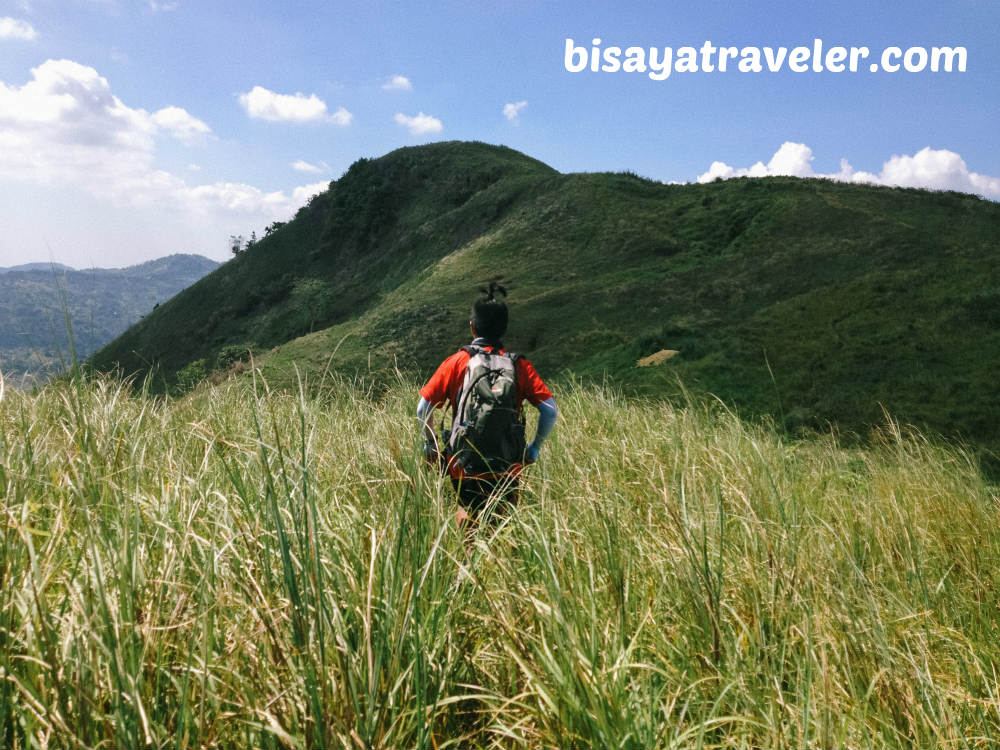 Even with a fully loaded backpack, the hike to our next spot wasn't tough on my body.  After all, we were strolling on a rolling terrain with great nature views.
Truthfully, the only thing that was bothering us a bit was the scorching heat of the sun.
It was almost 12 noon, when we arrived at a paved road in this side of Naga City. And since Raul's stomach was already grumbling, we took a shade on a tree, and ate our lunch there.
As usual, Raul, with his legendary appetite, was the star of the halftime show, moving from one place to another, in search for tasty goodies.  And, aside from our hearty lunch, we also got to quench our thirst with the cold and refreshing drinks sold at a sari-sari store near our spot.
With lunchtime over, we resumed with our hike on the road that we taught would take us to Yuta to Calderon.
But as a local has confirmed later on, we have already passed by this mountain on our way to the top.
From my point of view, the mountain isn't as picturesque as Balirong Peak or the mountain ranges that we saw a week ago from Bandilaan Peak. That's why Beboi and I turned our attention to the next destination of our open itinerary in Naga – "Allan's Mountain Ranges".
Truth be told, we didn't know the exact the name of these mountain ranges in Naga. We just called it as such because a cool guy named Allan showed us a glimpse of its beauty, following our Mount Alpaco climb.
I and Beboi, then, climbed a grassy hill, to find trails leading to these ranges.
The climb did give us scratches (thanks to the sharp grasses), but at least we figured out a way to "Allan's Mountain Ranges".
On the way down, we gave a millennial lingo test tor Tatay. First, we asked him the meaning of DM.
Using our hand-held radios, Tatay Raul gave us a medley of quirky answers, including Dakilaang Mangingilad (the ultimate swindler), Donna Mae, Dirty Mind and Daily Massage.  When we asked him the meaning of CMS (Cebu Mobile Shutterbugs), he gave us a straightforward, confident yet wrong answer – Captain Morgan Special.  Damn!
We went back to the sari-sari store, and asked directions from locals on how to get to the top of the mountain ranges.
And there, the journey to "Allan's Mountain Ranges" began.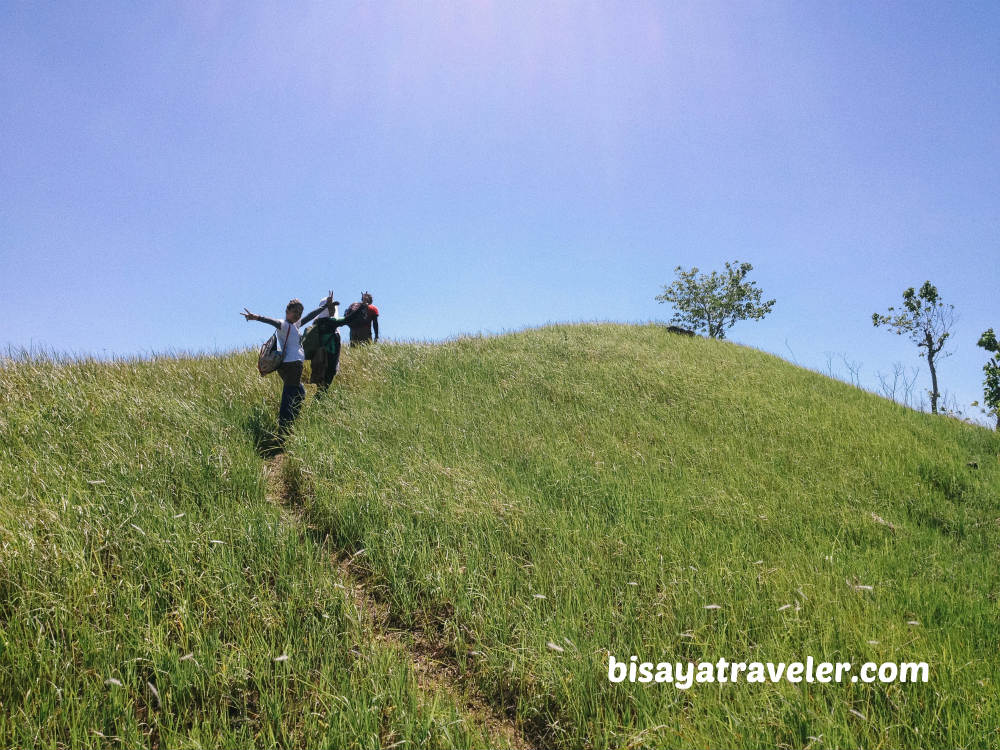 On surface, the hike to these ranges didn't have the hallmarks of smooth adventure.
We were walking on an open trail, and the sun's heat was extremely scorching. Not to mention, there weren't a lot of places and trees where we can take shade and enjoy a breather.
Yet, incredibly, we enjoyed every minute of our hike in "Allan's Mountain Ranges" from Balirong Peak.
As the old and wise Raul would say, great company can make unfavorable experiences more exciting and bearable.
And, every time we saw something worth a snap, we stopped, cherished the views and took a glut of photographs.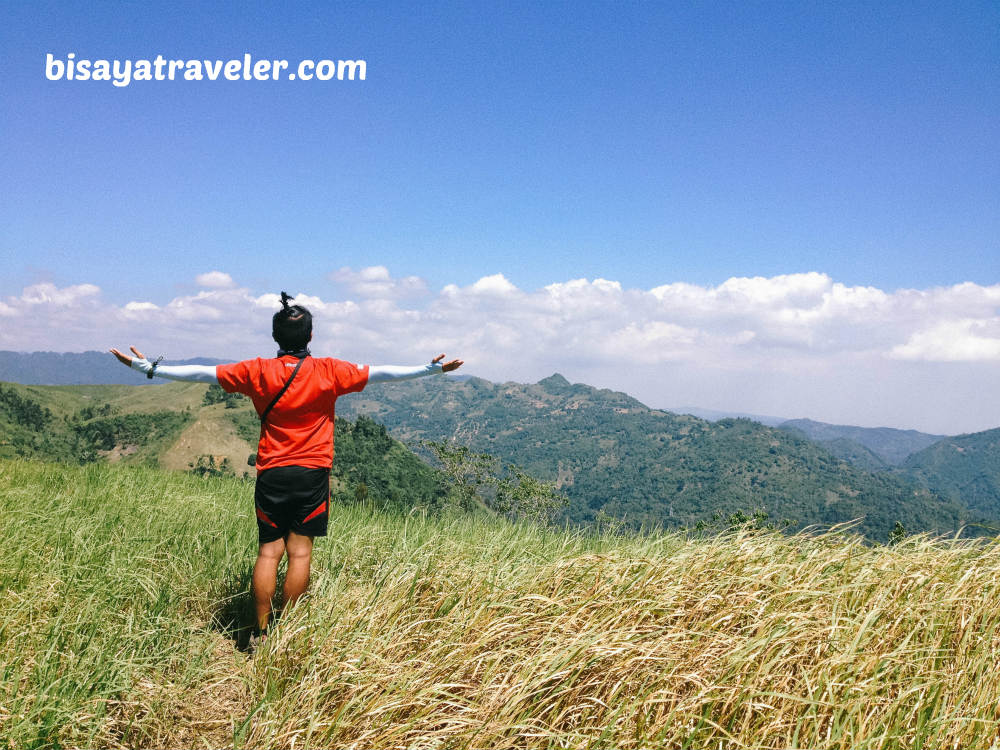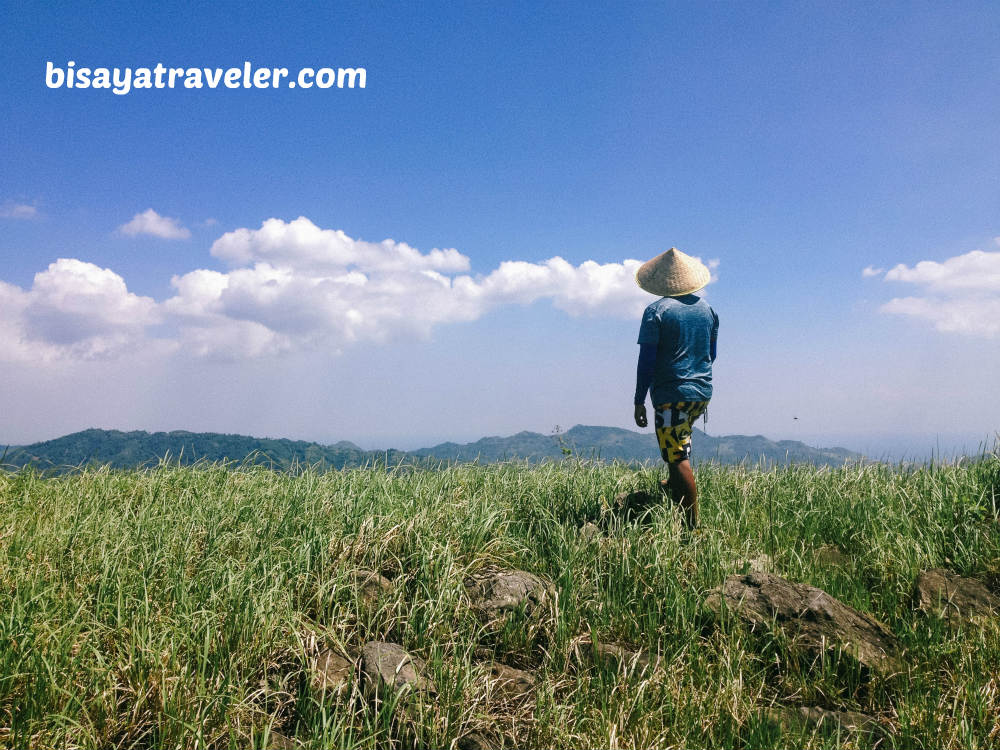 Even Beboi can't resist the urge to pose in front of camera, while climbing a tree.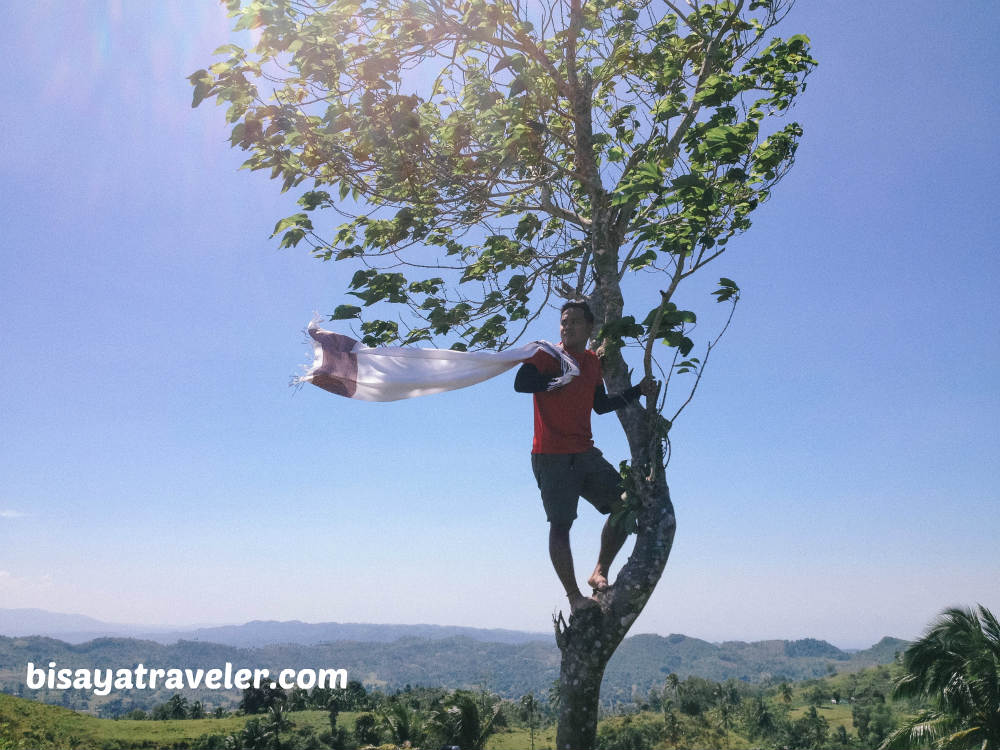 As you can see, there's no shortage of scenic sights in this remote land in Naga City, Cebu.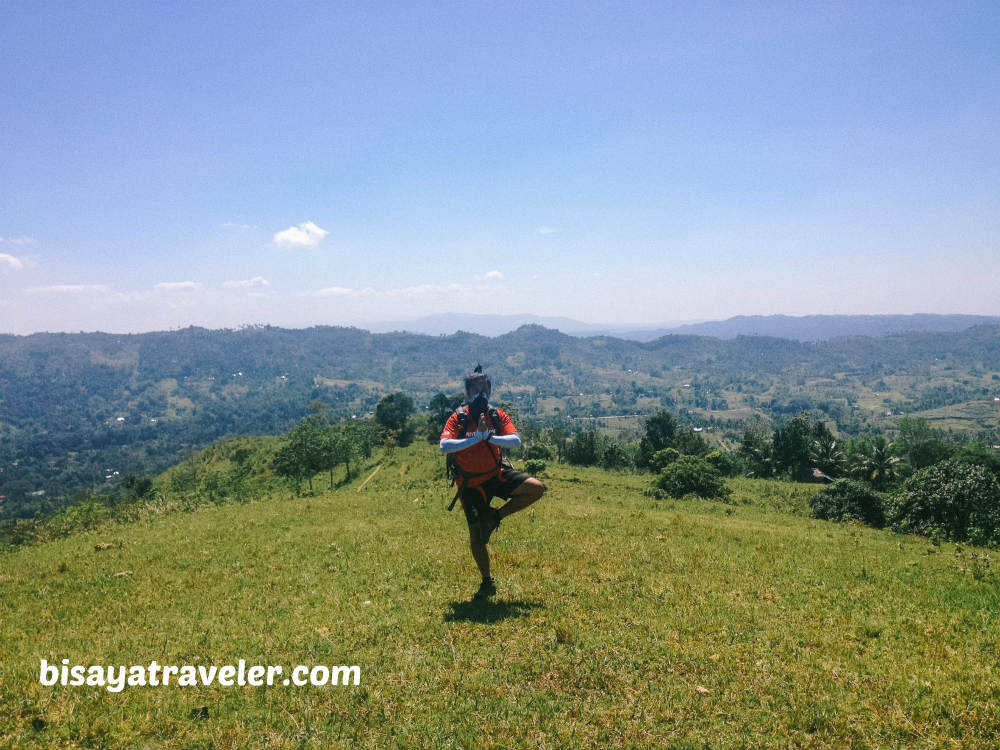 We kept on hiking, until we arrived at the spot where Allan took us a week ago.
And, the views were extremely gorgeous. In the words of the bubbly and lovely Dian, "the views here never get old".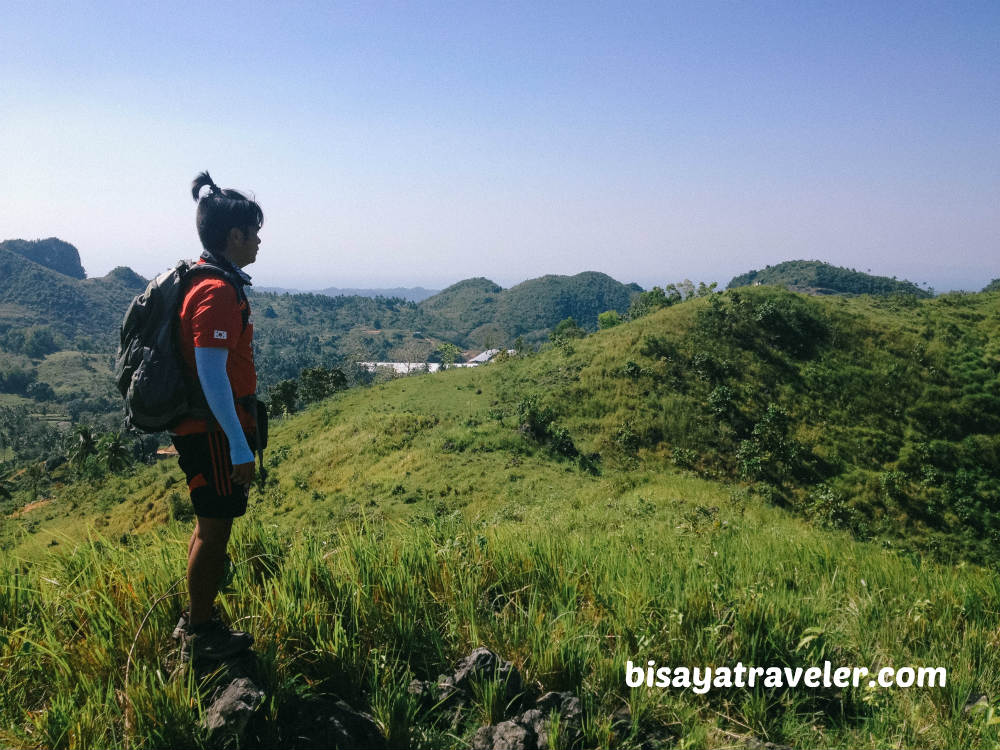 Later, we descended via a familiar trail, and soon arrived at a local store. Of course, we spent minutes there indulging on filling snacks and refreshing cold drinks.
I know these drinks are unhealthy, but it's just hard to resist them, when you're hiking an open trail on a sunny day.
Moments later, a friendly lady revealed the real name of "Allan's Mountain Ranges" – Takla. And, guess what? According to the lady, Allan and his family owns most of the lands in Talka. I guess the name "Allan's Mountain Ranges" is still an apt label or nickname for these hills in Naga City.
After our break, we commenced on our hike, to get to the final stop of our day hike from Balirong, Naga – Udlom Falls in Lamac, Pinamungajan.
As we were hiking our way to Udlom Falls, we unintentionally bumped into a sprightly and cheery group of youngsters.
Like us, they were also headed to Lamac, Pinamungajan. And, thankfully, they agreed to let us tag along.
I didn't get all their names, but one of them – Jenecel – reached out to me through my Facebook Page. Hopefully, I'll see these guys in my hikes, soon.
With the youngsters leading the way, we crossed a small stream, and ascended on another mountain. I don't count how many mountains I climb per day, so I didn't really know how many times we've ascended on our hike from Balirong. As what Phoebe told us later, though, it was the 7th mountain that we climbed for that day.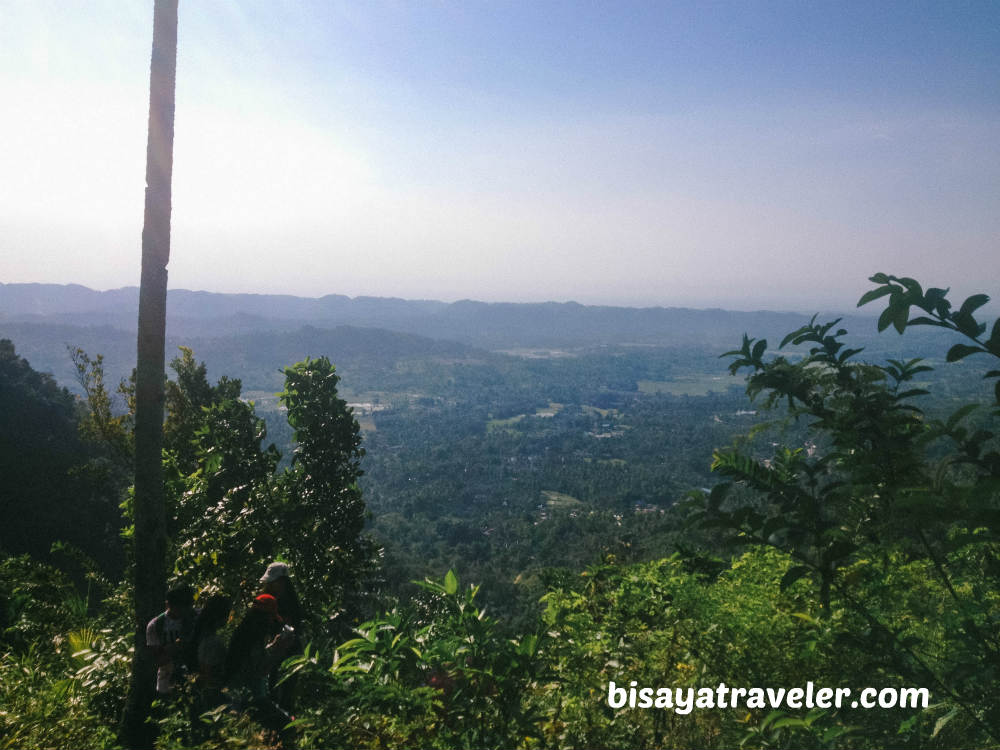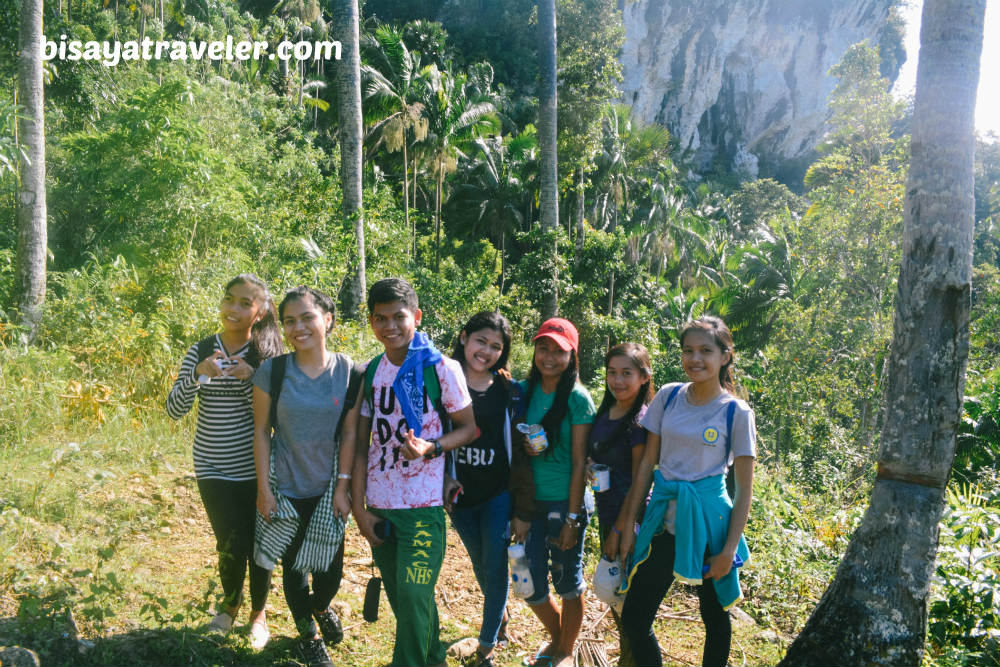 Two members of the team – Raul and RJ – had mild cramps, as we were scaling this mountain bordering Naga and Pinamungajan. But with perseverance and teamwork, we finished our climb in this mountain, which is labeled as Tagaytay by locals, with flying colors.
Eventually, we arrived at a familiar place that I've been to months ago – Sinungkulan Falls.
Sadly, we didn't have enough time to explore the magnificent Udlom Falls.  And, in the end, we all decided to end our day in Pinamungajan Plaza.
Even though we didn't get the finale we were hoping for, there's, to me, no better way to end this adventure from Balirong, Naga.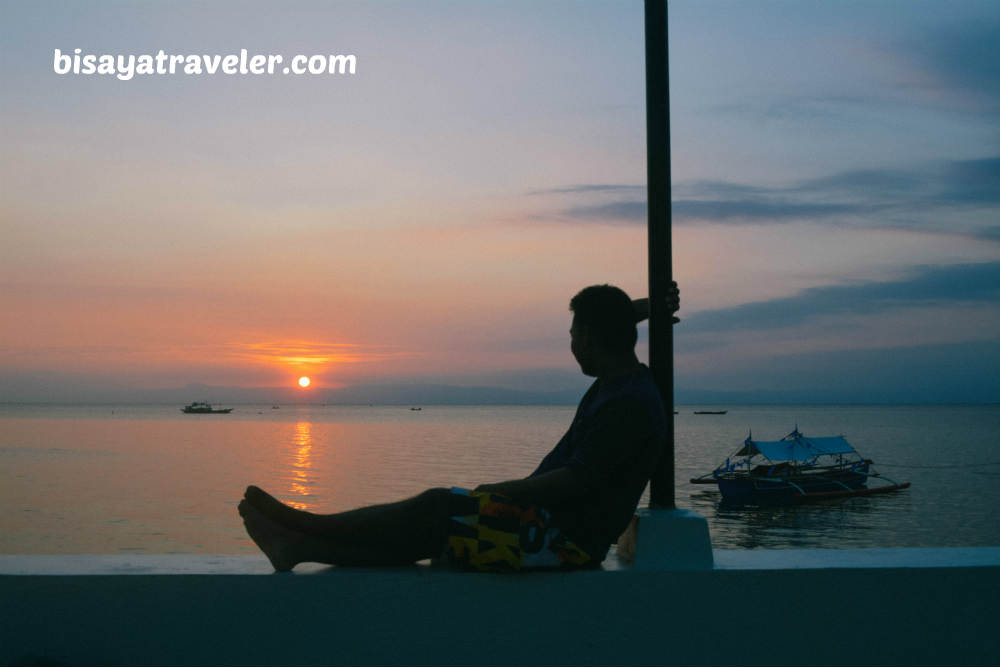 With the beautiful and romantic sunset views from Pinamungajan Plaza, it was indeed a pleasant icing to the cake.
Our Balirong To Lamac hike itinerary:
05:30 AM: Meet up at Cebu City South Bus Terminal
06:30 AM: Depart from Cebu City
07:30 AM: ETA Balirong bus stop
07:45 AM: Start hike to Balirong Peak
09:00 AM: ETA Balirong Peak
10:15 AM: Start hike to next stop
11:45 AM: Lunch
12:30 PM: Resume hike
01:30 PM: ETA Takla (Allan's Mountain Ranges)
02:30 PM: ETA Tagha/drop by store for refreshments
02:45 PM: Start hike to Lamac
03:30 PM: ETA Tagaytay, Lamac
04:20 PM: ETA Sinungkulan Falls
04:45 PM: Depart for Pinamungajan Plaza
05:30 PM: ETA Pinamungajan Plaza/admire the sunset
06:00 PM: Depart for Cebu City
08:30 PM: Home sweet home
My expenses:
Bus fare to Balirong from Cebu City: PHP 30
Guide fee: NADA
Habal-habal ride to Pinamungajan Plaza: PHP 60
V-hire to Cebu City: PHP 100
How to get Balirong Peak and Takla ranges
From Cebu City South Bus Terminal, take a bus bound for Toledo City. Ask the conductor to drop you off at "eskina Balirong". Once there, ask the locals for directions to "eskina Calderon". Hike the steep paved road, and look out for a tubod (flowing water) on your right side (you can also ask the people there on how to get to "Panas"). Make a right turn, and continue walking until see you a cluster of houses. Then, ask the locals for directions to "Panas".
To be sure, saved a picture of Balirong Peak, so you can show the locals where you're heading.
As for "Allan's Mountain Ranges", there are plenty of people around who can show you the way to "Takla" – the real name of these ranges. But trust me, it won't be easy finding these ranges, if you're not familiar with the place. We discovered the way to these ranges, as it was our second time hiking on this part of Naga.
Things to take note:
Practice the LEAVE NO TRACE principles.
Pack at least 2 liters of water.
Bring trail food/snacks.
Bring ION drinks like Gatorade or Pocari Sweat.
Wear trekking shoes or sandals with great traction.
Bring lunch.
This type of adventure is not for everybody, especially to those who are scared of getting lost.