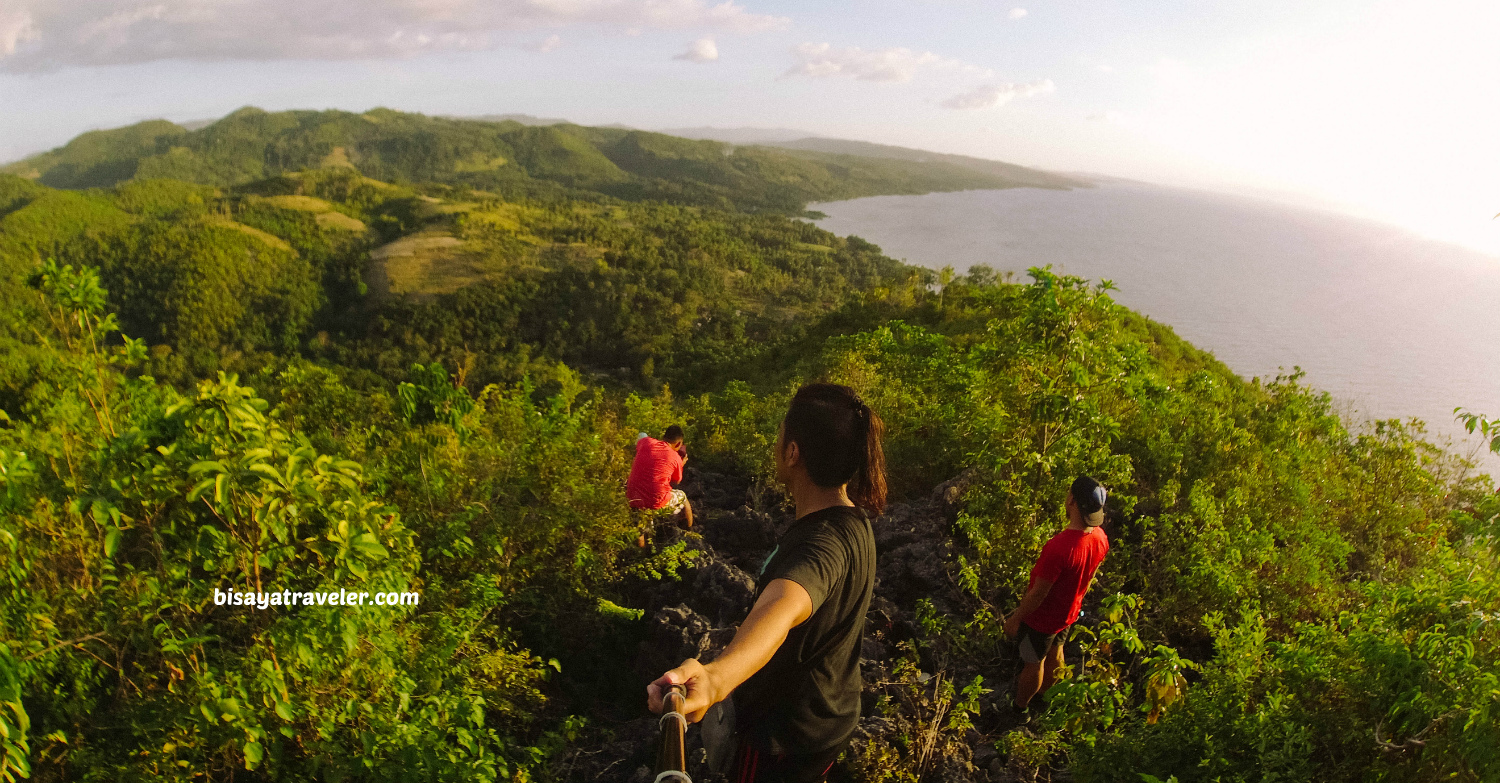 The Beautiful Secret Spot In Barili, Cebu
Dian had always yearned to set foot on this spot. Every time she passed by the national highway in Barili, she gazed at it, wondering if a surprise was waiting on the other side. Beboy and I had been enthralled by the possibilities of hiking this mountain, as we were making our way to Paradise Valley. Raul, with his go-with-the-flow attitude, knew the universe was brewing something smashing for us that day. And, in a fascinating twist of fate, we found ourselves perched on this spot, astonished by a dramatic sunset and a picture-perfect view of Barili, Cebu's coastline.
On a day full of mesmerizing surprises, I must say it was the perfect finale for our Barili escapade.
Honestly, I can't think of a better way to end that day.
And, the truth is, we weren't supposed to be there.
We had other plans.
Other places in mind.
And other pursuits of adventure.
As a matter of fact, we didn't have a clue on how to get there.
But, like a perfectly timed and orchestrated event, the stars have aligned to lead us to this hidden spot in Southwest Cebu.
And, it was quite a sight to behold!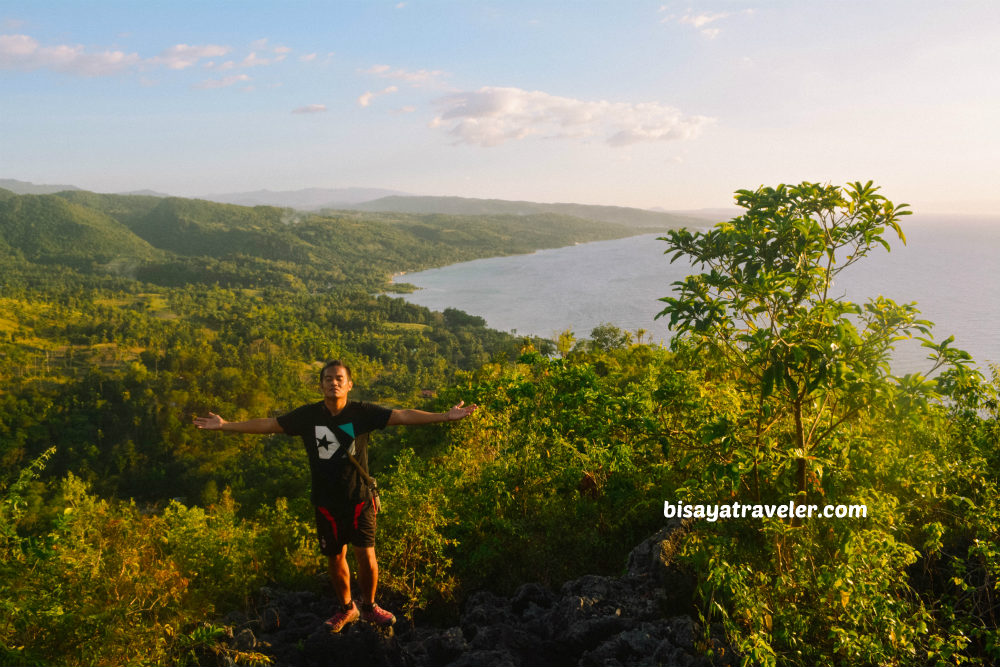 So, how did we end up at this secluded spot in Barili, Cebu?
What sparked this crazily fun exploration into the unknown?
And, who on earth led and introduced us to this hidden wonder?
All I can say, true adventure works in mysterious ways.
How we uncovered this unheralded spot in Barili, Cebu
The mountains of Barili and Sibonga were waving at us.
They were waiting and begging to be explored.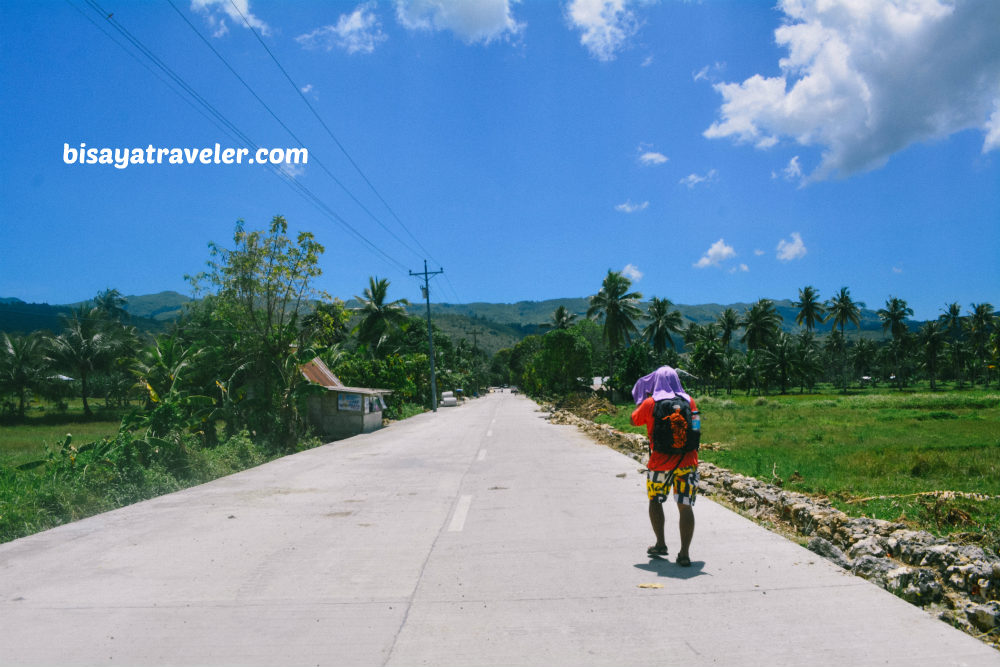 Although I've yet to hike this path, I knew the day would end with a gorgeous view on top of Mount Lanhan.
Captivated, we all agreed to hike those mountains, following our visit to Mantayupan Falls.
And, I had it all figured out.
We had the blueprint and information to get to Mount Lanhan from Barili. Even the locals we asked about the way to Mount Lanhan thought it was totally doable.
But, it didn't happen. Not on that fine summer day!
The azure waters of Mantayupan were simply so refreshing that we decided to stay a while there.
Truthfully, I really wouldn't mind spending the entire day luxuriating in Mantayupan's cool waters. Would you?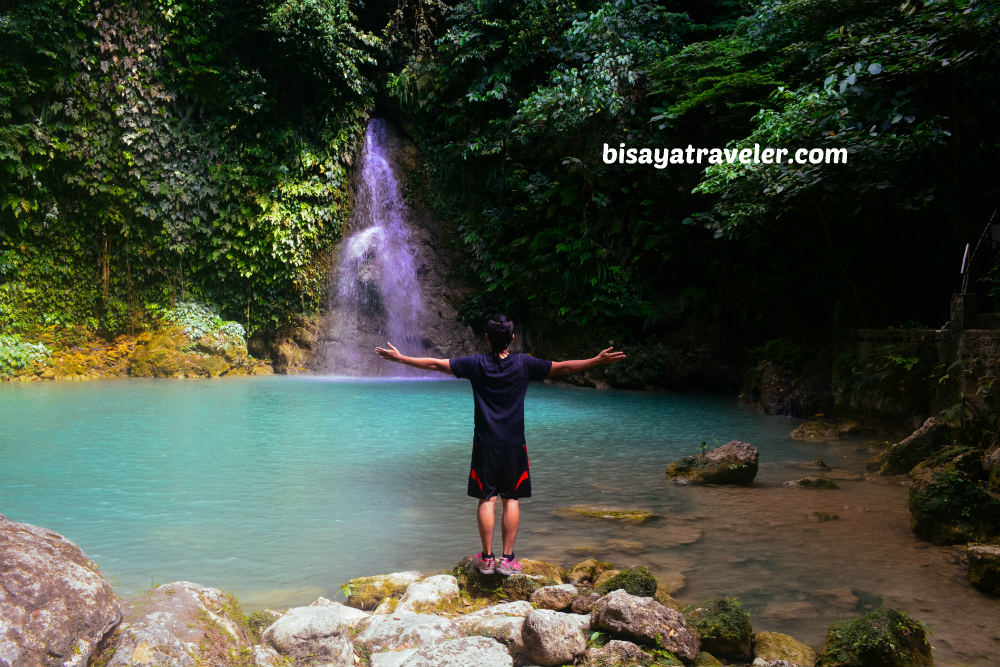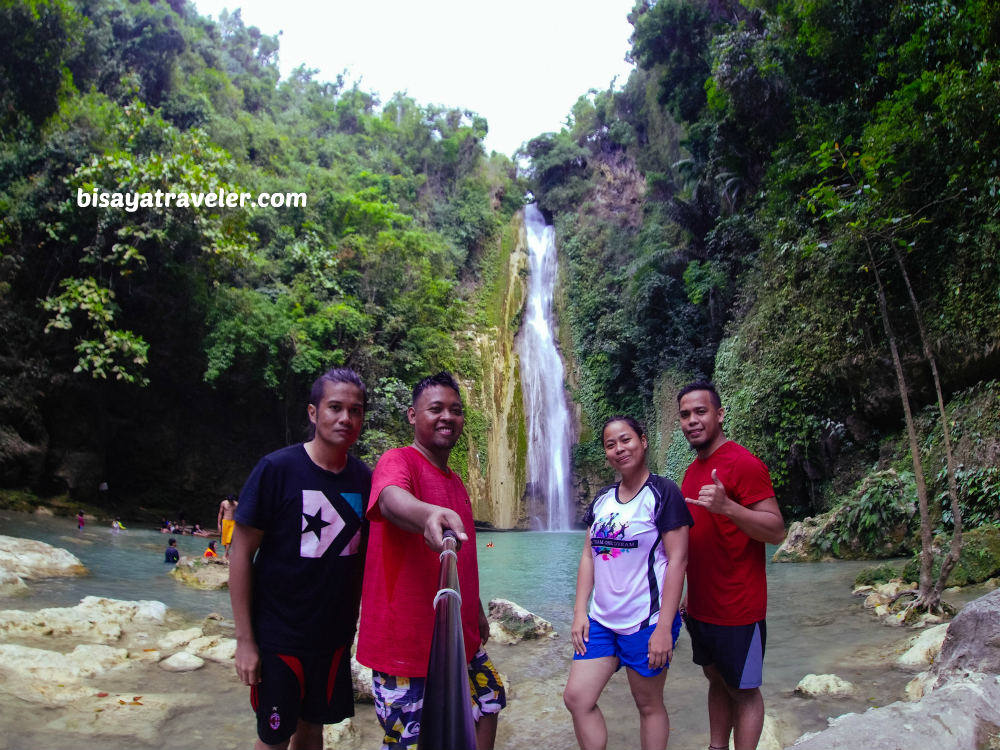 And, just like that, our plan changed. It would be foolish for us to go on with our hike, especially since time was no longer on our side.
Maybe, the universe had other plans for us.
A mind-blowing surprise?
A new discovery, maybe?
How about some tasty free snacks?
Nobody knew for sure what was going to happen to us. All we knew was we had to go somewhere. That's the only way we could add more spice and flavor to our Barili trip.
Luckily, we had an alternative – the abandoned ruins in Paril, Barili formerly known as Paradise Valley Mountain Resort.
Raul and I had been eyeing this overlooked attraction in Barili, Cebu for the past week. With its creepy ambiance and photogenic ruins, the abandoned mountain resort did spark our wanderlust. Plus, the resort has a magnificent natural backdrop, surrounded wondrously by towering cliffs and mountains.
And, while there were other options, we somehow felt a great encounter in Paradise Valley was waiting for us.
So, from Mantayupan Falls, we walked our way to the national highway.
Upon our arrival, I asked the locals for directions to Paril, Barili.
I thought Paradise Valley was within walking distance. After all, Google Maps suggested that it's a short walk away from Shamrock in Barili, Cebu. In reality, though, it's miles and miles away from where we were standing at the moment.
Additionally, not a lot of habal-habal drivers know the exact location of Paradise Valley.
Ultimately, we found a driver from Paril who's so familiar with the mountain resort and its nearby villages. Since there were four of us and we go in pairs, the driver looked for another driver to take us to the resort.
And, then, the adventure into the unknown began.
The motorcycle's engine rattled to life in a cloud of smoke. As we left the highway and rolled past the fishing villages, I began to wonder what we might find there.
Is the abandoned resort really that creepy?
Are there nearby mountains worth the hike?
Are there any hidden gems undiscovered by mainstream media in Paril, Barili?
On our way to the mountain resort, Raul and I caught a glimpse of a mountain facing the sea, coastline and island of Negros.
It looks stunning.
Interesting.
Marvelous.
Enticed and intrigued, Raul and I asked the driver for information about that stunning mountain.
And, amazingly, the driver blithely answered all the questions we threw at him. Heck, like a bona fide adventurer, he was willing to go there, and show us the beauty of this place.
Soon after, we arrived at Paradise Valley Resort, and explored its abandoned ruins.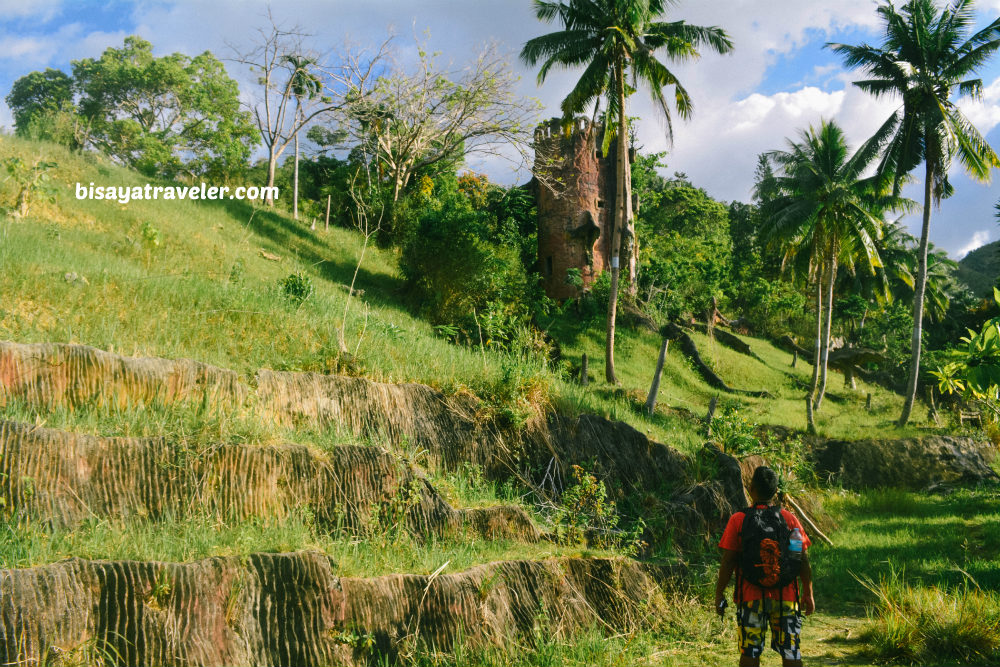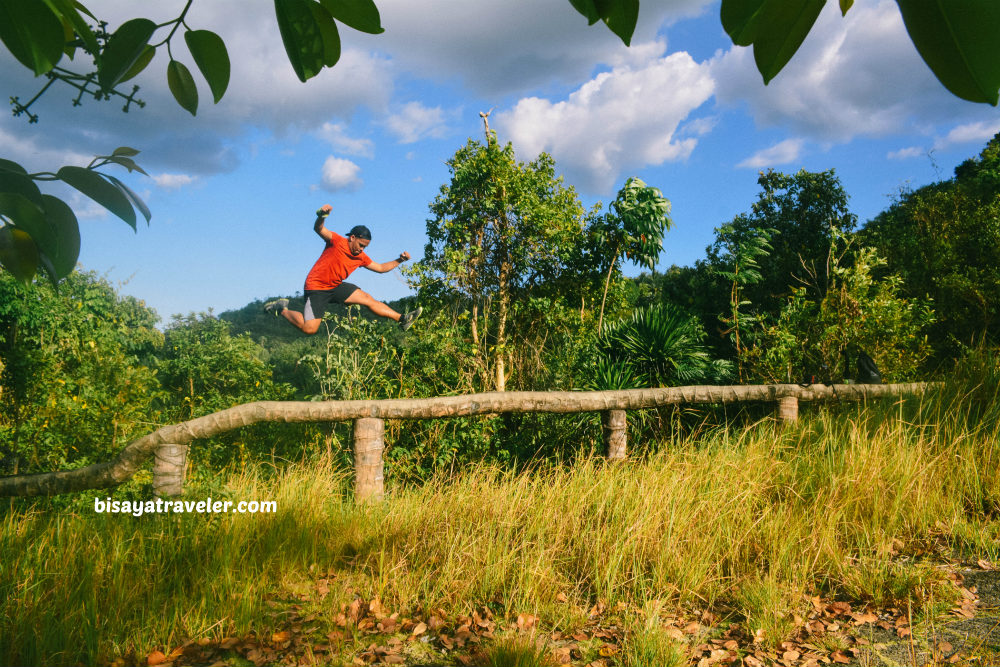 Even with the resort's unique charm, I still couldn't shake that mountain off my head. With its unique location, I knew the panoramas from that vantage point are nothing short of breathtaking.
And, guess what?
Dian and Beboy were also curious and intrigued by this mysterious place in Barili, Cebu.
We should explore this hidden spot! There was no way we were leaving Barili, Cebu without setting foot on this mountain.
So, we wasted no time, and made our way to that overlooking spot.
Getting there, however, was no walk in the park.
The thing is, it can be rather tough and dangerous, especially where you're on a smaller motorcycle.
And, there were times when we asked our driver to stop, to prevent any mishap.
We were more than willing to hike to the top, anyway.
To my surprise, however, the driver wasn't fazed at all.
On the contrary, he seemed to enjoy every second of the tough ride up the steep road.
He was in the zone, firing on all cylinders.
I must say he's one tough, bad-ass Mother F**ker.
Smiling and enjoying his own adventure, he conquered the rough patches like a pro motocross rider.
And, he knew almost every bump on the road too.
With his enthusiasm and passion for adventure, we, weeks later, dubbed this man as "the adventurous driver".
He was the key to all of this.
He was the driving force that led us to this hidden spot in Barili, Cebu.
In the words of the great and old Raul, he was Barili's version of the mysterious stranger named Allan in Naga.
But, we forgot his name, so we just gave him "the adventurous driver" moniker.
On the way up, we caught sight of Barili's coastline from this mountainous rough road.
And, it was totally awe-inspiring.
"Wow". That was the first thing that came into mind, as we saw that sight.
We wanted to stop, and paused for a second to admire the view. But, the adventurous driver had other plans. He said he knew a great spot in this mountain.
"Just trust the adventurous driver", I said to myself. "After all, this is his yard".
And, he was on point. The place where he took us was simply outstanding. Not only did it boast lovely coastal views, but it also showcased the verdant mountains of Carcar and Aloguinsan.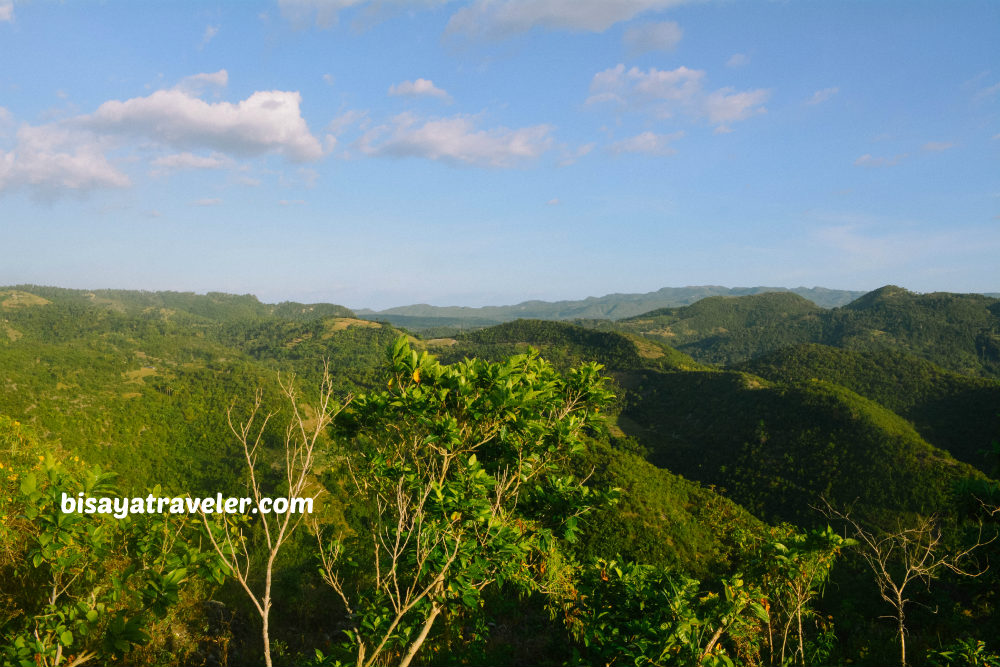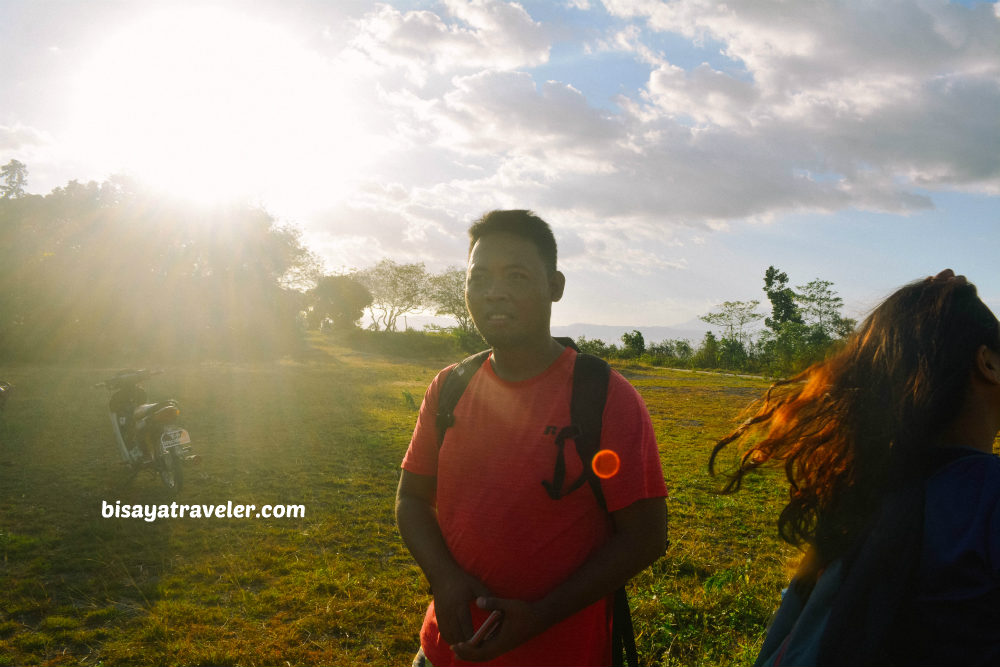 And, there's a little nugget of information that made this escape even more worthwhile.
As we later on found out, this steep road leads to Aloguinsan's gorgeous beaches, specifically Hermit's Cove.
The numerous new possibilities for hiking, the exciting trails and an updated mental map of Cebu – these are the reasons why I kept on exploring my island.
And, I found all of it on this not-so ordinary weekend escape.
As we've all agreed, we'll be, one day, hiking this Barili mountain all the way to Hermit's Cove.
Clearly, we were on a state of bliss, as we were taking in the scenery and fresh mountain air. To make things even better, this spot has the potential to be a great camp site.
Terrific sunset? Check! Great views? Check! Serene location? Absolutely!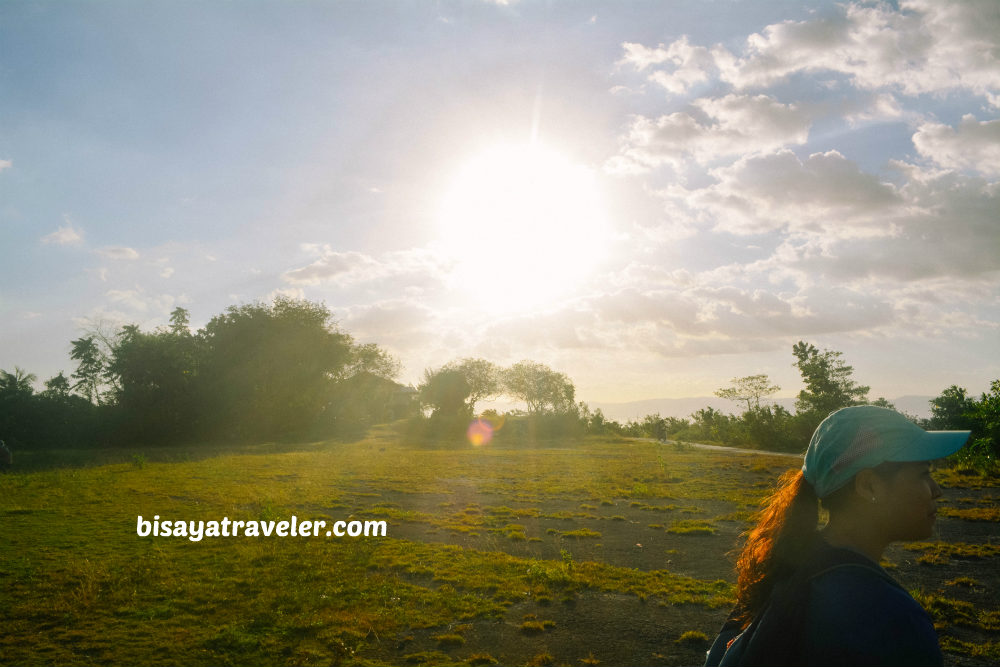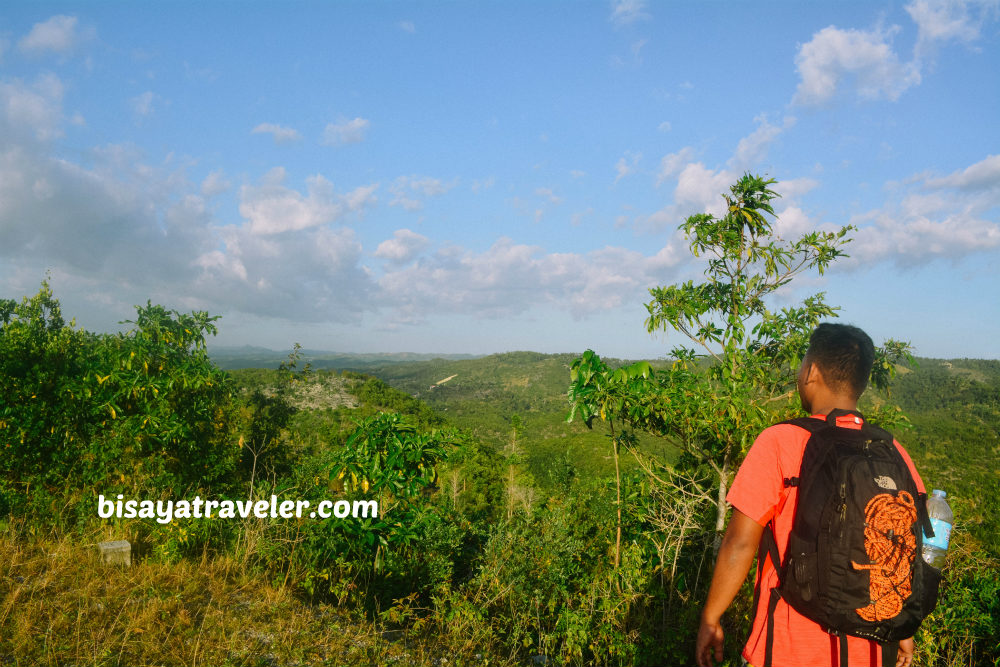 And, I loved every second of our experience in this mountain in Barili.
From this site, we walked downhill to find a great angle of Barili's remarkable coastline.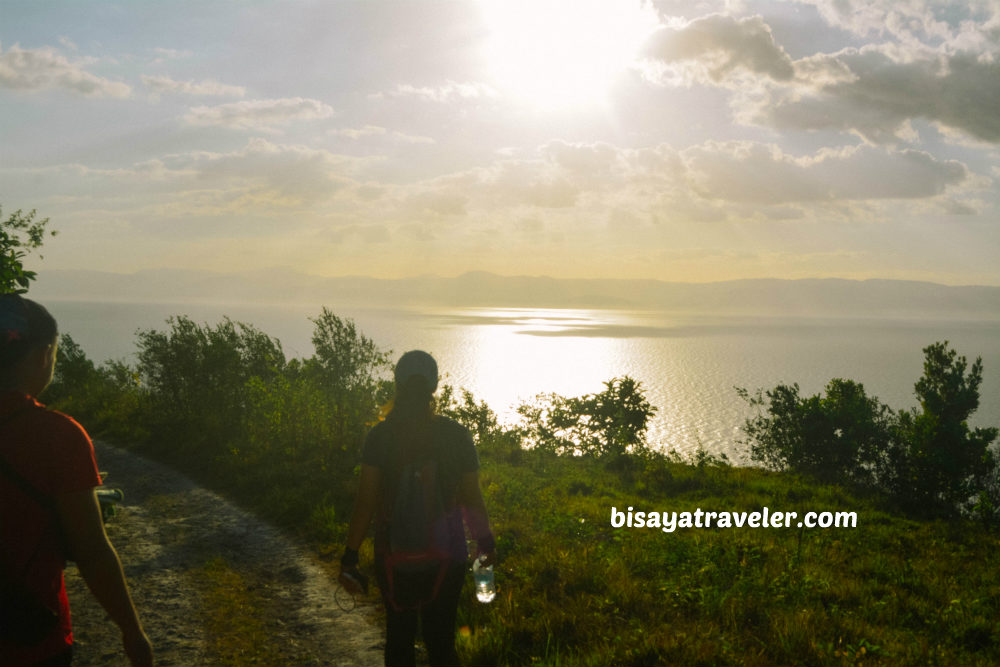 The place was like a picturesque ghost town.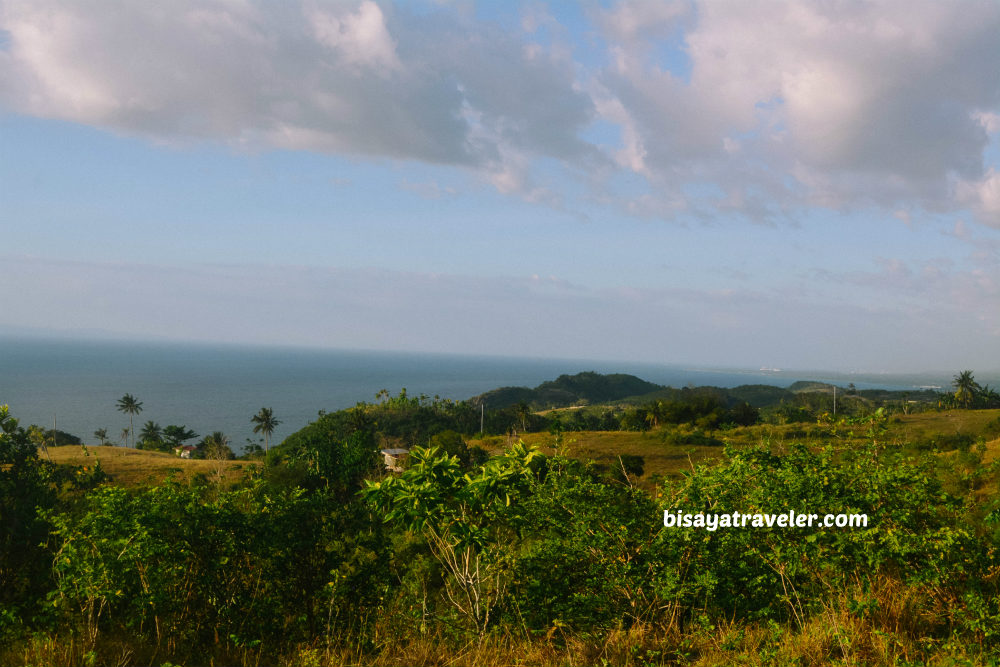 No whizzing cars.
No traffic jams.
No sea of humanity.
All I could hear was the sound of nature – the whisper of the wind, the chirping birds and crashing waves.
And, there's no shortage of mesmerizing nature sights either in this hidden place in Barili, Cebu.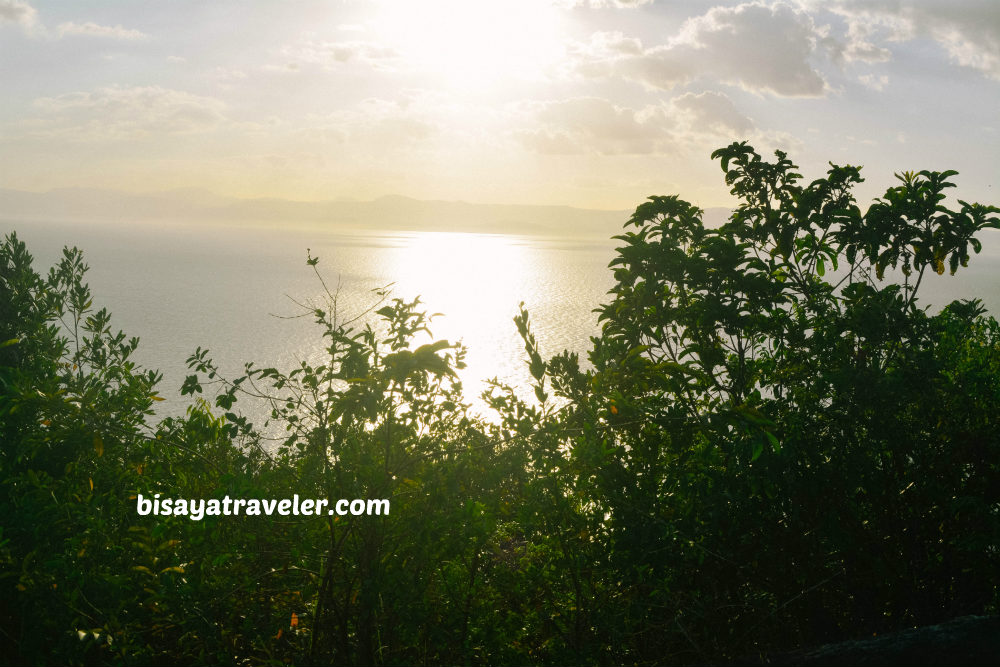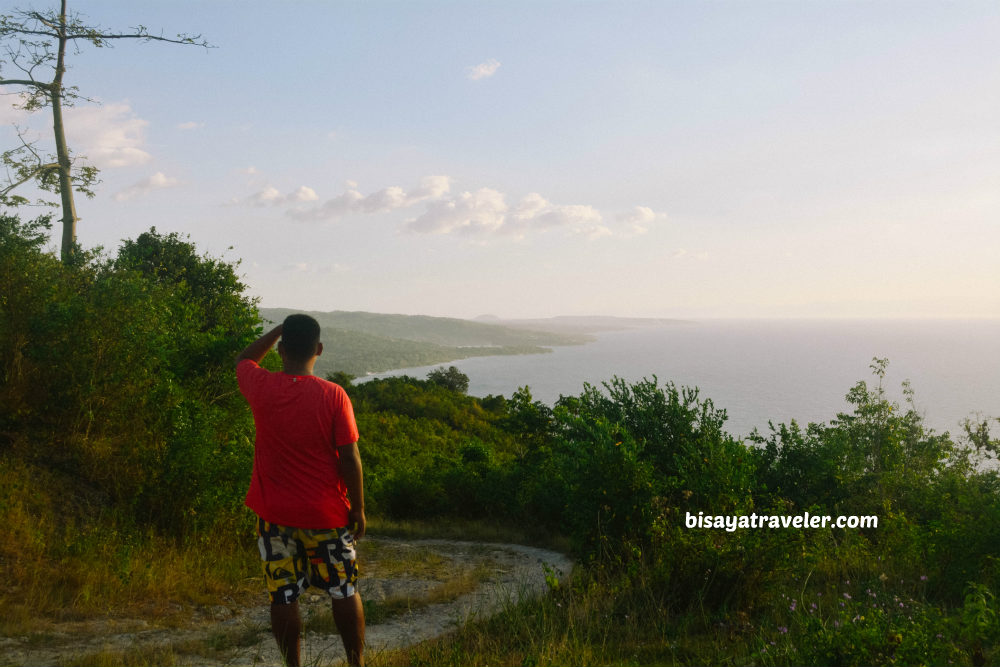 As we were looking for a great angle, a man in his 40s appeared, out of nowhere. And, without hesitation, Raul asked the man if there's a spot with an awesome and clear view of Barili's coastline.
The man, then, pointed to a cliff enveloped in lush vegetation. Slowly, we followed the trail inside this labyrinth of limestone rocks and thorny trees.
And, that man was a godsend.
It is as if he was sent there for a specific purpose – to show us to the way to the cliff.
Moments later, we found a spot offering breathtaking views of the sunset and Barili coastline.
It was such an exquisite sight!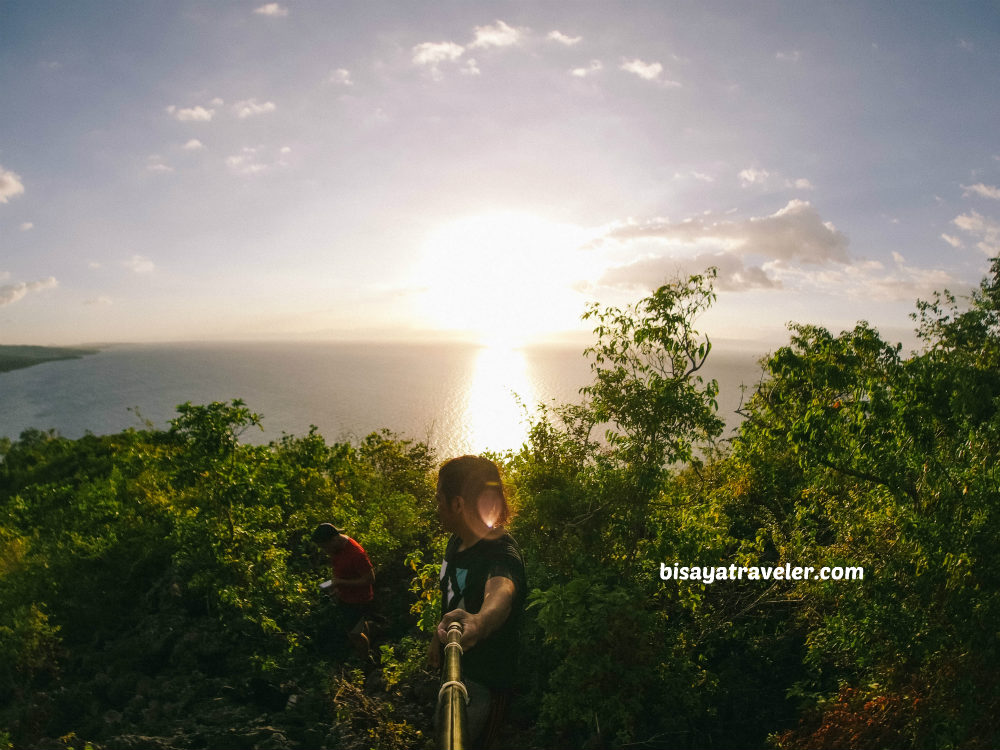 The view was so visually appealing that Raul couldn't take a good picture of us.
Dian and I took nice photos of Tatay Raul and the beautiful landscapes of Barili.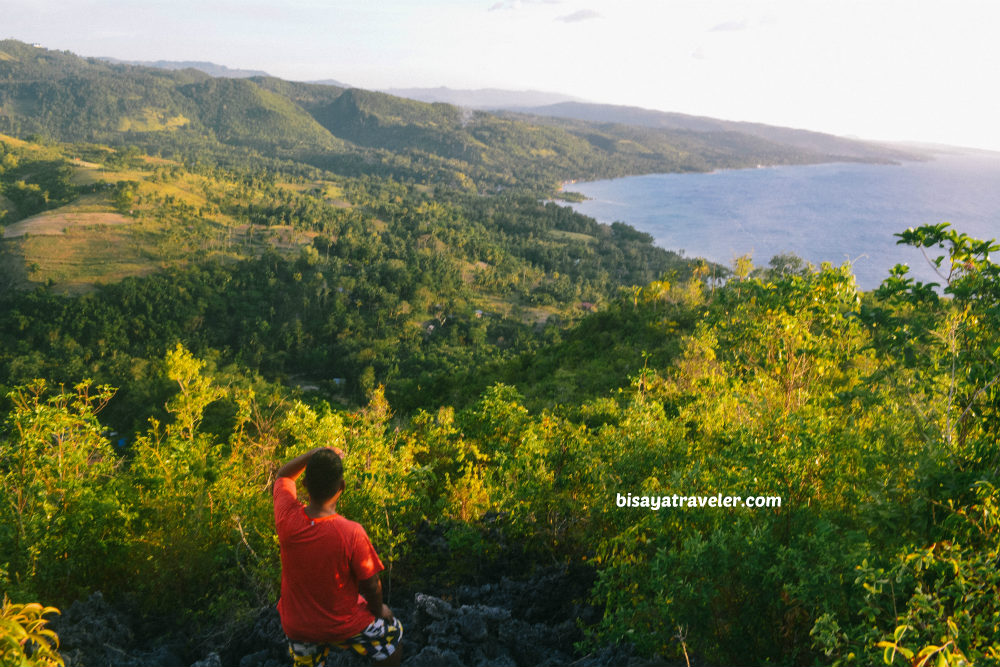 Raul, on the other hand, took half-body photos of us that made us look like manananggals (vampire-like mythical creatures in the Philippines).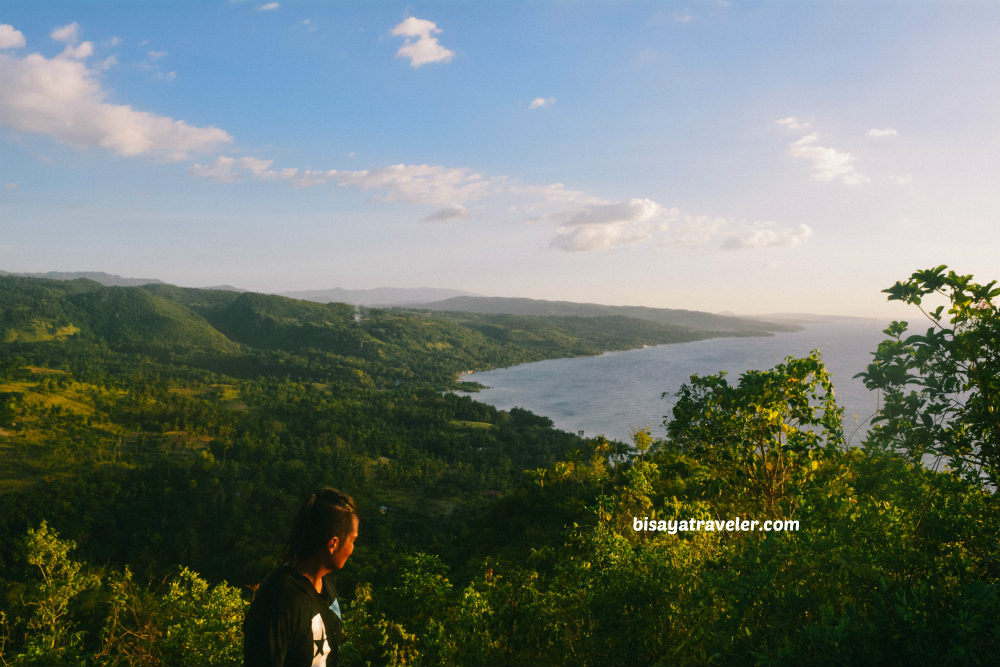 As an added bonus, the sun was setting, plunging wondrously into the sea.
We also had a group photo, to preserve the wondrous memories of this accidental discovery in Barili, Cebu.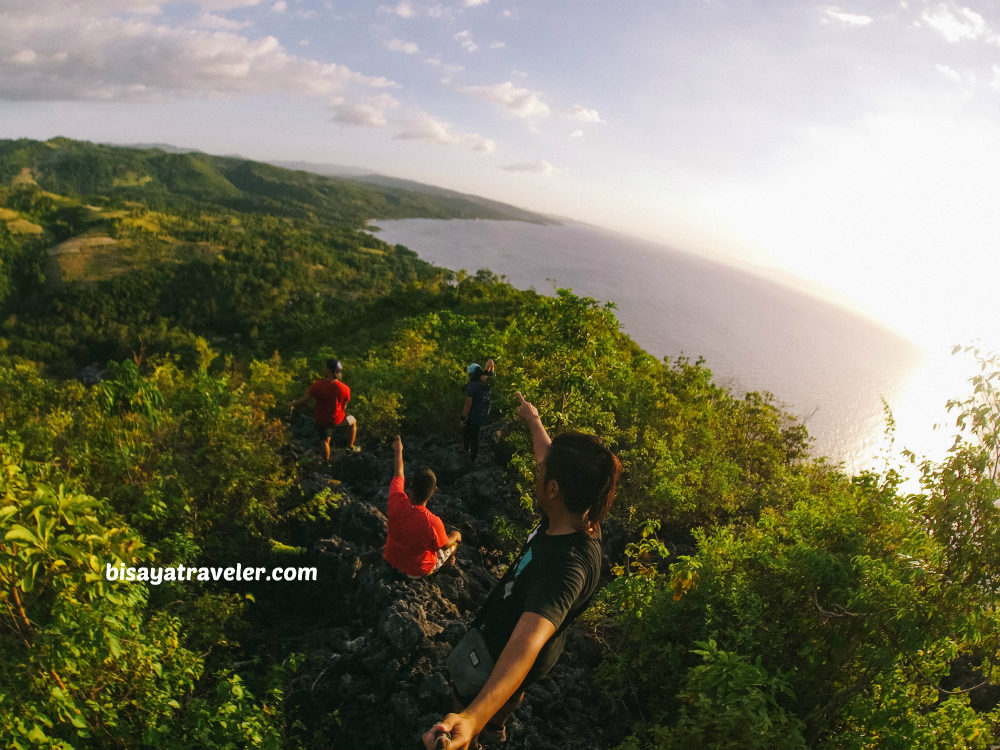 We are a bizarre cross-pollination of personalities and abilities. But, together, we create a perfect symphony of fun and adventure. And, this recent discovery is the epitome how our curiosity and unique combination drive us to unusual adventures in Cebu.
Afterwards, we went home with an appeased sense of wanderlust and a quenched craving for adventure.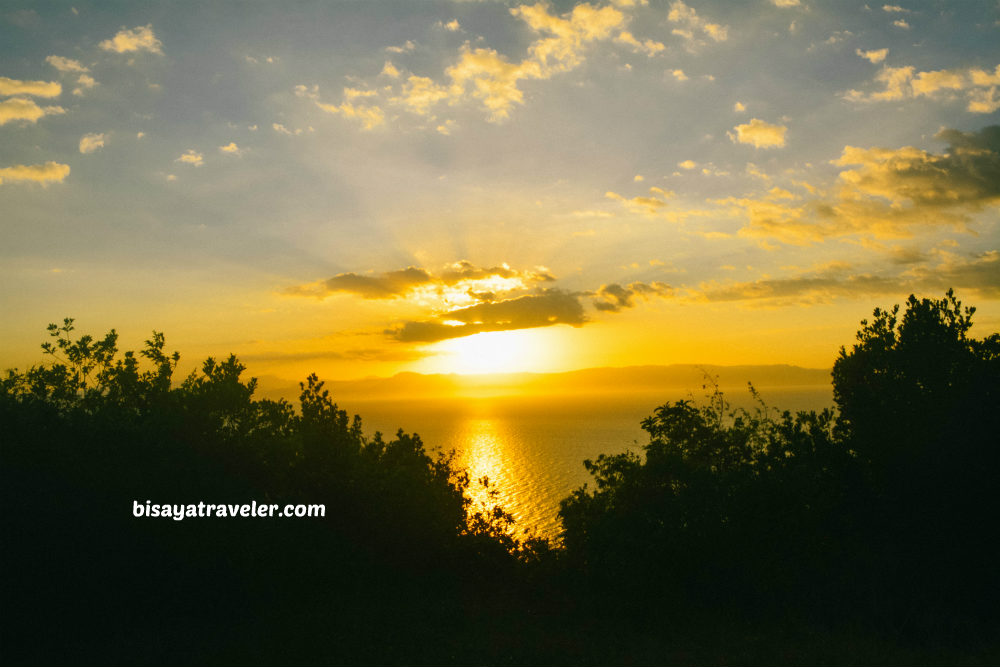 I know what you're thinking.
Does this secret spot have a name? Yep, it's called Palatdan. But, unlike my other blog posts, I'm not going to spoil you with easy info.
If you want to know how to get there, just check out my blogs about Mantayupan Falls and Paradise Valley. Then, follow the clues, and create your own recipe of adventure in Barili.
A couple of weeks later, we, once again, saw this mountain. This time, we saw it from the national highway in Barili, Cebu.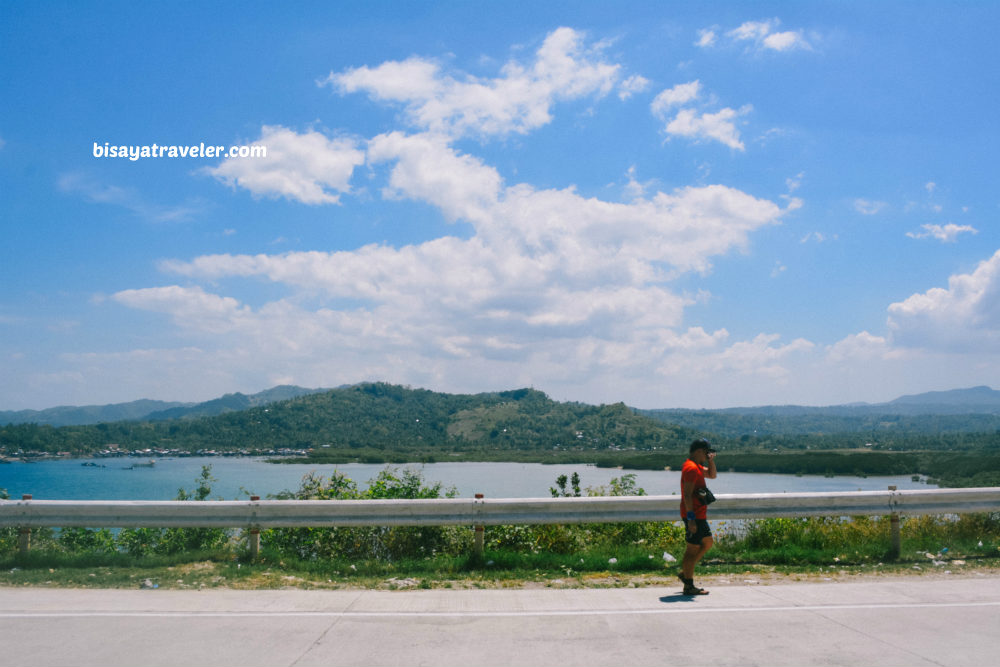 And, we kept talking about it, until we arrived in Alcantara.
From the adventurous driver to the stunning sunset, we fondly recalled all the fascinating moments of that escape.
Of course, we also mentioned our mananggal photos courtesy of Tatay Raul.
And, there's a sweet takeaway or lesson from this unintentional discovery.
For me, it's the unplanned trips, unrehearsed moments and unexpected encounters that make great stories.
Unplanned adventures have an element of surprise, creating opportunities to see new places and experience new things.
We wouldn't have experienced that beautiful sunset if we followed a strict itinerary.
And, we surely wouldn't have found that secret spot, if we played it safe and feared the unknown.
That's why I always embrace spontaneity, whenever I hike, travel or explore a place.
So, live a life with an open mind and a dose of spontaneity. Trust me, you'll discover tons of surprises and new experiences that way.
And, there's another thing we've learned from this memorable pursuit of adventure.
When you wholeheartedly seek adventure with an open mind, the universe will find a way to give it to you.
As you can see, everything seems to fell into place for that experience in Barili.
But, we didn't plan it.
The universe did it for us, in a rather mysterious way.
The tempting waters of Mantayupan.
The adventurous driver.
The abandoned mountain resort.
The 40-ish man who led us to the overlooking spot.
Take one moment or person away from that equation, and I'm sure we'd never had the chance to see this hidden spot in Barili.
The universe gave us all the pieces of the puzzle, and we blissfully solved the mystery.