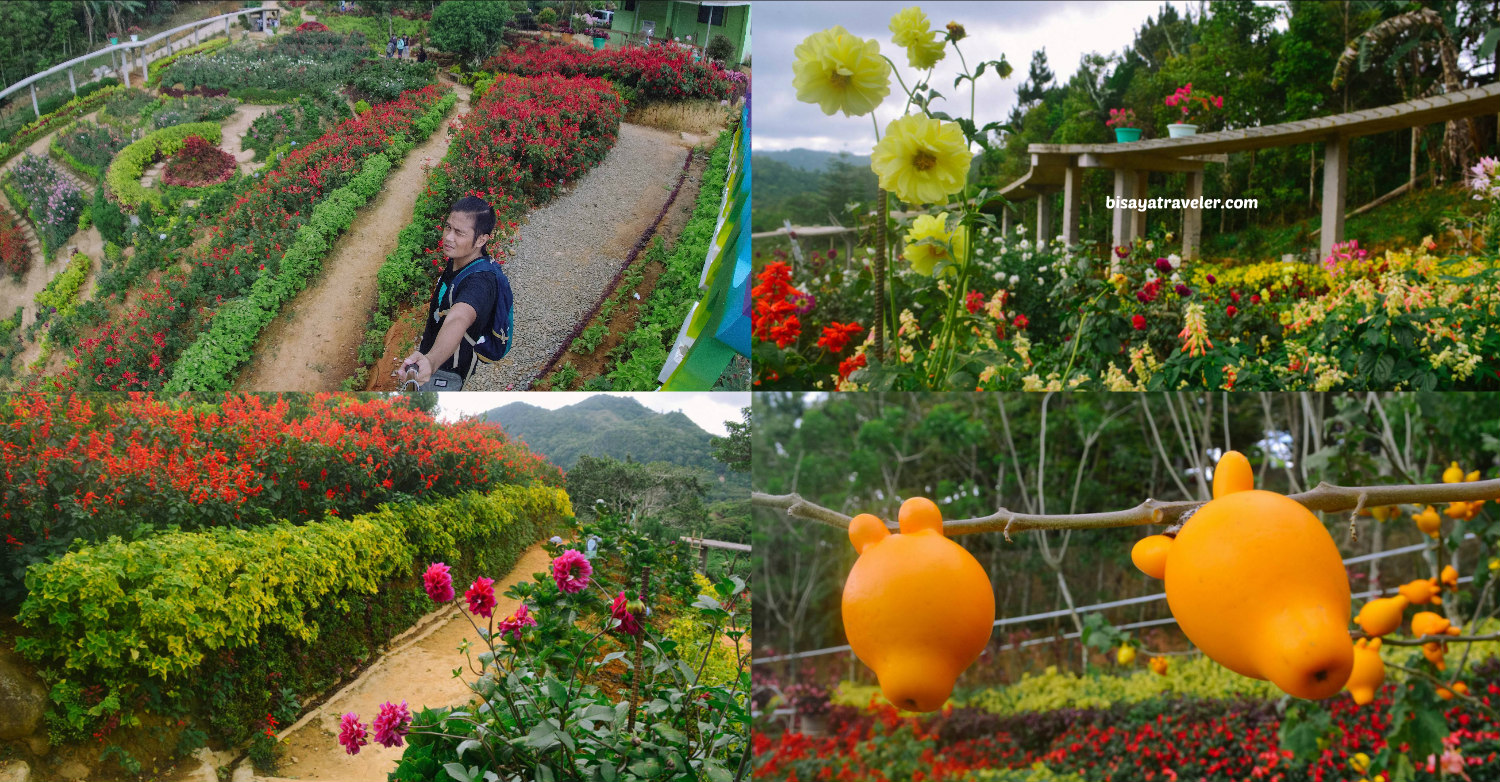 Buwakan Ni Alejandra: Balamban's Surprisingly Wondrous Garden
It all started with a picture. An eye-catching drone shot showcasing the vibrant greens, reds and yellows of Buwakan Ni Alejandra. Shortly after, photos of it went viral online, sending Cebu's social media users into a frenzy.
Fascinated by the photo albums, dozens of visitors, then, flocked to Buwakan ni Alejandra to see its gorgeous blooms.
Since then, Balamban became a sought-after spot for tourists and locals yearning for a quick break from their daily grind. And, as far as I'm concerned, it sparked a tsunami of new attractions in Cantipla and Balamban, Cebu.
Yet, even with its immense appeal, I wasn't really interested in seeing Buwakan ni Alejandra. When it comes to traveling and sightseeing in Cebu, I'm in no rush.
Like most introverted explorers, I wait patiently for the crowds to dissipate. Furthermore, my crap-detecting ability sensed something unusual about these viral Buwakan ni Alejandra photos.
And, after a few months, I finally had the chance to lay eyes on the beloved flower garden of Balamban, Cebu.
Was Buwakan ni Alejandra as good as advertised? Were the views as delightful as Balamban Liempo? Or, is it another case of the reality-versus-expectations dilemma?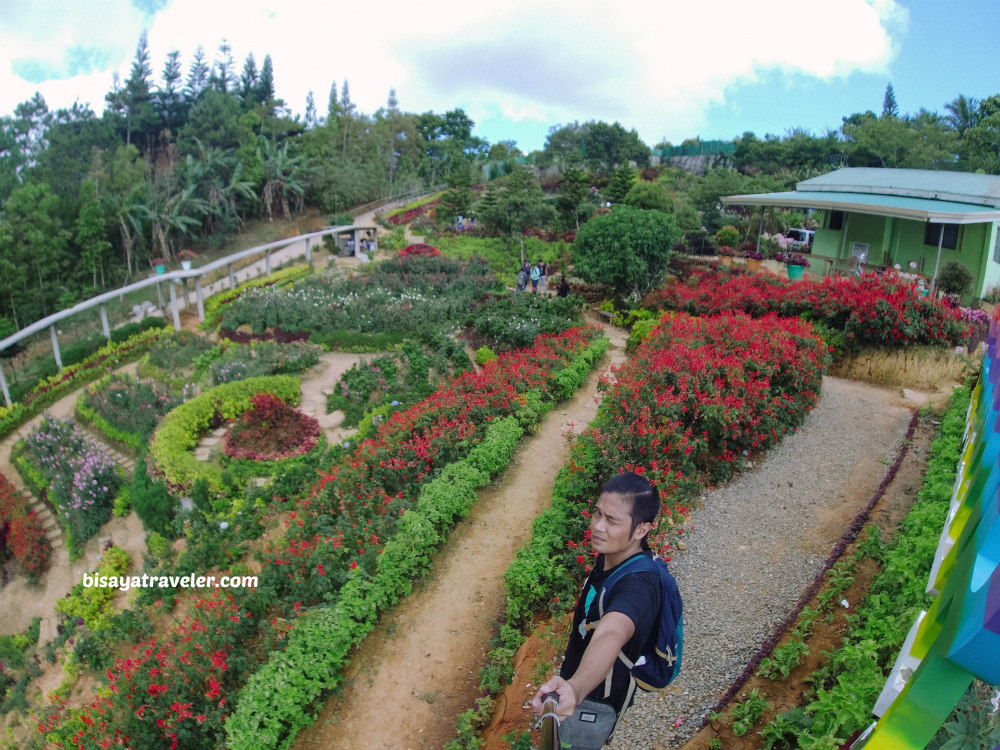 My Buwakan Ni Alejandra experience
I was craving for a serene and picturesque mountain escape. The endless parade of work and the harsh realities of adult life made me yearn for a weekend break.
And, usually, whenever my wanderlust spikes, I gather my friends for a little escapade. Together, we hike pristine mountains or chase refreshing waterfalls to quench our thirst for adventure.
This time, though, no one was available to join me for a quick nature trip.
Still, I thought it was perfectly fine.
Besides, it has been a while ever since I explored a place solo.
And, as I was browsing my options, I realized that I have yet to pay a visit to Buwakan ni Alejandra. While it's not exactly my cup of tea, I was somewhat interested to see what it looks like in person.
So, from Ayala Center Terminal, I took a V-hire ride to my first stop in Balamban, Cebu – JVR Island in the Sky.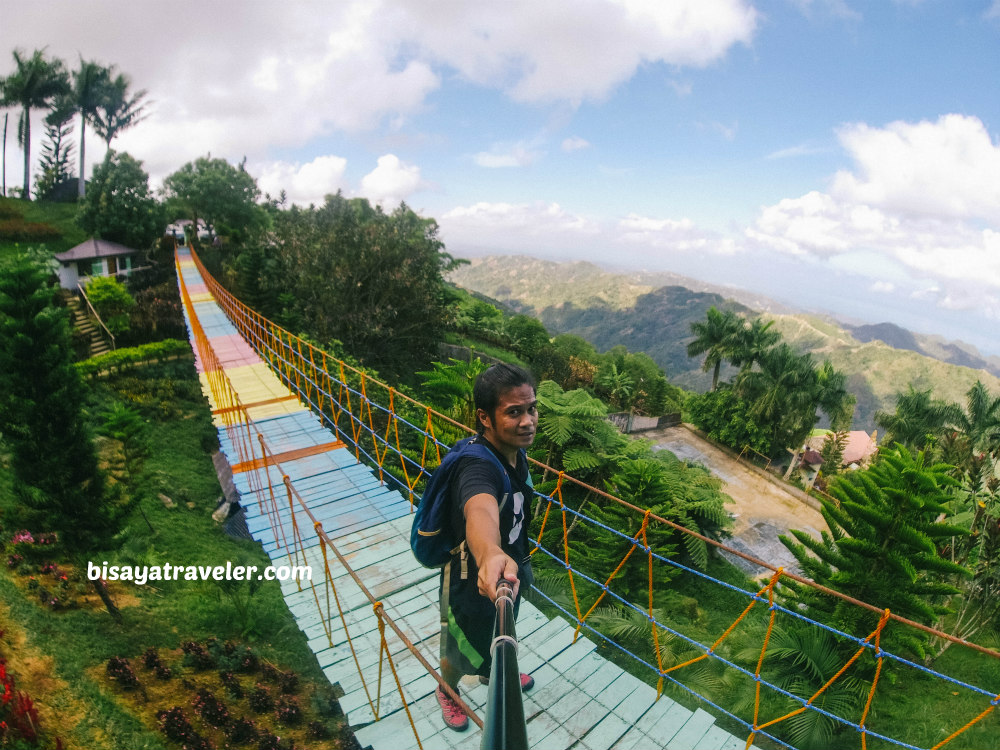 And, it was a great starter to my Balamban, Cebu break. Not only did I enjoy snapping pictures, but I also spent some time soaking up the fresh mountain air.
Rejuvenated and relaxed, I crossed the street from the resort, and made my way to the entrance of Buwakan Ni Alejandra.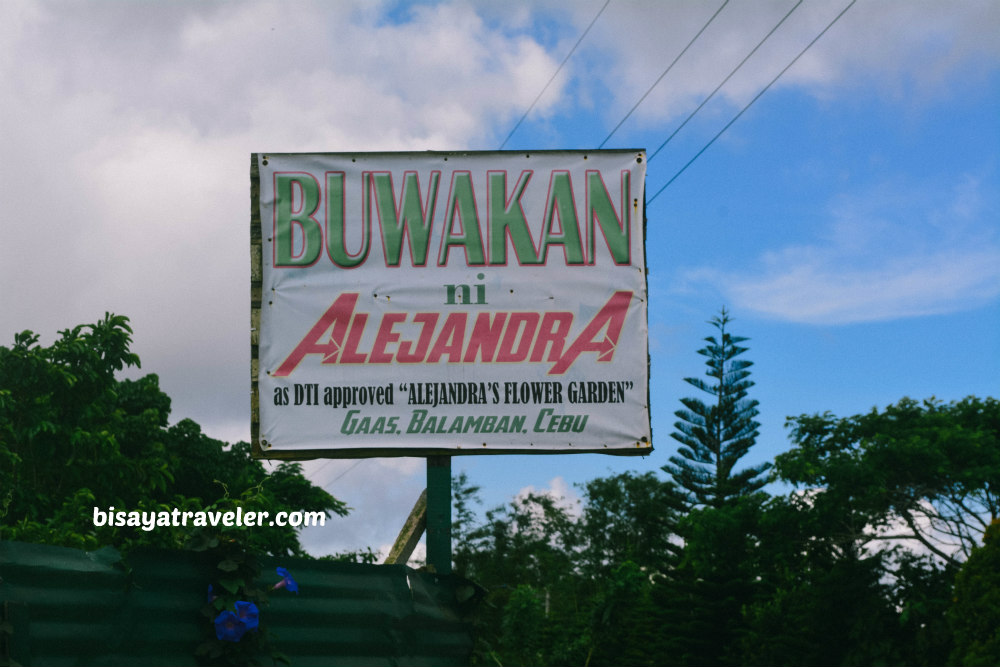 Covered in green fences, I couldn't catch a glimpse of the flowers displayed inside Buwakan ni Alejandra. Personally, I thought the fences add an element of mystery to this Balamban, Cebu attraction.
Is there a mesmerizing surprise waiting inside Buwakan ni Alejandra?
Probably.
Definitely.
Maybe.
Once I finished paying the fee, I wasted no time, and hit the paved pathway to the celebrated flower garden in Balamban, Cebu.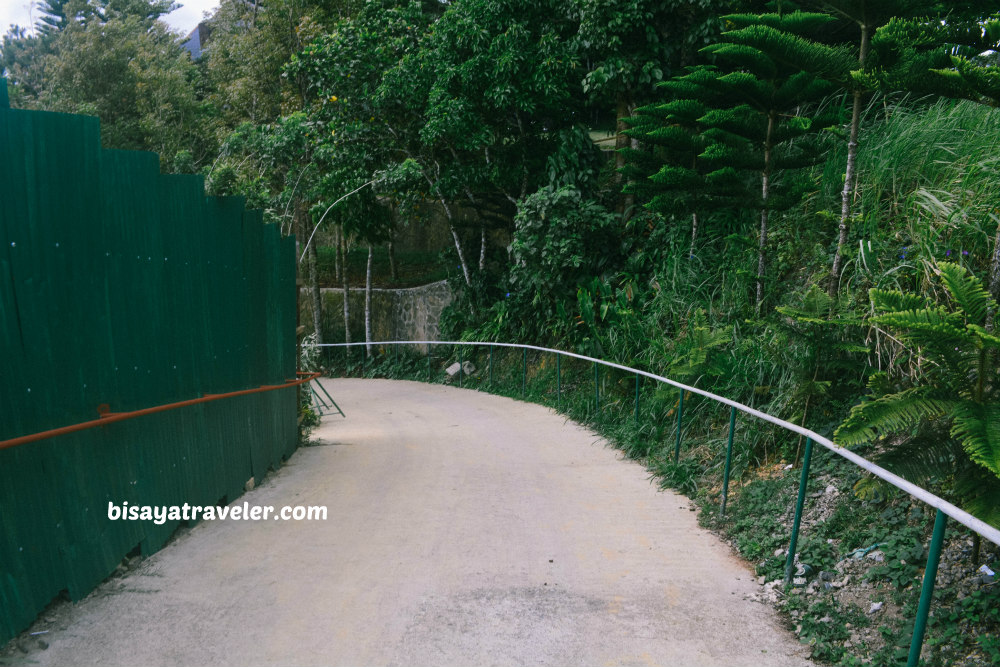 Quite frankly, I, at first, didn't find it so impressive.
Is this the fame Buwakan ni Alejandra?
Is this what the buzz is all about?
Don't get me wrong – it's great, lovely and Instagram-worthy.
As a matter of fact, it may be one of the prettier and more picturesque flower farms in Cebu. Maybe, I was just expecting too much, after seeing those drone shots.
And, we all know that almost everything looks stunning when seen from a bird's perspective.
Slowly, I found Buwakan ni Alejandra fairly beautiful and charming. Sure, it's not the most spectacular sight I've seen, but it still did unleash my inner shutterbug.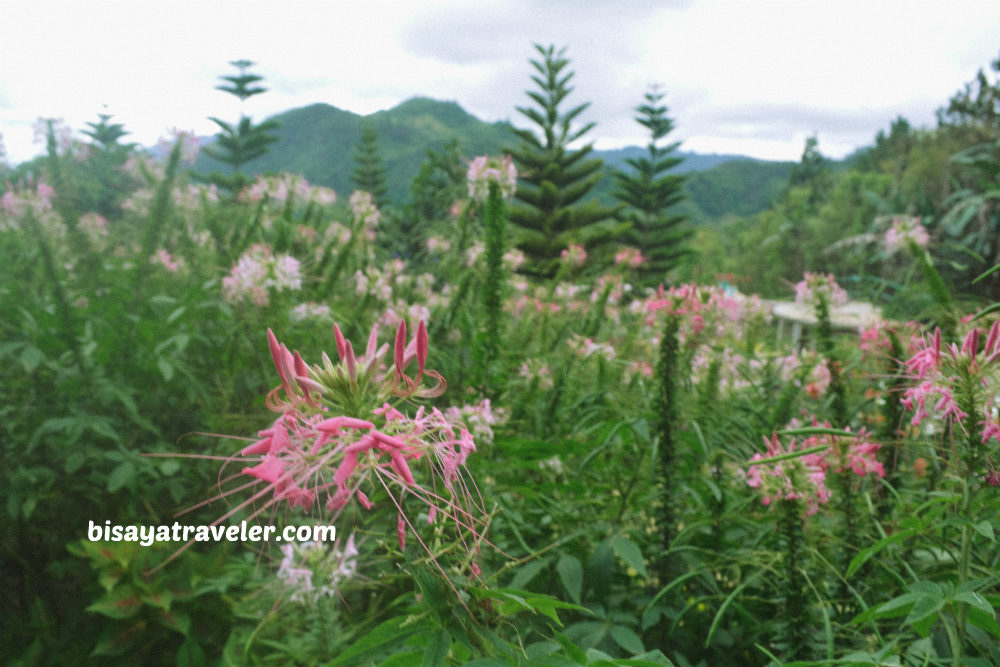 A couple of moments later, a friendly young man approached me, and gave a brief introduction of Buwakan ni Alejandra. From details about their flora to the history of the garden's name, the guide shared a bunch of fascinating info about the garden.
I think it's a great feature and one of the perks of visiting this Balamban, Cebu attraction. After all, I travel and explore to learn and expand my knowledge about our mysterious universe.
As an added bonus, the guide volunteered to take a photo of me, which I refused respectfully.
Thanks to the guide, I discovered a couple of things that quickly changed my view about the garden, like its primary purposes.
One of the things I like about Buwakan Ni Alejandra is its unique mission to promote local flora.
That means no celosia flowers.
No sunflowers.
No bright European tulips.
And, no Japanese cherry trees.
I certainly love these foreign blooms.
But, don't you think it's time for us to patronize and love our own native flora?
Trust me, there are plenty of gorgeous nature flowers that are as visually appealing as the celosia flowers across the Philippine archipelago.
Have you seen those gorgeous bombel flowers?
How about those wondrously vibrant fire trees in summer?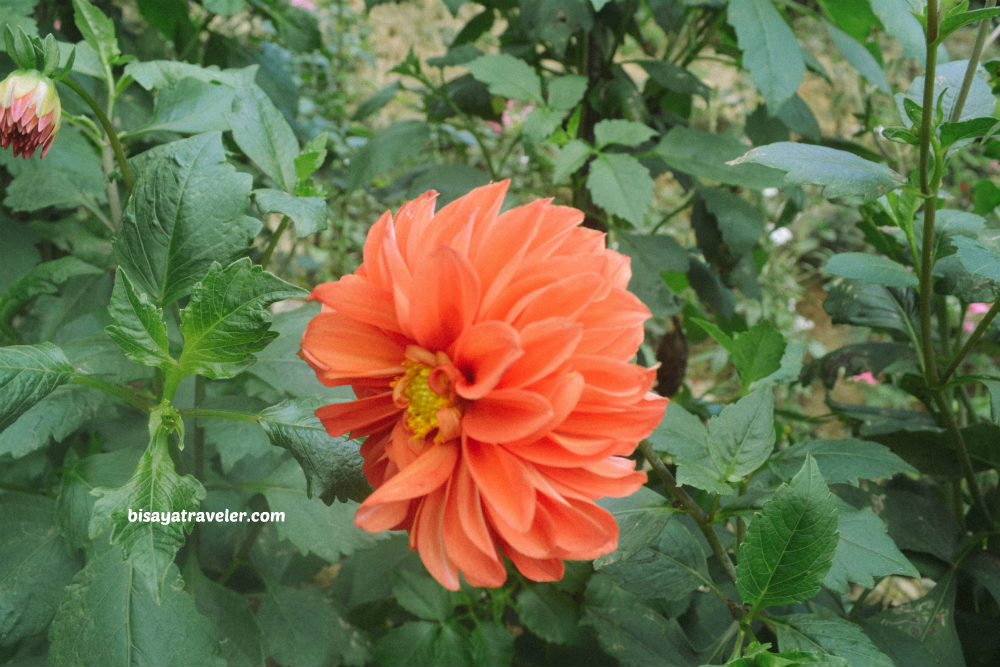 And, there's another feature that I like about Buwakan ni Alejandra. As what I've found out from the guides, the garden was also built to create a sustainable livelihood for the locals in Gaas, Balamban, Cebu.
Not to mention, Buwakan ni Alejandra was created to promote eco-tourism.
And, that, to me, is extremely impressive. In a world full of greedy business owners, Buwakan ni Alejandra is absolutely a breath of fresh air.
With plenty of time in my hands, I wandered around Buwakan ni Alejandra, to enjoy the fresh scent of its flowers. Of course, I also breathed in the fresh, cold and refreshing mountain air, adding more fun to my pit spot.
As I was exploring the area, I saw a handful of familiar-looking flowers.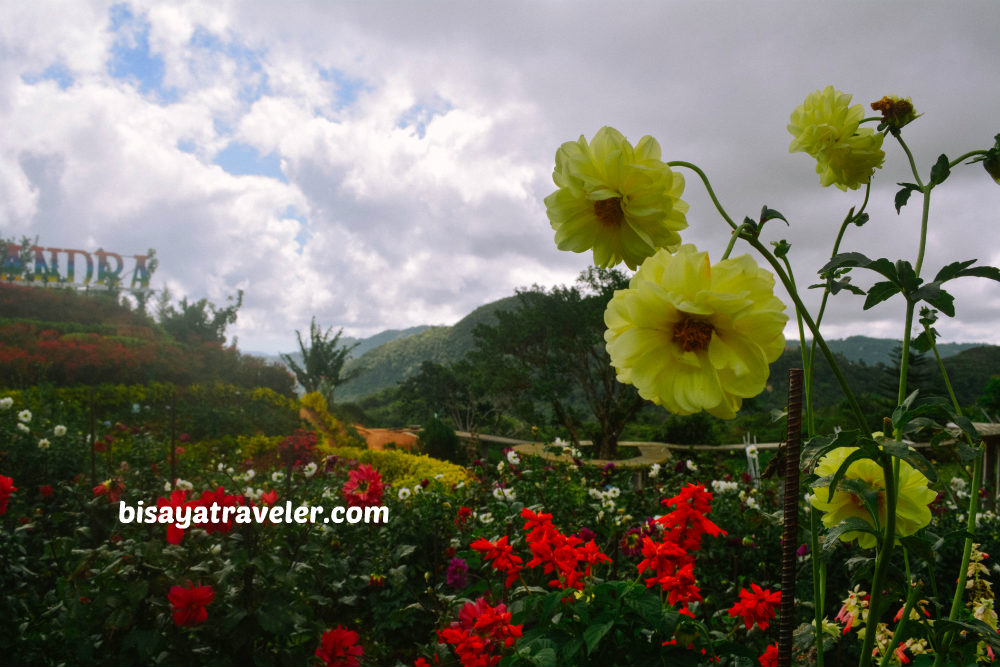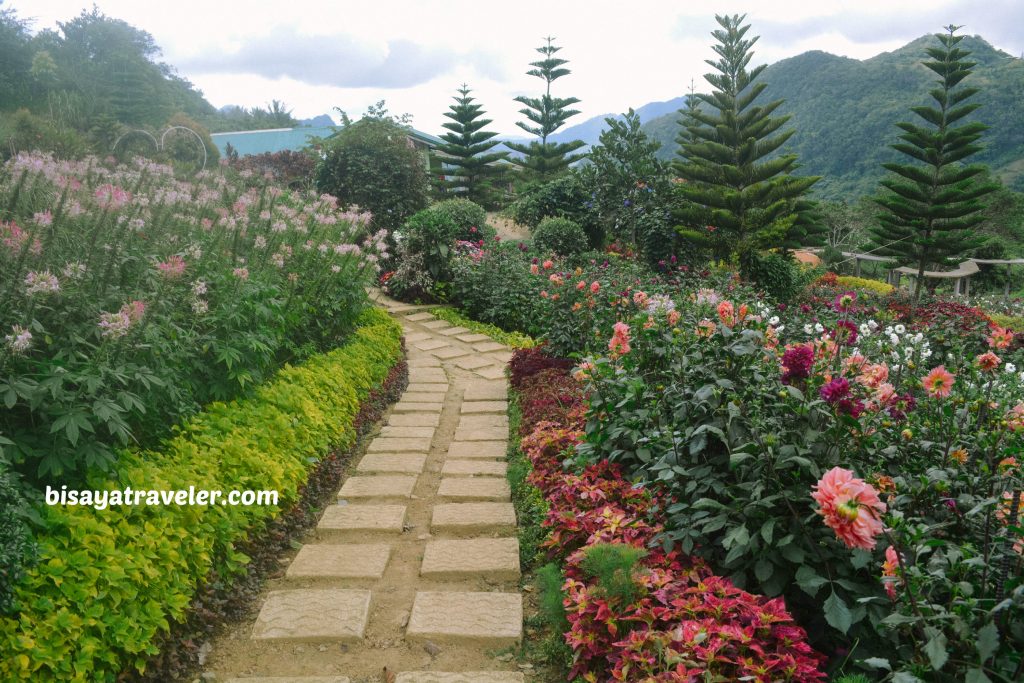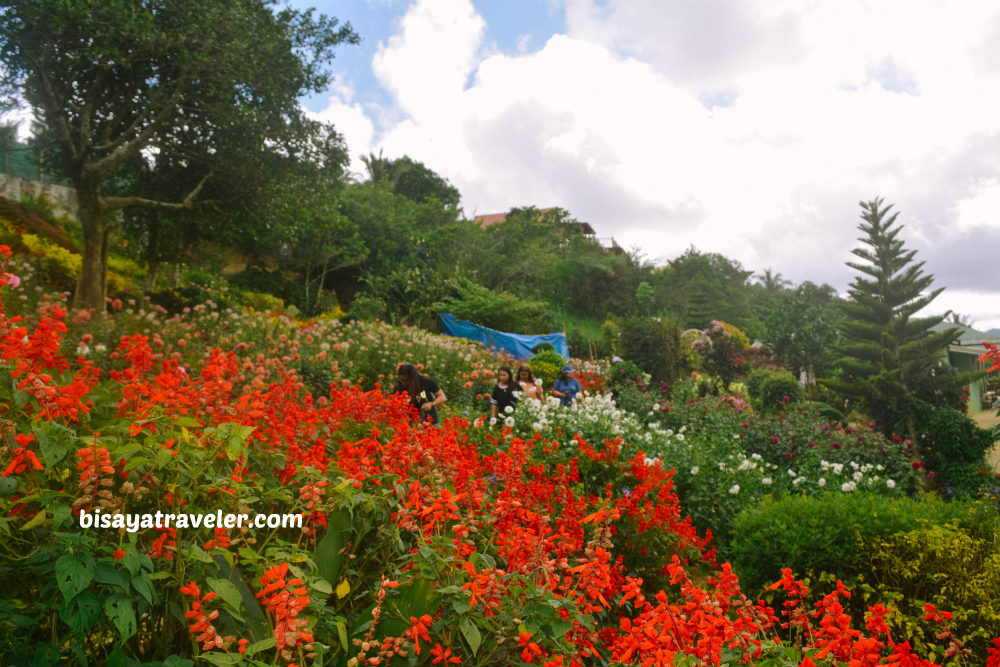 Flowers that I may have seen, while hiking scenic trails in the Philippines.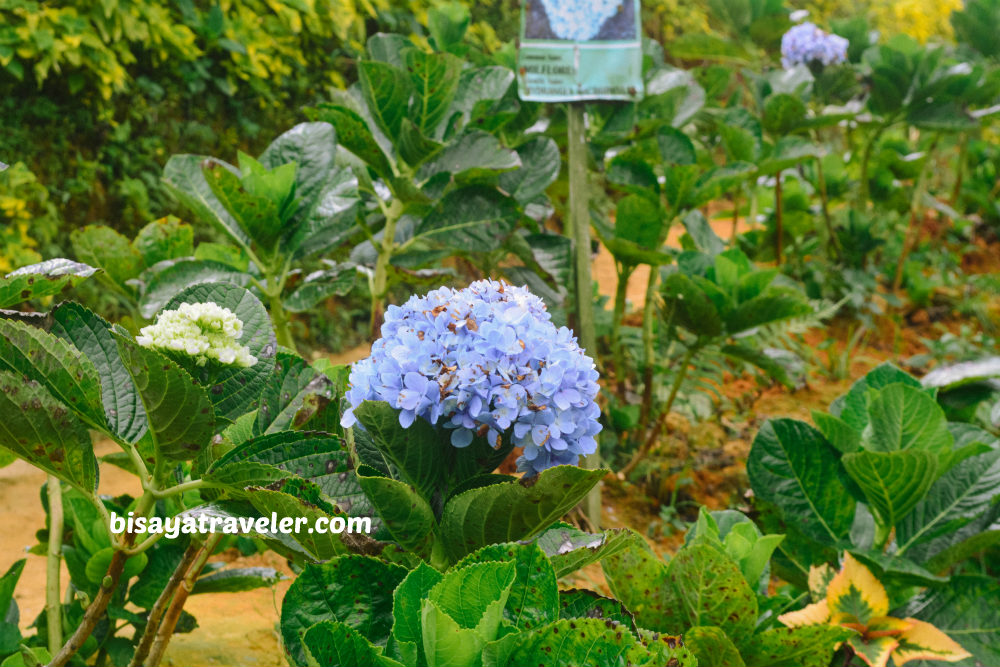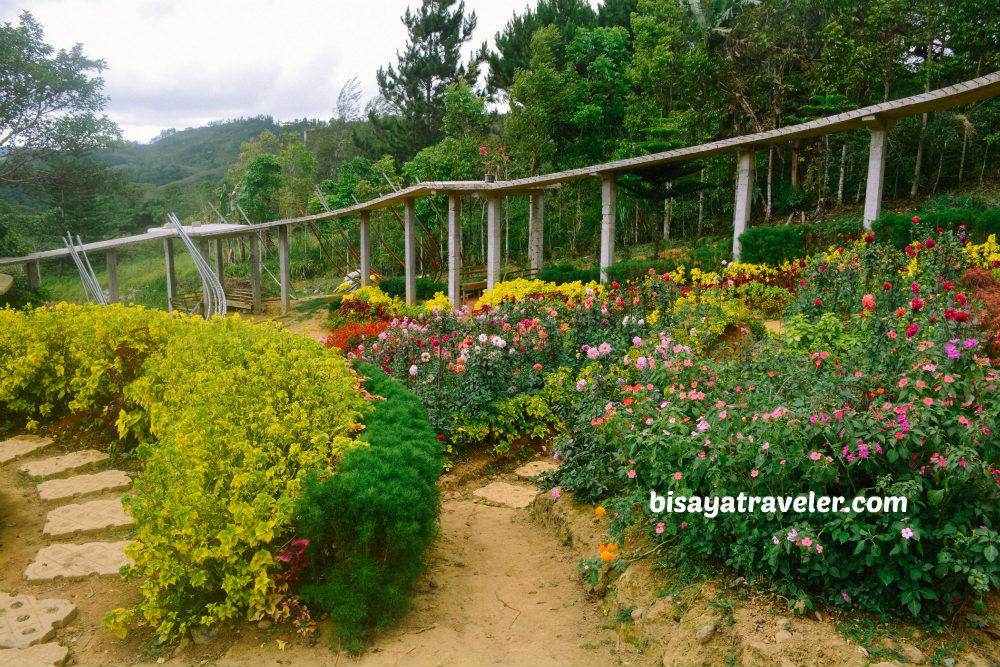 There are some that come with labels, making my visit more informative and interesting.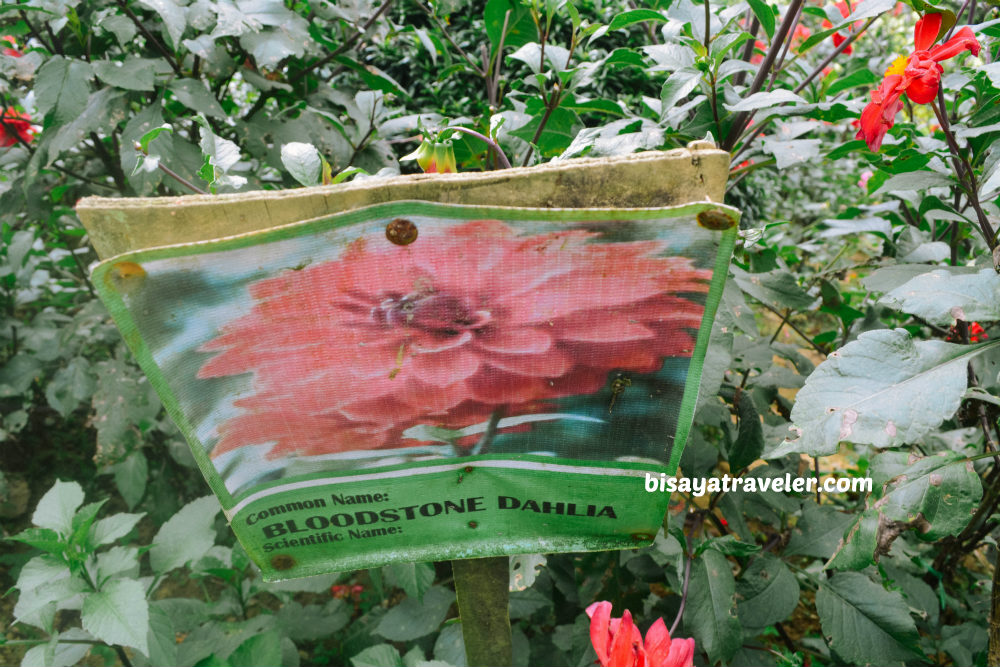 And, there are other quirky flowers that I've never seen before, such as this one.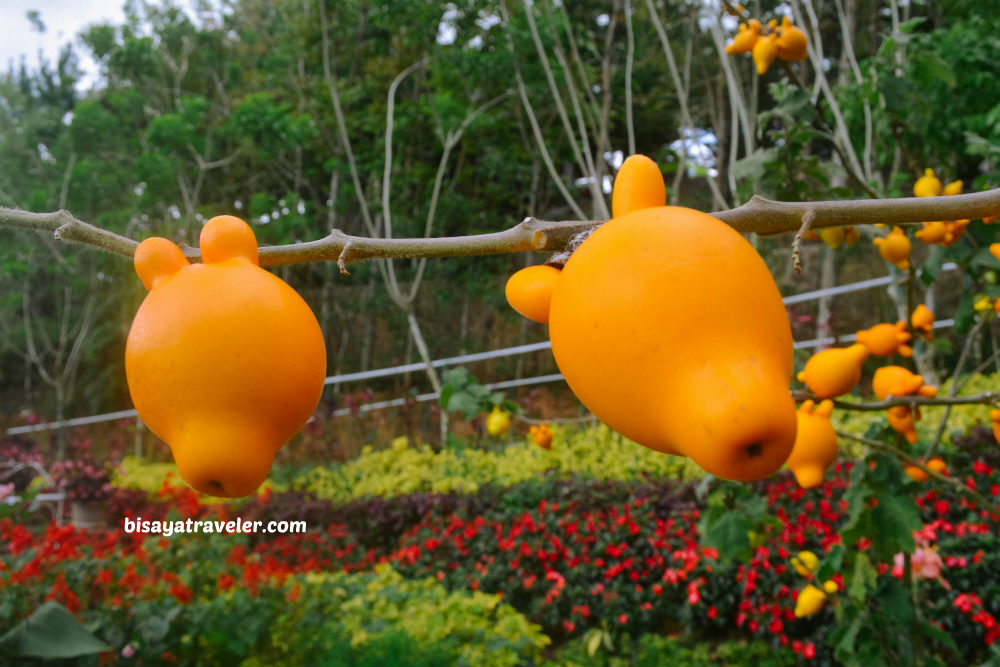 For obvious reasons, some visitors of Buwakan ni Alejandra call it as "Mickey Mouse".
As with most floral attractions in Cebu, Buwakan ni Alejandra has its features and photography paraphernalia.
Arches? Check!
Immovable bicycles? Yep, they have it too.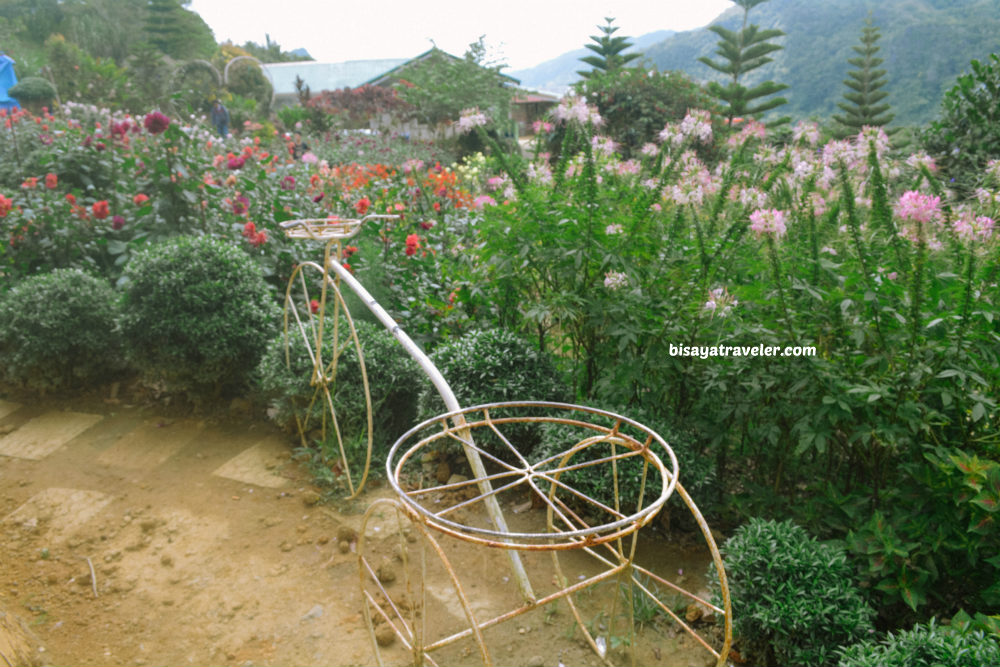 Usually, visitors head to the "Alejandra" sign to get their photos taken.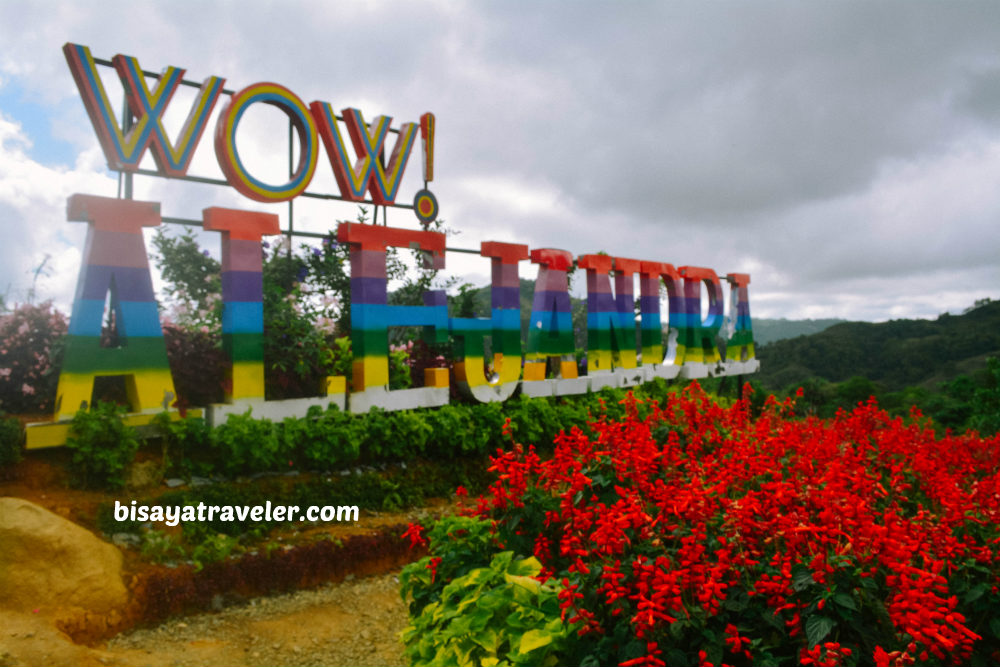 I, however, didn't do it since I was alone and I'm terrible at posing in front of the camera.
I think I'm the only blogger who feels awkward when facing the camera.
Heck, even the dog knows how to flaunt a better pose than me.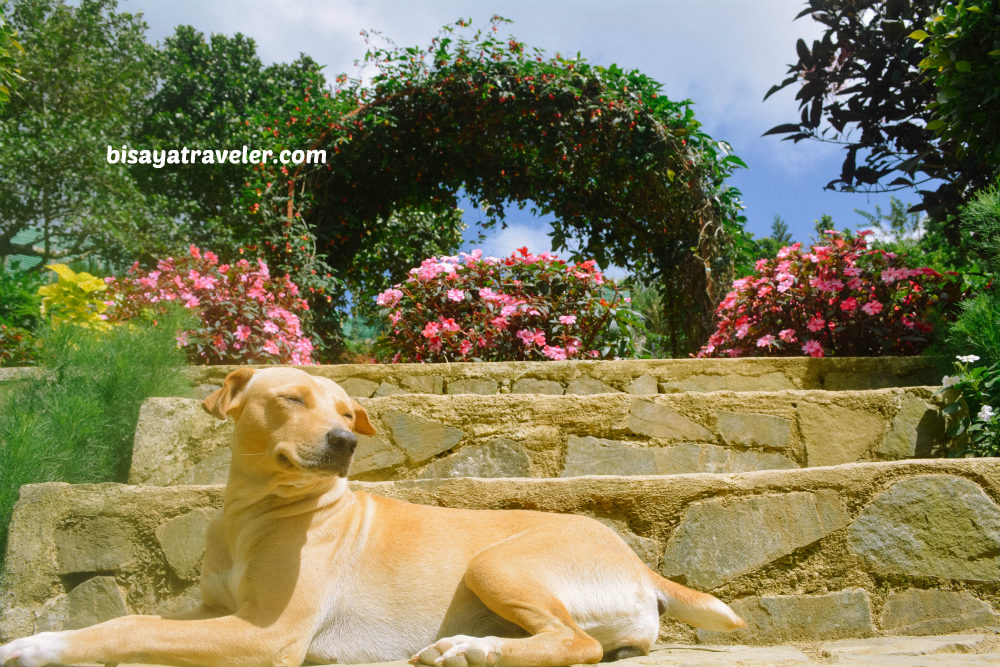 Even though the area isn't exactly spacious, there's a ton to explore inside the garden.
The mountain scenery is so captivating too. With its fresh breeze and cool climate, I enjoyed every minute of my sojourn in Buwakan ni Alejandra.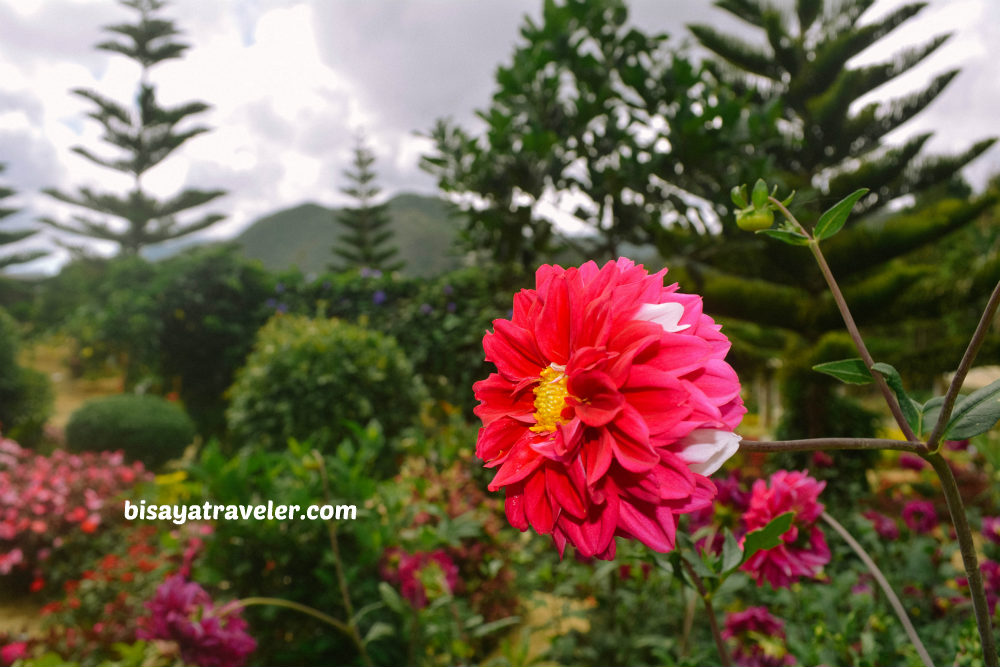 While savoring the scenery, I saw some construction going on inside the garden.
I, soon after, figured out that the whole garden is still in the BETA stages.
It's developing.
Expanding.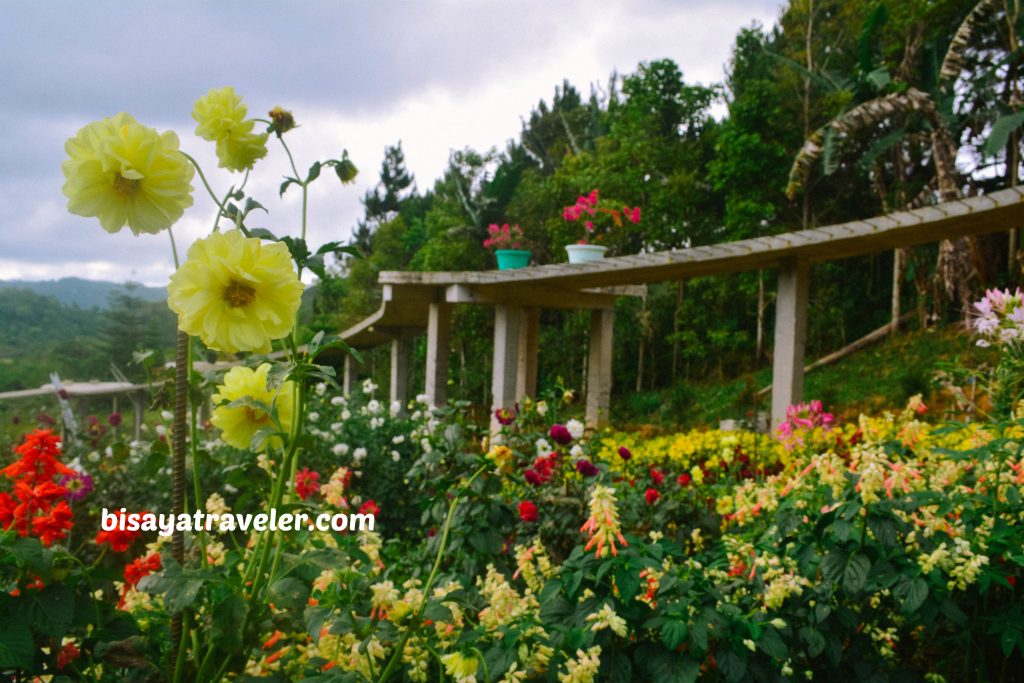 And, soon, it may flaunt more features that will give Sirao Garden a run for its money.
What we're seeing now may be a small piece of a bigger and grander jigsaw puzzle.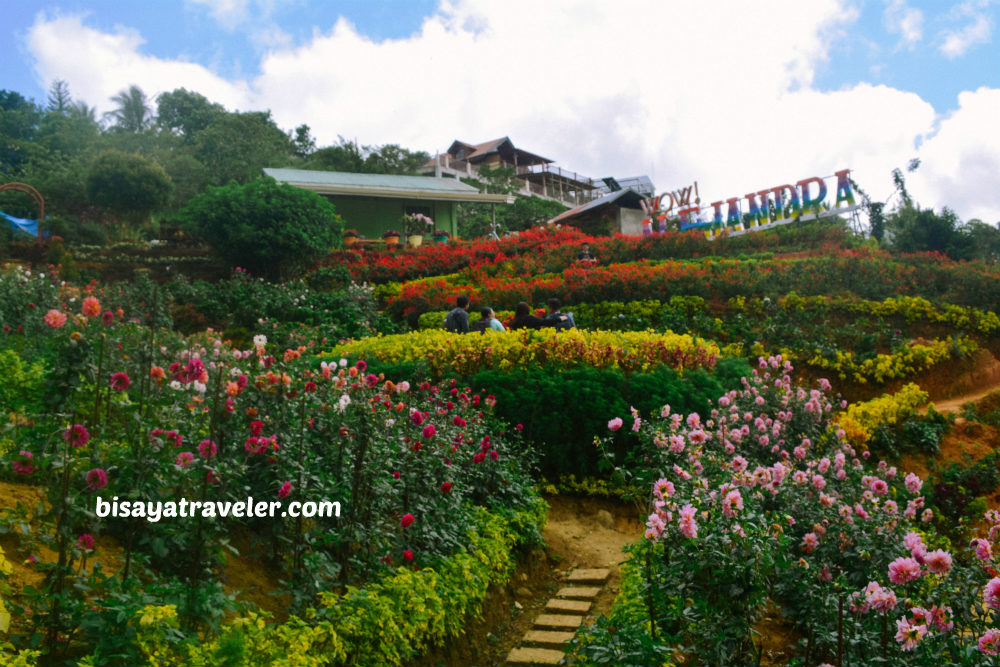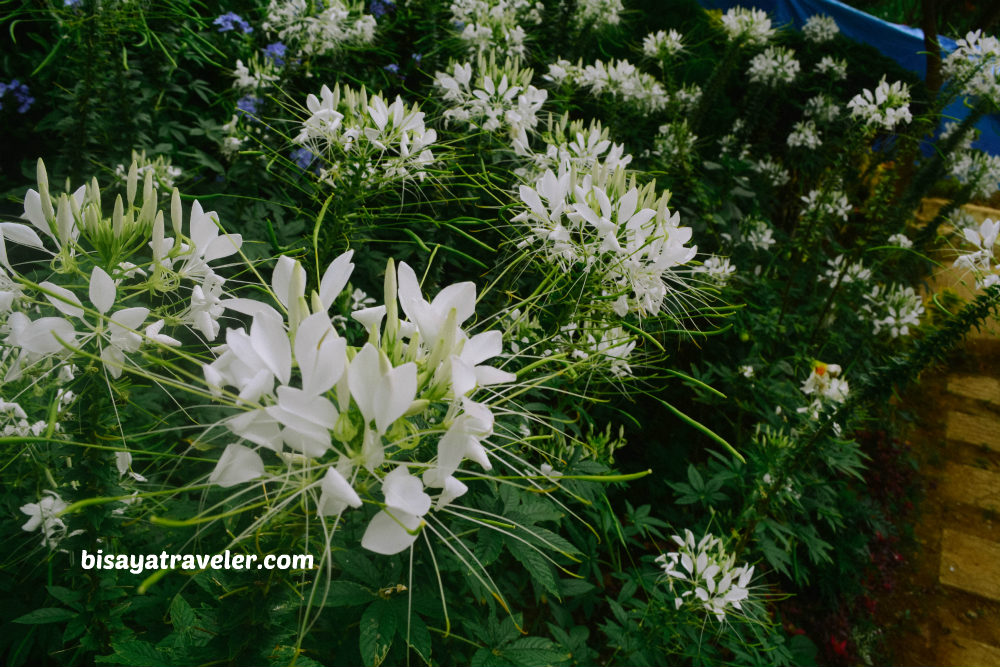 Feeling blissful and contended, I made my way to the exit, to head to the next stop of my Balamban, Cebu day trip.
On the way out, I overhead some dismayed visitors.
"Is this it?", asked a tourist. "I was expecting something bigger and grander".
Well, guys, there's more to Buwakan ni Alejandra than meets the eye.
Obviously, I didn't say it in their faces because it's best to let them figure it out on their own.
As my title suggests, I was surprised by how wonderful Buwakan ni Alejandra is.
Was I surprised by its aesthetic appeal?
Nope!
Everyone knows that the garden is sort of beautiful.
To be honest, I wasn't utterly blown away by its beauty. There are other places in Cebu than have more breathtaking views and colorful sights.
But, it did surprise me in other ways.
I was surprised by its aim to promote local native flora.
I was swept away by its therapeutic fresh mountain air.
And, I was amazed by its mission to promote eco-tourism and help the locals.
In my own small way and donation, I'm glad that I'm supporting the garden's wonderful cause.
From the garden, I walked my way to Florentino's Eco Park, to chill and gaze at the magnificent view of Toledo's mountains.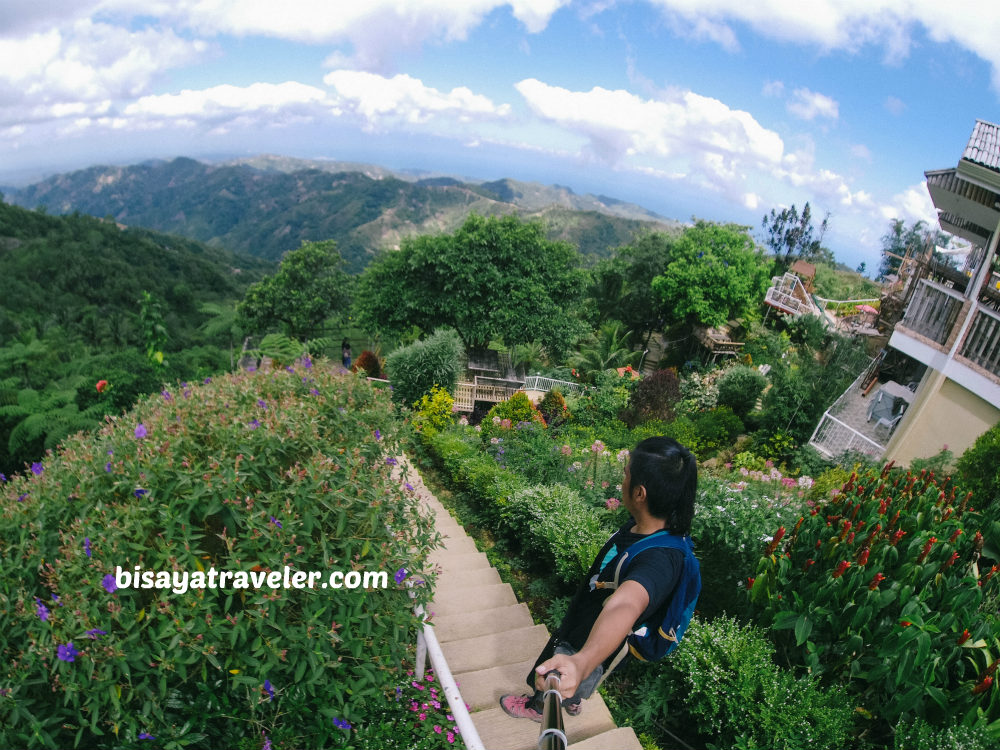 Afterwards, I walked from Gaas, Balamban all the way to Sirao. And, guess what? Although there was no picture-perfect ending, I learned quite a lot of things from that energy-draining hike. That's why I travel and explore, ladies and gentlemen.
How to get to Buwakan ni Alejandra
From Ayala Center Terminal, hop on a V-hire bound for Balamban or Tuburan via Trans-Central Highway. Ask the driver to drop you off at JVR Island in the Sky or Buwakan ni Alejandra. Fare is PHP 120 per person, and travel time is 30 to 45 minutes.
To get back to Cebu city, there are plenty of V-hires bound for Ayala that pass by Buwakan ni Alejandra. Just don't go home late. Otherwise, you'll be forced to hitch a ride back to Cebu on a stranger's motorbike or car.
Alternatively, there are tour operators that offer highland tours to Busay and Balamban, Cebu.
There's also the habal-habal option from JY Square. But, I won't recommend it because it's ridiculously expensive and dangerous. Imagine paying more than 600 pesos for a back-and-forth ride. It's a reasonable rate for the habal-habal drivers, but impractical for visitors.
More info about Buwakan ni Alejandra
Admission fee: PHP 50 for adults, PHP 25 for senior citizens and PWDs (don't forget to show your ID) and PHP 20 for kids.
Environmental fee: PHP 5
Operating times: 07:00 AM to 06:00 PM daily. They will likely close the complex if there is a storm.
There's a parking space available.
Tips and reminders
Don't be an a$$-hole. Don't leave your trash anywhere, and don't pluck the flowers.
There are other nearby attractions in Balamban, Cebu to explore, such as JVR Island In The Sky and Florentino's Eco Park. And, I'll be writing about them soon.
Bring your own snacks and water.
Avoid the crowds by going there early in the morning or during weekdays.
Bring an umbrella.
Plan your trip carefully. Remember, public transportation is rather limited in Trans-Central Highway.
There's more to traveling and sightseeing than just the Instagram-worthy snaps. For me, it's a fun and engaging way to learn about life's mysteries, and is a dynamic stress reliever as well. Moreover, it may promote ecotourism and may even help locals make an honest living. Who knows? You might be helping diligent students finish their studies. And, guess what? You get to do all of that on your visit to Buwakan ni Alejandra.