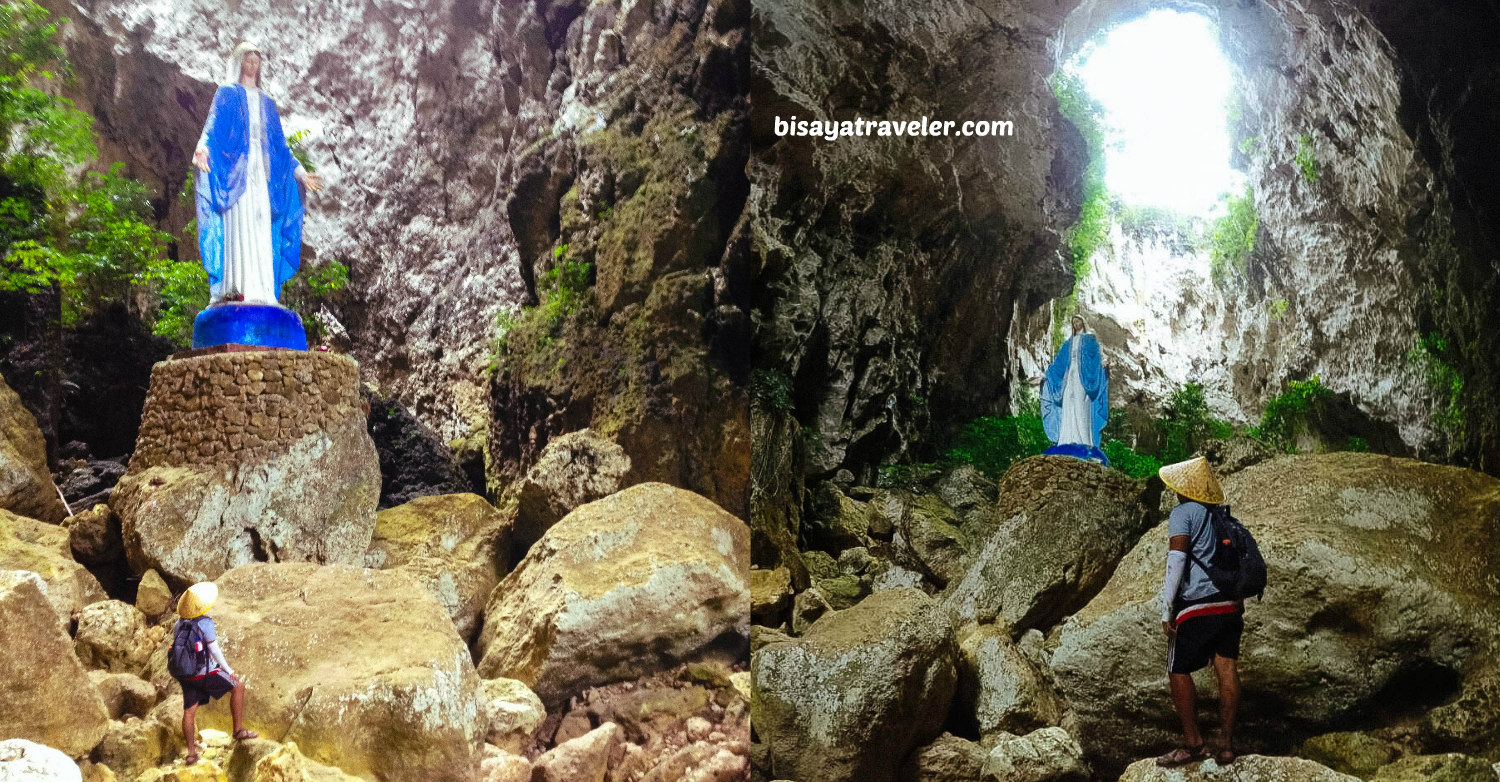 Lapos Lapos Cave, Carmen: Admiring The Glorious Woman Of Light
Humbling, thrilling and simply breathtaking – that's how I can describe my team's experience in Lapos Lapos Cave, Carmen, Cebu.  The moment we arrived at the mouth of the cave, we were all blown away by the sheer size and outstanding beauty of its towering statue of Mother Mary. And, in spite of its extraordinary backdrop and wondrous natural lighting, we didn't feel the urge to snap a ton of photographs. Instead, we just sat on the huge boulders of Lapos Lapos Cave for minutes, awestruck and silenced by the tavern's astonishing scenery.
With its otherworldly backdrop and sublime feel, it was truly a sight that would leave anyone speechless and in awe.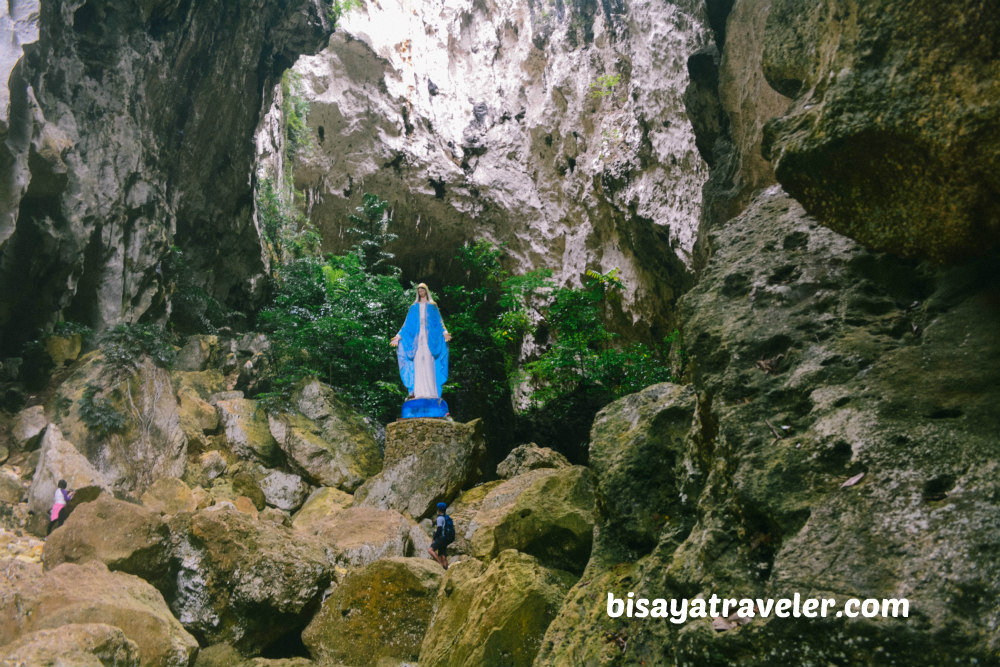 But, our journey to Lapos Lapos Cave was, by no means, smooth sailing. Not only was it raining cats and dogs, but the trail leading to Lapos Lapos Cave was pretty slippery and muddy. Not to mention,  ma'am Amor – a barangay councilor in Corte, Compostela– refused to guide us to the cave since she thought the hike would too extreme and dangerous for us.
Fortunately, with perseverance, patience and a dash of luck, we got a chance to explore one of Carmen, Cebu's best kept secrets.
My Lapos Lapos Cave experience in Carmen, Cebu
I wasn't alone for this day adventure in Carmen, Cebu. Like most of my offbeat trips in Cebu, I was joined by a vibrant and joyful group that made my trip even more memorable. This time, it was a mixture of new faces and old buddies. For the first in a long while, there were newfound friends who joined my hike – Mary Kimberly, Vinz Dominique, and Shiekinah Gaye, or also known as Bonakid.
Of course, some of my usual hiking buddies tagged along for this weekend escape, including Francis Paul, ate Sherlyn, Bing, Ofelia and the heart break kid, Kevin.
To make things even better, a blast from the past and old partner in crime joined us for our caving adventure. And, the person I'm talking about is no other than the Chess Master (chismoso), Tatay Raul whom I literally didn't see for the past 10 years. Seriously, I thought this guy was either out of the country or in jail because I haven't heard from him for a long while.
As it turned out, this guy was figuratively in a deep slumber, waiting for a miracle to happen. And, I'm hands down glad Raul has risen, although he still has a long way to go.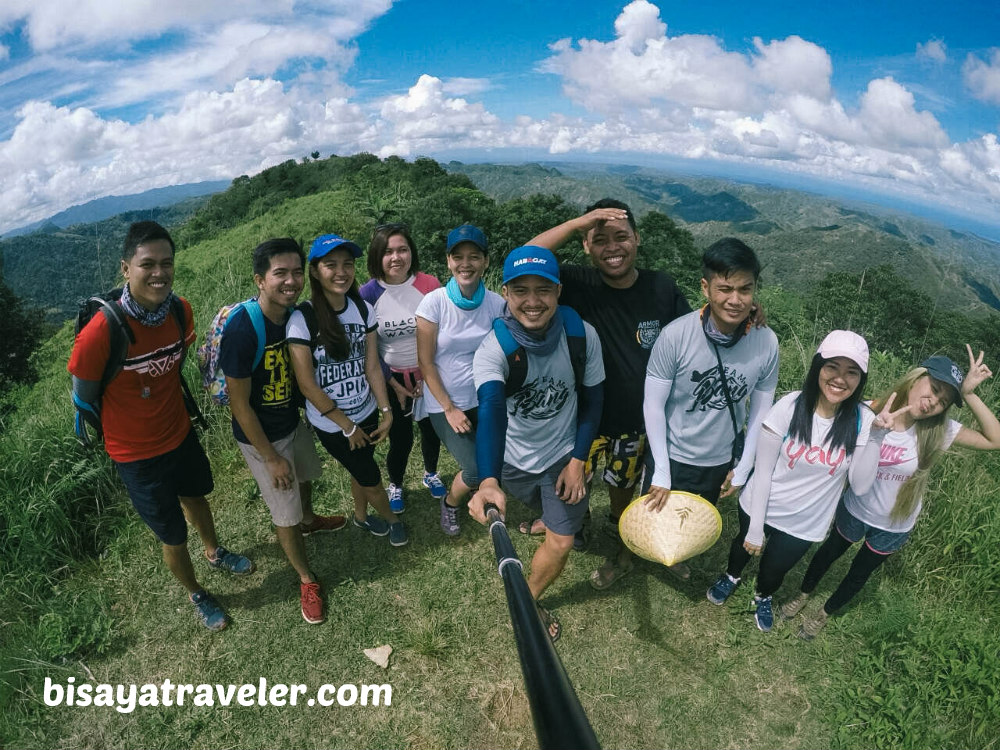 Our Lapos Lapos Cave adventure started, when we finished a scenic and easy hike in Mount Mago.   Even though we were way ahead of our schedule, we didn't waste time, and rushed our way to the chapel of Barangay Corte in Carmen.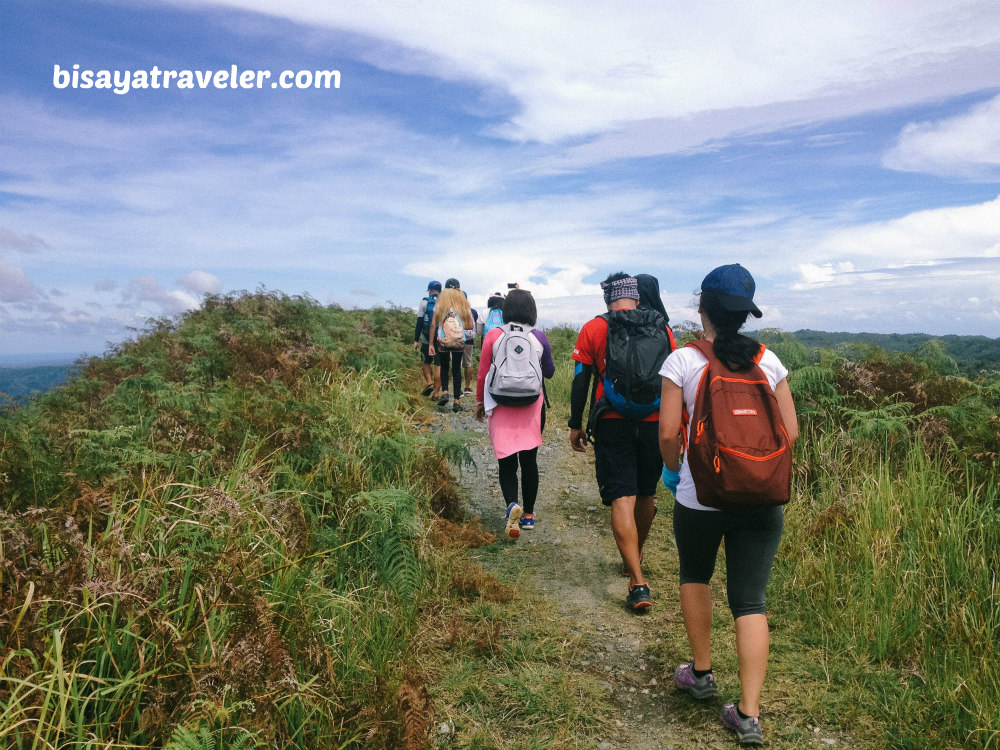 There were, however, a few hiccups on the way to the base of our adventure in Lapos Lapos Cave. For one, it was raining heavily, making the road slippery and dangerous. Furthermore, Amor, one of the barangay's councilors, discouraged us from visiting Lapos Lapos Cave, with the downpours and poor weather condition.
Still, we remained optimistic and upbeat with our chances of seeing the cave. And, thanks to Raul's comic drama, we got some quality entertainment, while waiting for the rain to stop.
Speaking of Raul, I think he's definitely a guy that every group needs. As far as I'm concerned, Raul is the epitome of a no-frills, go-with-the-flow kind of guy. In Visayan terms, he is what we call "ang tao ng way libog kay libog na daan". Plus, he has a unique and admirable ability to absorb a barrage of jokes.
As a way to entertain the crowd, he shared his college love story, which is pretty similar to scenario to the film "100 Tula Para Kay Stella". I've known him since our college days, and I can say that some of the things he said were true.
Later on, I found out that Vinz has once visited Lapos Lapos Cave via the main entrance of Saint Benedict's Monastery (Our Lady Manaoag- Cebu). Yippy! We had sign of hope!
And so, when the rain finally mellowed down, we took a short walk to the main gates of Our Lady Manaoag- Cebu.
Along the way, though, we accidentally bumped into another barangay councilor who's also a guide for Lapos Lapos Cave.
With enthusiasm, he agreed to guide us to the mystical Lapos Lapos Cave in Carmen, Cebu.
As we were making our way to Saint Benedict's Monastery, we took a ton of pictures of the lovely trees and foggy road.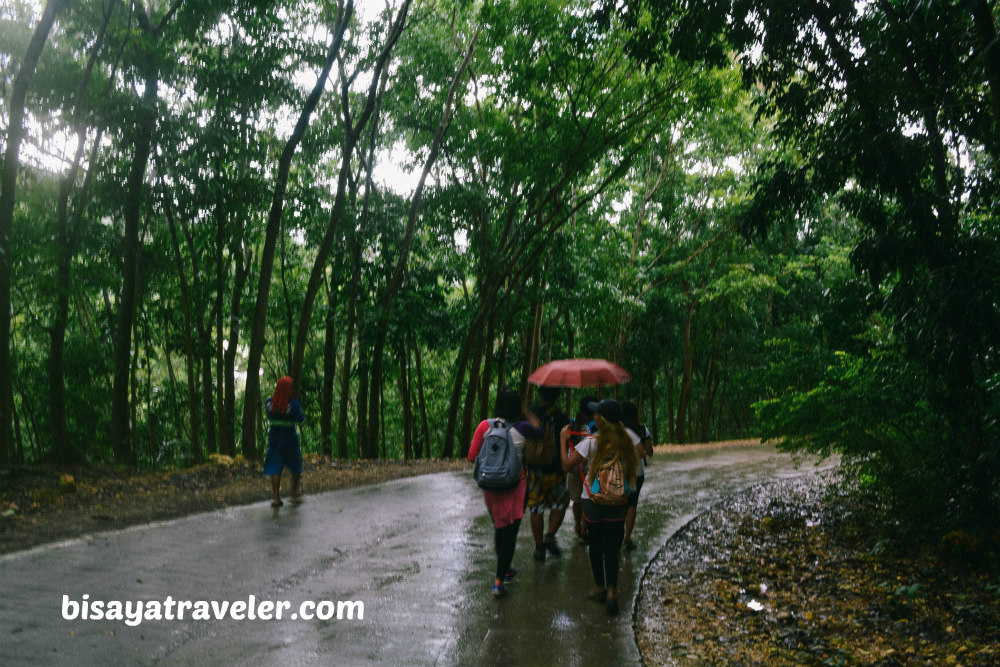 And, we also noticed Paul and Sherlyn having a meaningful conversation. From the get-go, both of these adventurers were clicking, sharing stories of their voyages and past experiences.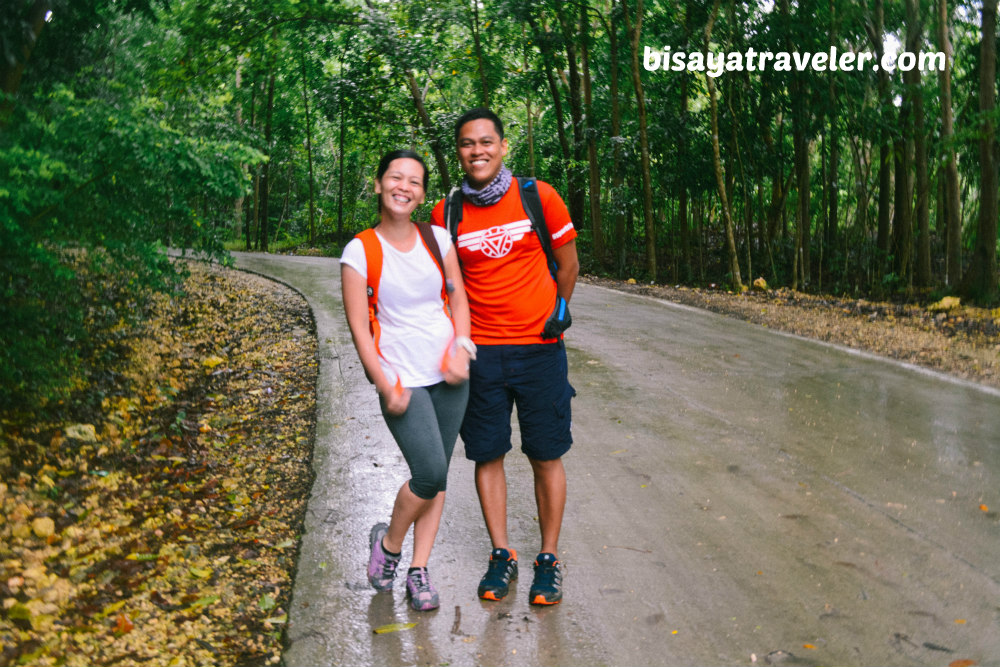 I'm no Cupid or love expert, but I got to say they have great chemistry. Age-wise, they are practically on the same bracket. When it comes to hobbies and pastimes, they definitely have rather similar interests. I guess we should now dub as them as the "Paulyn" love team(as suggested by Christine).
Moments later, we arrived at the gate of Our Lady Manaoag- Cebu.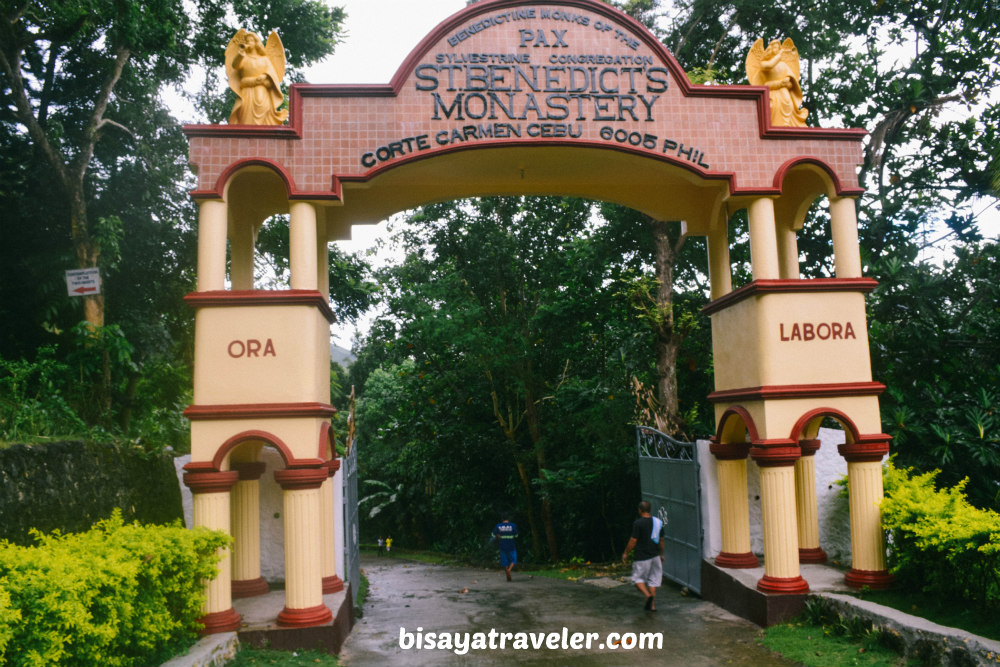 From towering statues to verdant mountains, there were plenty of Instagram-worthy sights, on our way to Lapos Lapos Cave.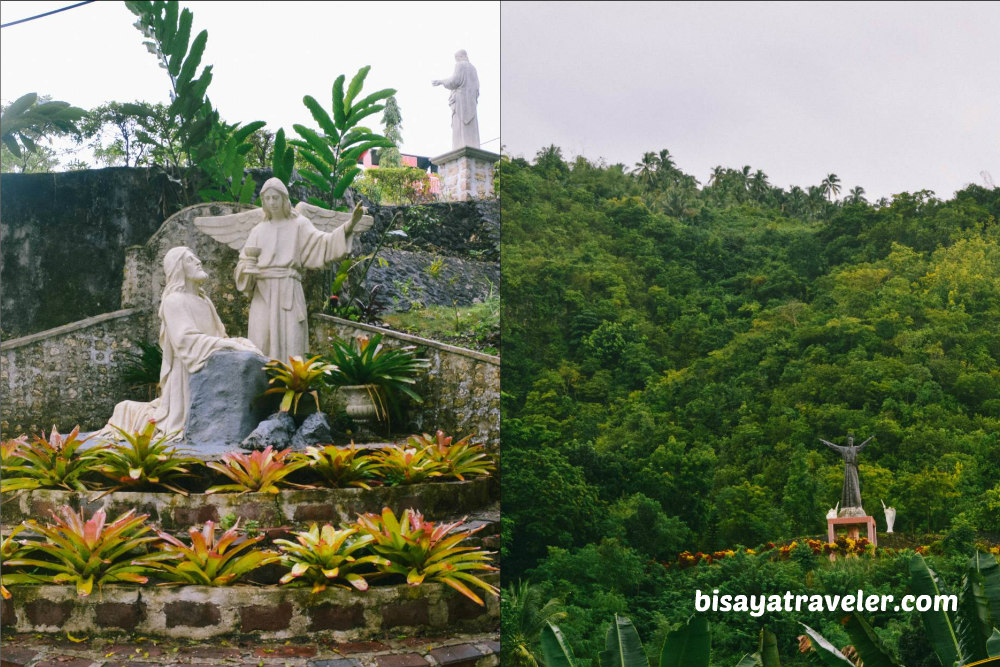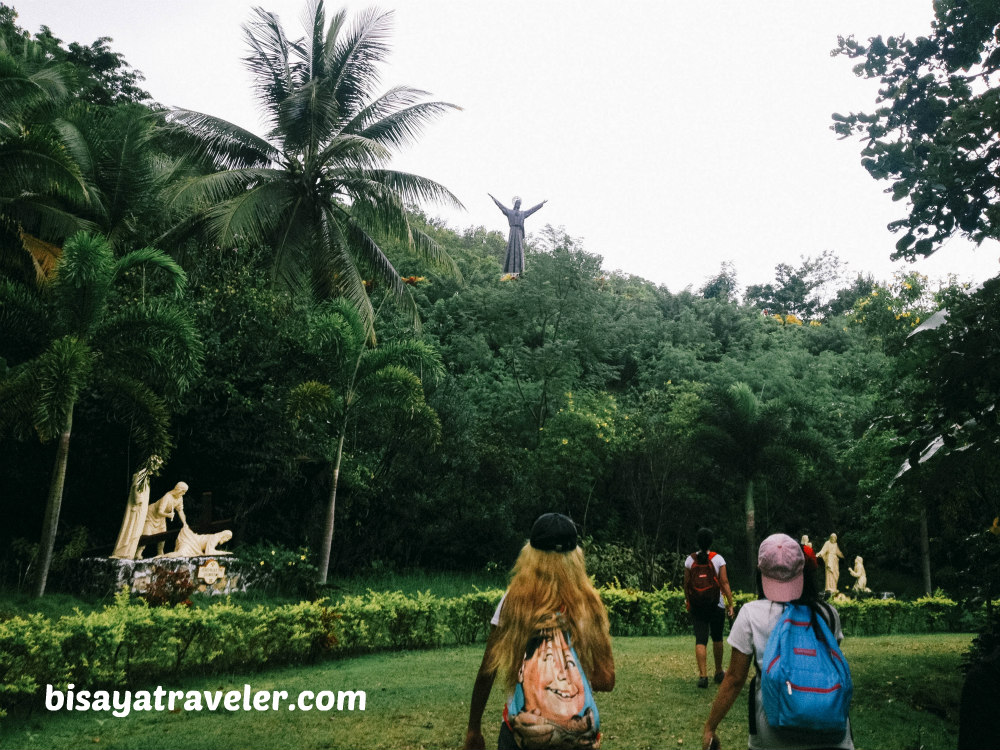 We were a bit tempted to stop and snap a photo. But, we were diving into the unknown, meaning we had to conserve some time and energy.
With our guide on the lead, we followed a trail that would eventually lead to us to this impressive sacred statue in Our Lady Manaoag- Cebu.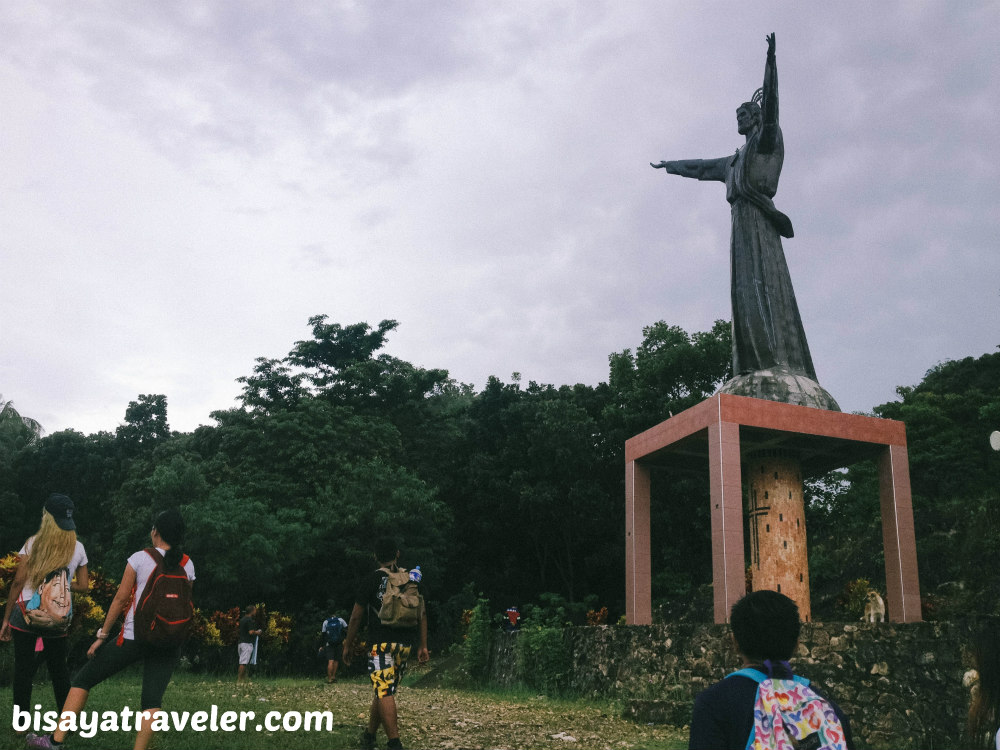 Afterwards, we took a left turn, and descended through an amazingly slippery path.
How slippery was it? The trail was so slippery that Paul once seemed he was surfing, unintentionally gliding his way on the trail.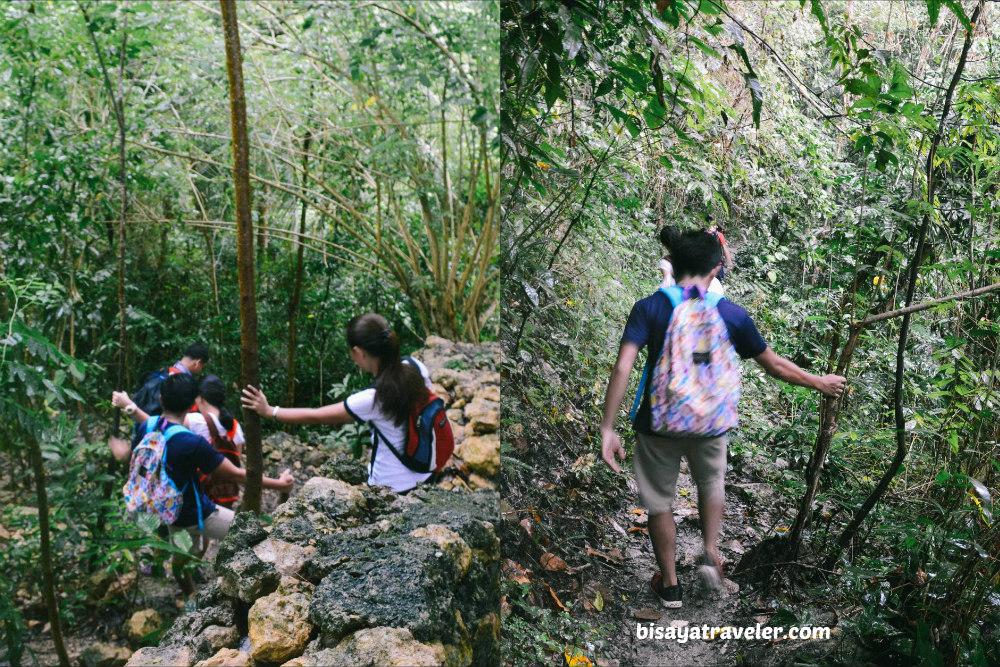 Raul – a first timer – likewise did have a fair share of troubles making his way to the cave's mouth.  Not surprisingly, Raul didn't complain, and made the most out of his uncomfortable situation by cracking jokes and sharing witty comments.
Soon after, we arrived at the more complex part of the hike, with immense boulders blocking our way to Lapos Lapos Cave.
Honestly, I didn't have much trouble getting on top of these immense rocks. While I haven't been in tip-top shape lately, I still workout from time to time. And yes, all those squats, push-ups, lunges, and pull-ups did come in handy for this outdoor adventure.
For some people, though, getting through these obstacles can be a challenge. Besides the humungous rocks, there were plenty of wet and unsteady spots too.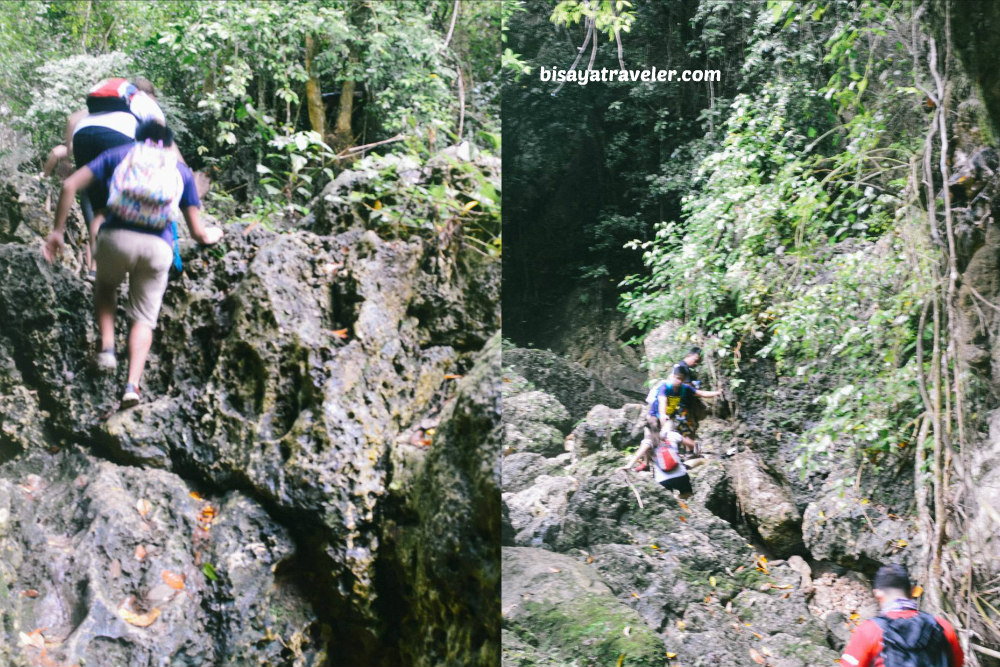 You got to scramble, crawl, hustle, and make a lot of twists and turns, to reach the entrance of Lapos Lapos Cave. Moreover, you have to activate your core, and use your muscles, to hold on, whenever you're passing through a slippery spot.
In the words of the wise Raul, this place isn't for the "tanga" or people who lack focus and concentration. Once false move here, and you can end up with a nasty injury.
After minutes of struggling and hustling, we arrived at the main passageway of Lapos Lapos Cave. And, all of sudden, we became unusually silent, stunned by the size and mesmerizing beauty of Mother Mary.
"She's so beautiful", one of my buddies said (I can't remember exactly who said it).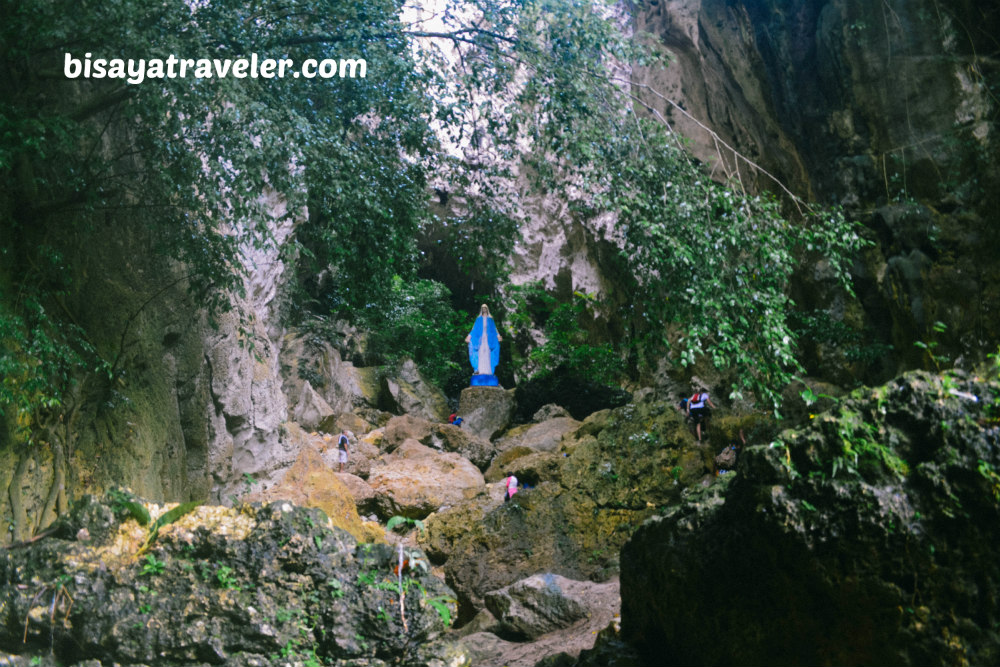 Everyone, including yours truly, was absolutely astonished. And, even from afar, you can't help, but be swept away by its charm and holy feel.
To me, it felt like we were stepping into the Garden of Eden, Nirvana or a holy place that commands respect and inspires awe.
From a photo lover's point of view, the setting of Lapos Lapos Cave is nothing short of perfect.
The rugged rocks, small slice of greenery and the natural lighting above make the imposing Mother Mary statue more visually enticing.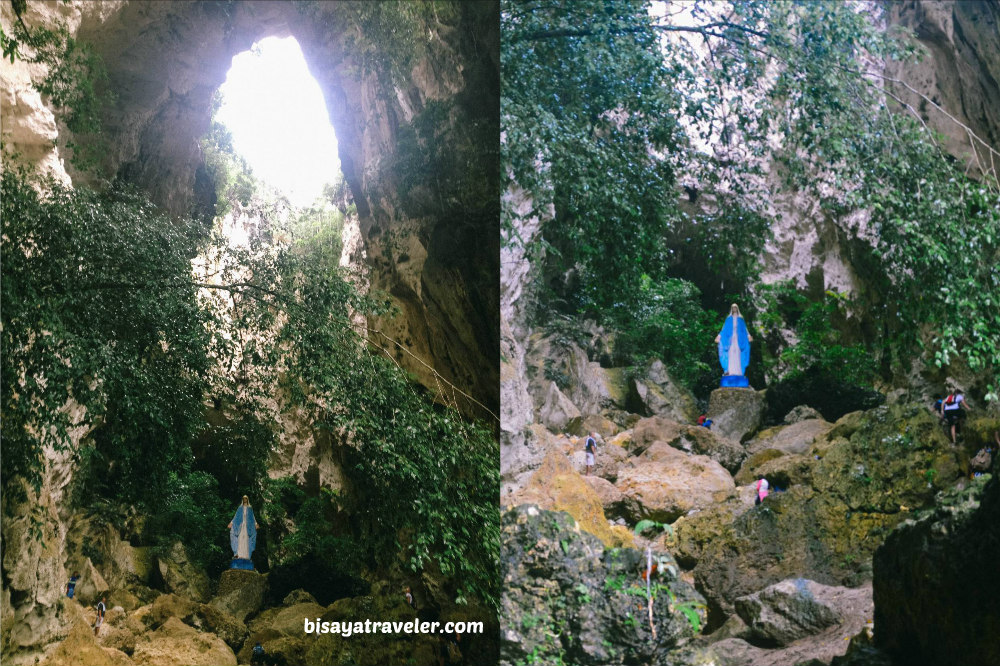 In all of years of traveling and hiking, I never have seen anything like it in Cebu, Philippines.
I moved closer to statue, climbing steep rocks, to get a close up look of the statue.
Later on, Kevin told me that he didn't expect it to be as remarkable and breathtaking as it is in person.
And, I totally agree. Words and pictures can't describe the artistry and atmosphere of Lapos Lapos Cave.
We were all uncharacteristically hushed, with some of us paying our respects to the "Queen of Heaven"
As I was gazing at her, I remembered some of the lyrics of the songs I played to Mother Mary, when I was playing in a church band in Don Bosco.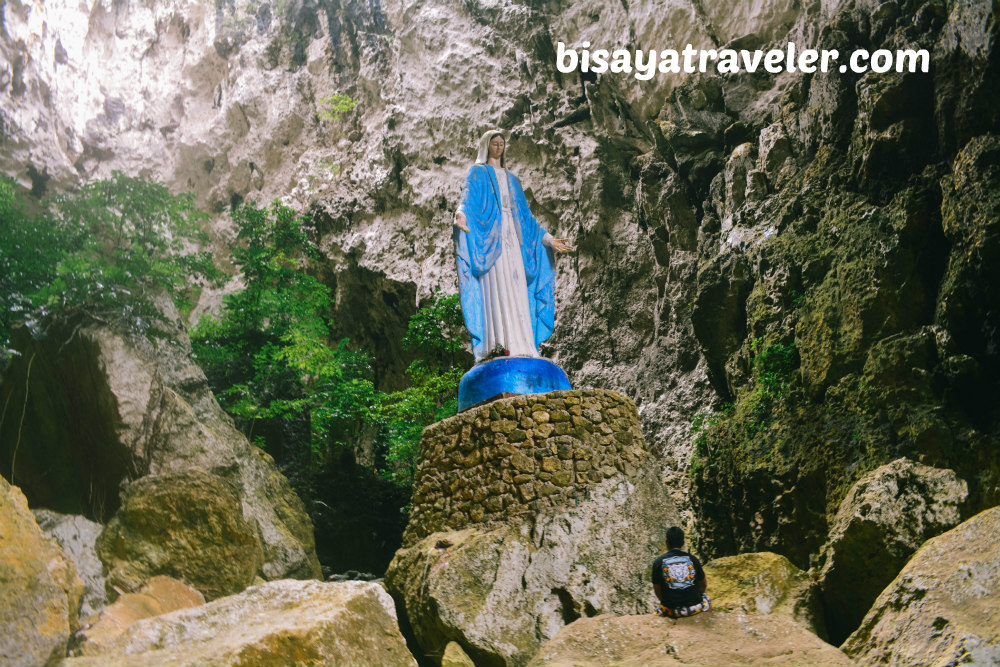 "She's the glorious woman of light", "Mary, the most beautiful way to the loving son" – these were the lyrics and words that came into mind, when I was looking at her.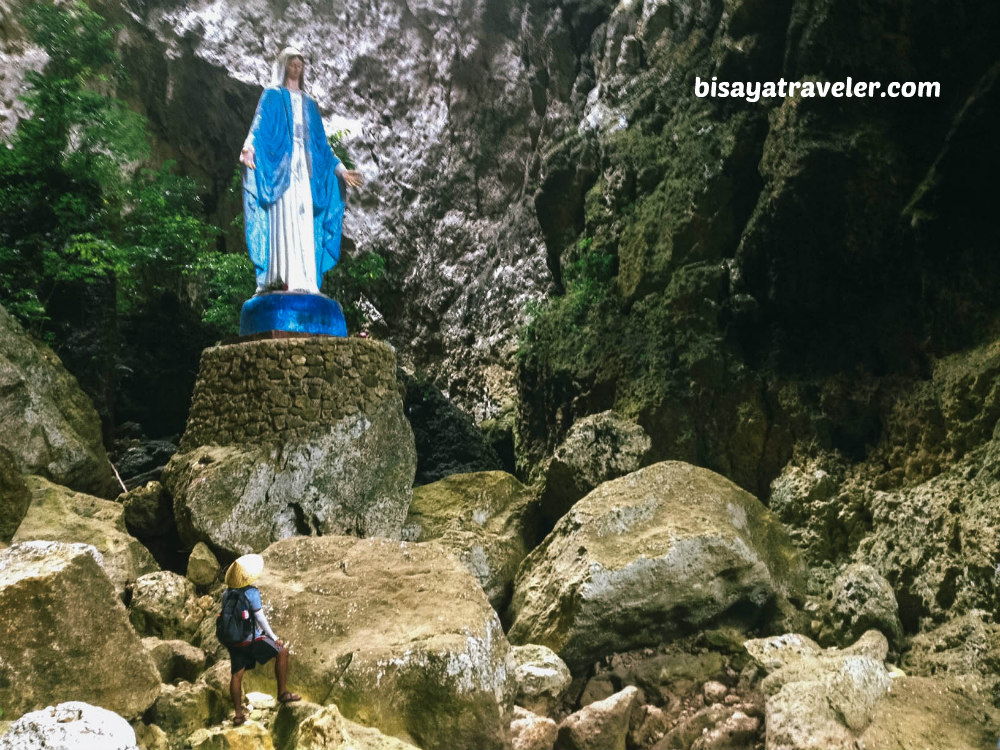 Moments later, everyone in the group was inside Lapos Lapos Cave.
And, clearly, there was no way we're going to leave the cave without a group photo.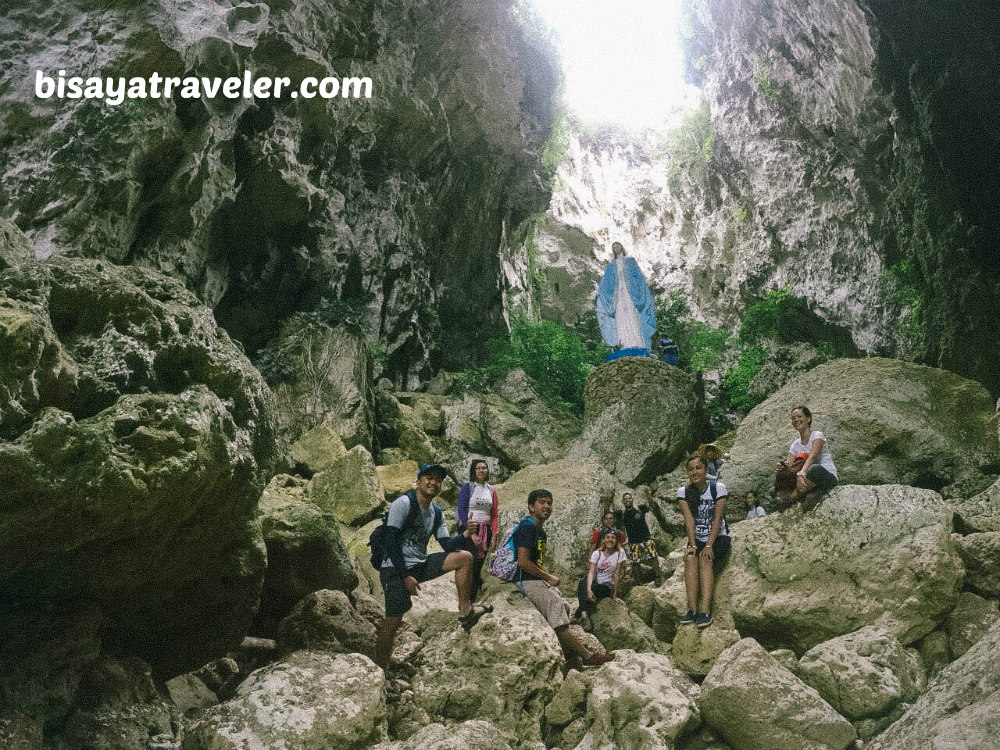 Then, we made our way deeper into the cave, passing by Mother Mary's statue.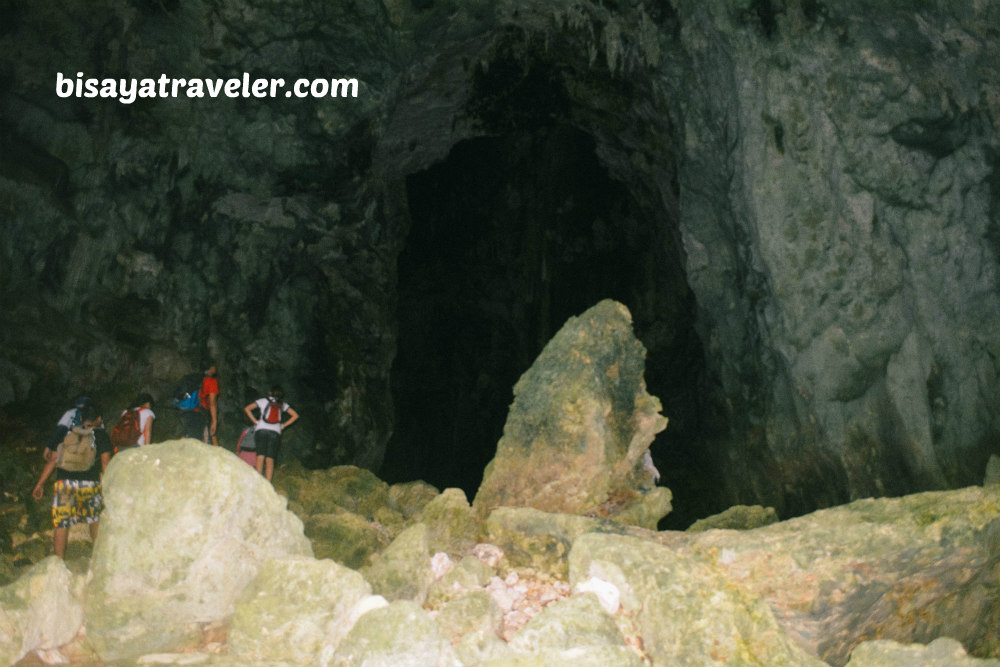 We, ultimately, found out that the cave is so much bigger than we originally thought it was. In my opinion, it's significantly bigger than Carcar, Cebu's Lapos-Lapos Cave (yes, there are two or even more caves named Lapos Lapos in Cebu).
Stunning sights aside, there were also tons of bats circling around in the roof of Lapos Lapos Cave, making our experience even more surreal.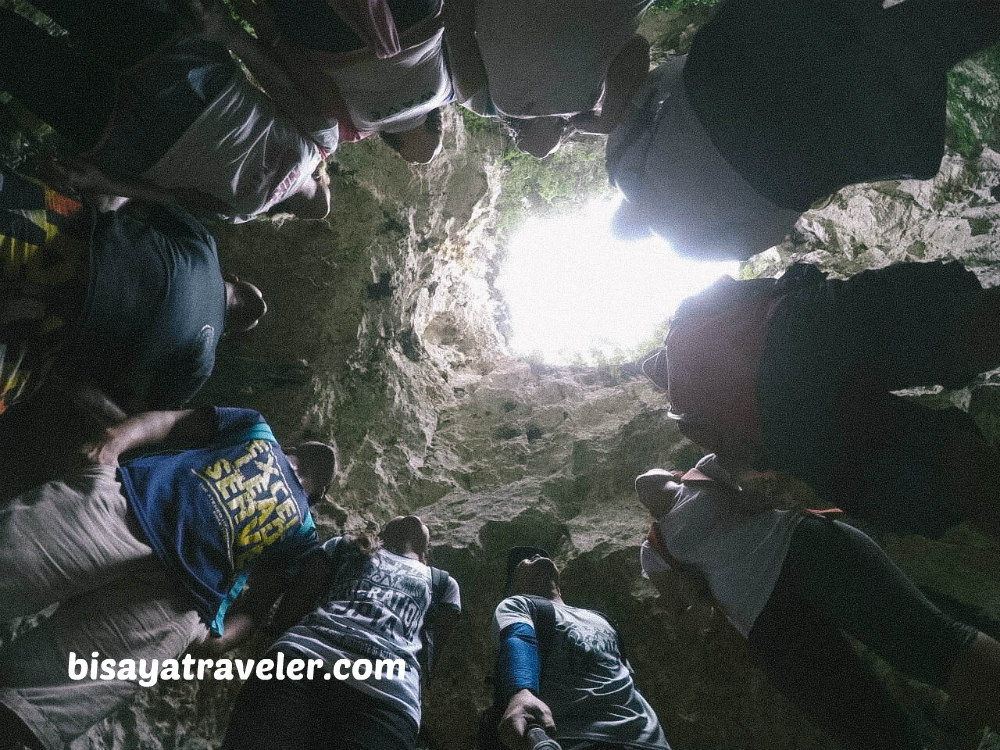 As a DC fan boy, it kind of reminds me of Bruce Wayne's secret cavern underneath his mansion.
We wanted to check out the other end of the cave, but our guides advised us not to do so since it was dark and slippery.
We're essentially an obedient bunch, so we heeded their advice, and returned to our base.
We gave our donations to our guides, and made final preparations. Before leaving Saint Benedict's Monastery, we lit up a few candles, and said a prayer, thanking the man above for the safe and fun adventure we've had in Carmen, Cebu.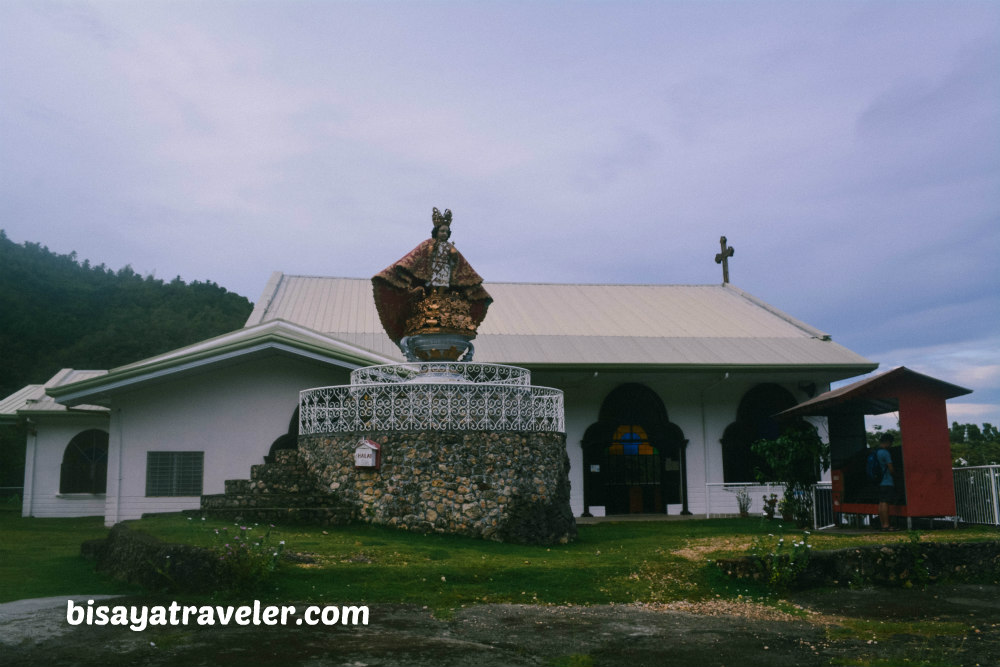 Our Lapos Lapos Cave itinerary:
04:30 AM: Meet up at North Bus Terminal
06:00 AM: Depart for Carmen Public Market
07:30 AM: ETA Carmen Public Market/Meet up with the rest of the gang
08:00 AM: Depart for Barangay Santican/base of Mount Mago
09:00 AM: Start hike to Mount Mago
10:00 AM: ETA Mount Mago/Pictorials
10:30 AM: Start Descend
11:00 AM: Lunch somewhere in the trail
11:45 AM: Hike resumed
12:20 PM: Barangay Santican/refreshments
12:30 PM: Depart for Corte Chapel
01:15 PM: ETA Corte Chapel/Wait for the rain to stop
02:00 PM: Start hike to Lapos Lapos Cave
03:00 PM: ETA Lapos Lapos Cave
04:00 PM: Return to base
05:00 PM: Depart for 711 Carmen
05:30 PM: ETA 711 Carmen
06:00 PM: Depart for Cebu City
08:00 PM: ETA Parkmall Cebu
How to get there:
From Cebu North Bus Terminal, take a bus that will take you to Carmen Public Market (fare is PHP 50 to 60 per person). There, take a habal-habal ride to Saint Benedict's Monastery (fare is PHP 30 to 50, depending on the driver).
Once you're inside Saint Benedict's Monastery, you can ask the people around for directions to Lapos Lapos Cave. Alternatively, you may hire a guide that will lead to the cave.
If you need someone to guide you to Lapos Lapos Cave, please contact councilor Amor at 0935-124-1234.
Our expenses for our Carmen adventure:
Bus fare to Carmen (air-conditioned): PHP 60
Habal-habal fare to Santican: PHP 100
Mount Mago guide fee: NADA
Habal-habal fare to Corte: PHP 80
Habal-habal fare to Carmen proper: PHP 35
Guide fee: PHP 50 (they didn't ask, but we wanted give them something for their service)
Bus fare to Cebu City: PHP 35
Total: PHP 360 (way cheaper than a day of chilling in a mall)
Reminders:
Practice the LEAVE NO TRACE principles.
Avoid profanity or any indecent behavior inside the monastery.
Pack at least a liter of water.
Bring ION drinks like Gatorade or Pocari Sweat.
Wear trekking shoes or sandals with great traction.
Bring trail food.
Pack first aid kit.
And lastly, bring candles or flowers, and offer them to Mother Mary.
By the way, I'd like to say thanks to Flora Amy Avenido, for the terrific tips and hints. See you soon!