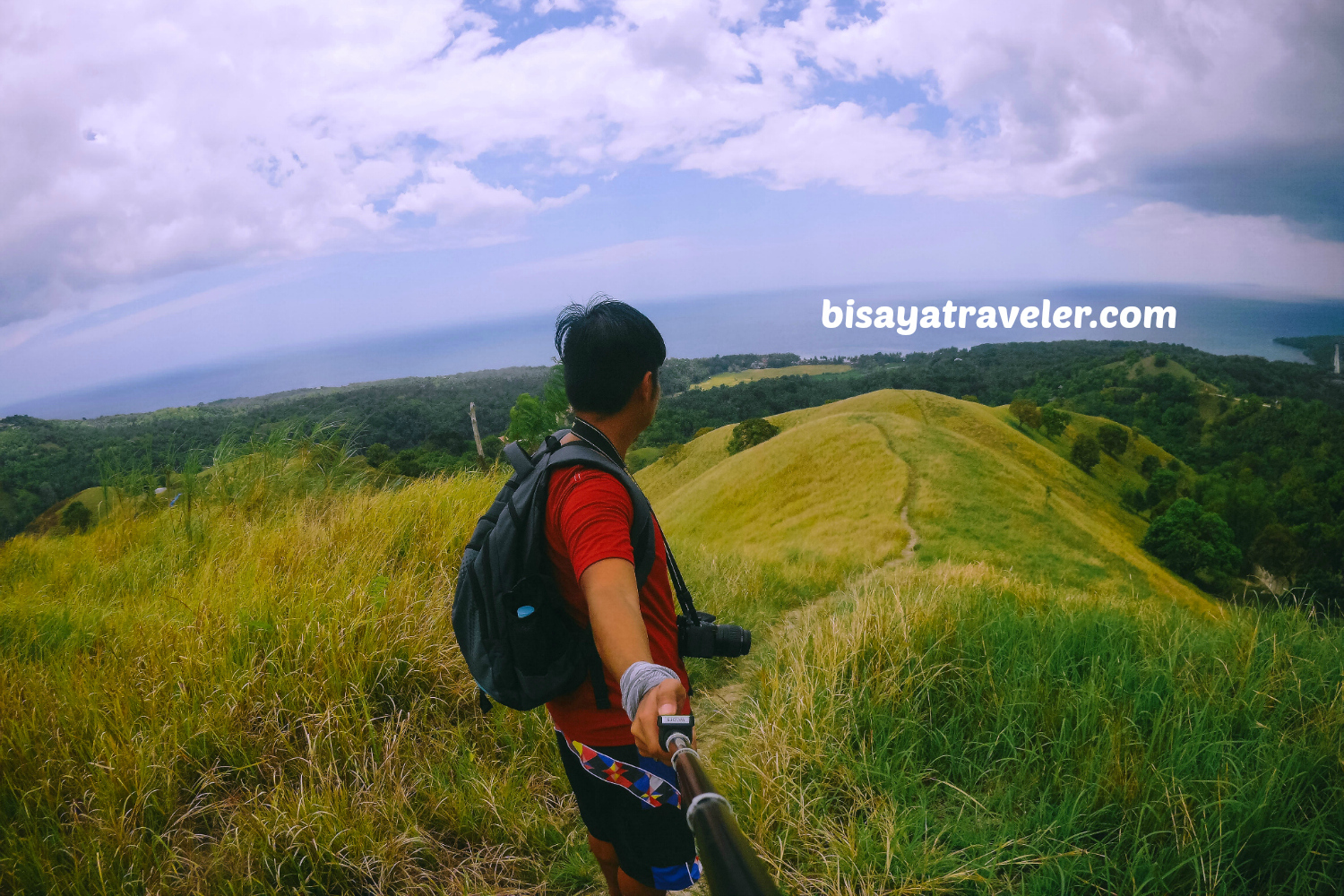 Himontagon Hills: A Serene And Picture-perfect Local Secret In Loay, Bohol
The first time I laid eyes on Bohol, I simply couldn't help falling in love with its dramatic beauty and bucolic charm. Even since then, I kept coming back to this island paradise, to admire its sought-after treasures and enthralling spots. But, eventually, the sight of the iconic Chocolate Hills, Panglao and its other famous spots became a bit of mundane to me. After all, I have explored all of Bohol's quintessential tourist trails not just once, but on a number of occasions since childhood. And, so, I decided to dive into a less-explored path – Himontagon Hills – to add a breath of fresh air to my Bohol escapades.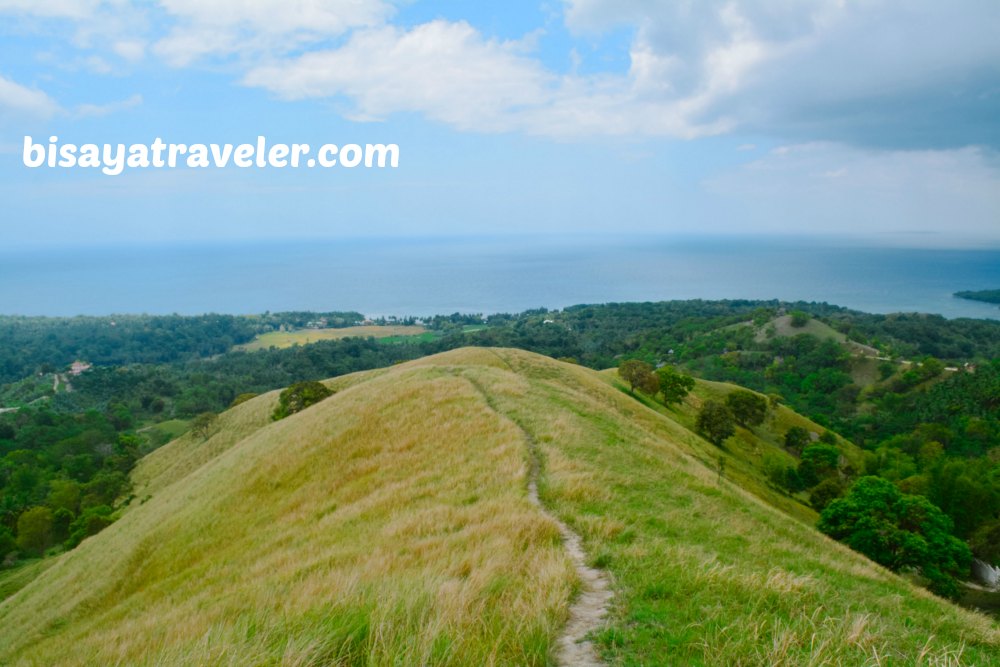 Doesn't ring a bell? Himontagon Hills, or also referred as Morning Hills, have been a favorite, go-to spot for locals who are longing to escape the clutches of their bustling modern-day life. Praised for its verdant hills and fresh mountain air, these hills boast a soothing feel that can absolutely take away all your stress.
For non-Boholanos like me, though, the trail is relatively unknown, with very few out-of-towners setting foot on these scenic hills. And luckily for me, I got the chance to see and experience this outstanding collection of picturesque hills with my good old pal, Rechie, and his wife, Celeste.
How I found about Himontagon Hills in Loay, Bohol
A week ago, I didn't know that these hills exist in Loay, Bohol. Originally, my plan was to go to Candijay, and catch sight of its towering waterfalls and mesmerizing rice terraces. Unfortunately, a few days prior to our trip, my wife informed me that I can't squeeze in a stop to Candijay on our next visit to Bohol. We were invited to a beautiful beach wedding in The Bellevue Bohol, and I had to be back in Panglao at 3 in the afternoon (we arrived in Bohol at 8:30 AM, meaning there's not enough time to fully admire the scenery of Candijay).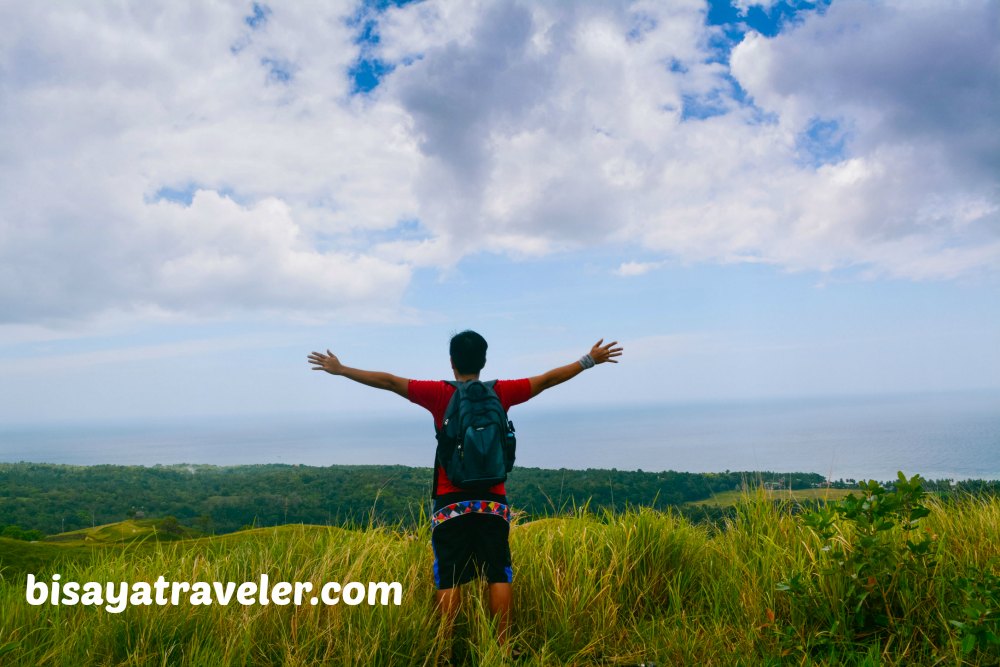 But, as I've pointed out in my blog in the past, you can't keep a relentless, wide-eyed traveler down. When my sense of wanderlust sets in, there's nothing (except my wife) that can stop me from going on an adventure. After scouring the internet and asking recommendations from the locals, I finally came up with an alternative that can appease my adventurous soul – a quick hike to Himontagon Hills.
My Himontagon Hills experience
My wife had no plans scaling a hill or mountain with The Bisaya Traveler in Bohol. Although she's a bona fide traveler, she's just not as enthusiastic as I am, when it comes to venturing into the great outdoors. And besides, she had a plethora of things to do in Panglao, to help her friends prepare for the one-of-a-kind beach wedding.
Since I have zero talents in wedding preps, I decided to follow my wanderlust, and hike Himontagon Hills. At first, I wanted to hit the trail alone, but ultimately, I opted to bring in Rechie and Celeste, so they can see the hidden wonders of their island.
Once we've finished dropping off my wife in Panglao, we wasted no time, and made our way to Dao Terminal, via Rechie's motorbike. From there, we fetched Celeste, and took a 30-minute-ish ride to Loay, Bohol.
Quite frankly, Rechie and I had no clue about the exact location of this trail. Thankfully, though, Celeste had seen the sign leading Himontagon Hills before, as they were making her way to her hometown.
Upon seeing the sign, Rechie made a quick turn to the left, and up to the rugged road that leads to these green mounds. We didn't get lost, along the way, because there's literally no shortage of signs and reminders.
As the road got tougher and more rugged, Celeste and I asked Rechie to stop, so we can take a hike instead. While the trail is accessible by a motorbike, we just didn't want to drive the motorbike into exhaustion. Also, Rechie's bike was making some weird funny sounds, like a buzzing pump-boat heading for a remote island.
When we saw a perfect spot to park, a local and a kagawad approached us, to lend a helping hand (yes, Boholanos are in general friendly and helpful). In addition, they told that us the path to the summit would be a whole lot smoother on our next visit, with the local government working hard to improve their roads.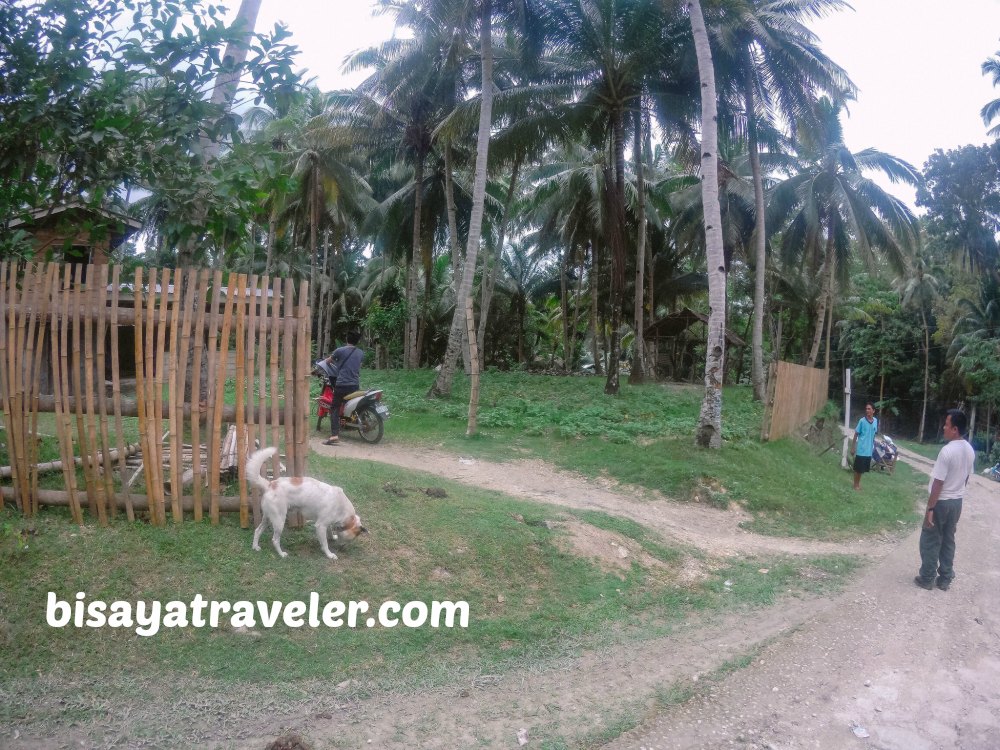 Moments later, we commenced on our hike to the top of Himontagon Hills!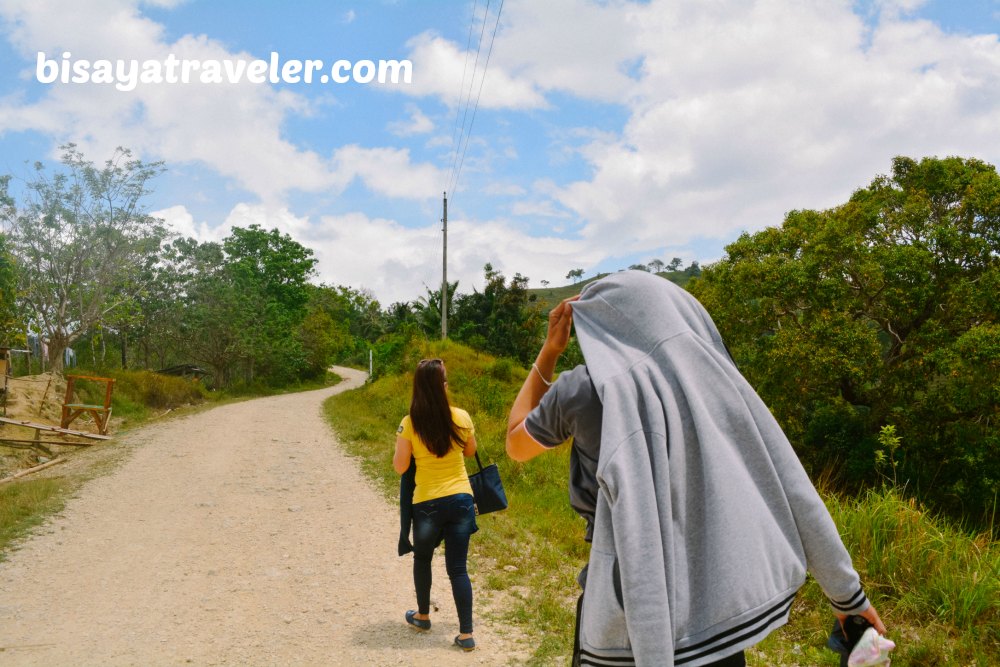 The hike was, in spite of the sudden weather changes, a walk in the park. The trail is well-established, and isn't as slippery and steep as some of the peaks I've scaled before.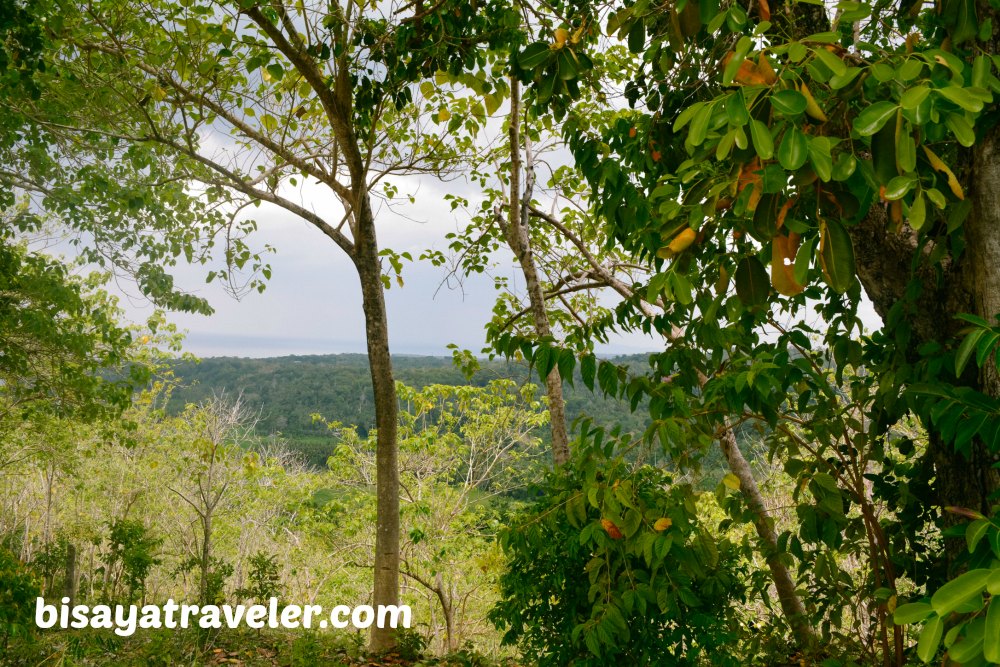 Rechie, however, had difficulties catching up with us. As we were making our way to the top, he was gasping for air, feeling a little burned out. His wife, on the other hand, was in high spirits, and pretty energetic.
As it turns out, Rechie hasn't been very actively lately, and has been hooked to addictive games like COC. Hopefully, our hike to Himontagon Hills would be the start of a more active lifestyle for Rechie.
We kept on walking towards our destination, while talking about a lot of things, including the people we used to work with. I've known Rechie for nearly a decade, and I've seen him grow from a shy teenager to a responsible husband and father. In some way, he's like my younger brother whom I haven't seen for a while.
Along the way, we saw white cross stations, and striking overlooking sights. And, every time Rechie got tired, we made a stop, to get a quick breather.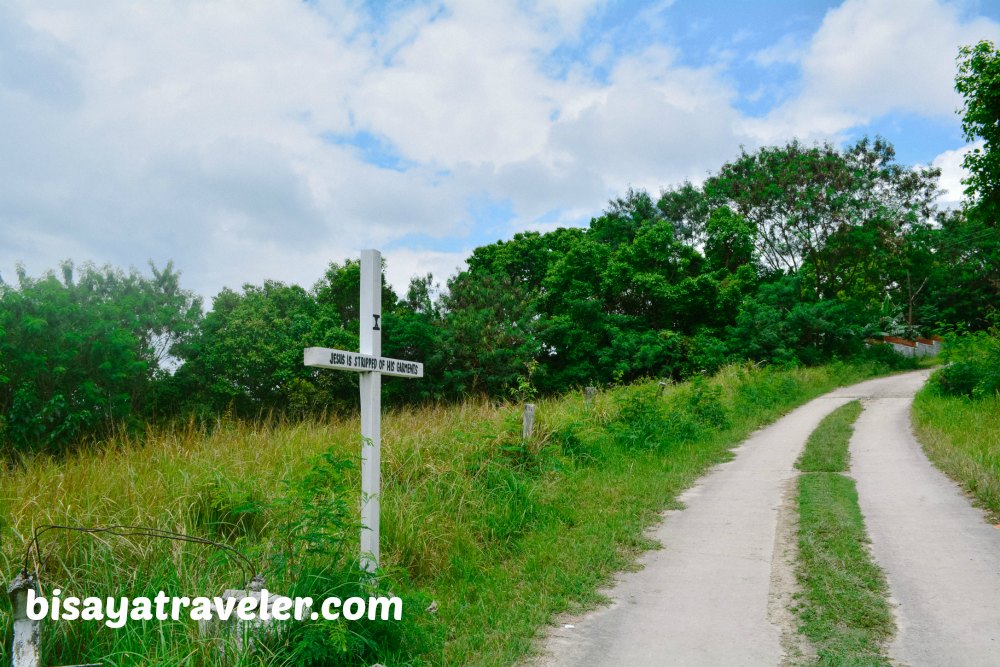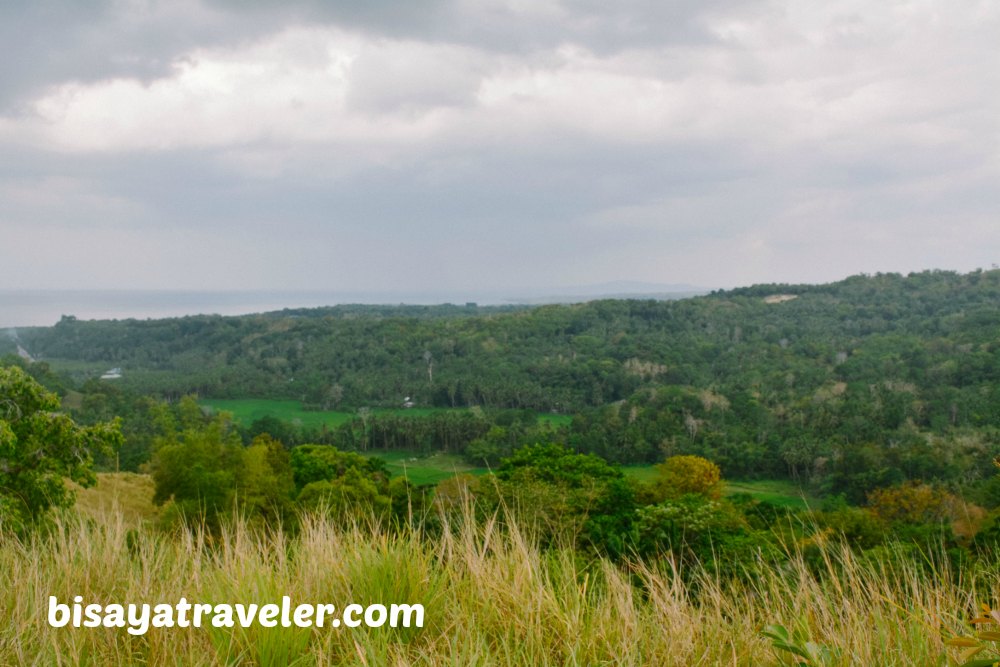 Ultimately, we reached the base for the final ascend to Himontagon Hills. At that time, Rechie was slightly thirsty, after all the steps he took to reach the area. Though we didn't pack a bottle of water, there was a store near the top, where we brought some not-so cold refreshments.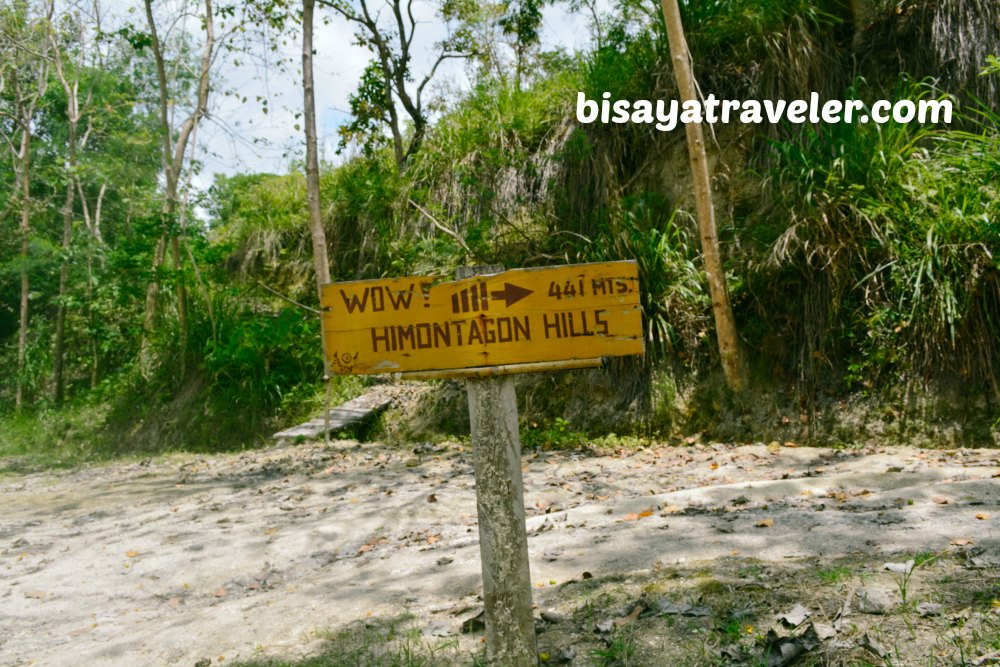 Afterwards, we made the final ascend, and got treated to a sweeping panorama of Loay, Bohol.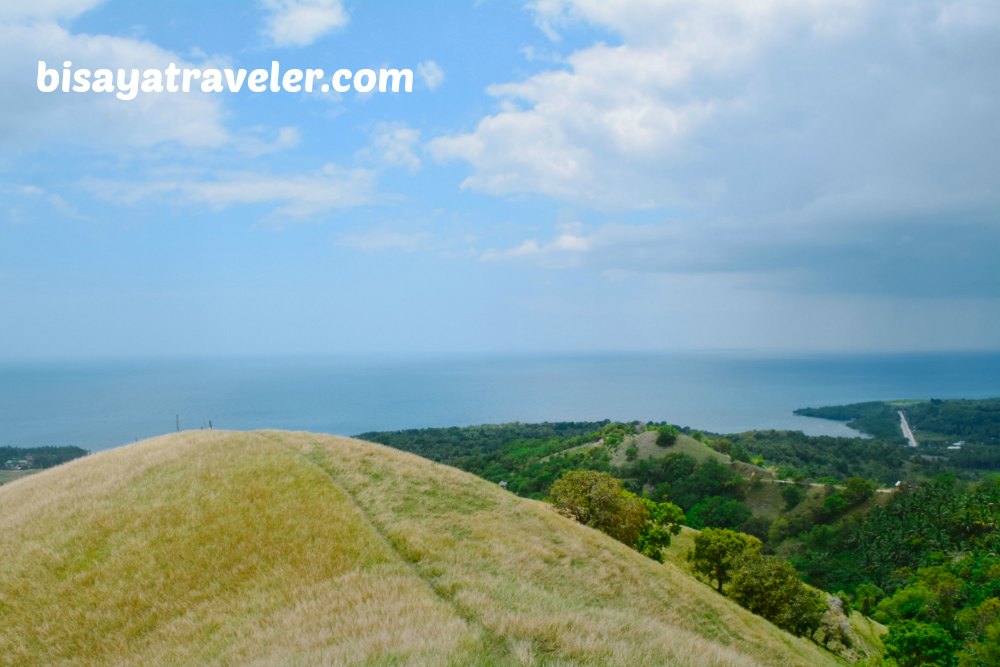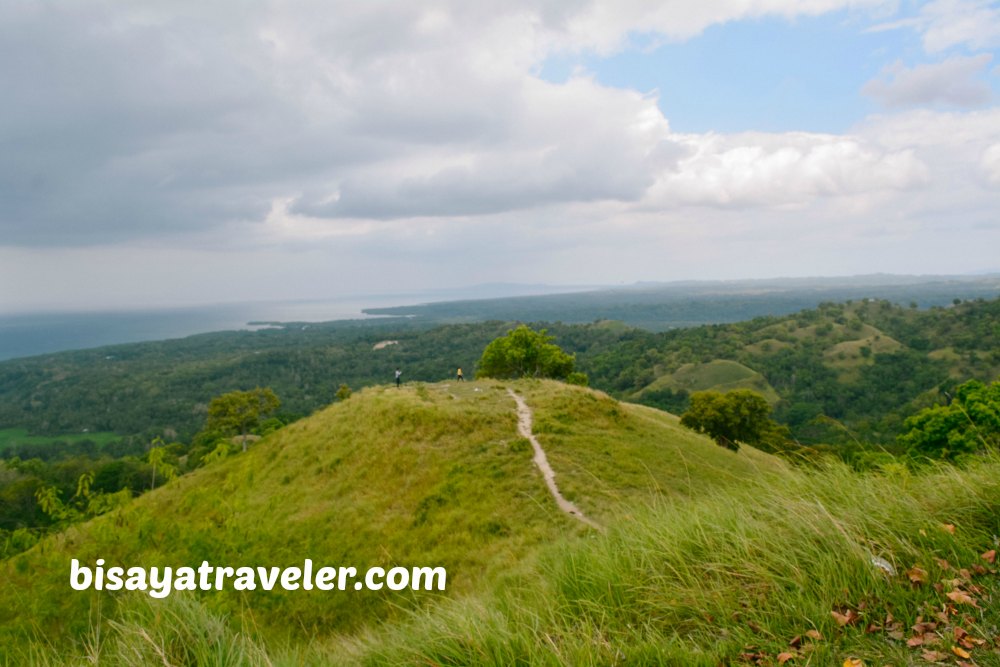 Great views aside, the hills also had a fresh scent and a refreshing mountain breeze.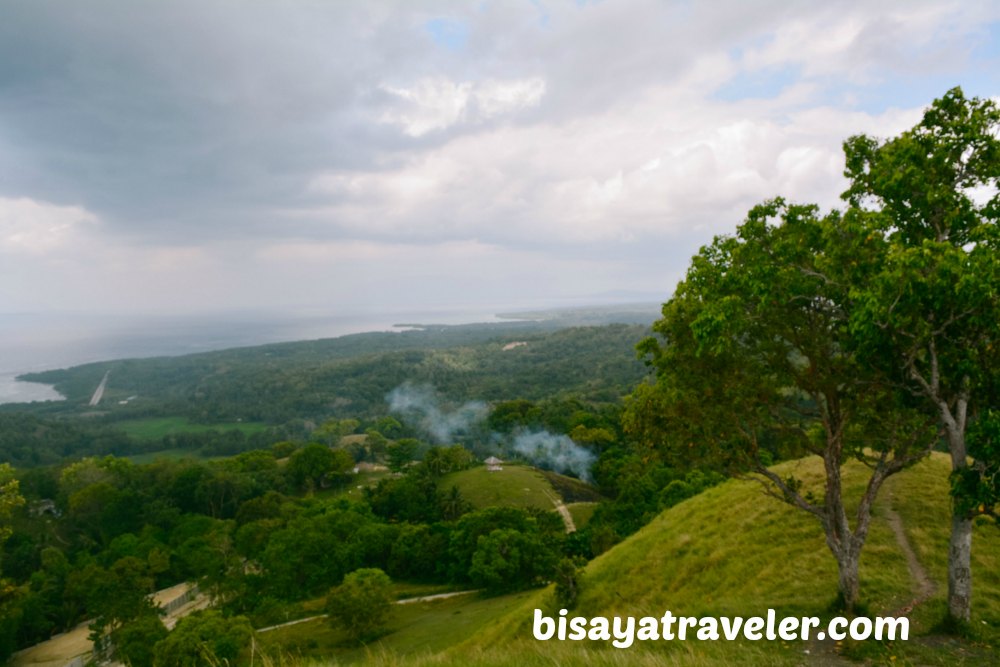 I took a pair of pictures of the couple, for memorabilia's sake.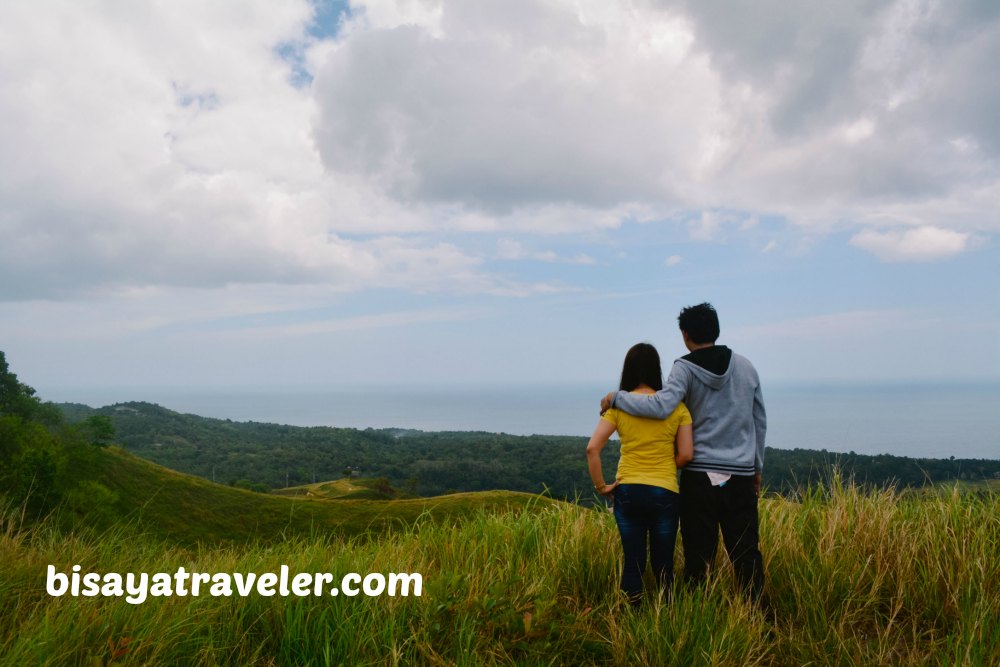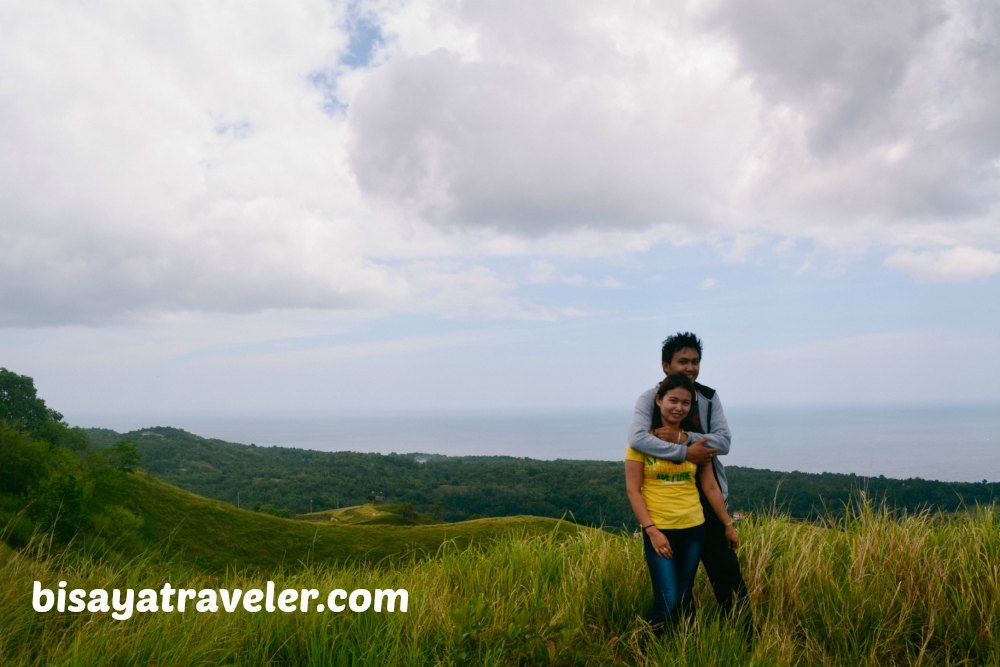 Of course, it snapped dozens of photos of Himontagon Hills, Loay and Bohol Sea from its camp site.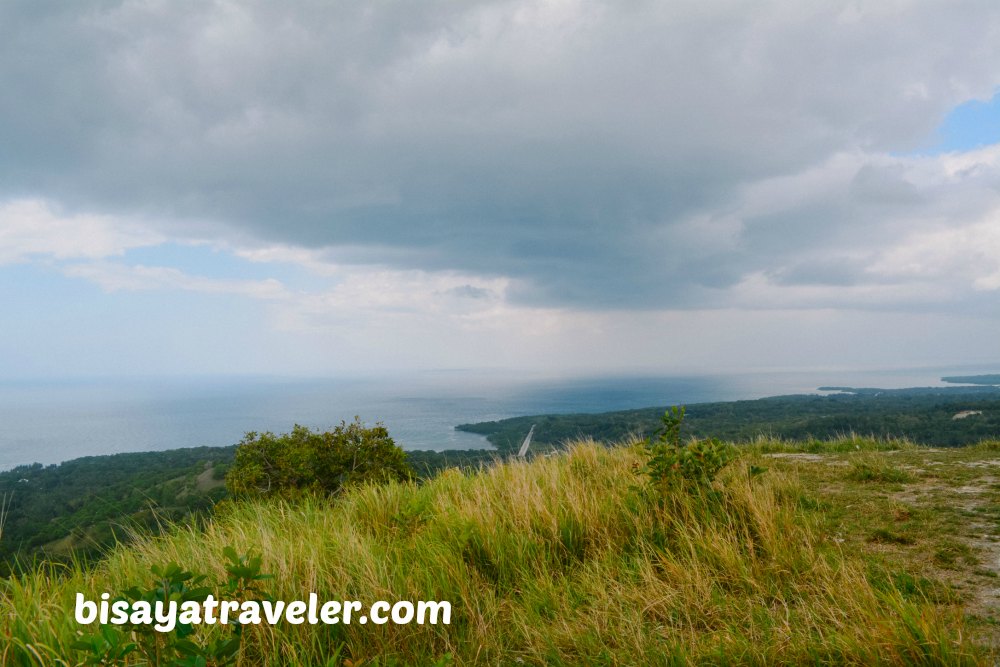 With its green grass, blue skies, flourishing trees, deafening silence and chirping birds, Himontagon Hills exuded a paradise-like ambiance. Indeed, it's to date one of the most refreshing experiences I've ever had in Bohol.
I went around the area, snapping photos from a variety of angles, as Rechie and Celeste were resting their muscles. And in some angles, Himontagon Hills look a bit like the famous Marlboro Hills in Batanes.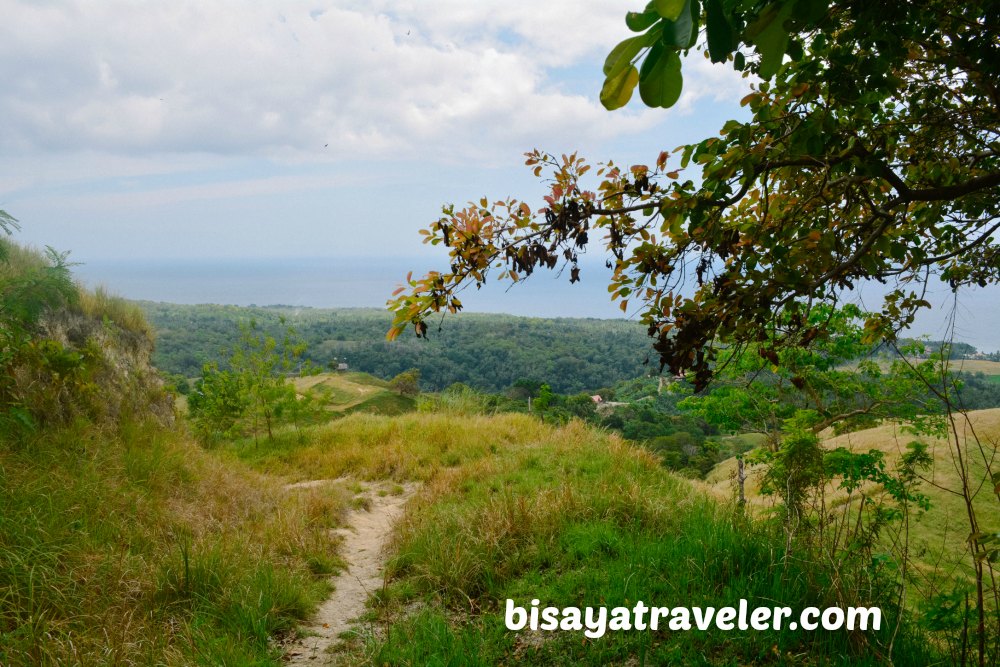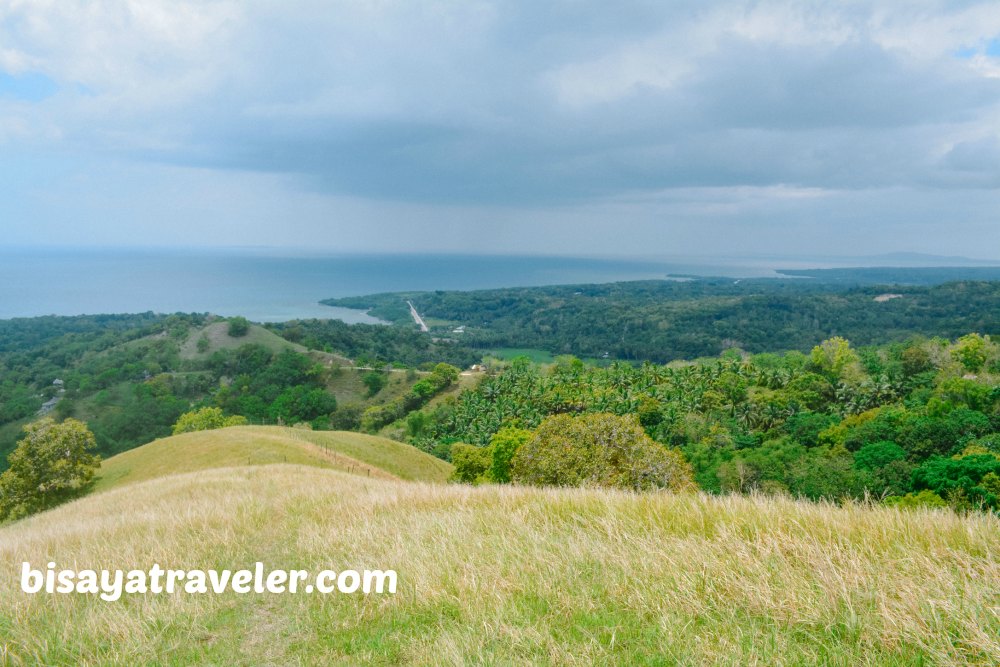 Even though it was rather hot (it was almost noontime), it was very relaxing and rejuvenating, thanks to its sweeping views and fresh air. I even spent some time resting and admiring the incredible scenery of Himontagon Hills.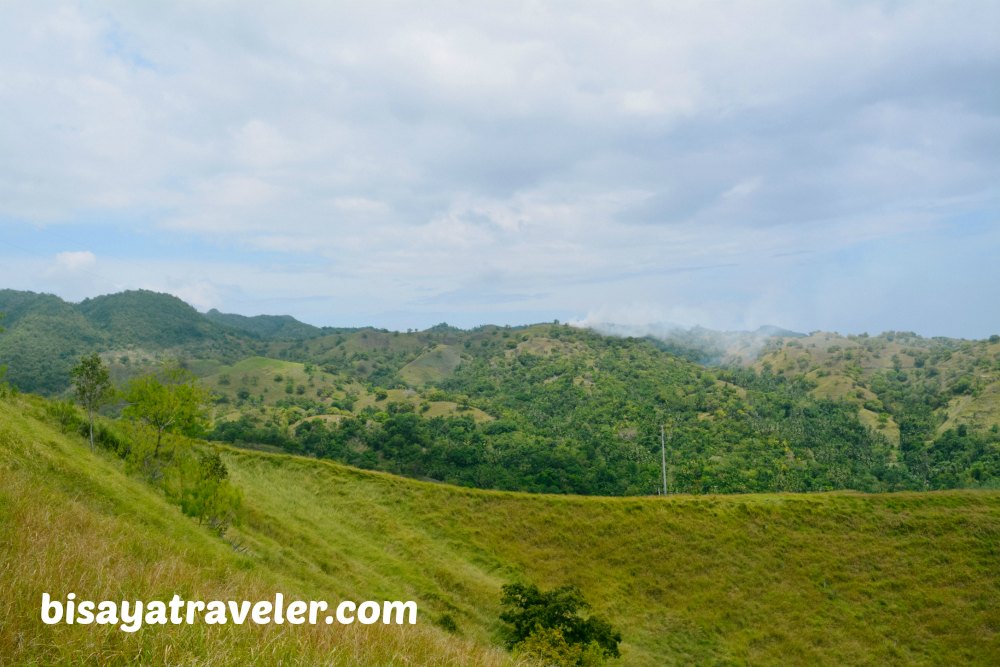 But, there was a minor drawback to my hike in Himontagon Hills. To be specific, I saw pieces of trash and traces from campers in some spots of Himontagon Hills. As a matter of fact, I saw a napkin and tissue papers in its camp site. Maybe, one day, the local government, hikers and visitors would be more responsible, and take great strides in preserving Himontagon Hills.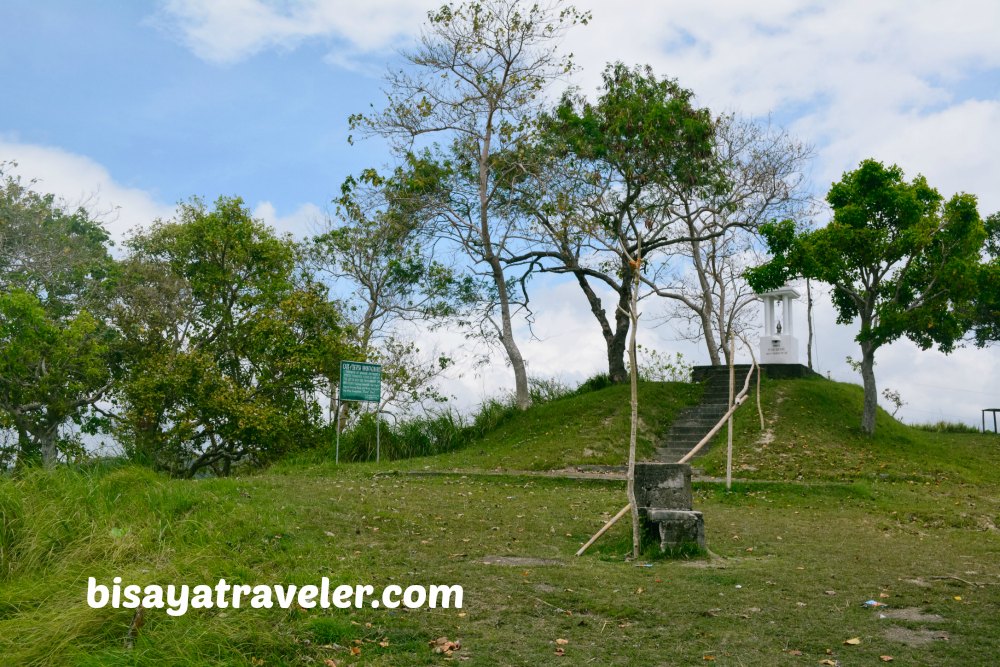 Nevertheless, it was a great short hike, and a great way to see a local secret in Bohol.
With our sense of wanderlust appeased, we went downhill, and headed back to the place where we parked Rechie's motorbike. Later on, we ate our lunch in a restaurant in Panglao.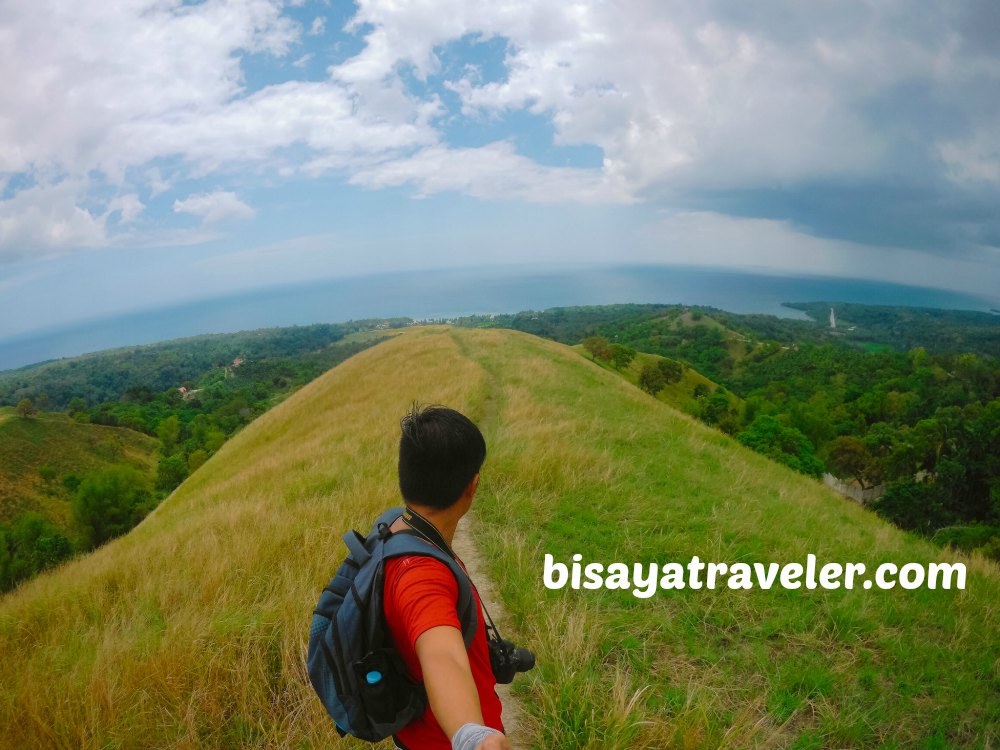 I, then, bid farewell to the lovely couple, and went back to our hotel in Alona Beach. As for the rest of the day, I also had a swell time, enjoying the beach and the fabulous wedding at The Bellevue Bohol.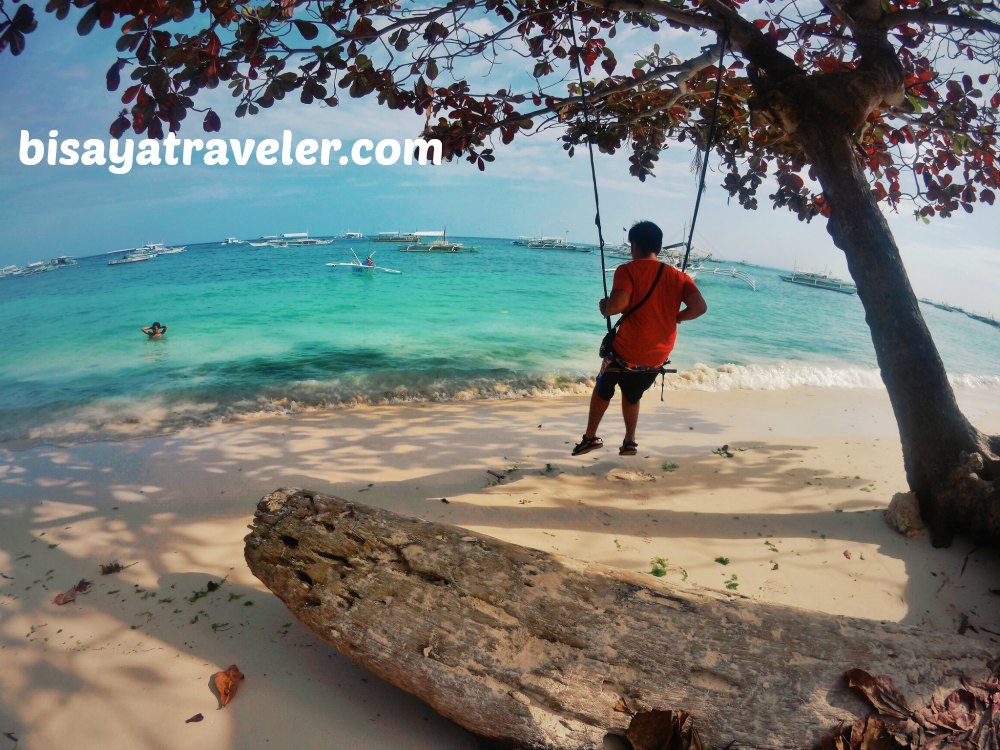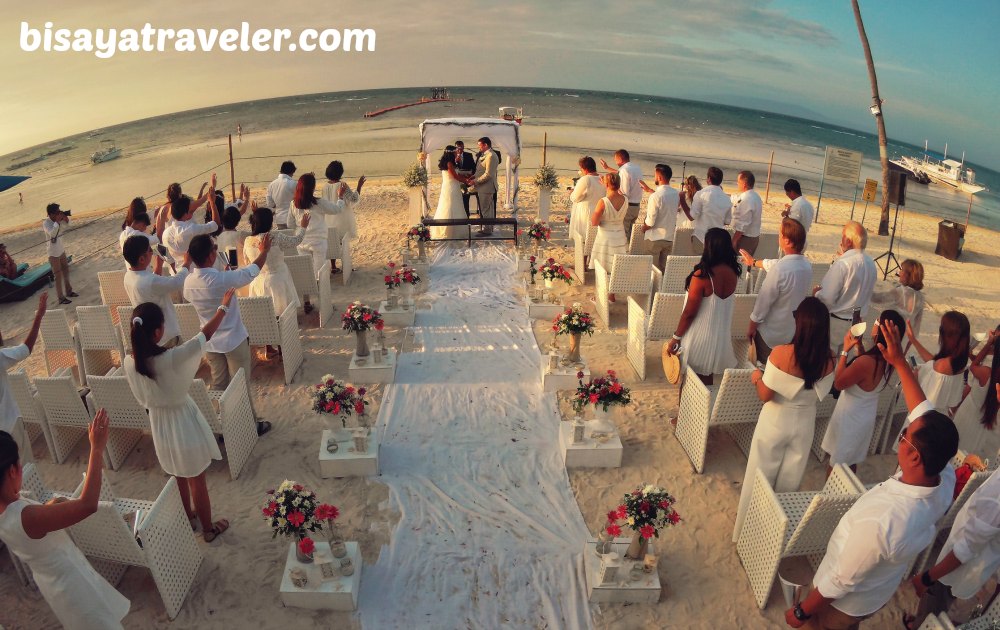 Damn, I truly love Bohol!
How to get there
From Dao Terminal in Tagbilaran City, hop on a bus bound for Jagna or Ubay (Fare is PHP 20 per person). Ask the driver or conductor to drop you off at the starting point of the Way of the Cross in Barangay Botoc, Loay. If the driver or conductor isn't familiar with the place, stay on the left side of the bus, and look out for the sign.
Likewise, you may rent a motorcycle for PHP 300 to 500 a day (8 hours), and drive up to Himontagon Hills.
Important notes:
Entrance fee to Himontagon Hills is FREE, as of this writing.
Practice Leave No Trace principles.
Bring food, and water.
From the starting point of the trail, the hike is about 3 to 4 kilometers, with an elevation of more than 300 meters. For regular outdoor adventurists, the hike may take around 45 minutes to an hour.
It's a great place to go on a solo hike (my initial plan).
There are markers are crosses that will lead you to the stop, meaning you won't get lost on your way to Morning Hills.
From what I've heard, there are also habal-habal drivers offering back-and-forth rides for PHP 100 per person. I'm not so sure about the rates, but some are saying that it will cost you that amount.
Enjoy the views. Himontagon Hills offer great views of Bohol Sea and Loay.
They don't label it as Morning Hills for nothing. To get the best vistas, go there before the sun rises. Alternatively, you may also see its mesmerizing beauty, during sunset. Either way, you'll love the setting of this splendid attraction in Bohol.