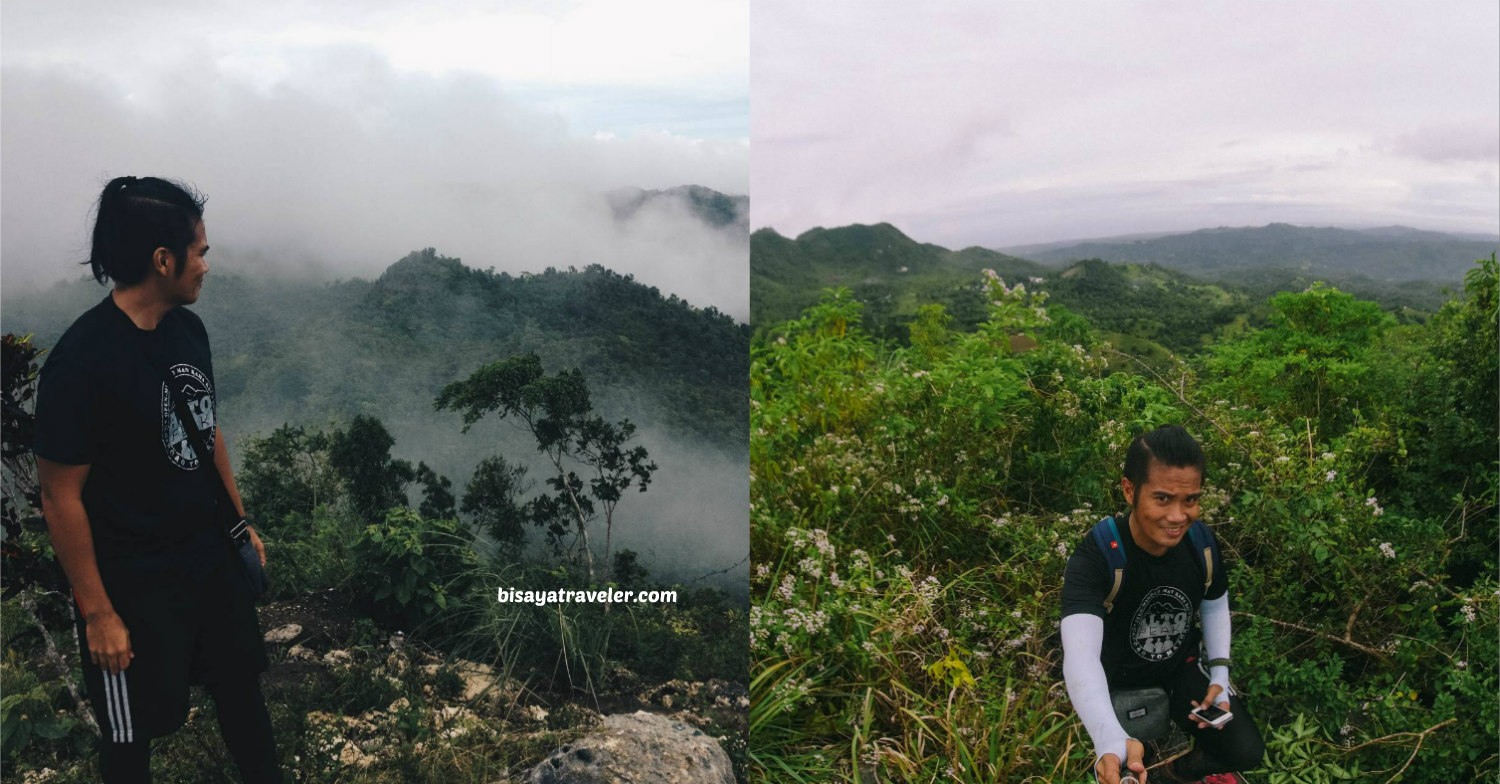 Mount Lantawan: A Thrilling And Alluring Surprise In Danao, Cebu
The therapeutic breeze brushed past me, as I was standing on the summit of Mount Manghilao. Slowly, the untouched natural allure of Danao's highlands was beautifully uncovering itself right in front of my eyes. Like a beautiful symphony, the dramatic foggy beauty of the mountain overflowed our hearts with gladness and optimism. I swear it was nothing short of awe-inspiring. And, in the midst of it all, we spotted a mysterious and wonderfully shaped mountain. Could be this the mountain they call Mount Lantawan? Was there a surprise or gorgeous panorama waiting for us at the summit of this mountain?
And, make no mistake about it – this wasn't the first time that I was enthralled by this mountain.
A year ago, I climbed Mount Manghilao, and got a good glimpse of this wondrous natural spectacle.

A couple of weeks later, the mountain again appeared on my way to the city from Danasan Eco Park.

In spite of its modest height, there was something really spectacular on this peak.

Or maybe, my inner explorer was merely craving to see some new and untouched landscapes.

Either way, I've got climb this mountain.

Even though I'm a novice hiker, I desire scaling scenic mountains and adrenaline-pumping experiences.

My heart yearns for outdoor adventures and unfamiliarity.

And, in a city as crammed and busy as Cebu, I need to escape the monotony of my daily grind every once in a while.

My sanity depends on it, and it's also a cheap way to see the nature's piece de resistance.
So, did we get to climb this mountain adjacent to the fabled Mount Manghilao? Is this the mountain named Mount Lantawan in Danao?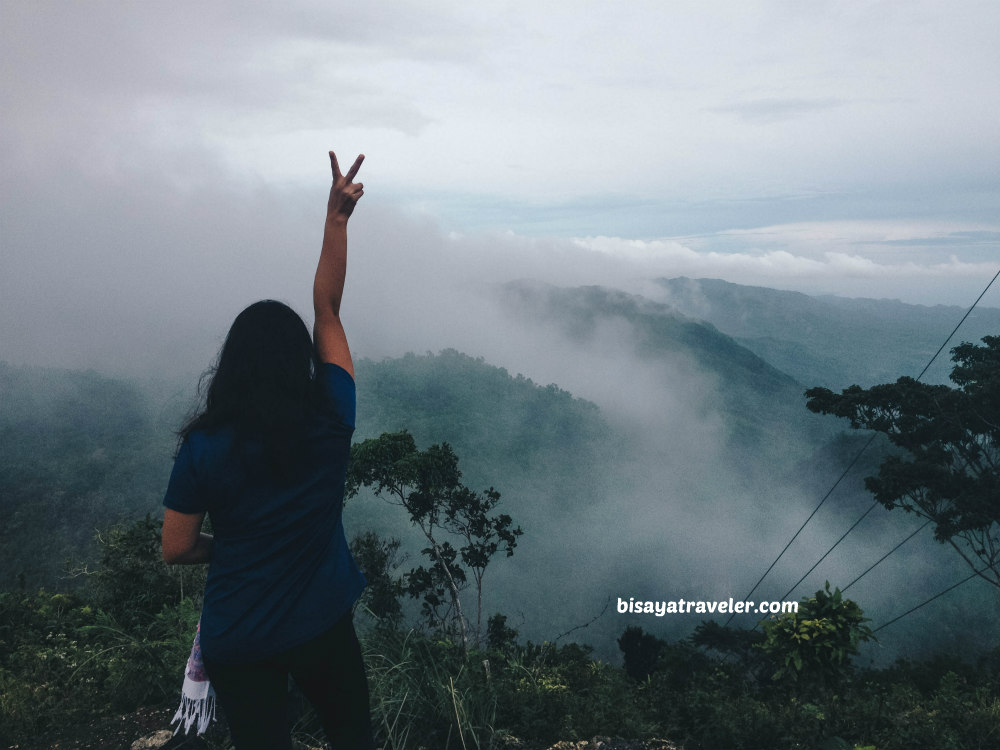 My Mount Manghilao and Mount Lantawan hike
I missed hiking mountains.

As far as I'm concerned, there's no place quite like the mountains.

With its serene setting and breathtaking scenery, the mountains in Cebu have been a soothing refuge for me and my friends.

That's why, even with our busy December schedule, my friends and I still managed to take a hike in our hometown.

This time, I ventured into the highlands of Danao with Beboy, Dian and Bruno Marvz.

After our rendezvous in Sun Gold near SM, we hopped on a jeepney that eventually took us to Danao proper. From there, we took a habal-habal ride to our base – Saicy Store in Masaba, Danao.
Before we began our climb to Mount Manghilao, we bought a few candles to pay homage to the mountain's mystical and sacred cross.

The truth is, I didn't hike Mount Manghilao that day just to escape my frenzied city life.

While I'm not overly religious, I made a vow to return to this mountain when one of my wishes was granted.

And, I'm a man of my word.
Geared up and eager, we hit the trail to the peak, led by yours truly, following a quick prayer.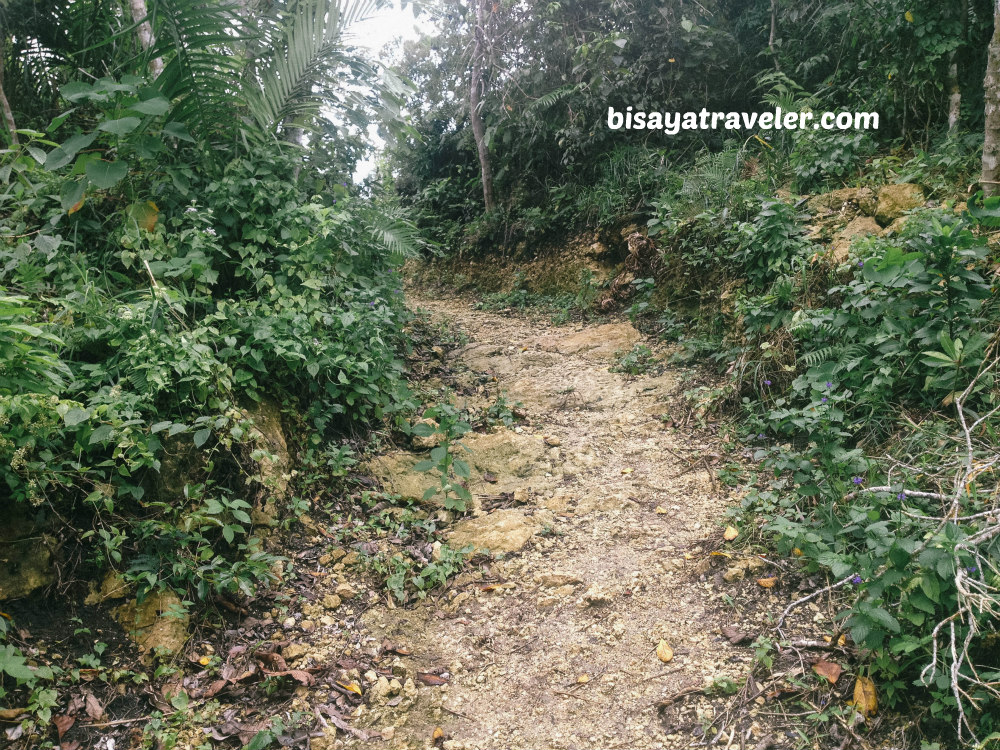 In 2018, we hit the trail almost every week in Cebu. From Naga's rolling hills to the mind-blowing Licos Peak, it's been truly a whirlwind full of pleasurable moments.
And, naturally, hiking became a part of our monthly routine and is somewhat ingrained in our DNA.
In December, though, we took a short breather from hiking, thanks to the mad December rush and our frenetic schedule.
And since I haven't hiked for weeks, I at first felt awkward hitting the slippery trails in Mount Manghilao.
I seemed to have lost my muscle memory in hiking, after that hiatus!
Beside the weeks of inactivity, I was also adjusting to my newly-bought ukay-ukay Salomon hiking shoes.
Luckily for me, the trail to Mount Manghilao was short and relatively easy.
Soon after, I've adjusted perfectly to my footwear as well as to the exciting nature of hiking.
The sound of my beating heart, then, became music to my ears.
The slippery trail turned into a thrilling playground.
And, the foggy scenery became a picture-perfect background for my photos.
It was all beautiful and the nature escape I was longing for!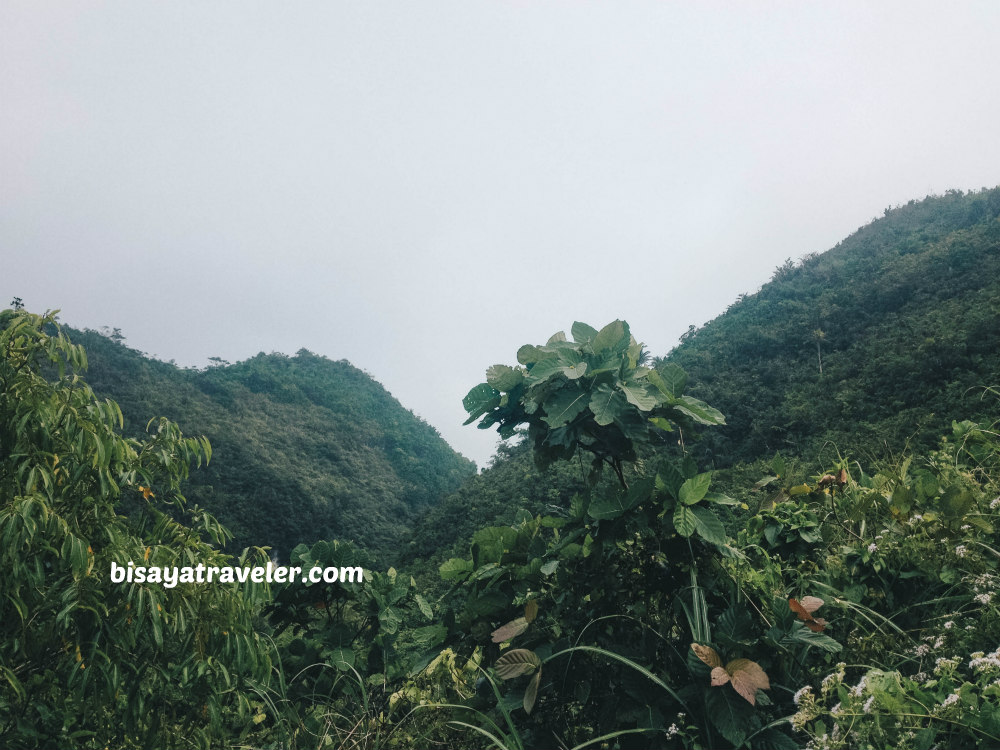 Along the way, we were treated to some fascinating sights, including the eye-catching fog surrounding Mount Manghilao.
And, there was something that also caught our attention. An eye-catching jagged mountain with an extraordinary symmetry!
I asked Dian to pause for a second, so I could snap a picture of it.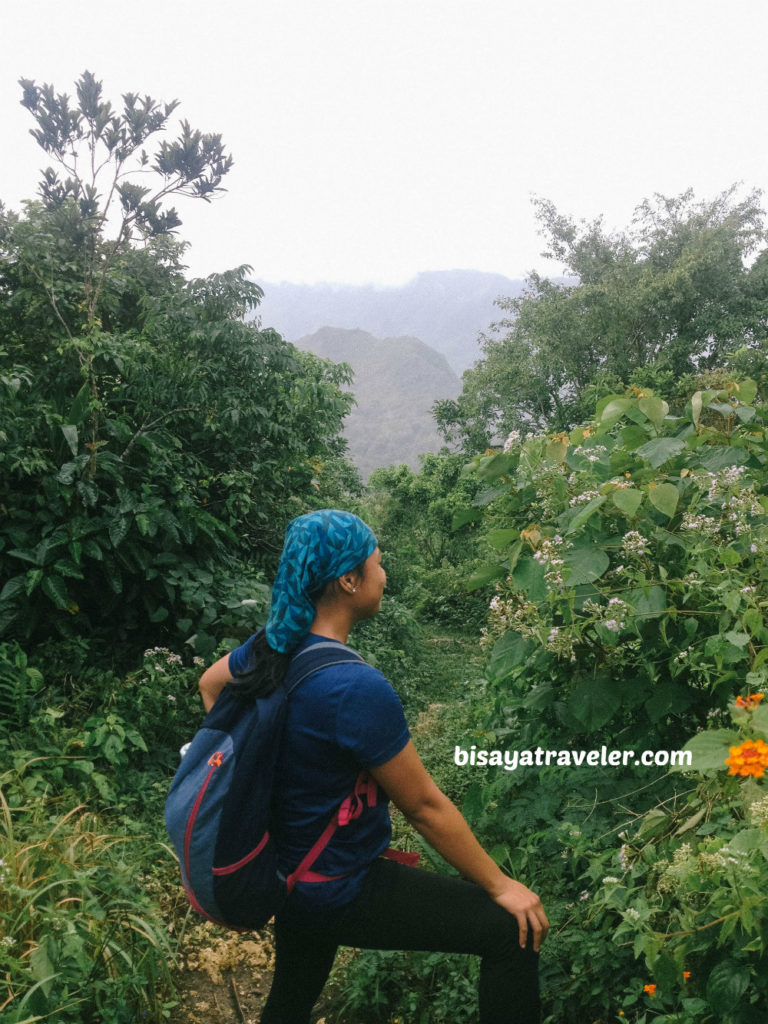 "Is this sneaking mountain the one they Mount Lantawan?", I asked myself.
In my search for new landscapes and mountains, I've discovered a place called Mount Lantawan through Facebook and Google Maps.
For some reason, I felt like that mountain was Mount Lantawan.
I guess I'll have to figure out if this is the mountain that I've been looking for.
To be honest, we weren't planning on hiking Mount Lantawan or that mountain on our day hike in Danao.
As always, we hiked with an open mind and an open itinerary.
We'll go as far as our feet will carry us! That has been our battle cry or motto in our recent hikes.
Plus, I also believe in Maktub – an Islamic concept that suggests whatever we experience happens because it's meant to be.
So, climbing Mount Manghilao and seeing that mountain may be a sign that we were meant to find Mount Lantawan that day.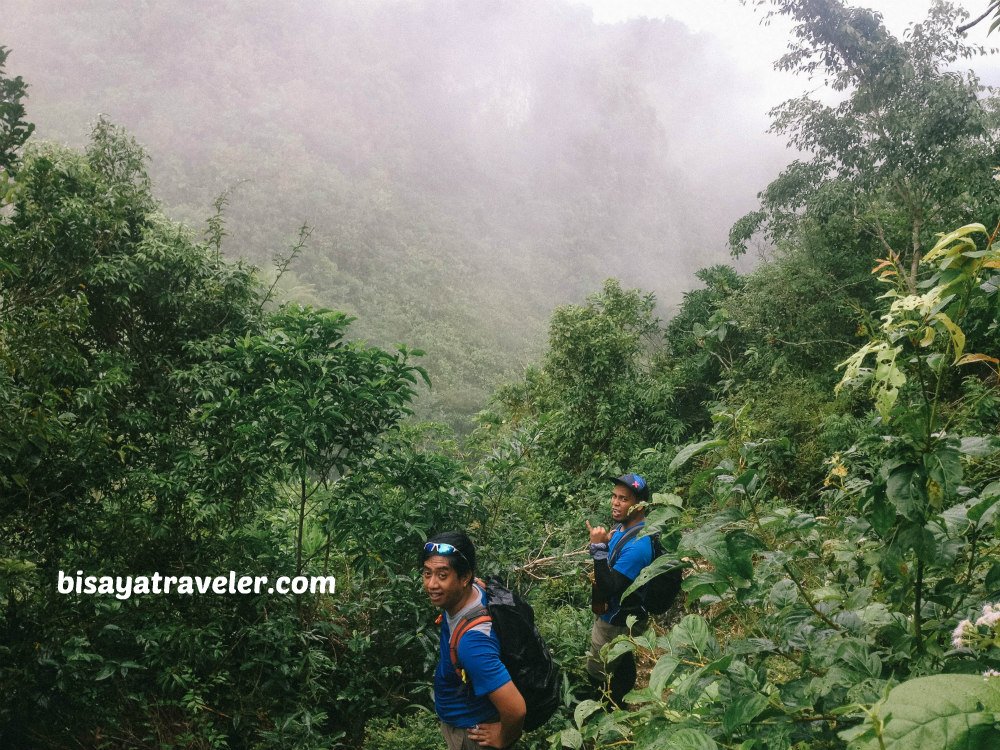 In less than an hour, we arrived at the summit of Manghilao. And, despite being literally covered in fog, I felt so alive here.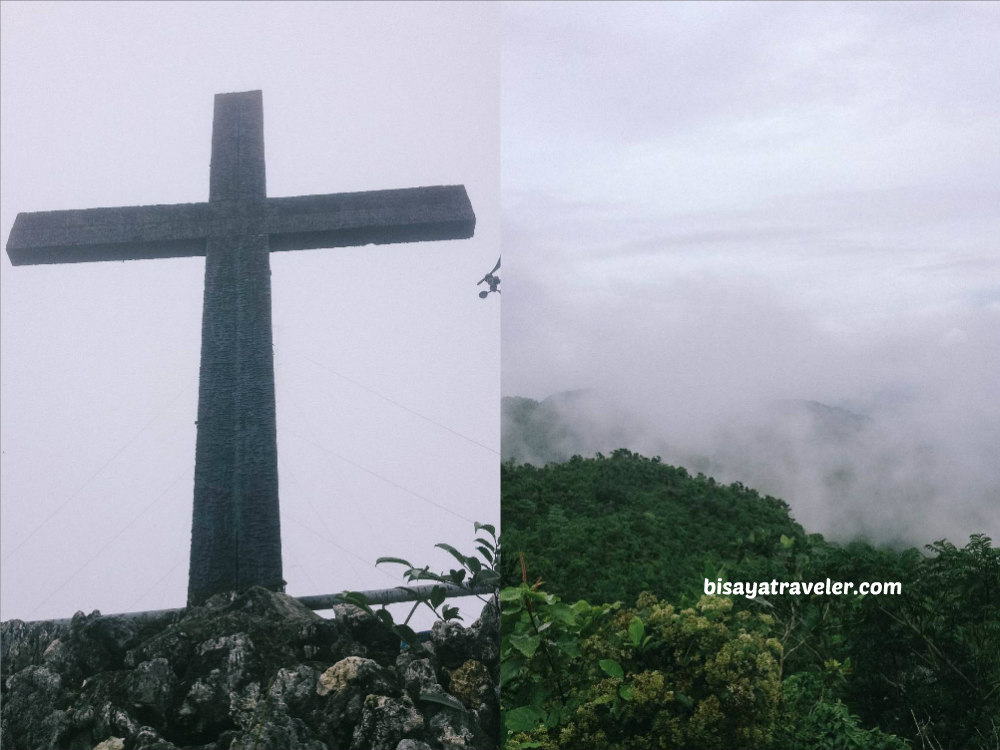 To me, time seems suspended in the lush and towering mountains of Danao, Cebu.
In these elevated places, I am at peace.
I forget all my worries.
The problems of having an old soul trapped in a modern man's body are lifted from me.
Here, I know my place in this world, and am content with it.
Here, I can't be harmed by stress.
And here, Mother Nature lives, and where she lives, I always flourish.
The aggressive whirl of the infamous Metro Cebu traffic and my pending work were temporarily erased from my memories.
I soaked up the cool mountain air and waited for nature to reveal its real beauty.
And, while waiting, we ate lunch and did some catching up.
Is it true that good things come to those who wait? I guess so!
Soon after, Mother Nature rewarded us for our patience with a mixture of stunning views.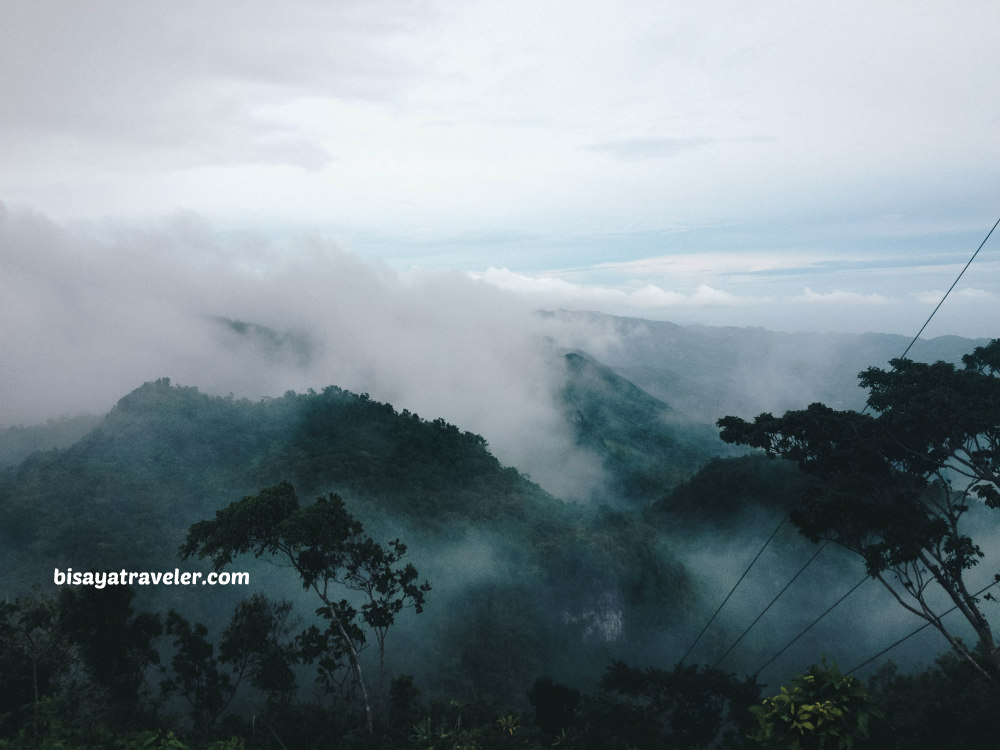 With the fog nonchalantly fading away, we got a sweet panorama of the sprawling city of Danao.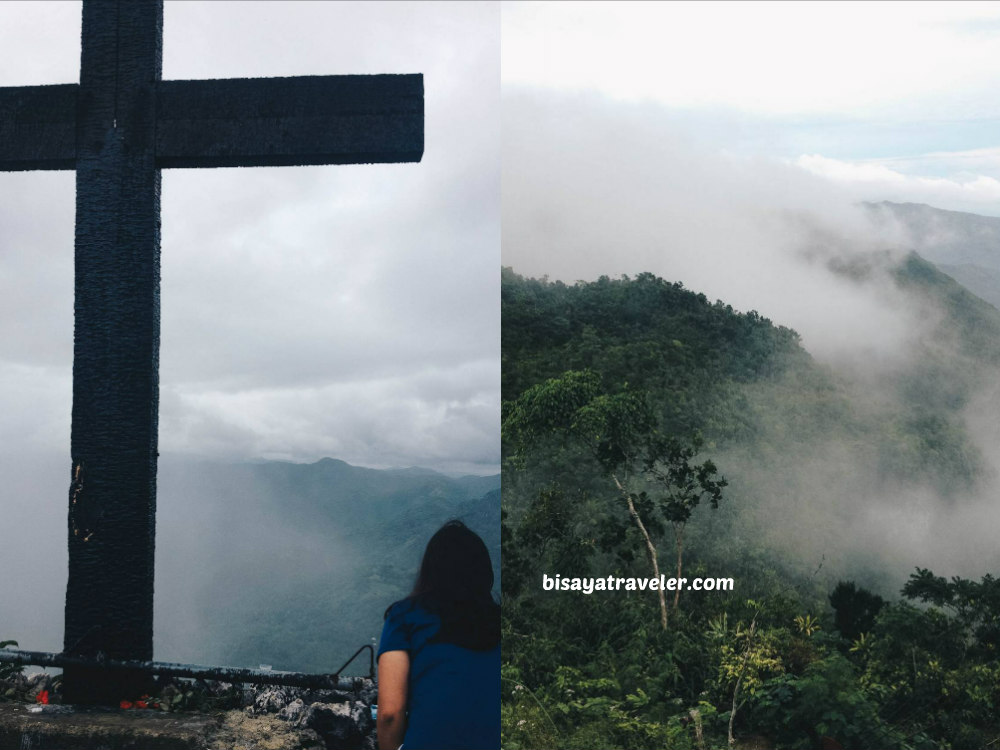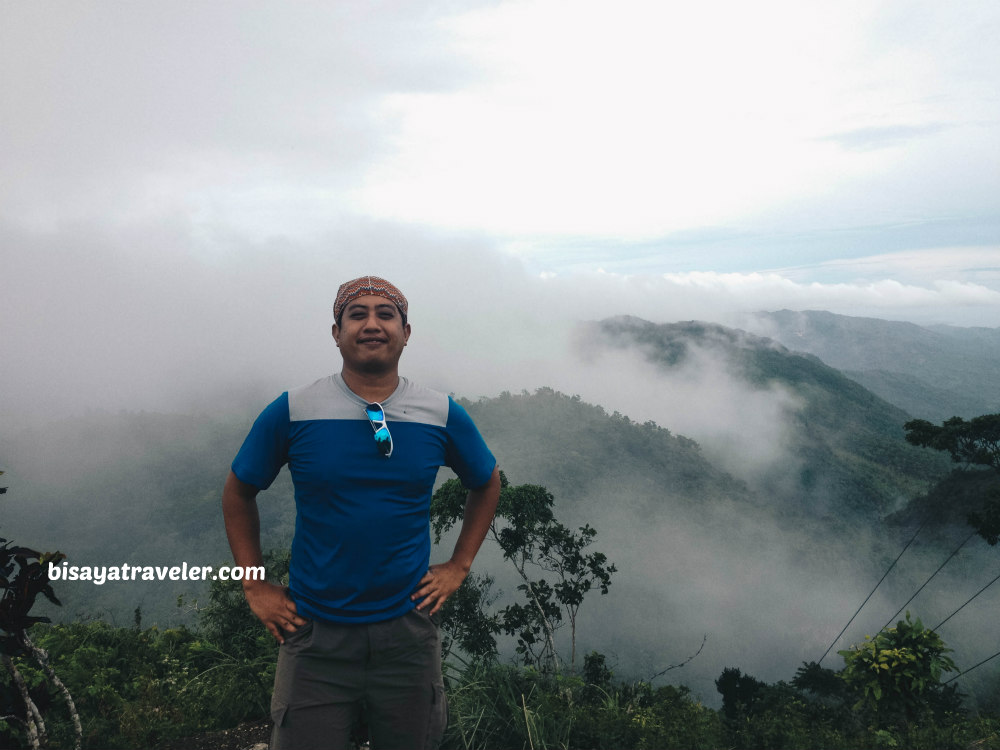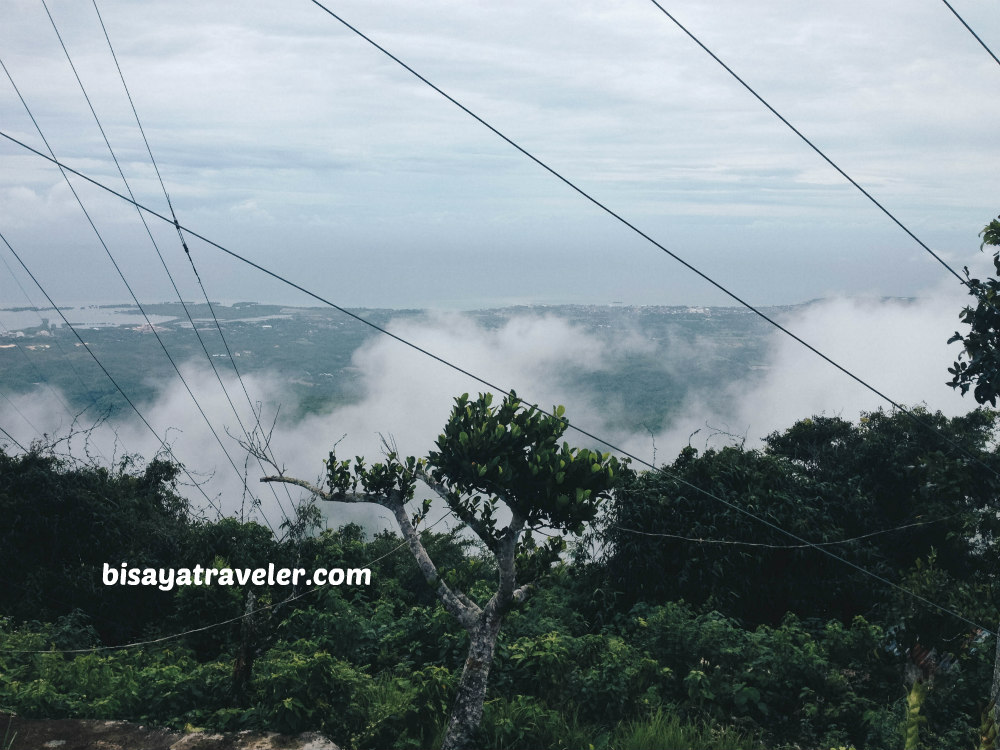 And, this breathtaking natural backdrop also gave us the urge to snap dozens of photographs.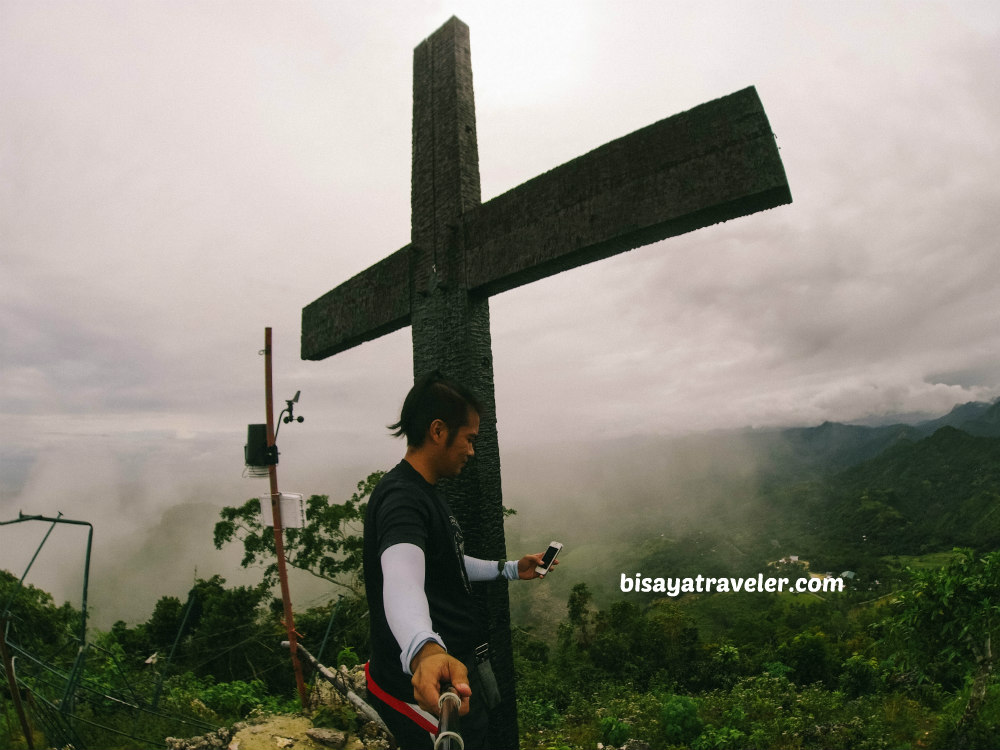 We were all on a state of pure bliss. Little did we know, though, it was just a prelude to an exciting ending to our day hike.
Moments later, we got an unobstructed view of the mountainous region in Danao.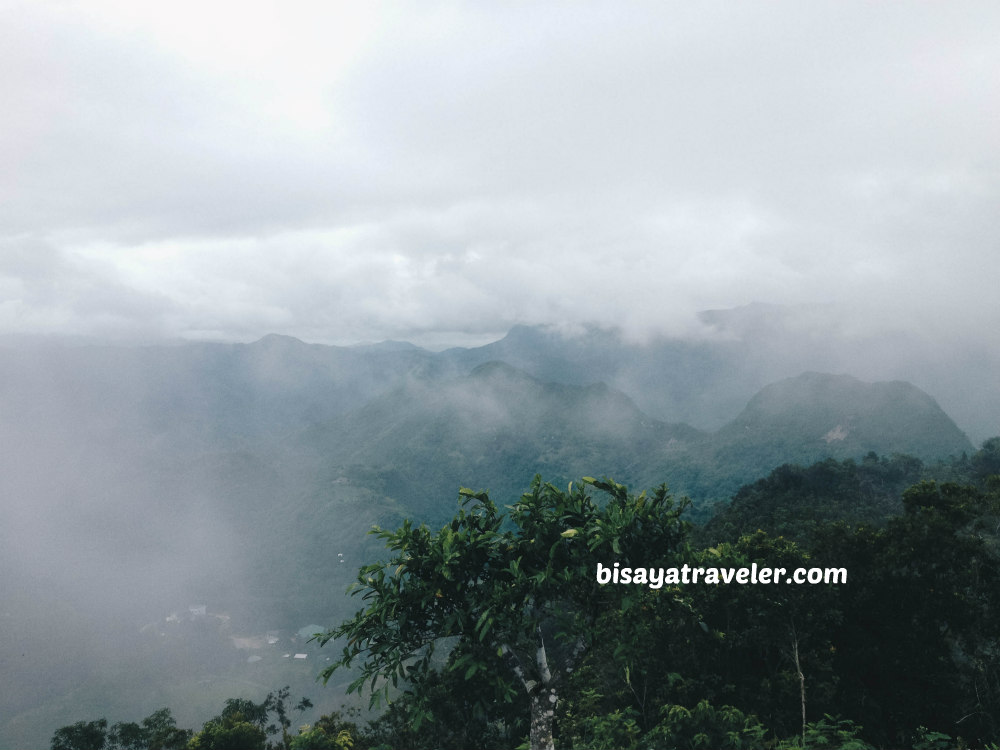 Eager and optimistic, Beboy and I scouted the landscapes, hoping to find our next stop.
Mostly, people spend tons of time in the summit, taking pictures. We, on the other hand, spend most of our time on the top, plotting our routes and taking mental notes.
Eventually, we decided to go to that intriguing and magnetic mountain that has been luring me since last year.
See that rugged and not-so tall mountain? Yep, that's the one I'm talking about.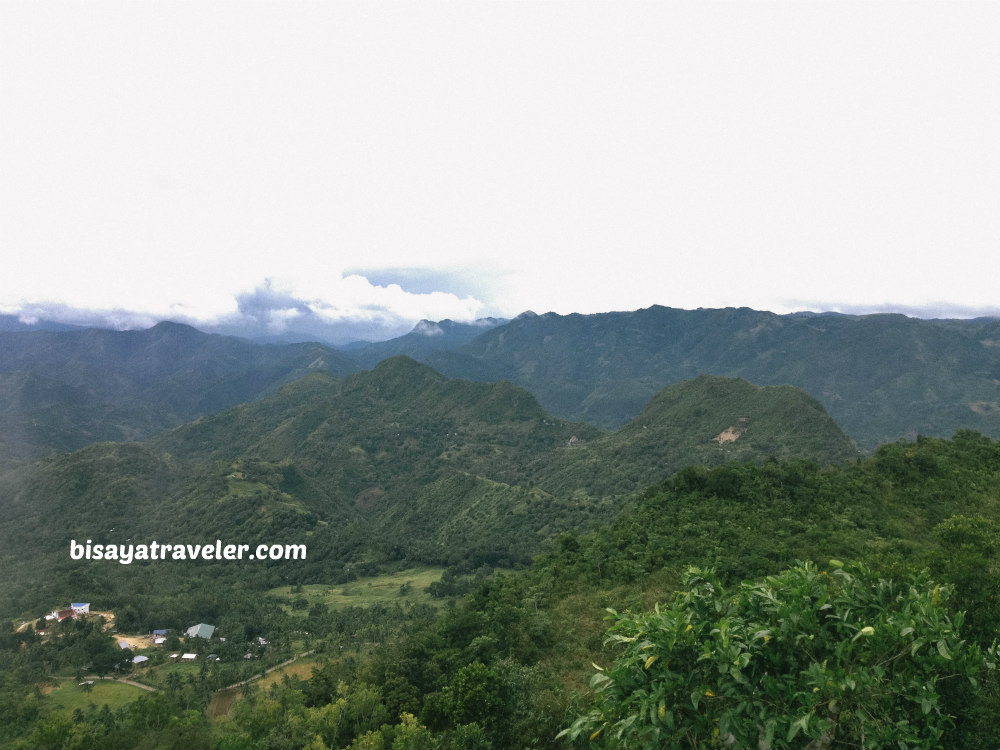 Once we've done surveying the area, we came up with a couple of routes to get to the top of the hypnotic mountain.
I was not born with a Garmin or the instincts of a gifted explorer.
And yet, my gang and I have scaled tons of unknown mountains with our sense of direction and common sense.
I learned by practice and study, under the tutelage of nature itself.
Of course, I've also developed my hiker's intuition, thanks to my hiking buddies.
Trust me, there's never a dull moment whenever I'm with my friends.
They are simply a fountain of crazy ideas.
They will find ways to spice up a quintessential hike, and will push everyone out of their comfort zones.
"Let's go", I said to my friends.
From the peak, we descended to our base to find clues on the trails leading to that mountain.
And, guess what?
We found a vital clue that led us to this mystifying mountain.
As we were about to reach our base, we passed by a house full of charming people.
Maybe, it was my instinct, gut-feel or a spirit that led me to ask this question. Where's Mount Lantawan.
Until now, I still don't know why I asked that question.
Originally, my plan was to ask them the name of the picturesque and interesting mountain we spotted above in Manghilao.
With a smile, the people replied by pointing to direction of that enchanting mountain.
"Go to Tagaytay, and look for the road that leads to Mount Lantawan", added a friendly elderly woman.
This is it, pancit! We now have a hint on how to get to Mount Lantawan!
Upon reaching the base, we rewarded ourselves with a short soft-drink break and a snack.
Afterwards, we commenced with our hike, hitting the concrete road to Barangay Cahumayan – home to Mount Lantawan.
Ultimately, we made a left turn, once we spotted a road leading to the star mountain of the day.
Walking with a little swag, we kept on hiking, until we bumped into a trio of kids.
"How to get to the top?", Beboy asked the kids.
"Just go to the chapel, and look for the path to the top", the little ones replied.
With the sprightly youngsters on the lead, we followed the route that would hopefully take us to Mount Lantawan.
At the chapel, we took a breather and analyzed the trail.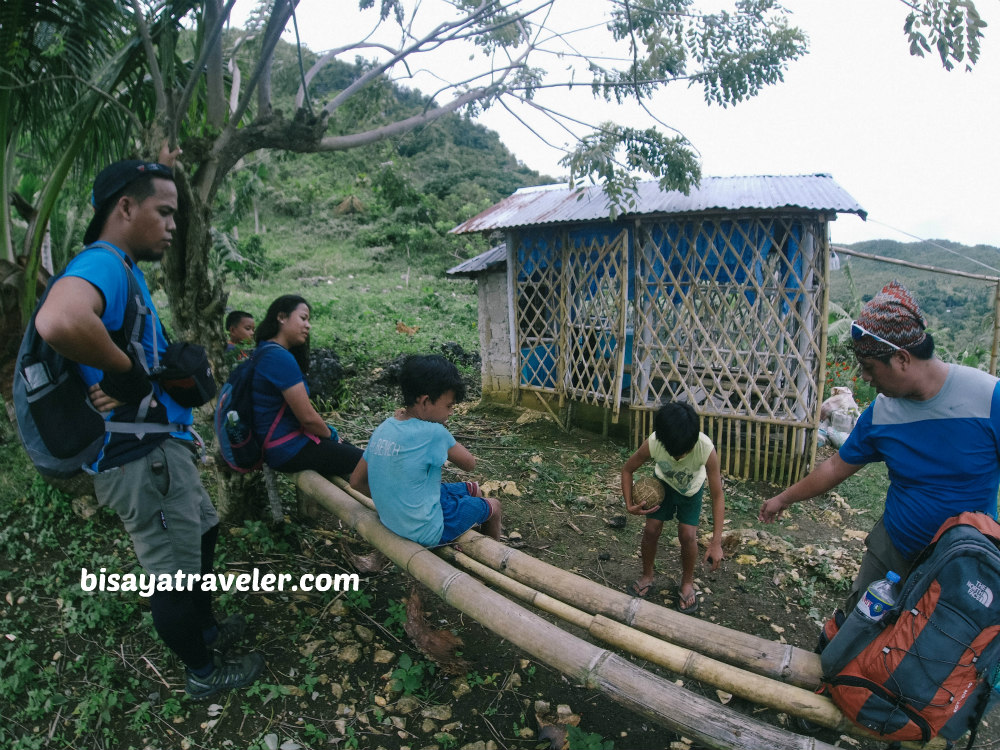 "It's a bit bushy and steep, but still a possible and safe climb", I whispered to myself.
But, just when we were about to resume our hike, the kids became hesitant.
They said there are monkeys in the area as well as some strange and mysterious beings.
Later on, a man, who was building a house nearby, gave us his two cents about Mount Lantawan.
As it turns out, the man's clan owns the lot and has even a small cottage above.
Although there have been adventurers who have been there, the man hinted that it can be dangerous for people to climb Mount Lantawan.
He even shared a story about a local who he rescued, after getting lost for hours in Mount Lantawan.
"There are harmful bees, crazy monkeys and sharp plants in Mount Lantawan", he said.
Even so, we were unfazed.
Though it seems a crazy idea, we've already calculated the potential risks of scaling Mount Lantawan.
And, it wasn't exactly as bad and perilous as we originally thought it would be.
After all, there have been foreign adventurers and local bikers that have hit the summit, according to the man and the little ones.
Determined and ready, we went on with our aspirations of climbing Mount Lantawan, with the kids guiding us.
The kids were a bit confused on how to get to the top.
Thankfully, our savior for that day – the busy and helpful man – was giving instructions to the kids on how to reach the top.
Worried for our safety, the hero of the day left his work for a while, so he could show us the way to the top.
Like a superhero speedster, he sprinted up, and went ahead of me and the kids.
Spearheaded by our newly-met guardian, we followed a relatively challenging trail to the top of Mount Lantawan.
And, getting to the top wasn't easy.
Not only was the trail slightly steep, but there were plenty of prickly plants as well.
What's more, there were loose rocks and sharp inclines to the top.
With the adrenaline rushing in my veins, I find it so thrilling and fun.
I had to dodge branches and oftentimes use my upper body to keep up with the guides who were hiking at a rather furious pace.
And, ultimately, we arrived at the peak of Mount Lantawan, and were amused by its overlooking views of Danao.
Truth be told, the views from Mount Manghilao were so much better than the ones in Mount Lantawan.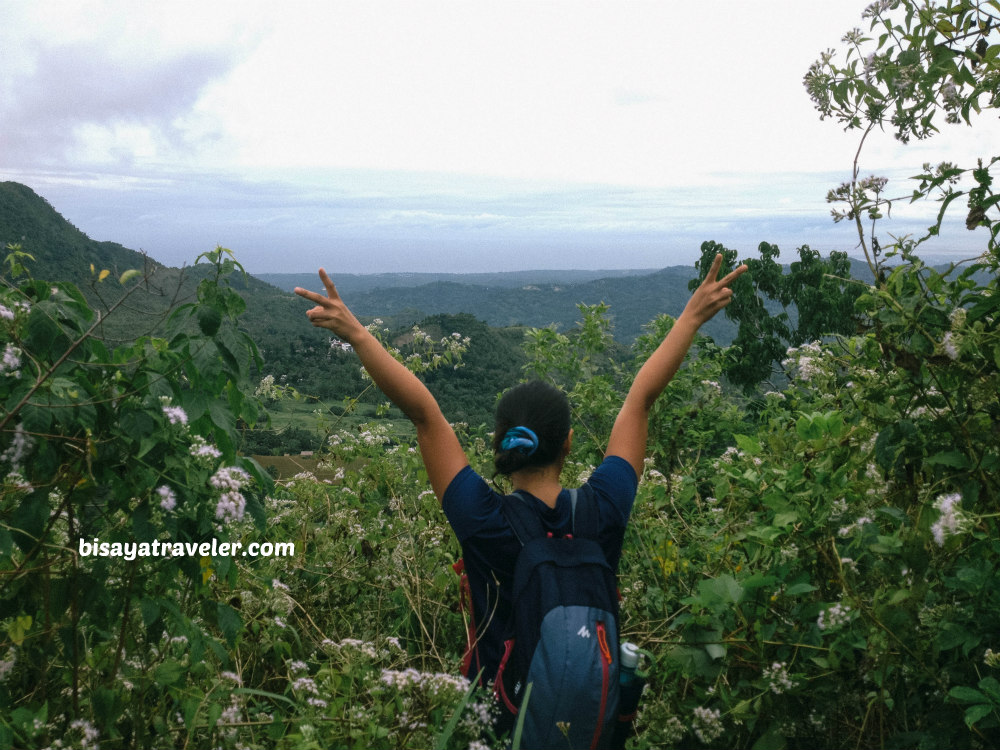 But, nothing beats the feeling of an adrenaline-pumping adventure in a bushy, unheralded and unknown mountain.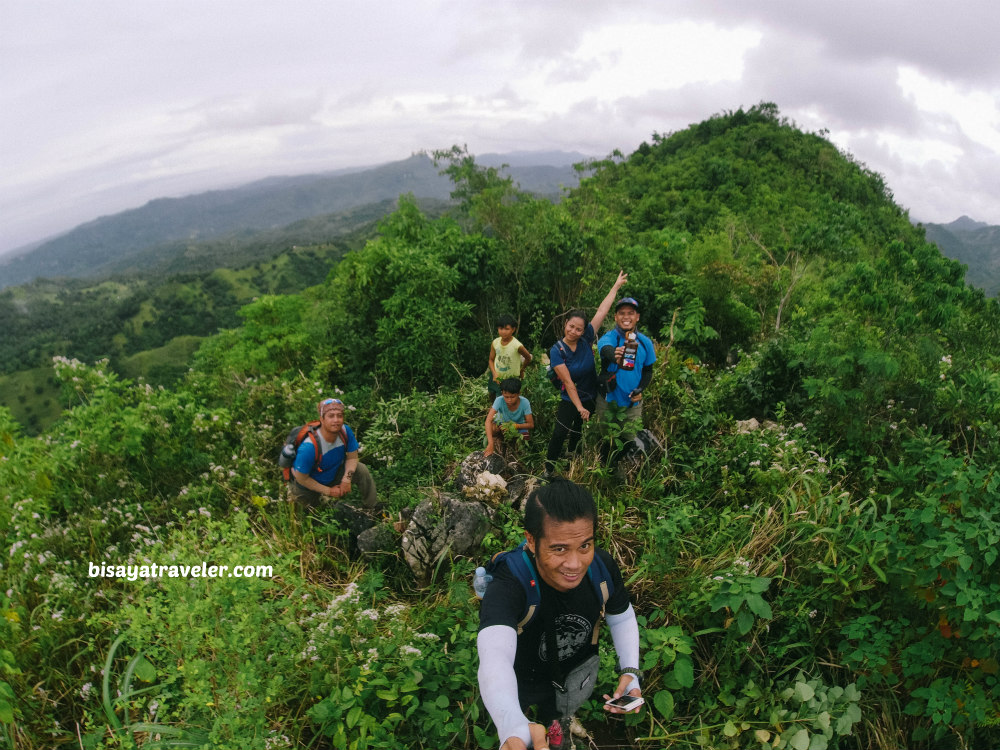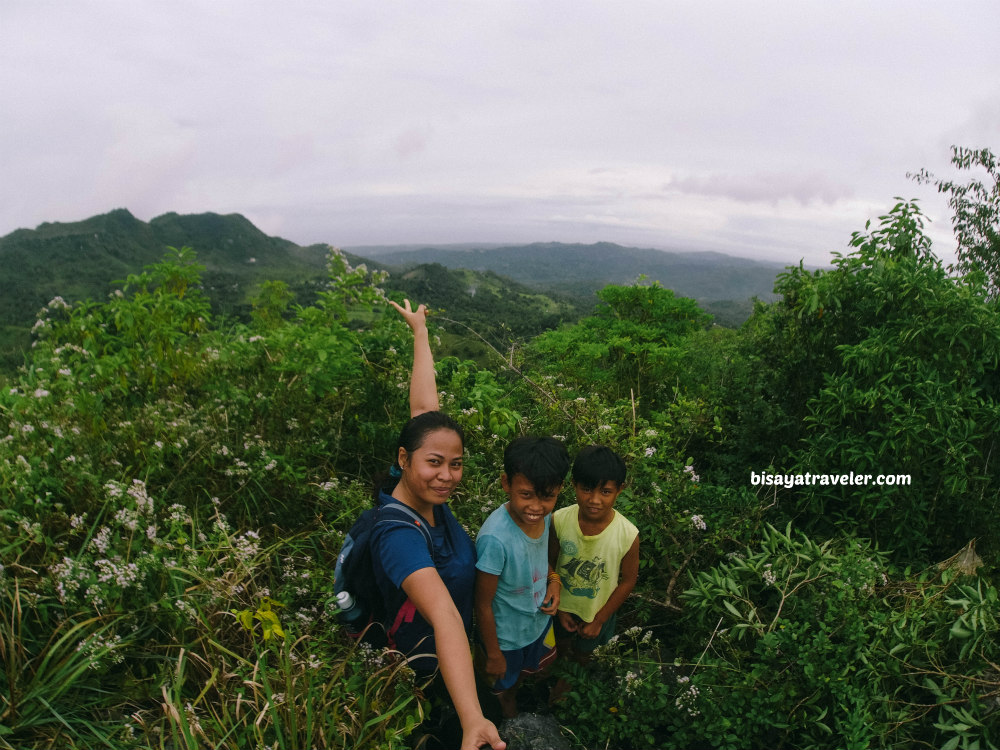 And besides, we learned a lot of things in Mount Lantawan, with our guide and hero of the day sharing some information about Danao's geography.
As a matter of fact, we discovered a bunch of new routes for our future hikes in Northern Cebu.
And, to me, that was the biggest and best surprise of our hike in Mount Lantawan, Danao.
I guess I'll be seeing Mount Lantawan again, very soon.
We didn't spend a great deal of time on the peak, with the sun about to set.
Soon, we descended from Mount Lantawan, with a boatload of pleasant memories and big smiles on our faces.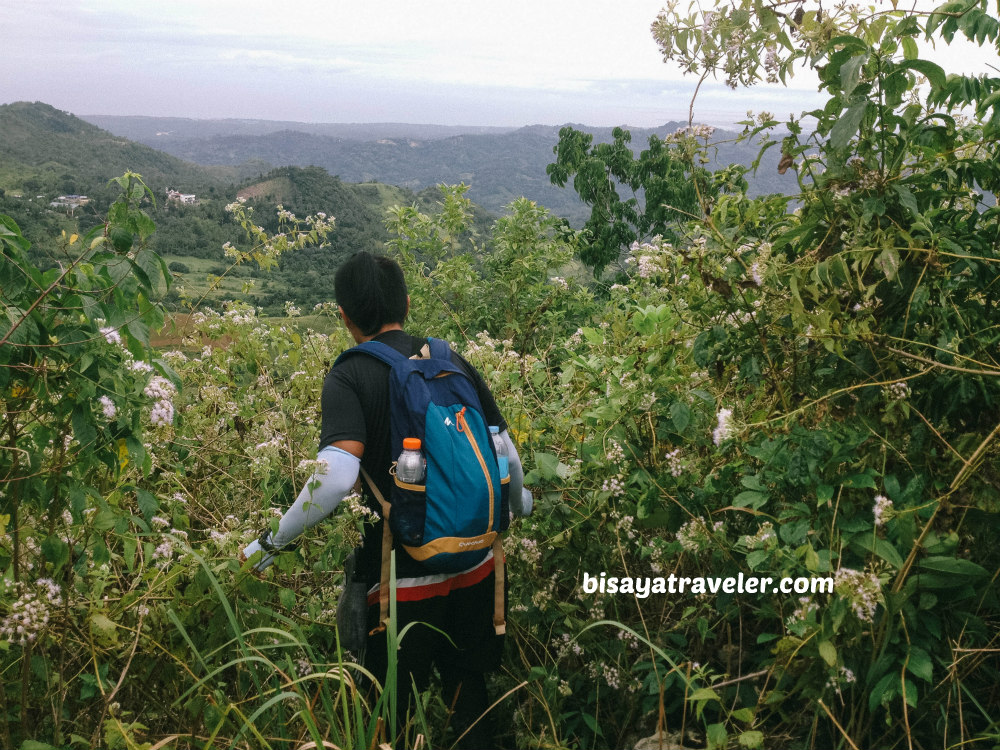 But, getting down wasn't a walk in the park.
Heck, Bruno had cramps on the final stages of our descent.
Upon our arrival at the base, I gave an early Christmas present to Ging – the great guy who showed the way to the top.
In addition, I asked for his mobile number, just in case some of you, my dear readers, are planning to hike Mount Lantawan.
We, then, rewarded the kiddos with refreshments and food, and bid farewell to everyone who made our hike colorful.
See you next year, Mount Lantawan!
My expenses:
Jeepney fare to Danao terminal from SM Cebu: PHP 35
Habal-habal fare to Saicy Store in Masaba: PHP 45
Habal-habal fare to Danao proper from Cahumayan: PHP 50
V-hire fare to SM Cebu from Danao: PHP 50
Things to keep in mind
Practice the LEAVE NO TRACE principles.
If you need a guide to Lantawan, please contact Ging at 0908 449 9582
Pack at least 2 liters of water.
Bring trail food/snacks.
Bring ION drinks like Gatorade or Pocari Sweat.
Wear trekking shoes or sandals with great traction.
Pack full-fingered gloves, leggings and arm guards.
Start early.
Don't attempt this hike, if you're still new to hiking.
Hike in small groups for a faster pace.
Our itinerary:
07:00 AM: Meet up at Sun Gold
08:20 AM: Depart from Cebu City
10:20 AM: ETA Danao City/depart for base
10:56 AM: Start hike to Mount Manghilao
11:40 AM: ETA Mount Manghilao/wait for clearing
01:15 PM: Start descend
01:40 PM: ETA base/break
02:00 PM: resume hike
02:40 PM: ETA summit of Mount Lantawan
03:00 PM: Start descend
04:30 PM: Depart for Danao proper
05:15 PM: ETA Danao proper/early dinner
06:30 PM: Depart for Cebu City
10:30 PM: Home sweet home (Christmas rush and traffic)
How to get to Mount Manghilao and Mount Lantawan
Please refer to my old Mount Manghilao guide, if you're planning to hike only this mountain. For those who want to go directly to Mount Lantawan, just take a jeep to Danao proper (expenses mentioned above) from SM Cebu. Then, charter a habal-habal to Barangay Cahumayan. Since there's no fixed fare for this route, expect to pay somewhere around PHP 50 to 60 per person per ride. Once there, ask the locals for directions to Mount Lantawan or the chapel near the peak. You may also contact Ging (details mentioned above), if you need a guide to get to Mount Lantawan.