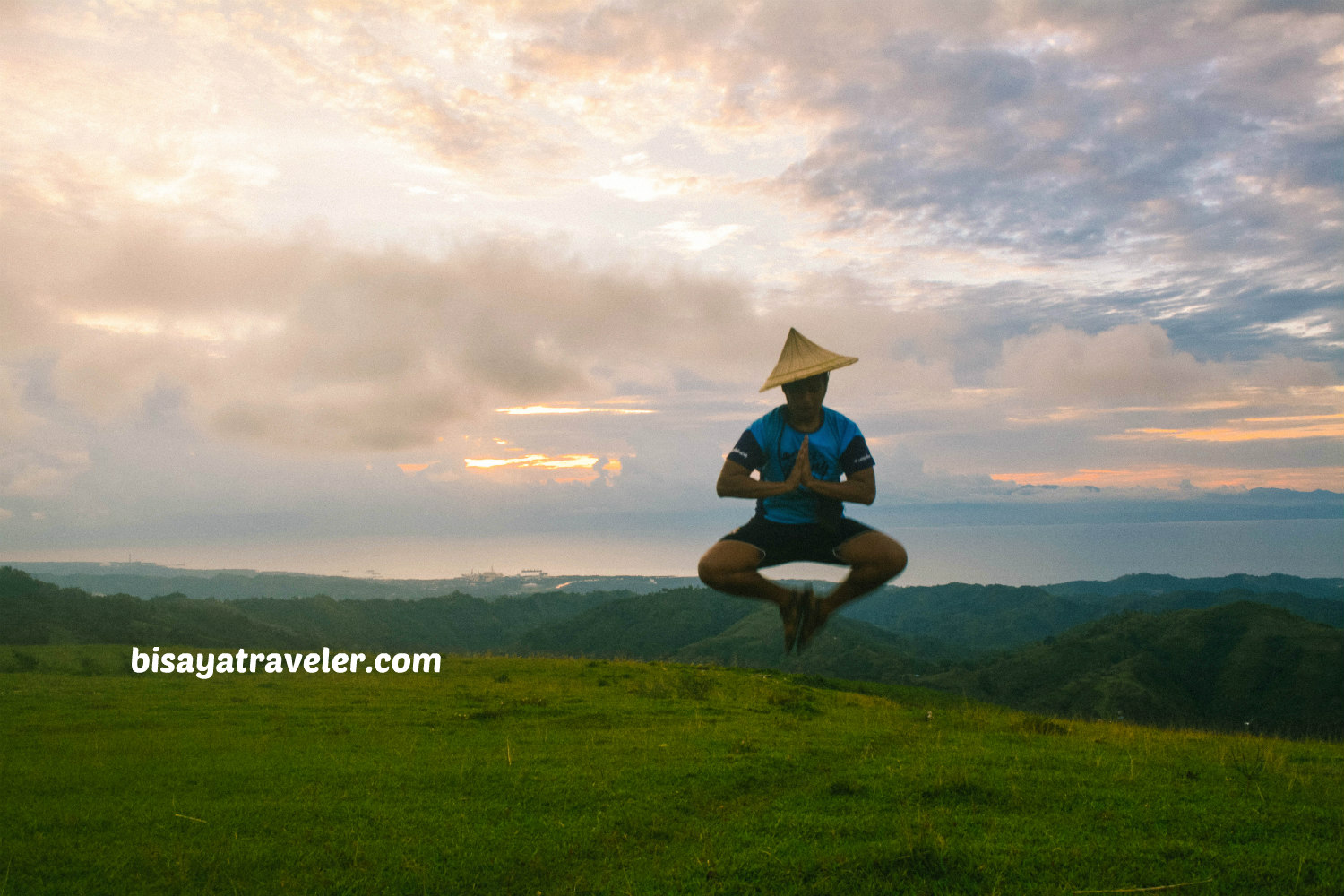 Toledo City Hike: An Adventure With A Meaningful Purpose
Devastating hurricanes, crime sprees, racism and endless streams of online bashers – on the surface, the world seems a heated mess. Every time I open Facebook or turn on the television, I see violence, destruction, hate, greed and a whole lot of disturbing images. And sometimes, I feel like the human race is hopeless, with us becoming a serious threat to ourselves and everything around us. Yet, even with all the chaos, there's an optimistic side in me – the one who loves to hike mountains – that the sees the world as a beautiful and serene place to live in.  And that beautiful side of me has just orchestrated Team Bang's first ever hike for a cause in General Climaco, Toledo City.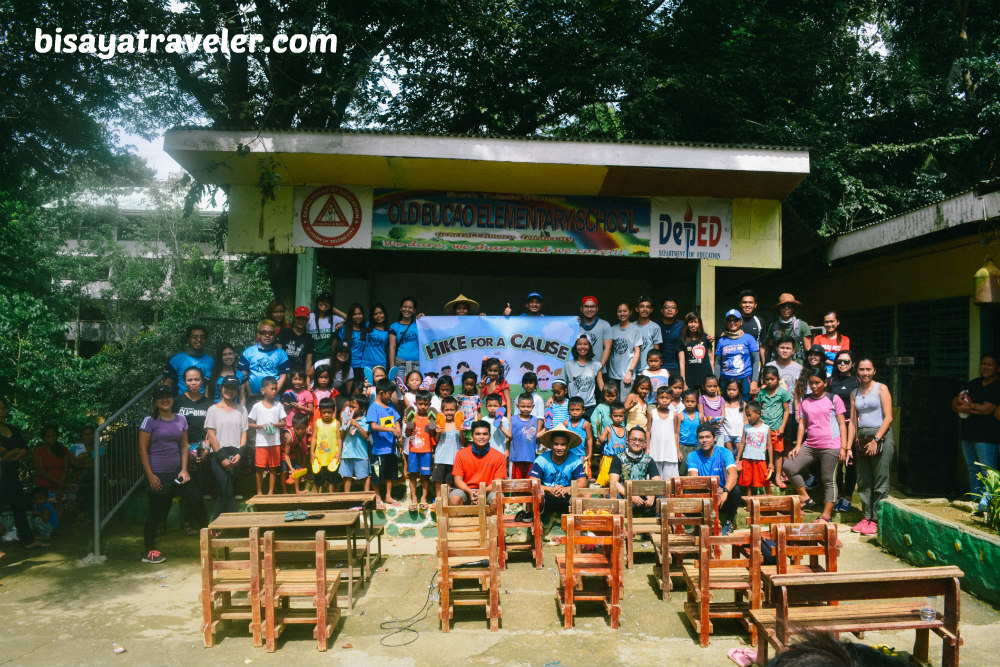 A year ago, Team Bang was merely a random collection of fun-loving people who traveled for fun and leisure. Every month, we went on a hike to escape the city's daily trappings as well as to savor Mother Nature's grand masterpieces. Amazingly, we were also helping communities and other locals, with our micro-adventures across Cebu.
For instance, we helped Casoy turn into a sought-after hiking playground from a sleepy barangay. Not to mention, we practically introduced Casino Peak to the local limelight and mainstream travelers.
And in the midst of our adventures, I realized that we could be more than just a hiking squad or a cluster of travel buddies. With our sunny outlook and boundless energy, I thought that we could make a positive impact in our community. And so, for the first time ever, Team Bang hosted a hike for a cause for over 30 students in Old Bucao Elementary School.
The people who joined me for our hike for a cause in Toledo city
There were heaps of people who were interested in joining my team's hike for a cause. Unfortunately, I had to limit the number of people joining us for this good cause. I had to set the event as private on Facebook, just to ensure that we won't go overboard with our target number of hikers.  Since the school's location is slightly remote, getting there can be pretty tricky, especially when traveling with a large group.
Still, I was extremely glad that more than a couple of dozen of hikers tagged along, to help us fulfill our vision. Here's a list of the people who came for Team Bang's hike for a cause.
Aldrich (yours truly)
Rose Ann
Jonah JM
An Jurvel
Christine
Cherwinn
Joseph Arnel
Francis Paul
Kevin
Gelique
Bing
Maricar
Wilfred
Jon
Analyn
Ivy Villa
Beth
Marc
Jan Rhais
Hon Rubz
RJ
Shiela
Fe
Donna
Sherlyn
Gessele
Lieve
Jovy
Marj
Marzi
Idol
Maria Salve
Sadam
Carl
LucheBabes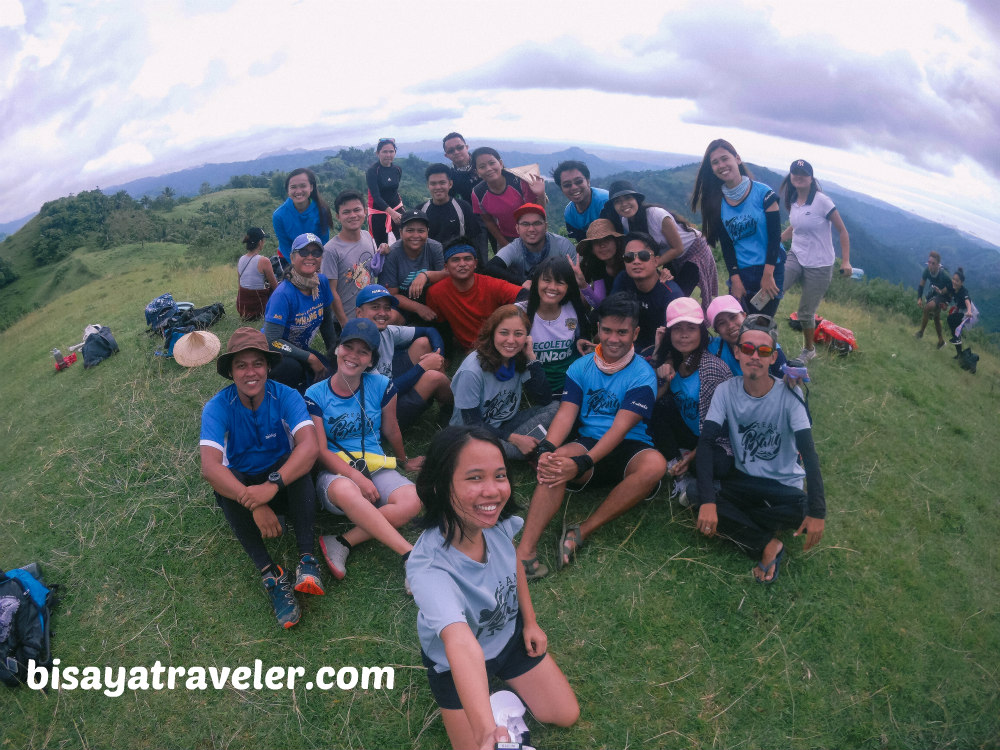 Our hike for a cause experience
Our hike for a cause experience started with meet up at 711 near Cebu City South Bus Terminal. Of course, as usual, there were some late comers for this one-of-a-kind hike in Cebu (yep, Filipino time is real, ladies and gentlemen).
On the bright side, there were quite a few funny and interesting moments, as we were waiting for the rest to arrive. One of my favorite moments on this part of our hike was when Donna stepped inside 711, and Idol was utterly stunned by her beauty. Seriously, we saw Idol's jaw drop, the moment Donna set foot on the store and approached us.
We all burst into laughter, thanks to Idol's reaction. And even though he was a little embarrassed, Idol still went near Donna, to introduce himself like a fine gentleman.
After gathering everyone, we hopped on a couple of vans, and made our way to Toledo City proper, to buy food and other things needed for our outreach program.
Then, we took a short yet bumpy ride to the first stop of our hike for a cause – Old Bucao Elementary School.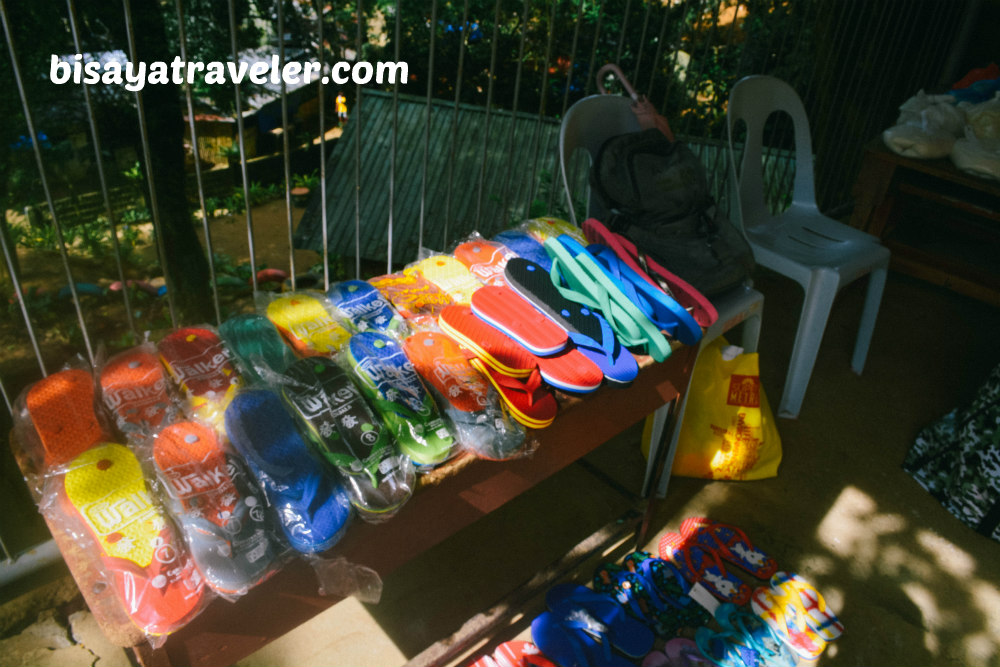 And there, I met one of the most interesting and inspiring people in my hikes this year – ate Fe.  Although she's over 50 years old, she can still hike mountains faster than a teenager. As a matter of fact, she has already scaled Mount Apo, Mount Pulag and Mount Kanlaon ever since she started this hobby.
"As long as I can walk, I'll keep on hiking mountains", said ate Fe.
Right now, she's planning on scaling one of the most physically challenging and demanding mountains in the Philippines – Mount Guiting-Guiting. And, she's planning to do it with us. Hopefully, we can keep up with her, when that time comes.
As we were talking, I became more motivated to keep on hiking and climbing mountains. Lately, I kind of lost my fire in going on hikes or outdoor adventures. Truth to be told, I was looking for another diversion to feed my wanderlust, like scuba diving or just simply sightseeing.
For years, I've been dealing with a number of nagging injuries in my knees, lower back, hips and shoulders, due to all my strenuous hobbies in the past, like running, weight lifting and calisthenics. What's more, I have a congenital defect on both my feet, which can oftentimes make things harder on my end. When I was a child, I wore a special pair of shoes specifically designed by an orthopedic for my feet.
But thanks to her words of wisdom, I became more pumped up and inspired to scale more mountains. Not to mention, I've learned tons of new stuff by just listening to her. And yes, there's more to traveling than just the Instagram-worthy photos.
Moments later, the program for our hike for a cause began, with Idol leading the prayer and doing the emcee duties. Plus, the kids also got to show their cute dancing skills, waltzing to the beats and tunes of Baby Shark.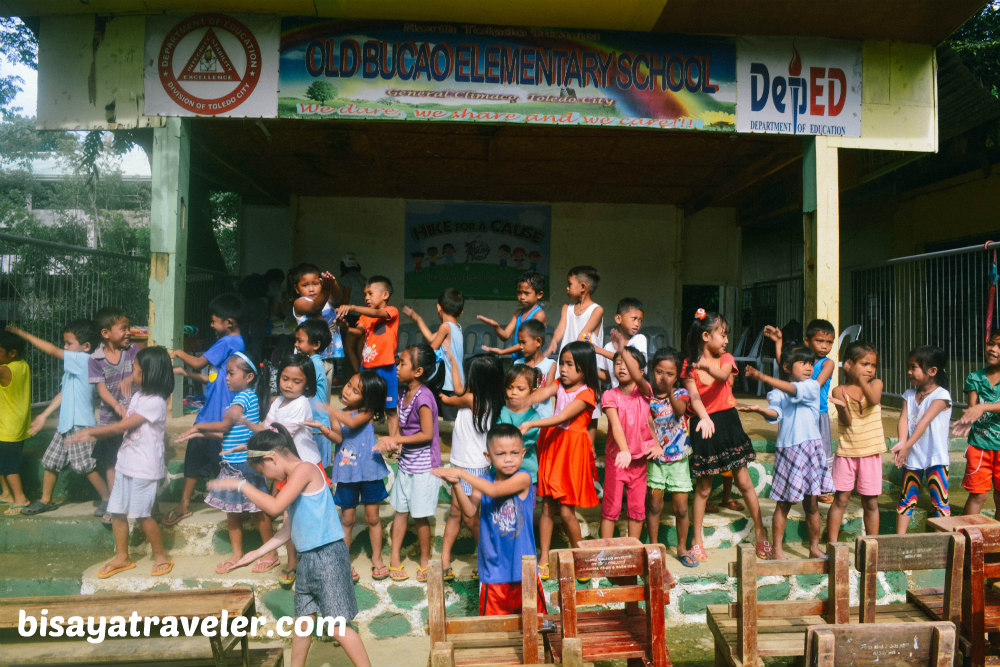 Basically, it was like a one-man show, with Idol doing everything to entertain the kids. Every time he had trouble communicating with the kids, Beth would come into the scene and save the day, to explain things further to the kids.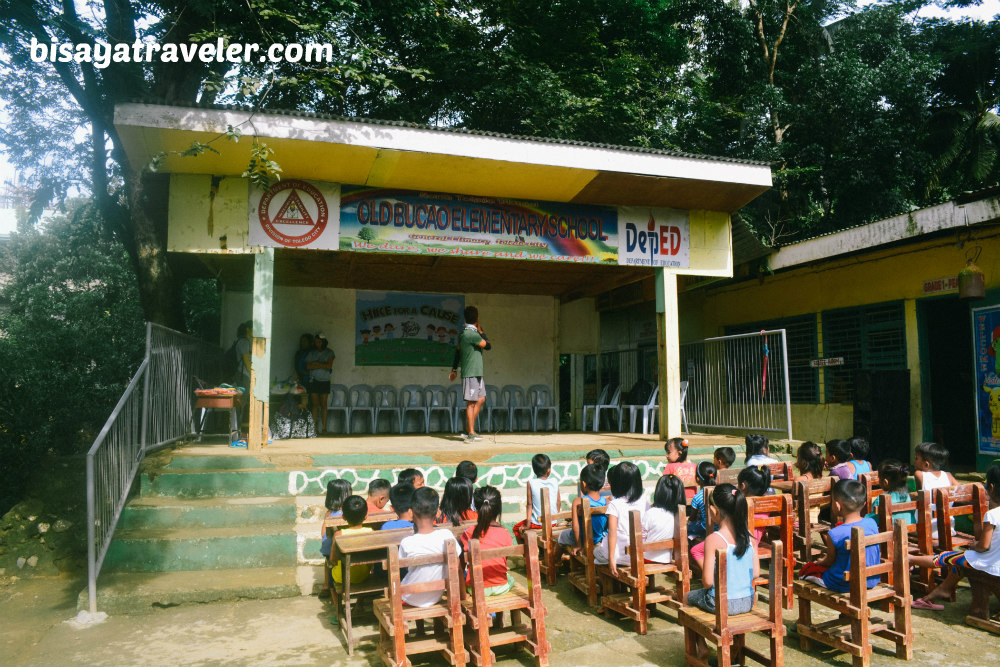 And, that's why people in our circle admire Idol. Except for Carl's mango float request, this guy doesn't know how to say no to any challenge. The truth is, Idol is more than willing to do anything and everything to make sure everyone is happy.
To make things fun and exciting for the children, we hosted games with dozens of prizes, including socks, jellies, candies, wallets and many more.
As for the kids, they were having a blast, even when they were having problems relating to Idol's descriptions.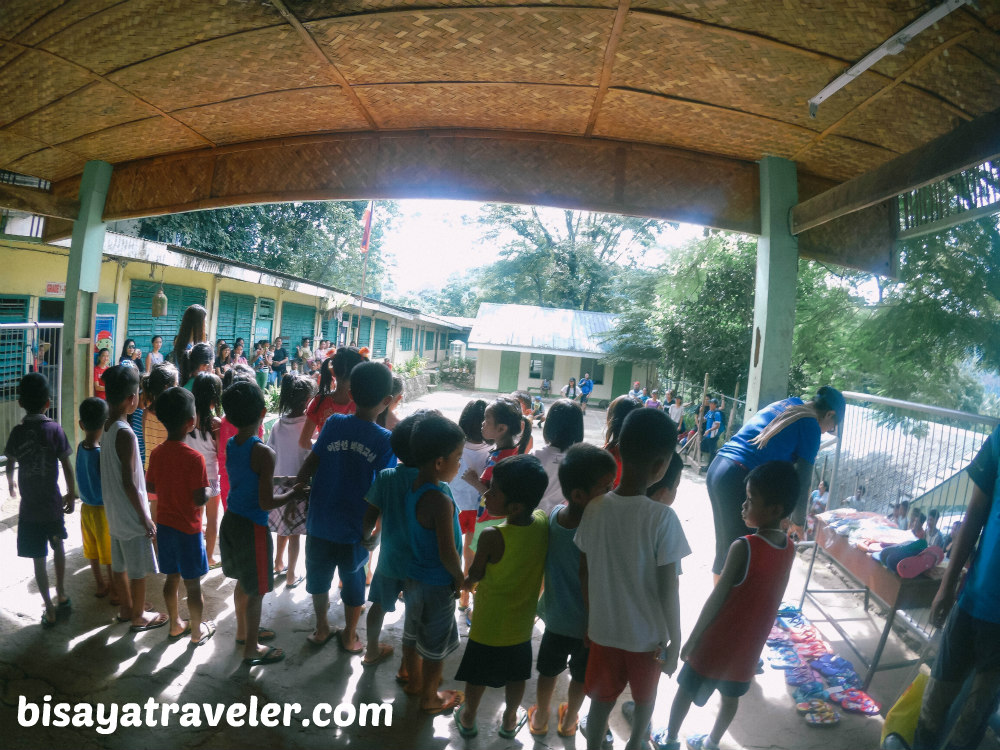 It was all fun and smiles for everyone in the event. Even the parents were having a swell time, watching their kiddos participate in our wacky games.
Once the games were over, we gave every child a pair of new slippers, 2 kilograms of rice, and a handful of tasty goodies.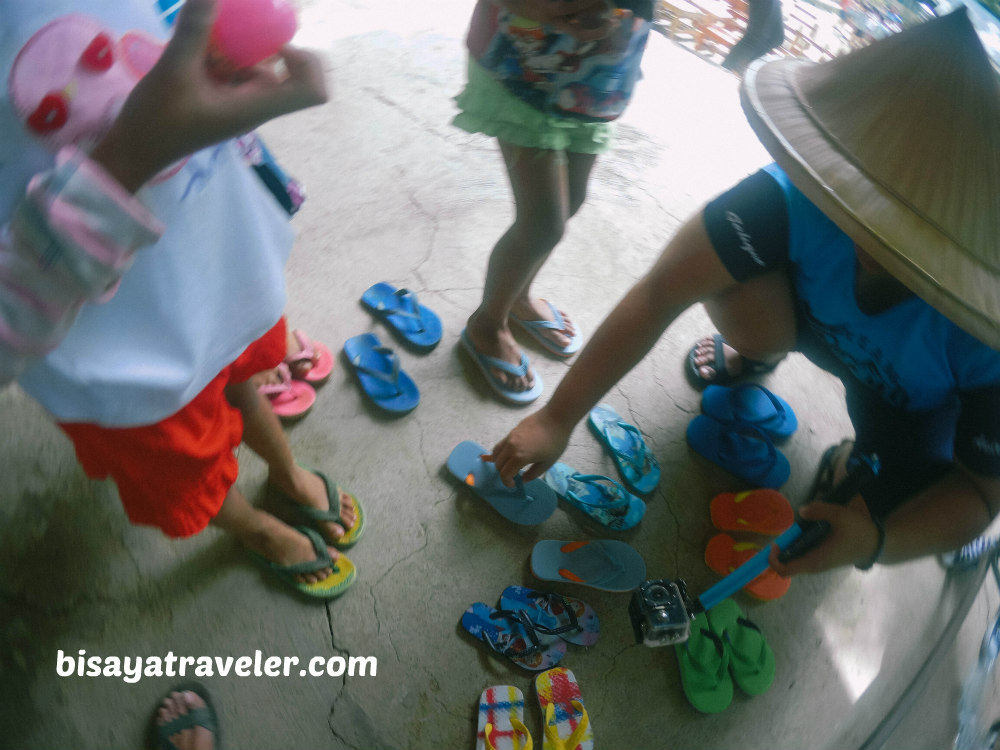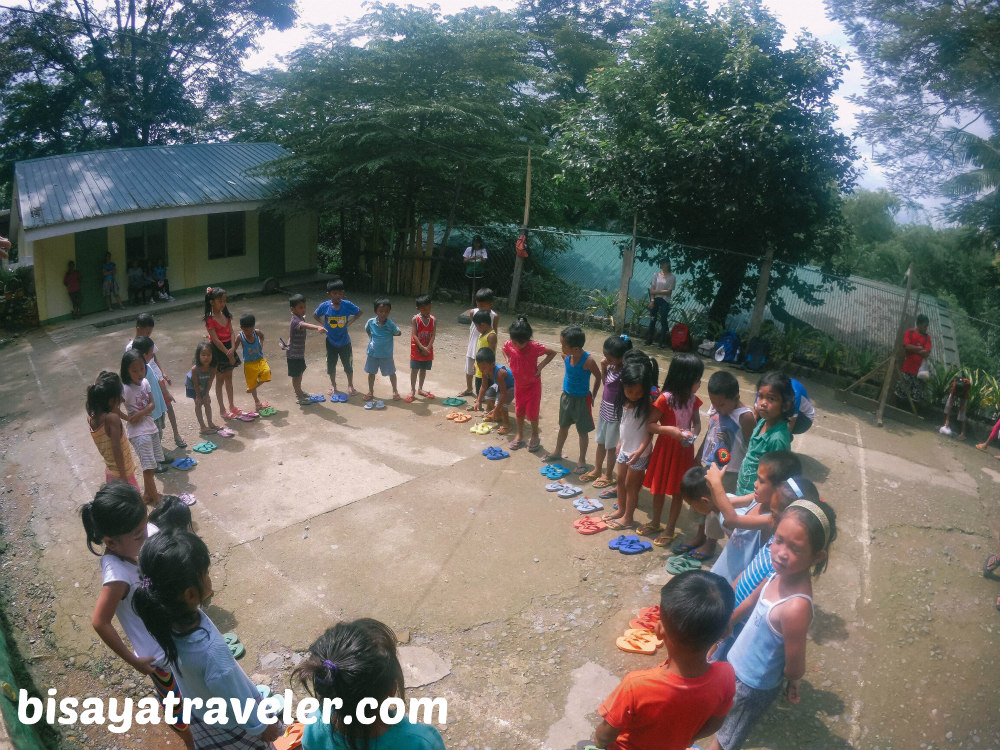 Seeing their smiles and hearing the words "thank you" from them were, for me, the highlight of our hike for our cause event.
Whenever they flash a heart-warming smile and say those kind words, I couldn't help, but feel thankful and blissful. Indeed, it was the ultimate reward, after going through all the pains and struggles of planning an event that involves a multitude of people.
Personally, everything after distributing the gifts was just a bonus. As cliché was it may sound, there are no words that can describe the feeling of helping someone less fortunate.
We know it's not much, but I'm pretty sure these kids and their parents appreciate our efforts.
Another thing that I really like about this event was watching everybody work like well-oiled machine. From Analyn helping the kids to Jon distributing the slippers, our teamwork was an absolute sight to behold.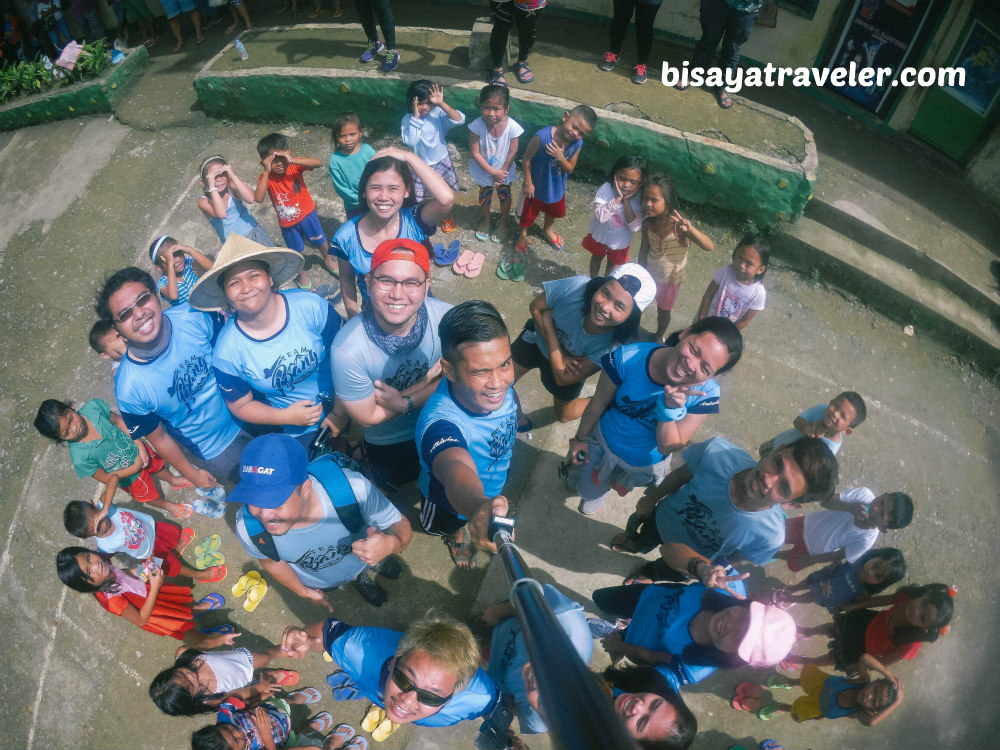 To end the program on a high note, we snapped a bunch of photos, with different poses, together with kids and their parents.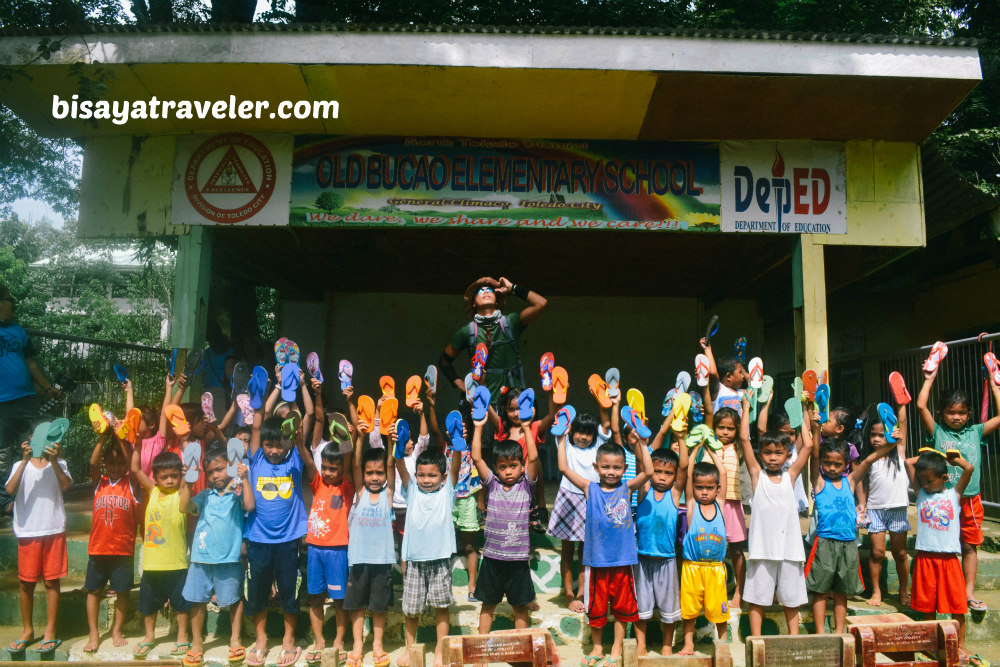 With the first part our event in the books, it was to time to set sight on our next activity – hiking the 3 peaks of Barangay General Climaco.
We, then, gathered everyone, and formed a circle, so we can introduce each other's name. As always, there were funny moments in our introductions, including Gessele's claim of having no social media accounts.
Not to be outdone by Gessele's rather impressive remarks, the Grace-Fool wanderer – Cherwinn- also claimed, in a very grace-fool manner, that he had no social media life. Whatever besh!
And, by the way, he said all of that, while staring at Kevin delightfully. I can notice a sparkle in his eyes, as he was looking at Kevin on the other end of the circle. Charoot!
With everything set and ready, we wasted no time, and commenced on our hike to our first stop – Mount Tagaytay.
Along the way, the hikers were mesmerized by the photogenic scenery of the place, snapping photos of the overlooking view of Malubog Lake.
Since I've been to Casoy on numerous occasions, I kept reminding them that the view is so much better, once they reach the top.
Moments later, we arrived at the top of Mount Tagaytay, and were greeted by its refreshing mountain breeze. And with its breathtaking views, the squad couldn't resist the urge to snap a myriad of photos.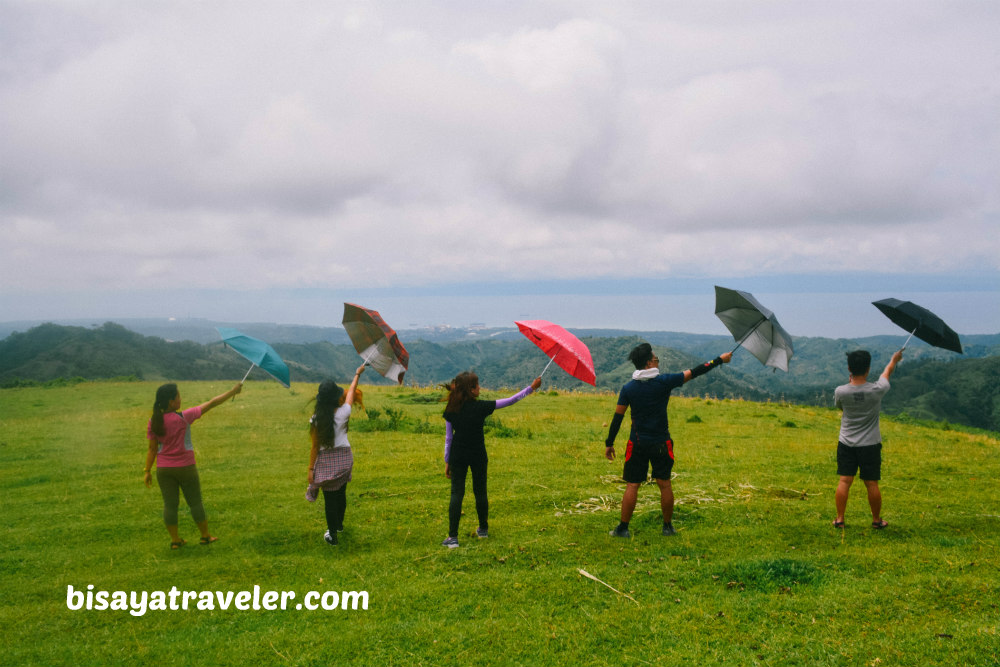 I, on the other hand, wasn't really psyched and in the mood to take photographs of our hike. Despite the nice weather and sweet vistas, I was so zeroed in on ensuring that the hike goes smooth that I didn't bother taking photos. And besides, I wanted to savor the scenery and enjoy the company of my newly-met buddies.
Thankfully, Carl and the rest were around to pick up the slack, and document the whole hike with their cams.
Afterwards, we took a breather, and ate our lunch at the grassy grounds of Mount Tagaytay.
There were, however, some hikers who didn't bring lunch for this hike. To be specific, everybody in Besh Squad didn't prepare anything for lunch because they thought we were going to eat at Beth's house. Apparently, someone didn't read the memo or the itinerary before our hike. Or, maybe, Lieve had too much apple flavored beer that he forgot to remind his circle, to buy food. Yikes!
But, there's no "I" in Team Bang. As their teammates, we offered some of our food to them.
With lunchtime over, we resumed with our pictorials in Mount Tagaytay.
Think this group photo is easy to pull off? Trust me, it took a while for us to execute it. And, it wasn't even perfect.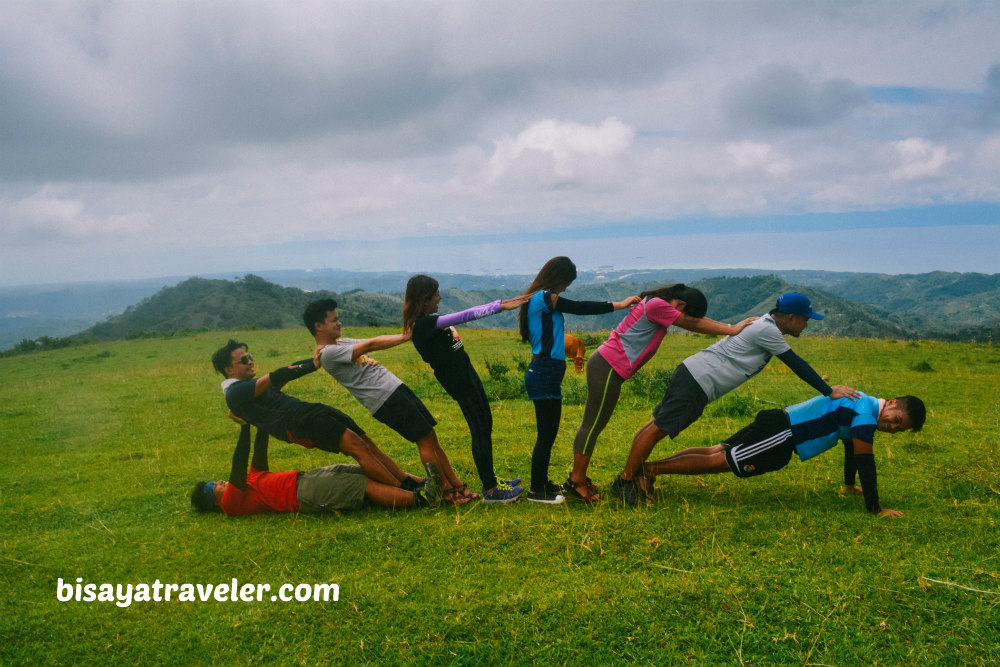 Later on, we had this girls-versus-boys photo contest. The ladies went first, and flaunted their Metro Mag siksikan pose.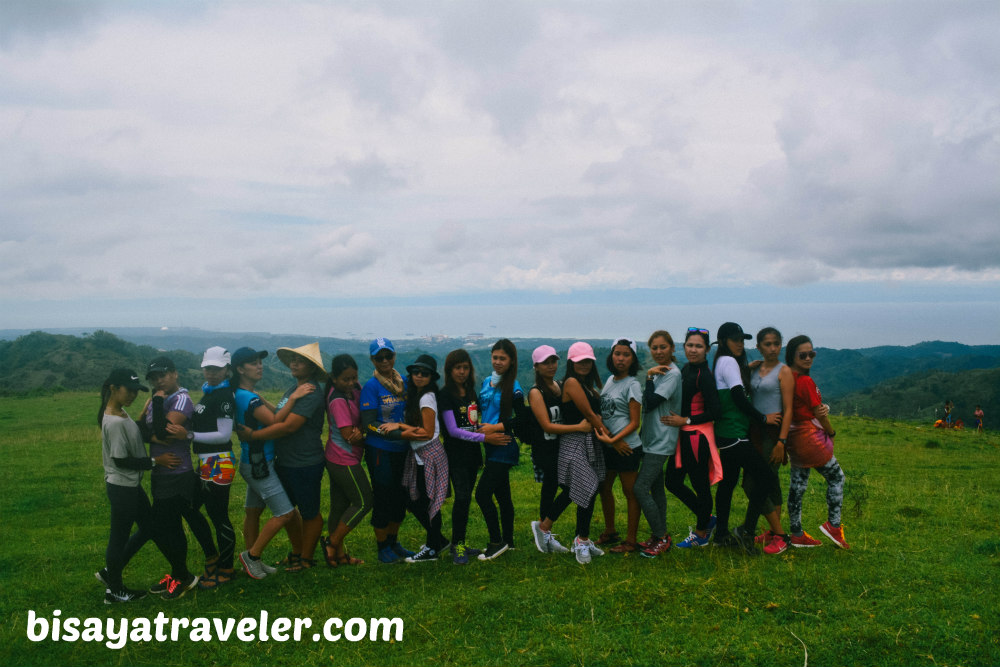 The boys, meanwhile, had this extremely provocative pose, starring the Grace-Fool Wanderer.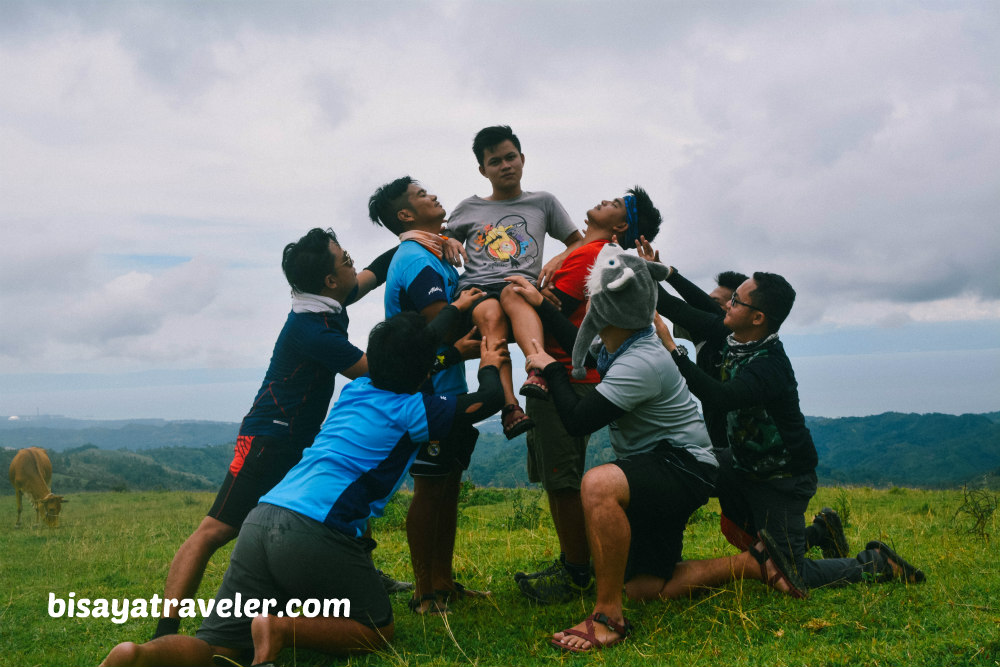 Guess who won this contest? It seems too obvious, to me.
Idol didn't have the chance to join the pictorials because he was quite busy entertaining his "babies" who labeled him as the "pambansang hokage". Nevertheless, he got a solo shot with his trademark "Idol pose".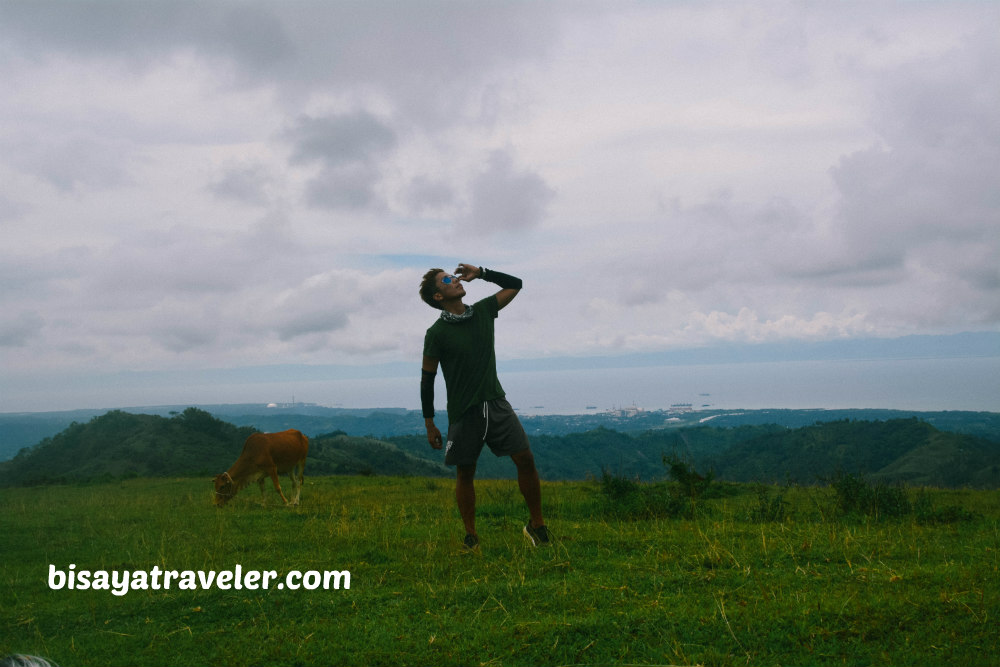 From there, we went on a hike to the next destination or our day adventure – Udlom Peak.
On our way to Udlom Peak, we bumped into one of my favorite adventure groups in Cebu, Kalag Katkat da Laag. Too bad, I didn't get to take a selfie with the troop. The way I see it, this group is authentic, nice and humble, which is a rare quality in Cebu's adventure scene.
Upon arrival, the guys and gals took turns posing in the picture-perfect spots of Udlom Peak.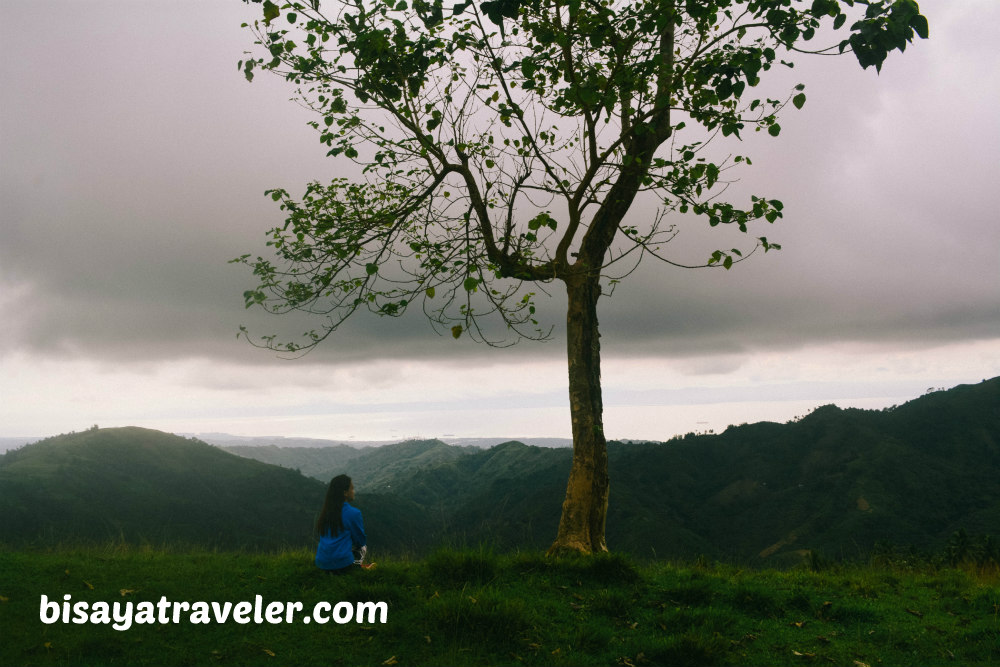 In spite of the astounding natural backdrop, Lieve was totally down for the count. I guess those apple flavored beers have the knockout power of the younger and hungrier version of the 8-division world title holder – Manny Pacquiao.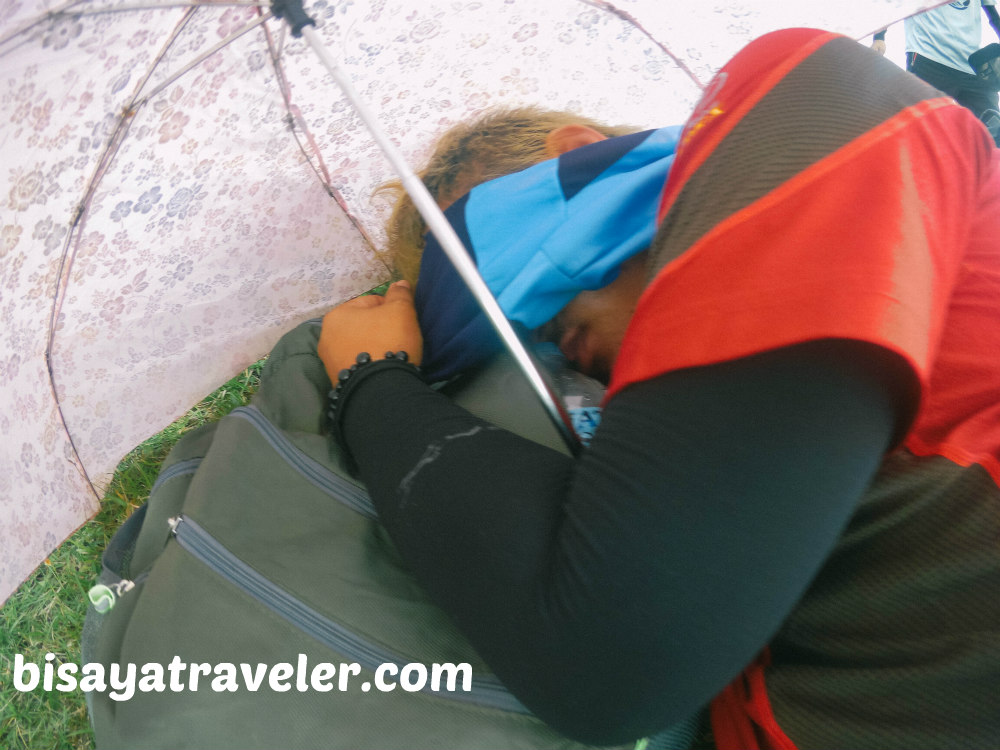 We even took photos of him, while he was sleeping soundly.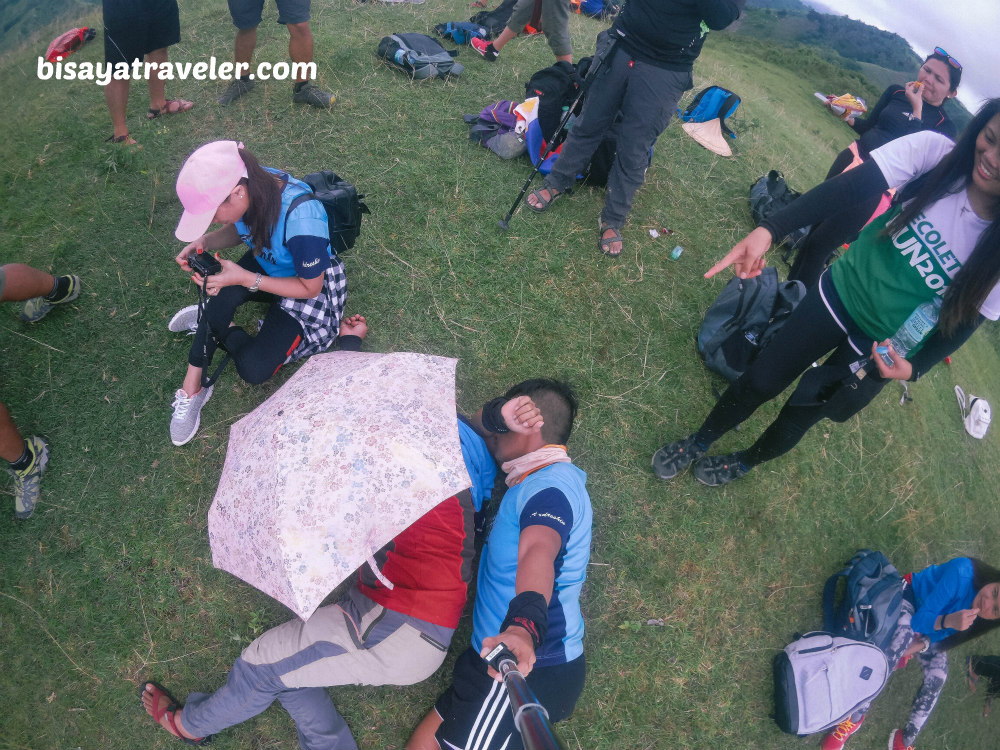 Soon after, a group of motorists arrived in the scene, further adding more fun and color to our first ever hike for a cause.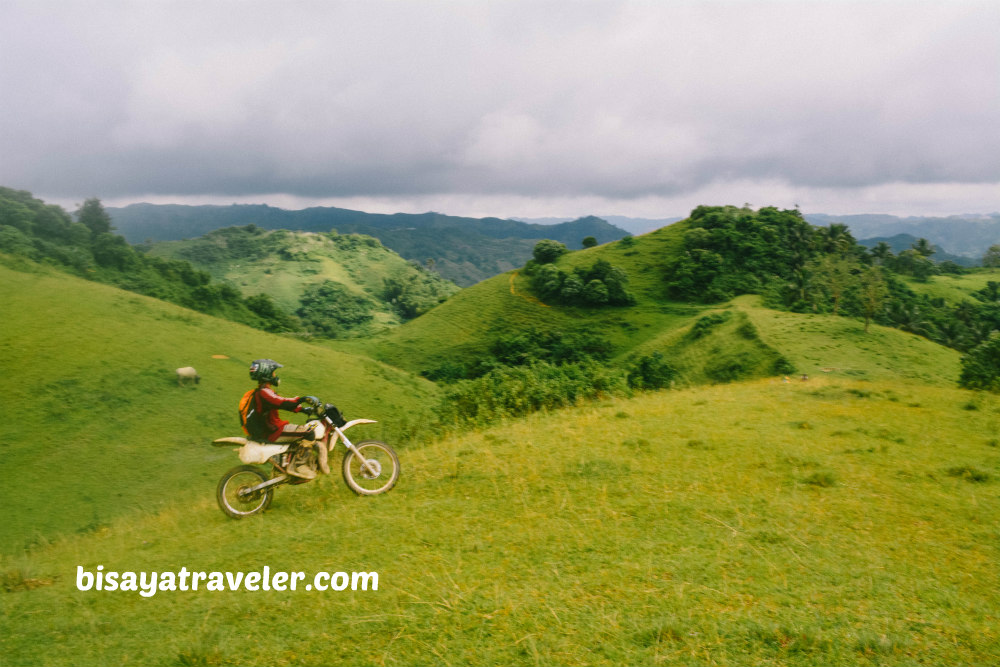 Since the sun was about to set, we moved on to the next peak in our hike itinerary in Toledo City – Mount New Bucao.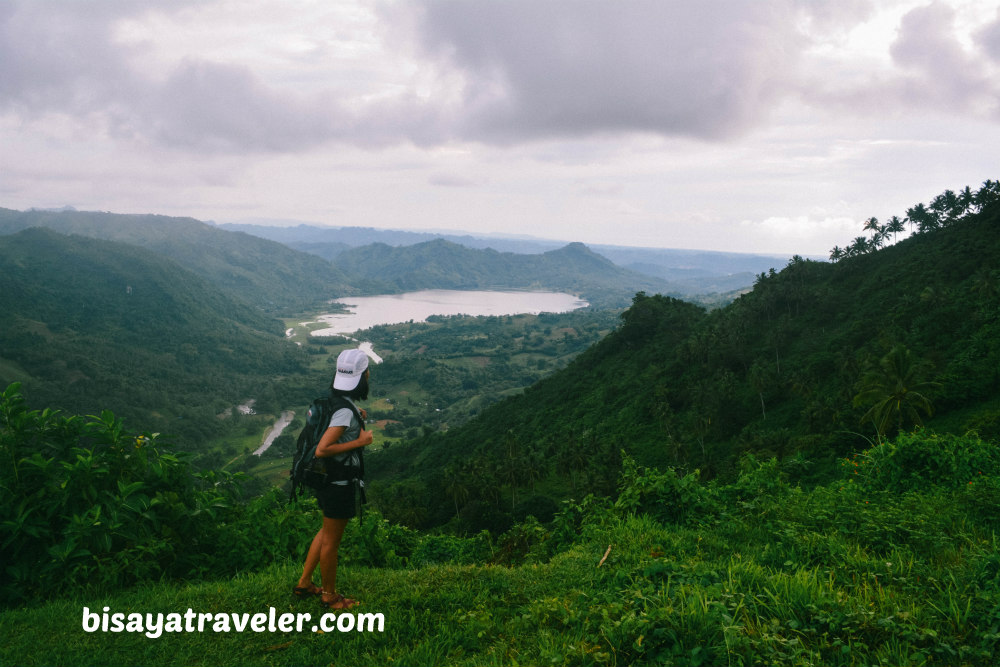 There, we admired the views and enjoyed one another's company.
The thing that I really like about this part of our hike was Idol's witty hugot lines. Though he was busy entertaining his guests, he did spend some time with Team Bang's seniors, making us laugh hysterically with his colorful lines.
Also, there was a newly formed love team on the mountains in Toledo during our hike for a cause – "Carlyn". I don't know what the real story was, but Christine kept on saying that these two hikers blend wondrously together.
Afterwards, we went back to Mount Tagaytay where we relaxed and enjoyed the scenery. While the sunset wasn't as spectacular as the last time we were there, Mount Tagaytay exuded an extremely relaxing ambiance with its fresh cold mountain air.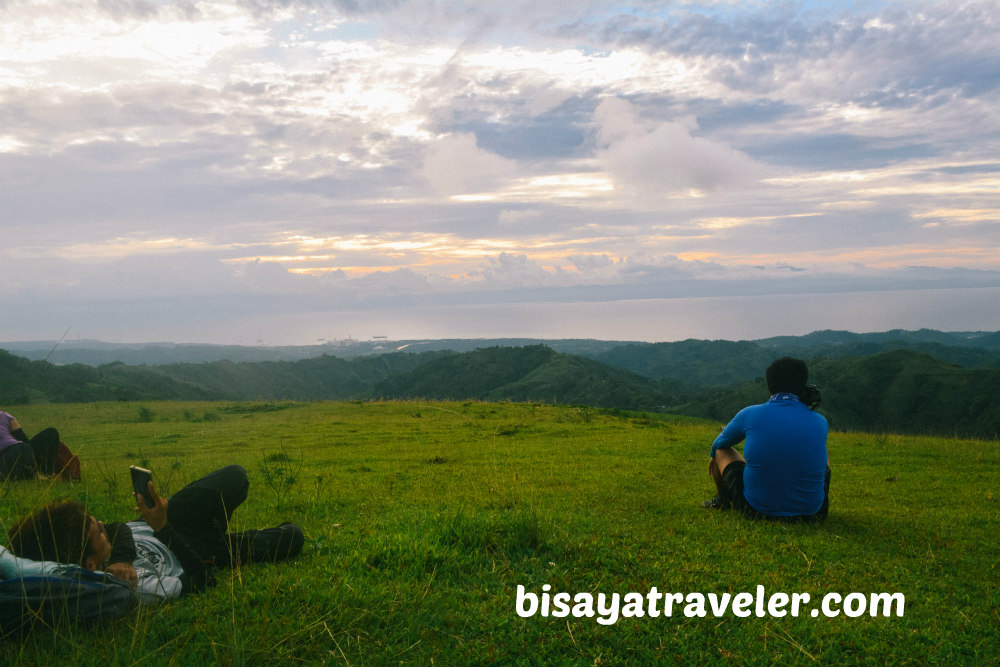 I saw some people there just chilling, like Francis Paul who I thought fell asleep.
Others were also chatting, snapping photos or soaking up the scenery.
As we were taking in the scenery, everybody was supremely happy with the series of memorable experiences on our hike. From the program to the scenery and different characters of the hike, they said we planned it and executed it perfectly.
As for me, I was just glad that I made a glut of people feel upbeat and delighted for that day.
I didn't take a lot of photographs for our hike. But, guess what? I was completely fine with it.
The camaraderie, the lessons learned, stunning setting and smiles from the kids were enough to make me contented. As I've said, there's more to traveling than the eye-catching photographs.
And, these are the reasons why I love to travel. If you've been following my blog, you'll notice that most of my trips are simple, no-frills adventures with very few iconic sights. But behind these small not-so epic adventures, I've learned quite a ton of things, and made hundreds of people joyful. Not to mention, I've helped locals and communities thrive.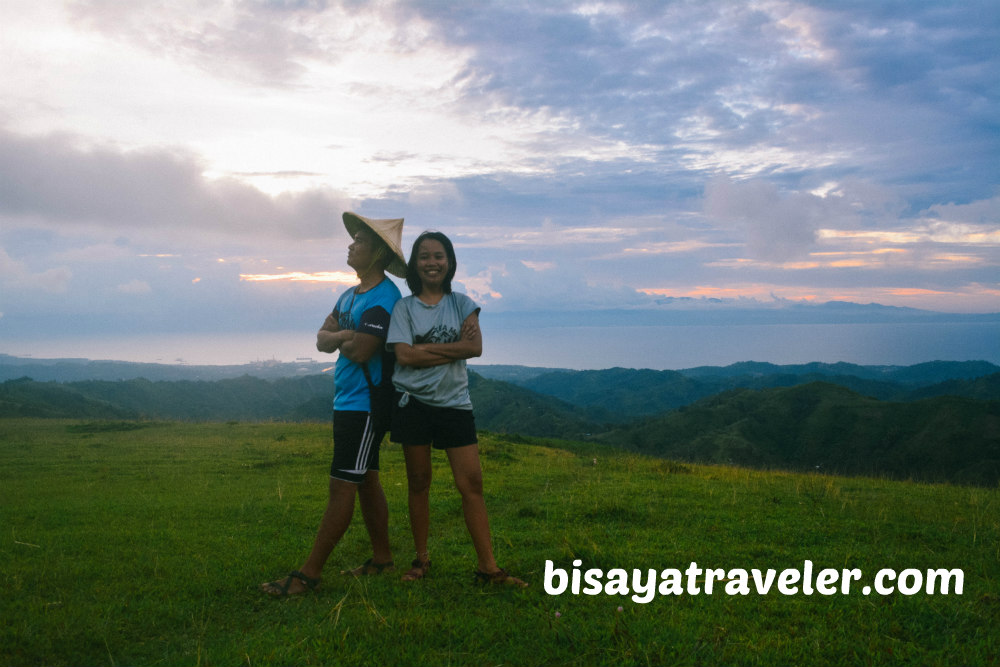 Later on, we took a downhill hike, and headed to Beth's house for a hearty and super tasty dinner. And the food was incredibly delicious that even Analyn couldn't stop eating it, even when everybody was gearing up for home. Likewise, Lieve was eating like a horse, feeding his grumbling stomach, which was still filled with apple flavored beer.
We, then, bid farewell to the Dacuma family, and went home with a full stomach, big grins and countless of beautiful memories.
How to get there:
To get there, please refer to my previous posts about Udlom Peak and Mount Tagaytay. Likewise, you can get some tips on what to expect and what to bring on these posts.
Our hike for a cause itinerary:
05:00 AM: Meet up at 711 near South Bus Terminal
06:00 AM: Depart for Toledo
07:30 AM: ETA Toledo City/buy food
08:00 AM: Depart for Old Bucao Elementary School
08:30 AM: Start of program
10:30 AM: End of program/start hike to Mount Tagaytay
12:00 PM: ETA Mount Tagaytay/Lunch
01:30 PM: Depart for Udlom Peak
02:20 PM: ETA Udlom Peak
03:00 PM: Depart for Mount New Bucao
03:30 PM: ETA Mount New Bucao
04:10 PM: Start hike to Mount Tagaytay
05:00 PM: Mount Tagaytay
06:00 PM: Start descend
06:30 PM: Dinner
07:00 PM: Depart for Cebu City
08:30 PM: Home sweet home
Orchestrating Team Bang's first ever hike for a cause wasn't a cakewalk, by any means. From transportation to figuring out people's preferred schedule, there were plenty of things that we had to go through, to make this vision a reality.   But at the end of the day, nothing feels better than to seeing people smile. Not only did we bring joy to the kids in Toledo, but we also made a few hikers happy by showcasing the awe-inspiring scenery of Copper City.
We're looking for donors, kind people and sponsors who can help us with our future outreach programs. If you know a community that needs help or you're willing to lend us a helping hand, please contact me via my Facebook page. In a world where cynicism reigns, be the beacon of hope and optimism.