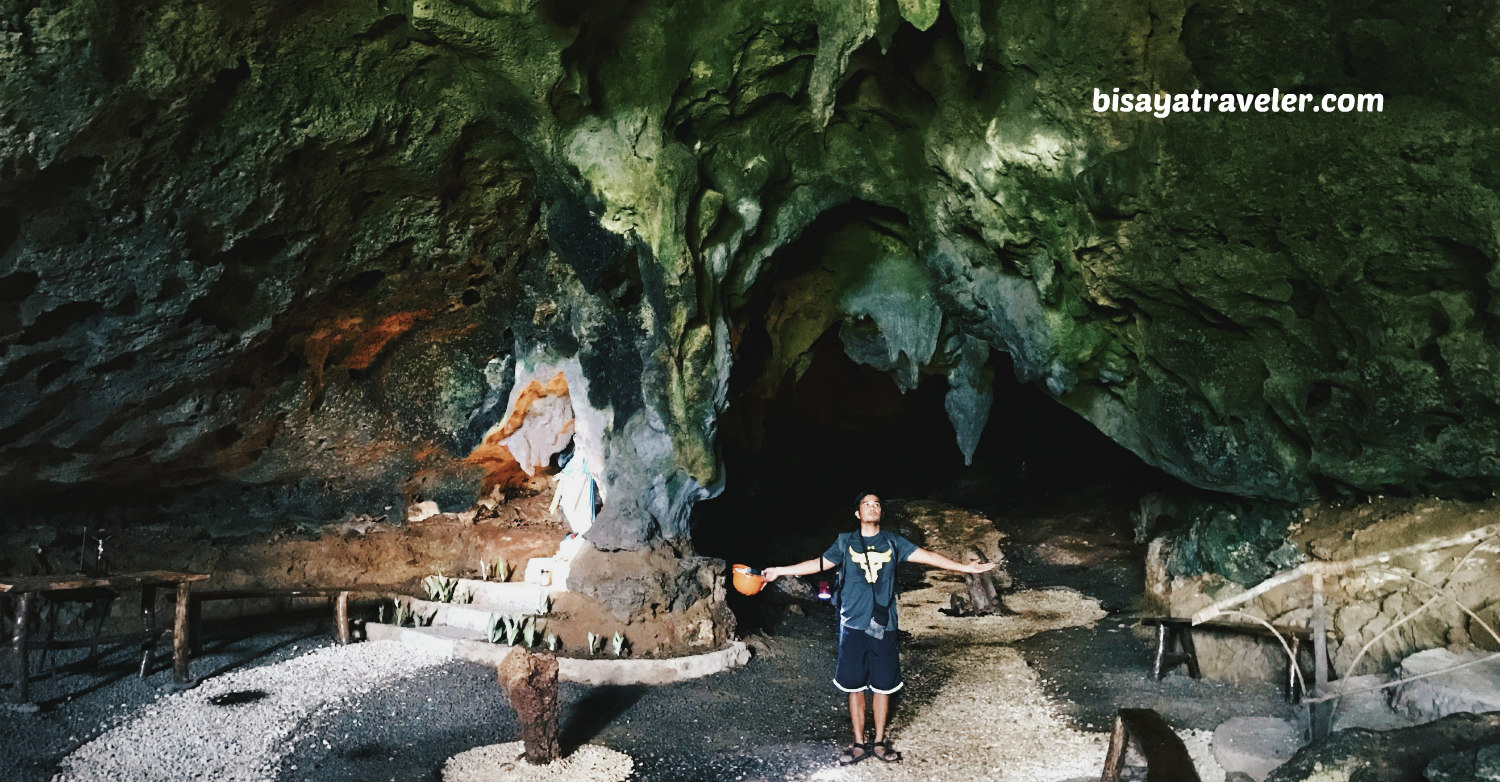 Kangcaramel Cave: Exploring An Offbeat, Underrated Cavern In Baclayon, Bohol
Every trip, whether for business or leisure purposes, is a chance to dive into the unknown, and uncover a hidden gem. Before hitting the road, I always go through extensive and diligent research, scouring the web, in hopes of finding a local secret. Oftentimes, I have to reach out to local wanderers, to get some valuable information. And, thanks to this approach, I've discovered a ton of different surprises and unheralded spots in my travels, such as the 150-meter long Kangcaramel Cave in Edith Grand Garden Resort and Adventure Park, Baclayon, Bohol.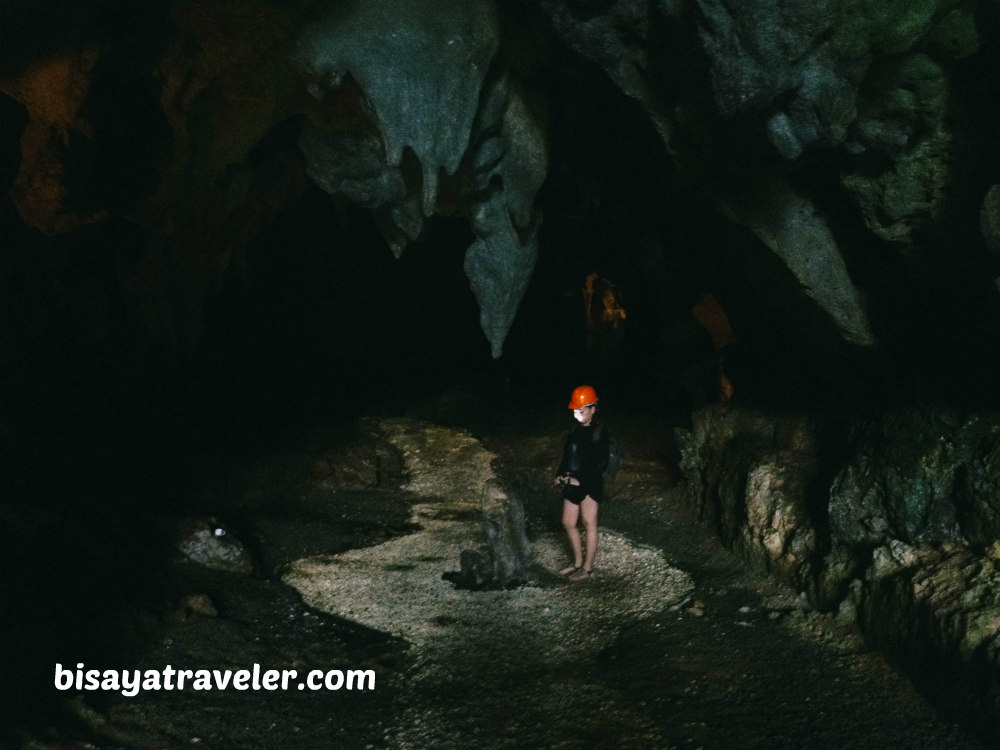 Kangcaramel Cave was actually my "Plan C" during our (me and wife) recent visit to our future hometown – Baclayon, Bohol. Originally, our plan was to either travel to Dimiao and chase remarkable waterfalls or check out the plastic blooms of Jardin Necitas in Pilar, Bohol. But, with time not on our side and a fairly gloomy weather, we chose to the hit the nearest location and emerging tourist draw in Bohol – Kangcaramel Cave.
Our Kangcaramel Cave experience
Although we were celebrating our 1st anniversary, we didn't travel all the way to Bohol, just to take a break. As much as I hate to admit it, we were adulting in Bohol, checking out a property that we're about to invest in. Together with a few friendly real estate agents, we took an ocular tour to the actual site of our newly-bought parcel of land in Baclayon.
From Tagbilaran, our buddies from the real estate company drove our way to a remote part in Baclayon where the site is located.
As we were making our way to the site, the real estate agents and developer inside the car talked enthusiastically about properties, businesses, and investments. And yes, I felt a little out of place because these things are quite foreign to me nowadays.
In my younger years, I craved for these types of conversations.  I'd listen to every detail and word, trying to absorb as much knowledge and information, so I could turn myself into a better businessman. But as I grew older, I realized that my skill set and talents aren't meant for the corporate world.  Ever since then, I've lived outside the confined limits of modern society, thriving as a bohemian freelancer.
But, nevertheless, I enjoyed their talk and even got a ton of valuable pointers in financial management and life in general.
Aside from money tips, the folks also talked about the nearest attraction in the area – Kangcaramel Cave.  They told us our location can be a boon to us, when Kangcaramel Cave booms and turns into a sensation.  Little did they know, I've already gathered some intel about the resort and Kangcaramel Cave. As a matter of fact, I even reached out to the owner days prior to our trip, to get the lowdown on Edith Grand Garden Resort and Adventure Park.
Soon after, we arrived at the construction site of our eventual home in Baclayon.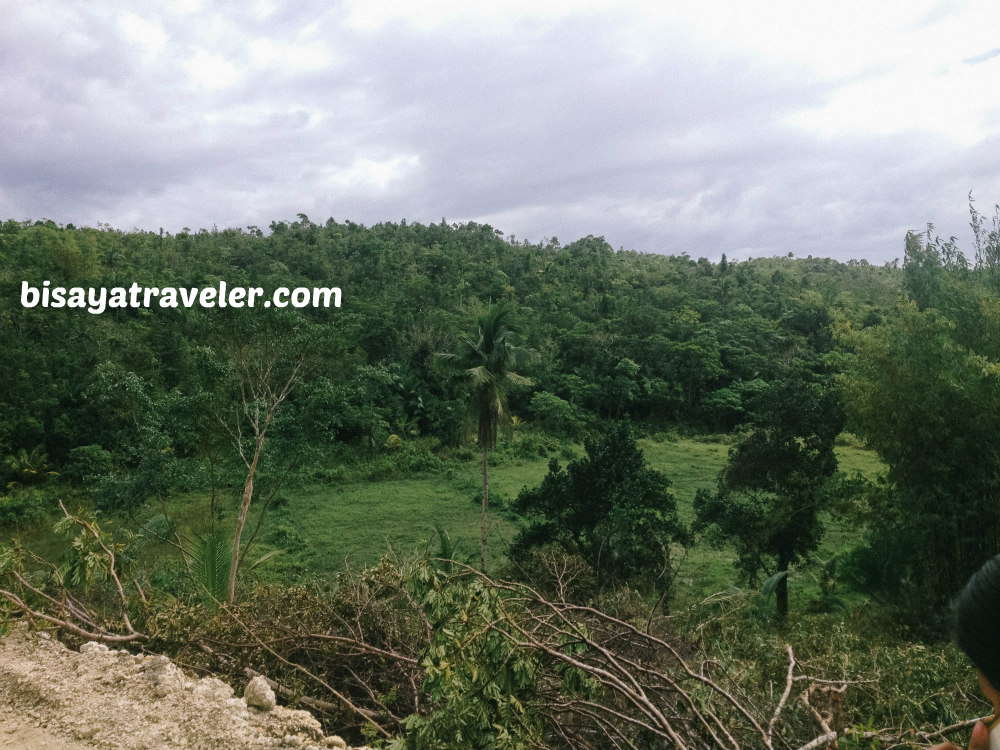 While everyone was busy talking, I was thinking of ways of how we can maximize our day and appease our wanderlust in a short span of time. And, in the end, I gave my wife the most feasible option for our 1st day adventure in Bohol – a visit to Edith Grand Garden Resort and Adventure Park.
Moments later, we caught up with Albert – a friendly habal-habal driver in the area who was willing to drive us all the way to Kangcaramel Cave, for a very affordable price.
At first, my wife was rather hesitant to go there, especially since many have suggested that the resort is far from being a complete product.
With the help of ate Juliet (one of the real estate agents in the team), my lovely wife later on, gave into my plea.
And so, we took on the bumpy habal-habal ride to the entrance of Edith Grand Garden Resort and Adventure Park.
How was our ride to the resort? Getting to Kangcaramel Cave from Baclayon can be a pretty thrilling gut-wrenching ride, for novice travelers and adventurers.  Since it's still in the midst of a major upgrade, there was no shortage of spills and thrills on our way to Edith Grand Garden Resort and Adventure Park.
As for me, though, it really wasn't challenging and death-defying. Sure, the road is rough, but it's not as steep, slippery and rocky as most of the habal-habal rides I've experienced in Cebu.
Minutes later, we arrived at the registration center where we paid the entrance fee to Kangcaramel Cave and the rest of Edith Grand Garden Resort and Adventure Park.
Then, Albert drove us to the entrance of Kangcaramel Cave, passing by a remarkable Dragon Fruit farm and catchy flower gardens. Once there, we paused for a while, and soaked up the serene bucolic feel of Edith Grand Garden Resort and Adventure Park.
The way I see it, the resort doesn't have the Instagram allure of the other noteworthy sights, landmarks and beaches in Bohol. But, with upgrades and modifications, this spacious area can be a charmer and photographer's paradise in the future.
Moments later, a couple of charming lady guides approached us, and led us to the mouth of the enigmatic Kangcaramel Cave.
On the way up, the guides shared some fun facts and gave us a quick rundown of the history of Kangcaramel Cave, including the origins of its name as well as the dates of the masses held inside the cavern. Furthermore, they gave us hints on what to do and what not to do inside the tavern.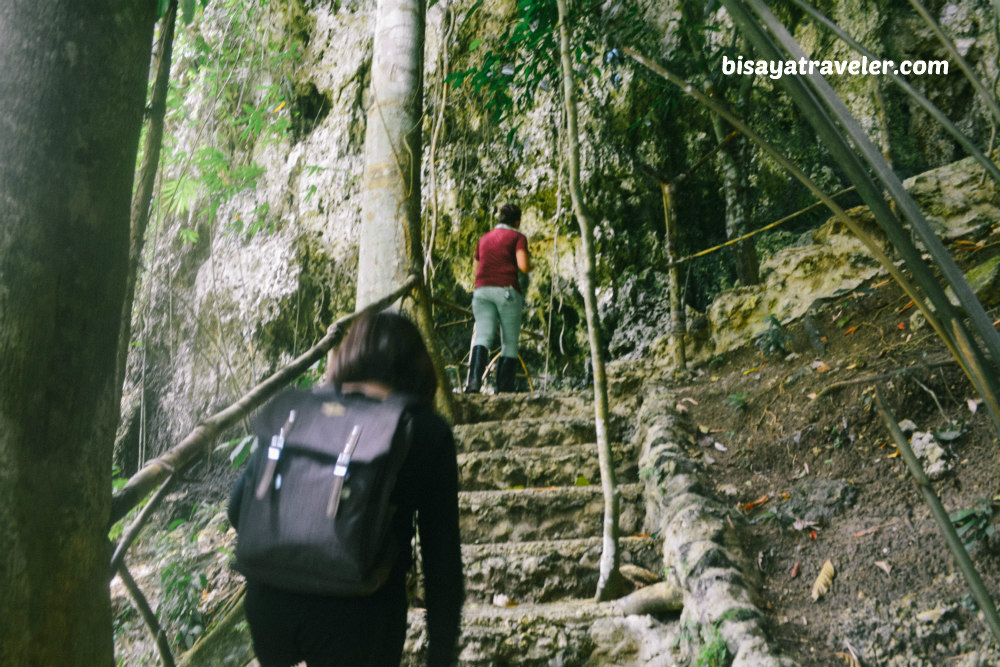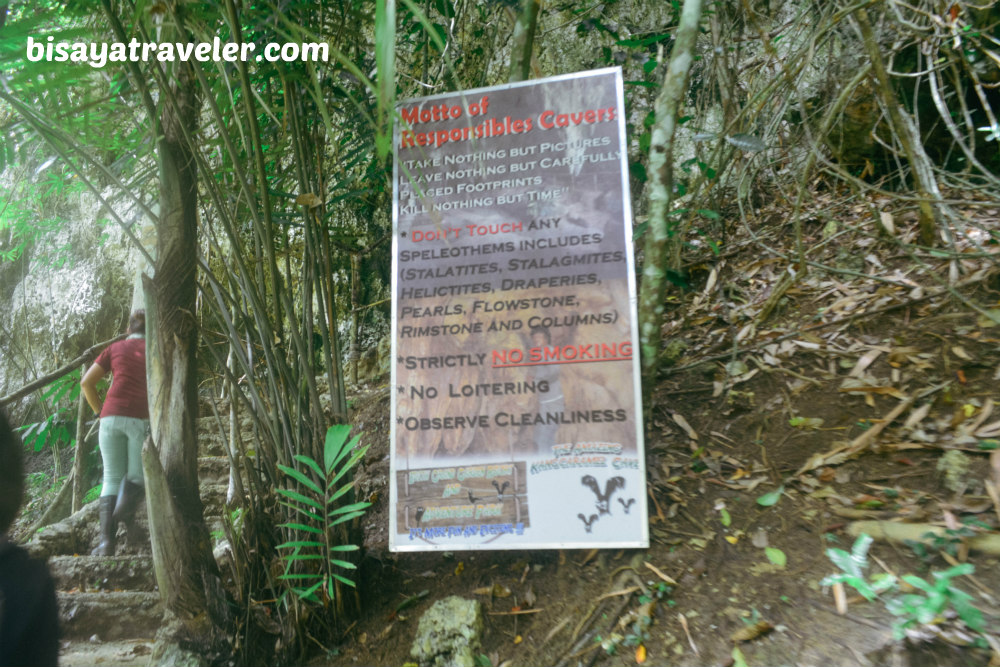 And, finally, we arrived at the mouth of Kangcaramel Cave, and got a good view of its rugged natural beauty.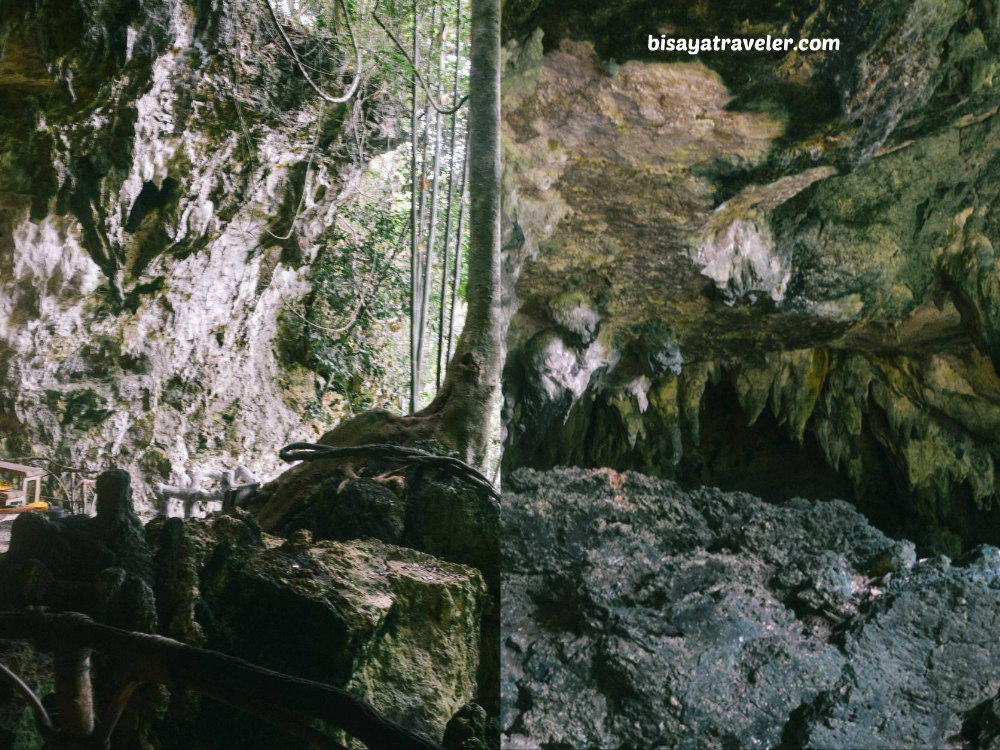 As far as I'm concerned, Kangcaramel Cave is not as refined as Maasin City's Monte Cueva or as grand as Lapos Lapos Cave in Cebu. Still, it was superbly awesome and a great way to kick off a trip in Bohol. Not only is it mysterious and wonderfully bizarre, but it also photogenic, with its eye-catching rock formations and well-designed religious statues and benches.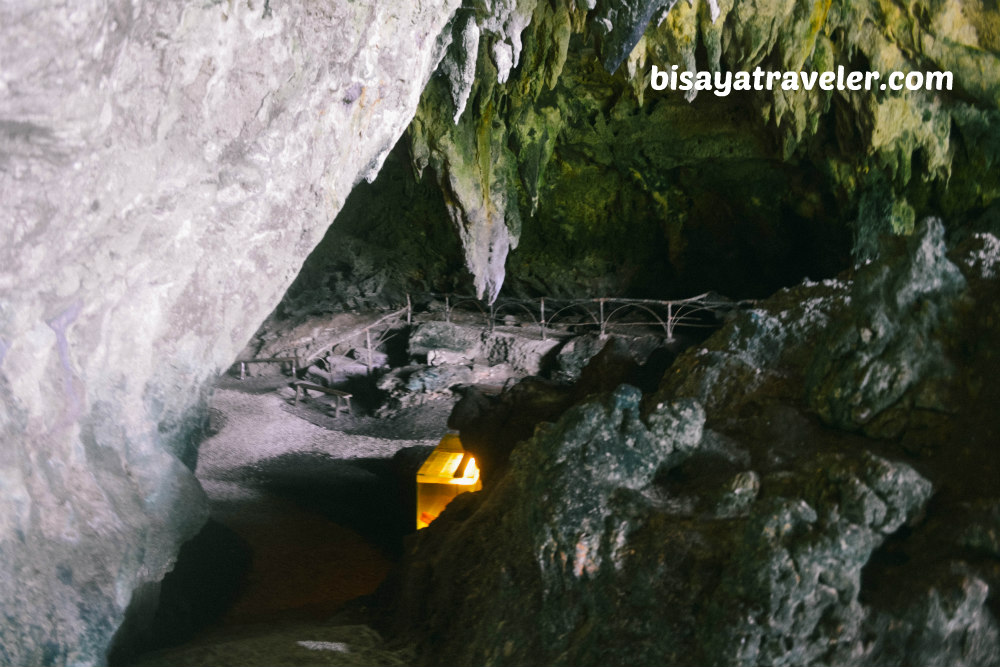 Before moving on with our tour, our guides gave us helmets and lights, for our caving adventure.
Of course, we did spend time cherishing the sights and snapping photographs.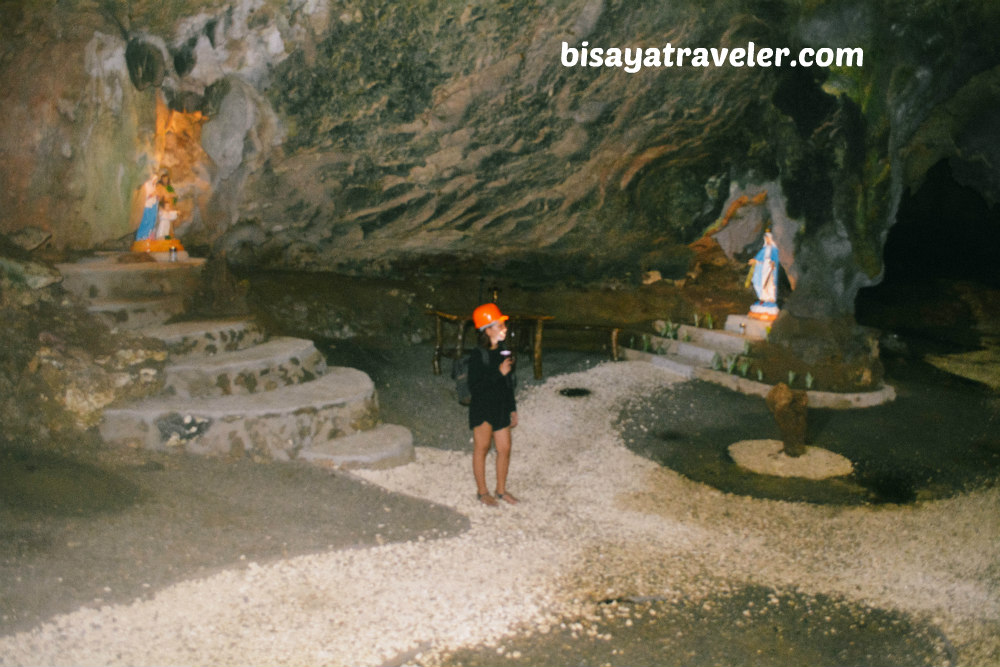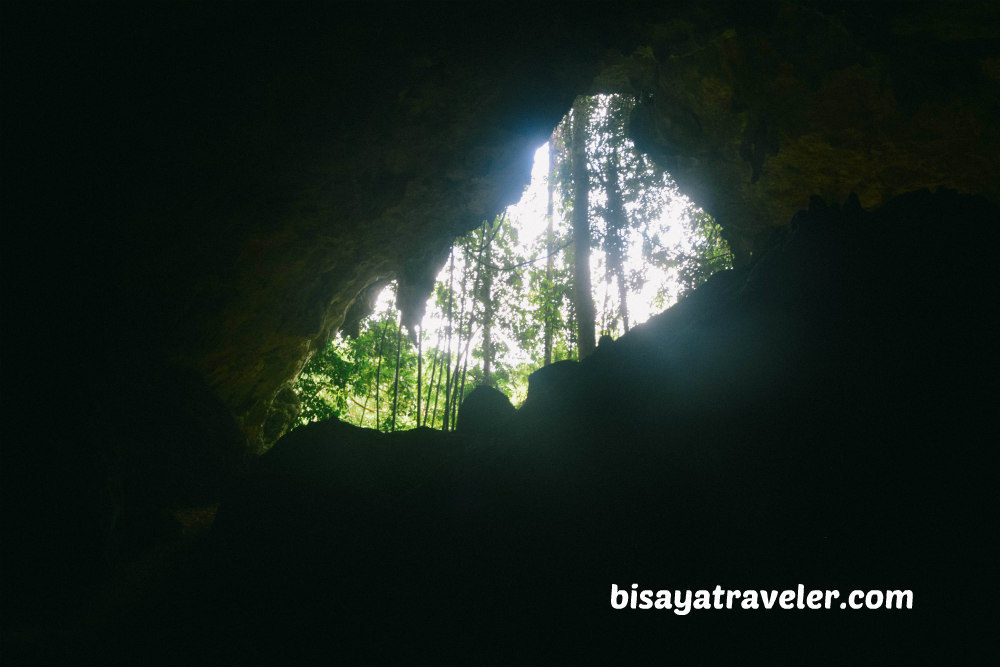 After taking photographs, we followed our guide deep into cave. Along the way, she showed us the unique formations and the not-so creepy bats circling around near the ceiling of the cave.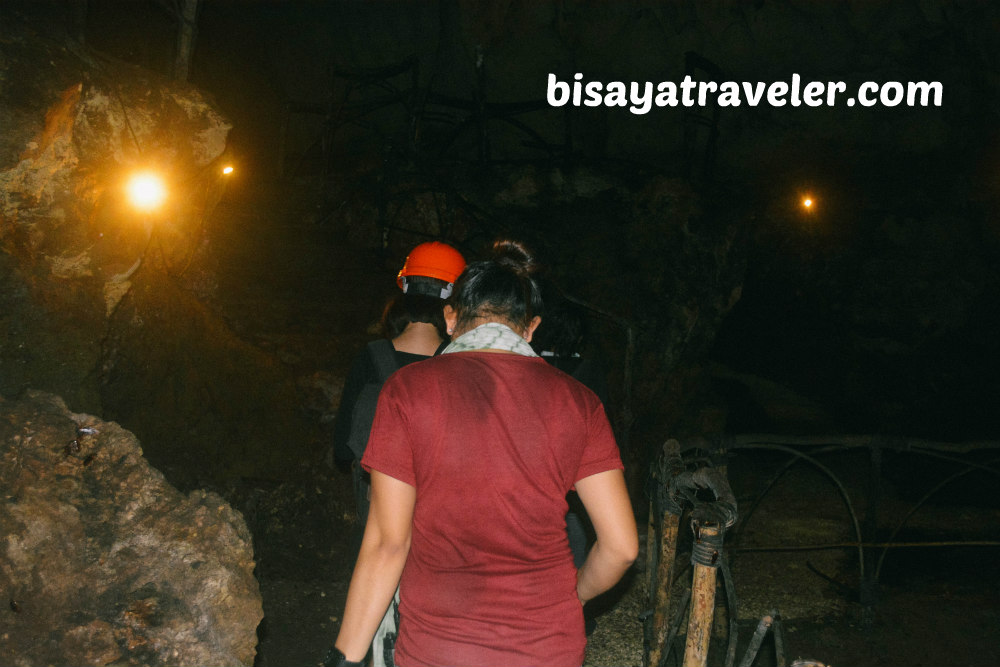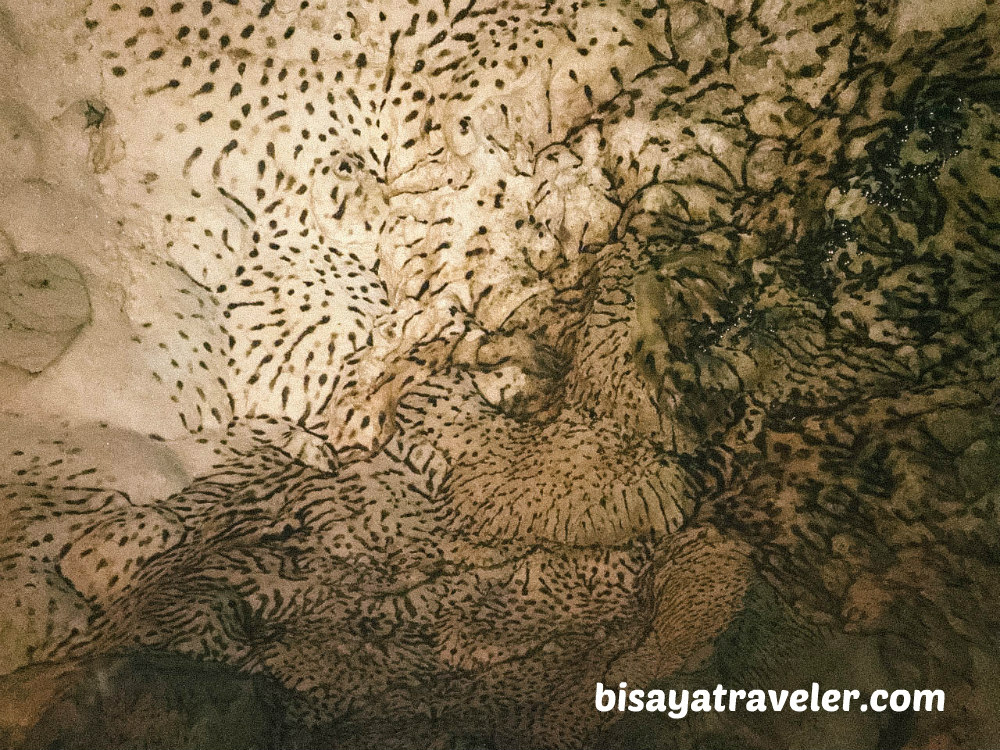 For someone who's been into myriads of caves, I find it fascinating and amusing. Truthfully, the chaotic noise created by these bats inside the cave is so much more delightful than an aggressive network marketer's pitch in a cozy café.
There were lights designed perfectly to add more visibility and visual appeal inside Kangcaramel Cave. Moreover, there were staircases and viewing decks that give a better view of the nocturnal residents of the grotto.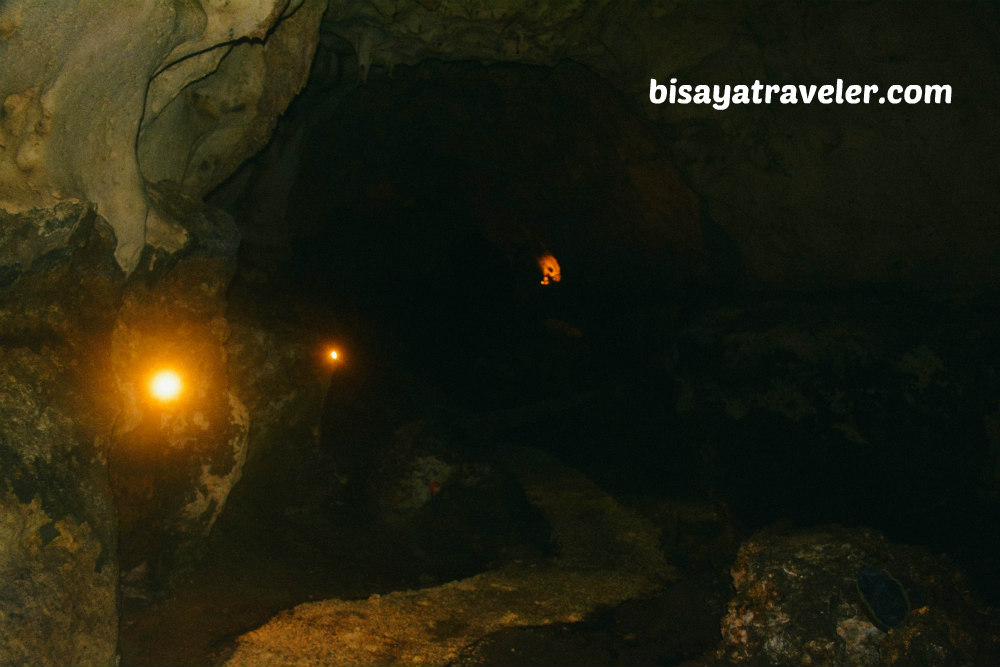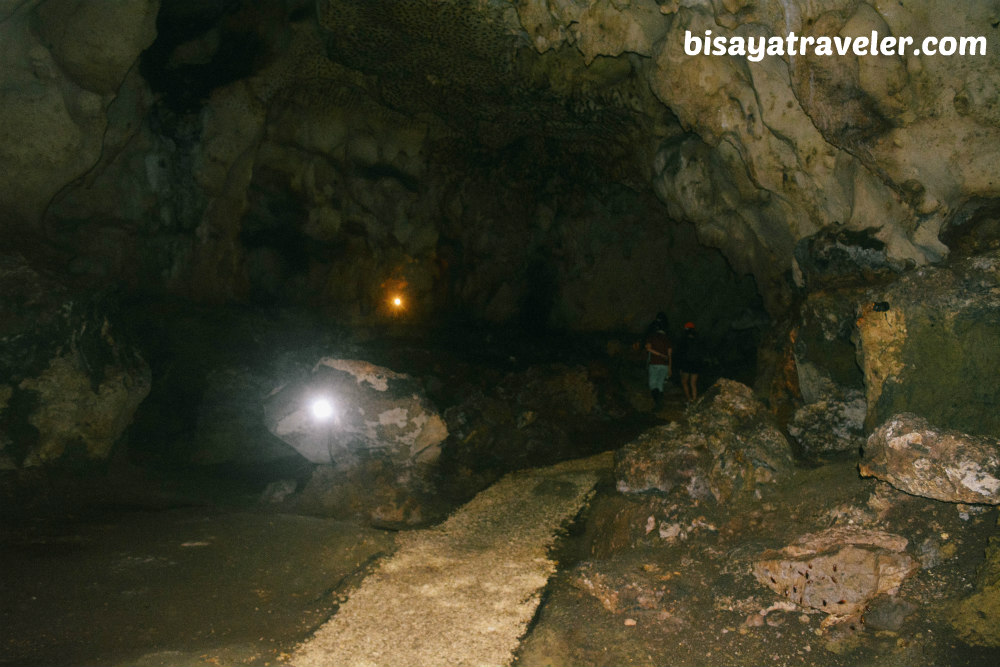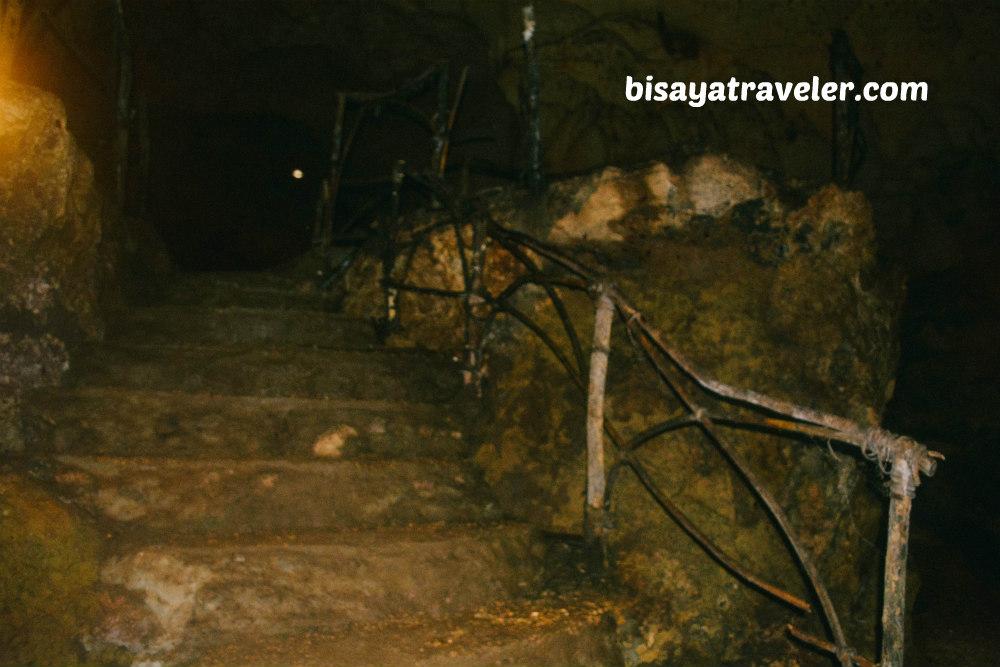 Even though the cave isn't spacious and wide, I still loved every second of our caving exploration in Edith Grand Garden Resort and Adventure Park.
But, as we got deeper inside the cave, I noticed a slight drawback that almost ruined my appetite and curbed my lively spirit. To be specific, there were hordes of roaches flying and crawling around in the deeper areas of the cave. Heck, I even saw a colony of them that sent chills down my time.  According to our guides, these roaches appear only in the deeper regions of Kangcaramel Cave, and survive by eating bat poop.
I hate roaches, and so does my wife. That's why we didn't venture into the deepest area of the cave.
To keep things rolling, we went back to the entrance, to snap more shots of the beautiful sights of the cave.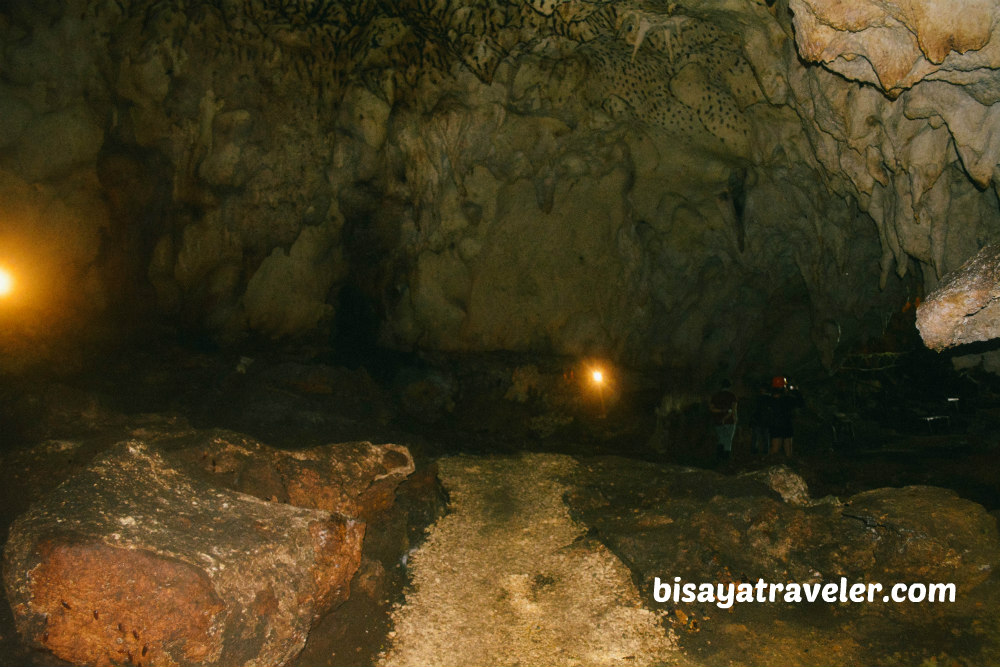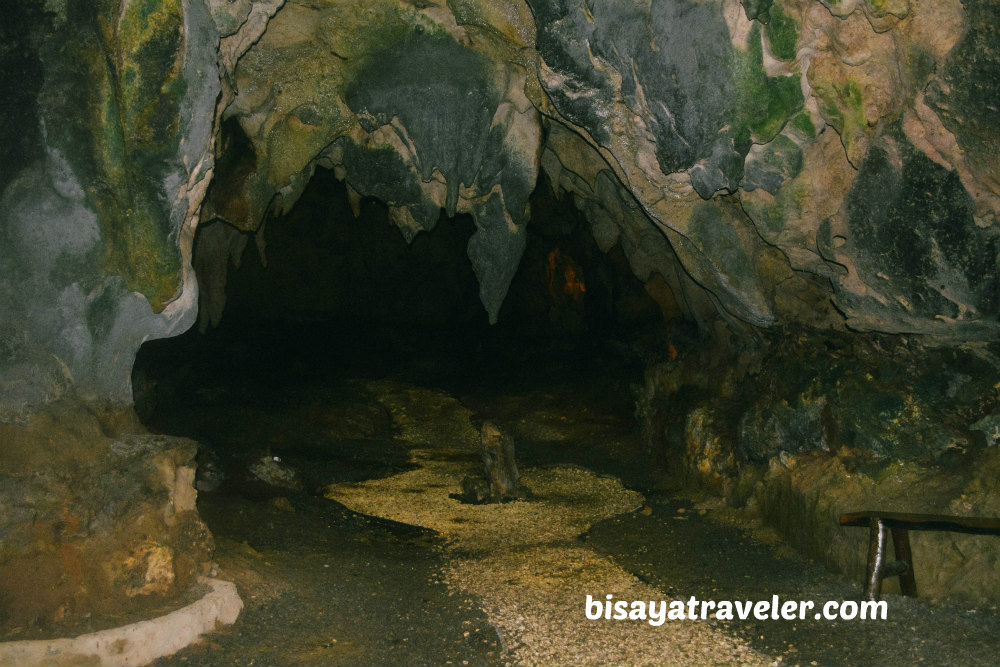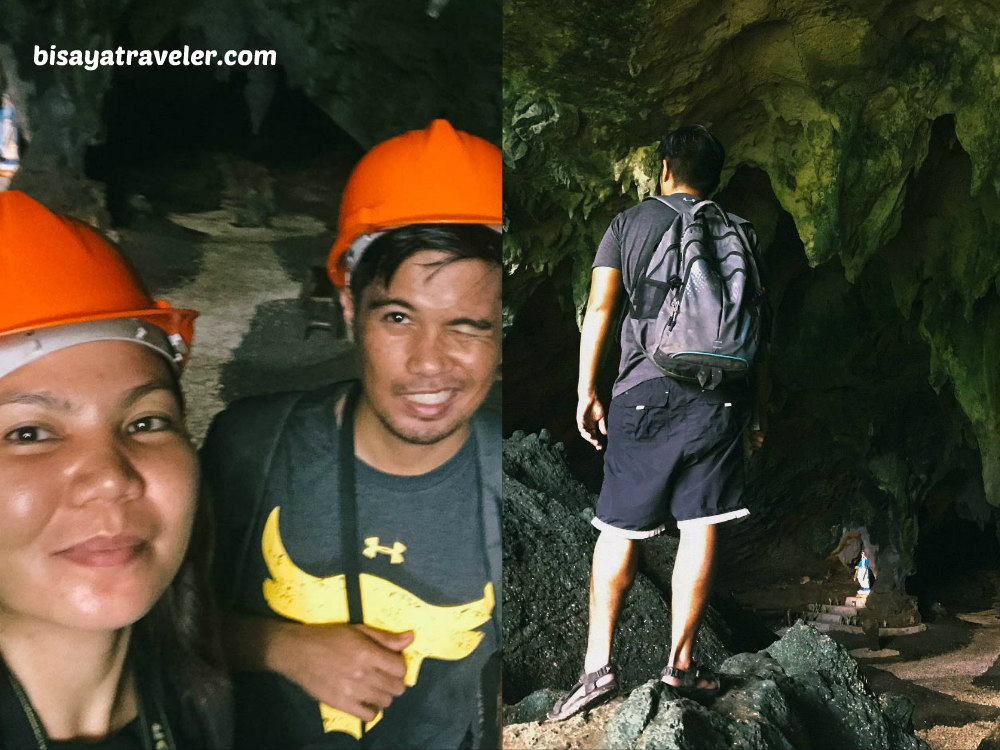 Afterwards, we descended from the cave, and indulged on our bar freebie – a cold and refreshing dragon fruit shake.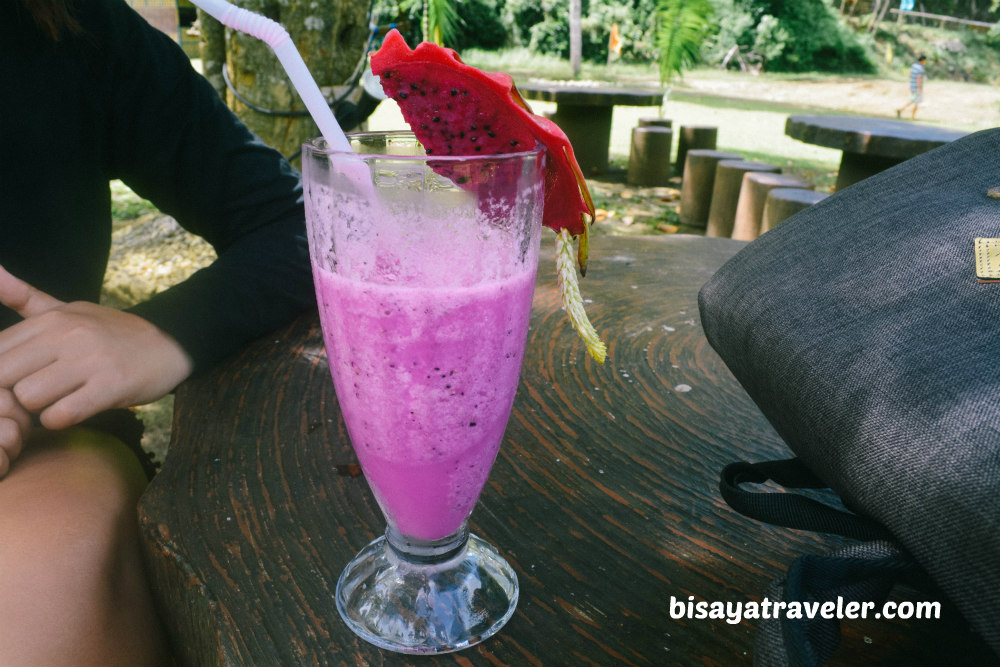 While my wife was busy enjoying the shake, I took a quick tour around the campsite, with the assistance of a guide.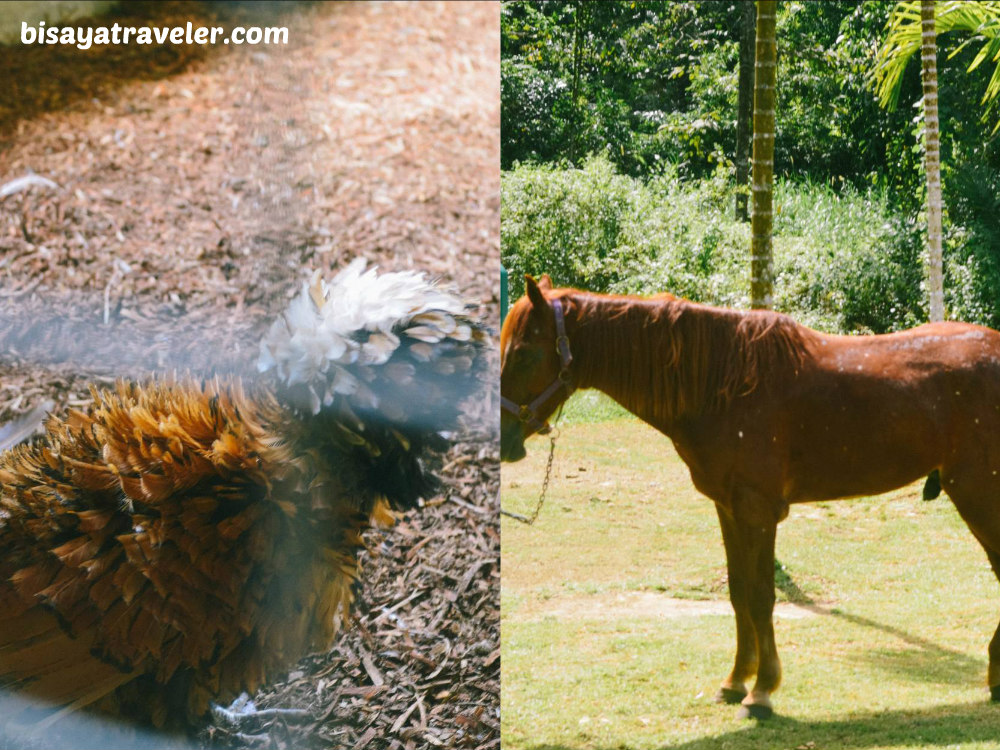 From quirky chicken breeds to a healthy stallion, the resort is home to a bunch of amicable animals.
And, as I was talking to the guide, she unveiled to me the owner's impending plans for the resort, including building a lagoon, zipline rides, a garden as well as improving the road leading to the park.
When these plans come to fruition, Edith Grand Garden Resort and Adventure Park will truly be a beloved spot in Bohol.
I, then, went back to the bar, to chill for a while. As soon as we finished our refreshment, we hopped on Albert's motorcycle, to head back to Baclayon proper, and catch a ride to the city of Tagbilaran.
On the way back, we caught a glimpse of this wondrous hill dotted beautifully with dragon fruit plants.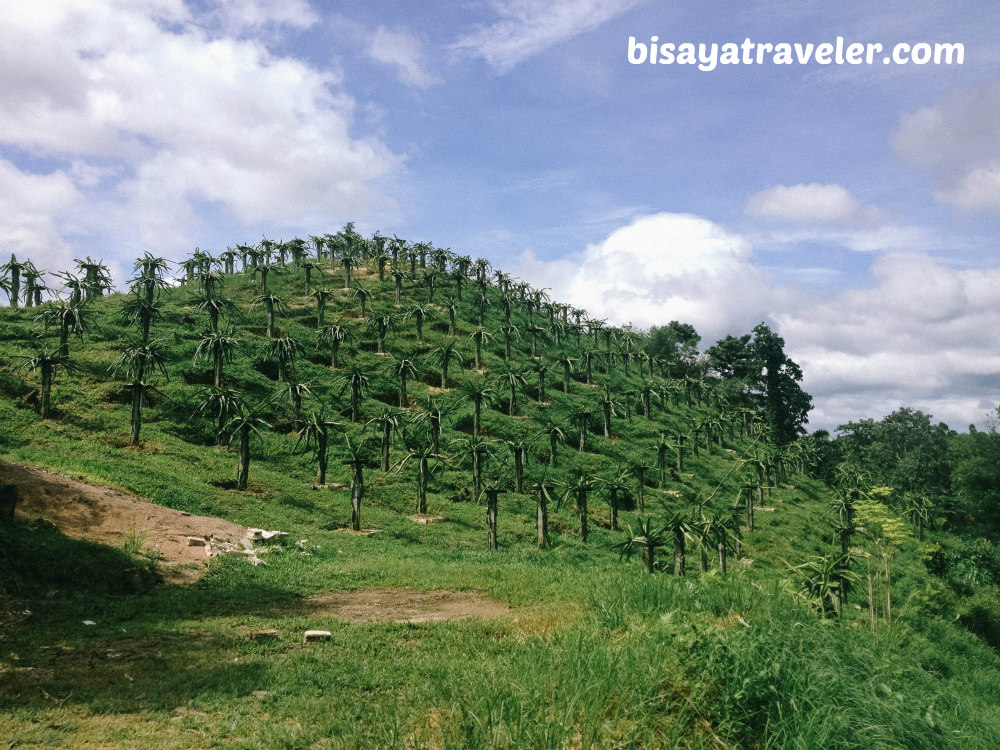 Upon our arrival in Baclayon proper, we hopped on a jeep to Tagbilaran, ate lunch, and capped off our day unwinding on Alona beach.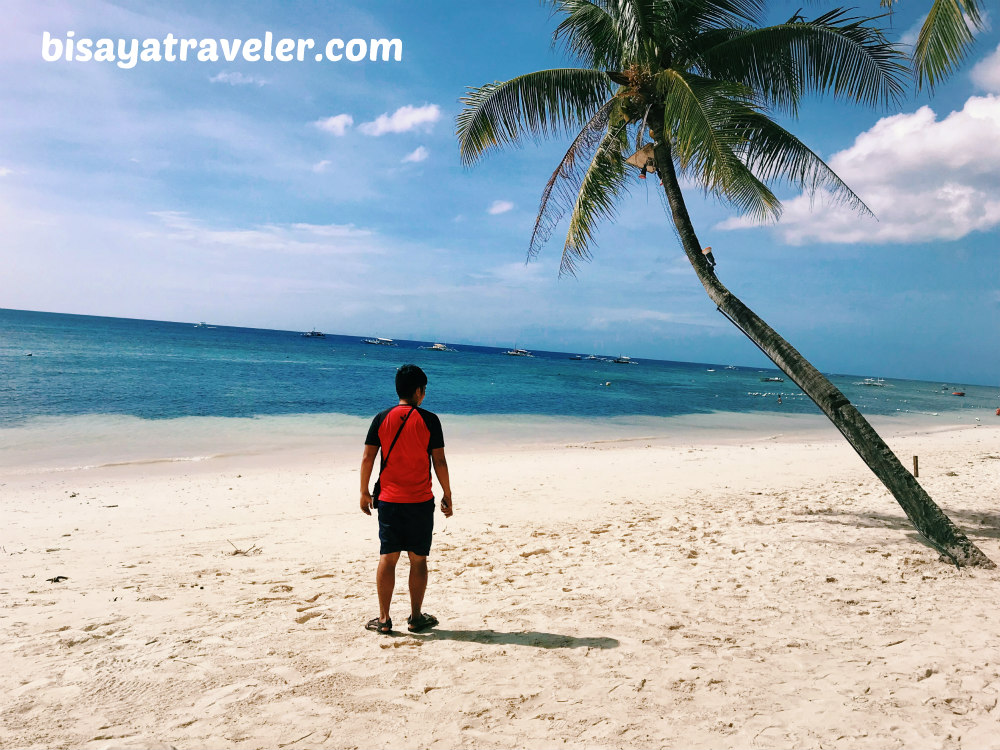 How to get there:
From Tagbilaran city, take a jeepney ride bound for Baclayon proper (fare is PHP 8). There, charter a motorcycle taxi that will take you to Edith Grand Garden Resort and Adventure Park. Fare is PHP 50 per person, per way (must be 2 passengers). If you need a trusted driver to take you to the resort, contact Albert at 0950-636-0967.
Important notes:
Practice the LEAVE NO TRACE principles.
Pack at least 1 liter of water.
Bring trail food.
Entrance fee is PHP 150 per person (including bar freebies and tour around the resort)
To be honest, Kangcaramel Cave and the whole Edith Grand Garden Resort and Adventure Park are far from being a must-see, can't-miss spot in Bohol. Personally, I think it still has a long way to go. But with a sprawling land area, favorable location and an optimistic owner, I'm pretty sure it will soon make some waves, and ultimately become one of the most sought-after things to do in Bohol. I've seen flashes of its potential, and hopefully, it will turn out into an incredible park that all types of travelers will love.