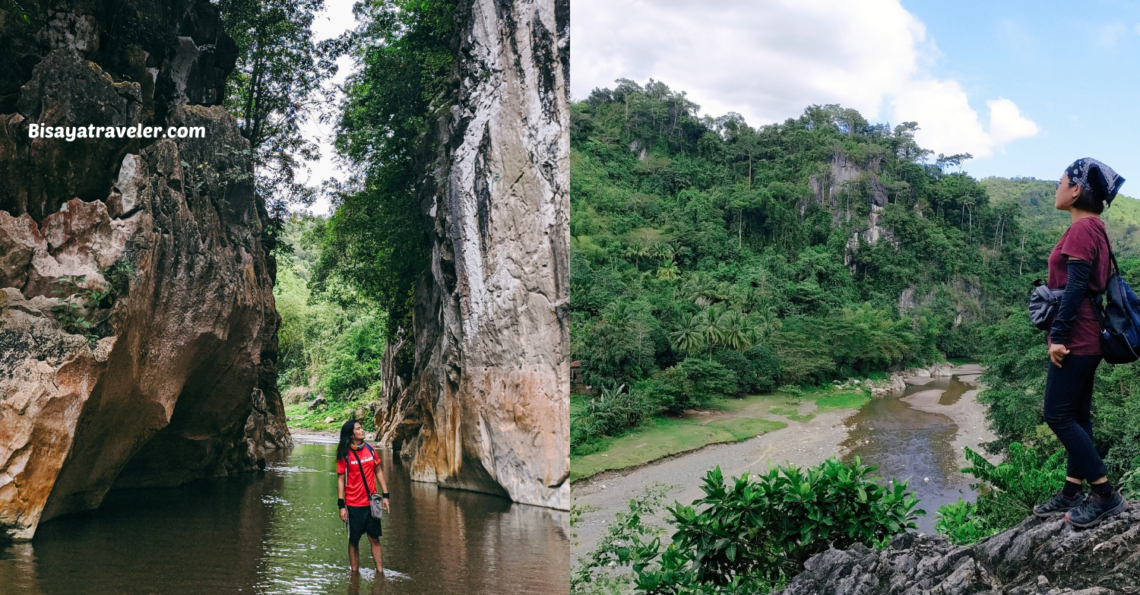 Marmol Cliff And My Enchanting Time Travel Adventure
There's an atmosphere of fear, darkness and uncertainty everywhere in Cebu. From a welcoming land of endless summer bliss, Cebu has turned into a somber island of barricades and masked troopers. Whether you're buying essentials in a mall or hiding in a secluded spot like Marmol Cliff, you'll feel the wrath of Covid-19 wherever you go on our island.
Yet, even with the on-going chaos and fiasco, my enthusiasm for exploring places is spiking. And, truthfully, I've even been traveling to a slew of awe-inspiring places, amid the pandemic.
From the picture-perfect ruins of Ayutthaya, Thailand to enchanting Marmol Cliff in Tuburan, it's been a whirlwind of adventure ever since the lockdowns started.
And, as the world waits for the cure, I'm going to keep venturing into stunning peaks, tropical rainforests, historic marvels and beaches.
While I may seem like an irresponsible son-of-a-bitch, I'm actually traveling in a safer and more responsible fashion. Heck, my trips are even safer than ordering a milk tea venti via Grab Food or Food Panda.
As ridiculous as it may seem, I've been traveling backward through time to relive some of my life's most fascinating moments.
Yes, I have a freaking TIME MACHINE!
Whenever life feels mundane, I step inside my time machine, and travel backward or forward through time.
And, today, through my time machine, I've decided to revisit Tuburan, to witness the grandeur of Marmol Cliff.
The date is February 23, 2020, a month before the seemingly never-ending series of lockdowns in Cebu began.
Geared up and thrilled, I put on my earphones and glasses, and began my journey back to Marmol Cliff and Tuburan.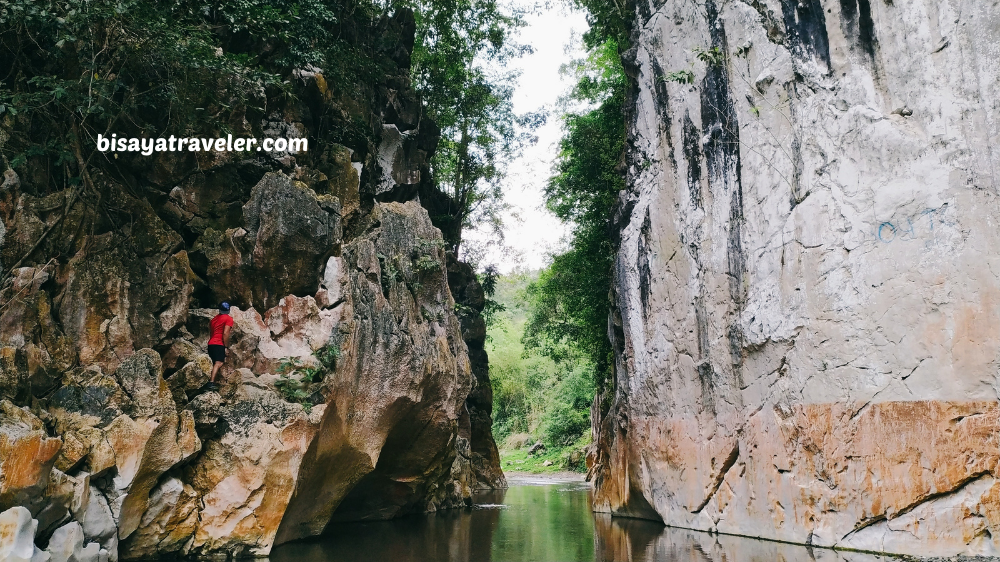 My Marmol Cliff adventure
I'm in a state of absolute relaxation and bliss as I rest my eyes on the verdant mountain landscapes of Northern Cebu.
There's the soft touch of a mountain breeze against my skin and the melodic sound of birds chirping.
I'm now perched precariously on the top of Atabay Peak, admiring the landscapes and imagining the multitude possibilities for adventure.
I turn around, and see my friends laughing at Tatay Raul's stories of his love misfortunes.
I remember these moments so vividly. Although the hike to Atabay Peak was extremely short, we had a blast enjoying the views and one another's company.
We also were thrilled with the opportunity to explore nearby spots, like Marmol Cliff and Blue Hole.
What's more, we earlier discovered that it's possible to hike all the way to Mount Mago in Danao from Atabay Peak in Tuburan.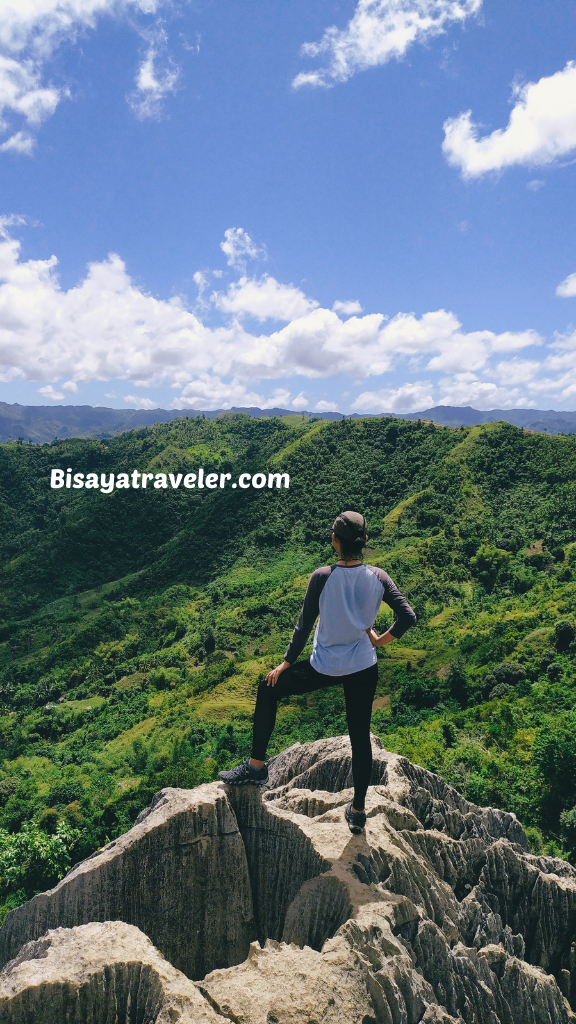 And, in the midst of our pit stop in Atabay Peak, I traveled forward through time, and saw the scenic pathways to Danao from Carmen.
When I returned from my quick time hop, we went back to a clearing near the base of the peak.
Afterward, we saw a trail that leads to a cliff adjacent Atabay Peak.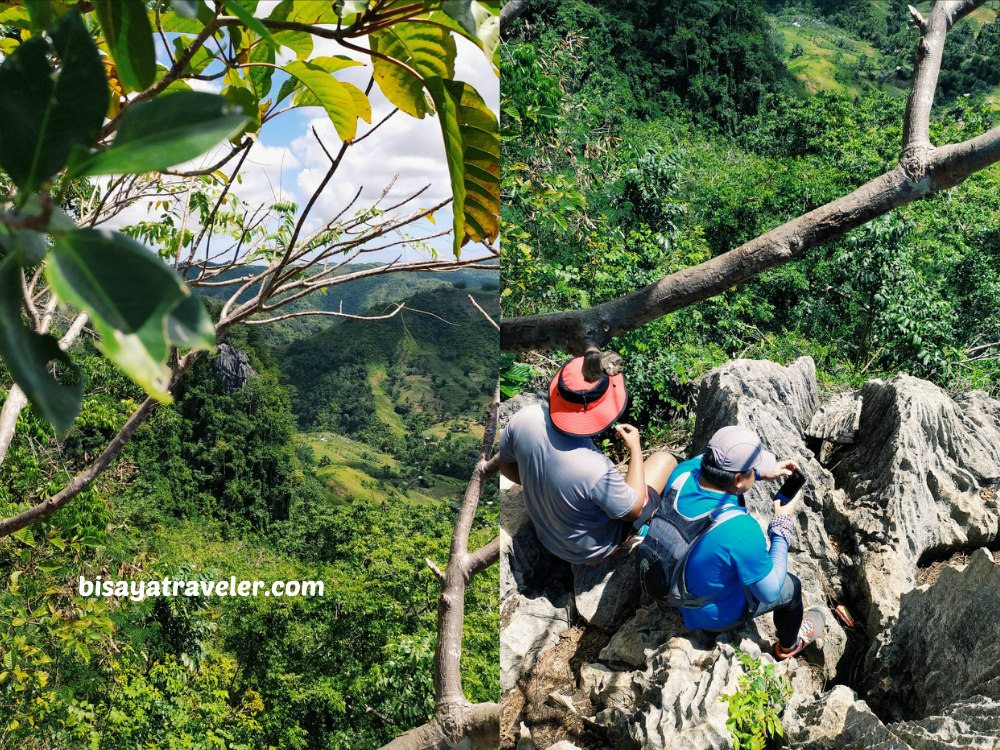 I see the younger version of myself beam with excitement. And, I want to tell this version of the Bisaya Traveler to take a different route.
Even though we did end up in Marmol Cliff from here, we could have saved some time had we taken the other route suggested by the peak's caretaker.
But, I can never tinker with events of the past. There's no way to undo what has already been done, even with my time machine.
I can construct a future event, through my time machine, but my past is already set in stone.
From the Atabay Peak, the gang ventured into a tree-covered trail to the cliff nearby. When we arrived at the cliff's base, we didn't notice any trail that would lead to the top of the cliff.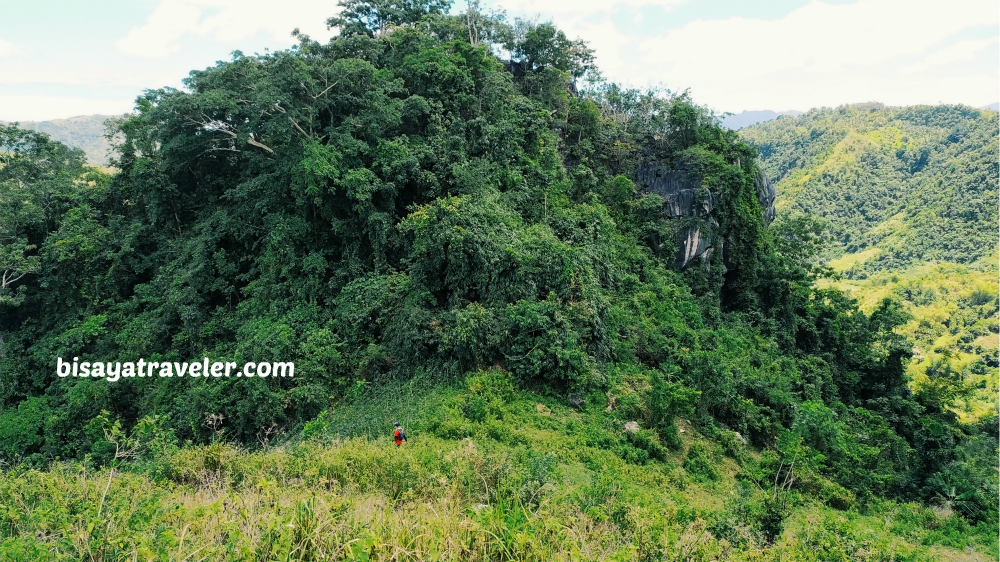 That's why I wanted to warn myself not to pursue this trail. But, then, I remembered something.
Something exhilarating and fascinating.
After a short stop to the cliff, Beboy and I rush downhill, running like wild cheetahs chasing a gazelle.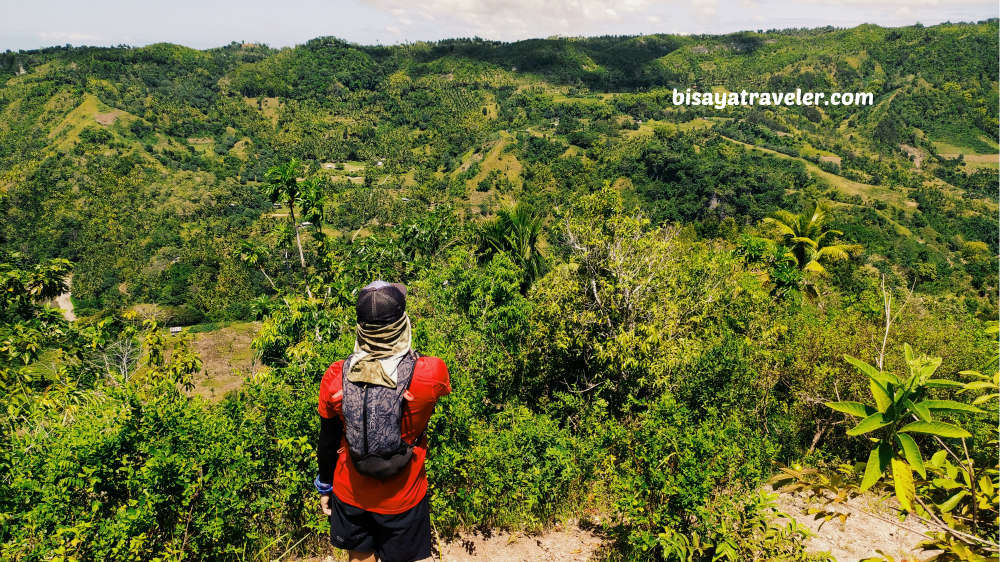 As I was hitting my strides, I could feel my body releasing a plethora of endorphins. This time, on my trip back through time to this event, I notice a rise in my dopamine levels.
But, all of a sudden, things are becoming a blur.
Images are broken and I can't hear any sound.
I guess my time machine is faulty. With years of use and a full storage, my time machine may be showing its age.
Then, I notice that the gang is lost, in the middle of nowhere and under the scorching heat of the unforgiving sun.
And, I'm here concentrating, trying to fix my time machine.
But, it's becoming blurry again.
I see dogs, kids and houses.
I see my friends descending from a steep unpaved trail, but I can't remember where we came from.
Damn, this time machine needs some re-tuning.
Finally, I can see it now.
The gang and I are descending to the river that passes through the famous Marmol Cliff.
Soon after, we saw a beautiful overlooking spot where we ate our lunch.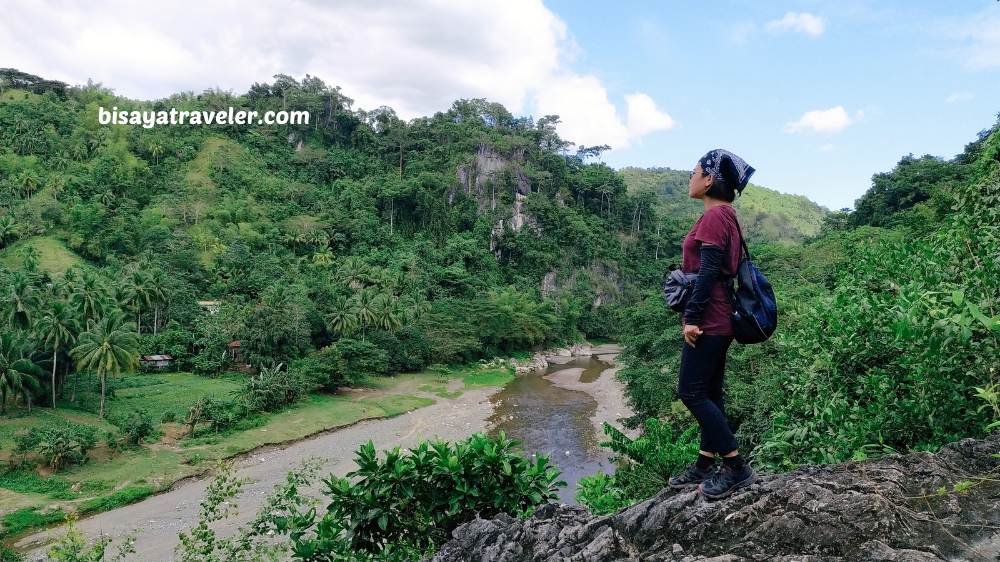 My meal – bread with spicy tuna – is simple yet incredibly satisfying. On normal days at home, I find this combination bland and ordinary.
Somehow, it tastes special and so good when I'm in the mountains. And, on this trip back in time, I can feel the kick and spiciness of the tuna flakes as well as the softness of the bread.
Slowly, I can hear Marmol Cliff calling us.
I can feel her presence, as we're making our way to the river.
I've been there, and I know that we're moments away from gazing at the majesty of Marmol Cliff.
I can't wait to wait to see her again, on this walk down memory lane.
Before our encounter with Marmol Cliff, the gang had to stop by a store where they enjoyed some unusual drinks.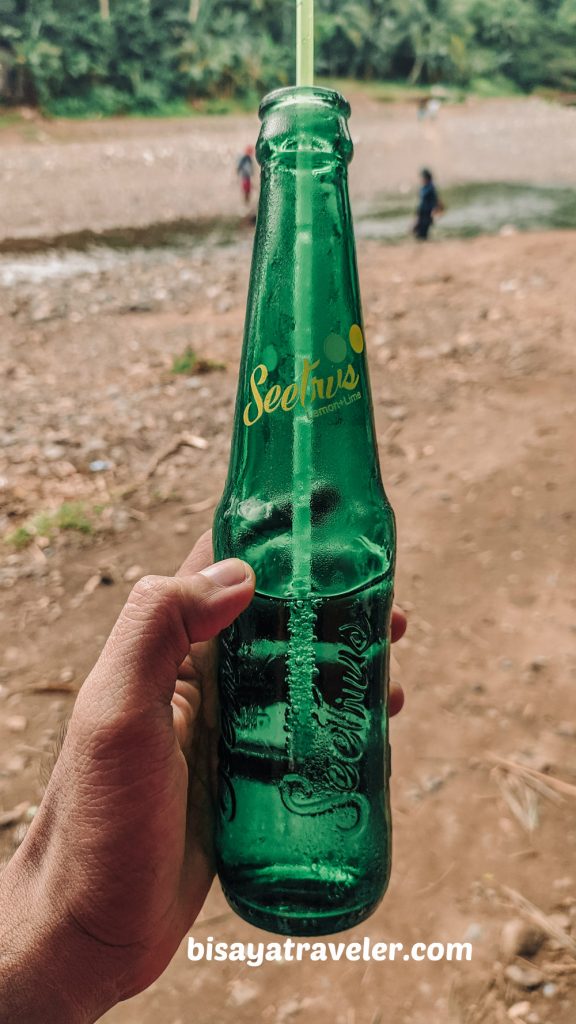 Ahh! The taste and sweet hint of lime!
I wasn't familiar with this drink, but it did remind me of our favorite in the mountains: Sparkle.
With their energies replenished and restored, I watch the gang as they hike their way to one of Tuburan's top sights: Marmol Cliff.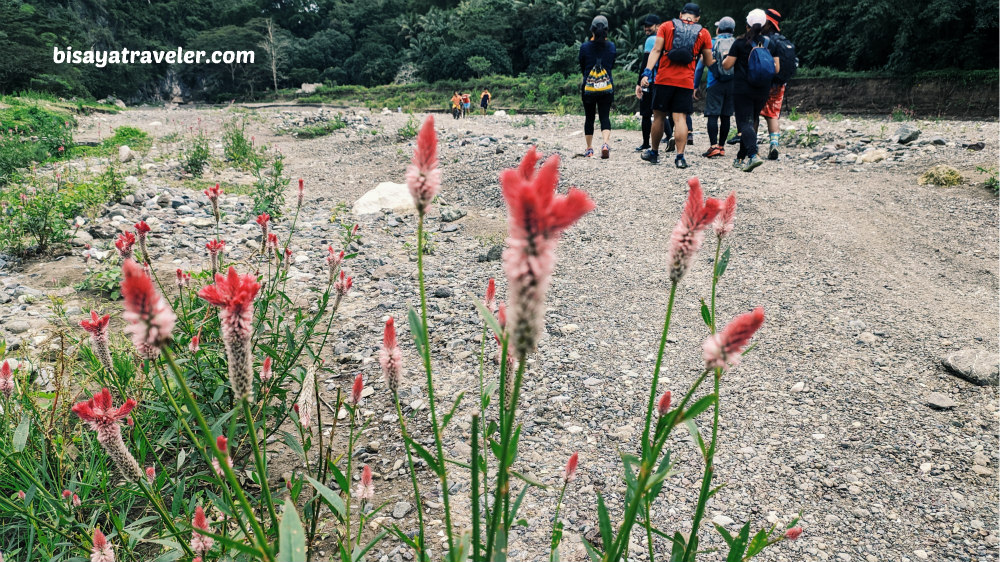 Hiking against the gentle flowing water, I'm in awe of the sights surrounding us. From the gorgeous rock formations to the emerald waters, I see an irresistible sight wherever I turn.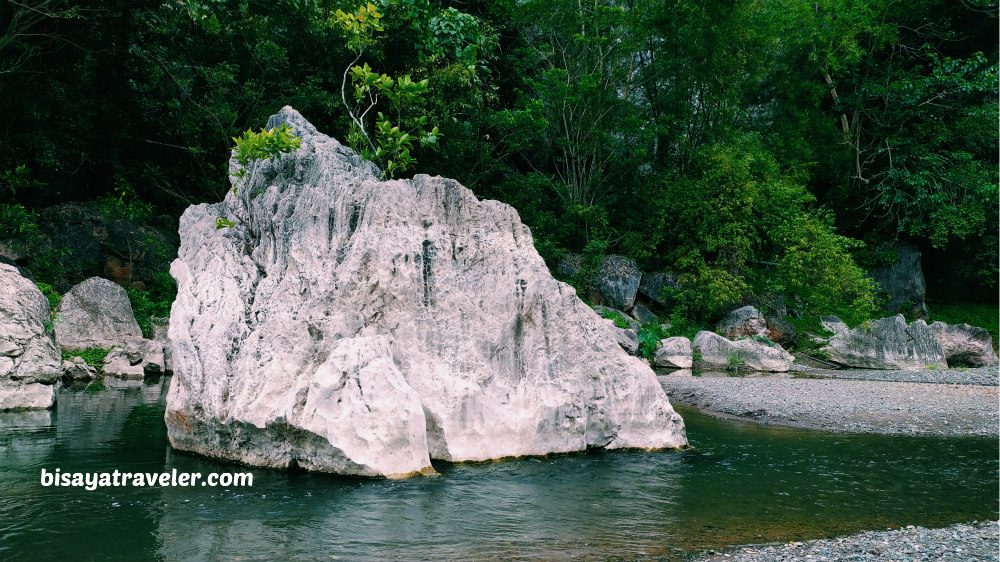 Truth be told, I wasn't overly impressed with Marmol Cliff and its backdrop, when I first saw it in February 2020.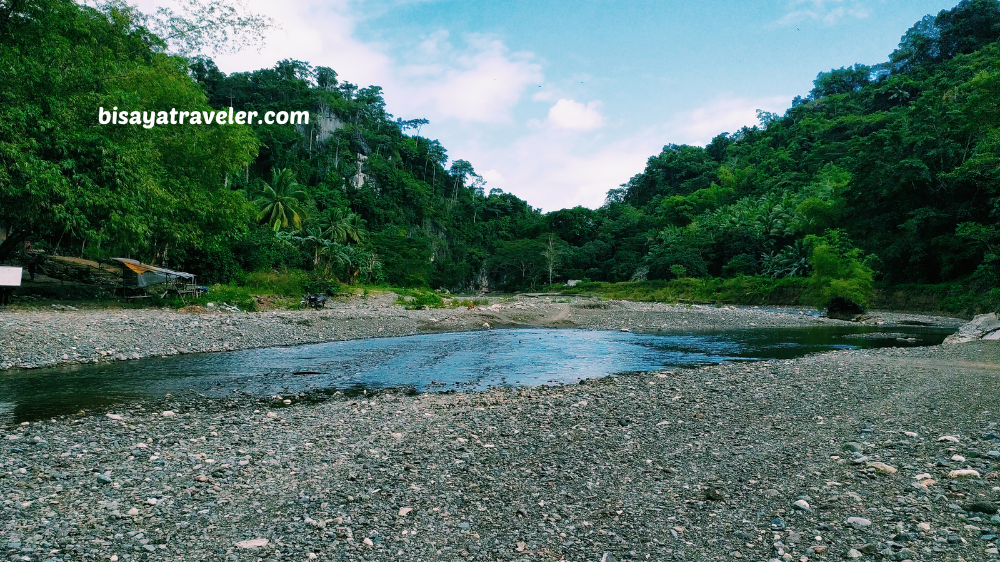 But, on this time travel experience, it looks so much more spectacular.
Maybe, the poets were right. Absence does make the heart grow fonder.
Months of being quarantined at home have made me more appreciative of these sights.
And, for the first time after 10 months, I'm now standing in front of Marmol Cliff soaking up its beauty.
It's breathtaking.
I wish my younger self took more pictures of Marmol Cliff.
The rugged twin marble rocks carved by centuries of erosion and water flow are a stunning sight to behold.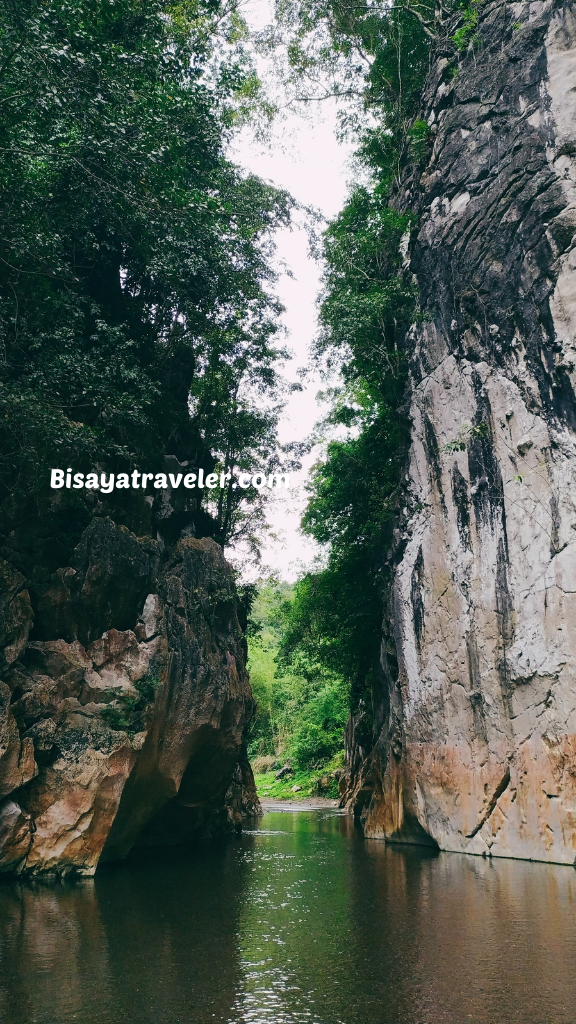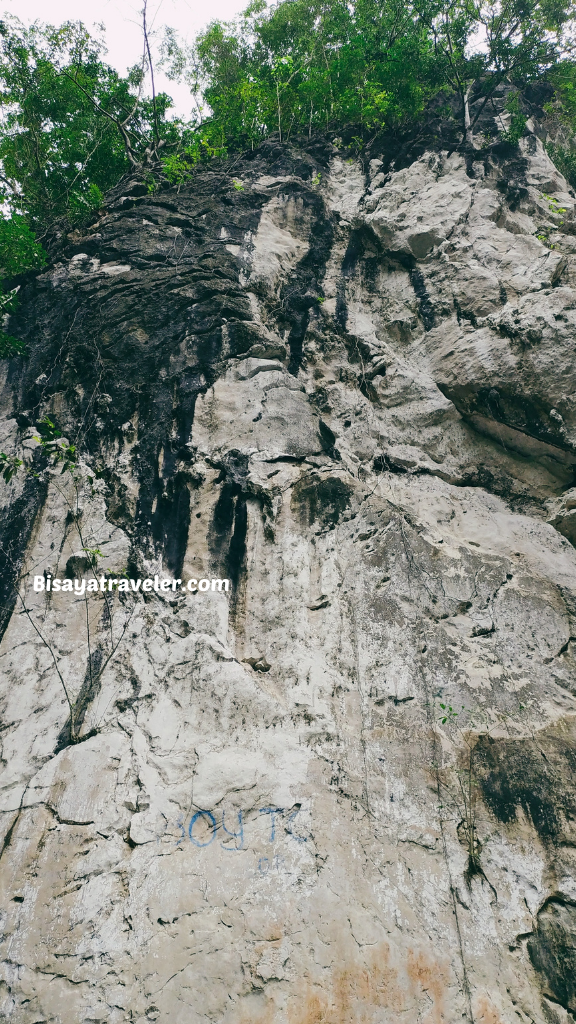 There's also a roomy cave and huge boulders that add more visual appeal to these twin marbles.
And, there's a raft, which obviously is used by locals for transportation when the water is high. As far as I know, the water level can reach up 20 feet or even during the rainy days. Luckily for us, the water was low on that cold February day.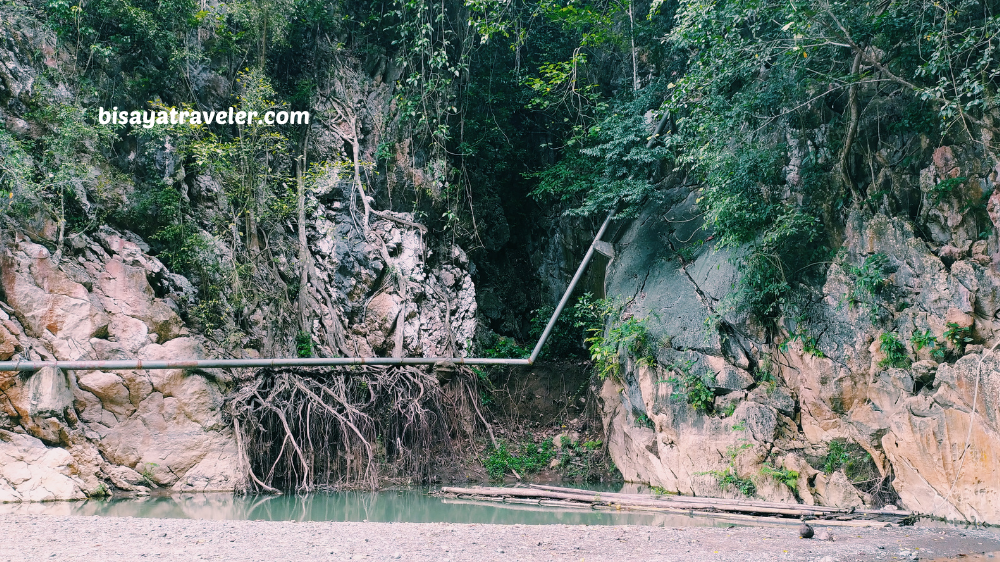 Of course, my friends and I spent plenty of time taking in the view of twin towers.
Normally, I take a ton of photos whenever I see a sight as stellar and enchanting as Marmol Cliff. For some reason, though, I wasn't in the mood for snapping pictures.
Perhaps, I just wanted to live in the moment.
Soon, I noticed a man on a bike moving towards us while I took photos of Dian and Beboy.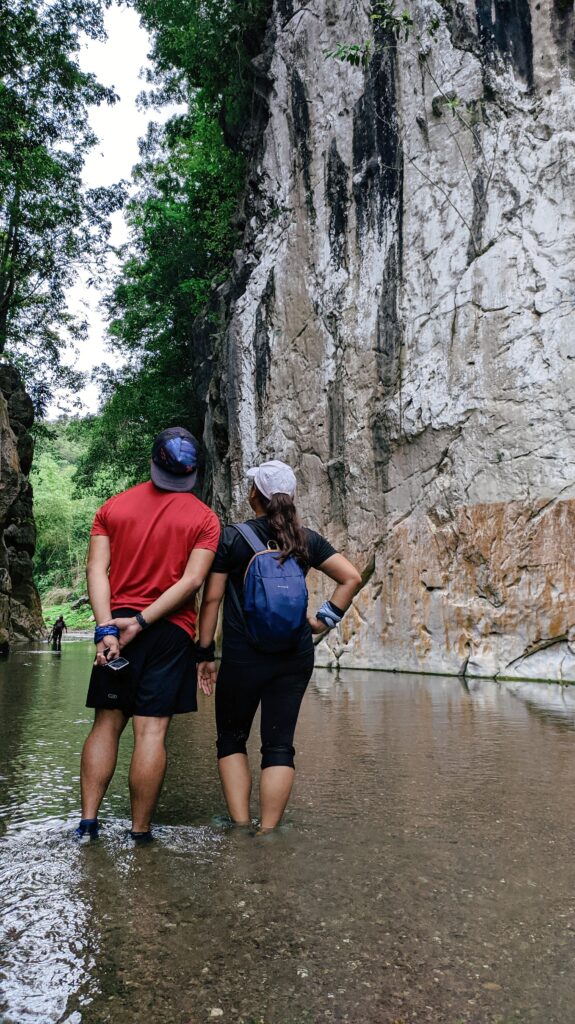 Like any friendly local, the man greeted us, and even gave us some fun tidbits of Marmol Cliff.
We, eventually, decided to move on the next phase of our Tuburan adventure. Along the way, the friendly cyclist revealed some intriguing things about the place.
With the accommodating cyclist as our guide, we found out that Marmol Cliff is home to mythical figures and legends, such as Joaquin Tang-an and Maria Cacao.
Furthermore, he revealed that the cave near the Marmol Cliff was used by the World War II guerillas as well as the Katipuneros who fought the Spaniards.
I wish I could travel back in time to those eras to do a little fact checking or to uncover more mysteries of Marmol Cliff.
Unfortunately, those eras are beyond my time machine's capacity.
Right now, I'm following the gang on their way to the last stop of their Tuburan trip: Blue Hole.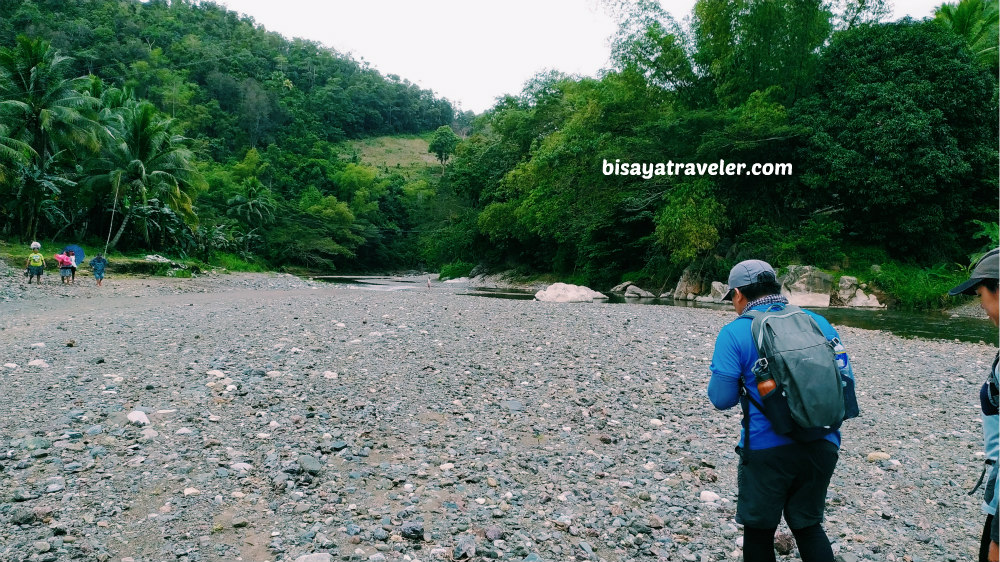 I know there's not much to see there, but I'm sure it's going to be a pleasant nostalgic experience.
With crystal clear blue waters, Blue Hole is pretty easy on the eyes. Even better, it's refreshing even if you're not planning to take a dip.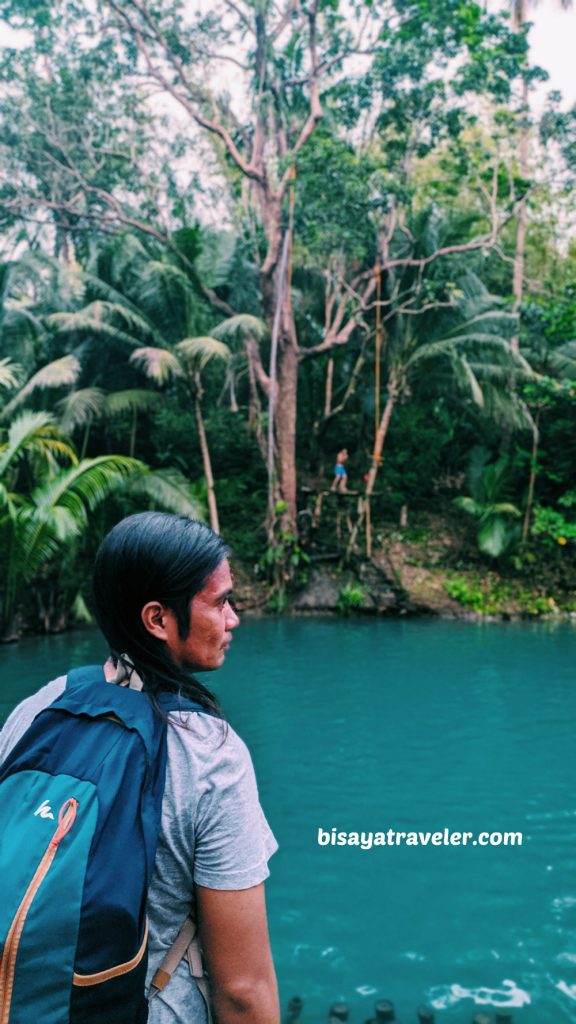 And, now, it's time to bid farewell to Marmol Cliff and Tuburan.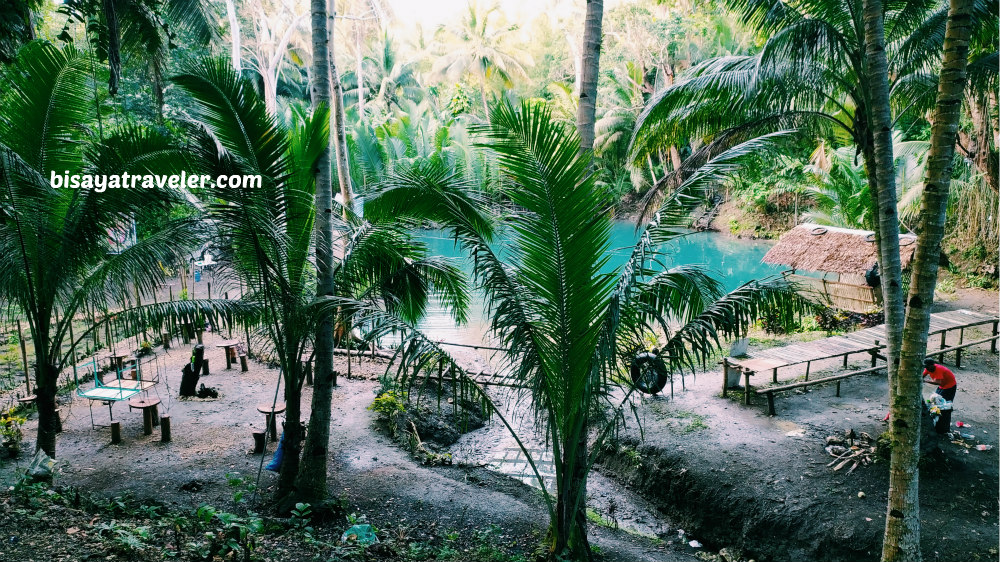 It's time to return to my reality. And, it's time to exit my time machine and live in the present.
So, you might be wondering if I'm losing my marbles because I'm sharing this extraordinary story about time travel.
Here's the thing.
We all have a time machine. And, this isn't Science-fiction bullshit or a quantum mechanic theory where you can travel to the prehistoric era and mingle with vegetarian versions of Barney.
The truth is, all we need to travel back in time is our memory, or to be specific episodic memory. Through my episodic memories, I can travel back to the past to remember and re-experience in vivid details my past personal events, such as my sojourn to Marmol Cliff.
Through your memory, you can return to the moment you first fell in love, recall your professional triumphs, or go back to your childhood.
And, there are a lot of ways to journey back in time via episodic memory
In my case, for instance, I read my online journal or browse through my social media pictures.
For this time travel escapade, I also used Beboy's Youtube Video to recall those moments.
Even though it's filmed from Beboy's perspective, it still takes me back to that beautiful day in February 2020.
In the age of covid-19, these memories help us stay sane and even give us a glimpse of hope.
Plus, there are also perks of mental time travel. Yes, we can't reconstruct the past with our time machine. But, recalling those events will help us construct our future, and identify the things to avoid.
I know episodic memory is a limited and imperfect time machine. But, if we use it well, we can get a heavy dose of happy hormones, like dopamine and serotonin.
And, more importantly, we can catch a glimpse of our future when we recall moments of our past.
In fact, I'm recalling these moments in Marmol Cliff because I'm constructing a future hike from Tuburan to Carmen or Danao.
And, I have traveled to that no-so distant post-covid future, and it looks freaking awesome.
How do I get to Marmol Cliff Tuburan?
Tuburan is about 83 to 92 kilometers from the city of Cebu, depending on the mode of transportation and route that you will take. 
The fastest way to get to Tuburan from Cebu is to drive Transcentral Highway on a private car. On average, the drive will take around 2:30 hours. But, make sure that your car is in tip-top shape.
Alternatively,you may take a V-hire ride to Tuburan proper from Ayala cCenter. Fare is about PHP 140 per person, and travel time is 3 hours.
Once there, charter a habal-habal ride to Marmol Cliff from Tuburan proper. Fare is PHP 400 back-and-forth and good for two people. I know it's a little expensive for some folks.
That's why if you're adventurous and have some strong legs, I suggest that you charter a habal-habal to Atabay Peak. Fare is only PHP 50 per person. After exploring Atabay Peak, ask locals for directions to Marmol Cliff.