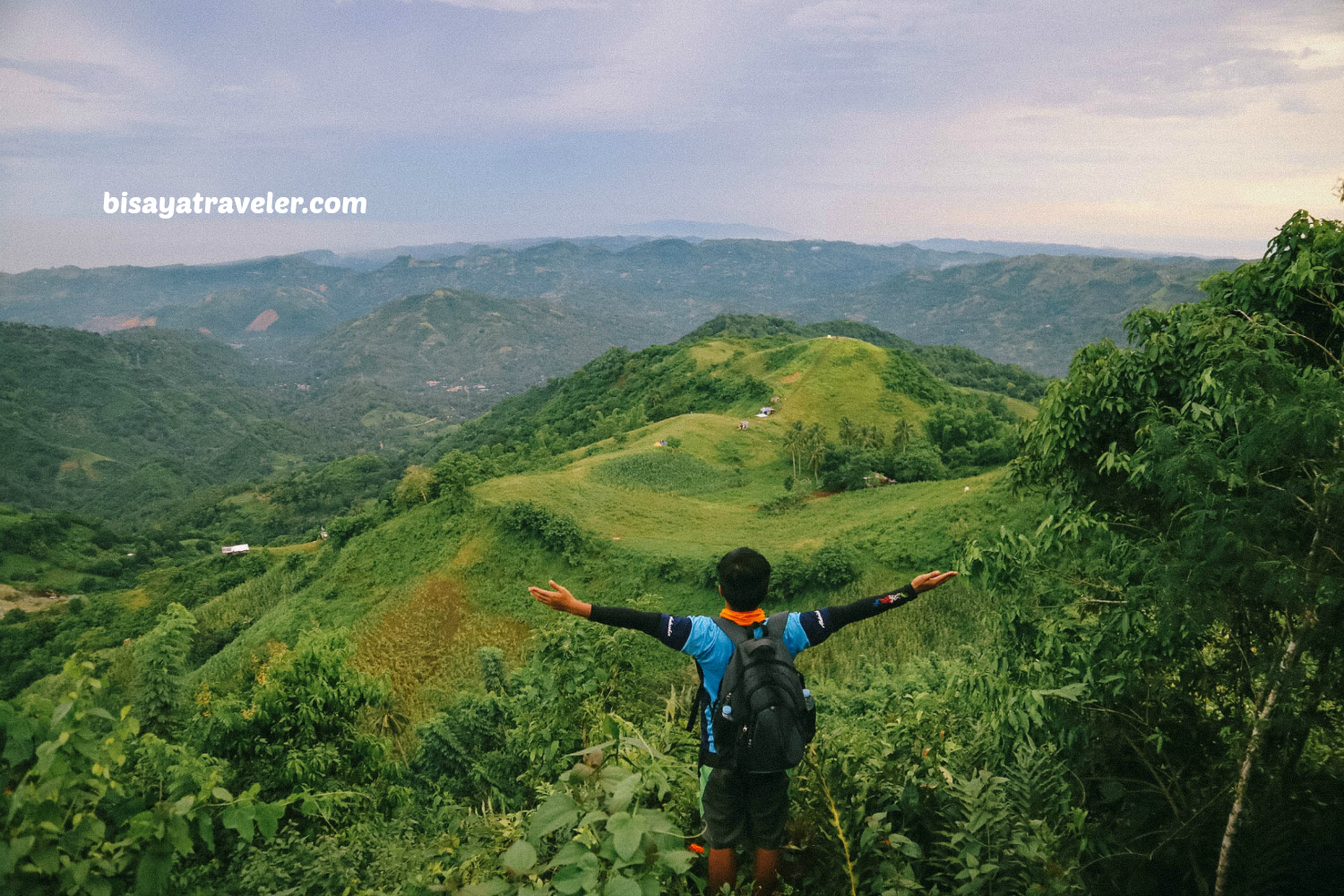 Mount Naupa: A Quick Fix For Stress, Boredom And Heartache
Cebu practically has a dependable solution to all of life's common problems. For those who are unhappy with their work and financial situation, Cebu has a multitude of job and business opportunities that may jump-start any stagnant career.  And, whenever you feel overwhelmed by the trappings of modern life, there are mountains in Cebu like Mount Naupa that ease your daily strains by offering a breath of fresh air.
Of course, Cebu's scenic mountains can also be a godsend for those who are trying hard to mend a broken heart. As a matter of fact, I've met dozens of people who have moved on from their unfruitful relationships by just climbing the beautiful mountains in Cebu. To me, one of the best mountains in Cebu to de-stress, chill or fix a bleeding heart is Naga's Mount Naupa.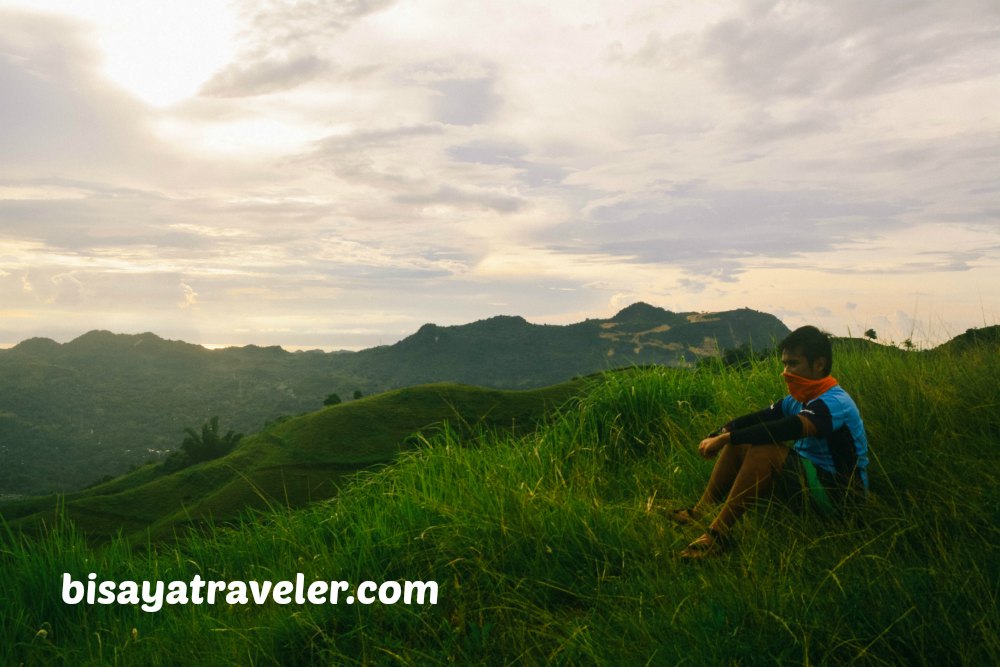 Why I hiked Mount Naupa last Saturday
Despite our recent 5-peaks-in-1-day hike, I was still having a strong urge to scale another mountain. I admit – I'm a bona fide travel junkie, with an insatiable thirst for adventure. Plus, I felt like I was in need of a refreshing hike, following a week of seemingly endless string of emails, social media posts and write-ups. Luckily for me, there's a nearby trail – Mount Naupa – that satiated my wanderlust and allowed me to escape the monotony of everyday life.
Our Mount Naupa experience
Our Mount Naupa hike started with a meet-up at a bakeshop in Rikio, Naga, Cebu. Since our Mount Naupa adventure was kind of a last-minute decision, only three of my hiking pals got to join me on my hike – Marc Jonell, Juan and the famous Grace-Fool Wanderer, Cherwinn.  With everyone ready and psyched for the hike, we wasted no time, and made our way to Barangay Cogon – the jump-off point to Mount Naupa, via a habal-habal ride.
Along the way, I got to know Juan a lot better through our short conversation. Just like me, Juan was also craving for a dose of adventure and a quick escape away from the non-stop parade of work.
Also, I found out that traveling across our island has helped Juan adjust to his new environment in Cebu. As someone who's used to the laid-back ambiance of Mindanao, Juan did at first feel overpowered by the hustle bustle of our concrete jungle.
Minutes later, we arrived at the jump-off point to our hike to Mount Naupa.  As always, we made a short prayer, before setting foot on the trail. With our official prayer leader (Gelique) missing in action, we assigned the task to the most graceful member of our squad – Cherwinn.
Spearheaded by Marc, we, later on, hit the trail leading to Mount Naupa.
For me, the hike up to Mount Naupa was a breeze, even though the trail was pretty slippery. With a favorable weather, fresh mountain air and Juan's throwback 90s music, our hike was just everything that needed to break away from our stresses. I know, it was just a short hike, but it was totally enjoyable and relaxing.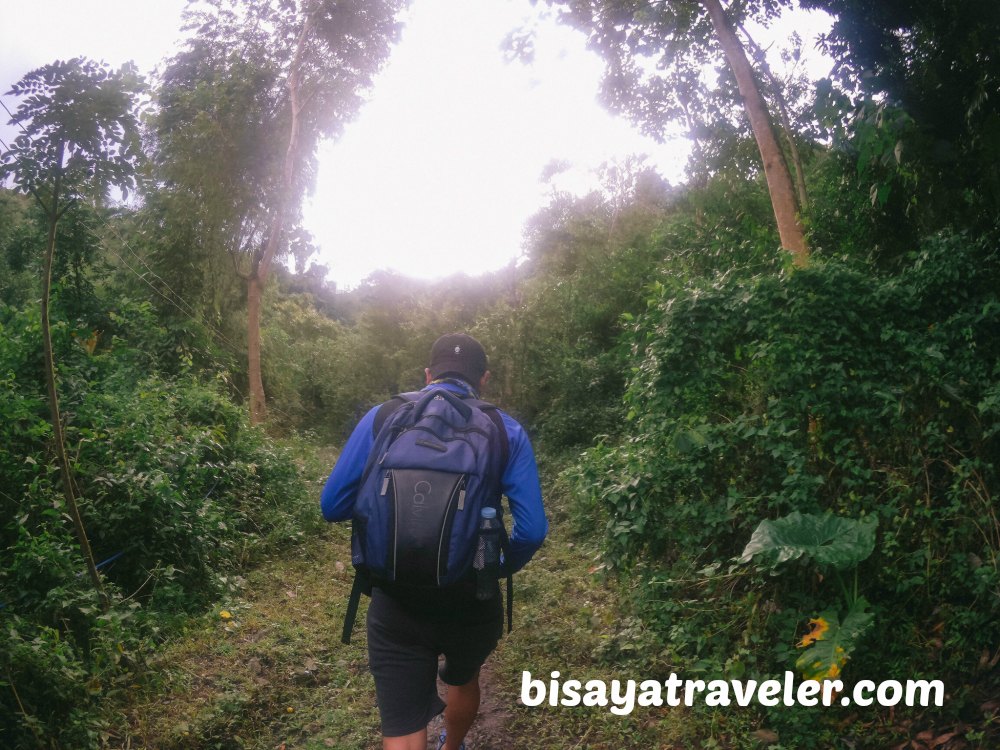 Ultimately, we arrived at the rustic boat-shaped cottage near the registration area of Mount Naupa.
From there, we bought a bottle of water, and made a bunch of poses, from solo pictures to group shots.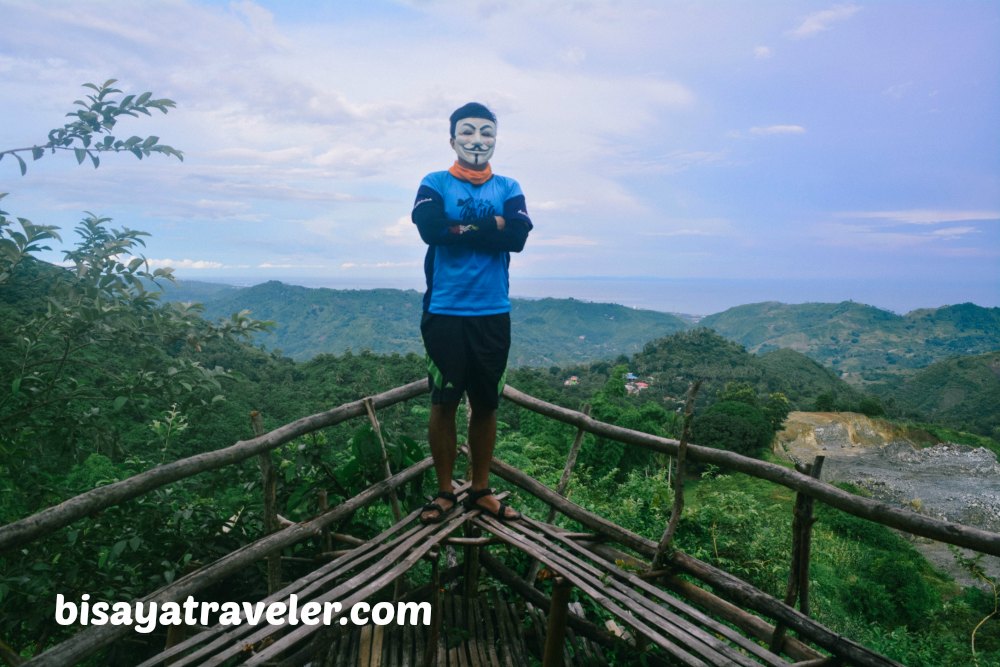 The Grace-Fool Wanderer did make some interesting and funny poses here, including his comical depictions of Titanic and Lion King.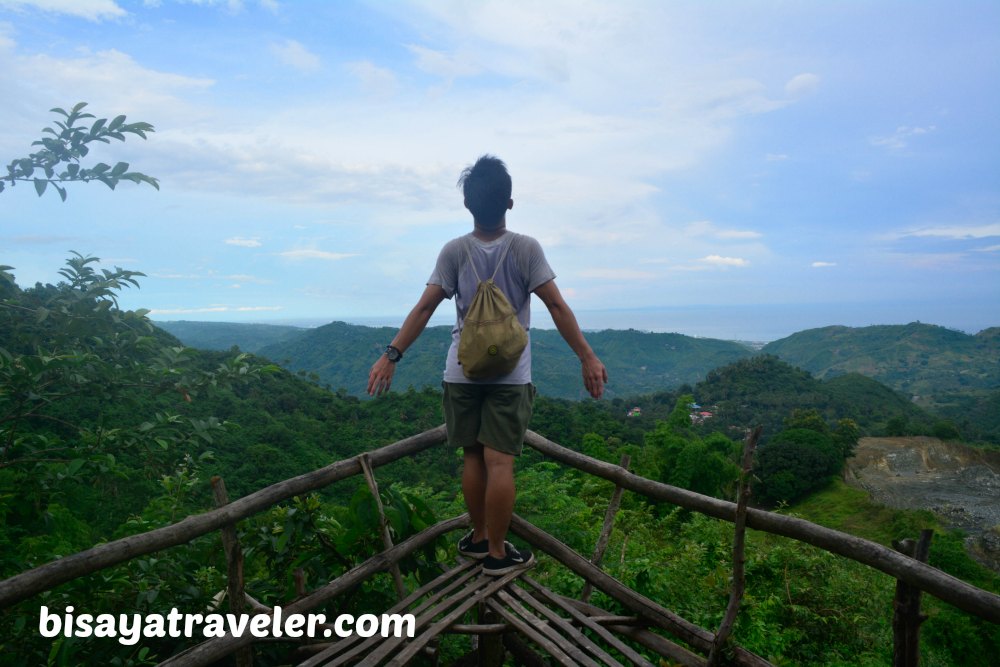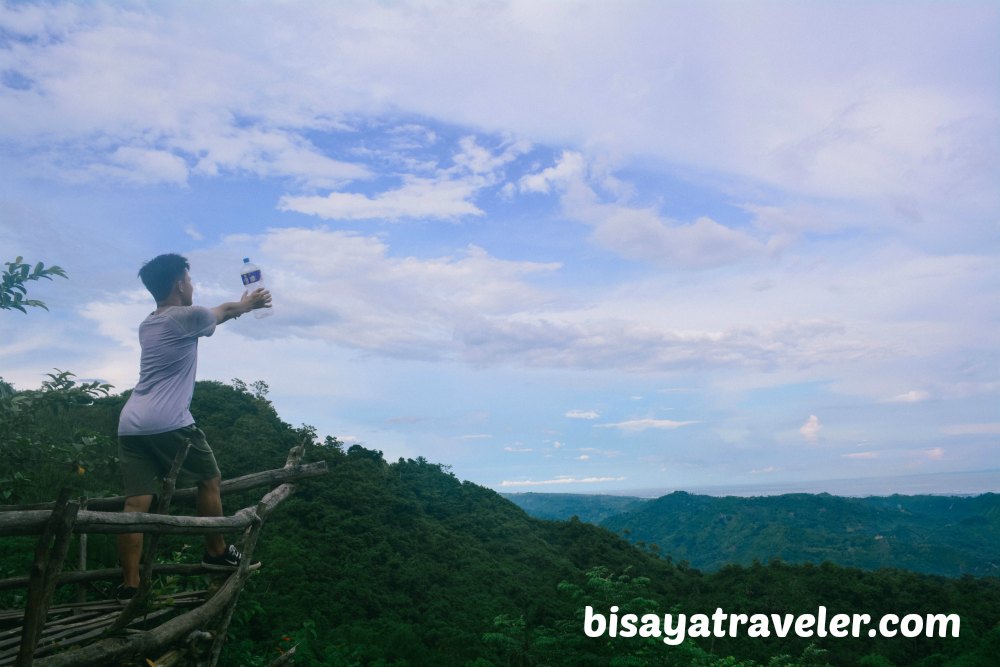 But as far as I'm concerned, the best photo of our short stay in this hut is our super cool group pose. Astig!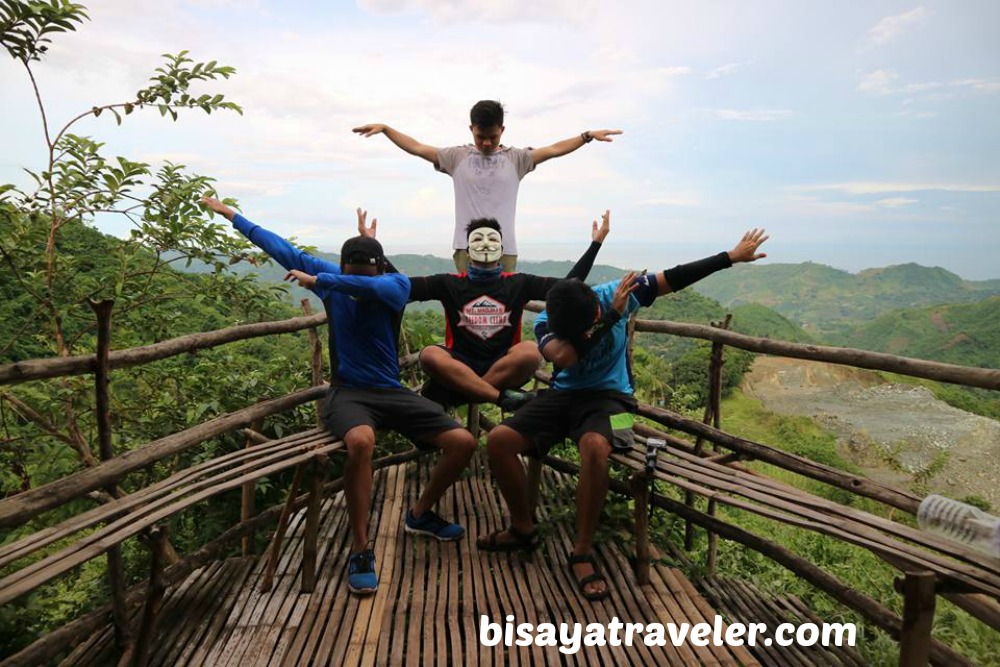 After our fun-filled pictorials, we went for a short walk to the registration center, to list down our names and pay the standard fee of PHP 20 per person. Then, we climbed our way up to the camp sites of Mount Naupa where we were treated to an awe-inspiring view of Cebu and Naga's lush landscapes.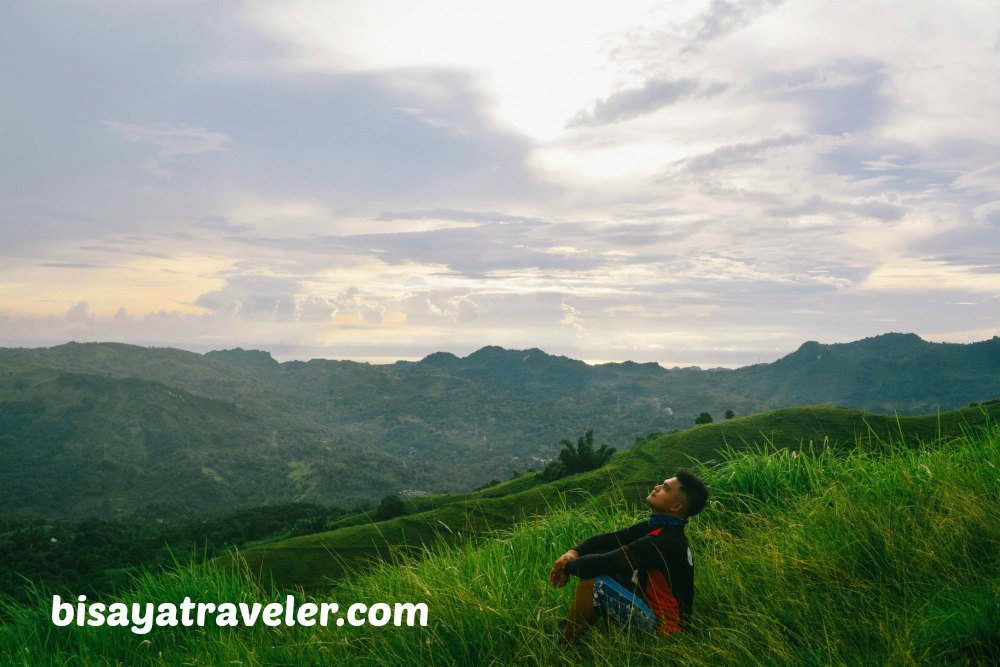 We soaked up the scenery, and breathed in the fresh mountain breeze. And just like that, I felt like my weary spirit has been replenished and revitalized.
The way I see it, Mount Naupa is not just a photogenic spot to unwind and de-stress, but it can also be a soothing retreat where the broken-hearted can forget their troubles momentarily. With its fresh air, easygoing feel and awe-inspiring panoramas, Mount Naupa has the qualities of a perfect soul-searching getaway for hurting individuals living in Cebu.
And, as you might have expected, we snapped countless of photographs on the camp site of Mount Naupa.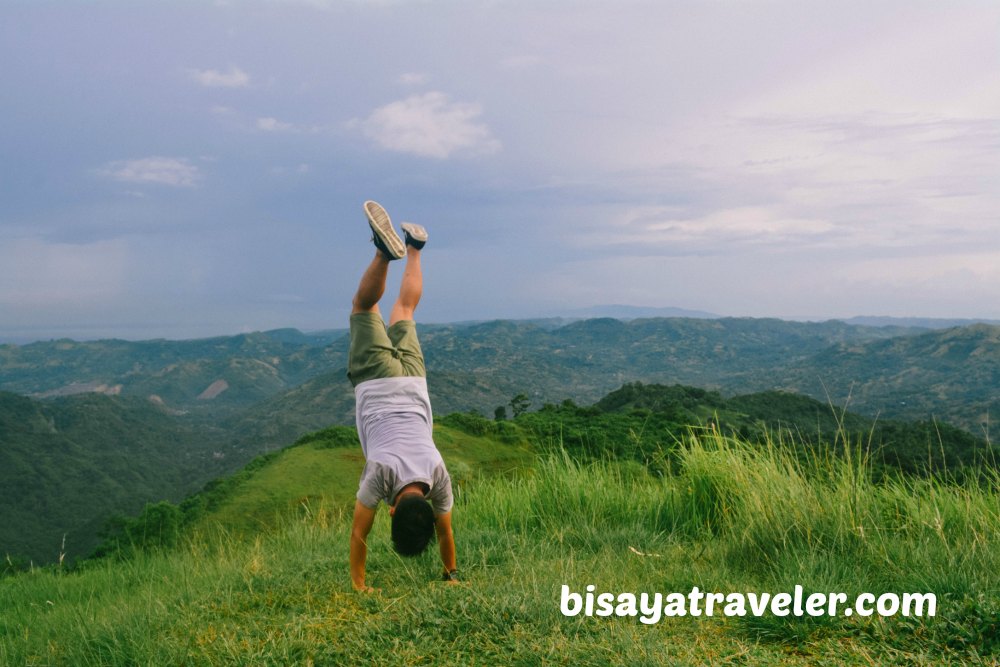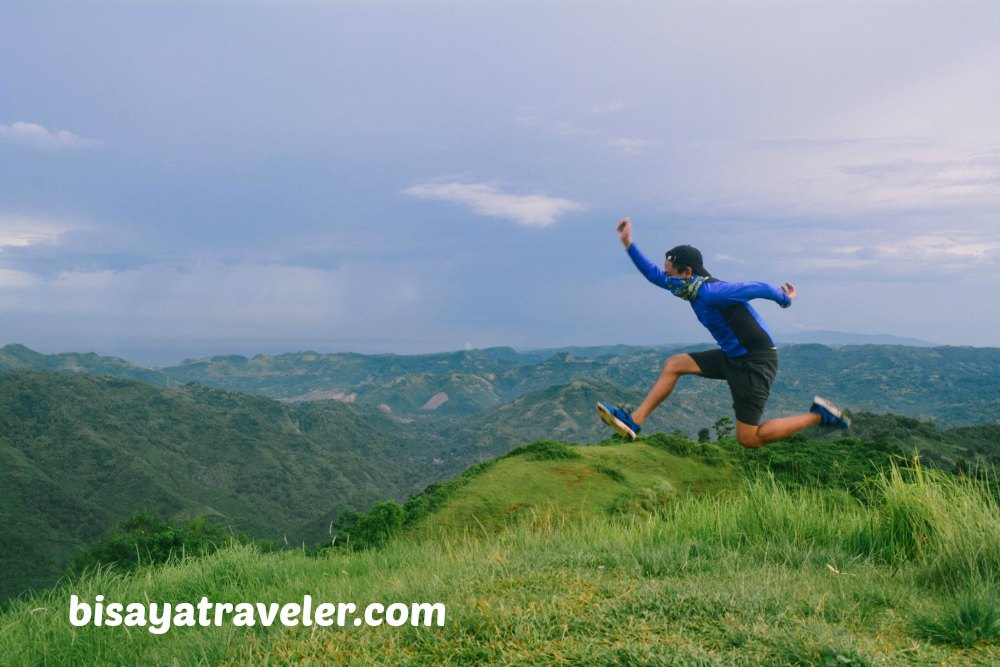 As you can see, Cherwinn flashed his Grace-Fool portrayal of Juan Luna's world famous painting – the Spolarium. This time, he grabbed an empty bottle of Emperador, and used it as his props.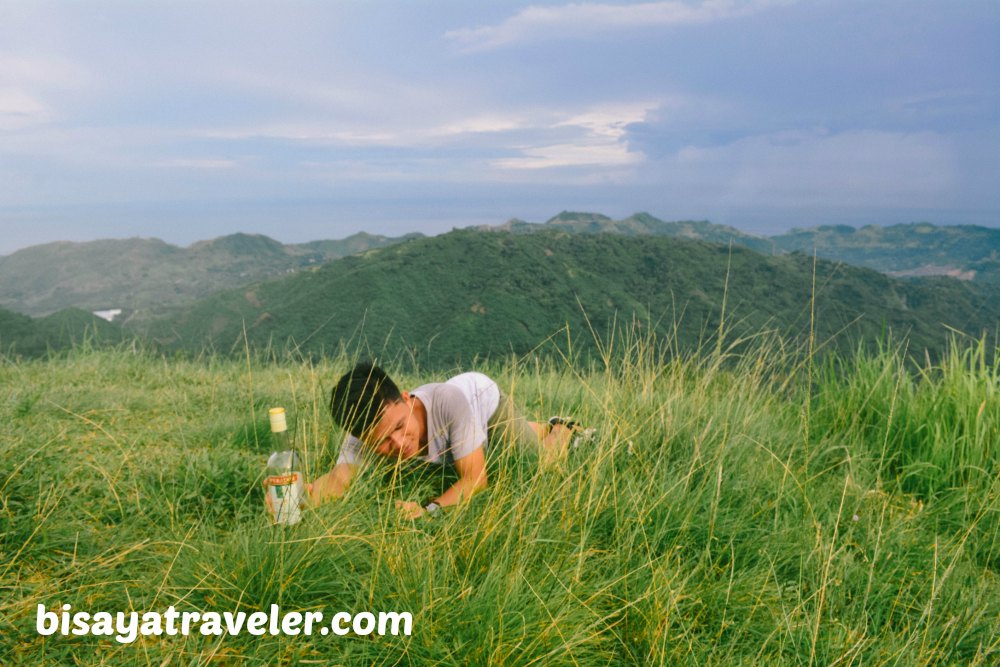 On top of that, he unveiled a new trademark pose to the whole gang and the campers – the Graceful Jump.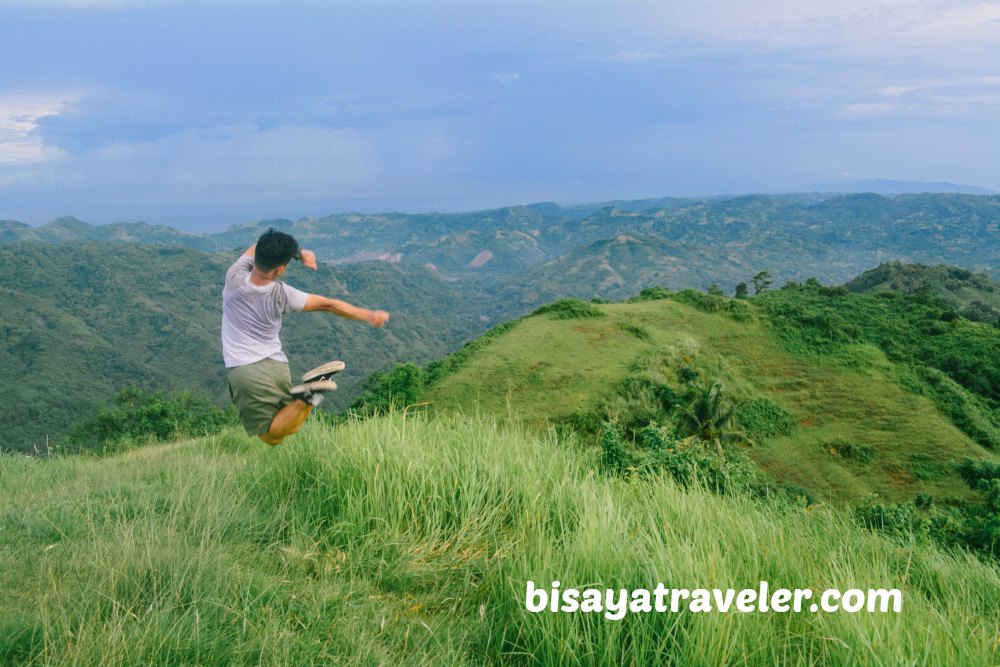 His jump shot was so graceful that even the little kid nearby mimicked it. Plus, there was also a young lady on the camp site that seemed to be utterly amused by the gracefulness of our charming hiking buddy, Cherwinn.
As we were taking photographs, there was an amicable, obedient dog on the camp site that literally followed us wherever we went. Sometimes, he would even get close to the human subject, as we were about to snap a photo.
Nevertheless, we had a fun time with our canine buddy, and we never deemed him as a nuisance, though he's an enthusiastic photo-bomber.
Ultimately, we named the friendly dog "Predu", in honor of our friend and fellow Team Bang member – Wilfred or AKA Predu Wolf. For some reason, he responded quite well, whenever we called him Predu. I guess Wilfred did transform into his animal form, and followed us to Mount Naupa.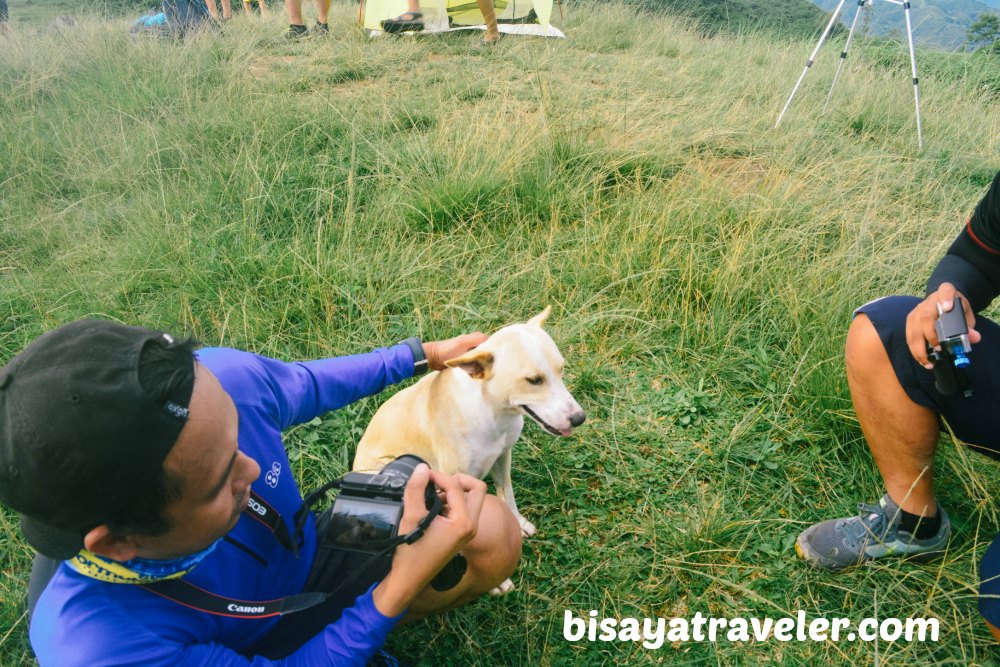 Although the sun was about to set, we had no plans of ending our trip early. And so, with Marc's lead, we followed the bushy trail to the peak of Mount Naupa!
On our way to the top of Mount Naupa, a small boy named John Chris followed us, even though we didn't ask for his help. Whether it was because of his curiosity or he felt like we needed some help, it was nice having this youngster around. And besides, he did come in handy later on, by helping us discover a scenic spot near Mount Naupa.
As far as the trail to the peak is concerned, it's not really difficult or steep, but we did have a little trouble passing by a couple of large rocks and prickly plants.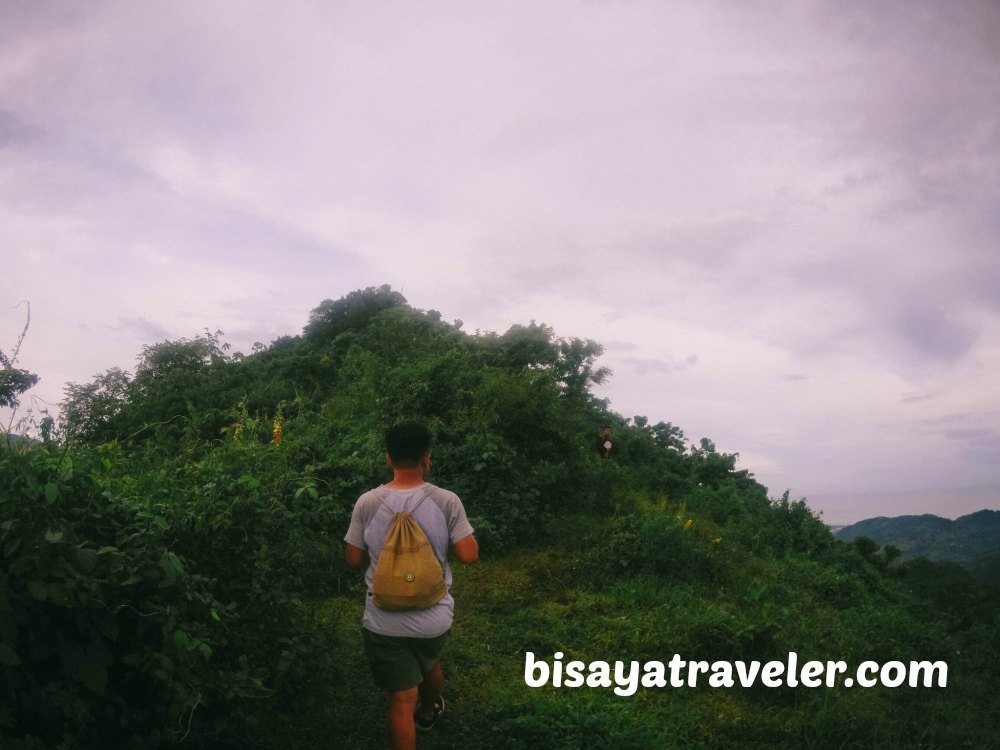 After a few minutes of walking and crawling, we finally landed on the summit of Mount Naupa.
The views on top were great, and we could even see landscapes that are far as Toledo. But honestly, there wasn't any good angle for a nice photograph, with all the bushes and foliage surrounding us. Still, we got to snap a ton of photographs on the summit, using our action cams.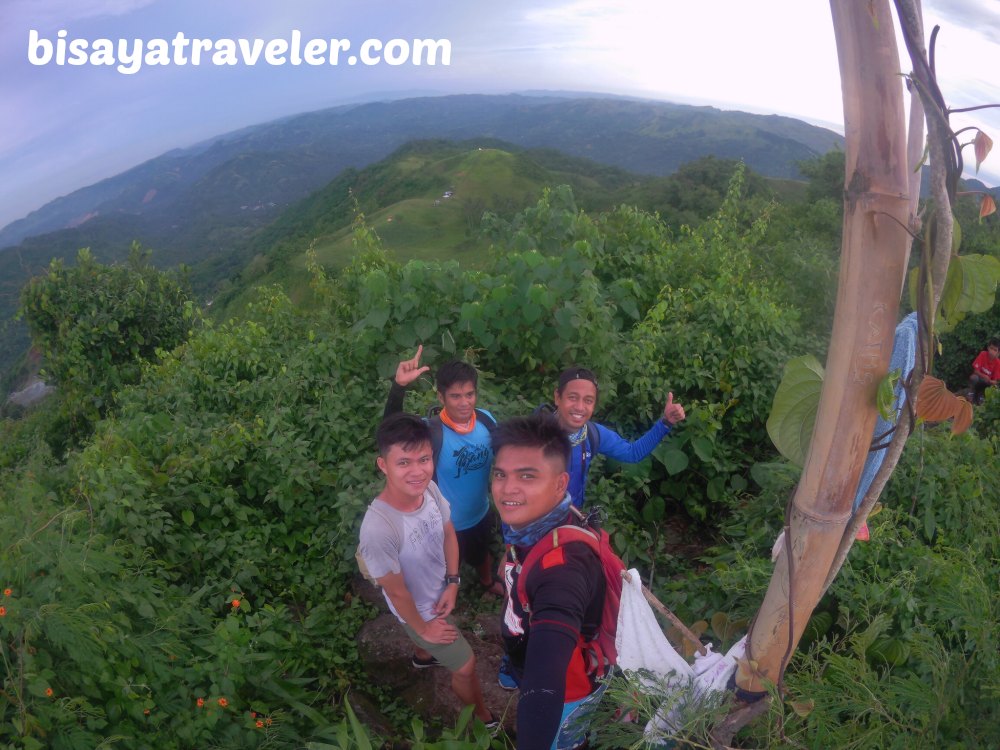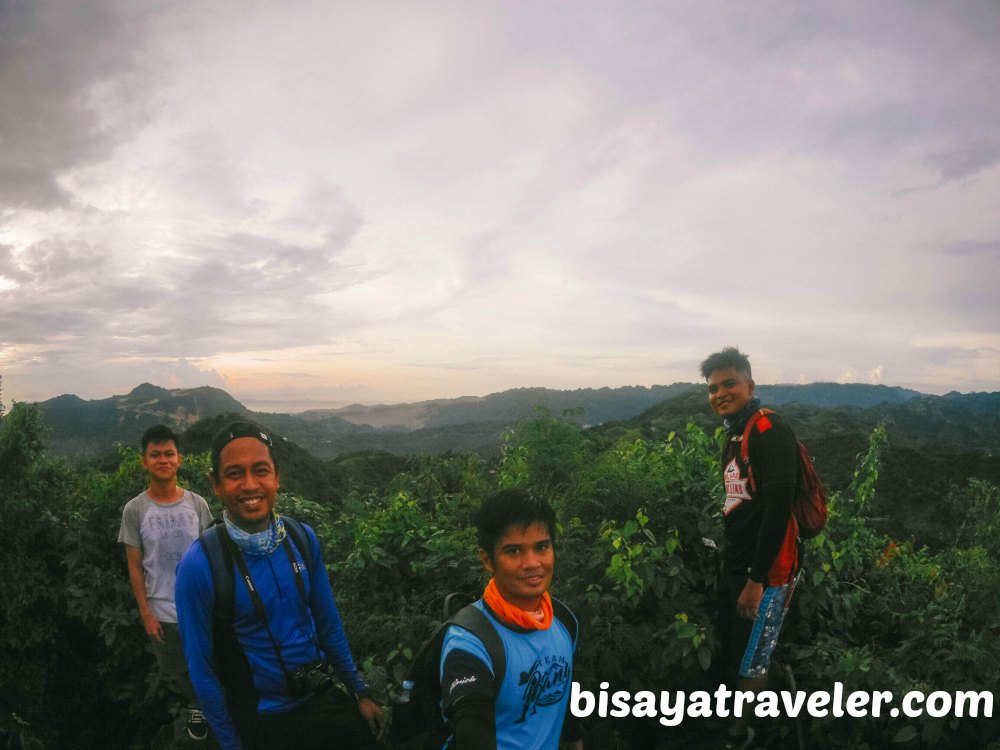 From the summit, we, then, descended, and made a couple of stops for photo-ops.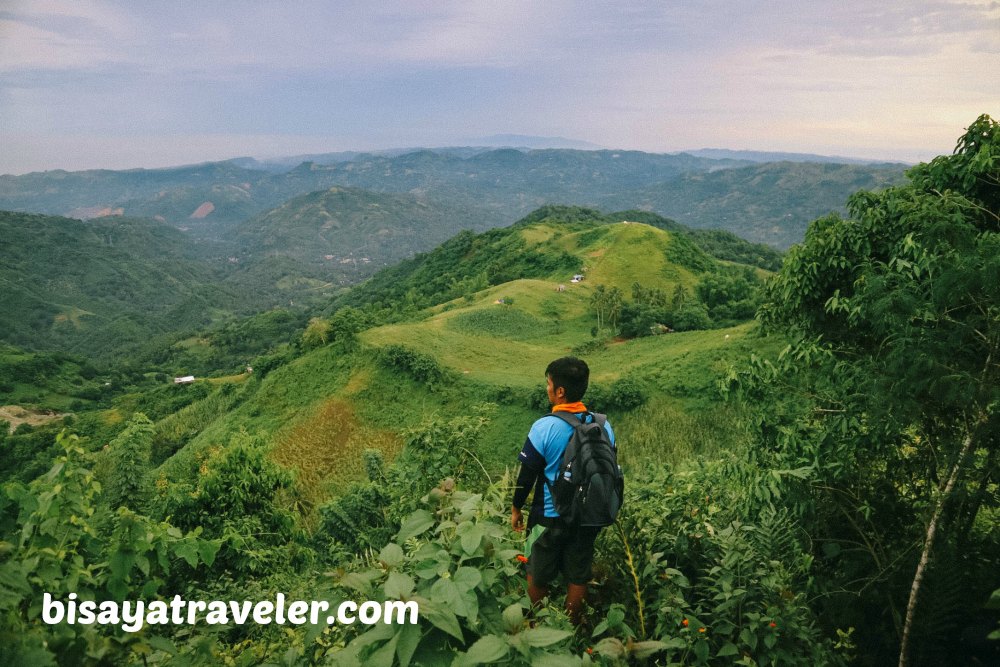 While posing in front of the camera, Marc caught sight of a beautiful hill on the other side of Mount Naupa's camping ground.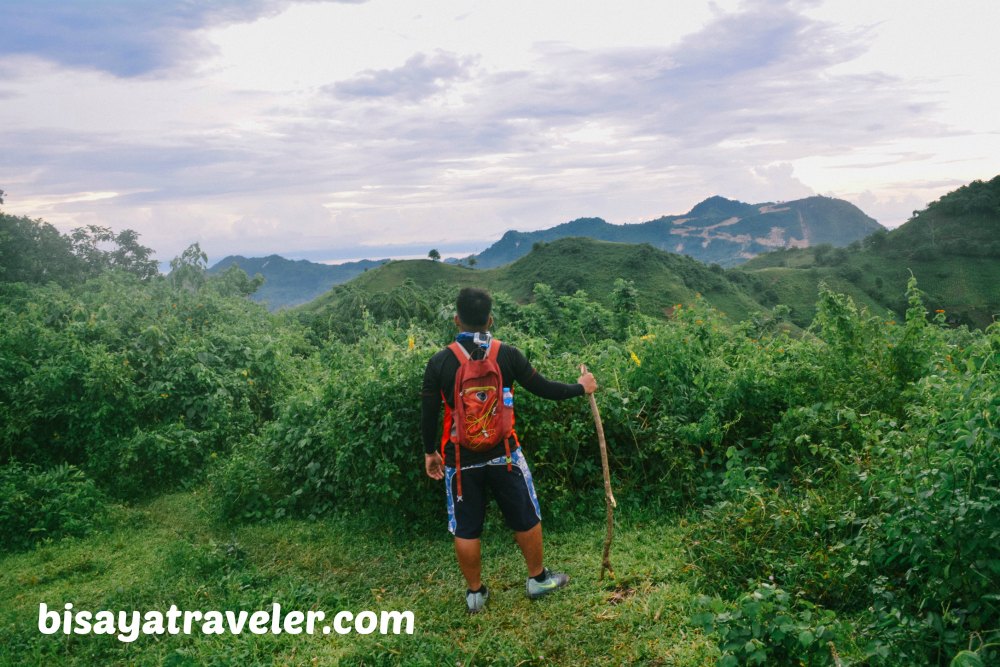 And, guess what? We did hike our way to that picturesque hill, with the help our John Chris. Folks, that's what normally happens, when you've got a group of guys who have been infected by the travel bug! According to John Chris, the locals call this hill as "Kabalas" or "Kang Balas".
Our quick Kabalas visit
Kalabas was truly a rewarding and pleasant surprise to our Mount Naupa hike. Untouched and relatively unknown, Kabalas just swept us away, with its heavenly feel, New-Zealand-like scenery and gorgeous vistas. Honestly, I won't mind spending an hour there, in the late afternoon, just admiring the views, and taking in the atmosphere.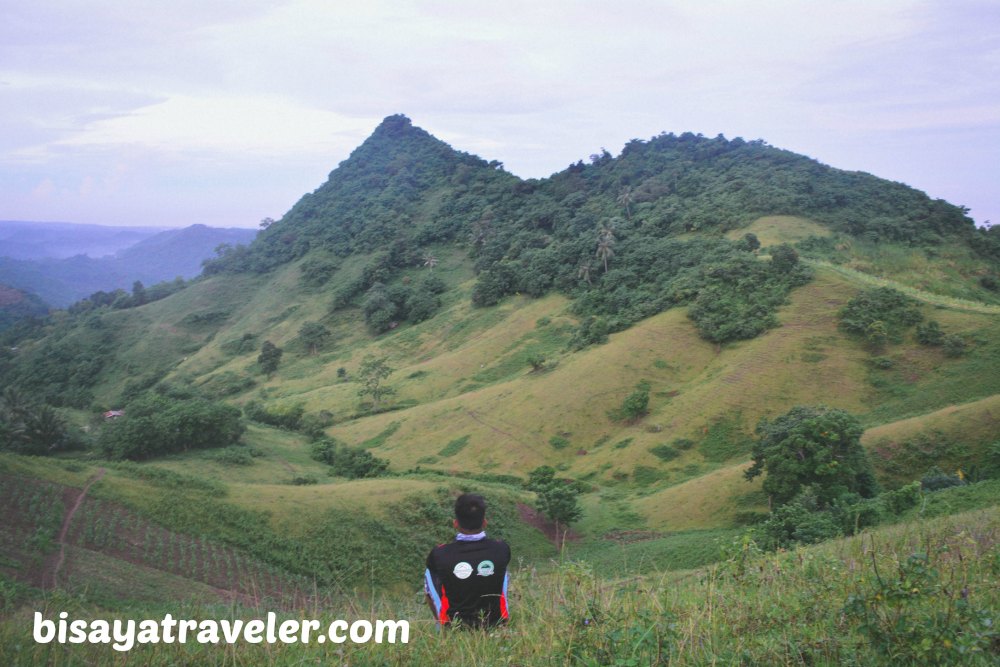 Obviously, we had to take a chock-full of photographs of our Kabalas visit, to preserve the wonderful moments we had on this hill.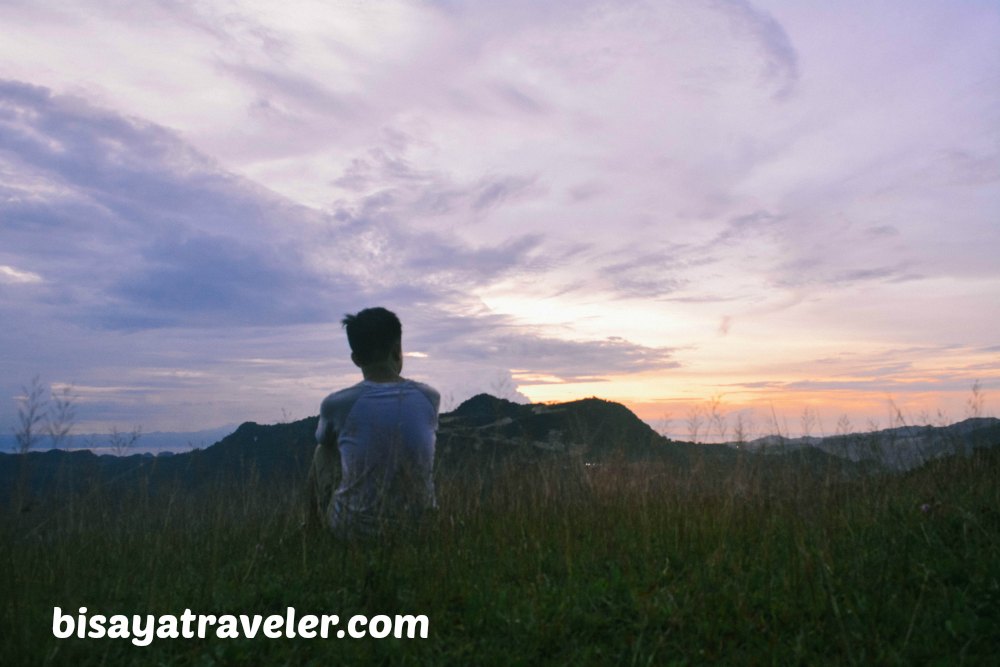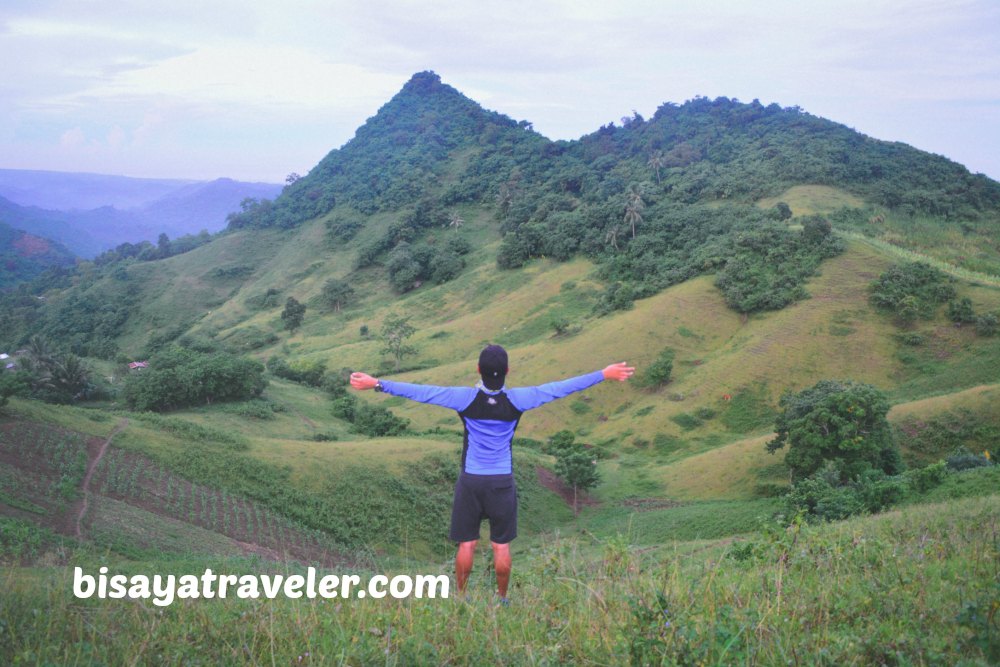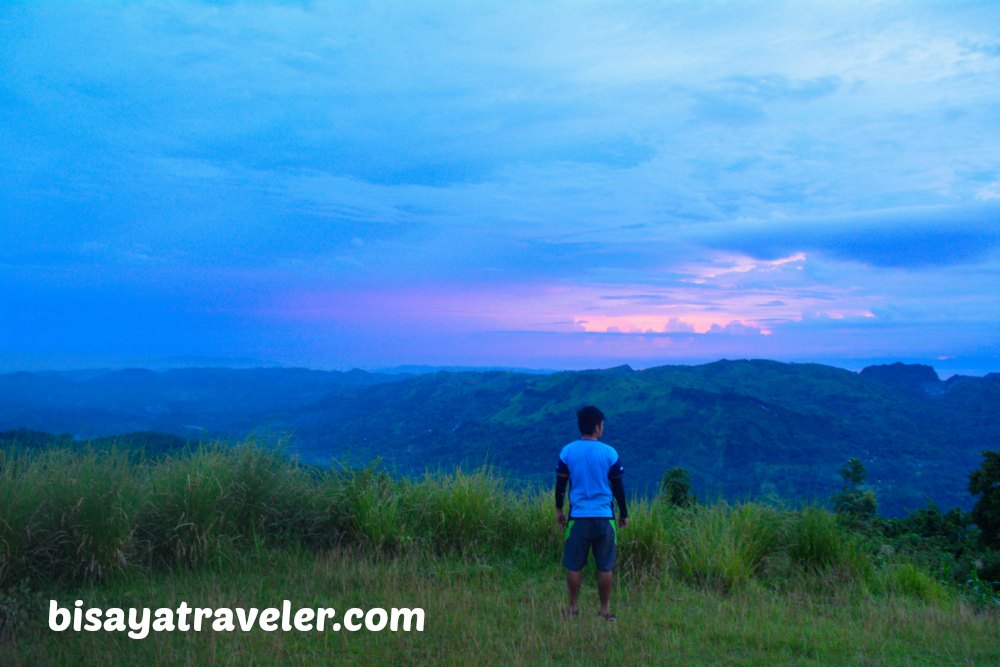 After capping off our photo shoot, we just sat on the grass, chilled out, and talked about life, while listening to great tunes from Juan's speakers. And yes, it was extremely relaxing, fun and pleasant. It probably was the highlight of our hike to Mount Naupa.
In the midst of our talk, Cherwinn, out of nowhere, came up with the word of the day – "famousity". I'm not sure if that word exists, but the way he delivered it was extremely hilarious.   Quite an ice breaker, I must say.
With our energies reinvigorated, we descended from the hill, and made our way back to the base where a trio a habal-habals took us to Barangay Tungkop. But, before we split up with John Chris in Mount Naupa, we did give him a small donation, for taking us to Kabalas.
Upon our arrival in Tungkop, we went for a jeepney ride to Gaisano, and ended our adventure on a high note with a sumptuous barbecue dinner in Dicong's.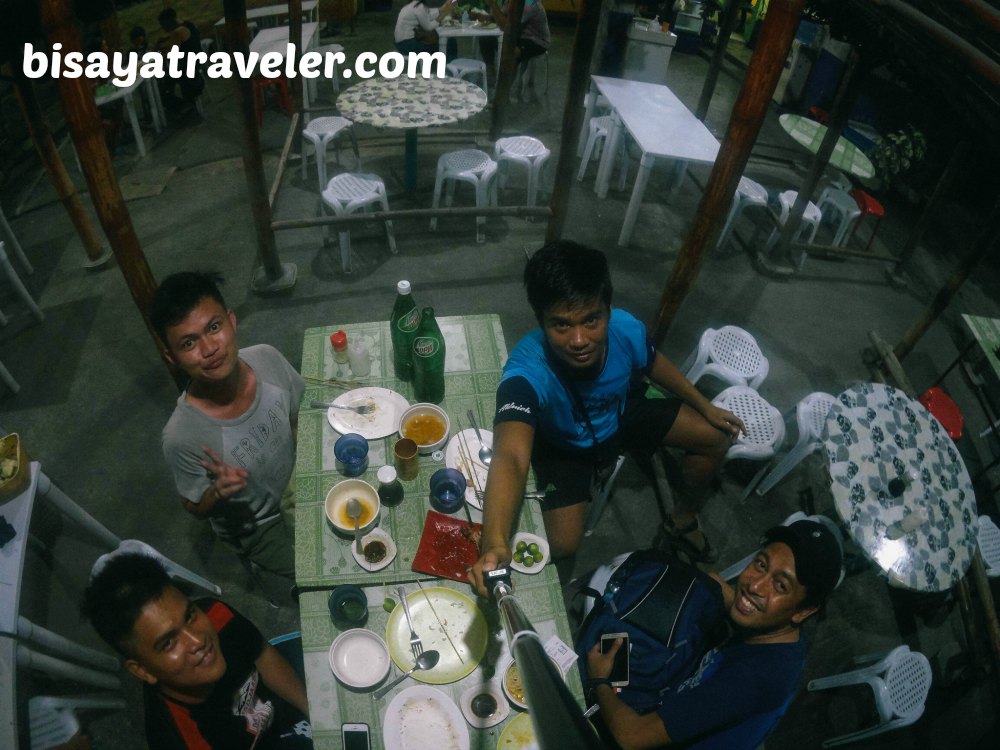 How to get to Mount Naupa:
From SM City Cebu, hop on a KMK bus, and ask the driver or conductor to drop you off at either Rikio or Tinong's Bakery in Tungkop. Once there, take a habal-habal ride to the jump-off point in Cogon. If it's your first time hiking Mount Naupa, there are kids within the area that will lead you to the summit, for a fee of PHP 20 per person.
Our Mount Naupa itinerary:  
02:30 PM: Meet up at Rikio
03:00 PM: Depart for Cogon
03:30 PM: ETA Cogon/Start hike to Mount Naupa
04:30 PM: ETA Mount Naupa campsite/Photo ops
04:45 PM: Hike to Mount Naupa summit
05:00 PM: ETA Mount Naupa
05:10 PM: Start descent and hike to Kabalas
05:45 PM: ETA Kabalas/Photo ops
06:20 PM: Chilling like villains
07:10 PM: Start descend
07:45 PM: ETA Barangay Cogon/Depart for Tungkop
08:20 PM: ETA Tungkop
08:40 PM: Dinner at Dicong's
10:00 PM: Depart for Cebu city
11:00 PM: Home Sweet home
The costs for our Mount Naupa hike:
Bus fare from SM to Minglanilla: PHP 35 per person
Habal-habal fare to Cogon: PHP 50 per person
Donation for our guide: PHP 25 per person
Habal-habal to Tungkop: PHP 50
Important notes:
Practice the LEAVE NO TRACE principles.
Bring trail food and pack at least 1 liter of water.
Take time to enjoy the view.
Bring a hat, arm-guards and sunscreen to protect your skin from the scorching heat of the sun.
Our Mount Naupa hike wasn't a mind-blowing and memorable de-stressing adventure, by most people's standards. Nowadays, people tend to over glorify trips that involve major climbs and travel experiences abroad. The farther you travel, the more admirable you are or more amazing your trip is in the eyes of many.
But, personally, I think that idea is a whole lot of BS, and a misleading concept pushed by tour companies, hoping to increase their sales and get a load of cash.  Trust me, folks, you don't need to travel far and spend a fortune, to truly de-stress and indulge on a relaxing getaway. From public beaches and photogenic hills to like-minded friends, we are surrounded by small pockets of happiness that alleviate stress and help keep us sane.
Don't get me wrong – I love going on international trips and epic climbs. But oftentimes, the best remedy to your stress, or heartache, is just right in your backyard. With the right set of friends and a laid-back place, you can have a swell time, without having to fly for hundreds of miles.
Just dig deeper, and get to know your homeland better. And who knows? The solution to your heartache or boredom might just a jeepney ride away.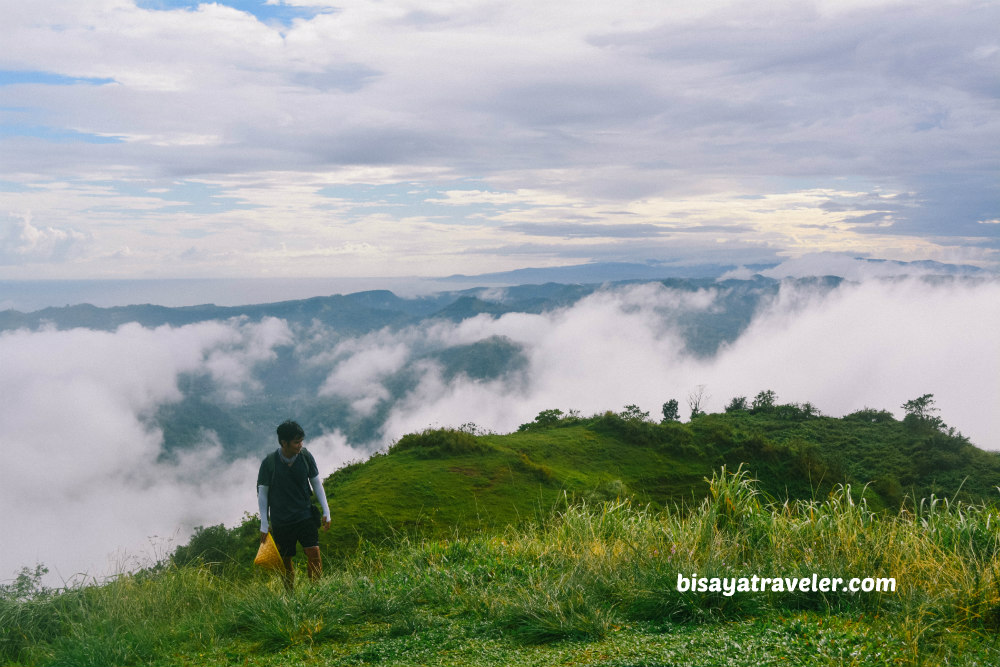 And, by the way, just witnessed the majestic sea of clouds on my recent hike to Mount Naupa. Hopefully, you'll see it on your hike to this mountain in Naga City, Cebu!