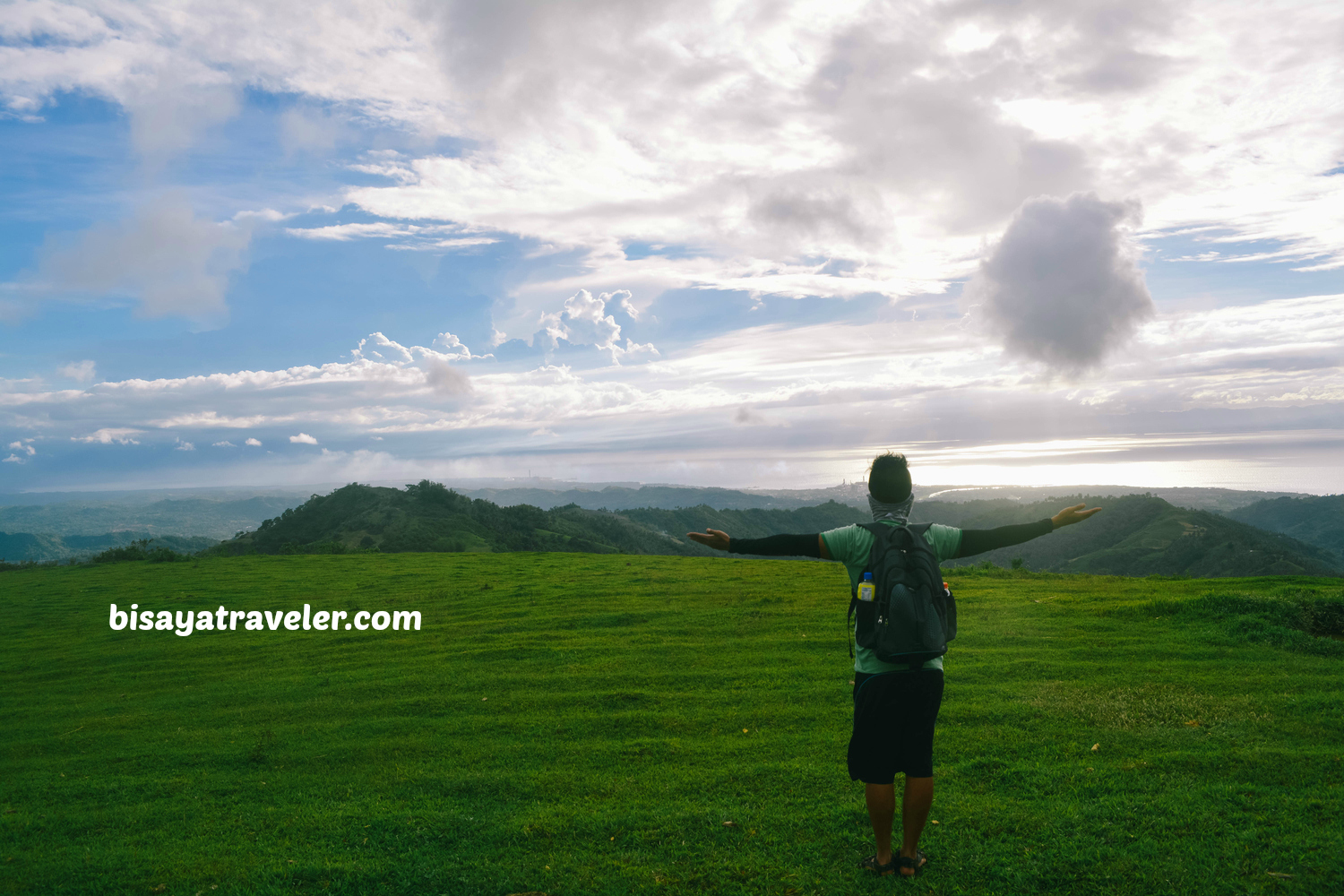 Mount Tagaytay: A Picture-Perfect Peak With Awe-Inspiring Panoramas
It's official – I'm madly and deeply in love with Barangay General Climaco. For the past couple of months, this remote barangay in Toledo city has been sweeping me off my feet with its eccentricities, unique beauty, mystical feel, and charms. And just when I thought I've seen the best of it, the place unveiled yet another natural wonder that took my breath away – Mount Tagaytay. Although I've seen a bunch of pictures of this photogenic mountain, it was in awe, when I saw Mount Tagaytay with my own eyes.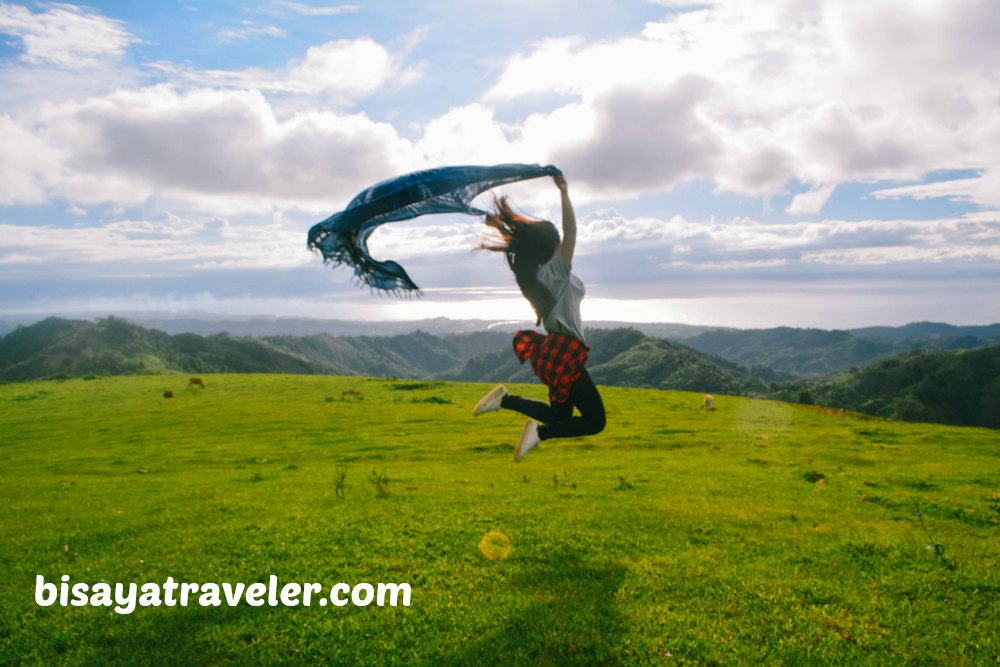 Our visit to Mount Tagaytay was, for me, the ultimate way to end a day full of giggles, fun and adventure in Casoy. With its relaxing mountain breeze, scenic green pastures and wondrous views, Mount Tagaytay was truly a sweet and fitting reward, after a grueling hike up Mount New Bucao. Honestly, I had other plans, but in an instant, I scratched it off, the moment I caught sight of this mountain.
Our Mount Tagaytay hike
Our hike up to Mount New Bucao was no joke. Not only is the trail extremely steep with challenging inclines, but it was also as slippery as a wet bar of soap. We even had to remove our footwear, for better traction on the way to the top. That's why I breathed a sigh of relief, when Beth told us that the trail to Mount Tagaytay would be much easier.
As we were hiking our way to Mount Tagaytay, I couldn't help, but admire the beauty of this place. At nearly each turn, there was a notable sight worth a snap. From its green and flourishing scenery to eye-catching views of Malubog Lake, it was indeed such as pleasant and relaxing hike brimming with splendid vistas.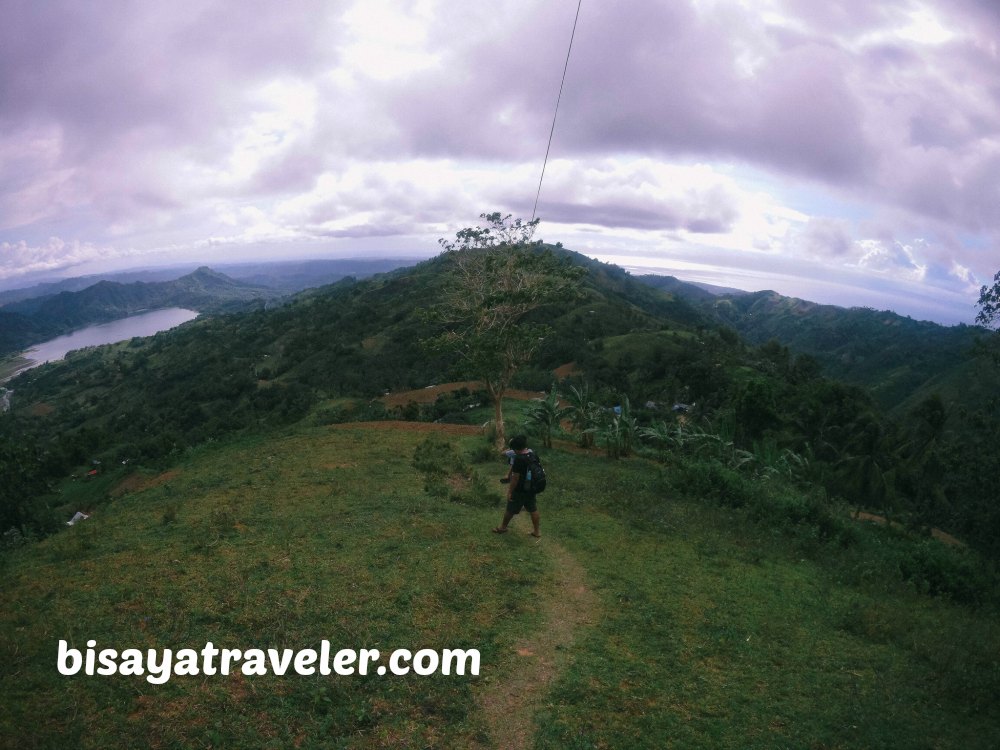 Furthermore, I saw Lutupan's lofty towers from afar along the way. Amazing, isn't it?
I can't remember how many times we've ascended and descended since I was so distracted by atmosphere and the views surrounding the area. Usually, when I see things as beautiful as this, I'd grab my cameras, and snap dozens of photos. This time, though, I just walked, and soaked up the enthralling feel.
Since it wasn't as nerve-wracking, tough and strenuous as the climb to Mount New Bucao, we didn't make a lot of stops on our way to Mount Tagaytay. We did, however, have a quick snack break at a sari-sari store near the area's basketball court.
Everyone, including yours truly, chugged a bottle of Sparkle (Hello Idas) to quench our thirst. Normally, I don't drink sugary soft-drinks, but I thought I deserve a little sweet treat, with all the walking, bouldering and crawling we've done the whole day.
Once we've finished enjoying our snacks, we wasted no more time, and went back to the trail. As we got closer to Mount Tagaytay, the scenery got more stunning and dramatic.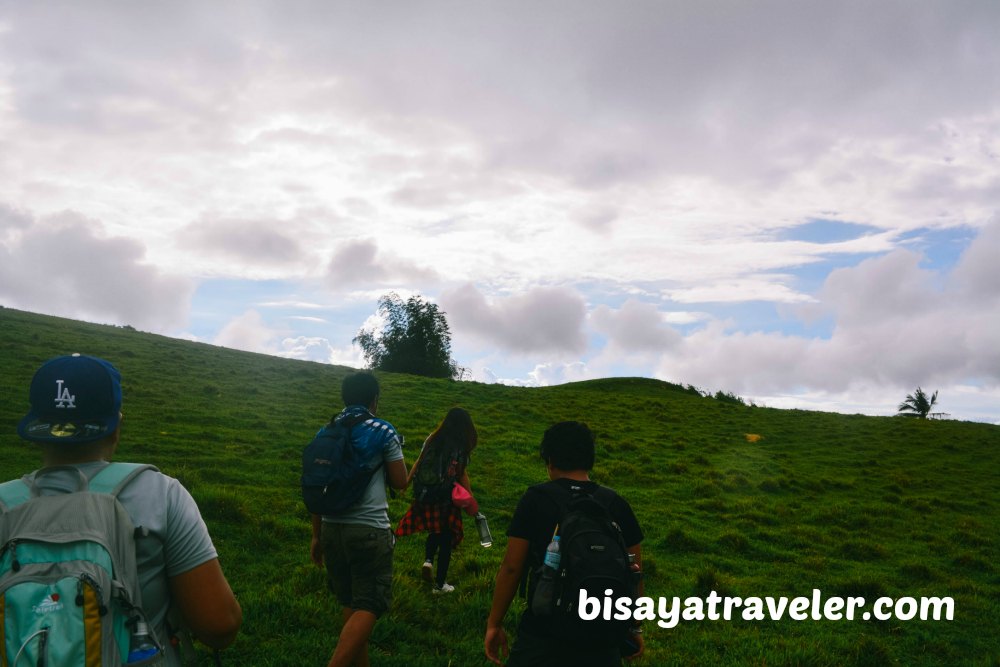 As far as I'm concerned, the place has the ambiance of Mount Pulag, Marlboro Hills and Mount Naupa. That's just my opinion, though.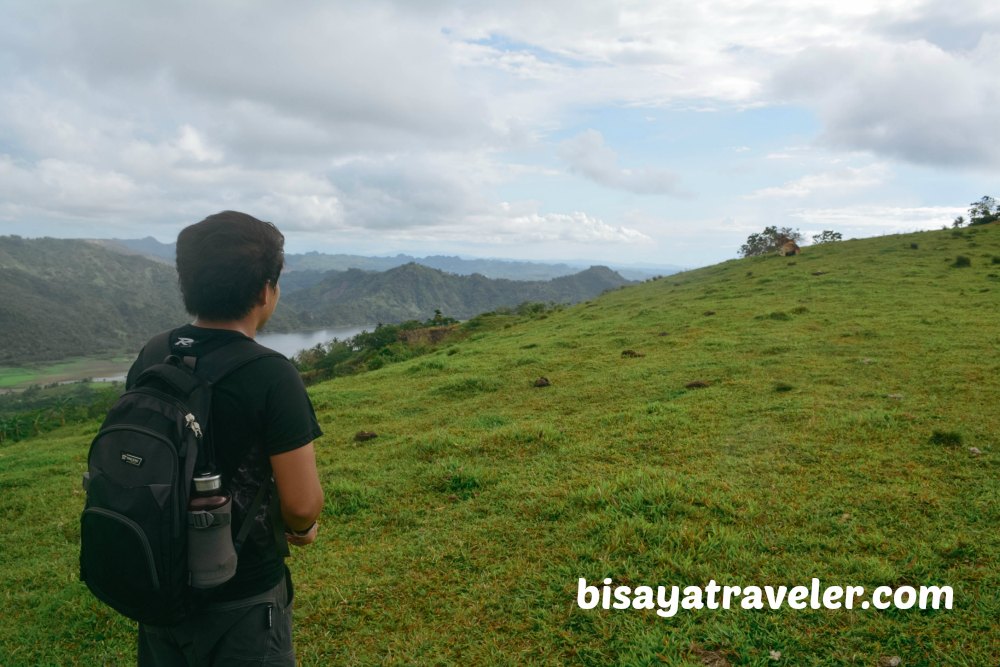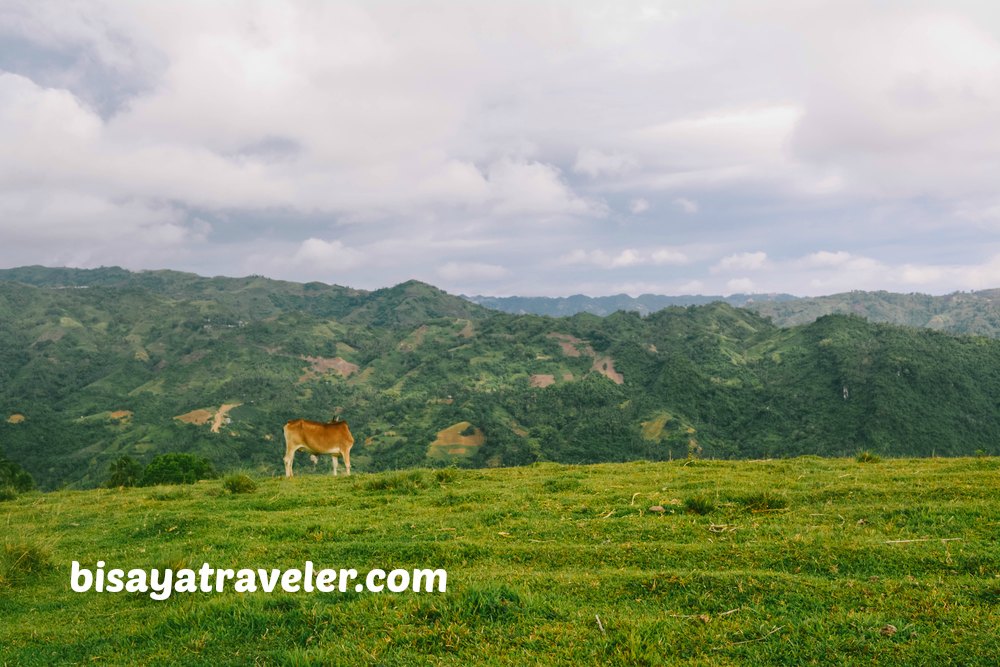 Ultimately, we arrived at a spacious and bucolic plateau with a group of farm animals. Then, we all saw a young handsome white horse that was worth a photo.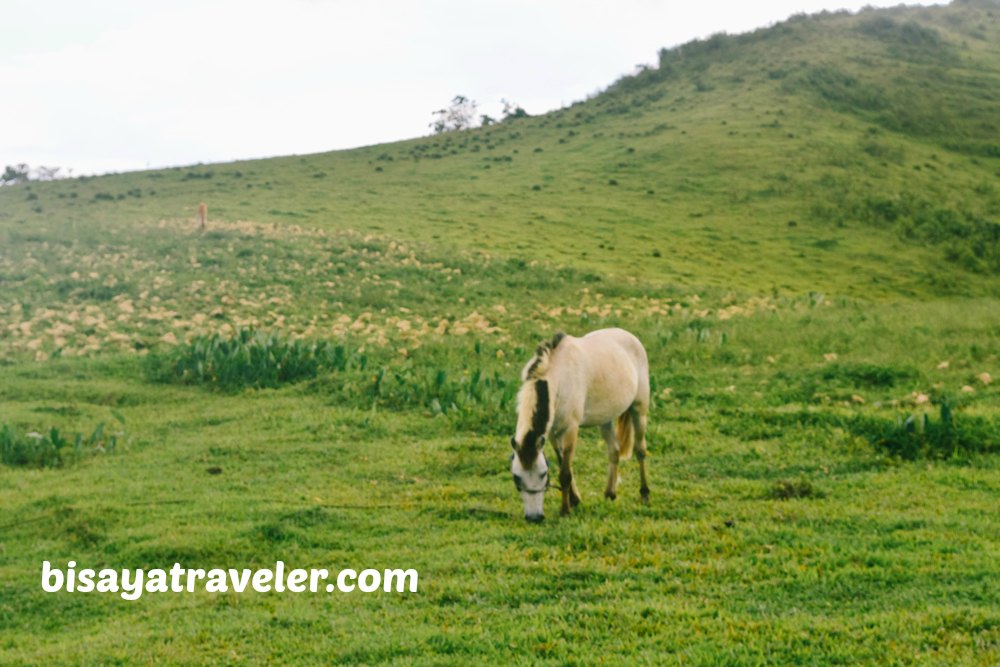 Wilfred and I slowly approached the horse, to get a close up photo of this young stallion. And all of a sudden, the white horse set his sights on me, and started chasing me. Damn!
What was my initial reaction? Of course, I ran as fast as I can. As a matter of fact, I almost reached the summit because I sprinted like DC's scarlet speedster – The Flash.
Call me a wimp or a scaredy cat, but I had no plans getting beat up nastily by a raging horse. Have you ever tasted a kick from a horse?
But for me, it wasn't really a bad or forgettable experience. At least, I made everyone in the team laugh their hearts out. And, also, if it wasn't for that horse, I wouldn't have known that I have the potential to be a world-class Olympian sprinter. Seriously, though, it was a funny and exciting experience that I'd definitely share to all my buddies and relatives.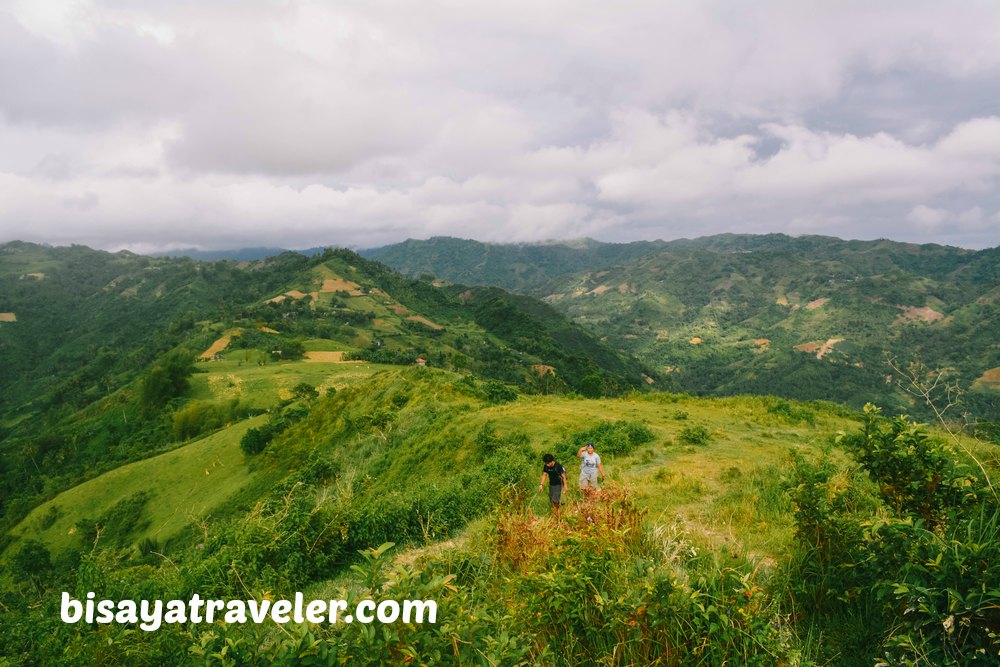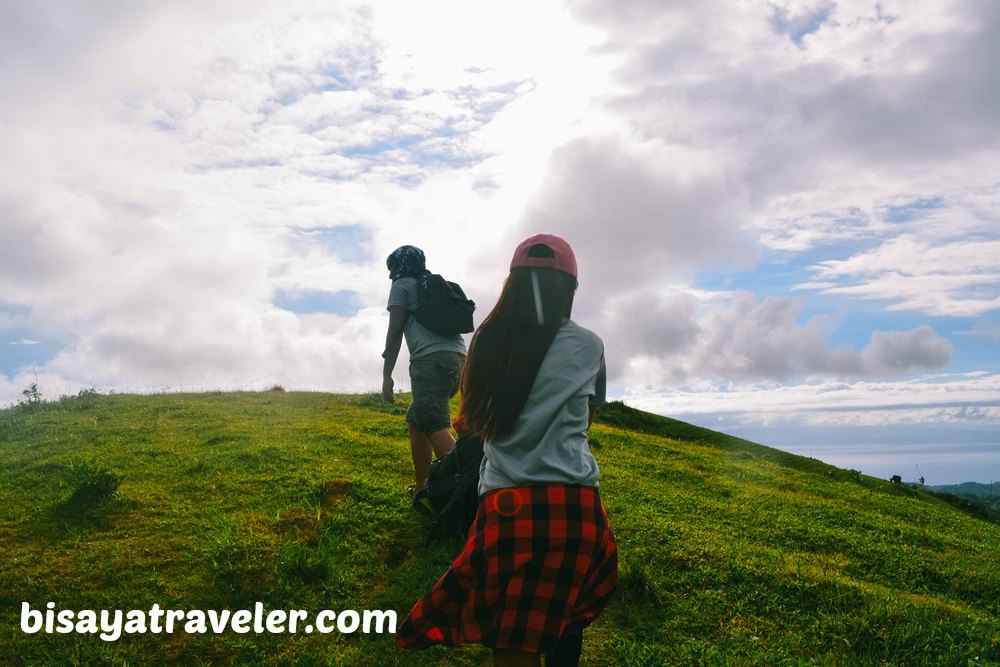 Moments later, we arrived at Mount Tagaytay. And yes, it was just as striking, or even more beautiful, as what I've seen in pictures. From there, I got treated to an overlooking panorama of Toledo city, its port, and Tañon Strait. On my left side, I saw some parts of Lutupan's uniquely beautiful yet forbidden attraction – Biga Pit.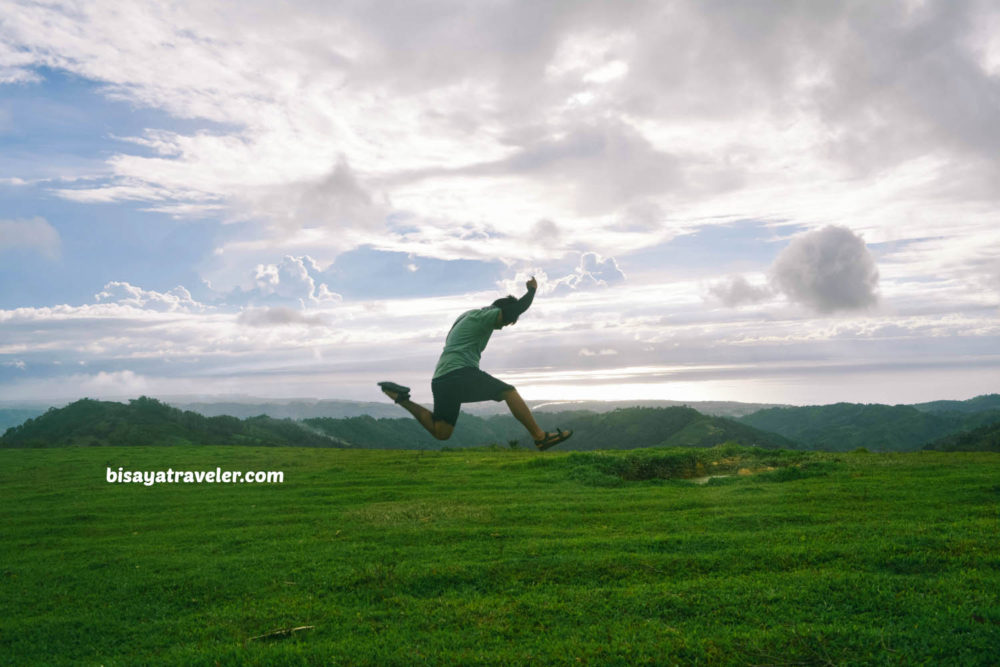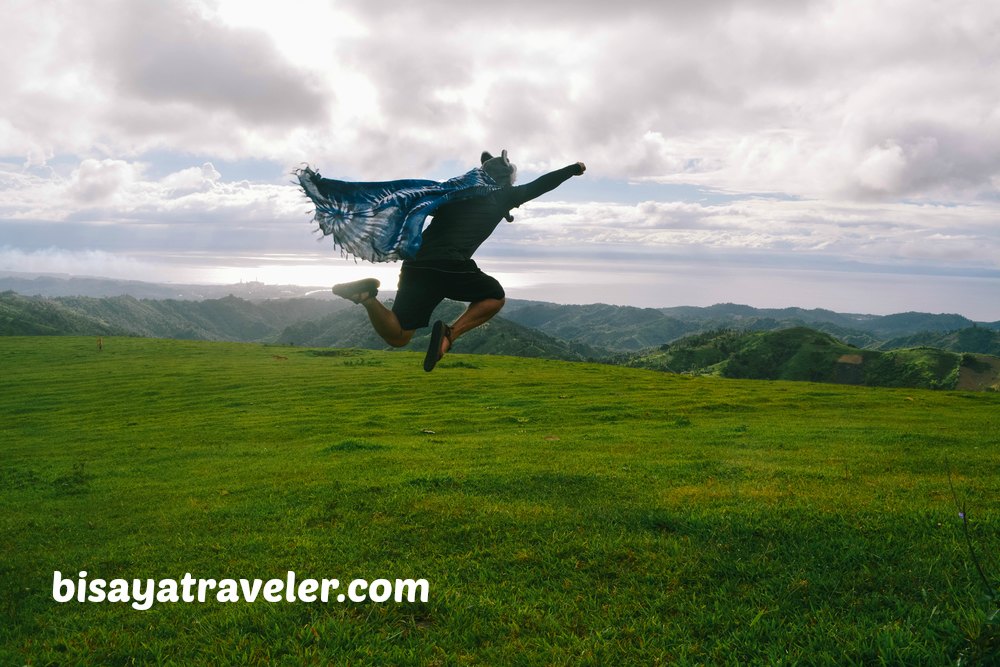 Great views aside, Mount Tagaytay has all the hallmarks of a great camp site as well. James Glendon, a seasoned outdoor aficionado, said he hasn't seen a camping ground in Cebu that's as big as Mount Tagaytay.
And, as with most of Team Bang's hike, we made plenty of poses on top of the mountain. As I've said in my previous posts, this is a team that loves posing in front of the camera.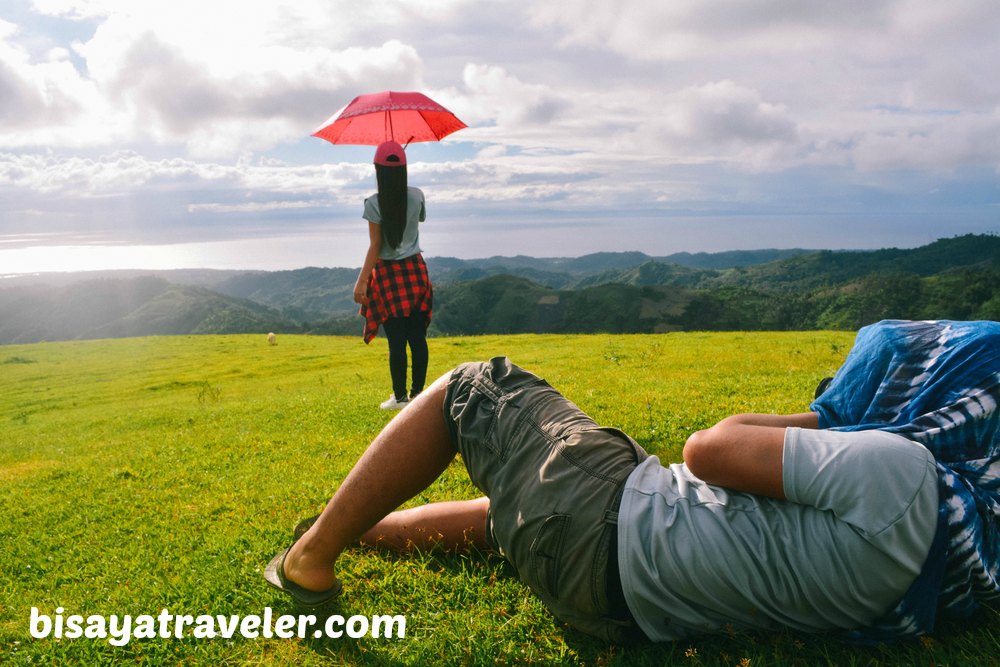 We, then, spent some time taking in the backdrop, just sitting and relishing the panorama. Later on, a group of friendly locals arrived in Mount Tagaytay, to have a picnic and play with their kids.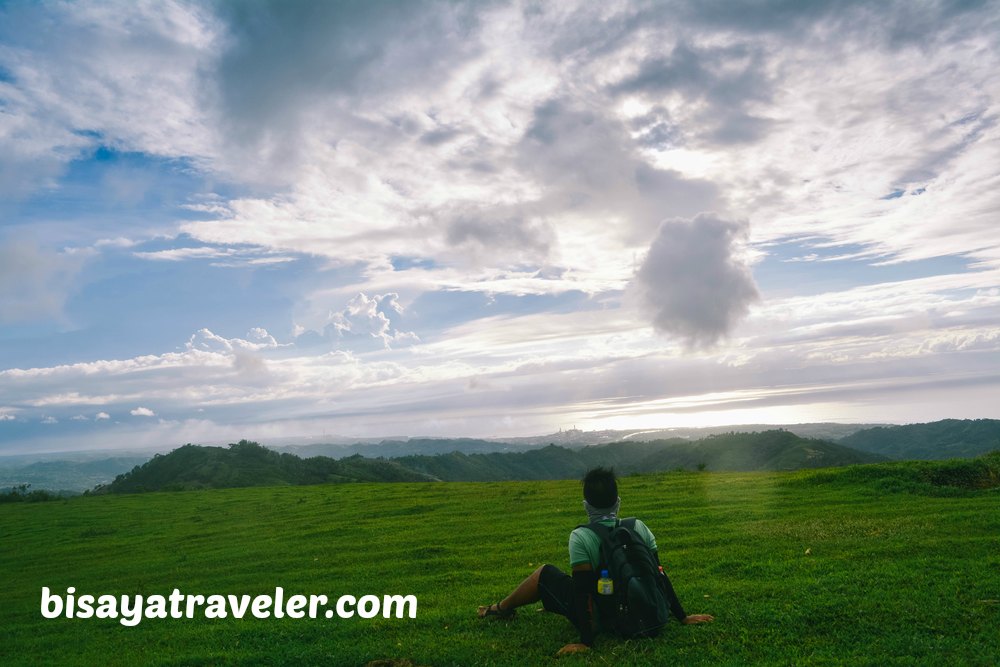 With the sun about to set, we decided to ascend to Beth's house where we were treated to a filling and mouth-watering dinner. Thank you again, Dacuma family!
Afterwards, we went down to the barangay hall, and took a habal-habal ride down to Barangay Magdugo. From there, we hailed a bus that we initially thought was going to take us to Cebu City. And, despite standing in the midst of a crowded bus, I thought our adventure in Toledo was over.
But as we've discovered later, the bus that we took wasn't going to Cebu since its final destination was in Lutupan. To make things worse, we were almost late for the last bus trip from Lutupan to Cebu. Yikes!
And so, we rushed to the bus stop in Lutupan, to catch a bus bound for Cebu City. Luckily, we still made it, even though we were pretty late.
How to get there:
Please refer to my New Bucao post or Malubog Lake guide, to figure out the ways to get there.
Our Mount New Bucao itinerary:
05:00 AM: Meet up at Cebu City South Bus Terminal
06:30 AM: ETD from Cebu City (someone must be late LOL)
08:30 AM: ETA Barangay Magdugo/habal-habal to Casoy Barangay Hall
09:00 AM: ETA Barangay Hall/buy food
09:20 AM: Depart from Barangay Hall
09: 50 AM: ETA Manutu River/explore the river
11:00 AM: Return to base/start hike to New Bucao
12:00 PM: Lunch somewhere along the way
01:50 PM: ETA New Bucao
02:30 PM: Depart for Mount Tagaytay
03:45 PM: ETA Mount Tagaytay
04:40 PM: Start descend
05:30 PM: ETA Tagaytal Hill/dinner at Bethe's house
06:00 PM: Start descend to Barangay Hall
06:20 PM: Take a habal-habal ride to Barangay Magdugo
06:45 PM: ETA Barangay Magdugo
06:50 PM: Hop on a bus ride to Lutupan (we took the wrong bus)
07:20 PM: ETA Lutupan
07:30 PM: Depart for Cebu City
09:00 PM: Home sweet home
Our cost breakdown:
Bus fare to Toledo: PHP 60 per person
Habal-habal ride to Manutu River: PHP 100 per person
Habal-habal ride back to Barangay Magdugo: PHP 50 per person
Bus fare to Lutupan: PHP 10
Bus fare to Cebu from Lutupan: PHP 40
Important notes:
There are two ways to get to New Bucao – from Casoy Barangay Hall (the easier one) or from Manutu River (the one we took).
You can get to New Bucao by asking the locals for directions. Just tell them that you're heading to the school in New Bucao.
Be a responsible hiker, and practice the LEAVE NO TRACE principles.
Respect the place, and be respectful of nature and its dwellers.
Take time to soak up the views.
Pack at least 2 liters of water.
Bring salt and ion drinks like Gatorade.
Bring an umbrella, hat or sunscreen to protect your skin from the sun.
Wear arm guards for protection against the sun and spiky plants.
Wear a good pair of trekking sandals or shoes.
If you need help navigating around the area, you may reach out to fellow Team Bang member, Beth, at her Facebook page.
Mount Bucao is a private property. Make sure to reach out to Beth, before making any plans on going there.
Overall, I had a swell time, exploring Casoy for the second time. Personally, I think this day adventure tops all my recent visits to Toledo. As great as Capilla Santa Ana is, nothing beats a climb to a pair of beautiful mountains – Mount New Bucao and Mount Tagaytay. Will I ever do it again? Who knows? Something's telling me that I might be headed to Toledo City once again in the near future.