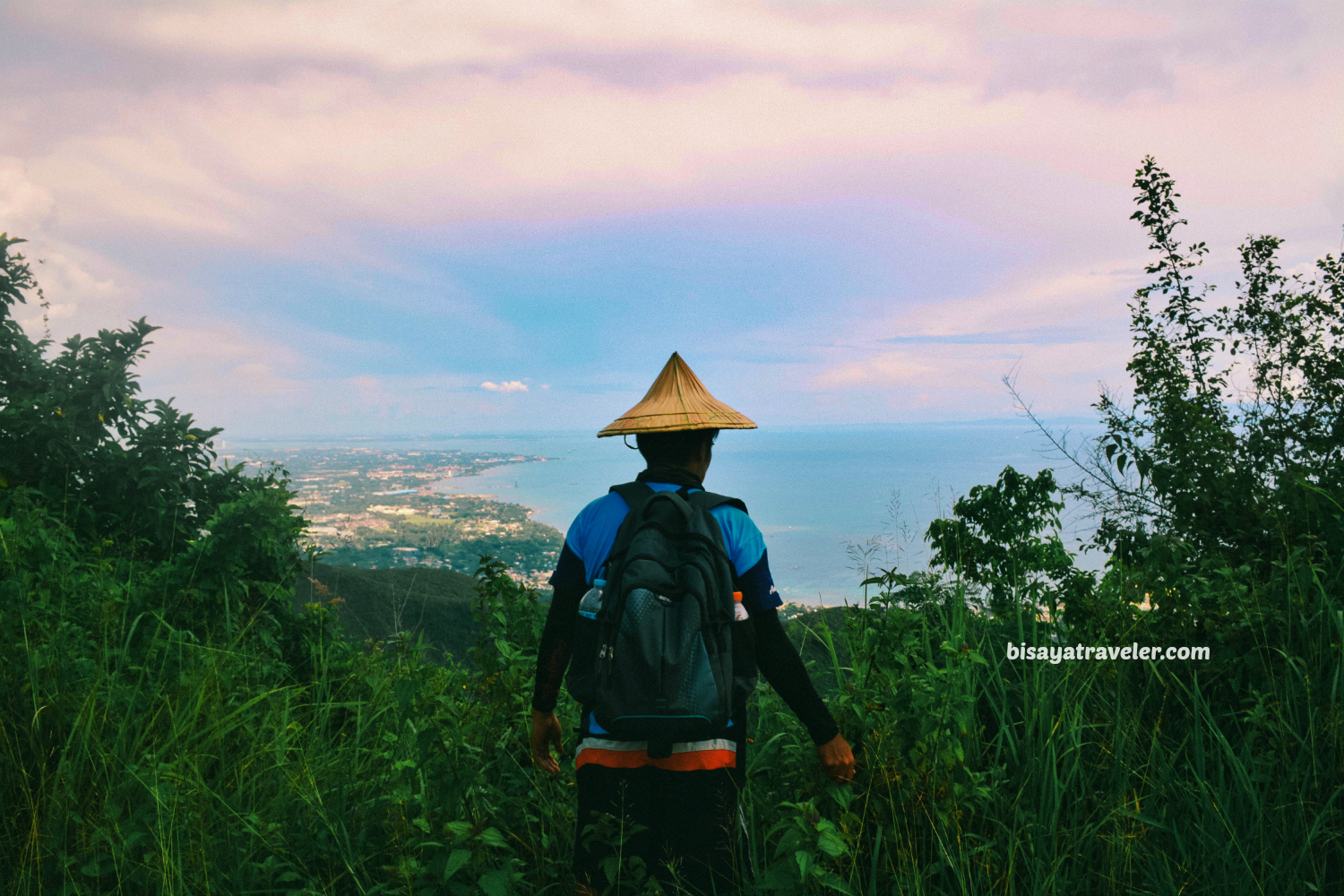 Naga Highlands: The Ultimate Destination For Team Bang's Anniversary
What do you normally do when you celebrate an anniversary or birthday? Do you throw in a colorful dinner in a sophisticated function room with a bunch of politicians and notable people? Ever thought of celebrating it a serene and remote area like a mountain in Naga City, Cebu? In today's noise-driven and social-media-centric society, every event is a big and lavish party. From weeksaries to milestones like having your first car, we mostly want every event in our life to be overblown and extravagant.
And, I get it – there are, after all, some moments in our life that are worth commemorating, cherishing and sharing on social media. Unfortunately for me, I – a certified introvert – have never craved for crowded social gatherings and big-time parties.  Quite frankly, I oftentimes feel lost and out of place, amid these electric celebrations.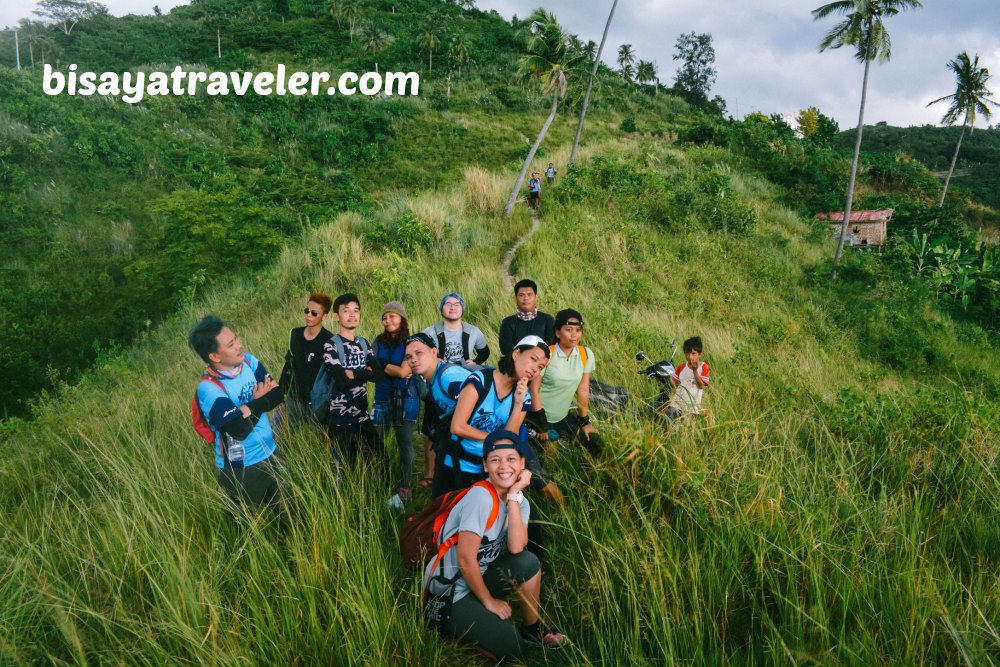 Despite all the energetic people surrounding me, I've never been a guy who clamors for noise and boisterous parties.  Believe it or not, I usually celebrate my birthdays at home or a small restaurant with less than 7 people. And sometimes, I feel like 7 is even too much. Heck, I don't even mind spending it alone on a campsite in Naga or at my room.
And that's why I was a bit worried heading to Team Bang's first ever anniversary. Weeks prior to our anniversary climb, there were some members who were expecting something special and out-of-the-ordinary. In fact, some even suggested that we invite other groups and bloggers, to join our anniversary hike.
While I didn't feel any pressure, it took a lot of time for us to decide what really want for our hike. Not to mention, planning it was rather overwhelming, especially since I have to consider everyone's schedule and preferences.
But once the dust settled, we all decided to celebrate it the way it should be – solemn and private.  To make sure it was really private, we picked an underrated spot far away from the flocks of hikers and tourists – the highlands of Naga. And yes, I also did keep our anniversary hike a secret to the public, and even used some diversion tactics, so we can privately celebrate it. Except for the members of our crew, nobody knew exactly where we were going, thanks to a few tricks up my sleeves.
Our hike to the scenic highlands of Naga
With our so-called revenge climb to Pangilatan Peak in the books, we set our sights to our next destination of our anniversary hike – Mount Magdook. Just like our recent group trips, our anniversary hike was actually open and spontaneous AF.  Once, we even thought of heading directly to a waterfall in San Fernando or the Instagram-worthy mountain of Naga – Mount Naupa.
In the end, we opted to hike Mount Magdook, and hope for some surprises along the way. Originally, I thought there wasn't anything surprising to see because we've been to this mountain in Naga not long ago.
But, we did get a little surprise on our way up to Mount Magdook, Naga.
While the others were resting on a shady community hut, I, Carl and Idol made our way a scenic and grassy overlooking spot in Naga highlands.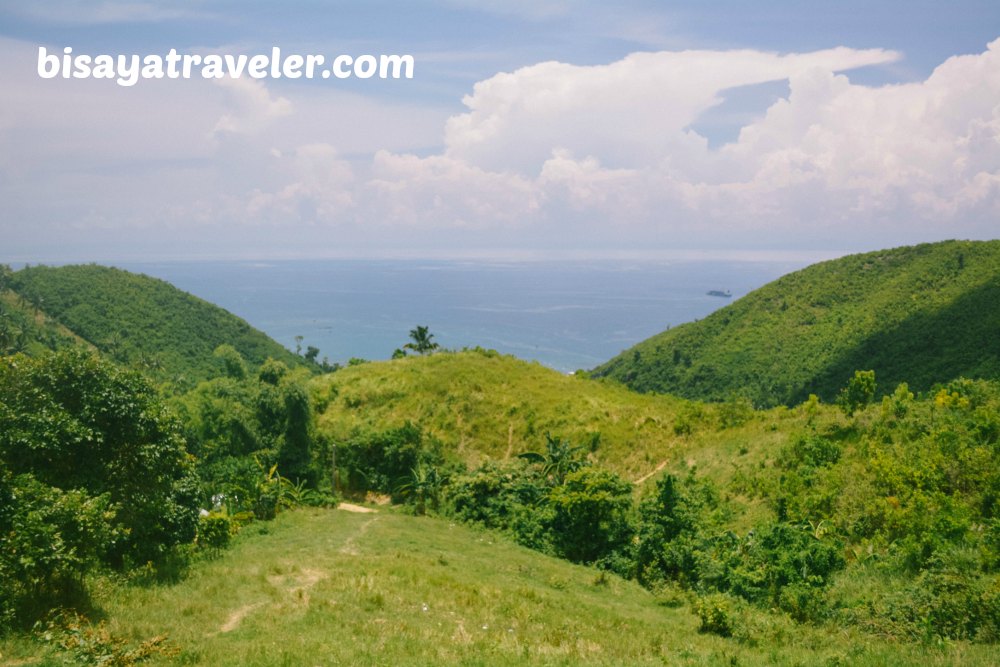 Of course, we made plenty of poses on this part of Naga as well as admired the scenery.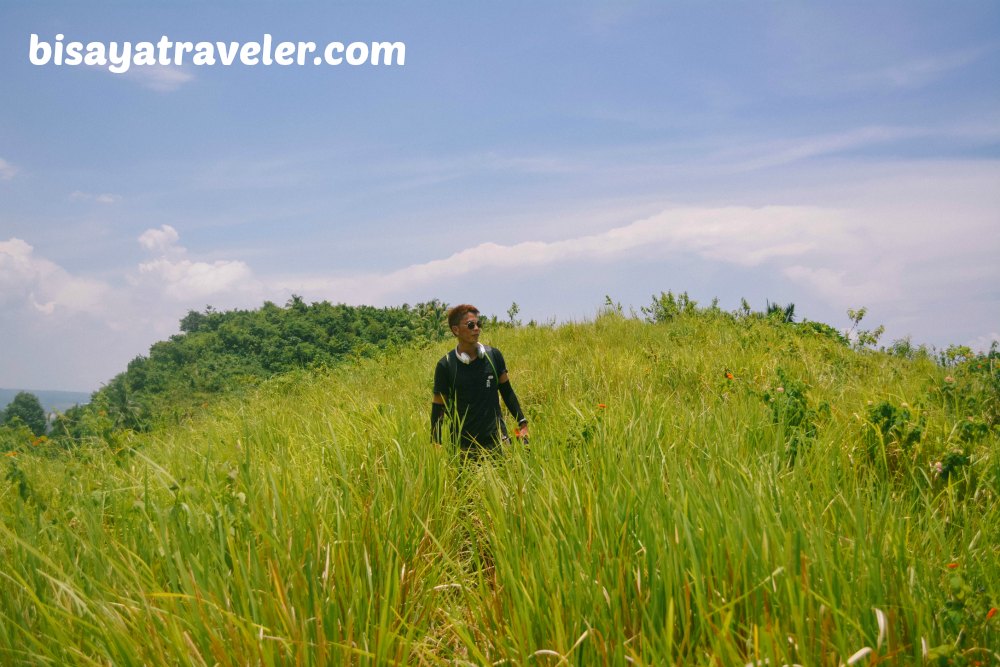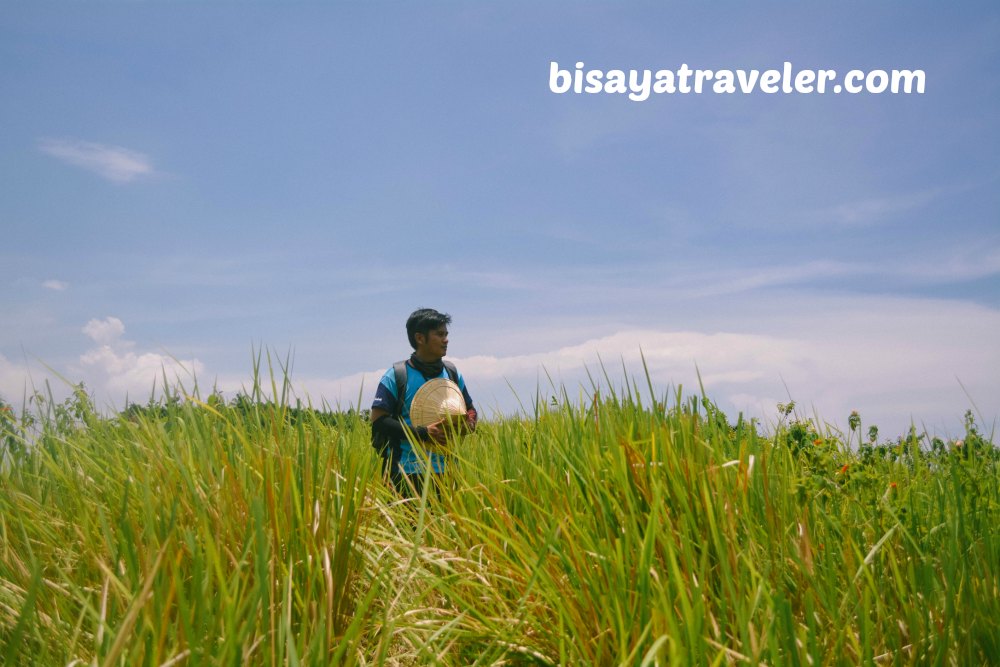 There were tons of snaps on hilly region in Naga, but for me, the best one was Idol's romantic photo with the cow. I have to admit – Idol is quite a lady killer, with a charming personality that can bedazzle even farm animals and wild creatures.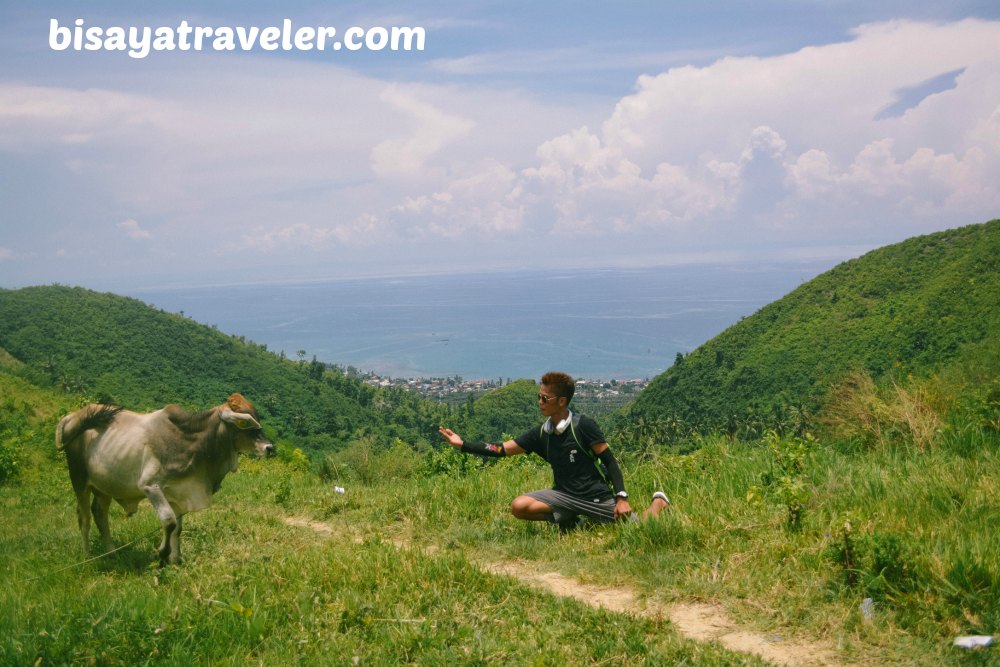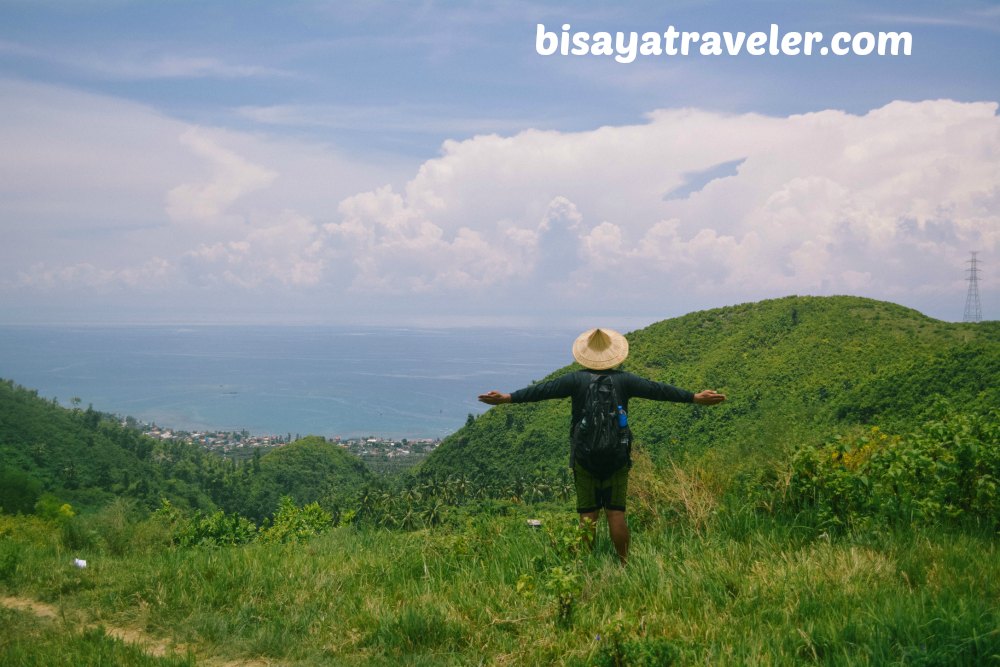 Speaking of Idol, he has been, hands down, one of the most interesting and colorful characters I've met so far, this year. In Pangilatan Peak, he even had a fansign with a girl's name on it – Apple Joy. To add more flair and flavor to his FS, he brought an apple, and featured it on his photo.
After our quick detour in Naga, we took a different trail to the top of Mount Magdook, to join the other members of the crew.
From there, we took a breather, enjoyed the views, and snapped dozens of photographs.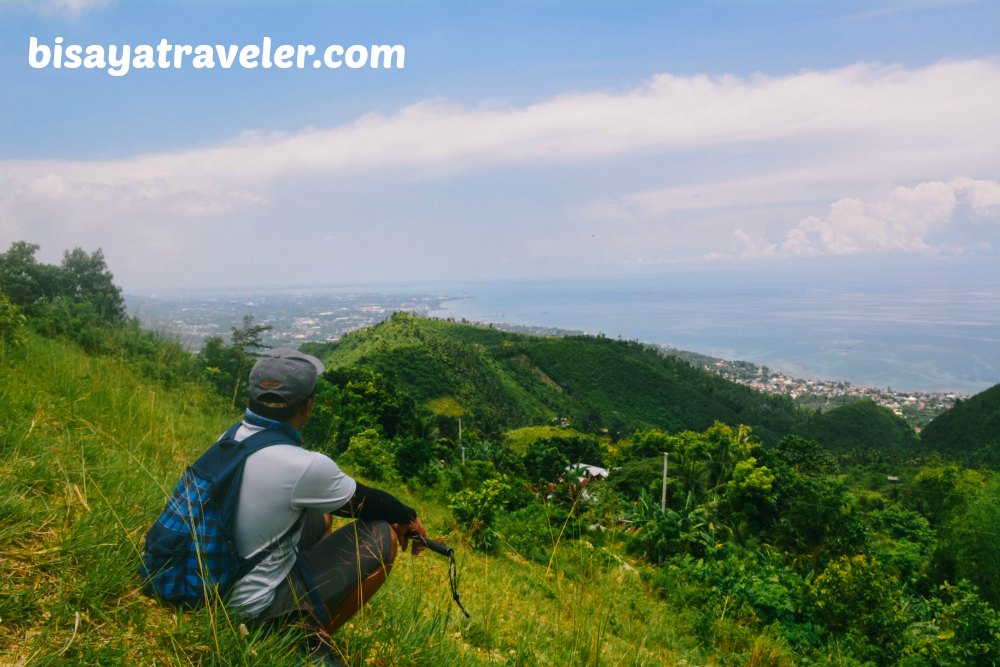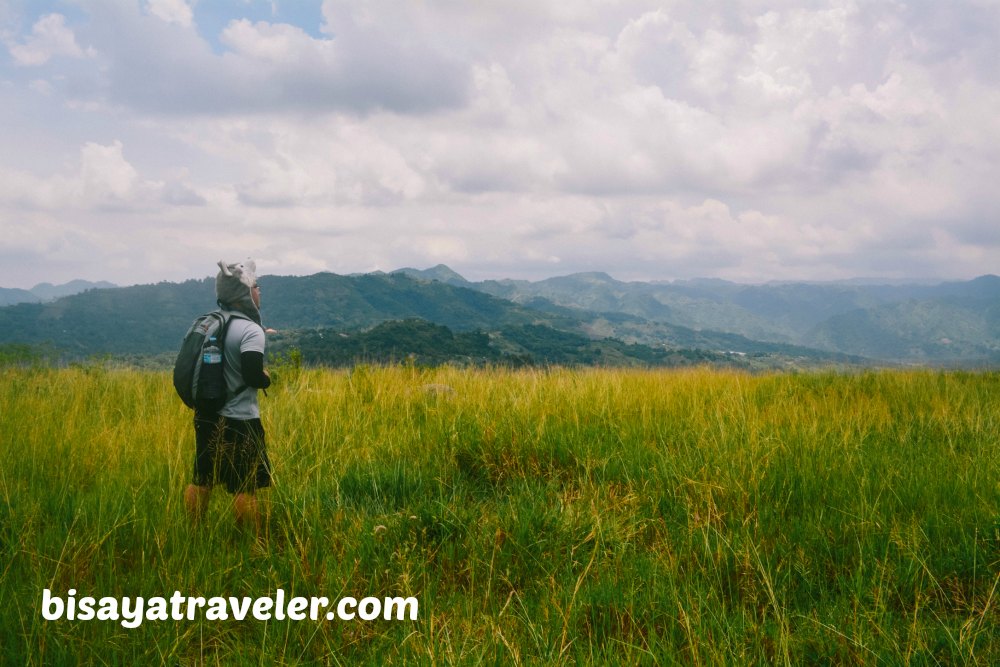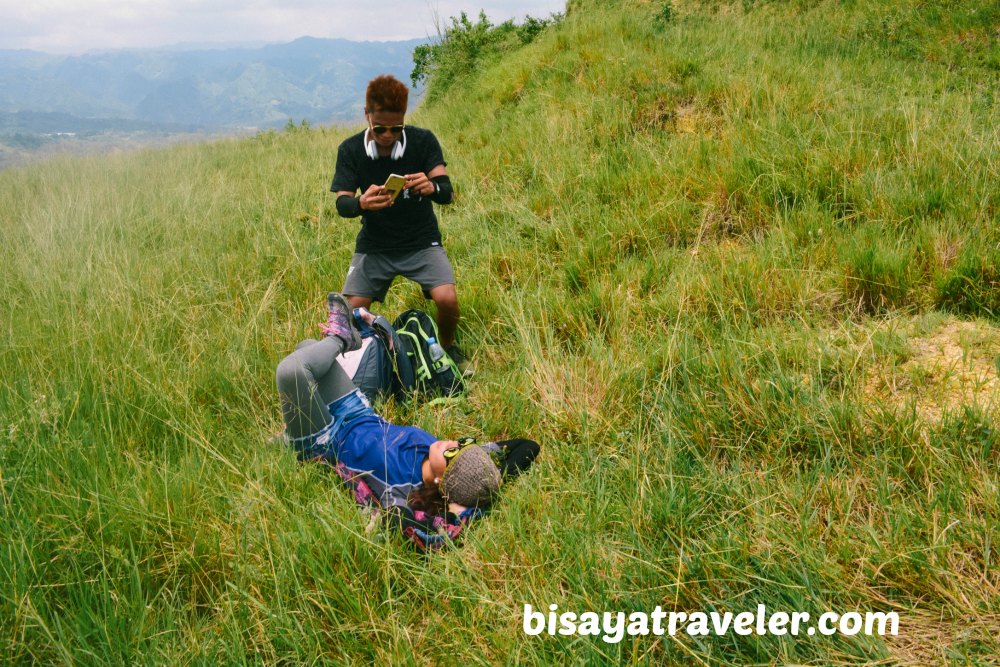 Once again, the Meldol tandem – Mel and Idol – made a mishmash of pre-nuptial-like poses, with the shutterbugs – Predu and Lieve – as the directors.   Afterwards, we went for a short stroll to a nearby sari-sari store, to catch some shade, rest and eat our lunch.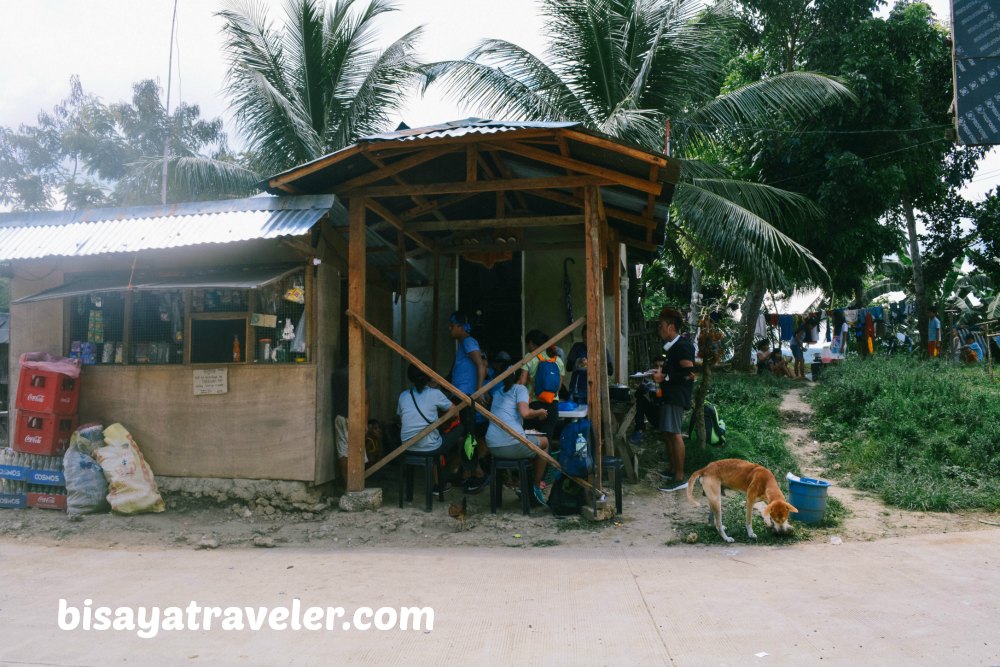 Then, we moved on our hike, through a cemented road with a plethora of green and lovely sights.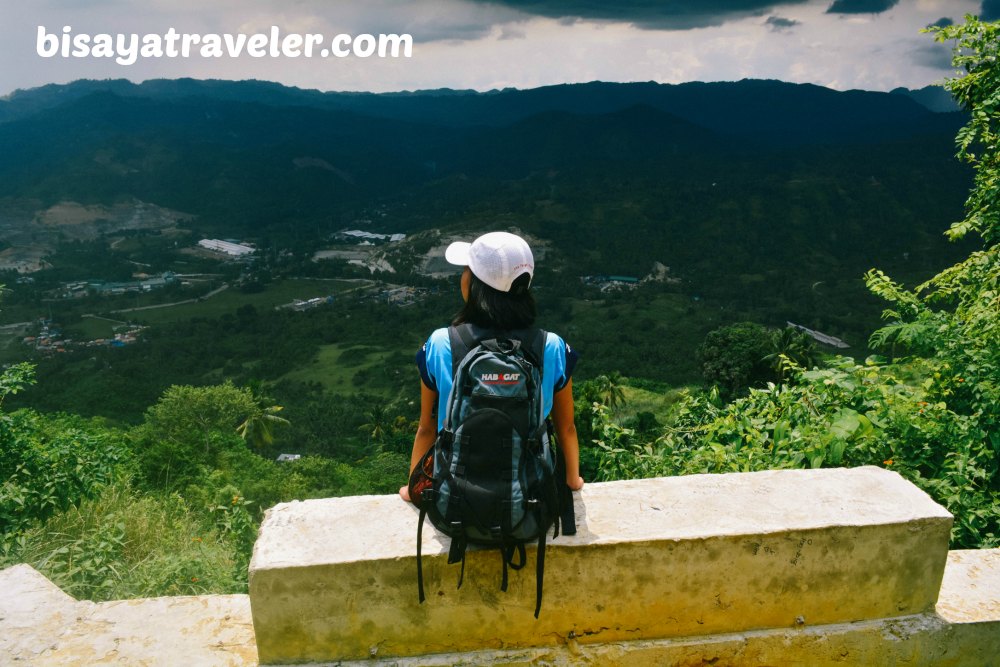 With its mountain breeze and verdant backdrop, this pathway in Naga somehow reminds of Cebu's Trans-central Highway.
Along the way, we made stops, every time we saw an Instagrammable sight.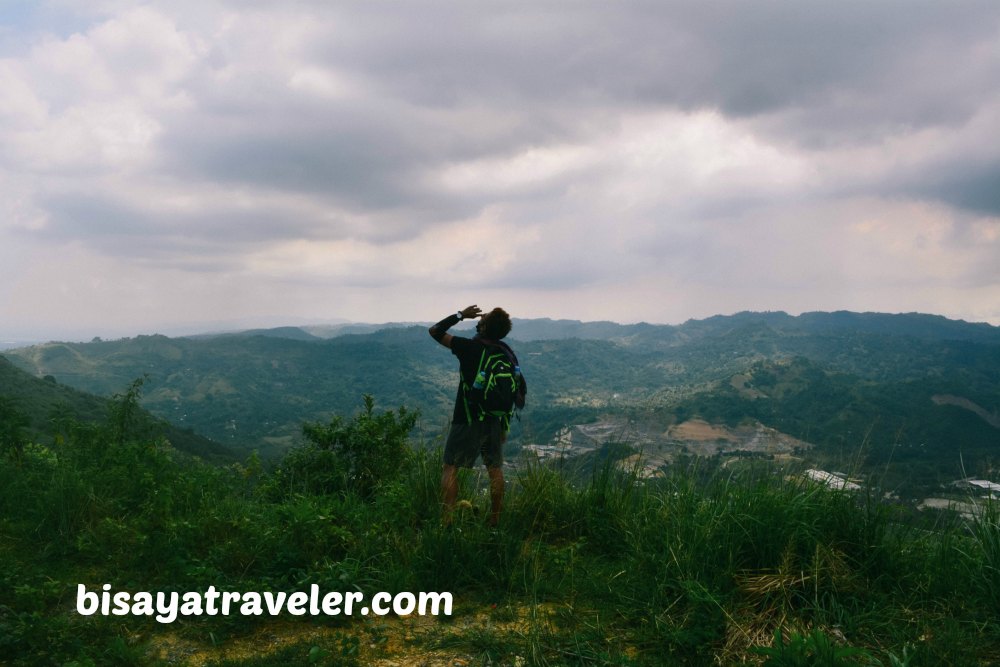 And, just when I thought there were no more surprises left for our Naga hike, we saw a steep hill with a rather established trail. As you might have guessed, we did take a hike to that towering part of Naga.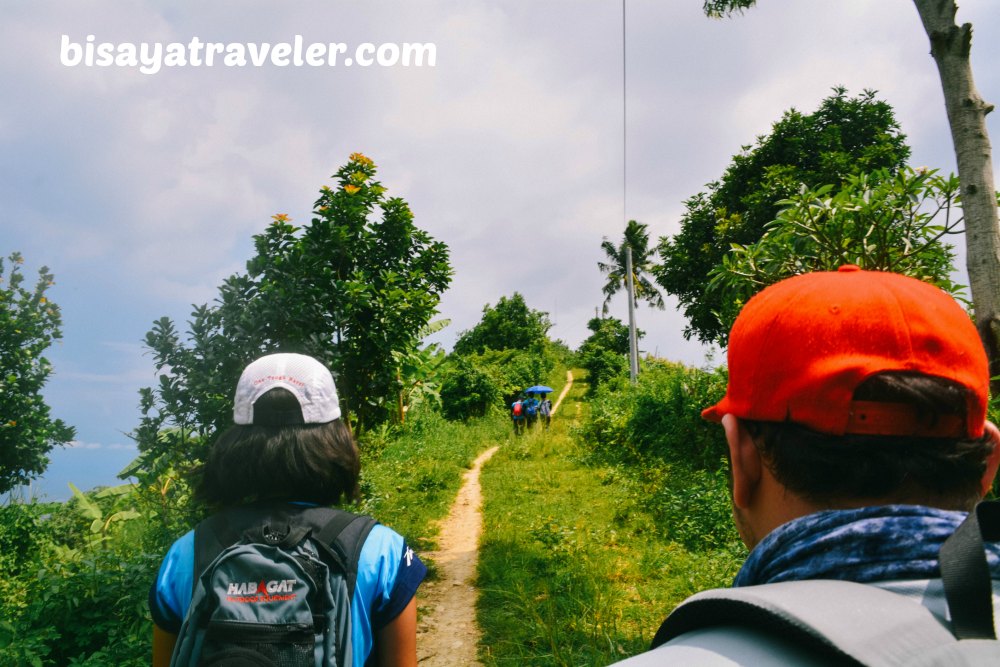 From this vantage point, we got a sweet bird's eye view of Metro Cebu. Damn, it was a sight to behold!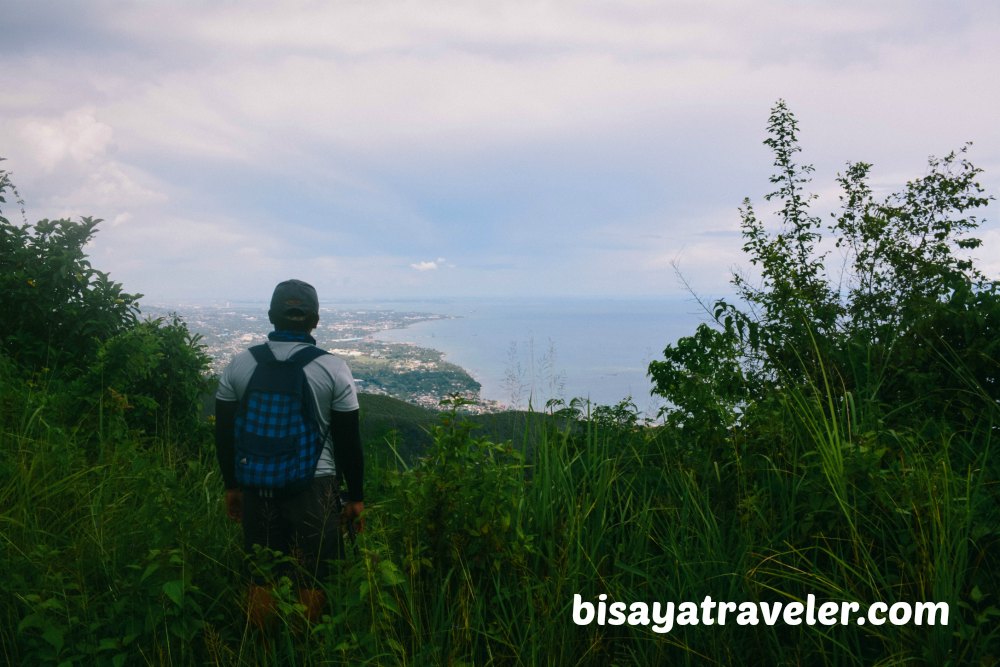 Since the skies were turning to grey, and the rain was headed our way, we quickly descended from this spot, to look for a shortcut to Naga City proper.
With the help of a friendly local, we discovered a gorgeous and grassy trail leading to Naga City proper. Of course, we can't leave the beautiful parts of the trail without taking a photograph or two.
And Team Bang's trademark lively spirit was on full effect on this trail. With a fairly favorable weather and picture-perfect pastures, everyone was on a state of bliss, as we descended from the highlands of Naga.  Likewise, we took our time on this trail, capturing remarkable moments with our cameras.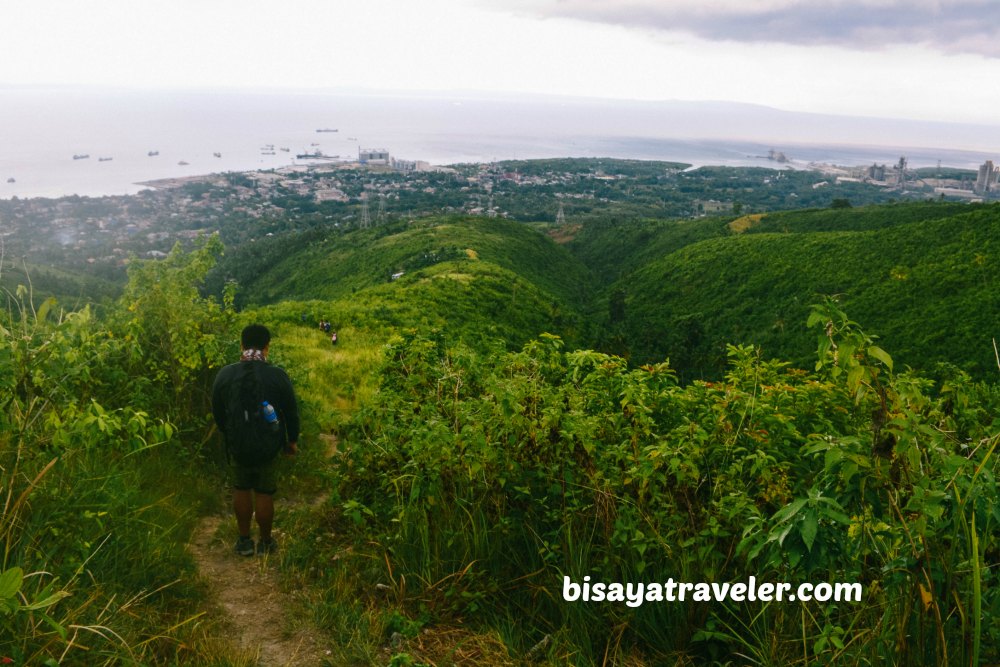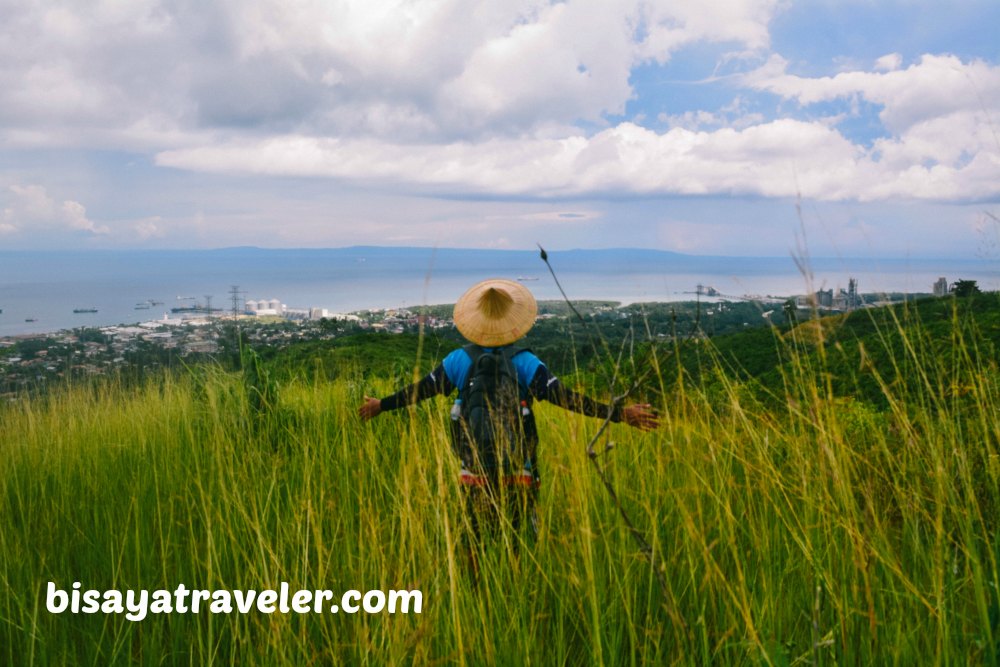 On our way down, I bumped into my Bosconian brethren and high school buddy – Joshua or AKA Craxx who happens to be mountain biking junkie. It's been a while since I saw him, and it was really great to catch an old pal whom you haven't seen in years.
As we were about to finish our hike in Naga, we saw spotted a couple of towers that make a fine site for a photograph. Clearly, we couldn't resist the urge to take a group shot with one of these towers.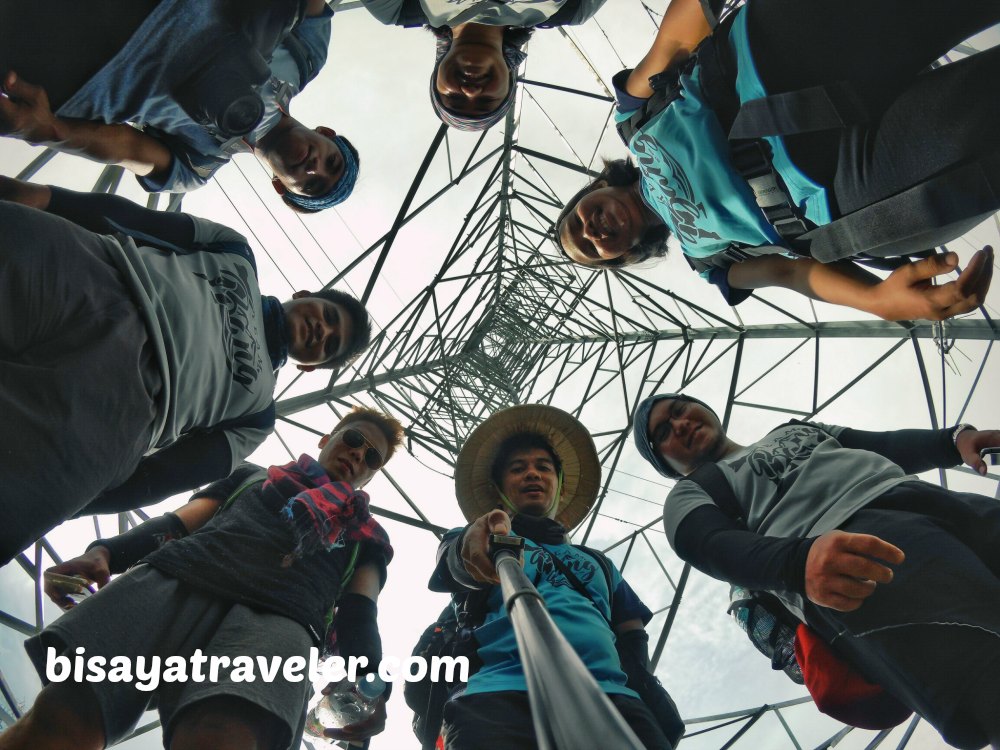 Minutes later, we arrived at Naga City proper.
We all wanted to take a plunge, following a rather sunny and hot hike in the mountains of Naga. And so, upon the recommendations of the locals, we made our way to one of the city's public beaches.  Sadly, though, the beach (I won't name it) was a little unsanitary, with waves of debris and trash cluttering the beach.
There was no way we were going to hit the beach. As a result, we all left the beach, and opted to go to Tisa, meet up with Kevin, and end our anniversary on a high note with a siomai dinner.  Thankfully, the multi-cab driver who took us to the beach was still around, and he drove us for a very reasonable price to Tisa.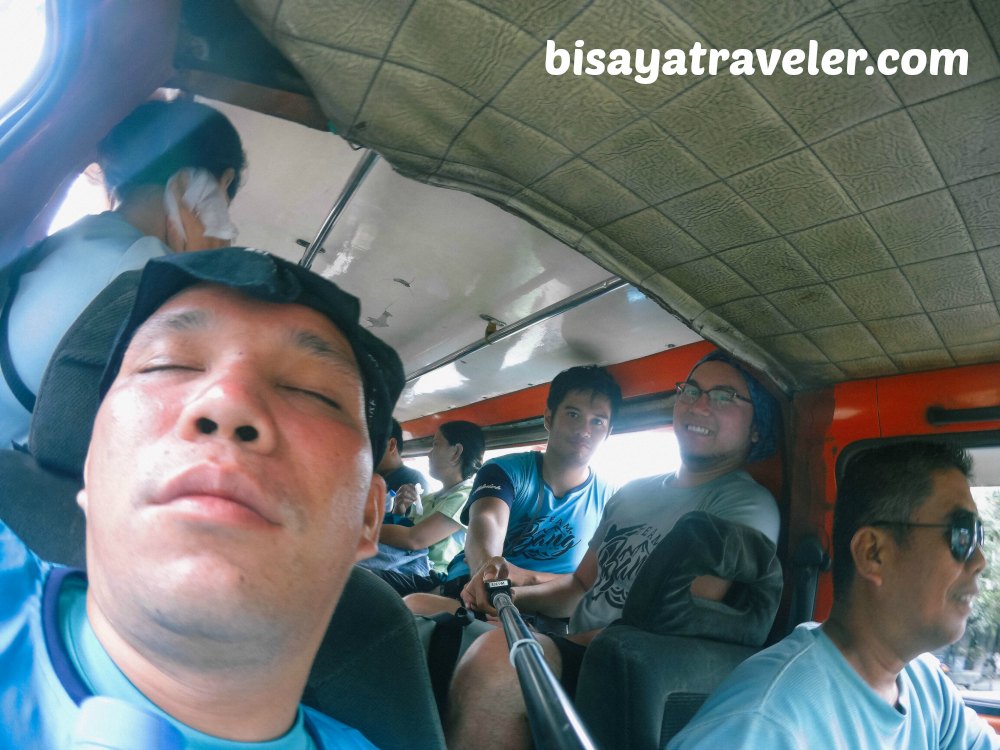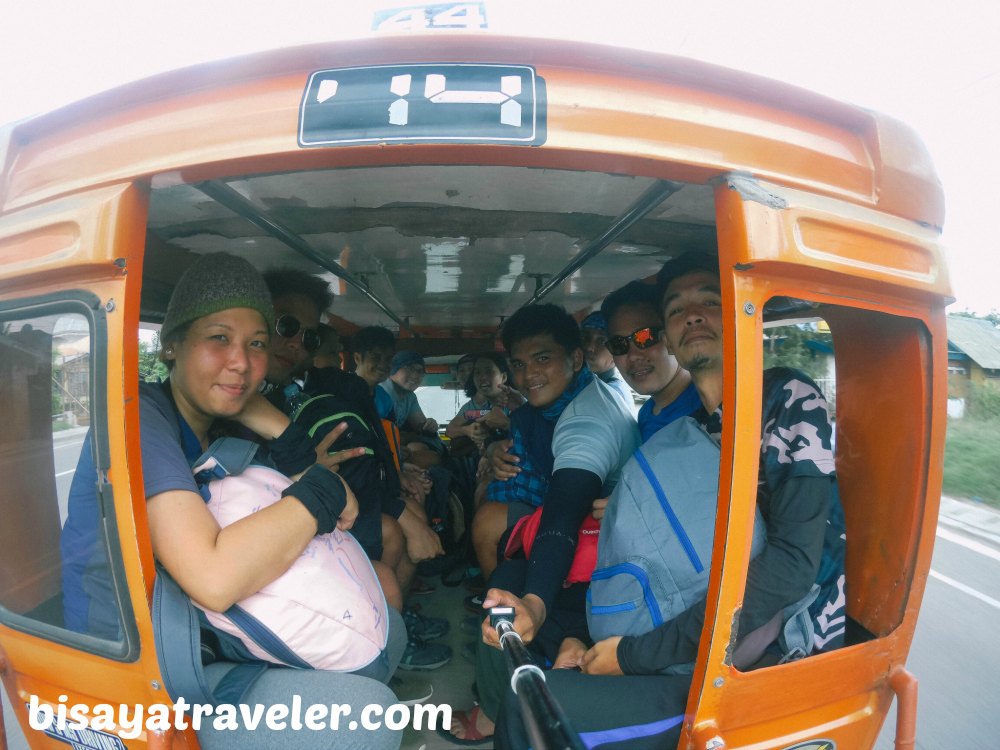 Upon Kevin's arrival, we wasted no time, and indulge on a few plates of Tisa's famous siomai. With Predu's lead, we went to Han's Halo Halo, to cap off another fascinating Sunday adventure.
Besides the luscious cold treats, we also had a swell time, thanks to Idol and the rest of the gang.
And, Idol did put on a wild, one-of-a-kind and incredible show for everyone in Team Bang. As a matter of fact, he even posted a live video on Facebook showcasing the delicious treats of Han's Halo Halo as well as sprightly people of Team Bang.
His wild and quirky antics, paired with his not-so obvious admiration for Mel, have made our recent day hikes more interesting and fun. Hopefully, we'll see a lot more of Idol's Vlog and unique photos, in the near future.
In my book, Idol's quirky adventure in Naga simply cemented his status as one of the most sought-after hiking buddies in our crew. No kidding! When our anniversary hike in Naga was over, Christine, Lieve and other members enthusiastically asked me to invite Idol in our upcoming adventure.
And if I was to pick between him and a rich kid as one of my hiking companions, I'd pick Idol in a heartbeat.
How to get there
Want to try this hiking escapade in Naga City? Please, refer to my Pangilatan Peak and Mount Magdook posts. Also, don't forget to screenshot the images of my pictures, and show them to the locals, when asking directions.
Our anniversary hike in Naga itinerary
07:00 AM: Meet up at Tungkop
08:10 AM: ETD from Tungkop
08:40 AM: ETA Sitio Pangilatan
09:00 AM: Start hike to Pangilatan Peak
10:00 AM: Touchdown Pangilatan Peak/pictorials
10:30 AM: Start descend
11:00 AM: ETA Cantao-on store
11:10 AM: Start hike to Mount Magdook
12:00 PM: ETA Mount Magdook
12:30 PM: Lunch
01:00 PM: Start descend
02:45 PM: ETA Naga highway
04:30 PM ETA Tisa/wait for Kevin
05:10 PM: Early dinner
06:00 PM: Eat halo-halo
07:30 PM: Home sweet home
My expenses:
Fare to Tungkop from Punta Princesa: PHP 13
Fare to Sitio Pangilatan: PHP 50
Guide fee: NADA
Fare to Tisa from Naga: PHP 25
Important notes:
Practice the LEAVE NO TRACE principles.
Bring at least 2 liters of water.
Bring ION drinks like Gatorade as well as trail food.
Wear a hat and sunscreen, to protect your skin from the sun's scorching heat.
You don't need to spend a fortune to truly have a memorable celebration. Sometimes, all you need to do to create a deluge of beautiful moments in your event is to be in the company of a gang of energetic like-minded people who are just as crazy as you are. Even though our anniversary wasn't flashy and showy, there was no better way to celebrate our 1st year than a laid-back hike through the picturesque highlands of Naga City, Cebu.