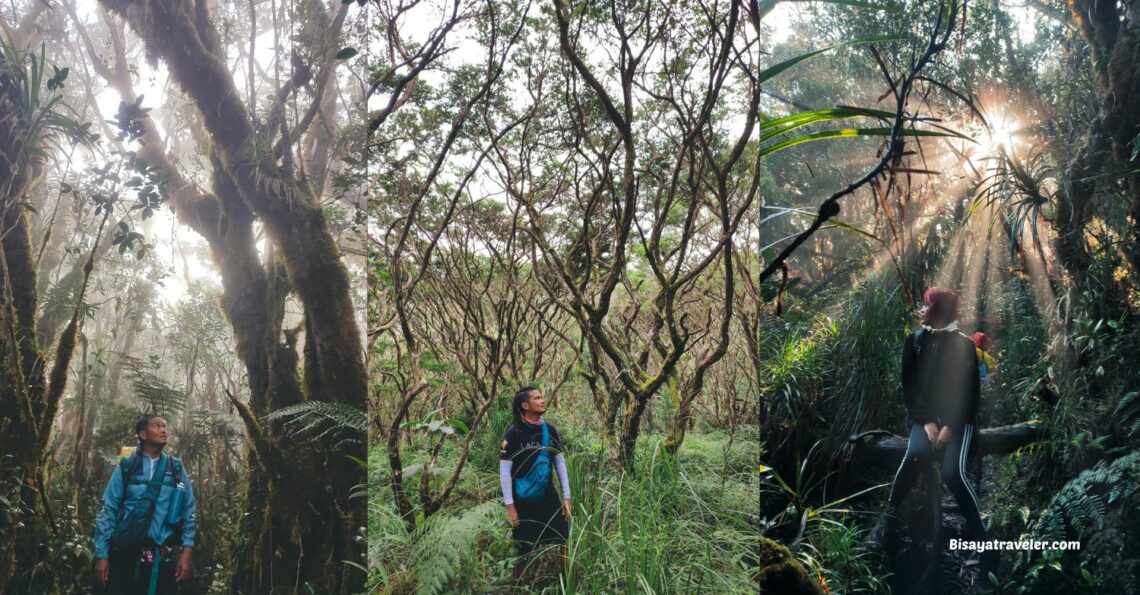 Mount Hamiguitan: A Journey To A Magical World
What's the difference between a cat and a man? A cat, as they say, has nine lives. But us, humans? We only have one shot. And that's why I try to make every moment count. I seek experiences that fill me with peace and happiness. I read books that whisk me away, indulge in mouth-watering food, create memories with my family, and conquer mountains like Mount Hamiguitan.
And despite all the challenges, I celebrate life.
Strangely, on my latest trip around the sun, it seemed like I wasn't celebrating a milestone.
Alone at an airport terminal, I ate a simple meal for dinner on my birthday while waiting for my next flight.
For some, it's not the ideal way to celebrate another year or usher in a new era in their life.
There were no decadent desserts, bubbly champagnes, or hearty dishes.
And there was no fancy party with balloons, dazzling lights, and music.
All I had for my birthday dinner was cup noodles.
And it was, hands down, the best birthday I've had in recent years.
Sure, slurping cup noodles at Francisco Bangoy International Airport is an unconventional birthday bash.
And being alone on your birthday can evoke feelings of solitude.
But that evening, my heart was full, and my soul was satisfied.
The airport was alive with stories, with people coming and going from countless destinations.
I was just one traveler among many, each with their own tale to tell.
My story was one of triumph, pushing past limits, and adventure.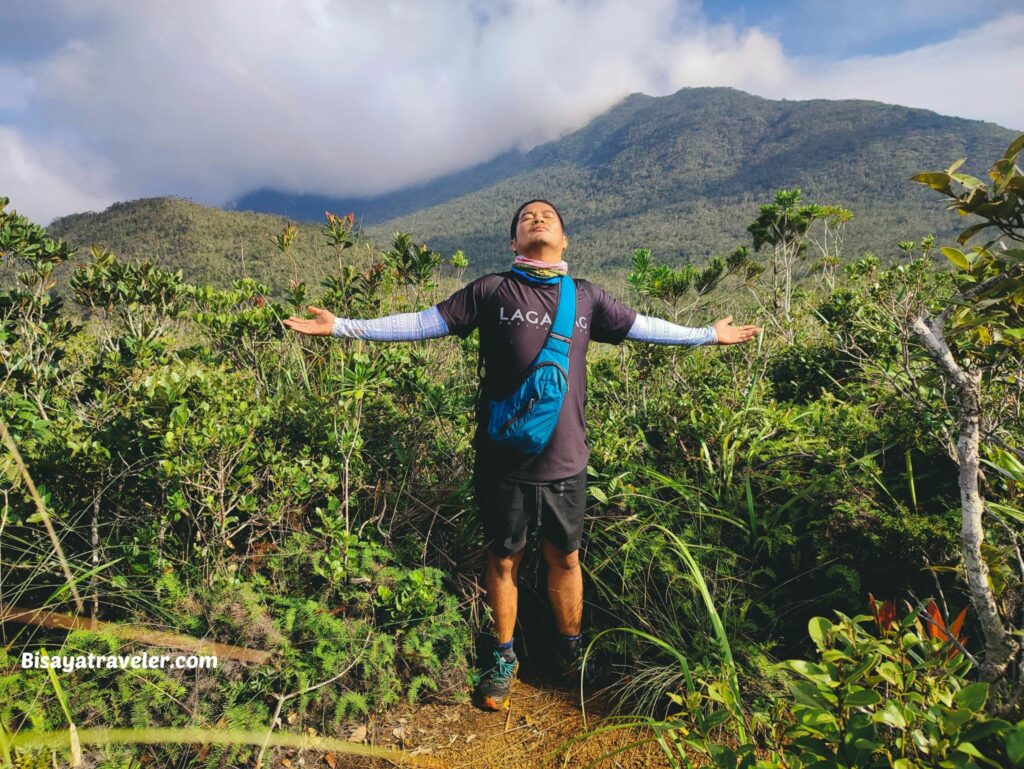 And the cup noodles weren't just any birthday dinner.
The meal was a triumphant end to a 3-day adventure in the enchanting Mount Hamiguitan range.
With its diverse wildlife, century-old trees, and pygmy forest, this UNESCO World Heritage Site gave me an extraordinary birthday celebration.
Day 1 of My Mount Hamiguitan Adventure
The meet-up at McDonald's Bolton at 2:37 AM
When I was younger, the thought of talking to others filled me with dread.
An introvert, I had a fear of meeting new people and engaging in conversations.
But today, communicating with a stranger seems natural to me.
My solo adventures and hikes have, in many ways, improved my confidence and social skills.
And in my Mt Hamiguitan hike, I was once again a solo joiner, surrounded by people I didn't know.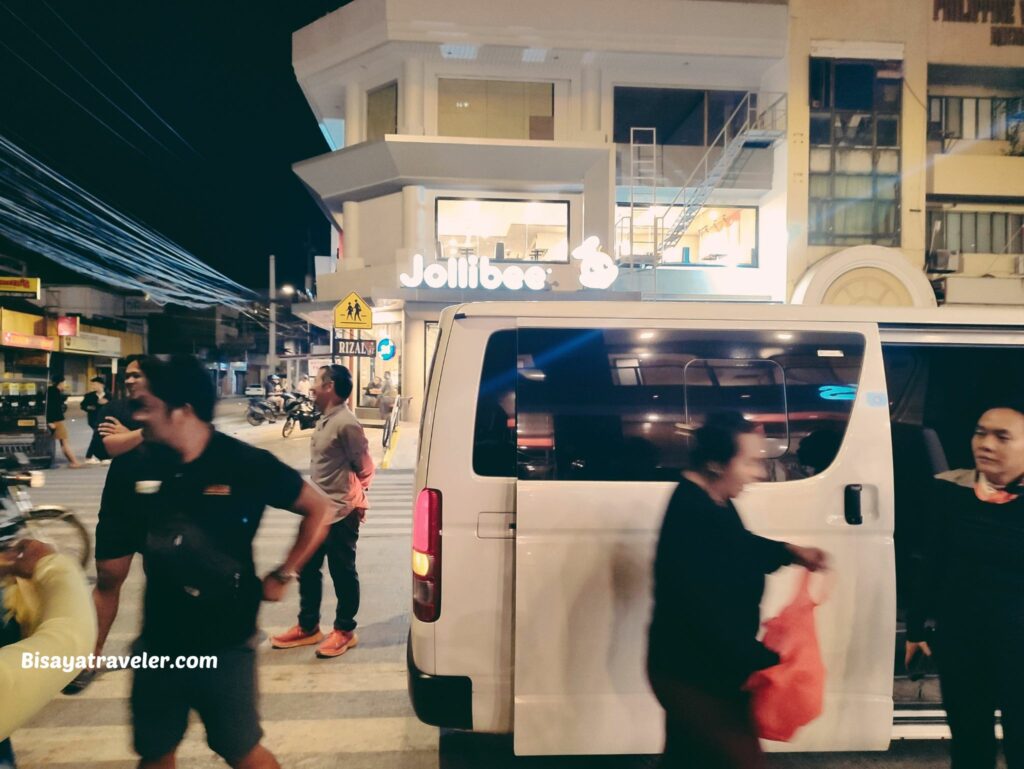 They were all strangers to me.
I wasn't familiar with any single soul on this hike.
They were active, engaging, and excited to climb the elusive jewel of Mindanao.
And they were all young.
Except for the organizers, I was likely the oldest hiker in this bunch.
With their strong legs and boundless energy, I had a hunch our Mt Hamiguitan hike would be dynamic and fast-paced.
Although I always hike at my own pace, that may not be ideal for someone who's banged up, sleepless and stressed like me.
Youth isn't on my side, but I still had an asset to catch up with these young guns: experience.
The orientation
After a quick breakfast and four hours of travel, we arrived at the base of our hike, Mount Hamiguitan Museum.
Since the museum was closed for renovations, our orientation was held outside, led by the DENR employees, guides, and porters.
Most people think that orientations before the actual climb are boring and a waste of time.
But I see orientations a bit differently than most people.
You see.
I don't do a lot of research before climbing a mountain.
While I check the terrain and trail's distance, I don't dive deep into its history.
I want to be surprised and be blown away by stories from locals and people who have been there.
And our orientation didn't just dive into the do's and don'ts of climbing Mount Hamiguitan.
It also talked about the mountain's history.
Our facilitator shared insights about the mountain's biodiversity and their conservation efforts.
She also mentioned that the Mount Hamiguitan range has an area of 6,834 hectares and was listed as a UNESCO World Heritage Site in 2014.
I knew it was a UNESCO World Heritage Site, so it may sound like old news.
But I didn't know it was declared an ASEAN Heritage Park in 2016.
The start of our climb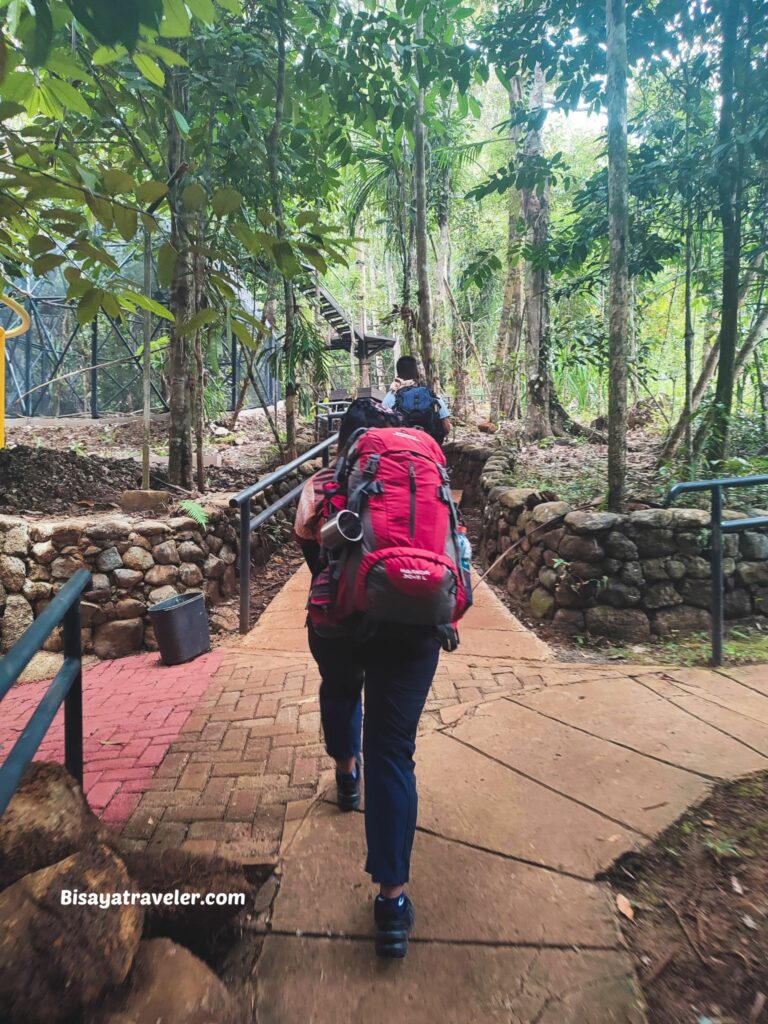 Shit!
The hike had just begun, and I was already huffing and puffing.
We still had a lot of miles to cover, and my legs were already burning like hell.
I'm a slow starter in hiking, and I usually struggle in the first two kilometers of the hike.
But I was dealing with other things that were making me less confident: two consecutive sleepless nights, diarrhea, and stress.
Can I finish this hike while dealing with all these things?
Will I survive this 3-day adventure in the middle of nowhere?
These questions kept popping into my mind as I ascended the steep slopes of Mount Hamiguitan.
So, I had to keep myself motivated.
I had to let my inner monologue take over and mention the positives.
I can do this.
I've faced so many battles in life and conquered the highest mountains in the Philippines.
Just take one step at a time.
Uncovering the history and beauty of Mount Hamiguitan
The storm had calmed down, and I became stronger and more confident while immersing myself in nature.
The thing is, hiking is therapeutic.
Some people always ask me, "What do I get from hiking?"
My answer?
Pain.
I'm talking about physical pain that includes blisters, bruises, sprains, cramps, and scratches.
But it's the kind of pain that soothes the soul and nurtures the mind.
It's the kind of pain that heals other forms of pain, like emotional pain, mental exhaustion, and anxiety.
And I'd rather deal with physical pain than emotional pain.
Maybe all I needed was a little discomfort and nature to feel better about myself again.
Then, it was all fun and smiles.
Our knowledgeable guide, Jun, was knowledgeable about the landscapes, flora, fauna, and history of Mount Hamiguitan World Heritage Park.
He shared information about the lone house in Mt Hamiguitan, which was built decades ago.
Furthermore, he discussed the geological features of the mountain range.
It was like a classroom without walls and corners.
Of course, there were challenges on this section of our hike.
What's a hike without some hurdles and stumbling blocks, right?
We had to cross streams, climb over slippery boulders, and hike narrow and steep pathways.
Nevertheless, my confidence was growing, and I was starting to forget that I wasn't at my best for this hike.
Soon after, we saw several pitcher plants.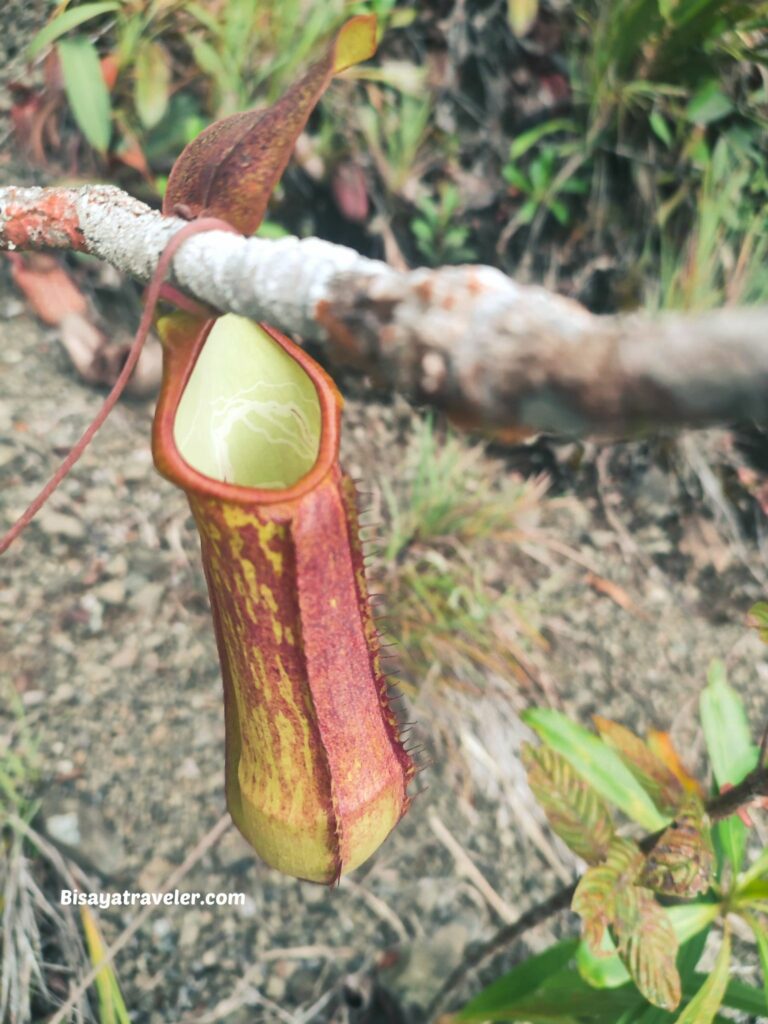 All kinds of pitcher plants, from pint-sized versions to eye-catching ones resembling Anne Curtis' pouty and red lips.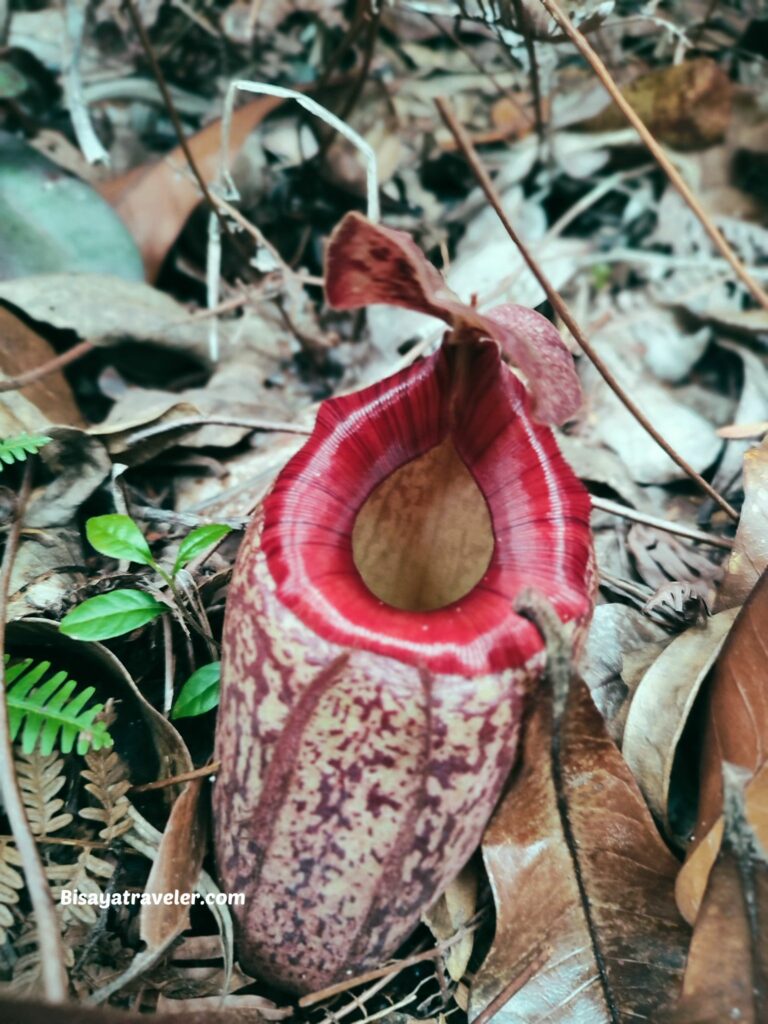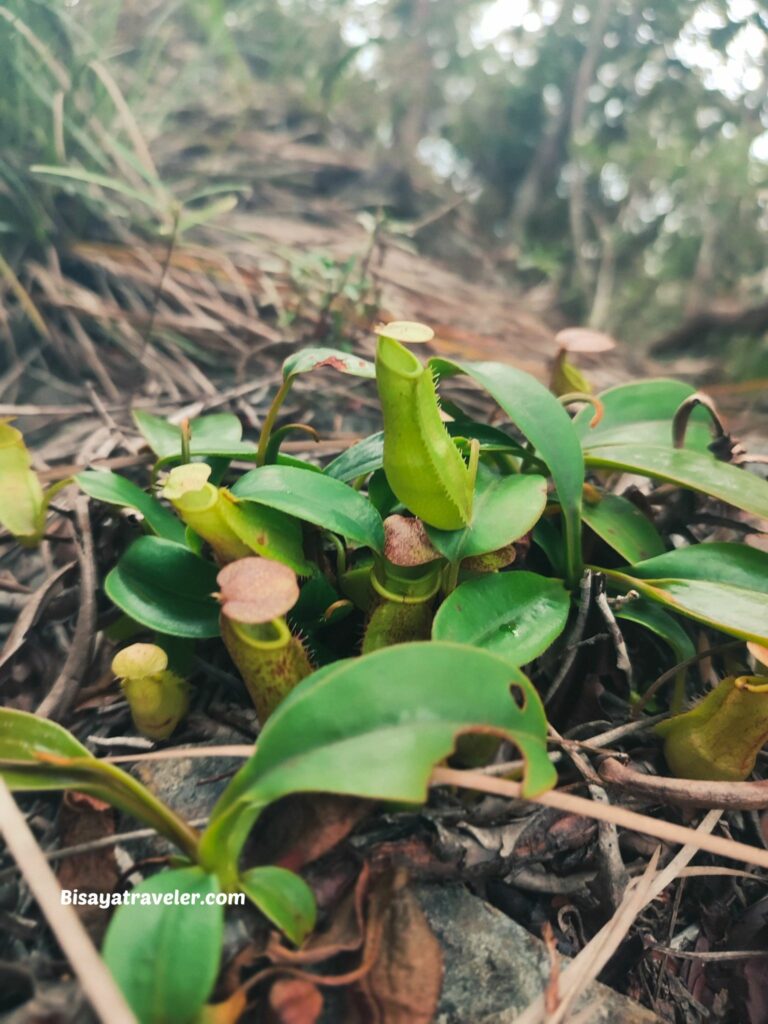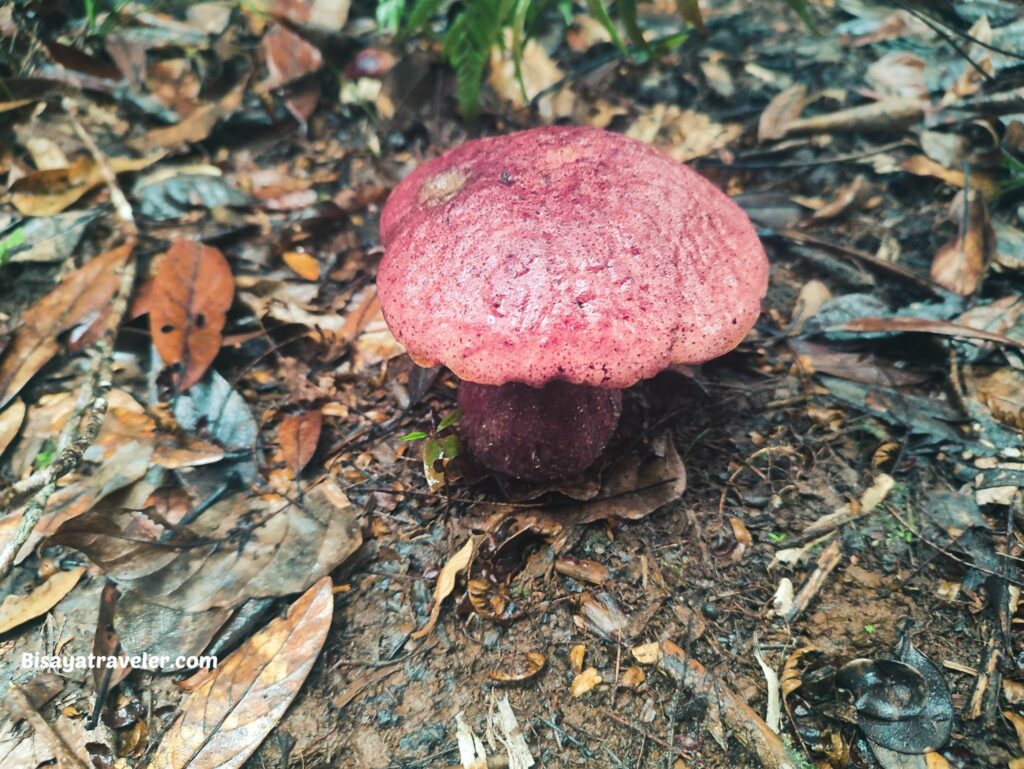 We also reached Lantawan 1, a lookout that showcases the verdant mountains of Mount Hamiguitan.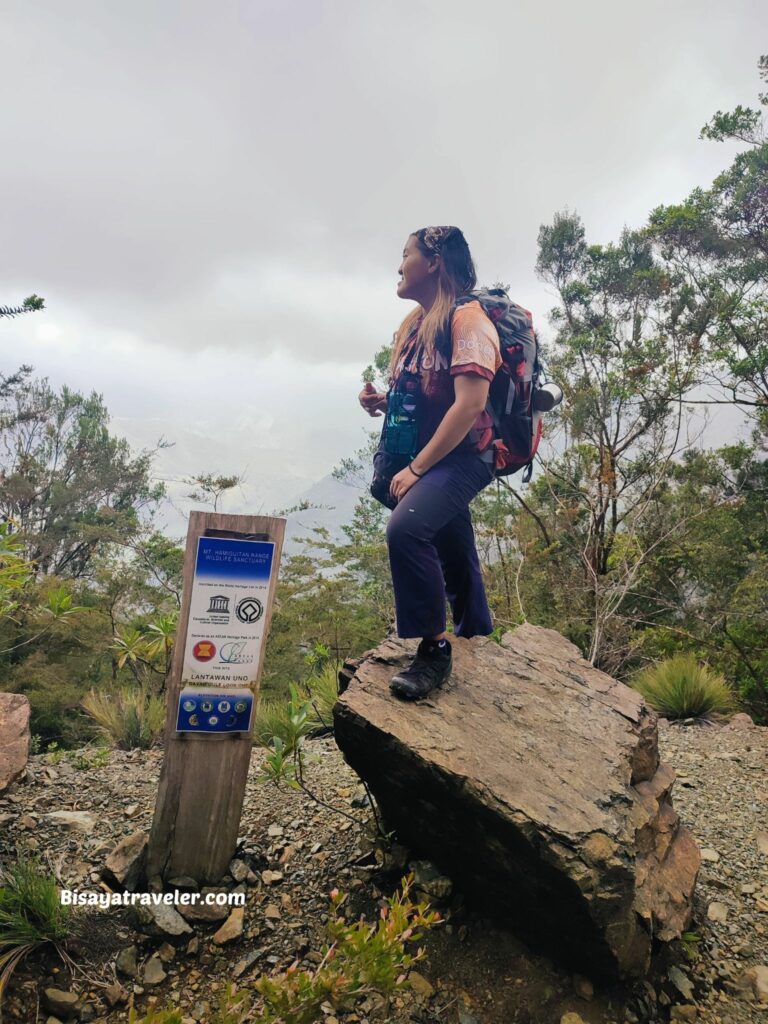 Afterward, we continued our journey and kept walking until we arrived at Camp 4.
There, we took a breather and ate our lunch.
Everything was picture-perfect and falling into place until the skies turned sunny to gray.
Camp 4
Our guide told us that we could include a visit to Black Mountain and Twin Falls for Day 1 since we were ahead of our schedule.
Unfortunately, nature had other plans, and it kept raining for about an hour.
We were stuck at Camp 4, waiting patiently for the rain to stop.
Moments later, the second pack of the group arrive at Camp 4, feeling hungry and a little tired.
Our organizer, Joel, revealed the pack had some rather interesting conversations, including a debate if birds have taste buds.
With the rain starting to slow down, we, the first pack, opted to resume our journey to Camp 3.
The Uwang Uwang challenge
Uwang Uwang is a section of the trail known for its steep and mildly slippery slopes.
Was it challenging?
Hell yeah!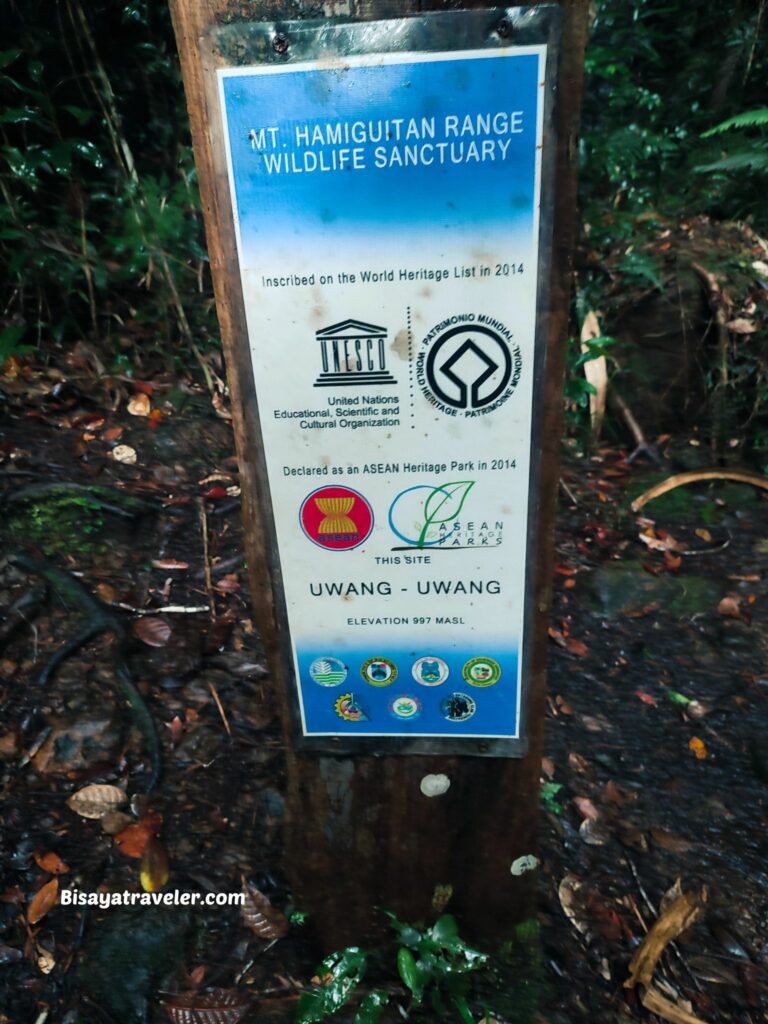 Sometimes, you have to use your hands and hold onto roots to climb your way up.
It's pretty similar to a part of the Apolong Trail in Mount Talinis.
The assault was also seemingly endless but not quite as long as the infinite staircase in Mount Amuyao.
And the cherry on top?
The heavy downpour made us look like wet chicks that just came out of the eggs.
I'll be honest.
I didn't exactly notice we were already in Uwang Uwang.
I thought it was another part of the trail to Camp 3.
I was also hyper-focused to ensure that I came up in this section safe and sound.
Lantawan 2
The views from Lantawan 2 were lovely.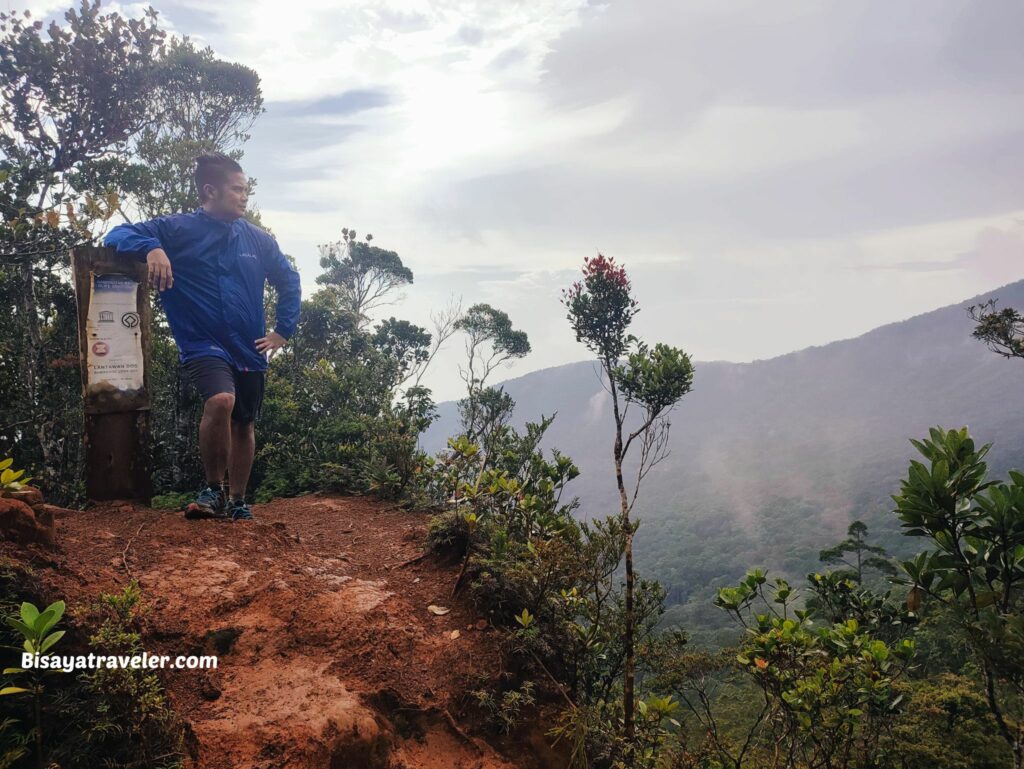 They weren't jaw-dropping or awe-inspiring, but they were pleasant in the eyes.
The layers of green mountains covered beautifully in white blankets were a sight to behold.
And you'll appreciate it even more because you've been through a tough and gritty hike to get there.
We snapped photos and began walking to the final destination on Day 1: Camp 3.
Along the way, we got glimpses of the beauty of Mount Hamiguitan.
From an extraordinary frog to thorny plants, I saw many unique features that I didn't notice in other mountains.
Camp 3
In spite of the rain, we arrived early at Camp 3.
And guess what?
Our guide informed us we still have time to visit Black Mountain and Twin Falls.
He, however, said we could also visit them on Day 2.
With our rapid pace, we had plenty of time to see these attractions in Mount Hamiguitan the next day.
And so, we decided to include it in our Day 2 itinerary.
We all could take a break from the non-stop obstacles of our Day 1 adventure in Mount Hamiguitan.
And besides, we were all smelly, and we wanted to take a shower at the surprisingly exceptional bathroom and show facilities in Camp 3.
We then had our dinner and went to sleep early.
Day 2 in Mount Hamiguitan
I feel young and fresh again.
The long sleep in Camp 3 ( Pygmy Bonsai Forest Camp) was refreshing and restorative.
Suddenly, something came up inside my mind.
I realized my birthday is tomorrow, and I'm getting old.
But here's the thing.
Unlike some people, I don't fear aging.
I embrace it because it's part of the human cycle.
And fear of aging also means you're living an unfulfilled life.
If you're satisfied with life, you don't need the gift of youth, and you don't want to go back.
After breakfast, our organizer gathered us and gave us a breakdown of our Mount Hamiguitan Day 2 itinerary.
He also shared some reminders, like slowing down to take in the sights and feel the enchanting atmosphere of Mount Hamiguitan World Heritage Park.
He also told us that hiking is self-pleasure.
I know "self-pleasure" sounds like a term commonly used in erotic films (hey there, Vivamax).
But we did get the point.
Pygmy Bonsai Forest
Day 2 in Mount Hamiguitan started on a high note with a walk amidst fascinating bonsai trees and lush landscapes.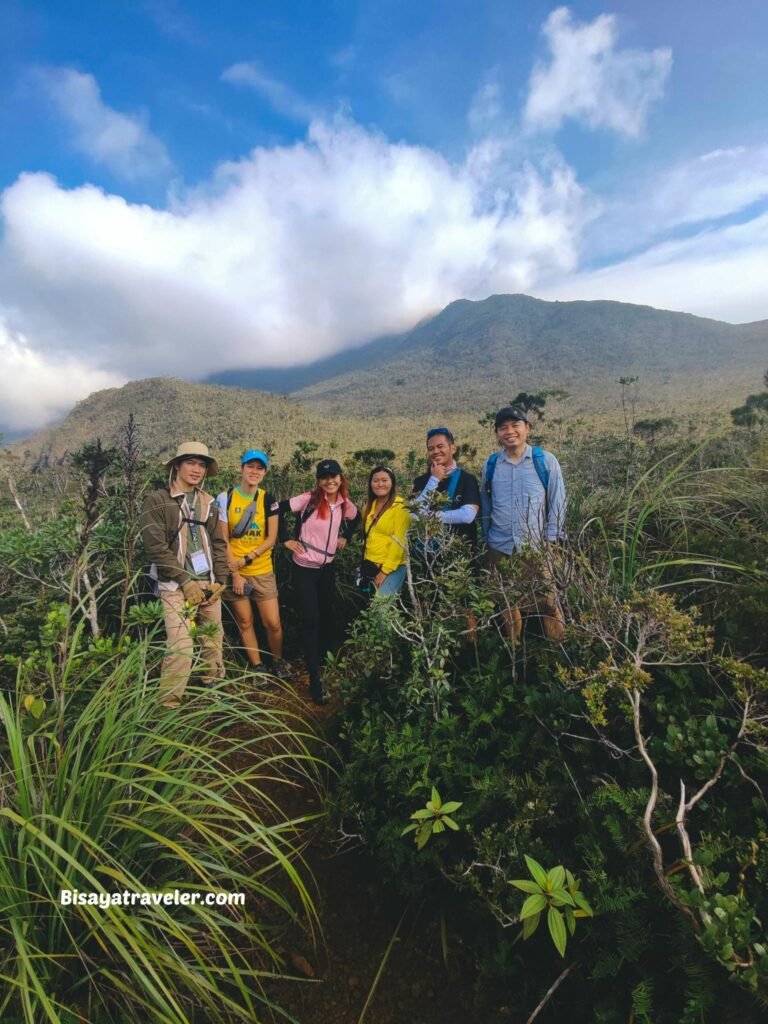 Along the way, we snapped pictures of these bizarrely wonderful creations by Mother Nature.
Plus, we also saw the towering peaks of Mount Hamiguitan.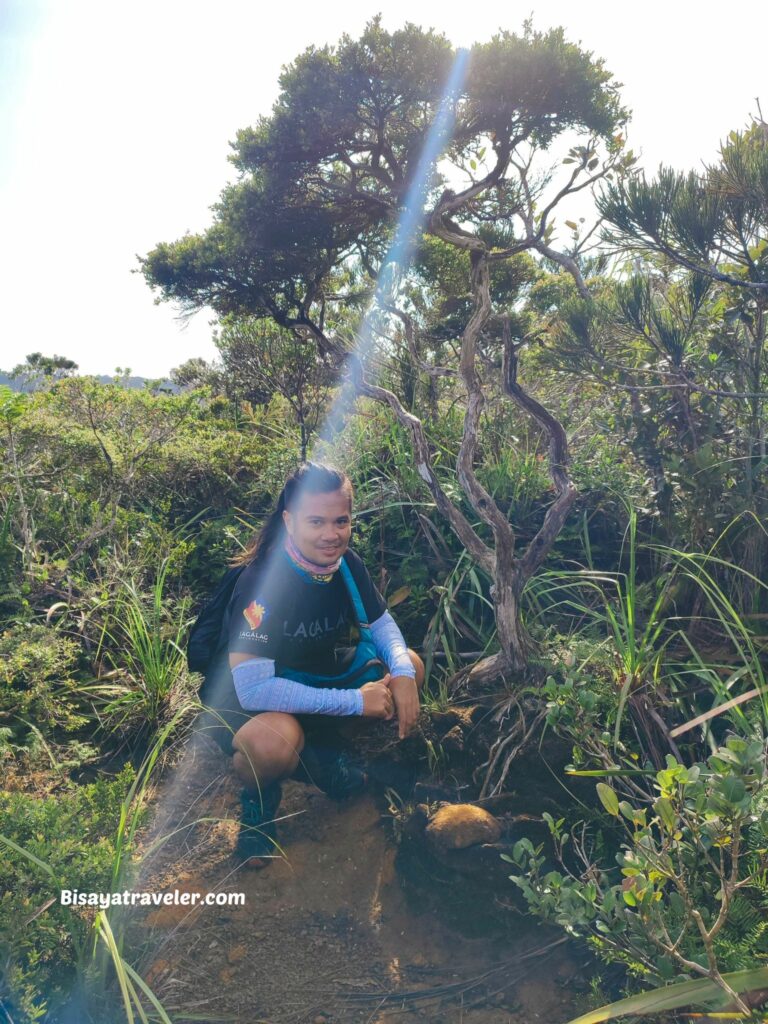 I came prepared for this adventure, but there was one thing I didn't bring for Mount Hamiguitan: leggings.
I highly recommend it, especially for Day 2 because the paths are narrow and you'll feel the twigs, branches, and thorns of the plants along the way.
If you don't have one, trekking paths will do.
We were still in the initial stages, and I could feel the blows in my legs.
The Helipad
It didn't take us long to reach the Helipad.
With the eye-catching mountains in the backdrop, it's a nice spot for photography.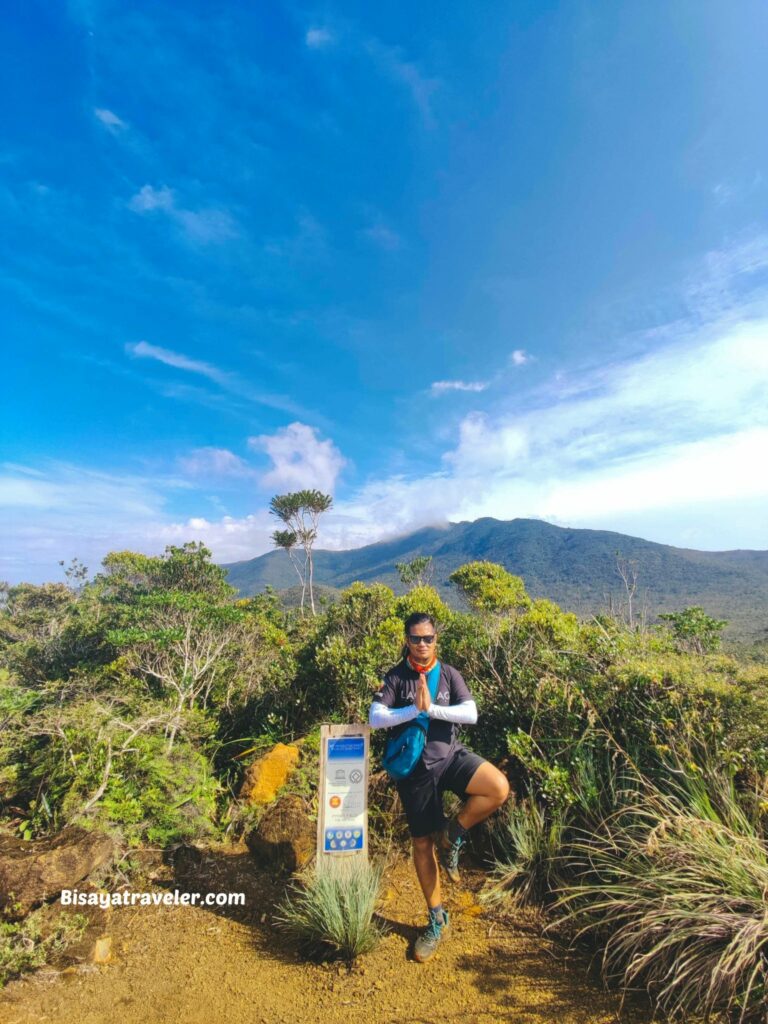 And here's a little backstory for you about the Helipad.
The Helipad is a barren land area of the Pygmy Forest in Mt Hamiguitan.
It was cleared by the locals, so that Margie Moran, a former beauty queen, could land safely in the middle of the sanctuary.
For some reason, they couldn't land the helicopter in this area.
And unfortunately, the plants didn't grow back.
The way to Lantawan 3
From the Helipad, we followed a scenic path that would take us to the next stop of our journey, Lantawan 3.
It was warm and sunny, meaning we had to quicken our pace and avoid heat exposure.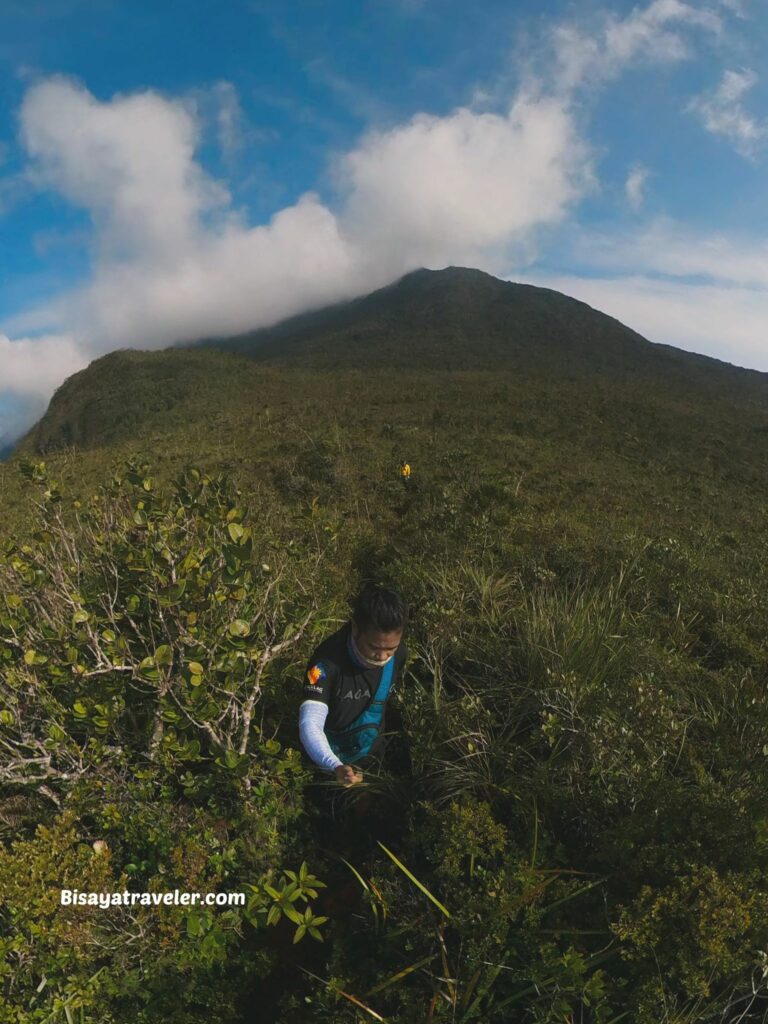 Moments later, we arrived at a magical and mesmerizing mossy forest.
With its sublime natural setting and heavenly colors, I felt transported into the land of fairies.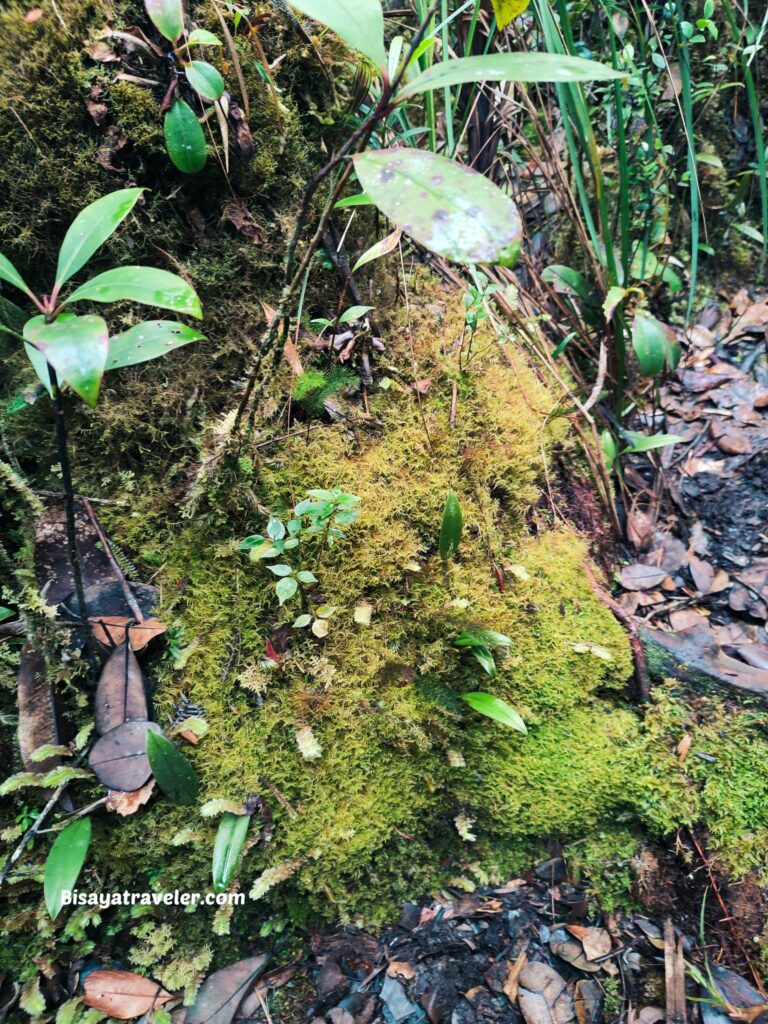 I took my time exploring this forest.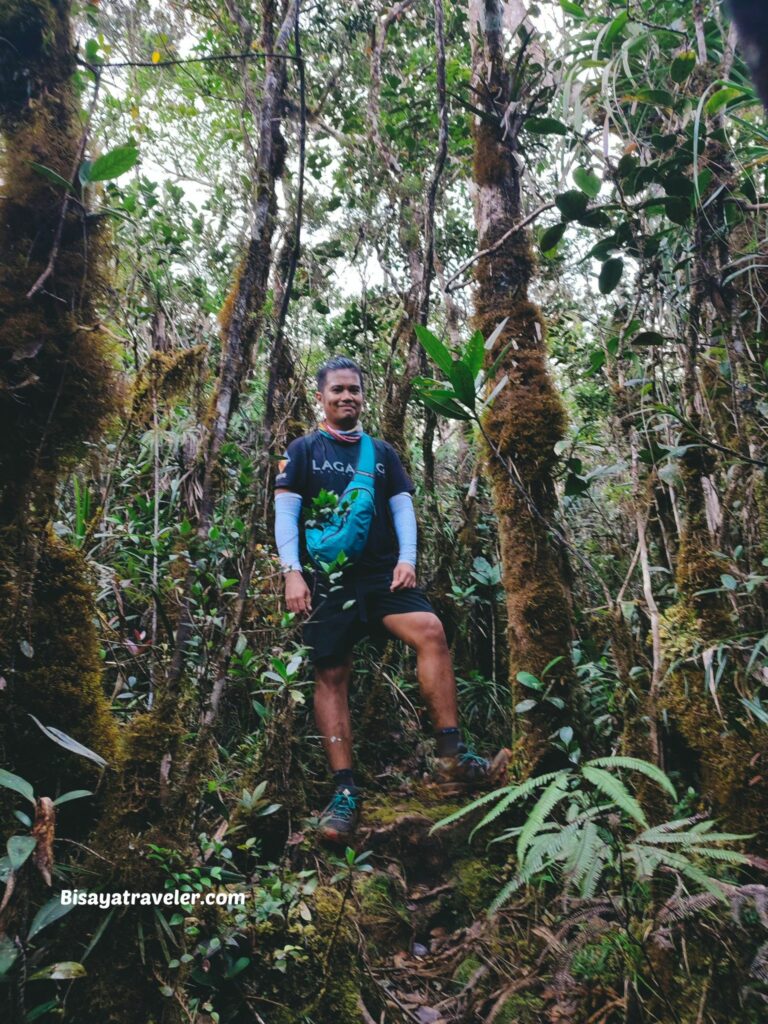 And I lived in the moment.
Somehow, this forest revealed to me how we should be living our lives.
We should live slowly and make every moment count.
Lately, I have been living on the fast lane, ignoring sleep and rest to be more productive.
The truth is, I have been on autopilot.
In today's world, we need to be "on the go," efficient, and always effective.
Rests are minimal, coffee is always overflowing for extra energy, and nutrition is poor for us modern-day humans.
But we're not machines.
And we don't have nine lives.
We only have one shot at living.
So, we should nourish ourselves with sunlight, stories, experiences, naps, and adventure.
They are food for the soul.
Lantawan 3
When we arrived in Lantawan 3, we weren't treated to a spectacular view.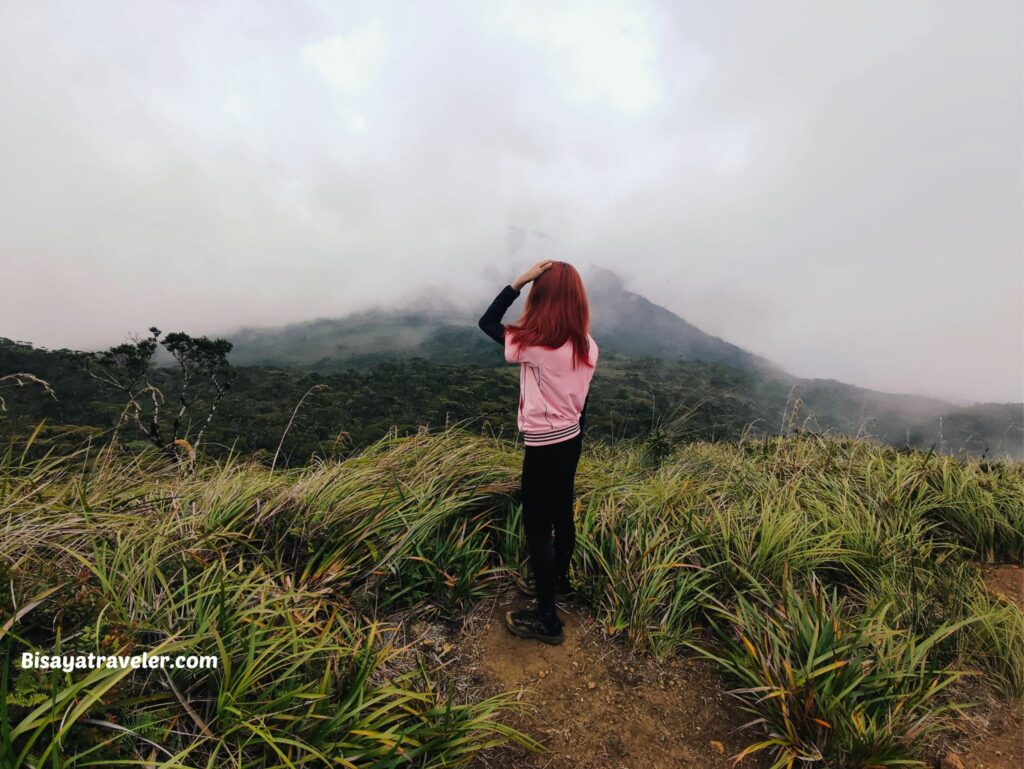 The mountains and landscapes were all covered in fog.
But it's okay.
As most hikers know, the views are the icing on the cake.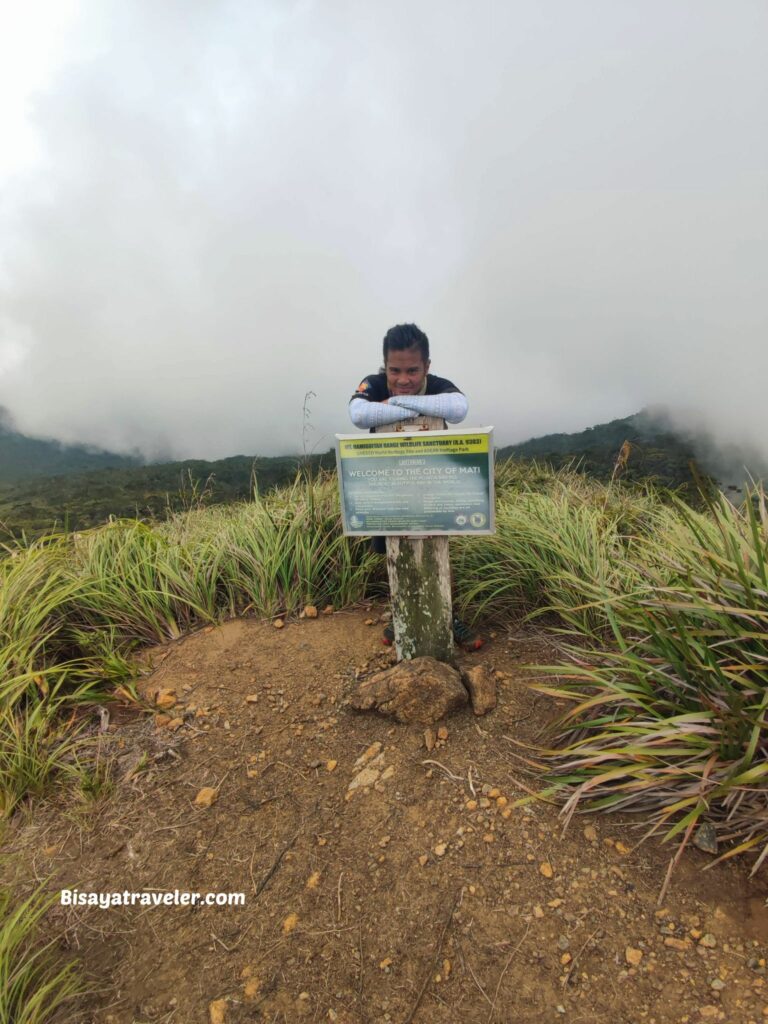 The camaraderie, lessons, experiences, knowledge gained, and challenges are the things that make hiking satisfying.
Tinagong Dagat
The way to Tinagong Dagat was also captivating and easy on the eyes.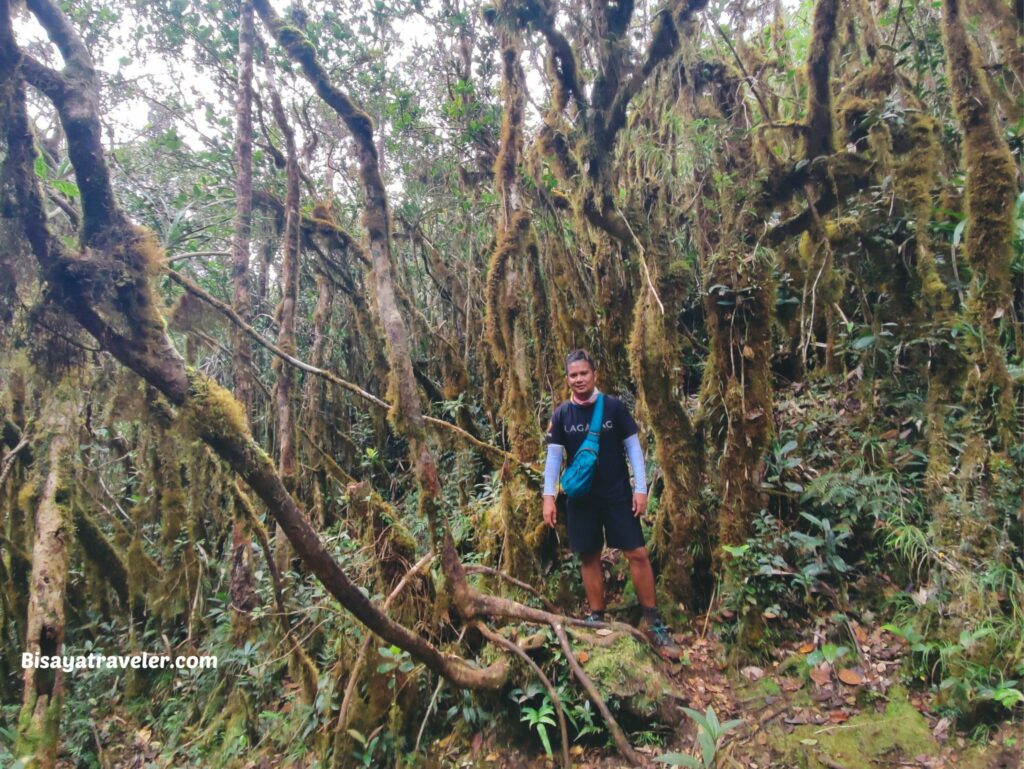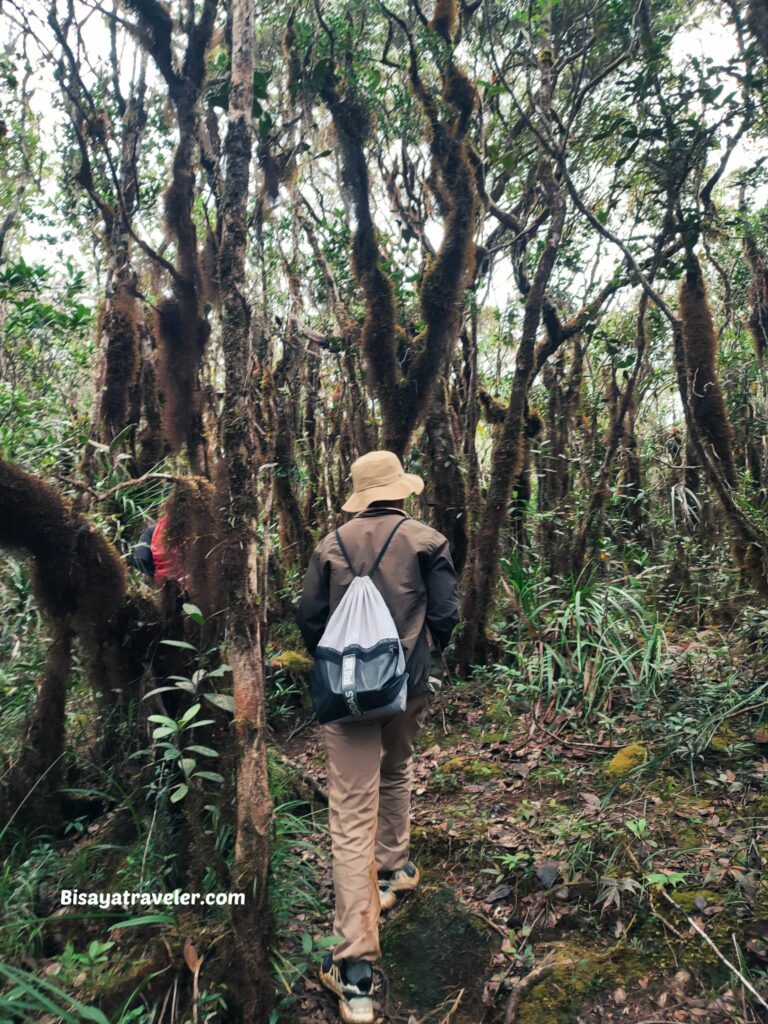 I found myself amazed and gazing at the mossy trees and one-of-a-kind plants.
Afterward, we arrived in Tinagong Dagat, which is now a grassland with barren areas.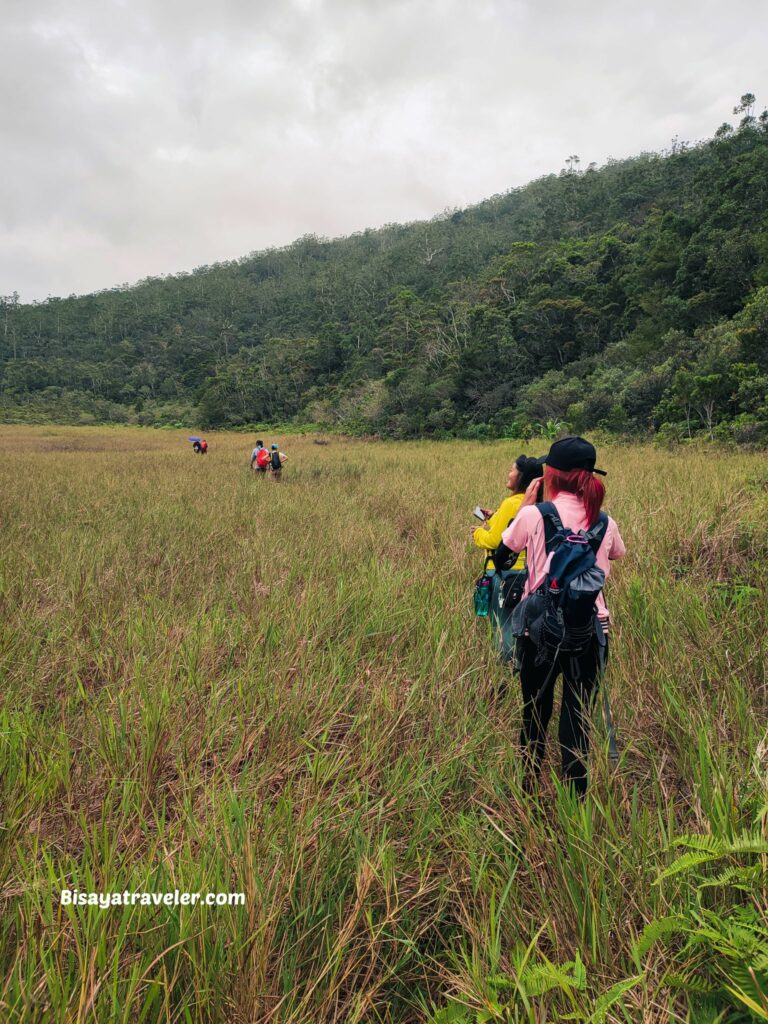 According to our guide, this area once had a lake with waist-deep waters.
And that's why they call it Tinagong Dagat.
But things change, and no one knows what exactly happened to the water.
Perhaps a series of earthquakes changed all of it.
The Hidden Garden
On our way to the Hidden Garden, we discovered tons of fascinating plants and trees.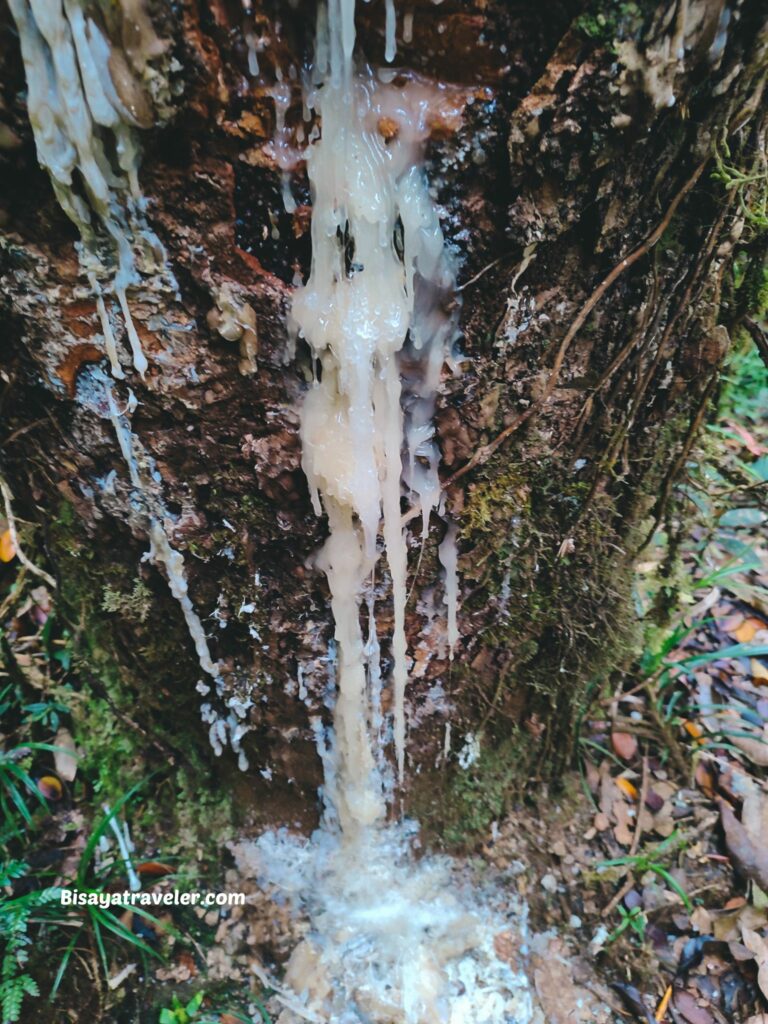 Jun described them in great detail and even shared their scientific names.
I must say they are highly trained guides.
Not only are they accommodating and welcoming, but they also are knowledgeable about Mount Hamiguitan.
Minutes later, we arrived at the Hidden Garden, a grove with rows of dwarf sagimsim trees.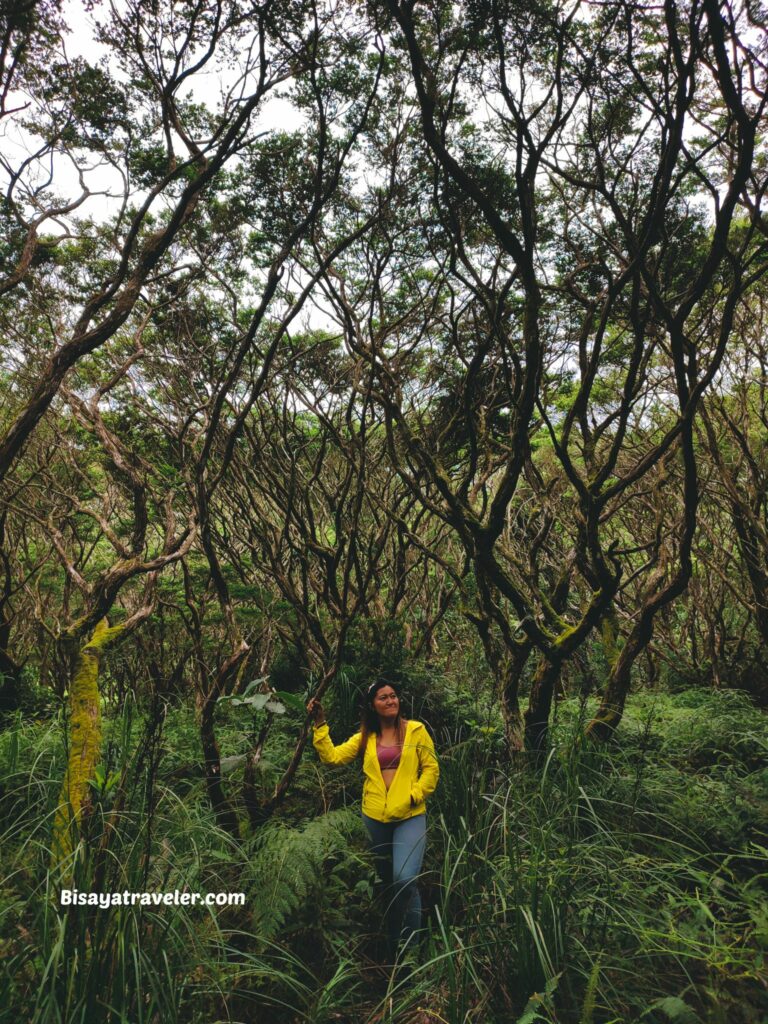 One look at the Hidden Garden, and you'll feel like it's home to nature spirits and engkantos.
And the vibe here is different.
It's like you're in a different realm or a world where humans don't exist.
We explored the area and uncovered more otherworldly sights, including a strange-looking grassland.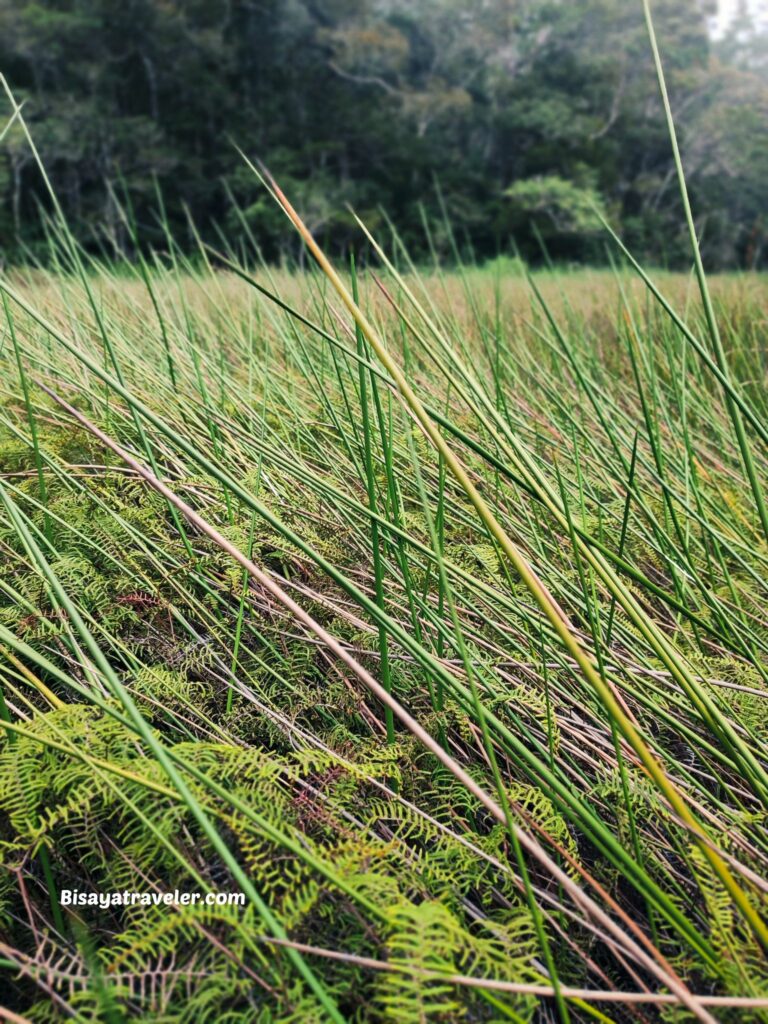 Jun told us Mount Hamiguitan has peculiar residents, including vipers and tarsiers.
You'll rarely spot them, but these creatures thrive in this environment.
As I sat down and took a break in the Hidden Garden, I thought I was in the dream.
The setting was otherworldly, and the people in the lead pack somehow resembled those in my life.
I had to pinch myself and see if it was all real.
Camp 3 and the Black Mountain
There's an alternative route to Camp 3 from Tinagong Dagat.
They call it bilaka bilaka.
Hiking this route isn't a walk in the park for those with short legs.
You have to go over puddles of water and walk on muddy paths.
Ultimately, we arrived at Camp 3 and climbed a deck with a sweet view of Mt Hamiguitan's landscapes.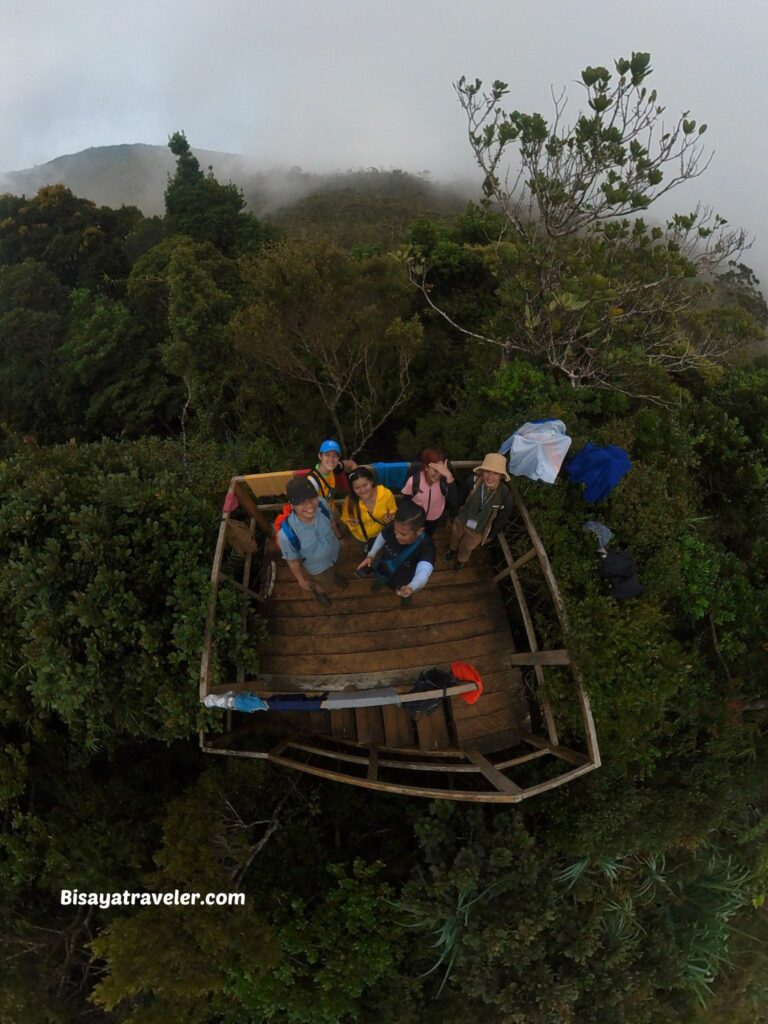 We ate a quick snack and immediately climbed to the top of the Black Mountain.
Sadly, there was no clear view of the mountains that day.
Everything was covered in white.
As for Twin Falls, our guides and organizers said it's not a good idea to go there.
The water was low, meaning the falls didn't look appealing that day.
So, we returned to Camp 3 to shower, have dinner, and sleep.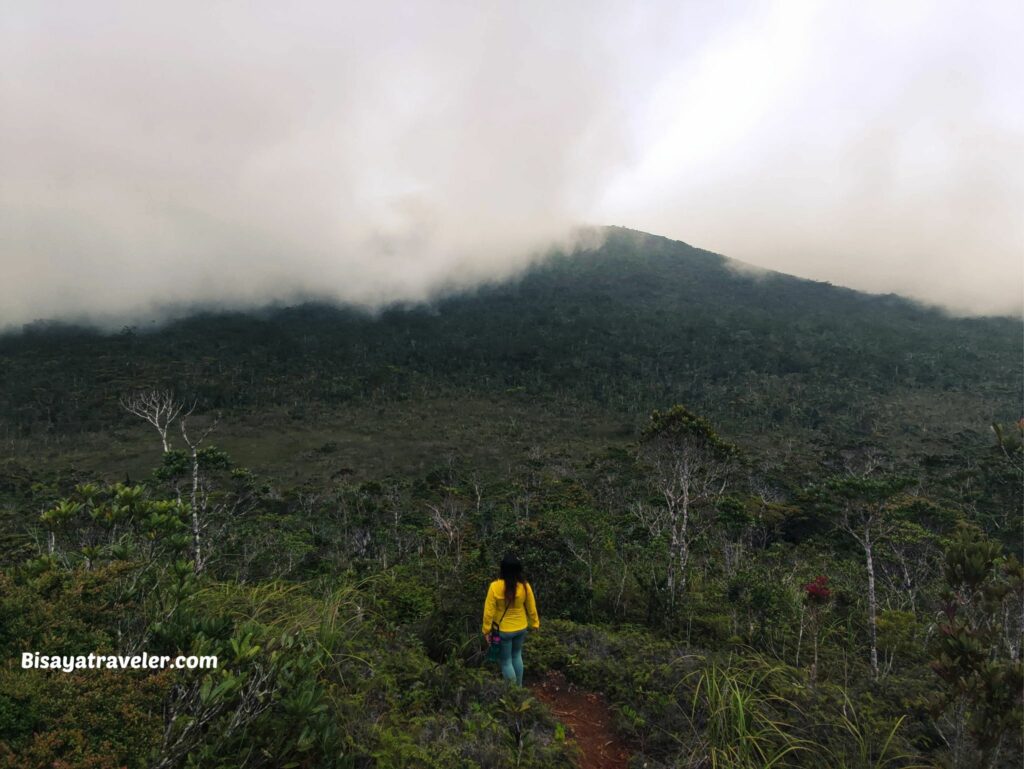 Here's the kicker, though: I didn't fall asleep this time.
Day 3 in Mount Hamiguitan
What the fuck is wrong with me?
I'm cursed.
Since my teenage years, I have been dealing with sleeping problems.
I'm a light sleeper, and when I was younger, I was an overthinker.
I badly needed to rest and get some energy for the long hike to Mount Hamiguitan Museum from the summit and Camp 3.
They said it's a long 16-kilometer journey.
What's more, I was having diarrhea again.
Why does this happen on major hikes?
There was nothing else I could do.
I just have to grind it out and be wise with every step.
After break camp, the lead pack gathered and admired the starry sky.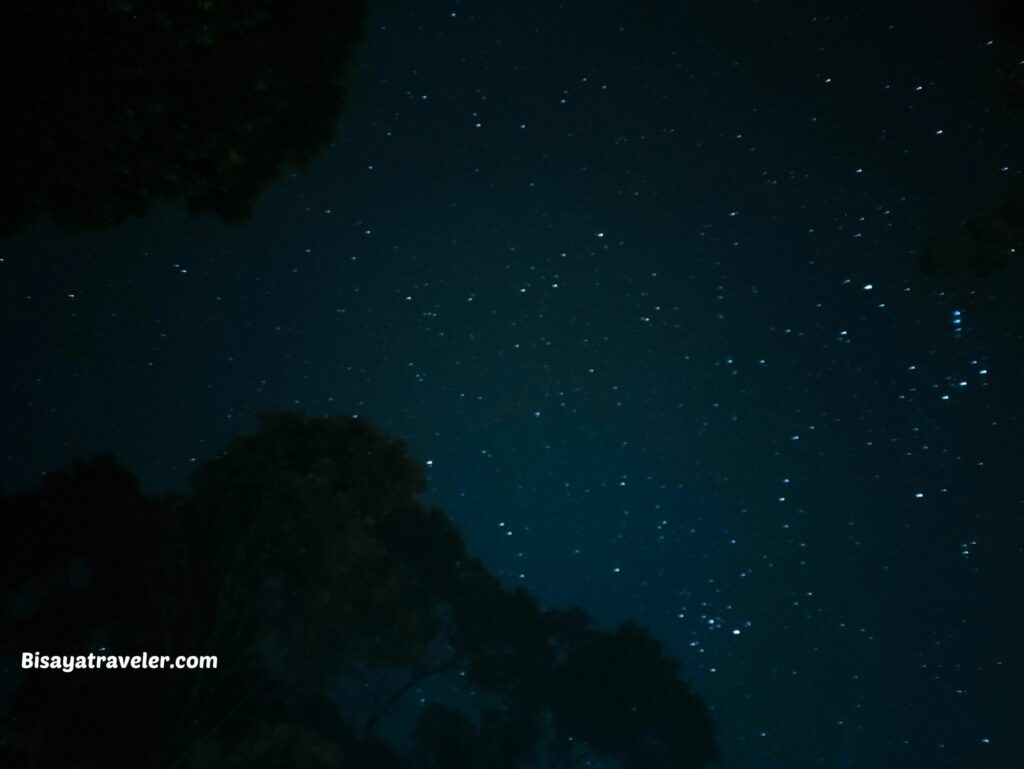 A million stars twinkled above us.
It was another wrinkle to a Mt Hamiguitan adventure filled with charm, surprises, and smiles.
Armed with headlamps, we embarked on a journey to the top of Mount Hamiguitan Range Wildlife Sanctuary.
The climb was a bit difficult.
The trail was slippery, and there were hurdles and steep slopes.
Moreover, it was dark, which can be a tricky experience for those not used to night trekking.
Then, we arrived at a spot with an overlooking view of Mati.
It was still dark, so we continued our hike to where we would await the sunrise.
Moments later, the second pack arrived, and we anticipated a spectacular sunrise view.
Did the sunrise view sweep us into bliss?
It wasn't as breathtaking as the sunrise in Mount Pulag.
Still, it was impressive and beautiful, in its own way, with its orange and yellow hues.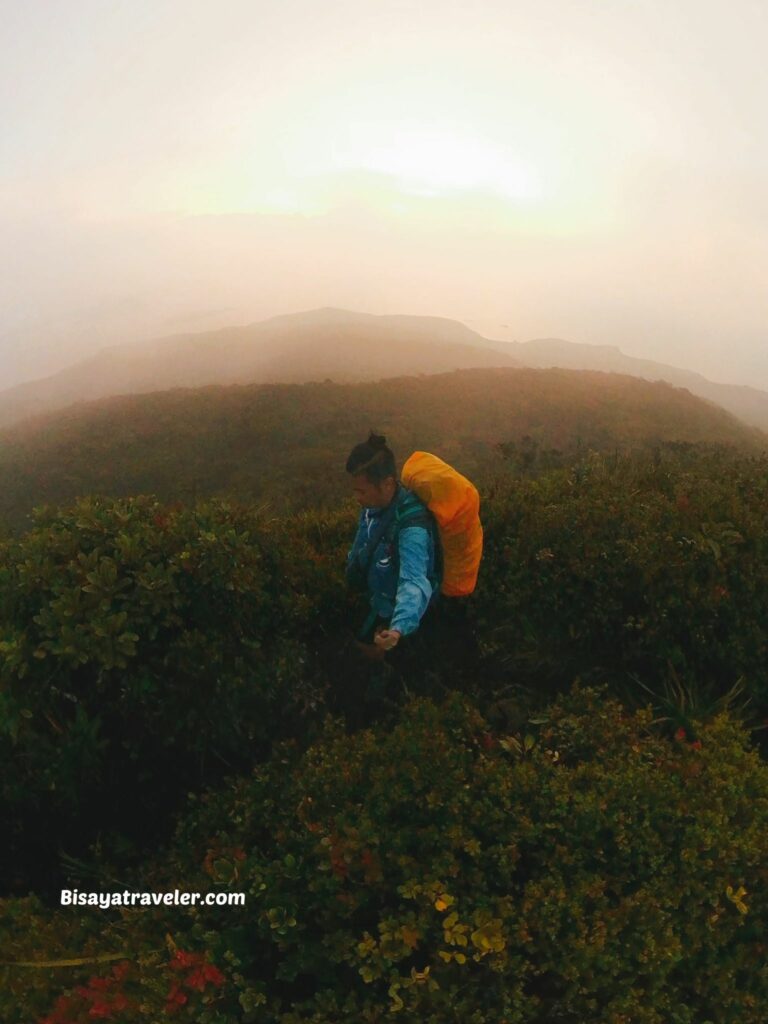 With the sky turning dark gray, we proceeded to the summit, hoping for a clear view.
Well, it didn't have the vista we all hoped for.
Like the previous day in Lantawan 3, it was foggy.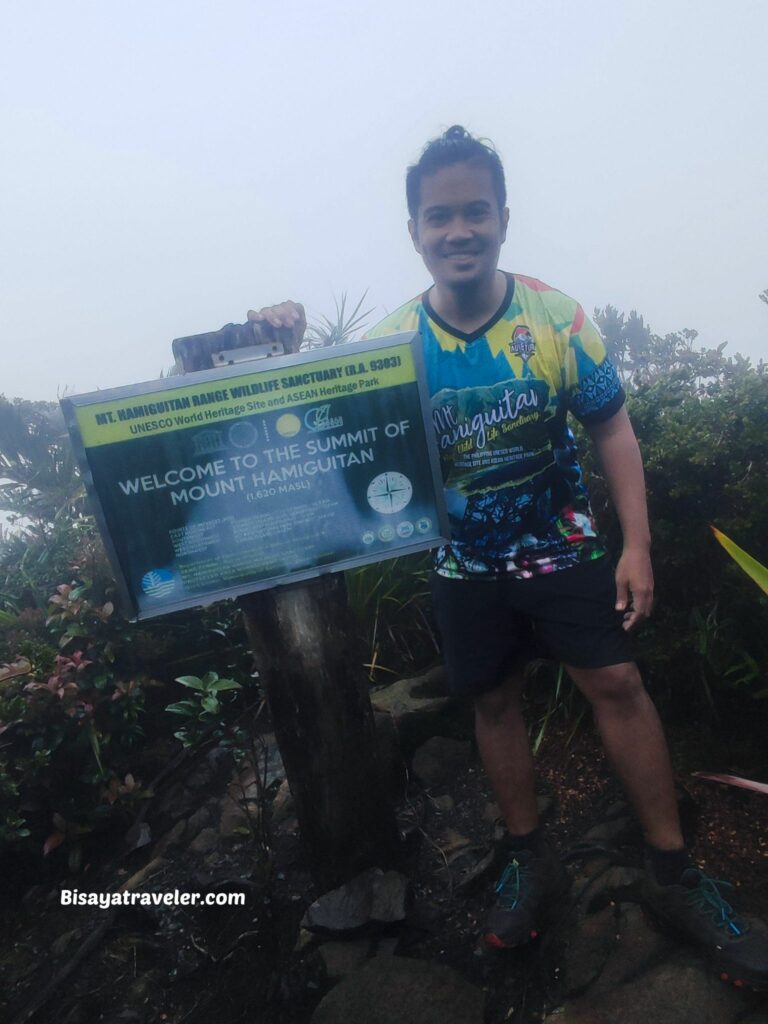 But who cares?
As I've said, the views are a bonus.
It's the feeling of conquering yourself and the mountain that brings joy every time you reach the summit.
Trust me, nothing beats the feeling of reaching the top of the mountain.
We descended from the summit and walked in a forest that was more spellbinding than the ones we encountered the previous day.
From the elusive blue mushroom to ferns, the trail teemed with alluring sights.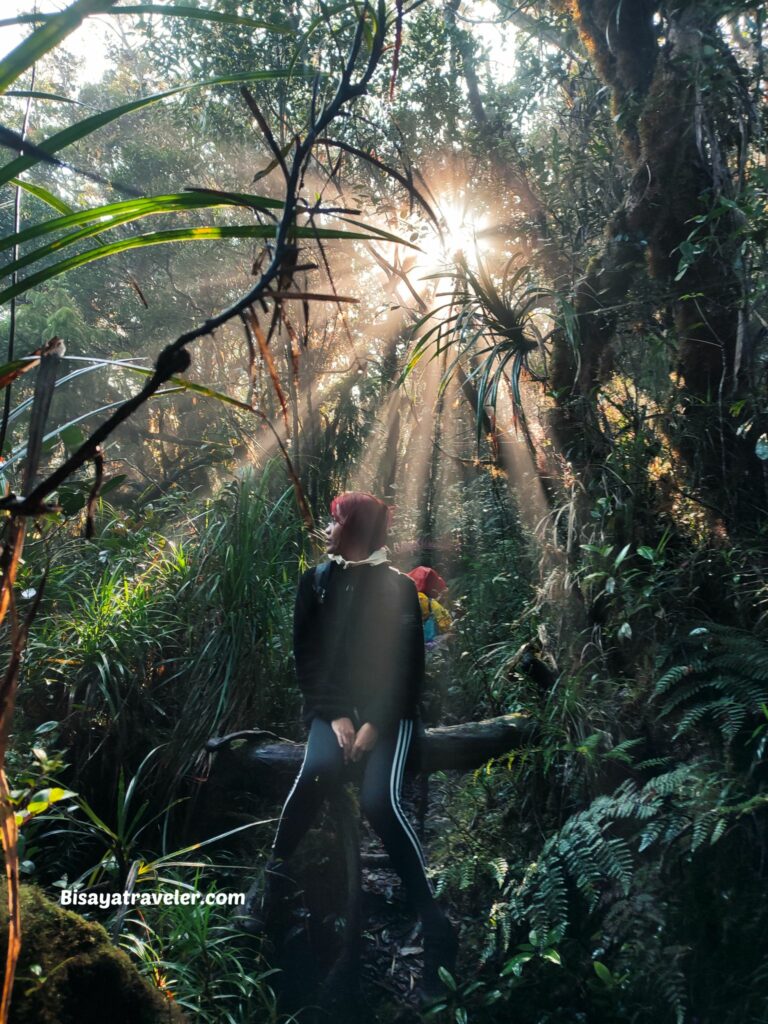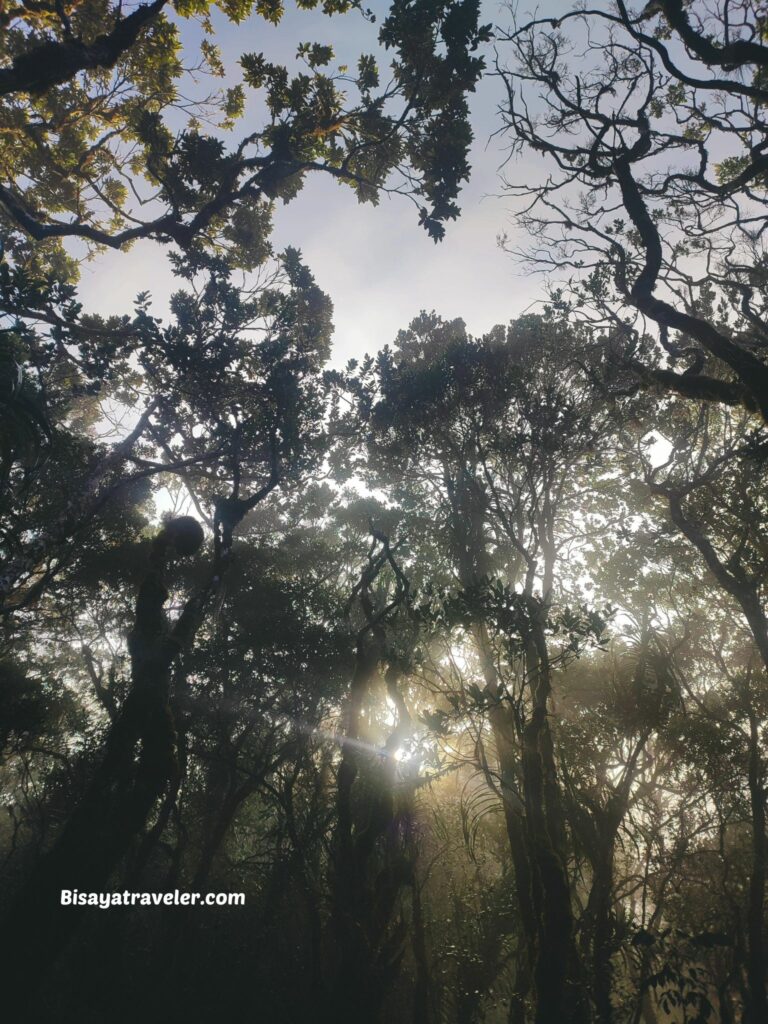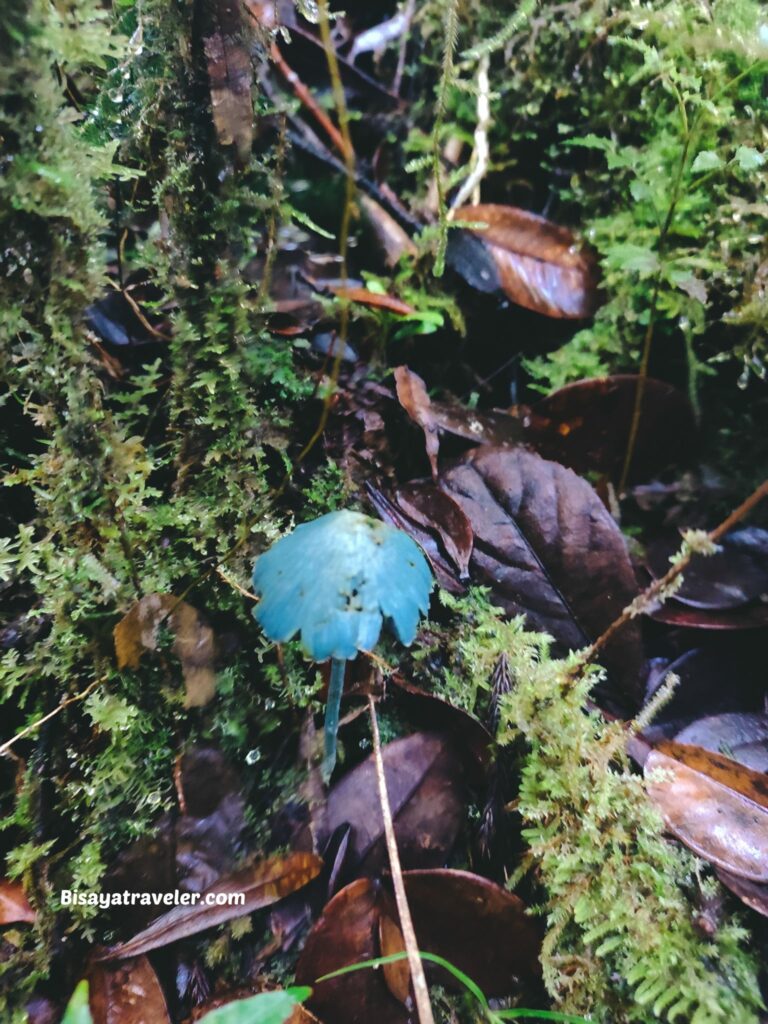 To me, it was the most postcard-worthy part of our hike that day.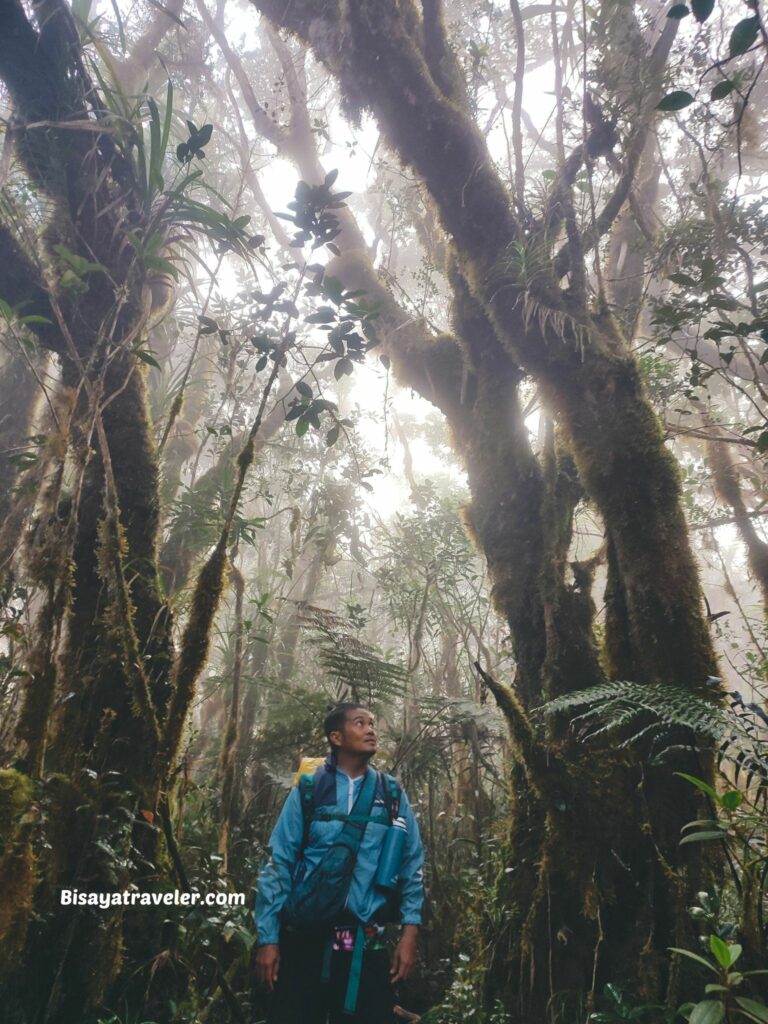 And did I mention that the trail had blood leeches?
I even caught one crawling on my right calf.
After a grueling journey with slippery terrain, we arrived at the museum and completed the hike.
Damn!
That was quite an achievement.
Mt Hamiguitan isn't one of the tallest mountains in the Philippines.
At 1,620 meters above sea level, it's nowhere as tall as Mount Apo.
But it's way more difficult than the highest mountain in the Philippines.
And it has more unique flora and fauna than the other trails in the country.
Plus, it's a UNESCO World Heritage Site and home to the world's largest pygmy forest.
It's a hiker's paradise, a nature lover's dream, and a botanical haven.
The place is so enthralling that I almost forgot it was my birthday.
I remembered I was celebrating a special day when I opened my messenger on our way to Davao City.
Day 3 at DVO
The beauty of travel is that it doesn't always have to be extravagant.
Sometimes, the most memorable moments are the simplest ones.
As I finished my cup noodles, reflecting on the last three days, I realized that this humble meal at the airport was the cherry on top of my birthday adventure.
It wasn't about the food.
It was about the journey, the experiences, and the memories made along the way.
Is Mt Hamiguitan a Major Climb?
Mt Hamiguitan is a major climb in the Philippines, with a difficulty rating of 6/9. But don't let the rating fool you. I have experienced it, and it's tougher than any 6/9 trail.
Where is Mount Hamiguitan?
Mount Hamiguitan is located in Davao Oriental, Philippines. It has an elevation of 1,620 meters above sea level.
What is Mount Hamiguitan known for?
Mount Hamiguitan is a UNESCO World Heritage Site known for its pygmy forests. It's also home to a plethora of endemic and globally threatened fauna and flora species.
When is the best time to hike Mt Hamiguitan?
The best time to hike Mount Hamiguitan is March when the flowers are in bloom and the rainfall is low.
How to hike Mt Hamiguitan?
The easiest and most convenient way to hike Mt Hamiguitan is to join an organized tour. I recommend Boundless Adventure Tours if you plan to take this route.
Mt Hamiguitan Sample Itinerary
Day 1
02:30 am: Davao City Meet-up (Mcdo Bolton)
03:00 am: Travel to San Isidro, Davao Oriental
05:00 am: Breakfast along the way
07:00 am: Orientation
08:00 am: Start hiking
09:30 am: ETA Puting Bato
10:30 am: ETA Lantawan 1
12:00 pm: ETA Base Camp (Lunch)
01:00 pm: Continuation of hike
02:30 pm: ETA Uwang Uwang
04:00 pm: ETA Lantawan 2
05:00 pm: ETA Camp 3 ( Pygmy Bonsai Forest Camp)
05:00 pm onwards: Tent pitching, dinner
08:00 pm: Lights off
Day 2
05:00 am: Wake up call & coffee
06:00 am: Breakfast
07:00 am: Start hike
08:00 am: ETA Lantawan 3
10:30 am: ETA Tinagong Dagat
12:00 pm: ETA Hidden Garden
12:00 pm: Lunch
01:00 pm: Backtrail to Camp 3 via alternative route/trail
03:30 pm: ETA Camp 3
04:00 pm: ETA Black Mountain
05:00 pm: Back to camp 3, dinner
08:00 pm: Lights off
Day 3
02:00 am: Wake-up call
03:00 am: Start hiking to the peak ( bring enough water)
05:30 am: ETA the Peak/Enjoy sunrise
06:00 am: Continue hike via alternative route/trail (breakfast along the trail)
11:00 pm: Lunch on the trail
01:00 pm: ETA Mt Hamiguitan World Heritage Park DENR Office/Shower at Mt Hamiguitan Resort
02:00 pm: Travel to Davao City