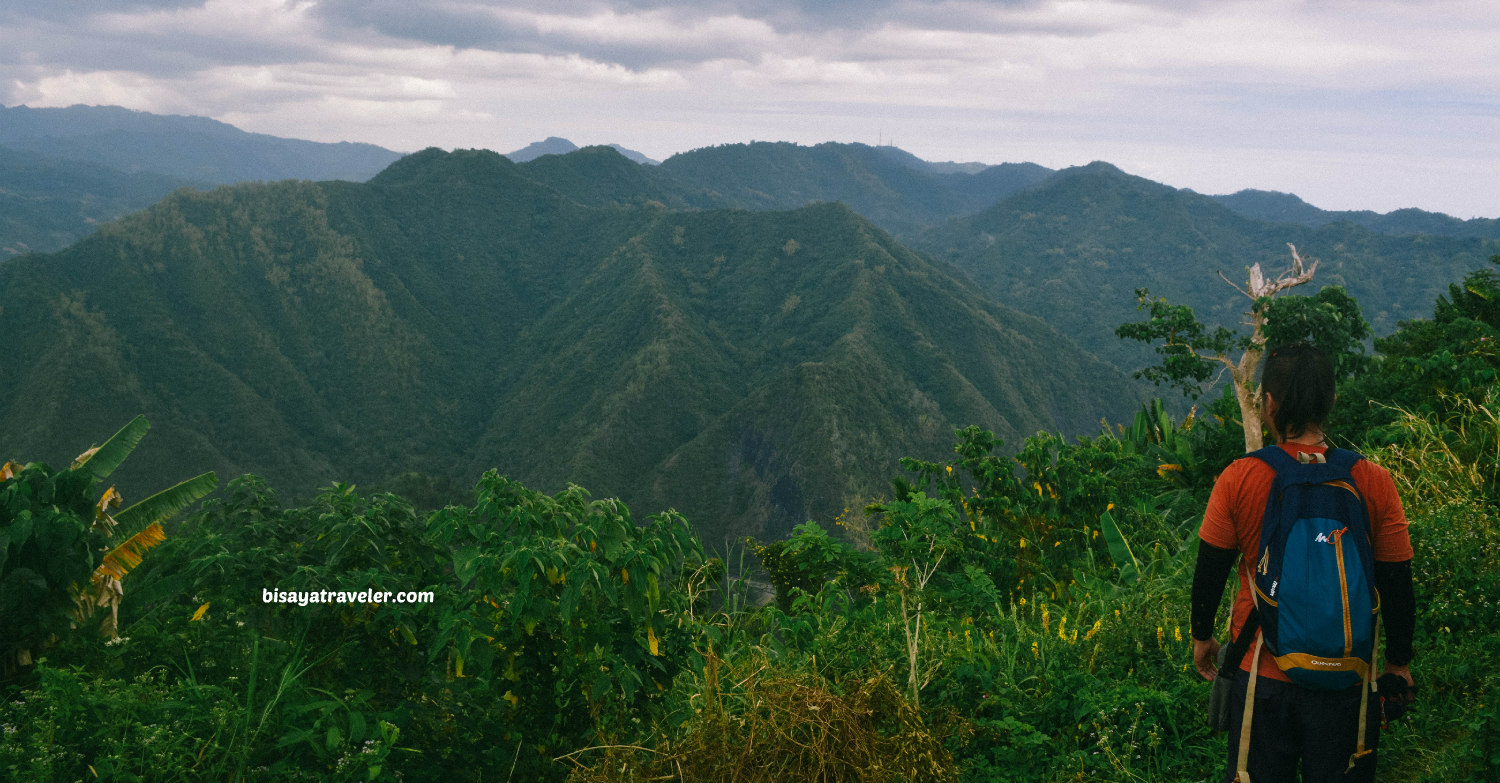 Campo 4 To Mount Naupa: A Beautifully Chaotic Itinerary
I was watching in awe at the finale of a seemingly perfectly-orchestrated symphony. Speechless, I was blown away by a cinematic and splendid sunset in Mount Naupa. The dramatic shades of orange, paired with Naga's trademark rolling hills, created an awe-inspiring and irresistible showcase of natural beauty. And, as I was soaking up the atmosphere and sunset, a philosophical book quote suddenly flashed into my mind. "Under the whirl and chaos of life lies a strange order". As picture-perfect as our ending was, our Campo 4 to Naupa hike itinerary was chaotic.
It was unplanned and full of twists and wrong turns.
Heck, I even thought we were just taking a short "chill" hike that day.
Yet, in the end, all the chaos and missteps were part of a bigger and more colorful picture.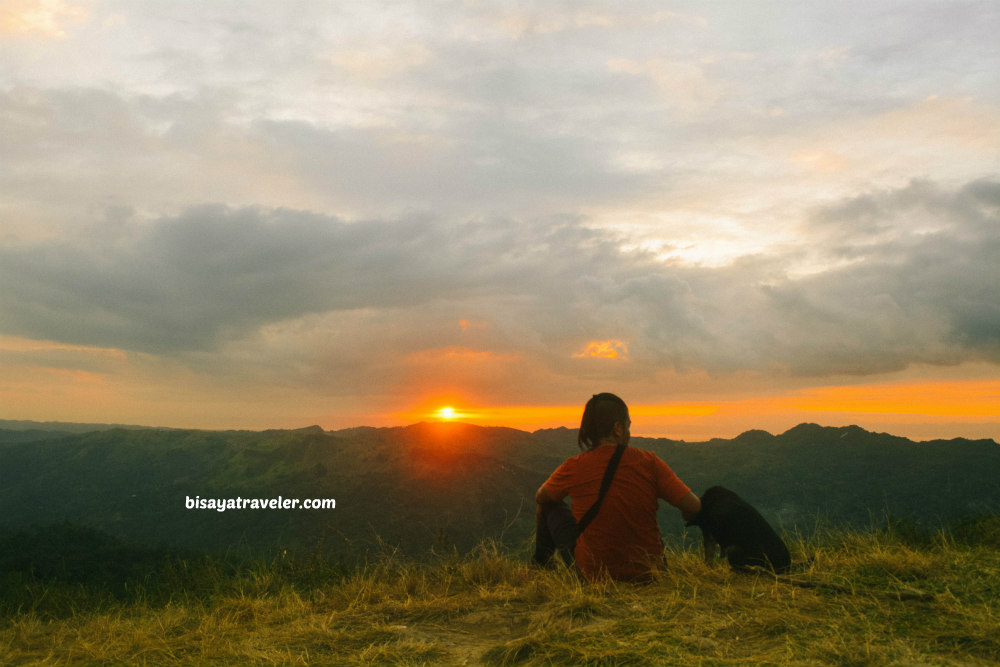 My Campo 4 to Mount Naupa hike
It all started with a picture.
An eye-catching picture posted by Girlie Bacacao, and her friends, highlighting the beauty of Campo 4.
The towering mountains and gorgeous ridges.
Gosh, that photo is simply incredible, sparking our curiosity and tickling our wanderlust.
Intrigued, Beboy, then, reached out to Girlie to fish details about this place in Campo 4.
As it turns out, the place was a part of a mountainous property owned by Girlie's family. And luckily for us, Girlie was willing to accommodate us to their scenic haven in Campo 4.
A day before our Campo 4 hike, we weren't sure if it was going to happen. Actually, there was a little confusion about the exact date of our visit to this wondrous spot in Talisay, Cebu.
That's just how chaotic and unorganized we are, when it comes to exploratory hikes.
Eventually, we decided to hike that Sunday since we didn't have anything to do that day.
Our rendezvous for our Campo 4 exploratory hike was at Tabunok market. For this adventure, I was joined by four of my favorite hiking buddies – Beboy, Dian, Raul and Geneva.
Geared up, we wasted no time, and took a habal-habal ride to the base of our hike. There, we caught up with Girlie and her friends who led us to their beautiful space in the middle of a Campo 4 mountain.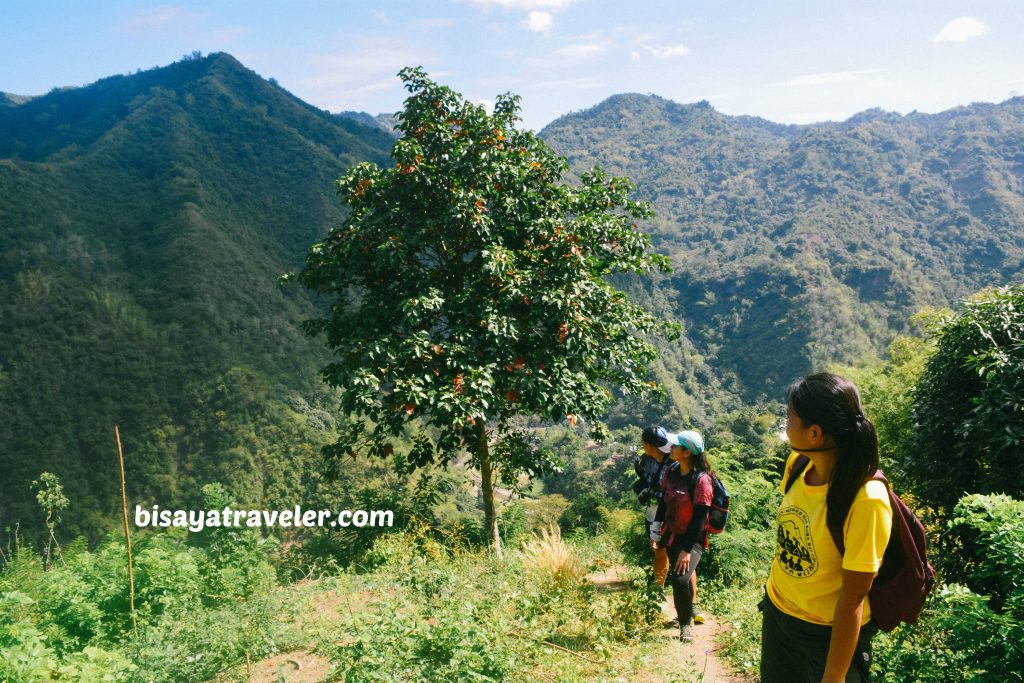 And, it was such a relaxing and heart-warming experience, chilling at their haven of natural beauty.
While resting and enjoying the view, Girlie's friends and family treated us like special guests, appeasing our appetite with a variety of delicious food.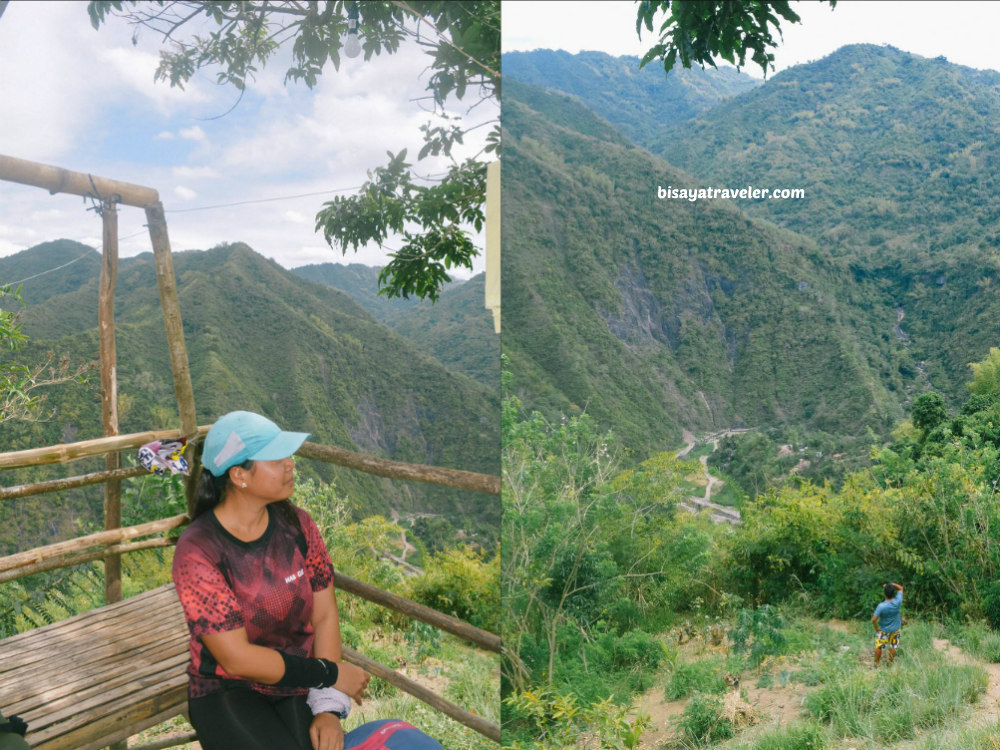 From fresh coconut water to mung bean soup, there were plenty of stomach-filling and tasty goodies at their place.
What's more, they shared some inspiring stories about their life in the mountains.
In the midst of it all, Girlie's uncle mentioned that there's a trail leading to Campinsa and Calbasaan from their house.
And just like that. Our supposed "chill" hike was slowly turning into a long memorable outdoor adventure.
Details were unveiling.
My mind was creating a multitude of calculations.
And, my mental map was creating possibilities and options for our Campo 4 hike.
Initially, Beboy suggested that we just hike up and find some scenic mountains.
But, with more information being revealed to us, it seemed we were heading to Mount Calbasaan.
After a delicious and hearty meal, the charming and friendly people toured us around their property in Campo 4.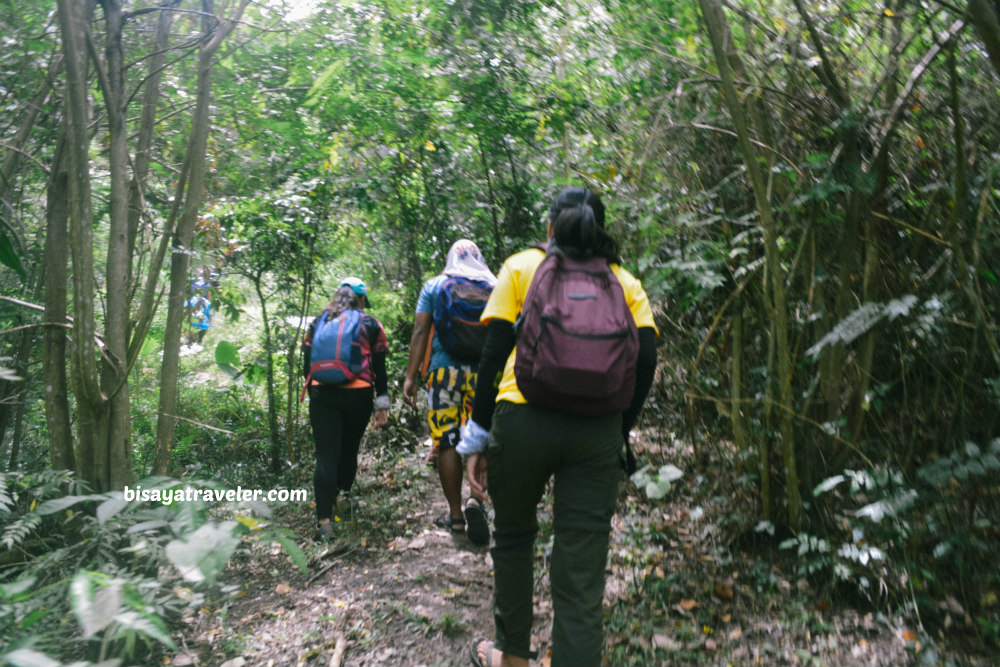 On the way up, we found a spot showcasing the beautiful mountains of Campo 4, Toong and even Babag.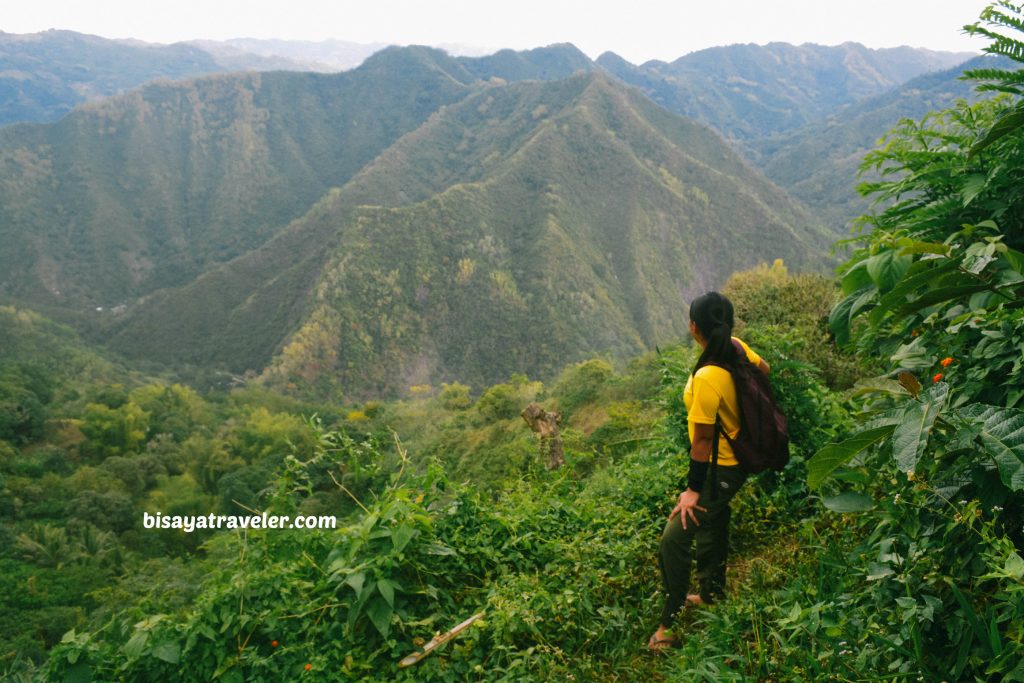 Shortly after, we followed Girlie and her friends to a place with overlooking views of Jaclupan Dam, Talisay and Cebu.
Damn that place was nothing short of amazing! Not only did it wow us with its panoramic view, but it also had a relaxing fresh mountain breeze. As a matter of fact, they are planning to make it their camp site.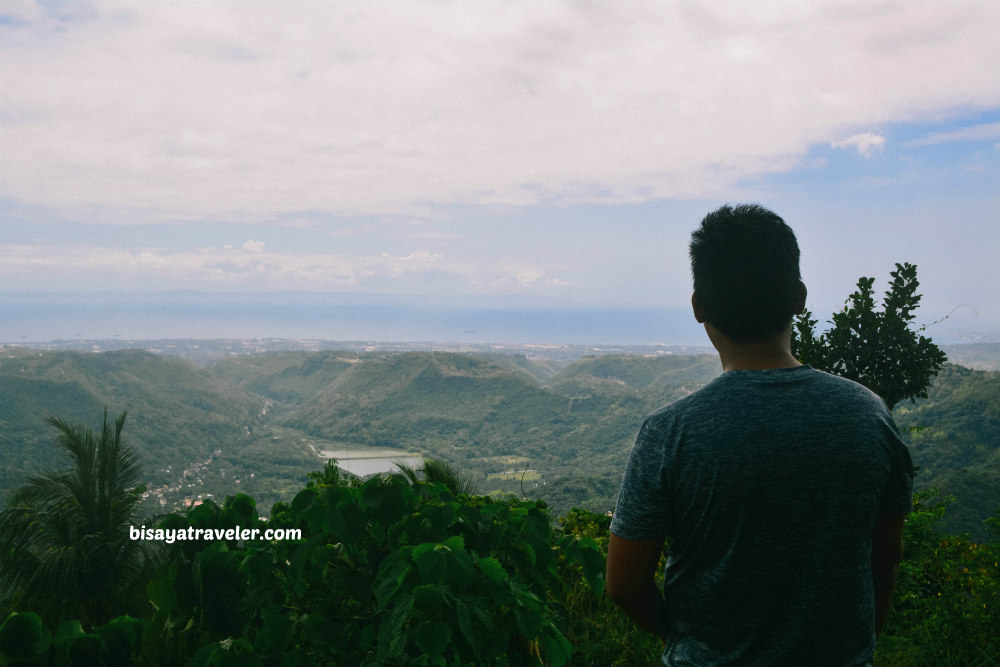 Additionally, I saw the path that we took, when we were hiking from Toong to Mount Calbasaan.
Judging by the distance between Jaclupan Dam and our vantage point, I had a feeling we were pretty close to Calbasaan.
And that sealed deal! It was official! We were going to hike from Campo 4 to Calbasaan.
From this vantage point, we followed a trail in Campo 4 that would hopefully take us to Calbasaan.
Later on, we bid farewell to our friends, and began our hike to the mountains of Minglanilla from Campo 4.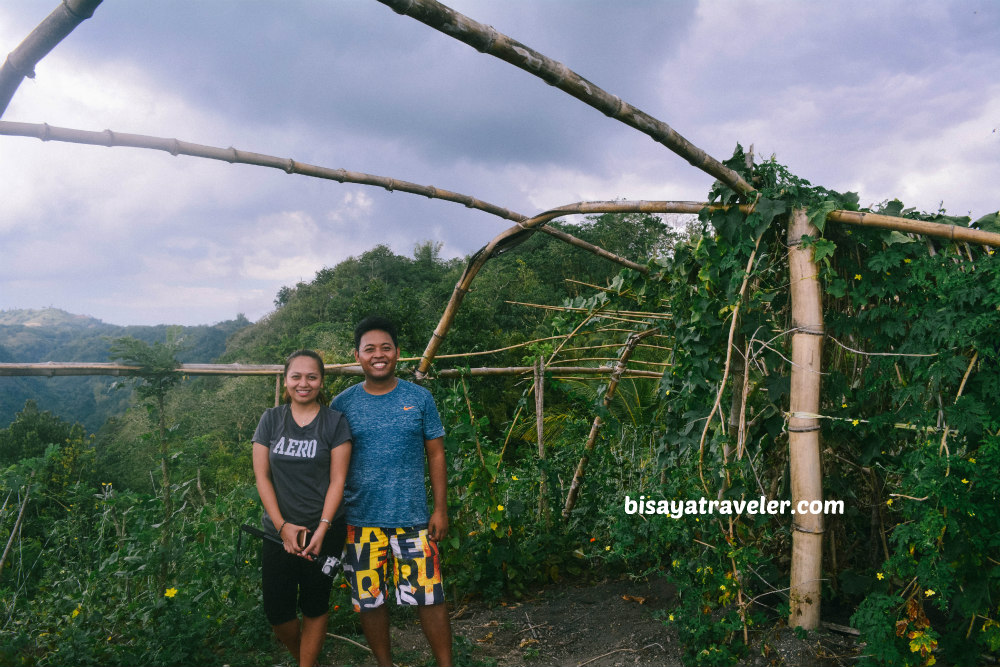 Even though I was expecting a "chill hike", I still brought a pair of gloves for our Campo 4 adventure. Like a diligent boy scout, I came prepared.
And, it did surely come in handy, especially since the trail was brimming with thorny plants and vines.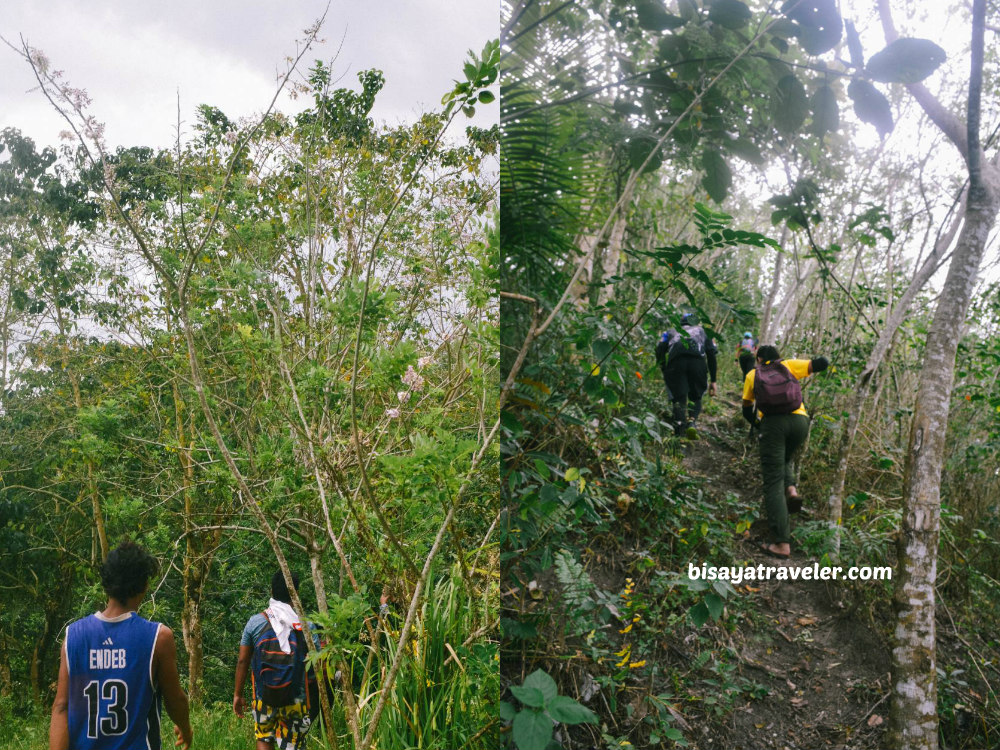 In my years of facing mishaps and accidents, I've learned to master the art of preparation.
When I was young, I thought the guardian angel in charge of the Aldrich Infantado account was operating on a shoestring budget.
It was because I had a plethora of accidents.
I survived a car accident that could have killed anyone.
I survived a sinking boat.
And, I even almost got as fried as a Kenny Rogers chicken, thanks to a freak electrical accident.
Not to mention, I always get chased by cows and horses in the highlands.
The thing is, I'm a disaster magnet.
Soon, I realized that the upkeep for my safety is, on the contrary, costly, especially during The Bisaya Traveler shift.
So, I no longer blame the cherub handling my account. And I accepted the fact that accidents are part of a bigger picture, and are ingrained in DNA. .
That's why I'm becoming a well-prepared adventurer every time I hit the road.
Speaking of chaos, did you know that freak electrical accident encouraged me to study electronics and electrical plans? And, if I didn't study in a technical school, it's unlikely that I've crossed paths with Raul. Furthermore, there might be a different version of The Bisaya Traveler, if I studied in a different institution.
As you can see, whirls, chaos and accidents are pieces of a bigger and grander puzzle.
As for the scenery, there were tons of majestic sights along the way on our Campo 4 hike.
First, there was this lovely vantage point overlooking the mountains of Campo 4 and the surrounding areas.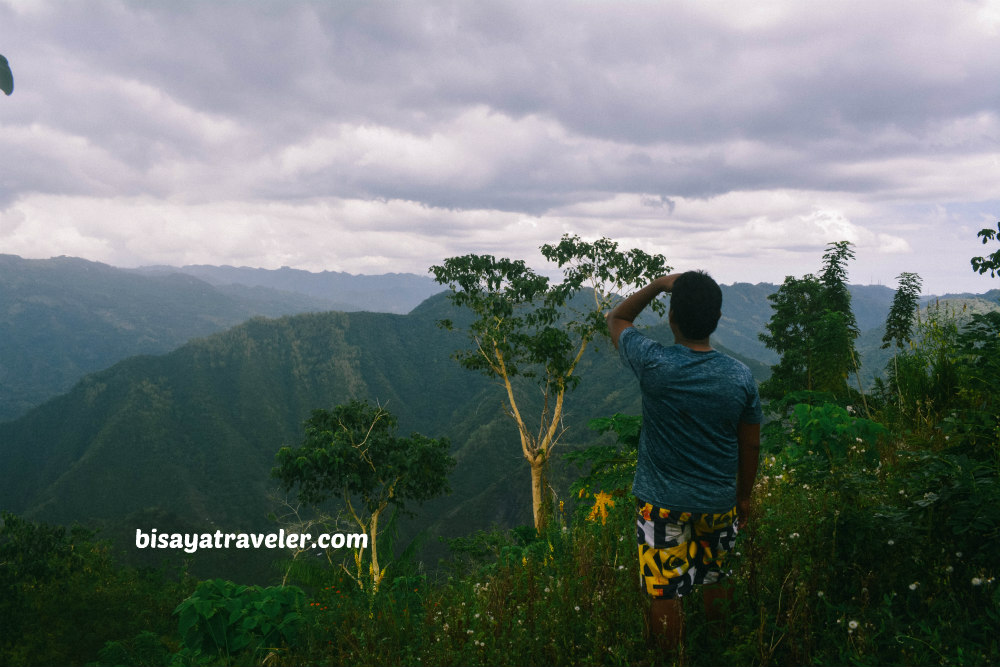 Then, there's this cool spot with a bird's eye perspective of Jaclupan Dam and Talisay.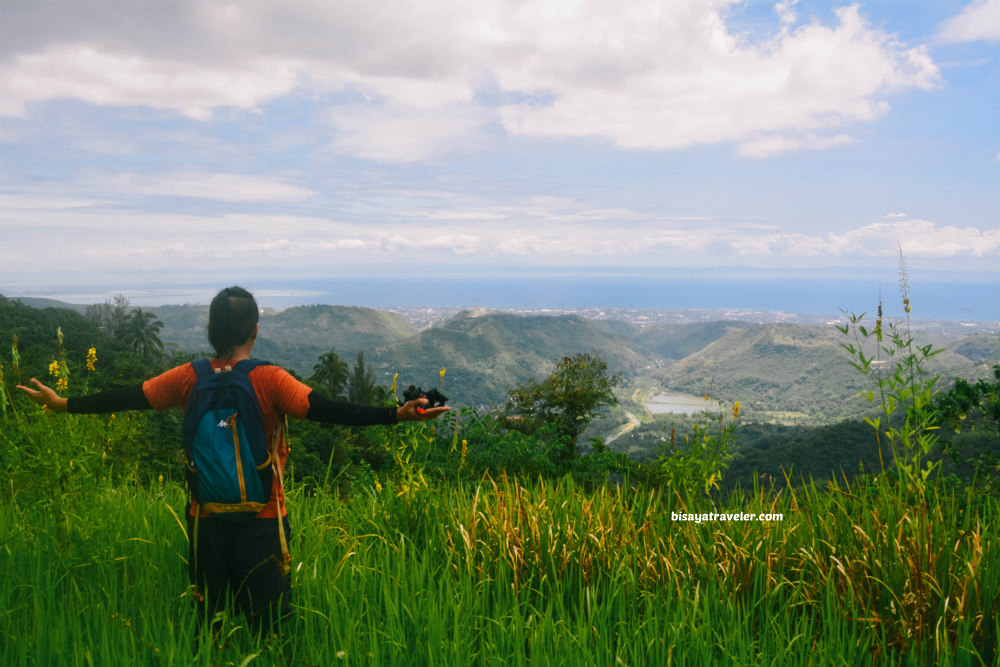 A couple of ascends later, we found this picturesque area.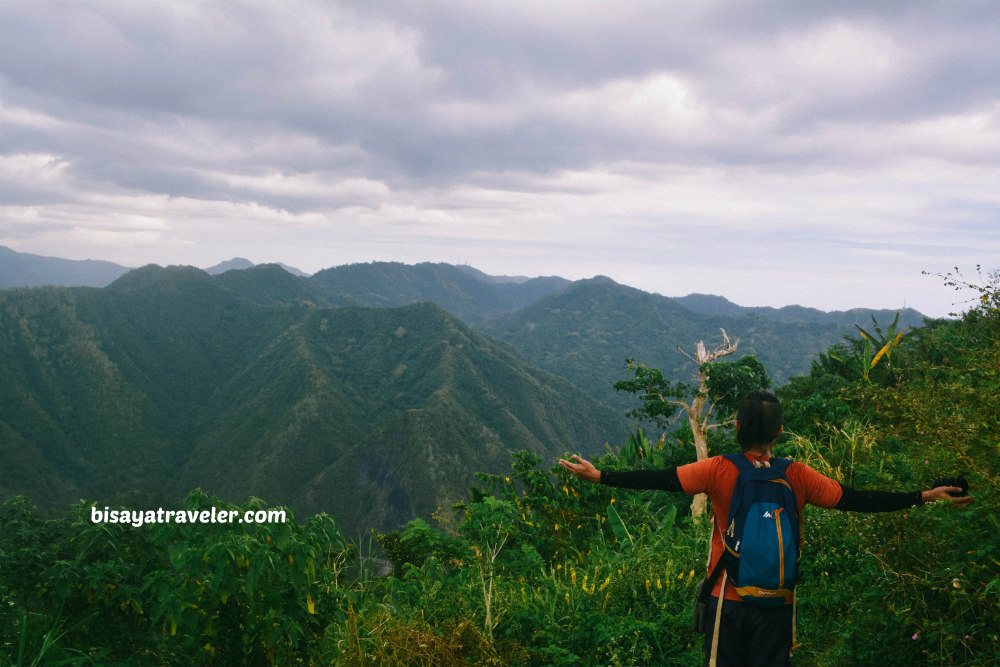 And, as we walk further, we got another good view of the dam.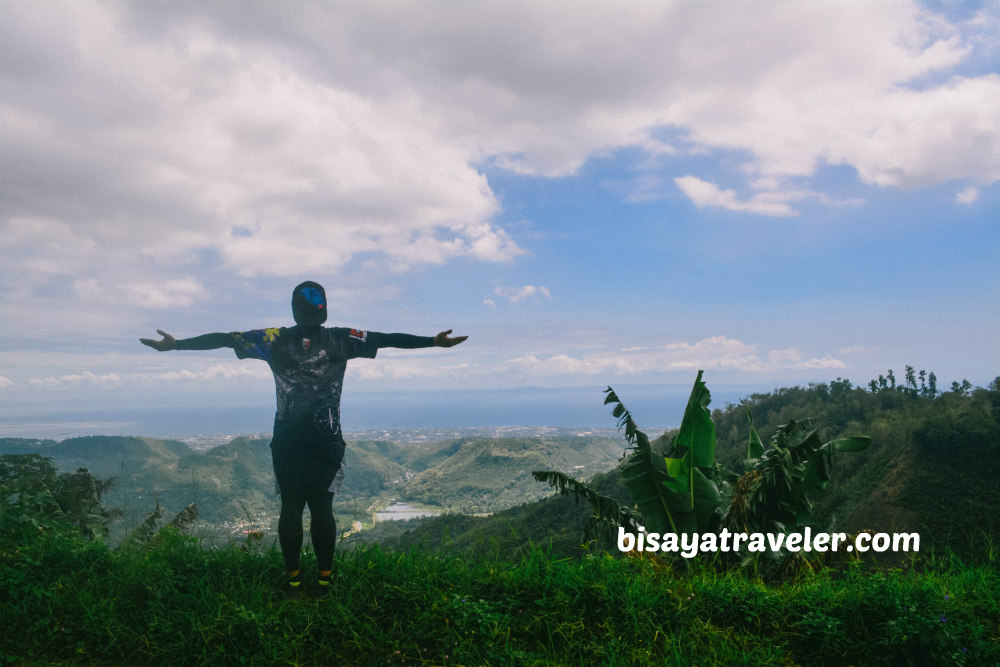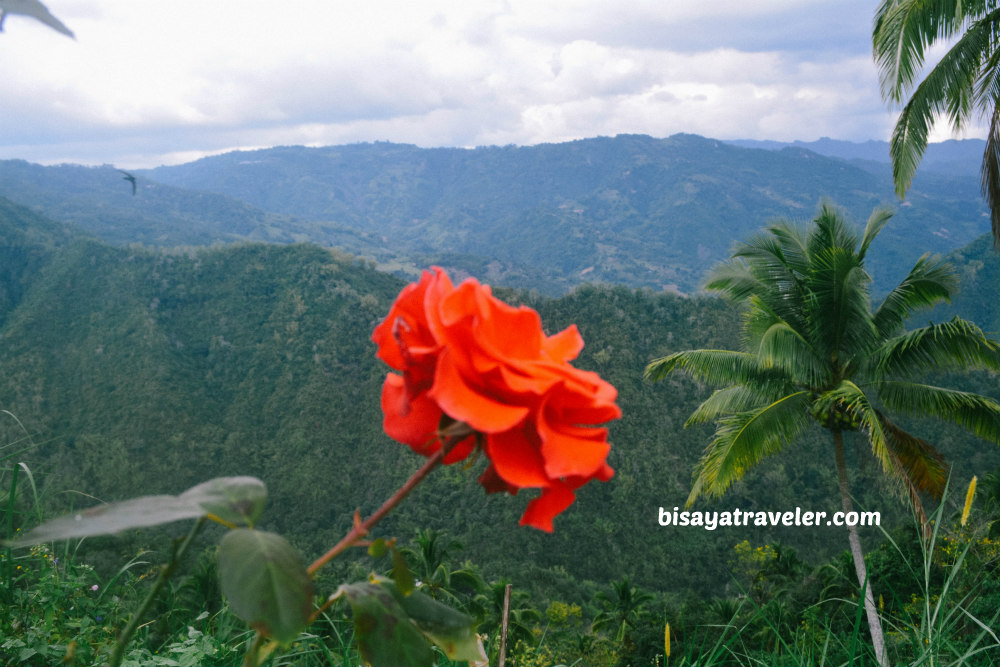 Moments later, we found ourselves standing at a crossroad.
Should we take the smaller trail on the left or the bigger one on the right?
We had no clue, and there was nobody around to show us the way.
Following our "hiker's compass", we went with the smaller trail, and discovered a picture-perfect hilly region in Campensa, Talisay, Cebu.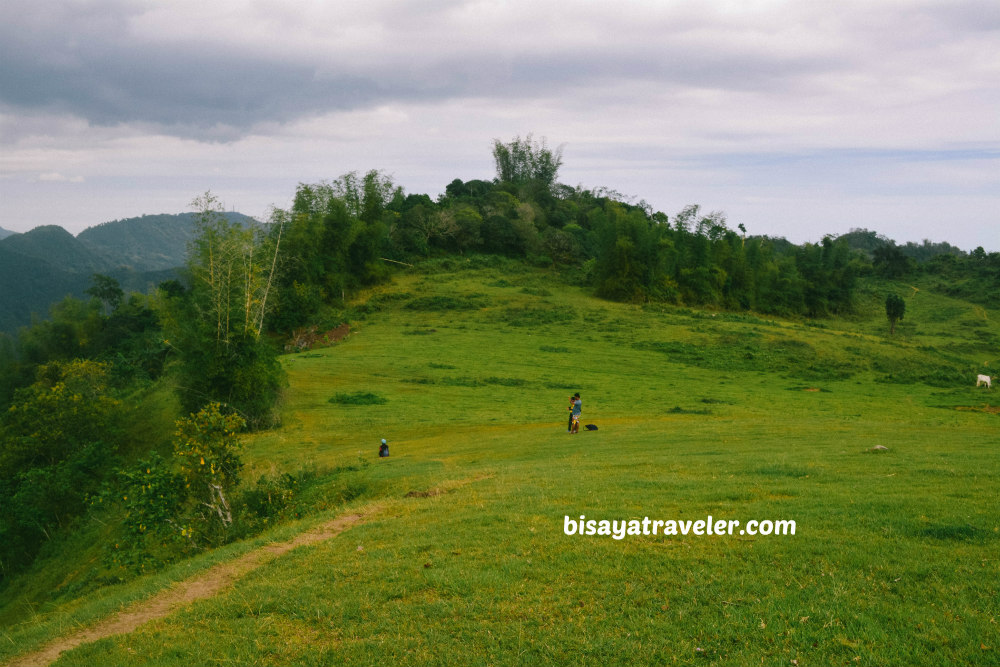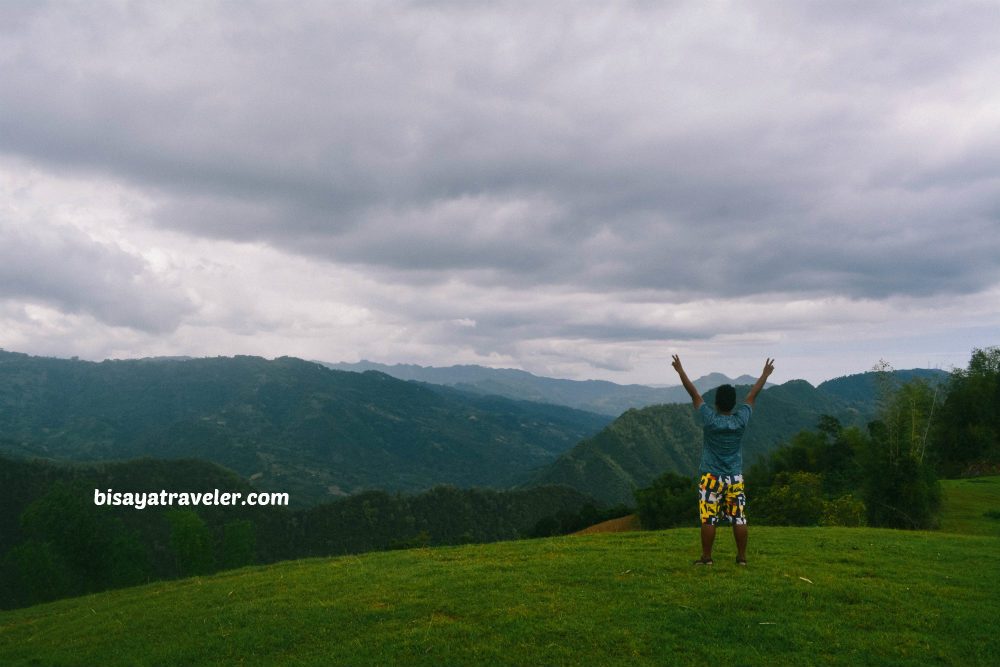 Even on a small island in Cebu, the opportunities for adventure are infinite. With an open-mind and adventurous spirit, your life's adventures can be as countless as the grains of sands on the ocean shores.
And, this hidden hill is one of the numerous unheralded spots you'll discover in Cebu.
With our stomachs grumbling, we decided to take a breather, and ate our lunch at this hill somewhere between Campo 4 and Calbasaan.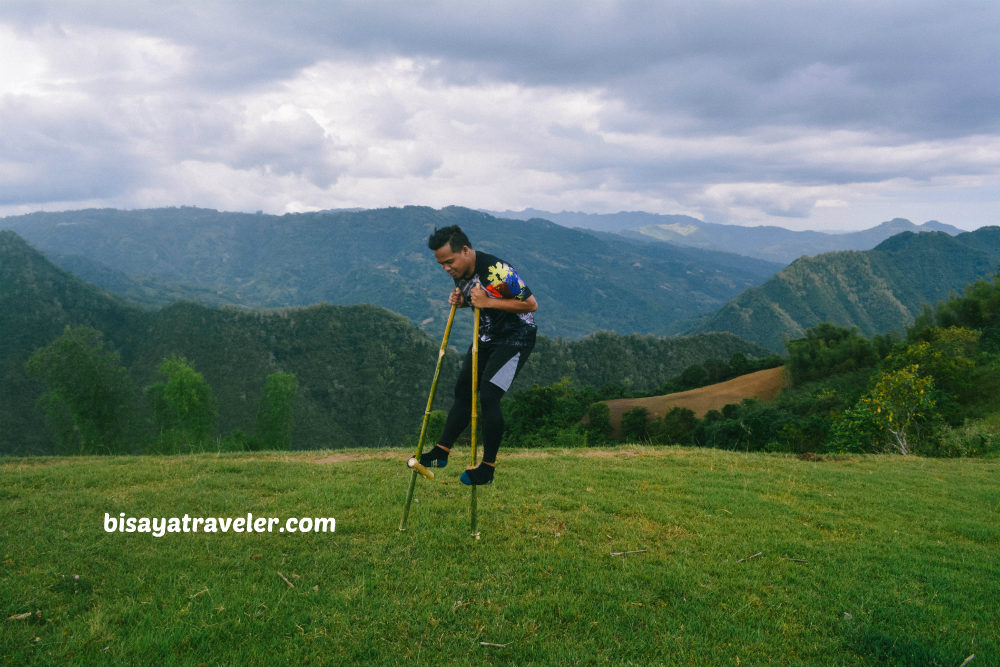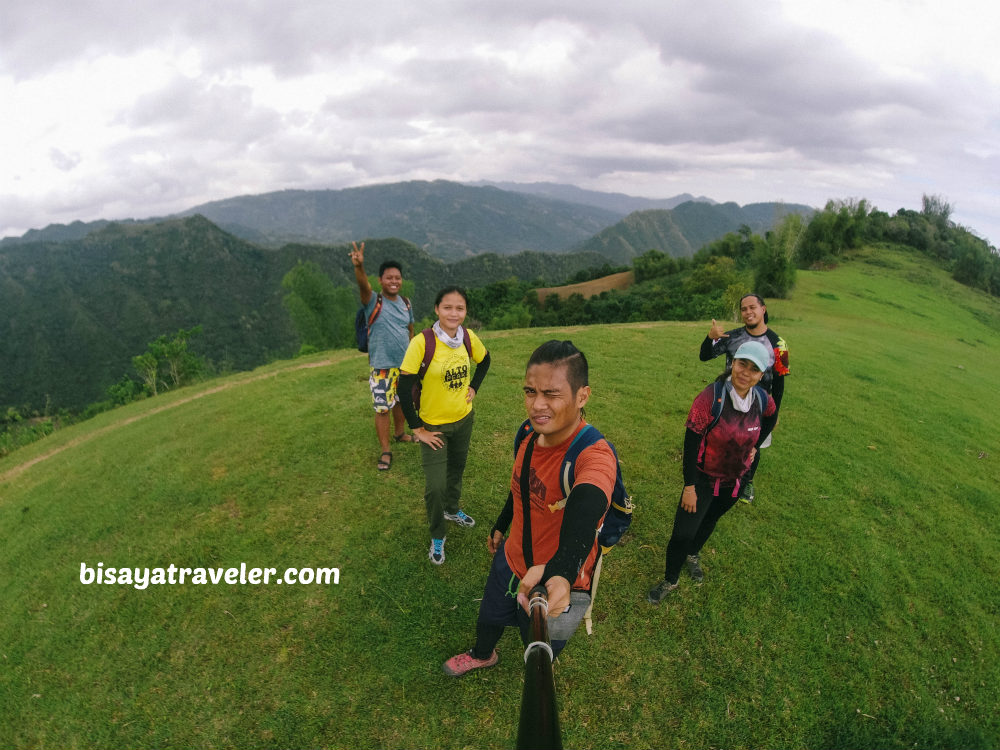 After finishing our lunch, we went east and found a small community with stores selling cold drinks and snacks.
On the south side, there was a tower standing on top of a mountain. And, deep inside, a small voice told me "climb that mountain".
I was curious and intrigued. But, I realized that my curiosity has led me to some perilous and life-threatening places.
It was my curiosity that urged the younger version of me to plug stranded wires into an electrical outlet. The result? It was a spectacular light show that burnt almost all my hair in the left side of my head. But at least, I made people happy that day because school was cancelled.
Maybe, I should not follow my curiosity this time.
Even though it was tempting, I didn't heed my curiosity's advice because I wanted my guardian angel to take a day off on that Sunday.
Upon the recommendations from the locals, we followed the trails leading to the main road in Lubas.
We made some wrong turns, but we weren't bothered at all. As far as we're concerned, it was all part of the adventure.
My plan was simple. From Campo 4, hike to Campensa, and find the main road in Lubas. Once there, follow the concrete road to Calbasaan.
There was, however, a slight miscalculation in my plan. When we arrive at Calbasaan later, we discovered something that might have made our hike shorter.
Remember that intriguing mountain with a tower I mentioned earlier? Yep, it was a shortcut to Mount Calbasaan. I guess I should have followed my curiosity.
Soon, we found the road in Lubas that leads to Calbasaan. From the top of the hill, we sprinted downhill, running like raging bulls eyeing a target. Raul, on the hand, was running like a Carabao with a swollen pair of testicles.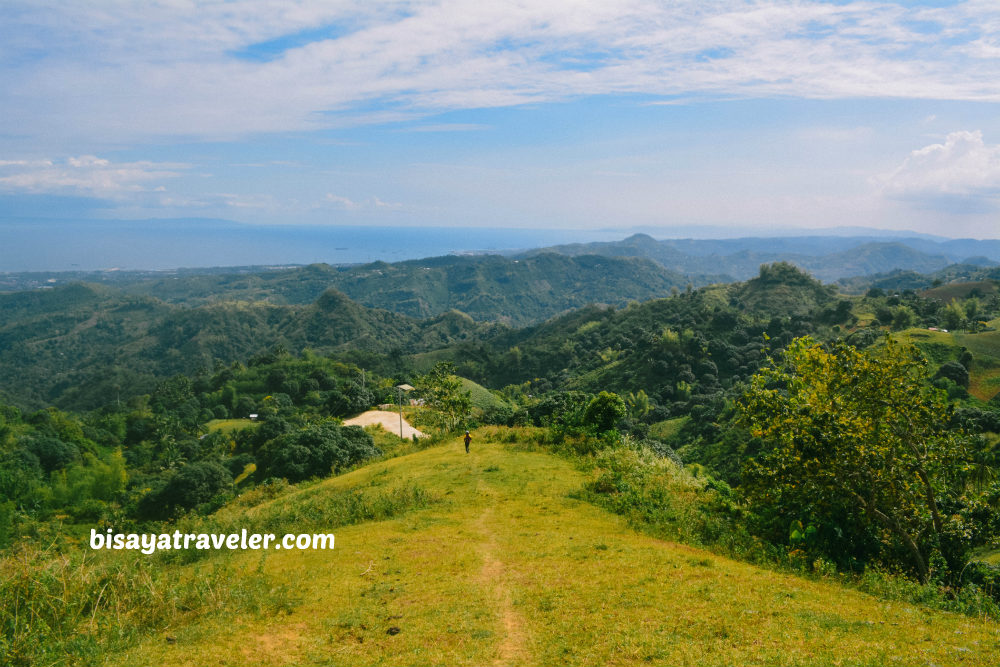 At the main road, we briskly walked our way to Calbasaan. And, guess what? It was a pretty short walk. As a matter of fact, we arrived there earlier than we expected.
While resting in Calbasaan, another crazy idea came into mind. What if we hike all the way to Mount Naupa? Sure, our Campo 4 hike started a bit late, but we were pretty sure it was possible.
If my calculations were correct, it would take around 2 to 3 hours to reach Cogon, Naga from Calbasaan. With everyone onboard with our idea, we descended from Calbasaan and continued with our chaotic open-itinerary hike from Campo 4.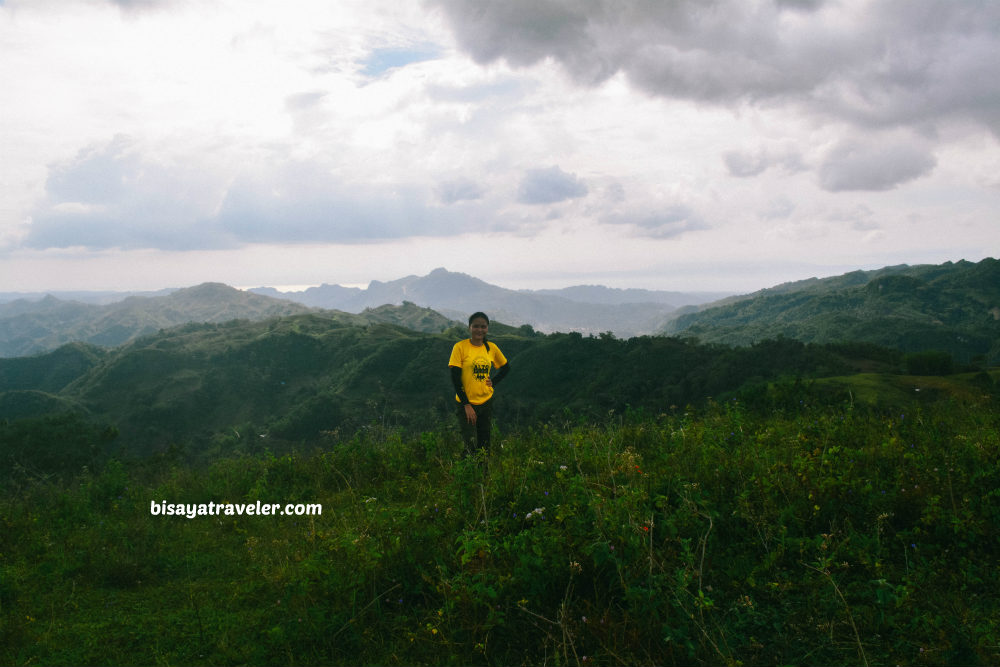 From time to time, we quicken our pace, running like gazelles being chased by Mufasa, Simba or any of the annoying hyenas from Lion King.
As for Raul, he was more like the darker and not-so athletic version of Pumba.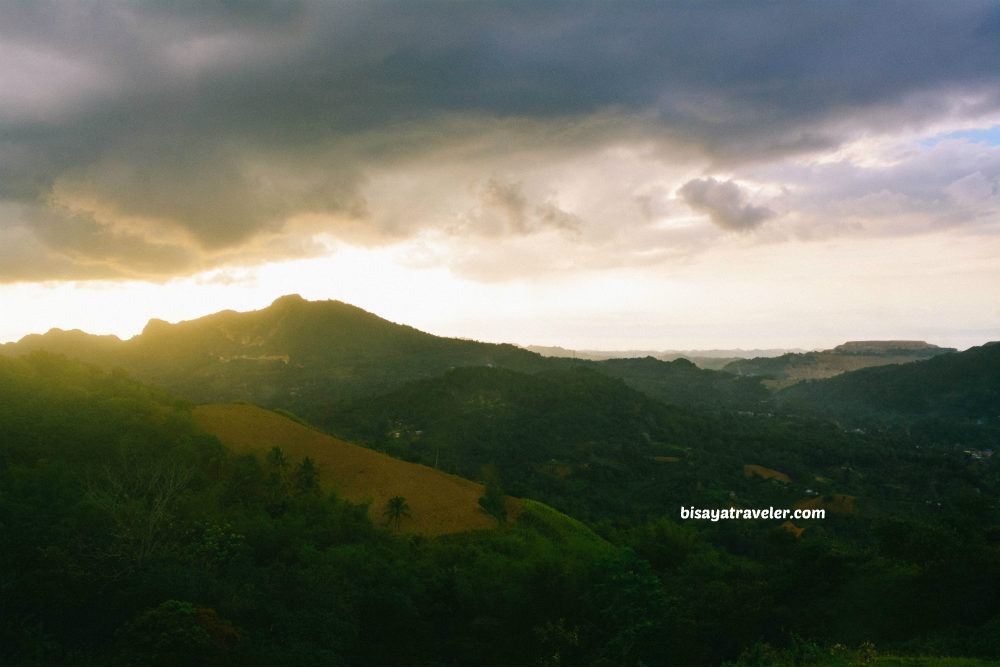 While it was getting dark, there was a sliver of hope. Ultimately, we arrived at Mount Awayan and Kabalas.
Beboy and I were spearheading the hike, passing by a bunch of houses and locals. As always, we greet the locals, whenever we pass by them. On a couple of occasions, the locals asked where we began our hike. And, they were all shocked we answered, "Campo 4".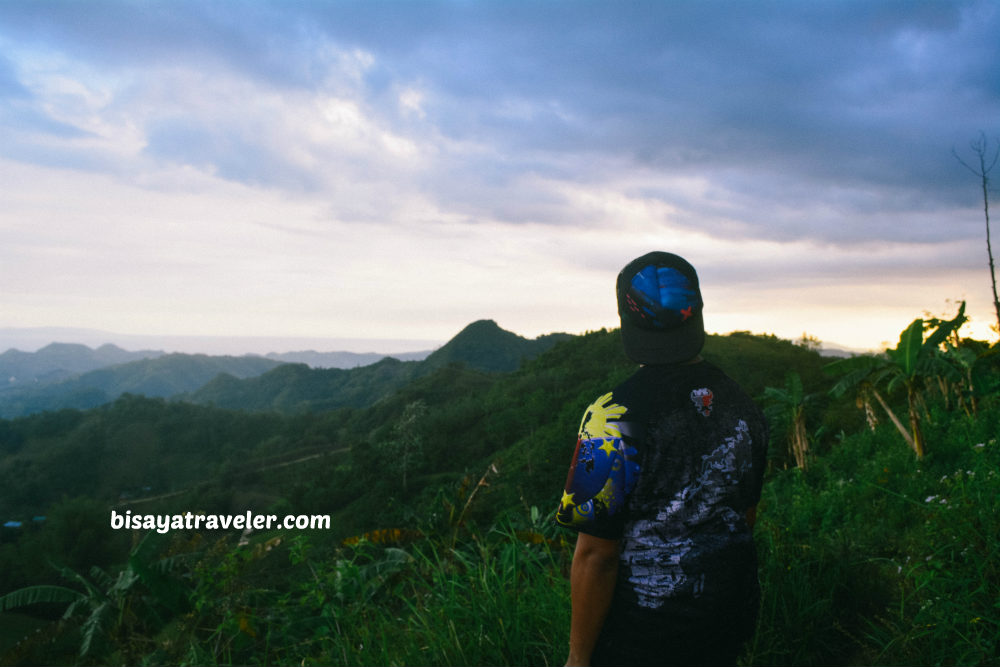 "That's crazy and far", said a young local. We replied with a smile, and proceeded with our hike, hoping to see the beauty of Naga's landscapes before the sun sets.
Of course, we did reach Mount Naupa on time, and were amazed by its glorious sunset.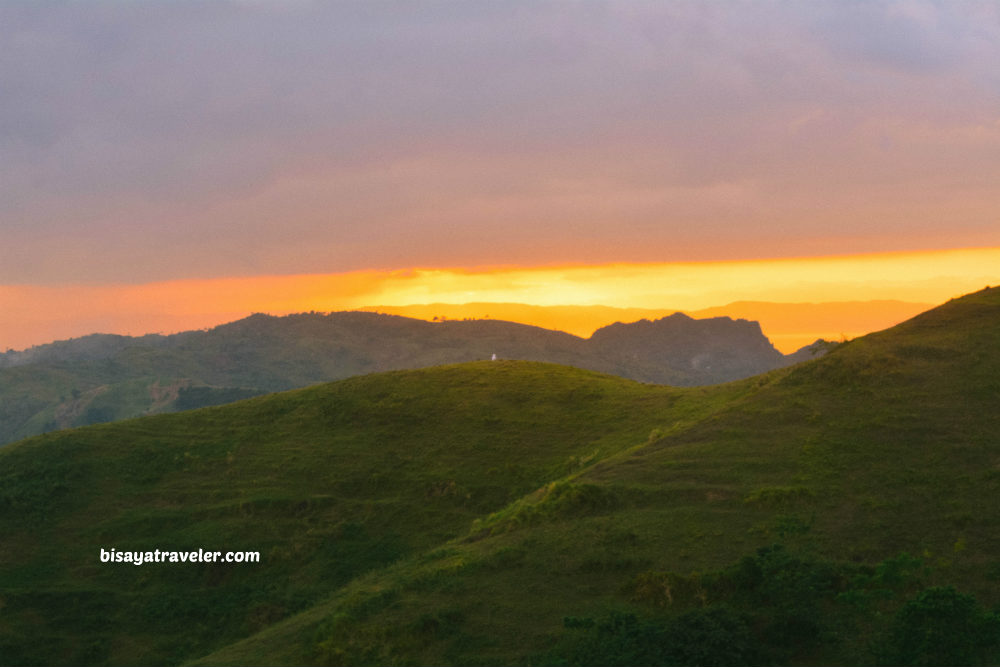 While taking in the view, I realized that beneath life's chaos lies an unusual order.
We were nonchalant, hiking with no direction, when we started our hike. But, at the end of the day, we found a new trail that will surely make our hikes more exciting.
To me, the Universe has a plan for us, and we were put in that moment for a reason. Even with all the chaos in our Campo 4 hike, the stars have aligned to ensure we were there.
Who knows? This might become a segment of an alternative version of a long highland trail in Cebu.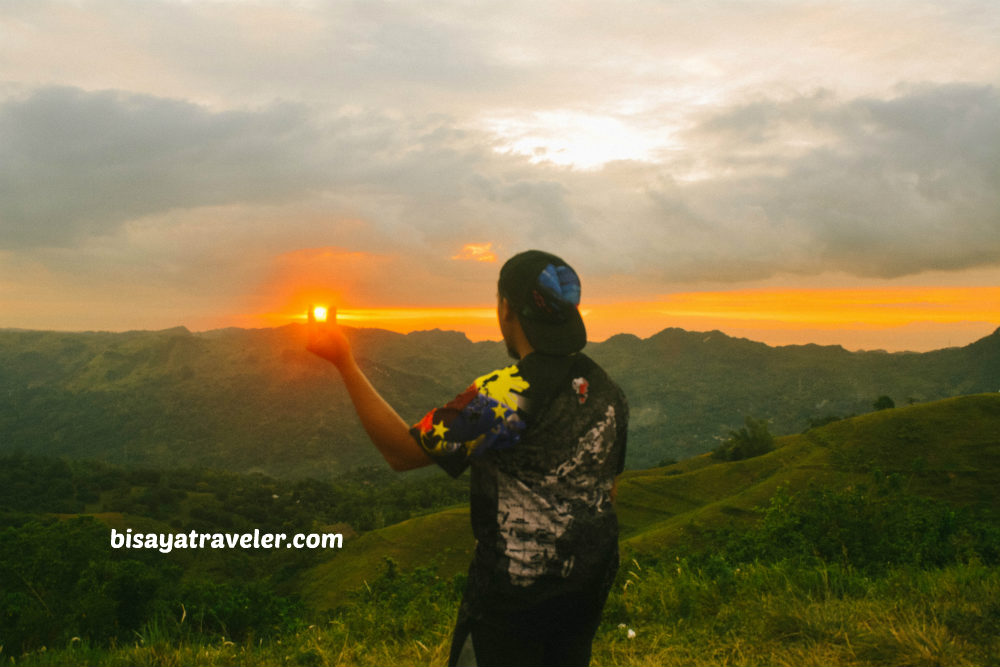 Ironically, Mount Naupa also holds the key to some of mind-blowing adventures for the past few months.
It's, after all, where Beboy, Raul, Geneva and I hiked for the first time, together. As with our Campo 4 hike, it wasn't planned carefully and perfectly with plenty of hurdles and miscalculations. Still, we had a blast and fostered friendships that have resulted into a lot of discoveries and one-of-a-kind escapades.
And, if that hike didn't happen, I don't think we'd be here gazing on one of nature's most eye-catching shows.
From Naupa, we descended to Cogon, to catch a ride home. Unfortunately, there were no motorcycles available to take us to Tungkop, Minglanilla. But, there was a Good Samaritan who gave us a lift to Minglanilla.
If we were a couple minutes late to arrive at Cogon, we might not have caught that free ride, proving that there's a strange order beneath all the chaos.
My expenses:
Fare to Tabunok from Punta Princesa: PHP 8
Habal-habal fare to Campo 4: PHP 50
Guide fee: NADA
Overall fare to home: PHP 20
Our Campo 4 to Mount Naupa itinerary:
08:00 AM: Meet up at Tabunok
08:45 AM: Depart for Campo 4
09:16 AM: ETA Campo 4
09:40 AM: ETA Girlie's house /chill/eat
11:10 AM: Tour the area
11:55 AM: Start hike
01:00 PM: ETA Nameless Hill/lunch/picture taking
01:35 PM: Resume hike
03:20 PM: ETA Calbasaan
03:40 PM: Resume hike
05:40 PM: ETA Naupa
06:10 PM: Start descend
06:40 PM: ETA Cogon
07:30 PM: ETA Gaisano Minglanilla
09:00 PM: Home sweet home
Tips and reminders:
Be a responsible hiker. Practice the LNT (leave no trace) principles.
Bring lunch, snacks and trail food.
Pack at least 2 liters of water
Bring Pocari Sweat, Gatorade or any other ION drink.
Wear shoes or sandals with good traction.
How to get to Mount Naupa from Campo 4
As far as I know, only the 5 of us know this trail. And, I'd love to help people hit this trail, as long as they are environmentally responsible. But, I'm going to be quite busy in the next 5 months. On the bright side, you can reach out to Raul if you need a guide at 0967 3161 379.