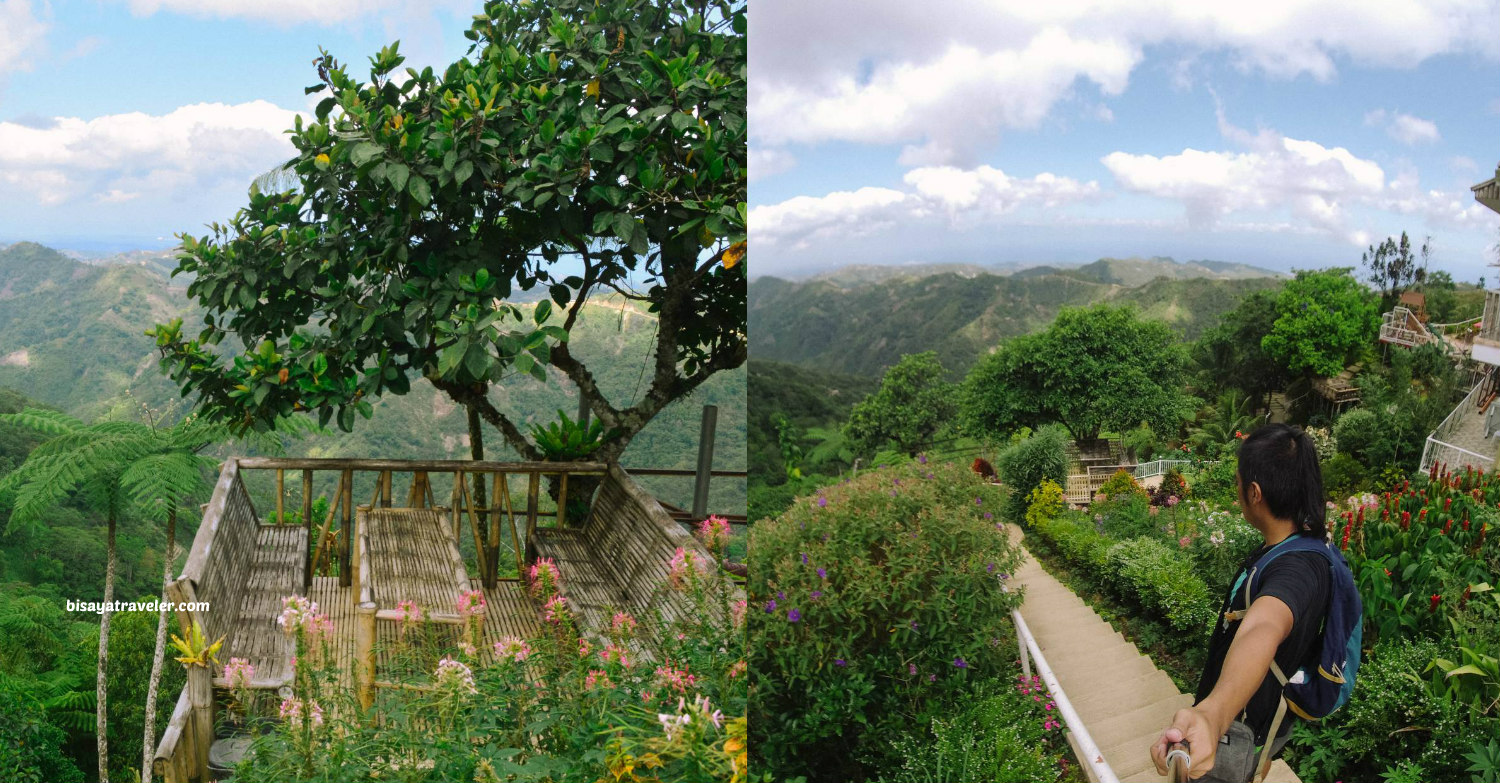 Florentino's Eco Park Cebu: An Oasis Of Beauty
Life, in Cebu, is a whirlwind. From hard-working employees climbing the corporate ladder to whizzing motorcycle drivers, everyone's in constant motion and in a mad rush on our developing island. Heck, even a little sightseeing in Cebu, with a rapid stream of sights and sounds, can feel like a chaotic, blockbuster "Avengers" movie. Luckily, despite the rapid urban modernization, there are still tons of mountainous oases and family-friendly attractions in Cebu where busy people can unwind and relax. And, one of the newest and most picturesque mountain resorts in Cebu is Florentino's Eco Park.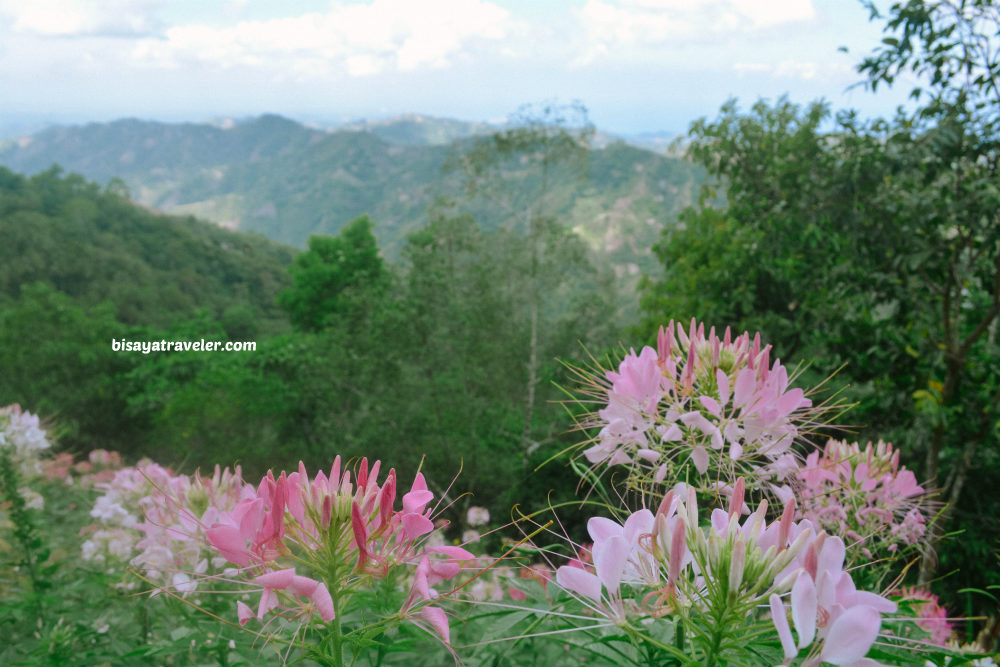 When Florentino's Eco Park opened its doors a year ago, it became a hit. With thousands of Facebook shares, it instantly turned into a social media darling.
As always, I took my time, and waited for my opportunity to see this eco park in Balamban, Cebu.
In my universe, there's no need to rush to any trending Cebu tourist spot.
To me, the best way to enjoy a spot like Florentino's Eco Park is to savor the atmosphere without the seas of tourist.
And, besides, I wasn't exactly overly thrilled to see Florentino's Eco Park. While people nicknamed it as the "Little Tagaytay of Cebu", I thought it was a bit hyped.
"It's just one of those currently trending Cebu tourist spots that may soon lose its luster", I said to myself.
In an era where there's always something new every week, I imagined it fading into the background.
Remember those glowing plastic roses? How about those sunflowers?
And, one day, I finally experienced this easygoing eco park in Gaas, Balamban.
So, was it really worth the hype? Did it appease my wanderlust?
My Florentino's Eco park experience
It was a sunny and warm summer day. Free from my daily grind, I ventured into Balamban, to unwind and check out a couple of photogenic Cebu tourist spots.
First, I stopped by JVR Island in the Sky, and took a walk down memory lane.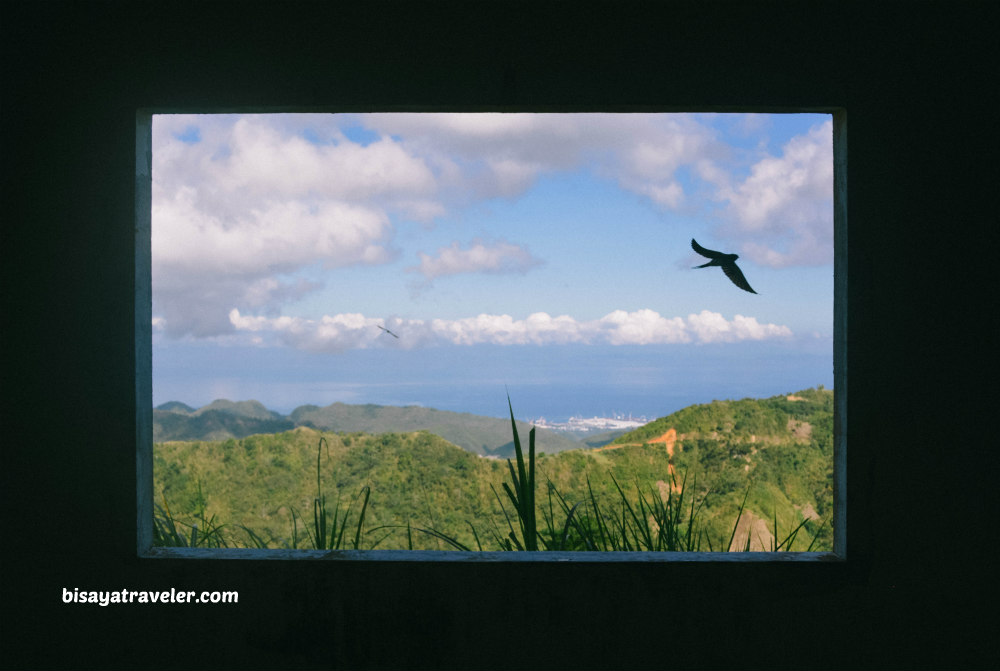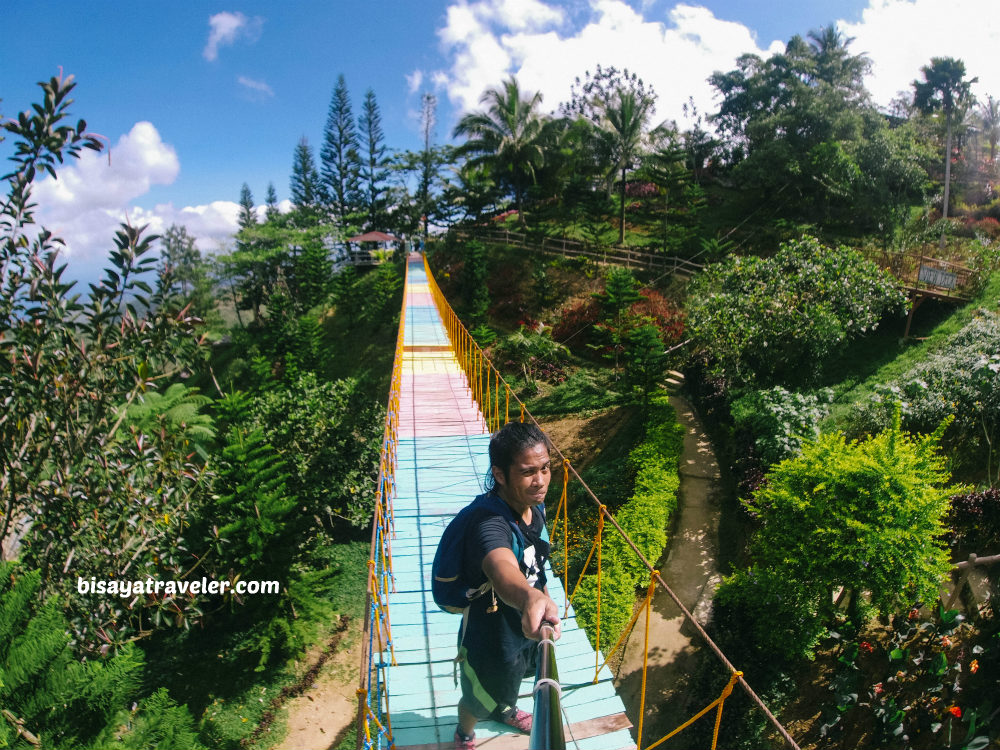 Then, I wandered around Buwakan ni Alejandra, and smelled the island's native flowers.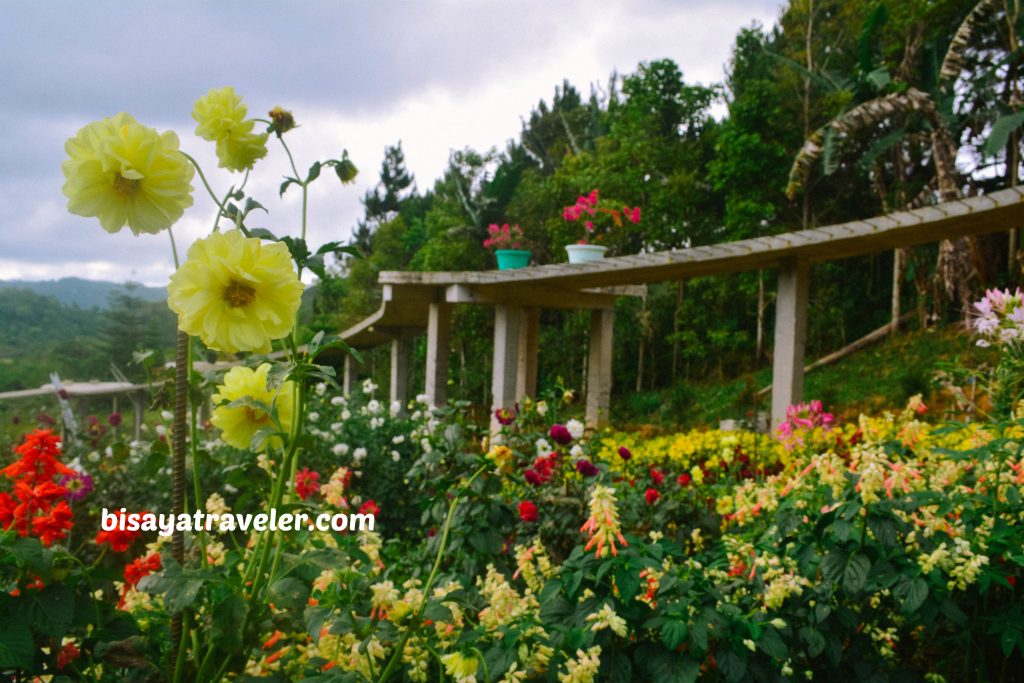 Suddenly, I found out that I had plenty of free time in my hands.
Are there are any more interesting attractions and thing to do in Gaas, Balamban? I guess there's only one way to find out.
Although I didn't have an itinerary in mind, I did have a plan on my Balamban exploration. Well, sort of a plan.
My out-of-the-blue plan for this random adventure was simple – hike from Balamban to Sirao.
Thrilled, I exited Buwakan ni Alejandra, and walked east towards the direction of Sirao and Cebu City.
Along the way, I caught a glimpse of the well-known Adventure Café as well as the lush mountains on the background.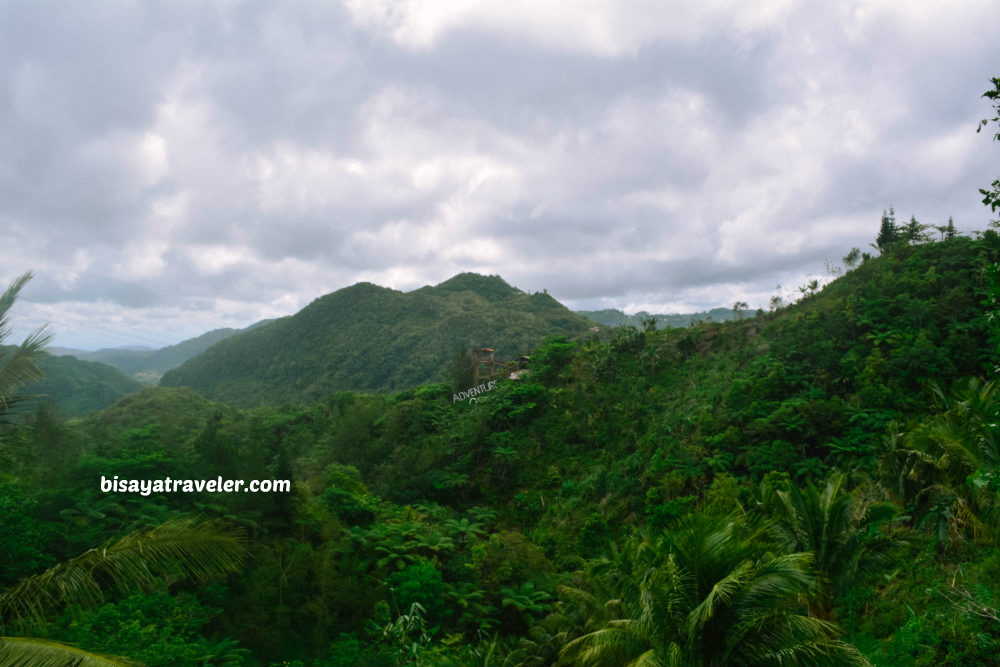 A few steps later, I saw a parking lot on the other side of the road.
That must be the place they called "Florentino's Eco Park". Or maybe, it's a new spot or attraction in Balamban?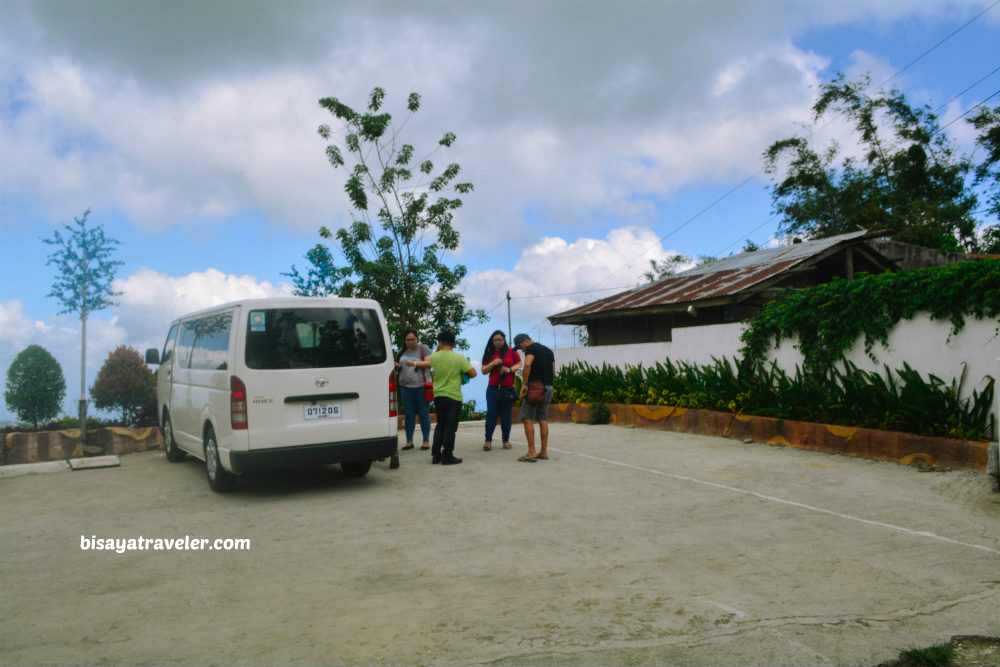 With my curiosity reaching its zenith, I crossed the street and found out that it was indeed Florentino's Eco Park.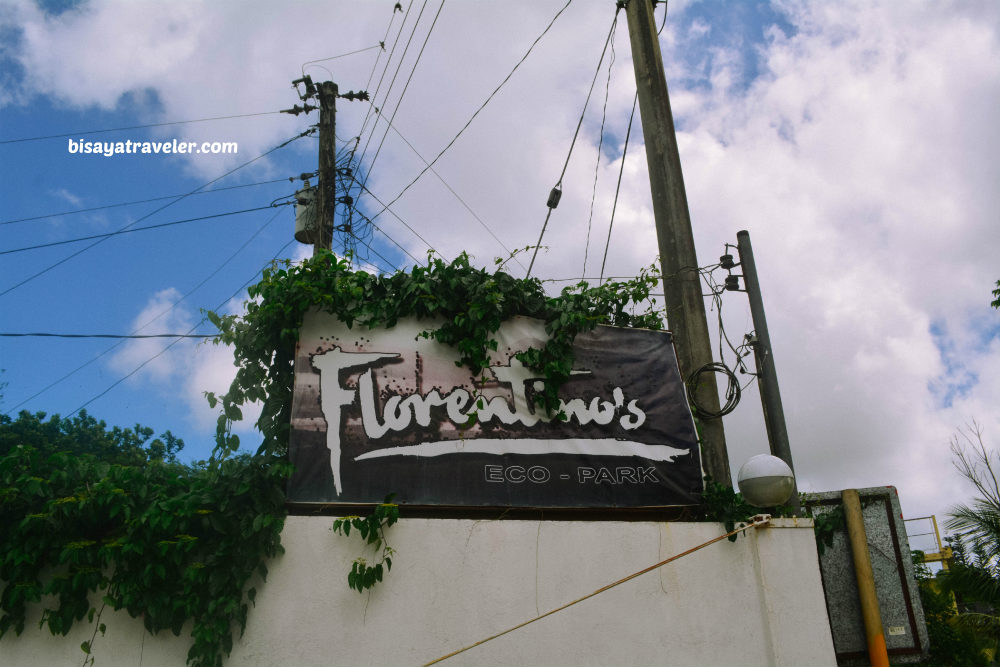 Clearly, I wasn't letting this chance to see the eco park slip out of my hands.
No freaking way!
Sure, I may not always yearn for busy, touristy and trendy and "Instagrammable" Cebu tourist spots. But, I sometimes find them appealing and charming.
And, who knows? There might be a surprise waiting inside.
With a calm, soft and not-so angelic voice, I asked the receptionist how much is the eco park's entrance fee.
"Only 55 pesos", replied the friendly receptionist.
Not bad.
It's pretty affordable, as far as I'm concerned. And, besides, what can I buy with 55 pesos nowadays?
A Coke Light and a siopao in 711? I think it costs more than 55 pesos.
How about 4 bread bitches (pan burikat) and a can of Coke Zero? Yep, I think I still have a few coins as change with that unique snack combination.
From the reception area, I made my way inside Florentino's Eco Park, and was wowed to some dainty mountain views.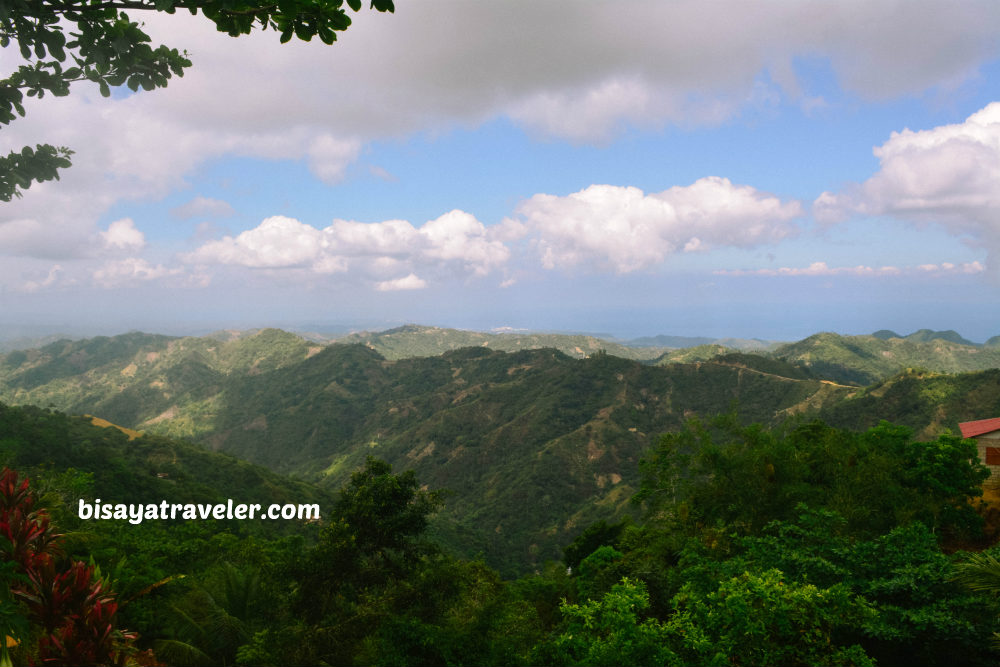 Awesome!
And, guess what? I was such in a positive mood, while relishing the eco park's charm.
Even though I just entered the eco park, I felt like the entrance fee was already worth it.
Unlike some millenials, I'm so easy to please.
I don't need a plethora of mind-blowing entertainment, gadgets or jaw-dropping panoramas, to find my bliss.
The thing is, I'm an old-fashioned, low-maintenance and no-frills guy.
Fresh mountain breeze, a laid-back ambiance and beautiful shades of green will simply do the trick.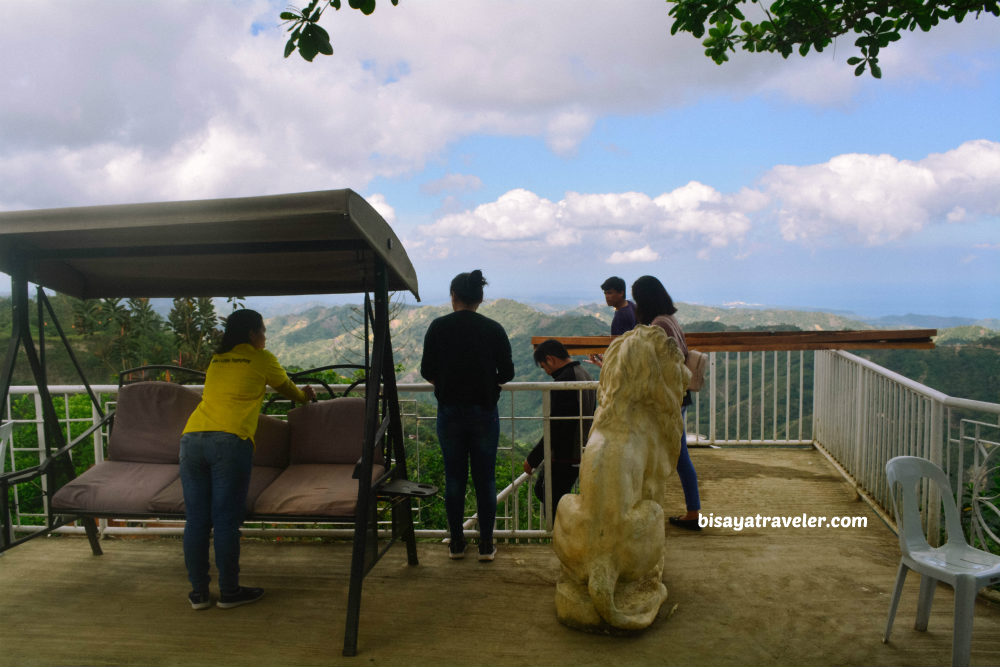 Afterwards, I went downwards following a metal staircase. And, as I was descending, I saw some touches and features that were still under construction.
Like this children's playground.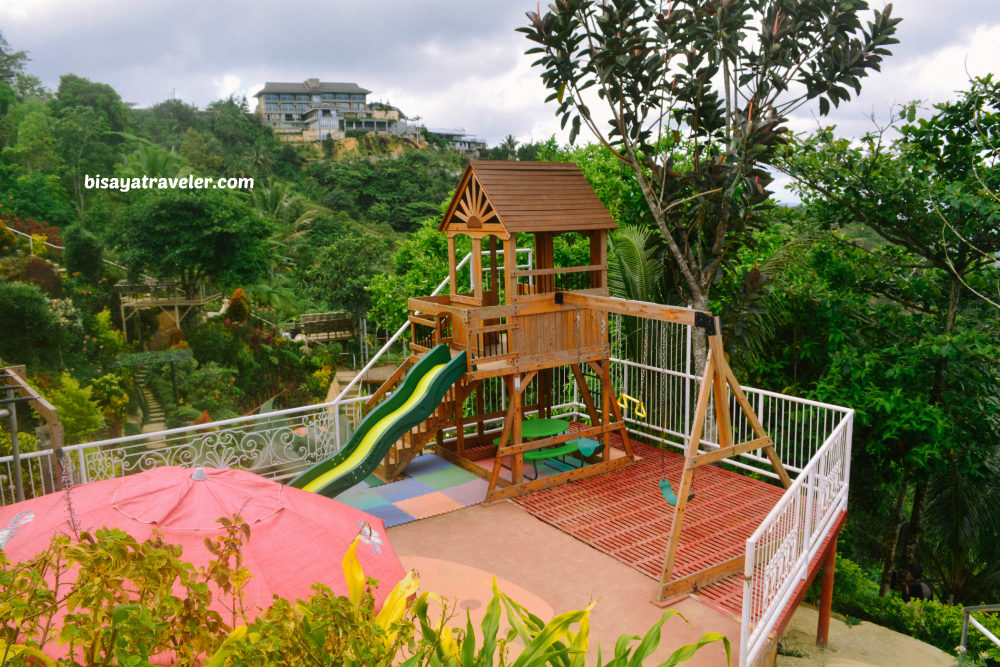 I find this children's playground quite timely since I was about to become a father. Months or years from now, my daughter and her cousin, Goyo, will be playing these grounds while enjoying the fresh mountain air.
That's not a prediction. That's a spoiler. Yes, I'm going to return to Florentino's Eco Park with the whole family.
Feeling euphoric and relaxed, I wandered aimlessly around the area. Soon, I discovered a myriad of photogenic spots.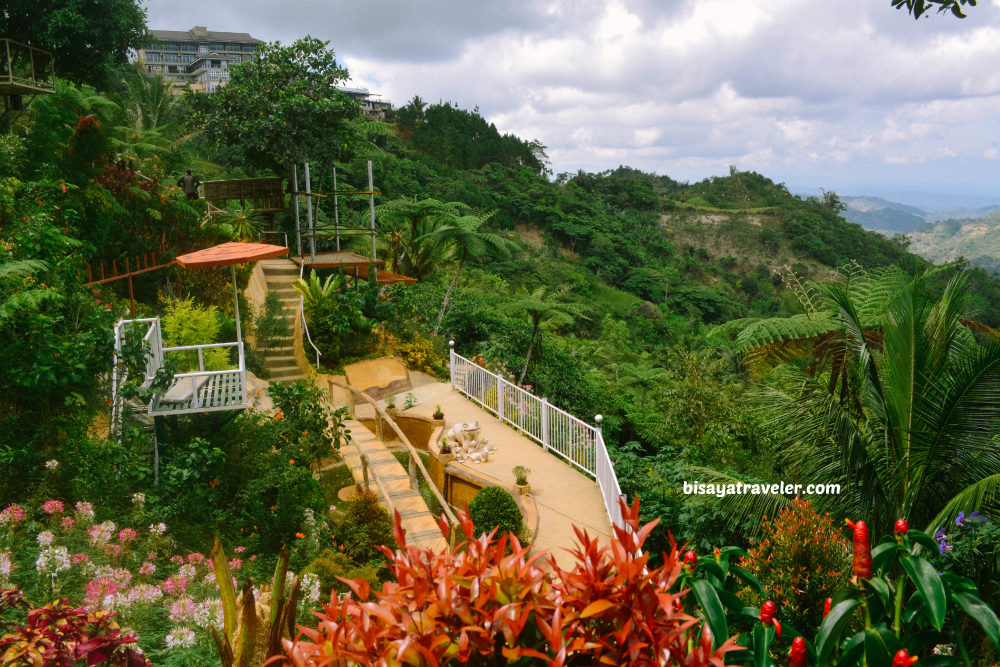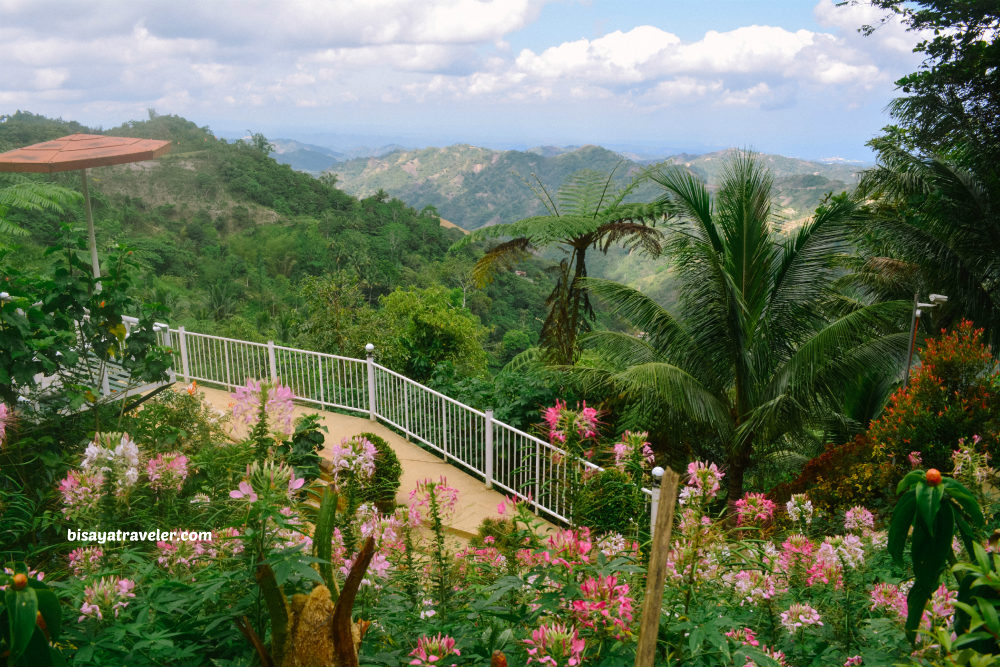 Thus far, Florentino's Eco Park had been the best and most wanderlust appealing spot on my Balamban, Cebu misadventure.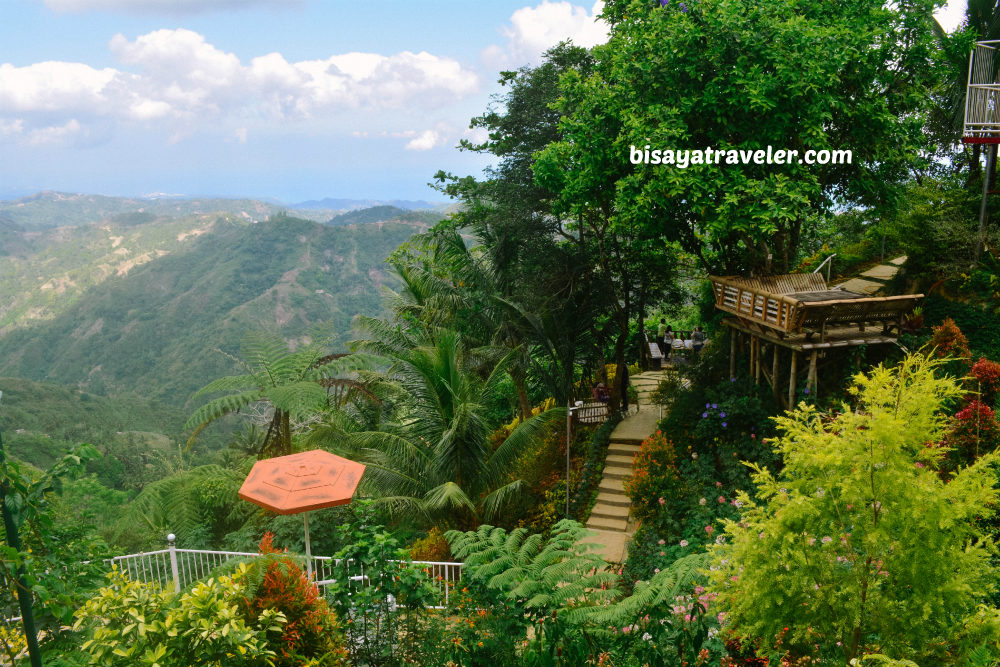 As much as I hate comparing spots, I do think it's a tad better than Buwakan ni Alejandra and JVR Island in the Sky.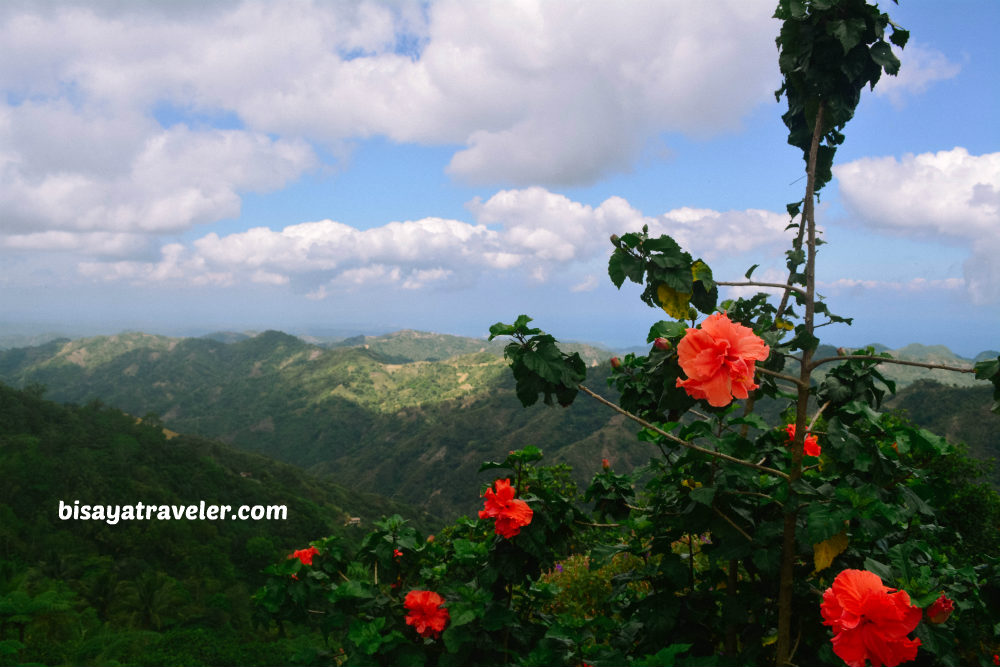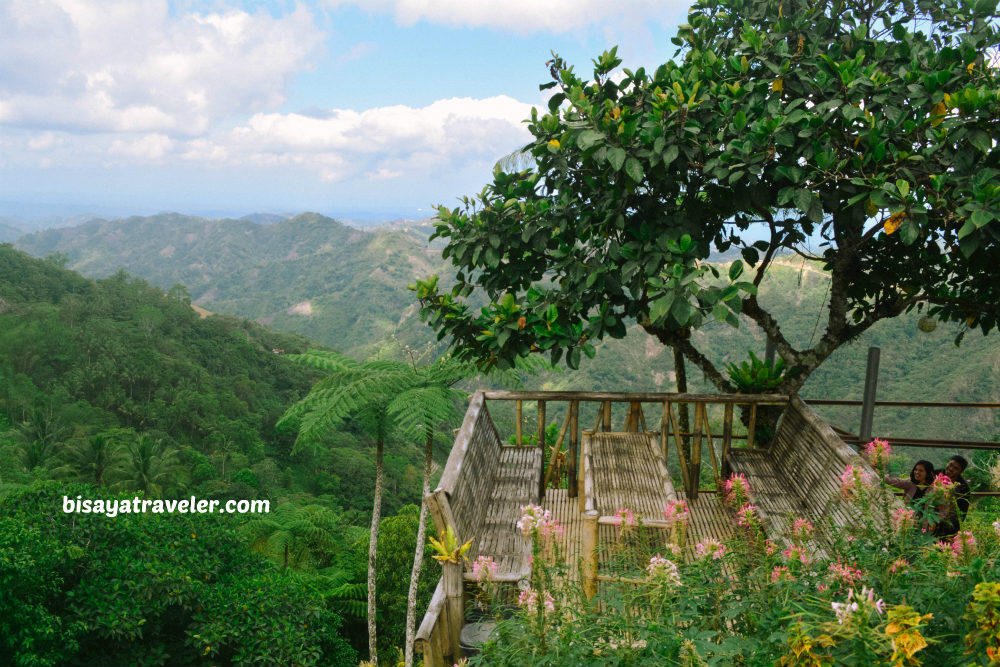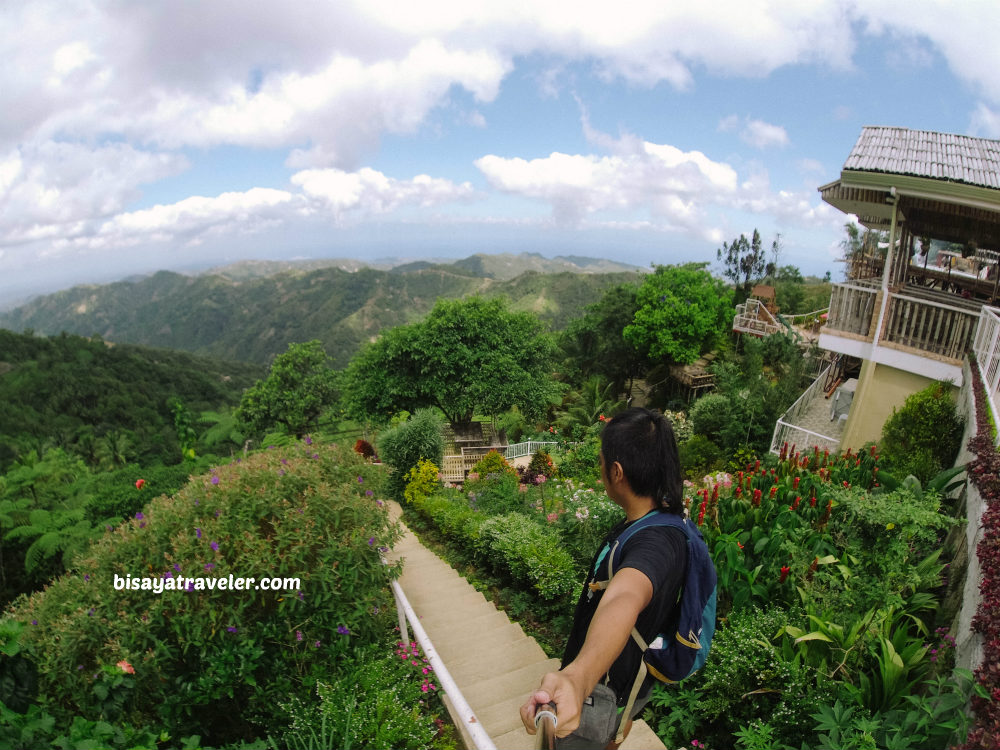 Not only does it boast breathtaking views, but it also has lovely floral arrangements and artsy touches.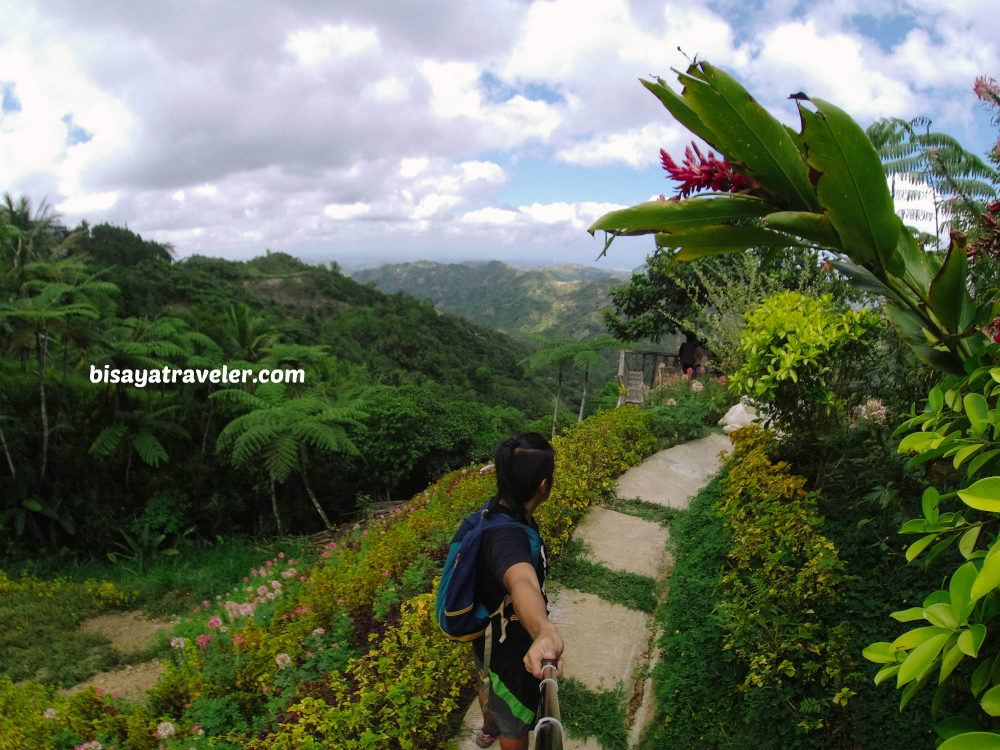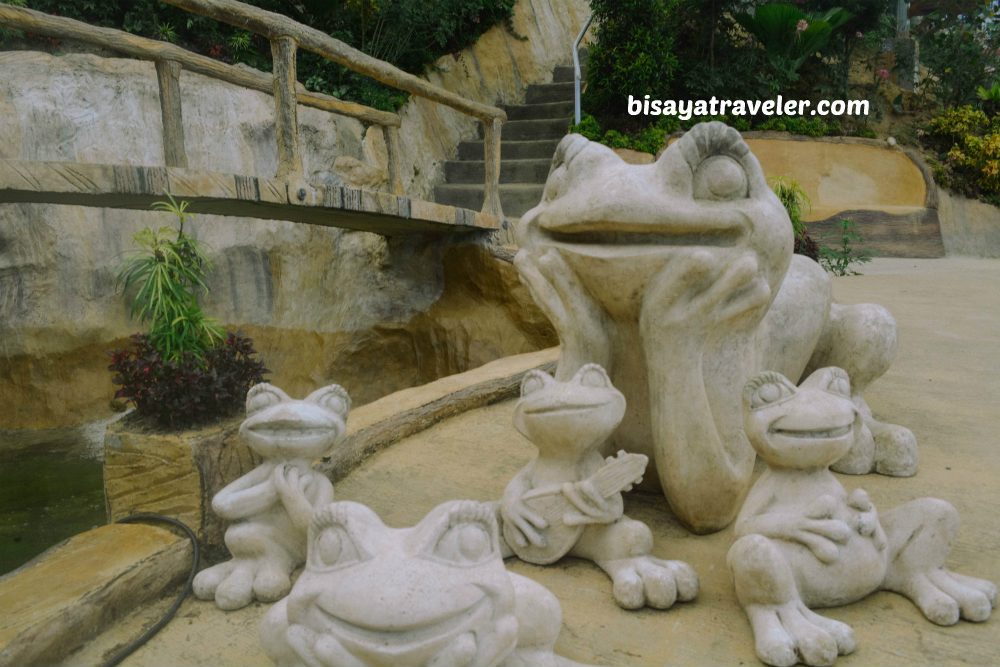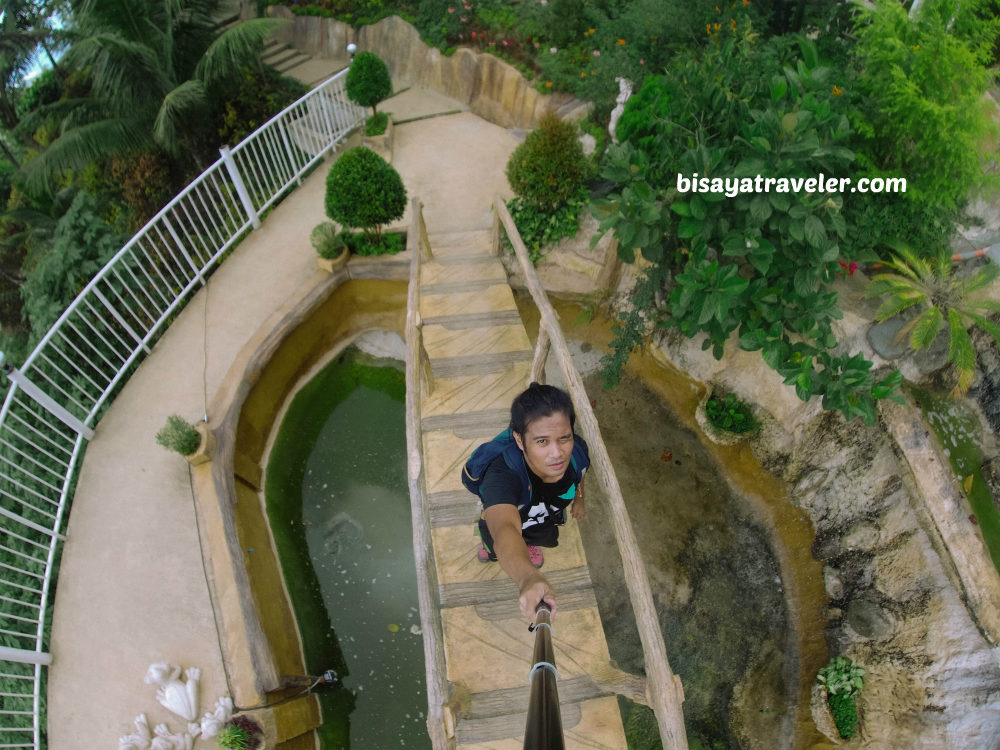 And, more importantly, it has terrific areas where people can sit, relax and just admire the mountain setting.
No wonder they call it "The Little Tagaytay of Cebu"!
To my delightful surprise, the place was relatively empty, with only a few people visiting it.
And, that is the beauty of staying still.
If I visited the eco park months earlier when it gone viral, it would have been a totally different story.
When it comes to exploring places and attractions, I always take my time.
Travel is not a race.
Exploring is not a beauty contest.
And, now, I basically had the place all to myself.
The way I saw it, Florentino's Eco Park is pretty spacious. As a matter of fact, the whole area may be an unfinished product.
Besides the carpenters and workers, there were also some areas that were yet to be opened to the public.
Amazingly, though, I didn't feel the urge to explore the whole area.
Instead, I was in mood for some reflection and contemplation.
With its fresh air, mountain views and empty spaces, it was definitely the best place to escape my hustle and bustle city life.
"Be still. Life is too short to be rushed". That was my chant as I meditated and savored the beauty of Florentino's Eco Park.
I was wondrously perched inside an oasis of beauty and serenity. And, there was no way I'd rushed my visit here for the sake of photography.
As my eyes wandered, I caught sight of a group, or barkada, admiring the view while drinking a sh*tload of beer.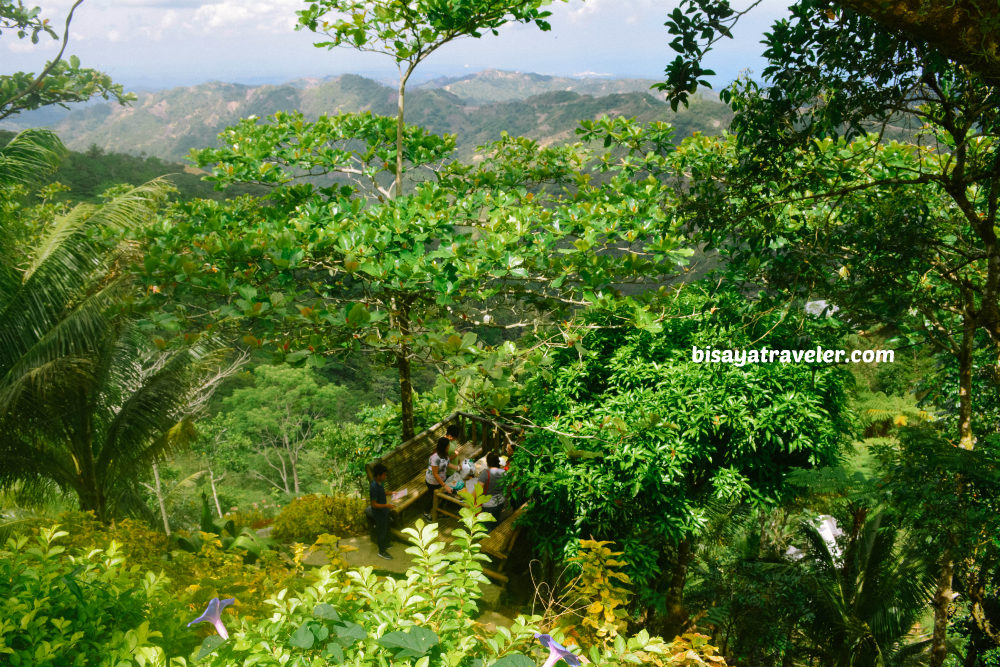 A decade ago, I would have craved for moments like that.
Living life in the fast lane, I thought alcohol was the ultimate fix to melancholy, cynicism and the atrocities of life.
After all, beer, paired with a bunch of friends, would usually take me to my "Neverland".
I drank until my world spin furiously and chaotically.
And, I kept on drinking until I ended up in a dark cold place I call Neverland, with poles, flowing beer and twinkling lights.
Today, I prefer to go to places where I can find my solace.
I yearn for oases where I can spend a great deal of time meditating and contemplating.
And, Florentino's Eco Park was just the oasis I badly needed at that time.
With the endless parade of work and pressures of daily life, I was itching for a place without distractions where I could reflect.
As an added bonus, Florentino's Eco Park also somewhat unleashed my creativity.
Word combinations and philosophical ideas, all of a sudden, flooded through me. If I brought my laptop that day, I might even easily finish a 2,000-blog post.
I guess Florentino's Eco Park is a haven for artists and creative writers.
Honestly, I could spend hours there, just cherishing the view and fresh air. What's more, I may even finish a novel in one reading at this verdant and elaborate eco park.
And, just like that. I felt my body re-energize. I was ready to fight the battles of modern-day life. And, I was geared up for the challenges of becoming a first-time father, thanks to a little reflection at this gorgeous oasis.
I found my slice of paradise and my elixir of life that day.
And, I felt like I've accomplished my mission.
With a reinvigorated spirit, I was ready to head back home.
Forget that Balamban to Sirao hike! I've already found what I was looking for.
As I was about to take a ride back to Cebu, curiosity spiked and a friend, Big E, decided to join fray.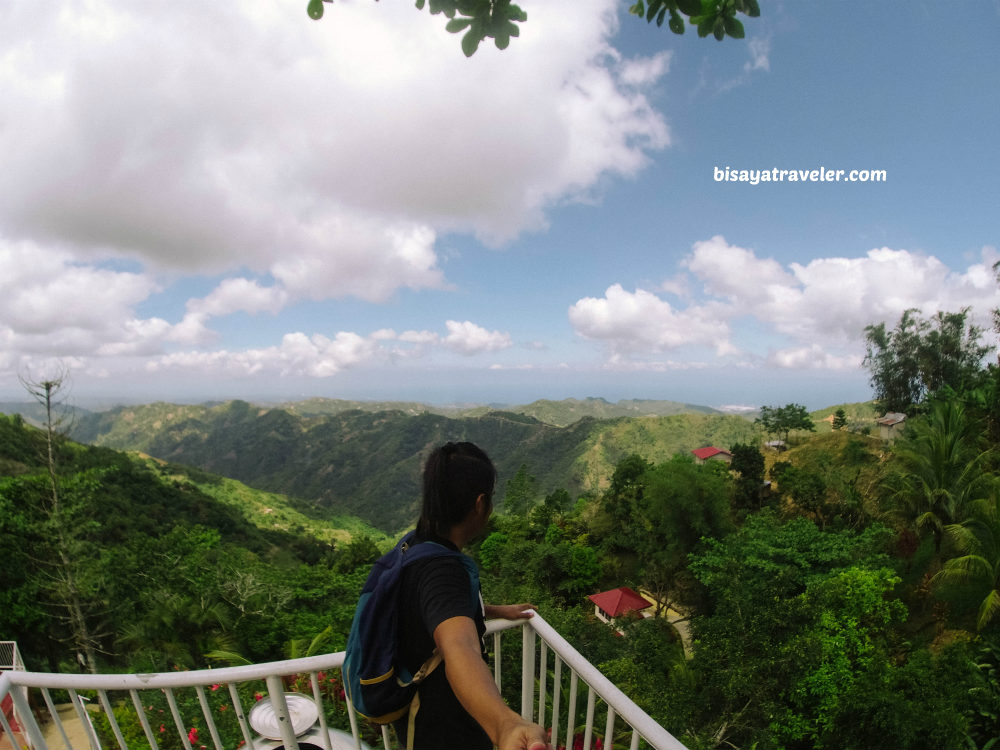 And, that led to a misadventure that sparked another adventure.
You can read more about this misadventure at an older blog post, Balamban Cebu And The Fruitless Pursuit of Adventure.
Then, you can read its sequel at another older blog post, Manutu River: Memoirs of a Que Sera Sera Adventure.
How to get to Florentino's Eco Park Cebu
First, you need to go to the V-hire terminal of Ayala Center Cebu. Once there, look for a v-hire bound for Tuburan or Balamban via Trans-Central Highway. Just don't forget to ask the driver to drop you off at Adventure Café, which is adjacent to Florentino's Eco Park. Travel time is 30 to 40 minutes and fare is PHP 120 per person.
There are also v-hires bound for Cebu City that pass by the eco park. If you're planning to take this route, don't stay late since the v-hire rides to Cebu are fairly limited.
Planning on take a drive to Gaas, Balamban? Make sure to use Google Maps or Waze to navigate your way to this Cebu eco park.
Florentino's Eco Park rates and other info
Admission fee: PHP 55 (including the 5-peso environmental fee) per person
Operating times: 06:00 AM to 07:00 AM
There are NO corkage fees, as of now, meaning you can bring your own drinks, snacks and food.
Contact number: 0932 876 4019
Tips and reminders
Plan your visit carefully. Keep in mind that public transportation in Trans-Central Highway is pretty limited.
There are other Balamban, Cebu attractions to visit, including JVR Island in the Sky and Buwakan ni Alejandra.
Don't be a prick. Be a responsible visitor, and don't throw your sh*t anywhere.
Sunset views here are nothing short of stunning. And, on a clear day, you can see the beauty of Mount Kanlaon from this spot.
There's an eatery inside the park.