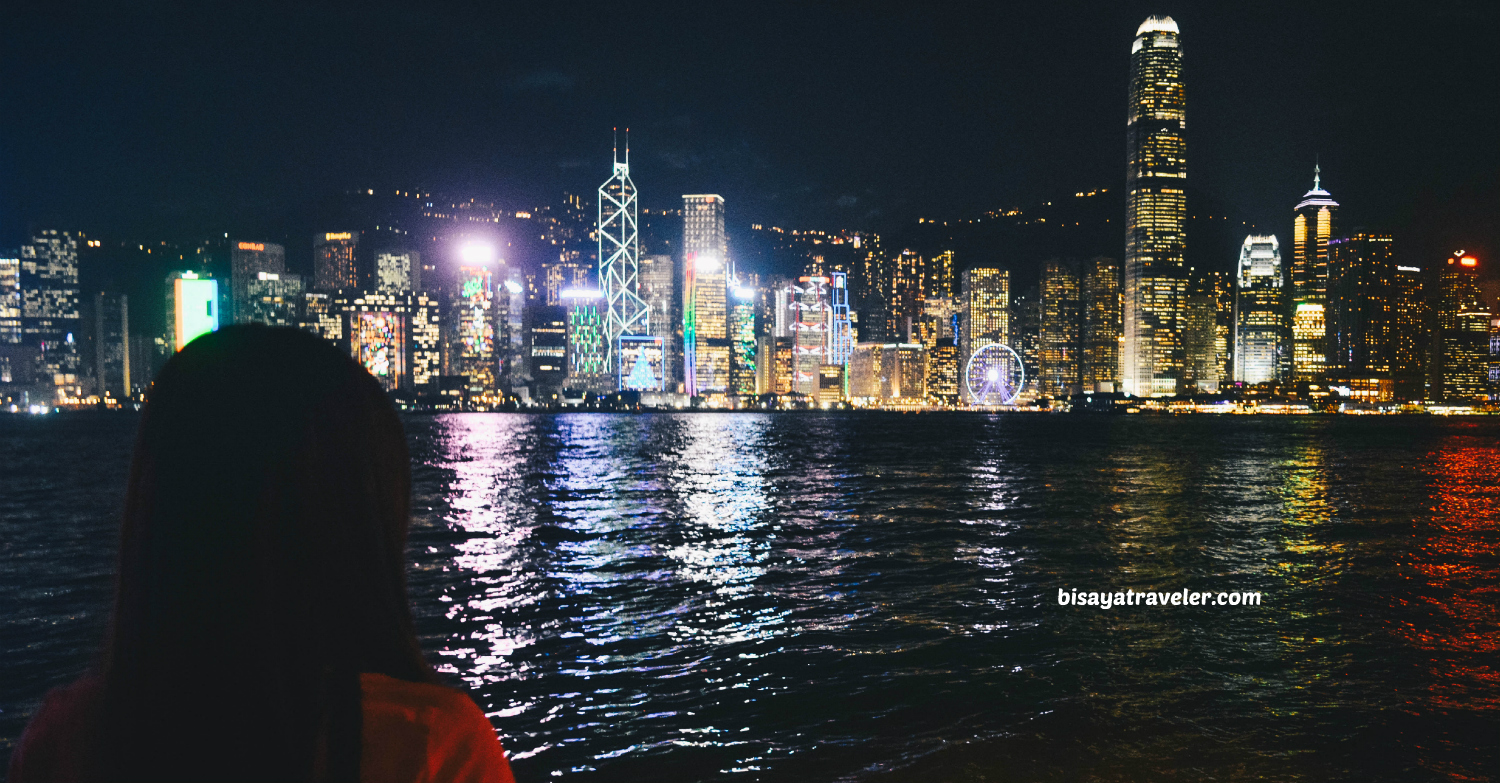 The Unexpected Journey To A Symphony Of Lights
When I recall the Novembers and Decembers of my childhood, they were all inevitably bathed in a blissful light. I remember the frenzied revelry, the cheery carolers and the landscapes of giant parolas and twinkling Christmas lights. Then, memories of the long journey to the grand finale of the "ber" months flood through me. While it seems a lifetime ago, I could vividly recall waiting for the gift unwrapping ceremony, Santa's surprise presents and the kaleidoscopic skies splashed by a variety of fireworks. And, on a cold winter evening, these recollections flashed into mind on our A Symphony of Lights Hong Kong journey.
Truthfully, I felt like a kid again on a journey to the biggest event of the year, waiting for something spectacular.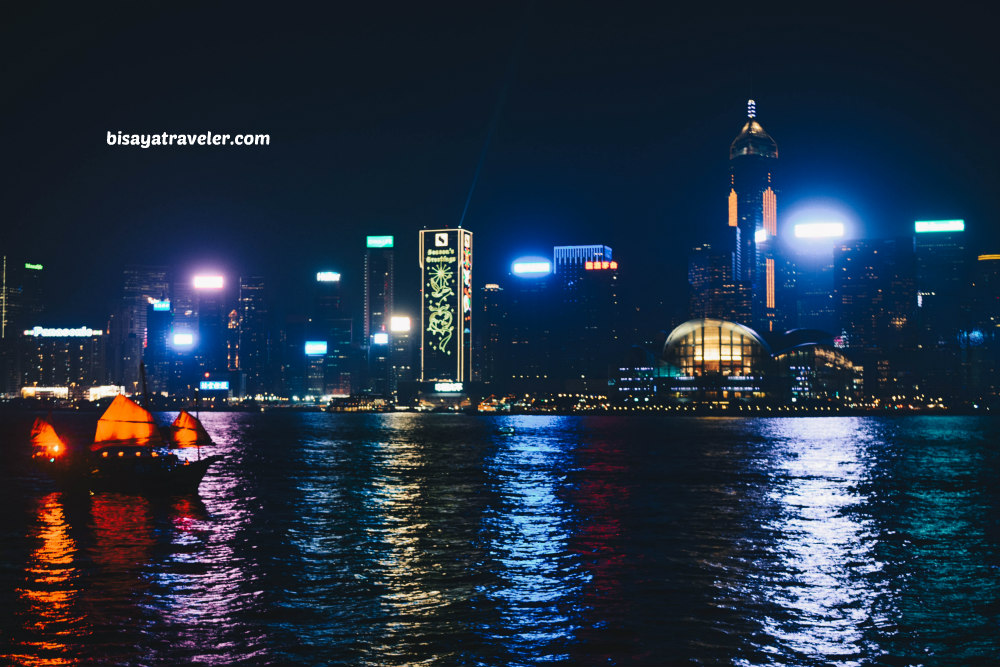 Originally, experiencing A Symphony of Lights wasn't a part of our Hong Kong travel itinerary. But, there was a force pushing us, leading to us Victoria Harbour, so we can witness an extraordinary multimedia show. And, with Hong Kong's mesmerizing Yuletide decors and vibrant atmosphere, there was surely a hint of nostalgia to our A Symphony of Lights experience.
Our A Symphony Of Lights Hong Kong experience
11:32 AM
They say money can't buy happiness. Yet, somehow, I saw a bunch of ladies in the room having a blast, shopping at Dynasty Jewelry Manufacturer.
They were in their own version paradise, happy and enthralled to get their shopping fix.
At first, I didn't know why we were here. We felt so out of place, as we roamed around the galleries, browsing through some expensive and lavish jewelry.
I checked our itinerary and found out that Dynasty Jewelry Manufacturer was part of our Hong Kong Island tour. Truthfully, though, this stop seemed irrelevant.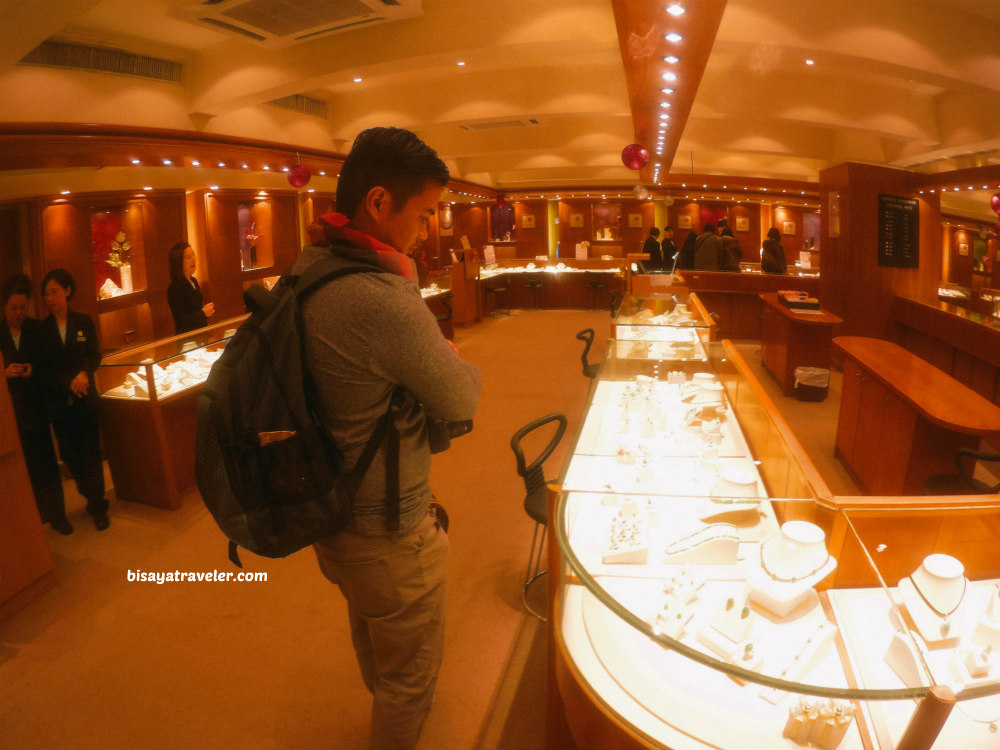 Our guides said that it's a great place to pick up souvenirs and genuine jewelry.
Sure, it's a nice place to pick up souvenirs, if you're as rich as a celebrity or a business tycoon.
Who did they think we were? Bill Gates? Jay-Z and Beyonce?
Even so, I felt like there's a good reason the Universe put us there.
Nothing happens by accident! To me, life is a beautiful tapestry of acts and moments that culminate in a sublime and an exquisite plan.
So, I searched for clues and wandered around a gallery inside Dynasty Jewelry Manufacturer.
Suddenly, I remembered a promise I made to my wife on our wedding day, a few days earlier.
Clues, soon, began to come into mind.
Memories.
Free attractions in Hong Kong.
Glittering
Magical.
Fireworks.
Novembers and Decembers.
When I combined these words, there was only thing that came into my mind: A Symphony of Lights Hong Kong.
That's it. We have to witness A Symphony of Lights, before our Hong Kong honeymoon vacation ends.
For months, the Universe had been orchestrating this experience.
Along the way, there had been subtle hints and clues on where to go in Hong Kong for our trip.
And, I go where the universe takes me. It was a sign, and I surely wouldn't mind going on an unplanned and unexpected journey to A Symphony of Lights Hong Kong.
09:56 AM
Our Hong Kong island tour had officially started. With a portable amplifier and a microphone, our guide gave us a quick introduction and information on what to expect on our tour.
Prior to our trip, there were a lot of questions about the city running inside my head.
Is Hong Kong a part of China? What's the biggest industry in Hong Kong?
And, on our way to our first stop, our guide gave me answers to these questions. With passion, he thoroughly explained the political status of Hong Kong and its agreement with mainland China.
Ironically, tensions related to this system and agreement erupt a couple of years later, causing a series of protests.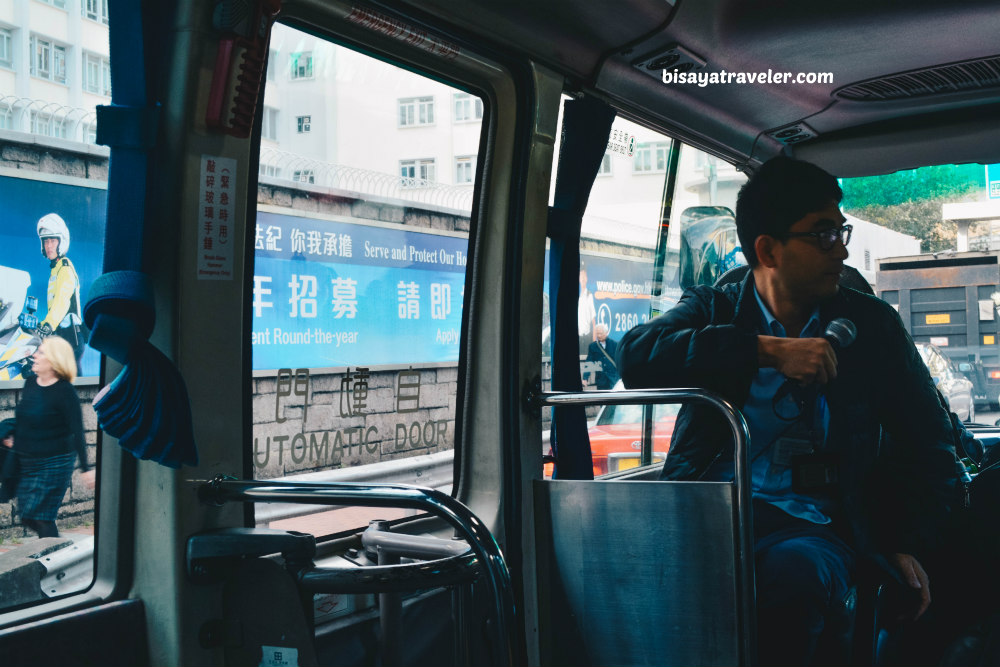 Soon after, he mentioned the most beloved Hong Kong attractions, including A Symphony of Lights.
For some reason, I kept hearings stories of A Symphony of Lights.
When we arrived at the airport a day ago, someone from the Hong Kong tourism board handed out a pamphlet about this multimedia show.
He even mentioned the schedules for A Symphony of Lights Hong Kong.
As we were about to check-in on our hotel room, the Filipina attendant also mentioned it to us.
There's must be something about this Hong Kong attraction. Is it really as good as advertised?
Slowly, an image of the dancing neon lights in Victoria Harbour formed inside my mind.
Should we go and see A Symphony of Lights Hong Kong?
"A couple more signs and perhaps we'll give it a shot", I said to myself.
After a one-of-a-kind tram ride, we arrived at Victoria Peak and saw the beauty of Hong Kong from a bird's perspective.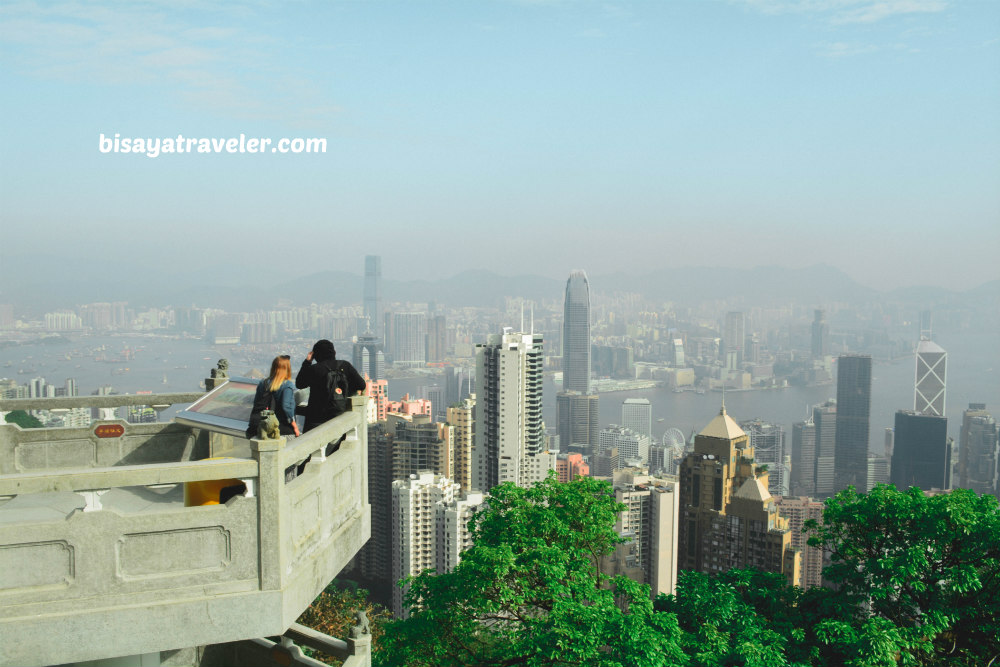 We went inside Sky Terrace 428, and borrowed an audio guide? And, guess what the audio mentioned to us? There's a beautiful renowned multimedia show that can be seen from the peak.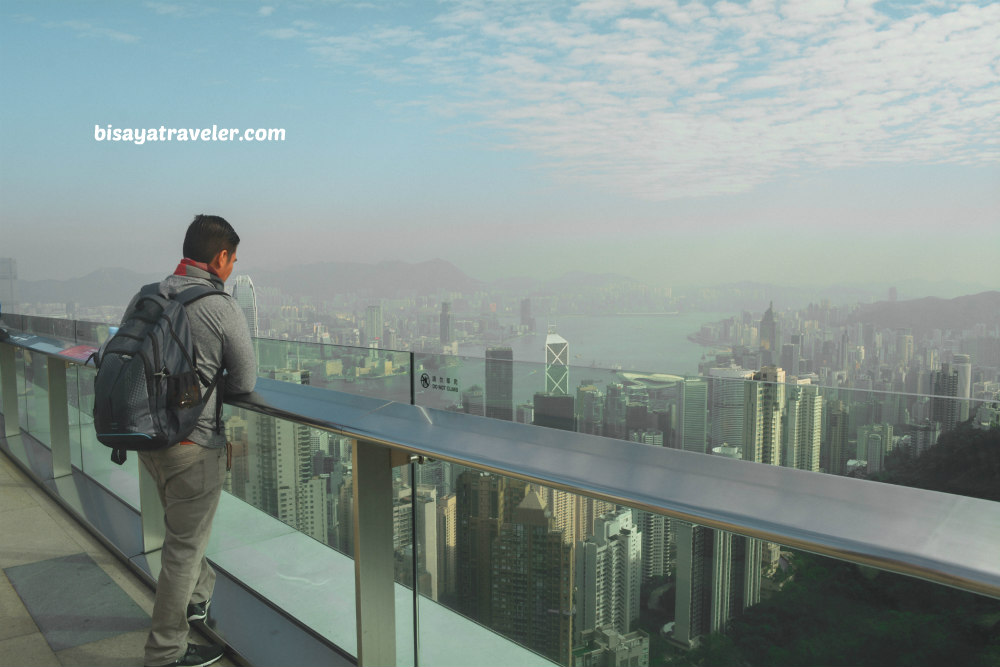 One more sign to go!
Eight months earlier in Singapore
I had taken the leap into the great unknown. With no maps and apps, I ventured into the gleaming attractions in Singapore at night.
First, I explored the lively and wondrous Chinatown Singapore. And, from there, I made my way to Gardens by the Bay, and was wowed by the Supertree Groves.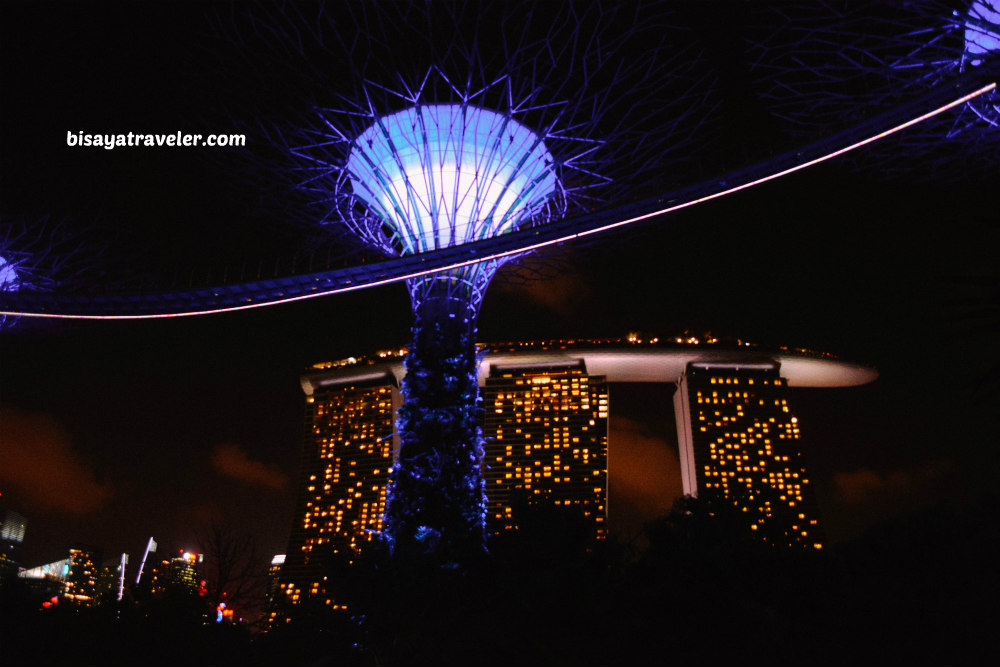 With momentum on my side, I wandered around and found myself gazing in awe at a mesmerizing nighttime show.
It was called "Wonder Full Light and Water Show".
A symphony of vibrant luminosity and rapturous color!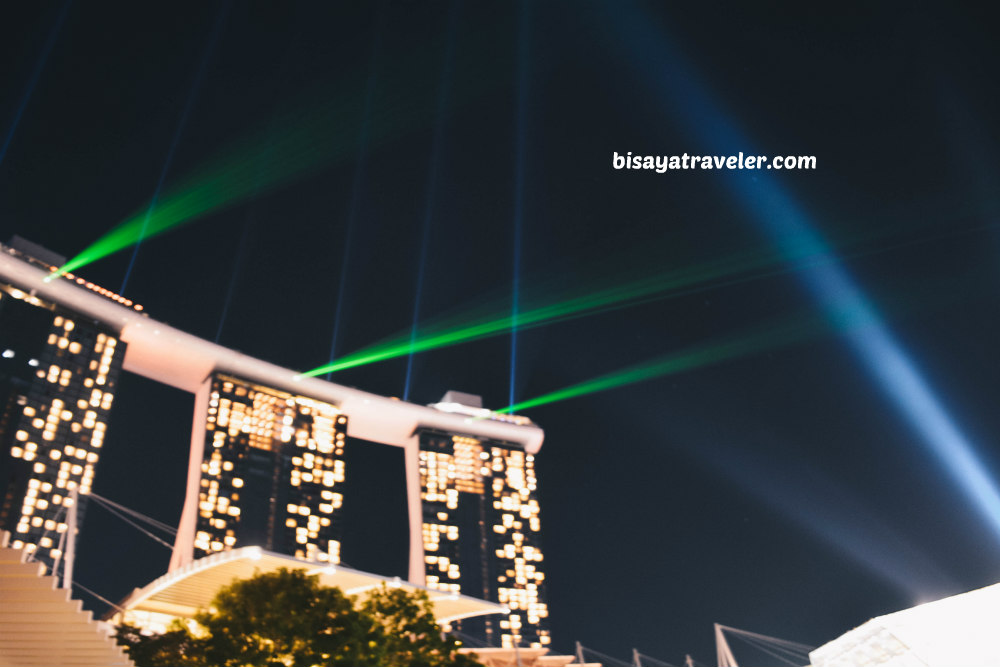 It had been one of the most extraordinary and alluring shows I've ever seen. And, while it's a world-class show, it literally costs nothing.
They say money can't buy happiness, and the show is the epitome of that sentiment.
When the show ended, I could hear people comparing it to the internationally celebrated A Symphony of Lights in Hong Kong.
Some of them said it was way better, though smaller, than Hong Kong's version.
I thought what they were saying was ludicrous.
As I was flying to Singapore, I read a travel magazine saying that Hong Kong's A Symphony of Lights is a Guinness World Record holder and a world-class, can't miss attraction.
Maybe, they haven't seen A Symphony of Lights just yet.
And, thanks to this enthralling show, I became eager and exciting to see A Symphony of Lights.
Perhaps, a grander, bigger and more elaborate show was waiting for me in Hong Kong.
Singapore's multimedia show has set my expectations for A Symphony of Lights Hong Kong pretty high. And, as always, I was optimistic and eager to see a world renowned attraction without spending a cent.
2 hours before A Symphony of Lights
We arrived a bit earlier than the scheduled show. So, we wandered around, instead of waiting for the show to start.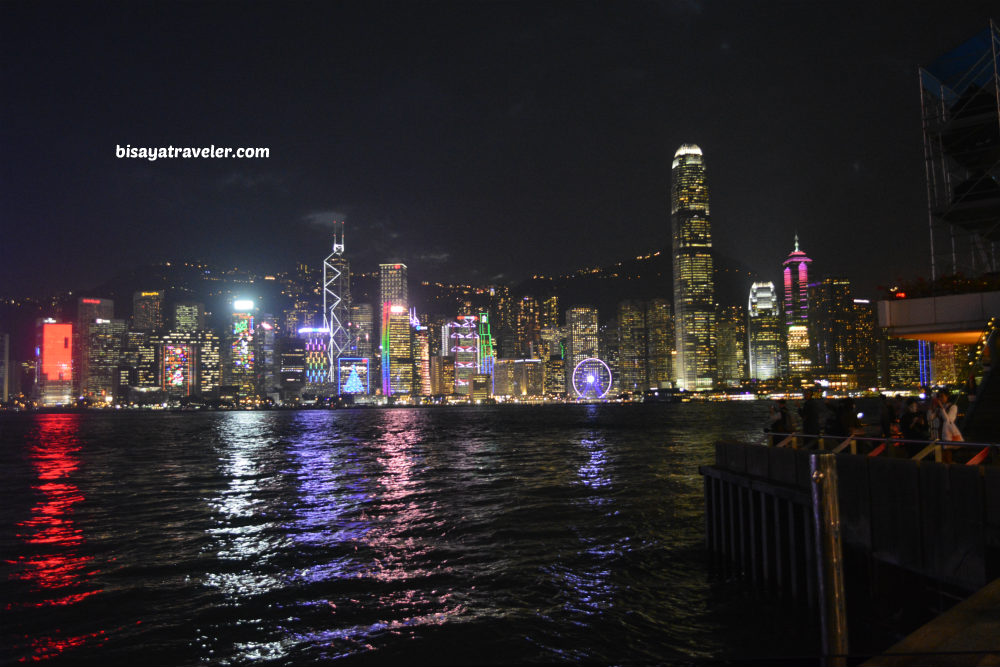 For a fleeting moment, we felt like a young couple. Free from the pressures of daily life, we explored Tsim Sha Tsui on foot.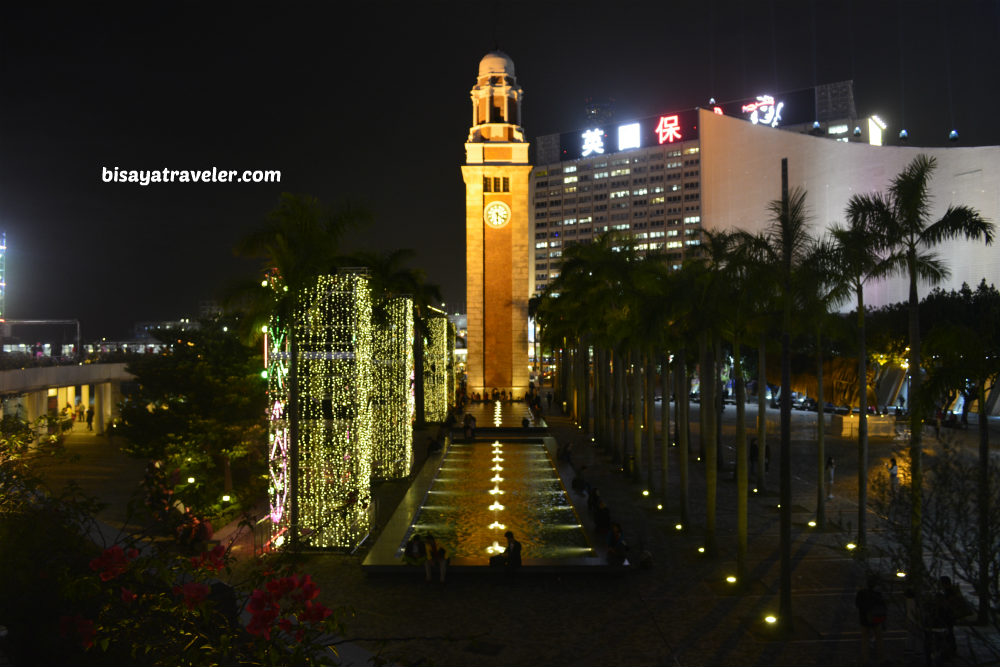 We held hands, walked along the promenade, and savored the beautiful atmosphere of the evening.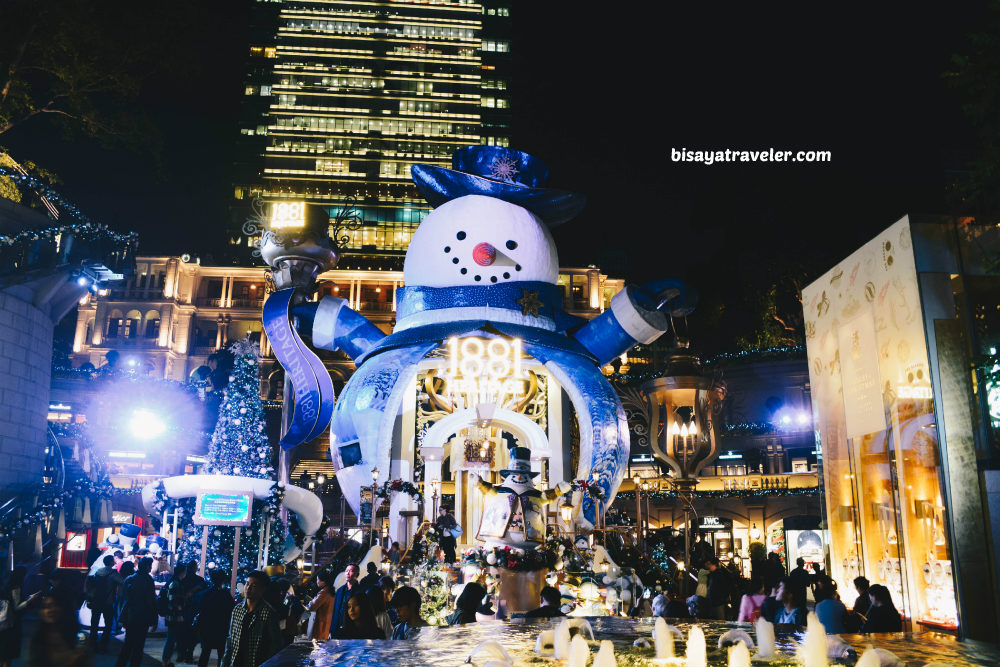 And, we got lost. Then, we found our way again, and discovered the Garden of the Stars.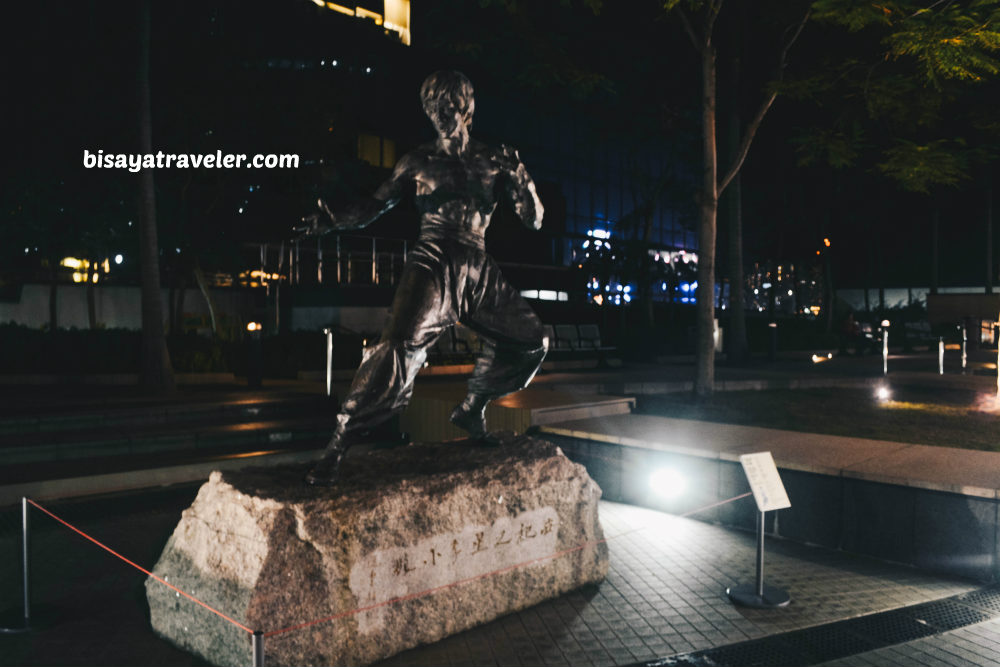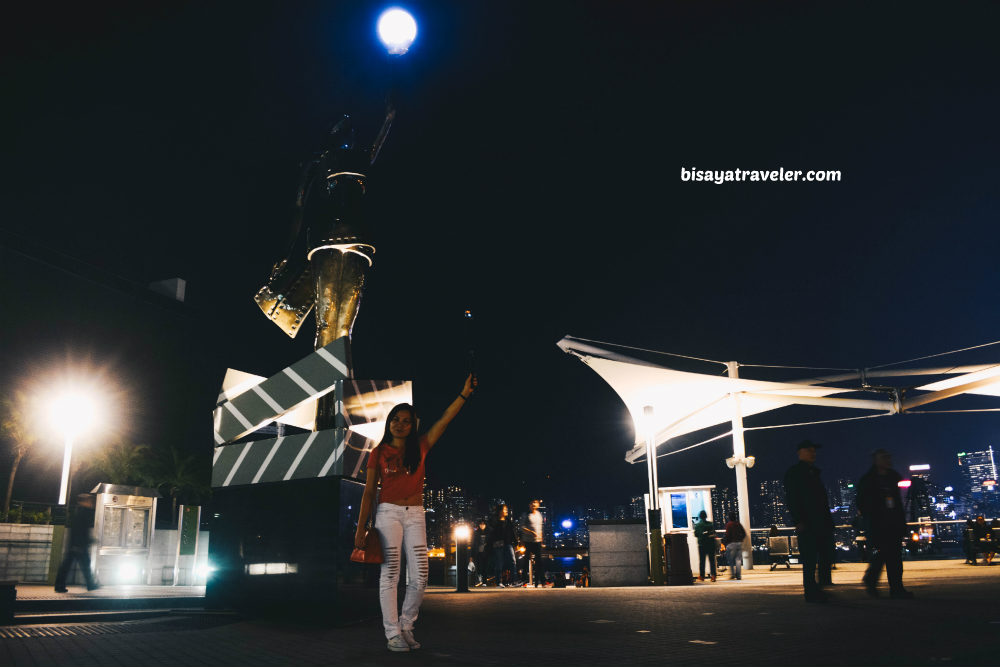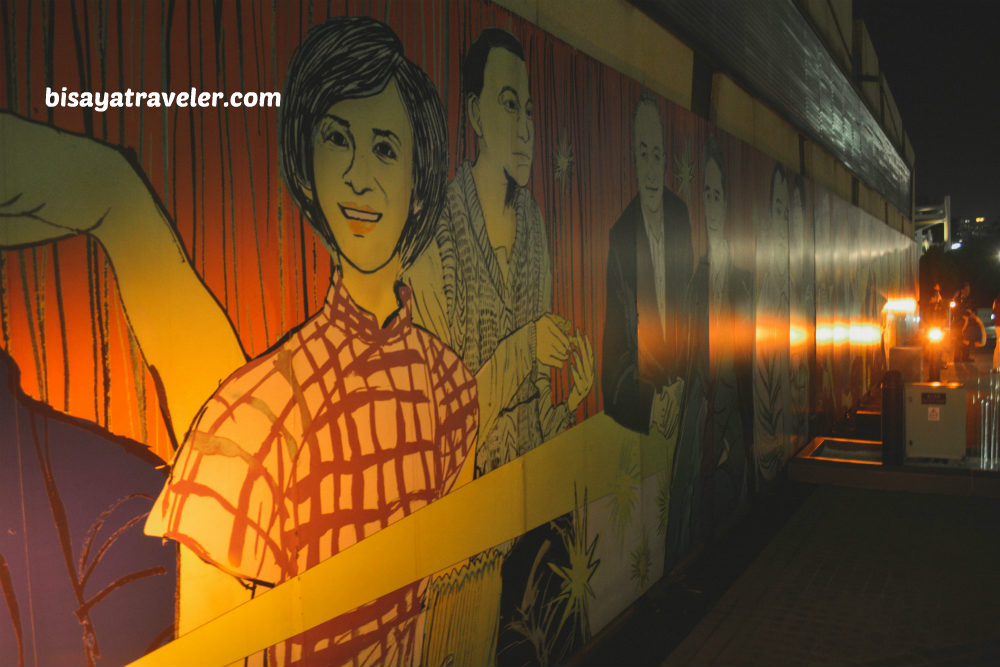 All these experiences and moments made me feel like a young kid again waiting for Christmas Eve.
The elaborate Christmas decorations, cold winter atmosphere and dazzling lights reminded me of the buildup to Christmas when I was young.
And, like the Yuletide seasons in my youth, I was waiting for a big finale, a wonderful Xmas present or an awe-inspiring surprise that would make my "ber" months memorable.
And, what's more, I remembered the promise I made to my wife on our wedding.
I promised her a life full of beautiful memories and not of material wealth.
A piece of jewelry will lose its luster, and a state-of-the-art phone will ultimately become obsolete.
But, memories will last with you, until you're very last breath.
And, as we explored the area, I felt like I'm on the right path to fulfilling my vow.
We also lived in the moment.
We didn't think about any future plans, investments and businesses.
And, we took a lot of pictures to moments that would never happen again.
As time for the scheduled show got closer, we went back to Tsim Sha Tsui Promenade to find a good vantage point.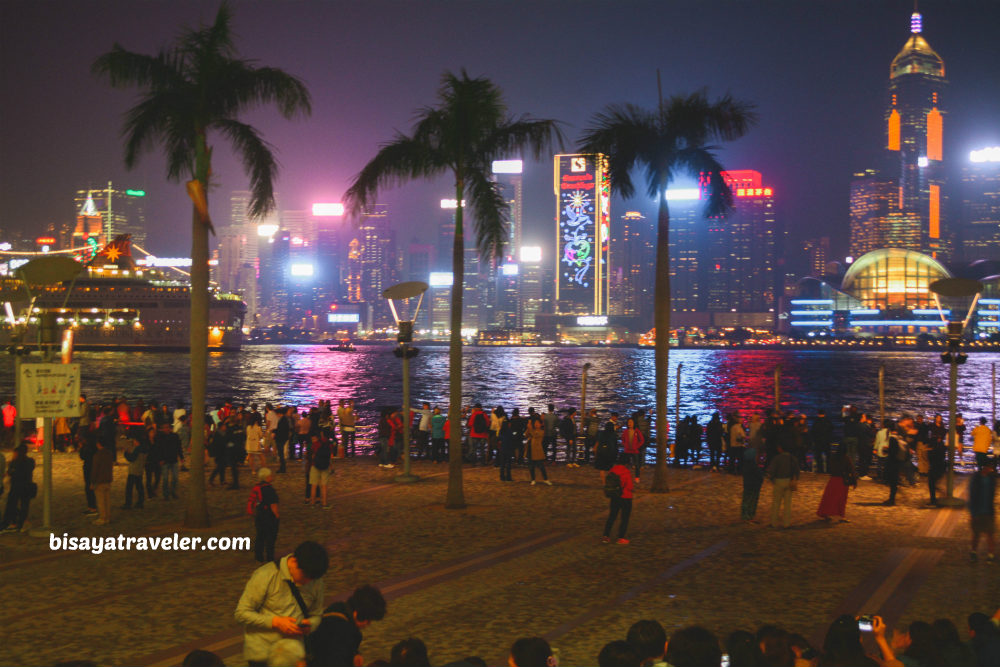 8:02 PM
We got a good vantage point for the famed A Symphony of Lights. Like everyone else waiting for the show, we were all excited and pumped up.
All the anticipation and buildup had led us to this spot. Optimistic, we had been patiently waiting to be amazed by A Symphony of Lights.
The Universe had orchestrated this whole experience! The Universe had led us to a Guinness World Record holder as the largest permanent sound and light show in the world!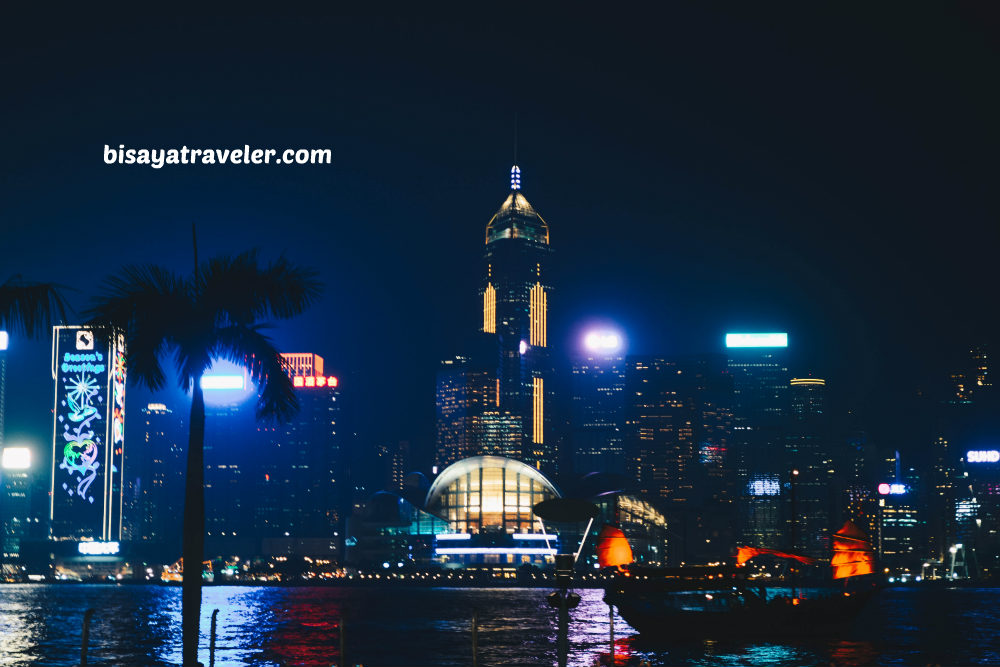 And, finally, we were just seconds away from witnessing one of the most hyped and popular Hong Kong attractions.
This was it. This was the moment we've been waiting for.
And, when it began…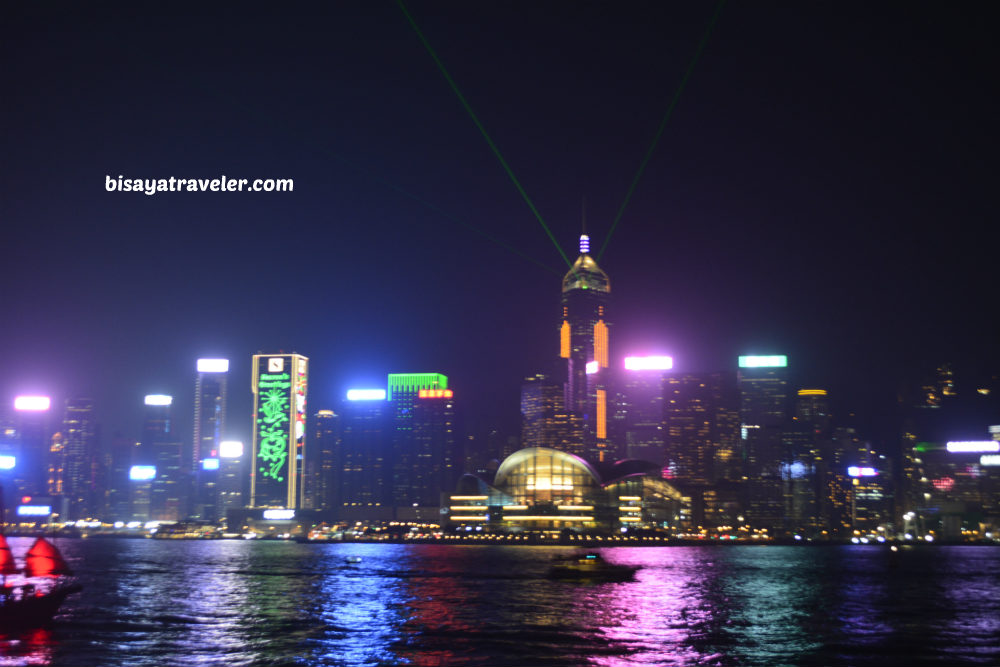 Actually, I didn't know when Hong Kong's A Symphony of Lights began.
For a hyped and so-called first-rate Hong Kong attraction, it felt really strange.
Did the show just start? Are we watching the show called A Symphony of Lights or just a small sample of it?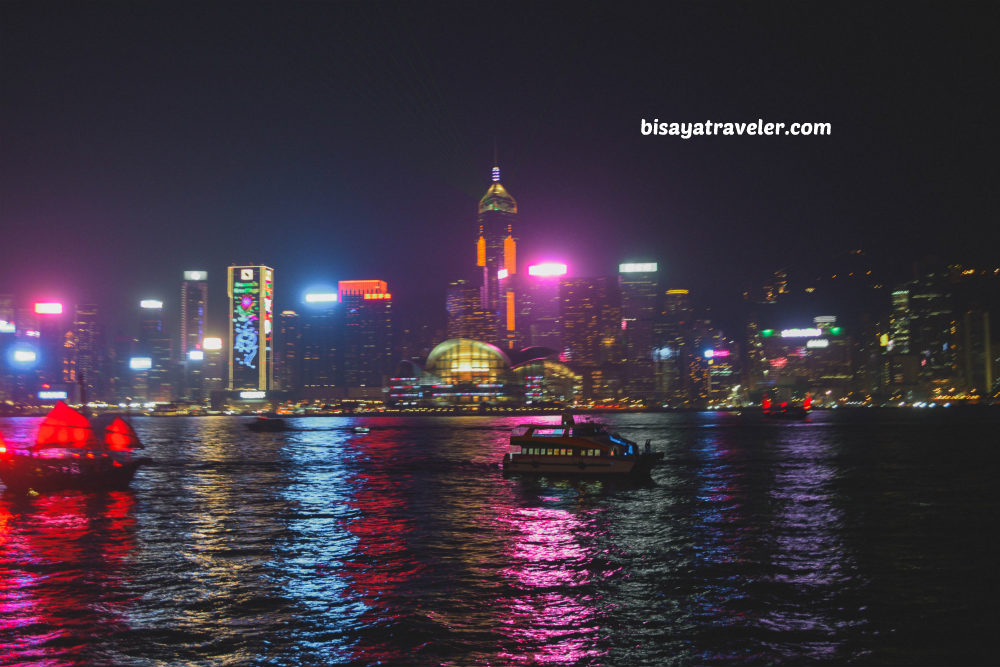 I looked around, watched the crowds and noticed that they were all a baffled as I am.
So, I just played along. I gazed at the laser beams and dancing lights, and listened to the accompanying music.
Strangely, everything seemed unsynchronized and odd. And, my wife also noticed it.
Ever the optimistic traveler, I said to my wife it was a prelude, warm up or something.
Even so, in some way, it was as sight to behold. The gleaming skyscrapers and gorgeous reflections of the lights and lasers on the harbour were eye-catching.
I was waiting for its climax, hoping to be blown away by a mesmerizing and jaw-dropping surprise.
It didn't have a mind-blowing finale, though. Soon, I heard an announcer, thanking its spectators for watching A Symphony of Lights.
Is that it? Seriously, what the F was that? Quite frankly, it was an underwhelming experience.
While Hong Kong's normal neon lights and signs are impressive, there wasn't any additional special feature or wow factor when it began.
We left, the moment it ended, feeling a little confused with what we saw.
We've waited for hours, and even delayed our dinner to watch A Symphony of Lights Hong Kong.
Moments later, it began to sink in, and I realized that it wasn't as surreal, eventful and spectacular as I expected.
It seems disappointing, and I should have been disappointed.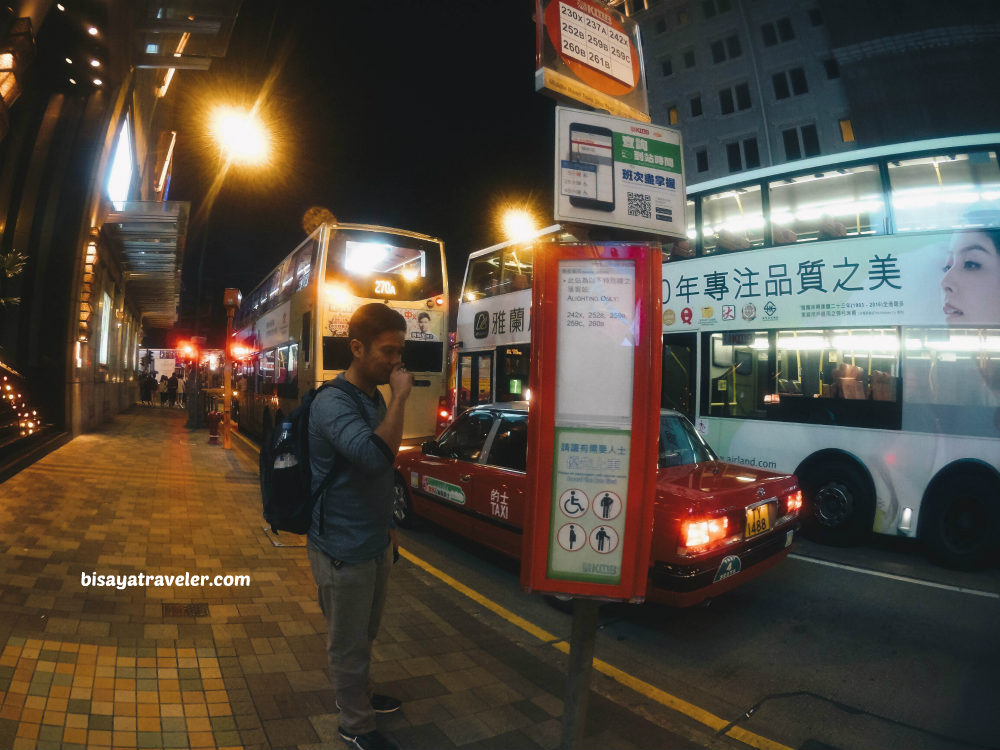 But, it wasn't.
As I've said earlier, I listen to the signs the Universe gives me. I heed his tips, and follow wherever my fate takes me.
The Universe orchestrated this experience because it taught us a life lesson and even gave us a sign for what was about to come.
When we returned to our hotel later, we recalled all the pleasant moments of our journey.
Everything, from the moment we got lost to the way we held each other's hands, was wondrous and heavenly.
We enjoyed our journey, and even though it didn't have a grand finale, we were both happy to take that route.
The Universe had been teaching us the well-known quote from Ralph Waldo Emerson.
"Life is a journey, not a destination."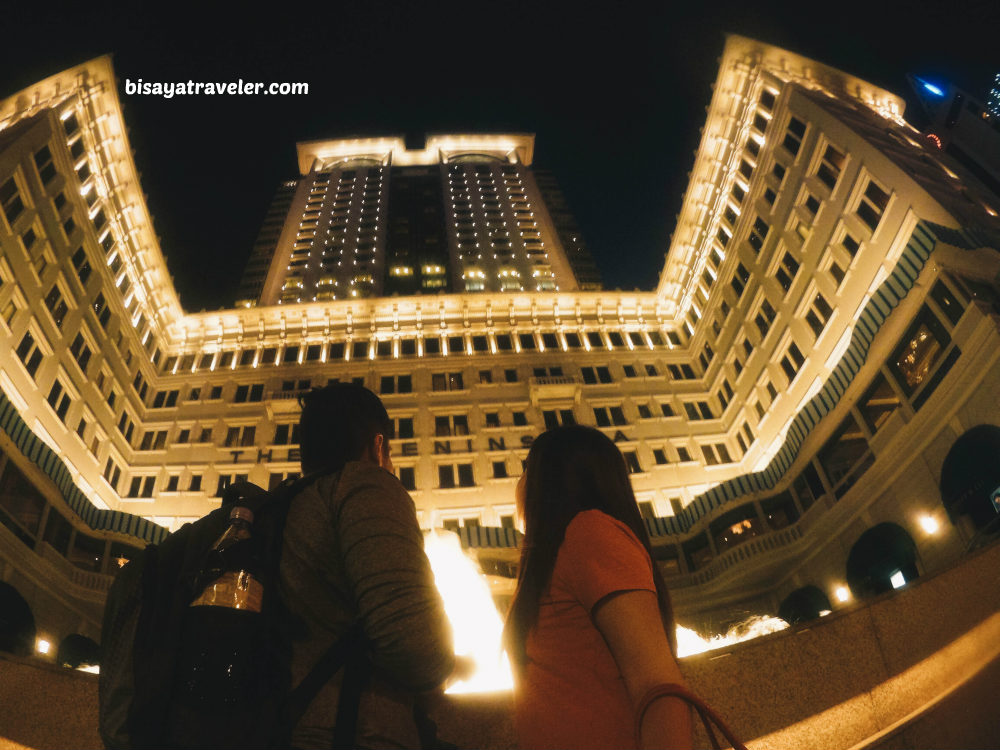 And, unconsciously, this life lesson was ingrained in our system, and became a theme for our marriage.
In the next couple of years, nothing eventful happened in our marriage.
We struggled.
We got lost.
And, we faced all the adversities of the married life.
Still, we enjoyed every step of our journey.
We created a plethora of beautiful memories, and rarely spent money on material things.
We went on with our journey, patiently and optimistically waiting for something eventful and spectacular.
Nothing happened in the first 2 years of our marriage.
Surprisingly, unlike our A Symphony of Lights experience, something mind-blowing and utterly amazing did happen eventually.
It's a pyro show like no other and a sight that will always fill us with joy.
And, her name is Adrielle – a Christmas present in May.
Her giggles, smile and bright eyes blend together to create a symphony of beauty and unadulterated happiness.
And, today, nearly three years after our honeymoon, we've embarked on a new unexpected journey into the symphony majestically orchestrated by the Universe.
More information:
Schedule: 08:00 PM every night. The multimedia show lasts for around 10 to 15 minutes
Address: Buildings both on Kowloon and Hong Kong Island
Webpage: tourism.gov.hk
Contact number: +852-2508-1234
Fireworks and other features are included during special celebrations, like the New Years in Hong Kong.
Where to watch A Symphony of Lights Hong Kong
Harbour Cruises – It's a bit expensive. But, if you can afford it, and you're dying to try it, go ahead and treat yourself.
Tsim Sha Tsui Promenade – Located the Avenue of Stars and Hong Kong Cultural Centre. Take MTR East Tsim Sha Tsui Station and go to Exit L6. Heed the signs and walk for about 5 minutes.
Golden Bauninia Square – Go to Exit A5, after taking MTR Wan Chai Station. Follow the suggestions and sighs and hit the sky-bridge leading to the Hong Kong Convention and Exhibition Centre. Afterwards, go to the Golden Bauhinia Square.