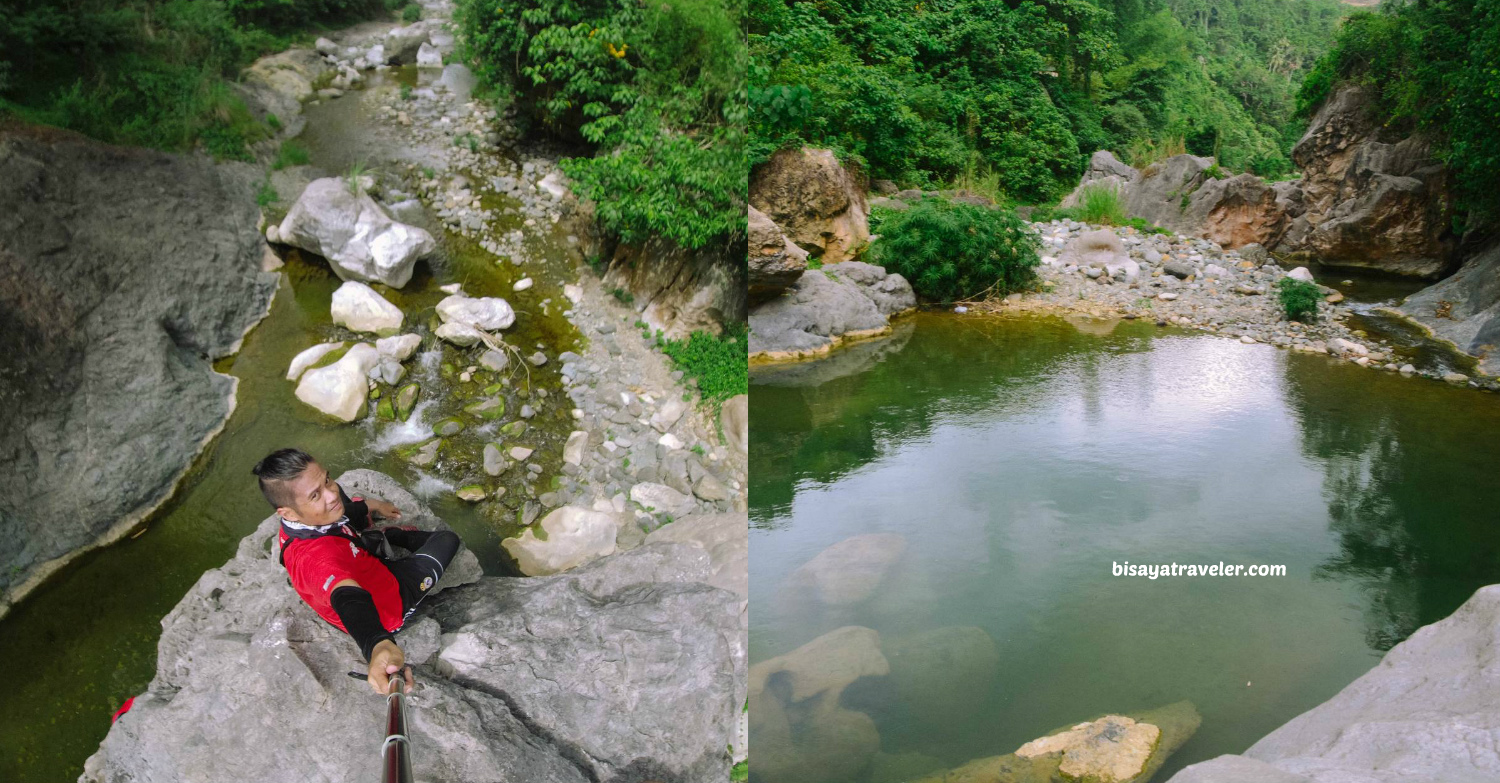 Manutu River: Memoirs Of A Que Sera Sera Adventure
Was it simply luck that had caused me to turn down this street? Or, was it a fabric of the grand tapestry that the universe had in store for me? As I walked down this street in Gaas with my friends, I wondered what the eventualities are for this random, unplanned hike. Will it end with a breathtaking view from an untouched mountain? Are we going to see the photogenic boulders and waters of Manutu River? Will we get wonderfully lost again in the middle of nowhere in Cebu's highlands?
Just like everyone else in the group, I was completely clueless on how this hike was going to end.
As always, our motto for this spur-of-the-moment adventure was "Que Sera Sera".
Whatever will be, will be. The future's not ours to see.
To make this exploration adventure work, we had to embody that philosophical sonata popularized by the late Doris Day.
And, in our little group, Que Sera Sera also means hike with an open mind, listen to signs, and go where the universe takes you.
So, did our open-minded, que-sera-sera adventure ended up with a breathtaking view? Did we have a blast trekking the serene Manutu River?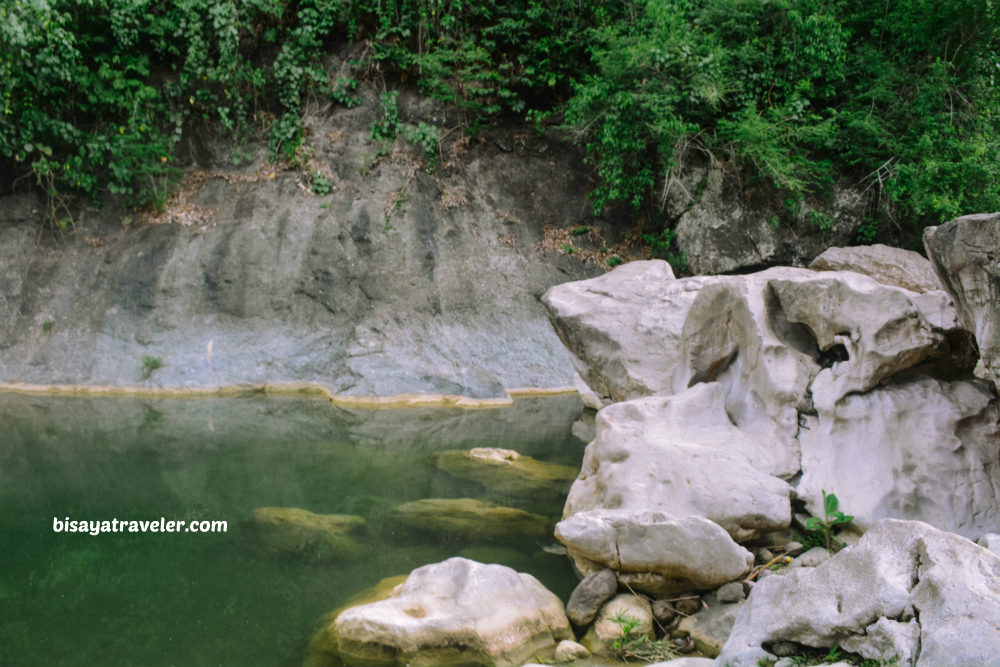 My Manutu River experience
Manutu River wasn't actually in our plans for our Saturday hike. Originally, our plan was to chase waterfalls in Naga, Cebu and do a little exploration in the city's highlands.
Unfortunately, though, our Naga plan got canceled.
As much as we want to hike Naga that day, there are some things that are just beyond our control.
And, normally, canceled plans scream bad news for most people. But, to us, it's a sign that the universe wants to be somewhere else.
Maybe, the universe wants us to complete an unfinished business.
With no leads and clues on where to go in Cebu, I opened my catalogue of happiness – my personal blog – to see if I had any unfinished business.
And, guess what? I found out that I had yet to finish a hike from Gaas, Balamban to Toledo, Cebu.
Remember, my Fruitless Pursuit of Adventure in Balamban, Cebu?
In that Que Sera Sera memoir, I mentioned a road that leads to Manutu River and Toledo, Cebu from Gaas.
Since the signs all screamed danger that time, I decided not to push through with my exploration hike that day.
And, thankfully, my buddies agreed to hit that street, and hike all the way to the Copper City, Toledo.
I guess it wasn't a fruitless que-sera-sera adventure, after all.
Who knows? It might be the misadventure that sparked a series of adventures.
A few hours later, I caught up with a few friends who were joining my Manutu River escapade. For this hike, I was joined by Dian, Beboy, Tatay Raul, Geneva and Francis Paul.
After a short ride via the steep Transcentral Highway, we arrived at the base of our hike – eskina Biyernesan.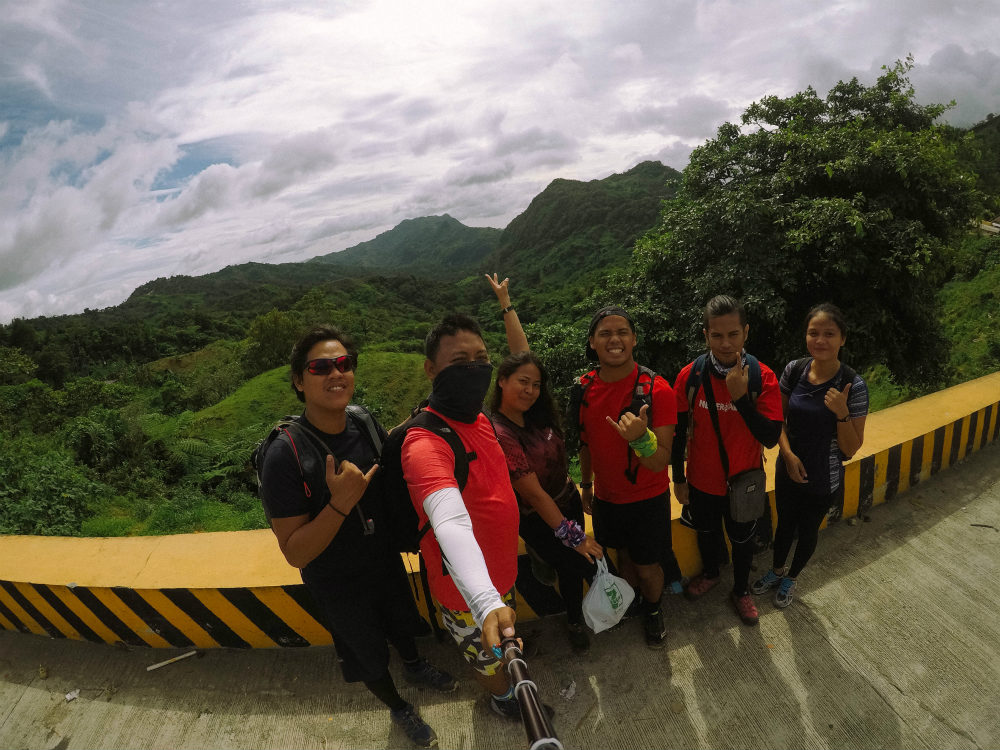 We, then, kicked-off our hike to Manutu River, hitting the familiar road that would take us to Toledo.
What was in store for us for this expedition? I honestly and wholeheartedly didn't know. And, I really wasn't worried where this road would take us.
As long as I hike with free-spirited and open-minded people, nothing can go wrong.
Shortly after, we caught a glimpse of a rocky mountain that somehow reminds of us of Mount Mauyog, Lantawan Cliff and Licos Peak.
Damn, it's a thing of beauty!
Armed with an optimistic outlook and an unquenchable thirst for adventure, we climbed this mountain, hoping to discover something awe-inspiring.
Our effort, enthusiasm and grit, however, were not enough to conquer this mountain.
We need a couple pieces of equipment that would clear the way to the summit.
We need sharp tools like a mountaineer's knife, katana or a reap hook.
The only sharp object in our arsenal for that hike was a butter knife.
Sure, it's cute, but it's no match against the thick and prickly vines.
While we didn't reach the summit, we had a whole lot of fun climbing the mountain.
We had to crawl, squat and duck sharp tree branches. Not to mention, we had to do a bit of rock scrambling, just to make our way around it.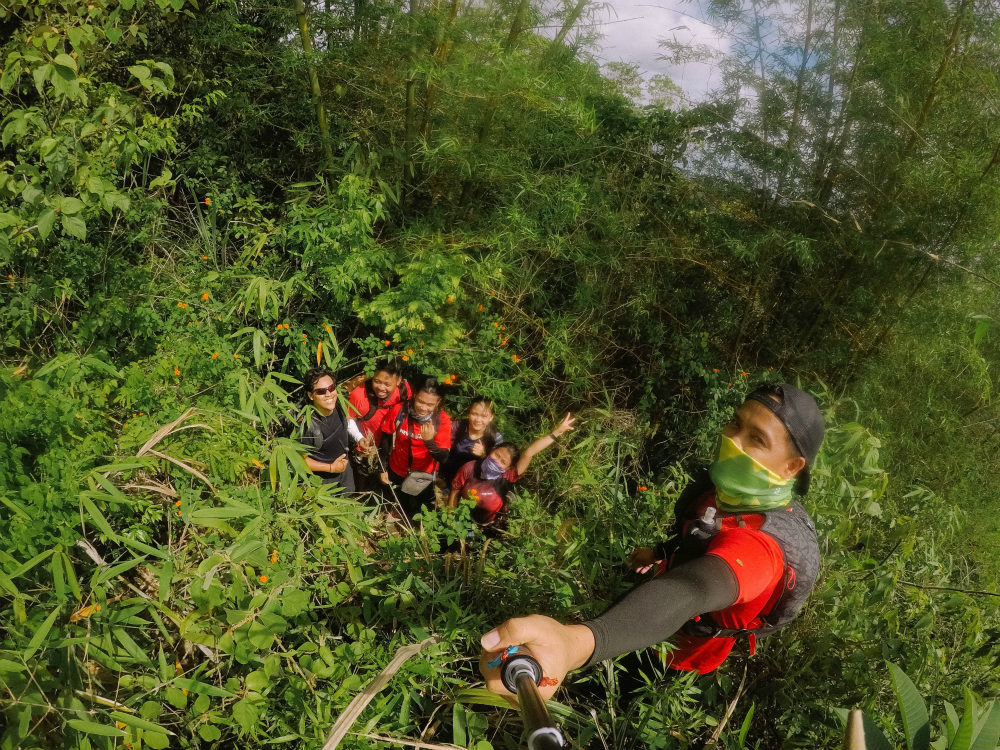 That's what happens when hike with a Que Sera Sera motto, folks!
You have to expect the unexpected and be prepared to enter your discomfort zone.
Geneva, a certified Marvel Cinematic Universe fan, said that the scenes of Avenger Films are way more predictable than our hikes. She can foresee the finale of every MCU film, but she can never picture out what's going to happen in our escapade.
Clearly, we had to abort our out-of-the-blue mission since we couldn't see any safe route to the top.
Moments later, we discovered another way to the top of this rocky mountain. Still, we needed some equipment to make our way to the zenith.
On the bright side, the views on this side of the mountain were mesmerizing.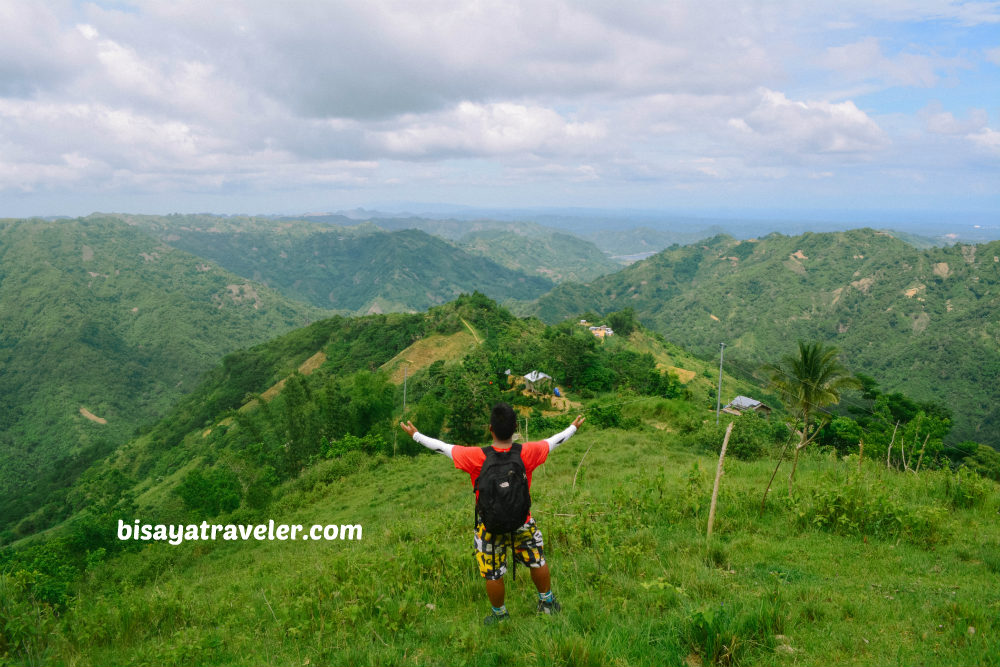 From this vantage point, we could see Malubog Lake, snippets of Manutu River as well as the picture-perfect mountains of Sudlon and Toledo.
As an added bonus, we were also treated to some fresh and therapeutic mountain air.
As we were gazing in amazement, Beboy and I came up with a variety of plans for our hike.
For one, we could hike all the way to Sudlon II via Manutu River and Pangamihan.
What's more, we could do a river trekking adventure in Toledo.
And, we could also find trails to Mount New Bucao or even Guinkamote Peak.
There's even a waterfall near Manutu River, according to my friend, Beth.
We had plenty of options for adventures. And, yet, we still didn't know which route to take. So far, the best thing to do was to go with the flow, and heed the signs from the universe.
Pumped up and inspired, we soon descended from this mountain, hiking along a scenic trail.
As far as I'm concerned, it's, no doubt, one of the most beautiful trails in Cebu.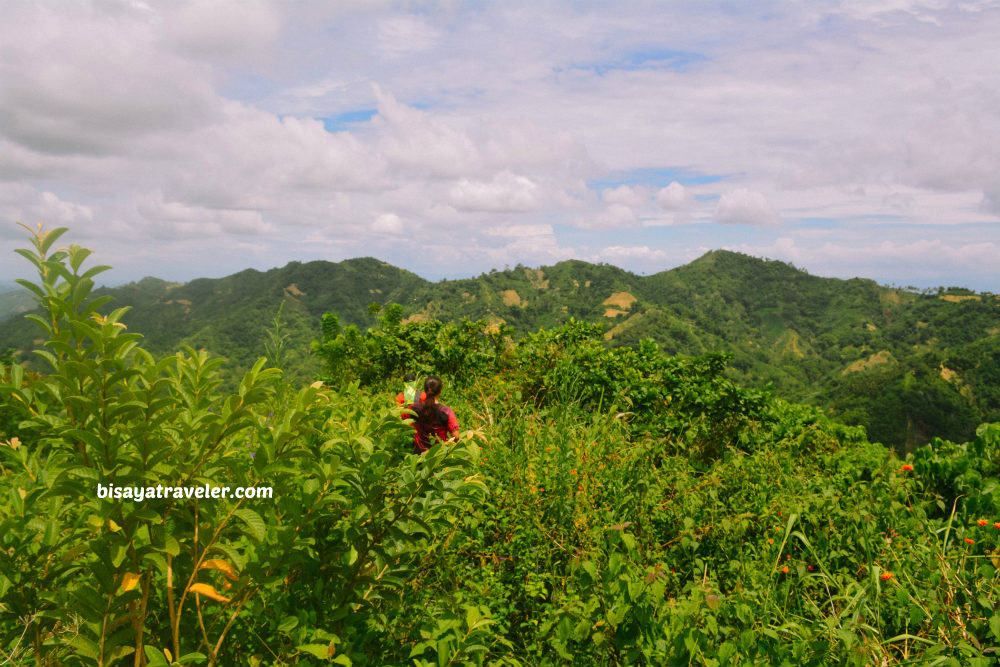 Trust me, there's a beautiful sight at every turn on this trail.
Furthermore, it's free from the crowds of tourists and hikers.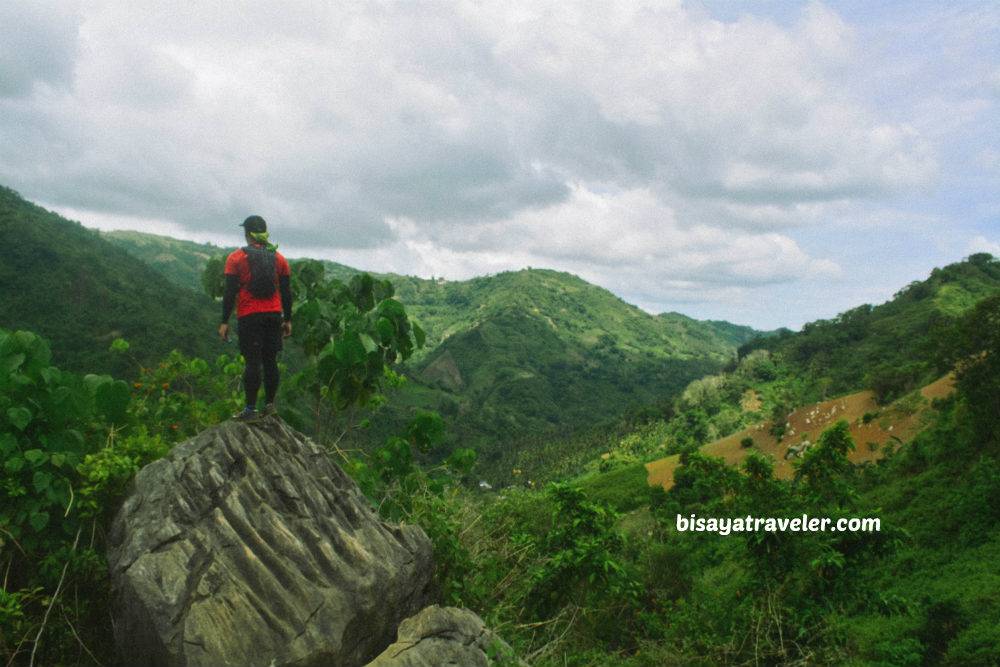 We should have spent more time here admiring the scenery and snapping pictures.
But, time is of the essence when you're on an exploration hike, meaning every minute of our stop counts.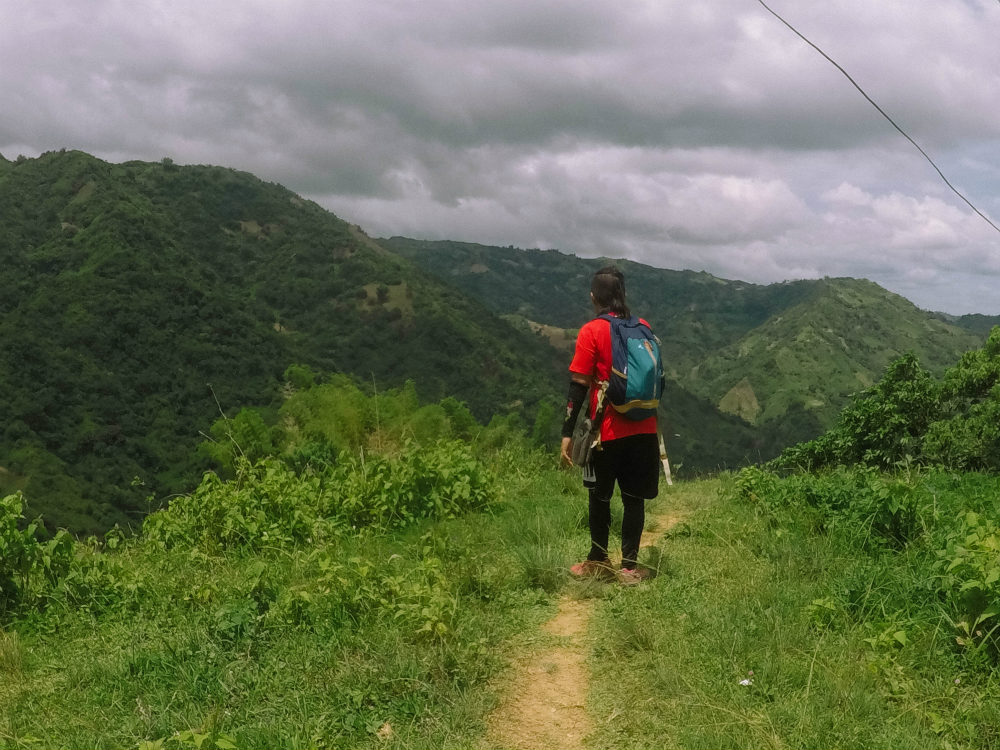 Soon, we arrived at a stream that leads to Manutu River and Malubog Lake.
We took a breather, and did some catching up.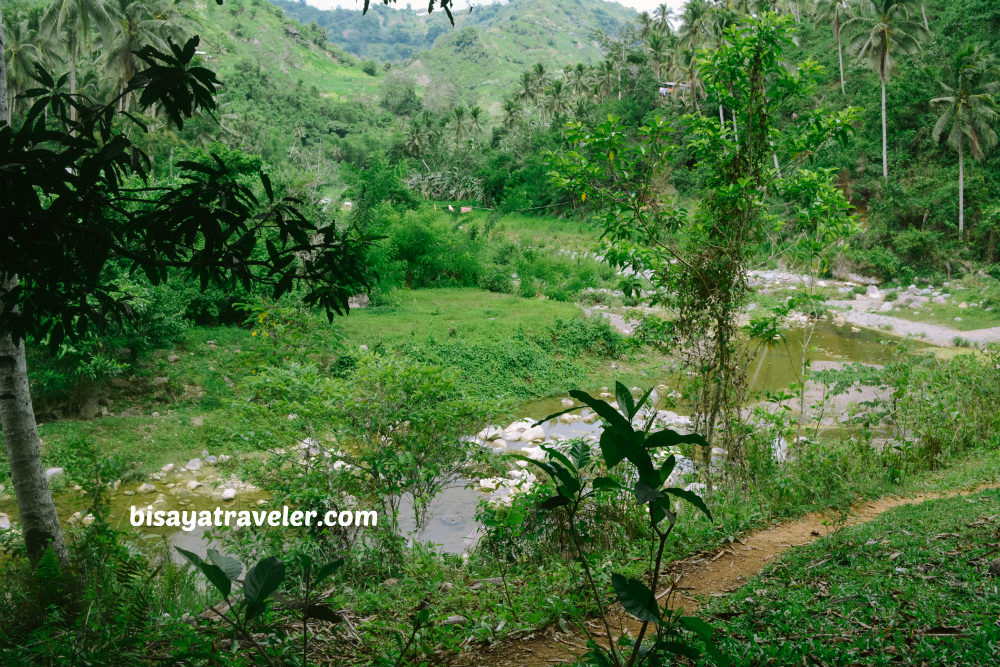 As always, Tatay Raul wowed us with his extraordinary arsenal of English terms and vocabulary.
First, he added a new word to his dictionary – tattooer (tattoo artist). Then, he came up with a new definition for the word "masonry".
The guy is a godly creative wordsmith and a pure literary genius.
Moments later, we followed the steam, and kept walking until we found a store where we took our lunch.
With lunchtime over, we went on with our Manutu River adventure, crossing streams and passing by some interesting sights.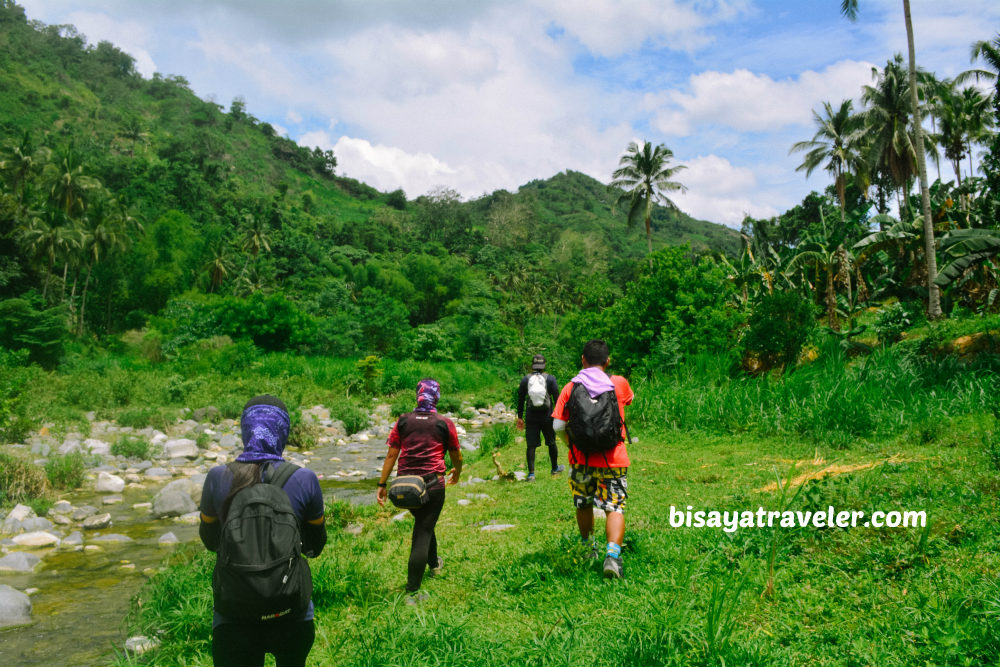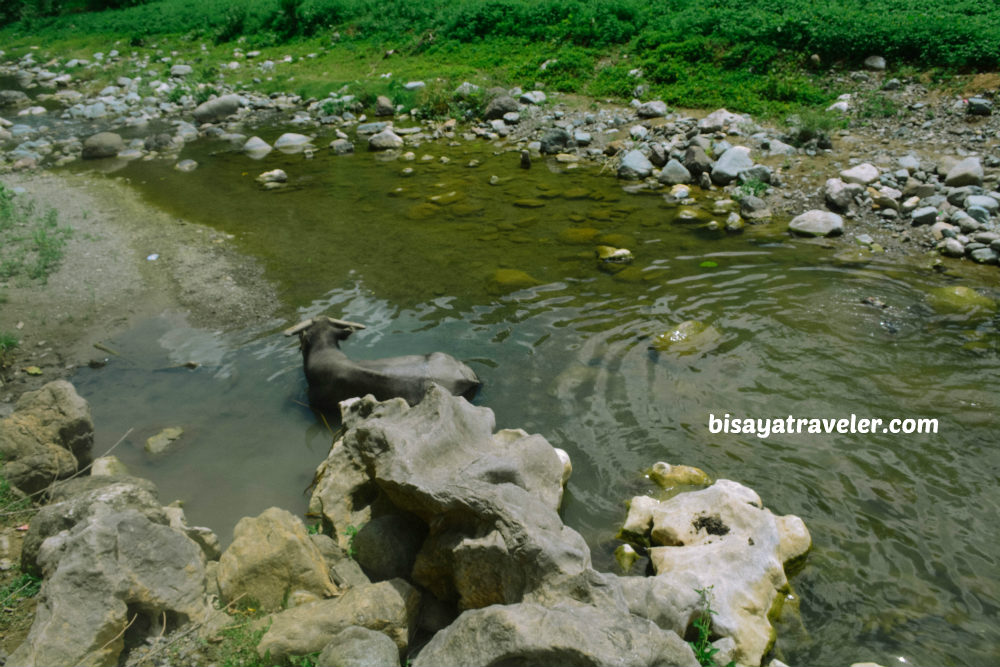 At first, we were extra careful stepping on the rocks as we didn't want to get our feet wet. Little did we know, we were all bound to get wet later that day.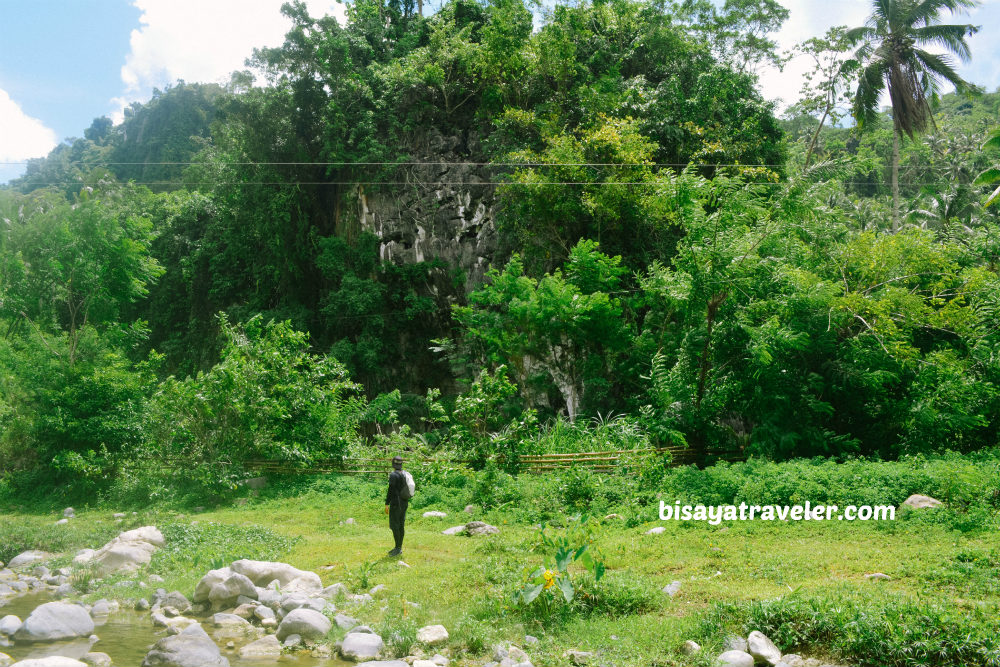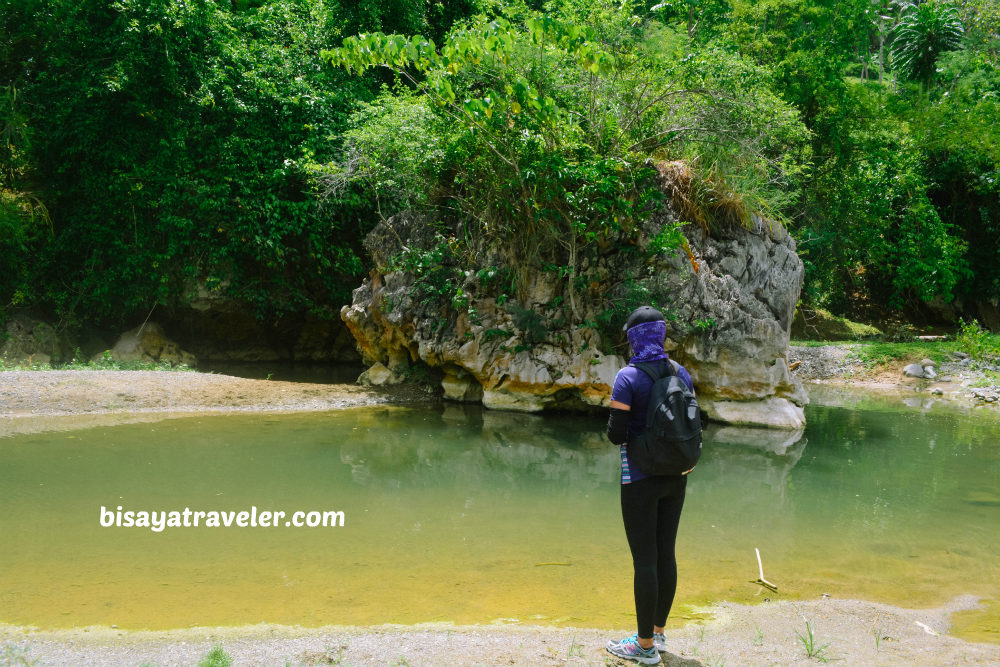 As we were walking, Beboy and I were looking for a shortcut to Pangamihan from Manutu River.
The locals we met along the way, however, didn't know any other way to Pangamihan besides the concrete road near Camasilis.
By the way, that route will take hours, meaning it's not an ideal route for our hike.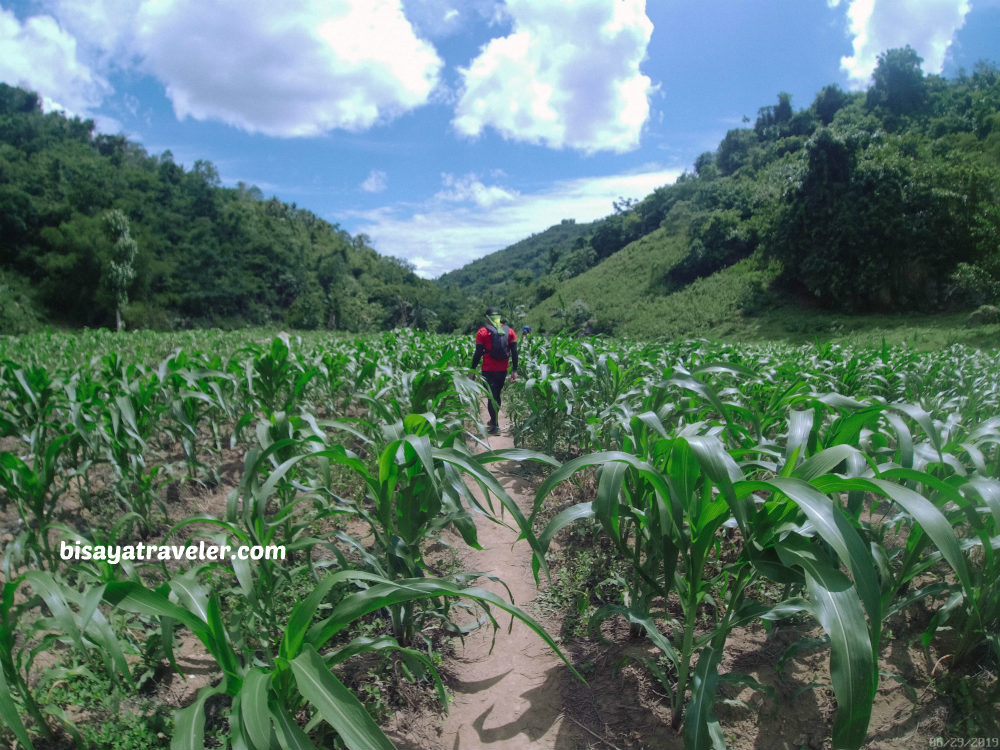 And, just like that, our plans, once again, changed.
I'm pretty sure there's a shortcut there. But there were crystal clear signs from the universe suggesting we should take a different route.
What will be, will be. If it's not meant be, then there's nothing you can do about it.
So what if our plan didn't go through? At least, we had a great deal of time to soak up the beauty of Manutu River.
And, besides, having a constantly evolving itinerary is our part of our identity as hikers.
Heck, we even crave for moments like this.
When we hike, we make up as we go.
We don't have clear plans, and we just follow the signs.
To make things even better, our que-sera-sera adventures have somewhat enhanced our skills.
Thus far, it has improved my skills in decision making, time management and even social.
Additionally, it has enhanced my ability to read maps and understand geography?
As we were walking, the true beauty of Manutu River was slowly uncovering in front of our eyes.
The waters were getting deeper and greener.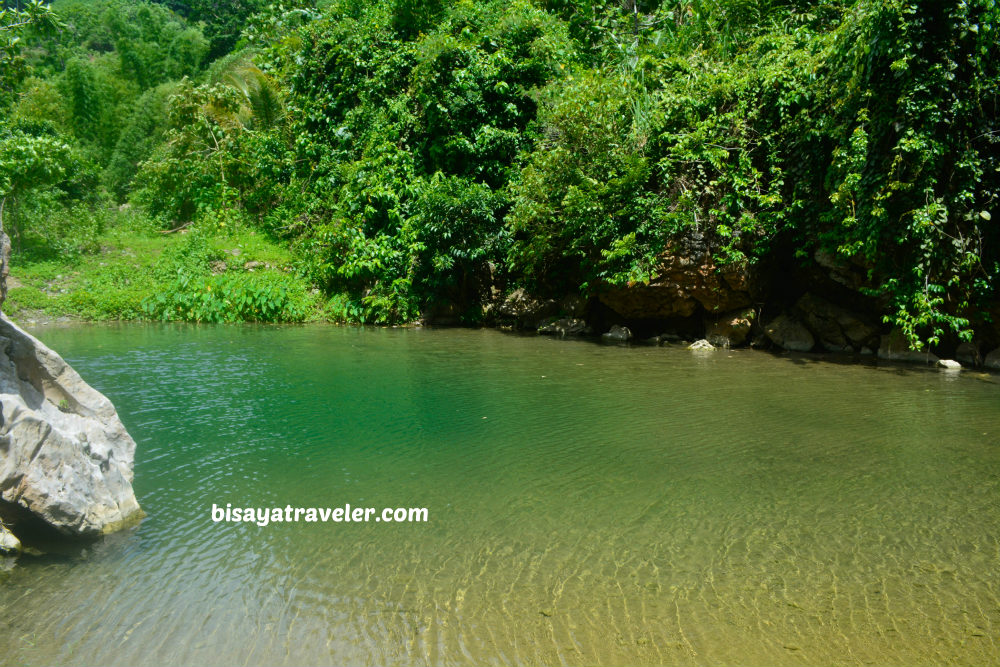 And, the rocks were getting bigger and more eye-catching.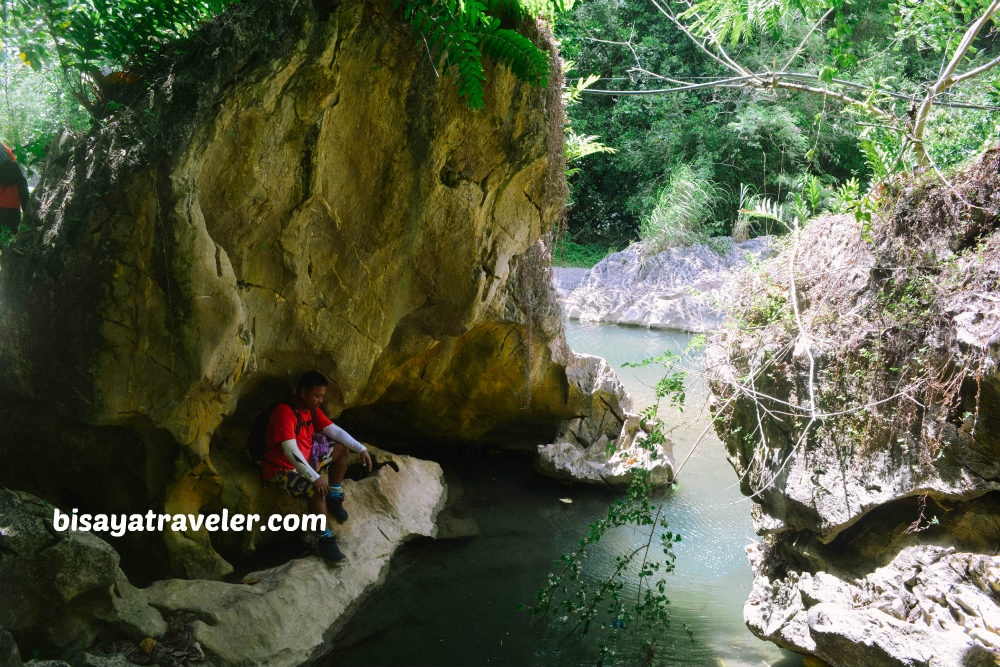 From time to time, we paused to snap a couple of photos in Manutu River.
Eventually, we saw a huge rock where we took a break, to snap a bunch of photos.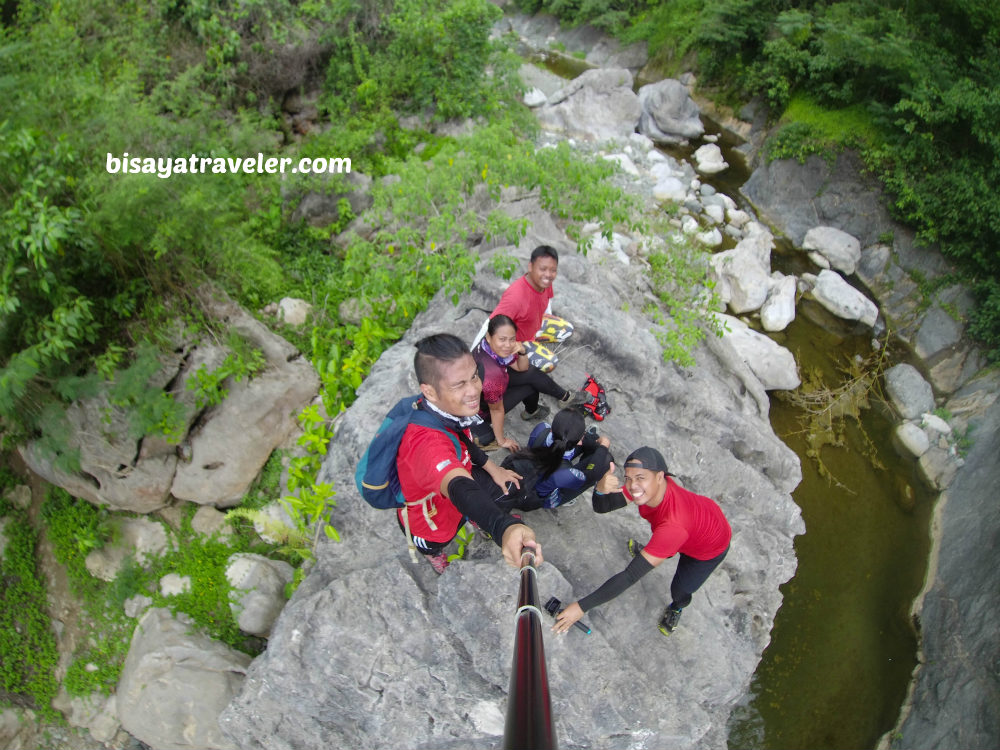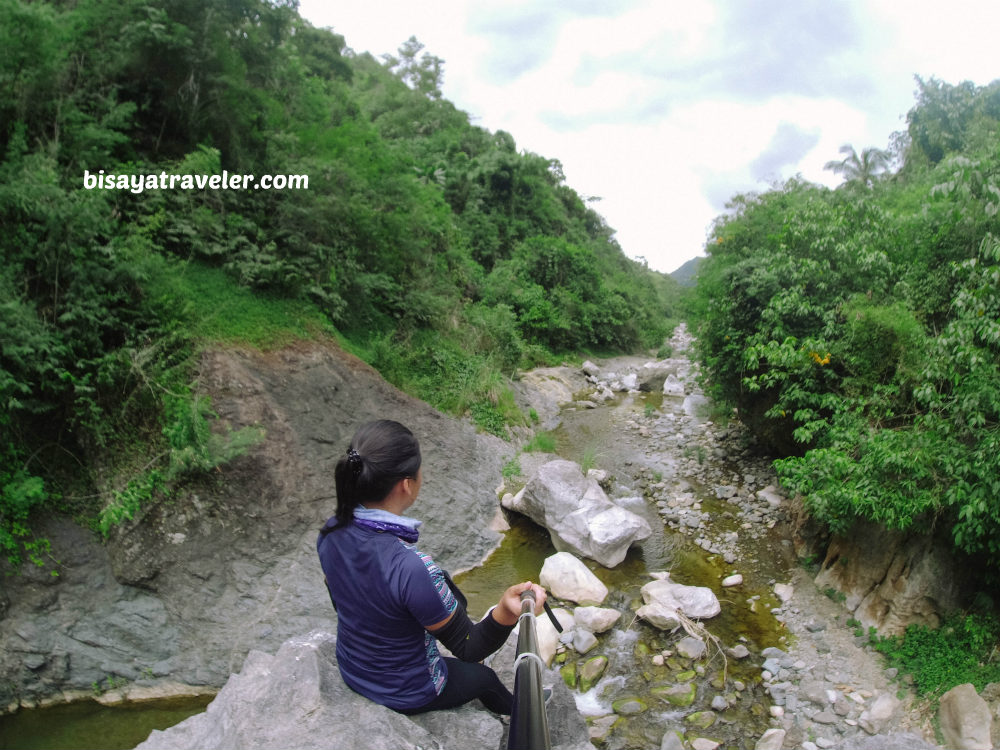 There, we talked, savored the unique scenery and listened to the relaxing sounds of nature.
With enthusiasm, we explored the other large boulders in the area.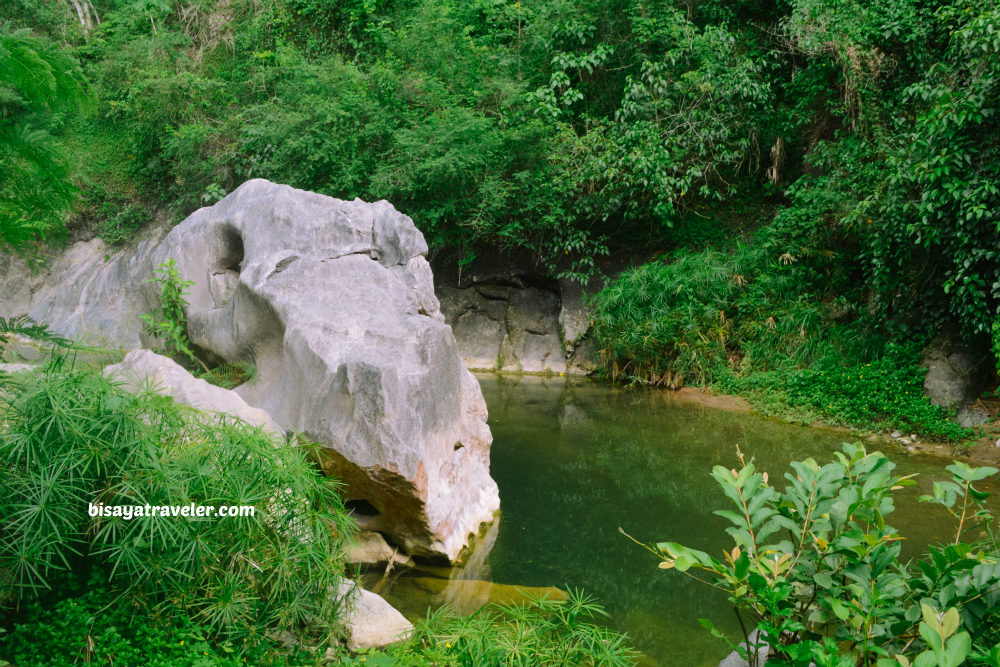 And, I definitely love these boulders in Manutu River.
Not only are they beautiful, but they also offer a small of dose of thrill.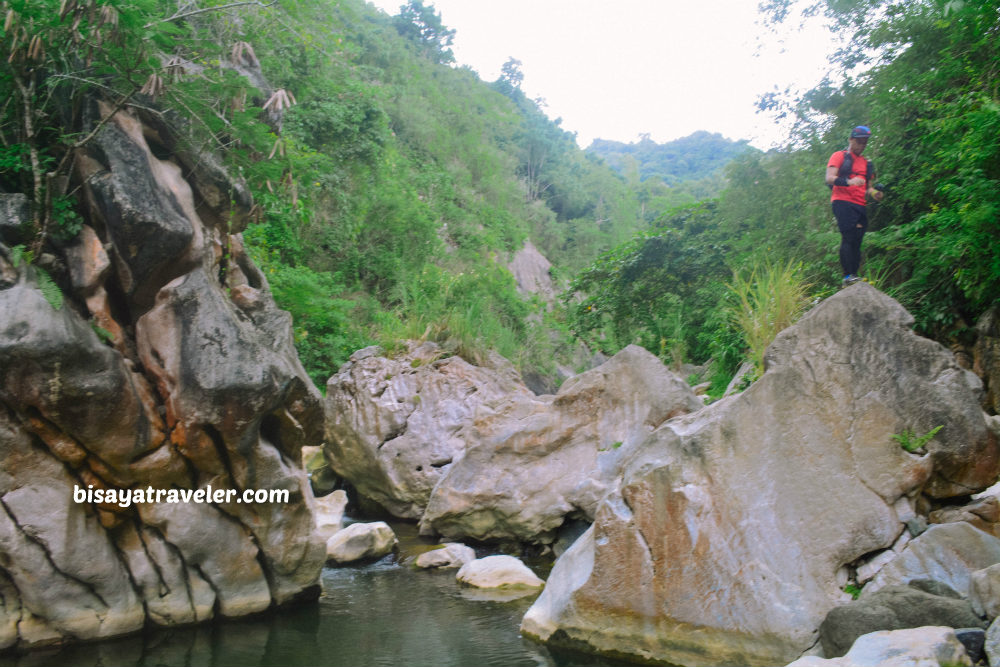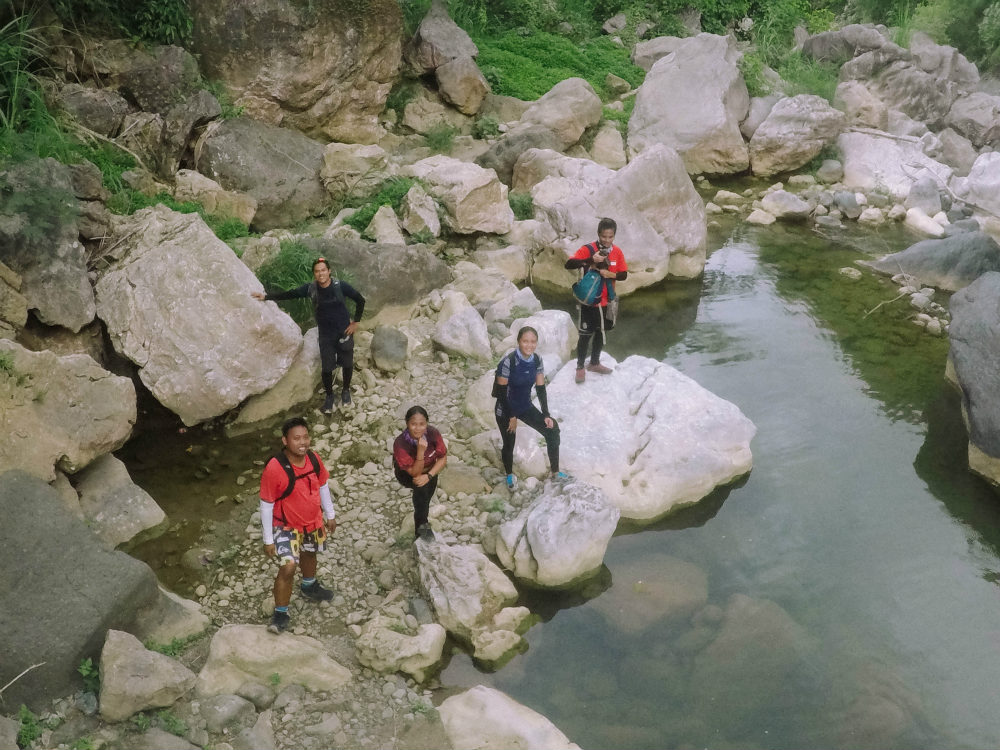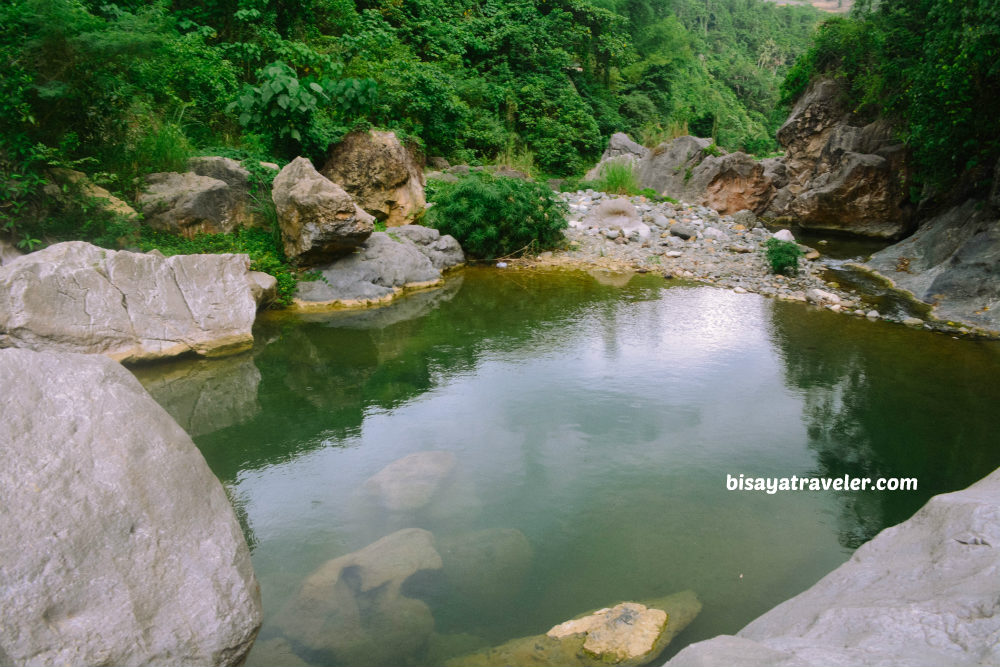 We wanted to spend more time in this part of Manutu River. But, we had to move on because rain drops were slowly falling on our head.
Shortly after, the rain poured down in torrents.
As I've said earlier, we all got wet. And, it was truly a fun experience for us.
To be honest, I can't remember the last time I had so much fun dancing in the rain.
It was like we were kids again having fun in streets in the midst a heavy downpour.
Luckily for us, the rain was pretty quick. Otherwise, it would have increased the water levels in Manutu River.
Not only everyone got wet, though, since Raul and Paul were both geared up for the rain.
Paul's rain gear looked sleek and functional. Raul's raincoat, on other hand, made him look like an oversized 7-year-old bully.
Seriously, he looked like a Grade 1 student who bullies his smaller classmates, so he can get his hands on their snacks and lunches.
His raincoat, paired with his hiking boots, made him look like Damulag in Doraemon.
We checked the clock, and noticed that we still have plenty of time left.
Hey! Why not hike Mount New Bucao? I said to my buddies.
And, we did try to scale Mount New Bucao through a shortcut I've hiked a couple of years ago.
But, our luck ran out, and we got lost along the way.
Although I've hiked this trail before, we still got lost, and found ourselves standing in a bushy area.
It's either a lot of things have changed in the span of two years, or my photographic memory needs to be tuned up.
Even so, it was perfectly fine for us. Not every incredible adventure, especially with a Que-sera-sera mantra, ends with a picture-perfect view.
Nevertheless, we still got a consolation prize via a sweet vista of Malubog Lake and Manutu River.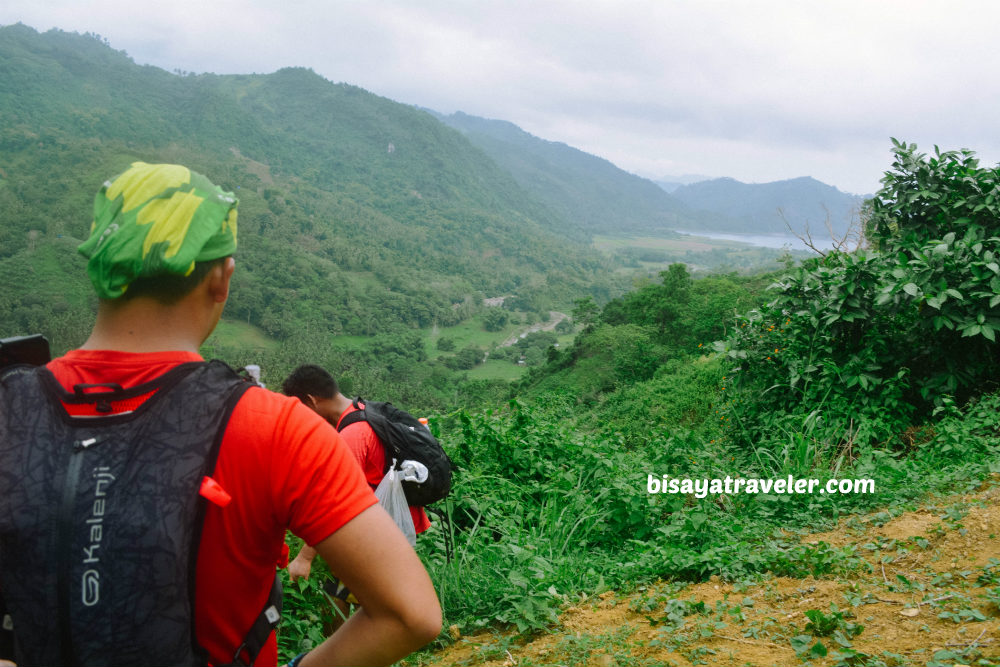 From there, we went downhill, and hiked our way to Malubog Lake, completing a 16-kilometer day hike.
Not bad, in my book.
Afterwards, we capped off our Que Sera Sera adventure with a beautiful sunset and a hearty meal.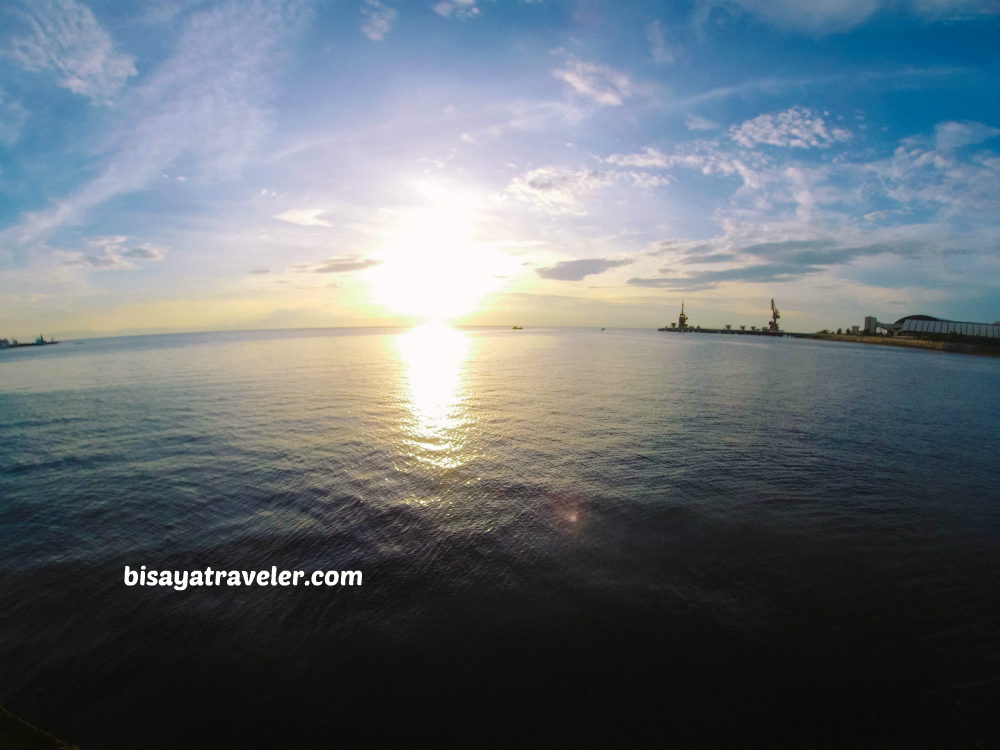 Our Manutu River itinerary
07:00 AM: Meet up at Ayala V-hire Terminal
08:00 AM: Depart for Biyernesan, Gaas, Balamban
09:00 AM: ETA Biyernesan
09:10 AM: Start hike
09:30 AM: ETA Unnamed mountain/explore
10:30 AM: Resume hike
11:40 AM: ETA stream leading to Manutu River
12:20 PM: Lunch
12:45 PM: Resume hike
01:50 PM: Picture taking in Manutu River
02:30 PM: Ascend to Mount New Bucao
03:30 PM: Start descend
05:00 PM: ETA Malubog Lake/General Climaco Barangay Hall
05:15 PM: Depart for Toledo V-hire terminal
05:45 PM: ETA Toledo V-hire terminal/watch sunset
06:00 PM: Early dinner at Mang Inasal
07:00 PM: Depart for Cebu City
09:00 PM: Home sweet home
Our expenses
V-hire fare to Gaas: PHP 120
Habal-habal fare to Toledo proper: PHP 100
V-hire fare to Cebu from Toledo: PHP 110
How to get to Manutu River
The easy way
Take a bus to Toledo City from Cebu City South Bus Terminal. Travel time is 2 hours and fare is PHP 60 to 80. Ask the driver or conductor to drop you off at Sangi or somewhere near Toledo Market. Look for a jeepney that will take you to "Casoy" (Barangay General Climaco). Once there, charter a habal-habal that will take you to Manutu River. Fare ranges from PHP 30 to 50 per person per way.
The not-so easy way
From Ayala Terminal, hop on a V-hire bound for Balamban, and ask the driver to drop you off at Biyernesan. Ask the locals for directions to Manutu River or Casoy.
Reminders:
Be a responsible visitor. Please don't leave your sh*t anywhere.
Pack at least 2 liters of water if you plan on taking a hike.
Pack ION drinks like Gatorade.
Wear arm sleeves and sunscreen.
Bring trail food and lunch.
Wear a pair of trekking shoes of sandals with good traction.
Our Que Sera Sera hikes are our practice of non-conformity.
No expectations.
No rules.
And, no obligations.
Just pure and unadulterated fun.
Every hike with these fellows is an exciting discovery. We venture into the unknown with no expectations or obligations. We can choose our own adventure, and if we don't like our route, we choose another path.
To me, it gives us a sense of freedom, and is a sweet escape from our monotonous daily grind. That's why I'm addicted to this kind of adventure.