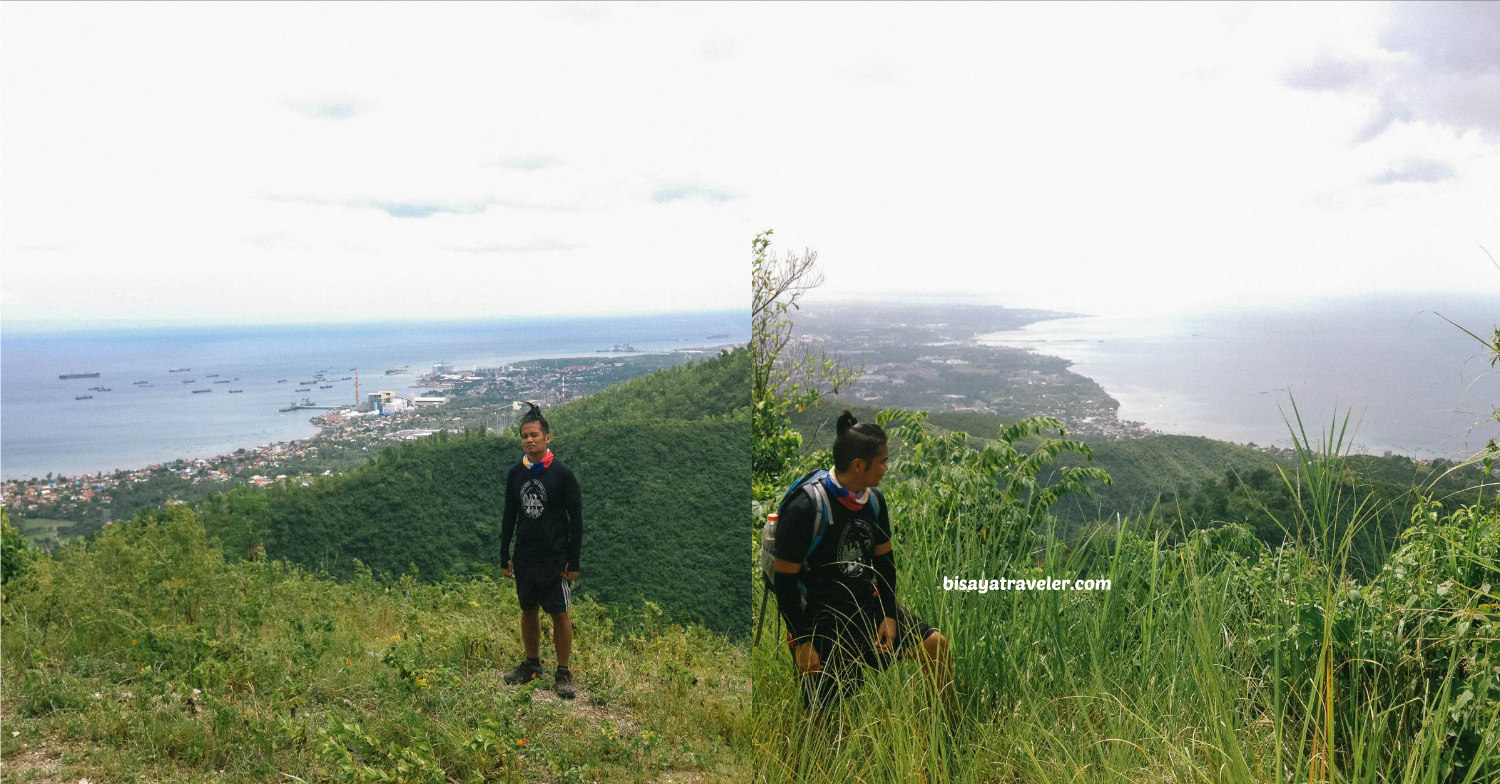 Pangilatan Hike: How To Find Your Happy Pill In The Mountains
Every adventure is a learning experience, for me. From easygoing long hikes like Pangilatan to mind-blowing escapes, my recent adventures have been wondrously nourishing my body, mind and soul. As awe-inspiring as the views are in my intrepid nature escapes, it's the lesson learned or takeaway that truly turns me on.  With my introverted and observant nature, venturing into the outdoors has fueled my creativity and quenched my thirst for knowledge.
And, in my recent hike to Pangilatan, I've discovered the steps or formula to finding your happy pill in the mountains. I got these ideas, while talking as well as observing the expressions and body language of every hiker.
I know it's not rocket science or a ground-breaking idea, but hopefully, these tips will help you on your next hike. Keep in mind that not every mountain escapade can turn into a pleasant and memorable experience.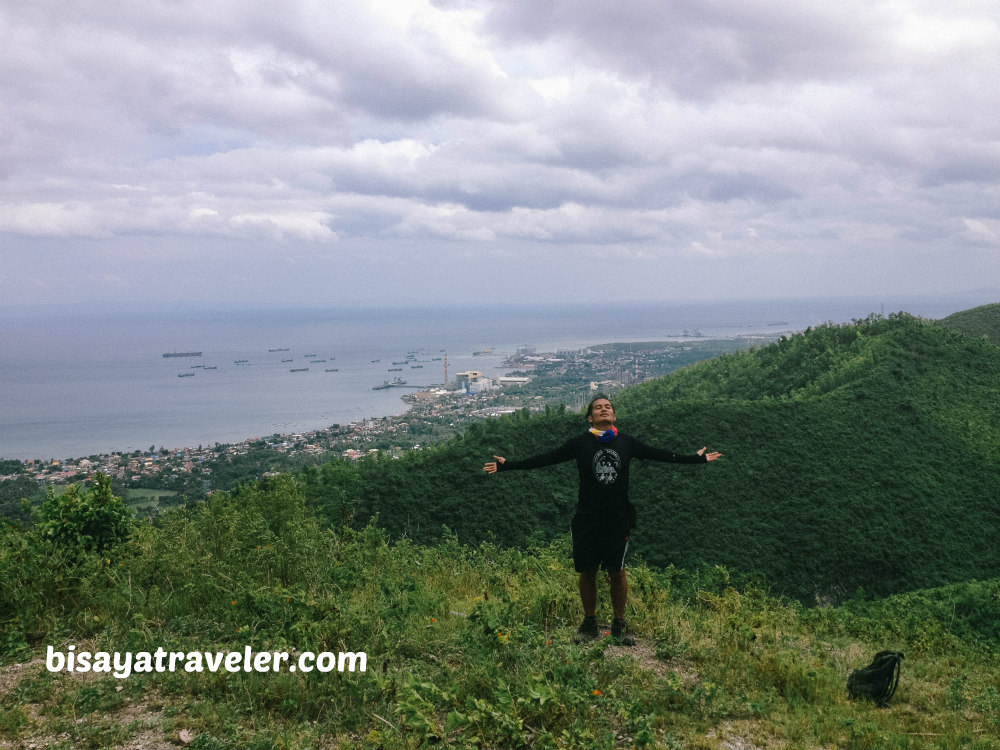 Find the type of mountain adventure that best suits your interest
Long day hikes, leisure climb, major climbs or overnight camps – take your pick from any of these mountain adventures.
Alternatively, you can also do them all.
And, if you prefer to take the easier option, don't let the so-called hardcore hikers steal your sunshine.
It's your damn freaking life!
No one can tell you what's best for you, except you.
If it makes you happy, go ahead and do it.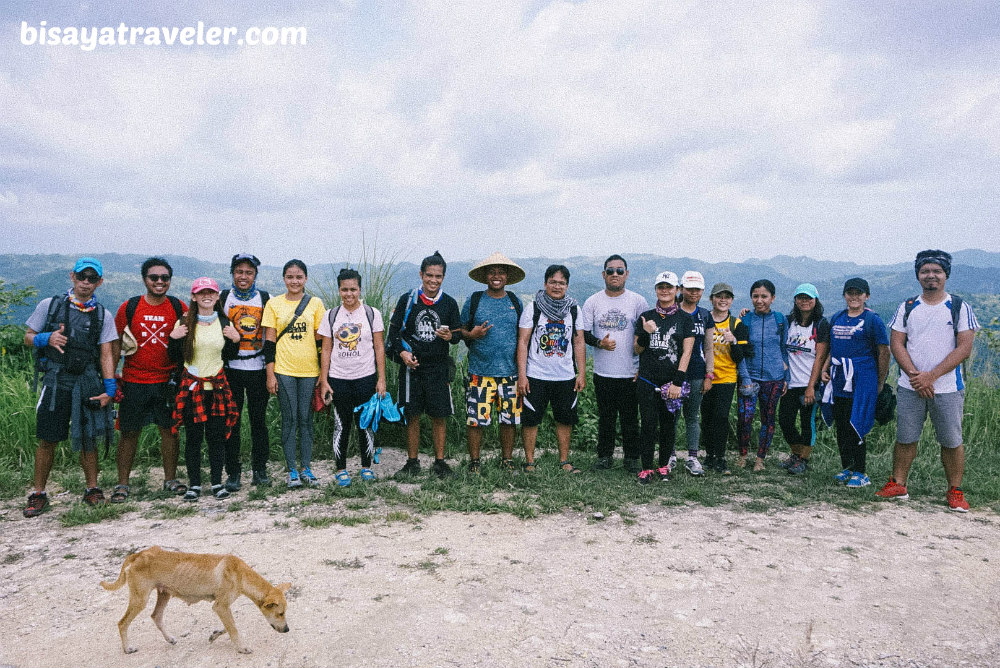 And, for this day hike, we decided to take an easier route. Even though it was 21-kilometer long, there weren't any steep slopes in our Pangilatan hike.
Some might even call it a "pabebe" hike.
But, I don't give a damn about it.
As long as I made a heap of people blissful, no words can stop me from getting my happy pill.
And, besides, this hike is meant for a more meaningful cause, and not to stroke someone's ego.
Take a chance
A year ago, I was hitting the trails in Cebu with a rather popular hiking team.
With our extraordinary adventures and catchy trademark shots, we became well-known in Cebu's adventure community.
But, as we continue to hike and add members, I became uncomfortable with our changing culture and environment.
For an introvert like me, the noise, buzz and small talks were overwhelming.
Not to mention, there was a bipolar figure (one specific person) within the group that was bound to stir up some trouble.
Truthfully, I was not-so happy with the way things were going.
So, I took a chance, and left the group at the zenith of their popularity.
While it was an unpopular move, I became happier with my adventures, following my departure.
And, ironically, Pangilatan Peak was where I took the leap of faith.
Thanks to a year-end hike in Pangilatan Peak, I've developed a strong bond with a new wave of friends.
Without that Pangilatan Peak hike, I wouldn't have met the likes of Dian, Rona, and sir Francis.
Plus, I wouldn't have seen Geneva in person, and know how amazingly witty and hilarious she is.
To top it all off, I wouldn't have hiked a ton of untouched mountains in Cebu if that adventure didn't take place.
And, that Pangilatan Peak hike also led to this Naga City day hike, which was the 1st leg of our outreach program.
In this day hike, I was joined by some of my favorite hiking buddies – Dian, Raul, Beboy, sir Francis, Geneva, Beth, RJ, Rona and Ivy.
As an added bonus, there were also plenty of joiners for this hike, including sir Juan, Mart, Reeza, Shanine, Christian, Grace, Cla-Cla and Rollie.
Though they didn't get to finish the Pangilatan hike, it's also worth noting that a trio of new friends joined us for our adventure – Leonell, Aileen and Jeaneth.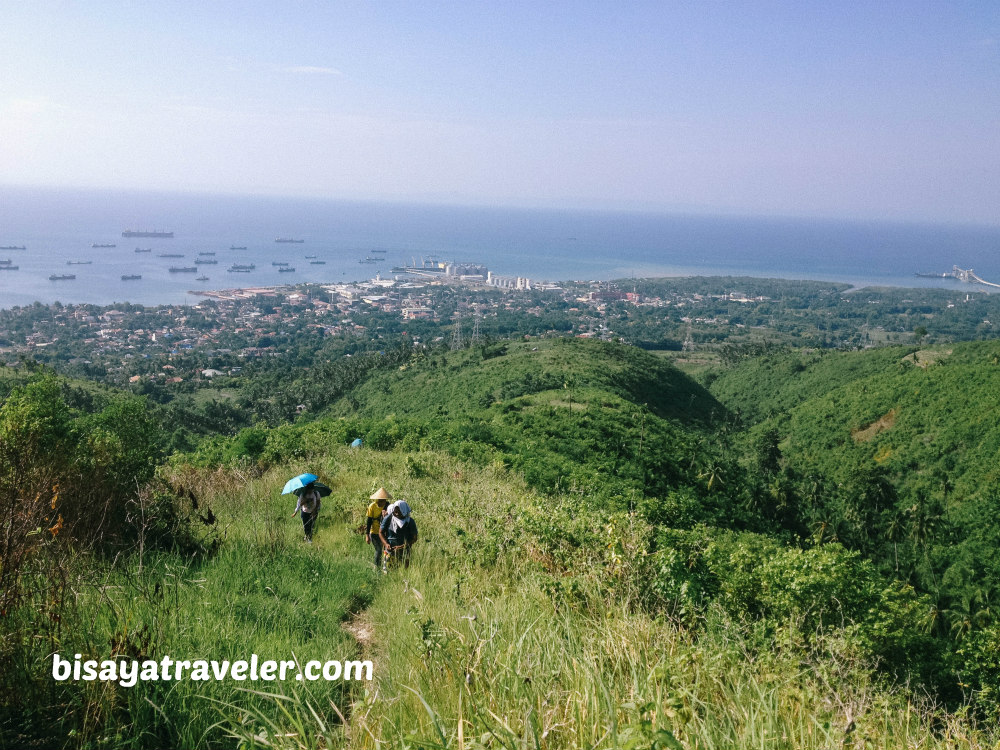 And, our day hike officially kicked-off with a meet-up at Naga City Boardwalk. After the short introductions, we walked our way to Mendoza Street, and hiked the scenic Tangke trail.
And that leads to the next tip – be kind and humble.
Be kind and humble
Even if you're hiking a relatively easy trail, never showcase your ability to people who are struggling. Furthermore, don't brag your feats or achievements to others, when you hit the trail. Remember, hiking is not a race or a competition of the fittest, strongest and richest.
Trust me, you won't feel at peace or happy with your hikes, if you continue to brag and compare yourself to other mountaineers.
As far as I'm concerned, it does not matter how many mountains you have climbed or how difficult your hikes have been. What matters is how the hikes have changed you for better.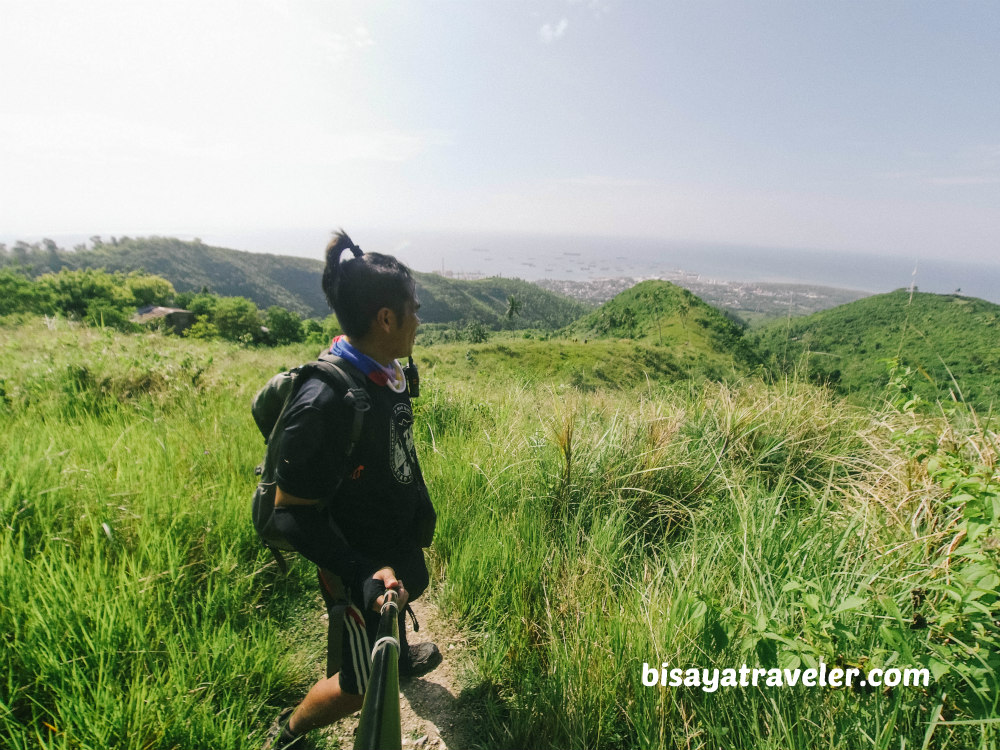 And, as we were hiking the slopes of Tangke trail leading to Mount Magdook, everyone seemed humble and kind. Well, technically not everybody, but still most hikers were totally down to earth.
Sir Juan, for one, is a cool and humble hiker that rarely talks about his incredible adventures. Even with all his mind-blowing feats in hiking, he remains modest, kind and soft-spoken.
And, that's why he's always happy.
Although our Pangilatan hike is nowhere as exciting as his previous escapades, he was still so delighted and joyful to join us on our adventure.
After an hour of ascends under the sun, we all finally arrived at the main road in Magdook, marking the end of the first phase of our Pangilatan Peak hike.
We took a long breather there, and just chilled, enjoying one another's company.
Hike with people who make you happy
I'm very picky, when it comes to my hiking buddies. Even in outreach programs like our hike for a cause, I spend a ton of time evaluating anyone who's about to join me.
Oftentimes, I would ask some hikers a series of questions, just to find out if they are a good fit.
And, that's because I don't want to surround myself and my buddies with negative people. To me, hikes and mountain adventures shouldn't be filled with negativity.
Clearly, I prefer to be surrounded with upbeat and optimistic people who encourage others to be happy and positive.
Let's face it, hiking can be a pretty physically demanding and challenging experience. And, if you share the trail with whiners and pessimists, chances are you won't find your happy pill in the mountains.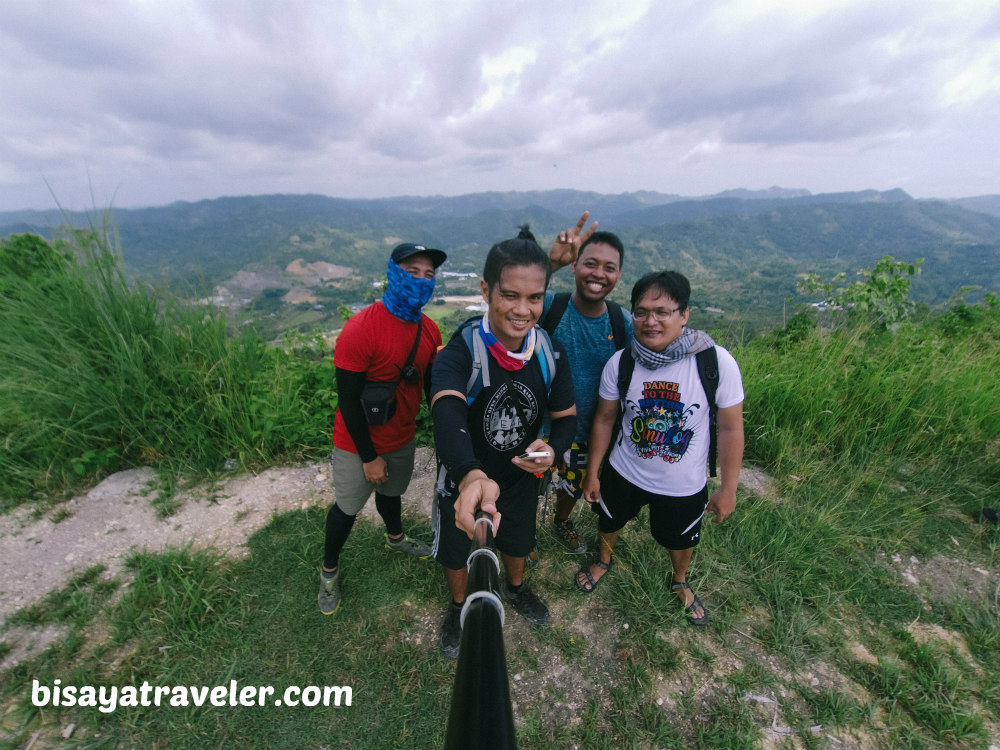 In our Pangilatan hike, I didn't see anyone in a bad mood.
I guess we've picked the right set of hikers for our Pangilatan adventure.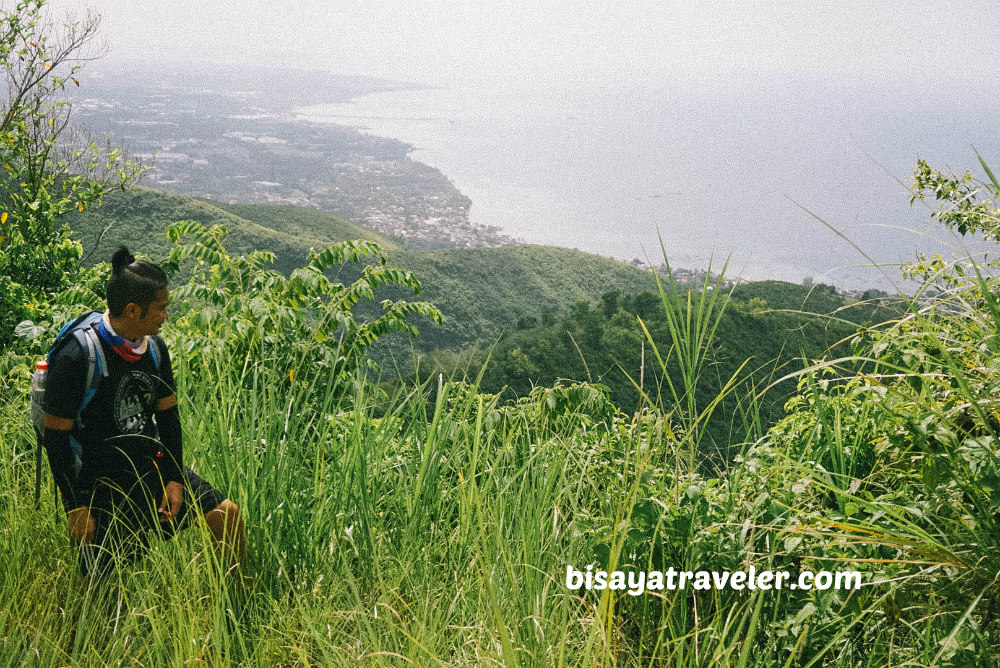 The usual cast of my adventures, as always, was zesty and lively, especially the old man Tatay Raul.
Meanwhile, the newcomers like Shanine and Reeza were a bit silent since they were somewhat still uncomfortable with the rest of the gang.
Luckily, Tatay Raul and the girls had an infectious positive vibe, helping others to feel more comfortable with the group.
As we were resting on the summit of Mount Magdook, we had a swell time talking and cracking up jokes.
What's more, we enjoyed the view, cherished the atmosphere and snapped a ton of photos.
Afterwards, we descended from the summit, and walked on the concrete road leading to a familiar stop.
Yep, that's the same place I've visited months ago.  Here, we took a short rest, and, took a bunch of photos.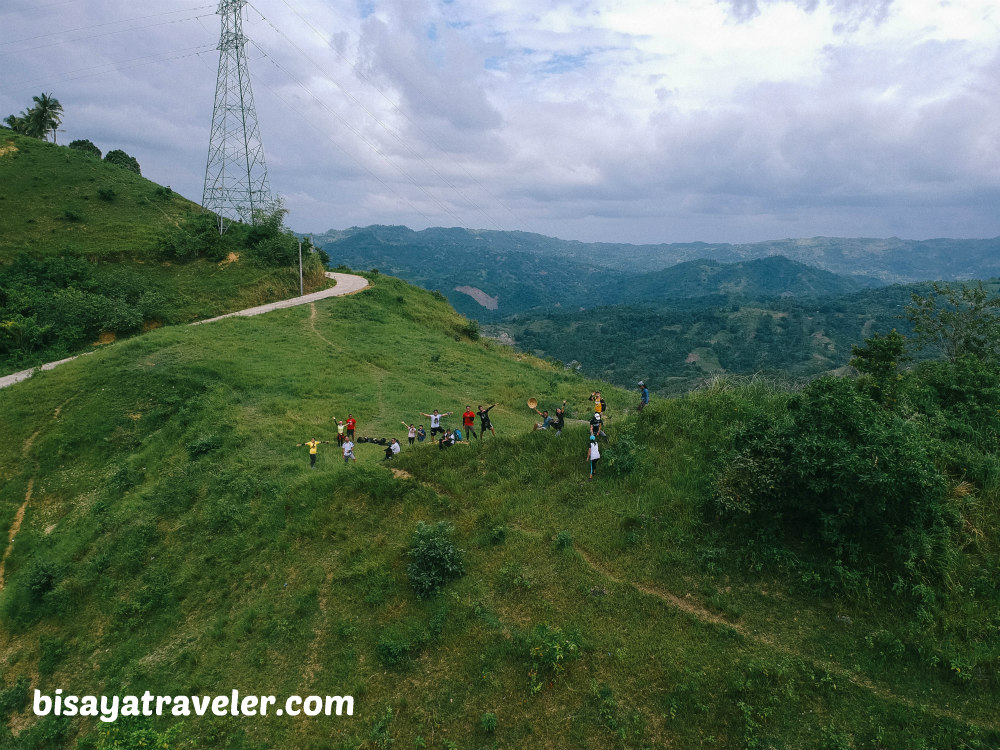 We had a fabulous drone shot too, courtesy of Beth and RJ.
We, then, resumed with our Pangilatan hike through paved road of Magdook.
As with most of my recent day hikes, Tatay Raul was the star of the show.  As you might have expected, Tatay Raul flaunted his full arsenal of tricks and jokes.
While descending, we asked him the meanings of OOTTD and CMS.
And guess what? He made a bunch of wrong answers that made us laugh our hearts out, such as Online Order Two Days for OOTD and Catholic Media Society for CMS.
I thought he already knew the answers because we've revealed it to him before. Maybe, tatay Raul is having problems refreshing his memories.
Moments later, we arrived at the base of Pangilatan Peak. Since it was already lunchtime, we decided to rest there, eat and replenish all the fluids lost on our hike to Pangilatan Peak.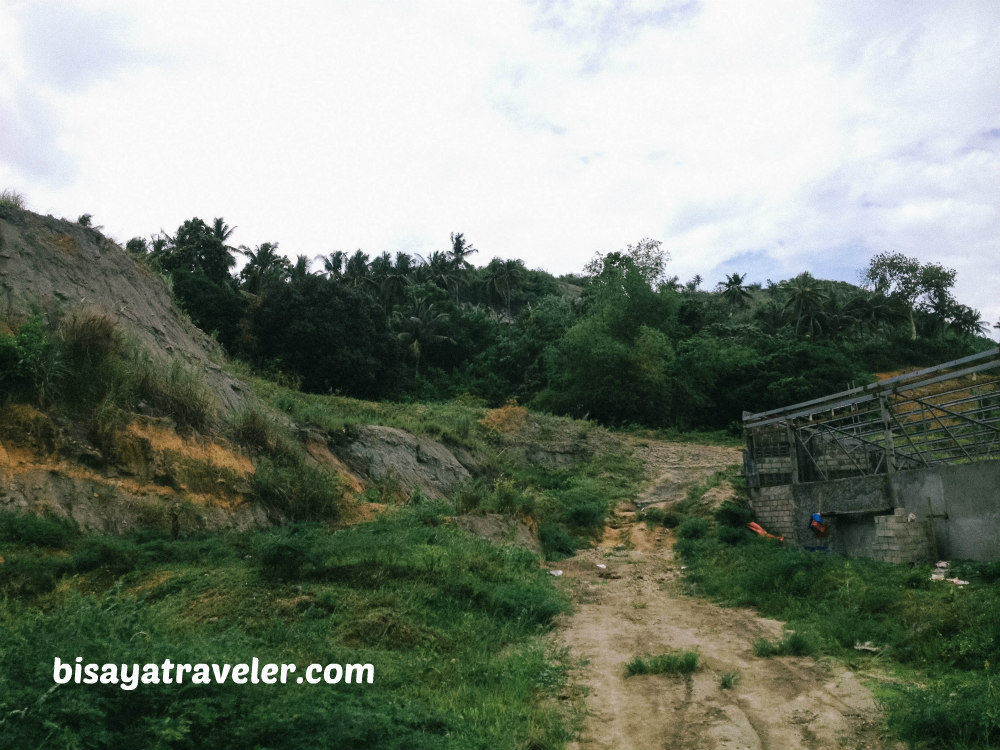 With lunchtime in the books, we began our climb to the highlight of our hike – Pangilatan Peak.
Concentrate on the things that you can control
You can't control the weather. Heck, we even can't make accurate weather predictions, despite today's innumerable technological innovations.
And, as we were about to ascend Pangilatan Peak, the skies suddenly turn to gray. Not to mention, the wind was blowing hard, signaling a storm might be coming.
Was I worried? Of course, we were all a little worried.
But, did we let it ruin our mood? Hell no!
Despite the negative signs, we used our energy soaking up the fresh breeze and mountain air.
The thing is, there are some things that are simply beyond your control, when you're hiking in the mountains. So, instead of whining, make it the most out of it, and concentrate on the things you can control. Remember, worrying about things that you can't control is such a waste of your emotional energy and time.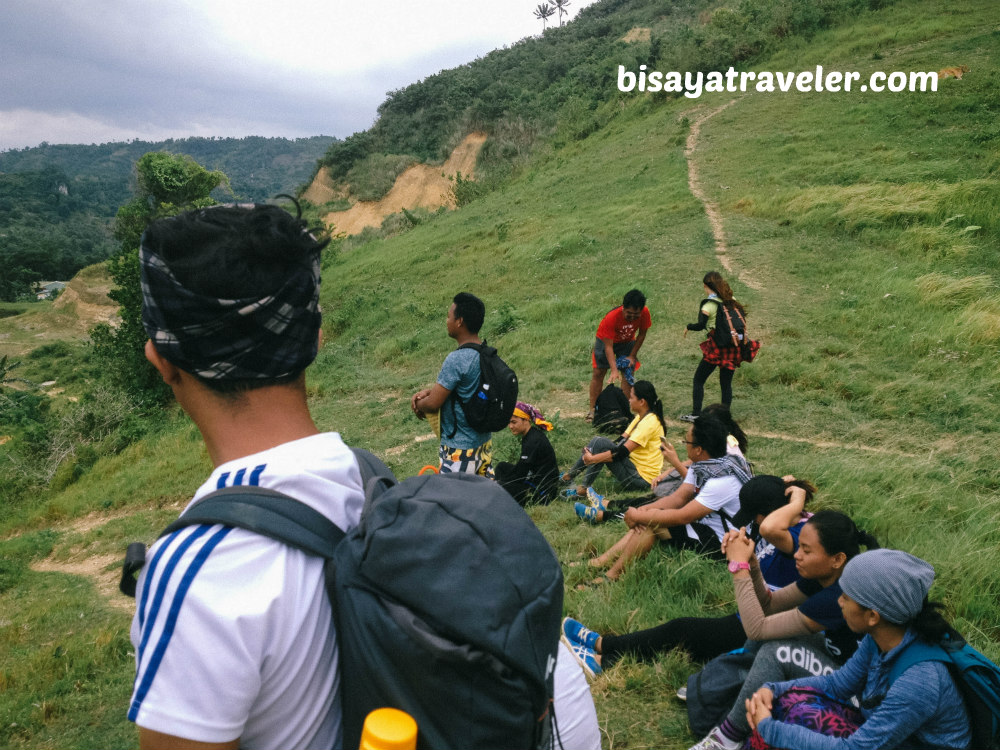 Moments later, the seemingly furious weather mellowed down.  And, without wasting any time, we hit the trail leading to Pangilatan Peak.
Spearheaded by yours truly, we eventually arrived at Pangilatan Peak.
The views were lit and nothing short of spectacular!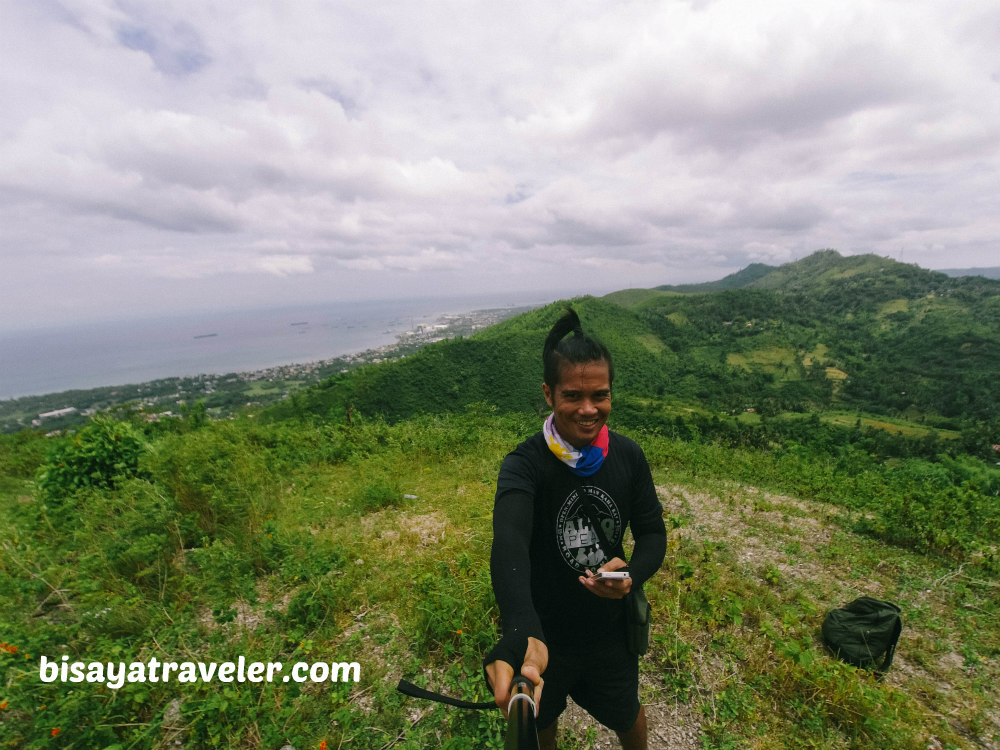 Live in the moment
Wow, amazing and stunning – those were some of the words I've heard, as we were admiring the views from Pangilatan Peak.
As one of the hike's organizers, I was absolutely glad to see them getting their happy pill in Pangilatan Peak.
Like me, they were on cloud nine and living in the present.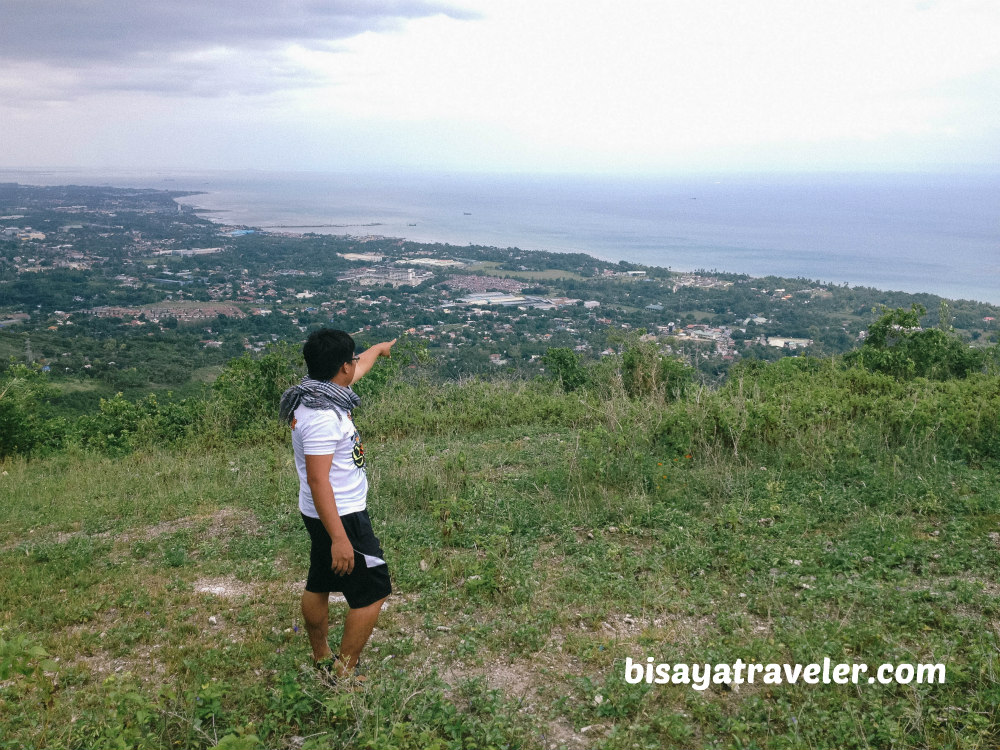 And, make no mistake about it – living in the moment is the key to finding your happy pill in the mountains.
Nowadays, it's so easy to let technology, procrastination and work take over our lives. But, being a little mindful of the things around you may bring happiness and peace into your life.
As you savor the views from the peak, never imagine how great things can be in the future, or dwell on the past.
Enjoy the moment because you may never experience it again. Also, we'll never know what the future holds for us.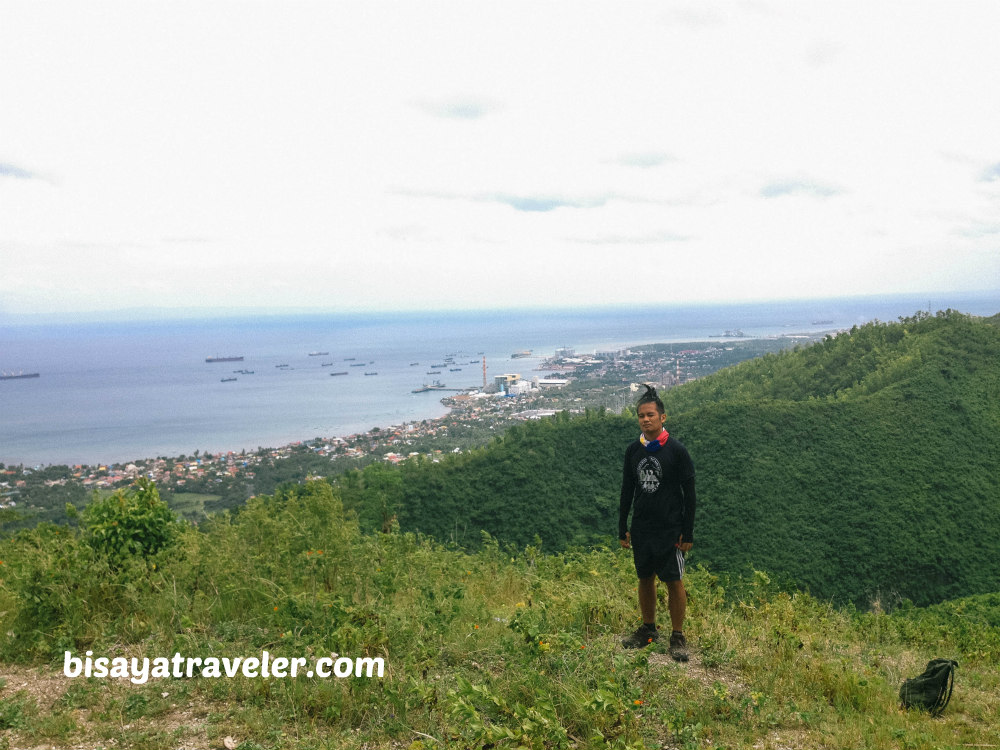 And, by the way, this is arguably the best I've seen Pangilatan Peak.
This is my 4th time in Pangilatan Peak, and this hike really highlighted its beauty.  The last time I was in Pangilatan Peak, the whole place was littered with trash.
Appreciate those around you 
Appreciate the people who bring joy to you on your hikes. Whether it's your friendly guide, a joiner or your old hiking pal, try to express your happiness to them.
And, it doesn't have to be a grand gesture.
A simple "thank you" or I'm glad to be here" would do. Moreover, you don't necessarily have to say "I love you" to appreciate the people around you.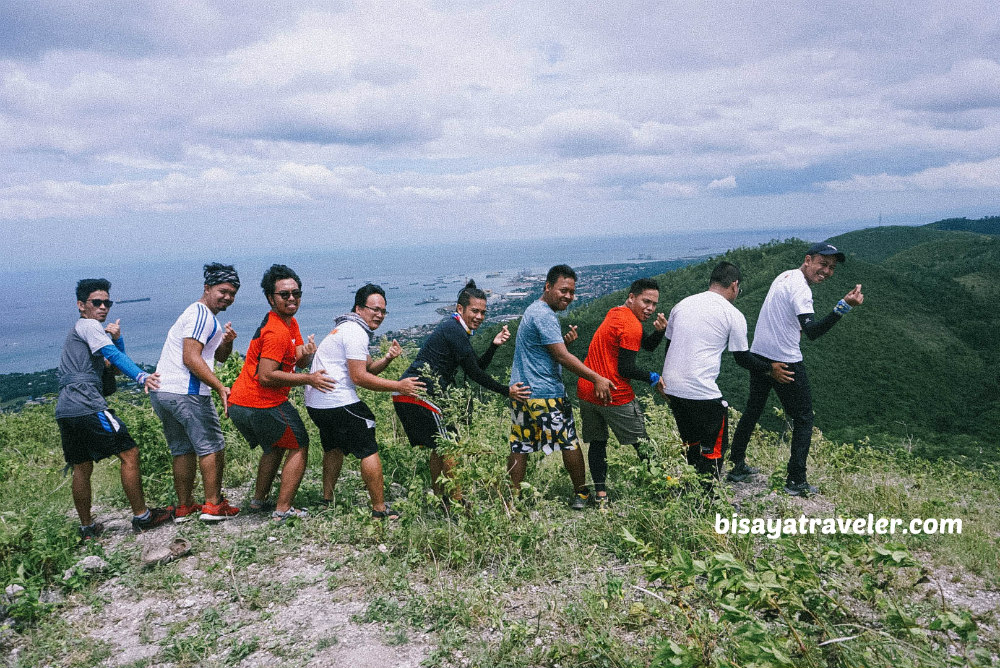 Honesty, I think would be extremely awkward to say "I love you, bruhh" to Tatay Raul, Beboy or sir Francis. What's more, it would seem so creepy to say it to the girls in my clique, especially since I'm happily married.
But, in my own way, I'm telling them how much I value them.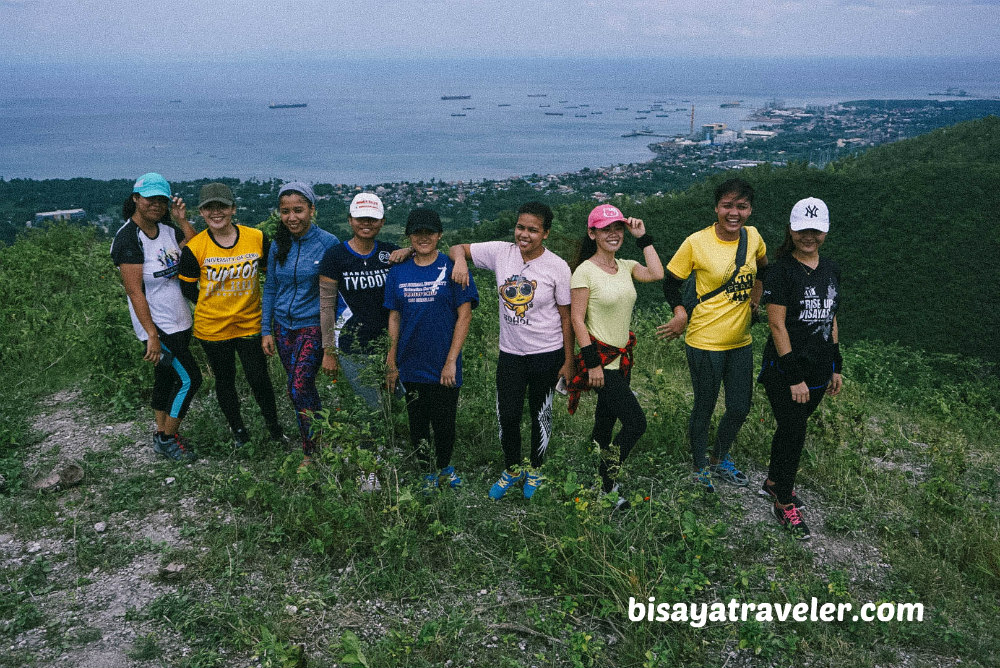 Once you show your appreciation, you'll feel so much better and happier.
Be open-minded  
In hiking, an open mind can lead to a plethora of mind-blowing adventures. And, thankfully, everyone on our Pangilatan Peak hike was open-minded.
After scaling Pangilatan Peak, we made our way to the other side of the mountain, passing by remote villages like "Little Baguio".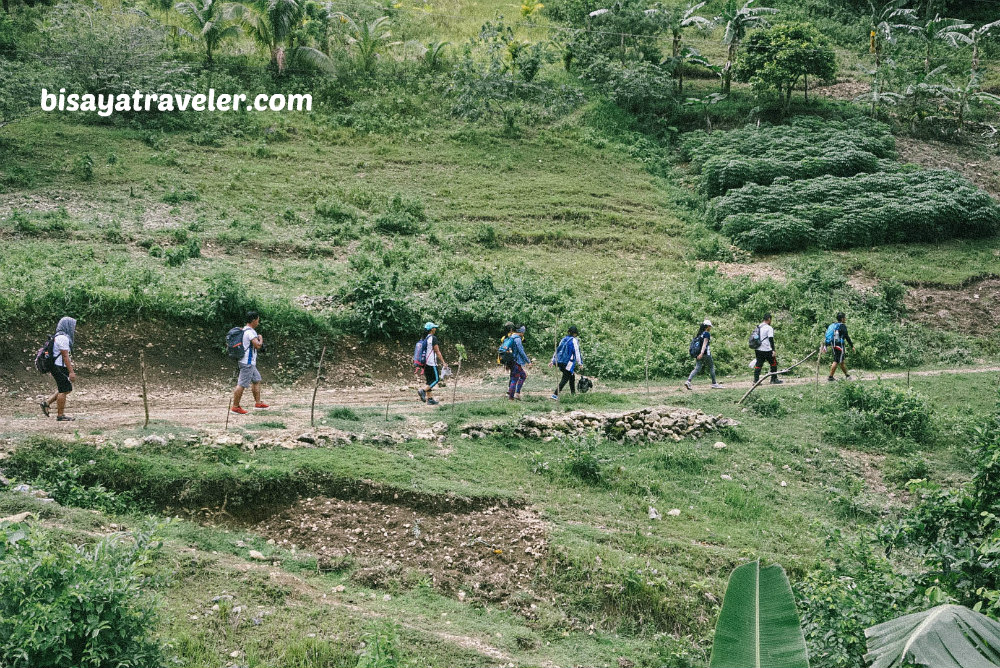 Soon after, we climbed an unnamed hill in sitio Pangilatan. Although it wasn't part of our original plans, we still made a stop here, after seeing its lush beauty from Pangilatan Peak.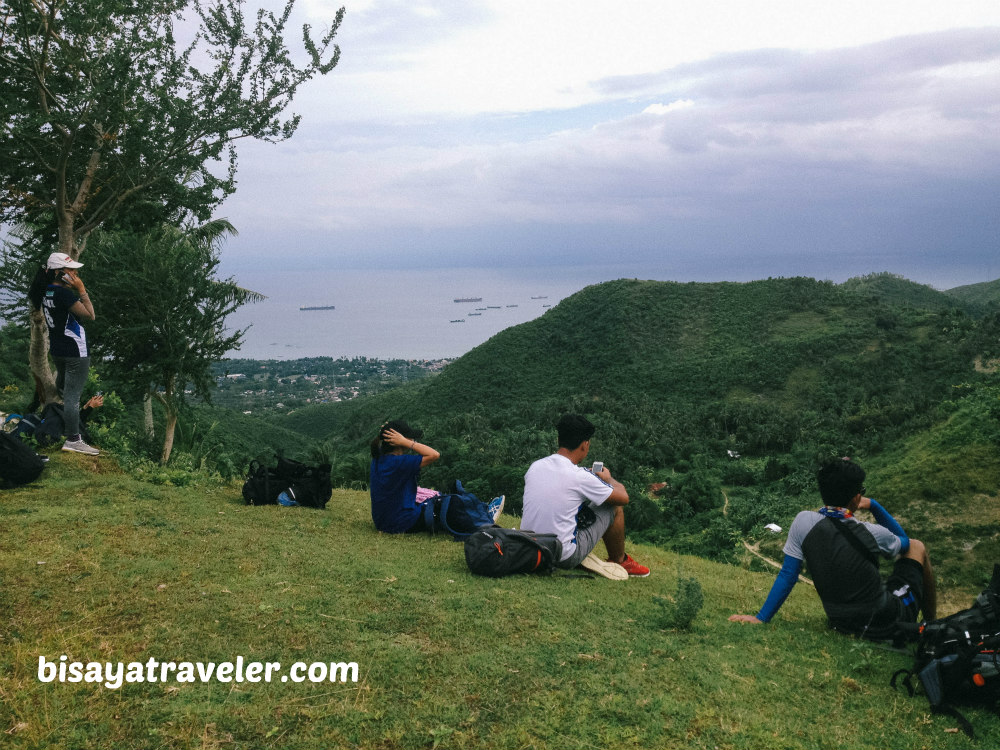 And, I'm glad we did!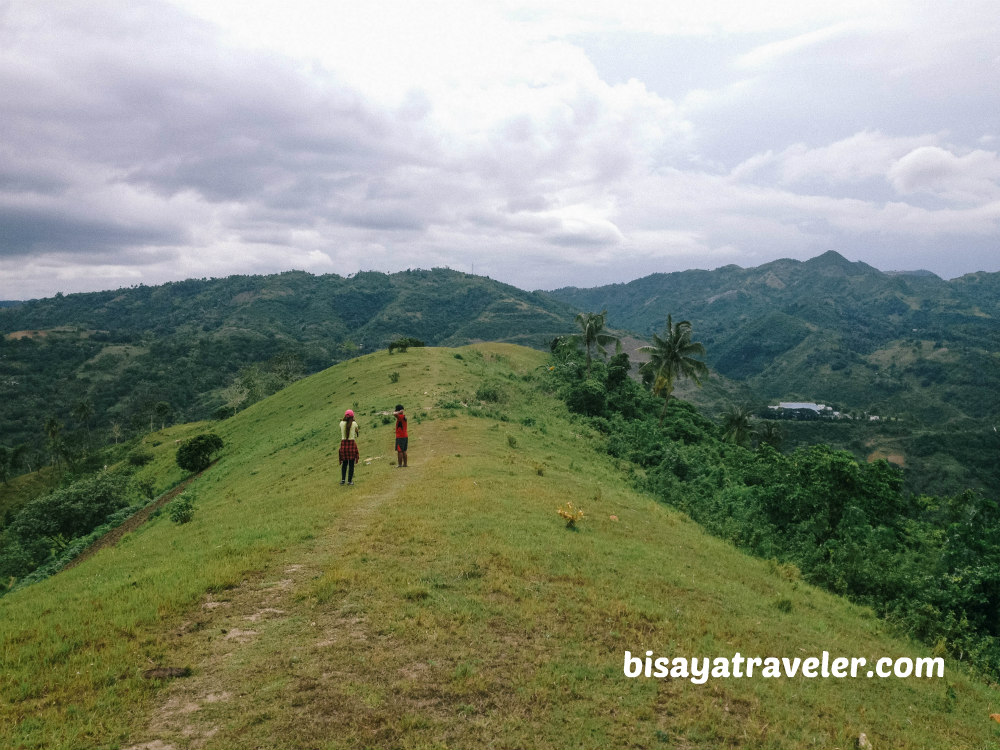 As a group, we usually hike with an open and flexible itinerary. Whenever we see something exciting and scenic, we, with the help of the locals, try to explore the area.
Armed with a sense of adventure and an open mind, we dive into the unknown to find our happy pill in the mountains.
And that's how we discovered Mount Balirong as well as the trail connecting Mount Naupa and Mount Calbasaan.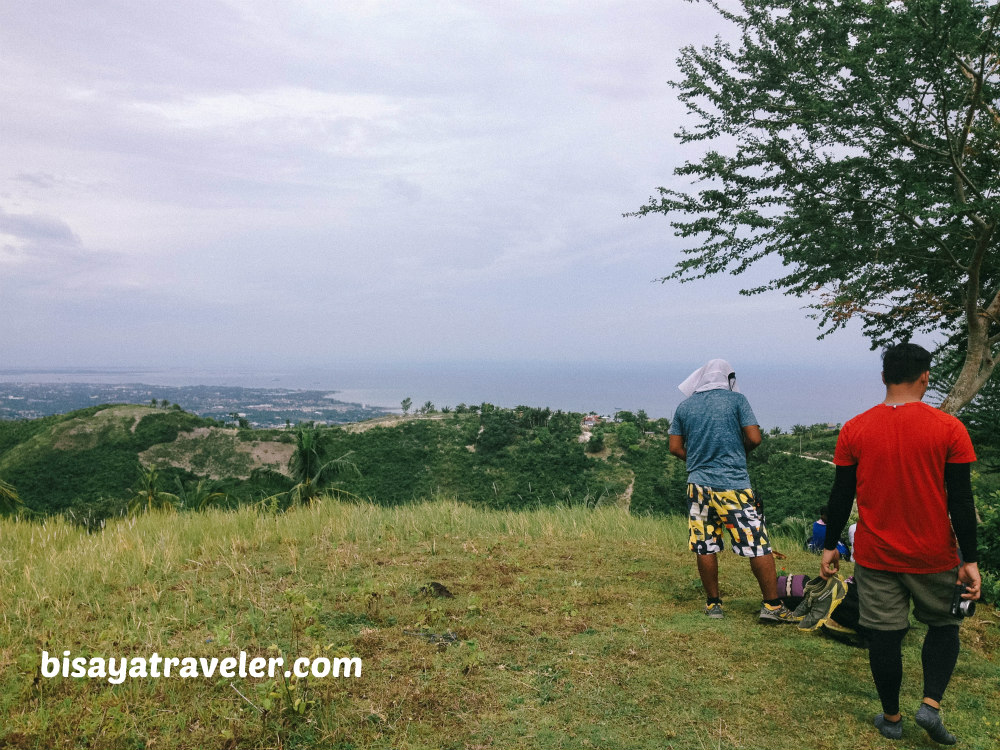 From the unknown hill in Pangilatan, Cantao-on, we walked our way to the National Highway in Naga City. Ultimately, we bid farewell to the other hikers in the group, and took a short 2-kilometer walk to Gaisano Minglanilla.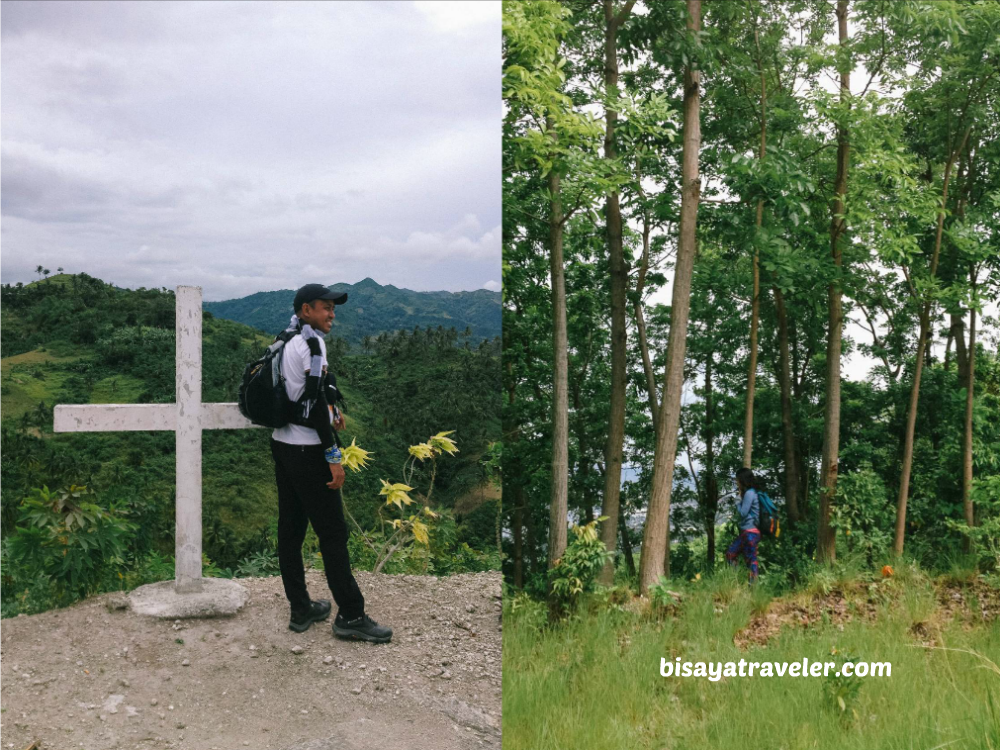 There, we fed our grumbling stomach with the juicy dishes of Mang Inasal.
Quite a day, I must say!
How to get to Pangilatan Peak:
There are a few ways to get to Pangilatan Peak. You can refer to my old post, Pangilatan Peak: An Untouched Summit With 360-Degree Panoramas, for more details.  If you want to follow our new itinerary, feel free to reach out to me. Who knows? I or one of my pals may be available to show you the way.
My expenses:
Fare to Minglanilla from Punta: PHP 12
Fare to Naga from Minglanilla: PHP 7
Fare to Shopwise from Minglanilla: PHP 12
Important reminders:
Eat breakfast.
Wear sunscreen as well as bring a hat and a pair of arm-guards to protect your skin from the sun's heat.
Bring trail food and at least a liter of water.
Pack ION beverages like Gatorade and Pocari Sweat.
Practice the LEAVE NO TRACE principles.
Wear trekking shoes with good grip and traction.
Our Pangilitan itinerary:
06:30 AM: Meet up at Naga City Boardwalk
07:00 AM: Start hike
09:10 AM: ETA Mount Magdook/rest/picture taking
09: 35 AM: Resume hike
11:30 AM: ETA Base to Pangilitan Peak/lunch
12:00 PM: Resume hike
12:30 PM: ETA Pangilatan Peak
01:20 PM: Start descend
02:30 PM: ETA Unknown hill
03:00 PM: Start descend
04:00 PM: ETA Highway
04:10 PM: Start walk to Gaisano
04:35 PM: ETA Mang Inasal Gaisano/earl inner
05:30 PM: Depart for home
07:00 PM: Home sweet home
Lastly, to be happy in the mountains, learn to share your blessings to others. As a matter of fact, the main purpose of this hike is to raise funds for our outreach program in Toong, Cebu City. As you can see in their faces, they were all joyful and at peace.
And, you don't have to join an outreach program to feel the heart-warming euphoria of giving in the mountains. You can do it by simply sharing your food to your fellow hikers, giving snacks to the kids you pass by, or sharing your knowledge to others.