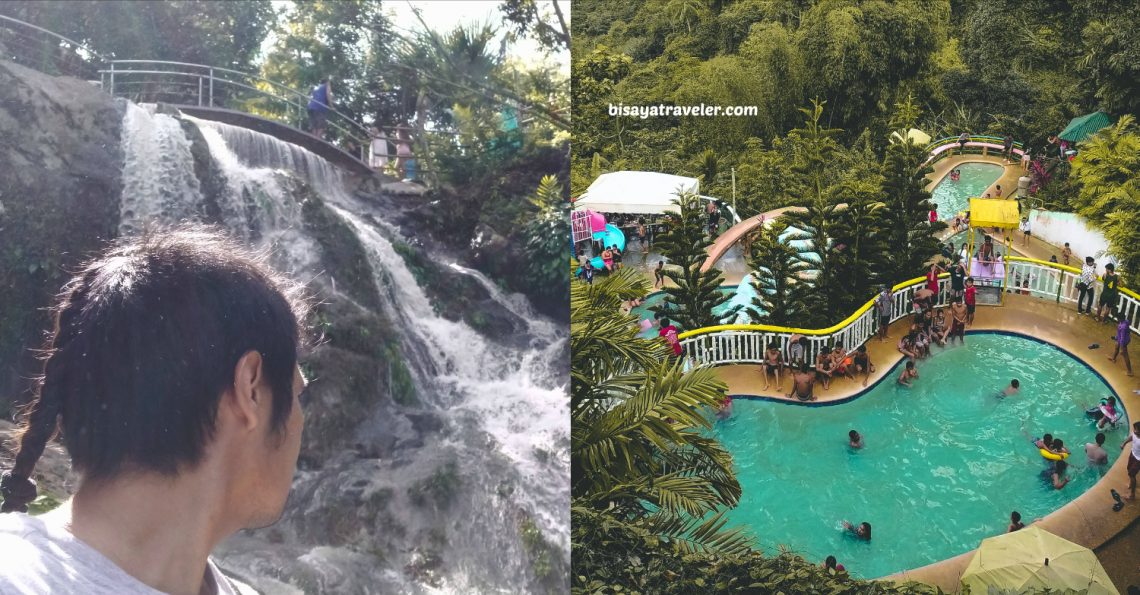 The Unplanned Voyage To Busay Holiday Pools
I had felt and heard her exhaustion before, thousands of times, but this time I was really worried. Staring at her weary engine, I figured out that this would be the abrupt end to our random Christmas day adventure. For the second time in less than an hour, the engine of our old reliable van overheated. And, there was no way we were abusing her. It was time for us to return to the city and explore the wonders of Busay on another day. Yet, in a fascinating twist, I found myself admiring the beauty of a hidden waterfall inside the vicinity of Busay Holiday Pools.
And, like a perfectly orchestrated event, this unplanned journey to Busay Holiday Pools had a grand, explosive and wondrous finale.
For me, the finale was undoubtedly the highlight of our rainy and gloomy Christmas break.
Our journey to Busay Holiday Pools
Christmas Eve in Cebu is, for the most part, jovial, colorful and loud. But, with typhoon Ursula ravaging the archipelago, Christmas Eve in 2019 was a bit meek compared to the previous editions.
No carolers making the Christmas spirit more festive with their melodies and one-of-a-kind instruments.
No vivid fireworks splashing the night skies with colors.
And, no outdoor Christmas parties where I could hear people who are singing their hearts out through videoke machines.
Furthermore, my daughter, Adrielle, had a terrible couple of days since she was having a stuffy and runny nose. For the past 48 hours, she wasn't as upbeat and energetic as she normally is.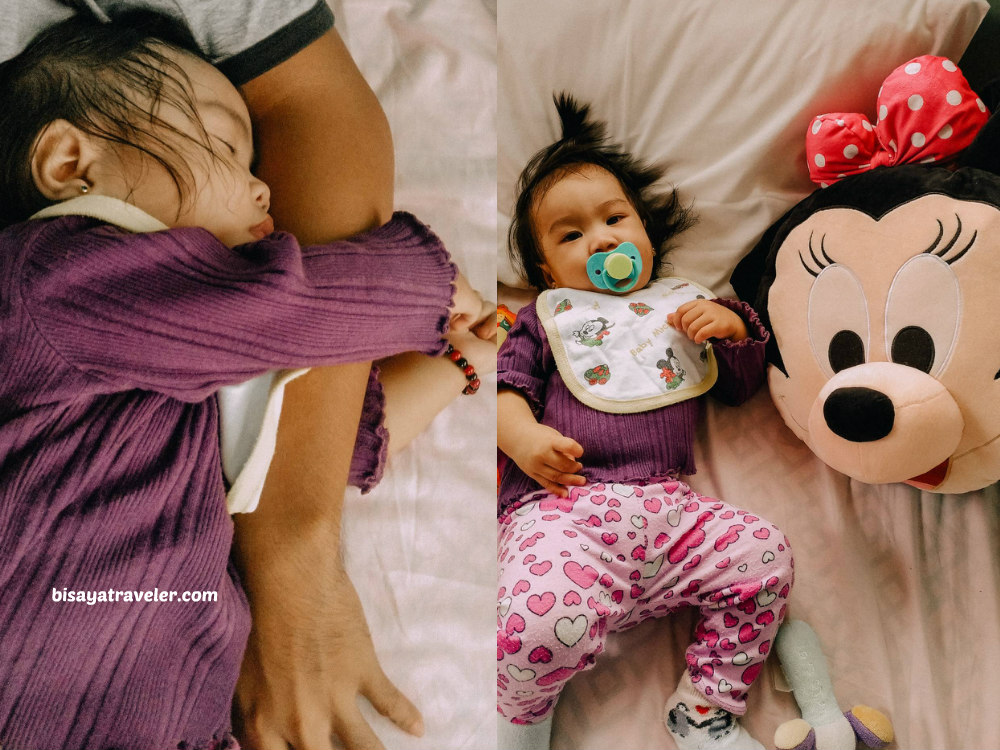 Thankfully, though, Christmas Day was sunny and full of tantalizing possibilities.
The moment we woke up, I already knew we were bound somewhere. After all, we are a family of wanderers and fun seekers.
But, we didn't have a clue on where to go in Cebu on Christmas Day.
Should we go to SM Seaside for a hearty lunch and arcade games with the little ones?
How about heading to the Cebu City highlands to see the beauty of Sirao Garden, Tops or Busay Holiday Pools?
Even without a concrete plan, we left our humble abode, to add an element of fun to our Christmas break. Our plan was just to drive to Busay, and find a place where we could have a little fun.
I, however, did have an idea in mind. And, that was to pay a visit to one of the newest uphill destinations in Cebu, Dr. Emilio Osmeña Botanical Garden Resort.
Recently, I saw a few photos highlighting the beauty of this resort.
There were some eye-catching cottages, lovely spots and plenty of greenery. And, surprisingly, there was a small pool inside the garden resort. So, I told my niece, Kim, to pack her swimsuit for our Christmas Day adventure.
While I wasn't sure if she'd be allowed to swim, I thought it was still worth a shot.
And, truthfully, I didn't know the exact location of Dr. Emilio Osmeña Botanical Garden Resort. As far as I could remember, this Cebu attraction is nestled near the famed Tops Cebu.
And, I remembered a friend telling me there are signs that would lead drivers to this relatively new Cebu resort.

That's it! Time to go explore one of the newest and rising attractions in Cebu!
Thrilled and enthusiastic, we drove the steep slopes of Busay, hoping to see Dr. Emilio Osmeña Botanical Garden Resort.
On the way up, we encountered a little hiccup: our vehicle overheated.
I wasn't worried, at first. When it comes to driving along the steep road of Busay, overheating and engine problems are pretty normal.
And, besides, we didn't turn off our air-conditioning, which is highly recommended when driving in Busay and Transcentral Highway to avoid overheating.
We did have a remedy, and our good old reliable vehicle was running like the wind again.
After passing by the road leading to Temple of Leah, our vehicle gave us a signal that she was once again having a mild fever.
At that moment, I thought our Christmas Day adventure was over. Slowly, our little trip was turning into a disaster.
There was no way we were going to drop by Cebu highland attractions like Sirao Garden and Busay Holiday Pools.
Normally, moments like this don't faze me.
I never worry about getting lost or having car problems.
I'm an open-minded adventure.
I'm a dynamo, a risk-taker and a spark plug, when it comes to exploring and traveling.
And, whenever I encounter obstacles like this, I always thought that the Universe is brewing something special for me.
I always heed the open-minded adventurer's creed: "everything happens for a reason". I keep on moving, until the Universe unveils its plan to me.
"Small moments and obstacles, when blended together, create a harmonious and flawless symphony that we call fate." That has always been my philosophy in life.
All the struggles, hiccups and wrong turns and pains we go through have a purpose.
But, when you're a parent, you become an overthinker and a safe player.
I guess this is the burden of being a parent.
You think no more of the promise of adventure and instead focus on your family's safety.
For a fleeting moment, I forgot all my philosophies.
I wished Sofia was there with us. She would have made a great and positive impact.
All that mattered to me was to go home safely with my family. And, when I checked the location of Dr. Emilio Osmeña Botanical Garden Resort via mobile data, we found out that we have already passed by the road leading to it.
And, there was also no way we were going to drive up there, especially with our vehicle's current condition.
Where should we go then? To Terrazas De Flores? Nope! The road to the parking lot is too steep.
How about Sirao Garden? That's too far!
Maybe, a surprise wonder or Cebu attraction like Busay Holiday Pool?
Everyone's enthusiasm and morale, however, were down.
And, I – the free-spirited Bisaya Traveler – neither had the appetite nor the will to persuade them with the promise of adventure.
We just wanted to go home. But, before anything else, we had to find a place where we can sit down comfortably and eat our lunch. 
After passing by Terrazas de Flores, we drove west, hoping to find a place to rest. And, guess what? For the third freaking time, our vehicle overheated. 
That was the final nail to the coffin! All we had to do, at that particular moment, was to find a place to eat our lunch. 
A minute later, we found a spot to park and eat. And, when I stepped out of our vehicle, I saw a sign saying "free swimming and entrance on December 25".  
What's the name of this place? It seems like a sign from the Universe.
I surveyed around, and eventually found that it was Busay Holiday Pools. 
I've seen Busay Holiday Pools on numerous occasions before. Every time I passed by Busay Holiday Pools, I had been enticed by its gorgeous views of the pool and lush backdrop.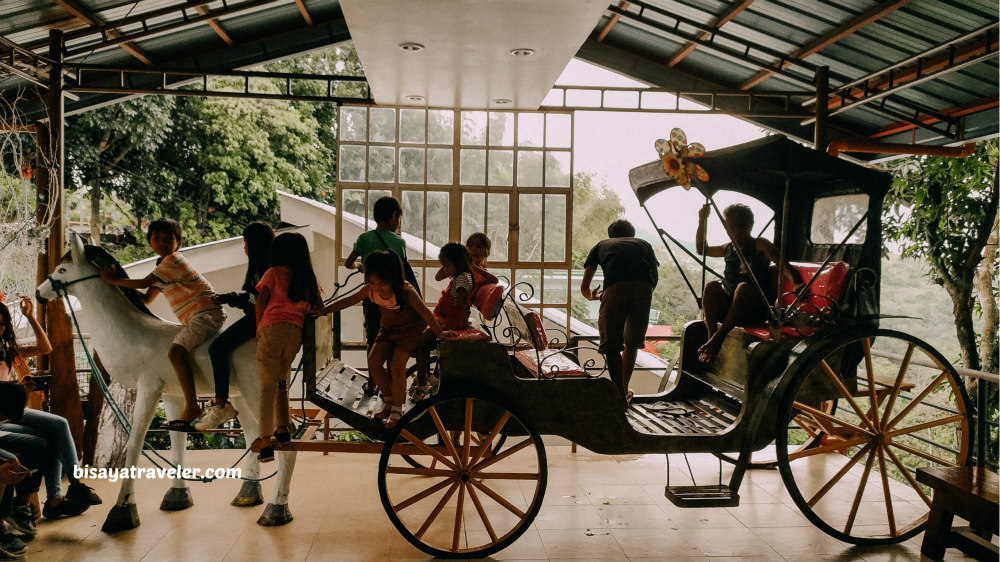 But, this was the first time I got a close up look at Busay Holiday Pools. With plenty of tables and chairs available, we ate our lunch there and just soaked up the lively atmosphere.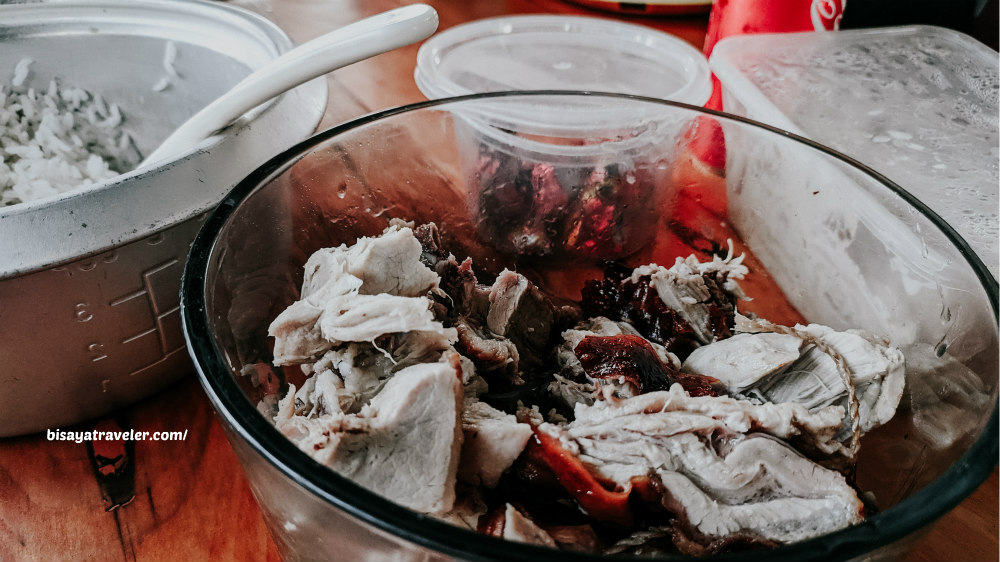 Pumped up and overly excited, Kim then switched gears and jumped into one of the pools wearing her swimsuit. 
Clearly, heeding my word of advice did benefit her on this unplanned voyage to Busay Holiday Pools. I guess that's how the Universe works. He always finds a way to surprise us. 
The rest of us, though, didn't bring extra clothes since we thought it was just going to be a mere pit stop to a flower garden.
Nevertheless, we spent some time exploring the family-friendly attractions of Busay Holidays Pools.
As it turns out, Busay Holiday Pools has swings as well as a colorful hanging bridge that leads to a cottage.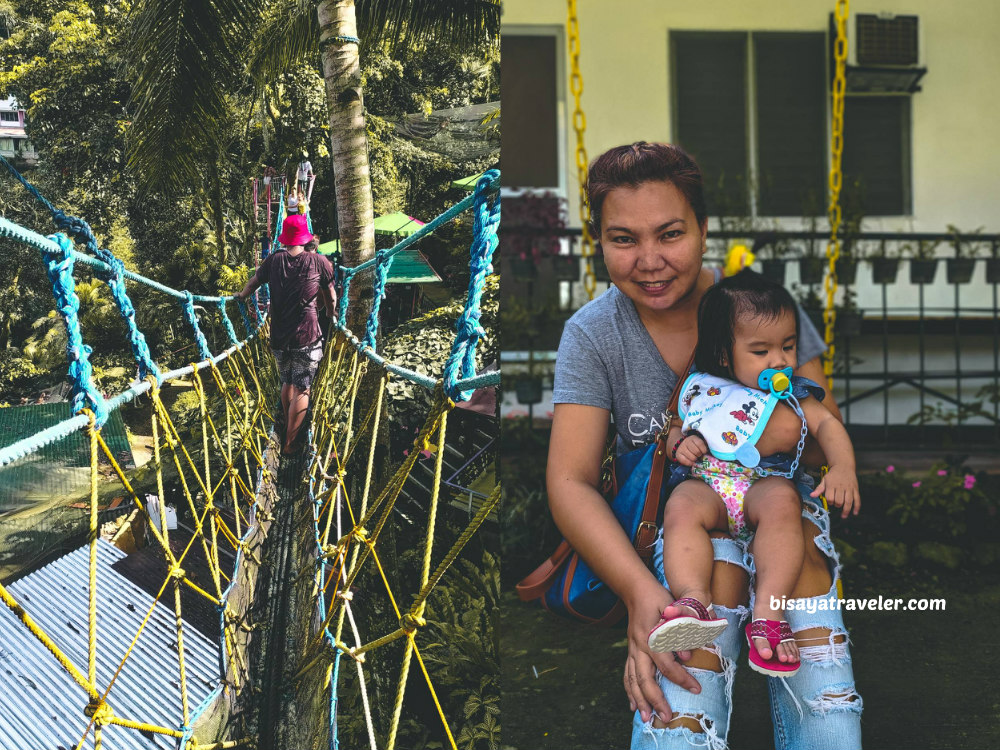 Since admission was free that day, Busay Holiday Pools was literally jam-packed. As an introvert, I'm not exactly fond of crowded spaces. And, sometimes, it's suffocating to be surrounded by a sea of people.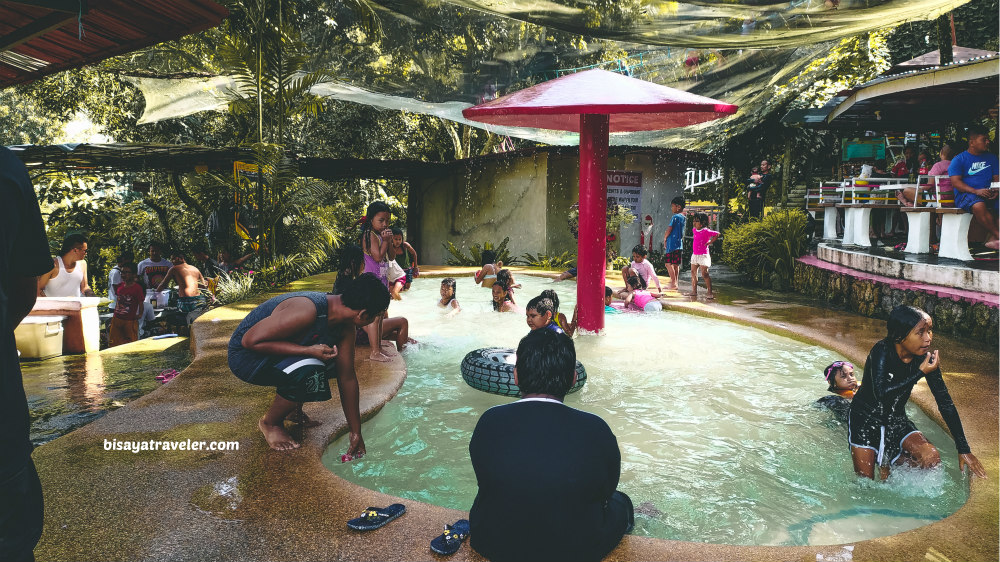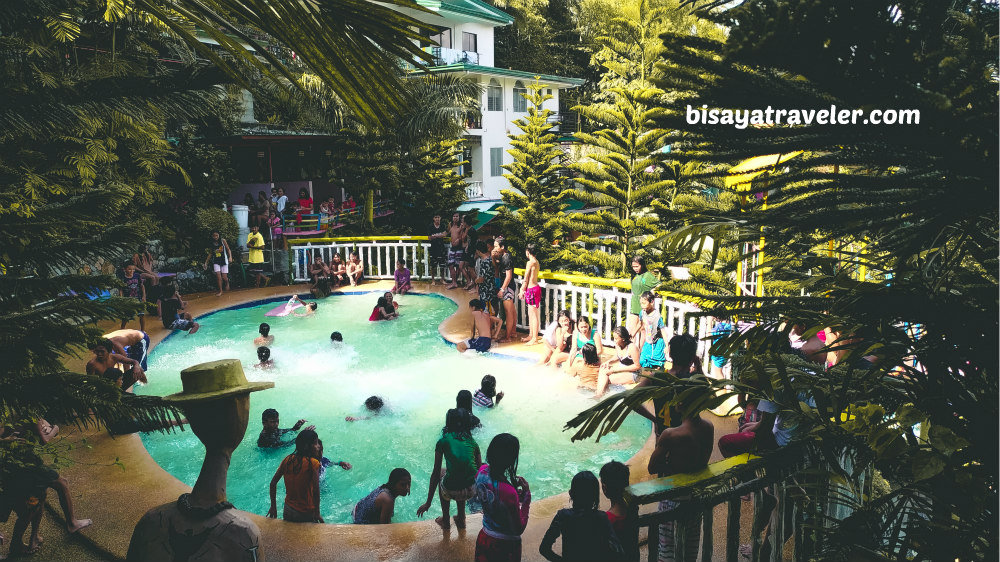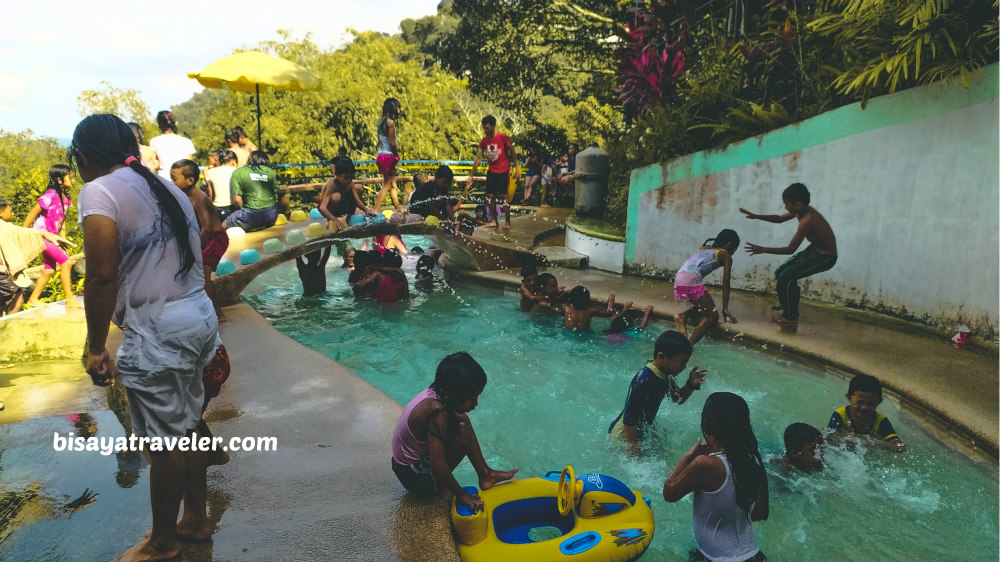 But, Busay Holiday Pools on that day wasn't bad. Sure, there were plenty of people around, but Busay Holidays Pool on that Christmas Day wasn't terribly crowded.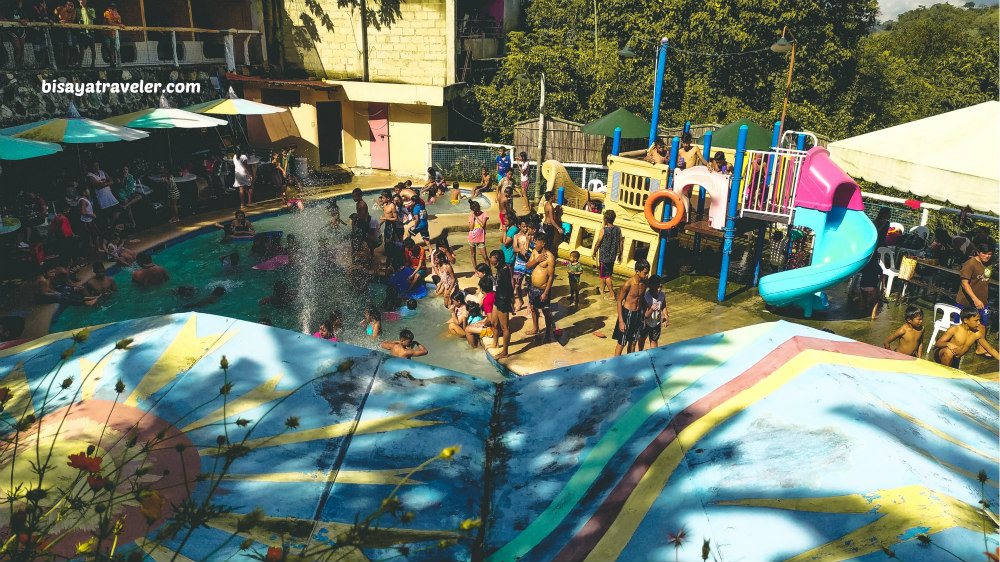 Earlier, as I was making my way inside the dining area of Busay Holiday Pools, I saw a text saying that there's a picture-perfect creek below. What's more, it said that it takes around a thousand steps to reach the breathtaking creek.
Feeling adventurous, I soon went down via the concrete stairs to see the so-called breathtaking creek.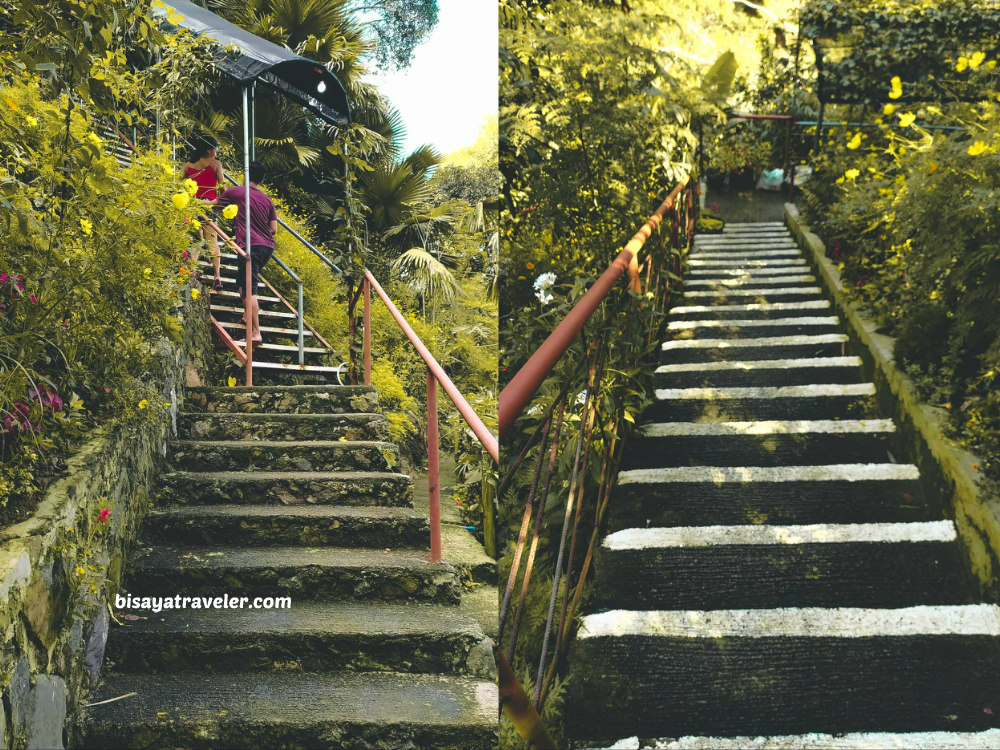 Along the way, I was blown away by the beauty of verdant green landscapes and bright tiny flowers. Even better, the fresh mountain breeze was so therapeutic and refreshing.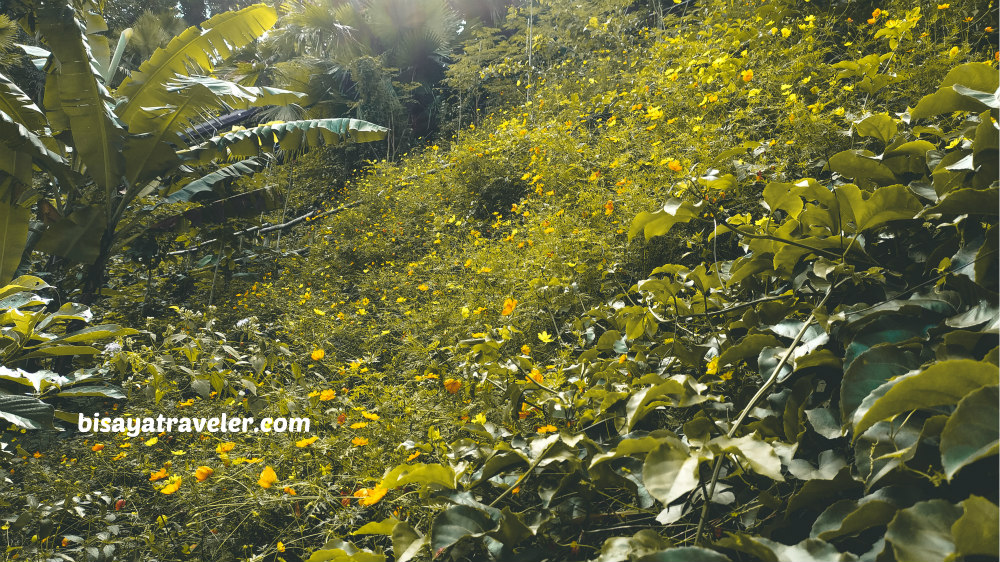 It literally took away all the stress accumulated throughout the previous days. And, finally, my happy hormones were starting to flow freely.
I, ultimately, arrive at the camping grounds of Busay Holiday Pools.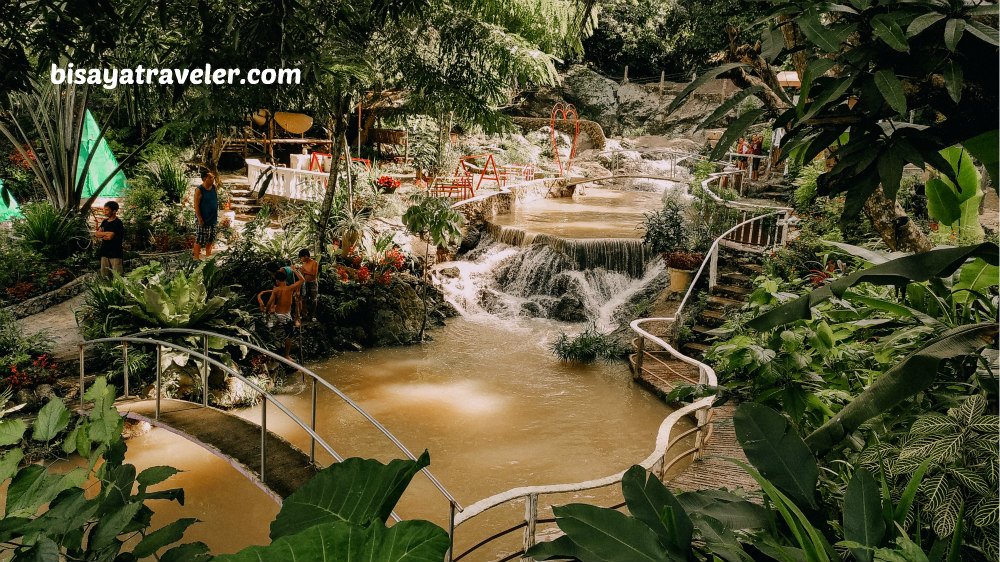 And, it was pretty nice.
The water, although it looked like as brown as a Milo drink, made rejuvenating sounds. And, the way I see it, the water might look crystal clear and clean on other days. With the endless downpours the previous day, the water just didn't appear rather appealing that day.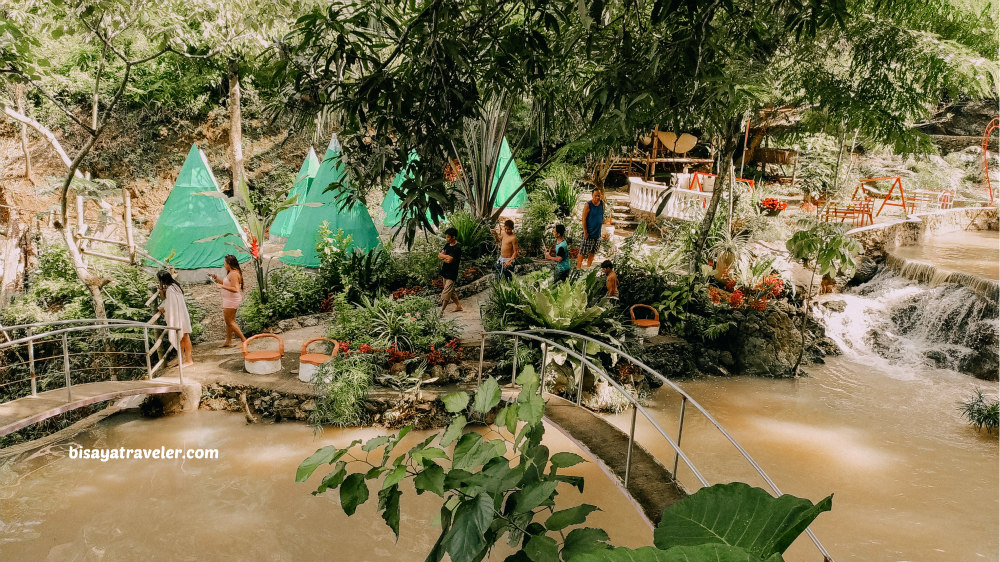 Plus, the campsite has some visually appealing tents and bridges. Hopefully, we'll have a chance to visit this spot on Busay Holiday Pools on clear summer days.
Afterward, I went down another staircase and was treated to a more dramatic view of the waterfall inside Busay Holiday Pools.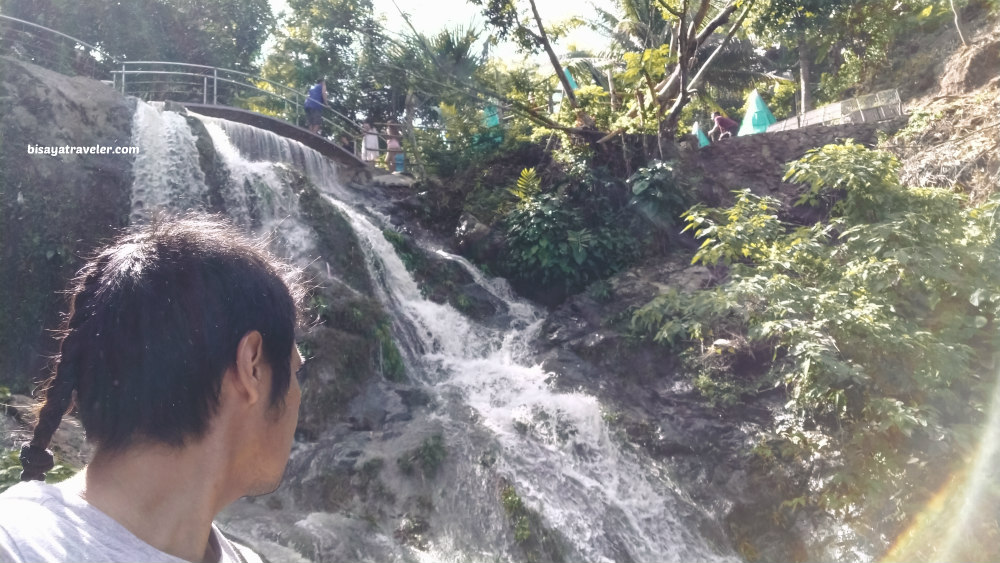 Not bad, I must say.
There's, however, a deeper meaning to this unplanned adventure, and I soon figured it all out.

The waterfall and Busay Holiday Pools stopover were a metaphor of my journey.
Like our Christmas Day trip, I have a plethora of plans in my life. But, I don't always stick my goals and plans.
I just listen to the signs from the Universe and follow wherever it takes me.
Flat tires, failed exams, wrong turns, missed flights, job layoffs – life is an endless series of hiccups, train wrecks and obstacles.
But, as long as you keep on moving, you'll soon find a wondrous reward that will make the whole journey worthwhile.
The truth is, every moment of your life is a brush stroke of a grand masterpiece.
Did I dream of becoming a father at this stage of my life? I wasn't exactly a father of the year material, but I didn't stop and run away from my obligations. And, today, I'm enjoying one of life's greatest adventures and pleasures.
The waterfalls and our overheated vehicle were a reminder, and now, I'm ready to take on all the curve balls that life throws at me. 
From there, I climbed my way back to the main areas of Busay Holiday Pools. They say it takes a thousand steps, but it wasn't really a pain in the ass. 
Once there, I saw the grand finale of our pit stop to Busay Holiday Pools. And, it was my daughter smiling and laughing loudly.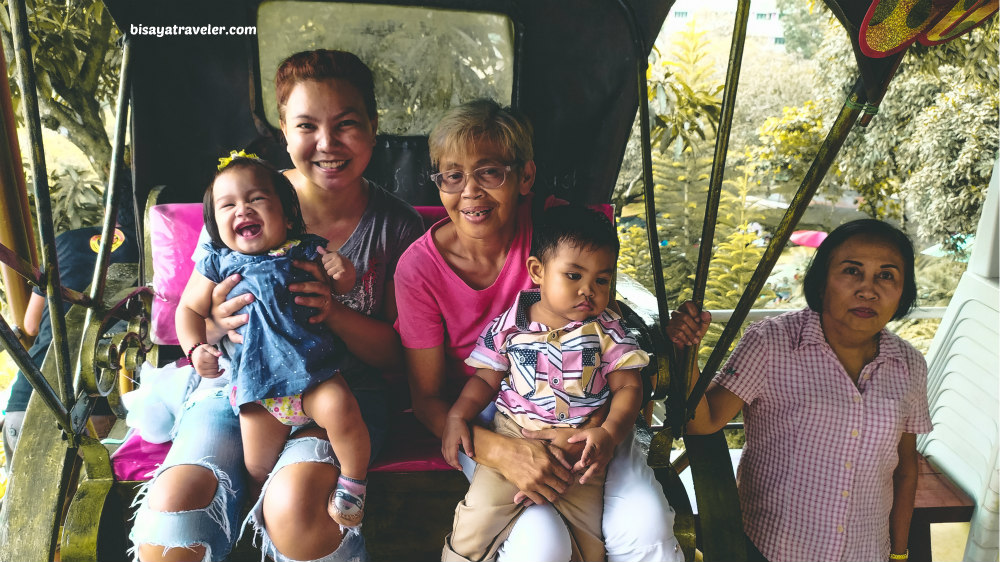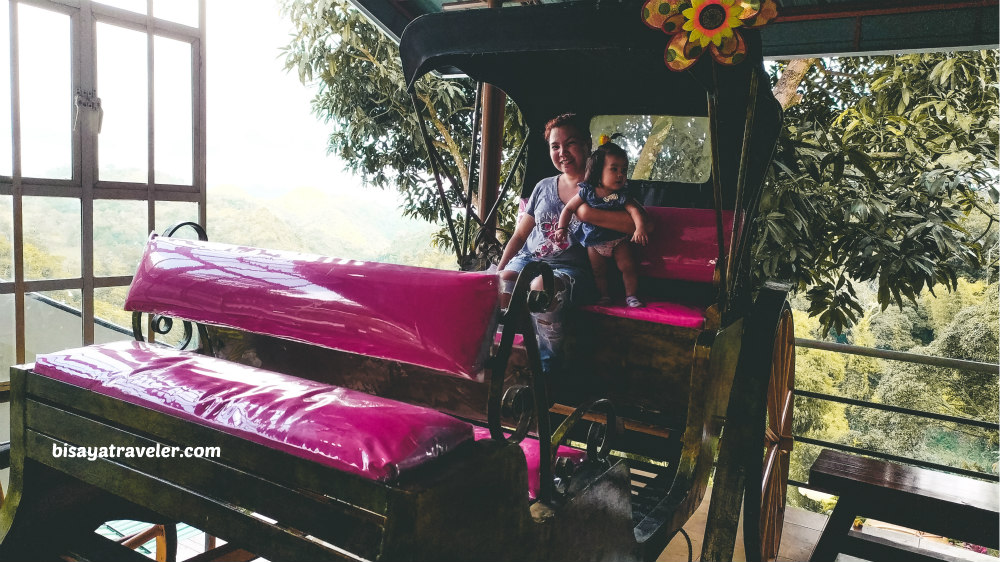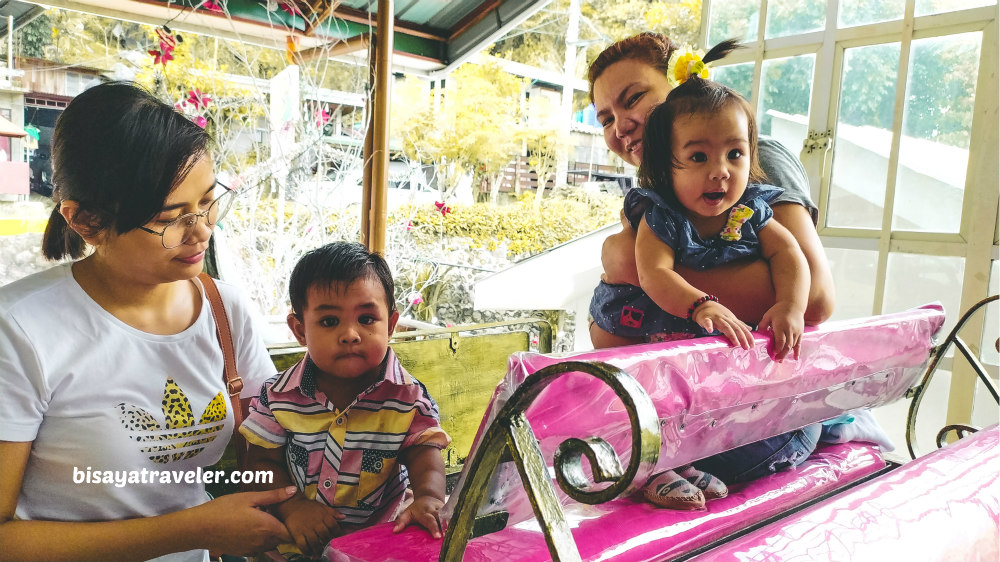 How to get to Busay Holiday Pools 
Location: Barangay Malubog, Busay, Cebu, Philippines 

Via a motorcycle taxi
To get to Busay Holiday Pools, first you need to travel to JY Square in Lahug. There are plenty of jeepney that pass by JY Square, like those with the 04L,04E, 04C and 04H signs. Once there, look a motorcycle taxi or habal-habal that will take you to Busay Holiday Pools. By the way, it's easy to find them. Fare is PHP 150 per person per way. Travel time is less than an hour.

Private car
Driving is the most convenient way to get to Busay Holiday Pools. Just use Waze or Google Maps if you're not familiar with the area. Also, there's a parking area outside the resort. Remember, though, it's usually filled on weekends and holidays.
Rates
Entrance fee: PHP 100 for adults and PHP 75 for kids 4 feet and below
Cottages and tables: PHP 300 to 400, depending on the size and number of guests
Night swimming here: PHP 120 per person (from 06:00 PM to 12:00 MN)
No corkage fees and you can grill your food here
Camping: PHP 200 per person (you don't have to bring your own tent)
Air-conditioned rooms: PHP 2,500 for 4 people and PHP 1,200 for 2 people (contact 0917 631 3016 for more information)