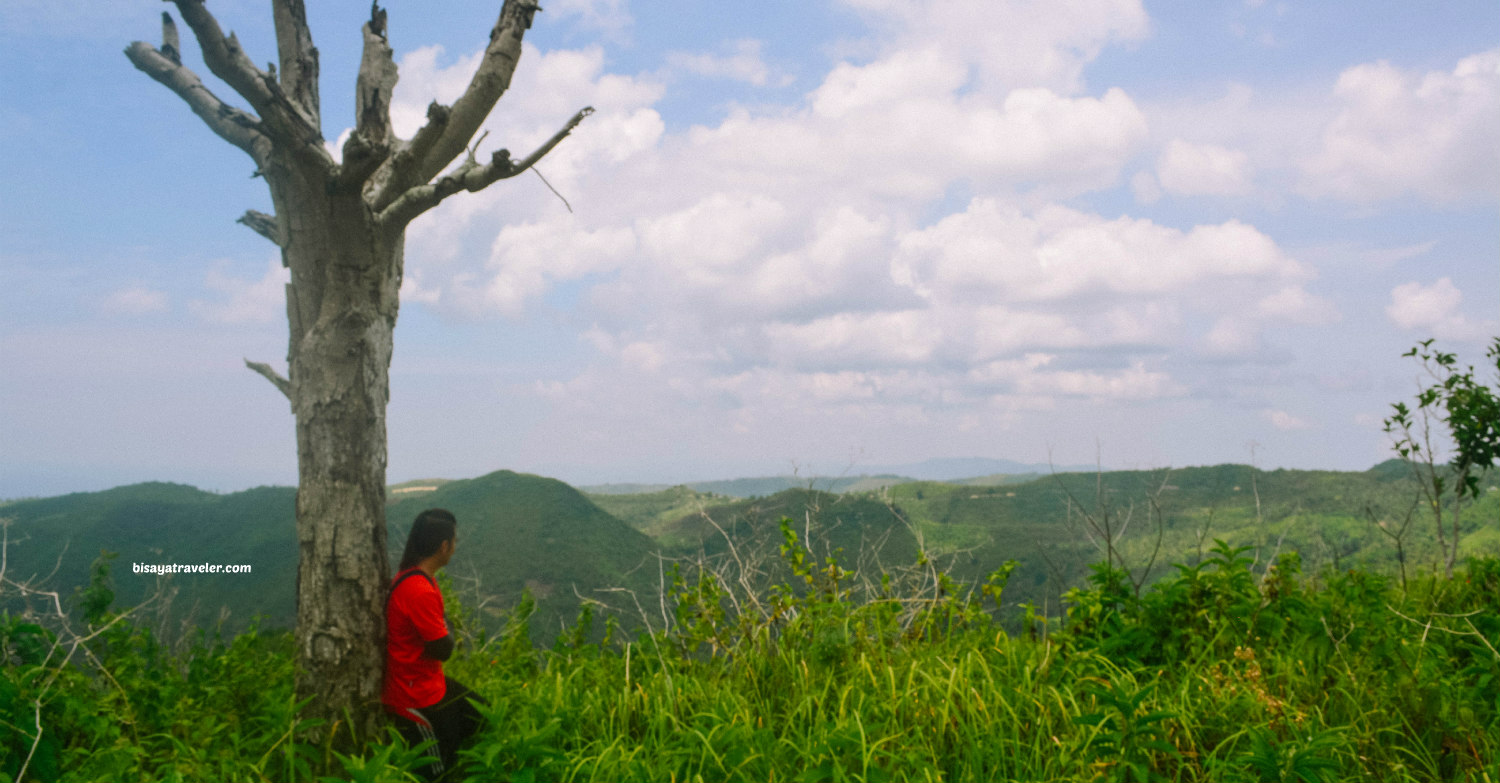 The Eternal Pursuit Of Wonder In San Fernando, Cebu
The eternal pursuit of wonder… began on a hill. It began the day when we saw a thick blanket of fog rolling over the mountainside of San Fernando, Cebu. As the crisp cool breeze brushed past me, I could hear Mother Nature herself whispering gently words to my ears. "A chain of adventures is coming", she said. And, even with the dark grey skies and rain showers, I sensed an extraordinary and eye-opening escapade coming our way. With our happy hormones released and adrenaline running in our veins, we went on a strangely wonderful journey that turned into an endless chase of wonder.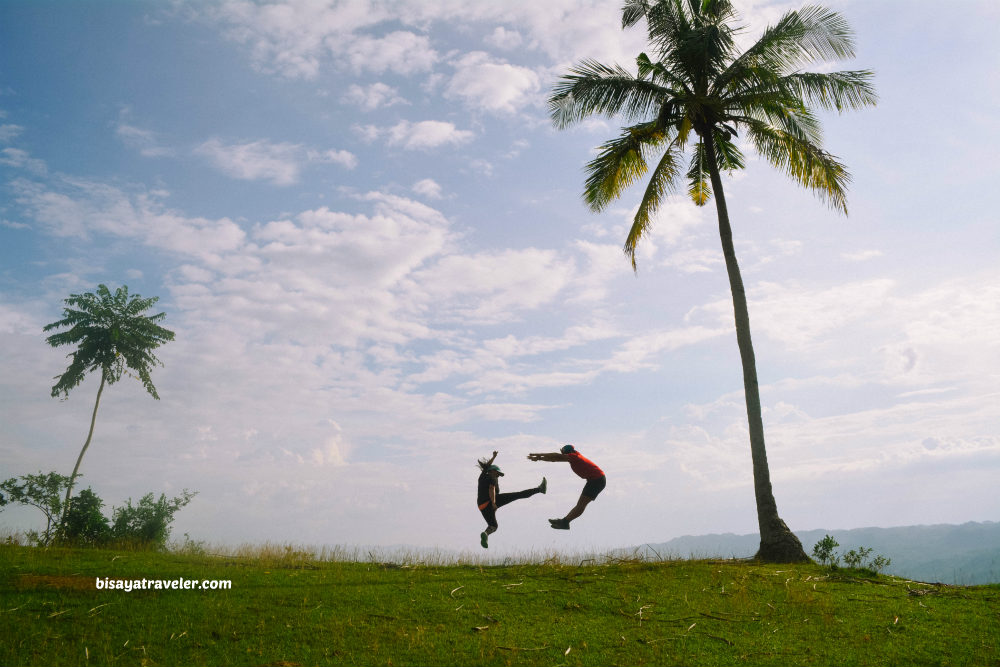 More than a year later, we arrived at that same hill together with a bunch of philanthropists and hikers. As I was soaking up the fresh mountain air, flashes of that San Fernando, Cebu hike popped into mind. And, when I got back home later that night, I relived all the beautiful memories of my escapades in San Fernando. This time, I recalled those moments in reverse chronology.
Our San Fernando, Cebu adventure
The road was dark and silent. Although there were people living in the area, the only sound we could clearly hear was our footsteps. From time to time, we bumped into locals asking us where our hike started. And, whenever we replied, they either gave us a smile or a puzzled look.
There were only 3 of us left from our recent exploration in the highlands of San Fernando, Cebu. Beboy, Dian and I were the trio left to complete a 20-kilometer hike.
Our hike for a cause officially finished an hour earlier. Still, here we were, training and recalling the memories we had in this burgeoning town.
And, in spite of our weary muscles, we still finished the long hike.
7: The hike for a cause in San Fernando, Cebu
They didn't know what hit them. Surprised, they were all gasping and catching their breath, as we were headed to the first stop of our hike – Bungtod Talinis.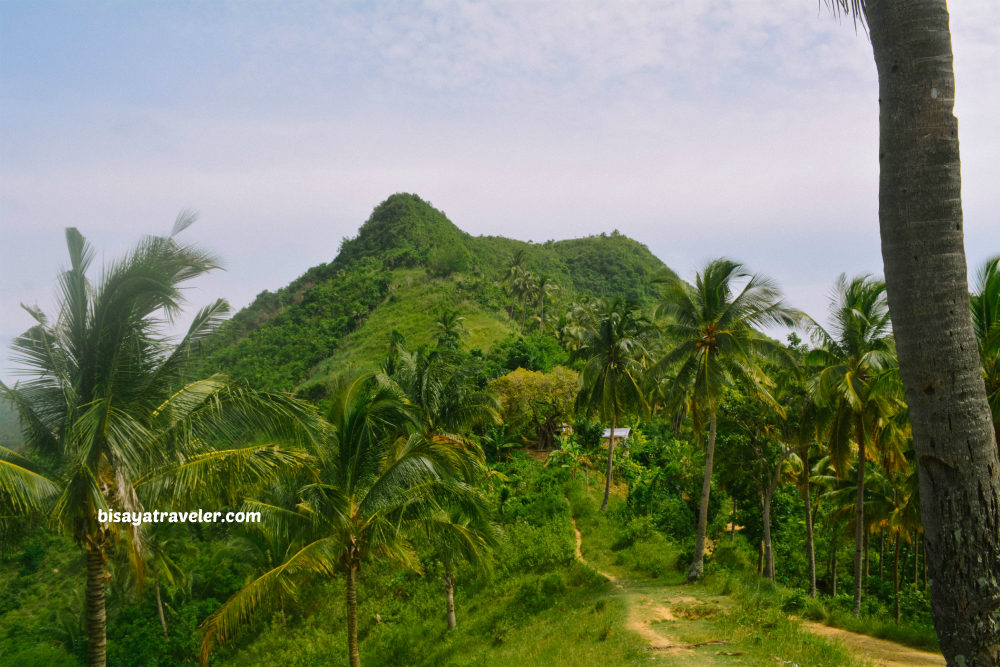 "It's totally worth it", I said. "The panoramic views from the top will blow your mind".
On the surface, it may seem like a bold promise. The truth is, nobody, except us and the locals, knows that this mountain in San Fernando, Cebu exists.
But, Bungtod Talinis is, hands down, one of the most photogenic mountains in Cebu.
And, it surely is our best discovery in 2018, especially when you consider how we figured out the trail leading to the peak.
As soon as we arrived at the summit, they were all enthralled by the views and scenery of Bungtod Talinis.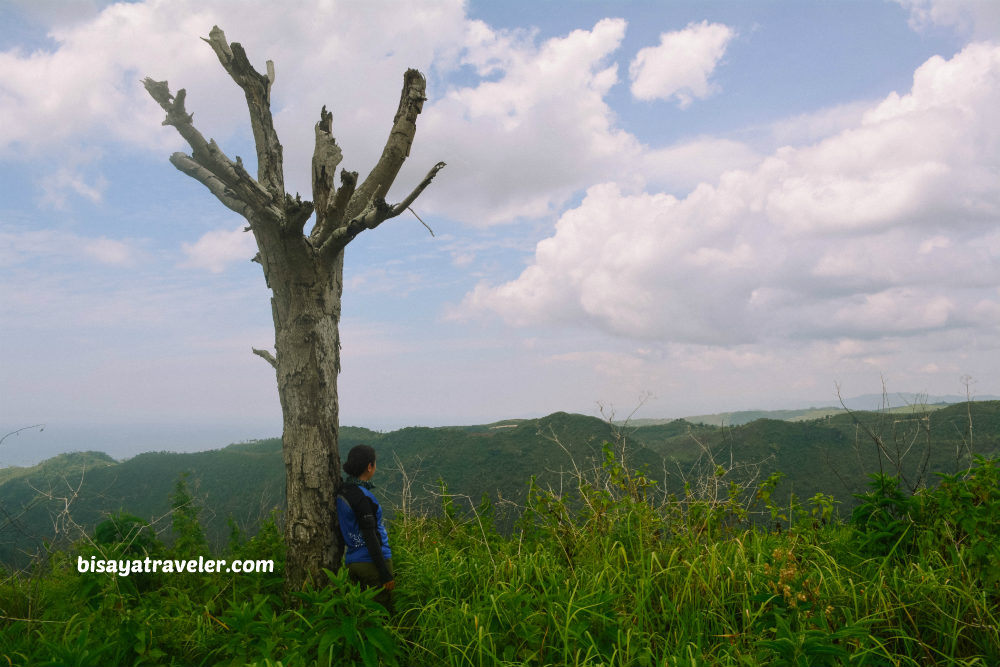 Breathtaking.
Astonishing.
Impressive.
The best-kept secret of San Fernando, Cebu is full of superlatives and adjectives.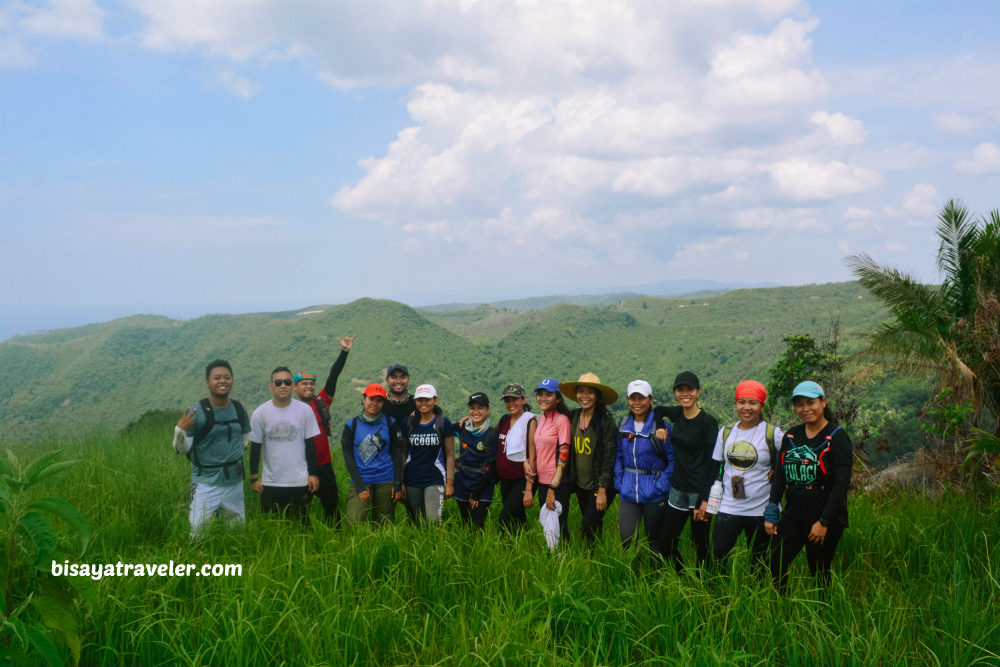 Afterwards, we hit the familiar trail that would take us to Bandilaan.
While Beboy, Dian and I were leading the charge, Raul was busy accommodating our hikers.
Ever since our first hike in San Fernando, Cebu, we developed a handful of skills and learned tons of invaluable life lessons.
Each one of us has a different skill set. And, when combined, we make a fine and exciting recipe for adventure.
Raul's skill set is unique, though.
Beboy, sir Francis and I are the navigators of our little group. Dian and Jonah are the brilliant accountants. Raul, meanwhile, is the charmer and entertainer.
What's more, Raul has officially become our spokesperson. Every time we host a hike for a cause, he always ensures everyone is having a blast, especially the younger girls.
To me, he is a keen observer of people and an expert of the subtle intricacies of human dynamics and character.
In Visayan dialect, he is what we call as "chismoso".
Walking leisurely on a picturesque trail, we were all in awe with the beauty of these mountains in San Fernando, Cebu.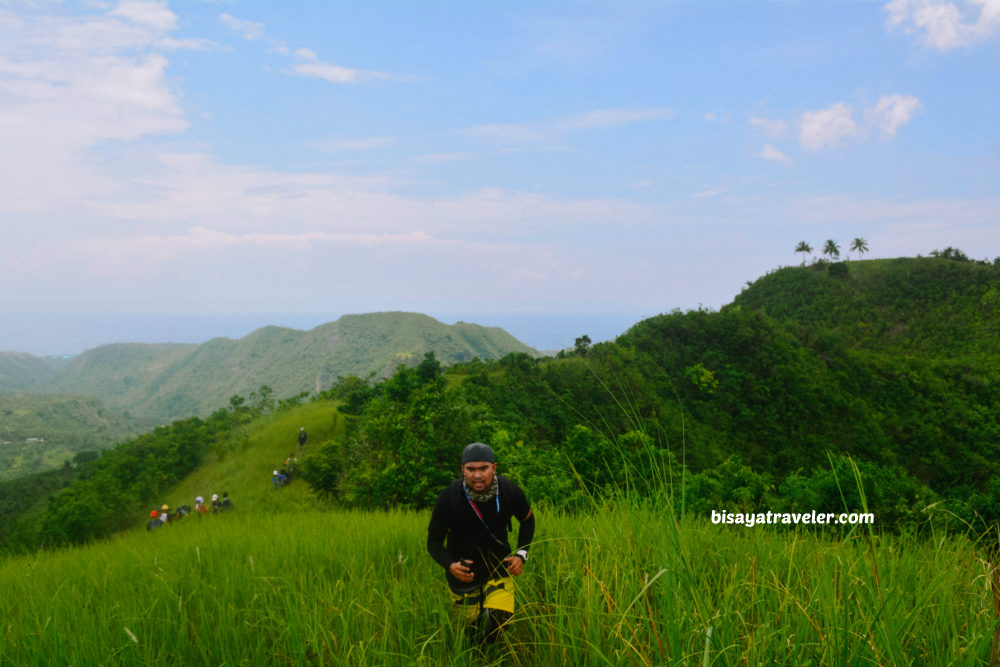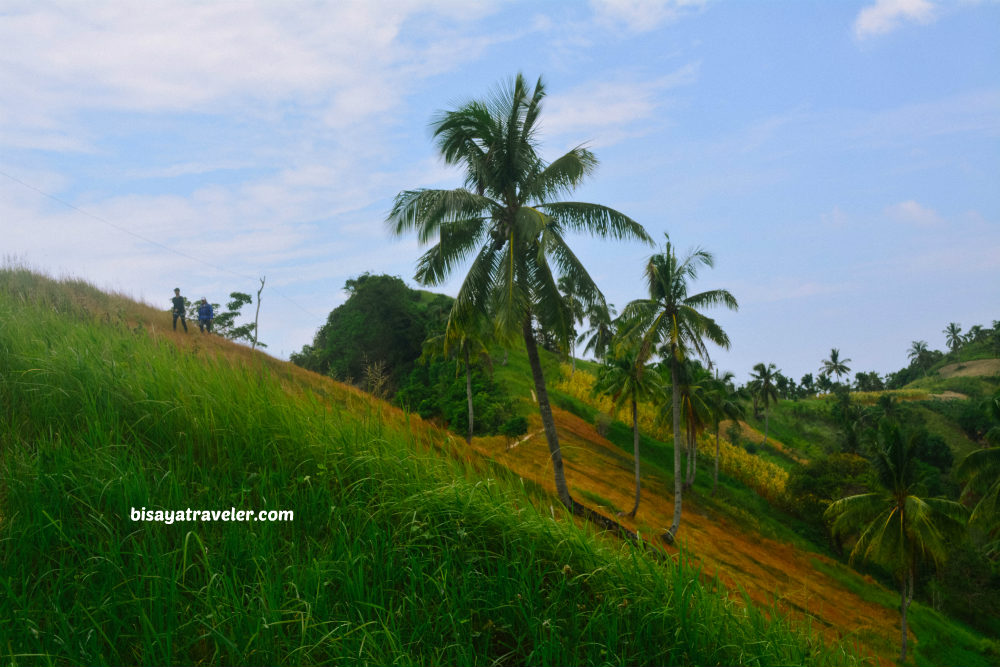 While hitting the trail, I saw blades of grass swaying peacefully with the wind blowing gently. Gazing with fondness, I remembered a life lesson that I learned months earlier from hiking in San Fernando, Cebu.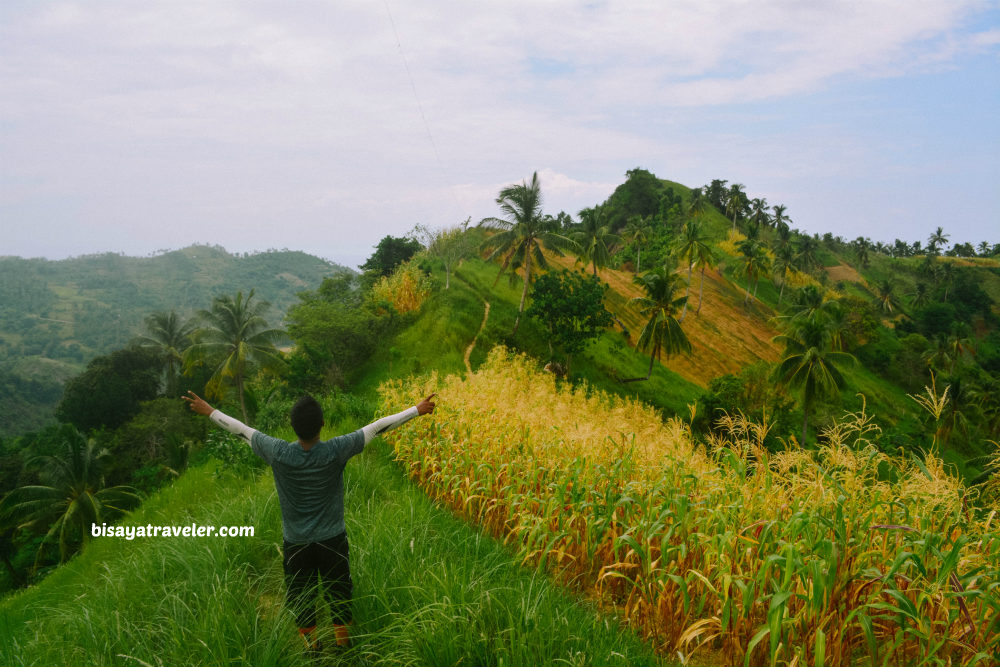 Soon after, we made our way to the most challenging parts of the hike. And, it was f*cking tough.
First, we had to descend on a slightly slippery trail with loose soil. Later on, we had to hike upwards on a seemingly endless steep trail.
When we reached the top of the mountain, Beboy and I decided to improvise our original plan.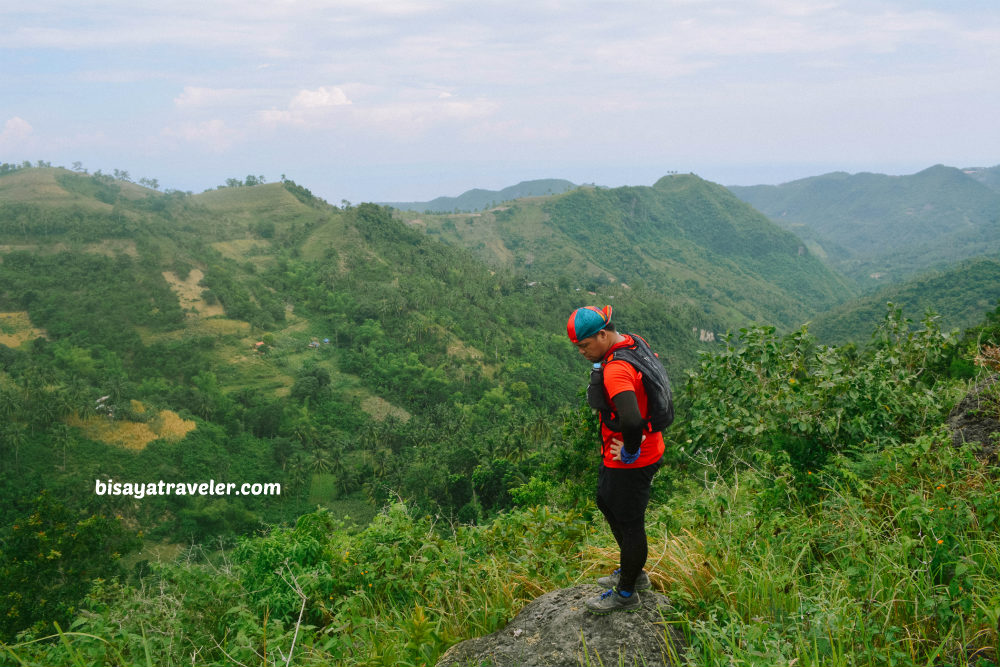 Months earlier, we hiked this mountain, passing a perilous unkempt trail. And, there was no way we were going to take that path with this number of hikers.
After all, this was a hike for a cause, and in essence a chill climb. Additionally, safety is our number one concern, every time we host a fund-raising hike.
Truthfully, we didn't know if there was a way or trail to a road in Naga from this mountain.
Nonetheless, it was nothing new to us at all. Months of uncovering new trails have enhanced our abilities to improvise and seek other alternatives when things don't go as planned.
And, we did find an alternative.
Amazingly, we accomplished a hike that we didn't get to finish months ago.
From Bungtod Talinis, we hiked all the way to the highest peak of San Fernando, Cebu – Mount Bandilaan.
Our original plan was to end our hike on "Secret Hill number 2" in Naga. But, why go for a hill when you can hit the highest peak in San Fernando, Cebu?
Slowly, we descended to our "Secret Spot" or "Secret Hill number 1" where we capped off our hike on a high note.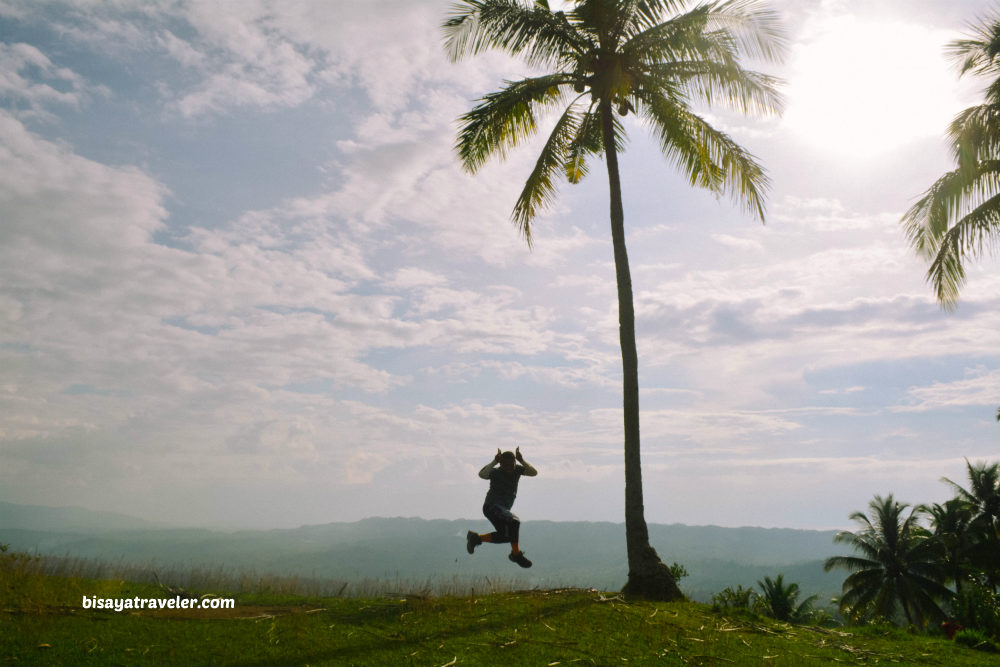 But, the hike wasn't really over. At least, it wasn't over for me and my friends – Beboy, Dian, Jonah and Raul.
From Bandilaan, we walked our way to the national highway.
6: Savoring Bungtod Talinis from a different perspective
It still amazes me.
The beauty of the ranges of Lintungaban is absolutely nothing short of breathtaking.
Fresh from the Panadtaran exploration, we arrived at a spot where we saw the grandeur of these towering and verdant mountain ranges.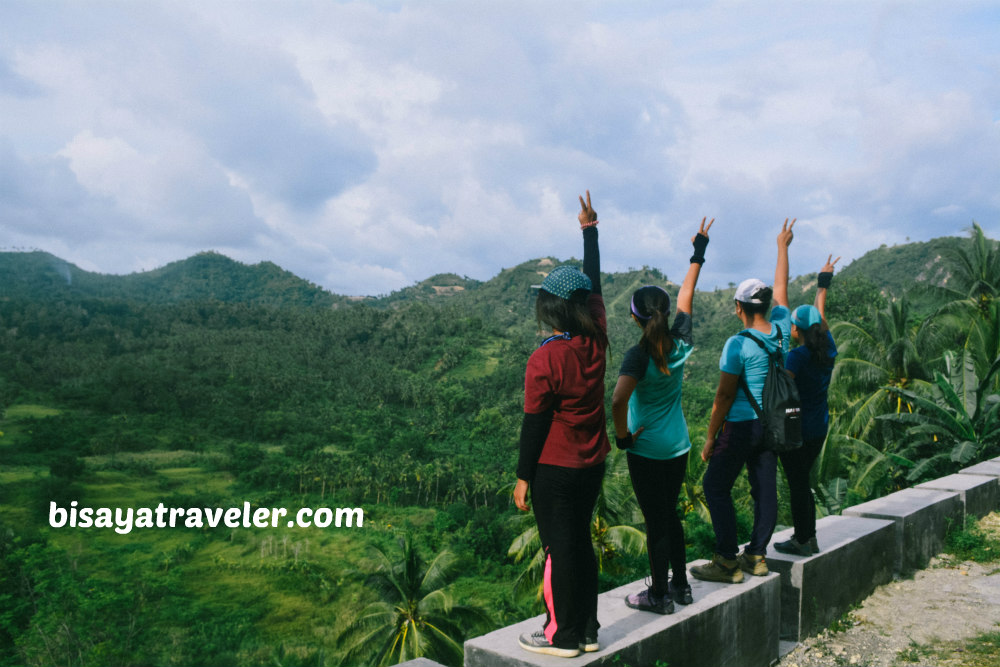 At that moment, I knew I'd be back on these mountain ranges in San Fernando, Cebu in the near future.
Its beauty is simply irresistible. And, as my navigation skills continue to evolve, we may soon connect it to another mountain in Naga or San Fernando, Cebu.
Perhaps, Mount Bandilaan or Panas, Balirong?
As my sense of direction improves, my outlook in life also continues to shift.
Always expecting and the unexpected, we ultimately developed a "que sera sera" mentality on our outdoor adventures.
With optimism, I have applied this go-with-the-flow attitude to my everyday life.
And, I've learned just to follow where my destiny takes me.
If it's meant to be, the universe will find a way to make it happen.
Like a blade of grass, I go whichever direction the wind takes me. And in my case, the wind that caresses me is called fate.
And, our fate may have been already written in the stars.
In the words of the late Doris Day, "Whatever will be will be. Our future's not ours to see".
That's a lesson I've learned on our pursuit of Itok Peak.
5: The discovery of Bungtod Talinis
We wouldn't have found Bungtod Talinis without Donald. Even with our improved navigation skills, there was no way we'd find it on our own.
Heck, not even the locals know it exists.
Fortunately, with Donald's help, we've gathered enough nuggets of information to locate this peak in San Fernando, Cebu.
And, guess what? Finding it was like an RPG game wherein you'll have to find clues and solve puzzles.
Our first attempt to scale Bungtod Talinis didn't exactly end on a high note.
But, it was okay. To me, not every adventure ends with a picture-perfect view.
That's another lesson I've learned from hiking mountains in San Fernando, Cebu. At least, we've got a plethora of clues on our first try to find Bungtod Talinis.
And, with all the information we've gathered, we finally discovered Bungtod Talinis in San Fernando, Cebu.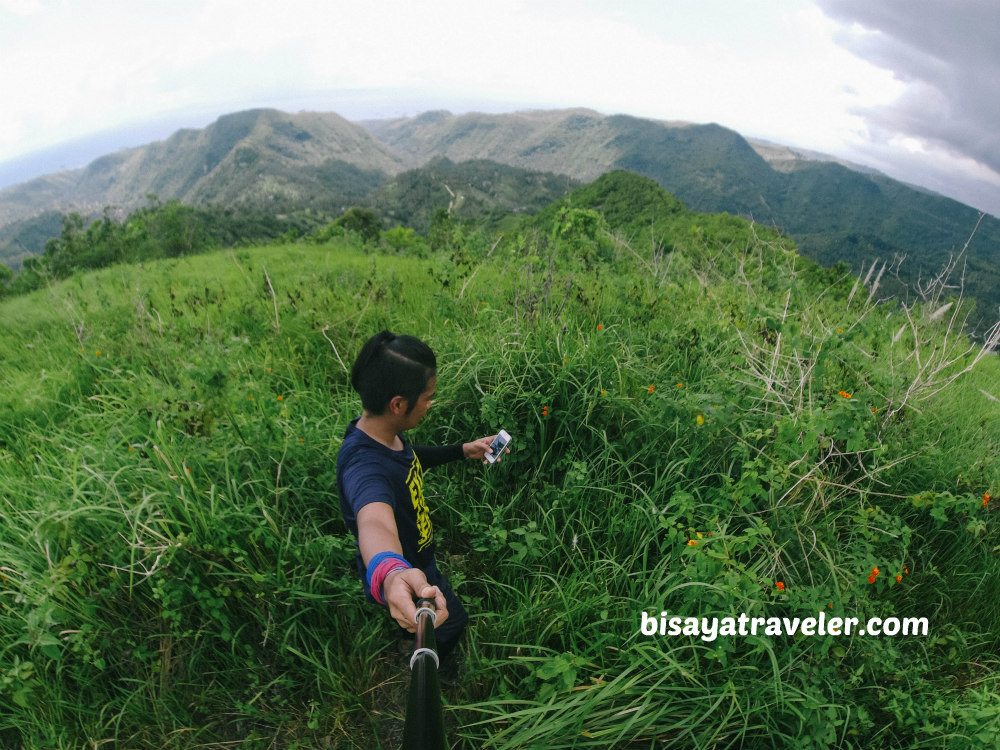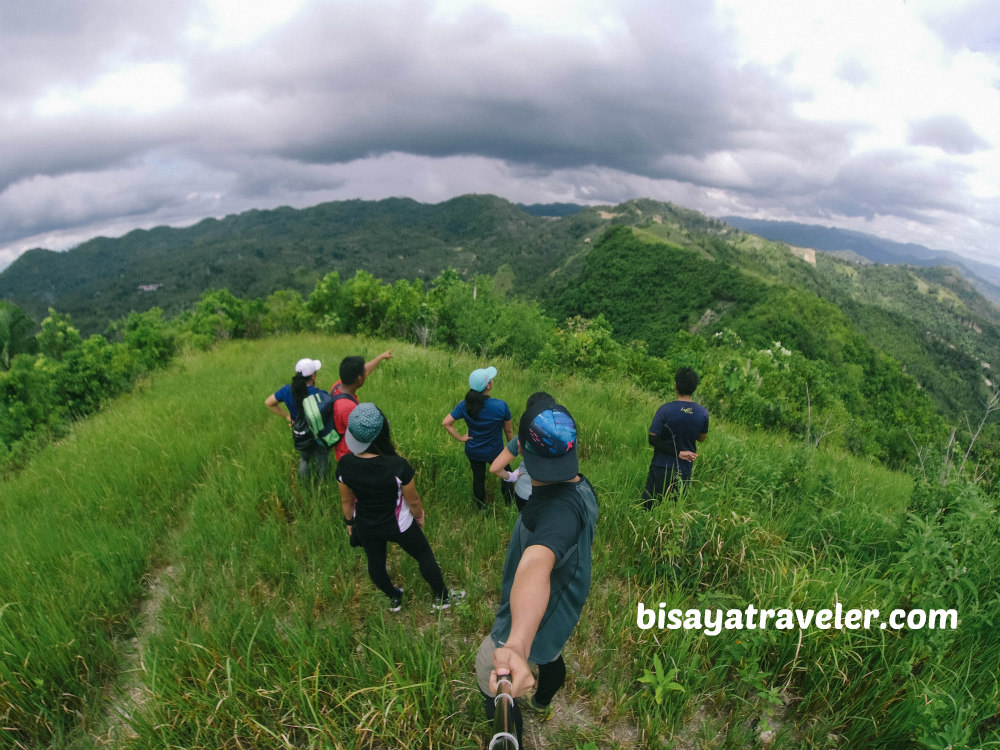 We had accomplished our mission. But, our hike just began.
We craved for more scenic landscapes in San Fernando, Cebu. And, we were all willing to dive into the unknown.
So, we created a new mission for that day hike: look for the trail that connects Bungtod Talinis to Mount Bandilaan.
Thrilled and blissful, we ventured deeper into the highlands of San Fernando, Cebu and uncovered a visually enticing mountain range.
And, it was a vision of perfection! It's a majestic masterpiece, with perfect symmetry and spectacular hues of green, created by nature herself.
Still, we felt our mission was incomplete.
So, we commenced on with our hike, and finished our hike in "Secret Hill number 2".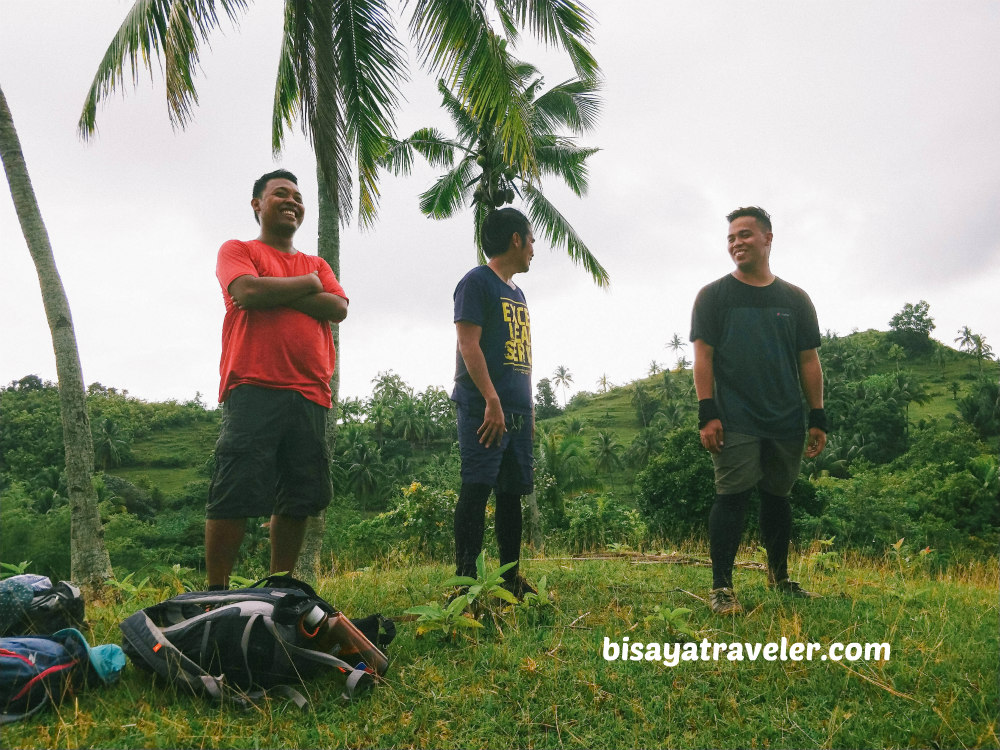 Originally, our plan was to cap off our escapade in Mount Bandilaan. Even so, Secret Hill number 2 made a wondrous finale to our exploration.
4: The stranger named Donald and the search for Itok Peak
Curiosity is the backbone of my adventures.
With Google Maps, I search for hills, valleys and mountains where we can hike and quench our thirst for adventure.
And, as I was browsing the internet, I saw the slopes and gorgeous mountain ranges of San Fernando, Cebu.
On one foggy day in San Fernando, Cebu, I got a close glimpse of its beauty. And ever since I laid eyes on it, I couldn't stop thinking of it.
With my savvy internet searching skills, I found a lead to these stunning mountain ranges.
And, it was Itok Peak in Lintungaban, Ilaya, San Fernando.
Without any hesitation, we ventured into the highlands of San Fernando, Cebu to find the mysterious peak.
For some reason, we started our hike from Alpaco, Naga.
And, along the way, we bumped into a scenic hill, which we fondly called as "Secret Hill number 2".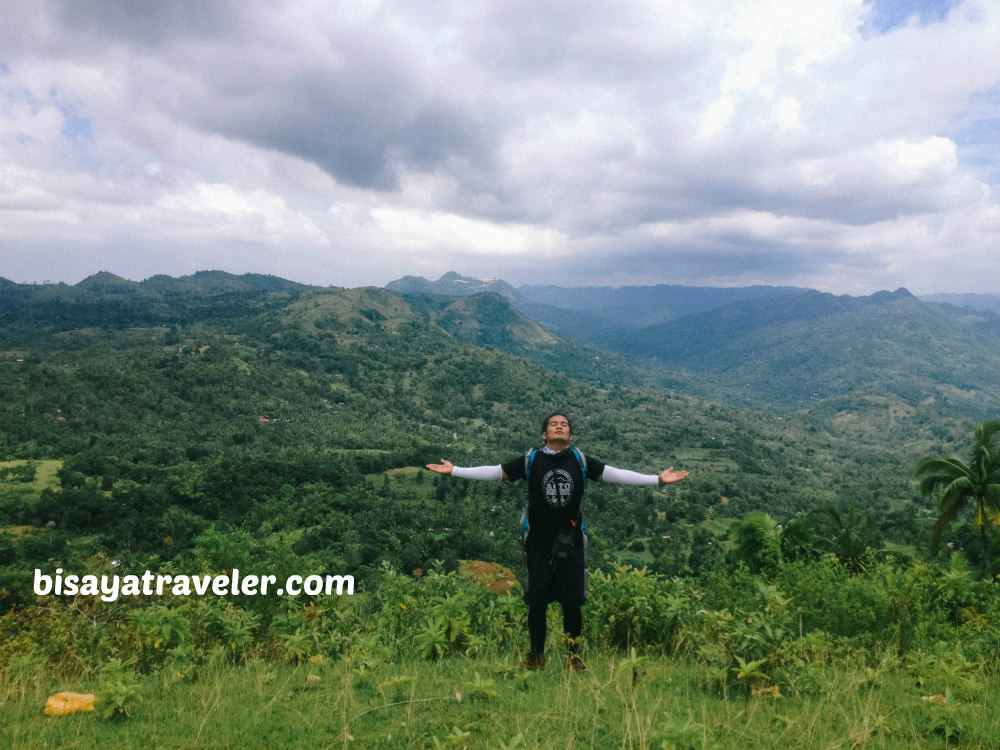 From there, we climbed up to Mount Bandilaan and to our "Secret Spot".
Unfortunately, not one soul knew anything about Itok Peak.
They know where Lintungaban, Ilaya is located, but they hadn't heard anything about Itok Peak.
For hours, we wandered in San Fernando, Cebu without a crystal clear direction.
And, then, a miracle happened!
He was there at the right moment we needed him.
If he left 15 minutes earlier, we would have lost our chance to see the real beauty of Bungtod Talinis.
And, if we had spent too much time snapping pictures, we might have never laid eyes on the true beauty of San Fernando, Cebu.
The universe put him on that specific spot for a reason.
And, somehow, I had a feeling that there was a bigger reason for this encounter.
Every person you meet in your life has a purpose. And, my gut feel says he might be a piece of a bigger puzzle.
In the grand scheme of things, everything happens for a reason.
Who knows? It may be the first step to a more meaningful foray.
And, the man was named Donald who was also an outdoor enthusiast from the group Tribu Wakwak.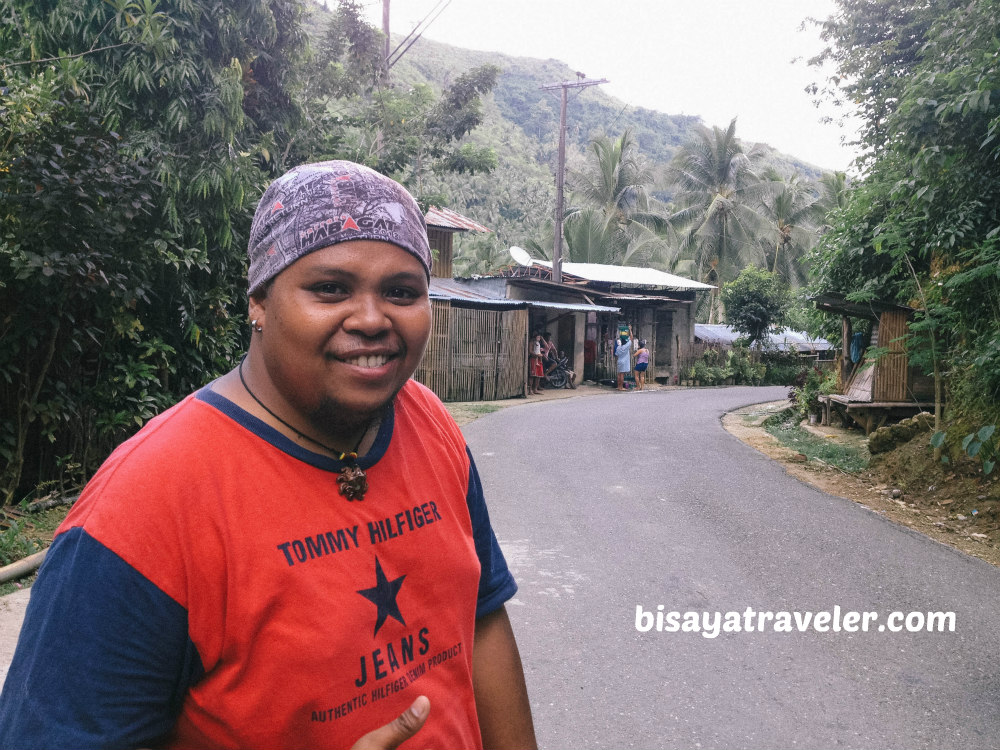 Even though Donald didn't know anything about Itok Peak, he had a hunch where we might find it.
With enthusiasm, he gave us a free ride to Lintungaban to help us uncover this hidden gem in San Fernando, Cebu.
On the way down, he asked people if they knew anything about Itok Peak.
Nothing.
We got nothing from them.
There was, however, a young man who gave us directions to Lintungaban.
We badly need a lead, and hopefully, this is the clue that would take us to Itok Peak.
Soon after, Donald dropped us off at the spot where the young man told us to stop.
Since he couldn't join our hike, we bid farewell to Donald, and began our hike to Itok.
As we were making our way up, we stumbled upon an elderly lady, asked her about Itok Peak.
"I haven't heard anything about Itok Peak", she replied. "But, there's a beautiful place we call Bungtod Talinis up there".
Bungtod Talinis.
That's it. That must be it.
That's the most important clue we've been looking for throughout the day.
From there, we went on with our hike, hoping to find Bungtod Talinis in San Fernado, Cebu.
But, the universe had other plans for us.
With time not on our side, we decided to end the exploration.
"We'll have another shot of climbing it, someday", I said to myself.
3: The Naga, Cebu adventures
Our Naga adventures with sir Francis have been a whirlwind of fun.
And, thus far, it had been an incredible series of adventures full of mesmerizing sights and giggles.
First, we ventured into the highlands of Naga, eventually discovering the path between Mount Naupa and Mount Calbasaan.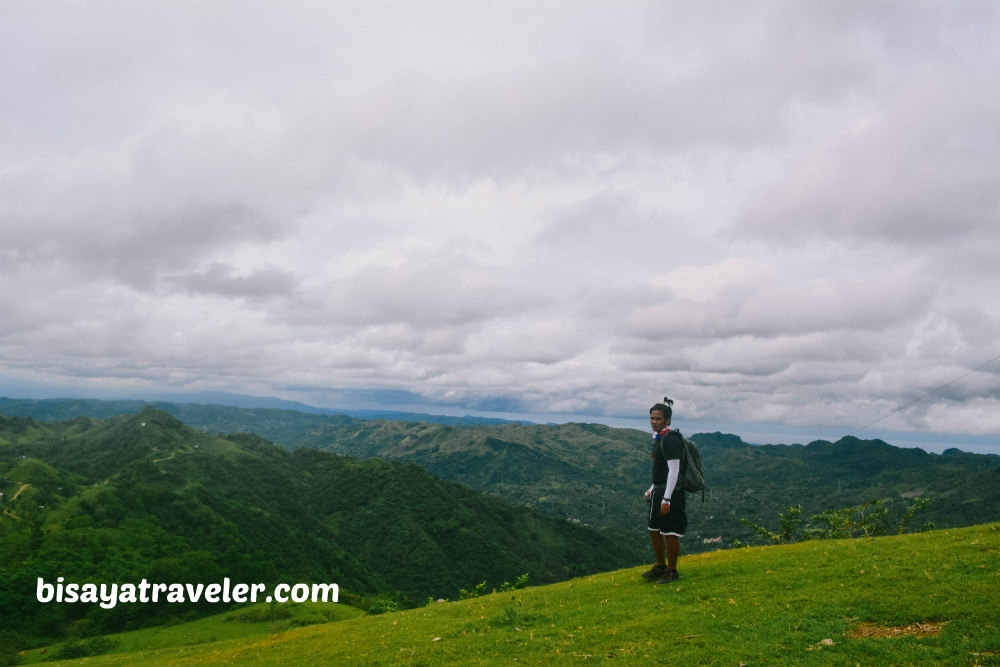 Then, we ventured into Tagjaguimit to scale Lantawan Cliff and explore a historic cave.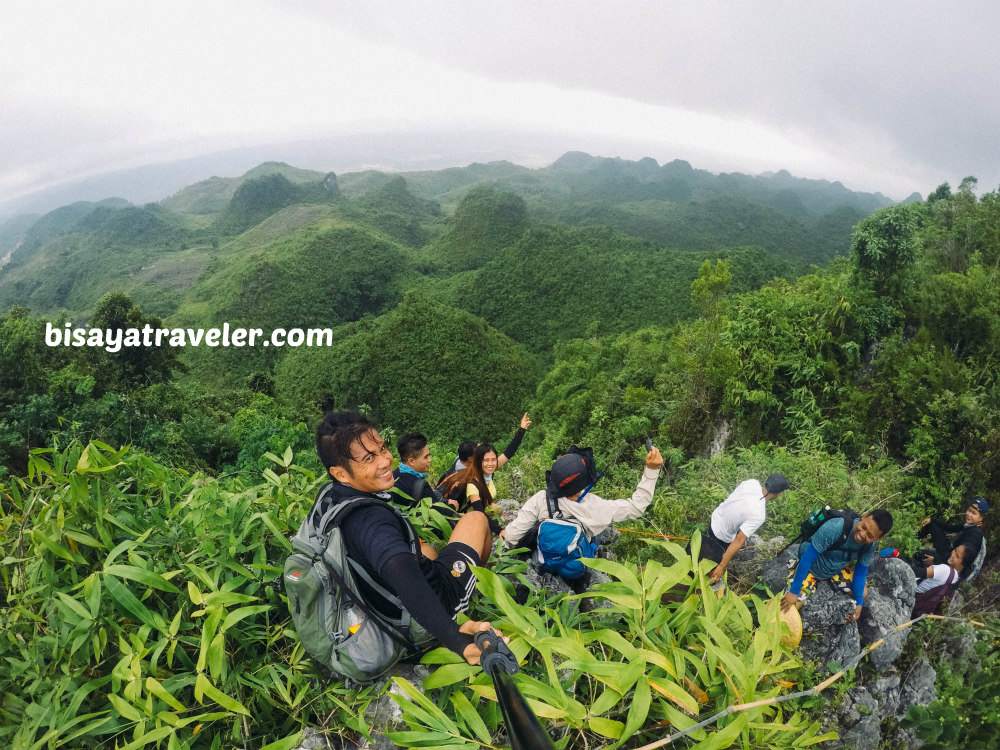 We even climbed a mountain with a cave near the summit in Mayana, Naga.
And, the best part is, these adventures were helping sharpen my outdoor skills.
It was greatly improving my mental of South Cebu, and it has enhanced my sense of direction.
Not to mention, it was a crash course in leadership and building self confidence.
With my new skills and confidence level up a notch, I knew that our pursuit wonder would never end.
As long as I have these friends by my side, the possibilities are endless.
We, then, began exploring places and trails outside Naga, including San Fernando, Cebu.
2: The Balirong hike
Our misadventure in San Fernando is the true fuel to my endless pursuit of wonder.
There was a forced inside me that was unleashed on that rainy day.
A week after that hike, we explored the grassy slopes, hills and ranges of Balirong.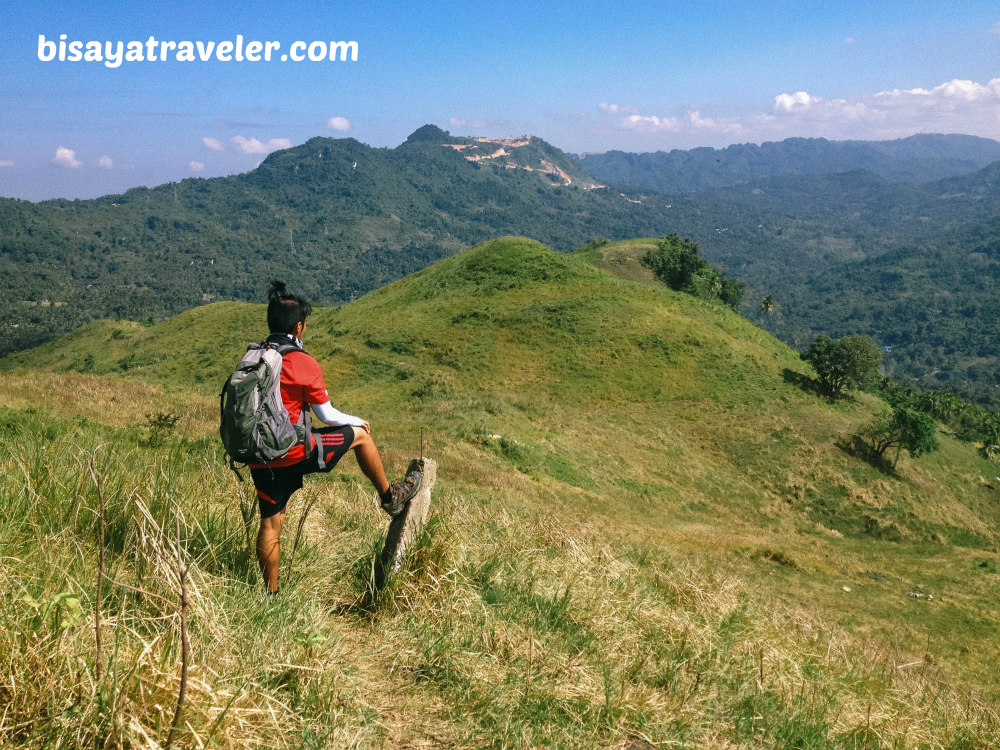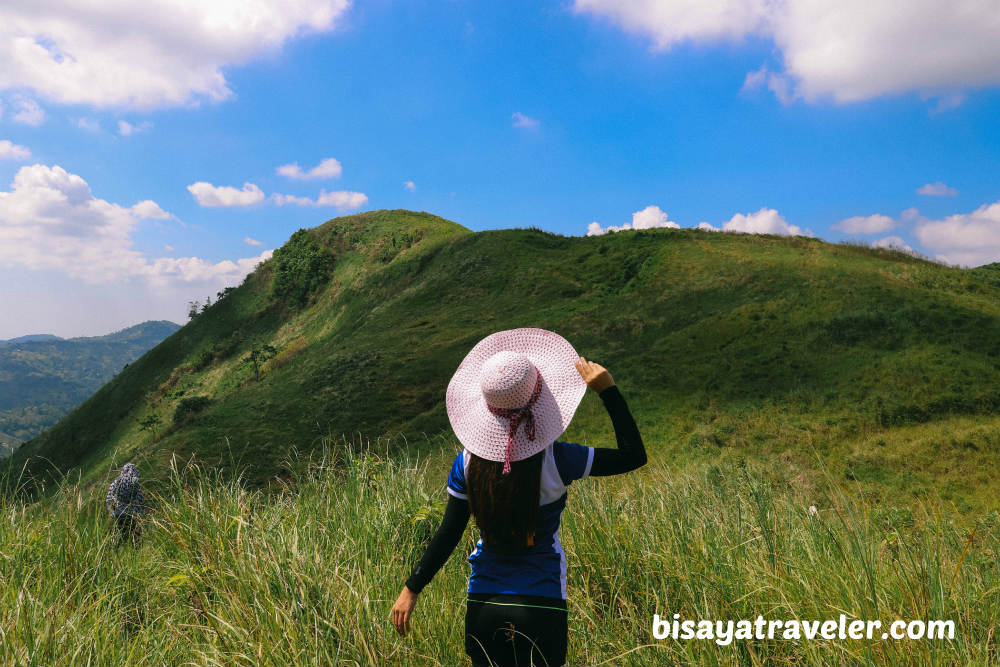 And, to my delight, we finished our exploration in Lamac, Pinamungajan, passing by some steep slopes and cliffs.
What's more, we created a new route for our future hikes in South, Cebu.
As always, I wrote that experience in my blog. That way, I can always relive this fascinating experience at any time I want.
A couple of days later, a guy from Naga named Francis commented on my blog, sharing his insights on the 2nd highest peak in Naga, Cebu.
A simple comment turned into a friendship, and sir Francis became one of my hiking buddies.
With his knowledge in Naga's geography, we hiked a variety of trails in the city's verdant mountains and hills.
1: The first San Fernando, Cebu exploration
I woke up late that day. Strange because normally I'm not late when it comes to hikes and outdoor adventures.
There was something holding back.
Was it the fear of diving into the unknown? The heavy downpours? Or the lack of reviews or blogs about Mount Bandilaan and San Fernando, Cebu?
I was a child about to delve into a labyrinth with a broken compass and an incomplete map.
My sense of direction was a work in progress.
Moreover, I didn't have knowledge of the geography in San Fernando, Cebu.
Should I cancel it? Should I take a rain check?
Even so, I decided to take the leap of faith. For this hike, I was joined by open-minded friends – Dian, Beboy, Raul and Bing.
Even with the gloomy weather, we took the habal-habal ride to Bandilaan.
On our way up, I saw towering mountain ranges blanketed in white.
One day, a better version of me will climb these ranges, I whispered to myself.
As for the ride, it was rather long, bumpy and even painful on my legs and lower back.
A few questions, then, popped into my mind.
What if we hike this road? How long will it take us? Will I ever have the opportunity to do it?
Soon, we arrived at Bandilaan.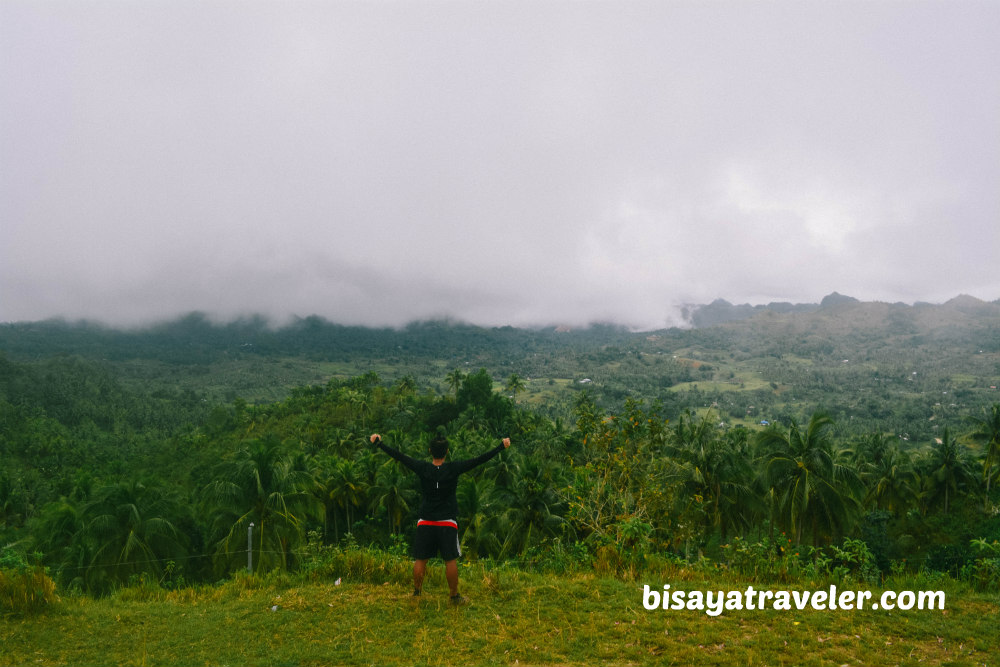 Mount Bandilaan was ghost-quiet, except for the stomping of our shoes and whistle of the wind.
And, the views were great, but not as awe-inspiring as the ones from other mountains in Cebu.
In the midst of the sea of fog, we saw a silver lining – the ranges and rolling hills in Naga, Cebu.
"We had to get there", said Beboy.
So, despite the limited information and skills we had, we descended from the peak. And, we began looking for hints on how to get to these mountain ranges.
Hiking on a muddy trail, we caught sight of a picture-perfect spot.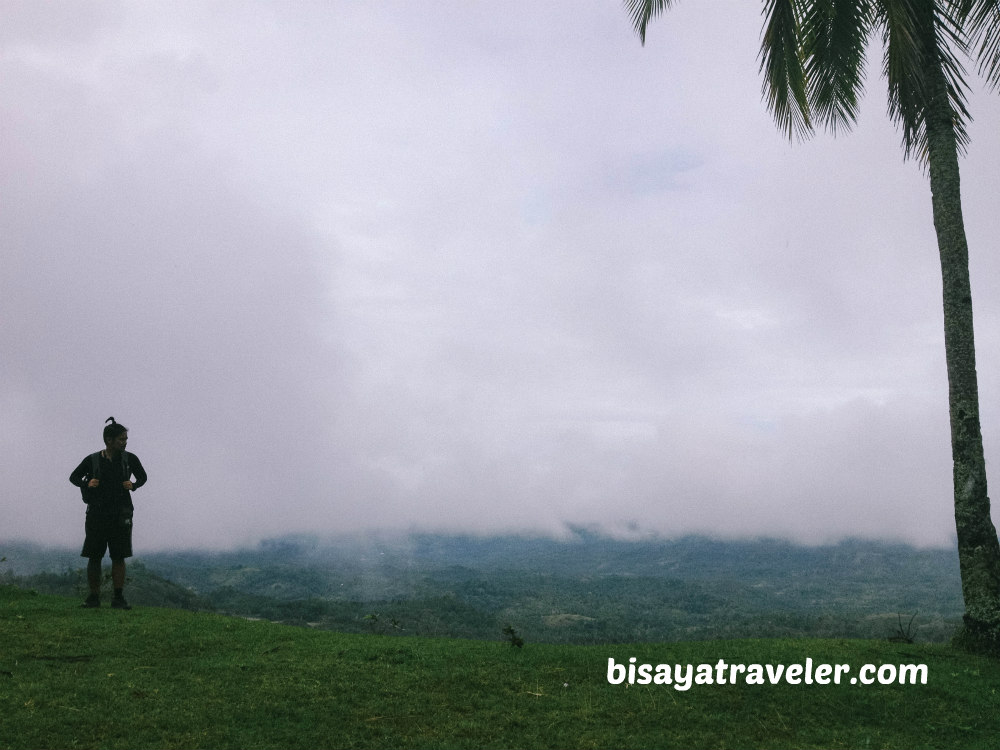 We didn't have a name for this place, so we temporarily called it "The Secret Hill".
And, from there, our hike turned into an extraordinary rainy adventure.
We got lost.
We made our way to Bugho Falls.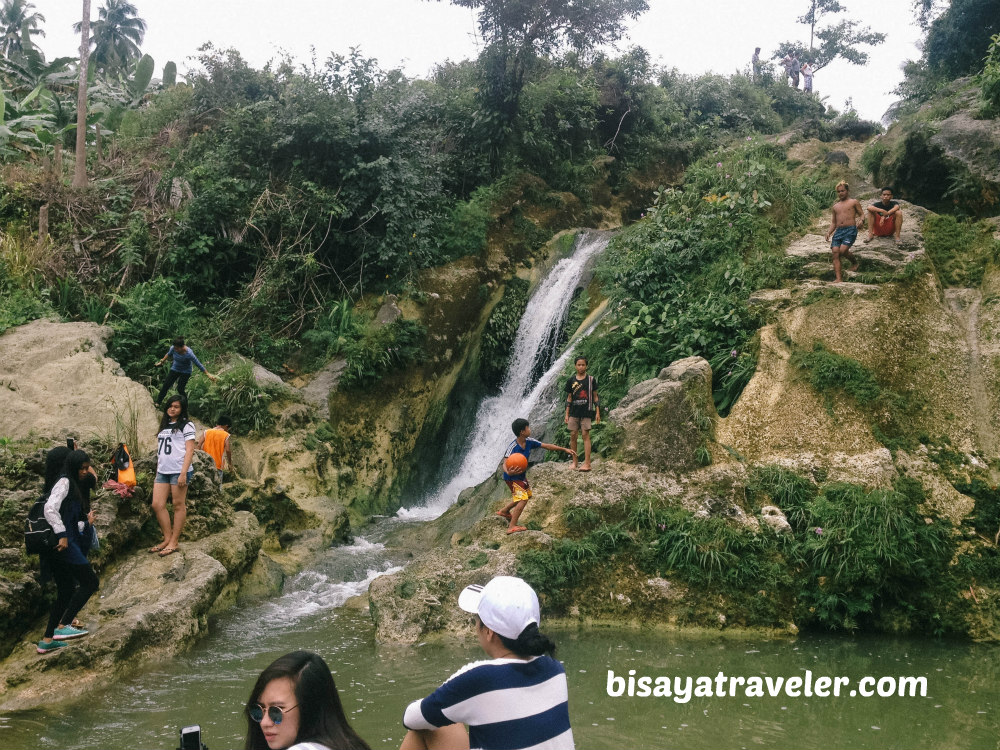 And, we got lost again, somewhere in between Bugho, San Fernando and Alpaco,Naga.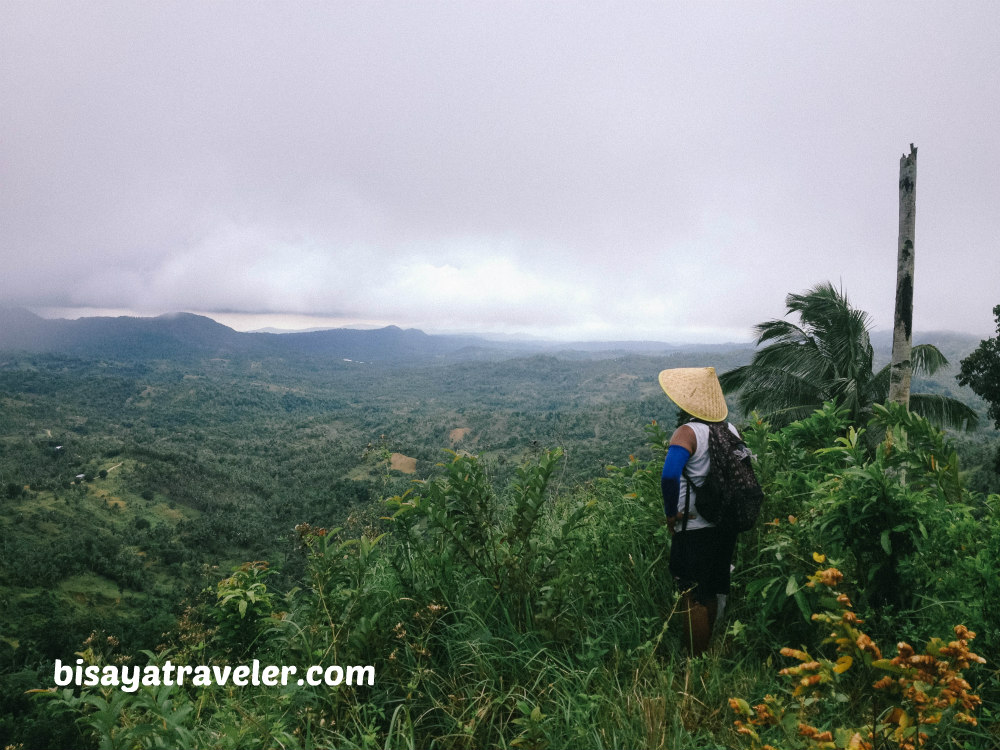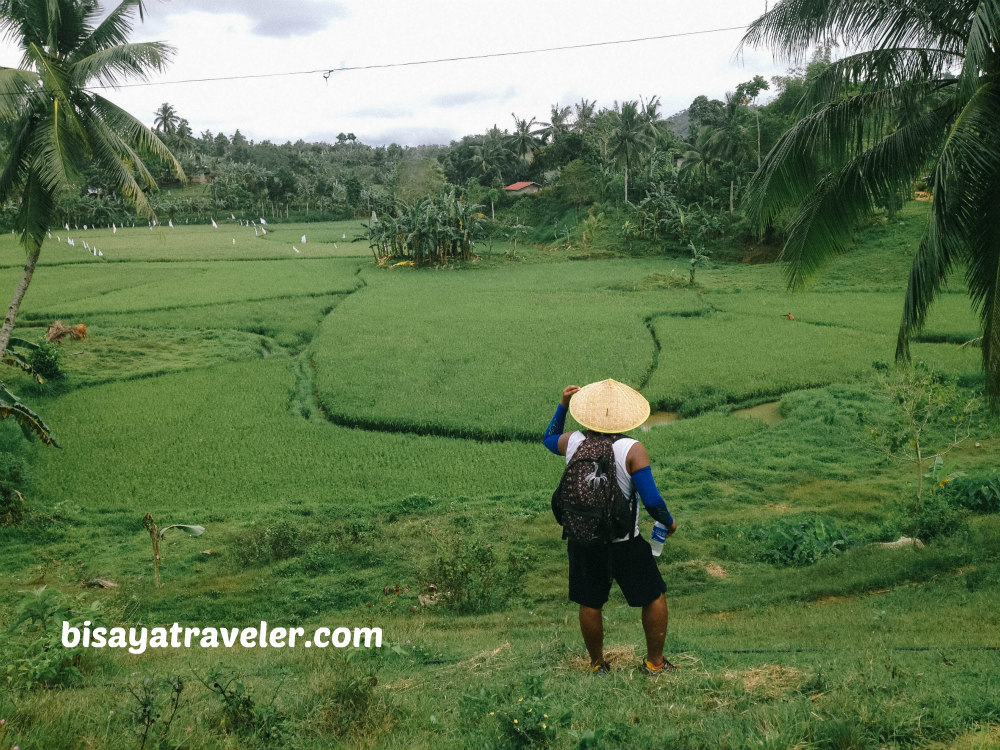 In the end, we got tips and hints on the mountain ranges, thanks to a stranger named Allan.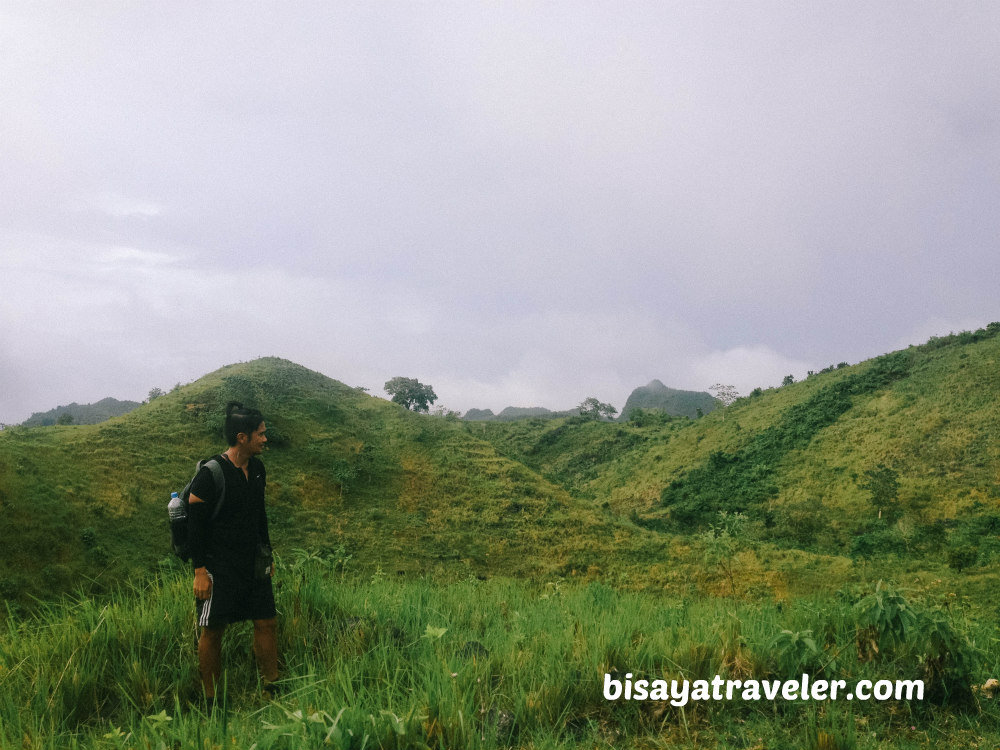 On our way to Balirong, Naga, we were stunned by the sight of a gorgeous mountain.
And, luckily, our habal-habal driver gave us directions on how to get to the top.
To Raul, I said "we'll be back here to savor the scenery and hone our path-finding skills".
I evolved into a different hiker, after that misadventure from San Fernando, Cebu.
As a matter of fact, everything seemed altered strangely from my perspective.
It was though a new door finally opened on to my world, letting in a ray of light, so every detail appeared more focused and sharper.
And, from that doorway, I looked back on my recent string of hikes, and began to see the true essence of outdoor adventures.
In some way, it unlocked something inside me.
I suddenly yearned for exploring the unknown.
I craved for adventures beyond the tourist maps and guides.
And, I became extremely curious about Cebu's geography.
On our way home, my mind wandered into a different space, imagining the endless possibilities of exploring the unknown.
Would we ever find a mountain that no mountaineering group has ever set foot on? Would we ever host an outreach program or hike for cause? At that time, I didn't know where our adventures were going to take us.
I was just glad I found a bunch of like-minded friends who don't mind being uncomfortable in the middle of nowhere.
---
For more information about these places, check out my recent blog posts.
Mount Bandilaan And Mount Alpaco: The Beauty Of An Unplanned Adventure
Balirong To Lamac Traverse: Uncovering Naga, Cebu's Unseen Natural Beauty
Bungtod Talinis Cebu: San Fernando's Tantalizing Unseen Ranges
Panadtaran, San Fernando: Unleashing My Inner Carefree Child