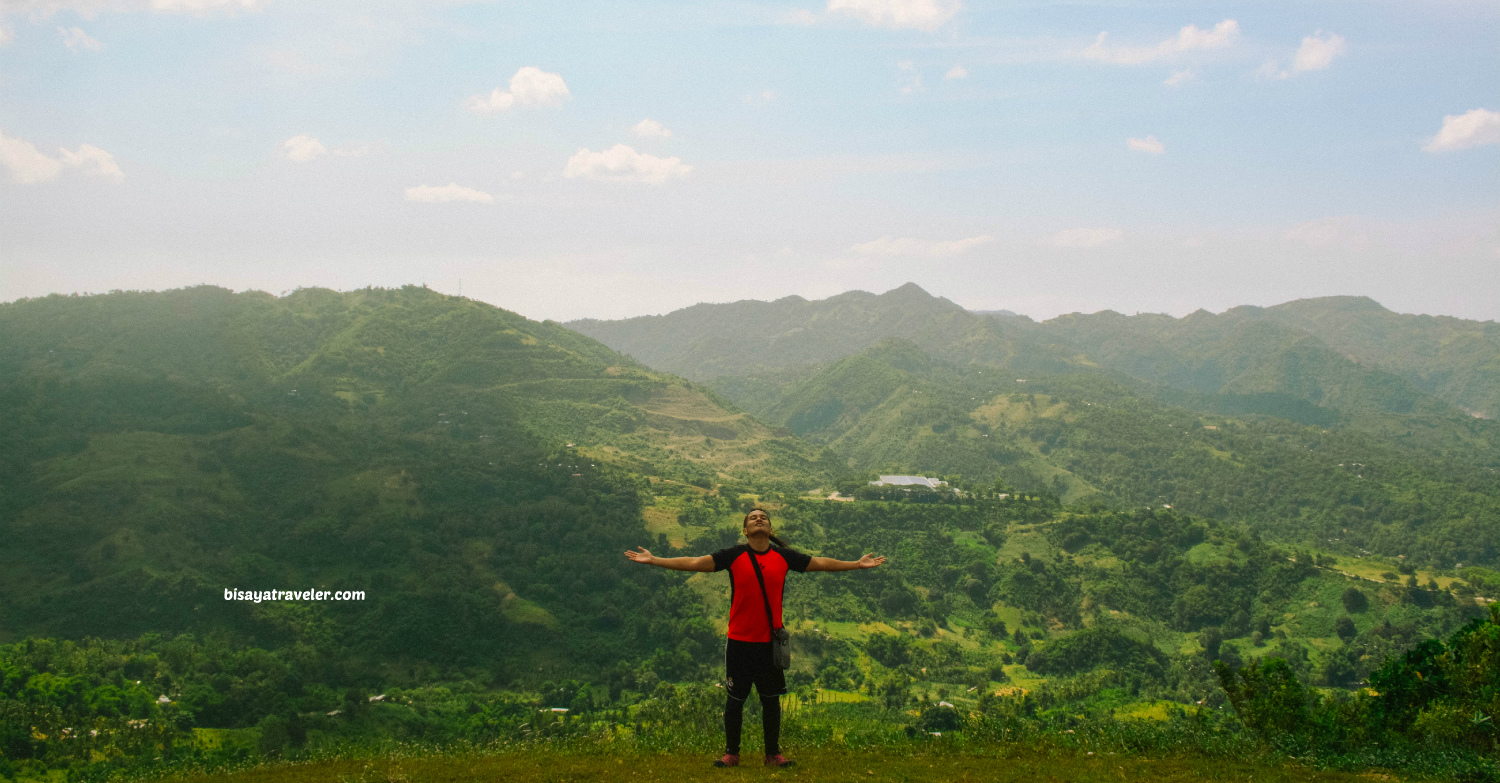 The Hill Without A Name In Naga Cebu
Fate is a shifting, unsolvable puzzle of mystery. Like a small swirling sandstorm, fate persistently shifts directions. One day, you feel like you're on top of the world or the king of Naga Cebu, destined for greatness. The next day, momentum shifts, and your life seems to be going on a downward spiral.
What if the philosophers had it all wrong? Didn't they say our destiny is written in the stars? Didn't a wise man once say "once you make a decision, the universe conspires to make it happen"?
Aren't we supposed to find our purpose or "biggest why" and nurture it?
And, is there really such thing as fate? Or, are we just lost stars trying to find our way in the deep dark vast nothingness of the universe?
For decades, I had wondered if my existence means anything or has a purpose.
How can I serve humanity and the universe? Truthfully, even with all my years of experience, I still have no clue why I exist.
When I was young, I was an idealist who dreamt of becoming a philanthropist to help change the world.
In college, I thought I was bound to become a musician or a composer.
Years later, I thought I'd become an overweight businessman who'd thrive with coffee and cigarettes.
And, a year ago, I thought I'd be blissfully chasing nature's masterpieces for the rest of my life.
But, after finding my real "Neverland", I've surprisingly lost my appetite for exploring.
Perhaps, the pursuit for my purpose is over.
Maybe, I've finally found my biggest why or role in the grand scheme of things.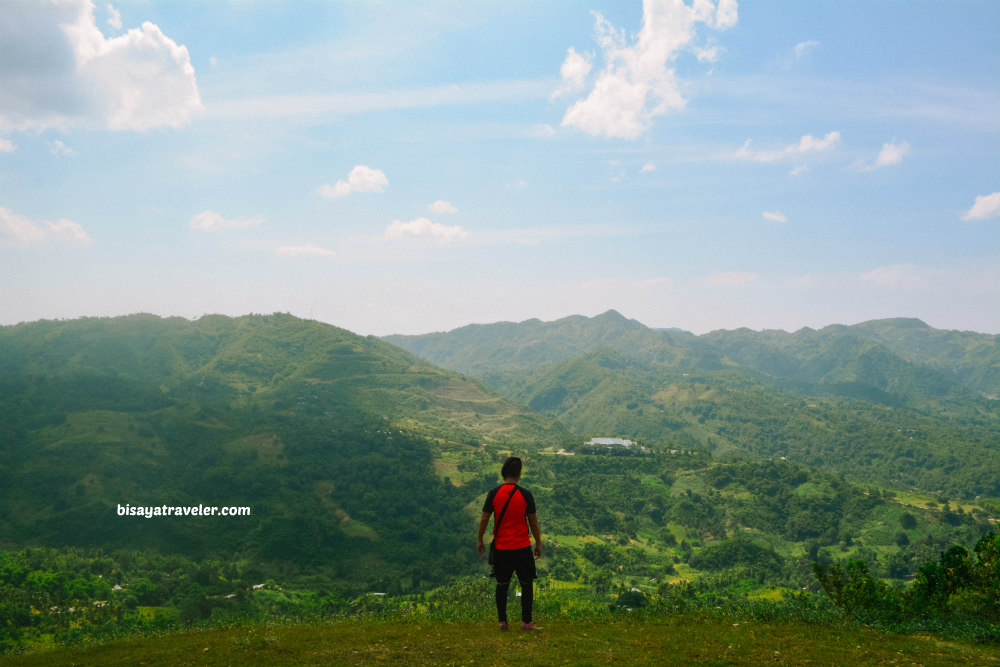 Lately, I had been in Nirvana, drifting in a sea of bliss with no intention of climbing mountains again.
Somehow, I had no aspirations, plans or yearning to hit the trails.
And, though I love organizing outreach programs for the mountainous communities with my friends, I wasn't in the mood to pull it off.
With our busy schedules, we neither had the time nor energy to organize a series of hikes for a cause.
And, then, I remembered the hill without a name in Naga, Cebu.
The charming and beguiling hill without a name in Naga, Cebu.
So, I ventured into the mountains in Naga, Cebu to rekindle my passion.
Together with my friends and a few philanthropists, we hiked the mountains of the city to also raise funds for Boljoon, Cebu.
And, as I cherished the fresh cool breeze on the nameless hill in Naga, Cebu, I realized that fate is indeed written in the stars.
As they say, what is meant to be will always find a way.
Our hike for a cause in Naga, Cebu
I woke up to the irksome sound of alarm.
04:45 AM.
Beside me was my Neverland" – my daughter Adrielle – sleeping peacefully.
"Why should I go anywhere else when I have found my paradise?", I asked myself.
Gazing at her small and delicate face, I was seriously considering staying at home, so I could spend more time in my oasis.
But, just as I was about to go back to sleep, memories and images of the hill without a name flooded through me.
I had to go back there.
My vision.
My mission.
And, possibly clues of my destiny could be found in the hill without a name in Naga, Cebu.
As one of the organizers, I also couldn't miss our first hike for a cause in 2019.
Quickly, I jumped out of our bed, took a shower, and made my preparations.
Afterwards, I looked in the mirror, stared into my eyes and tried to unleash one of my alter egos.
In my Wat Saket blog post, I mentioned how my alter egos have saved me from not-so favorable situations.
And, since this was a fund-raising event full of new faces, I had to channel my ultimate alter ego, "The Bisaya Traveler".
This time, my alter egos were nowhere to be found.
Staring in the mirror, all I saw was a father and an introvert with a weird haircut.
Even without my alter ego, I still went on with our hike for a cause in Naga, Cebu.
The truth is, it was the hill without a name that motivated me to hike that day.
Soon, I arrived in Naga, Cebu. And, just as expected, I didn't know how to approach a sea of strangers.
Here's the thing. I'm an introvert, and sometimes, I find it really hard to talk to people I don't know.
In fact, I tried to stay away from the crowd during our rendezvous at Jollibee in Naga, Cebu.
Luckily for me, Jonah and Tatay Raul did all the talking, leading the whole group to the base of our bike.
Walking leisurely with Cla-Cla on my side, I began to feel a shift inside me.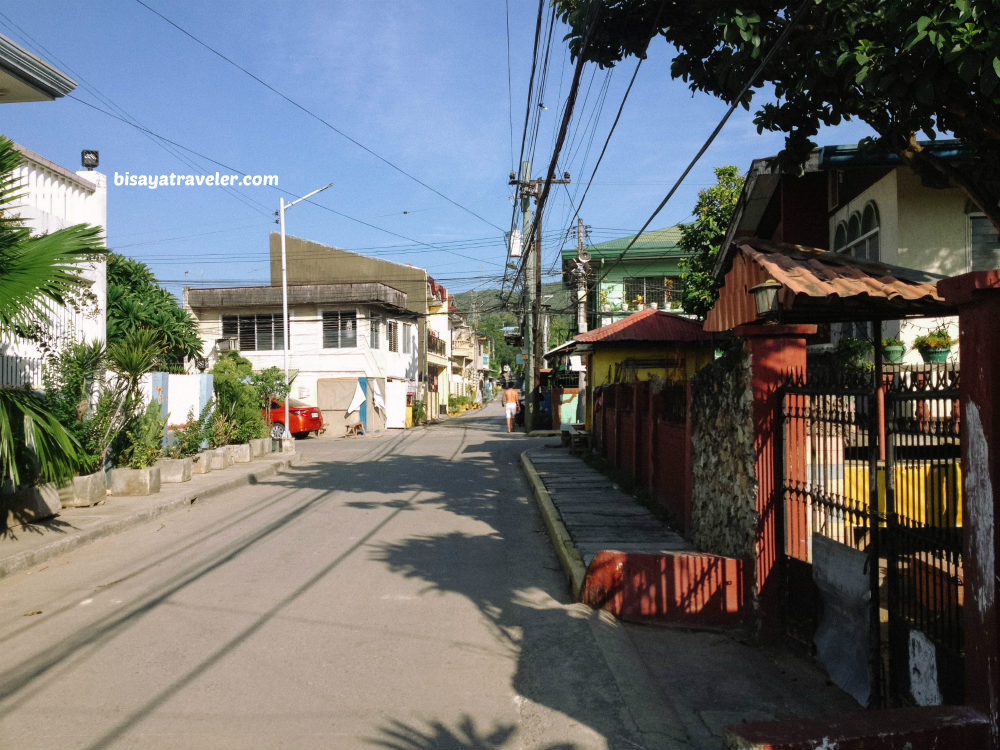 With a flow of adrenaline and a release of happy hormones, I could sense that he was coming.
And, when Raul and Jonah officially kicked off our hike, the Bisaya Traveler was finally unleashed.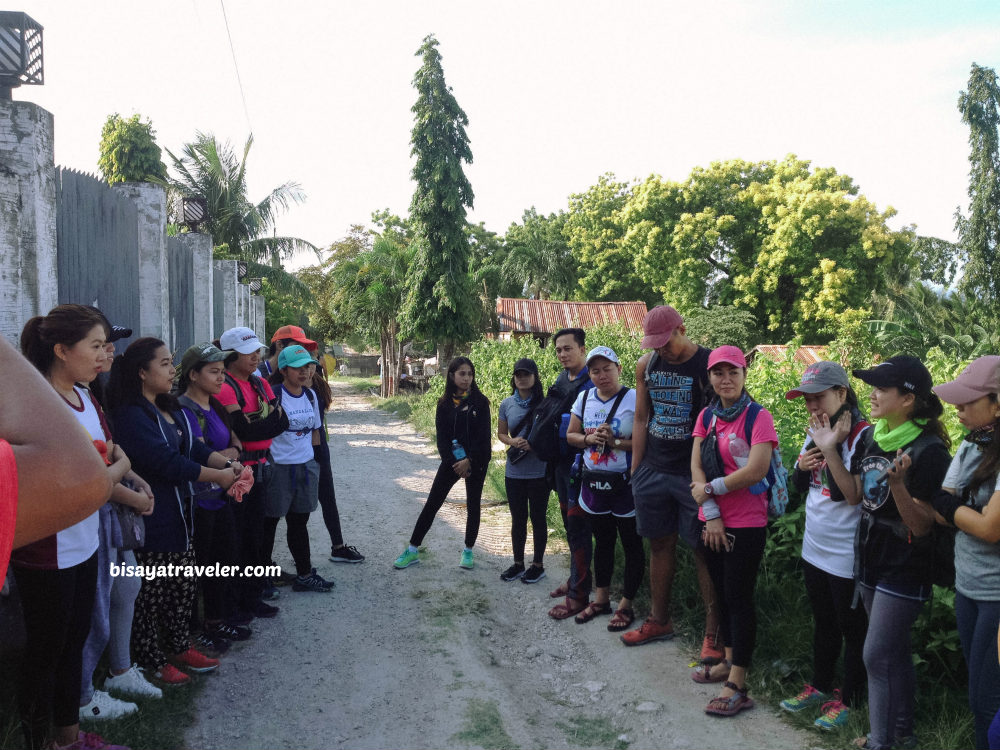 Thanks to a little warm up, I've successfully unleashed my alter ego.
Spearheaded by yours truly, we hit the Apache Trail to the first stop of our hike in Naga, Cebu – Mount Magdook.
The sun was shining brightly and the sky was crispy blue without any hint of an upcoming storm.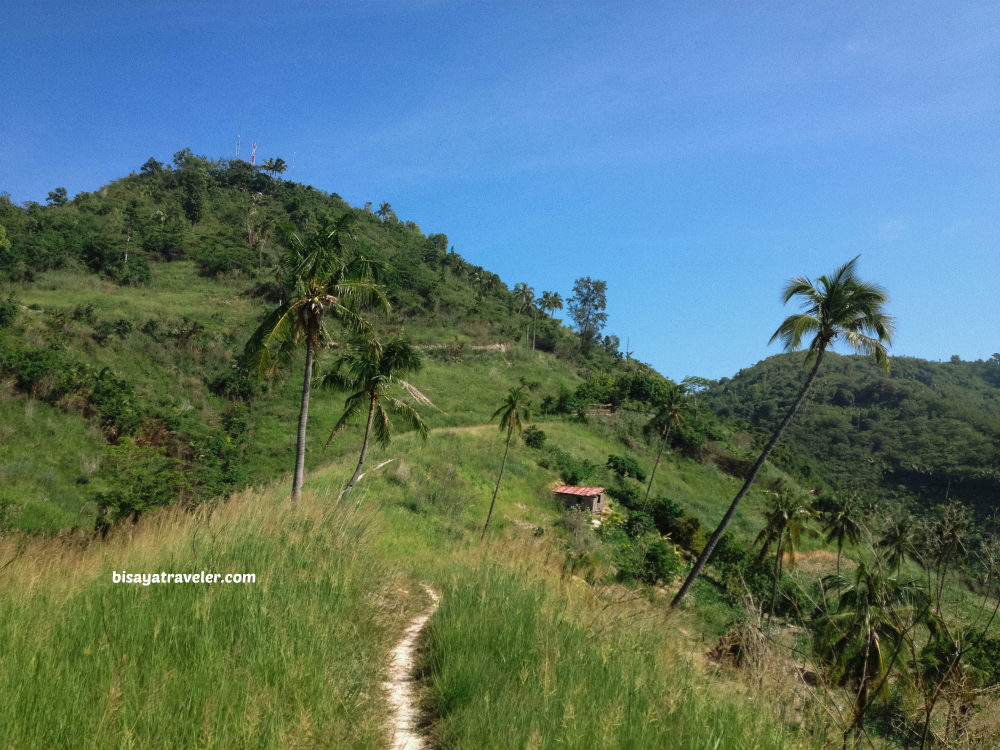 And, yes, it was hot AF.
In spite of the scorching heat, the hikers remained optimistic, fascinated by the breath-snatching overlooking views of Naga, Cebu.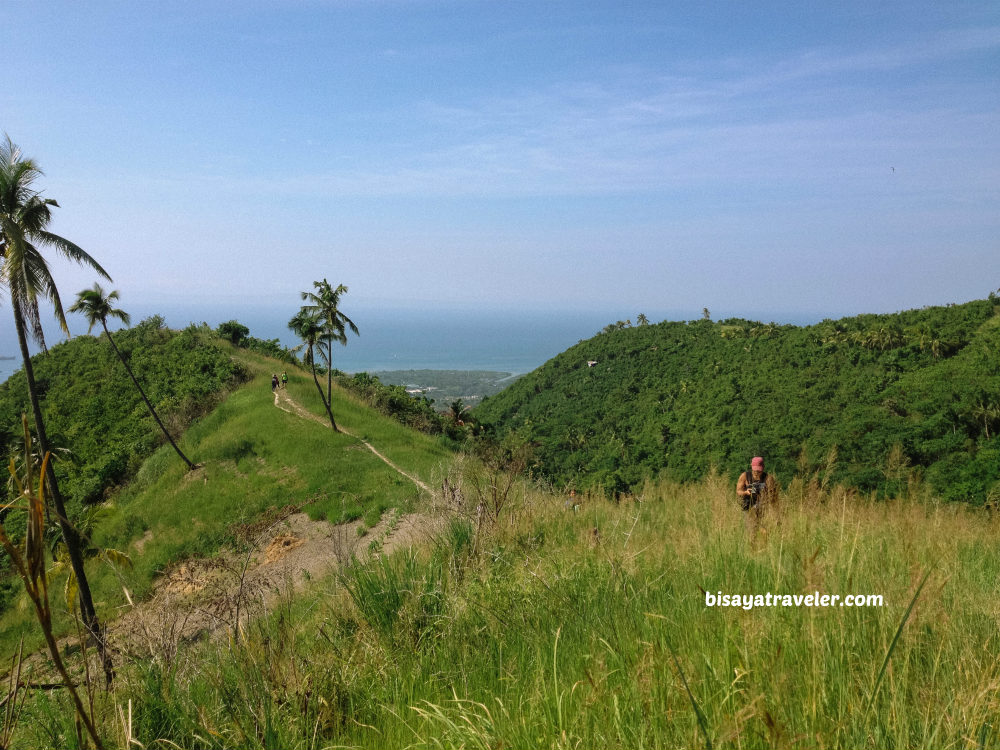 And, to my surprise, we arrived at the main road in Mount Magdook earlier than expected.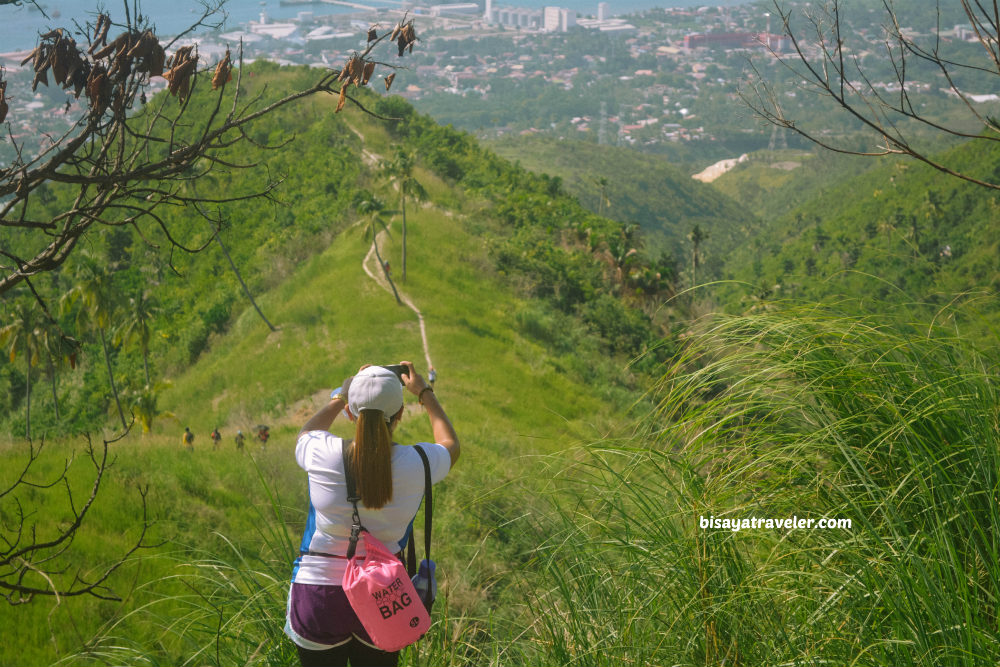 From there, we walked our way to Naalad, to savor more gorgeous vistas of Naga, Cebu.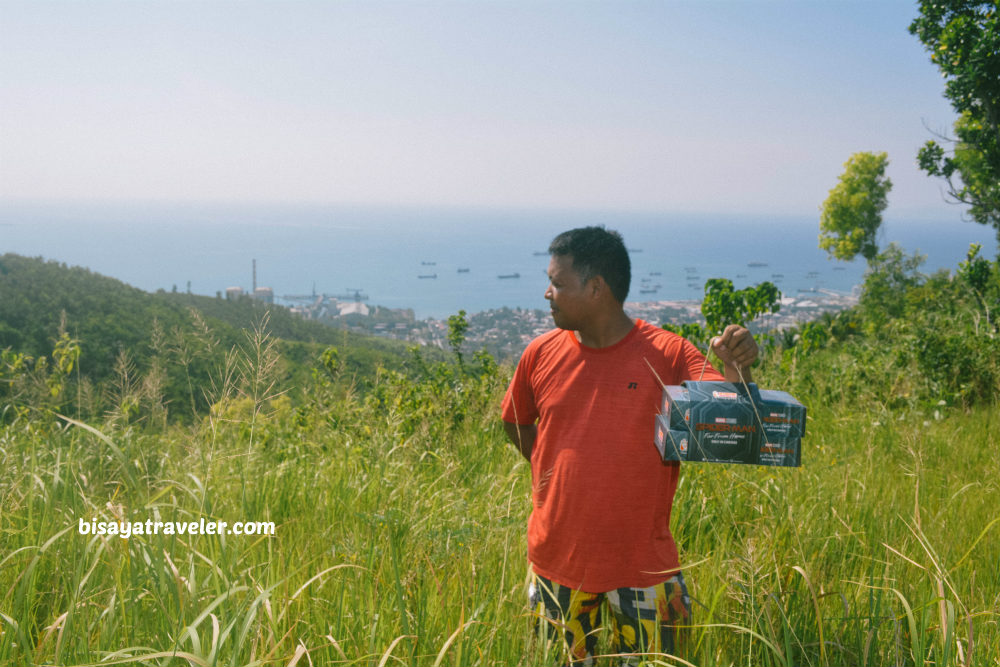 While our hike just started, I could visualize the hill without a name shaping inside my head.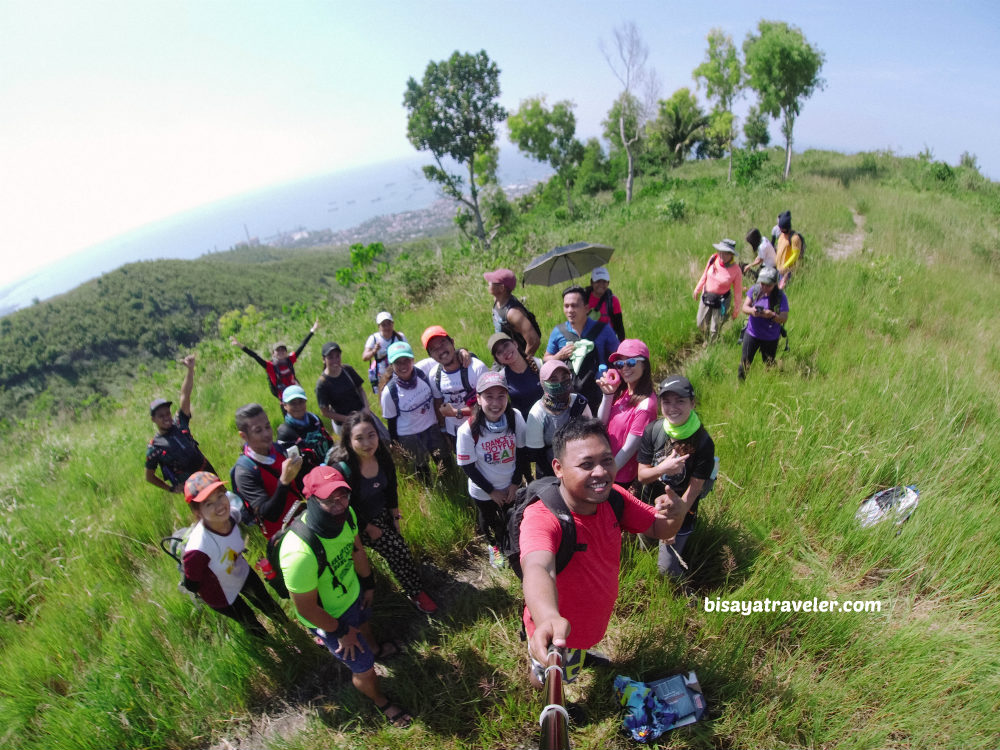 Not only was the nameless hill visually appealing, but it was also a beautiful metaphor of our hike.
Soon after, we went on with our hike, making a few stops and water breaks along the way.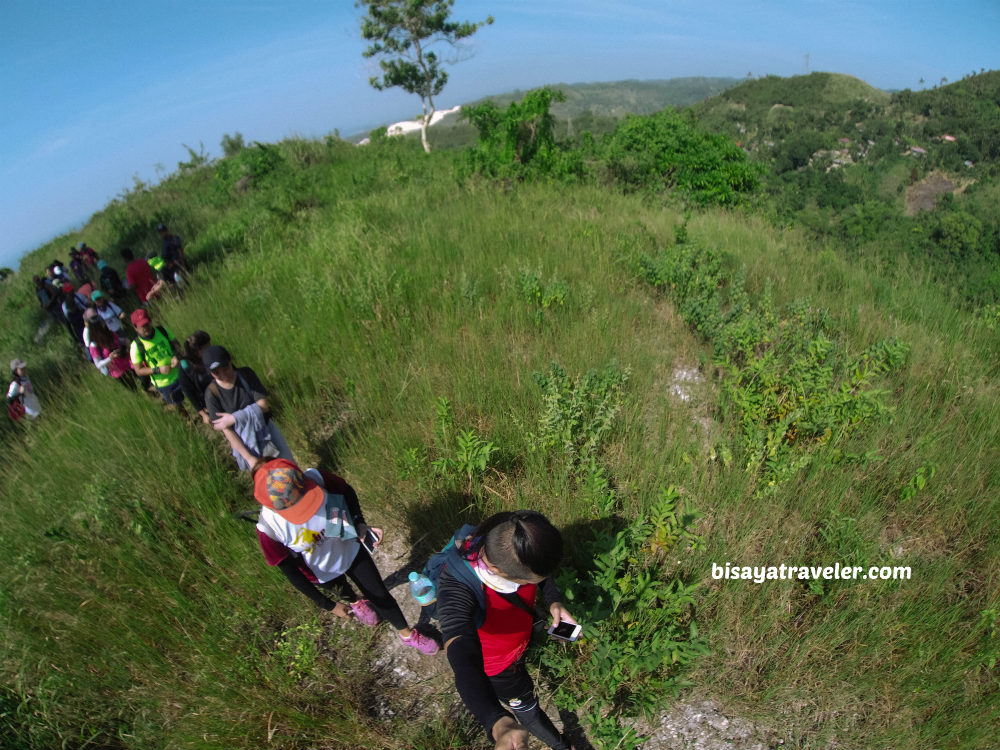 Everything, thus far, had been great and a breeze. In spite of the blistering heat, the hikers were so upbeat and pumped up to see Pangilatan Peak and the nameless hill.
Valery – one of the philanthropic hikers – had cramps on both her calves. But, these things are normal on long day hikes. With the help of her supportive friends and nurses, she finished the long trail in Naga, Cebu with flying colors.
Before scaling Pangilatan Peak, we took a breather on its base and also ate our lunch.
With our energies replenished, we, eventually, began the climb to Pangilatan Peak.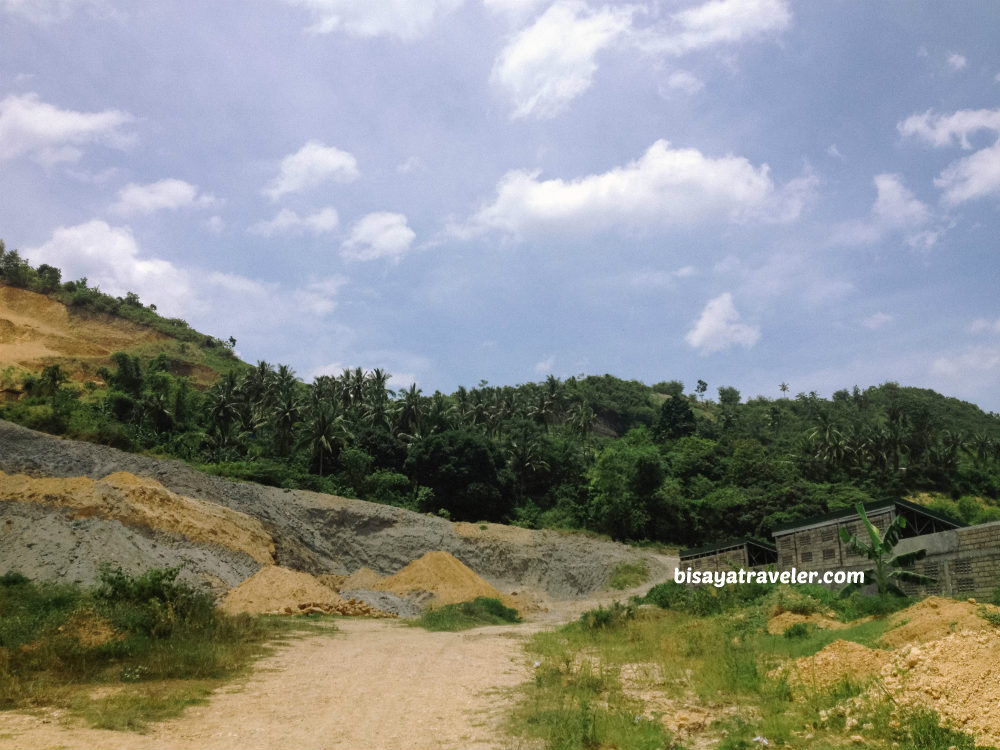 From the base, the hike to Pangilatan seems easy and short. But, guess what? It wasn't exactly a walk in the park.
The seemingly never-ending climb, paired with the sun's blistering heat, resulted in a wondrous shock to our system.
And, moments later, we arrived at the summit of Pangilatan Peak.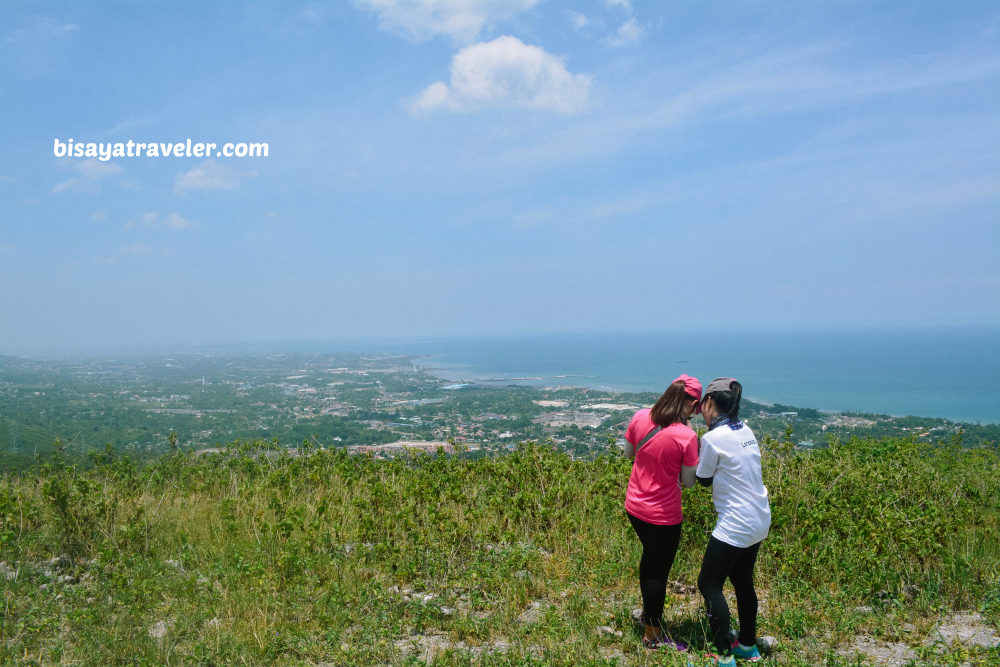 Damn, it was a thing of beauty! The view here simply never gets old.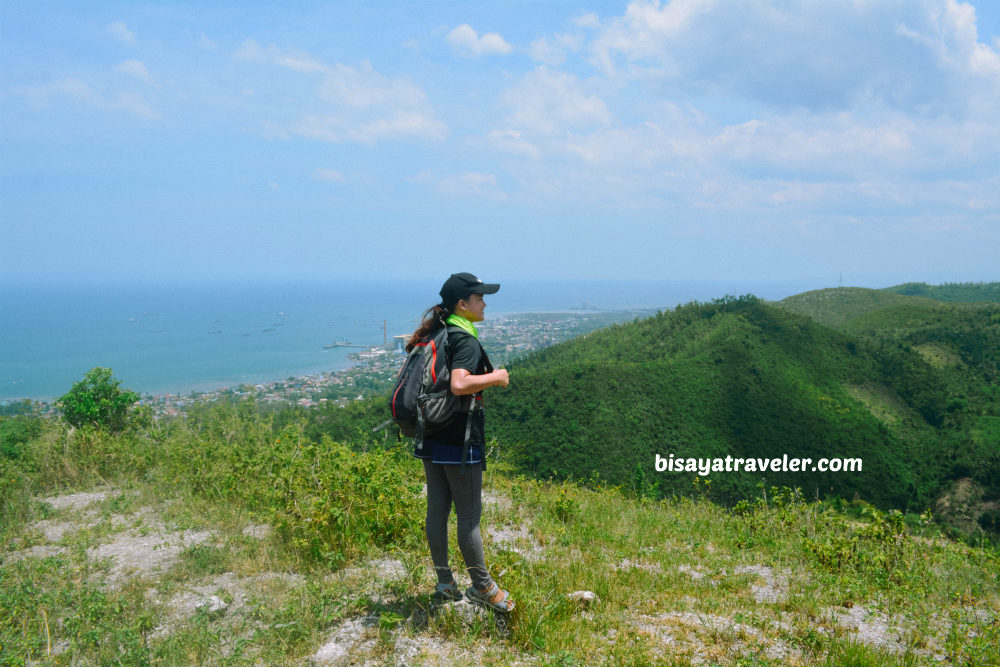 I've seen it countless of times, but it still never seizes to amaze me.
Of course, the other hikers were also wowed by its unique beauty.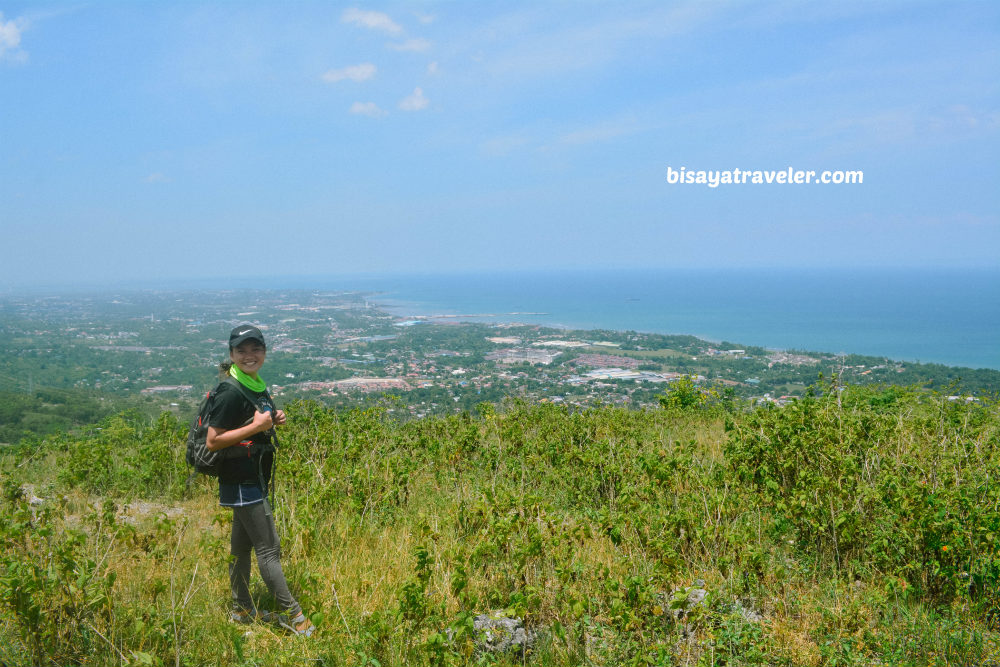 They were amazed not only by the panoramas, but also by the distance that they've covered, so far.
From Pangilatan Peak, hikers got a glimpse of how far they've walked in this sunny and warm Sunday.
Seeing the smiles on their faces was a joy to me.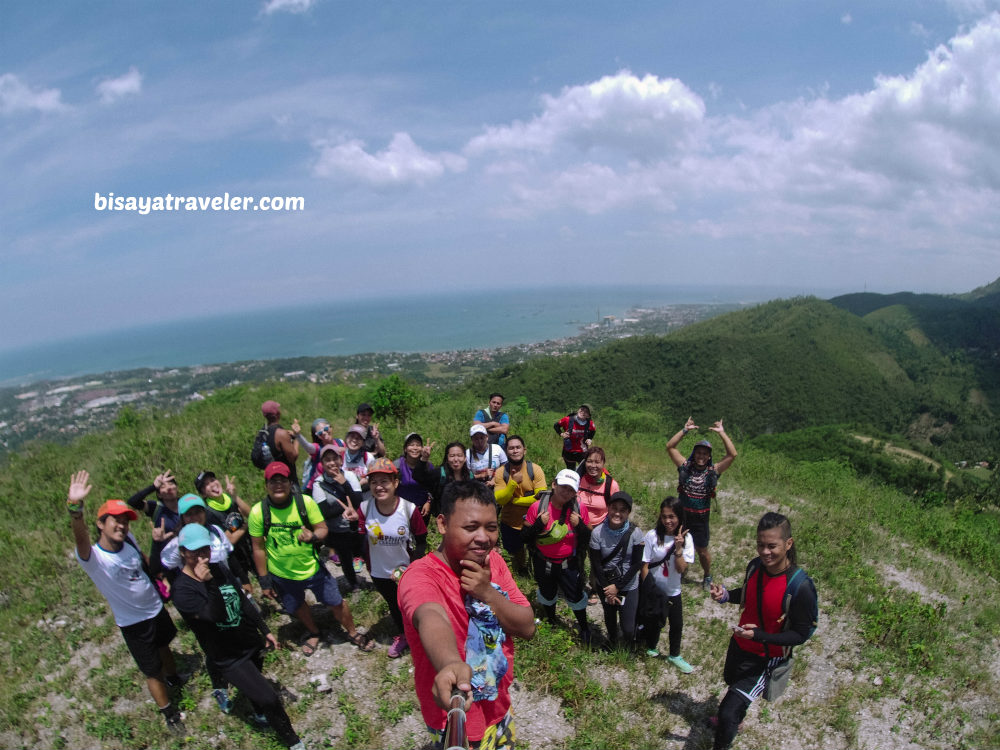 We've been hiking this route for over a year. Using a variety of gadgets, we've measured the overall length of this trail on a number of occasions.
Even though there's no specific measurement, the overall length of the route is likely around 16 to 20 kilometers.
And, in my opinion, we've walked around 10 kilometers when we arrived at the summit.
With enthusiasm and sparkle in their eyes, the hikers wondered where our next stop would be.
I, then, faced north, lifted my right hand and pointed to the nearby scenic hill.
"That's the 'nameless hill in Naga, Cebu', and that's the last stop of our day hike", I said.
Thrilled, we wasted no time, and hiked our way to our final destination in Naga, Cebu.
Snaking our way on a secluded trail, we ultimately arrived at a store near the foot of the hill without a name in Naga, Cebu.
As pumped as I was to scale the hill, we had to take a break.
With the sun looking down at us furiously, we were all craving for something cold and sweet. Fortunately, the store had an array of cold treats, from ice-candies to softdrinks.
With our break time over, Beboy and I rushed our way to the top of this nameless hill in Naga, Cebu.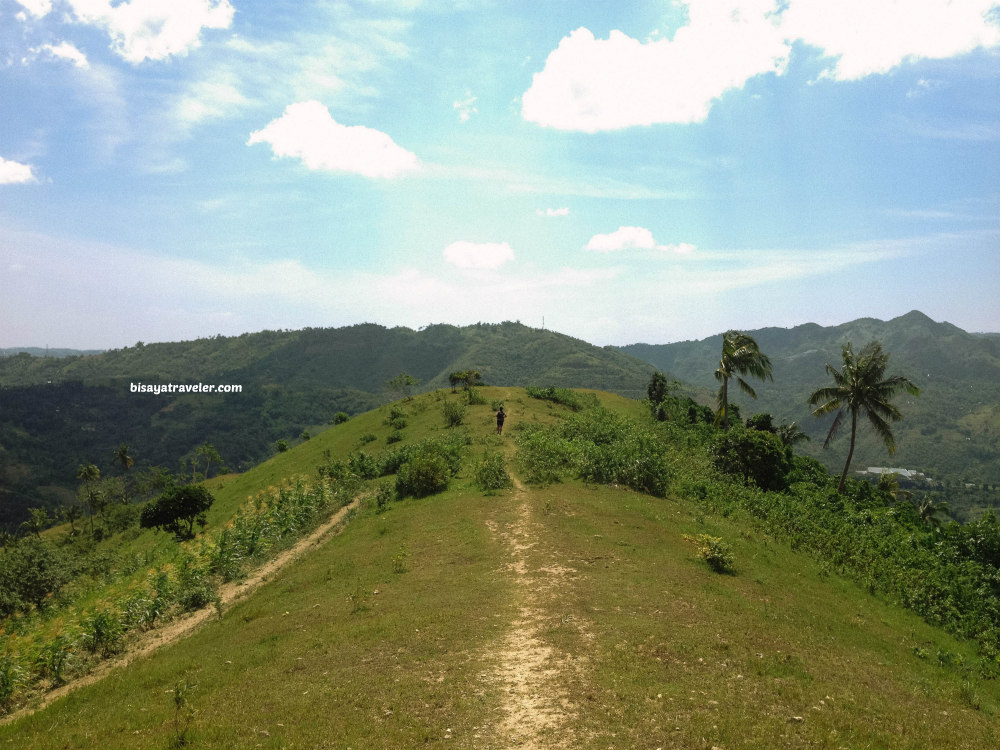 The rest, ultimately, followed and savored the rejuvenating air and 360-degree panoramic views.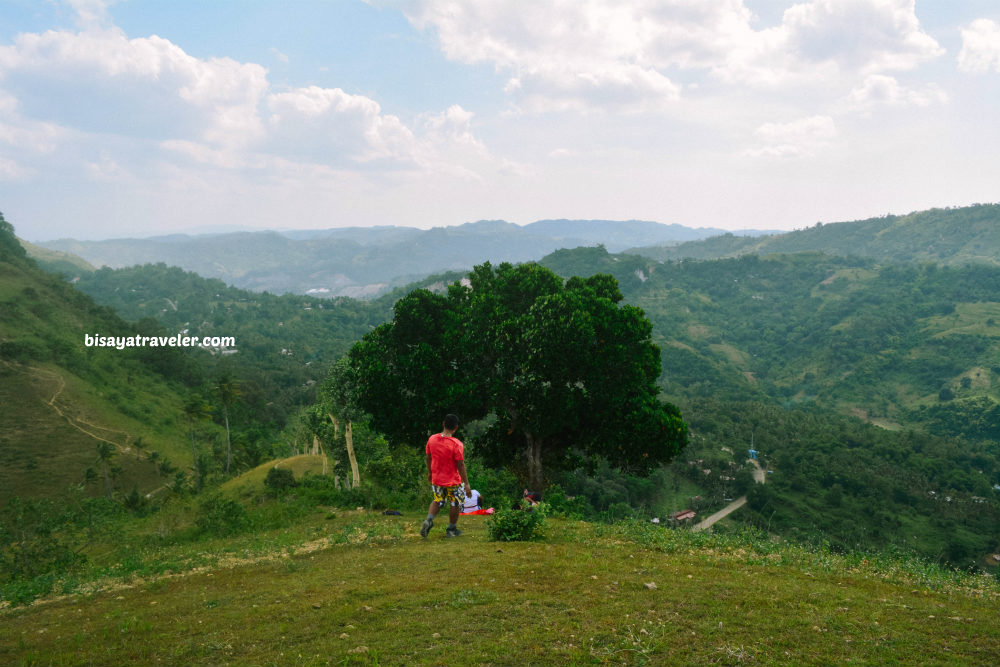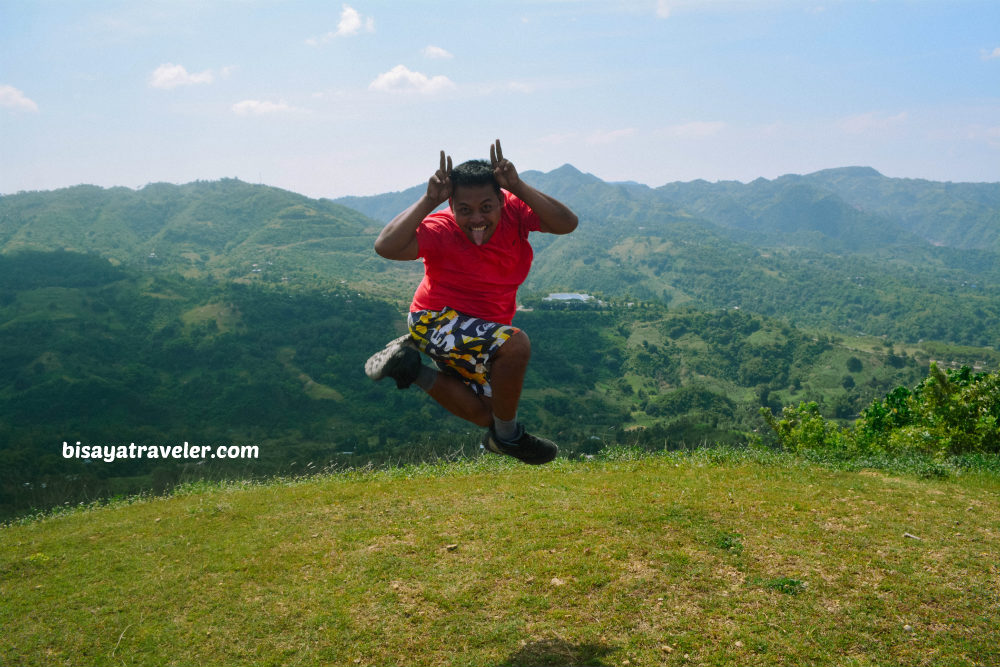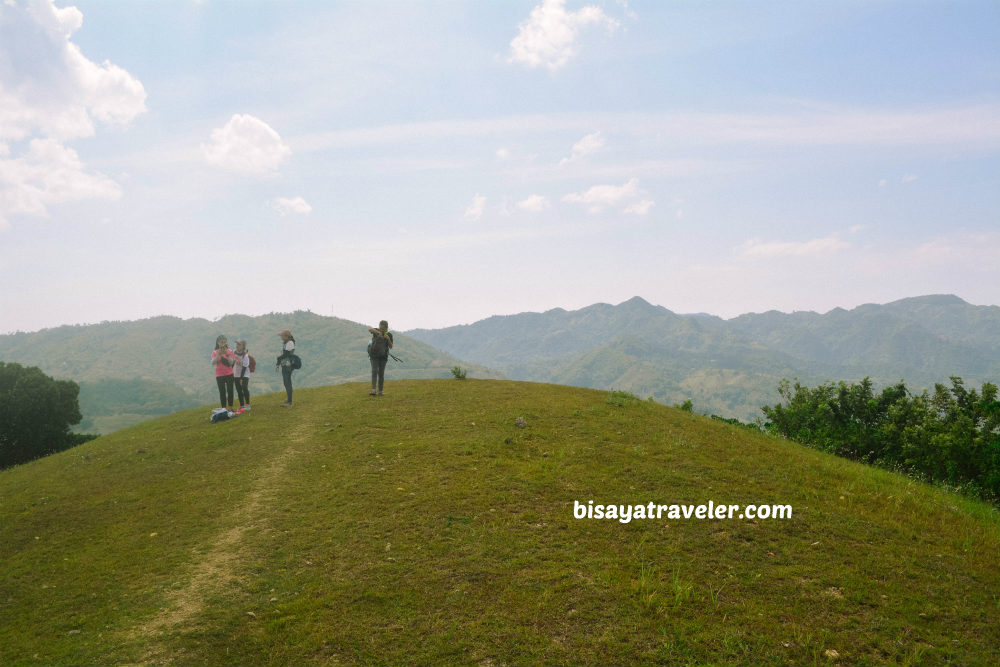 Sitting under the tree, I was glad that I accomplished my mission for that day.
Or, should I say missions.
First of all, the main purpose of this hike was to help raise funds for the people of Boljoon. Once they've raised the target amount, they will, then, buy a new passenger truck for their mountain schools.
And, my second mission was to climb the hill without a name in Naga, Cebu.
Sounds like a vague and vain target?
But, thing is, the irresistible beauty of this nameless hill was the icing to the cake.
Actually, the nameless hill is a symbol or a metaphor of something more important to me.
And, the hill without a name that I yearned to see, throughout the hike, was us.
Yes, us.
I mean we – the people organizing this hike for a cause.
Like this hill in Naga, Cebu, we have no name.
For formality's sake, we call ourselves OMG hikers, whenever we propose our outreach programs to schools and organizations.
But, for the most part, we barely mention the name "OMG".
We're essentially a nameless group and we plan to remain far away from the limelight.
We've spent a great deal of time and effort to help communities and schools.
From brand-new bags and school supplies to groceries, we've shared countless of blessings to remote areas in Cebu.
What's more, our efforts have had some ripple effects recently.
Not only is it making a whole lot of kiddos happy, but it has inspired other groups to organize outreach programs.
And, how can I forget about the kind donors or hikers? Ever since we started these hikes, some of our donors have turned into passionate mountaineers and trail runners.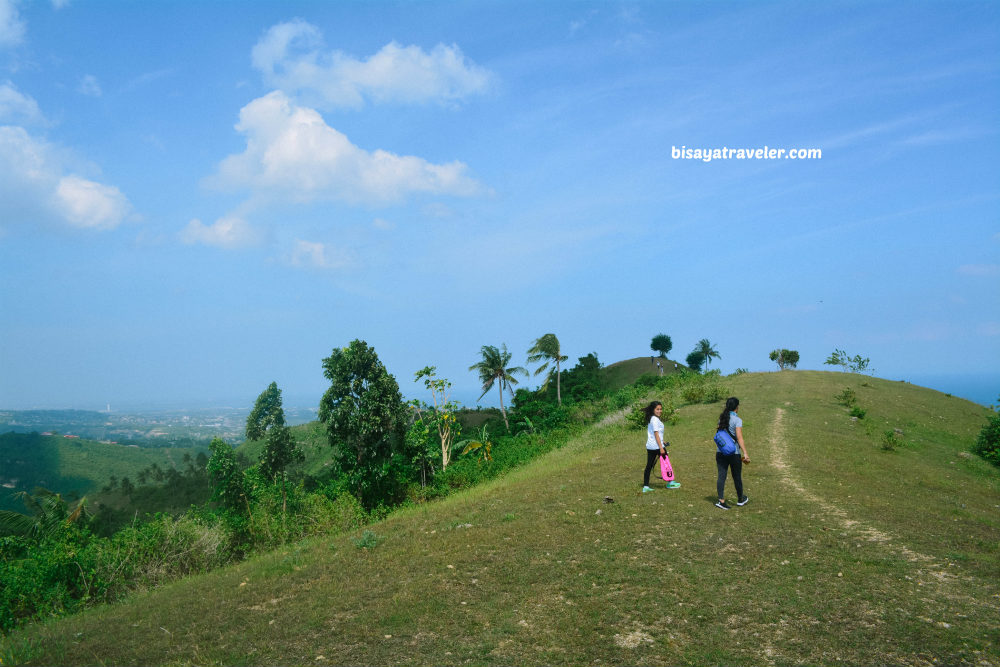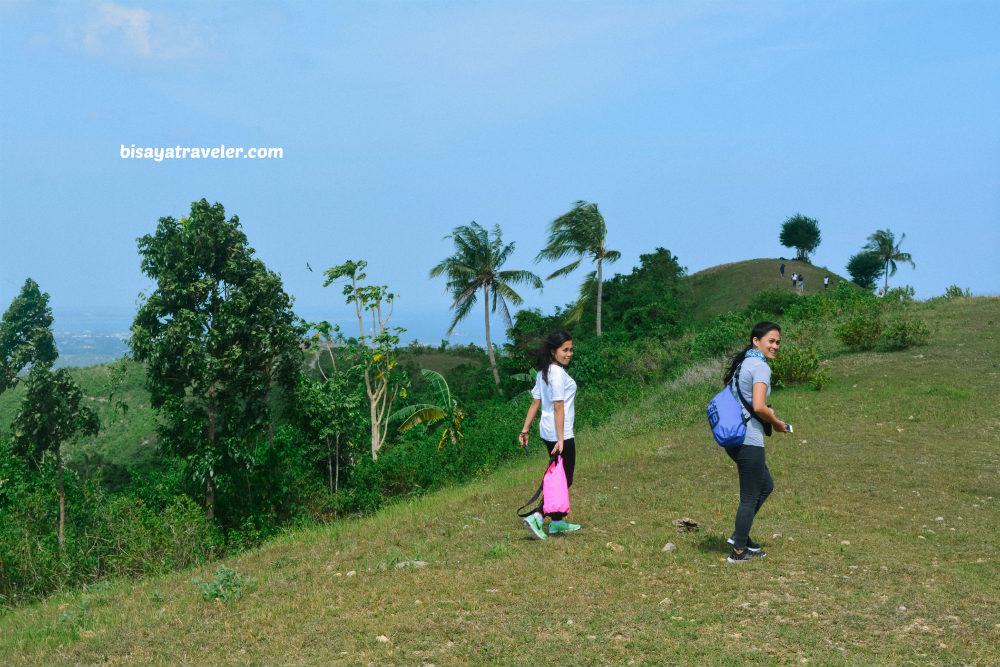 In a small way, we were spreading optimism and positivity.
And, we did it all of it as incognitos.
Unlike politicians, we don't want our names to be mentioned.
Heck, we don't even give a f*ck about shout-out or social media mentions for our efforts.
With all the positive effects that our hikes have created, I promised myself to do this forever.
But, fate slowly changed our group's dynamics.
Aside from that fund-raising event, the last time we did something like this was 8 months ago.
And, quite frankly, I thought I wasn't going to see this side of my group again.
I became a hands-on father to Adrielle.
Tatay landed a bustling job at DPWH.
Dian, Beboy, Jonah and sir Francis were busy with their jobs as well.
It seemed like we didn't have the time and energy to organize hikes with good causes.
And, yet, here we were sitting and chilling on a nameless hill, on the verge of completing an 18-kilometer hike.
And, as always, the mountains in Naga, Cebu and the urge to help have reunited us.
As were relishing the breeze on this nameless hill, we all felt the urge to do it all over again.
I could see it in their eyes.
And, even with all our hectic schedules, we're pretty sure we figure it all out.
Later on, we started planning another series of hikes for a cause in November.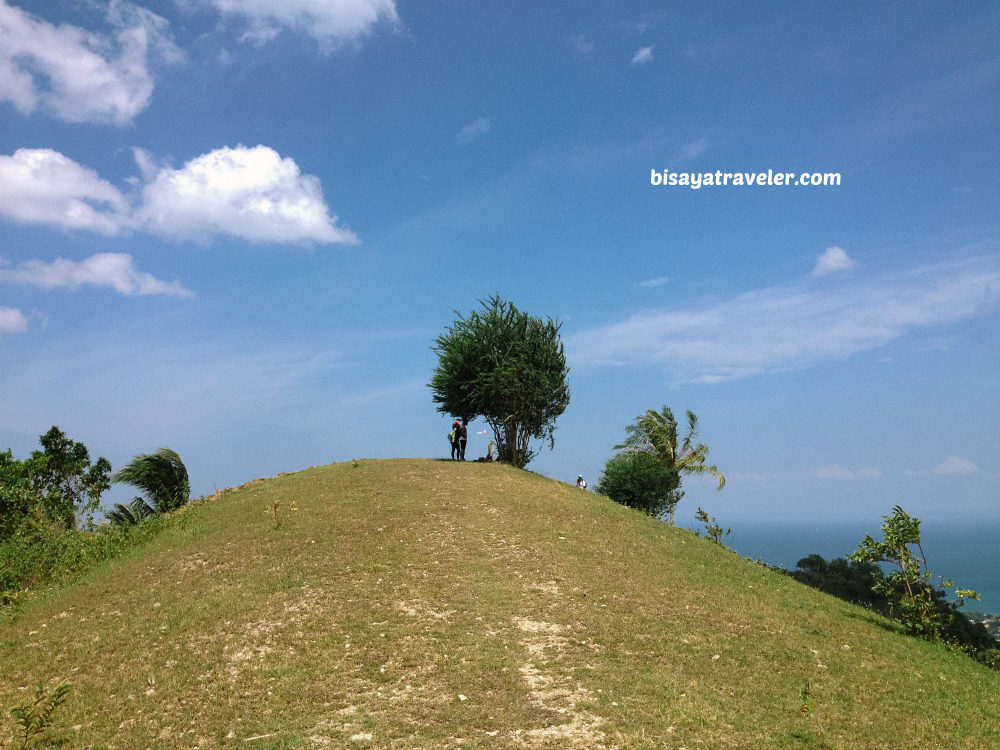 Maybe, this is my fate.
Maybe, the younger idealist version of me wanted it so badly that universe conspired to make it happen.
I guess everyone's destiny is already written in the stars.
No matter where I go or what I do, the shifting sandstorm known as fate will always follow me. So, I'm not going to look for it anymore. Instead, I'm letting the sandstorm chase me.
By the way, if you're interested in hiking these mountains and hill in Naga, Cebu and you need a guide, I suggest that you contact Tatay Raul 0967-316-1379.