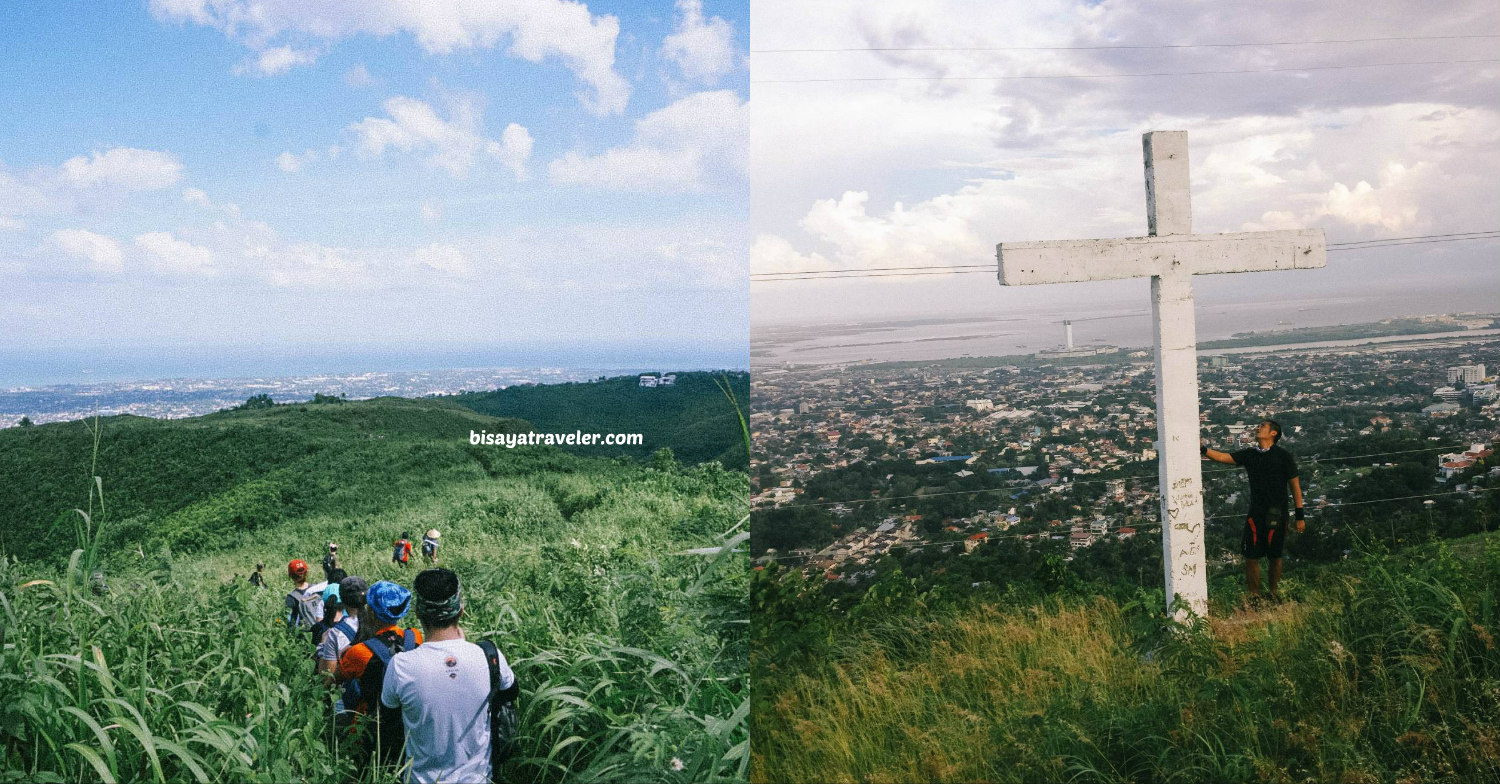 OMG Hike For A Cause: Beating The Odds With Synergy And Teamwork
Behind every iconic product or successful event is a great team. With enthusiasm, teamwork and a lot of hard work, a group can function like a well-oiled machine, and deliver results that no ordinary jack-of-all-trades man can do. As the legendary Helen Keller once said, "alone we can do so little, together we can do so much". And guess what? Everyone needs a team to create something meaningful in their life. Even in a typical group day hike, you need a great team to spark joy and create a boatload of memories.
In modern-day basketball, for instance, you need a playmaker who can free up the snipers or shooters.
In football, a quarterback needs his offensive linemen, to make dyamic plays.
Heck, even iconic athletes chasing personal glory need a team of skill coaches, dietitian and trainers, to reach their summit.
And, we all know that Steve Jobs changed the entire pattern of living with his creative and innovative mind. But, without his team of skilled and hard-working professionals, his groundbreaking innovations wouldn't have reached our hands or even touched our imaginations.
Like it or not, teamwork is paramount in our life.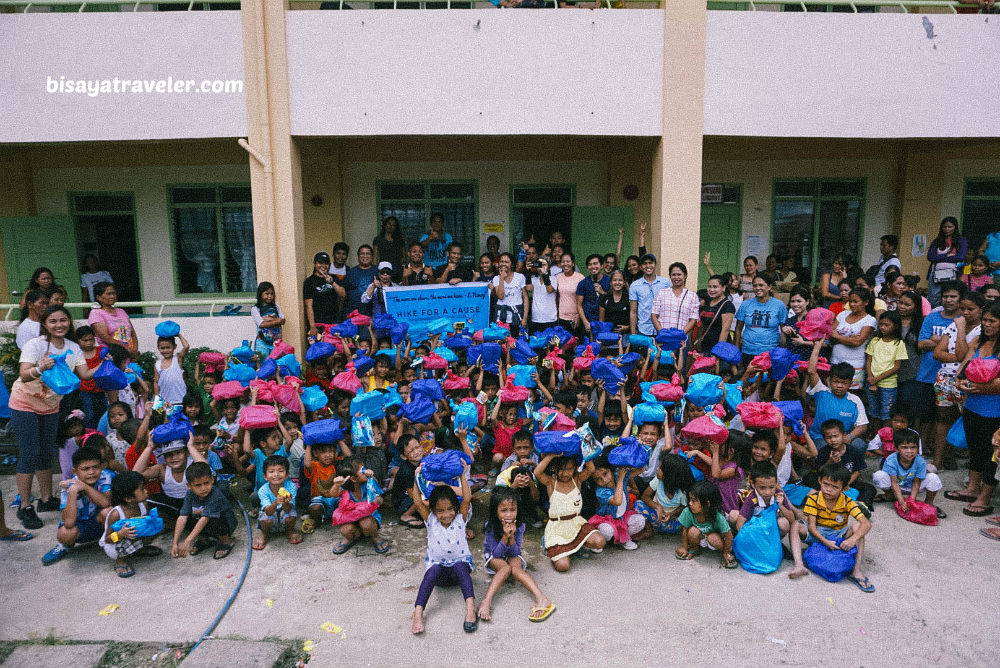 And for OMG's (Open Minded Group) first outreach program, I saw a beautiful display of teamwork. From the get-go, I knew this event would be a tough challenge for us.
After all, our target was to hand out thousands of school supplies, ranging from notebooks to crayons, to 143 Grade 1 pupils in Toong. While these numbers are fairly small for large organizations and companies, it can be a tall order for a small group of friends like us.
Yet, even with the odds stacked against us, we still managed to pull off an incredible outreach program in Toong Integrated School.
As a matter of fact, the teachers of school told us that we were, hands down, the most generous group to host such event in the school. And, with teamwork and a ton of help from donors, we surely did make so many people happy on that day.
OMG's first hike for a cause experience
Our hike for a cause in Toong was actually the culmination of weeks of planning, teamwork and preparation.
Weeks prior to the event, we spent hours chatting on Facebook every day, to brainstorm and figure out the best ideas for our program.
Besides planning, we also spent a few weekends doing other stuff, like meeting the school officials, preparing the school supplies and hosting a hike to raise funds for the event.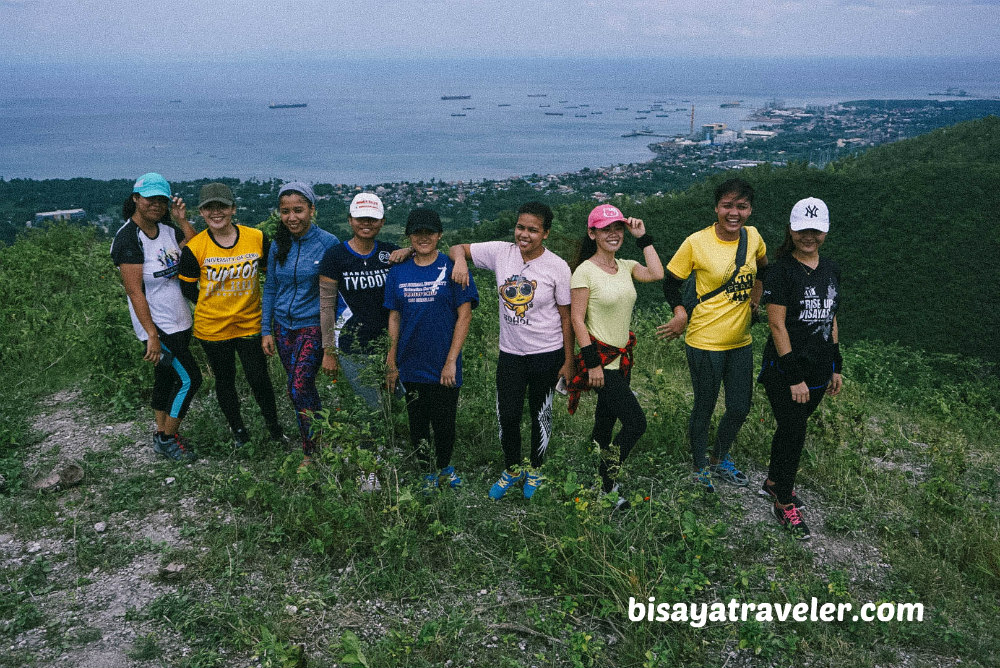 And, it was all beautiful.
From Raul's tireless efforts to Dian and Jonah's remarkable skills in accounting, it was such a wondrous experience to be a part of a group working enthusiastically together for a common goal.
I've been on a number of teams before, and OMG is one of the few groups to really demonstrate the essence of teamwork.
To make things even better, there were plenty of genuinely kind-hearted people like J-Ann who helped us raise money for the event.
On the actual day, some of us were both a little nervous and excited. For some, it was their first time to host an event like this.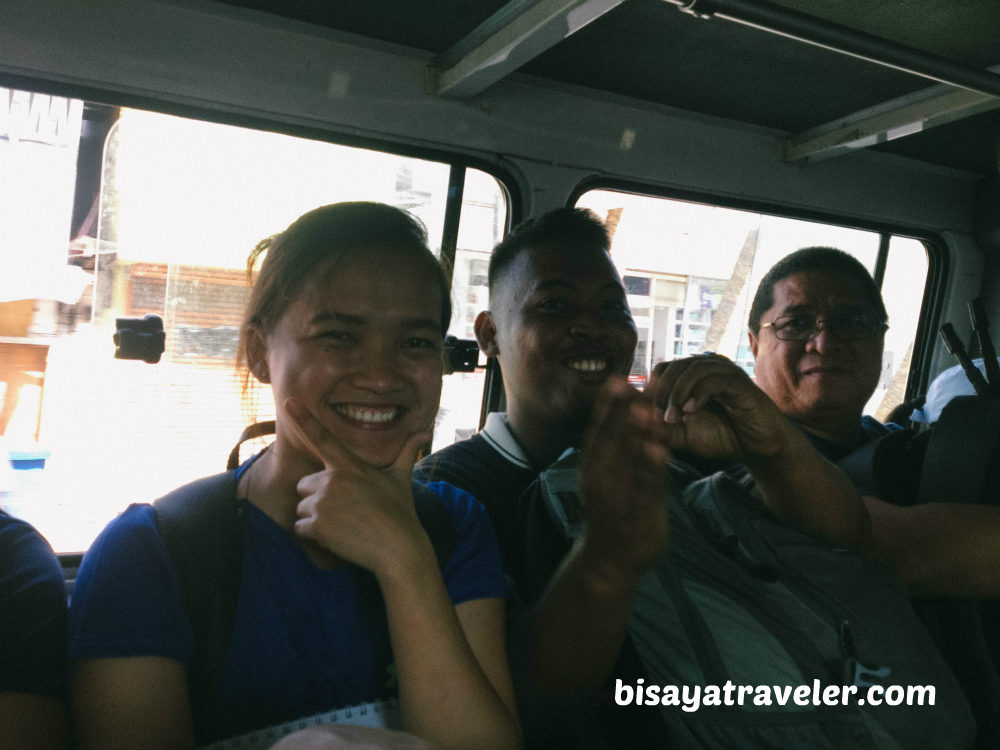 Our hike for a cause in Toong started with a meet-up at 711 Punta Princesa, Cebu.
There, I caught up with my fellow organizers, including Tatay Raul, Beboi, and Jonah.
Of course, there were also a number of hikers who were around in Punta Princesa. As far as I can remember, these hikers were Sheng, JP, Paul, J-Ann, Chris, Marvin, Tita Ethel, Tito Eman, Nathalia , Joy, Shanine, Louise, Demi, Vinz, Kim and Shiekinah.
After securing the food, water and school supplies, we made our way to Toong Integrated School via the barangay's official vehicle.
To my surprise, a fellow OMG member, sir Franz, and a dependable friend, Chum, were inside the school preparing and waiting for the program to start.
Although we were fully prepared, there were some confusion and gaps in the event's program.
For starters, we didn't know who was going to host the event.
Originally, Tatay Raul was slated to be the program's host. But, even with his quirky charm, I don't think he'd make a great host for a group of over a hundred of kids. Truthfully, he's a better host for events with a more mature audience. With his wits and full arsenal of green jokes, adults will definitely love him as their host.
Thankfully, Vinz stepped up to the challenge, amusing kids with his charisma and ability to connect with the young ones.
Not only was he the official host of the event, but he also led the prayer.
With the prayer and formal introductions in the book, we, then, proceeded to the next part of the program – games.
Spearheaded by Chum, the whole gang showed their unity and teamwork by participating during the games.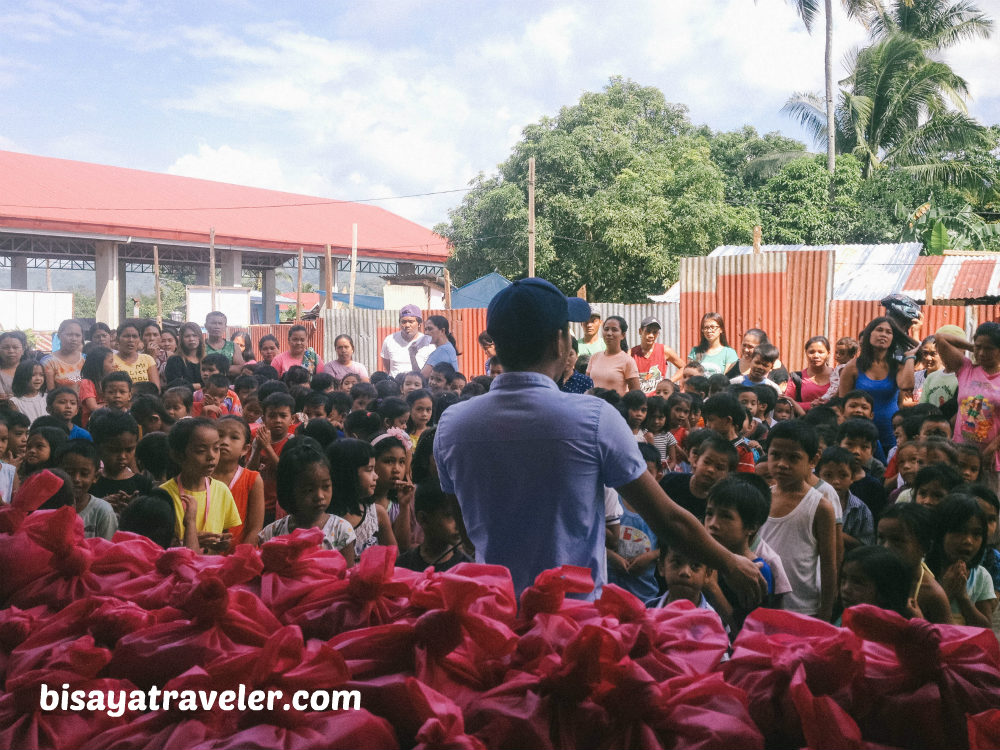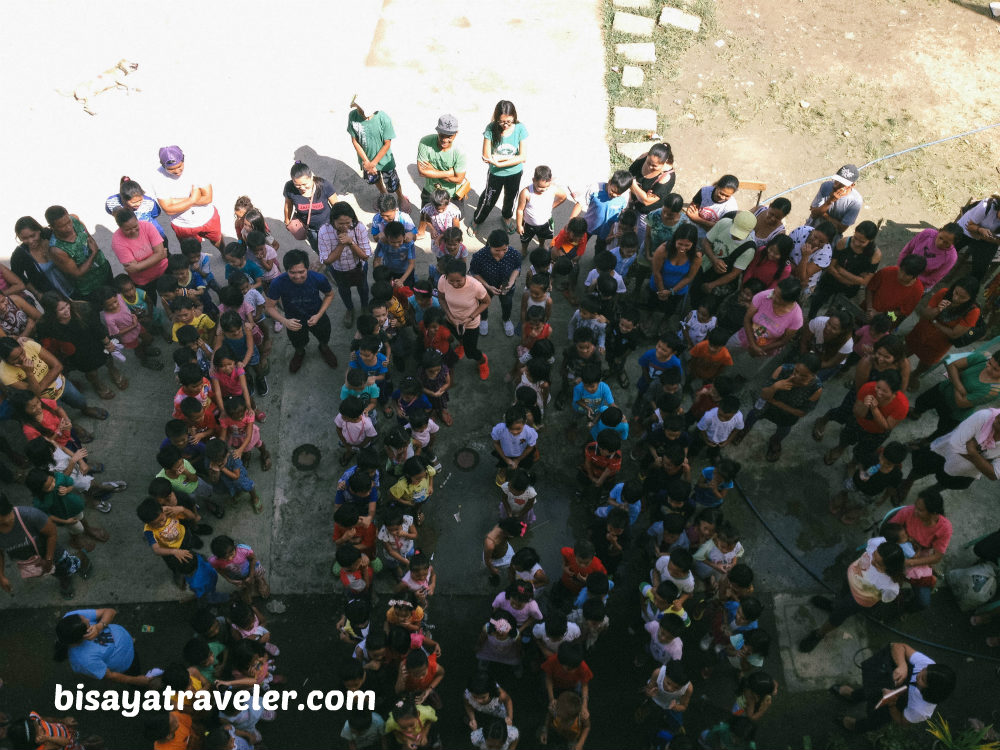 And, it was quite a memorable series of moments, as far as I'm concerned.
I've never seen a group so engaged and psyched to make over a hundred of kids happy.
The energy was rather electric and bubbly. I guess that's the beauty of unselfishness and teamwork.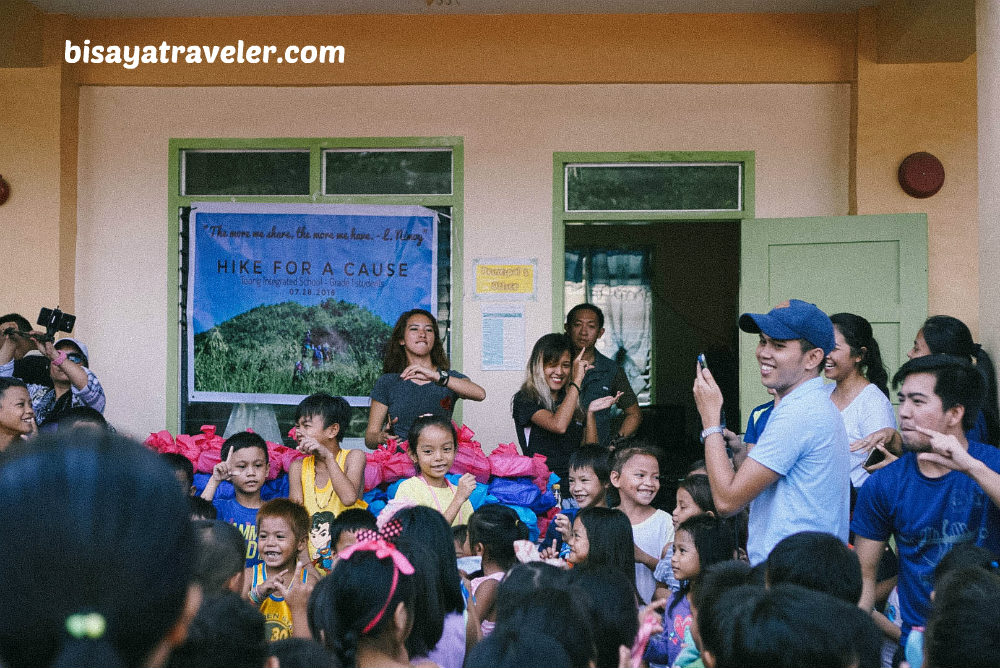 And, I'm truly glad Chum, Kim and Vinz showed up because the show would have been horrible and dull without them.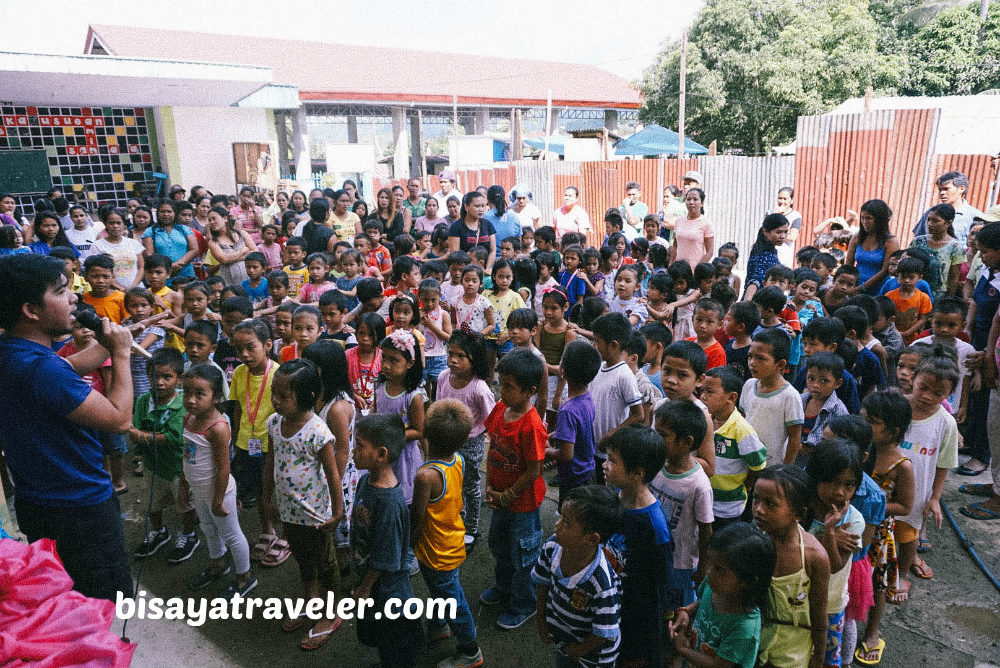 Meanwhile, I was busy backstage coordinating with the teachers, to make sure everything goes well.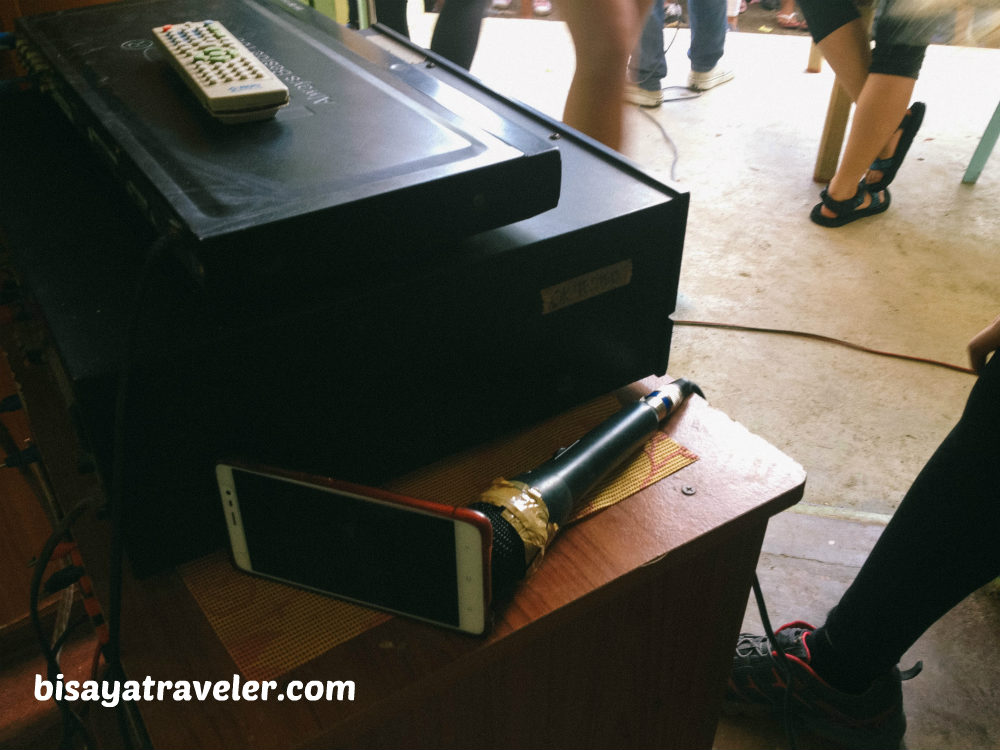 Even though we had a program flow, we had to make some changes to our original plan.
Moment later, Dian arrived at the school.
And I'm glad she was present for the program, especially since she was one of most integral pieces of this purposeful hike.
Epitomizing the spirit of teamwork, Dian, Raul and Jonah did everything to make this charitable event successful and a breeze.
Once the games were over, we went on to the next part of the program – handing out the gifts and school supplies.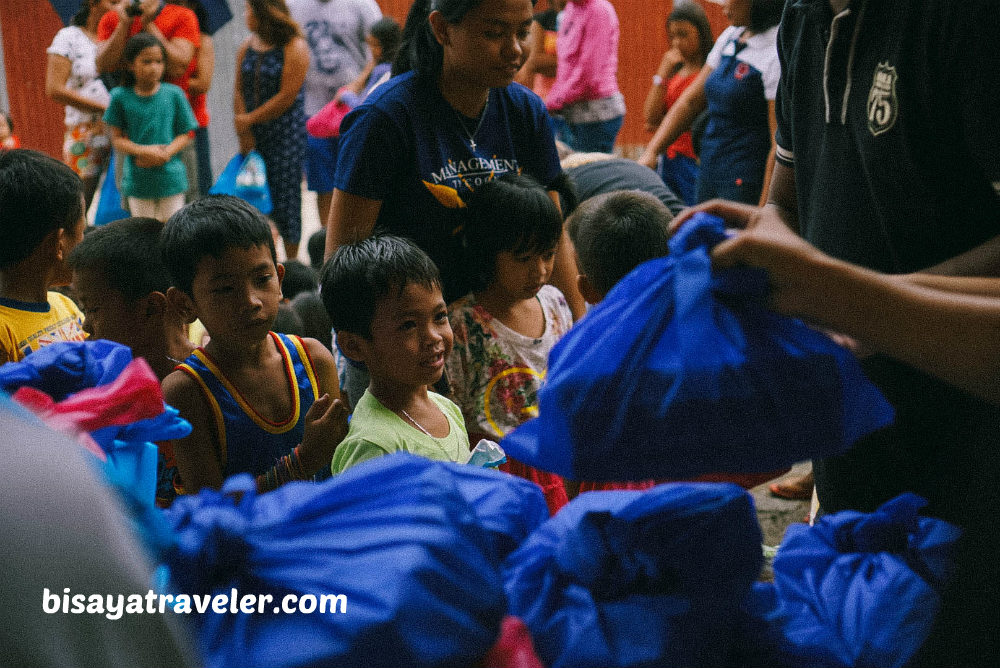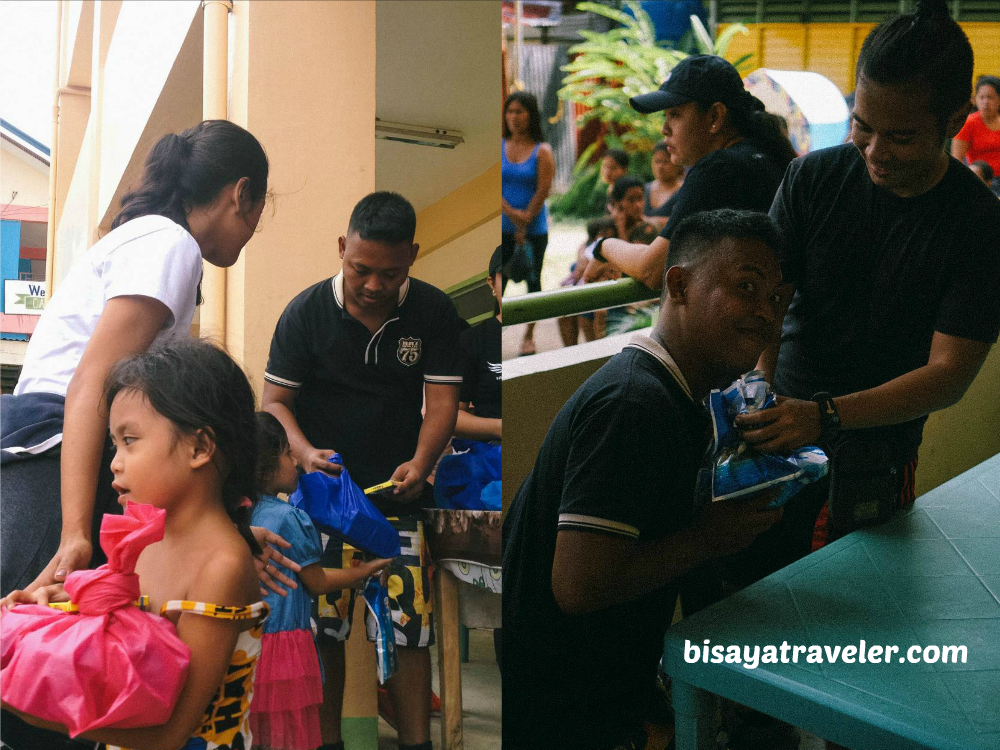 I'm not going to reveal what's inside the bag, but trust me, the kids got tons of goodies for this event.
Since I had nothing to else do, I decided to help the gang distribute the food and bags.
And yes, I enjoyed every second of my experience.
The words "salamat" and "thank you" were music to my ears.
In an era full of whiners and pessimistic self-proclaimed experts, it's a breath of fresh air to hear someone appreciate your efforts.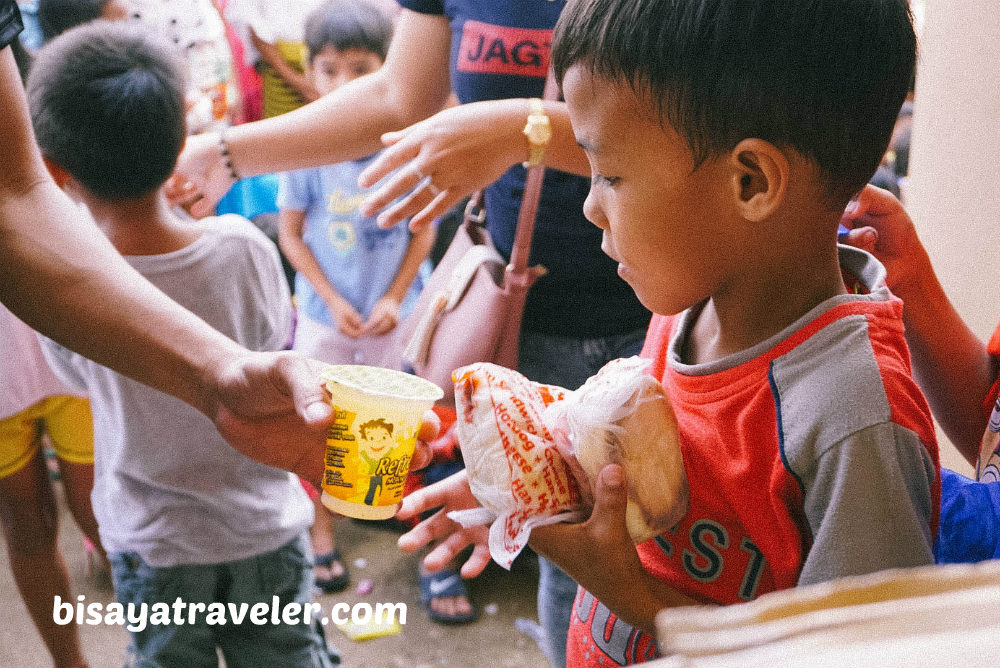 As soon as the last recipient got her gifts, we took a long breather, and savored the moment.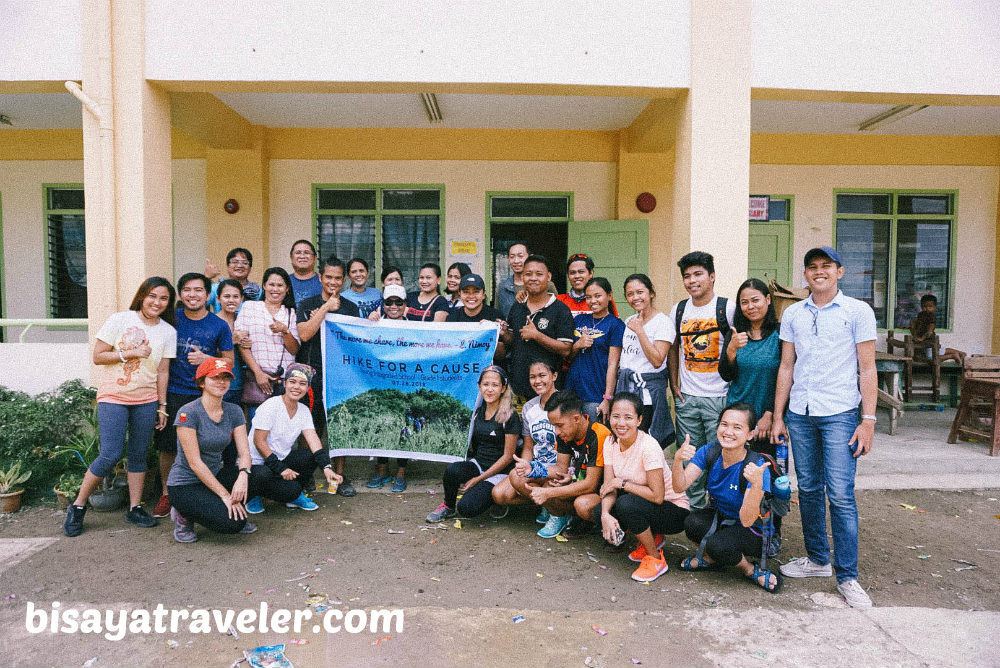 We did it!
I know it was a tough challenge, but I've never ever doubted my OMG family's ability.
And, we pulled it off, even though were no famous people or political figures.
We have an introverted writer with a vivid imagination.
We have a jobless yet charming 32-year old man with plenty of free time.
We have a couple of ladies with great organizing skills and a network of generous people.
We have an engineer and an LGU employee who both love to hustle, lead and serve.
Individually, our skills don't stand out.
Some won't find anything special about our individual abilities
But, with teamwork and synergy, we collectively did something monumental for a school located in a remote part of Cebu City.
We shared ideas, and spent a great deal of time, together, to make it work.
And, in my book, that's a feat more impressive than any tough climb.
Everything, following the program, was the just the icing to the cake.
Soon after, we bid farewell to the teachers, and gave them tokens courtesy of Kim and Vinz.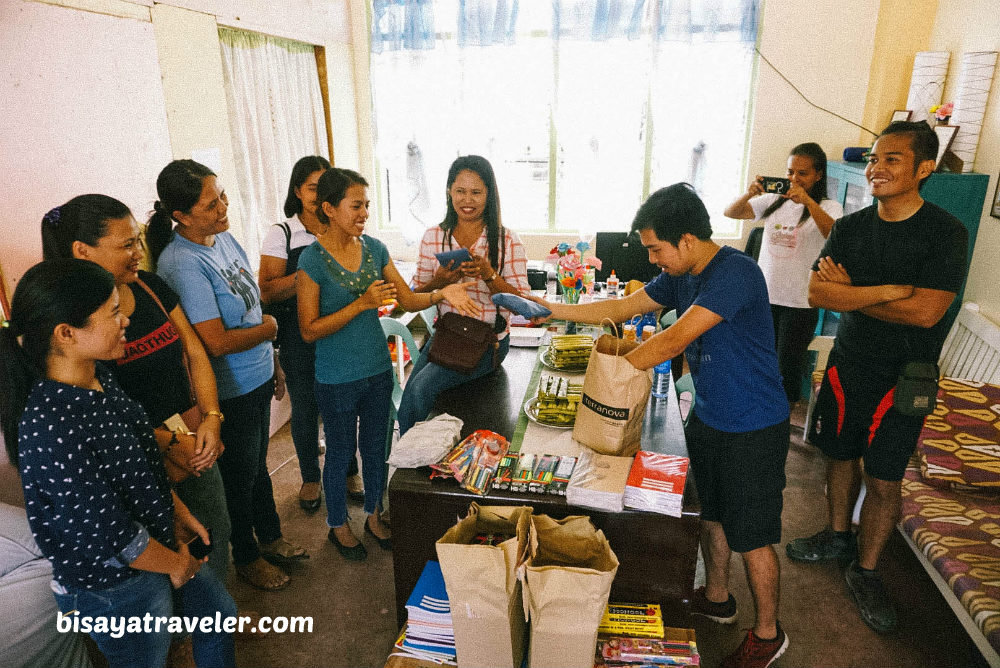 We, then, made our way to AO Farm, to rest and eat lunch.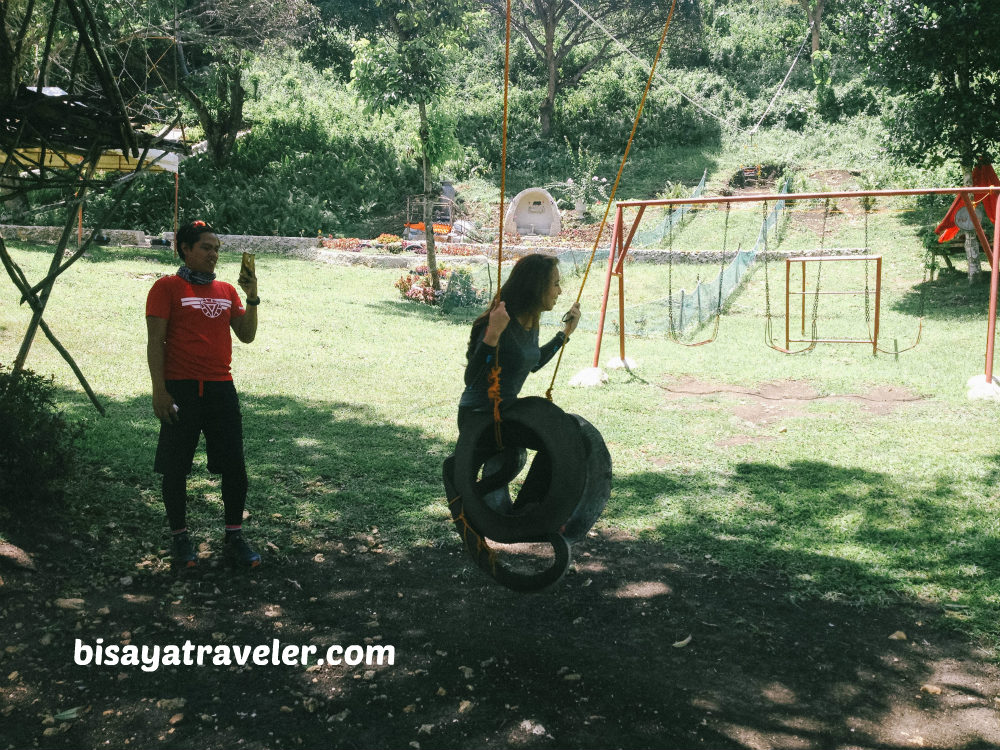 Furthermore, we had a one-of-a-kind birthday surprise for both Jonah and Raul at the highest peak of the farm.
What kind of surprise? Something that involves breaking eggs on Raul's head.
And clearly, it also takes teamwork to pull off a surprise like that. LOL!
Although the surprise wasn't my idea, I was the mastermind behind the egg breaking ceremony.
I was a master prankster, years ago, and thanks to Raul, I've rediscovered my edgier side.
Seriously, it was Raul who unleashed my anti-hero persona and that don't give a damn attitude.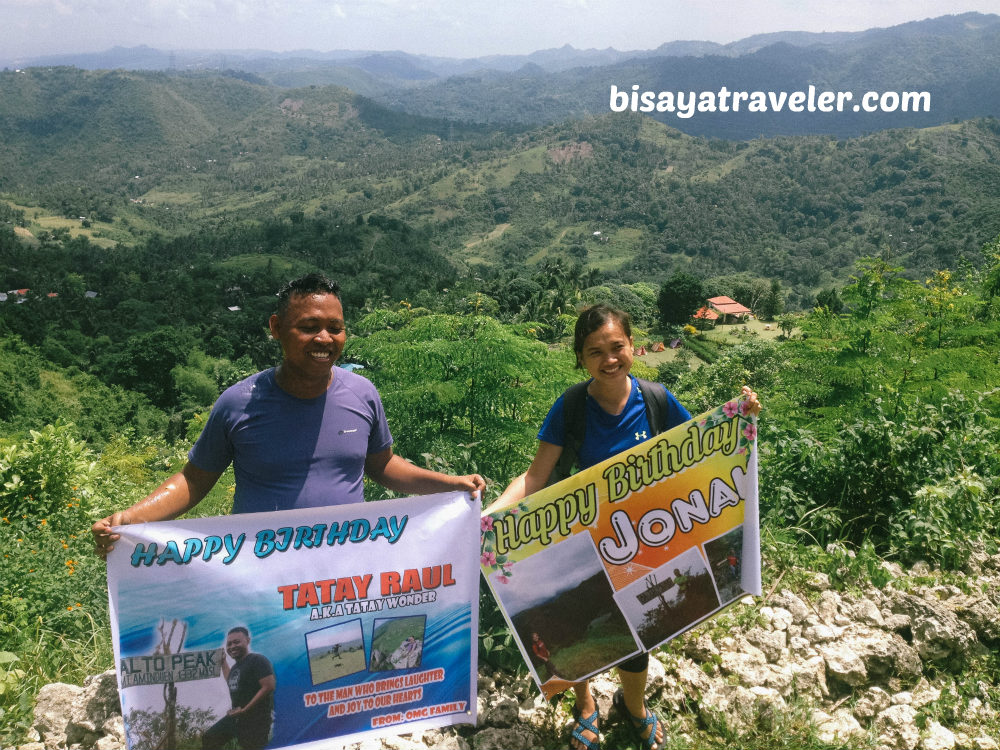 Soon after, we divided ourselves into 2 groups, and hiked the picture-perfect trails of Antuwanga.
As for the views of the hike, it was nothing short of spectacular.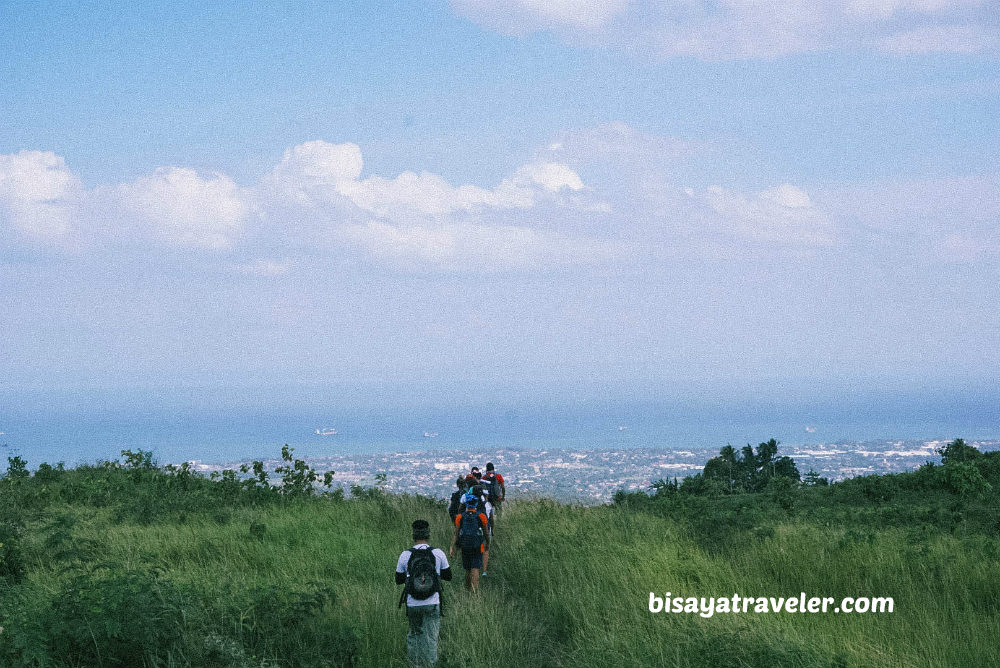 If the skyscrapers were a little taller and close, the view would really look like Hong Kong as seen from Victoria Peak.
Words couldn't describe how beautiful it was.
Both Vinz and Kim were blown away by the scenery of this place.
And, everything was perfect on this hike, from the beautiful weather to the upbeat people.
To me, it was the result of all the steadfast planning and teamwork.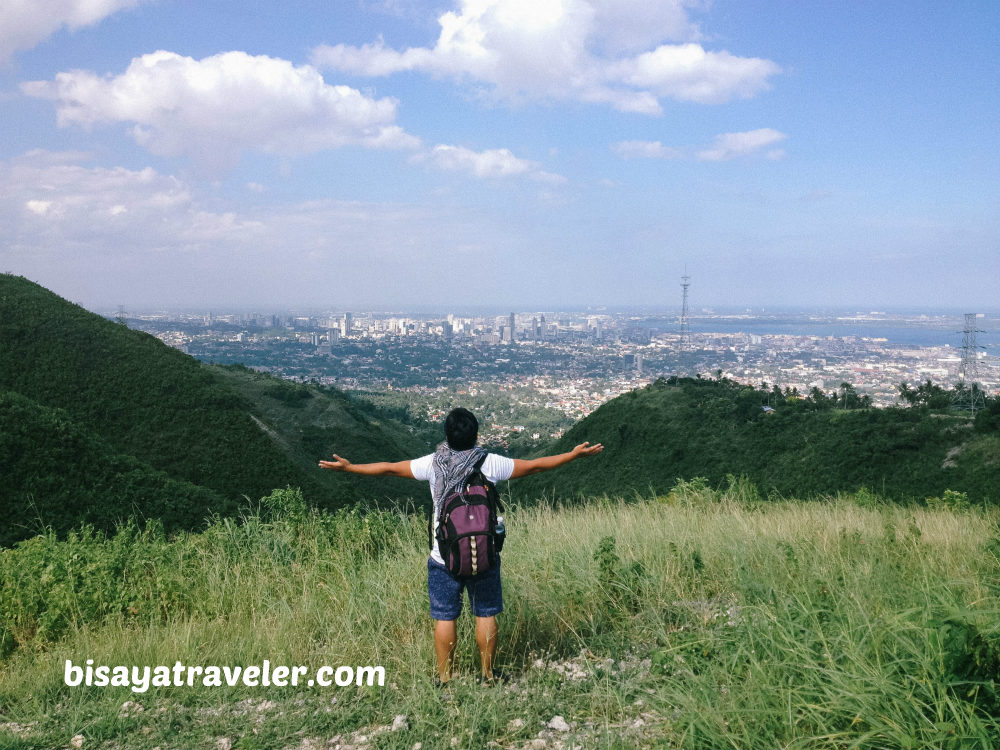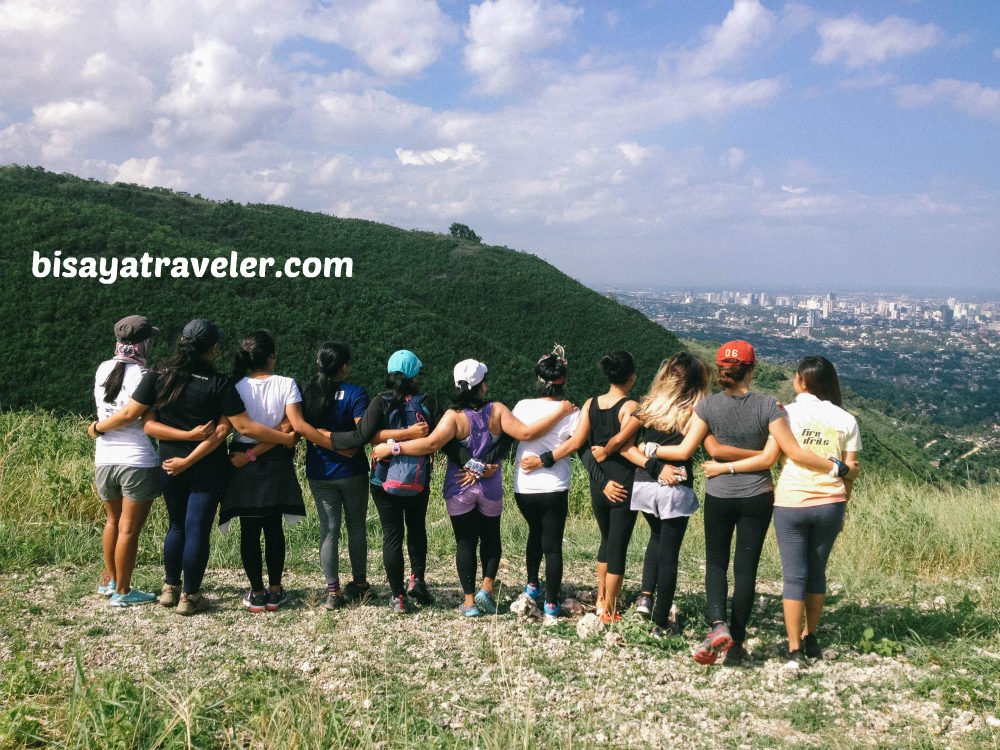 We arrived at the summit earlier than expected. So, except for a few people, we continued with our hike, hitting the trail leading to Tulo Ka Krus in Buhisan.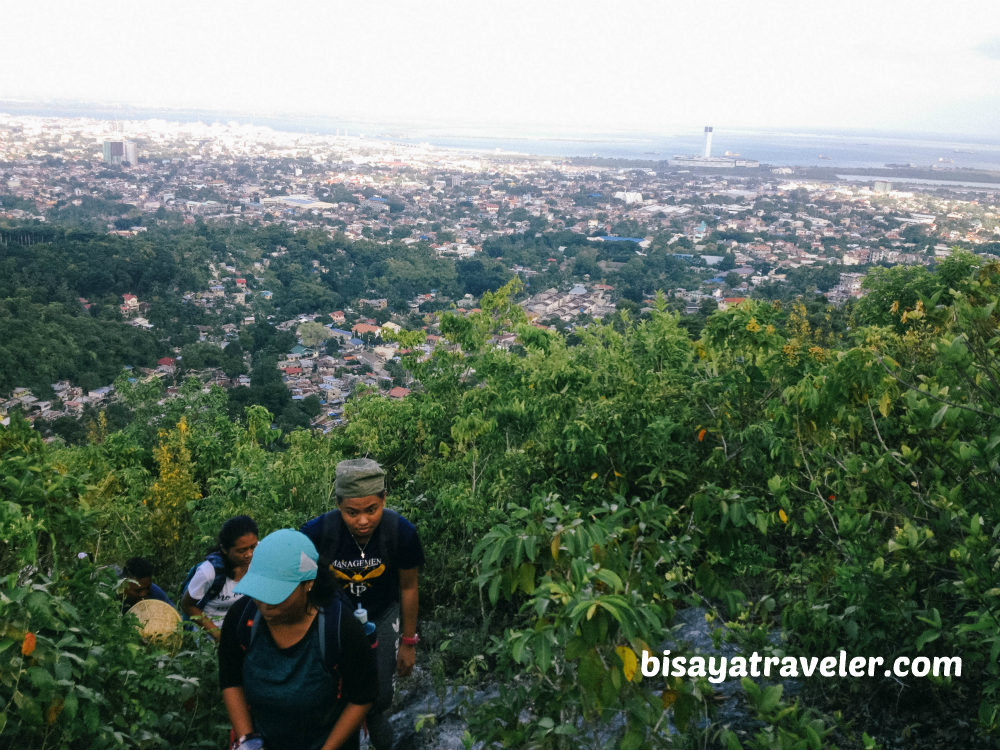 It was quite a fun-filled and exciting short hike, I must say.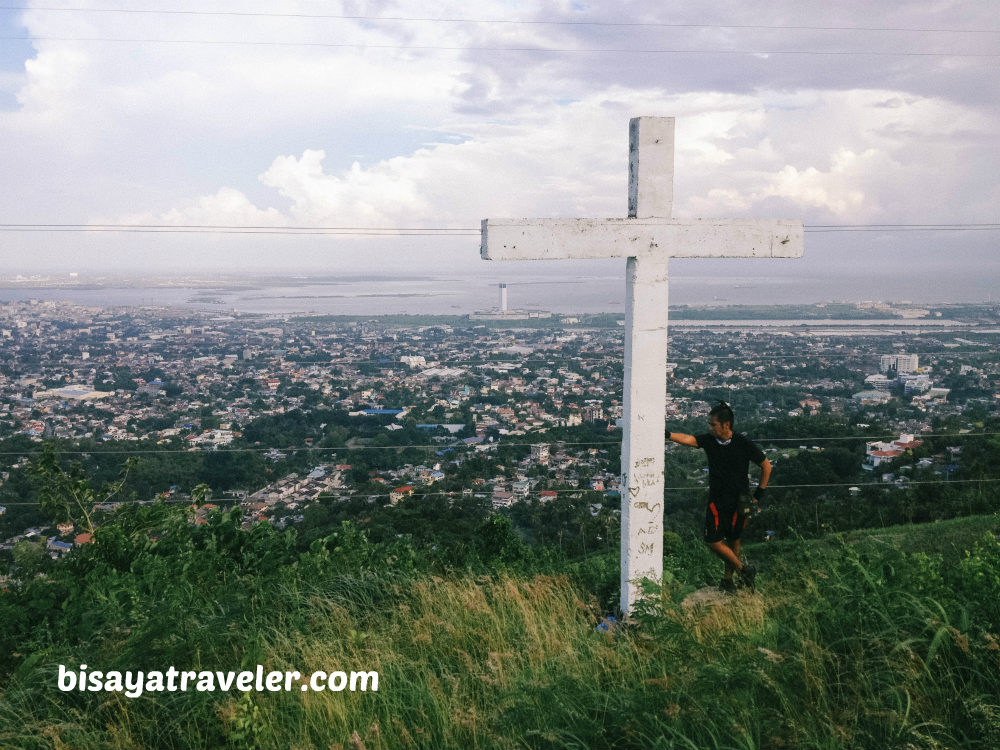 OMG's first hike for a cause is, so far, the best and most successful outreach program that I've been a part of. With my group's skill sets and teamwork, it would be ideal to host events like this on a regular basis. And, if you're interested in helping out others or joining our programs, feel free to reach out to me via email or my Facebook page.
Lastly, I, on behalf of the team, would like to say thank you for everyone who donated for this hike. Rahimakallah!