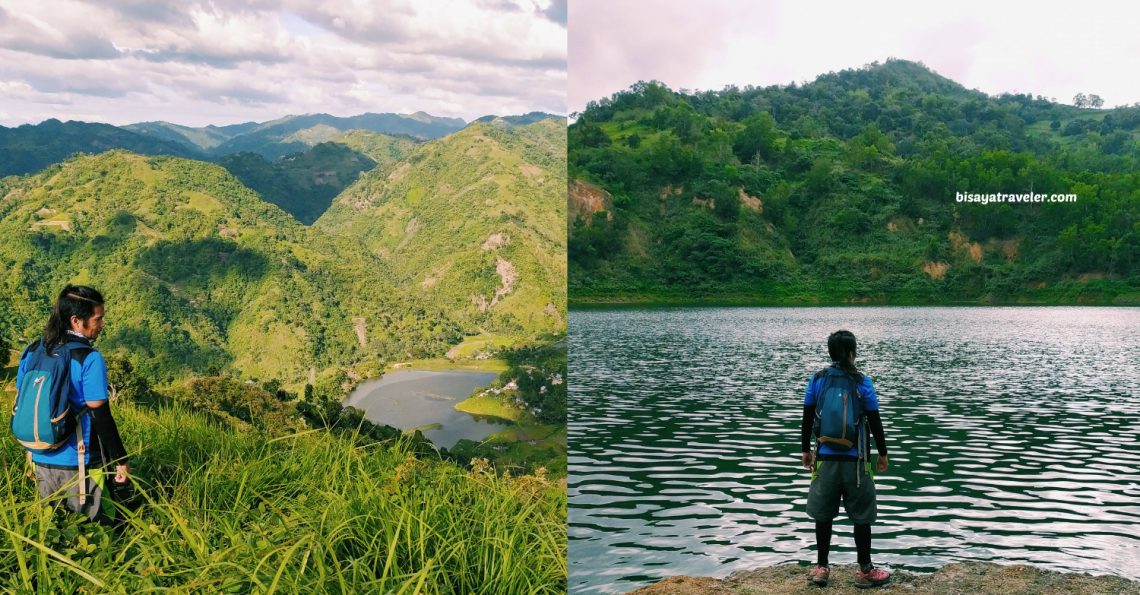 The Mesmerizing Toledo Lakes And My Infinite Adventure
We all yearn to live in a reality where the adventure never ends. We venture into foreign lands and exotic places, hoping to be dazzled by exquisite sights. And, we climb steep peaks to appease our wanderlust and create moments that we'll cherish for a lifetime. But, sometimes, you don't have to travel far to experience the most rewarding, eye-opening and mind-blowing adventures. With a go-with-the-flow attitude, a can-do drive and the right recipe, exploring your home soil often leads to an endless series of adventures to places like the picturesque Toledo lakes.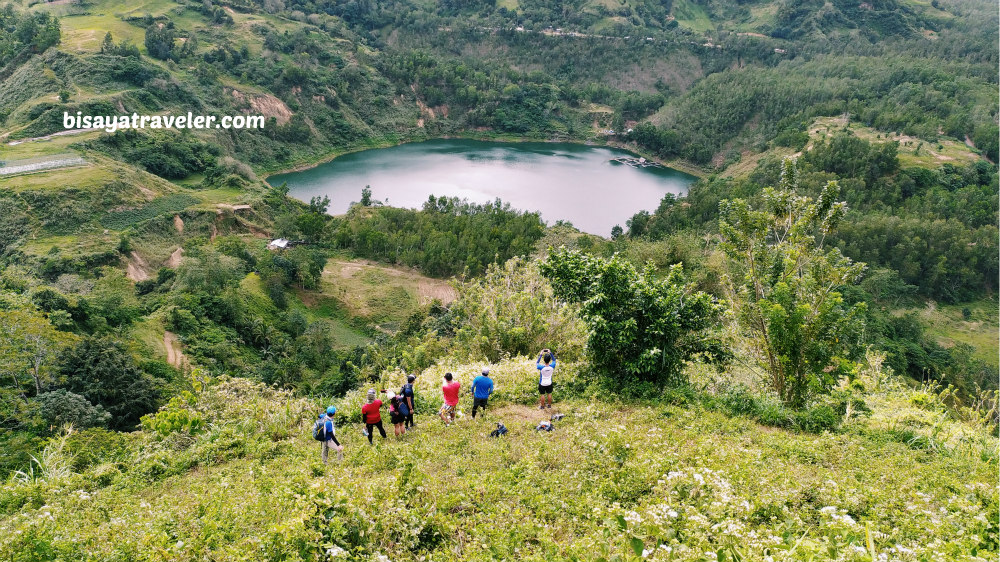 With a total land area of 4,993 square kilometers, Cebu isn't exactly a humongous island to explore. Still, the island paradise offers a multitude of fascinating and exciting experiences for the intrepid explorer. From the mesmerizing Toledo lakes to the untouched wonders of the north, Cebu has no shortage of opportunities for exploration and adventure.
I have lived in Cebu for decades, and in the past three years, I have turned it into my adventure wonderland. And, one of my favorite places to explore in Cebu is Toledo, or also known as the Copper City.
Recently, the "Copper City" has captivated the attention of local adventurers, thanks to the picture-perfect Toledo Lakes, like Malubog Lake, Biga Pit and Lake Pingganon. And, though I've seen them dozens of times before, I still craved for the enticing Toledo lakes.
And, one day, my friends and I came up with an idea to add more spice to our hikes. Why don't we create a path or trail that connects some of the Toledo lakes?
Why don't we create a trail from Lake Bensis to the relatively unknown Mount Makatol and its heart-shaped lake? Better yet, let's create a hiking route from Lake Bensis to Malubog Lake.
And as 2019 was about to end, we embarked on this mission and capped off the 2010s on a high note.

Exploring the beguiling Toledo lakes in Cebu
I'm always an early bird, when it comes to travel and exploration hikes. But, on this beautiful December day, I arrived late.
I'm as busy as a bee, and I haven't been getting plenty of sleep as of late.
I'm a freelance writer, a not-so successful businessman and more importantly, a father to a clingy little girl.
And, with a busy life comes with a rather busy mind.
While I did wake up late, I had no plans of skipping our year-end/anniversary hike.
For me, exploring keeps me sane, amid the crises and chaos of modern life. And besides, an escape from my extremely busy schedule is an incredibly effective way to reboot my body and mind.
Of course, exploring my home soil is a great way to simplify that much-needed escape.
There's no trip to organize and no passports needed.
There's no spiraling travel expenses to worry about and no big travel packing list.
It's calm, simple and so refreshing. That's why I'm addicted to it.
So, I rushed my way to our meeting place in Tabunok where I caught up with the intrepid adventurers joining my Toledo lakes exploration.
Berny, Beboy, Dian, Raul,Mark, Mart and sir Juan all joined me for this exploration into the unknown.
Geared up and ready for the adventure ahead, we wasted no time, and went for a butt-numbing habal-habal ride to the base of our hike – Lake Pingganon.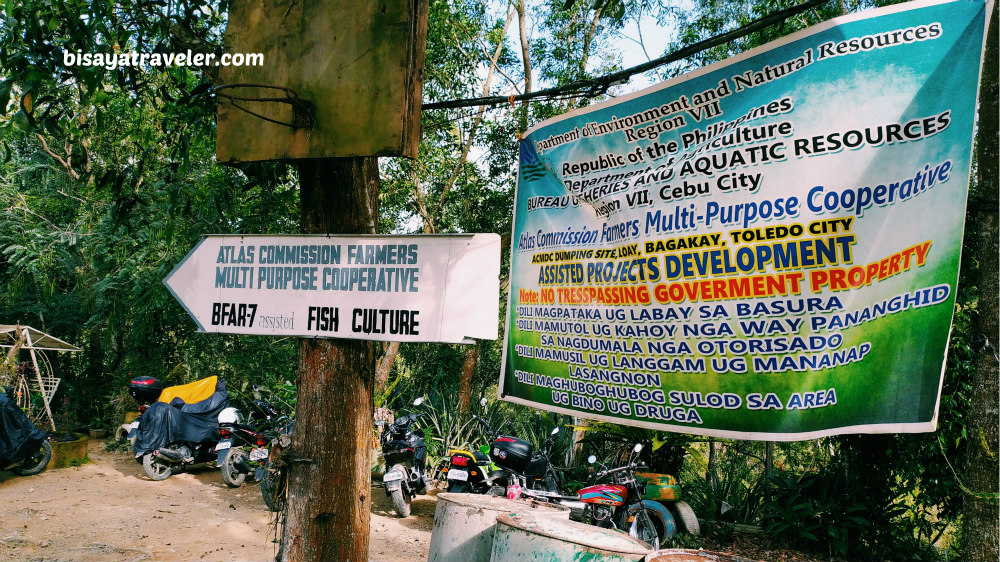 The beauty of Lake Pingganon, or also known as Lake Bensis, is irresistible. With striking clear waters and a lush backdrop, it is truly one of the more photogenic Toledo lakes.   
We didn't spend a ton of time in Lake Bensis, though. After all, we had other agendas and Toledo lakes to explore.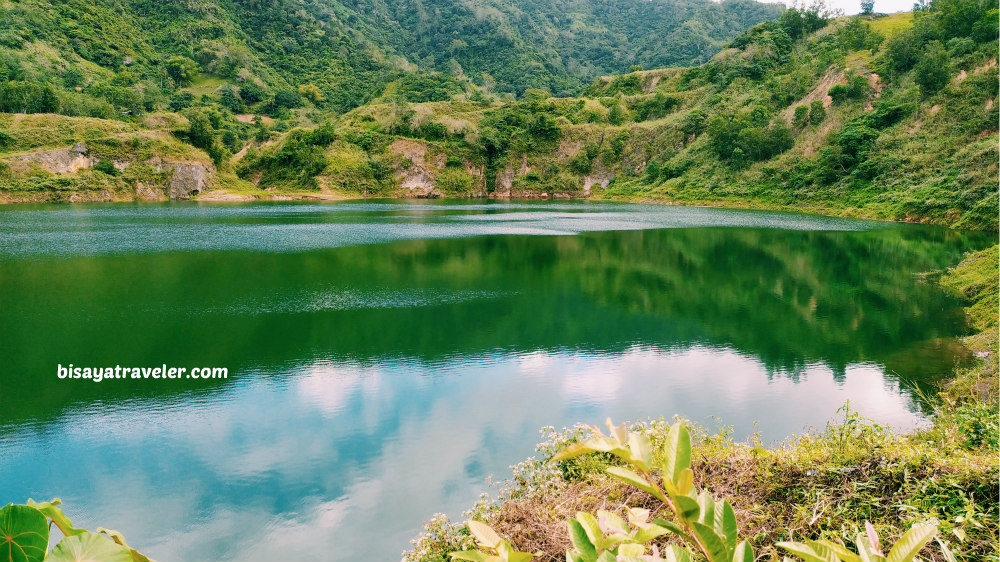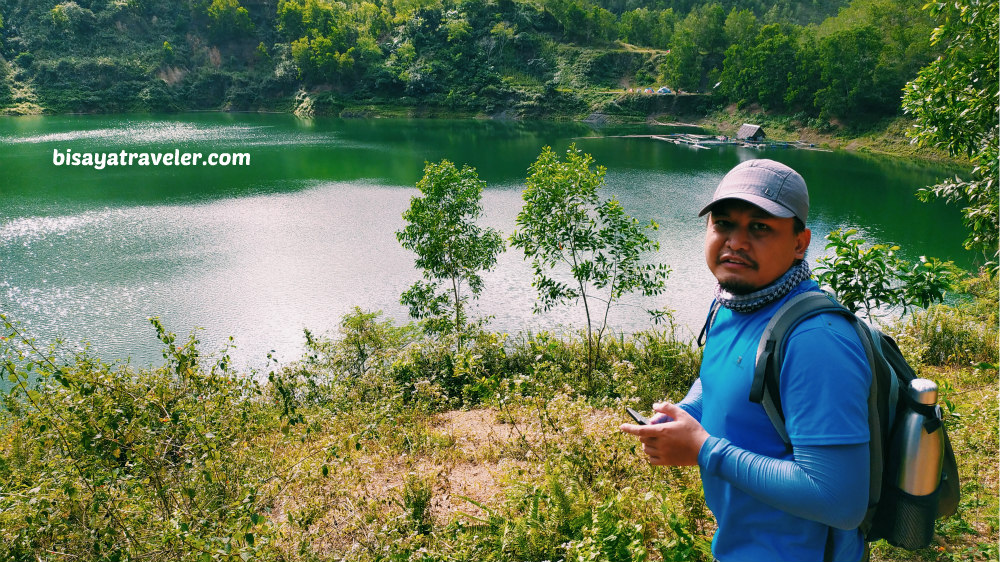 We then made our way to the other side of Lake Bensis, and were treated to a cool different view of it.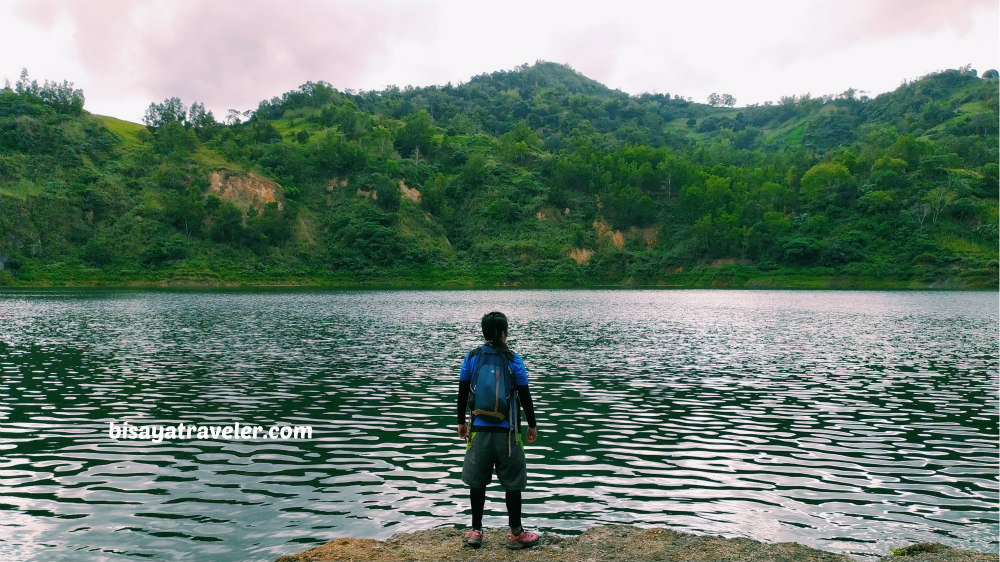 After a quick break, we went on with our hike, searching for the trails that would hopefully lead us to the other Toledo lakes.
The truth is, I didn't know where and how our exploration hike would end. Heck, I didn't even know how to get to Malubog Lake or the heart-shaped lake near Mount Makatol from Bensis via this route.
Through Google Maps, I saw a road connecting Lake Bensis to Malubog Lake. But, the route didn't seem quite appealing to me.
Trusting my navigation skills, we climbed a verdant mountain in Sudlon to find clues on how to connect the wondrous Toledo lakes.
On our way up, we were all enthralled by the stunning overlooking views of Lake Bensis.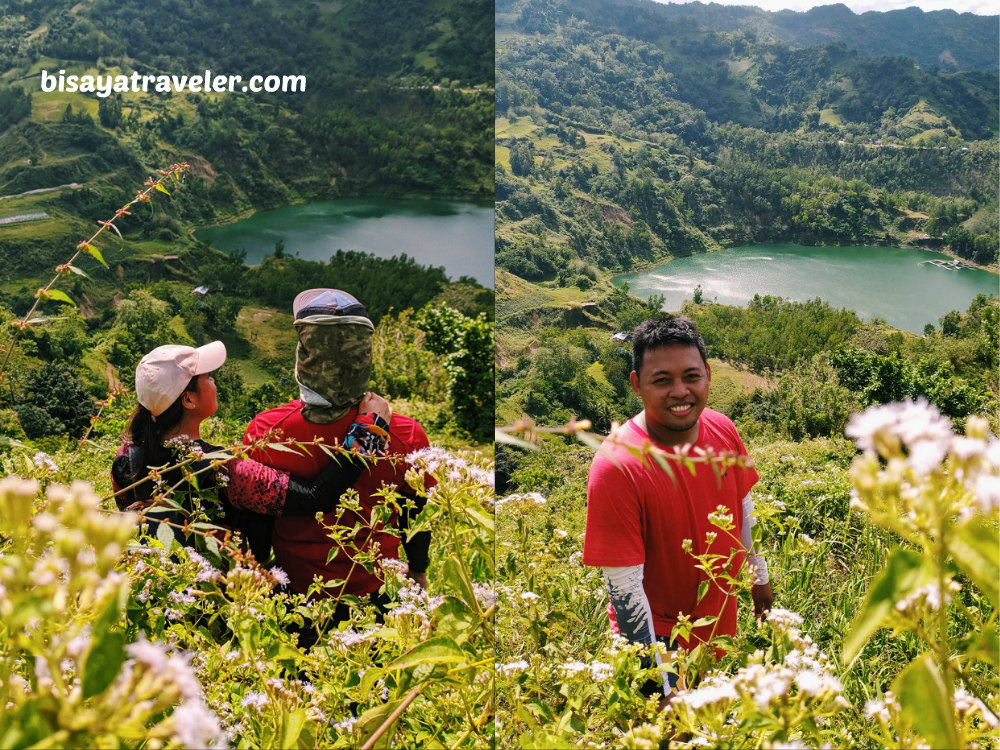 Awe-inspiring.
Breath-snatching.
Scenic.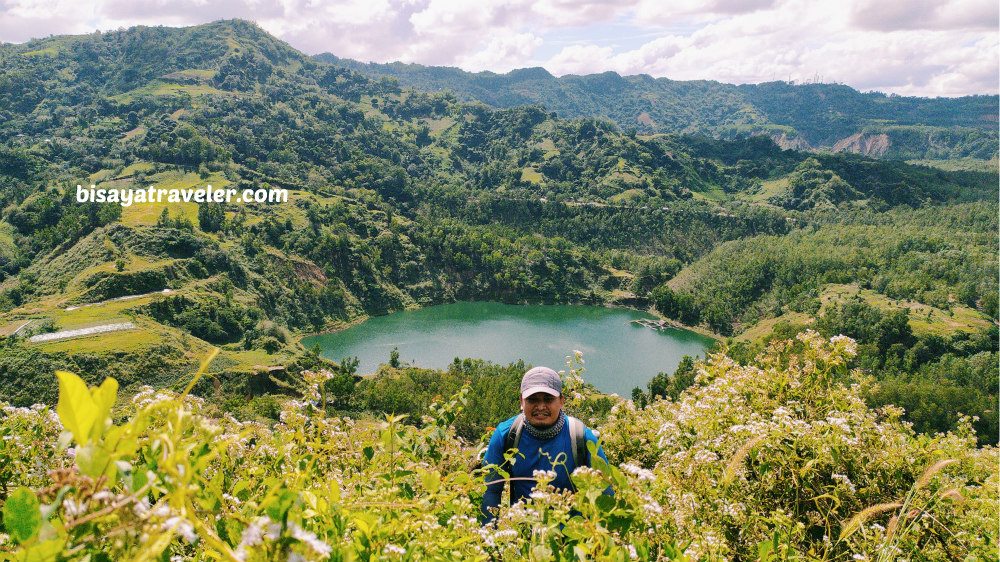 As far as I'm concerned, it's, hands down, the best vantage point for Lake Bensis. To make things even better, the mountain teems with fragrant and cute tiny flowers that add more visual appeal to this view.
Such a lovely sight, I must say!
Admiring the stunning sight, I realized how fortunate I am to see this jaw-dropping view.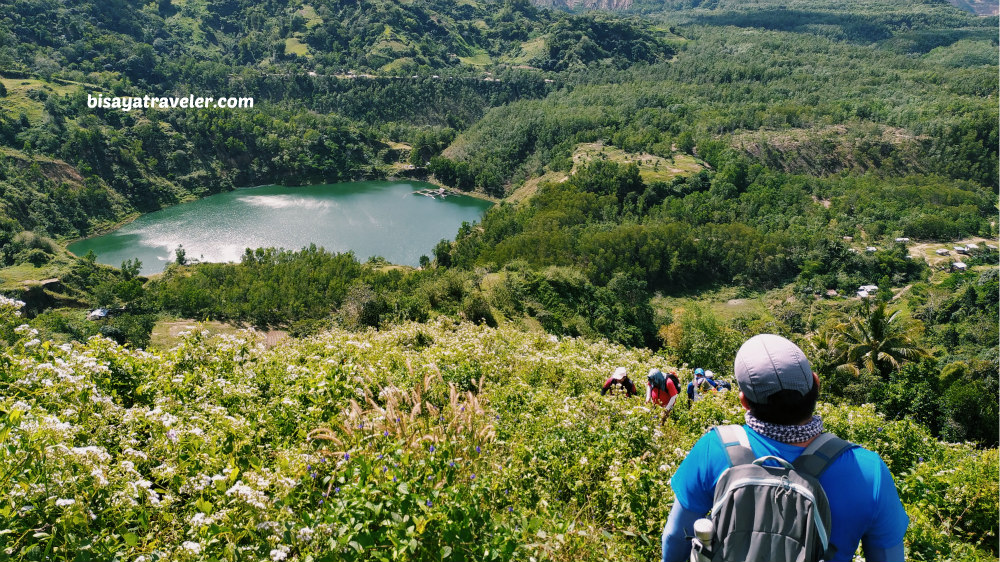 Ever since posts of it had gone viral, hundreds of campers, sightseers and tourists have been to Lake Bensis. But, only a handful of people have seen it from this perspective.
Furthermore, the view made me realize that there's so much to explore in Cebu. Soaking up the vista, I watched in amazement at the space between Lake Bensis and Biga Pit. Then, I scanned the mountains on the east of Lake Pingganon.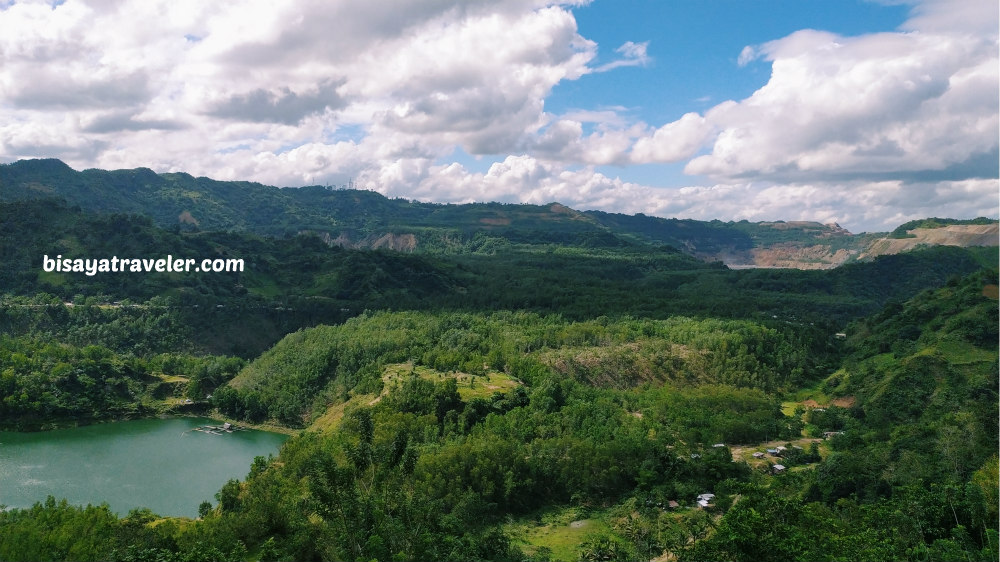 I noticed vast spaces, untouched greenery and verdant peaks.
Truthfully, I can easily pack a whole year of brand new adventures on these spaces.
And, with my new knowledge in Cebu's geography, my adventures on these spaces and the entire island will never end.
As astounding as the view was, we had to move on with our Toledo lakes exploration. So, we went to the top of the mountain, to find a path that would lead us to Mount Makatol and its heart-shaped lake.
From the top, I examined the distance between this mountain and Biga Pit. For this exploration, I used Biga Pit as my reference because it's the most recognizable and closest landmark to Mount Makatol and the other Toledo lakes.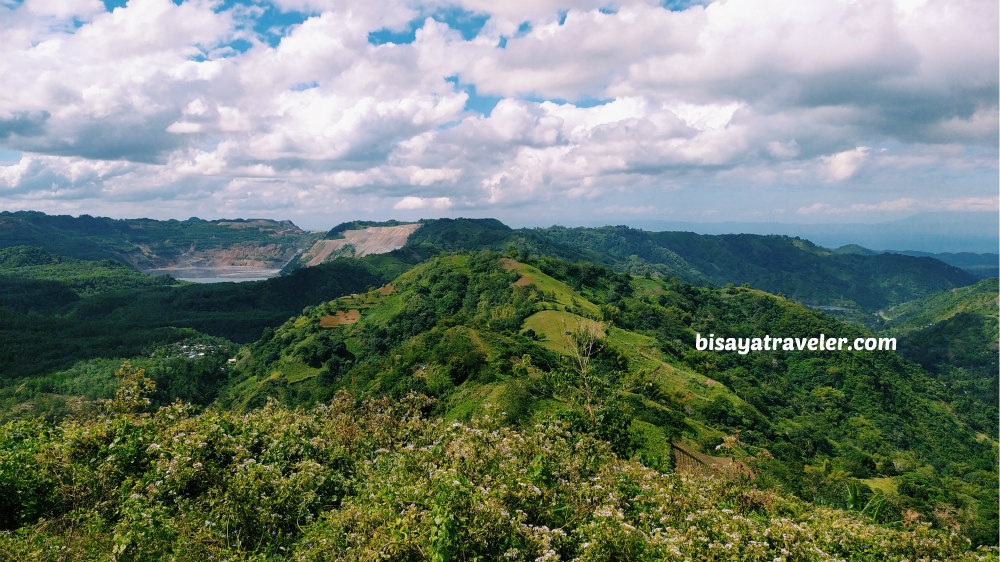 On the right side, I saw one of the Toledo lakes. It wasn't clear if it's the heart-shaped lake near Makatol, but I was a hundred percent sure it's not Malubog Lake.
Using the clues found above the mountain, we hit a scenic trail that might take us to other Toledo lakes.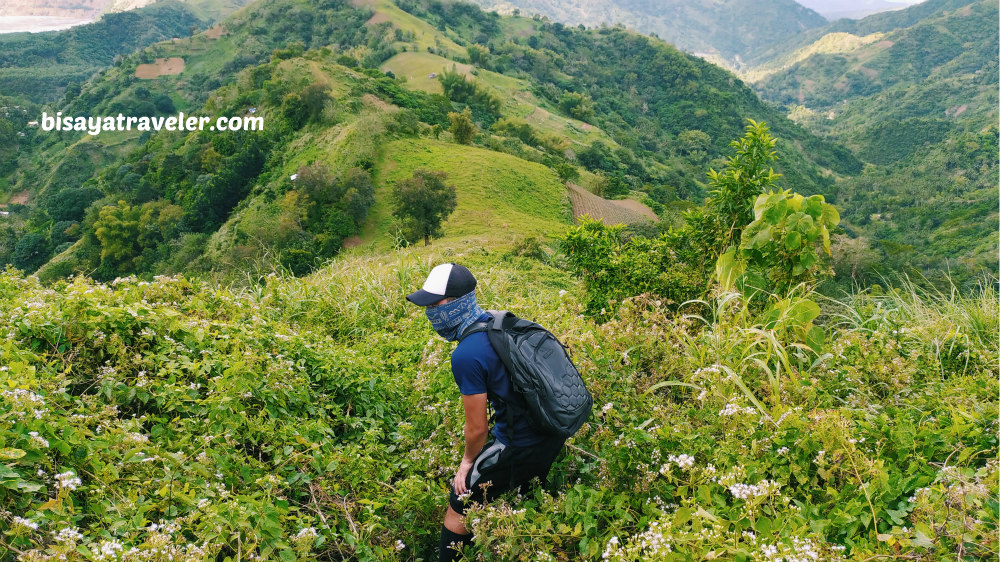 Moments later, we took a short break, to rest and do some catching up with my old friends.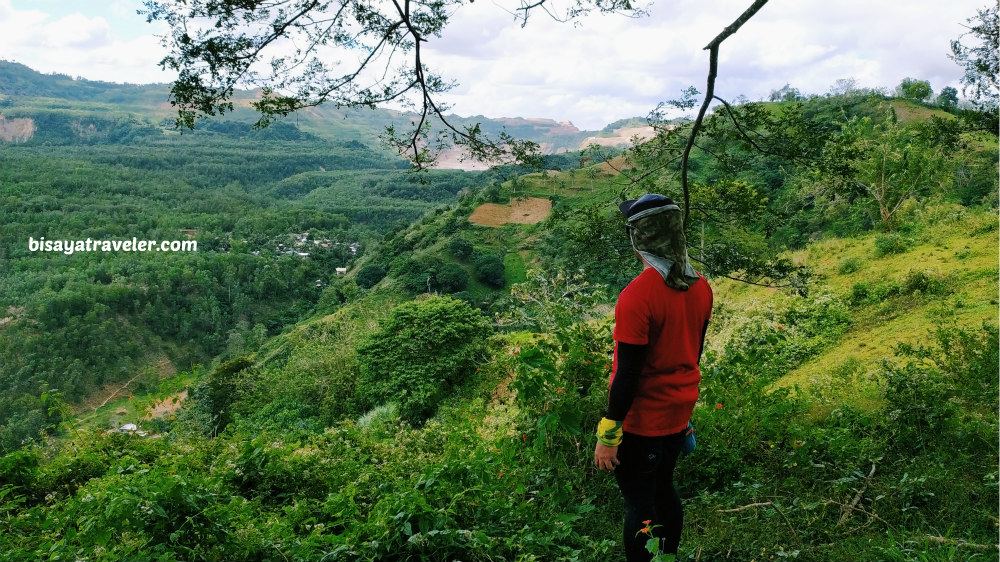 We are a diverse group of friends with different interests, backgrounds and life philosophies.
And, our combination always reminds me of my chemistry lessons in school, when if the right elements are put together, they will explode.
The thing is, we were brought together by my blog and local explorations. To me, I don't think Raul would have discovered the likes of Dian, Jonah and Beboy without my local explorations and blog.
The Universe, using the charm and beauty of Cebu, brought us together for a reason. And, now, we're doing the mission assigned to us by the Universe.
And, speaking of catching up with friends, I think that's one of the perks of traveling on your own homeland.
Here's the thing.
Making new friends is one of the best parts of travel. But, let's face it – it's hard to stay in touch and catch up when you're living on opposite sides of the world.
When you make some friends on your escapades in your own home soil, it's more likely that you'll catch up again in the near future.
Take it from me. I've made a plethora of new friends and adventure buddies ever since I unleashed my alter ego: The Bisaya Traveler.
And, thus far, it has been a blast exploring the unknown and hidden treasures of Cebu, like the Toledo lakes.
The way I see it, the opportunities for adventures are infinite when I'm around these people.
When I miss them, I don't call them through Skype or Facebook messenger. I just say "let's go somewhere and get wonderfully lost".
Soon after, our hike resumed, and we hit pristine trails with its therapeutic views.
As we hiked this mountain, I, out of the blue, realized how inexpensive my recent day escapades in Cebu have been.

Farewell rubbish exchange rates!
Sayonara expensive airfare!
Goodbye tourist traps!
With just PHP 150, I could climb a peak, swim in a natural pool, catch a waterfall, and even visit a flower garden.
And, so far, the only major expense on our Toledo lakes exploration was habal-habal fare from Tabunok to Lake Bensis.
Traveling nowadays, even with all the DIY guides, isn't cheap. But, fortunately, I can still appease my wanderlust in a rather inexpensive way by venturing into the remote areas of my homeland.
Moments later, we arrived at a spot where we caught a glimpse of the Toledo lakes.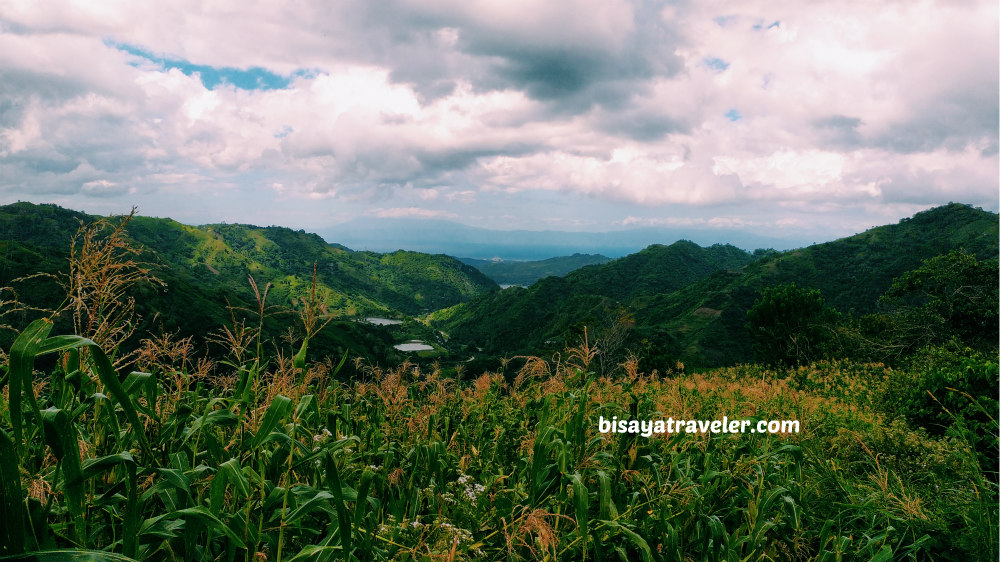 From there, I saw a trio of Toledo lakes.
I don't know the name of the first one, but I'm sure the second one is the heart-shaped lake near Makatol.
And, the third one, if you take a closer look, is the enchanting Malubog Lake.
All of a sudden, I felt a shot of adrenaline rushing through my veins. Excited to climb Mount Makatol and see Lake Malubog, we rushed downhill to the nearest village.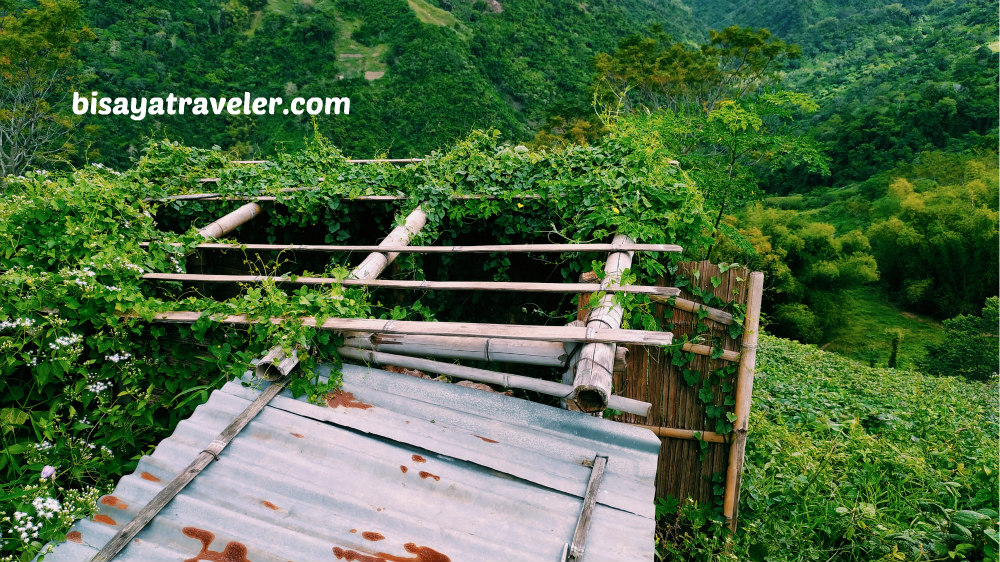 Shortly after, we arrived at a small community in Bagacay where we took a breather and ate our lunch.
With heavier stomachs, we were as slow as a bunch of slugs as we made way to the Toledo lakes.
We passed by the unnamed lake, and saw there was nothing special when viewed up close. On the bright side, passing it meant we were closer to Mount Makatol.
For some reason, the village near Mount Makatol looks so different than the first time I laid eyes on it.
Years ago, it felt like it belonged to a different era where there are no modern-day distractions. Today, it looks like a quintessential mountain barangay near metro Cebu.
Despite all the recent changes, I still knew we were going in the right direction.
Years of exploring my own homeland have sharpened my sense of direction. Even without a compass in hand, it was clear to me that we were headed in the right direction.
My sense of direction didn't fail me, as usual.
Eventually, we arrived at the unheralded and unknown heart-shaped lake. Although it's not as famous as the other Toledo lakes, it's a sight to behold, especially when viewed from Makatol.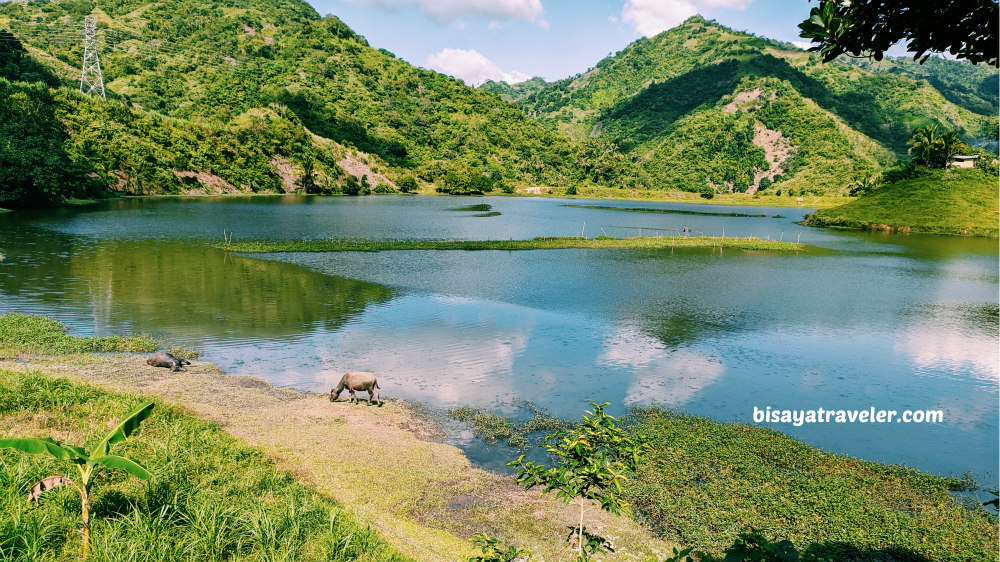 We did get lost for a couple of times, as the trails here have vanished. Once again, we had to rely on our sense of direction and memory to find the trail leading to the top of Mount Makatol.
The ascend to Mount Makatol was not a walk in the park. Not only was the climb seemingly endless, but the sun's heat was brutally punishing us.
What's more, there was a cow blocking our way to the top of the mountain. And, as most of you, my dear readers know, cows aren't so fond of us.
To say it was exhausting is an understatement. We were all boiling under the blazing sun, dripping in sweat and panting for breath.There was, however, something motivating us to reach the summit.
That goddamn lovely heart-shaped lake.
I know it doesn't look gorgeous up close, but damn, it looks stunning and absolutely fantastic from the top of Mount Makatol.
Slowly, with each step, the heart-shaped lake was unveiling is true beauty to us. And, after a grueling climb up, we found ourselves gawking at one of the most mesmerizing Toledo lakes.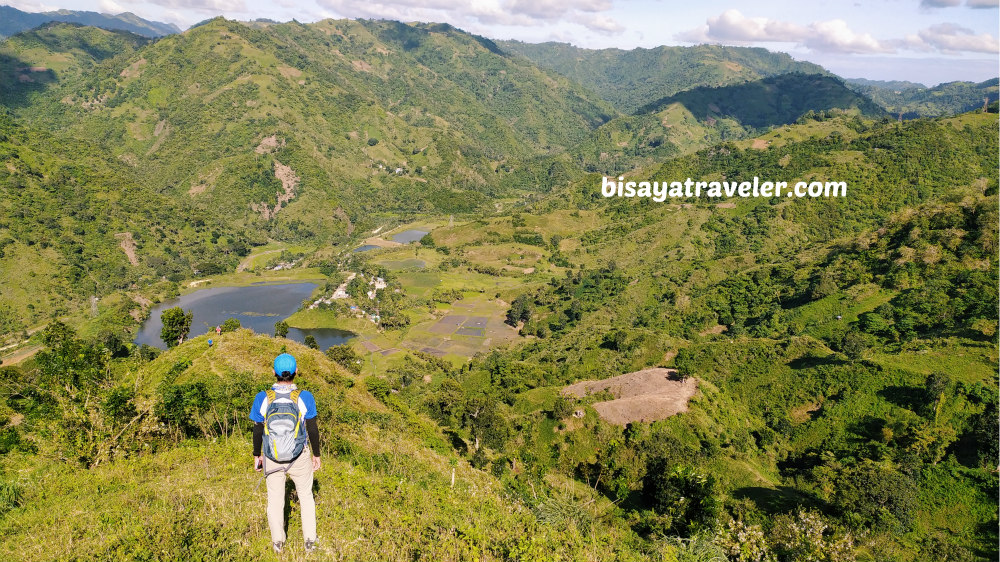 Soon, we took a rest at a shady area of the mountain.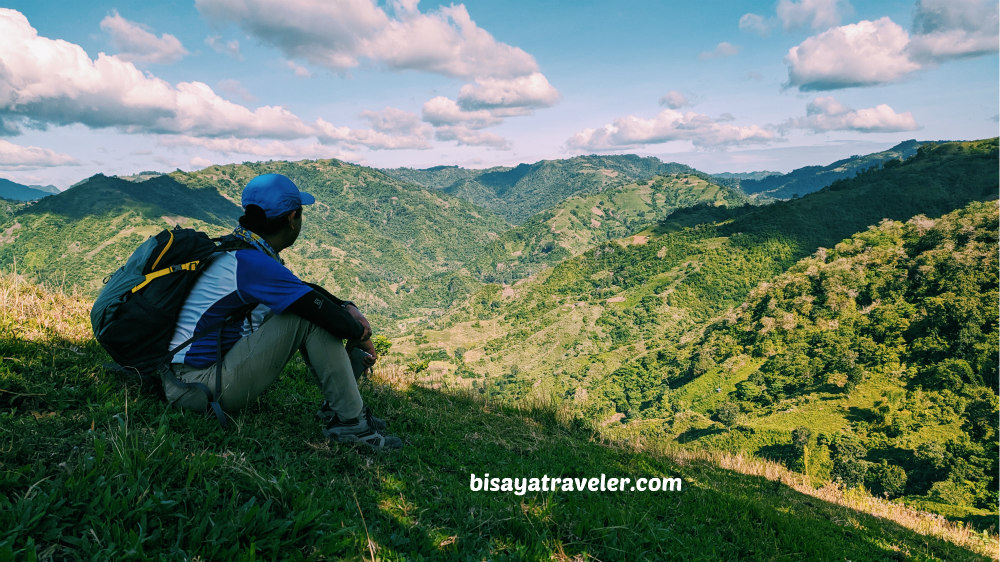 That wasn't the end of the climb. There were a couple of more ascends to reach the top of Mount Makatol.
Sensing a more breathtaking view from the top, we hiked our way to the top with enthusiasm.
And, guess what? The view left us speechless and in awe. Furthermore, the fresh mountain felt incredibly rejuvenating.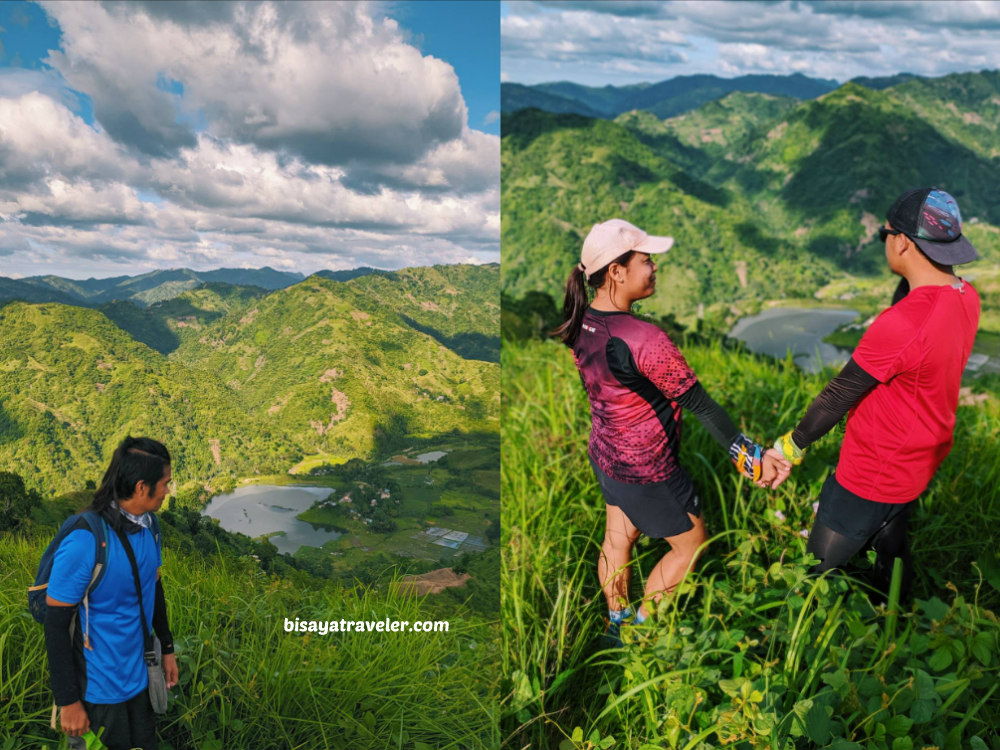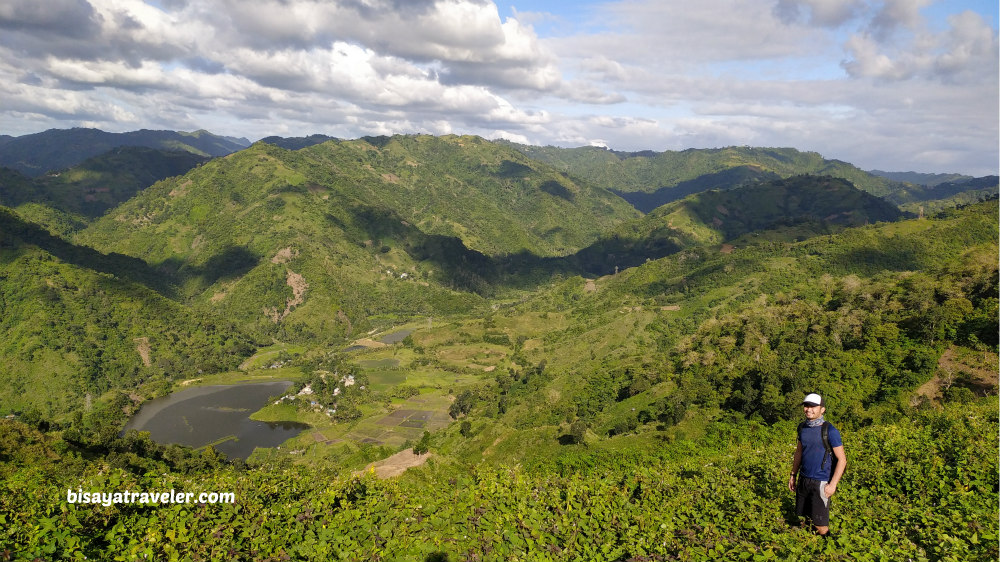 One of the things I love about local weekend day hikes is that I always feel fresh renewed the day after. With a healthy release of happy hormones and tons of pleasant memories, it's indeed the best way to start a week.
Once I go back to work, I see the whole week in a new light and with fresh vigor. The possibilities will seem endless and nothing is beyond reach.
Clearly, everyone was in a state of bliss as we were gazing at the Toledo lakes from Mount Makatol.
And, I couldn't think of a better place to spend our anniversary hike.
Mount Makatol is, no doubt, one of our favorite mountains, and a hidden gem.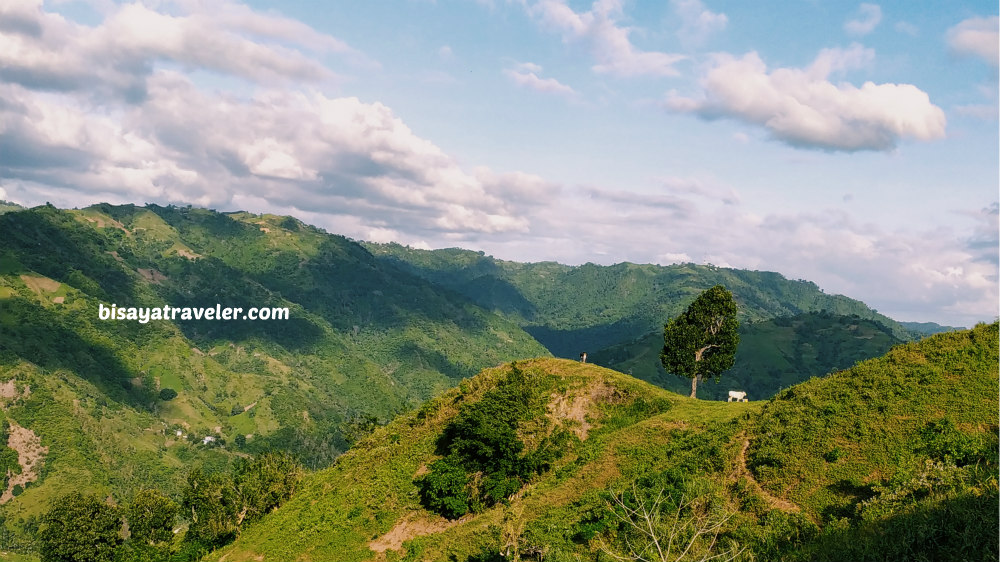 Truthfully, I thought a hike to Mount Makatol wouldn't happen again. The first time we visited it, we were nearly detained by the guards of a mining company because we were close to the blasting area.
A couple of years later, our adventurous souls have led us to Mount Makatol, passing by the Toledo lakes, via a more scenic route.

As we snapped photos of the Toledo lakes from Makatol, I realized how important these people are to me.
They are essentially the key that unlocks the doorway my infinite adventure.
Not my sense of direction and not my sense of adventure.
With their open-minded attitude and adventurous spirit, these people have pushed me to my limits, and made me the adventurer I am today.
The past two years have been a special treat to me. And, as we usher in a new decade, I am looking forward to forging more memories with them.
My adventure is infinite, and as long as I'm with them, the possibilities are endless.
There was one more thing left to do on our fine hike: find an exit.
While it seemed daunting, I wasn't fazed at all. I trust the Universe and I knew I can depend on my guys if anything goes awry.
And, like a perfectly orchestrated adventure, we got a ride to Lutupan via a shuttle bus that offers free trips to the people living in the era.
To top it all off, we were treated to a striking sunset view.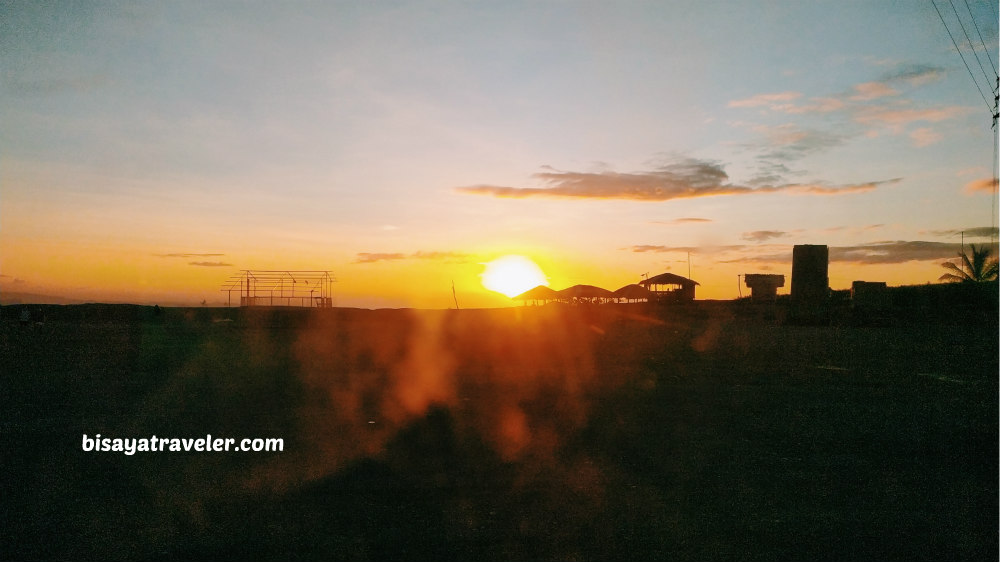 A picture-perfect ending to a picture-perfect day.

Posts about these lakes
For more info about these Toledo lakes, check out my previous blog posts.
Lake Bensis: Beauty That Launched A Thousand Ships
Mount Makatol: An Epic Hike Jam-packed With Thrills and Sights
Malubog Lake and Malubog Falls: Exploring Toledo's Wondrous Treasures