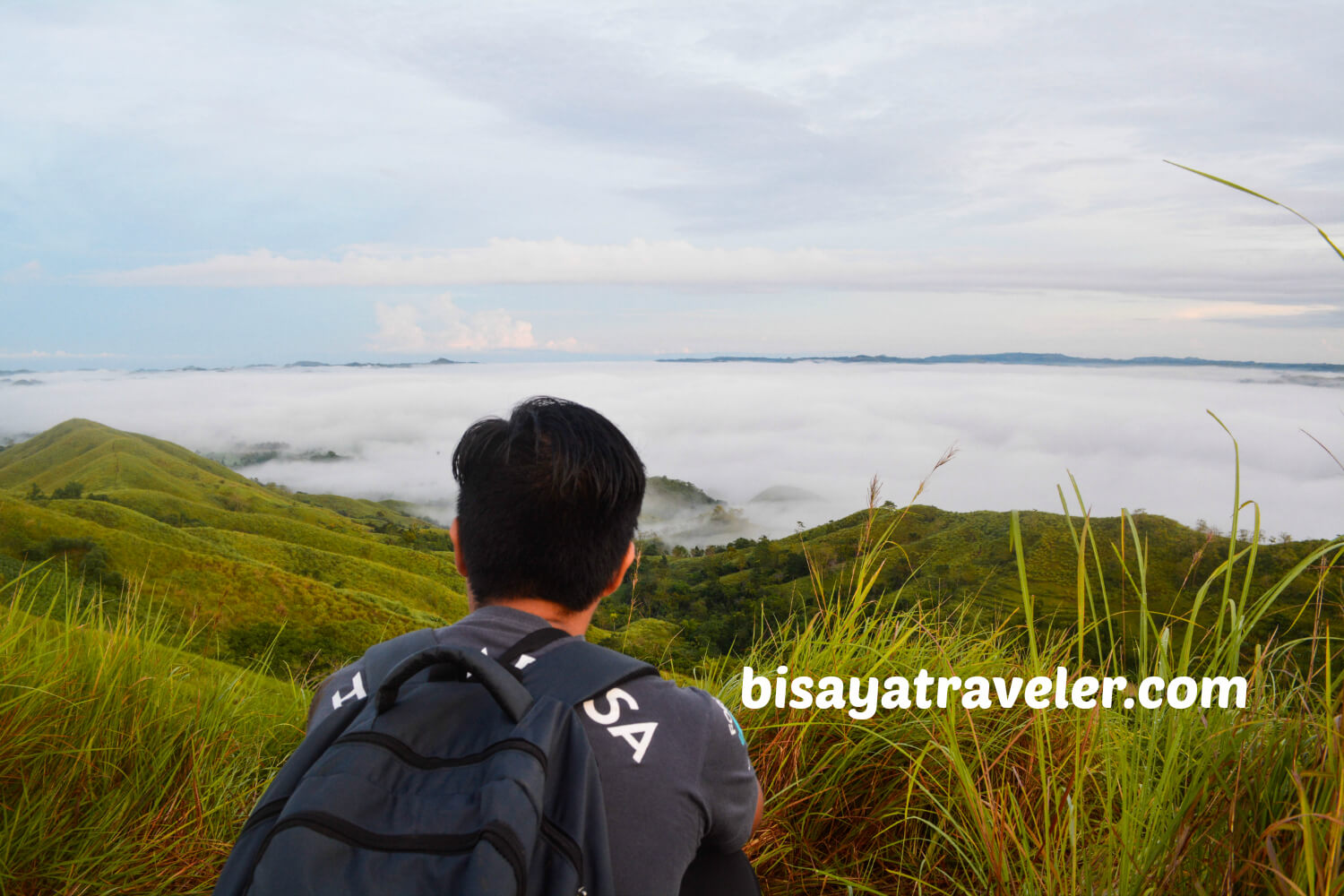 An Encounter With The Spellbinding Sea Of Clouds In Bohol
Bohol, praised for its wondrous heritage and mesmerizing natural beauty, has always been a godsend for bona fide travel junkies like me. For decades, this beloved tropical island has been wowing travelers and tourists from all corners of the world, with its immense wealth of wonders, including its one-of-a-kind wildlife, historic churches, and the super symmetrical Chocolate Hills. And lately, there has been another jaw-droppingly beautiful spectacle that's creating some buzz on social media – the magical sea of clouds in Barangay Concepcion, Danao, Bohol.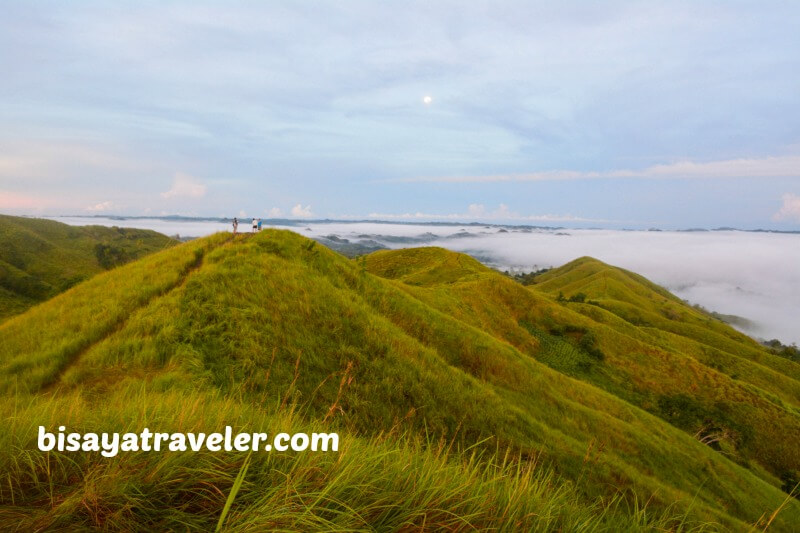 Just like any curious traveler, I was also intrigued by the idea of seeing this natural phenomenon in person.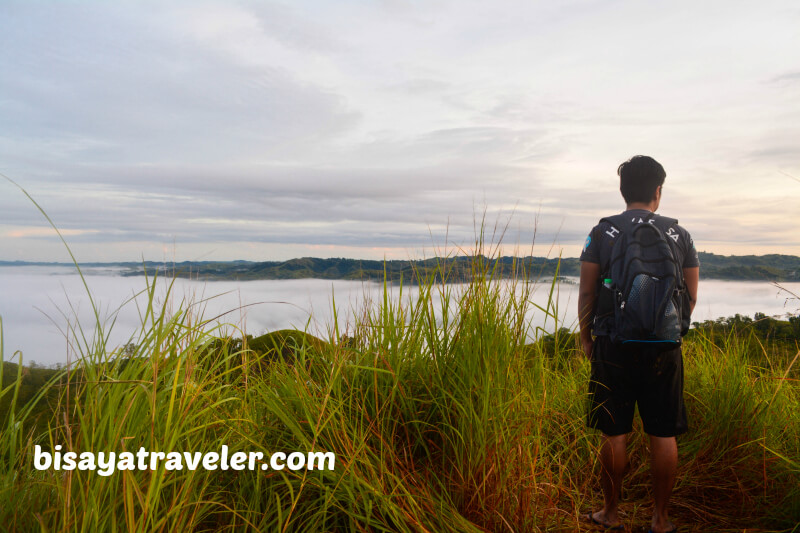 And luckily for us, my wife and I got a free stay at Astoria Bohol, which ultimately paved the way to our sea of clouds adventure in Barangay Concepcion, Danao.
Our Sea of Clouds experience in Danao, Bohol
Our encounter with the magical sea of clouds in Bohol almost didn't happen. After setting foot on our cozy room in Astoria, my wife was just swept away by the grandeur and laid-back charm of the resort that she suggested to skip our trip to Danao, so we can unwind for a couple of days at Astoria.
With the resort's snug feel and relaxing sea breeze, I really can't blame her for having second thoughts on going to Danao. And besides, we really need a little break, especially since the past month has been a whirlwind for us, as a newly couple. Thankfully, though, she gave in to my plea, after a few minutes of chit-chat.
So, we rushed to Dao Terminal in Tagbilaran City, to catch the next bus heading to Danao. From there, we wasted no time, and hopped aboard the next bus to our destination.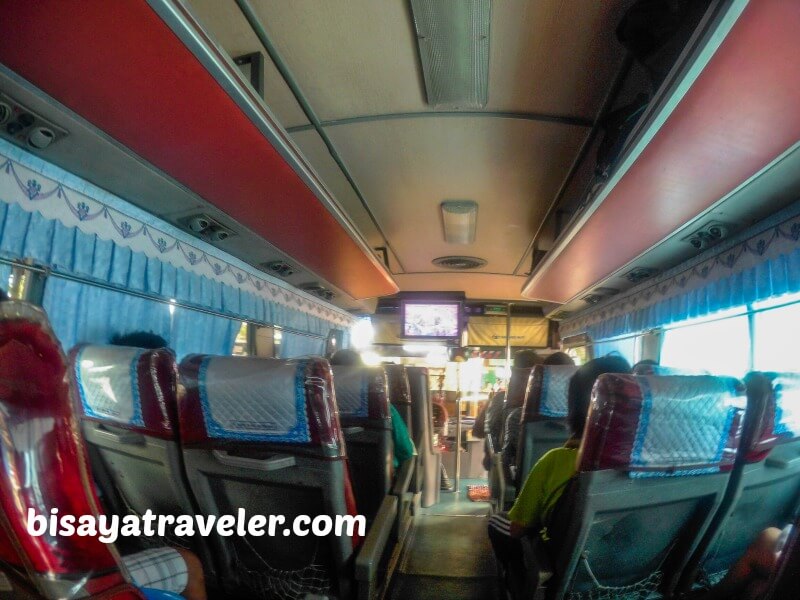 We safely arrived at Danao's terminal at 6 in the evening. Upon our arrival, I texted a boss Benoy, a guide recommended by a Boholano blogger, to pick us at the terminal. In just a few seconds, Benoy found us, and approached me to confirm if I was the Cebuano guest texting him.
Once we finished eating our early dinner, Benoy drove us to Ponciano and Donie Suter's residence – the house where we stayed for the night. As hosts, ate Donie and sir Ponciano were nothing short of amazing. Not only are they extremely friendly, but they are also pretty hospitable and accommodating. Although it was short, I did enjoy every minute of my chat with the couple inside their tavern during our stay. As a matter of fact, it brought a bunch of pleasant memories of my previous visits in Bohol.
Sweet and kind-hearted, ate Donie and sir Ponciano are, for me, the epitome of a Boholano. As much as I wanted to talk more with the couple, I had to go back to our room, to check on my wife who wasn't feeling well, after our bus ride.
Since we were both tired and we had to wake up at 4 in the morning, we turned off the lights early, and went straight to bed.
When the clock struck 4, I jumped off the bed, to wake my wife up, eat breakfast, and make some preparations for our encounter with the majestic sea of clouds in Bohol.
Both ate Donie and sir Ponciano woke up early too, and gave us some tips for our short hike to Danao's lush hills. Minutes later, boss Benoy together with a couple of local tourists and two guides arrived at the gate to fetch us. But before we left, sir Ponciano gave me a small piece of paper with the inscription "Laguna Mountain, Barangay Concepcion, Danao, Bohol". He told me that it was the address of the place where the sea of clouds in Bohol is taking place.
Afterwards, we took a quick habal-habal ride to the base of the viewing points for this natural wonder.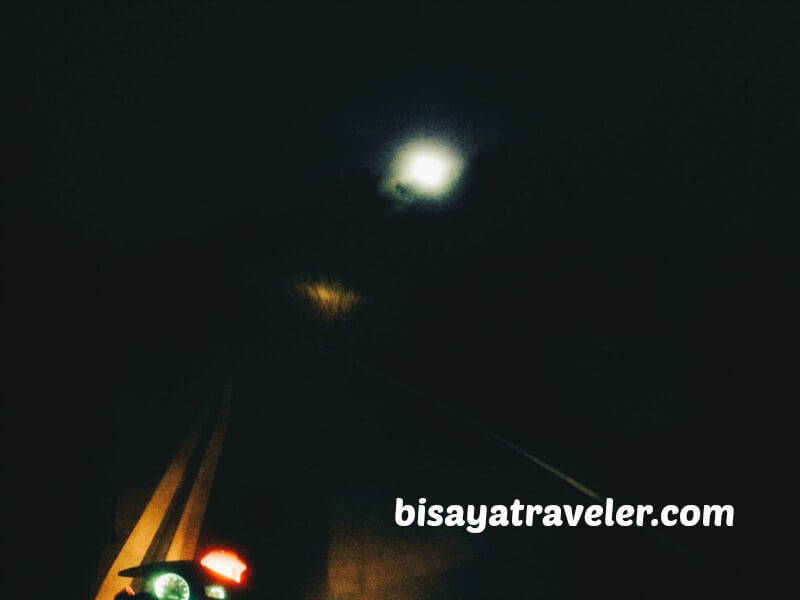 It was rather dark and chilly, when we arrived at the parking area of the site. Fortunately, boss Benoy and the other guides brought flashlights with them. As for the cold atmosphere, it didn't bother me a bit, even though I didn't bring a jacket or hoodie with me. But, there was another small hiccup waiting for us on the trail – mud.
It was raining cats and dogs the night prior to our visit, meaning the trail was fairly slippery and muddy on our visit. My backpack as well as shirt had some mud stains, due to the wet trail leading to mountains.
Muddy trails are nothing new to me, and I've conquered a lot of mountains in Cebu, even when there are heavy downpours. But unlike my previous hikes, I was just sporting a pair of low-quality flip flops this time around. Yikes! Still, I managed to ascend to the top with flying colors.
While it was still dark, we were awestruck by the scenery of the place, as soon as we arrived at one of the best vantage points of the site.
As we were gazing on the mountains and clouds, boss Benoy told me that we should get to the other mountain for a better view of the sea of clouds. Of course, we followed Benoy's advice since it he knows the place like the back of his hand.
As soon as we arrived at the spot, Benoy pinpointed the places that can be seen from this peak. Surprisingly, the gleaming lights of Cebu City can also be spotted from this higher ground.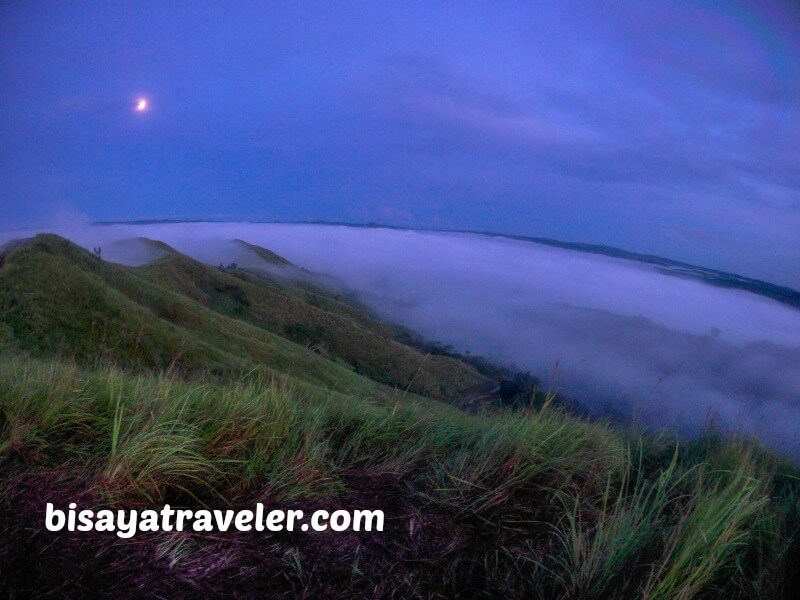 Minutes later, we were literally covered in clouds. One of the guides, who didn't join us on this part of the site, called Benoy and told us that he couldn't see us from where he was standing.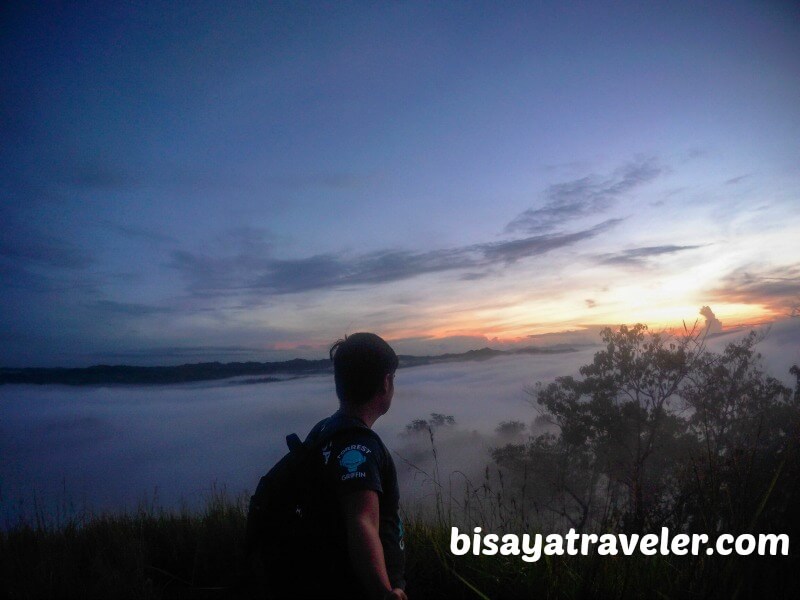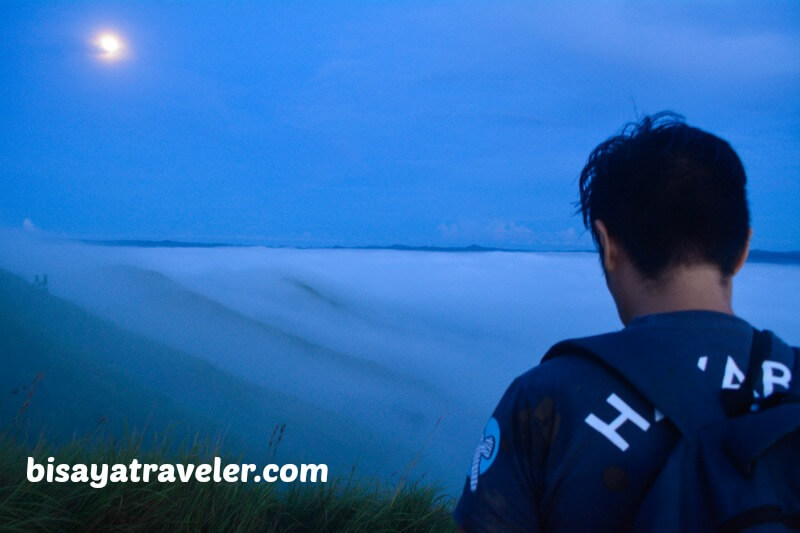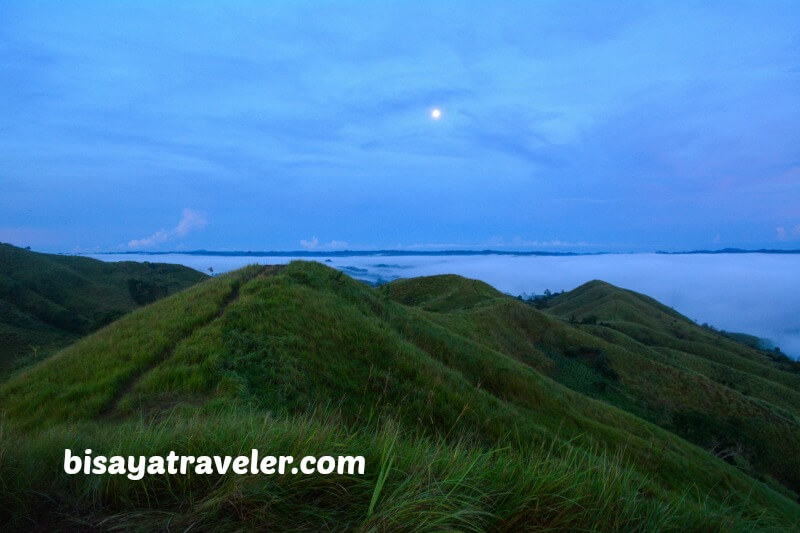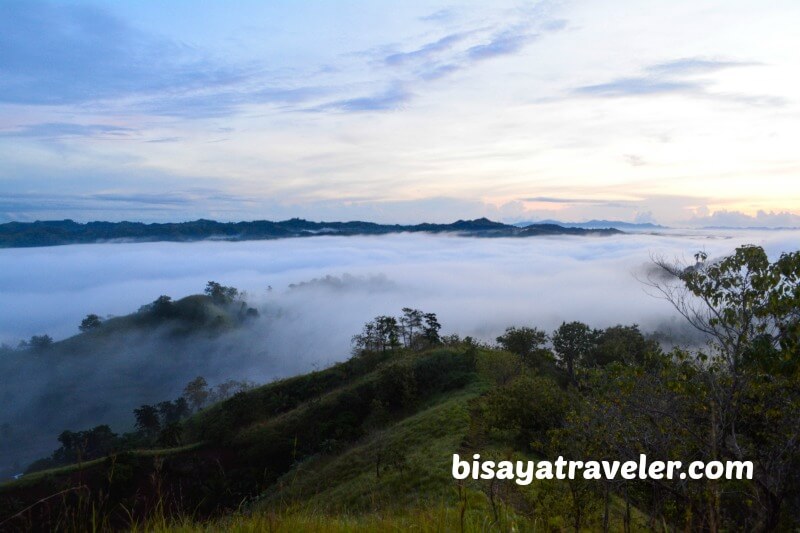 And slowly, as the sun was rising, the splendid and spellbinding beauty of Bohol's sea of clouds unfolded in front of us. In some ways, it reminded me of a picture of the awe-inspiring Mount Bromo in Indonesia. Likewise, the place looks quite similar to the breathtaking sea of clouds and sunrise in Mount Kiltepan, Sagada.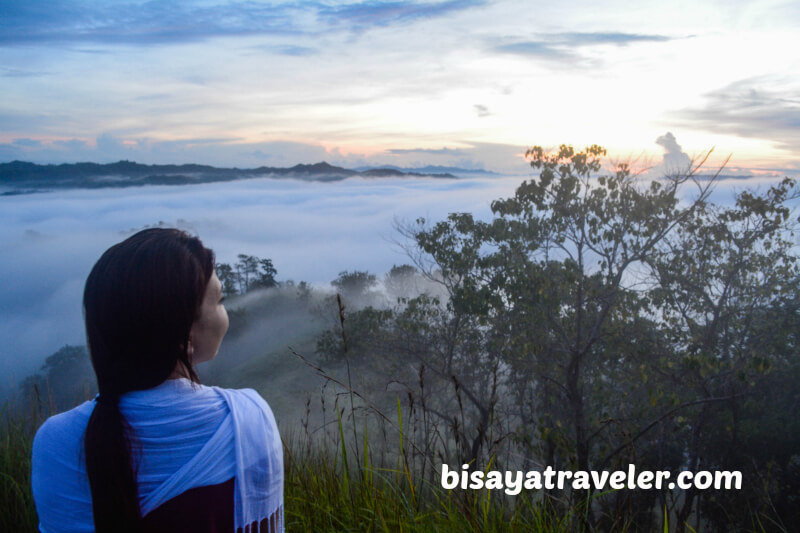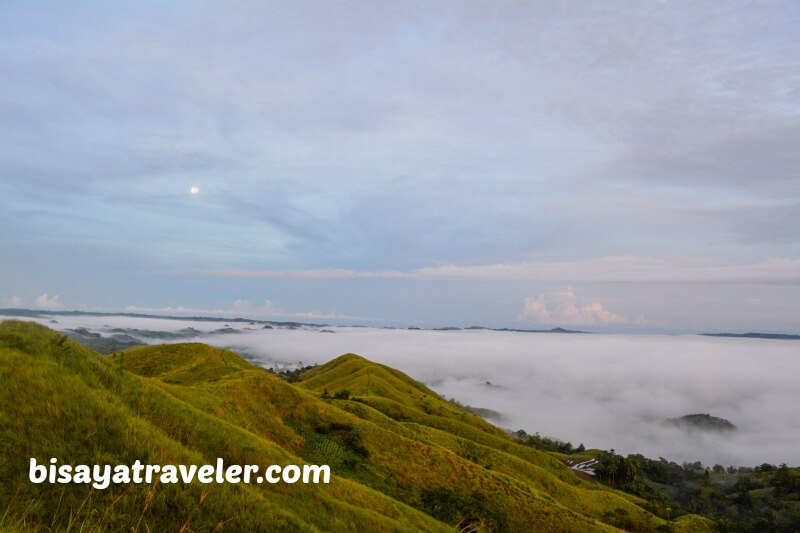 Needless to say, we, including the two local tourists with is, were all in awe. Of course, my wife and I were in a state of pure bliss, as we were admiring the enchanting views of the area. The mountains, paired with the immaculately white clouds, simply looked like the biblical descriptions of heaven.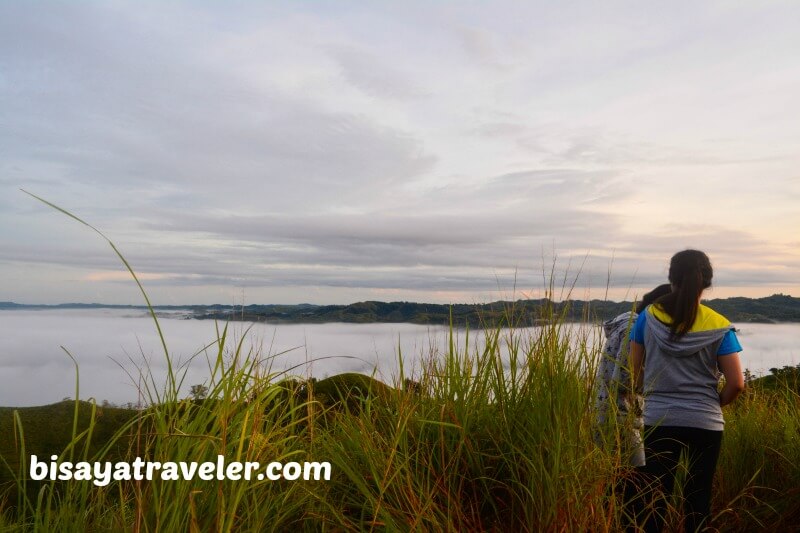 I moved from one spot to another, to get different angles of views of this grand display from Mother Nature. I saw a ton of small rice paddies and terraces nearby as well, further enhancing the visual appeal of this extremely scenic place in Danao, Bohol.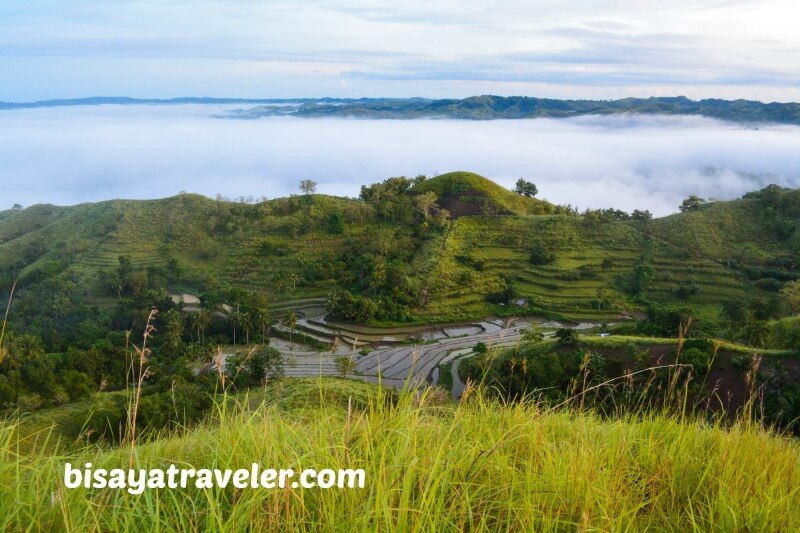 Everyone in the area, including our uber friendly guide Benoy, was in high spirits. We even had a photo of him jumping in joy!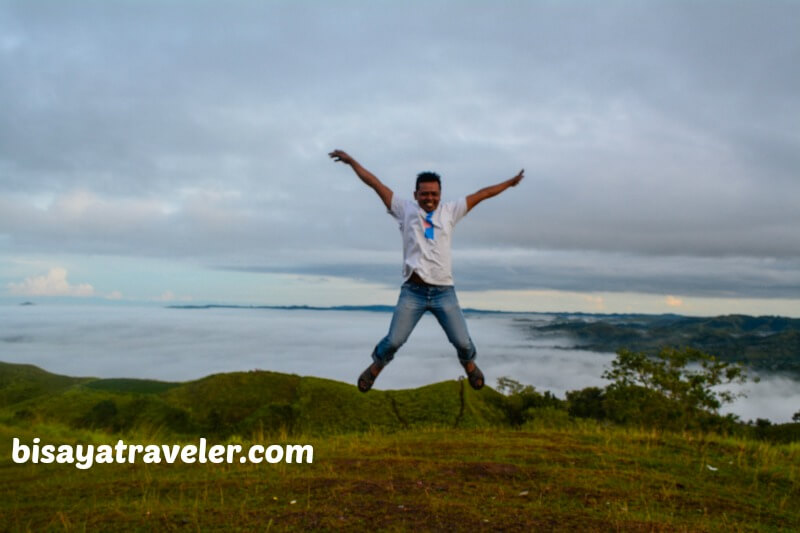 As with most of my trips, I took dozens of photographs, to immortalize my memories of this surreal experience. And, boy, did I enjoy snapping shots of the enthralling sea of clouds on Bohol. Check out my snaps below, and see if it's worth a visit.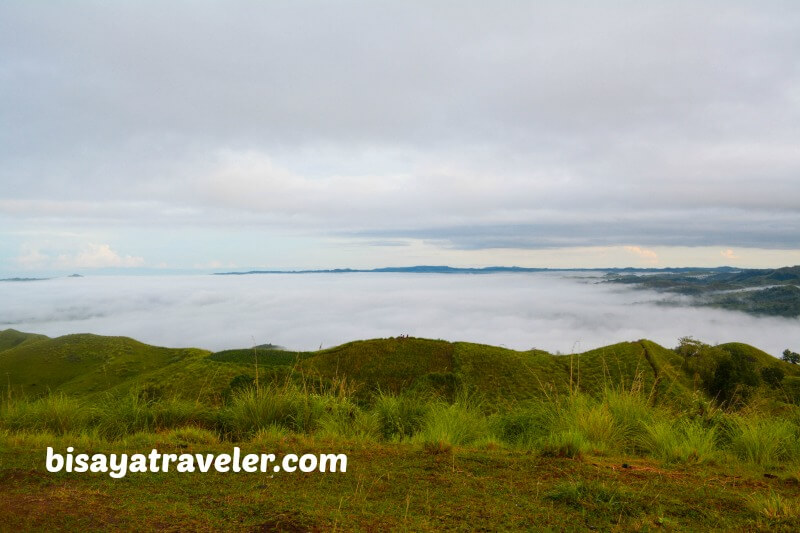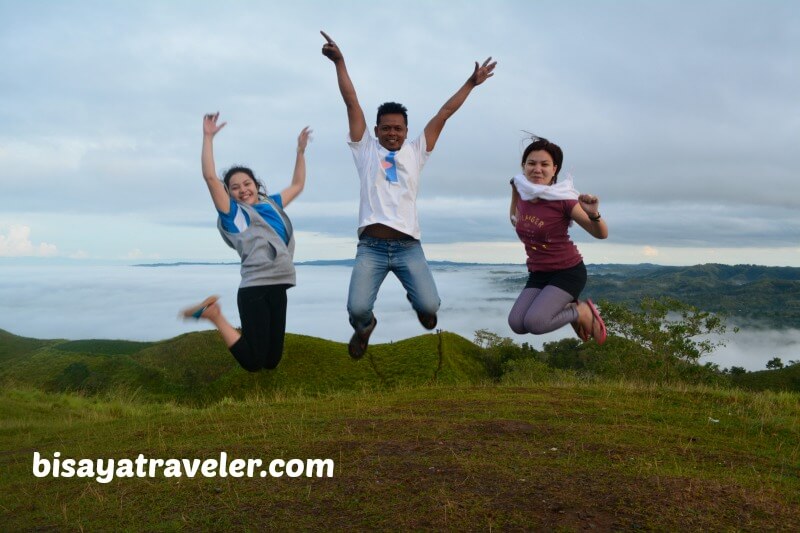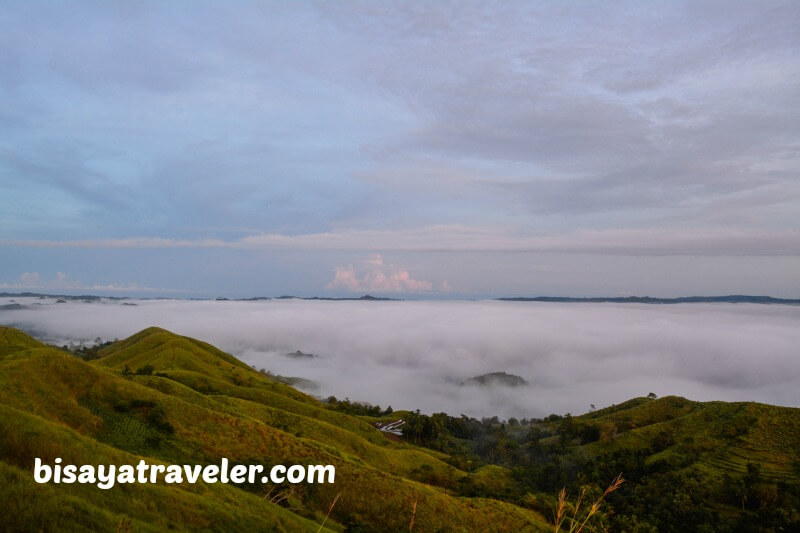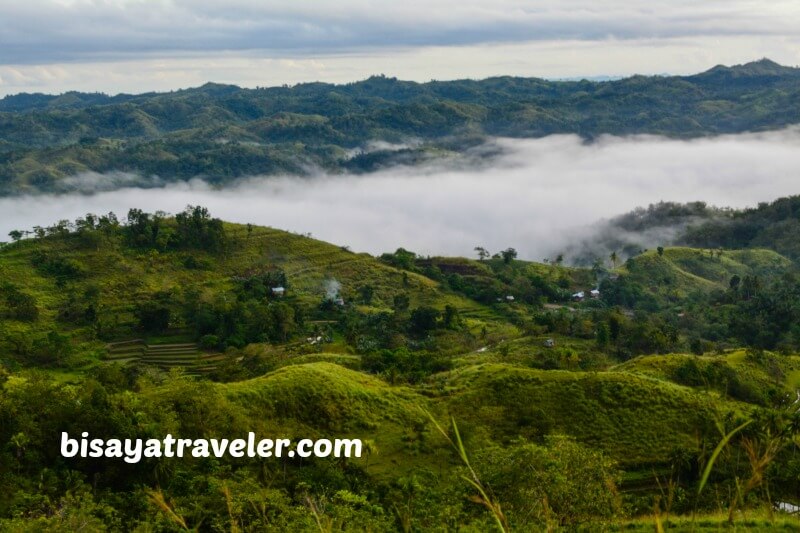 Important contact numbers:
Boss Benoy – 0948 779 9629
Ate Donie – 0938 880 0445
Reminders:
Don't be a moron like me. Wear a good pair of outdoor shoes as well as bring a jacket or sweater and a flashlight.
You don't have to be a hardcore hiker to get there. From the base, you can reach the top within 20 minutes. Trust me, it's just as easy as your short walk to Osmeña Peak from its base.
There are stalls selling coffee, snacks and water within the site, but it is best that you bring your own if you're on a tight budget.
Go there as early as 4:30 AM, and see the beauty of the sea of clouds as it unfolds in front of your eyes.
Go there on a weekday, if you want to steer clear of the crowds of tourists.
Camping is still allowed within the area, as of this writing. However, according to sir Ponciano (who happens to be a town councilor), pitching a tent will be prohibited in the near future.
Access to the site is currently free, but the town or barangay may impose small fees like an environmental fee soon.
There's no sure-fire bet, as far as the appearance times of this phenomenon. Though it shows up almost every day, there are times when the clouds look quite thin.
Leave no trace.
Price for a room per night at ate Donie's residence is PHP 500. Just make sure to contact her at least a day prior to your stay, so she can make the necessary preparations.
Be a kind and responsible guest at Suter's residence.
There are buses that will take you from Tagbilaran to Danao. Travel time is 2 hours, and fare is around PHP 85 to 95. Check out eatdanao.com for more information about their schedule.
If you're traveling from Cebu, I suggest that you travel either to Tubigon or Clarin. Both towns are closer to Danao than Tagbilaran.
Update: According to my sources, you'll now have pay a small fee of PHP 25 (also includes a local guide) to see Bohol's Sea of Clouds.