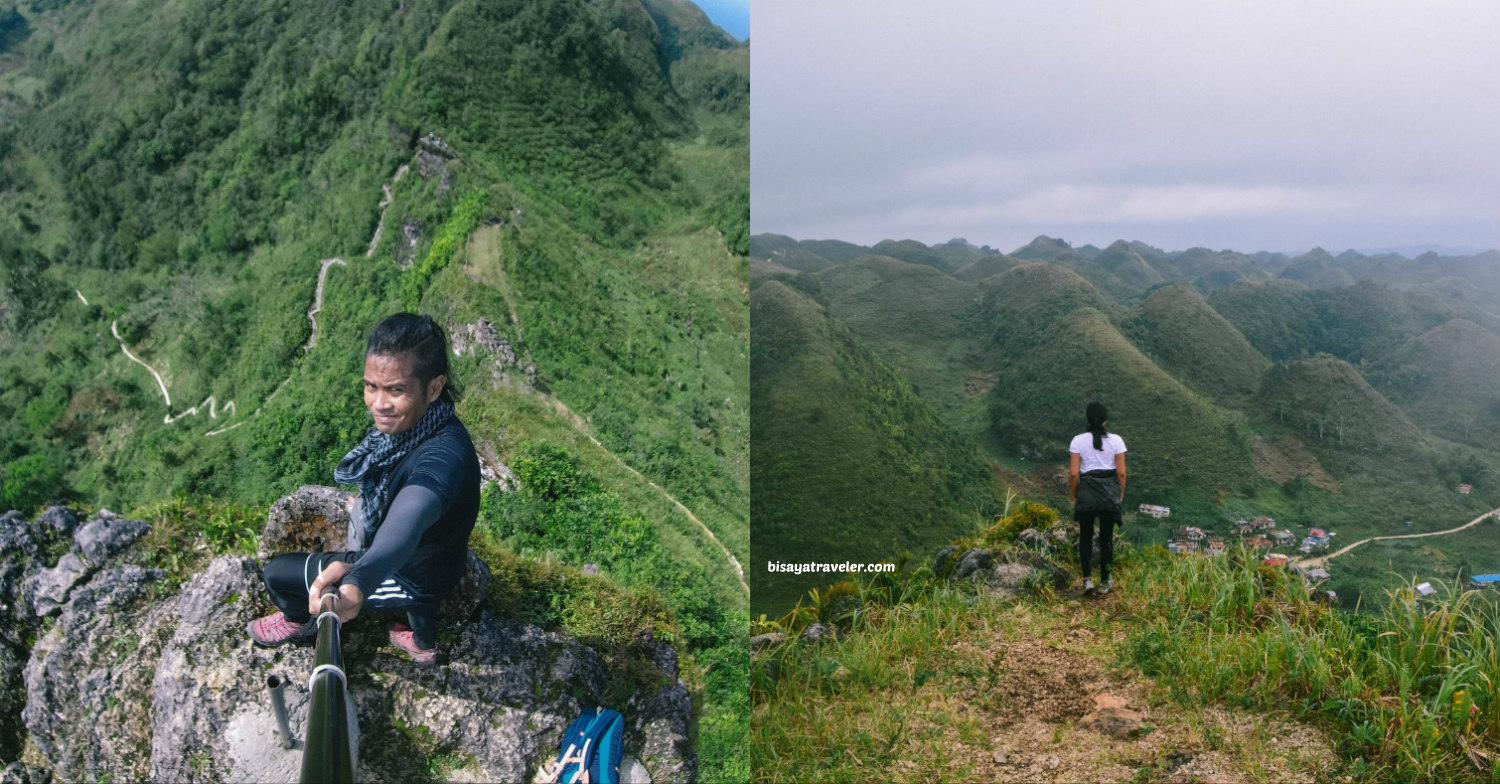 The Picture-Perfect 8-hour Kandungaw To Lugsangan Peak Traverse
The moment I first set foot in Dalaguete, I knew that we are forever intertwined. With its crisp mountain air and picture-perfect scenery, I had a pleasant feeling that this retreat wouldn't be my last time to visit this breezy refuge. In my book, the mountainous areas of the town like Lugsangan Peak are truly a haven hardwired for nature lovers and introverts like me. A couple of decades later, I found myself again hiking and standing on the summits of this breezy Cebu town. And, unlike my first visit, I was there just for a day, hiking an offbeat trail.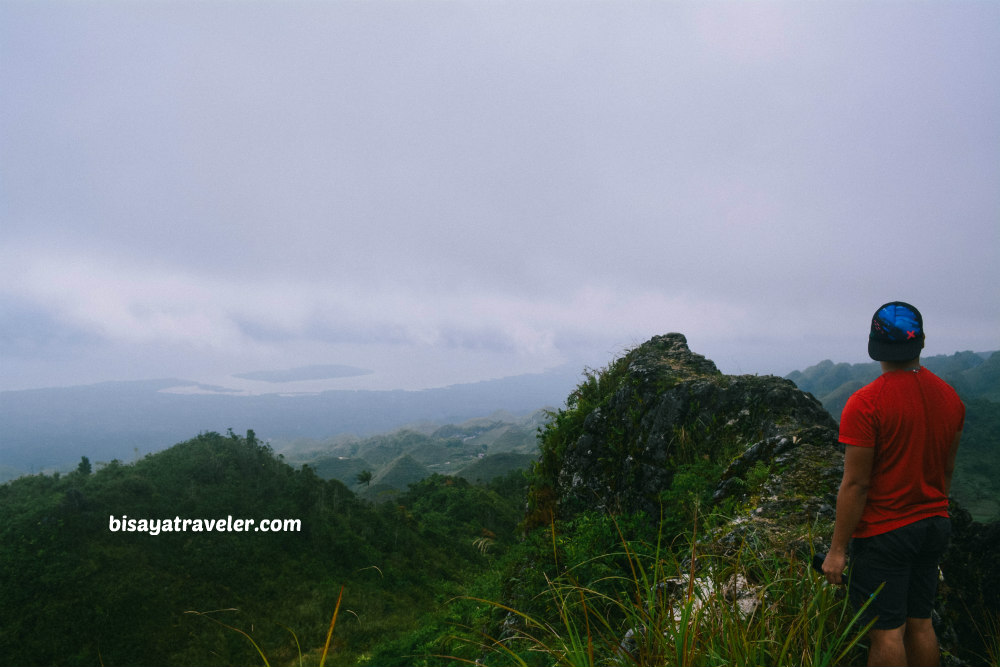 With its towering peaks and wealth of natural wonders, the opportunities for adventure in Badian and Dalaguete highlands are unlimited. For one, you can make Osmeña Peak a springboard for a long hike to Kawasan Falls. Furthermore, you may chase peaks in Dalaguete, hitting Lugsangan Peak and others via a motorcycle or multi-cab. For the not-so adventurous, there are also farms and other eye-catching attractions in this highland.
And, just when I thought the options for adventures here have reached its saturation point, something came up in my mind.
For the past couple of years, I've heard stories of people hiking from Kandungaw Peak to Osmeña Peak. Like any intrigued and curious hiker, I also came up with an idea with this combination in mind. What if we hike from Kandungaw Peak all the way to Lugsangan Peak or even Kawasan Falls?
Sensing there's another exciting adventure in South Cebu, I, with Raul's help, soon gathered my friends for an exciting hike in Dalaguete.
My Kandungaw To Lugsangan Peak experience
Long exploration hikes are my happy pill. Whether it's up north or down south in Cebu, long exploration hikes are my bliss. For some reason, though, I haven't been in the mood for discovering new routes. Perhaps, I wanted to mix it up or was just longing for a nostalgic walk.
Truth be told, I was yearning for a chill hike on picturesque and cold lands. And, there's no better place to indulge on a refreshing and scenic chill hike in Cebu than Dalaguete.
So, I organized a one-of-a-kind that would take us to the three beloved peaks in South Cebu.
From Cebu South Bus Terminal, I caught up with some of my friends joining the hike. For this Lugsangan Peak hike, I was joined by Raul, Jonah, Rollie, Bea and Geneva. Later on, Dian and Beboy joined the fray, completing the lineup for our hike.
Upon our arrival at Dalaguete town proper, we wasted no time, and took a habal-habal ride to the base of Kandungaw Peak.
On the way to our first stop, I was wowed by the sights and sounds that remind me of Benguet. Add in its frigid weather, and it felt like an escape to the highlands of North Luzon.
But, the thing is, I'm not like Elsa or any dashing superhero mutant with icy cool powers. The cold always bothered me. And, when we arrived at the base of our hike, I had to warm up and rub my hands because the cold weather was killing me.
After paying the registration fee and talking with the guide, we did a little warm up for our hike by walking to the nearby rice terraces.
There, we spent a few minutes enjoying the view and snapping photographs.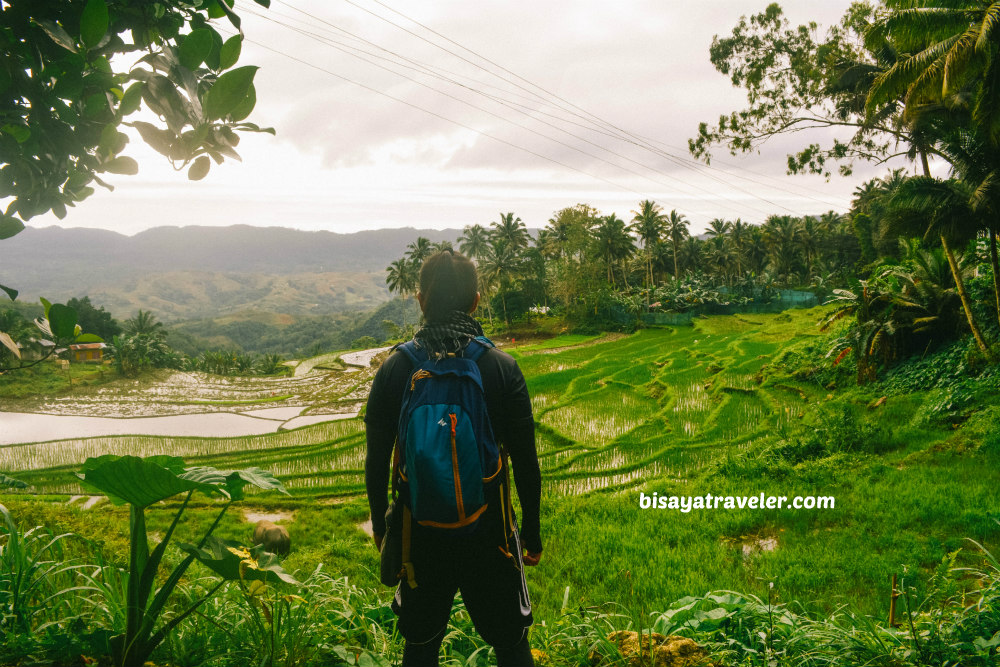 Since our guide wasn't familiar with the trail to Opeak from Kandungaw, he had to bring a backup or insurance policy for our hike.
Geared up and ready, we kicked-off our hike, hitting the concrete pathway to our first stop – Kandungaw Peak.
To my surprise, the concrete path almost reaches the peak. Last time I was there, the concrete trail ran for just a few meters.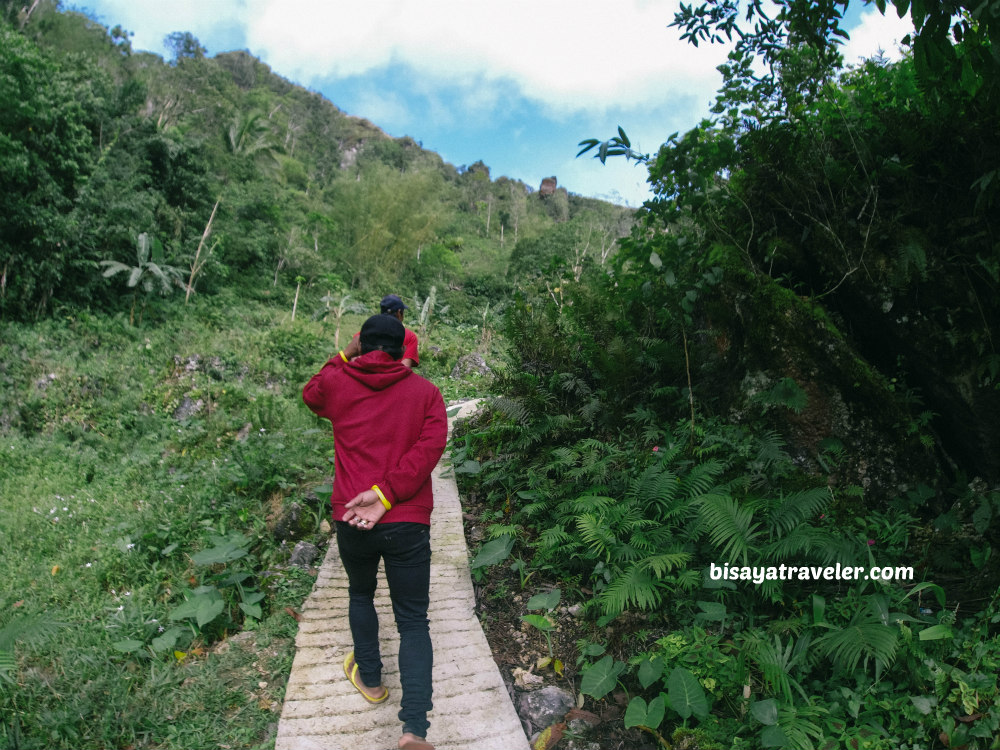 With minimal breaks, we followed the crisscrossing cemented trail of Kandungaw Peak.
On the way up, I realized why the local government extended this concrete path. While I don't support this idea, it did make some sense.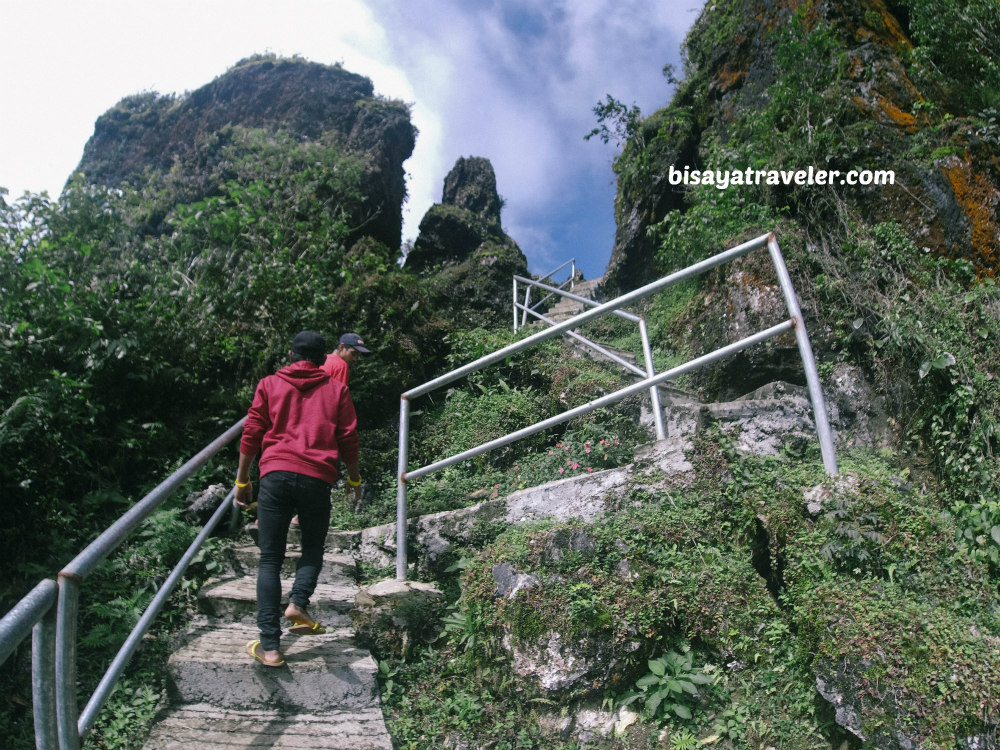 The truth is, I'm really not fond of asphalt paths and concrete stairs, when hiking. The repetitive motion of literally pounding the hard surface can do a number on your joints. But, there are some upsides to this recent development. For instance, the not-so experienced hiker won't have a lot of trouble descending on a slippery and rocky trail from the peak.
Moments later, we arrived at a breathtaking cliff that locals nicknamed as "Titanic Peak".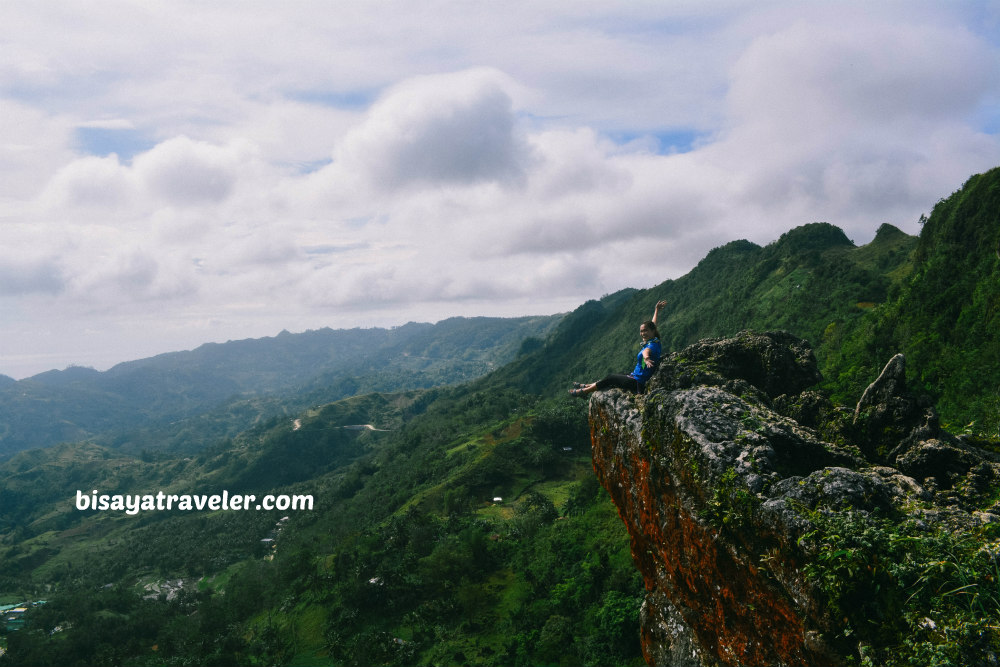 Why do they call it Titanic Peak? Even if you have a third eye, the chances of you seeing the ghosts of Jack and Rose here are as slim as Raul's chances of marrying Catriona Gray. But, it's unique rock shape does look like the bow of a ship. And with our imaginative minds, people often see it as the spot where a younger non-dad-bod Leo screamed "I'm the king of the world".
In today's melodramatic culture, however, it's most likely you'll see a young gal screaming "walang forever" here.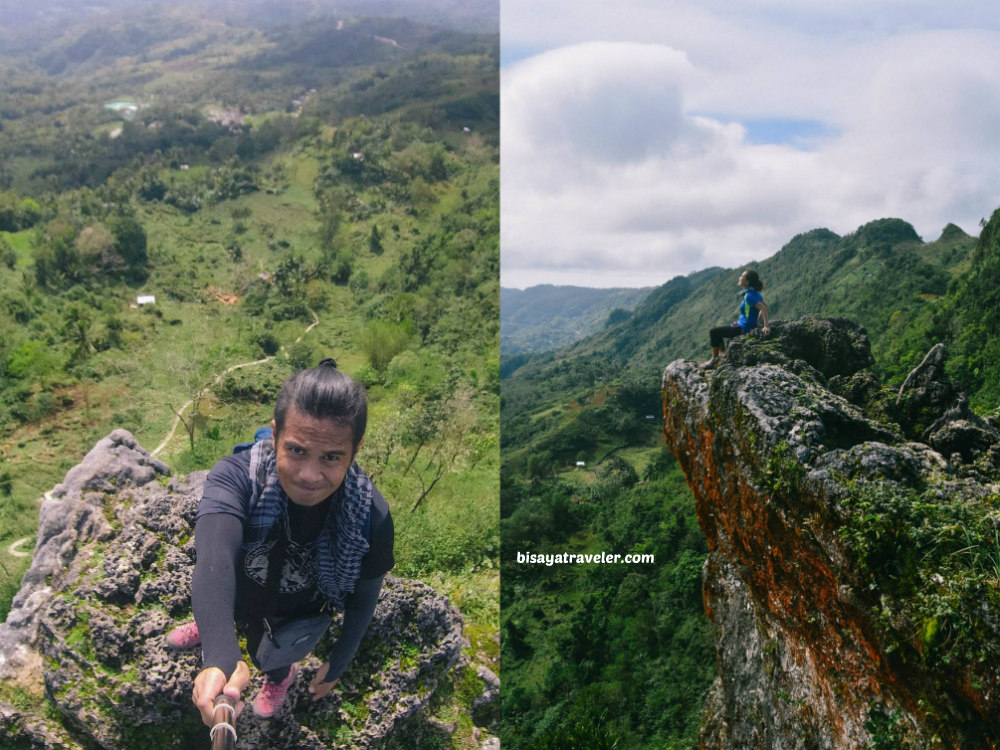 A handful of snaps later, we went on with our hike, admiring the irresistible beauty of Kandungaw Peak. Before ascending to the summit, we dropped by this spot, to enjoy the serenity and sights.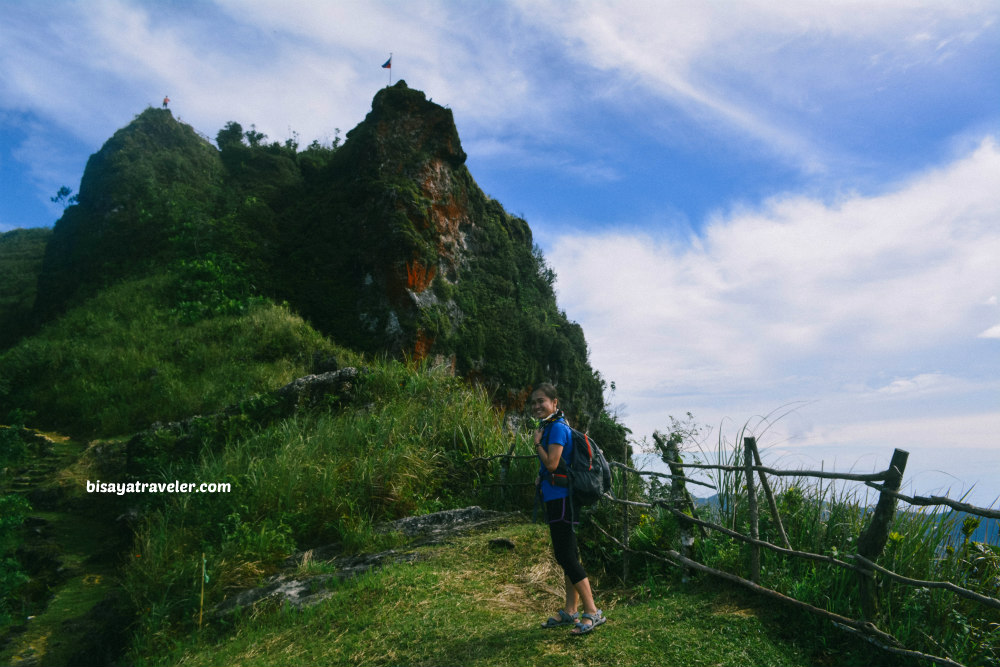 A lot has changed in Kandungaw. The first time I visited Kandungaw, there was no fence in this side of the mountain. As far as I know, the fence was built to protect people and animals from falling from this cliff. According to our guide, a cow once fell from this perilous cliff.
I'm not sure if the cow made it, but my educated guess says a ton of bellies were filled that day.
Despite all the changes, the views in Kandungaw never get old. And, we hadn't reached the peak yet!
Slowly and surely, we climbed to the peak, and were enthralled by the awe-inspiring views.
Luckily, the weather was in a positive mood, delighting us with its crisp blue skies, beautiful sun and fresh cold January air.
With the perfectly sunny setting, we snapped a bunch of photos from different angles.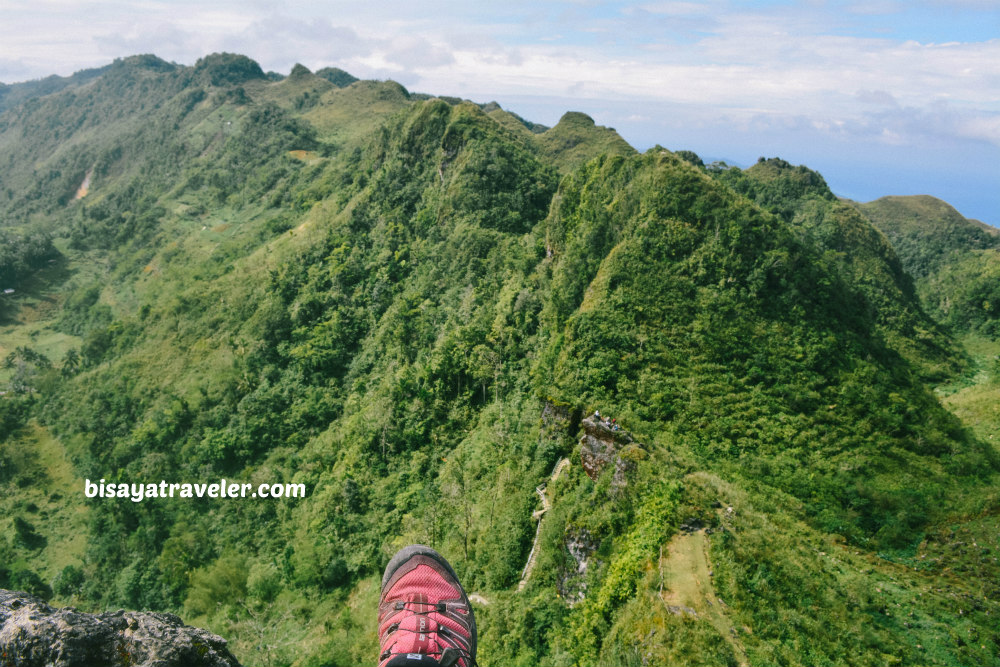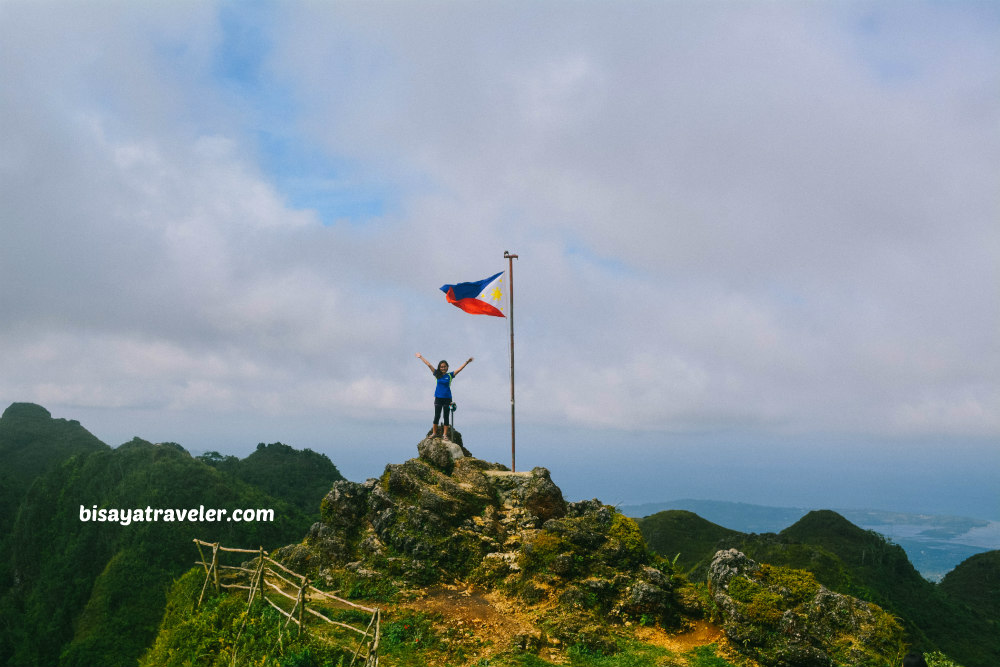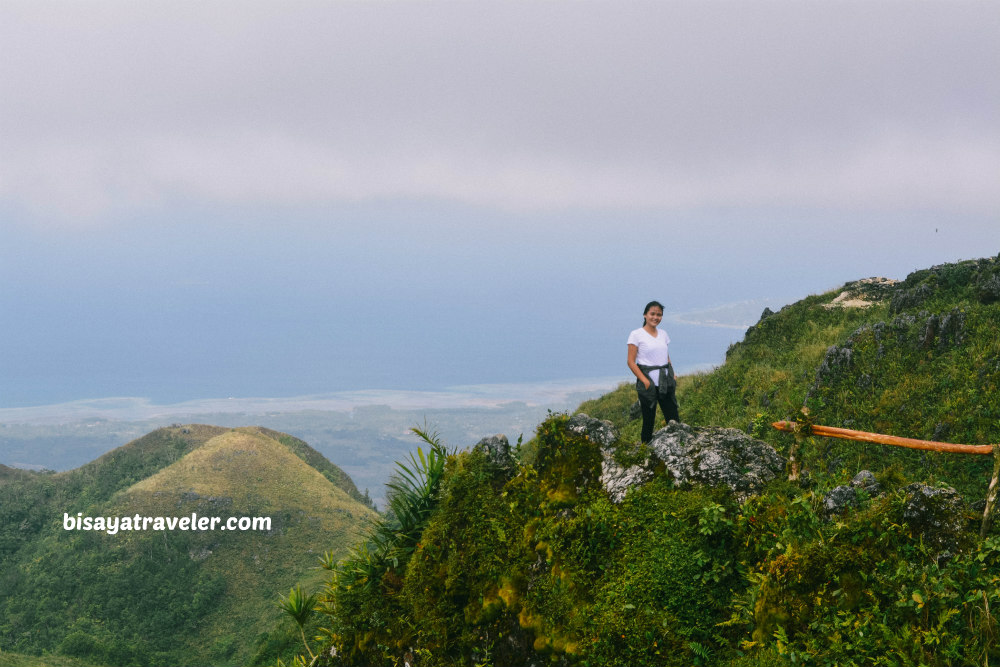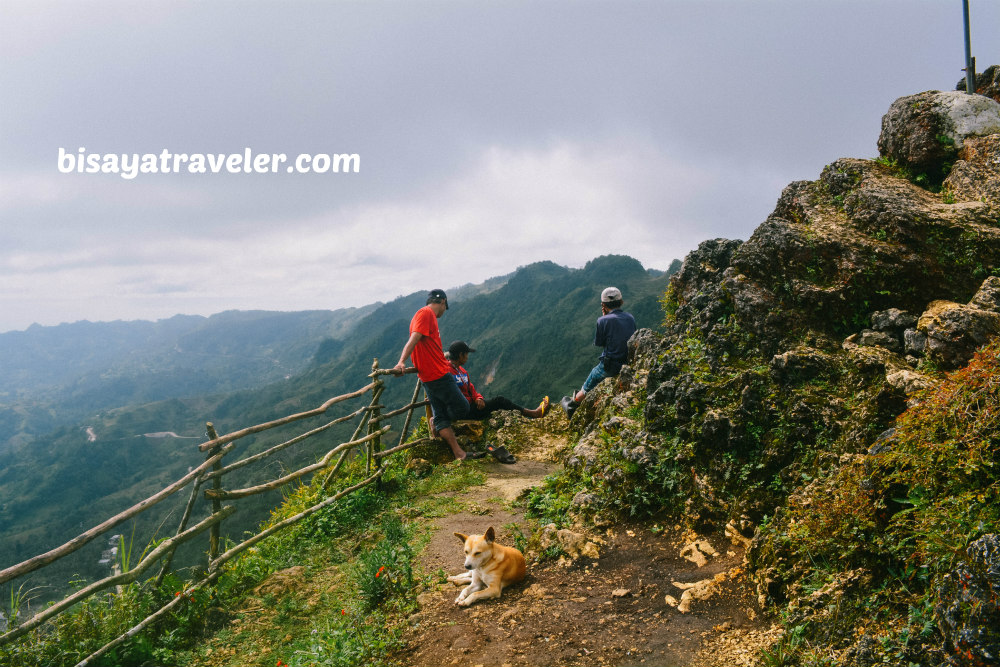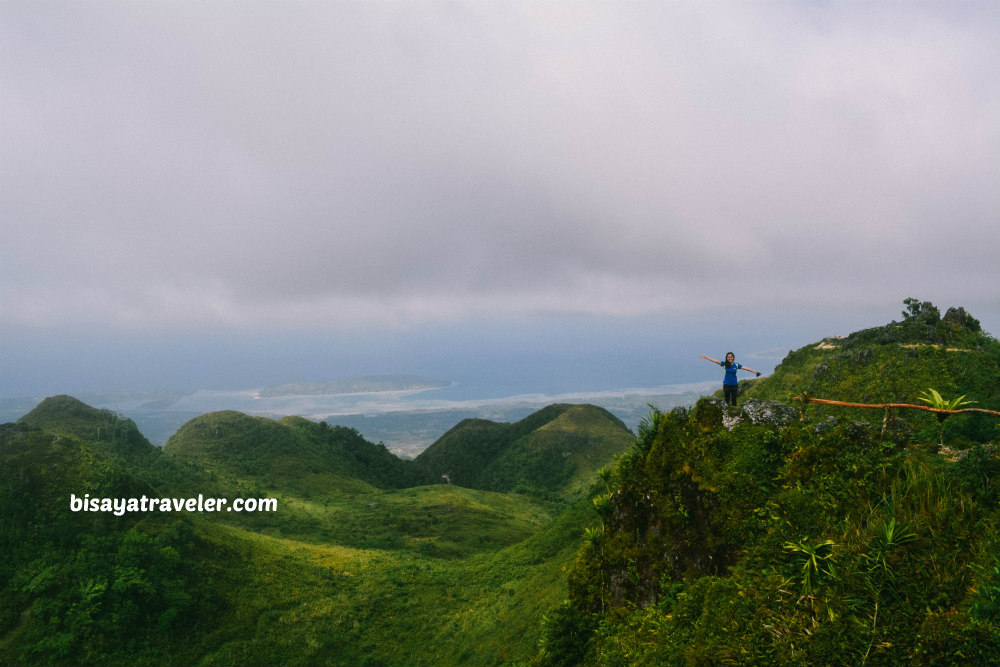 As much as we want to spend more time there, we had to move on with our hike. After all, we had at least two stops in mind for our hike – Osmeña Peak and Lugsangan Peak.
And, besides, I caught glimpse of a cluster of dark clouds and fog coming our way.
Spearheaded by our guides, we followed the trail that would eventually lead us to Osmeña Peak.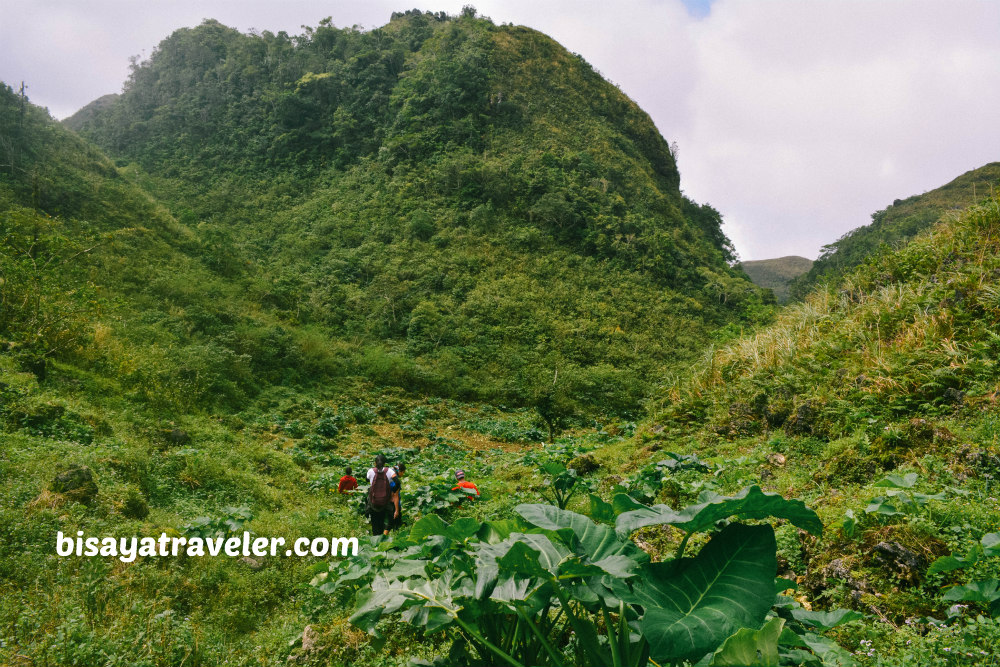 To say the trail is lovely is an understatement. From wild flowers to vegetable plantations, I was mesmerized by the stunning shades of green and vegetation.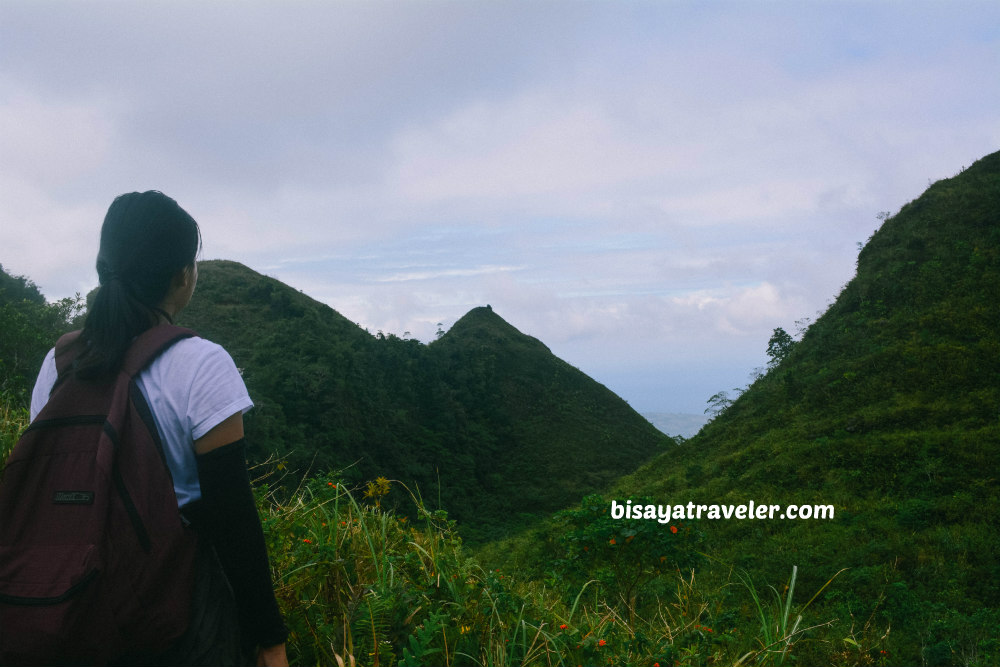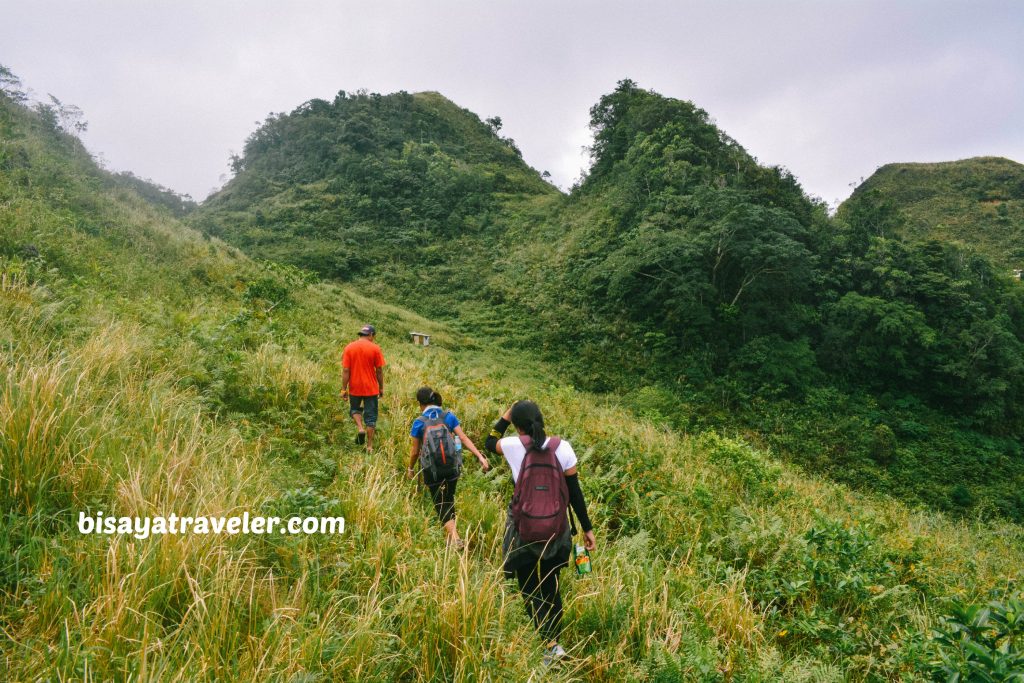 And, the silence was a beautiful and dramatic sonata as well. The only sounds I could hear were the chirping birds, swaying grass and the sound of my heartbeat pounding in my ears.
What's more, there are plenty of caves and uniquely shaped peaks and mountains along the way.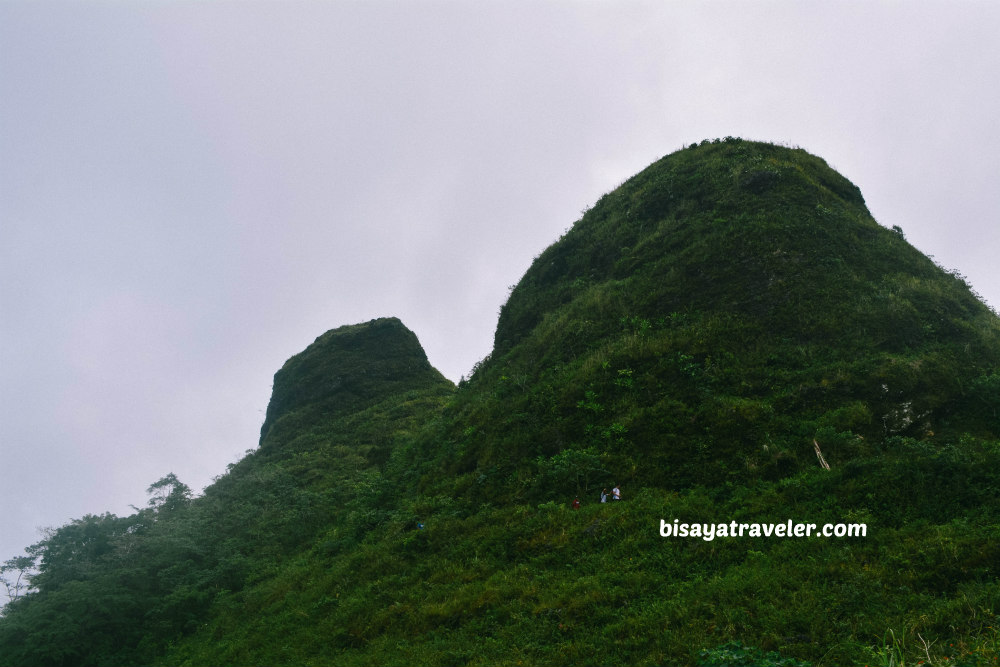 One day, I with a group of friends will go on another adventure, scaling these unknown peaks and mountains in Dalaguete.
And, did I mention that the trail was rather slippery and rocky?
On a crossroad, one the guides showed us a trail leading to Badian.
As always, I was taking mental notes and absorbing as much information as my thick head can. Part of the reason I'm taking this hike to Lugsangan Peak is to create a new hiking route for my gang.
As most hikers know, there are no trails in Cebu that are classified as major climbs. But, my planned route may have some major climb feels, or at least make a good pre-hike to the big-time mountains in the Philippines. The route will start from Sohoton, Badian and end at Kawasan Falls, passing by Kandungaw Peak, Opeak and Lugsangan Peak. Although this hike will take two days only, I'm sure it's going to whip someone's ass.
Soon after, we arrived at a creepy spot where our guide took a breather and drank water from a mountain spring.
As we were about to move on, we noticed something strange on Jonah's left arm – fresh and an oddly enormous amount of saliva.
All of a sudden, a giant dark, mythical creature appeared in front of me, and said, "I'm going to make you my b*tch".
Just kidding! That didn't happen, though.
While it was merely a figment of imagination, there was something strange and creepy about this place.
I wish Ed Caluag tagged along with us, so he can shed some light on this bizarre location.
From there, we kept on hiking, until we arrived at the road that would take us to Opeak.
Even with the slightly tough hike, everyone was still in high spirits. As a matter of fact, they were just as energetic as recharged battery-operated flipping toy dog the sidewalk.
Walking towards our goal, we followed the road and ultimately discovered a shortcut to the so-called highest peak in Cebu.
We, then, decided to split up with our guides. Before leaving, though, we paid them for their services with the amount as they've requested.
Since I haven't been hiking with a guide lately, I was a little shocked by what they've charged us. But, I ultimately realized it was moderately reasonable. I guess my crap-detecting capability was off that day.
And, besides, I was paying for the information, and we were also helping people who make an honest living.
Through the shortcut, we passed by an awfully muddy road, and arrived at the registration center of the famed mountain.
Afterwards, we took a short hike to the summit where Beboy and Dian were waiting for us.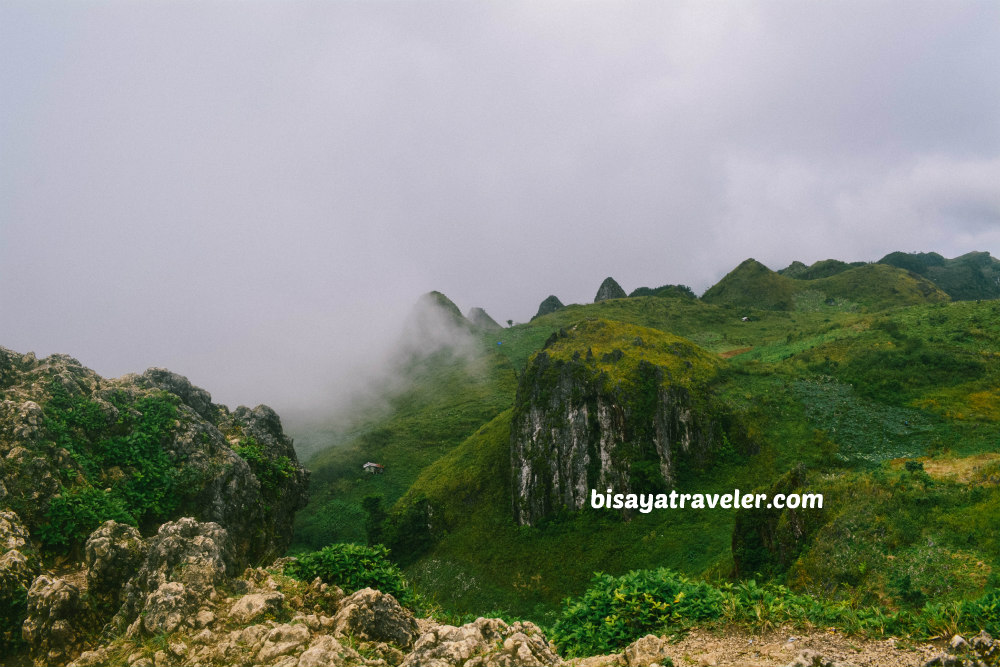 We saw an avalanche of tourists in Osmeña Peak. That's why we decided to go to the nearby Mercado's Peak, and ate our lunch there.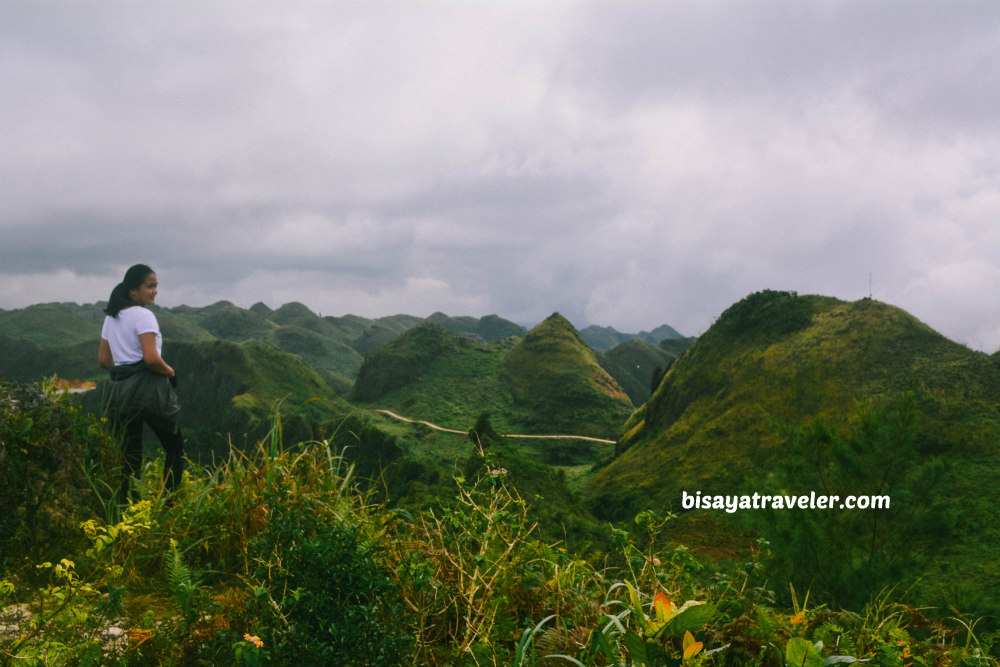 While savoring our lunch, I noticed how happy Geneva was. As she told me earlier, she has been itching to see Lugsangan Peak and the other mountains here for months.
Somehow, there's a takeaway from what she said earlier.
Here's the thing. The purpose of my existence still remains a mystery to me. But, day by day, adventure after another adventure, I'm starting to figure out my roles in this universe. And, I'm going to continue doing it, until the solar system crashes or a three-fingered alien who loves to give hand jobs abducts me.
With lunchtime over, we hit the trail again to reach the day's ultimate destination – Lugsangan Peak.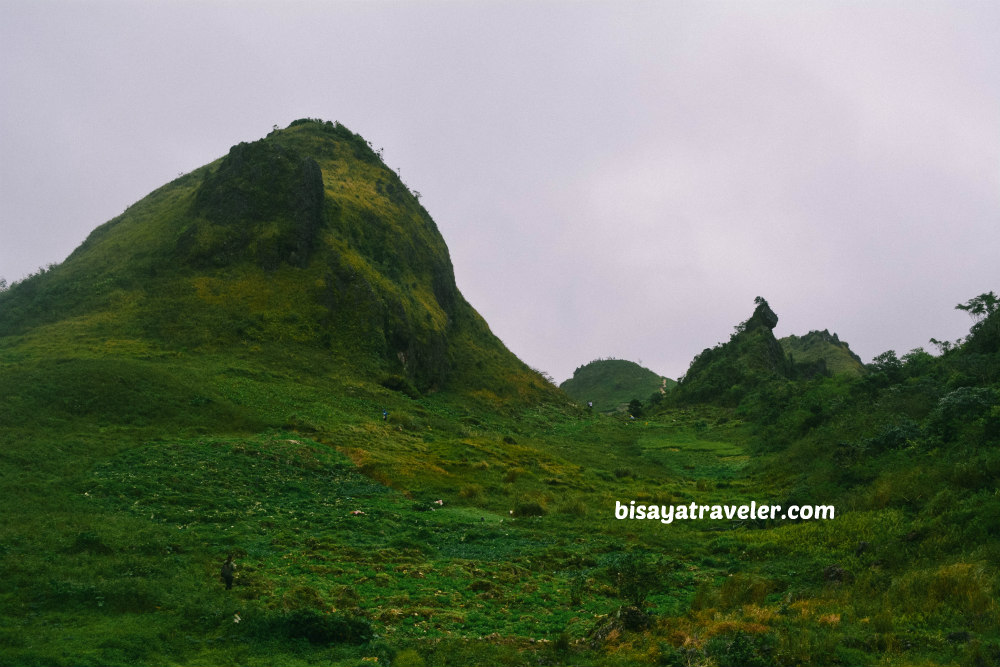 This time, the pace was a whole lot faster than earlier.
A familiar sight, then, appeared in front of us – the towering Lugsangan Peak. And, from the registration center, we paid the fees, and started climbing Lugsangan Peak.
I love the twisting non-stop assault to Lugsangan Peak. And, suddenly, I remembered the first time I climbed it, when nobody knew about it.
Memories of a horny nasty goat chasing one of my friends on the way to the summit flooded through me.
On the final ascend, we paused for a while, and just savored the refreshing scenery of Lugsangan Peak.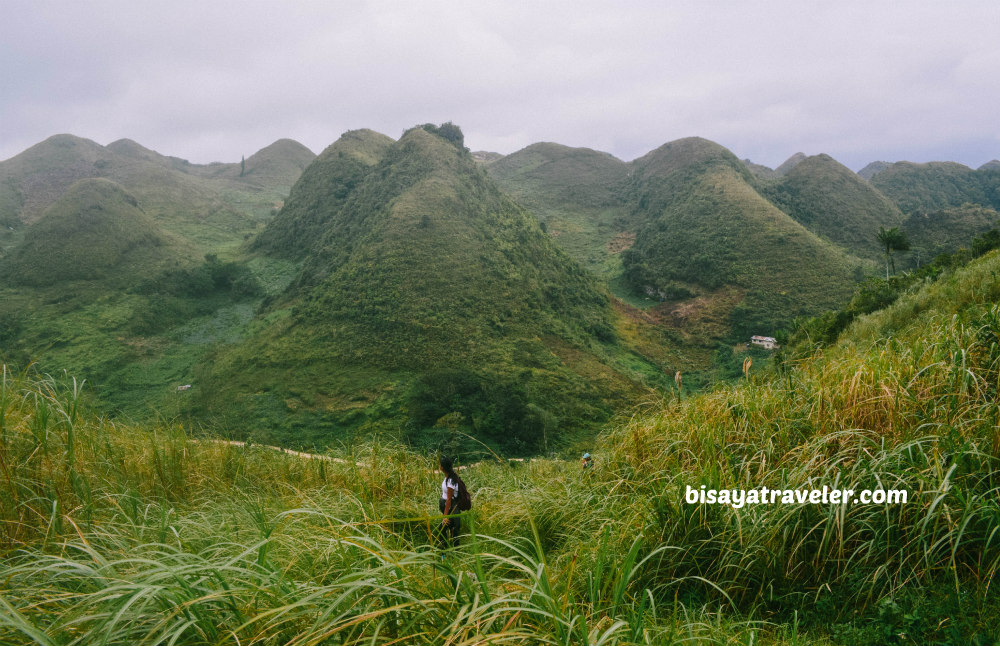 Excited and blissful, we took on the rocky terrain of Lugsangan Peak, and were stunned by its outstanding natural beauty.
Be still. Life is too short to be rushed. Those were the words that came into mind, as I was waiting for the clearing. Like a perfect movie scene, the fog slowly disappeared as we were listening to Israel Kamakawiwo'ole's version of "Wonderful World".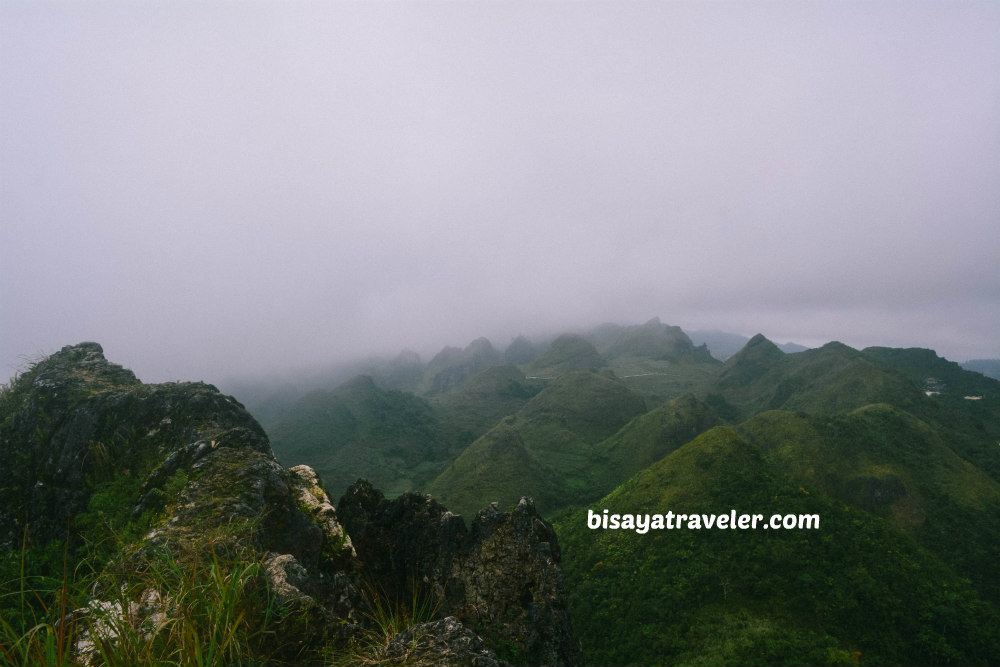 Beautiful. Majestic. Breathtaking.
I ran out of adjectives and adverbs, describing Lugsangan Peak.
And, though it's not my first time to see it, I still couldn't get enough of Lugsangan Peak.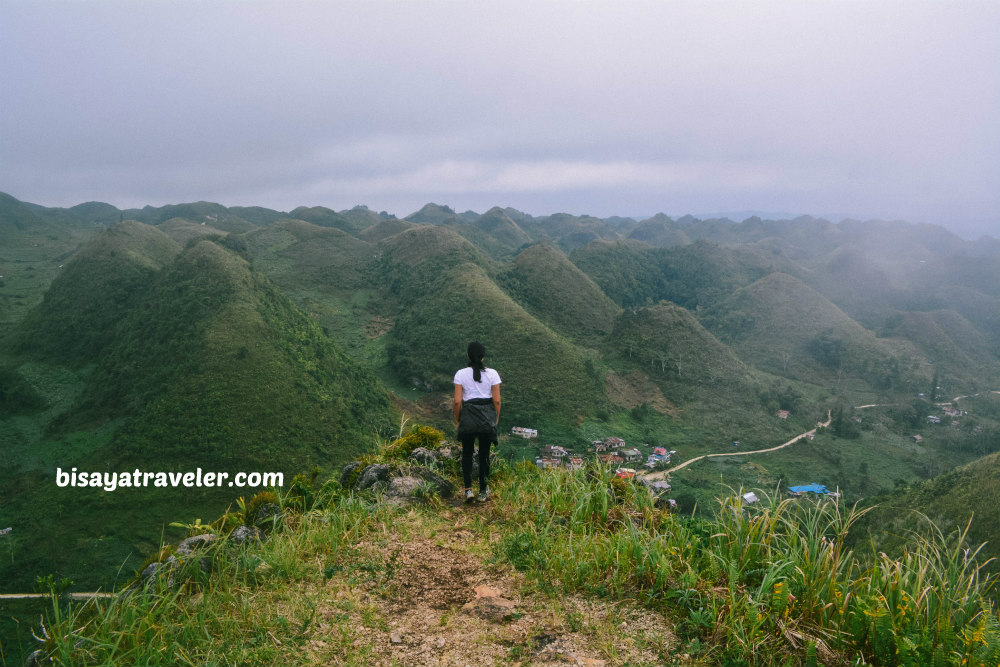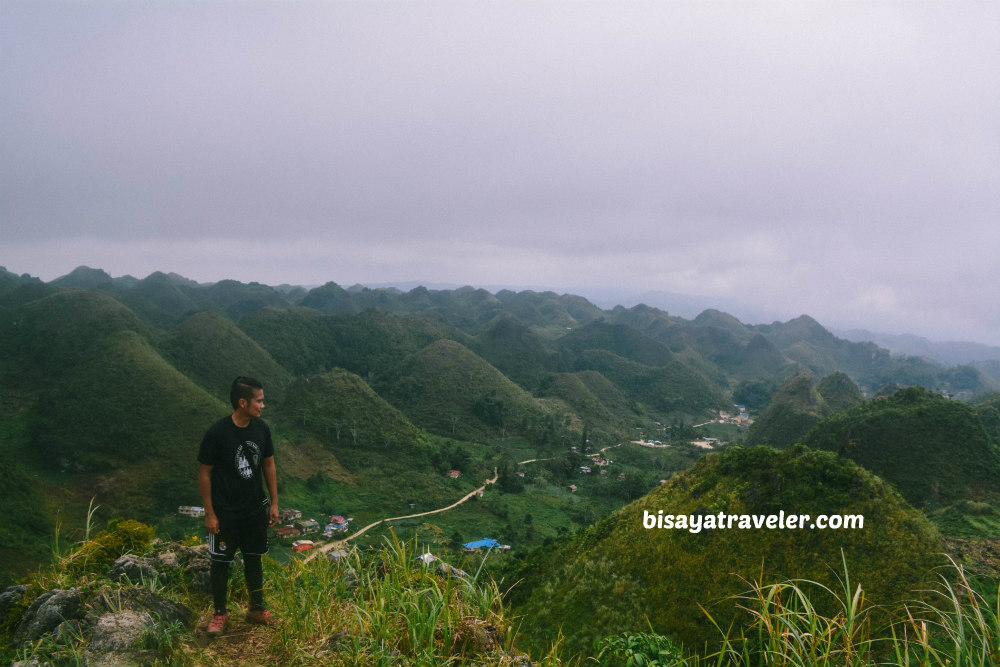 She is my baby, and one of my favorite and finest discoveries in Cebu. Truthfully, I won't be remembered for helping put Lugsangan Peak into the limelight and mainstream media. Still, I'm glad I did my part to help Lugsangan Peak become a must-see and irresistible attraction in Dalaguete.
Head high, we descended to the base of Lugsangan Peak, to end our Dalaguete escapade on high note. And, guess what? Our hike didn't end at the Lugsangan Peak. From the base, we walked all the way to Mantalungon market, capping off an 8-ish-hour hike in the highlands of Dalaguete and Badian.
Our expenses per person:
Bus fare: PHP 135
Habal-habal fare to the base of Kandungaw: PHP 150
Kandungaw Peak environmental fee: PHP 30
Guide fee for Kandungaw Peak to Opeak trail: PHP 200
Opeak environmental fee: PHP 30
Lugsangan Peak environmental fee: PHP 30
Habal-habal fare to Dalaguete proper: PHP 100
V-hire to Cebu: PHP 100
Our Kandungaw Peak to Lugsangan Peak itinerary
04:30 AM: Meet up at Cebu City South Bus Terminal
05:30 AM: Depart for Dalaguete town proper
07:45 AM: ETA Dalaguete town proper/hop on a ride to Kandungaw
08:30 AM: ETA base of Kandungaw
08:45 AM: Start hike
09:45 AM: ETA Kandungaw Peak/take pictures
10:30 AM: Start hike to Opeak
01:45 PM: ETA Opeak/ Mercado's Peak/lunch
02:20 PM: Resume hike
03:20 PM: ETA Lugsangan Peak
04:00 PM: Start descend
05:00 PM: ETA Mantalungon market
05:30 PM: Depart for Dalaguete proper
06:00 PM: Hop on a v-hire bound for Cebu
09:00 PM: Home sweet home
Things to take note:
Bring around 2 liters of drinking water.
Wear sandals or shoes with excellent traction.
Be a responsible hiker or tourist. Follow the LEAVE NO TRACE principles.
Pack snacks, trail flood and ION drinks like Pocari Sweat and Gatorade.
Prepare extra cash. Dalaguete is a bit touristy, meaning it's more expensive compared to the other hiking destinations in Cebu.