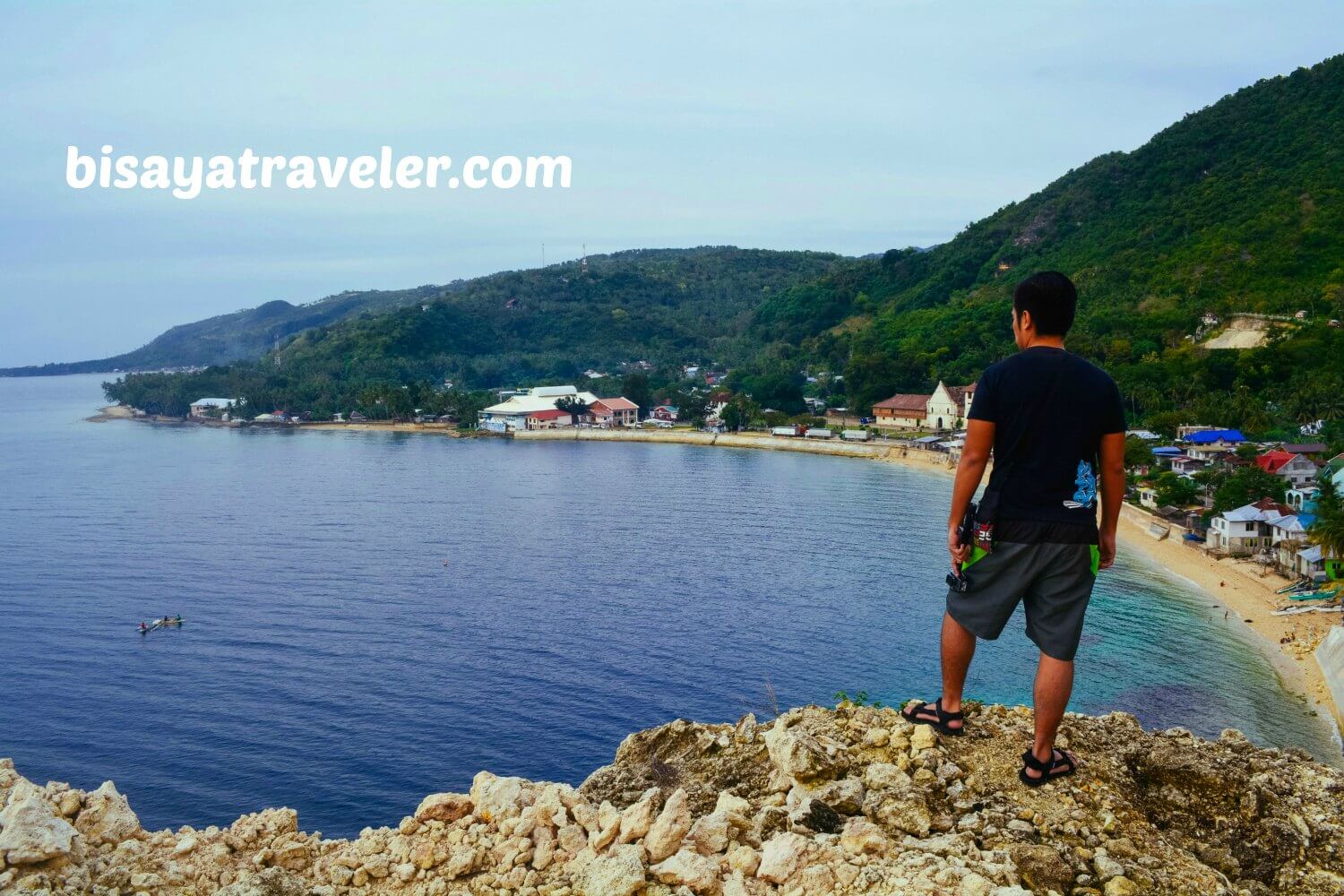 Ili Rock: Soaking Up The Awe-Inspiring Coastal Views In Boljoon
I'm absolute a sucker for high points with dramatic overlooking panoramas. Whether it's on top of a summit or from an urban observation deck, I always look forward to enjoying jaw-dropping views from a bird's perspective, whenever I hit the road. As a matter of fact, it is by far one of the reasons why I enjoy scaling steep mountains. And just recently, I bumped into another sweet overlooking spot in Cebu where I can find my bliss – Ili Rock, or also known as Ilihan in Boljoon.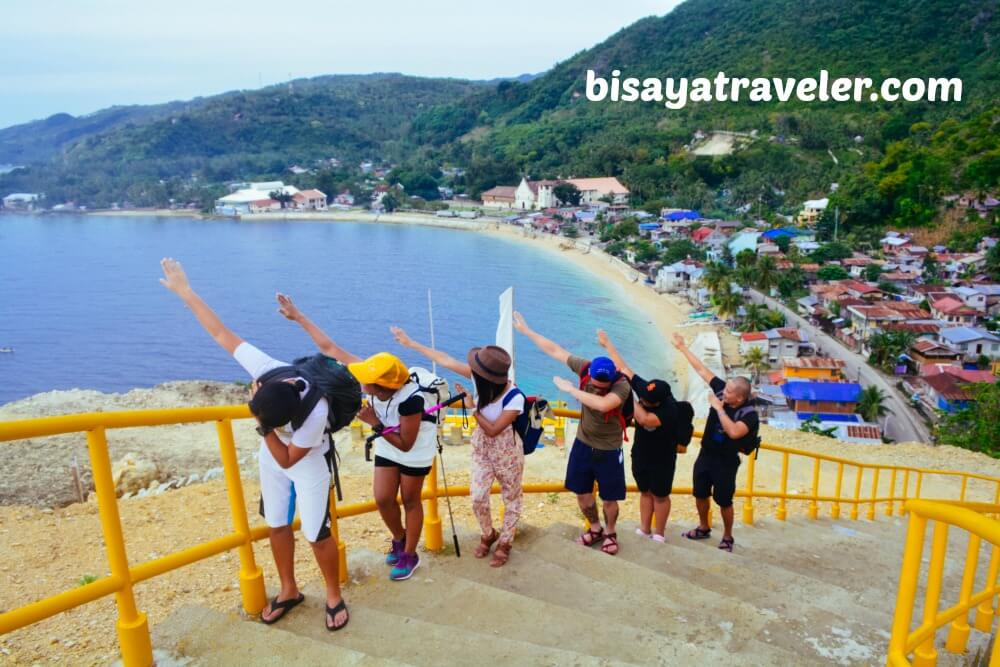 Although it's a bit controversial, I and the rest of Team Bang just can't resist the opportunity to see the lovely heritage town from a steep vantage point. And yes, the views from above are nothing short of amazing.
Why is Ili Rock controversial?
A few years ago, the Department of Public Works and Highways (DPWH) got an avalanche of backlash, protests and hate mails, when it carved portions of Ili Rock. From town folks to conservationists, there were quite a lot of people who were disheartened by the big changes they saw on Ili Rock, which was a natural fortress deemed as an important landmark in Boljoon.
Not only did the slope benching project alter the natural aesthetics of Ili Rock, but it also caused pollution on Boljoon's sea. Still, these developments were necessary to protect the motorists and locals of the rustic heritage town from landslides and gigantic falling rocks. As the local government officials would say, safety should come first.
And, with a little beautification, Ili Rock has wondrously become one of rising stars of Boljoon's flourishing tourism. With its awe-inspiring panoramas and fresh sea breeze, I'm pretty sure it's going to be a beloved tourist stop in south side Cebu soon.
Our Ili Rock experience
Enough about politics and other serious stuff! It's time to talk about our recent visit to Ili Rock!
For this Cebu day trip, I was joined by some of my fellow Team Bang members, including Ace, Romelyn, Kevin, Wilfred, Noel, Lieve, Marzi and Emile. What's more, there were three new faces joining us for our Boljoon and Oslob trip – March, Gelique and Tammy (who later joined us in Oslob).
How did we get there? After a scenic 3-hour bus ride from Cebu City South Bus Terminal, we finally arrived at the base of Ili Rock. Upon our arrival, some stretched their muscles a bit, while others like yours truly took a quick leak.
Quite frankly, Ili Rock looked, at first glance, like a dull and failed experiment. But, we all know this was still an on-going project, and it might take months (or years) before we can see its full glory.
So, we wasted no time, and took the 136-step concrete spiral stairway to the overlooking spot of Ili Rock.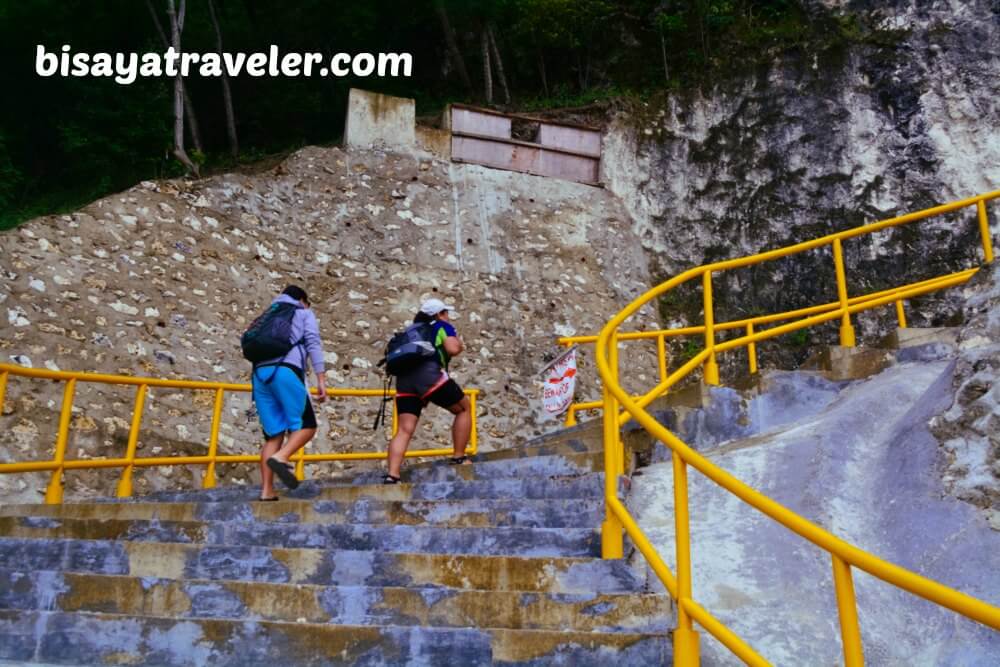 As we were weaving our way to the top, I and the other wild-eyed travelers were rewarded with some fantastic views of the heritage town of Boljoon.
With stunning sea panoramas and bird's eye views of the historic Boljoon Church, Ili Rock unleashed my inner shutterbug, giving me a strong urge to snap dozens of photographs.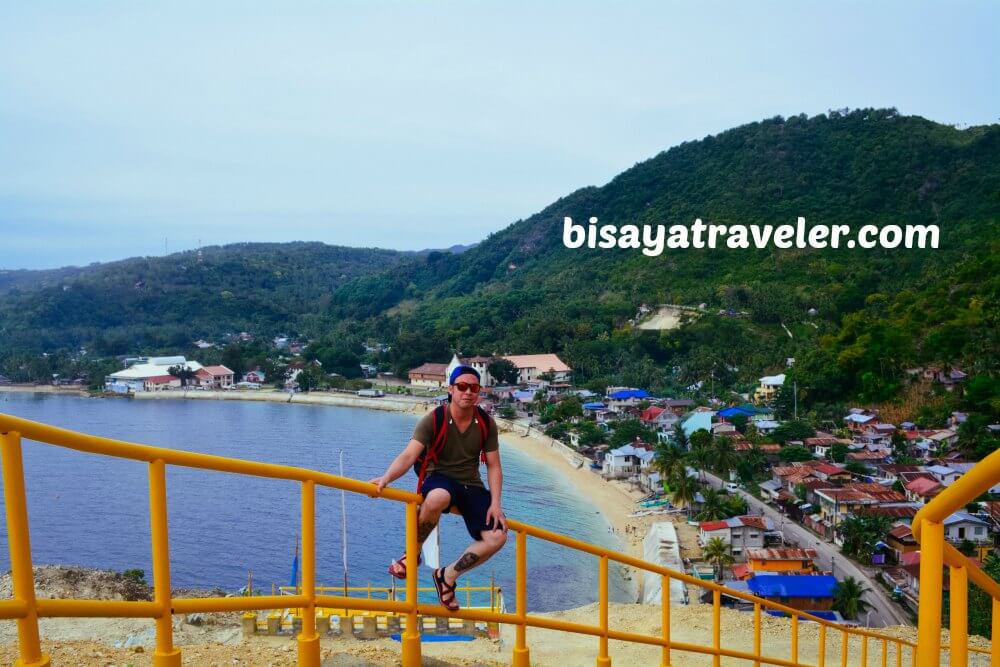 As for the climb, it wasn't really challenging for most of us. After all, we, as a team, have conquered a ton of slippery slopes and towering peaks in the past. Nevertheless, it did give me a mild morning cardio workout. Although we weren't drenched in sweat, it was still a great and fun way to burn excess calories.
Once we've reached the top, we took some time to admire the views, soak in the fresh see breeze and take in the spectacular scenery. Personally, it was such a pleasant reward, after a bustling week with a seemingly endless parade of work. From the summit, we saw the neighboring islands of Siquijor and Bohol as well as the town poblacion. Not to mention, it gave us a remarkable sight of the clear blue waters of Boljoon.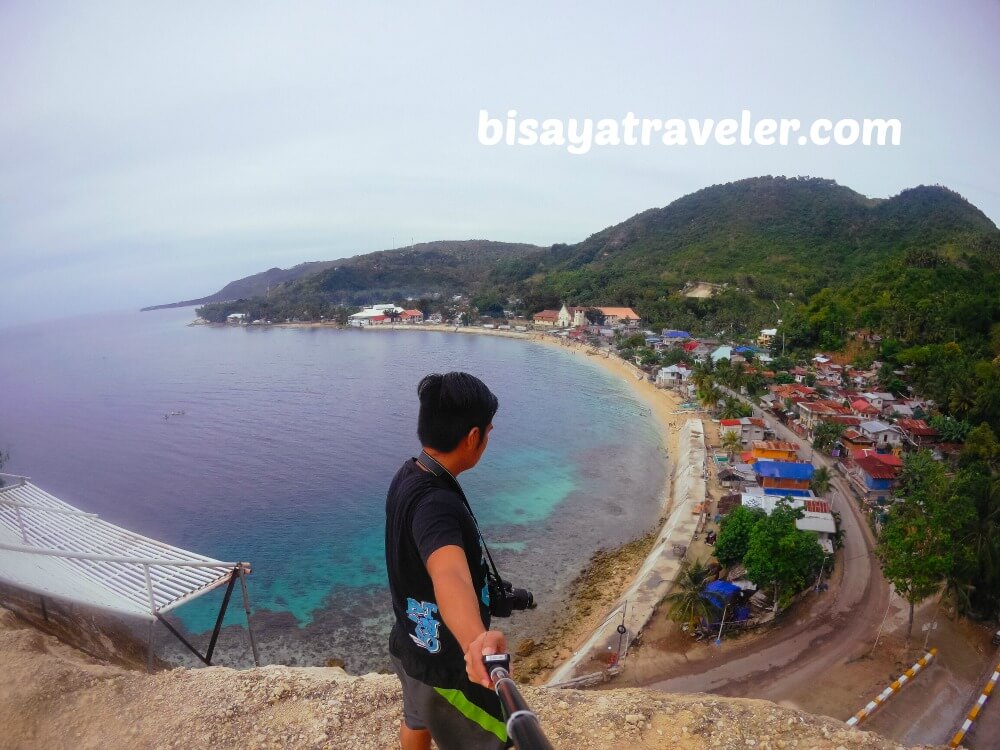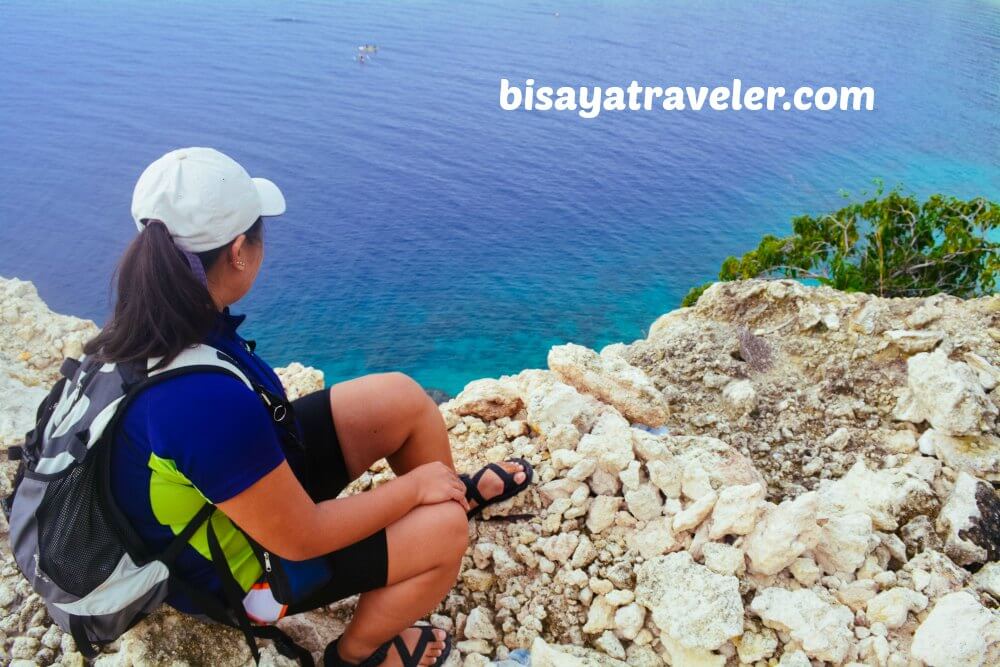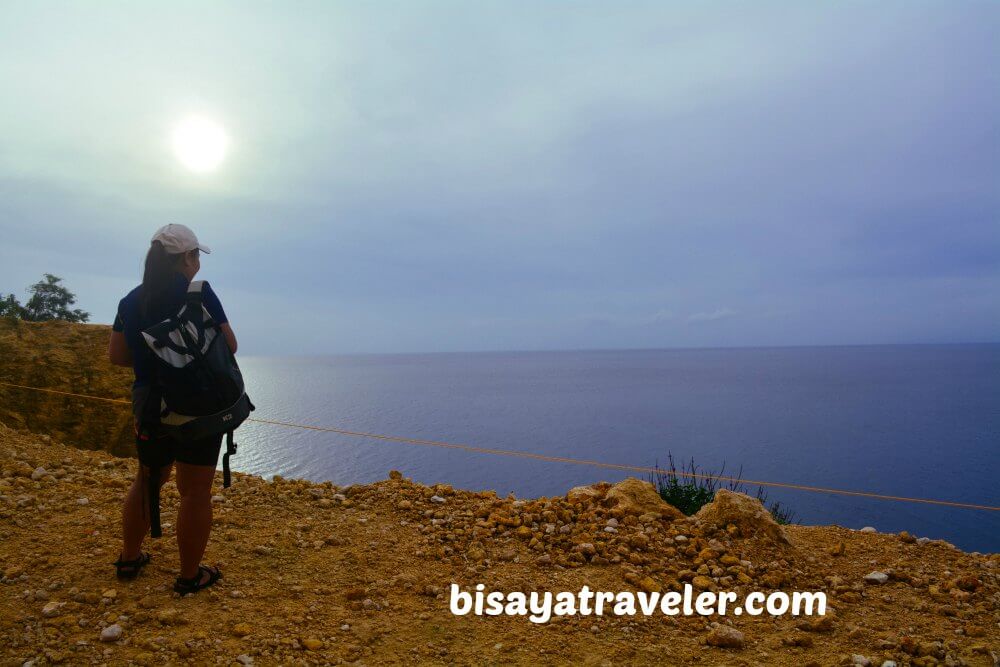 Everyone had fun, posing and snapping pictures of vistas from Ili Rock. As always, Wilfred and Kevin made their trademarks poses on various areas of the mountain rock.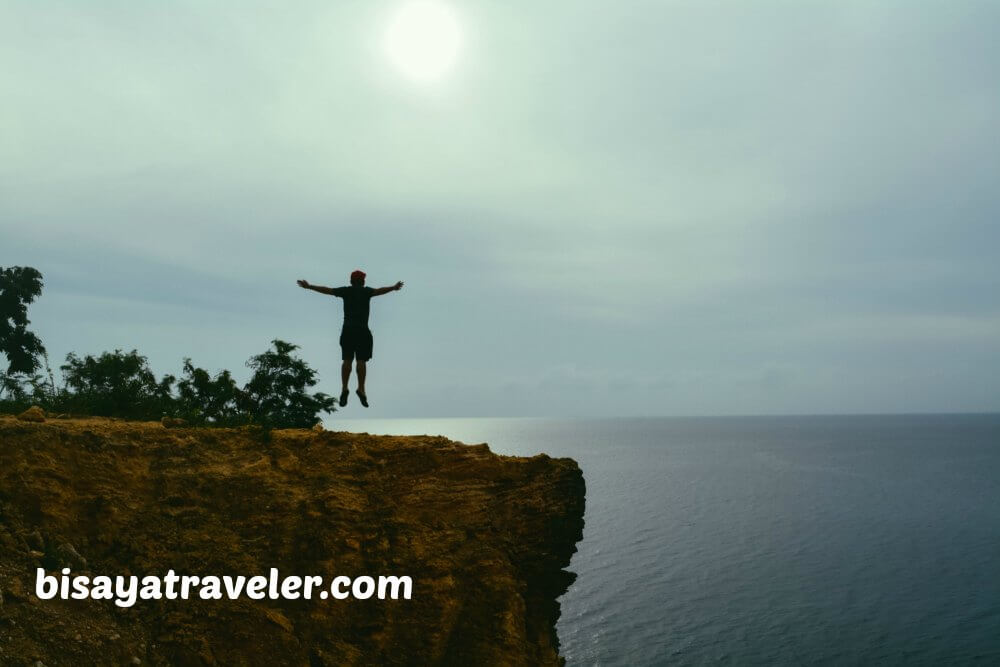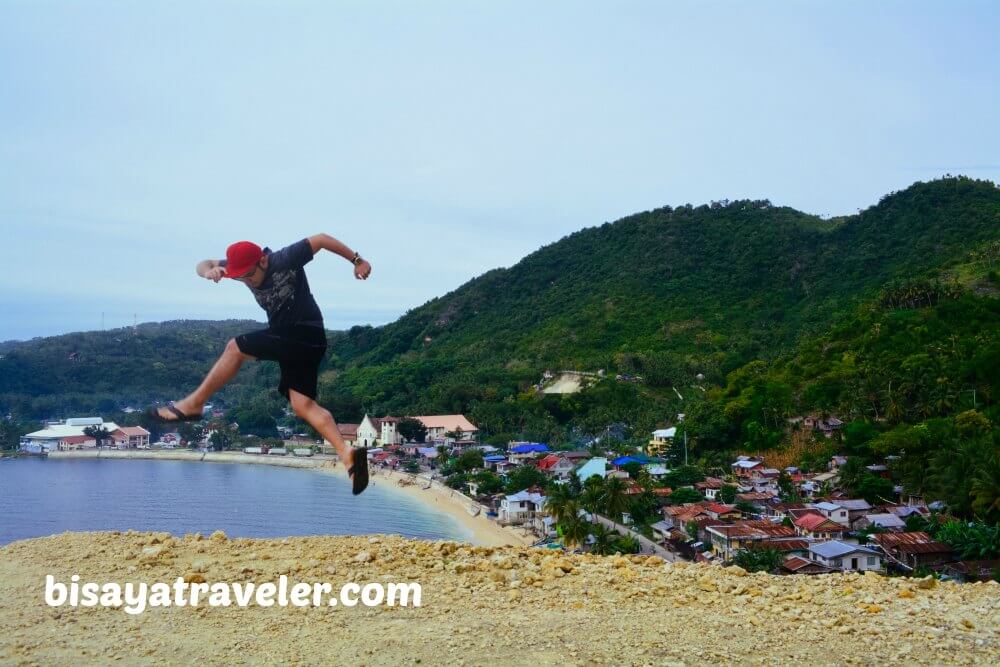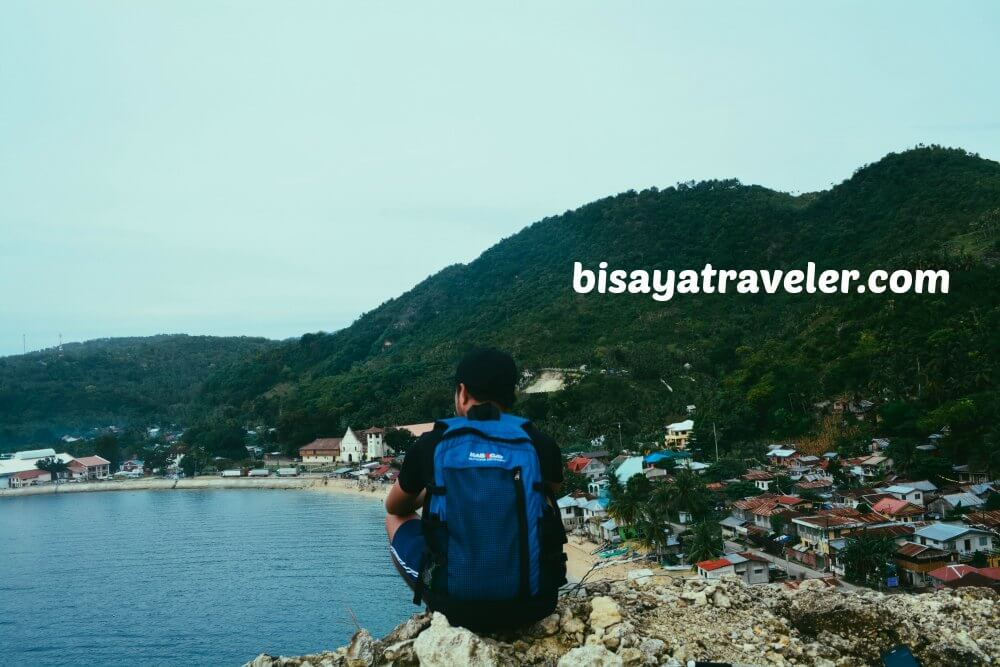 Not to be outdone by my fellow adventurers, I also made some poses on this spectacular vantage point.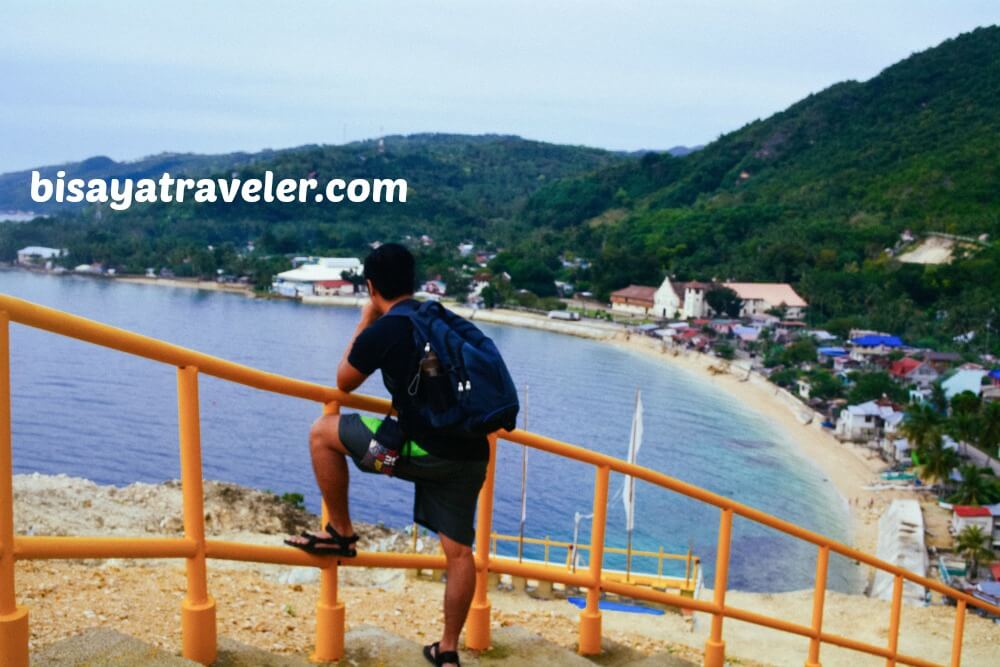 And yes, the whole team did have a ton of wacky group photos as well. We even had a "Dab" pose along the stairway. Somehow, the Dab pose has become a part of our tradition, every time we travel, thanks to Wilfred's suggestions and choreography. The first we time did it, we were out of sync, with some of us looking like they were dancing to a "Dayang-dayang" tune. There was some improvement this time, however.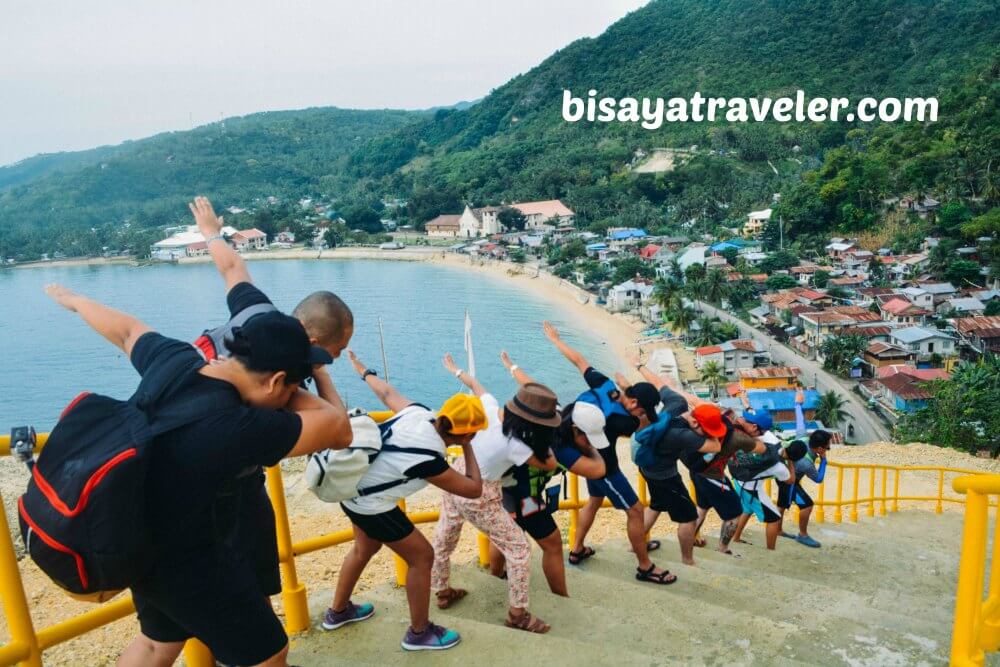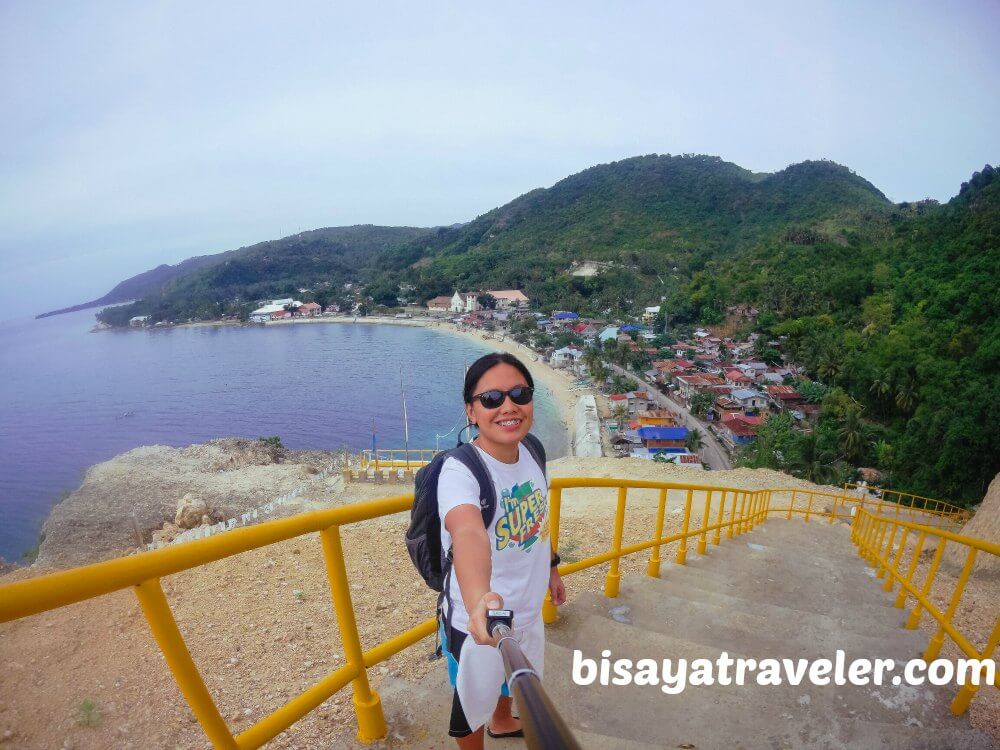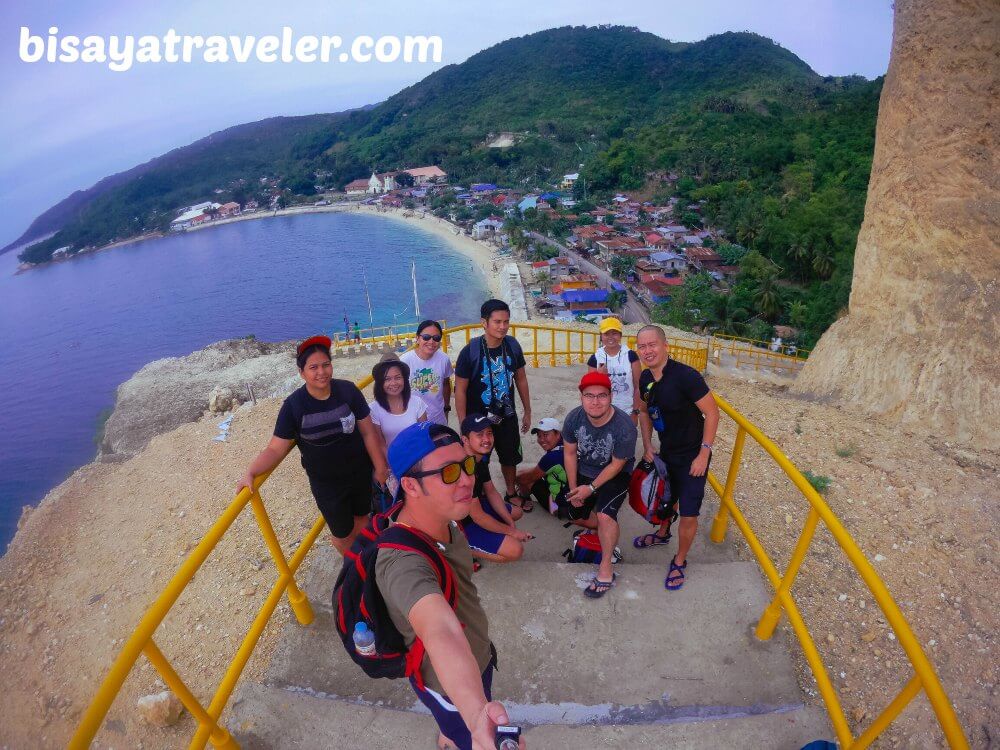 I think we spent about an hour on Ili Rock, just enjoying the vistas and each other's company. Later on, we descended from the top, and took a picturesque and relaxing walk on the sea wall and beach of Boljoon.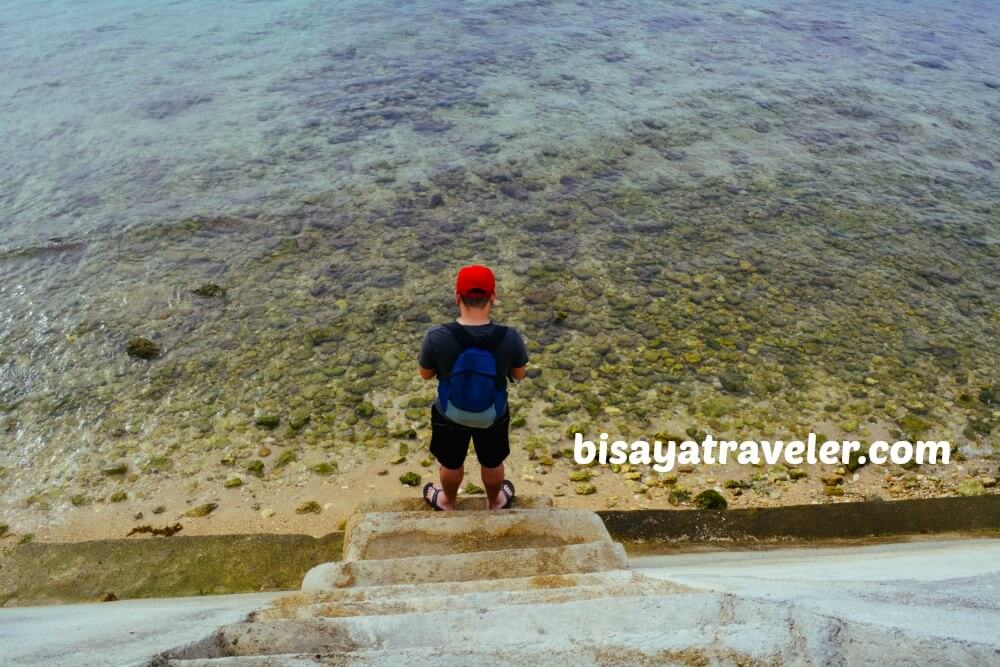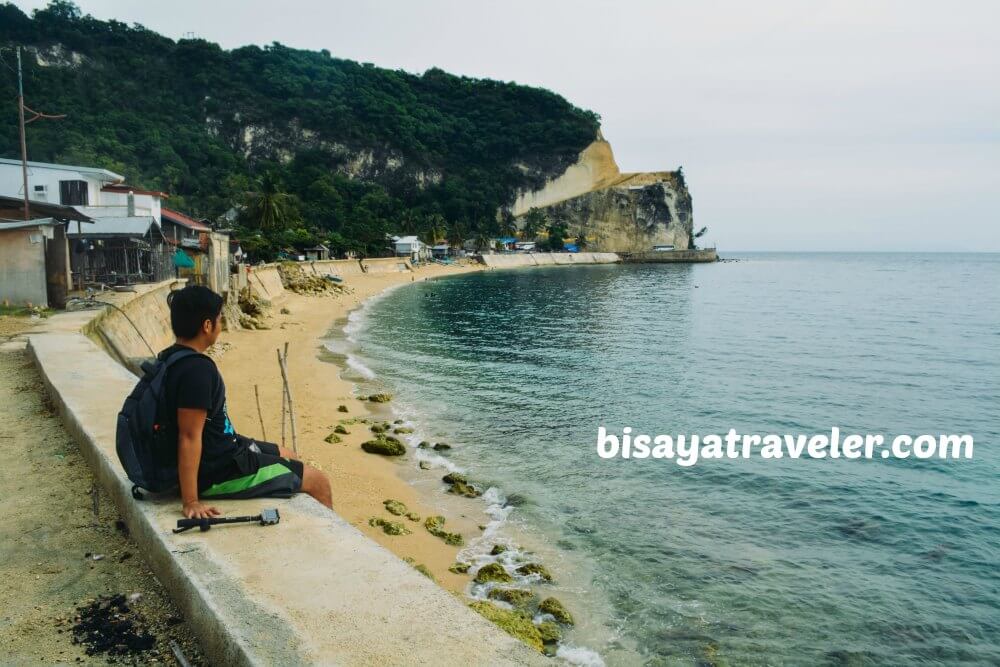 With its clear waters and laid-back feel, I must say it was a very beautiful walk. Ultimately, we arrived at the grounds of the historic Nuestra Señora del Patrocinio de Maria Parish Church, or commonly referred as Boljoon Church. While it's not the first time I've laid eyes on this church, I was in awe with the fine details and grandeur of this National Cultural Treasure.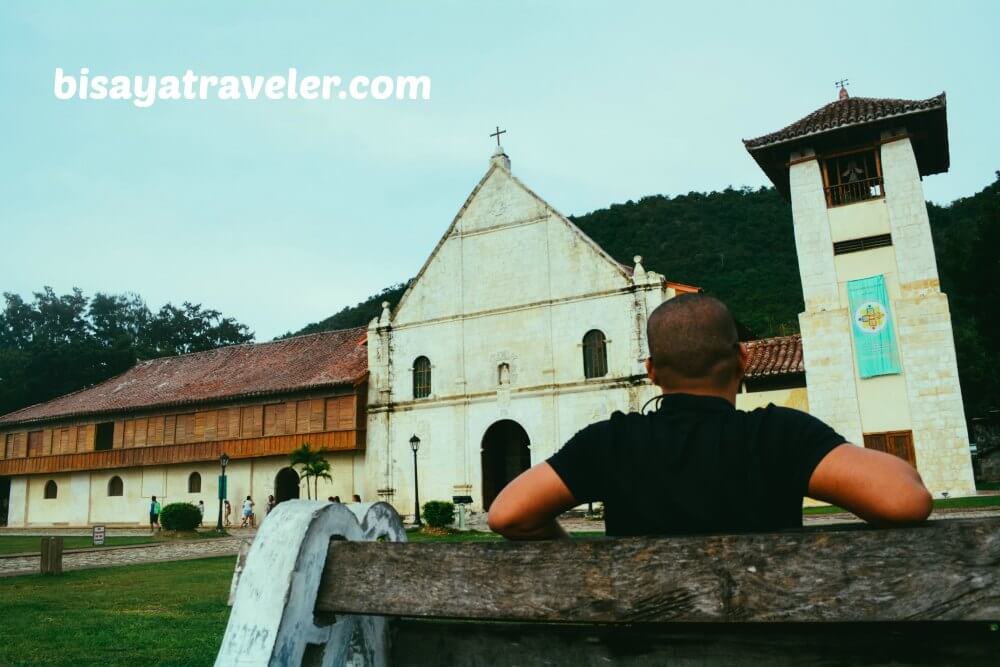 Since we had a lot of time in our hands, we took the opportunity to explore the area and see the other historic sites, like Escuela Catolica.
As part of our tradition (we do have a lot of traditions), each member of Team Bang has to pose for a photo in every beloved spot. And, the undisputed star of this sightseeing adventure and photo walk was no other than the newly dubbed "Insta Girl" Marzi, who dazzled with her awesome outfit.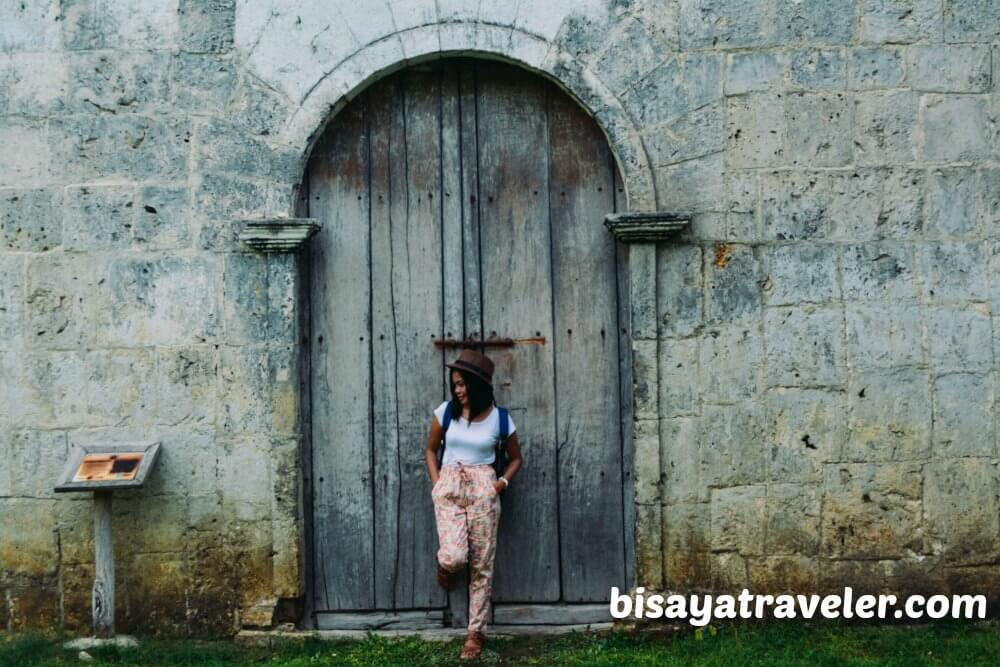 Our south side Cebu adventure didn't end there, though. With Ili Rock in the books, we went to Oslob to visit the Cuartel as well as to take a plunge at the beautiful waters of Sumilon Island (I will write about this one later)
And, guess what? We did make another stop at Ili Rock, before leaving home. This time, Tammy – the girl who joined us in Oslob – was around to enjoy the view from this mountain rock. We were supposed to drop by a peak somewhere in Boljoon, but it was late, so we decided to take few more photos of Ili Rock.
Our Boljoon and Oslob Itinerary
04:30 AM – Depart from Cebu City South Bus Terminal
07:30 AM – Arrival at Ilihan
08:30 AM – Depart from Ili Rock
09:00 AM – Photo ops at Boljoon Church
09:30 AM – Buy lunch at the local market
09:45 AM – Depart from Boljoon
10:20 AM – Arrival at Cuartel/ photo ops
10:45 AM – Depart from Cuartel
11:30 AM – Lunch
01: 00 PM – Depart for Sumilon Island
01:15 PM – Arrive at Sumilon Island
03:30 PM – Depart from Sumilon Island
04:30 PM – Depart from Oslob
05:10 PM – Arrive at Boljoon
05:30 PM – Photo ops at Ili Rock
06:00 PM – Depart from Boljoon
09:00 PM – Home sweet home
Important notes:
Ili Rock, as with the historic attractions in Boljoon, can be enjoyed for free. No admission fee, and you can spend as much as you want there, without spending a centavo.
Bus fare per way is around PHP 146 (air-conditioned).
To get there, you just need to take a bus to Oslob or Santander, and ask the conductor to drop you off at Ilihan.
Bring water and snacks, as there are no stalls in the area. Just don't forget to practice the Leave No trace principles.
Ili Rock is far from being a finished product, and may have some sweet additions in the future, including a souvenir shop, coffee shop, zipl-line, lighthouse, a Virgin Mary Shrine, and a viewing deck with a telescope.
Don't be an idiot. Whether you're trying to impress the girls or just want to have an awesome photo on IG, please don't do a daring or "buwis buhay" pose on Ili Rock. One false move and you may end up on laying flat on the road below.
Ili Rock is open daily from 5:00 AM to 6:00 PM
Go there early in the morning or late in the afternoon, when the sun is not at its peak.
Take time, live in the moment, and enjoy the view.