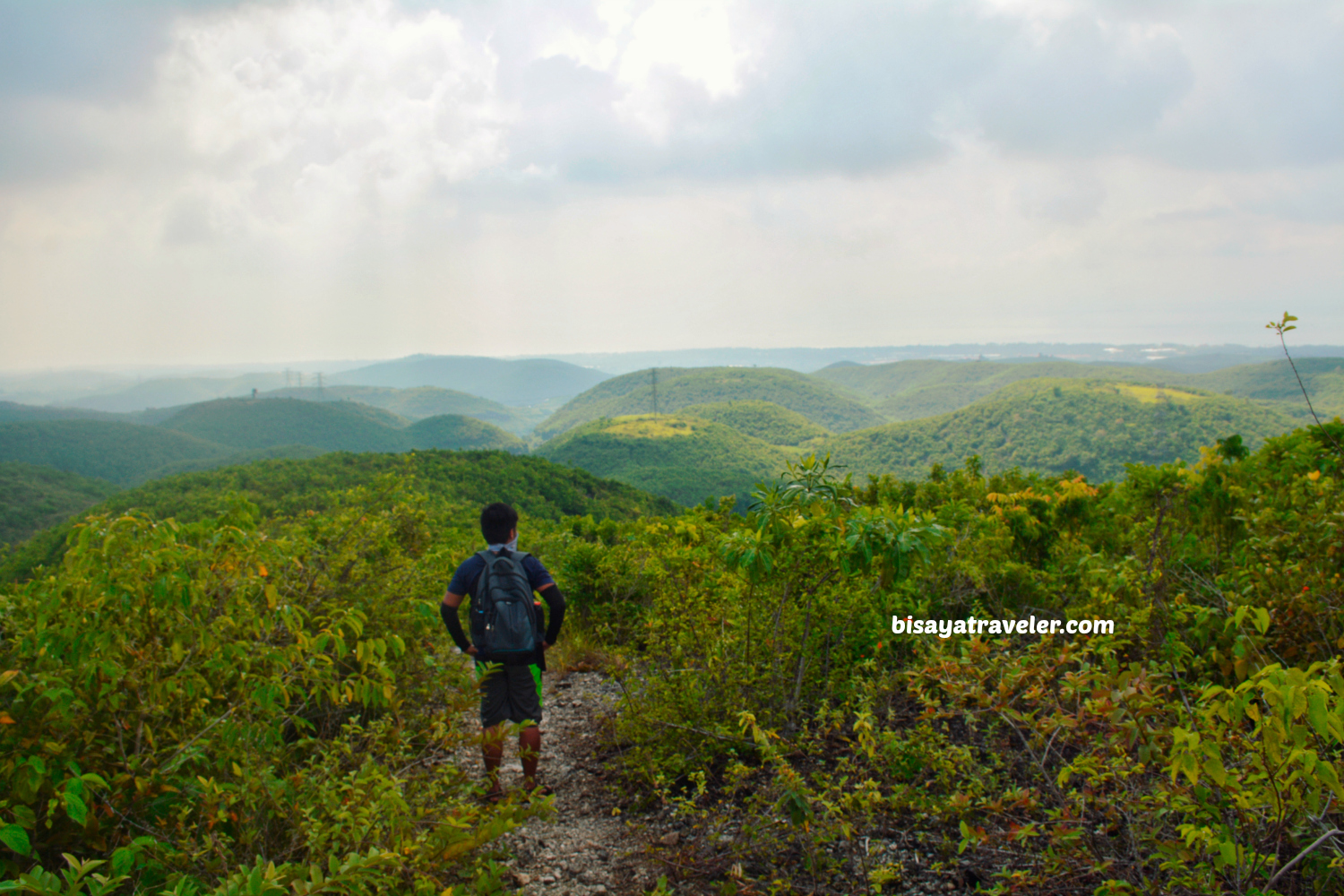 Lataban Hills: Liloan, Cebu's Instagrammable Chocolate Hills
I'm an unstoppable freight train, whenever my adventurous spirit awakens. Once I set my sights on a destination or attraction, I rarely take off my eyes on the prize. With a can-do drive and an insatiable sense of wanderlust, I step on the gas, and just do whatever it takes to get to the place that I want to go. Even in remote and relatively unknown places like Lataban Hills, I always find ways to set foot on my next target.
But, as of late, I've been a little off with the budget and time estimations in my trips. This year, my life has been, so far, an endless parade of emails, deadlines and bills. In other words, I don't have a lot of time in my hands, to do some thorough research and make plans for my impending escapades.
Luckily for me, I now have a well-balanced and savvy team of like-minded adventures who can pick up the slack and take on the travel planning duties, whenever I get too busy with life. And in our recent weekend escape, it was Gelique and Teacher-traveler, Beth, who scoured information about our destination – Liloan's Lataban Hills (or also referred as Triathlon Xterra).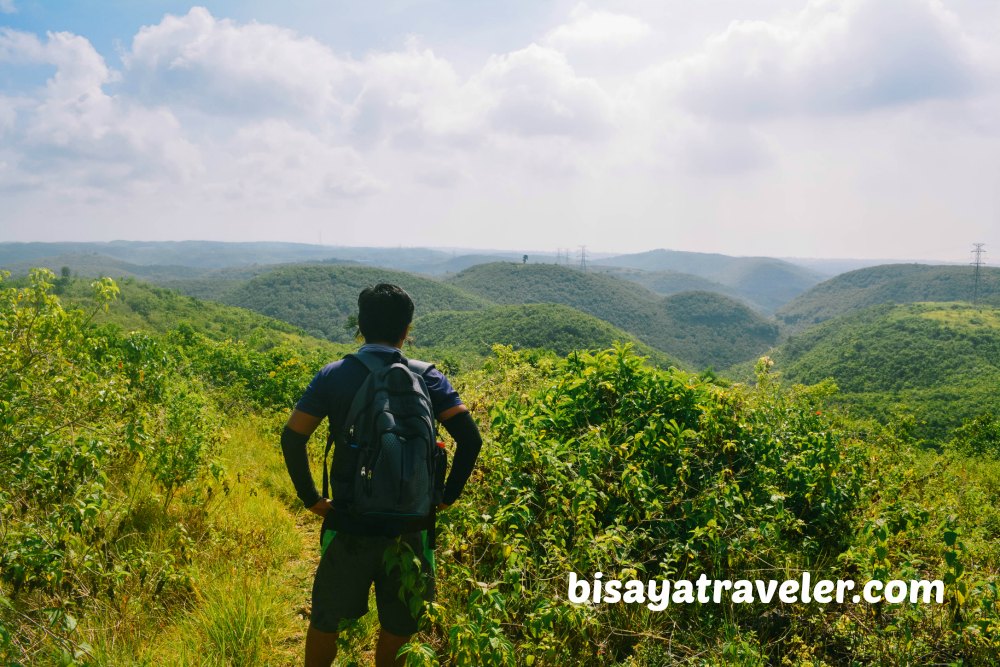 With a bit of info about Lataban Hills, Team Bang stepped into the unknown, and got treated to picturesque panoramas of Liloan and Cebu. Plus, we also got a beautiful surprise, after laying eyes on Lataban Hills.
Our awesome experience in Lataban Hills, Liloan, Cebu
Team Bang's latest Sunday escapade started with a meet-up at Rull's Bakeshop in the corner of Bahak Street, Liloan. There were 10 Team Bang mainstays who joined me on this exciting outdoor trip – Gelique, Kevin, Noel, RJ, Romelyn, Lieve, Beth, Sadam, March and Jesh. Furthermore, there were a couple of youngsters that tagging along with us on our hike to Lataban Hills – Gelique's lanky brother and Noel's chirpy kiddo.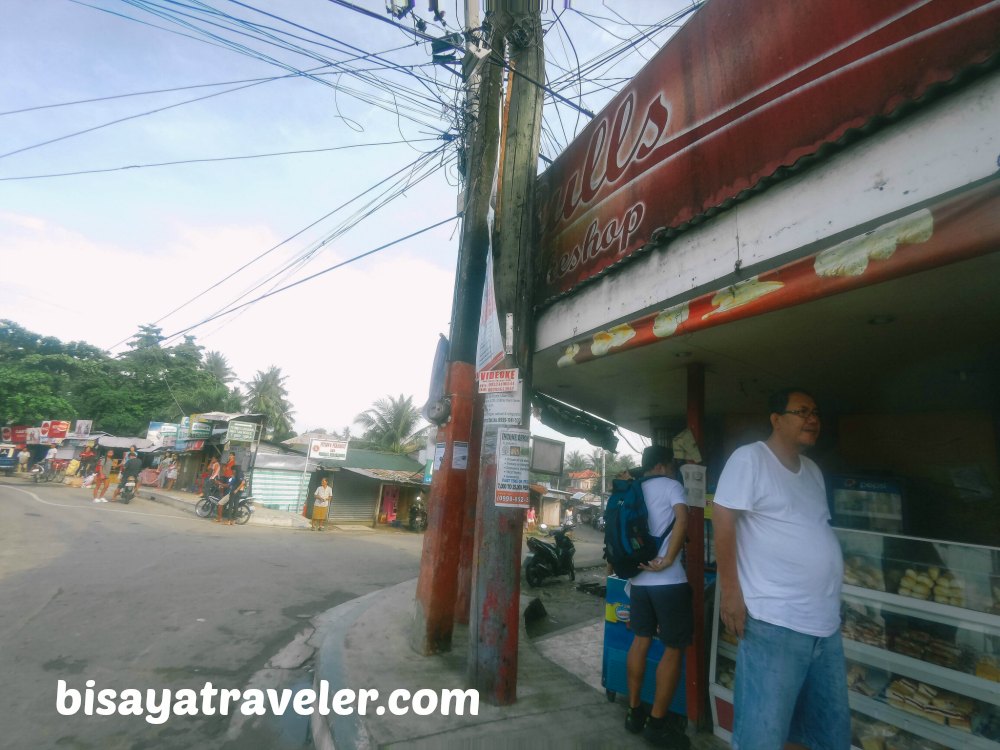 After gathering the squad, we wasted no time, and took a 30-minute habal-habal ride to the base of our day adventure in Liloan – the basketball gym of Barangay Lataban.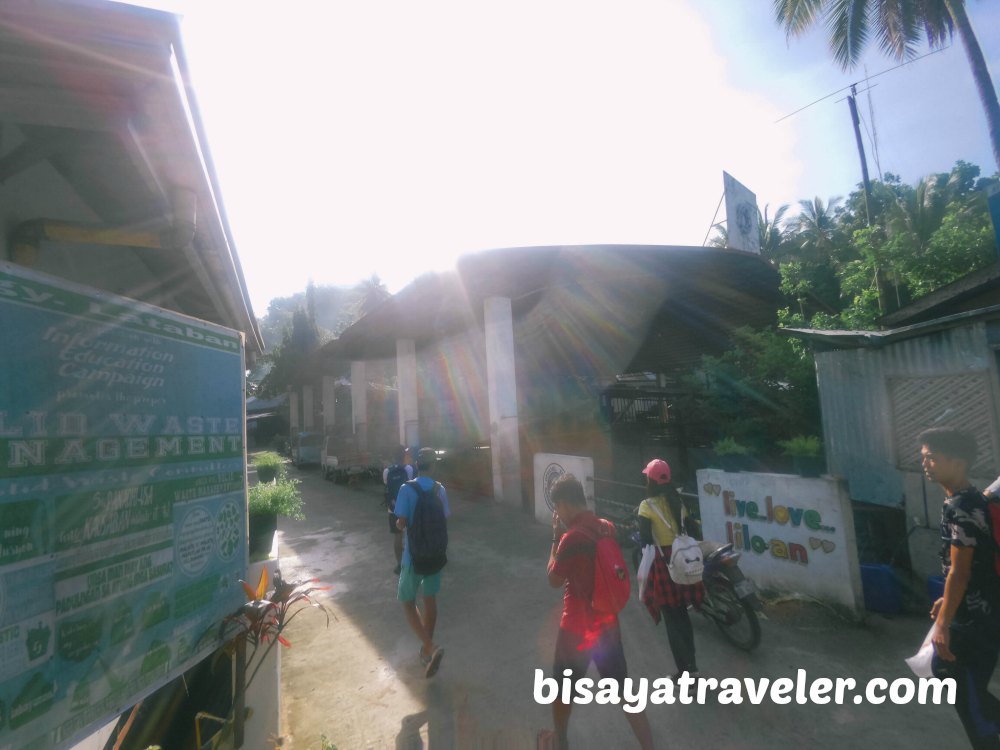 From there, we said a prayer led by Gelique, for safety and good weather. Afterwards, we asked a couple of locals, to shed some light on the location of the Chocolate Hills lookalike in this part of Liloan, Cebu. As we were asking them, we used the keywords "Triathlon Exterra" because most locals know the hills as the host venue of this off-road event.
With the tips shared to us by the kuyas and ates, we walked, talked and followed the trail leading to the verdant Lataban Hills, or AKA Triathlon Exterra.
As for the hike, it was rather short and fairly easy, despite the scorching heat of the sun and a few ascends. Nevertheless, it was a good cardio and leg work-out on a Sunday morning.
We hiked, enjoying each other's company, until a familiar view came into the sight – the cottage with the Chocolate Hills-like backdrop of Liloan, Cebu.
And yes, it was the actual rustic cottage that we saw on social media.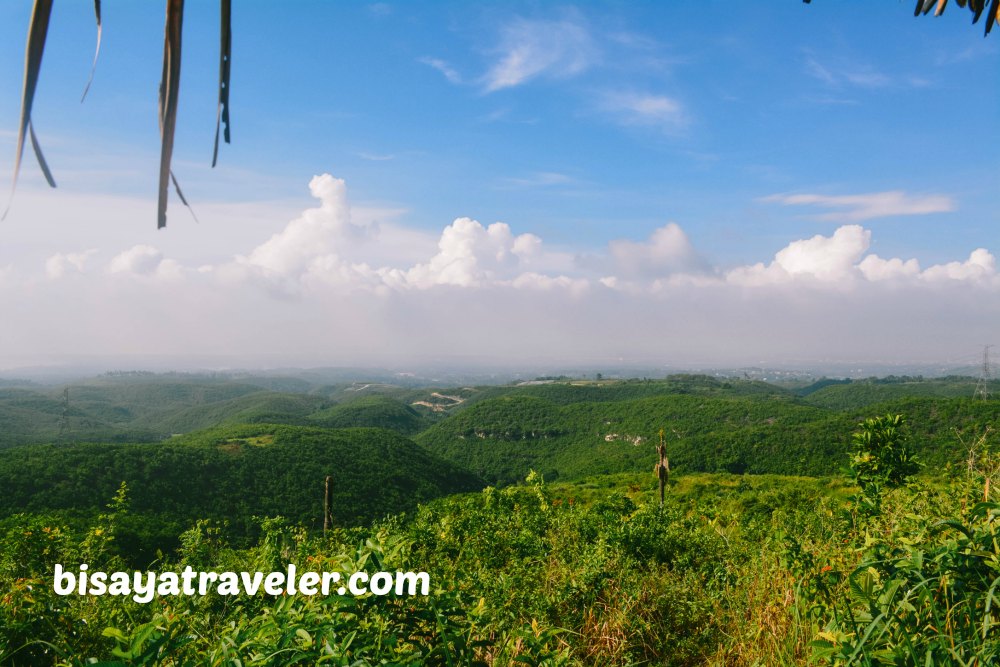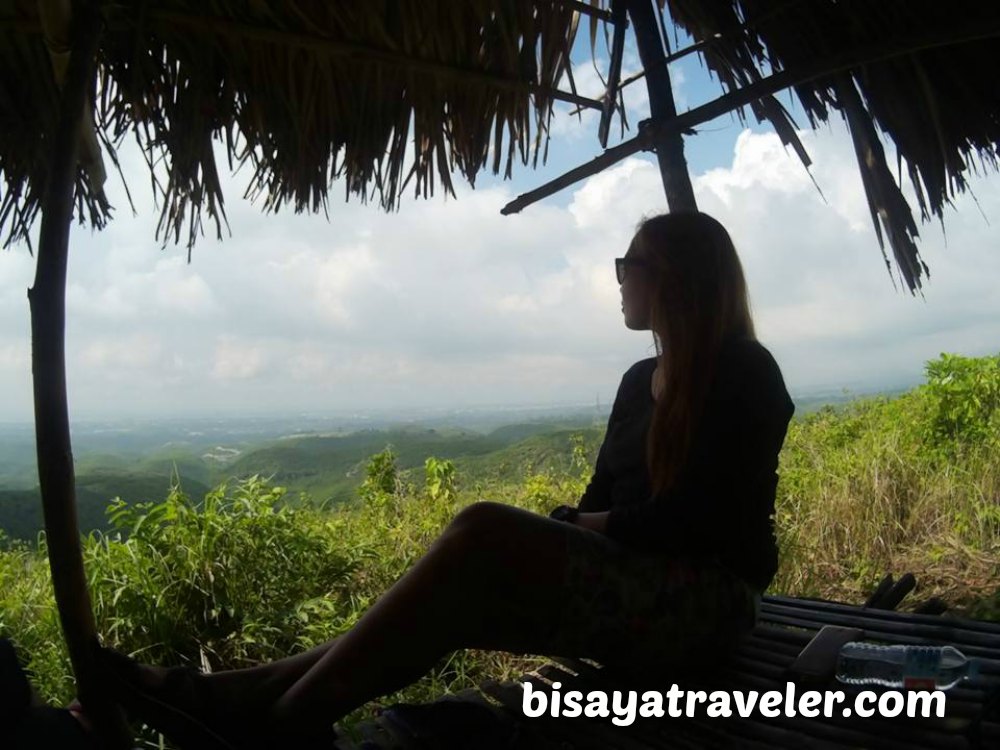 We took a short breather – less than 5 minutes – after our arrival at the cottage. Later on, we went downhill, to find a good vantage point of the Lataban Hills.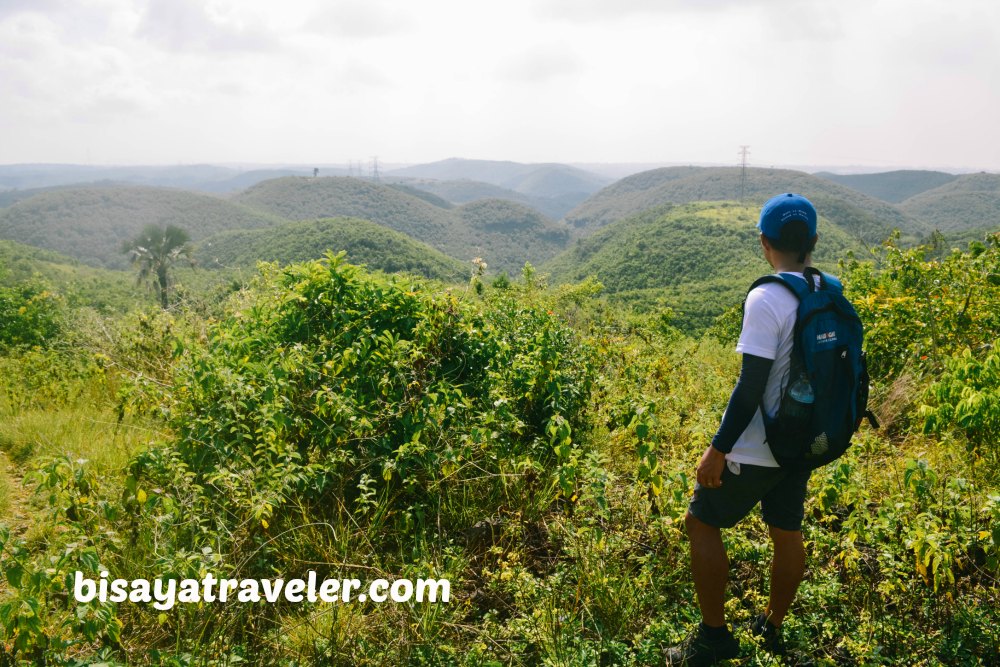 With an opportunity to discover an uncharted territory, I did get carried away, while were heading down Lataban Hills. As a matter of fact, Noel's son thought that they have lost track of me since I was out of sight, and was way ahead on the trail.
I was alone, for minutes, but I enjoyed every second of solitary moments, thanks to the melodic chirping birds and fresh mountain air. To make things better, I saw a big, red bird passing by, as I was waiting for the whole team. Sadly, I wasn't fast enough to capture it on my camera.
Eventually, Kevin and Romy arrived in the scene, saying that we have already passed by the best vantage spots in the area.
And so, we went up, to join the rest of the team, snapping photos of Lataban Hills. Along the way, we made stops, to make individual and group poses.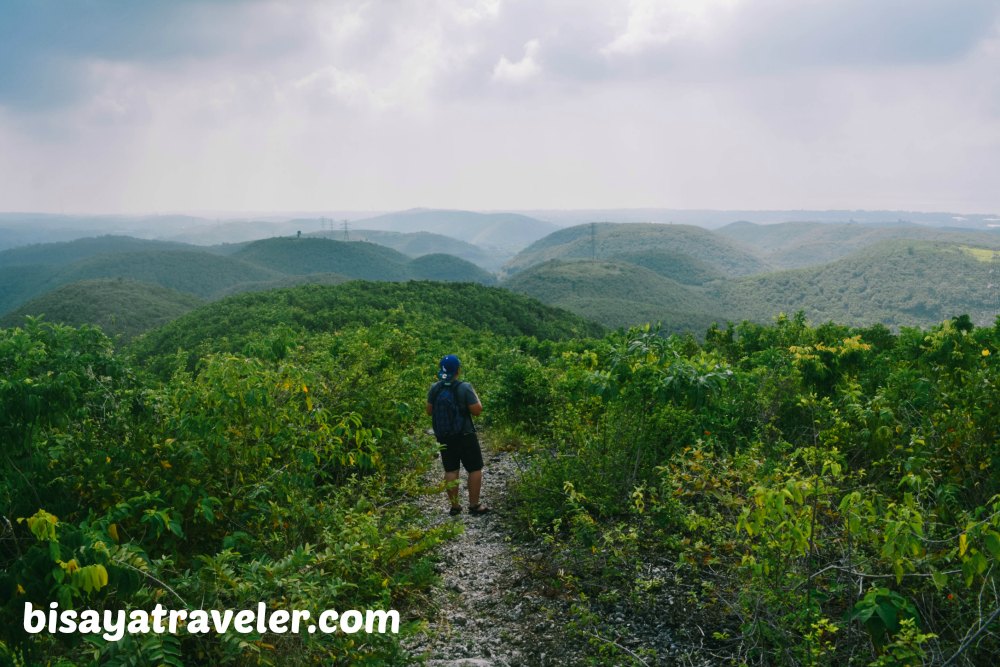 As for the scenery, it did sweep me away into bliss, with its breathtaking views of the hills, Papa Kits, Liloan and even Lapu-Lapu Island.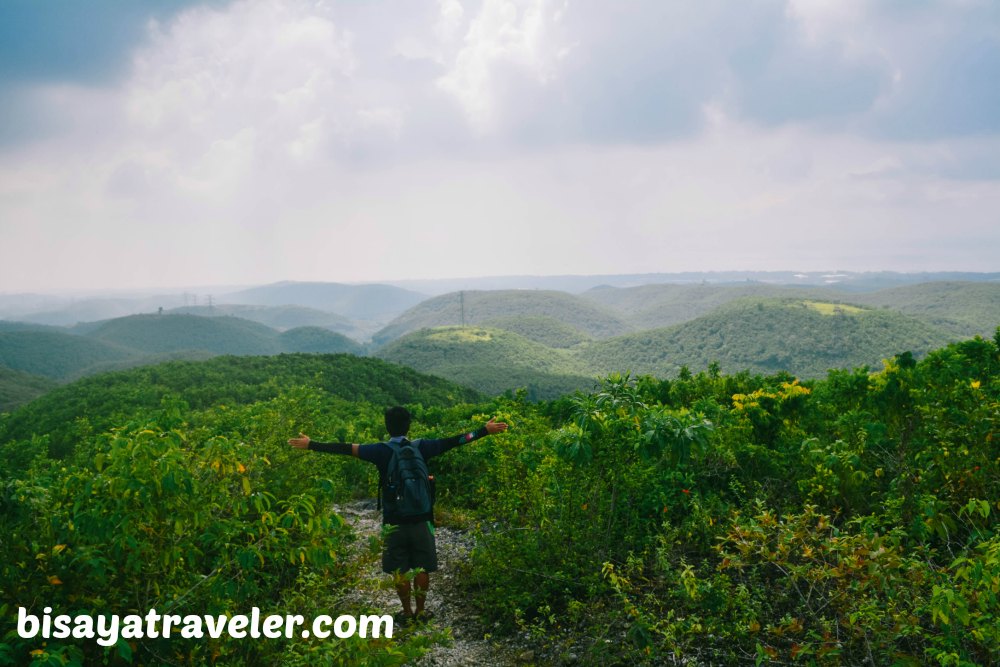 With thick bushes and a narrow trail, it was quite difficult for us to execute our trademark "Dab" pose.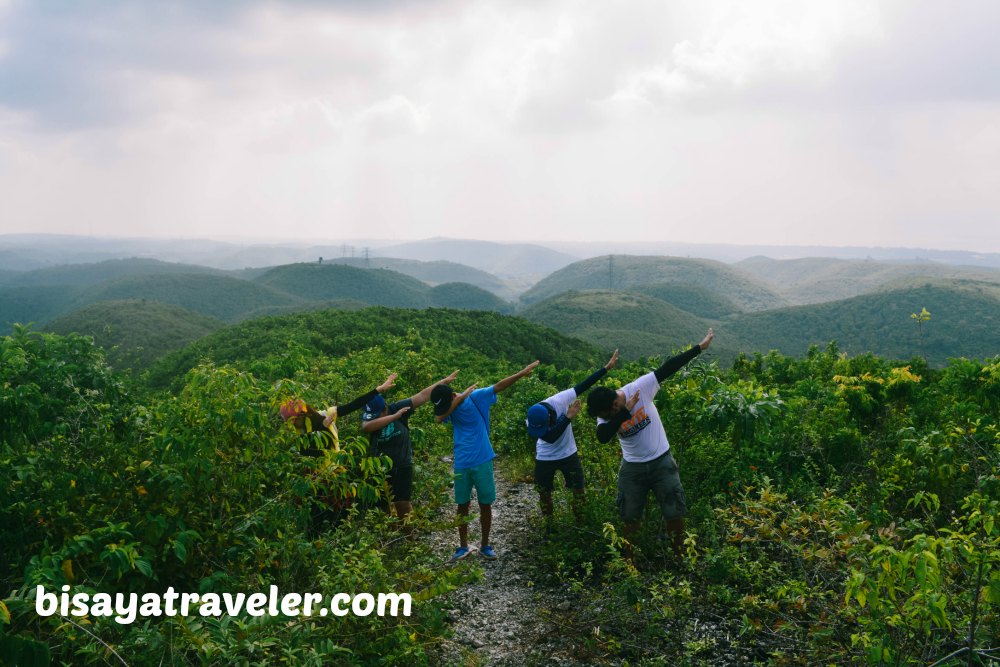 That's why we made some interesting modifications, and unveiled a new group pose. Looks cool, right?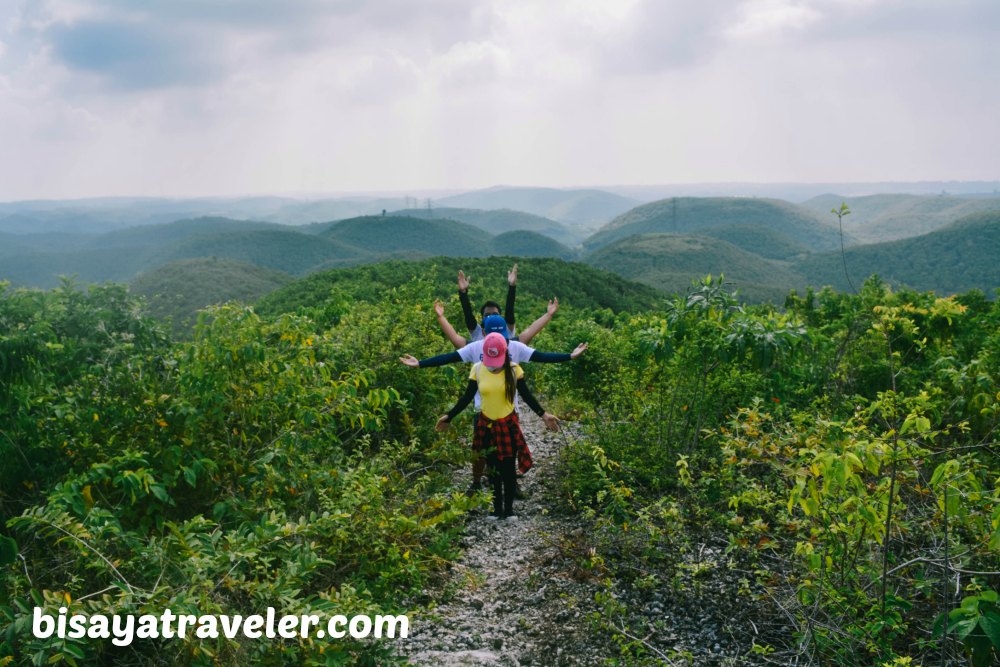 We did take a ton more photos, on our way back to the cottage.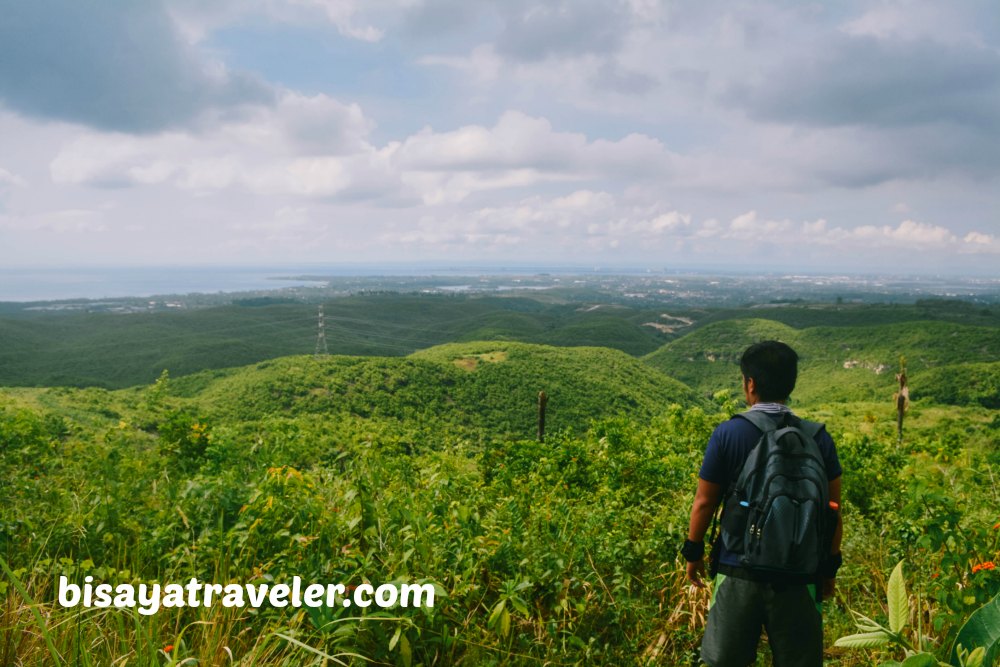 Upon our arrival at the cottage, we saw Jesh and Sadam enjoying a short nap. I guess the guys were busy with their bookings, the previous night.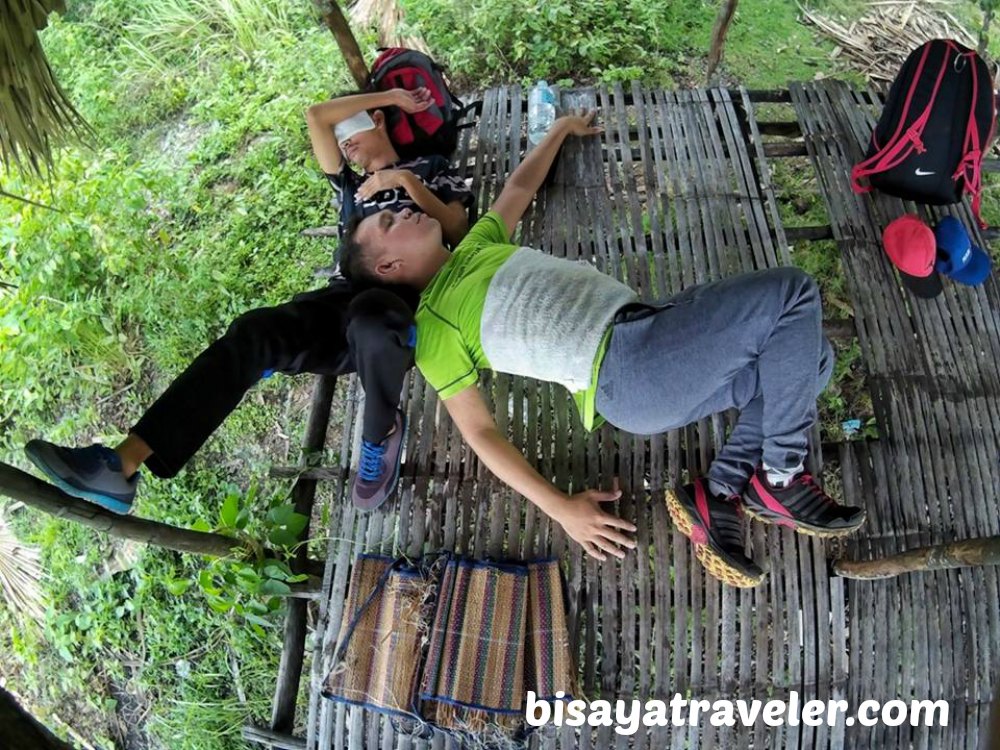 Afterwards, we took over a dozen more photos from different angles of the Lataban Hills. The other team members, meanwhile, were just chilling like villains, and soaking up the stunning views.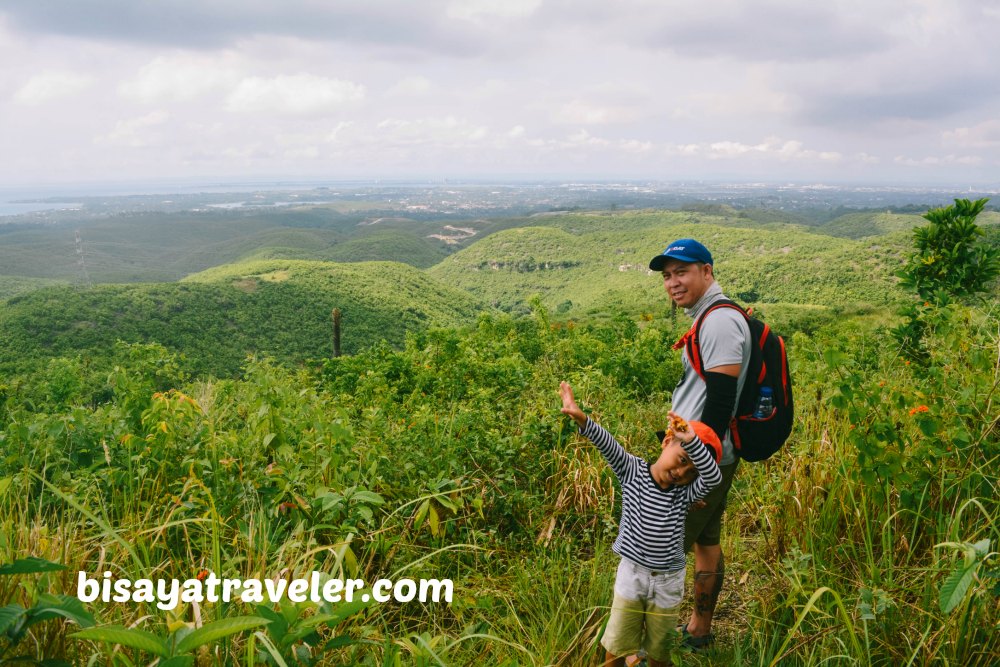 Moments later, a trio of cool off-road bike enthusiasts – Soliman, Kenneth and Ferdinand – arrived in the place.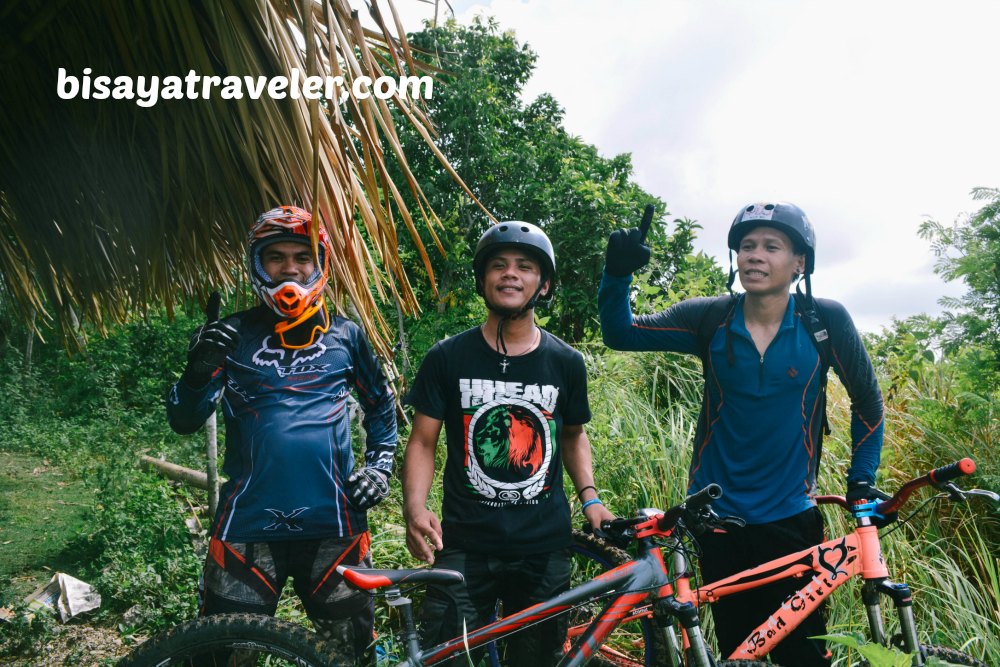 Since we're all curious cats, we asked a handful questions about Lataban and the surrounding areas.
Of course, these awesome dudes shared some insightful words of advice, and even gave us a tip on where to go next.
After splitting up with the bikers, we made our way to our next stop, Kan-insid Falls.
Since it's still a hidden gem, we didn't find any signs leading to Kan-insid Falls. Thankfully, there were locals along the way who helped us.
Minutes later, we arrived at a small community with a few nice folks doing their casual Sunday chores. From there, we asked them on how to get to this secluded natural wonder in Liloan. Of course, they gave us detailed answers regarding the location of Kan-insid Falls.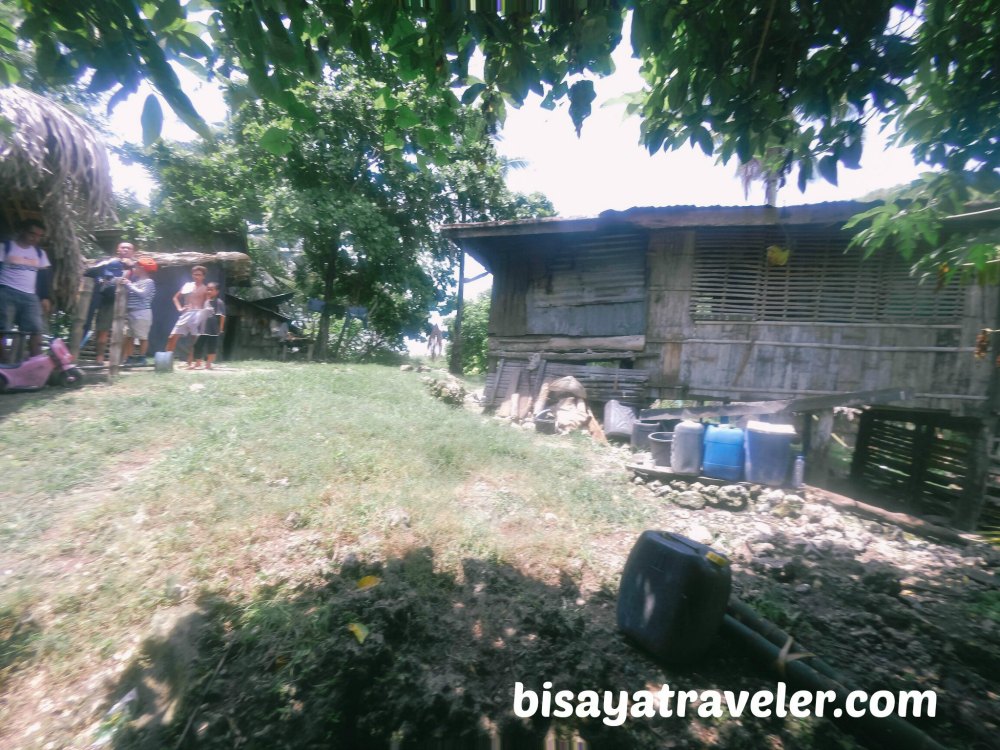 In spite of their clear instructions, we didn't get to find the falls on our first try. As a team, we decided to return to the community, so we can rest there for a minute, and head back to Barangay Lataban.
On our way back, March had a minor setback, vomiting as a result of hyper-acidity. On a positive note, Jesh brought an antacid, to fix Marchichay's problem.
While resting at a hut in the community, one of the locals volunteered to guide to us Kan-insid Falls. Obviously, we didn't say no since we all wanted to catch a glimpse of this hidden oasis.
We followed the guide, until we finally arrived at the spot. As it turned out, we just missed a right turn on our first try. And, before the guide left us, he showed the trail leading to another mountainous barangay where we can catch a ride to Liloan proper.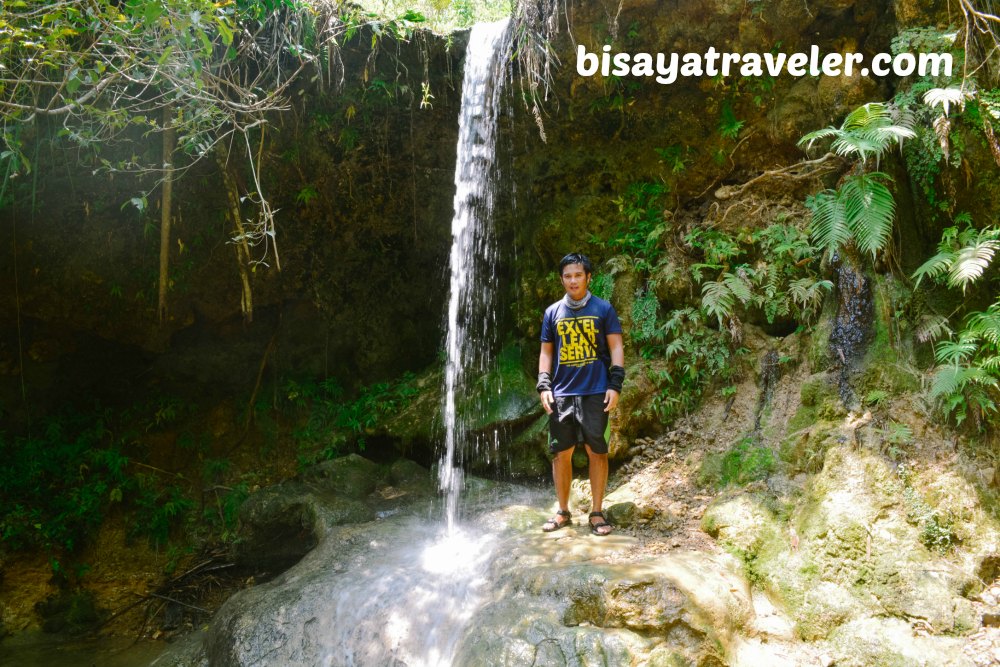 We spent some time there, taking photographs, and enjoying the refreshing cascade.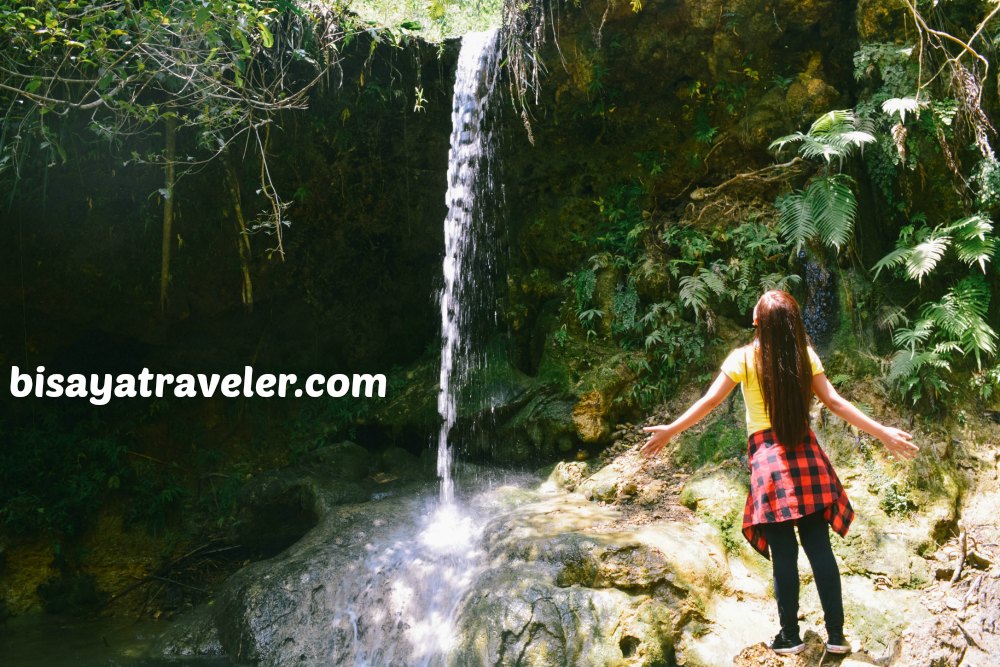 We, then, followed the trail, and arrived at a small store with plenty of cold drinks and tasty snacks.
As you might have expected, we chugged a great deal of water and took some sips of our favorite soft drinks. I'm not a big fan of sugary drinks, but they are simply irresistible in these situations.
We were enjoying our snacks, when all of a sudden, we found out that were on the road leading our next stops – Barangay Mulao and Mount Lanigid. And, since it was already lunchtime, we decided to take a rest, and make base there.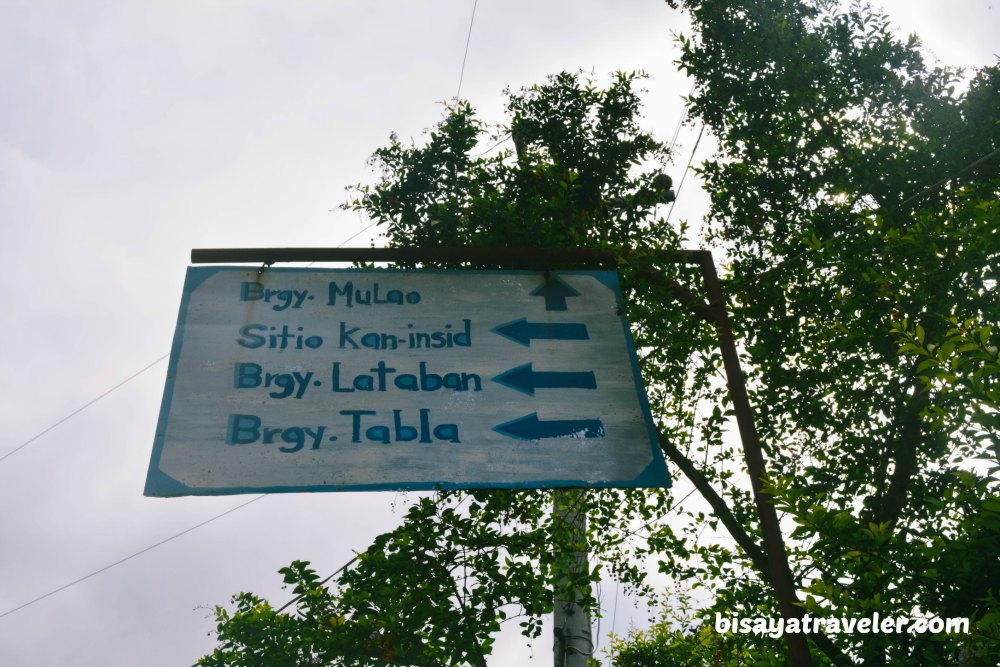 Unfortunately, we didn't bring any lunch because we didn't expect we'd be bumping into a waterfall, following our visit to the Lataban Hills. Moreover, there were no markets or eateries nearby, meaning the only way to get lunch there is to get to Liloan proper, and buy food.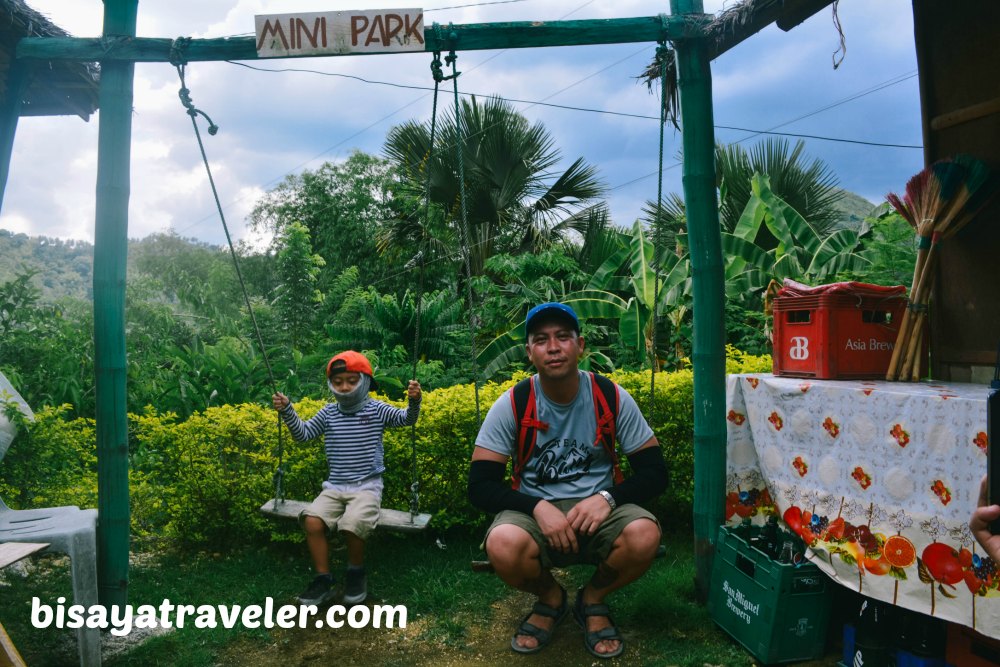 Lieve and Jesh volunteered to buy food in Liloan proper, so everyone in the team can just relax in the area.
To make the story short, we ate lunch like a pack of hungry wolves, after setting up the food.
With filled stomachs and rested bodies, I thought going to Mount Lanigid and Mulao River would be a breeze for us. But sadly, I was wrong.
As we've found out later on, there aren't a lot of habal-habal drivers available in the area during Sundays. According to a driver we met, the drivers plying this route are either in the market or at a sugalan (gambling site) every Sunday.
We had no choice, but to cancel our Mount Lanigid hike, and move on to our next destination – the Parola in Liloan.
There were 12 of us (excluding Noel's kid) and there were only two habal-habals available at that time. We can't waste any more time, though, so we let 4 members of the team hop on these bikes, travel to Liloan proper, and wait for us at the church.
As for the rest of us, we hiked, and hopped on a bike every time an available habal-habal passed by. And ultimately, we all arrived safe and sound at Liloan's church.
We, then, capped off our fun-filled trip with a visit to the Parola in Catarman, Liloan.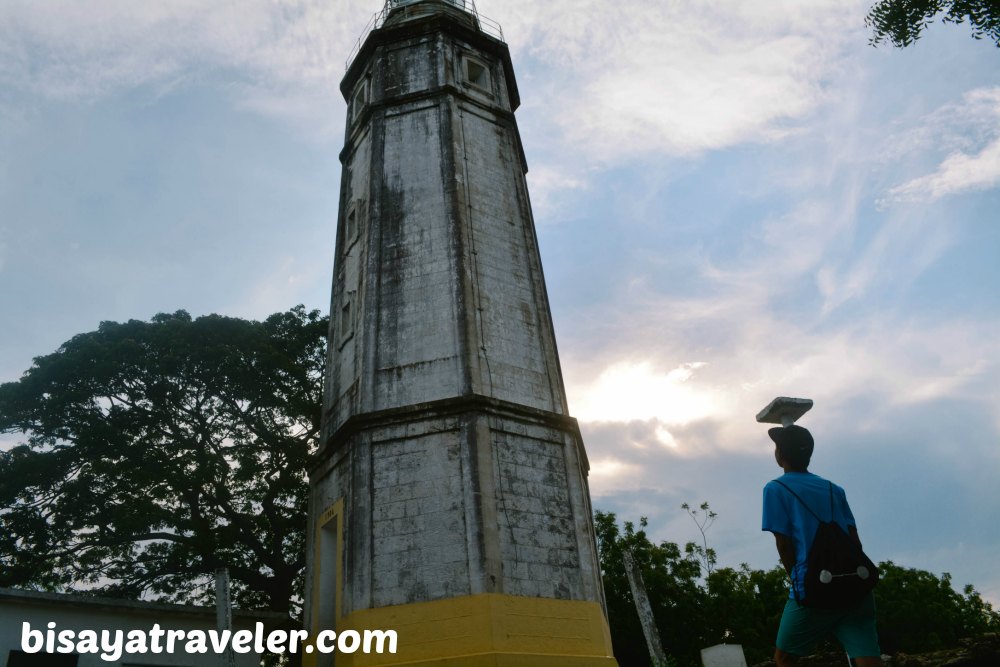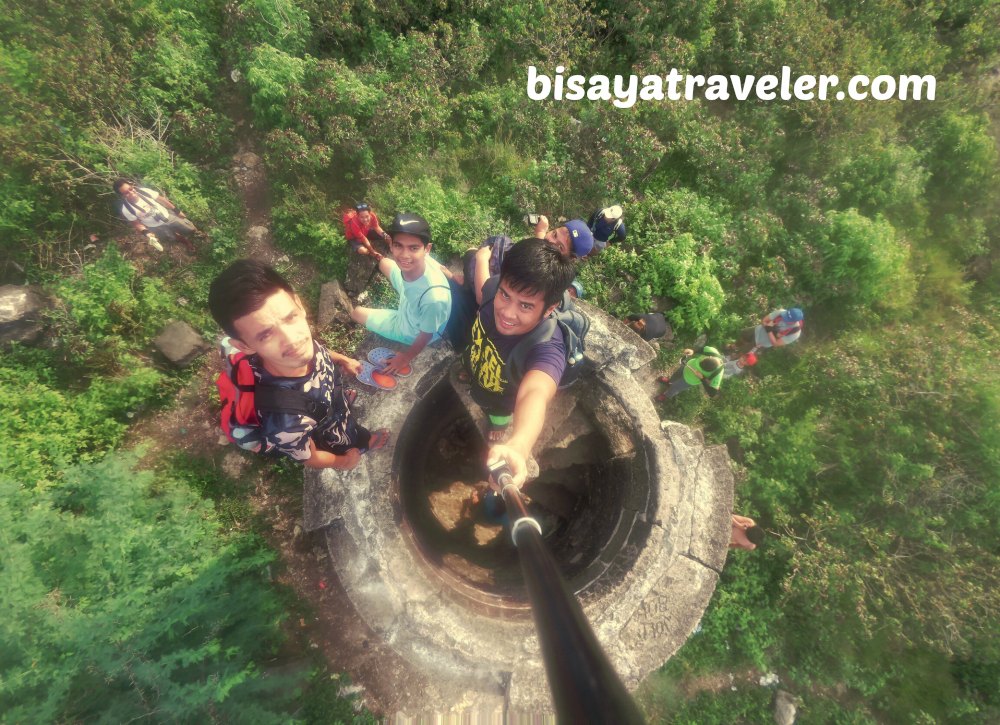 Final thoughts
We did have a fair share of setbacks and misses on our trip to Lataban Hills. But, you know what? These little hiccups are essential for Team Bang, as we continue to discover Cebu and the rest of the world. For me, adventures and misadventures are the ultimate ways to build character and team-work. Even though we're a newly formed stable, I can already notice the team's cohesion, thanks to all these not-so favorable situations.
And yes, we aren't model adventurers, or a poster team with flashy outfits and state-of-the-art gadgets. From members of the LGBT community to noble engineers, we are a mixed bag of travelers, professionals and life-lovers with different backgrounds, preferences and opinions.
We are a diverse, odd bunch of people, fueled and bonded with a common goal – to live life to the fullest. But in every adventure, we set aside our differences and put our thinking heads to together, working like a well-oiled machine, to make a ton of pleasant memories.
How to get to Lataban Hills
From SM City Cebu, make your way to Sungold, and take a jeepney ride bound for Liloan (fare is PHP 18 per person).
Ask the driver to drop you off at eskina Bahak (corner Bahak Street). The most notable landmark is a baroque church with spires.
Cross the street, and make your way to Rull's Bakeshop.
Take a habal-habal ride to Barangay Lataban (fare is PHP 15 to 20 per person/way), and tell the driver to drop you off at the gym.
Ask the locals the trail leading to Triathlon Xterra (Lataban Hills).
Important notes:
When asking for the location of the hills, just tell the locals that you're looking for the venue of the "Triathlon Xterra". I'm not sure what the exact name of the place is, but the locals of the area just call it as such.
Practice the LEAVE NO TRACE principles.
Pack water and ion drinks.
Bring arm guards, hat and umbrella to protect your skin from the sun.
Bring trail food. Better yet, pack a whole lunch meal, especially if you're planning to visit Kan-insid Falls.
Don't forget to greet the locals.
The site has, as of this writing, no admission fees. Yes, it's free for everyone!
Lataban Hills are not as symmetrical and jaw-droppingly beautiful as Bohol's version. Still, it's a great sight that can also lead to a great adventure.
Our Lataban Hills itinerary:
07:00 AM: Meet-up at Rull's Bakeshop Liloan
07:30 AM: Depart for Barangay Lataban
08:00 AM: ETA Barangay Lataban
08:10 AM: Start hike to Lataban Hills
08:40 AM: ETA Lataban Hills/Explore the area
09:30 AM: Depart for Kan-insid Falls
11:00 AM: ETA Kan-insid Falls
11:20 AM: Depart from Kan-insid Falls
12:00 PM: ETA Junction of Mulao and Kan-insid/Snacks
01:30 PM: Lunch
02:30 PM: Depart for Liloan Church
03:30 PM: ETA Liloan Church/Depart for Parola
04:20 PM: ETA Parola/Explore the area
05:30 PM: Depart from Parola
06:00 PM: ETA Liloan Church
06:30 PM: Dinner
07:00 PM: Depart for Cebu city
08:30 PM: Home sweet home