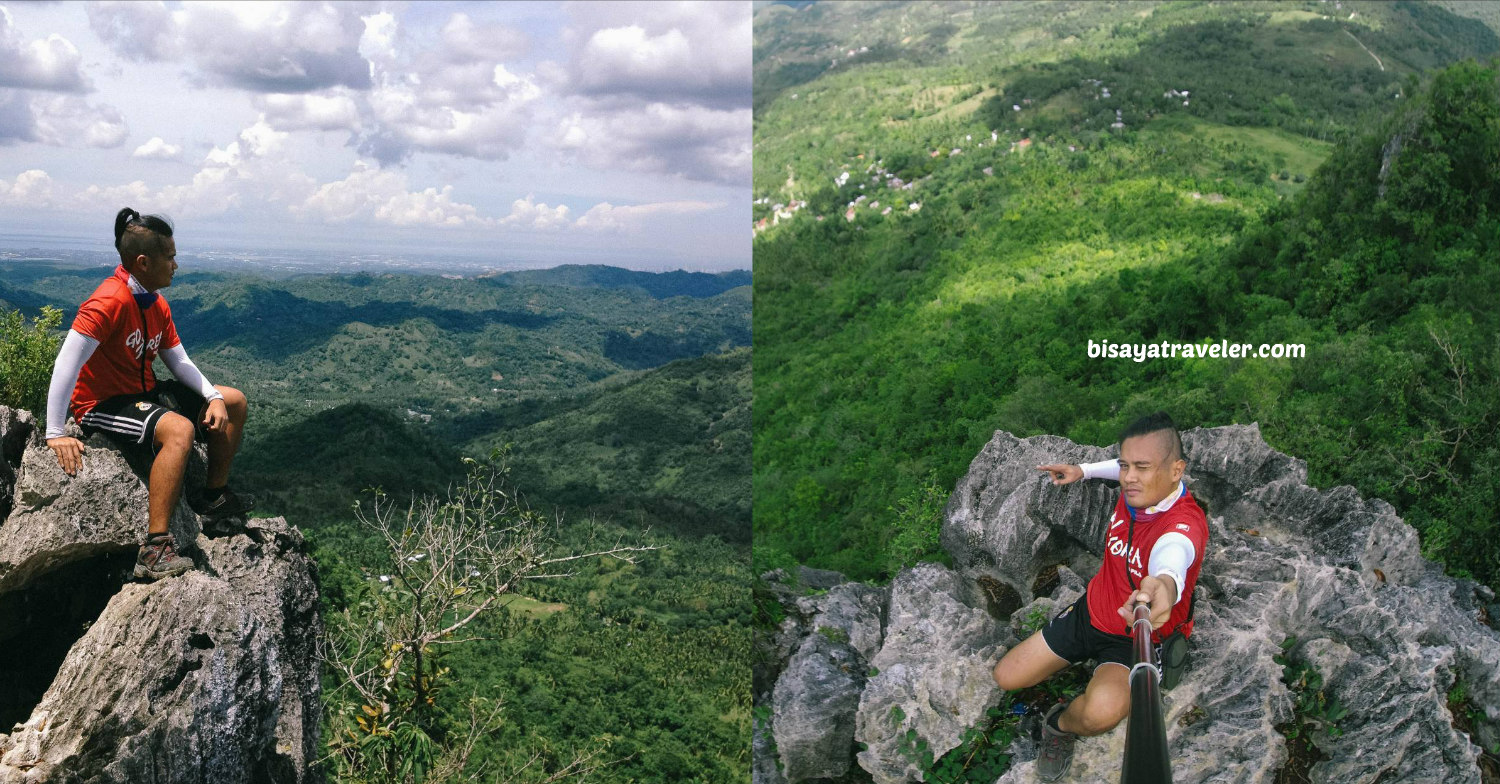 Licos Peak: An Insanely Thrilling Adventure In Danao, Cebu  
We, as humans, have a tendency to be quite repetitious. Every day, we wake up early in the morning to go to work or school. Then, we come home, eat dinner, watch teleseryes, and sleep. And, while this routine is rather uninspiring and boring, we stick to it all the time because it's our comfort zone. The truth is, we prefer to live in a spot where we know we are surely safe and sound. Even in hiking, some of us prefer to hit the typical and pretty established trails, leaving a ton of mountains like Licos Peak unheard-of and untraveled.
But, is sticking to our safety bubble really living? Where's the adventure or risk?
And, don't get me wrong – I'm not trying to disparage routine. But, if we focus every day solely on convenience and comfort, you'll soon discover a life that's below your expectations. Sooner or later, it will lead to boredom, complacency and burnout.
That's why we need a little adventure, from time to time.
In the words of the great Eleanor Roosevelt, "the purpose of life is to live it, to taste experience to the utmost, to reach out eagerly and without fear or newer and richer experience".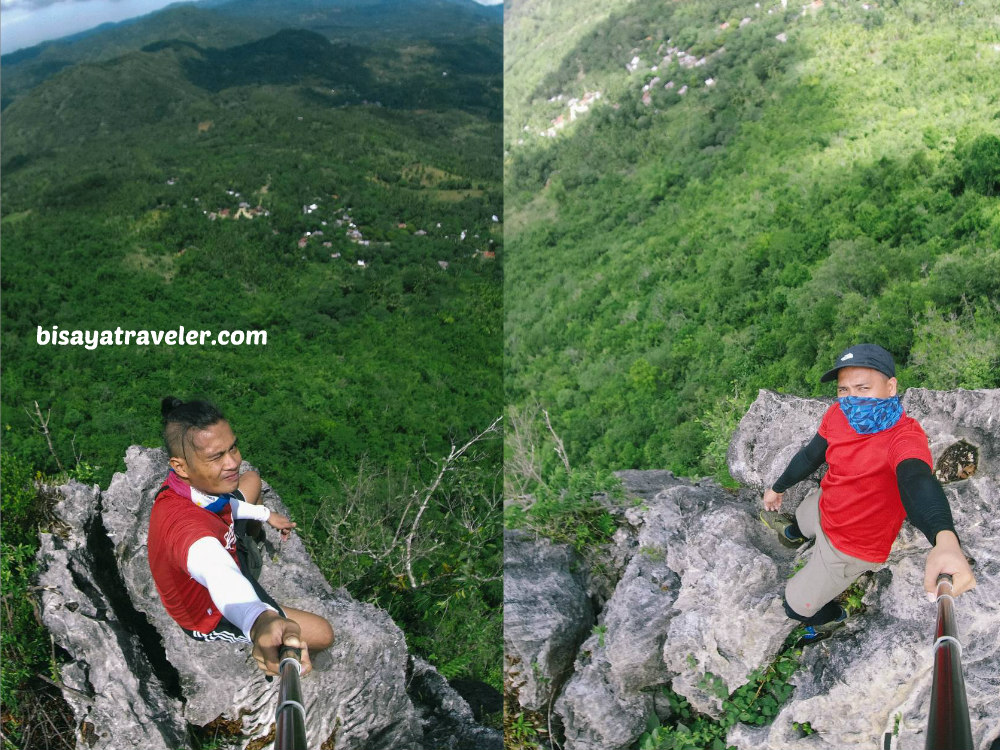 And, for the past 6 months, my friends and I have left our comfort zones, exploring unheralded paths and undiscovered mountains. So far, it has been a blast. Not only is it making us feel more alive, but it's also building friendships and expanding our horizons. What's more, it's making daily life richer and helping us learn new strengths.
Although we love hitting mainstream trails and attractions in Cebu, it's in the unknown wonders where we find our bliss and appease our sense of adventure. And, in our search for exciting trails, we recently bumped into an extraordinary mountain – Licos Peak – in Danao City, Cebu. Even if it's not well-known, Licos Peak gave us a hell of an adventure, with its steep trail and breathtaking panoramas.
My Licos Peak adventure
Licos Peak was, truthfully, out of my radar, a few weeks ago. As a matter of fact, I didn't know that it even exists in Danao City, Cebu. Luckily for us, Demi has an unquenchable thirst for finding new intriguing places in Northern Cebu, unlocking some information about this new playground.
With the hints and clues shared by sir Ericson Batulan to Demi, we ventured into Danao to scale this fascinating monolith.
My Licos Peak adventure kicked-off with a rendezvous at Sungold (near SM City Cebu) with Beboy, Raul and Dian. From there, we took a crowded jeepney ride to Danao City. Upon our arrival, we made our way to the "Sands" to meet up with the rest of the gang – Demi, Bing and Vinz.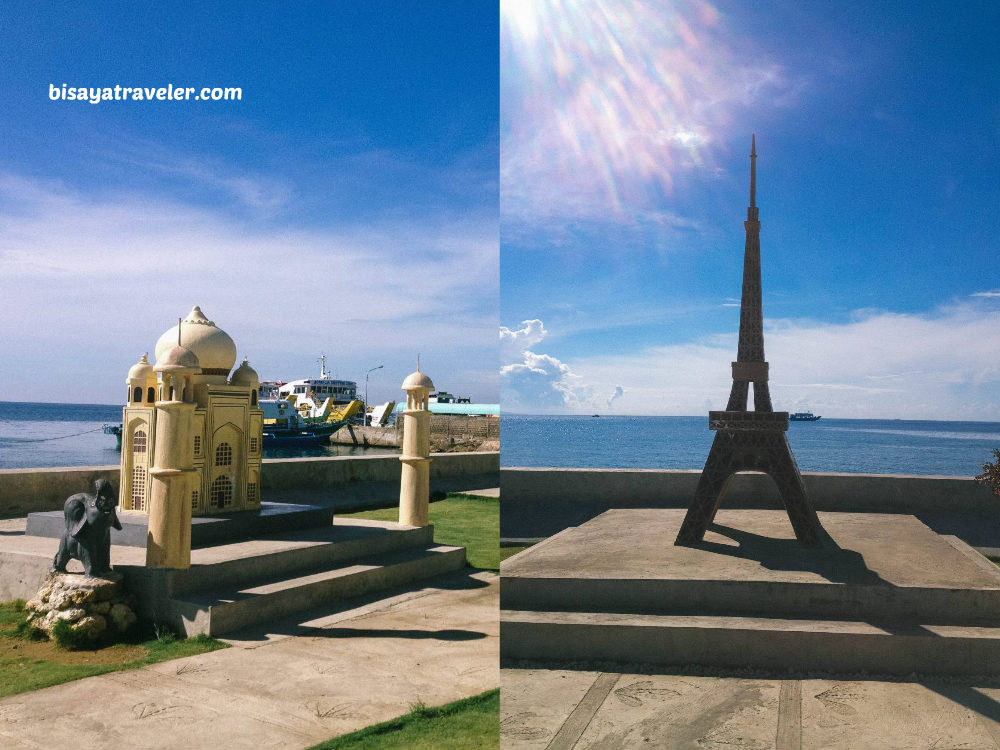 With everyone ready for the climb, we walked our way to City Mall, to catch a habal-habal ride to our base – Licos Barangay Hall.
After a smooth 30-minute ride, we arrived at Licos Barangay Hall.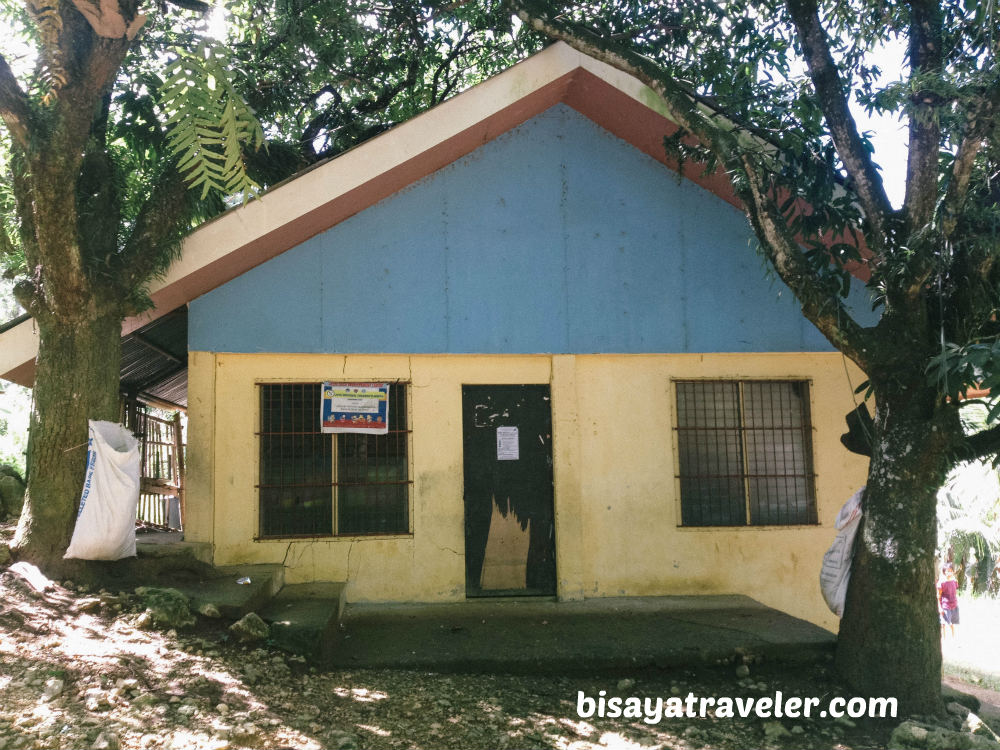 As with most of our hikes, we said a short prayer before moving on with our adventure.
Geared up and excited, we, later on, hit the trail leading to the pinnacle of Licos Peak.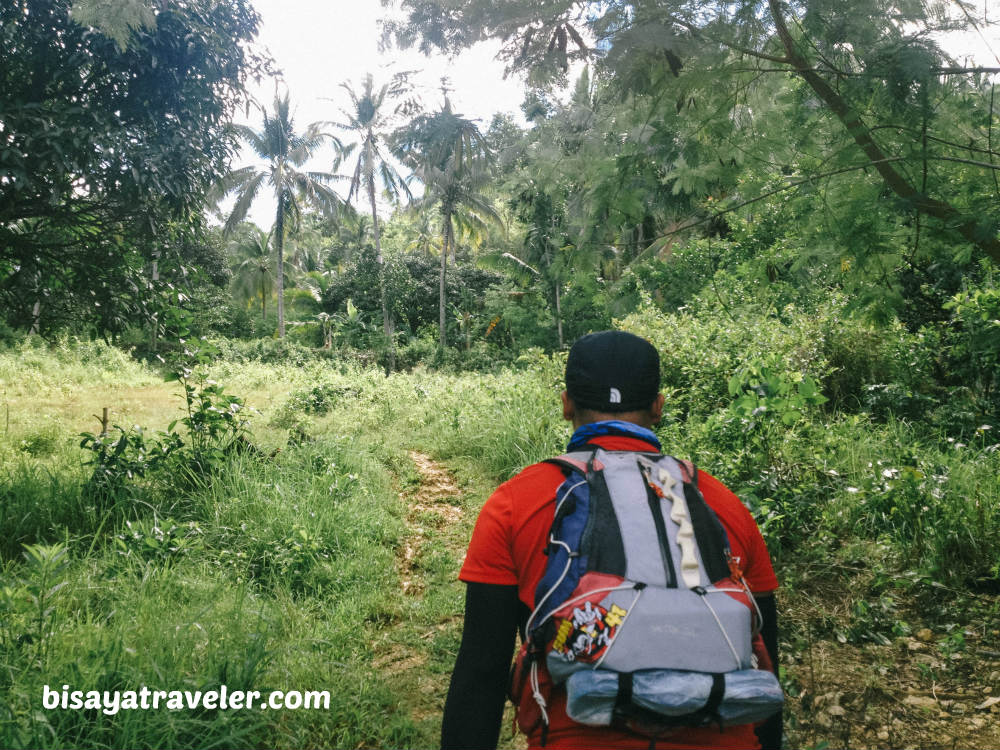 At first, the trail seemed harmless and easy. Honestly, I thought it was going to be a walk in the park.
Even though it was fairly slippery, we didn't have any trouble hiking this part of Licos Peak.
Along the way, we caught a glimpse of the towering beauty of Licos Peak.  Of course, we paused for a minute there, to snap some photographs.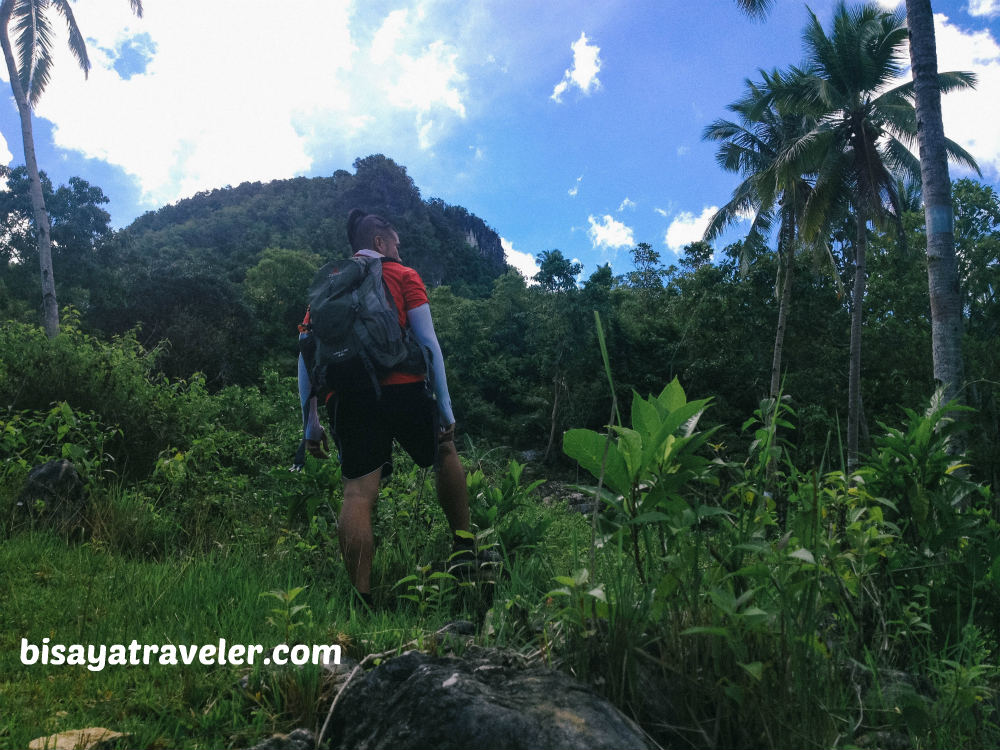 Just as we were about to resume our hike, a group of talkative kiddos approached us, offering their help.
And, by the way, these kids didn't ask us anything. Maybe, they were simply bored and in need of an adventure to spice things up.
Whatever their reasons are for joining us, I'm glad they tagged along for the hike.
Spearheaded by these youngsters, we followed the trail leading to Licos Peak.
On our way up, I caught sight of Danao's verdant landscapes, which somehow look quite like the trail to Mount Manghilao.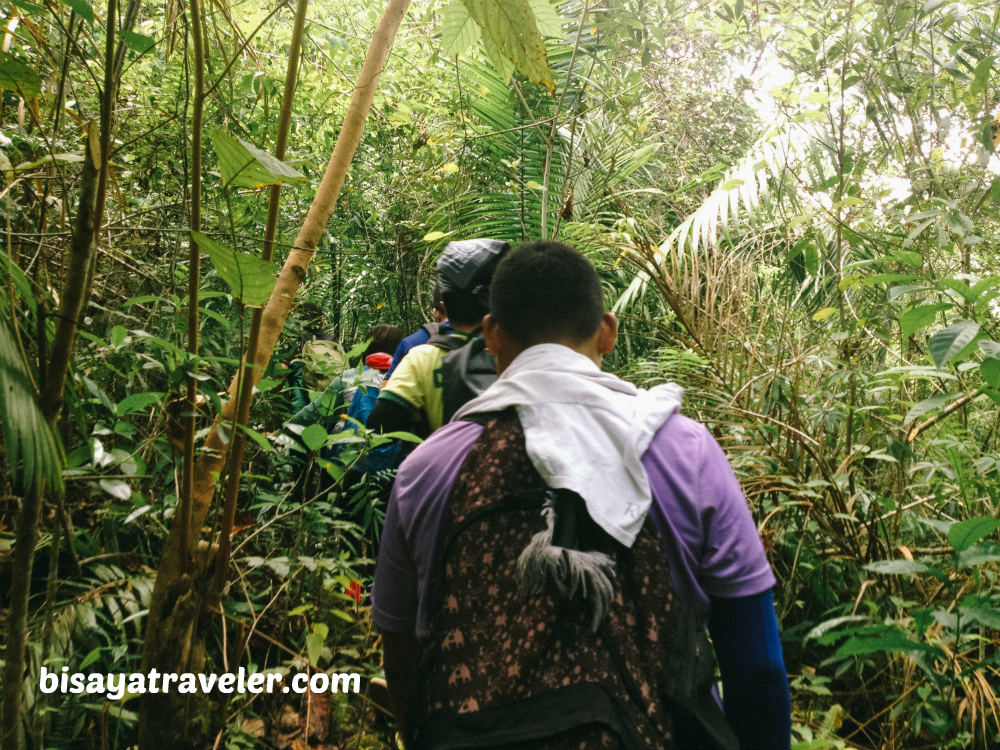 Soon, the trail got a little rougher, tougher and more slippery. Even so, we remained poised, enthusiastic and sprightly.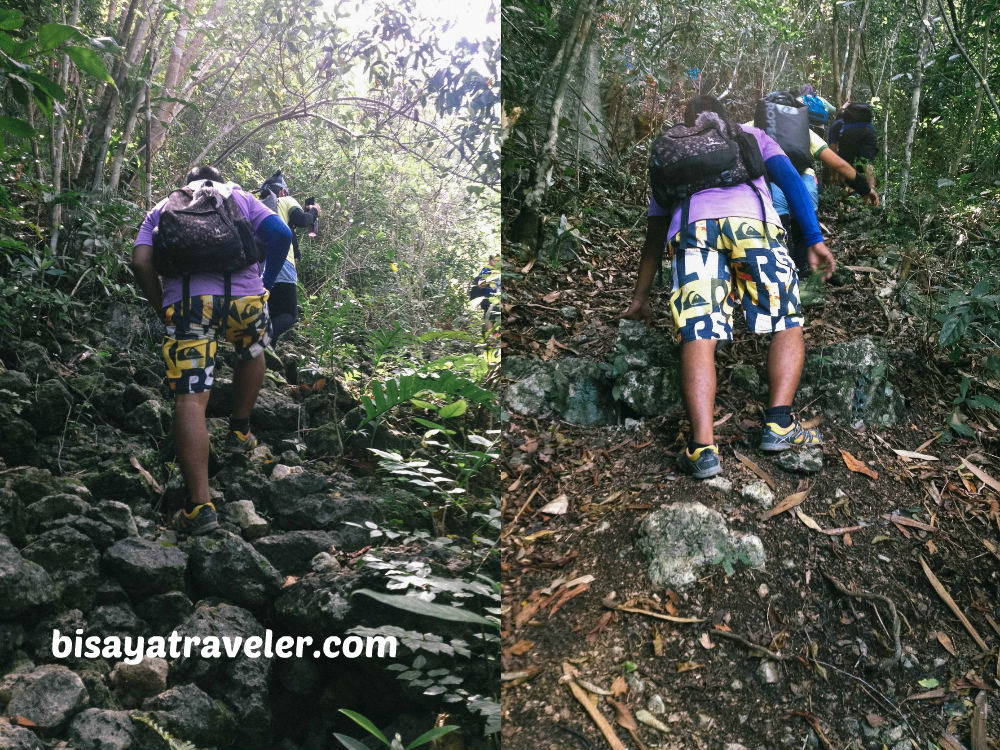 As for the kids, they were pretty entertaining and energetic.
They are world-class trash talkers too! They have a bag of tricks and an impressive arsenal of jokes.
Not to mention, they gave us boatload of information about Licos Peak, including its snake infested cave and the nearby monkey cemetery.
I'm not sure if some of the things they've said were true, but I did enjoy the way they deliver their lines.
Their jokes also somewhat mirror or echo what's inside Raul's playful mind.
As what my buddies said, these kiddos were the descendants or the younger version of Tatay Raul. In turn, the kids nicknamed Raul as their "Tatay Lolo".
And, it was all fun and smiles, until we arrived at the final ascend to Licos Peak.
Beboy and I were on the tail end of group, and we did notice everyone struggling to make their way up. Truth be told, it can be a fairly dangerous climb, especially for newbie hikers.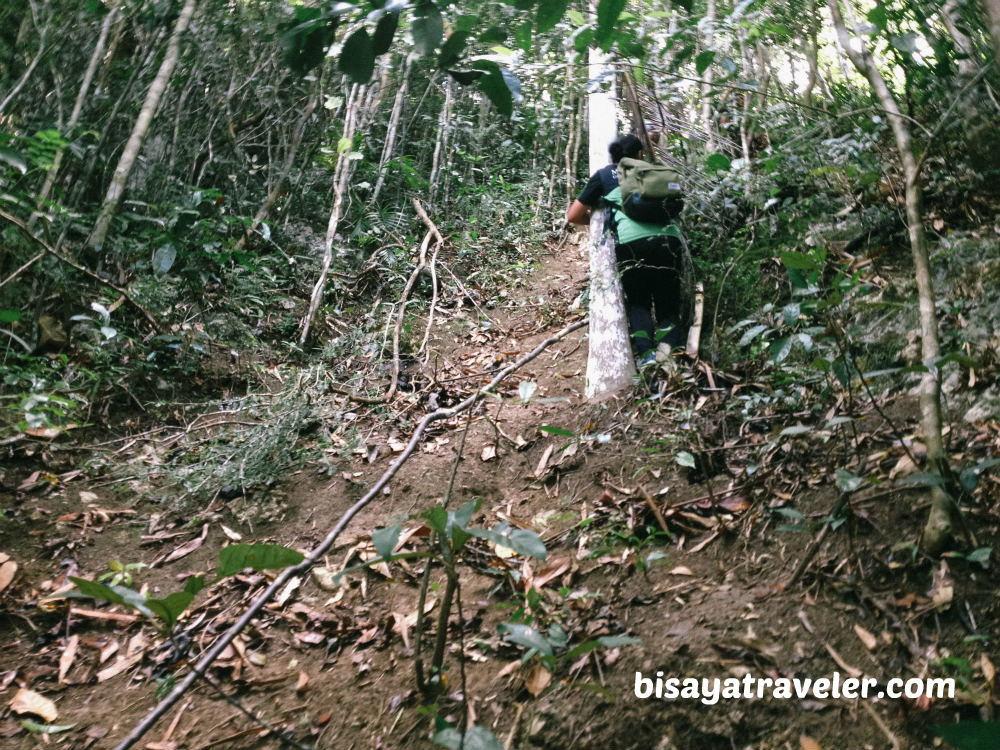 I'm not good at estimation, but I think the trail has 60 to 80-degree slopes. No kidding!
Furthermore, the trail has loose soils and tons of unstable rocks.
Once, I stepped on a rock as huge as Raul's head, and it moved unexpectedly, rolling down the trail and almost hitting Beboy.
Thankfully, Beboy is a legit action star like Chuck Norris, easily dodging the humongous rolling rock.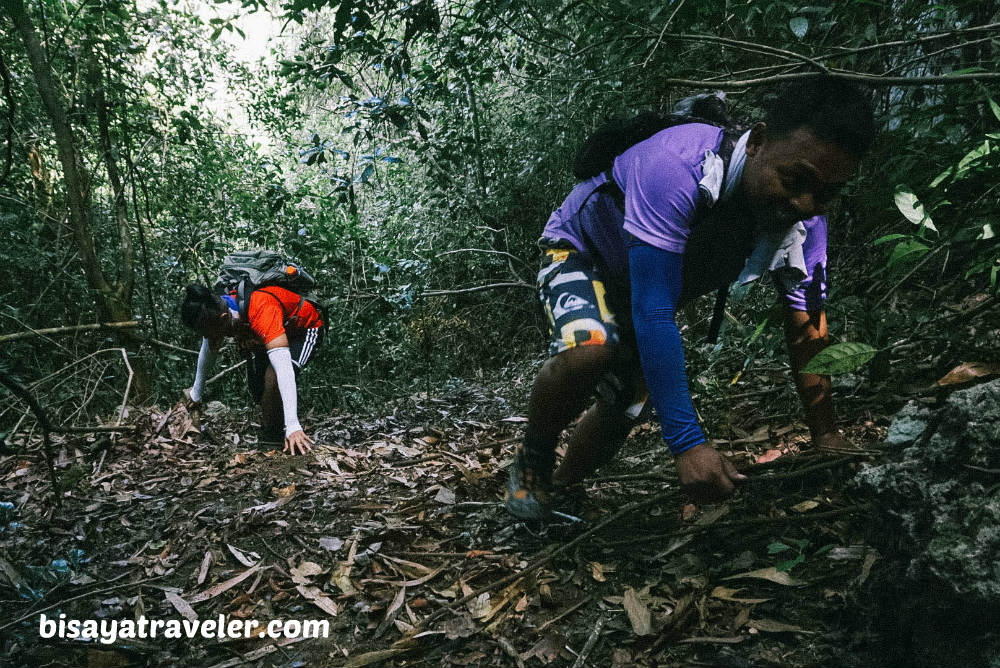 In some ways, the trail gave us flashbacks of our memorable major climb in Alto Peak, Ormoc.
But unlike Alto Peak, there were no ropes in Licos Peak.
And, normally, we carry a pair of ropes on our hikes, in case we run into complicated trails like this.
But for some reason, Tatay Raul forgot to bring our ropes. Yikes!
Too bad, I'm pretty sure this piece of hiking equipment would have come in handy on our Licos Peak climb.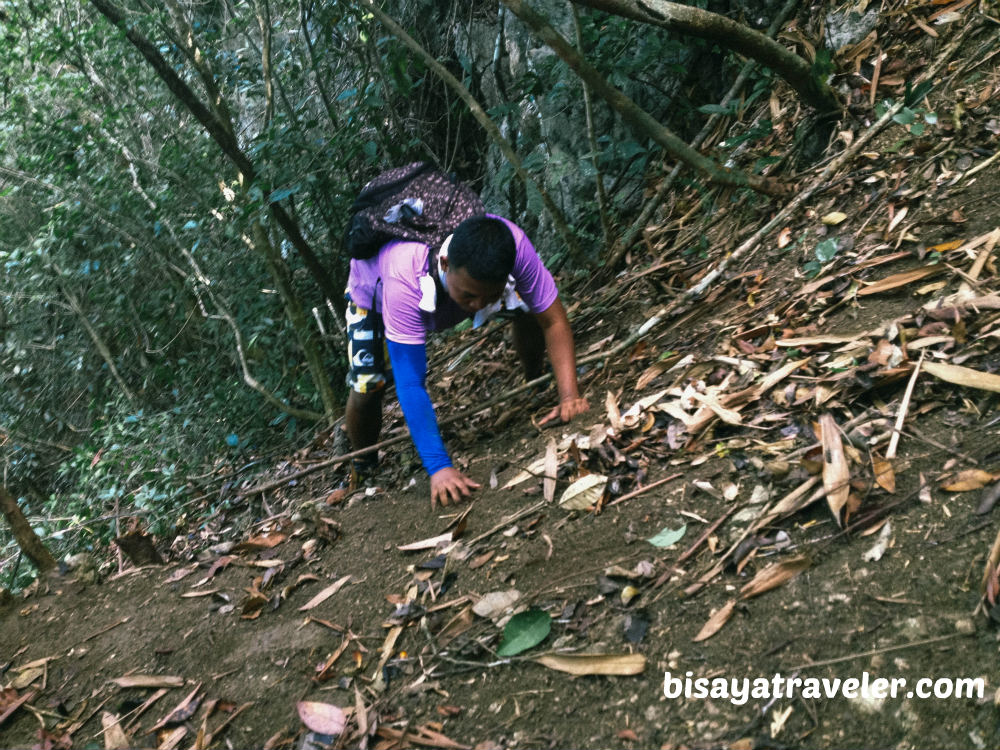 Clearly, everyone struggled to get to the top.
Believe me, it was one tough climb for all us.
But, this was the type of adventure we've craved for. We've ventured into remote lands in Cebu, to appease our wanderlust and adventurous spirit. And, Licos Peak definitely has the makings and features of a mind-blowing adventure in Cebu.
Without a hand guide and rope, we had to find other alternatives to get to the top safely.
From hugging trees to holding on to vines and roots, we used an array of tricks and techniques to weave our way out of this rough part of the trail.
I certainly can't imagine what our hike might have looked like, if it was raining cats and dogs.
Yet, even with all the struggles and mishaps, I had no regrets climbing Licos Peak that day.
As I've said before, leaving your comfort zone expands your horizon and adds more spice in your life. And, more importantly, it teaches us a plethora of invaluable lessons in life.
Our Licos Peak climb, for instance, taught us the importance of patience in decision making. In addition, it's an exercise on how to remain calm and composed, amidst life's complex situations and frenzy.
Seriously, one false move here, and you'll end up badly injured.
Ultimately, I arrived safely at the top without a scratch and bruise on my body.
Raul, meanwhile, was still struggling, and in his own words, contemplating about his life.
I bet there were dozens of things going through his mind in that span of time.
Heck, he even said he was going to buy a life insurance policy, after this hike.
Moments later, everyone arrived at the top safe and sound.
I breathed a sigh of relief, and said "I got scammed by Demi today".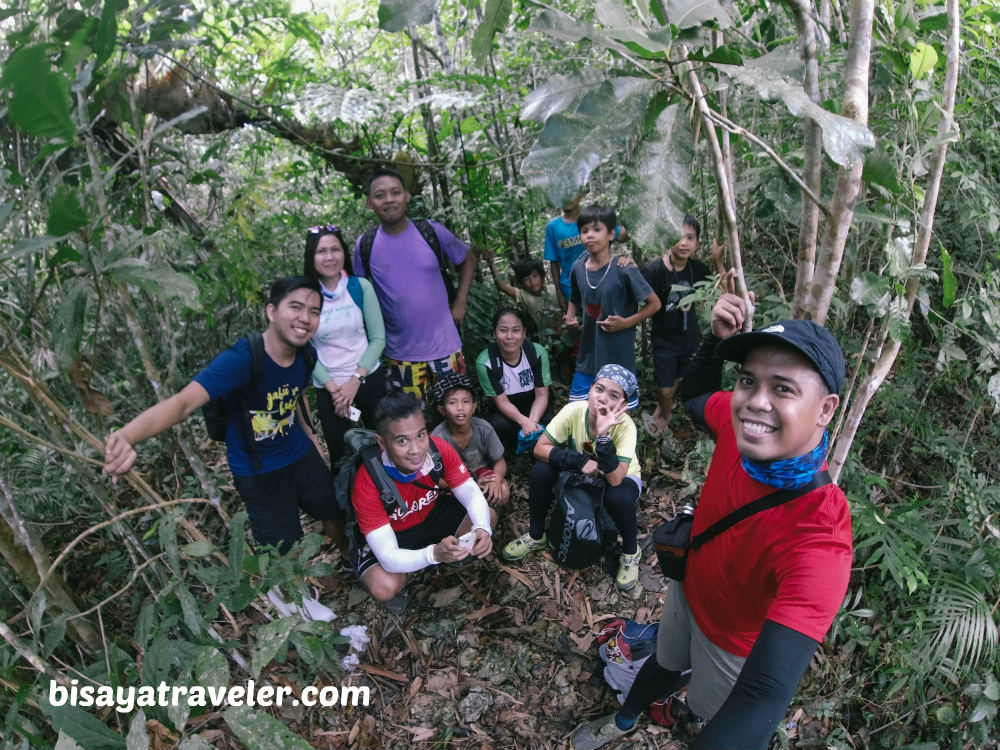 Afterwards, we followed the kids to the best vantage points of Licos Peak.
Moments later, we made a stop at this lookout view, and snapped photos of the lush landscapes of Northern Cebu.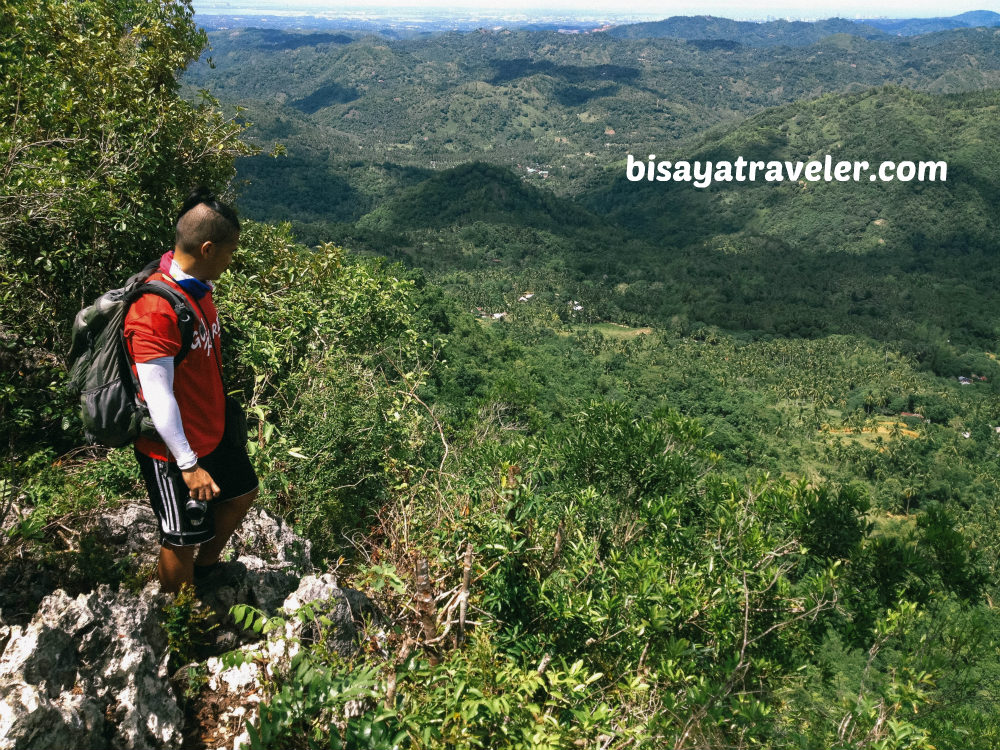 Moreover, we got a good view of Mactan Island, Bohol, Sirao Peak and Mount Babag.
We, then, followed the kids and got treated to an awe-inspiring of Cebu.
And the rock formations were as picture-perfect as Mount Mauyog.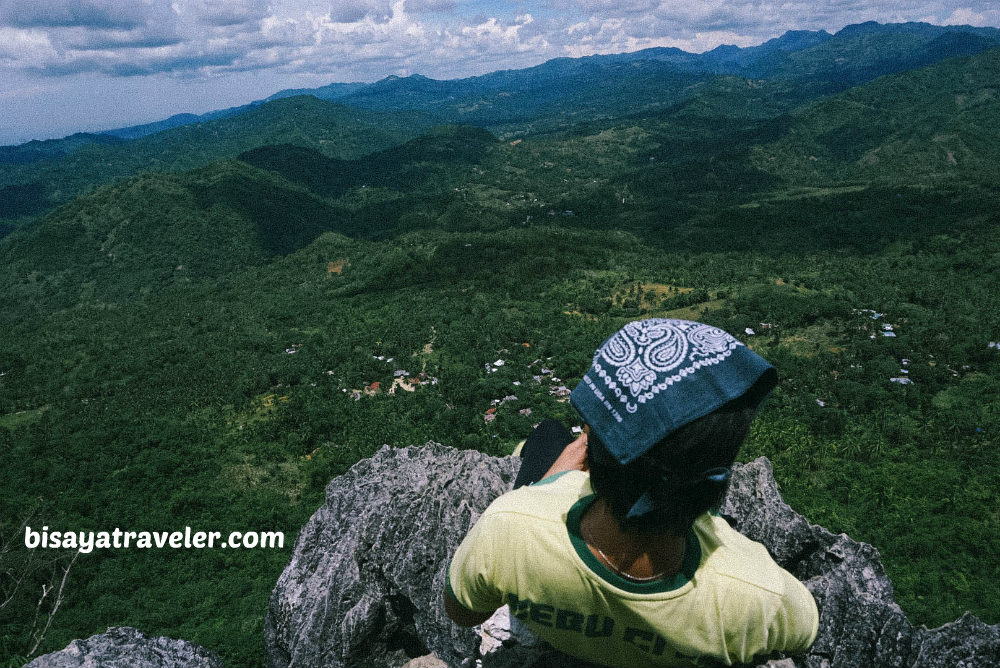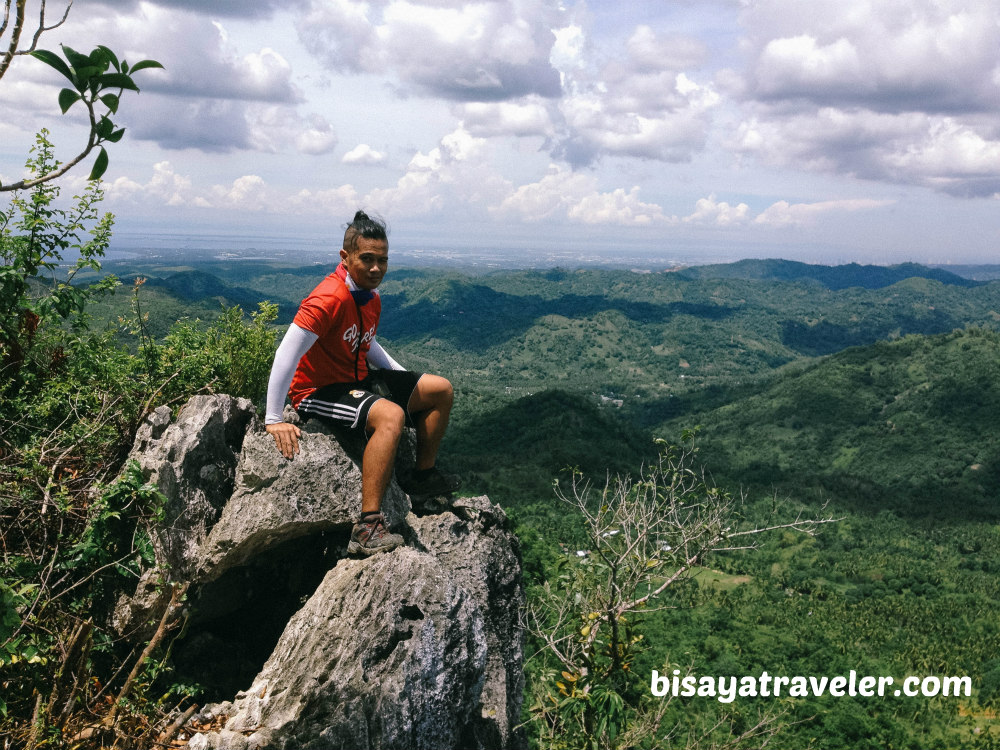 We spent some time there, soaking up the scenery and taking a whole lot of photos to preserve the moments of our memorable climb.
As usual, we took turns posing in front of our camera with some of our trademark shots.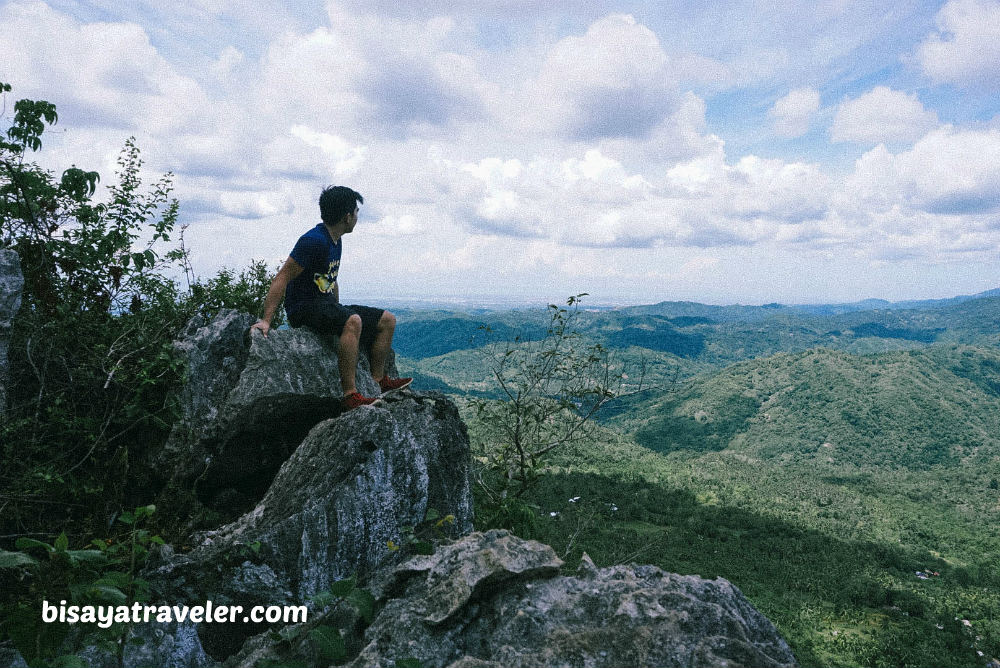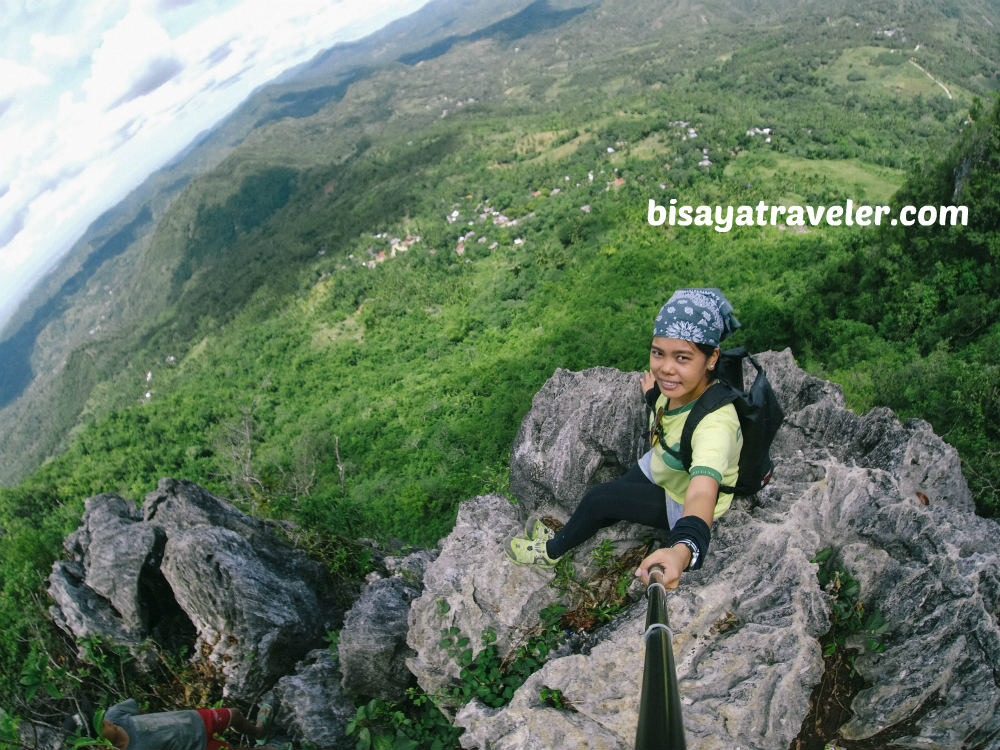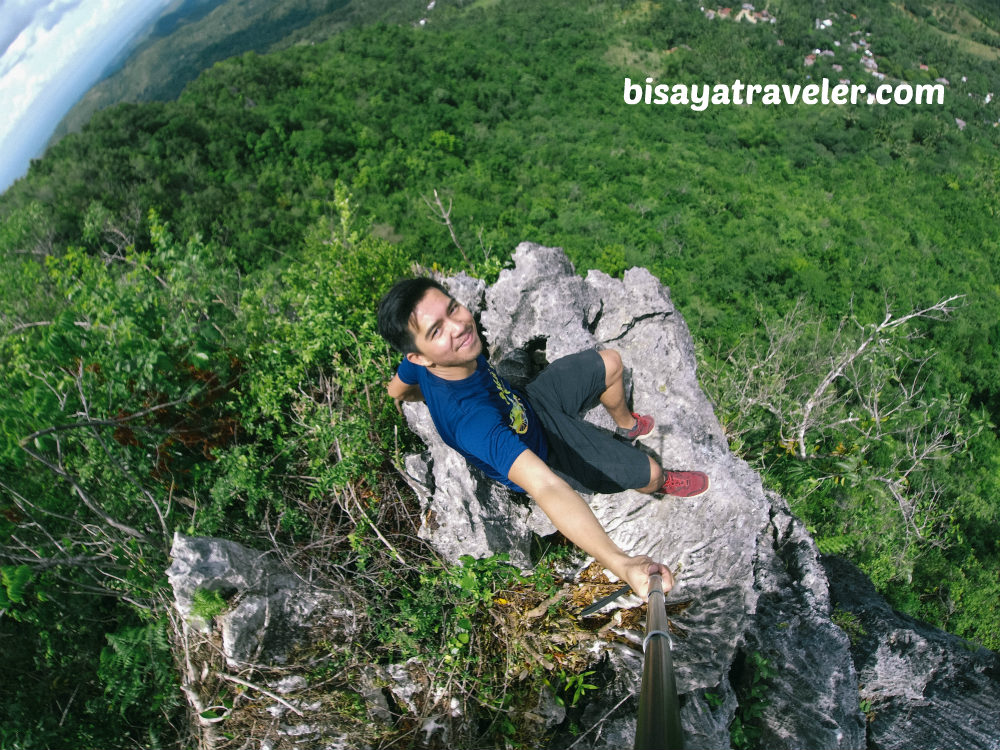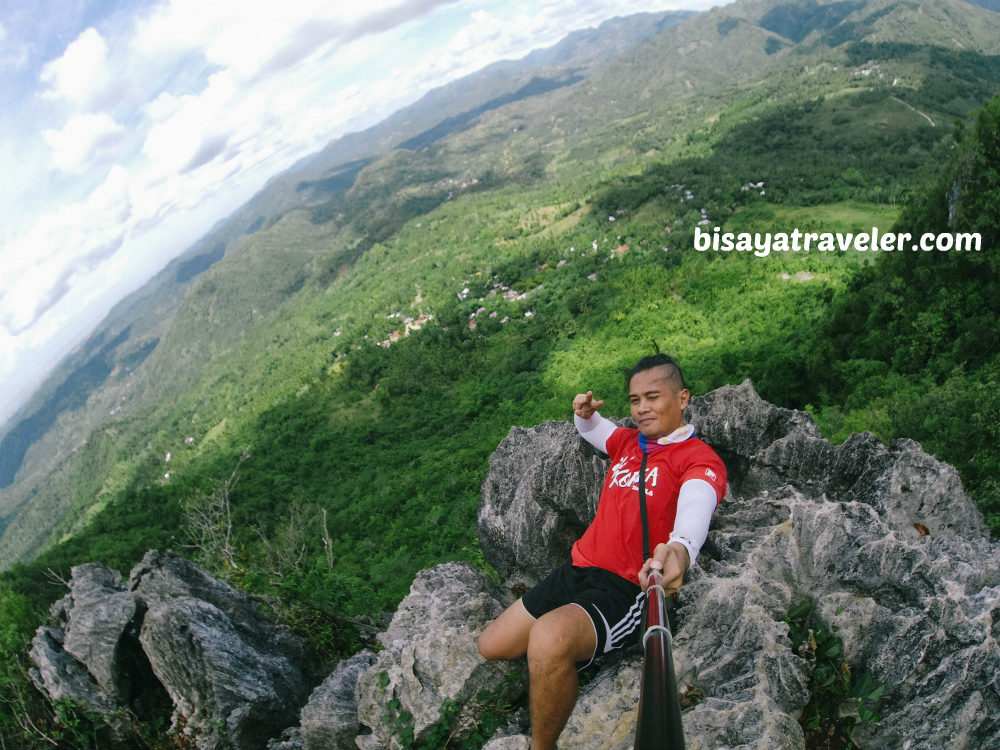 Soon after, our photo session culminated with a groufie on Licos Peak.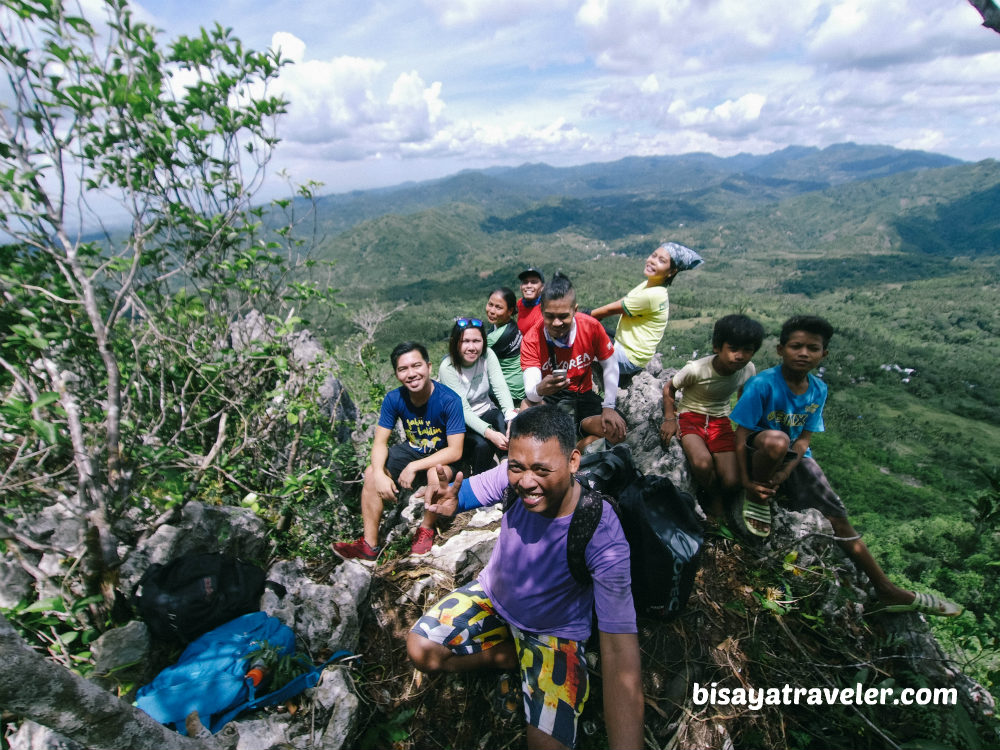 From the summit, we descended via the challenging "monkey trail" we've encountered earlier.
And, make no mistake about it –getting down was just as challenging as the climb to Licos Peak.
So, we took our time, and carefully took one step at a time.
Sometimes, we had to use our butts (padidit in bisaya) to safely navigate the steep, slippery and complex parts of the trail.
It was a full body workout, in my book.
It's like yoga, cardio and calisthenics rolled into one thrilling workout!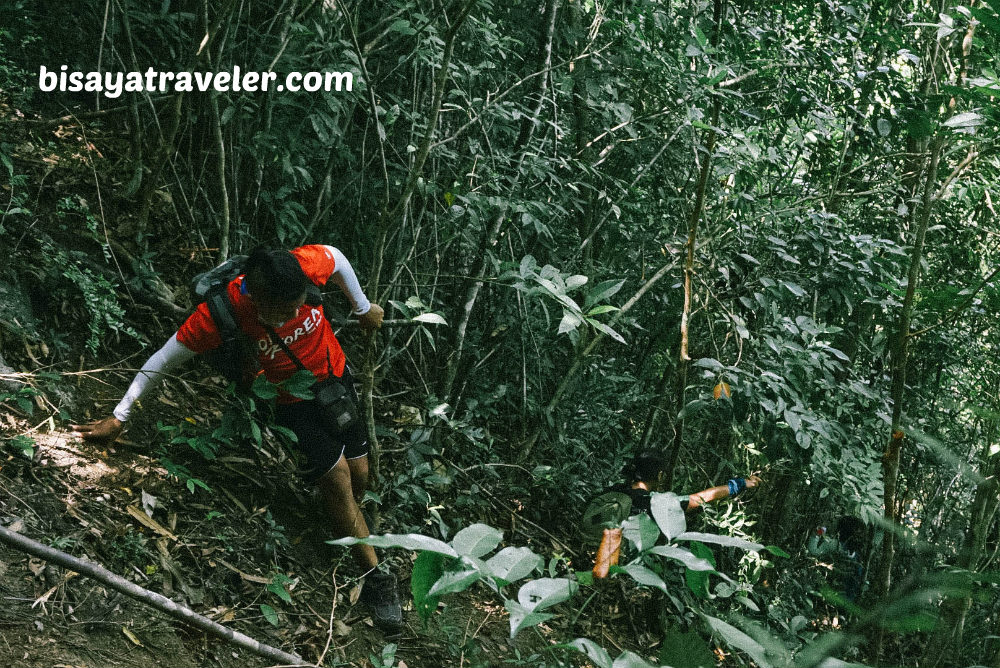 Minutes later, we arrived at the foot and base of Licos Peak. I must say it was an adrenaline-pumping, one-of-a-kind adventure.
With our stomachs grumbling, we headed to a local store, to buy refreshments and barbecue.
Additionally, we bought drinks and food for the little ones who showed us the way to Licos Peak.
We can't remember the names of these kids since they all have their own unique screen names and nicknames, such as Turagsoy. But, as far as we can remember, their names were Edong, John Mark, Christian, Danilo and Clark.
With lunch and Licos Peak in the books, we resumed with our journey to hike our way to the next stops of our adventure – Mulao River and Lanigid Hill.
Unfortunately, the weather wasn't on our side, when we arrived at Barangay Mulao.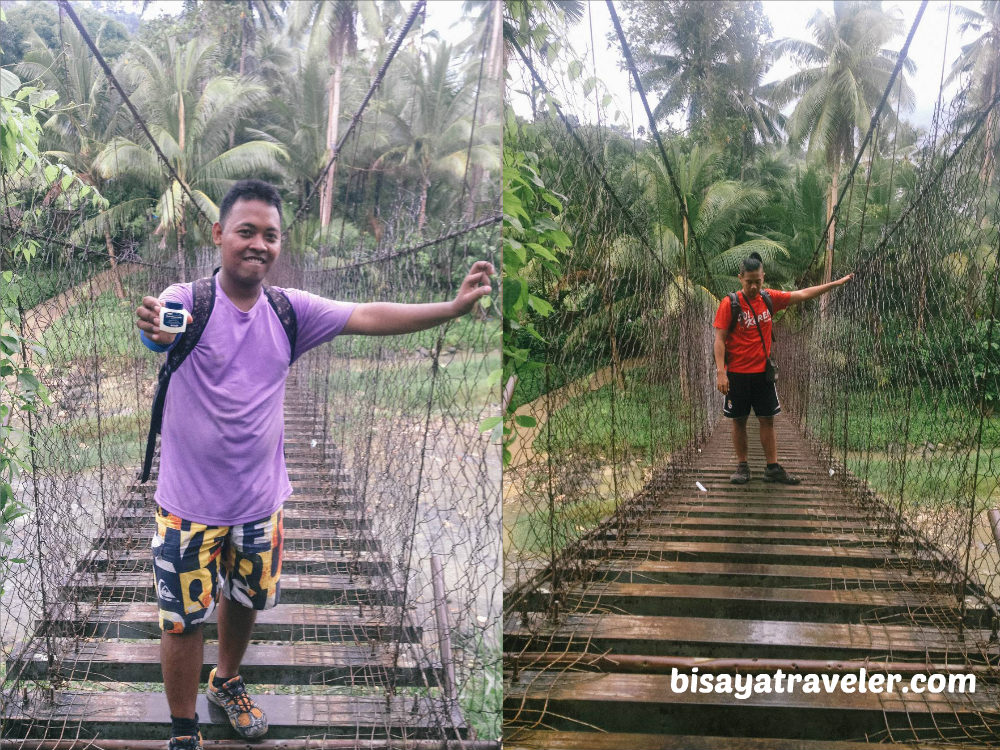 With the rain not about to end soon, we decided to call it a day, and take a habal-habal ride bound for 711 Compostela.
A heavy dose of adventure is cool, but safety is of the utmost importance, when hiking.
And, while were indulging our snacks inside 711, it all of a sudden, rained heavily with thunder and lightning.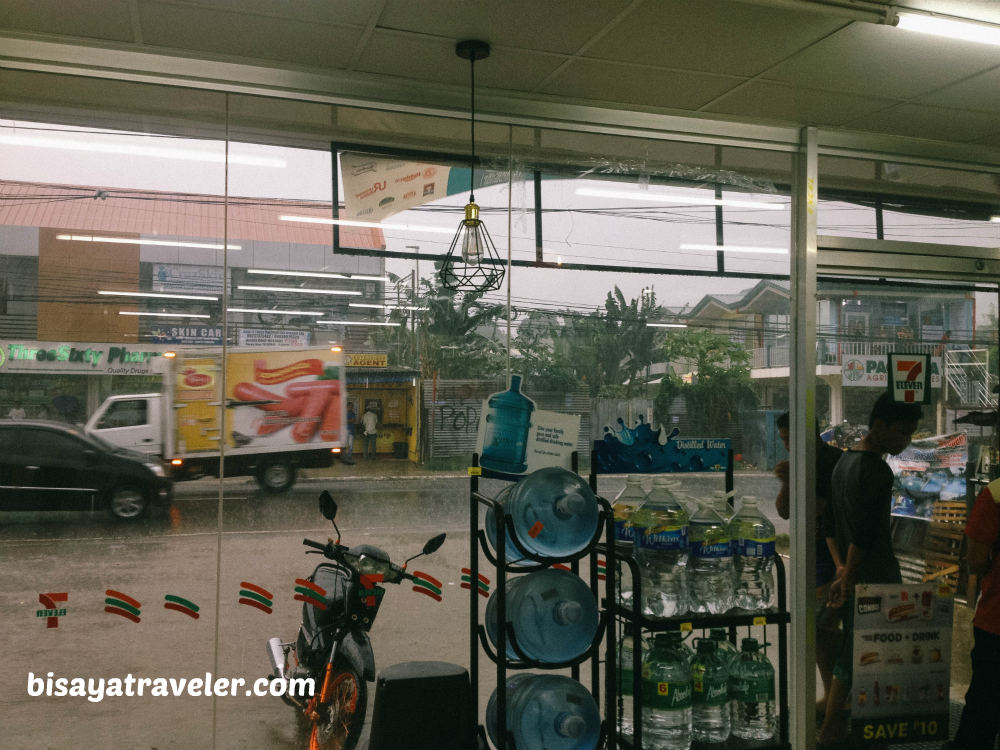 Geesh! I'm glad we made the right call that day. Otherwise, it would have been extremely dangerous to cross Mulao River, in the midst of a thunderstorm.
How to get to Licos Peak:
From Sungold (in front of SM City Cebu), hop on a jeepney bound for Danao proper. Afterwards, make your way to City Mall, and find a habal-habal that will take you to Licos Barangay Hall. Once there, ask the locals for directions to the peak. The trail is straightforward, meaning you can also get to the top without a guide.
My expenses:
Fare to Danao City: PHP 25
Fare to Licos (habal-habal): PHP 50
Fare to Compostela proper (habal-habal): PHP 40
Fare to SM City Cebu (jeepney): PHP 25
Our Licos Peak itinerary:
07:00 AM: Meet up at Sungold
07:30 AM: Depart from Cebu City
08:30 AM: ETA Danao City
09:00 AM: Depart for Licos
09:30 AM: ETA Licos Barangay Hall/Start hike
10:45 AM: ETA summit of Licos Peak/picture taking
11:30 AM: Start descend
12:30 AM: ETA base
01:00 PM: Lunch
01:50 PM: Resume hike
03:00 PM: Mulao Gym/wait for the rain to stop/see its hanging bridge
04:00 PM: Depart from Mulao
04:40 PM: ETA Mulao 711
05:00 PM: Depart for Cebu City
08:30 PM: Home sweet home
Important reminders:
Unless you're Batman or Superman, do not climb Licos Peak on a rainy day.
Wear sunscreen as well as bring a hat and a pair of arm-guards to protect your skin from the sun's heat.
Bring trail food and at least a liter of water.
Pack ION beverages like Gatorade and Pocari Sweat.
Practice the LEAVE NO TRACE principles.
Wear trekking shoes with good grip and traction.
Adventure is, hands down, essential in everybody's life. When you leave your comfort zone, you're creating yourself opportunities that will make you a better and happier person. And, it doesn't have to be a super expensive trip or destination like Mount Apo or Mount Everest. Even a short yet challenging hike to a local gem like Licos Peak can do wonders for your life.