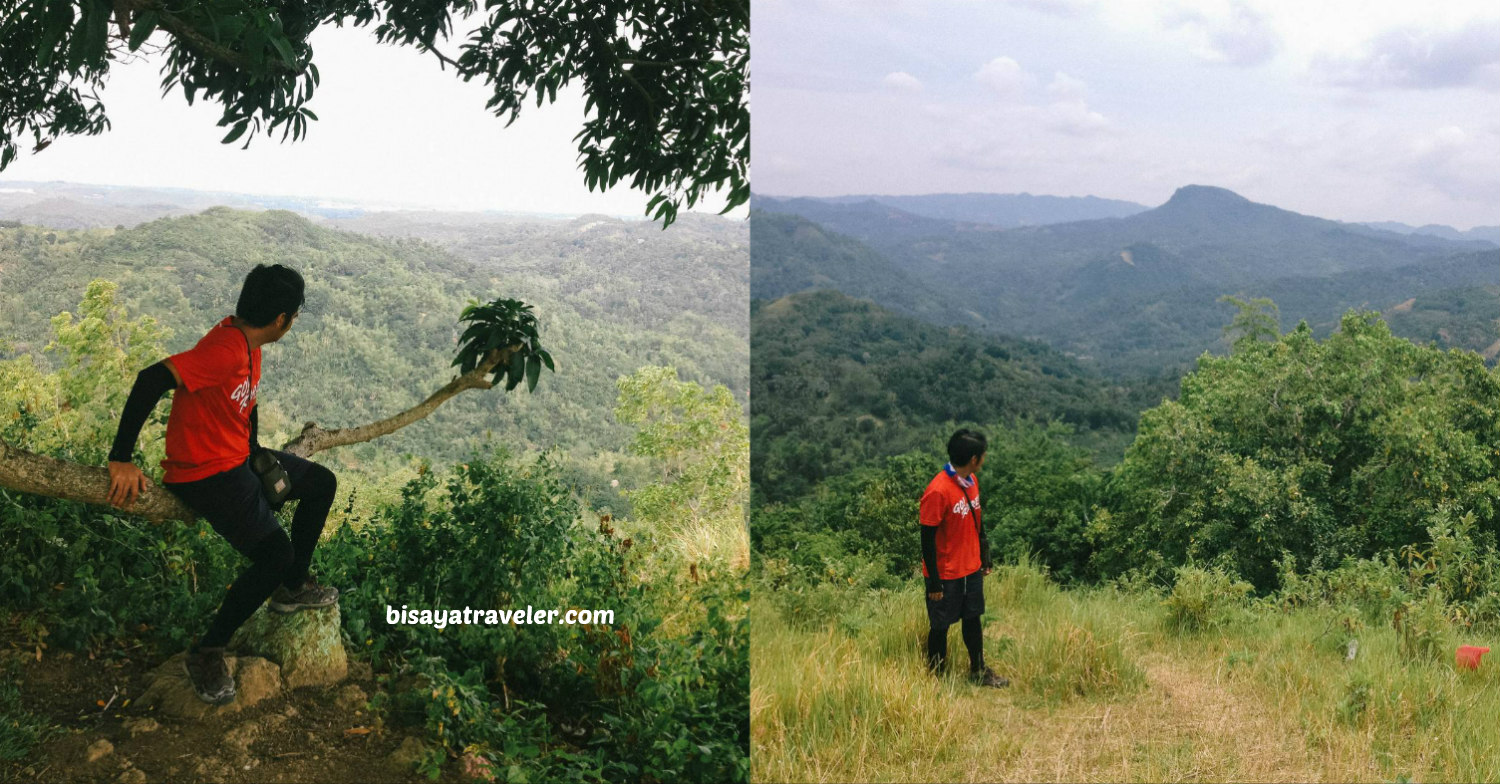 Tabla Mountain View: How Exploring Unlocks Your Hiker's Compass
Each one of us has an inner GPS. When I'm lost and stuck in the middle of nowhere, I turn to my internal compass, to navigate my way out of trouble. And every time I turn it on, my inner GPS often leads me to somewhere spectacular. As a matter of fact, it's our sense of direction, or hiker's compass as Raul has said, that helped us discover unheralded places like Tabla Mountain View. And believe me, it has led us to a heap of boredom-defying, gratifying and satisfying adventures in Cebu.
The problem is, most of us don't know that we have this powerful and easy-to-use tool. Heck, some don't even know that it exists. With the emergence of navigation apps like Waze, we've totally ignored and forgotten the directional system we were born with.
On the bright side, there are plenty of ways to relearn or rediscover this skill. And, one of them is going on an exploration adventure.
Thanks to my offbeat adventures, I've rediscovered this innate skill, and unleashed my inner explorer.
The truth is, my inner GPS is still a work in progress.
To me, it's a little far from being a hundred percent complete.
Even so, it's working like a charm, helping my team uncover a mishmash of hidden gems.
And, the more I explore, the better and sharper my natural compass becomes.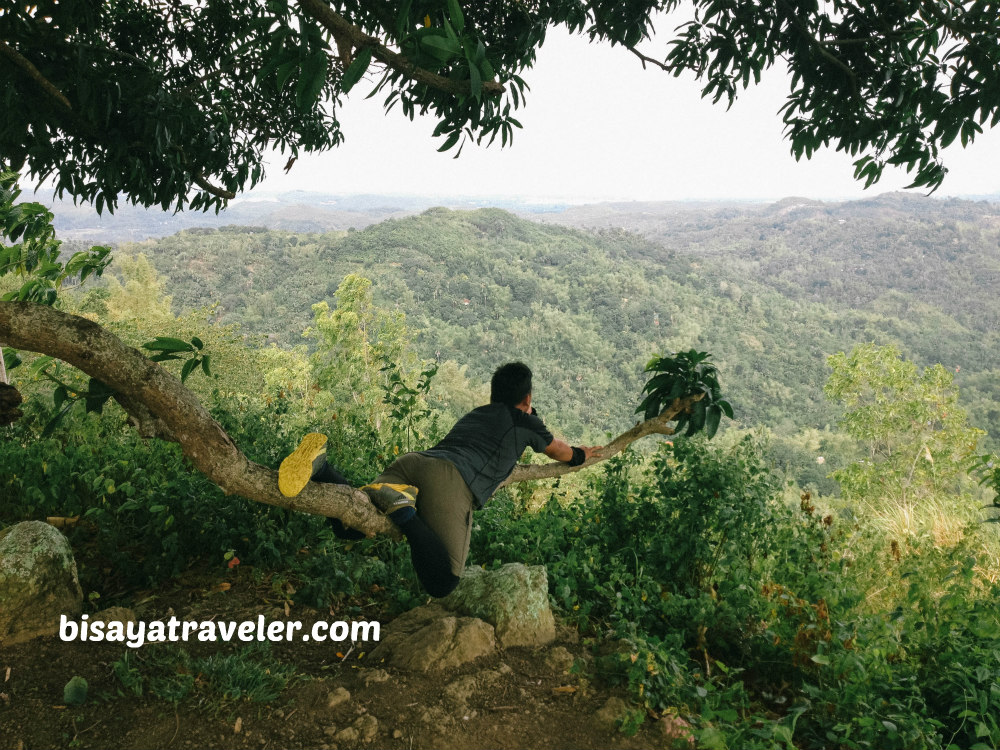 And, on our exploration to Tabla Mountain View, Tatay Raul finally unlocked his inner GPS or hiker's compass as he prefers to say it.
Exhausted and somewhat disoriented, Raul uttered the words "rock-star, knockout, hiker's compass", on our last ascend to Tabla Mountain View.
A bizarre combination of words, right?
Of course, his silly remark sparked an explosive fit of laughter.
Somehow, though, Raul's weird, silly and seemingly senseless words made a lot of sense. As we were chilling like a boss on Tabla Mountain View, I figured out what he really meant, when he said "hiker's compass".
Plus, I also learned how my exploration hikes have helped improve our sense of direction.
So, how does exploration help improve our sense of direction or unlock the hiker's compass?
Here's how exploration made us better navigators.
You'll learn how to use maps
Before exploring a not-so well-known unfamiliar place, I always look for ideas and hints on Google Maps.
Truth be told, Google Maps won't exactly give you the best answers, especially when looking for info on remote places.
Let's face it, there are tons of remote and untouched places within the island that you won't find on Google.
But, at least, Google Maps can give you clues on the exact whereabouts of your target destination.
Is there a lake, river or hill nearby? What does the surrounding mountain ranges look like? I, normally, look for these landscape features, whenever I gather information on a remote location.
And, our exploration hike to Tabla Mountain View, or also referred as Mount Kolo, was no exception.
With Demi's help and Google Maps, I got a good insight on how to get to Tabla Mount View from Lanigid Hill.
With a few nuggets of information stored inside our heads, we ventured into the secluded highlands of North Cebu, to find Tabla Mountain View.
Our Tabla Mountain View adventure started with a meet-up at Sungold near SM City Cebu. There, I had a rendezvous with Beboy, Dian, Raul and Grace.
With everyone ready and geared up for the hike, we hopped on a jeepney ride bound for Gaisano Grand Mall Liloan where we caught up with Rollie and Demi.
Once there, we took a habal-habal ride to the base of our exploration escapade – Mulao Barangay Hall.
Afterwards, we paid the environmental fee, and went for a short yet mildly challenging hike to the top of Lanigid Hill.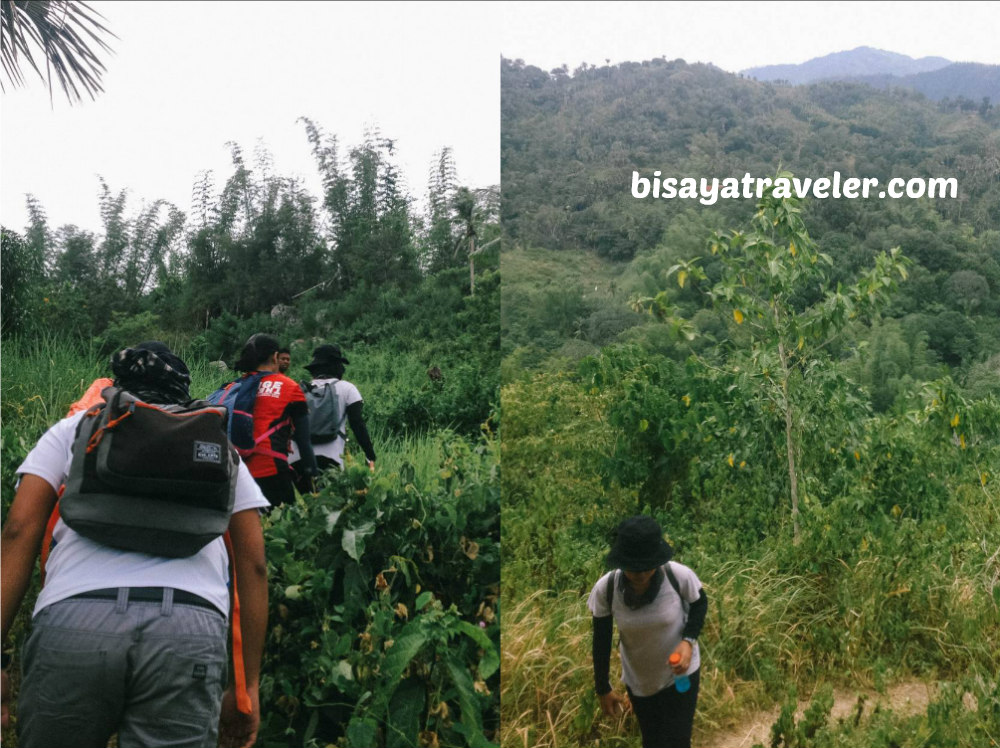 It teaches you how to use prominent landscape features to your advantage  
Lanigid Hill was such an awesome appetizer to our exploration. Not only did it warm up our muscles, but it also treated us to some sweet views of Northern Cebu.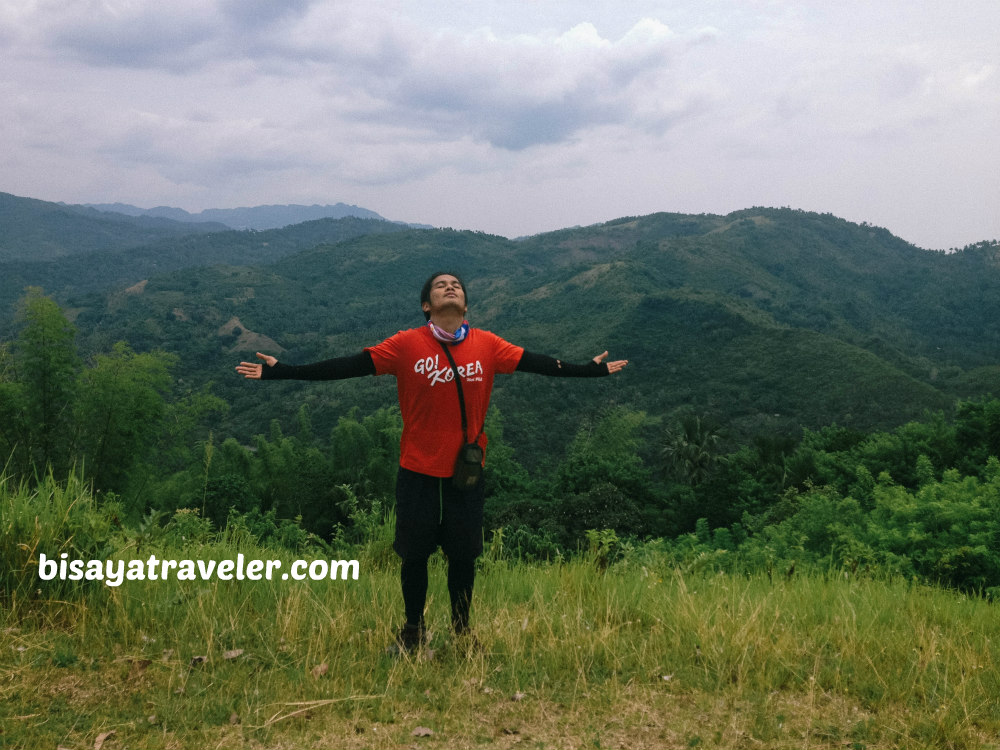 And, with its elevated location, Lanigid Hill also oriented us to some landmarks in the area.
Perhaps, the most enduring landmark in this side of Cebu is the magnificent Licos Peak of Danao, which is located few kilometers north from Lanigid.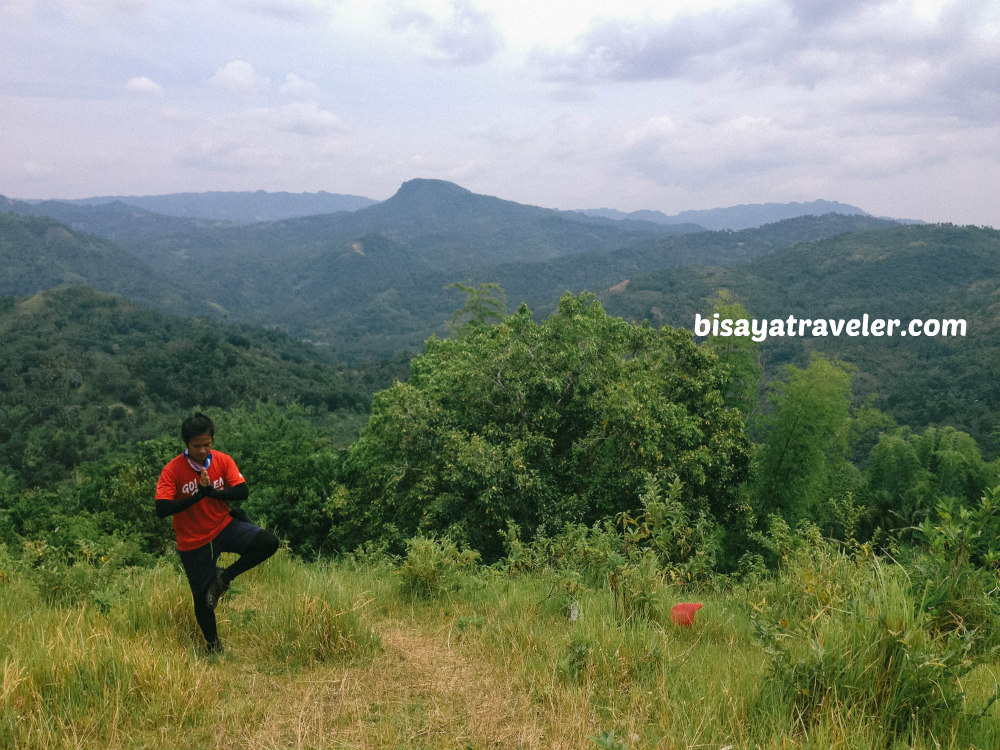 On the other side of Lanigid Hill, we caught a glimpse of Lapu-Lapu Island, Talamban ranges, RCPI Towers and Sirao Peak.
For some hikers, these things don't seem to matter.
But trust me, these sights and landmarks will definitely come in handy, for those who are exploring an unfamiliar territory.
When hiking an offbeat place, I like to find a notable hill or mountain that we can keep in view, as we walk around. That way, we have points of reference, so I'll know if we're heading to the right direction.
And, if you don't have a compass, these prominent landscape features will let you know which side is north, south, east or west.
A ton of snaps later, we descended from Lanigid Hill, to proceed with our quest of finding Tabla Mountain View.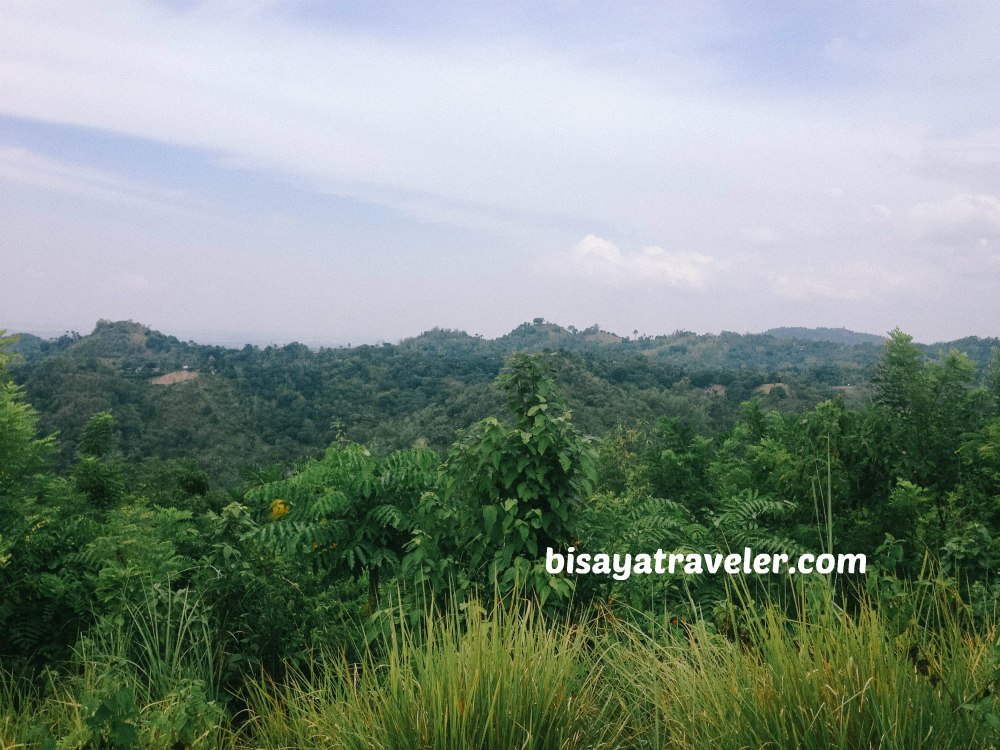 Afterwards, we asked some locals, and followed the concrete road leading to Tabla, Liloan.
It lets you create a mental map
The tips we got from Google Maps, combined with the local tips and reference points, were helping us create a mental map.
Truthfully, our mental map to Tabla Mountain View was, at first, a bit vague and far from completion.
After all, we didn't even know what the trail to the mountain looked like.
But, we kept adding information and features to our mental map, on our way to Mount Kolo.
As we were hiking and enjoying one another's company, we were continually updating our mental map.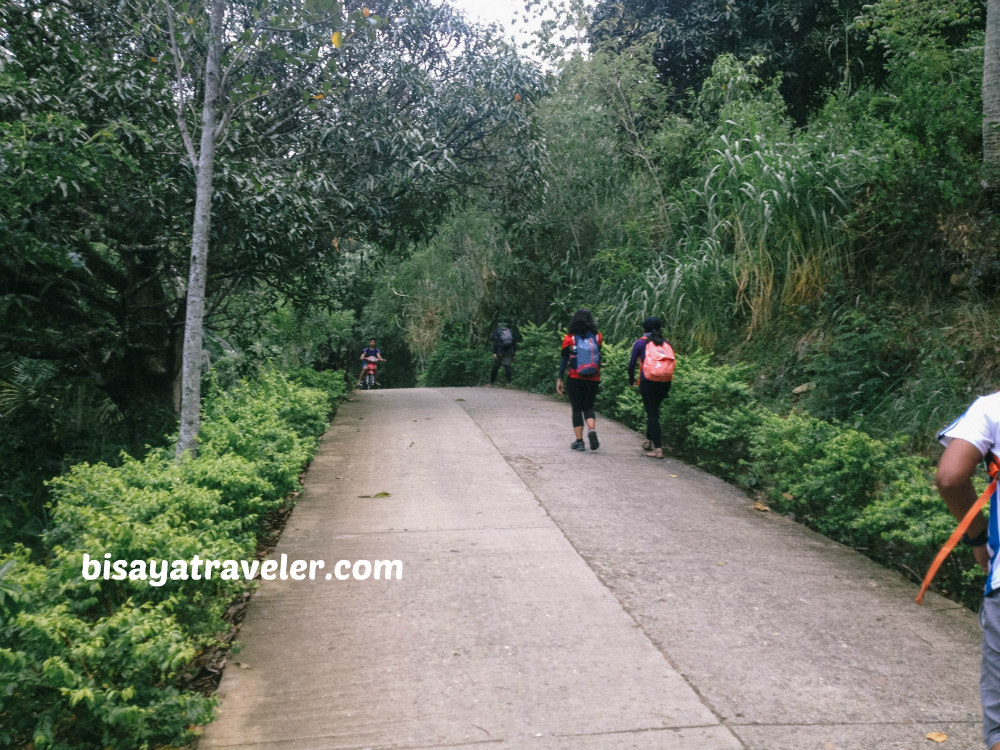 And, creating a mental map is essential in unlocking your so-called hiker's compass.
With a mental map, you can visualize paths and maybe figure out the location of your target location.
What's more, it can give you ideas on how to make your way out, when you're lost and stuck in a maze of problems.
It's a confidence booster
Since nobody in the team was familiar with Tabla, we had to ask locals for directions. Luckily, there were some friendly locals in the area who gave us definite answers.
And, that's one of the things I like about exploration.
It's exciting and lets you meet a bunch of warm locals.  And, more importantly, it gives you the confidence to talk to others.
Believe it or not, I had some self-esteem issues, years ago.
I was afraid to talk to others, and couldn't even see people eye to eye.
With practice and a ton of exploration, my confidence level went up a couple of notches.
Today, I'm no longer afraid to approach a local to ask directions (unless he's drunk and armed with a bolo).
And, eventually, me sense of direction improved drastically
A remote place like Tabla Mountain View puts technology away
Let's make it pretty clear – technological innovations like smartphone apps and GPS devices are so important, nowadays.
Unfortunately, they can also slow down the development of having a better sense of direction.
These state-of-the-art devices can be used to navigate unfamiliar spots. But, it can be rather challenging to learn on our own, and develop our inner GPS if we rely too heavily on these tools.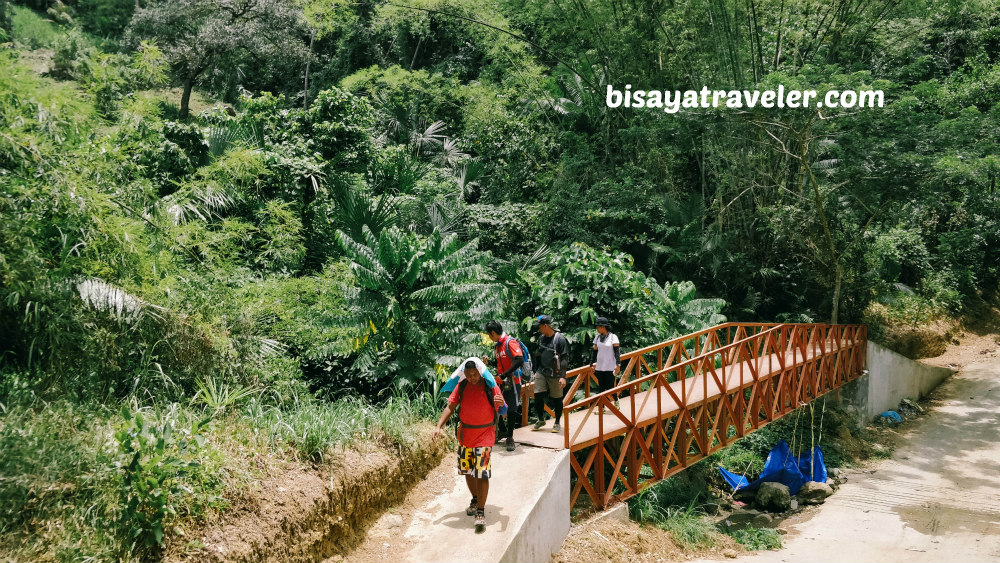 In the mountains, you'd hardly find a decent data and mobile signal. Even with the non-stop expansion of towers from mobile service providers, there are still places in Cebu with poor cellphone coverage.
And, somehow, it has developed our sense of direction.
With no navigation app to bail you out, you'll be compelled to come up with strategies to make your way around.
In our Tabla Mountain View exploration, there were places with limited mobile coverage.
In other words, we had to trust our instincts and use our hiker's compass to find the striking Tabla Mountain View.
Helps you get in shape
Hiking, like any form of exercise, increases the blood-flow to the brain. As a result of constant hiking, you'll become smarter and soon develop a better sense of direction.
And, our hike was a great and sweat-inducing exercise.
Though it was technically a chill hike, our Tabla Mountain View exploration had a lot of physically challenging spots.
With the steep slopes and scorching heat of the sun, it was indeed a mild yet wonderful challenge for us.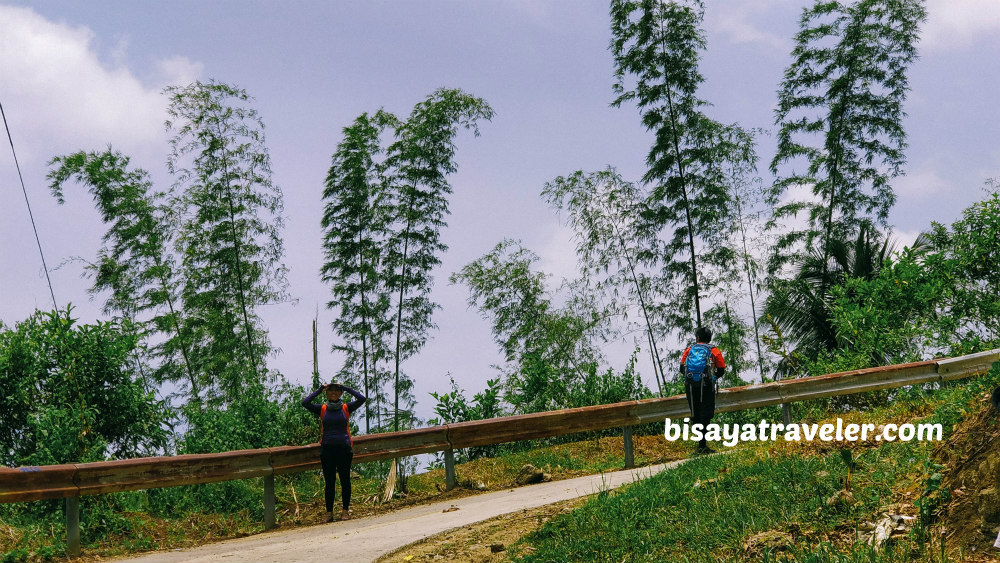 Beboy, one of our strongest hikers, was once exhausted, as we walked on the paved road of the highlands Liloan and Consolacion.
Raul, while not a terrible hiker, struggled and was uttering some strange word combinations.
Even so, our overall spirit remained upbeat and optimistic.
From Raul's jokes to our future hiking plans, we made a plethora of exciting talks, amid the struggles..
And yes, we made some stops as well, to take a breather and photograph some nice sights.
Ultimately, we arrived at a local store wherein we ate our lunch and took a rest.
And speaking of rest, keeping a well-rested body and mind is important in developing your sense of direction too. As recent studies have confirmed, taking a rest helps your brain to store and take in more effectively spatial relationships. So, kids, don't forget to chill for a while, when you explore the mountains.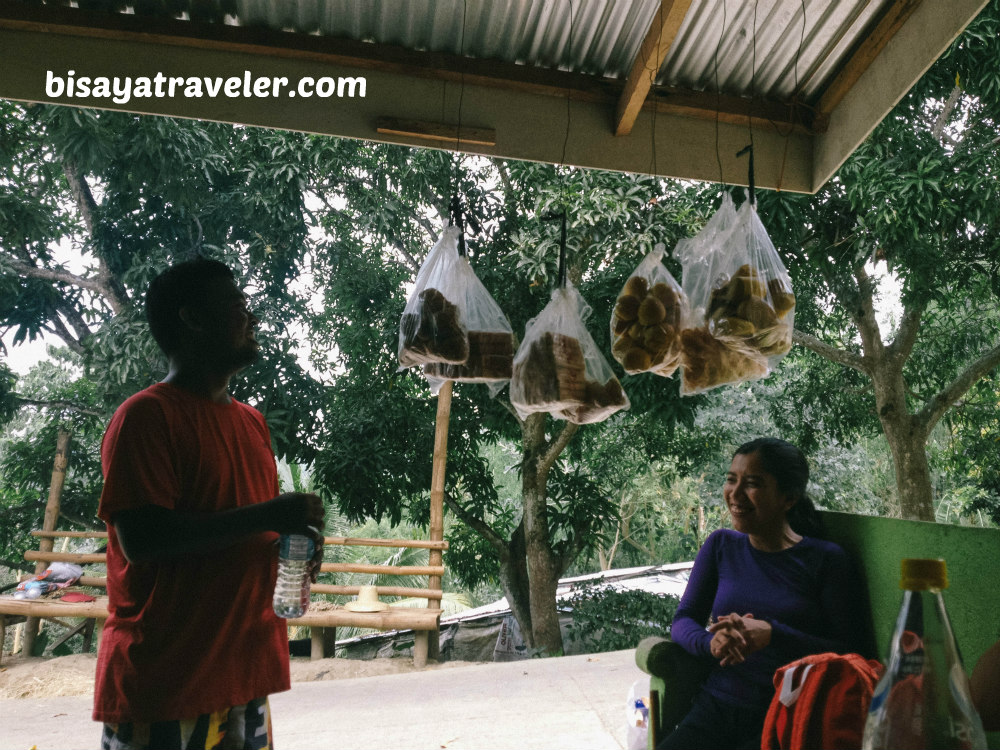 As with most of our day hikes, Raul was once again the undisputed star of our lunch break.
Wowing us with his unbelievable appetite and humor, Raul was moving around to get his hands on the tastiest treats.
Once lunchtime was over, we went on with our hike, passing by schools, houses and barangay halls.
From eye-catching signs to colorful schools, there was no shortage of awesome sights on our way to Tabla Mountain View.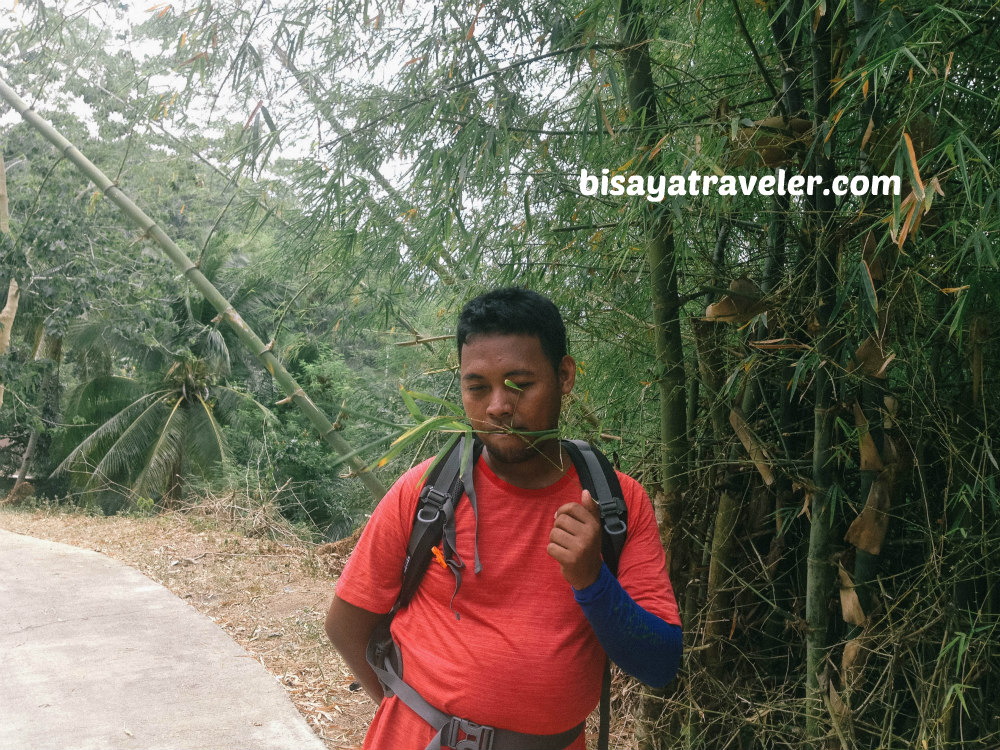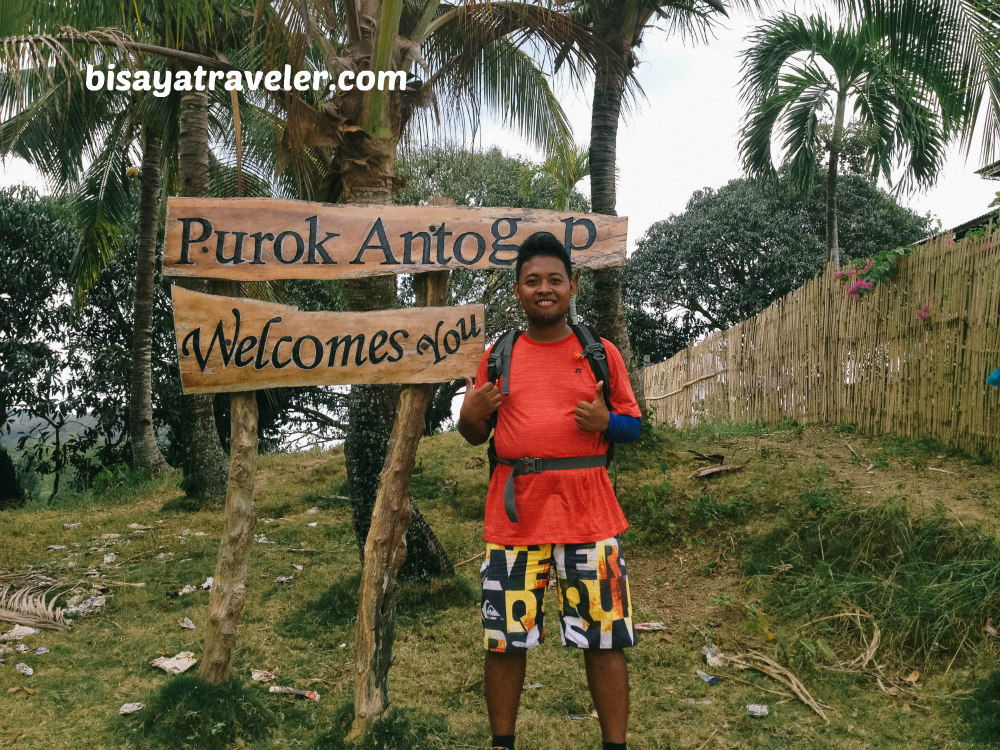 You'll learn to trust your gut feel 
There was no sign pointing to Tabla Mount View, as we were walking on the concrete road. Furthermore, there was nobody in sight who could show us the direction or trail leading to Mount Kolo.
Still, we remained calm and optimistic of our chances of finding this hidden gem in Liloan.
Soon after, we found a picturesque hill full of mango trees.
And, somehow, we had a hunch that this hill would lead us to Tabla Mountain View.
With our experiences in exploration, we've developed an instinct to find our target destination on the fly.
And, so, with our hiker's instinct, we climbed this hill in Tabla, Liloan.
Minutes later, we arrived at a flat spot, and took a 5-minute rest.
And, that's where Tatay Raul said his infamous line, "rock-star, knockout, hiker's compass".
Although he did explain the meaning of this line, it was still hilarious AF.
With our short rest in the books, we, then, followed Tatay Raul (yep, he led the way) to the base of a nearby mountain.
And, guess what? It was the mountain we've been looking for the whole day!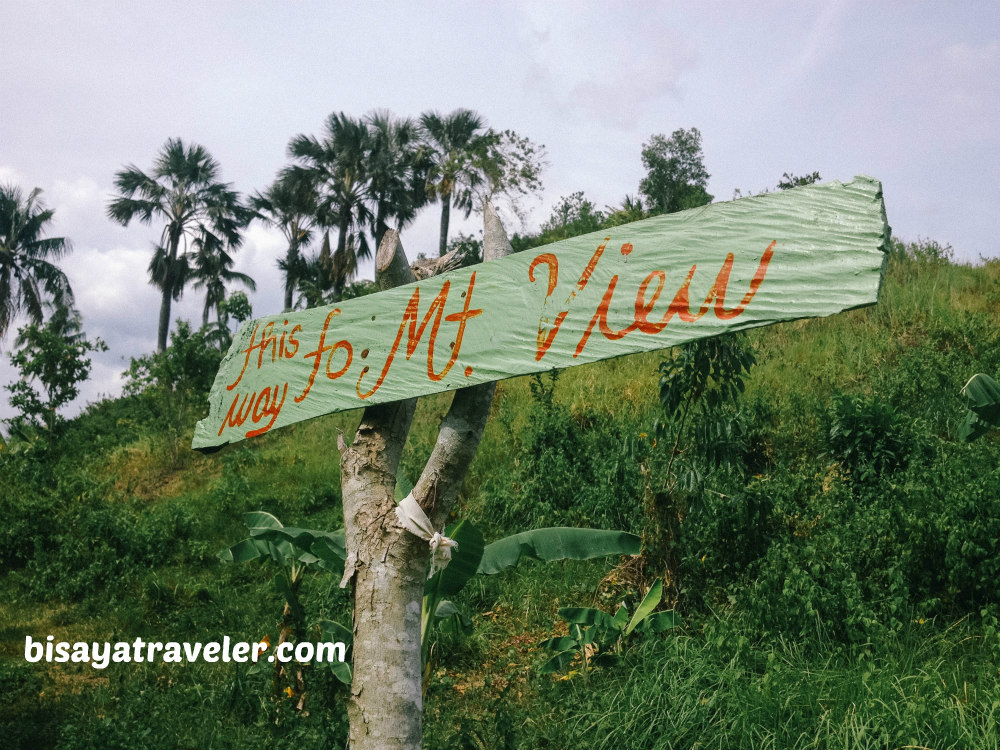 Maybe, Raul has finally found his hiker's compass.
Without wasting any time, we climbed the mountain, and got treated to a breathtaking view of Liloan, Cebu and Lapu-Lapu.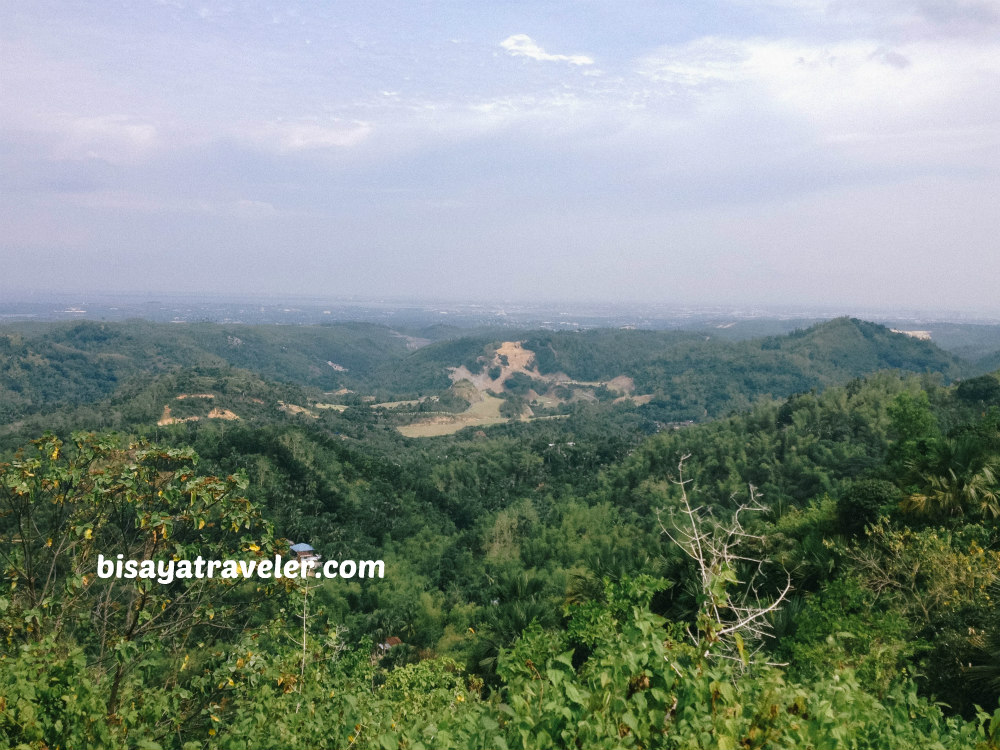 To make things even better, the mountain breeze in Mount Kalo was so fresh and rejuvenating.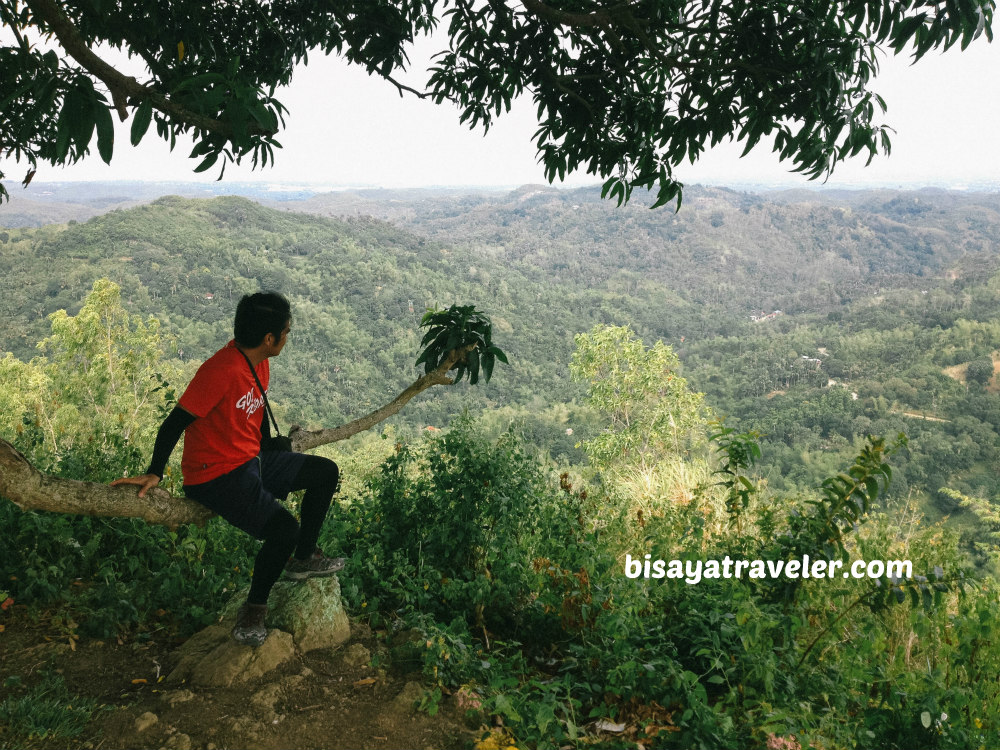 Clearly, everyone was on a state of pure bliss.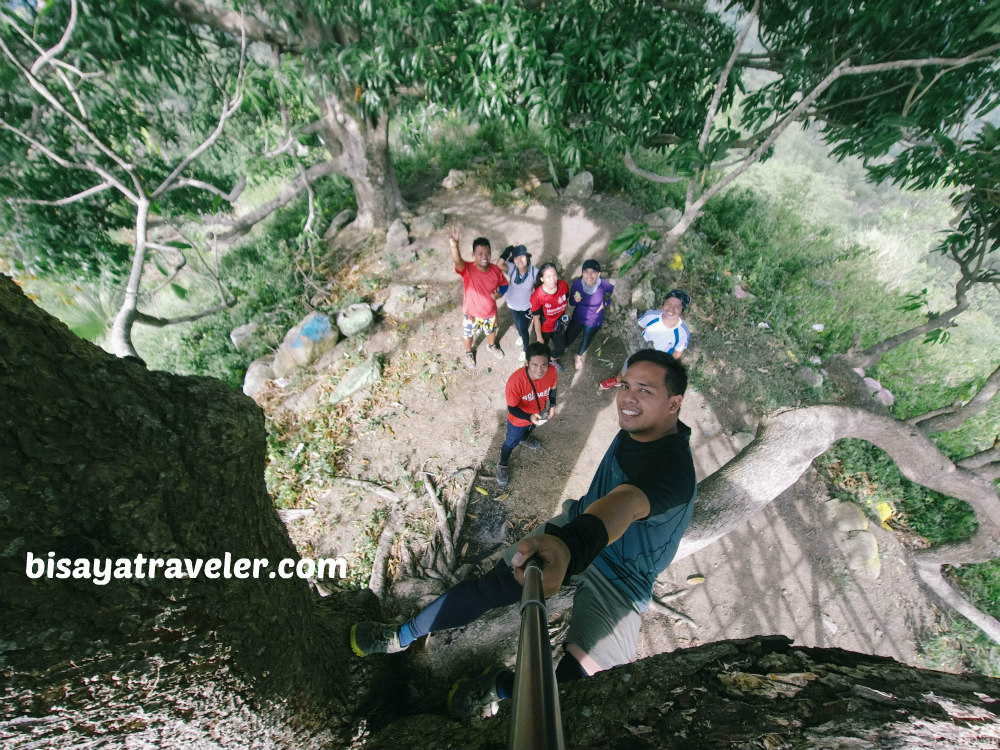 To be honest, I didn't even want to come home, as we were soaking up the scenery and atmosphere in Tabla Mountain View.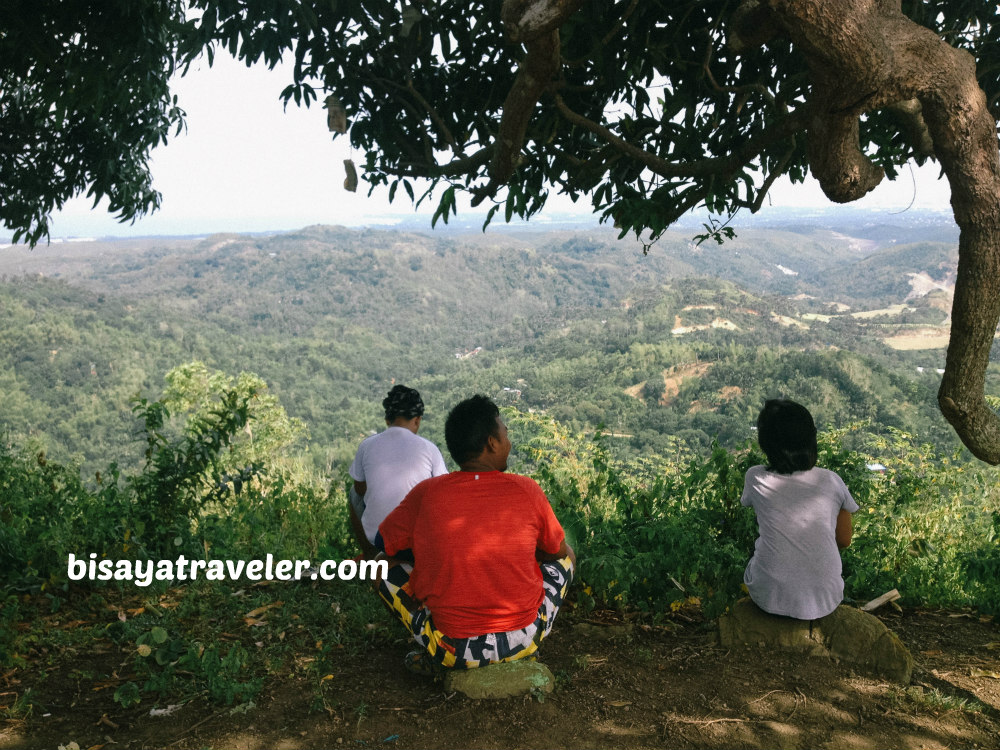 In my opinion, Tabla Mountain View is, hands down, the best lookout spot in Liloan (better than Lataban Hills and Lanigid Hill).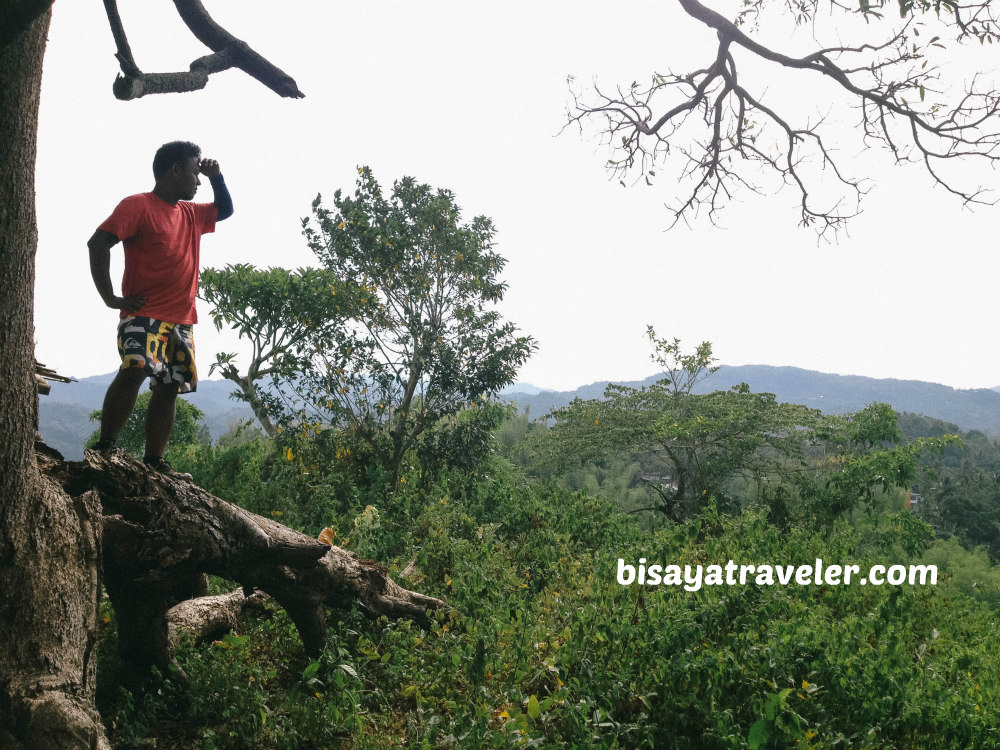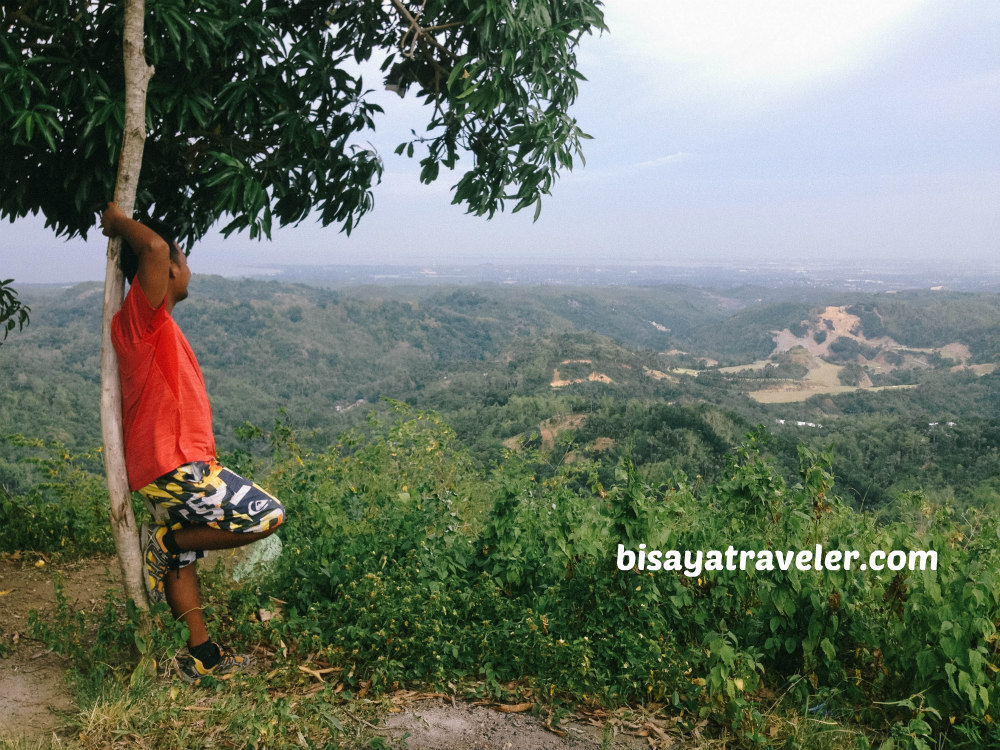 That's just my two cents, though.
We spent a lot of time there, admiring the view and relishing our accomplishment.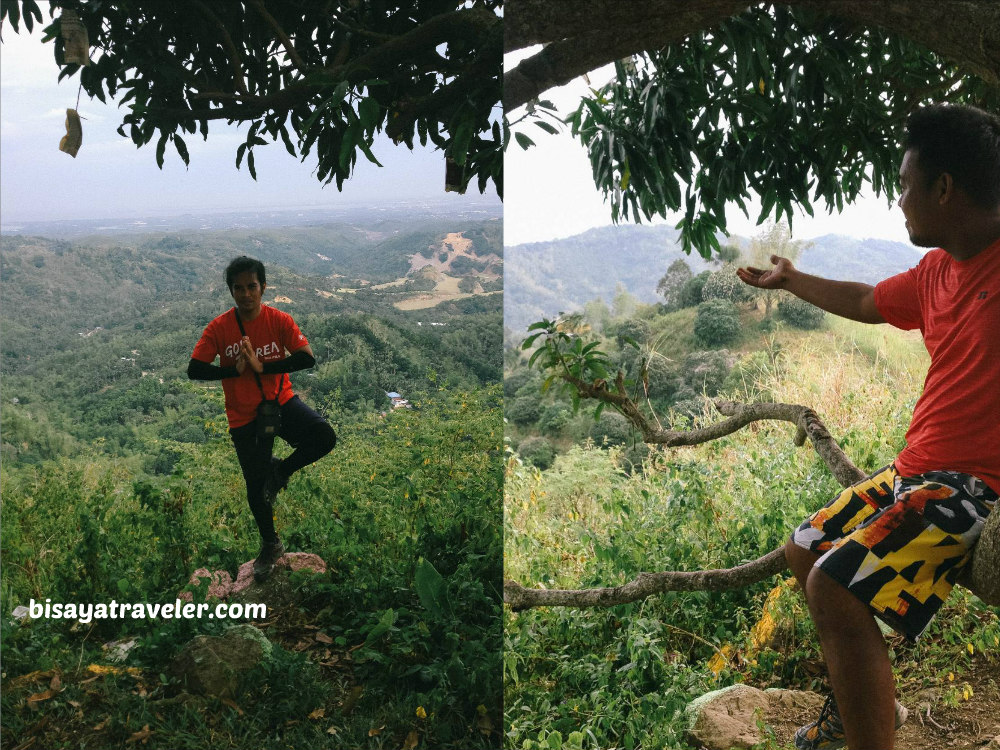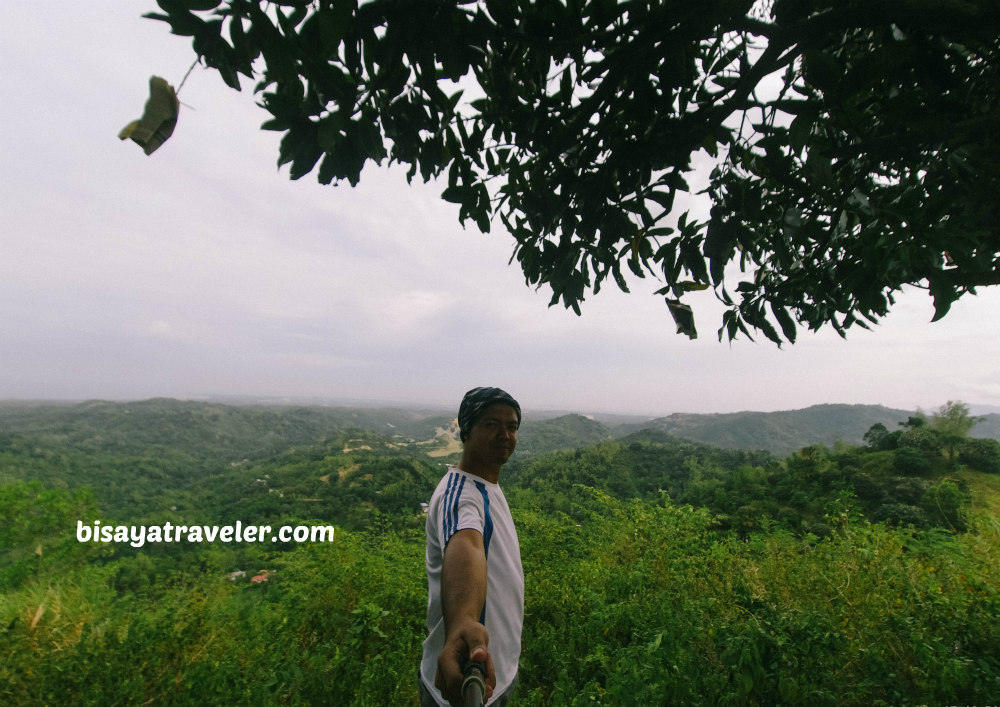 "The best stress reliever", said Dian.
We wanted to stay and catch the sunset in Tabla Mountain View.
But, since we weren't sure where our exit point was, we had to leave Tabla Mountain View early.
Later on, we descended from Tabla Mountain View, and hiked our way to Ibabaw Mountain Resort.
Then, we took a habal-habal ride to Yati, Liloan.
Quite a hike, I must say!
Our Tabla Mountain View itinerary
07:00 AM: Meet up at Sungold SM
07:30 AM: Depart for Liloan
08:20 AM: ETA Liloan Agrivet/ wait for habal-habals
09:40 AM: ETA Mulao Barangay Hall
10:00 AM: Start hike to Lanigid Hill
10:30 AM: ETA Lanigid Hill
10:45 AM: Descend and start hike to Tabla Mountain View
12:20 PM: Lunch
01:10 PM: Resume hike
02:15 PM: ETA Tabla Mountain View
03:30 PM: Start descend
05:30 PM: ETA Ibabaw Mountain Resort
06:00 PM: ETA Yati, Liloan/Depart for Municipal Hall
06:30 PM: Early dinner
07:00 PM: Depart for home
08:30 PM: Home sweet home
How to get to Tabla Mountain View (the easy way)
Take a jeepney ride bound for Liloan from Sungold, and ask the driver to drop you off at eskina Yati or Bajac. Fare is about PHP 17. Once there, hop on a habal-habal that will take your barangay Tabla. I don't know how much it will cost you, but in my estimation, it should be around PHP 50 to 100 per person.
Upon your arrival in Barangay Tabla, ask directions from the locals
If, however, you prefer our way, head to Lanigid Hill.
How to get to Lanigid Hill
Take a jeepney ride bound for Liloan from Sungold, and ask the driver to drop you off at Gaisano Grand Mall. Look for an Agrivet store, and charter a habal-habal ride (PHP 60) to Mulao Barangay Hall. Log your name at the barangay hall, and pay the 10-peso fee. If you need a guide to Lanigid Hill, just inform the officer at the barangay hall.
My expenses:
Jeepney fare to Liloan: PHP 17
Habal-habal fare to Mulao: PHP 60
Fee to visit Lanigid Hill: PHP 10
Fare to Yati from Ibabaw: PHP 20
Fare to SM City Cebu from Liloan: PHP 18
Guide fee: NADA
Did Raul really discover his hiker's compass or improve his sense of direction? I, honestly, don't know. But, we'll soon see if he has truly unlocked this skill.