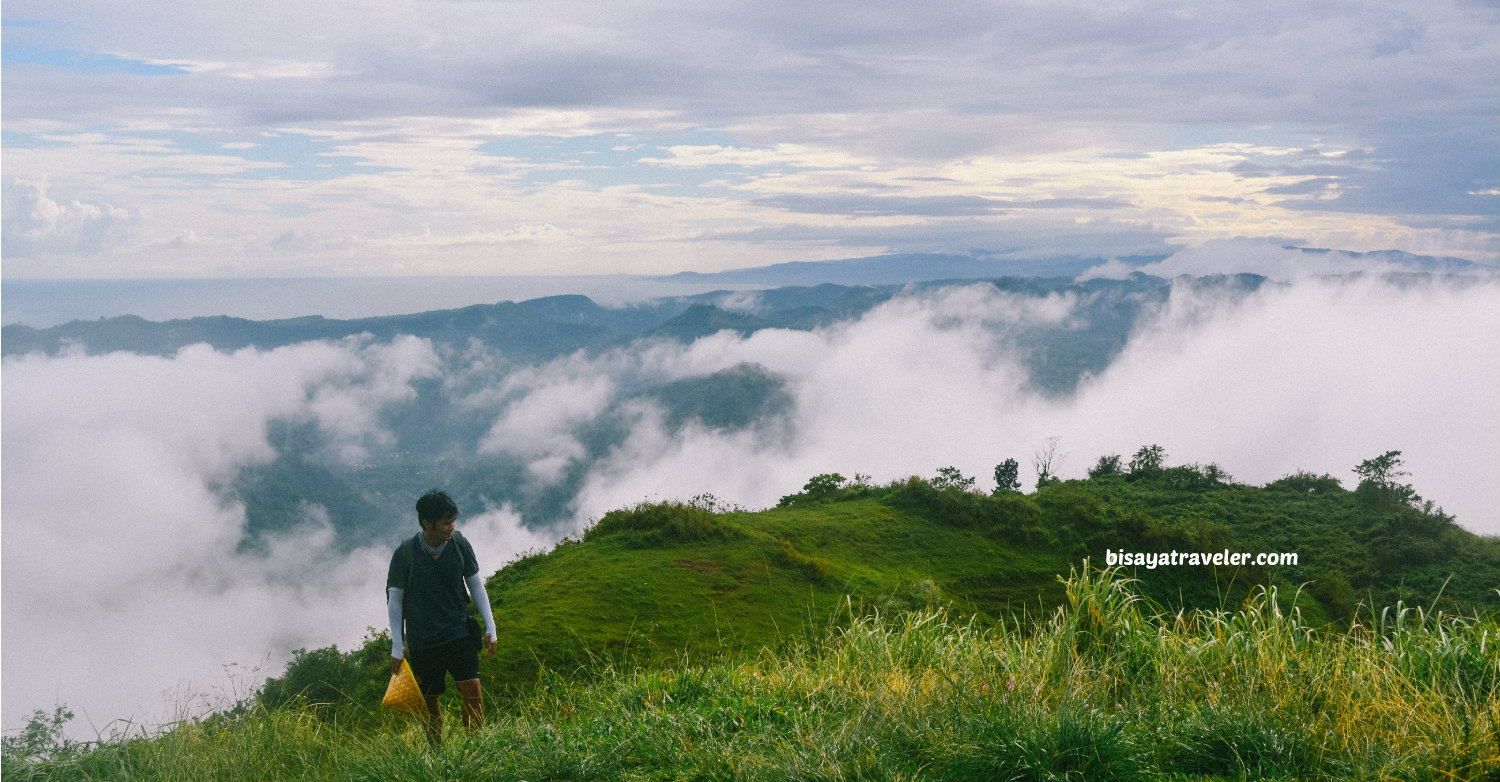 Naga City: Chasing 3 Mountains And Naupa's Irresistible Sea Of Clouds
Everyone loves to hike and cherish Mother Nature's masterpieces in moderate temperatures beneath a sunny and bright sky. Whether you're hiking a beginner-friendly mountain in Naga City or a scaling the country's highest peaks, sunny days simply make our outdoor escapes more pleasurable and picturesque. And let's face it – hiking in the rain can also lead to miserable experiences, like slips, wet gear and blisters. Trust me, hiking in the rain can be literally a struggle, especially if you're not equipped with the right gear and footwear.
Surprisingly, though, there are also perks to hiking in the rain. In steep mountains and ranges with an elevation of more than 2,500 MASL, a rare and magnificent phenomenon, known as "sea of clouds", often emerges, following a light drizzle or rain. And in my year-end hike in Naga City, I got to witness one of nature's finest creations, after a seemingly endless rainstorm. Although Mount Naupa is less than 1,000 MASL, we amazingly captured the beauty of the remarkable sea of clouds. As an added bonus, we got to drop by some sweet and Instagram-worthy spots – Naga City Boardwalk, Mount Magdook and Pangilatan Peak.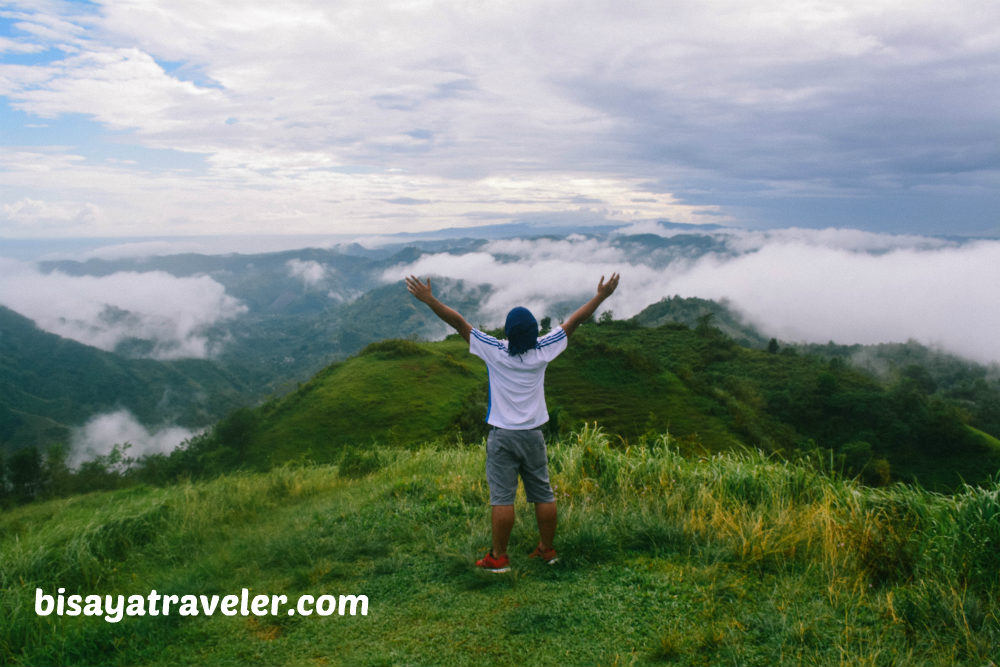 Our Naga City adventure
So, how did my Naga City year-end hike start? Our weekday adventure kicked off on a high note with a meet-up at the trending and newly-opened Naga City Boardwalk (I will write about it this one later).  There, I and the Raul caught up with a few familiar faces – Beboi, Rollie and ma'am Fe. As we were waiting for the others to arrive, we spent some time, soaking up the beautiful sunset and lovely views of Naga City Boardwalk.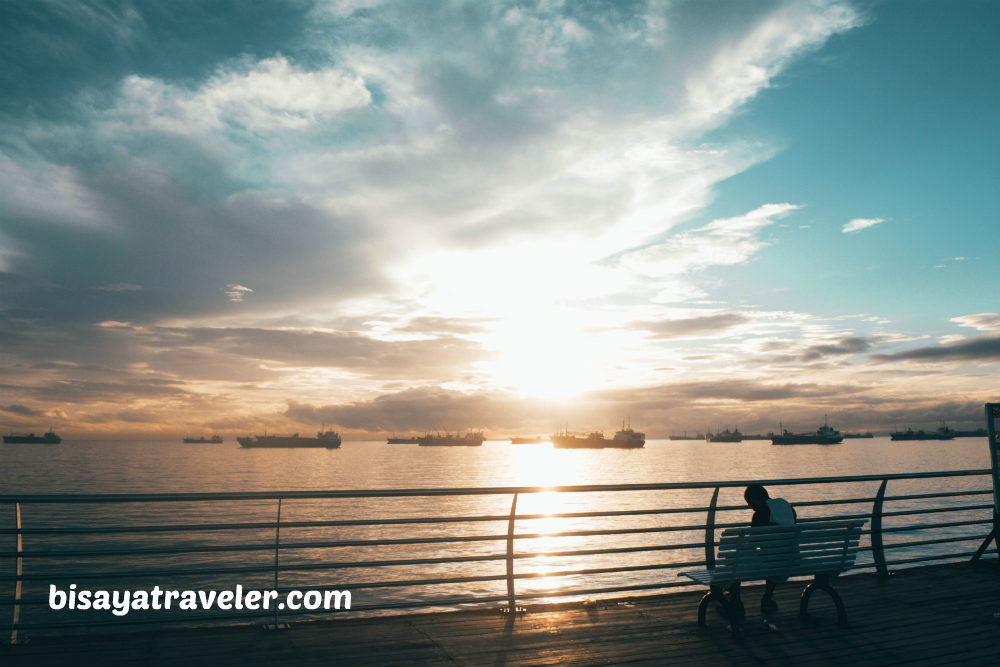 Later on, a trio of sprightly young ladies arrived in the scene to join us for our Naga City hike – Dianne Faith, Hazzel Mae and Khyrylle. And though our Naga City crew still wasn't complete, we had to move on from the boardwalk, and wait for Bing to arrive in the nearest bus stop.
Upon Bing's arrival, we wasted no time, and made our way to Mendoza Street, to start our hike. Led by Raul, we, then, said a short prayer for good weather and a safe and exciting Naga City hike.
Before we resumed with our hike, I warned everyone about the assault leading to our first stop – Mount Magdook. And from there, the real adventure began!
The hike up to Mount Magdook, though it was short, was pretty challenging, even for seasoned hikers like Beboi and ma'am Fe. Not only is the assault tough, but the trail is fairly exposed as well. On a warm and sunny day, you'll find this hike quite a handful.
At that time, the weather was scorching, and there were no signs of a looming rainstorm. Heck, I even thought it would be sunny for the entire day.
After minutes of puffing, hustling and struggling, we finally arrived at the concrete road and easier part of our hike to Mount Magdook.
Everyone, including yours truly, breathed a sigh of relief.
"That was tougher than our volleyball training", one of the younger girls of the crew said to me. Honestly, I can't remember if it was Khyrylle or Dianne Faith who said that because I was still recovering from the laborious ascend.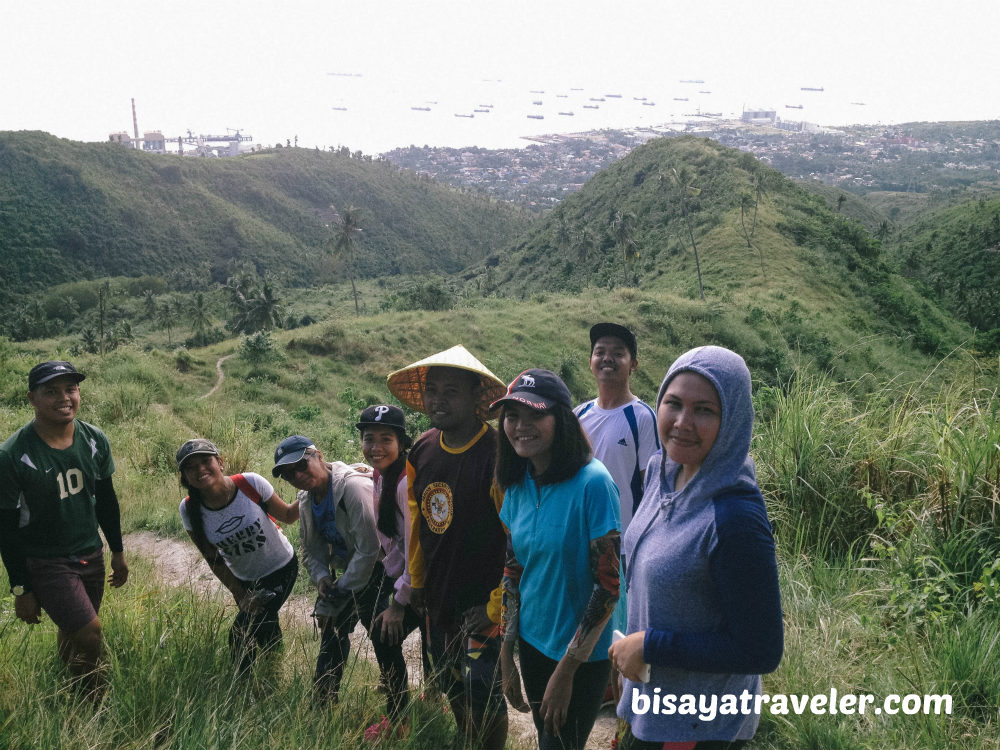 We, eventually, resumed with our Naga City hike, following a quick photo shoot. Along the way, we got to know each other, sharing personal details and stories of our adventures.
And, I kind of miss these kinds of conversations with other hikers. Despite all my memorable moments with Team Bang, I still yearn for a chance to meet new friends, and learn more our beautiful planet from other people. That's why I'm going to invite more nice strangers to my hikes in 2018. Plus, I'll probably limit my adventures with Team Bang to 5 in 2018 (3 of which will be outreach hikes).
Moments later, a tall youngster – Geneva – with her brother arrived to join us, as we were hiking in Naga City.  I introduced her as Bella Padilla to the squad, as she looks a bit like the actress.
On our way to our next stop, we saw an elderly man arranging a bunch of freshly plucked coconuts.
We asked the man if he was going to sell the coconuts, but he instead offered to us for free.
And, guess what? Raul, who lives by the mantra "food is life", savored it thoroughly.
With our energies replenished, we headed to the most photogenic part of Mount Magdook, to snap photos and admire its overlooking panoramas.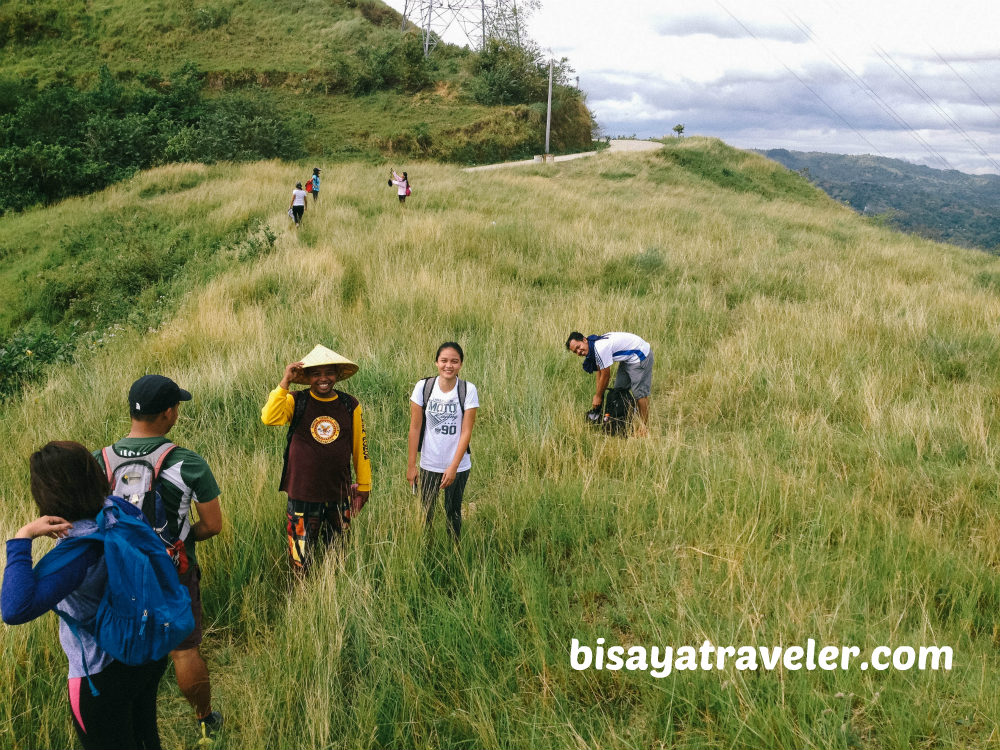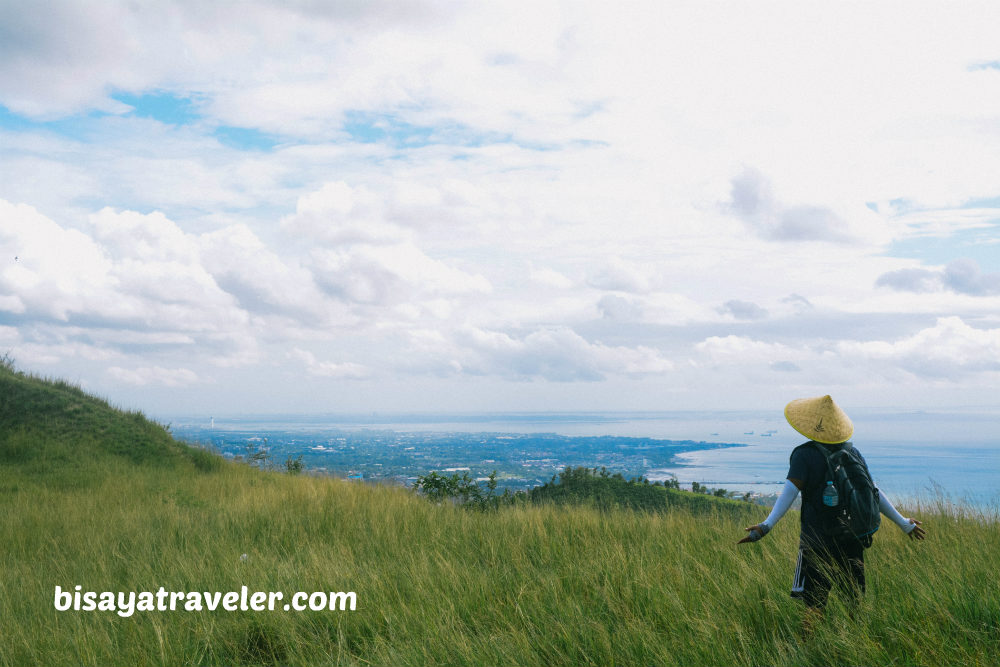 Afterwards, we moved our feet to the next part of our Naga City adventure – Pangilatan Peak.
With loose soils and a not-so established trail, getting to Pangilatan Peak was also slightly tough. But at the end of the short ascend, we were rewarded with a pleasant view of Naga City and its ships, or battleships as the comic fan boy Raul would say. Furthermore, the weather perfectly fine, the moment we arrived in Pangilatan Peak, Naga City, adding more allure to this underrated peak.
With blue skies, fresh mountain breeze and a slightly warm weather, our hike in Naga City seemed spotless and perfect.
Even though the weather was pleasant and the views were nothing short of awesome, we had to depart from Pangilatan Peak, and make our way to Mount Naupa.  From Cantao-An community store, we took a habal-habal ride to the base of Mount Naupa – Cogon, Naga City, Cebu.
As we were about to embark on our escapade to Mount Naupa, we noticed that the sky was turning from gray from blue. And so, with Geneva on the lead, we quickened our pace and took only a couple of breaks. Needless to say, tatay Raul was struggling and out of breath.
It gently rained, on our way up, forcing us to blitz our way to Mount Naupa.  And, when we arrived at one of the huts near Mount Naupa, we paused for a while, to take a breather and wait for the rain to stop.
We've waited for minutes for the rain to stop. And when it finally stopped, we made our way to the registration center, and paid the required entrance fee.
Even with the intermittent rain, we climbed to the camp site of Mount Naupa, Naga City.
It was an hour past lunchtime, meaning our stomachs were already grumbling.  Unfortunately, we couldn't find a hut or a roof that can shelter us from the drizzles, while eating our lunch.
As it turned out, the stores selling food in Mount Naupa were ravaged by the mighty winds of the tropical storm, Urduja, a couple of weeks ago.
But, with teamwork and creativity, we found ways to eat our lunch and cover ourselves from the rain, amid all the problems.
Expecting there was food for sale in Mount Naupa, the three young ladies – Faith, Hazzel Mae and Khyrylle – didn't bring lunch for our Naga City hike.
Of course, we just can't let them starve on our day hike. As with most generous hikers, we shared our blessings to the trio.
As for the weather, it was getting worse by the minute.  And, with thick fogs, muddy and slippery trails and non-stop raindrops, our stop to Mount Naupa at first wasn't very promising.
Nonetheless, we climbed the hilly campsite on Mount Naupa, hoping that the weather would stop. This time, the weather wasn't on our side.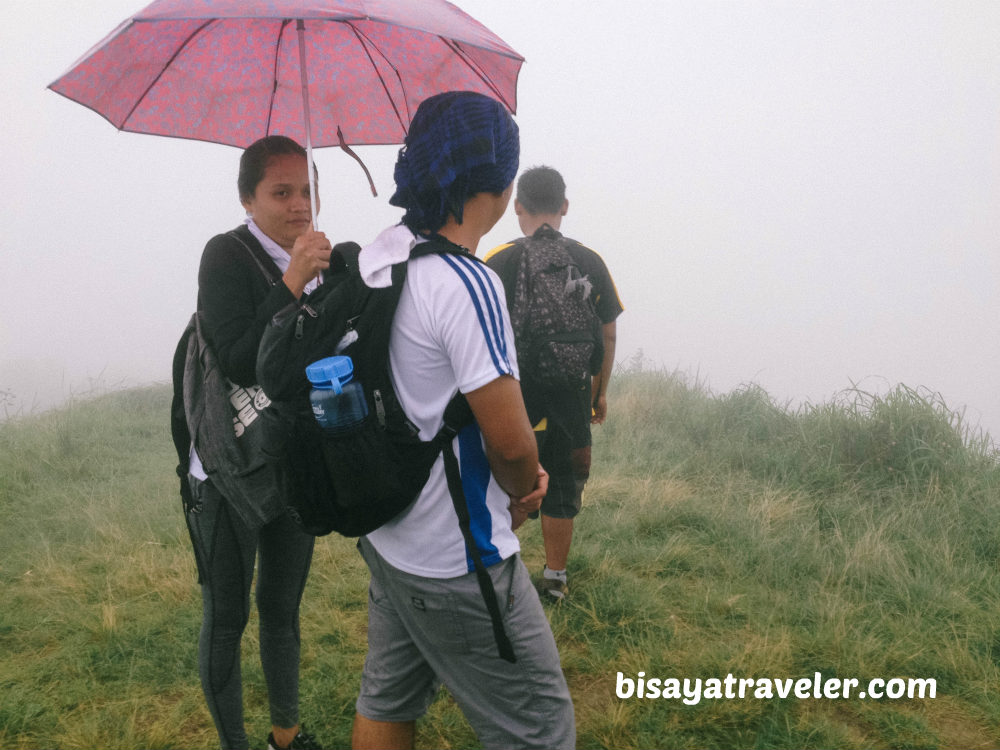 Even so, we had fun on the hill, enjoying each other's company, and making the most of our situation.
"Just imagine you're climbing Mount Pulag", said ma'am Fe.
For a moment, we felt like the rain wasn't going to stop any time soon. In spite of our infectious optimistic outlook, we were compelled to retreat to the registration center, and wait for the rain to stop, before heading home.
Yes folks, we were all ready to put an abrupt end to our adventure in Naga City, Cebu.
We just sat there, waiting and talking about a lot of things, including our trips as well as misfortunes of our adventures. And, it was rather fun. For introverts like me, we enjoy witty and meaningful conversations that can help us get a better insight of the world.
Raul was, once again, in the spotlight, sharing stories of his misadventures and mongo chronicles.
In the midst of the storm, there was a sign of hope that swept me off my feet and literally put me at the edge of my seat.
And, the sign that I'm referring to is no other than the supremely rare sea of clouds of Mount Naupa.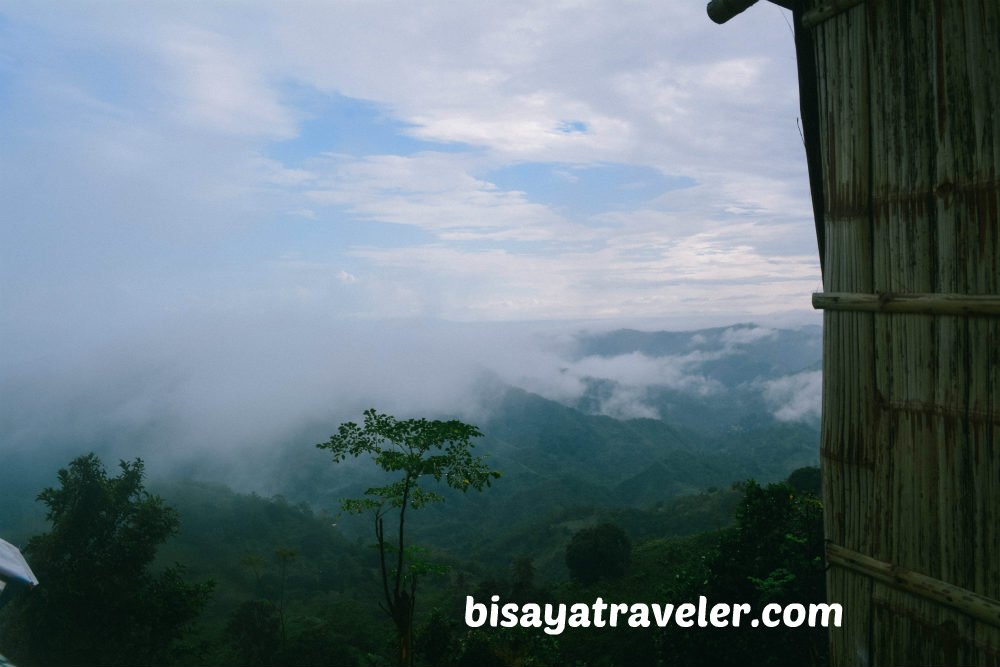 With enthusiasm and huge grins on our faces, we sprinted, and rushed our way to the hilly camp site of Naupa to catch sight of the majestic sea of clouds.
We were like trail runners blitzing to the finish line.
Except for Beboi, we were all breathing heavily, on our climb to the steep hill.
Every time we got tired, we paused for a second, and then, went on with the climb.
Even with the slippery trail and mild raindrops, there was nothing going to stop us from seeing this natural phenomenon in Naga City.
Once we made it to the top of the hill, we were all awestruck by the mesmerizing sea of clouds in Mount Naupa.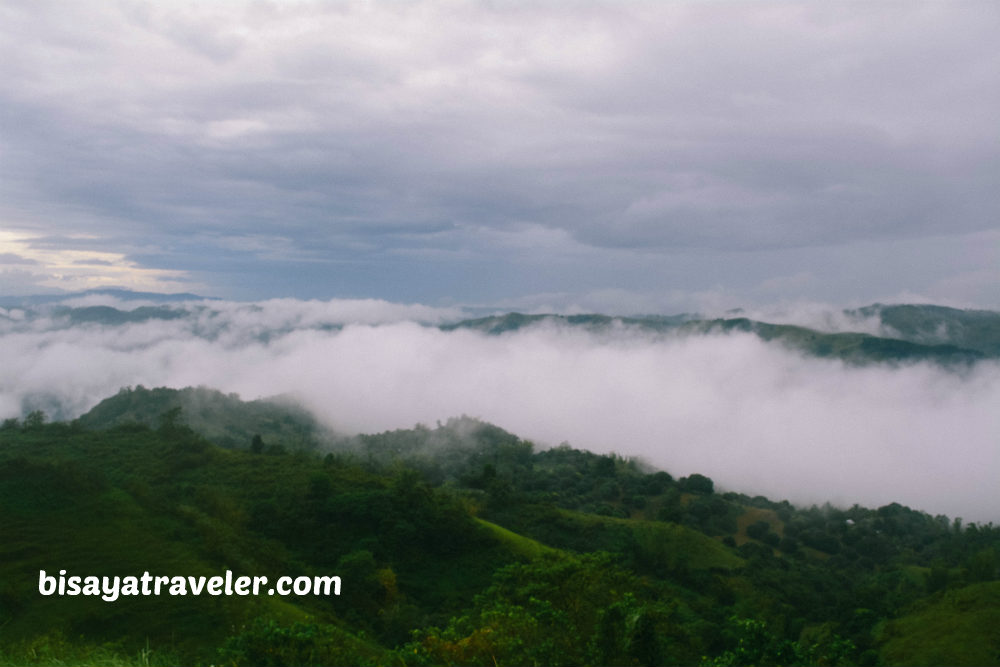 To me, it was, hands down, the highlight of our year-end hike in Naga City. In some ways, it reminded me of my sea of clouds experience in Danao, Bohol.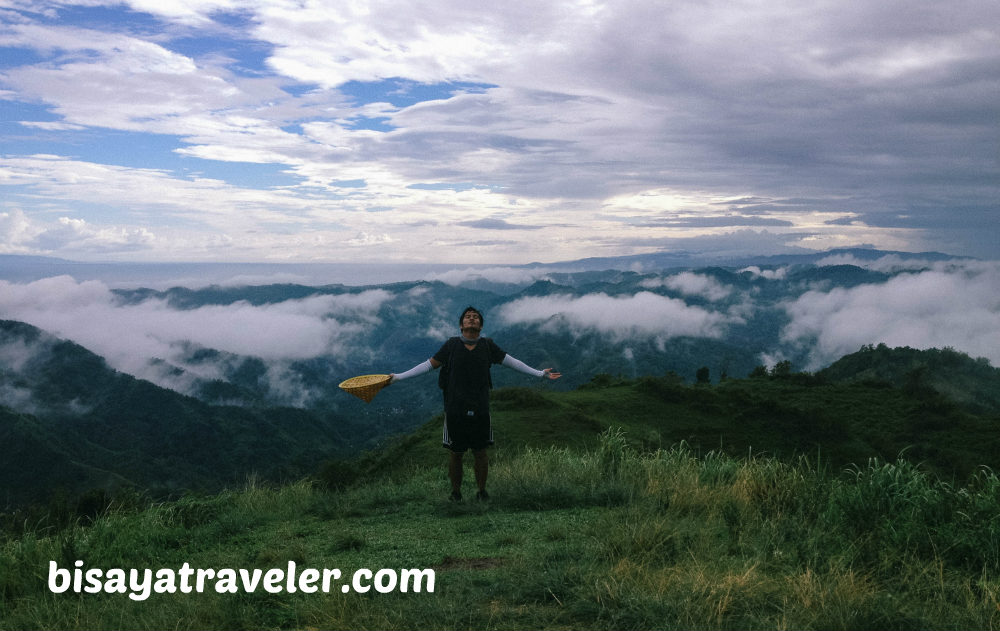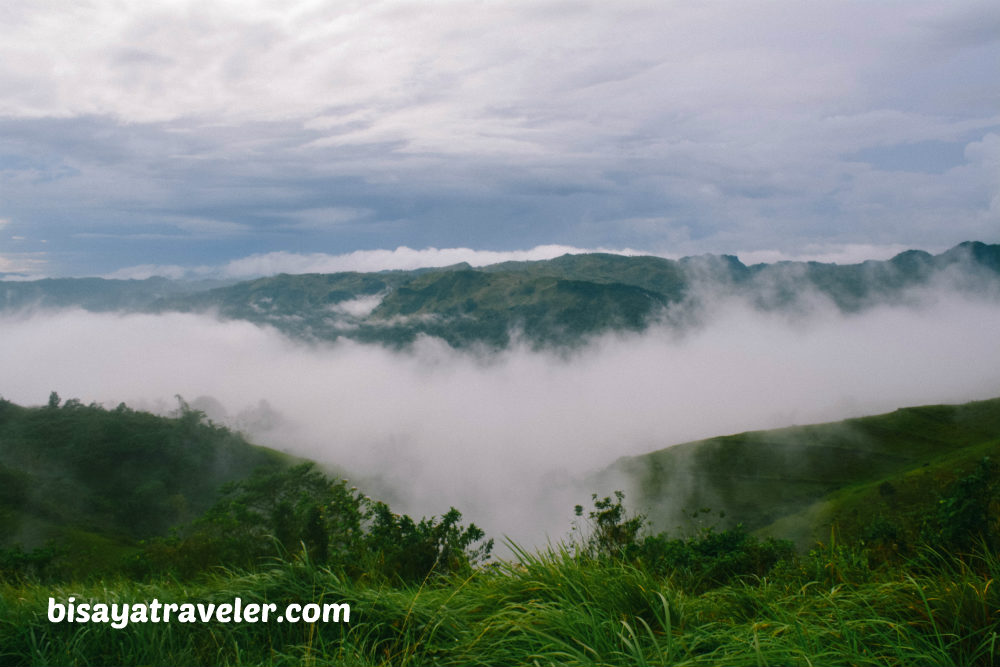 "I live in Naga City, but this is my first time seeing it", said Geneva.
"Such a spectacular sight", Rollie added.  "The best adventure ever", said Faith.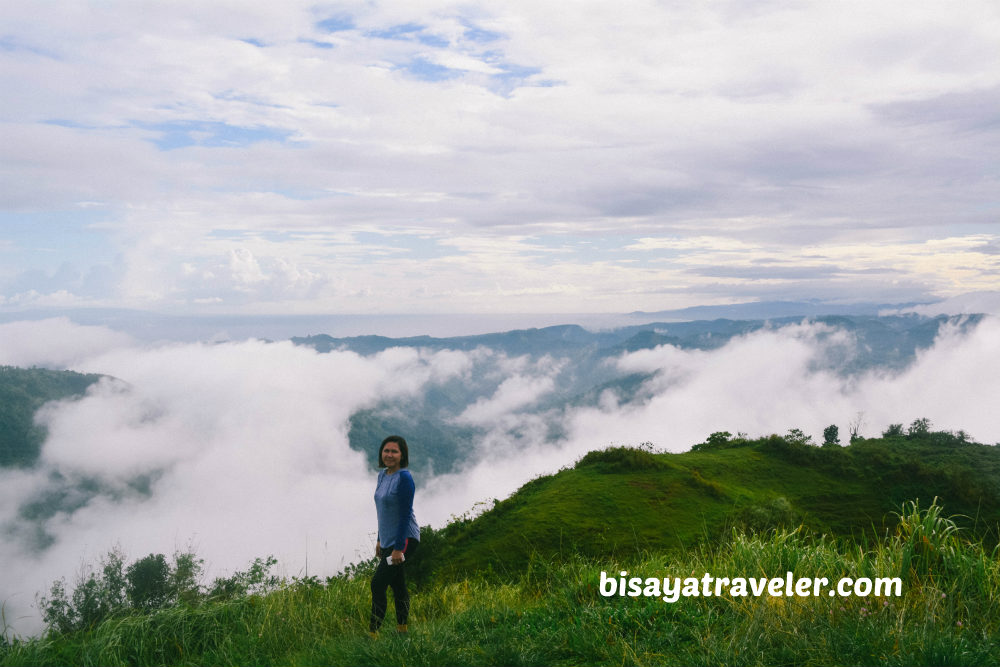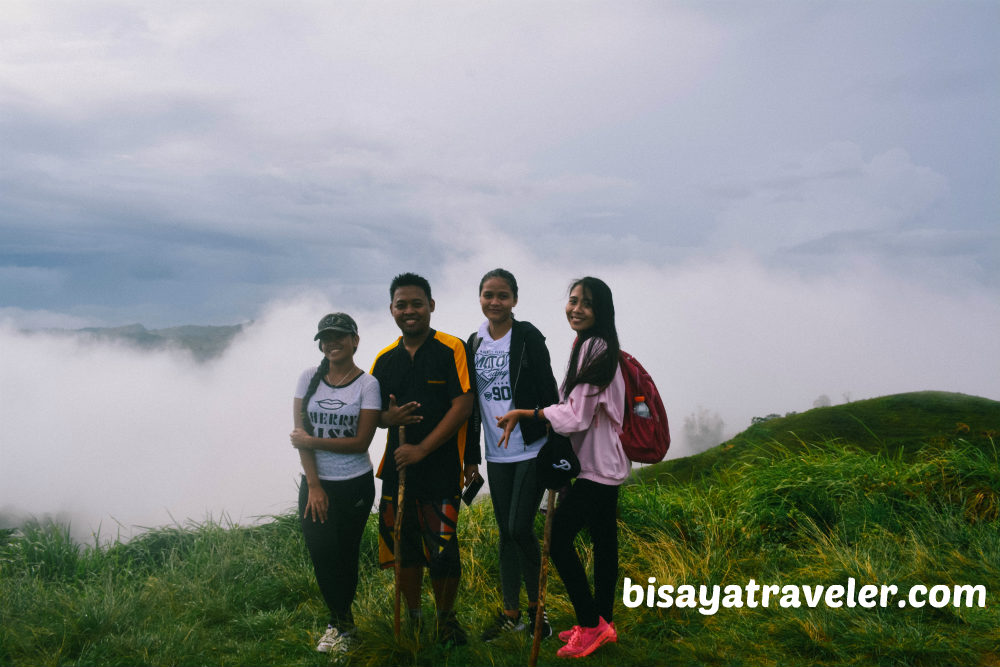 Raul also raised some eyebrows, when he revealed a fansign for his "friend".  Actually, there's a beautiful story behind this sign, but for Raul's privacy, I won't mention it in this blog post.
Maybe, on my next write up, though. LOL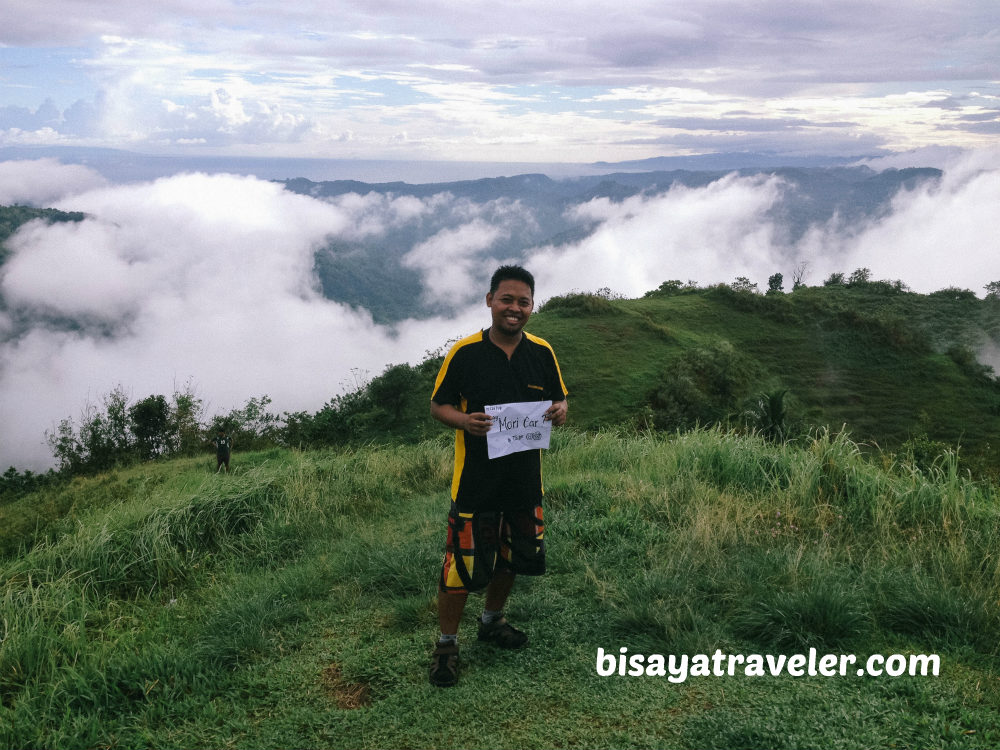 Hazzel, meanwhile, didn't climb the hill with rest of the squad since she was having problems with her footwear. Luckily, like a good father, tatay Raul saved the day by allowing Hazzel to use his extra pair of slippers.
Clearly, everyone was on cloud nine, as we were gazing on the awe-inspiring sea of clouds. As far as I'm concerned, it was a sight to behold, and a spectacle that epitomizes the words "wow" and "amazing".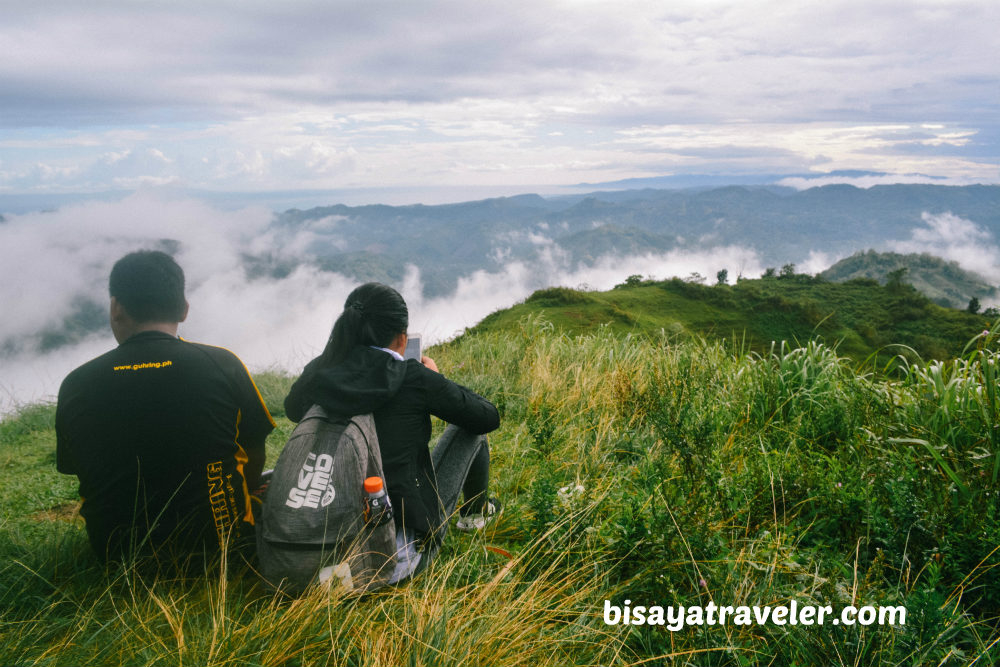 For a while, we just stood there, taking in the atmosphere and snapping photographs.  And, it was, in my book, the ultimate way to end a year full of adventures and incredible moments.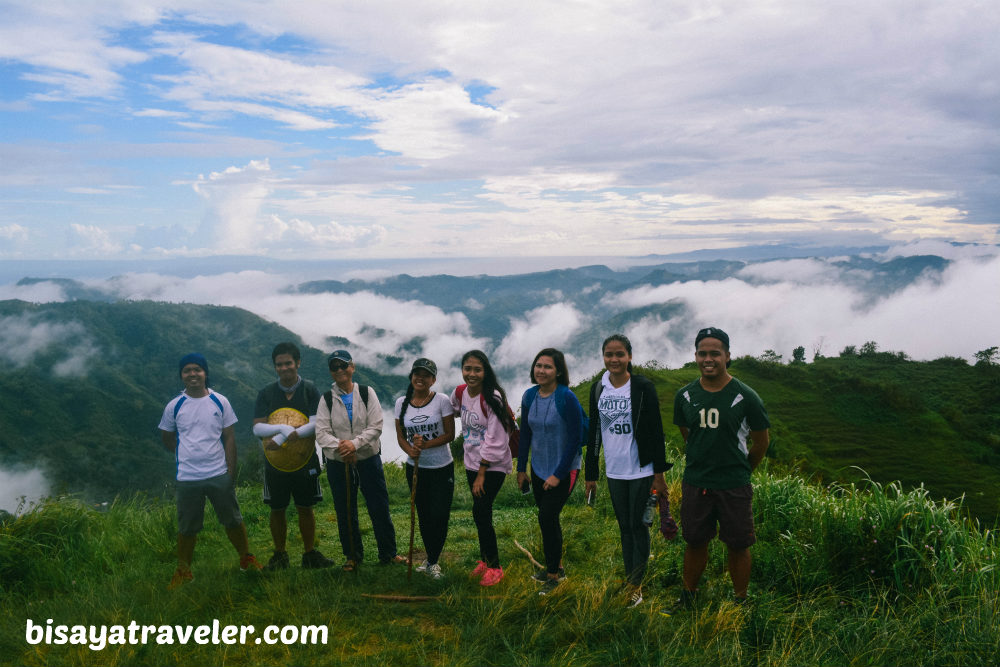 With this natural wonder slowly fading into the air, we had to move on with the next parts of our Naga City hike – the actual peak of Mount Naupa as well Kabalas.
The rain, however, made another appearance, preventing us to continue with our so-called 4-peaks-in-1-day Naga City hike. As a result, we all decided to call it a day, and return to our base, Naga City Boardwalk, to cool down and chill.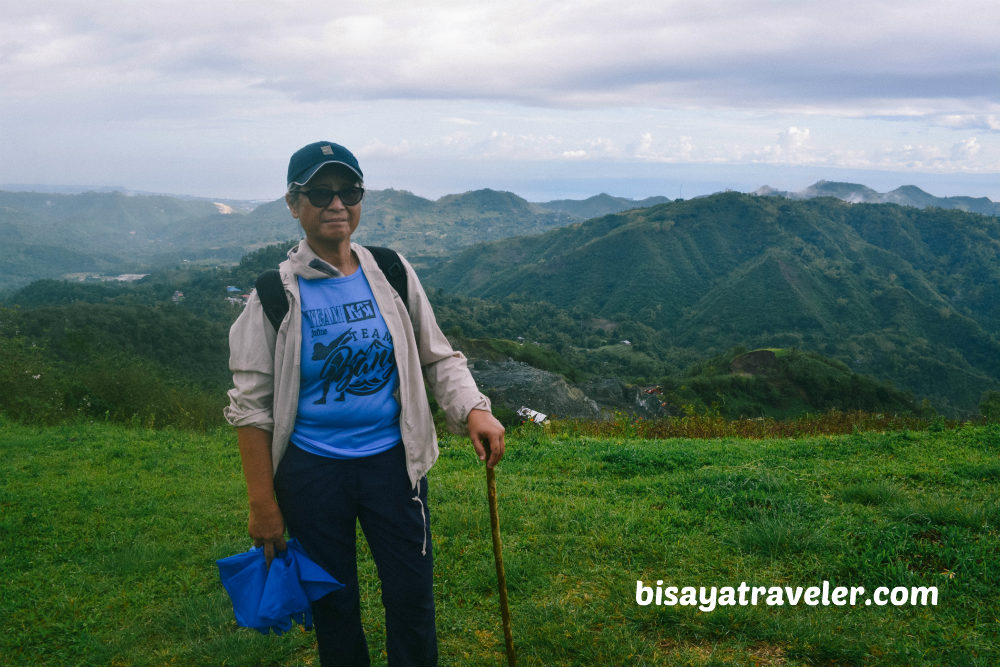 We were all contented and happy with our hike anyway. After all, it's not every day that we get to see a sight as breathtaking as Mount Naupa's sea of clouds. And besides, these mountains in Cebu are not going anywhere. Who knows? We might be in for another sweet and exciting surprise on our next hike to Mount Naupa, Naga City.
And, by the way, I did bump into my college pal in Don Bosco at Naga Boardwalk, while cooling down. Quite a day, I must day.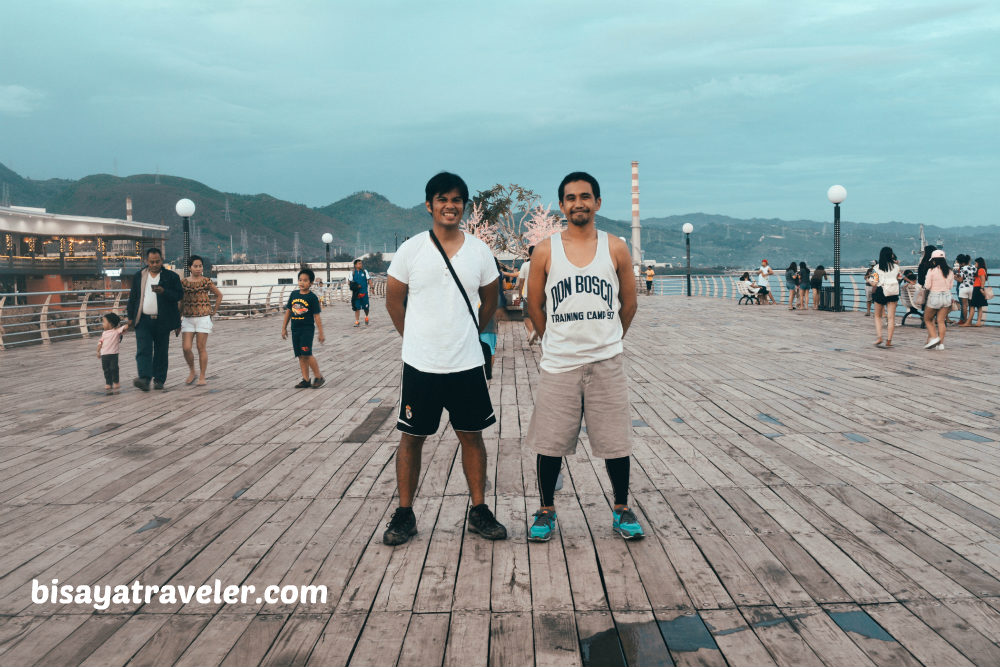 Our Naga City hike itinerary:
06:00 AM: ETA Naga City Boardwalk/snap photos
08:00 AM: Start hike to Mount Magdook
09:30 AM: ETA Mount Magdook/take pictures
09:45 AM: Start hike to Pangilatan Peak
10:40 AM: ETA Pangilatan Peak
11:00 AM: Descend to Cantao-An
11:30 AM: Depart for Cogon, Naga City
12:00 PM: Cogon/start hike to Mount Naupa
01:00 PM: ETA Mount Naupa
01:30 PM: Lunch
03:30 PM: Start descend to Tungkop
05:00 PM: ETA Tungkop/ride jeepney to Naga City proper
05:30 PM: ETA Boardwalk
06:00 PM: Dinner at Jollibee
06:30 PM: Depart for Cebu City
08:00 PM: Home sweet home
My expenses:
Fare to Naga City from Punta Princesa: PHP 18
Habal-habal ride to Cogon from Cantao-An: PHP 50 (usually its PHP 30)
Guide fees: NADA
Habal-habal ride to Tungkop from Cogon: PHP 50
Jeepney ride to Naga from Tungkop: PHP 7
Fare to Cebu City: PHP 18
Things to keep in mind:
There's no way to predict the appearance times of the sea of clouds in Naga City. The truth is, it doesn't show up frequently. So, don't expect to see it and experience its grandeur, when visiting Mount Naupa.
Entrance to Pangilatan Peak is FREE.
Practice the LEAVE NO TRACE principles.
Pack at least 2 liters of water.
Bring ION drinks like Gatorade or Pocari Sweat.
Wear trekking shoes or sandals with great traction.
All in all, our Naga City hike was an incredibly blissful adventure that I'll remember for a long while. As a matter of fact, I can't think of a better and more exciting way to end my year. While it's no Everest, Mount Apo or Mount Kinabalu, it nevertheless was a fascinating escape full of surprises, striking sights and beautiful moments. As I've said before, I'm a simple dude who's extremely easy to please. Hopefully, I'll have more hikes like this in 2018.