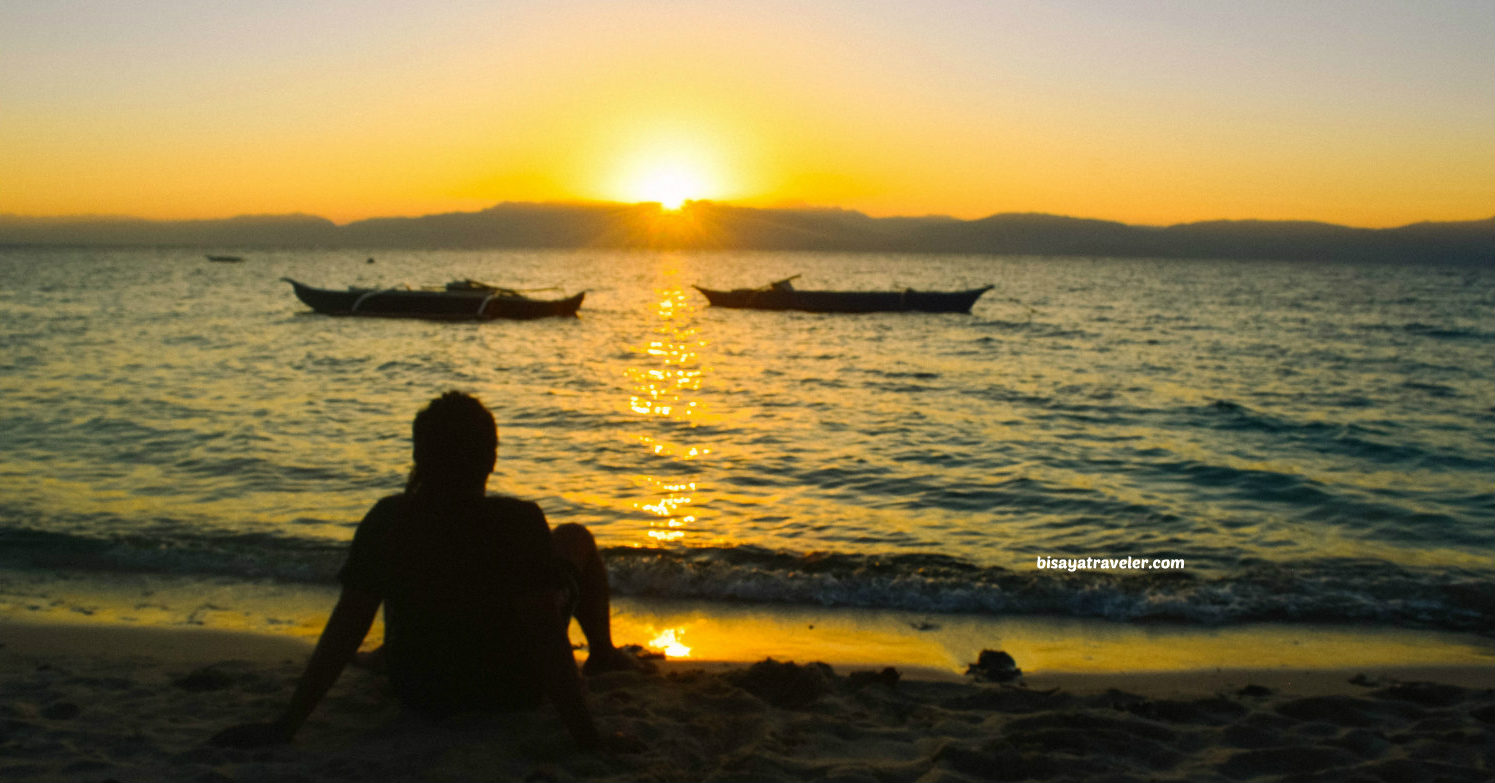 Basdaku Moalboal And The Requiem For A Dream
Sunsets are bittersweet. With their picture-perfect glow and irresistible golden shades, they are truly the epitome of nature's beauty. On the other hand, they are also a reminder of the saying "all good things come to an end". And, normally, I see sunsets from an optimist's perspective, fascinated by its colors and enticing view. But on a fine summer Saturday in Basdaku Moalboal, the gold-and-crimson sunset felt like the requiem for my dream, and a fitting end to a colorful era of my life. For the first time in a long while, gazing at a stunning sunset was a bittersweet moment for me.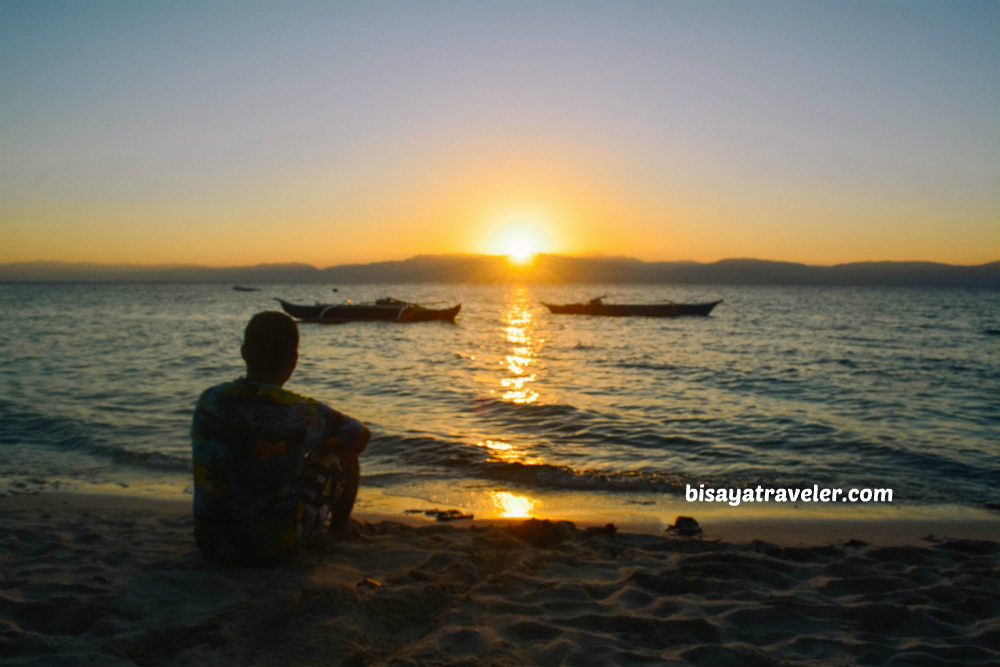 We were soaking up the tropical charm in Basdaku Moalboal when I noticed that a part of me was slowly drifting away.
There was no altercation, no instant awakening and sudden jolt in the earth's axis on that day.
Even so, I sensed a shift, a vibration of change and a realignment of our trajectory.
It was the start of summer in the Philippines, and unbeknown to my buddies, the possible end of a beautiful camaraderie.
My Basdaku Moalboal experience
Our Moalboal escapade had a fairly promising start.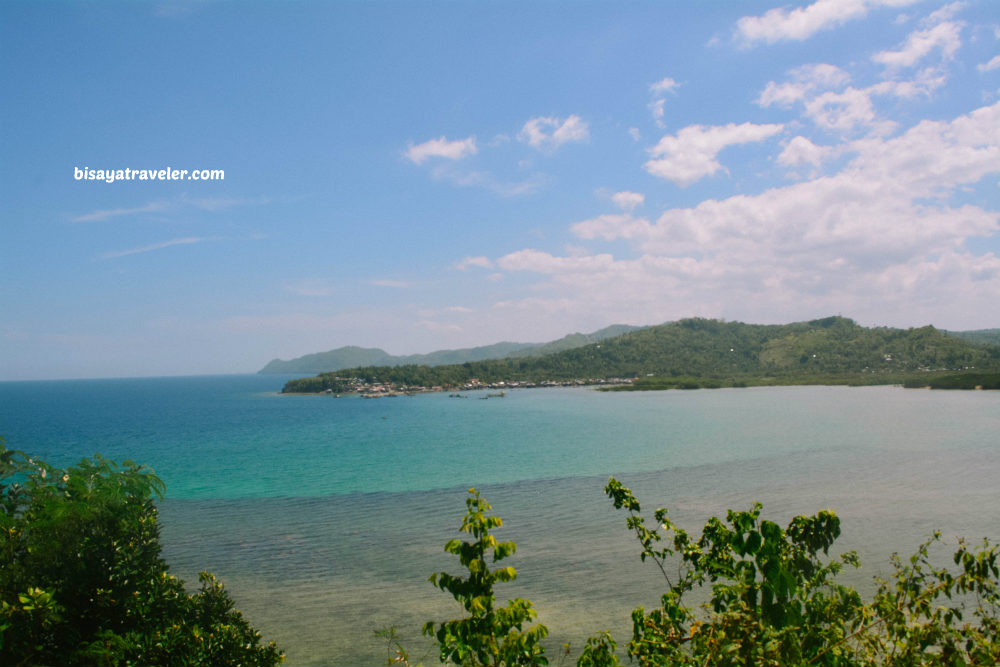 First, we got to meet one of my favorite local bloggers in Cebu, MJ or Malipayong Josefina.
Then, we had a blast cooling off the summer heat at Taginis Falls.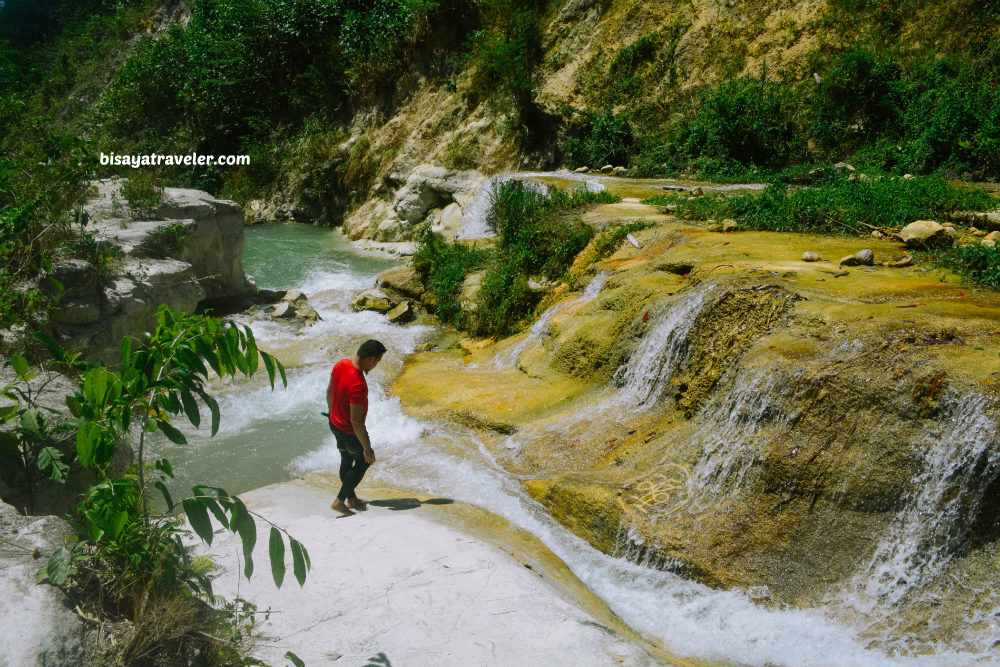 Like most of our getaways, we didn't have a concrete plan beforehand. As a matter of fact, I didn't know we were going to end it on a positive note, savoring the sunset in Basdaku Moalboal.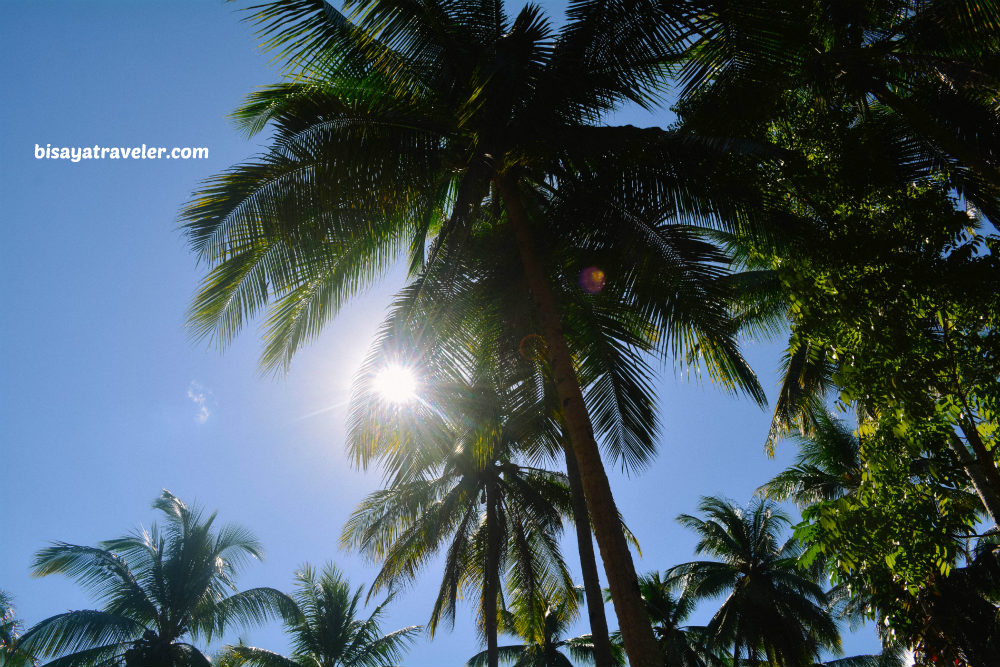 Luckily, Raul and MJ came up with the idea to just chill on the soft white sands of Basdaku Moalboal.
Yet, for all the joys and thrills of our Moalboal adventure, there was something bothering me a bit.
Maybe, this might be the last time I explored a place with Dian, Beboy and Tatay Raul, I said to myself.
Maybe, this is the end of my dream team.
And, here's the thing.
We didn't have a spat, fallout or anything.
The truth is, I surely enjoy every minute when I'm with them.
We were simply headed to different directions. And, if my personal history has taught me anything, this assemblage of people was on the verge of a split.
Beboy and Dian were bound for major climbs in the Philippines.
Raul was…well, chasing girls, hoping the old carabao would finally eat some young grass.
And, I was about to embark on my life's greatest adventure – becoming a father to a lovely girl.
In today's fast-paced world, friendship is like a revolving door.
Childhood friends move to foreign countries and cities.
Office-mates quit their jobs in hopes of finding greener grass somewhere else.
Oftentimes, great friends turn into bitter rivals.
And, when your old friends are not around, a new wave of pals will arrive in your life.
As I've said, it's like a revolving door.
My wife and I were expecting a baby girl at that time. And, my plan was to withdraw myself from the group, so I could focus on taking care of Adrielle. Afterwards, I'd resume exploring the world with them a couple of years later.
But, a lot can happen in the span of two years. Heck, lives could change in the blink of an eye.
Who knows? Tatay Raul might end up dating a clingy hot mama who'd prevent him from hiking. As for Dian and Beboy, they might find themselves working abroad while hiking steeper icy mountains in their free time.
In other words, our Basdaku Moalboal break could be our last ride together. And, the sunset in Basdaku Moalboal might be the requiem for my dream team.
That's why I had to make it a meaningful experience for all of us.
Or, at least, just chill, have a drink and talk anything under the sun.
And, so, we did.
From Alcantara town proper, we hopped on a tricycle bound for Moalboal Market, to buy some food and booze.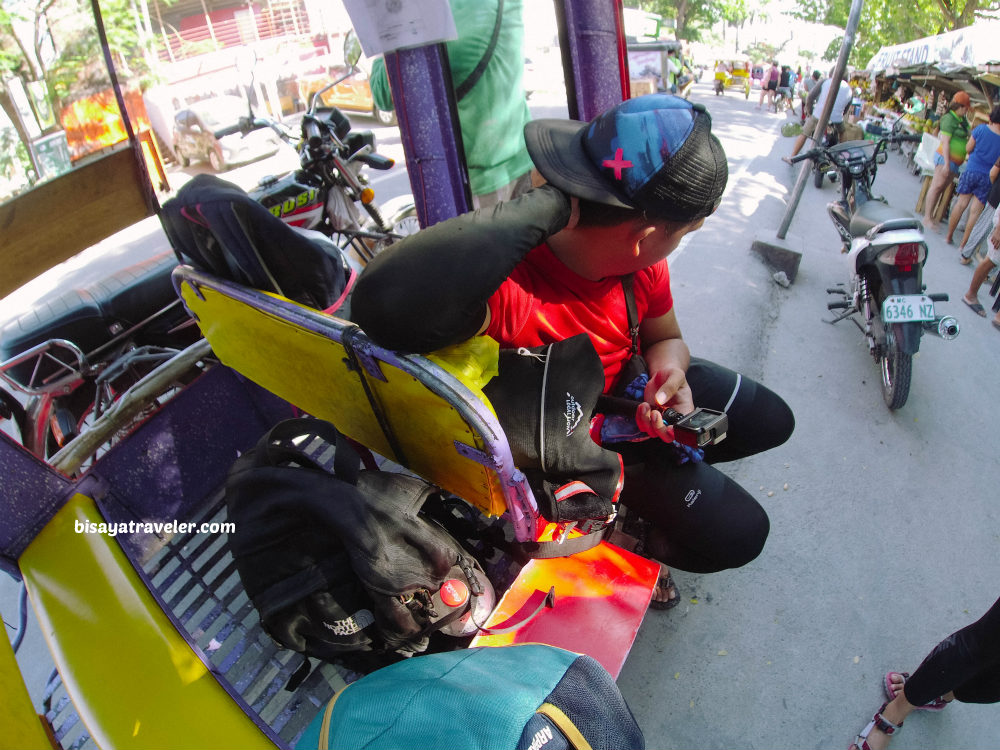 Truthfully, I don't drink, and I haven't sipped alcohol for over 4 years. But, Raul and the rest of the gang wanted to soak the summer atmosphere in Basdaku Moalboal with a drink in hand.
And, that's cool, as far as I'm concerned.
Soon after, we went on with our Moalboal trip, and found ourselves walking on the sandy shoreline of Basdaku Moalboal.
Along the way, I discovered a sequence and a ton of familiar scenes that reminded me of my wild younger days.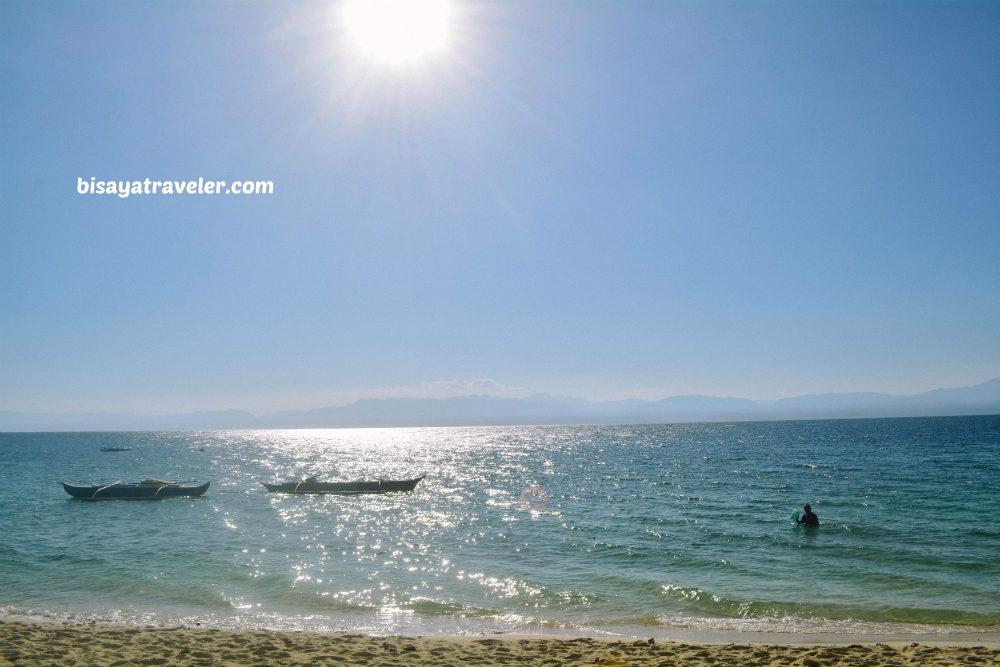 Teenagers strumming their guitars and singing their hearts out.
Young adults who were too drunk and wasted to stand up.
Athletic people playing a variety of sports, from volleyball to Frisbee.
And, lively travelers snorkeling, swimming and having a swell time under the sun.
There was a hint of nostalgia to these scenes in Basdaku Moalboal. And, for some reason, I felt like there was something special to this sequence.
My inner monologue says there's more to it than just a reminder of the past.
Was this a sign from the Universe? It probably was nothing. But, I always believe the Universe gives hints and signs of what's to come.
Although it was still around 3 PM, the sun's heat seemed to be at its prime, looking down at us ferociously. Fortunately, Dian knew a Basdaku Moalboal beach resort where we could relax, and enjoy our food and drinks.
Moments later, we arrived at Ester's Place Moalboal, where we were greeted warmly by the owners.
Relieved and relaxed, we sat on the chairs, and began talking about an array of stuff.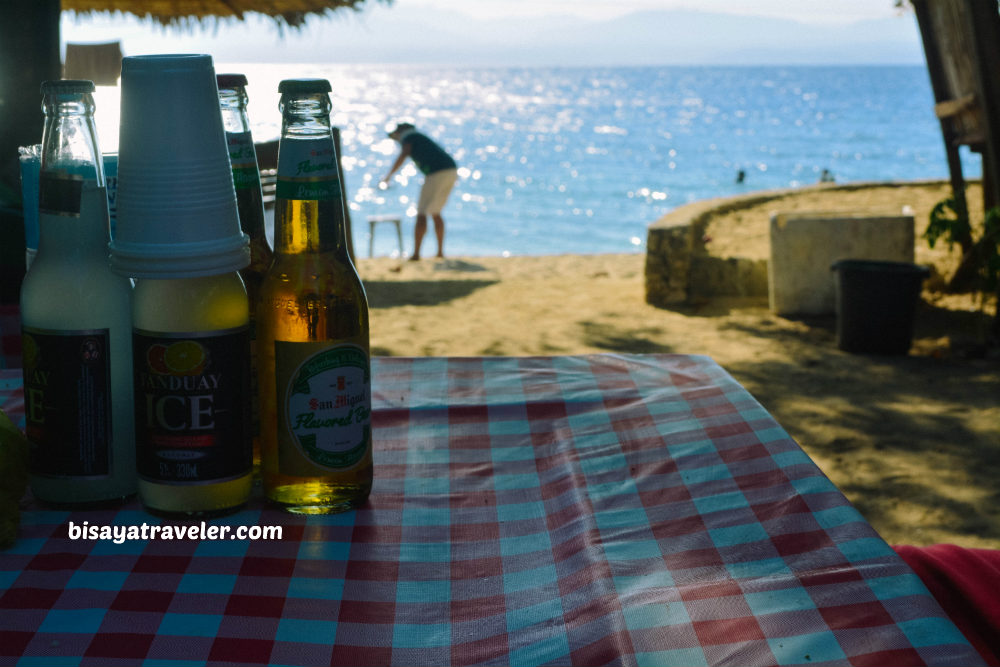 While I don't exactly drink, I was having a lot of fun, talking, listening and sharing my thoughts to my friends.
Of course, I was enjoying what could be our last moments together.
And, I really couldn't think of a better way to end this camaraderie on a high note.
It was intimate, simple, fun and quite meaningful.
Sure, we could have traveled to Boracay on a shoestring budget if we had book cheap flights online. Then, we could have searched for a Caticlan to Manila online booking site, to add an element of adventure to our trip.
But, to me, any place can turn into a nirvana and Neverland when you're with optimistic and free-spirited friends.
Slowly, thoughts of heading to splitsville began sinking in. And, with the sun about to set, Beboy and I urged my friends to do a little exploration in Basdaku Moalboal.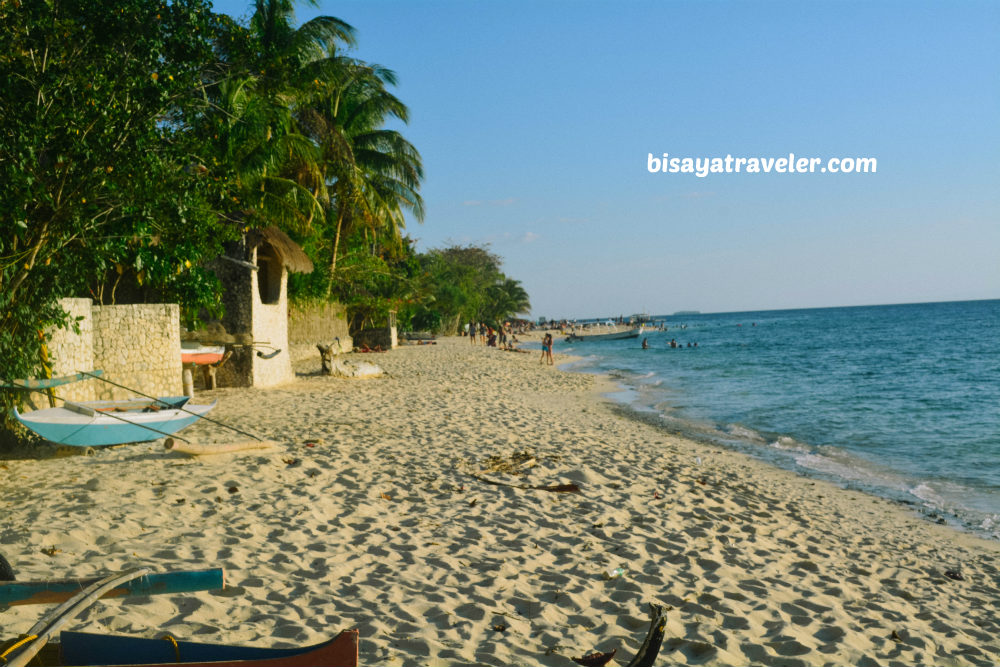 As always, Raul was the star of this photowalk experience in Basdaku Moalboal.
His tropical Hawaiian shirt, paired with his willingness to pose in front of the camera, made him Beboy's favorite subject.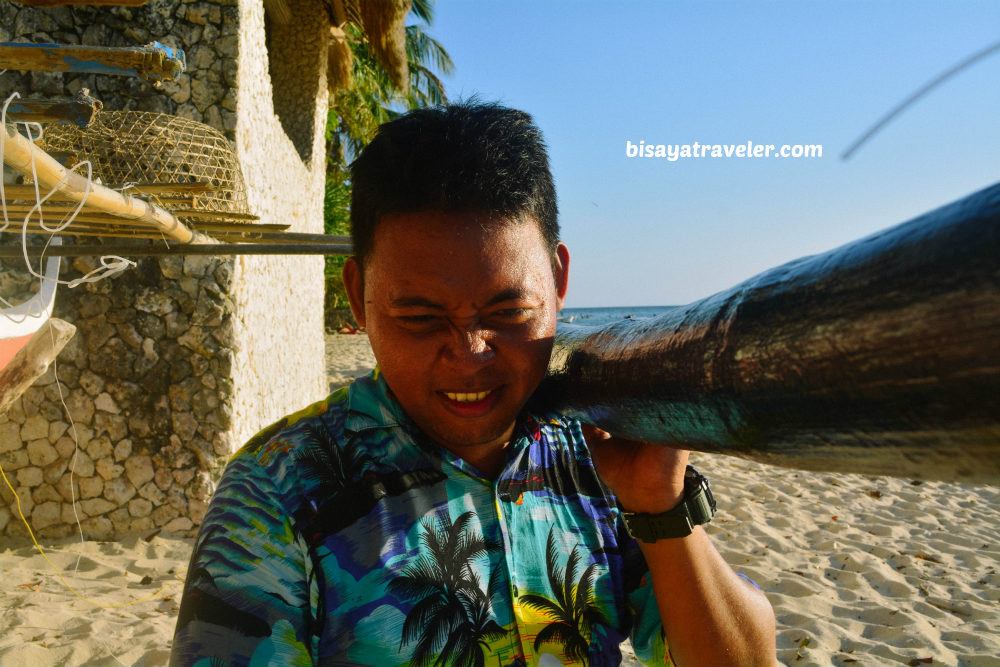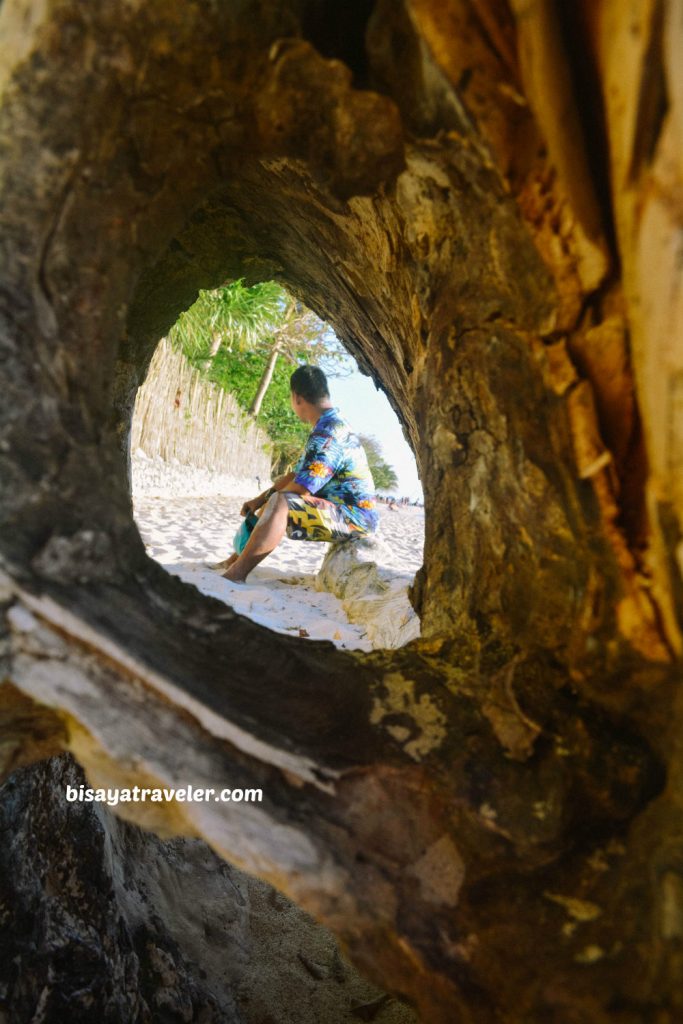 And, guess what? He has been a uniquely charming jokester ever since he joined my hikes.
With his quirkiness and open-mind, he surely added a new twist to my adventures in Cebu, for the last few months.
Basdaku Moalboal is a large and spacious beach area, and you can spend over an hour walking along the shoreline.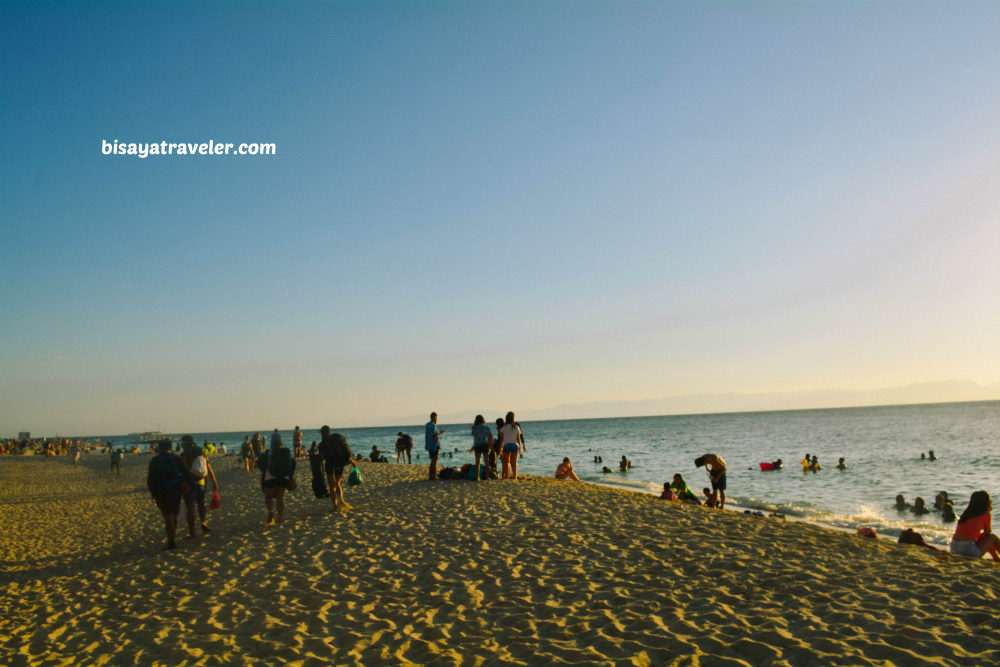 But, we didn't feel the need to explore the entire area.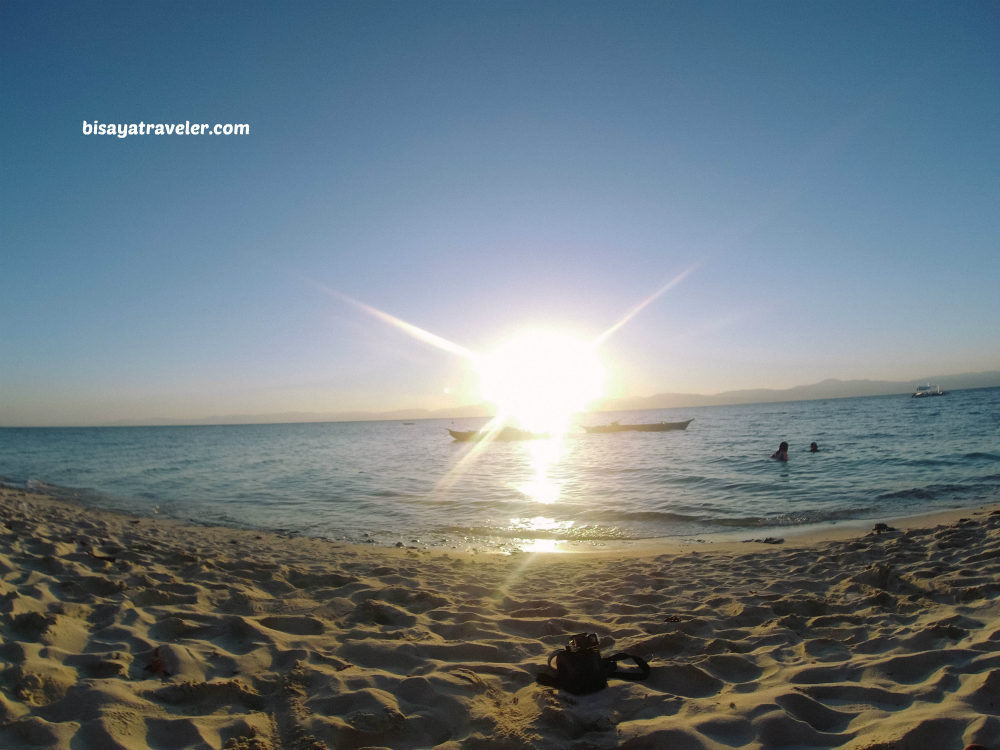 Instead, we felt like it was best to take it slow, enjoy one another's company and cherish the stunning sunset views.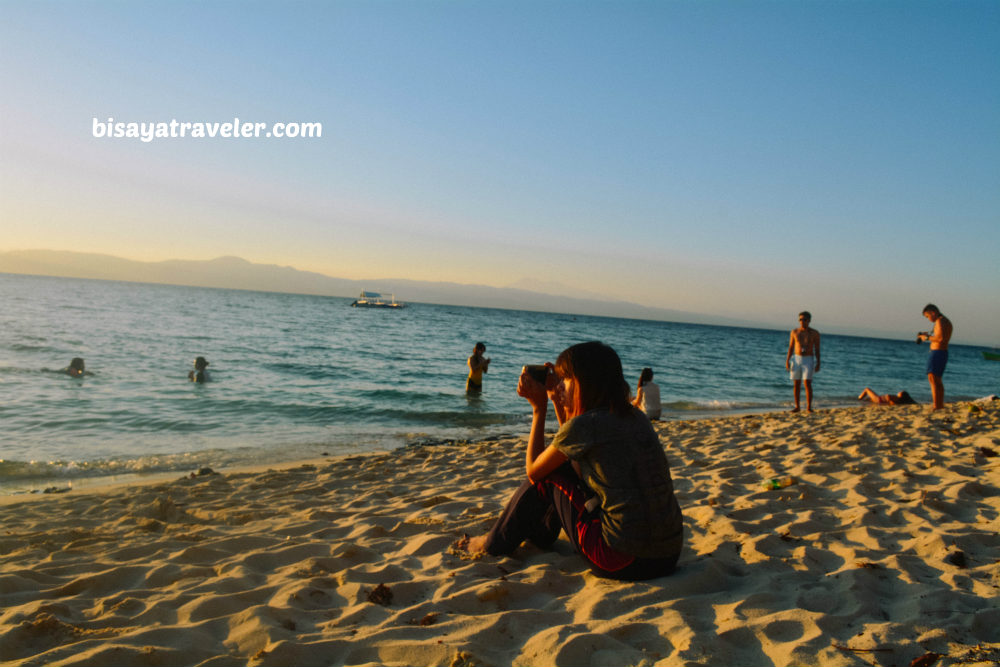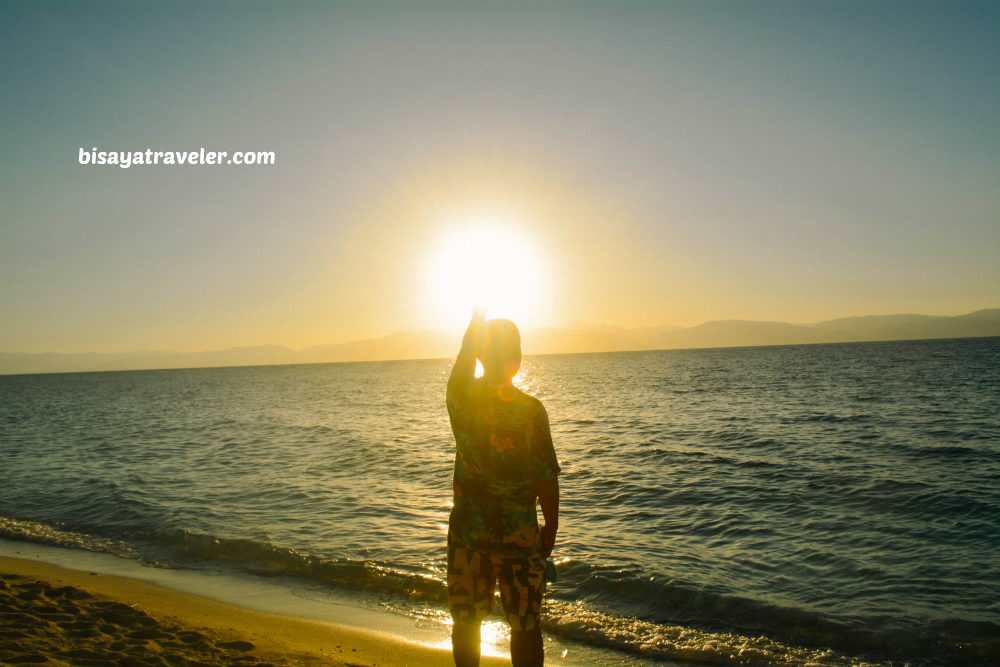 As I was gazing at the sunset in Basdaku Moalboal, thoughts of the abrupt breakup flooded through me.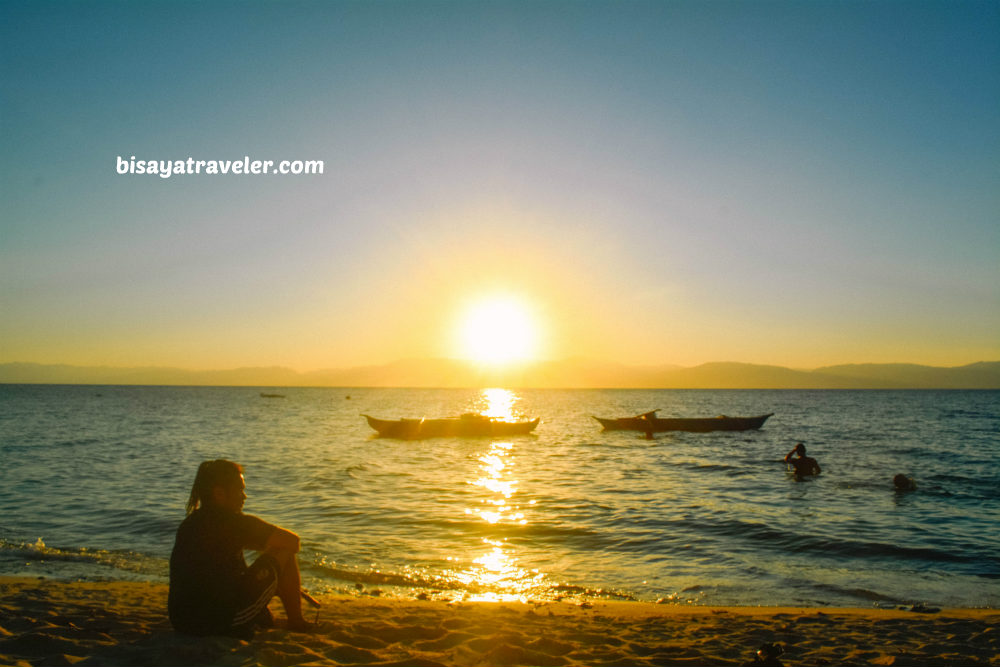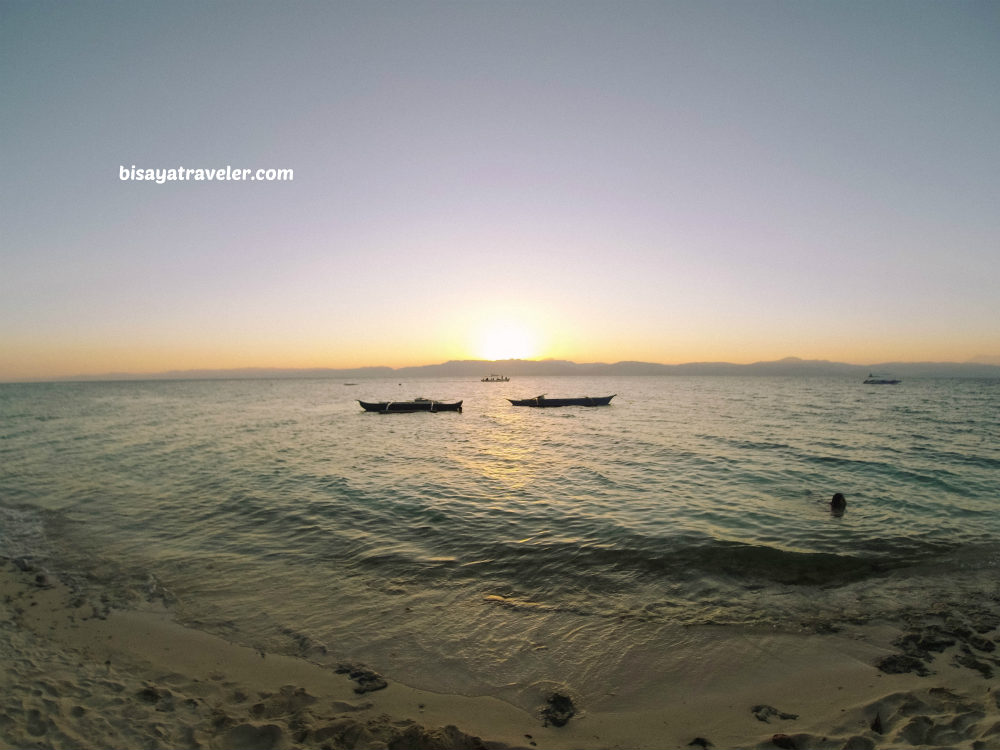 We had a great run, I whispered to myself.
No regrets.
And, I definitely picked the right people for my circle.
While admiring the sunset in Basdaku Moalboal, I looked for signs of what could be our future.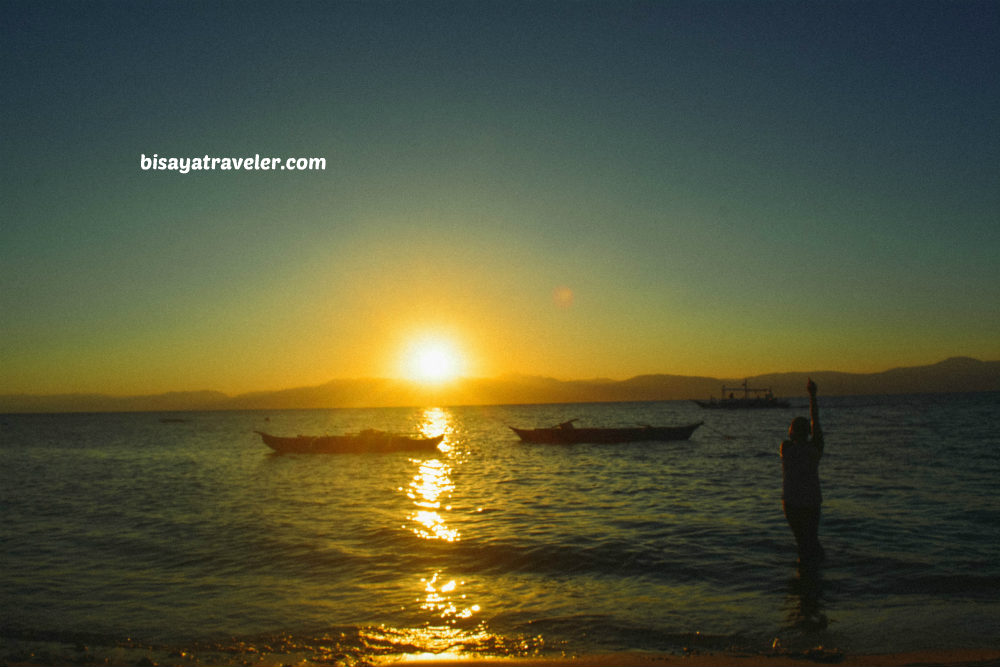 Hoping to find a clue, I stared wistfully at the sea and boats with the beautiful sunset at the background.
Soon, a sign appeared.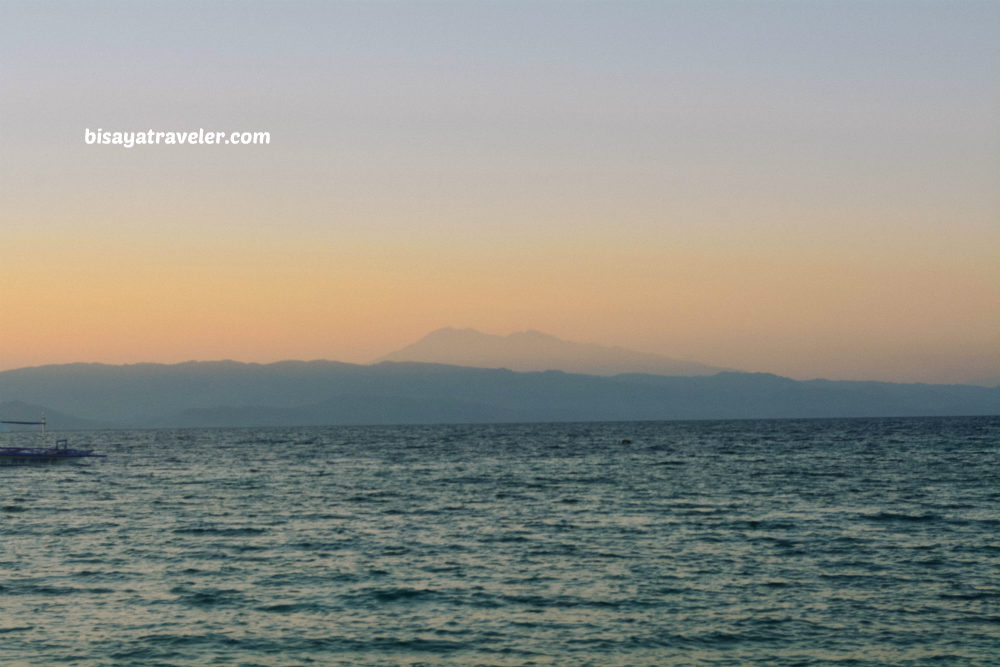 The towering mountains of Negros Island.
I don't know what it exactly meant, but I'm pretty sure it's a positive sign for the gang.
After all, it is our common interest in hiking mountains that has bonded us together.
But, why did I look for a sign?
Well, I thought I've figured everything out, as we were cherishing the sunset.
Ever heard of the saying the Universe works in mysterious ways?
From the get-go, the Universe was giving hints of what's in store for me in the future.
Actually, the whole Basdaku Moalboal experience was a metaphor of my adult life.
The sequence, involving guitars, drunk as f*ck people and athletic folks, was a metaphor of my habits and hobbies years ago.
The chill time with my friends was the downtime I took, to replenish my energy and rebuild my professional career.
The exploration in Basdaku Moalboal was the symbol of my recent adventures in Cebu.
Like most of our adventures in Cebu, Beboy and Raul were the central figures of our semi exploration in Basdaku Moalboal.
Beboy is the driving force of our adventurous hikes, while Raul adds a heavy dose of humor to our gang.
And, the sunset was a reminder that a chapter of my life was coming to an end.
How about the mountains in the backdrop?
Guess what? The adventure with my dream team will go on.
Heck, we even took a 16-kilometer day hike from Gaas, Balamban to Toledo just recently.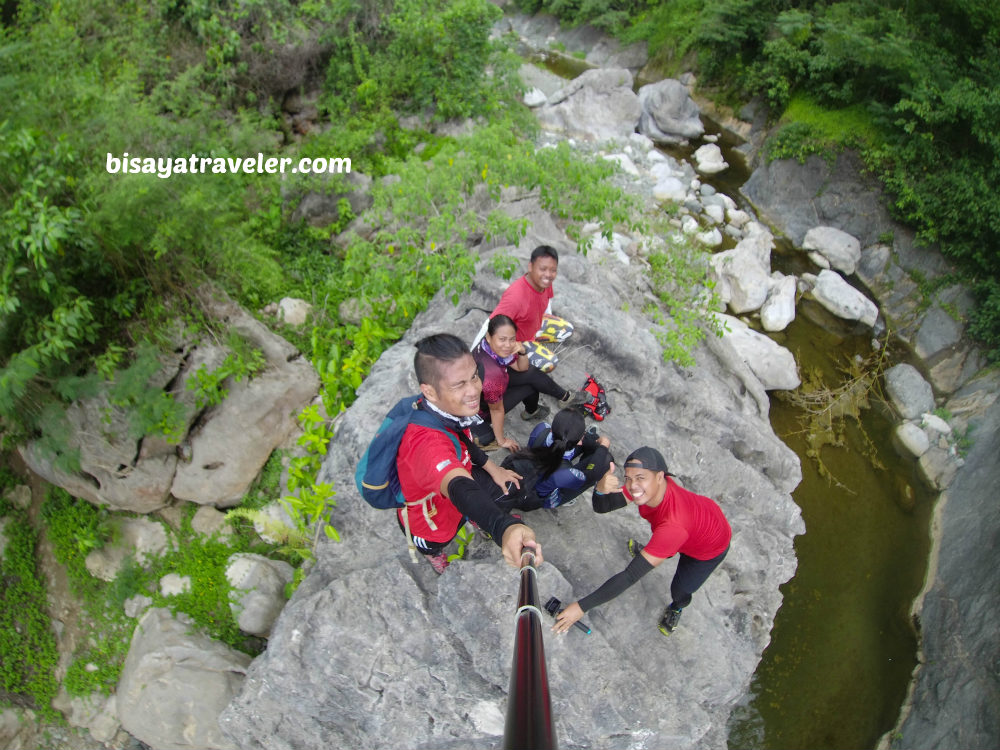 And, a new 2-month-old member might be soon added to the fray.
Despite taking care of newborn baby, I amazingly still have enough time and energy to hike with my friends.
So, was the sunset in Basdaku Moalboal a requiem for a dream team?
Perhaps.
But, we're not a team. We had become so much more than just that.
Where to stay in Basdaku Moalboal
There are plenty of Basdaku Moalboal Beach Resorts. If you're looking for a resort with a beachside location with affordable rates, book a stay at Ester's Place (link attached). And, by the way, camping is no longer allowed in Basdaku White Beach.
For day trippers, there are cottages that cost around PHP 300 to 2,500 in Basdaku White Beach.
Basdaku Moalboal entrance fee
There's a small 5-peso fee (per person) for anyone entering Basdaku Moalboal via Barangay Saavedra. Additionally, you may have to shell out 10 pesos to enter the beach through a private resort.
How to get there
From Cebu City South Bus Terminal, take a bus ride to Moalboal. Ask the driver or conductor to drop you off at Basdaku Moalboal. On average, travel time is 3 hours. Fare is around PHP 140 to 160. Upon your arrival, take a tricycle ride to Basdaku White Beach via Barangay Saavedra. Fare is usually PHP 20 to 30 per person.
Where to eat in Basdaku White Beach
There are carenderias, eateries and resorts that sell food in Basdaku White Beach. Alternatively, there are resorts that allow you to cook your own food in Basdaku Moalboal.
What to do in Basdaku Moalboal
Swimming
Snorkeling
Playing beach sports
Singing on a karaoke machine
Experience sardines run in Panagsama Beach
Visit Kawasan Falls (if you have more time and money)