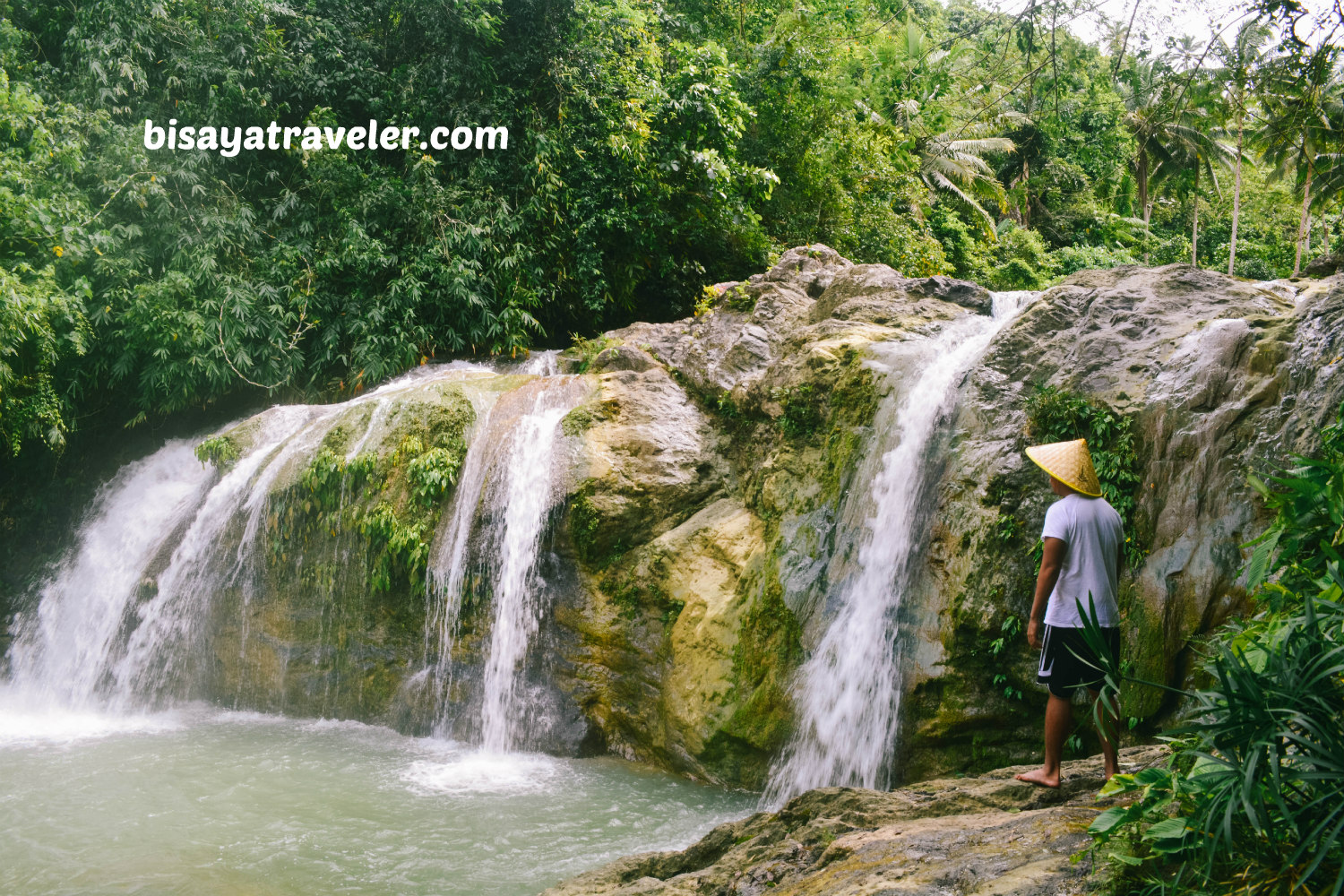 Danasan Falls And Peak: Exploring Danao's Majestic Natural Wonders
What do you normally feel, when you gaze at a majestic natural landscape, like vast deserts, mountain ranges and waterfalls? For outdoor lovers like us, nature's beauty inspires a sense of awe, and a powerful emotion that just makes feel healthier, happier and at peace. As a matter of fact, we, at Team Bang, almost every week, explore the outdoors, and scale mountains like Danasan Peak, to enhance our mood as well as escape our daily urban grind. And, personally, I think we're utterly addicted to beauty of Mother Nature's masterpieces.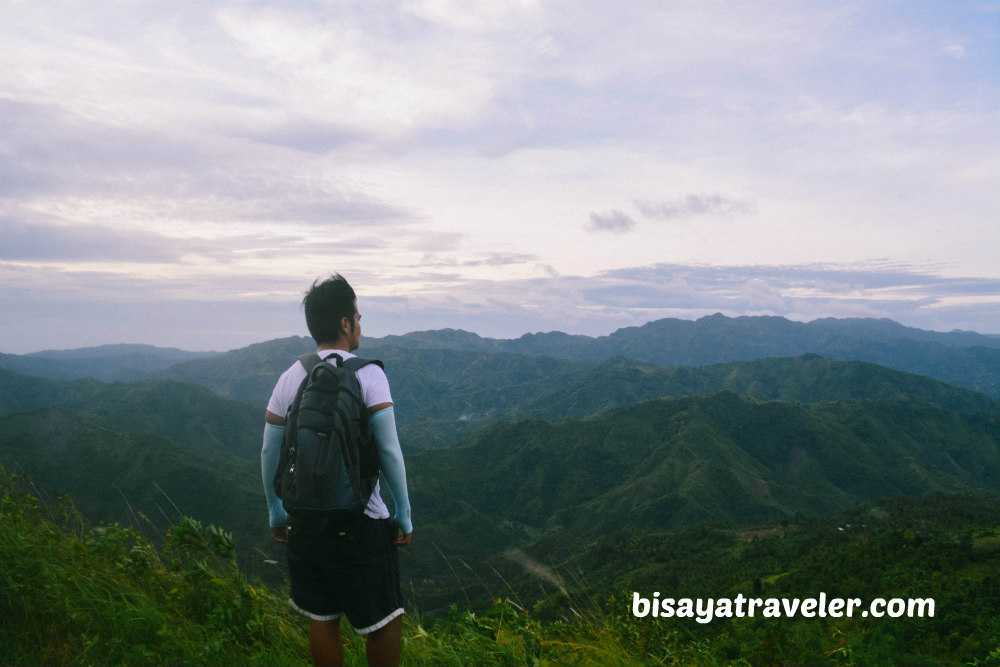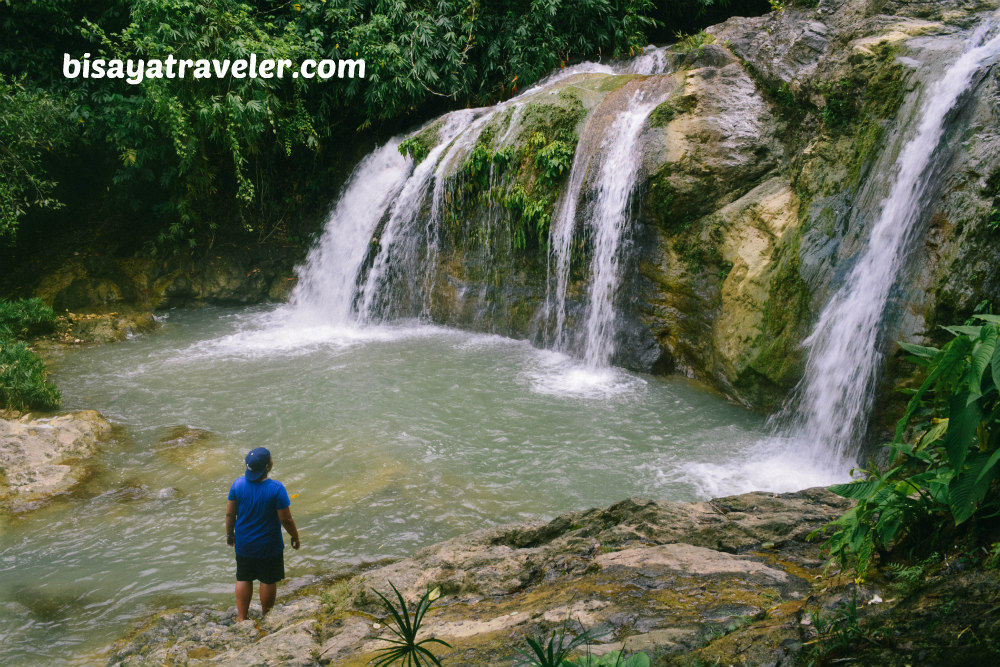 And our weekend getaway in Danasan Eco Adventure Park was no exception. Even with all the spine-tingling thrills we've experienced, we still felt there was something missing. Ultimately, we got to appease our cravings for breath-snatching nature sights, after exploring the park's mesmerizing natural wonders – Danasan Falls and Danasan Peak.
Our Danasan Falls and Peak experience
Except for my wife, everyone in the group woke up early, and hiked all the way to Danasan Peak, in hopes of catching the breathtaking sea of clouds. Sadly, this rare phenomenon didn't show up on our early visit to Danasan Peak.
Even so, we had a swell time on the mountain, admiring the beautiful sunrise and just breathing the fresh morning mountain air.
With the sun rising beautifully and the cold wind caressing our face, it was indeed a perfect way to start our day in Danao City, Cebu's highlands.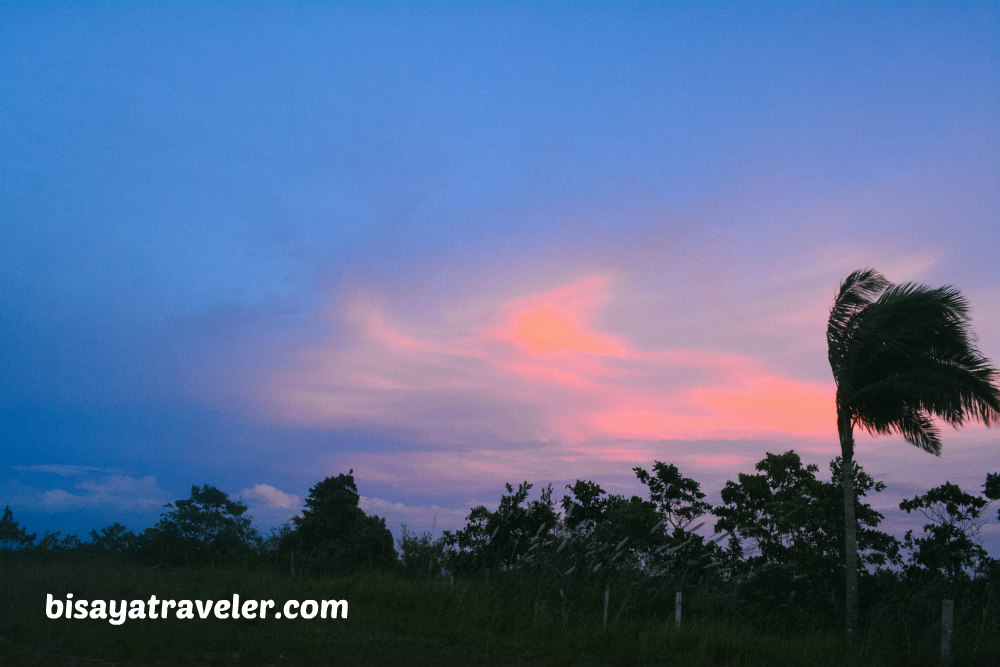 As usual, we snapped a ton of photographs from different angles and spots in Danasan Peak.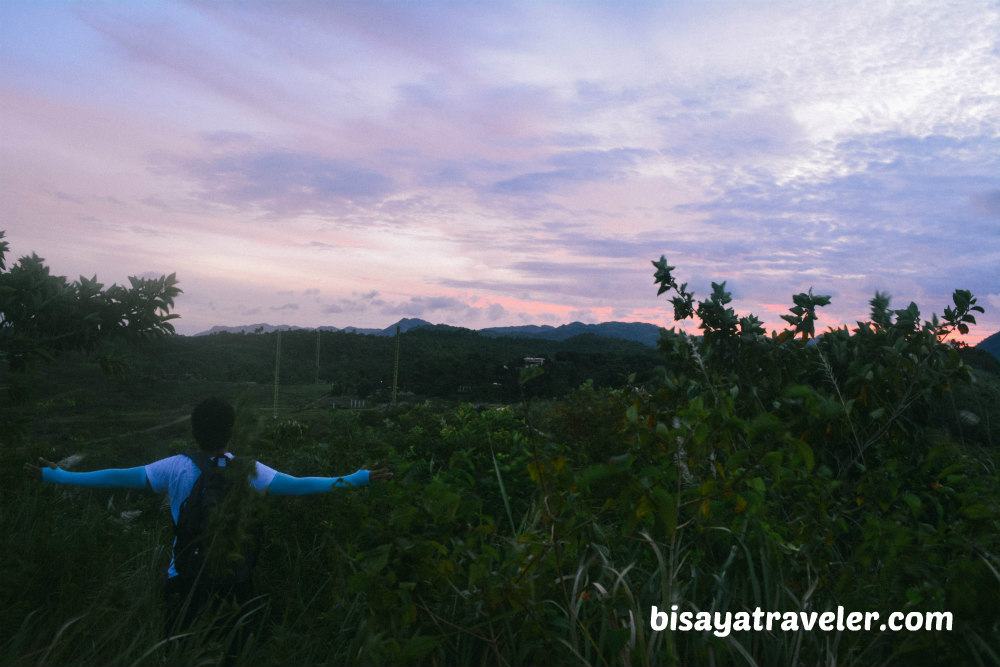 Plus, we took close-up photographs of the flora on this summit in Danao, Cebu.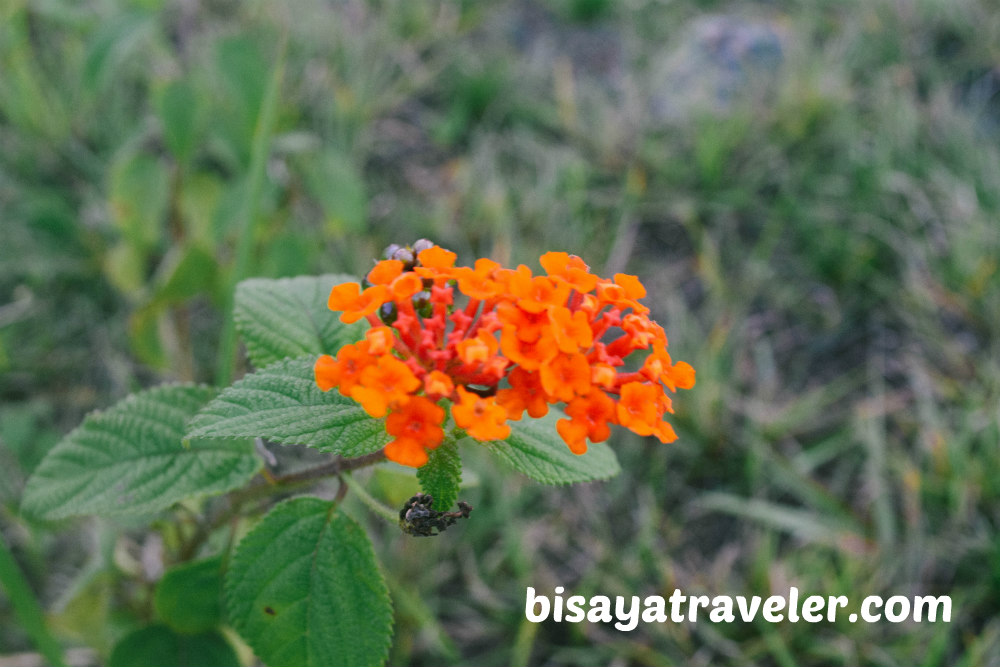 For about an hour, we explored the area, and gazed at the towering mountains on the backdrop. Hopefully, one day, we will have a chance to scale these lush, virgin landscapes in Cebu highlands. Although only a handful of mountaineers know about these mountains, I'm pretty sure hiking them will give us a fantastic and memorable adventure.
Before returning to our room in Danasan Eco Adventure Park, we took a few more photos of Danao and Asturia's spectacular mountainous scenery. Quite lovely and rejuvenating to the senses, I must say!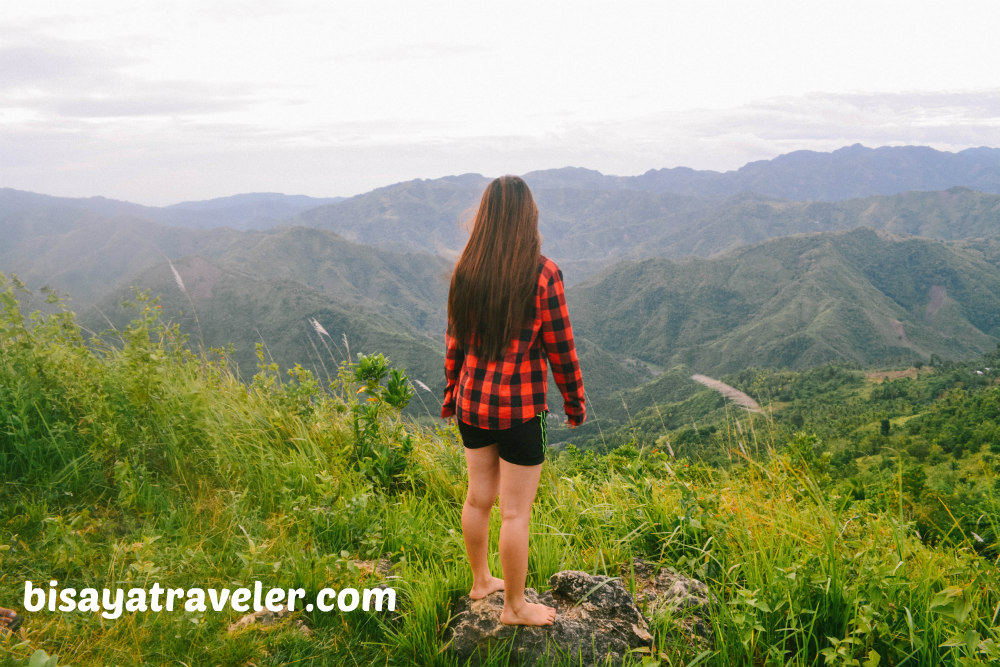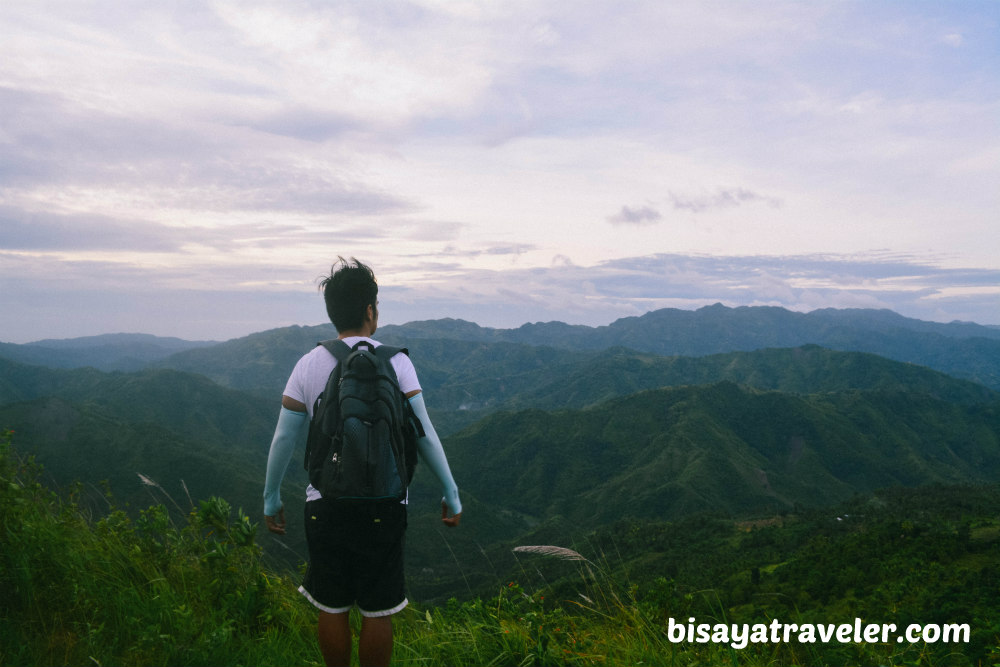 Then, we went back to our room, and chilled for a while, just talking about our incredible moments inside the eco adventure park.
Since it was already 7 in the morning, we made our way to the canteen, where each one of us indulged on a healthy breakfast paired tastefully with a cup of coffee.
Moments later, our charming guide for the day, miss Jenky, arrived in the scene, and told us we were going to explore Danasan Falls with the Sugbo PH team.
While waiting for the Sugbo PH squad to finish their final preparations, we took a quick plunge on the Instagram-worthy pool of Danasan Eco Adventure Park.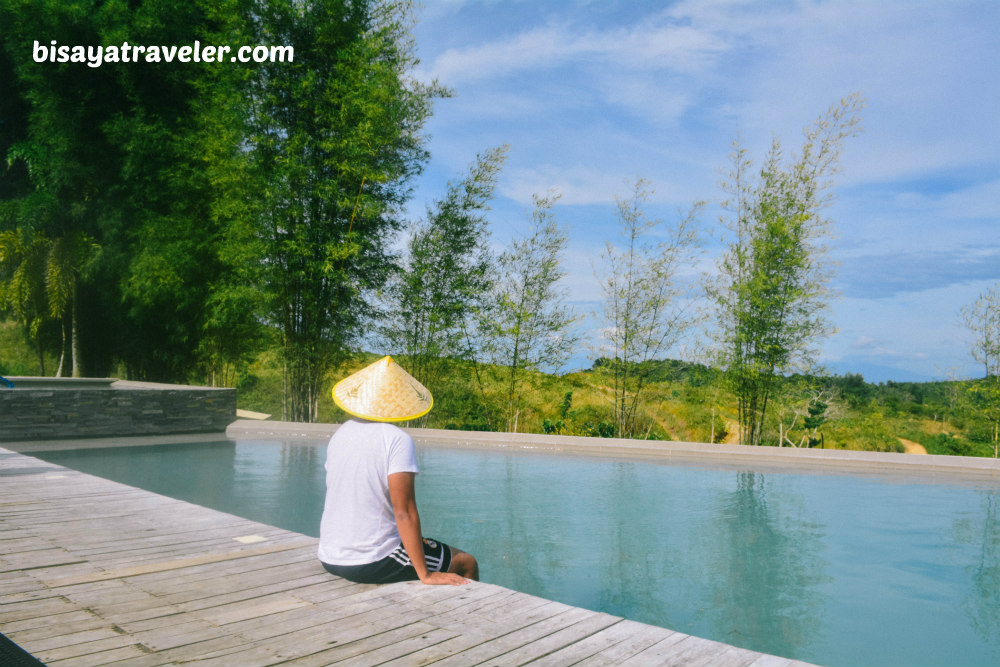 Not only was it an awesome dip, but the pool also has some remarkable views and impressive details and rustic touches.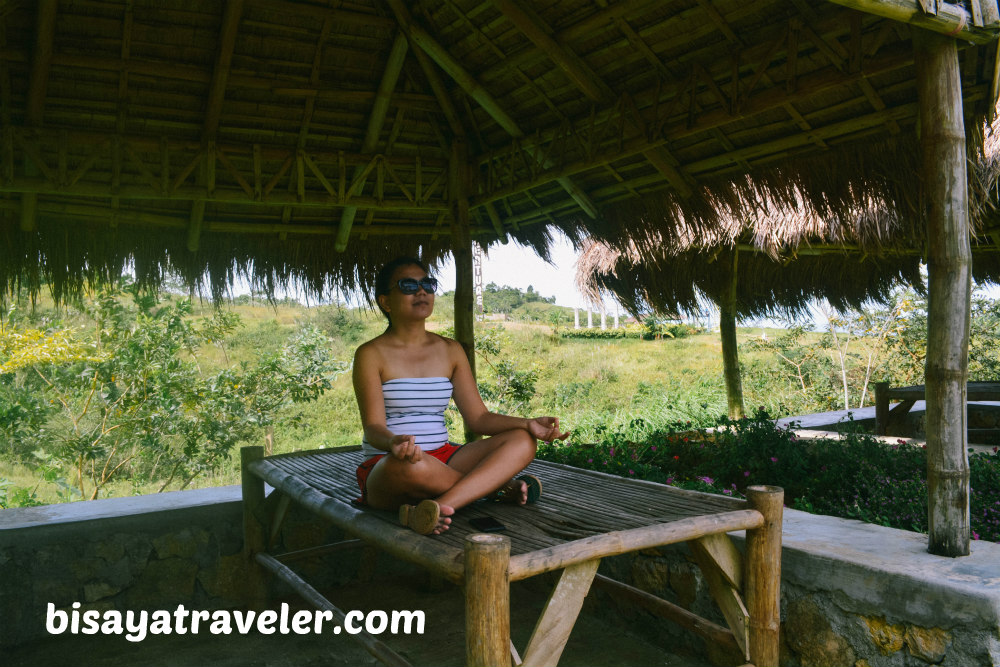 Even though the pool was great, we just couldn't wait to take a dip at the park's refreshing cascade– Danasan Falls.
In my opinion, man-made pools can't emulate the feeling of dipping on the ice-cold waters of a waterfall in the mountains.
There's something about it that replenishes my energy and alleviates my stress.
Once we were done enjoying the pool, we made our way to the entrance of Danasa Eco Adventure Park, and waited for our ride to the grand cascades.
Afterwards, team Sugbo PH and the rugged military-like truck, accompanied by a graceful local guide, arrived at our location. And, so, we wasted no time, hopped aboard the truck, and embarked on a 30-minute journey to Danasan Falls.
The ride to Danasan Falls was an adventure in itself. With its bumpy roads and steep slopes, it can be a fairly thrilling ride, especially for those who aren't used to traveling to remote highlands.
Along the way, we also passed by a military base and one of the park's ongoing projects – a horse racetrack.
A few moments later, we arrived at the base of Danasan Falls, and took a short walk to the first level of the cascades.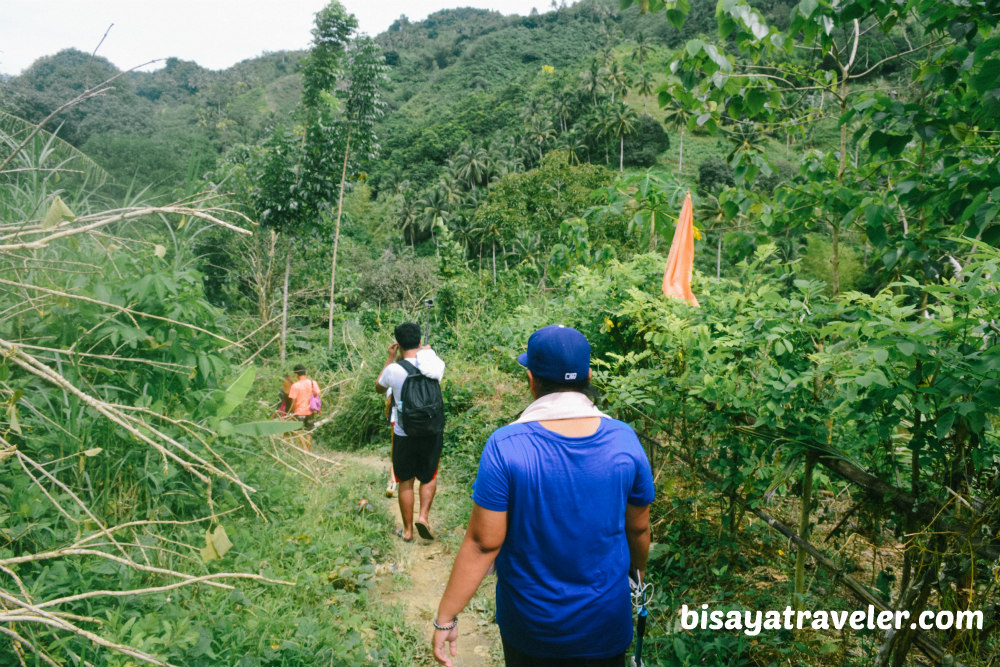 As for the hike, it was fairly easy and painless, as compared to some of my river trekking adventures.
Sure, there were some slippery spots on the way down to Danasan Falls, but overall, it was a walk in the park (at least for us).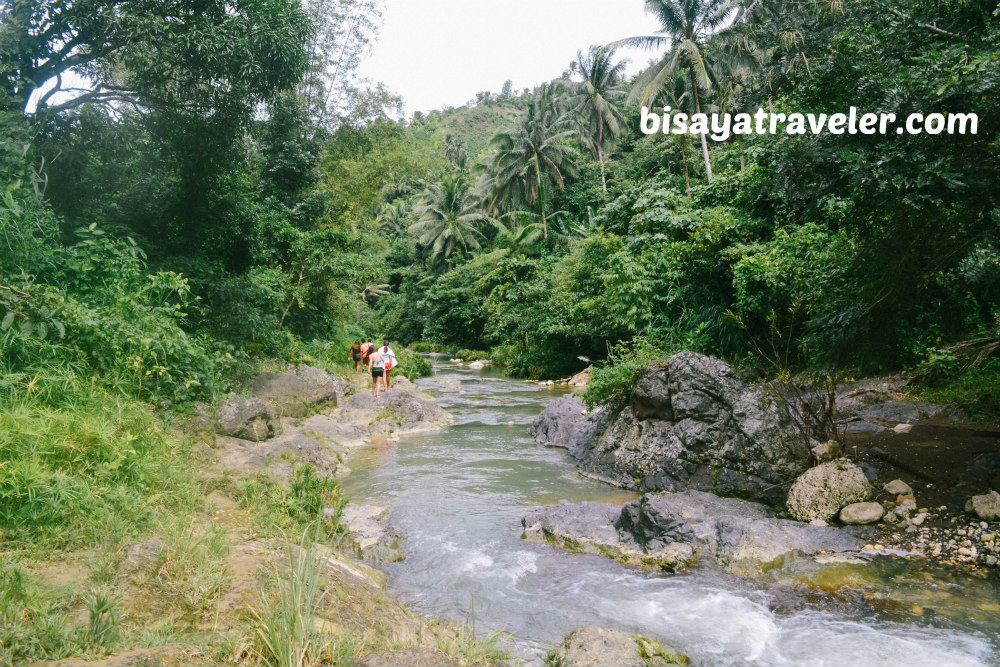 As we got closer to the first level, I could hear roaring sounds of a grand waterfall. Soon after, we arrived at the first level of Danasan Falls.
Like most of Team Bang's adventures, we snapped a bunch of photographs of the beautiful sight, for memorabilia's sake.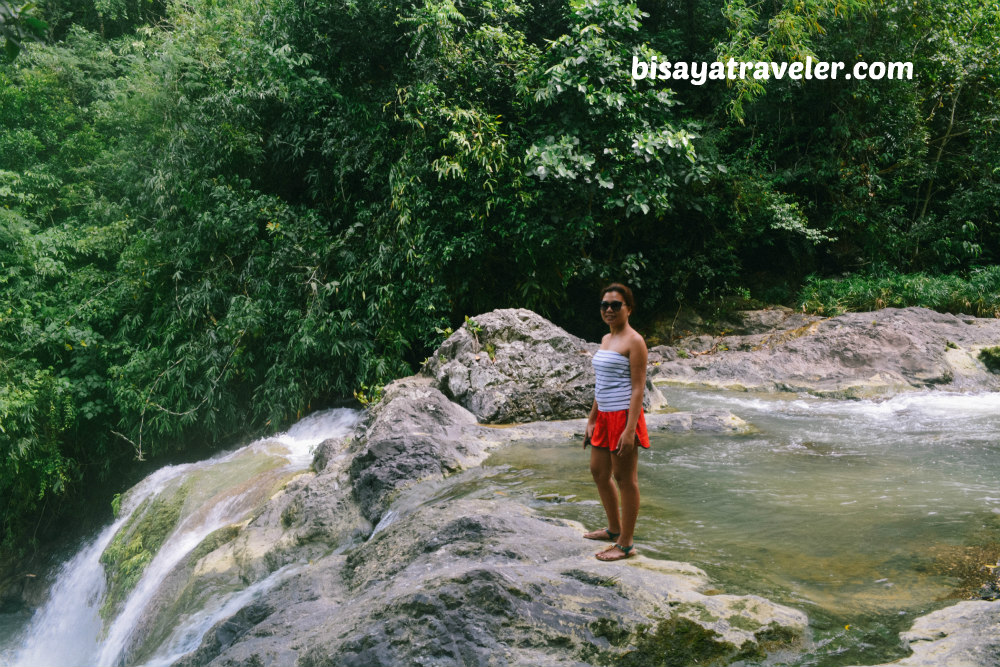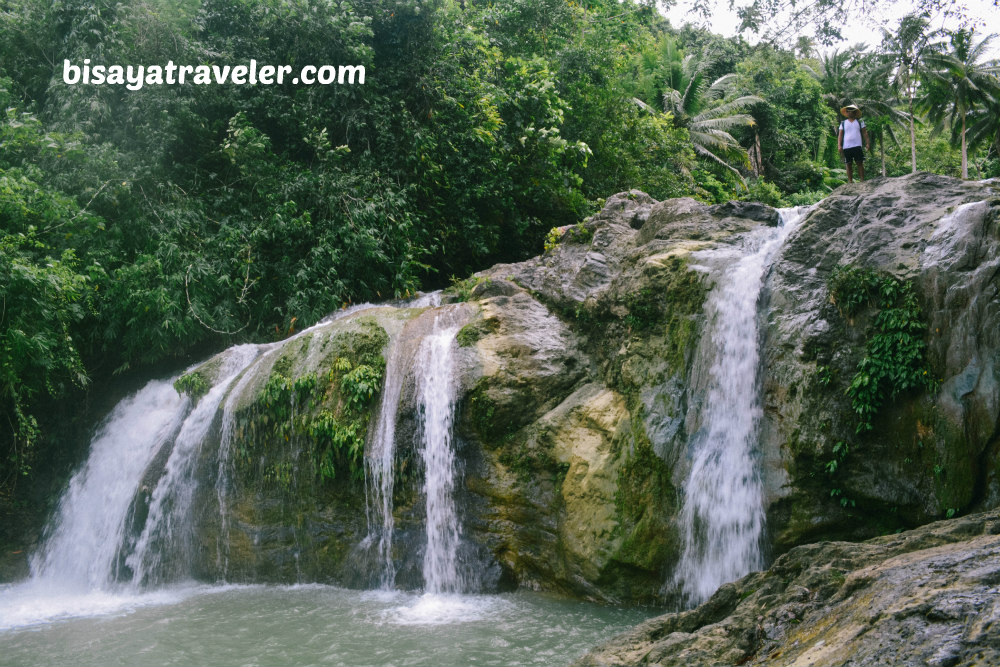 There were tons of slippery spots on this level, and I had to remove my sandals to get a better traction.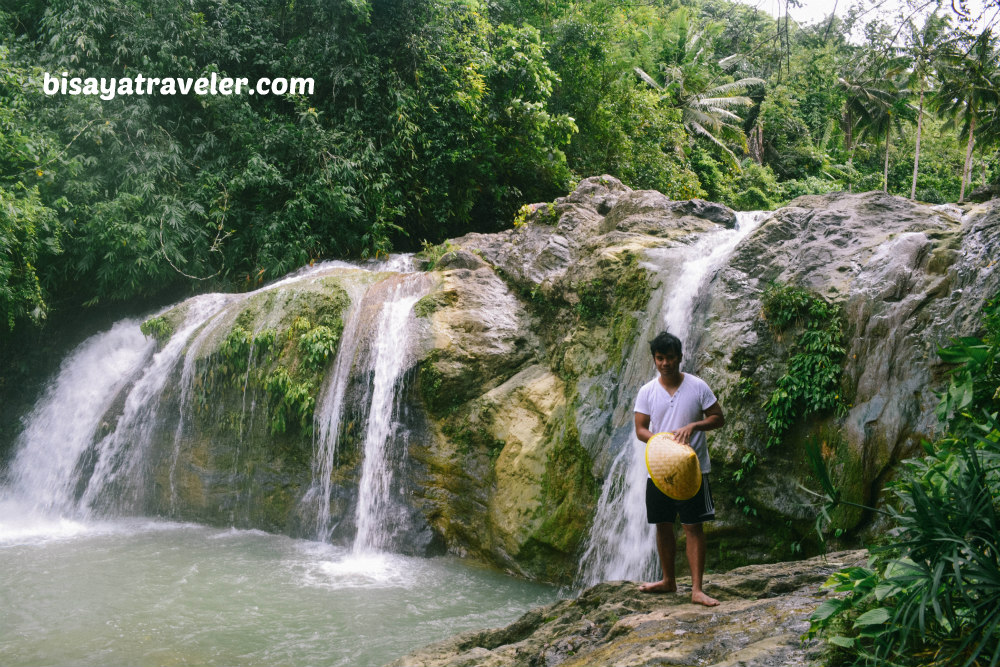 As we were taking pictures, Jenky and our graceful guide told us that second level of Danasan Falls looks even more appealing and photogenic.
Without wasting any moment, we hiked our way along the slippery trail, and got a fantastic view of the falls.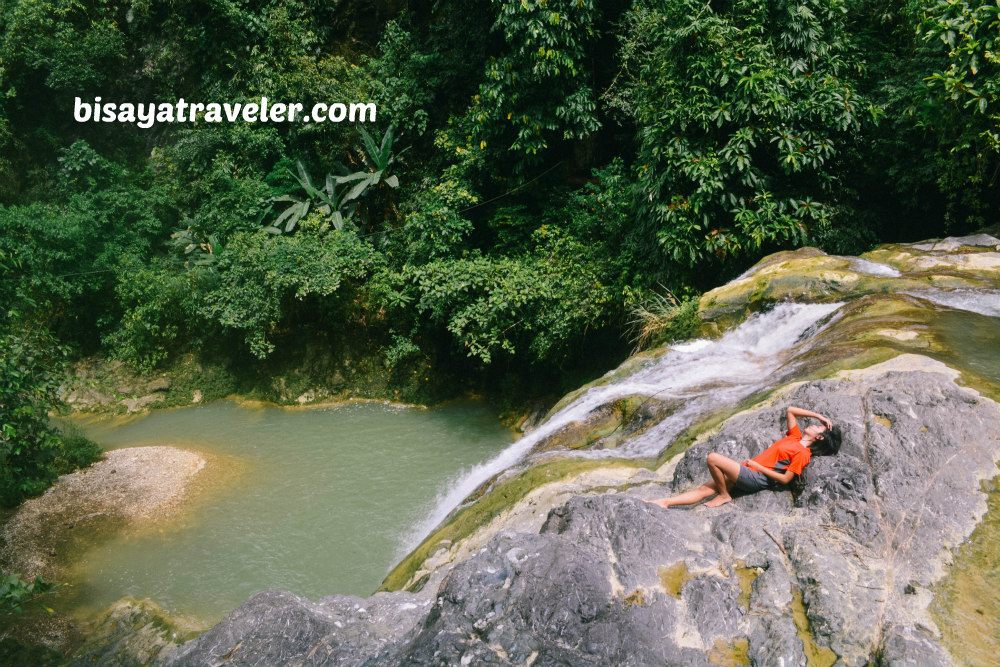 More than just for dipping pictorial and swimming purposes, the second level of this natural wonder in Danasan is also where the tyrolean and rappelling adventures take place.
Time wasn't our friend, meaning we had to skip this super exciting adventure in Danasan Falls. Too bad! Maybe, next time, though.
Nevertheless, we had fun enjoying the views and refreshing scenery.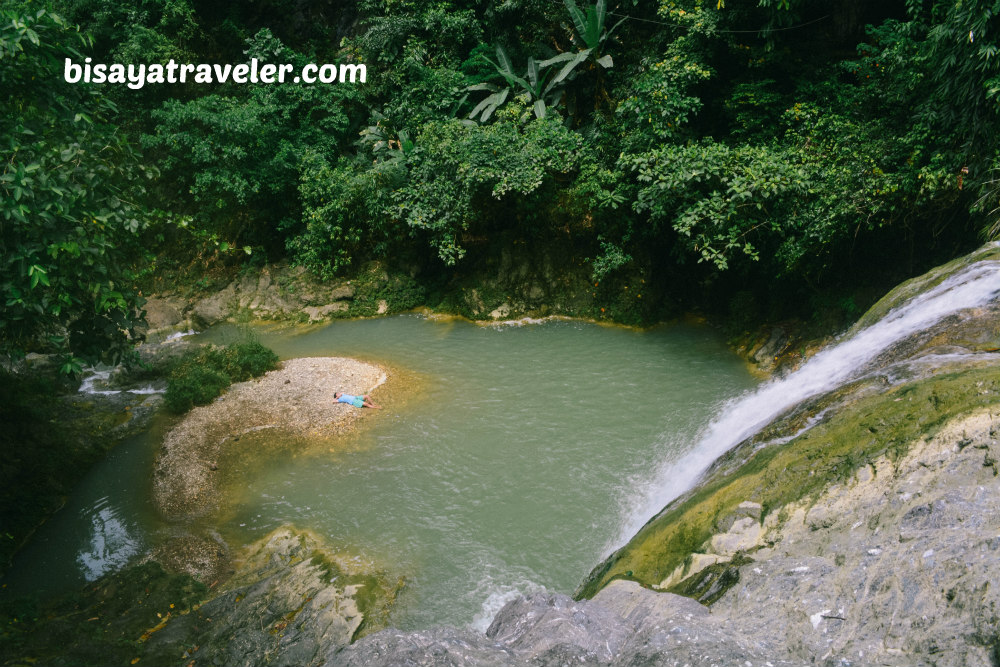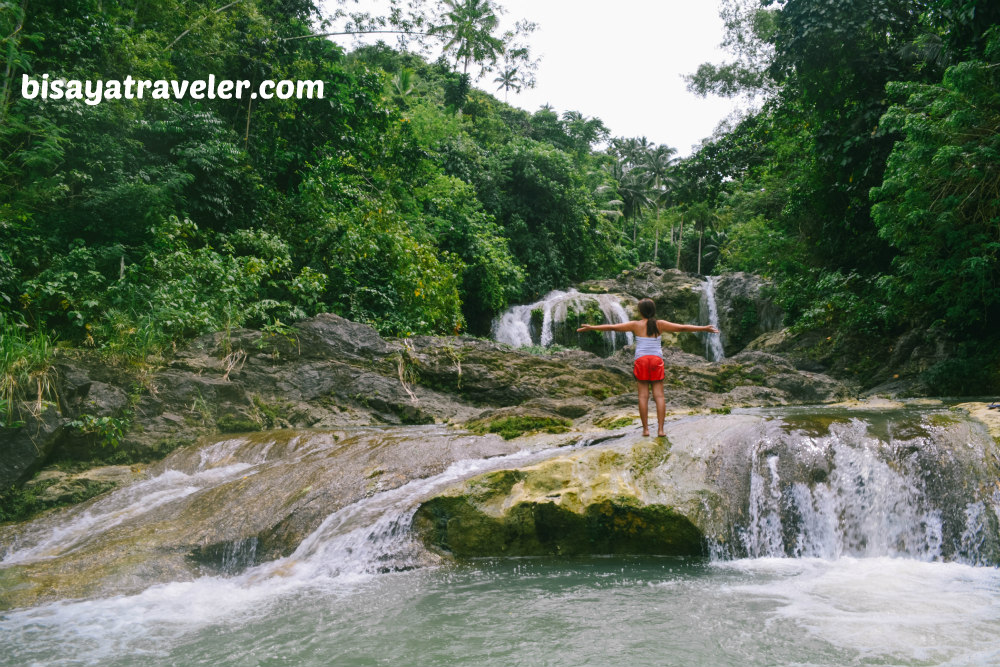 All of a sudden, Mrs. Bisaya Traveler unleashed her adventurous side, plunging into supremely cold waters of Danasan Falls, together with our graceful guide.
Not to be outdone by wife, we – me and Gelique – each grabbed a life-vest and dived into the 7-feet deep waters of the cascade.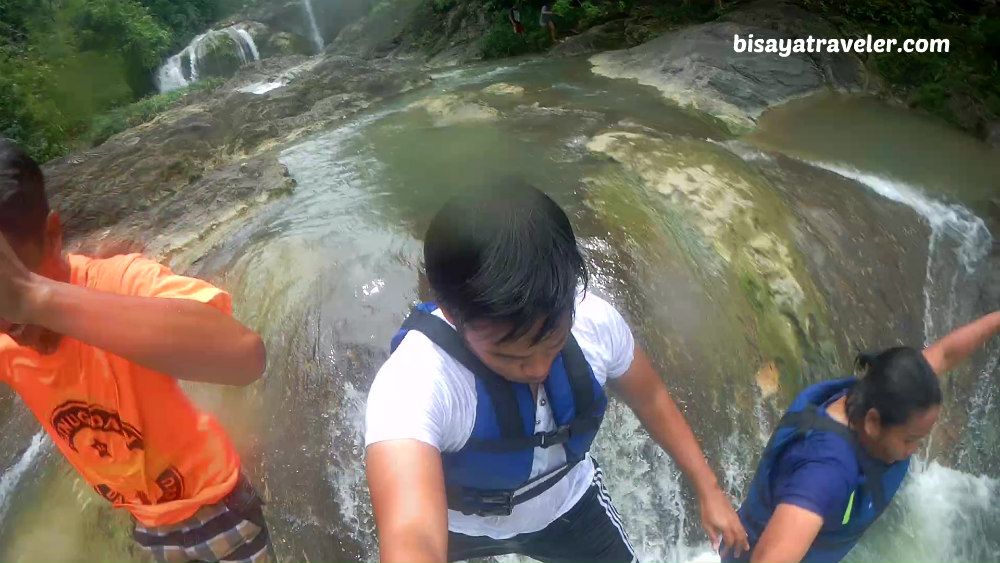 And, we did it all over again, to get our adrenaline fix, and indulge on the extremely cold natural pool.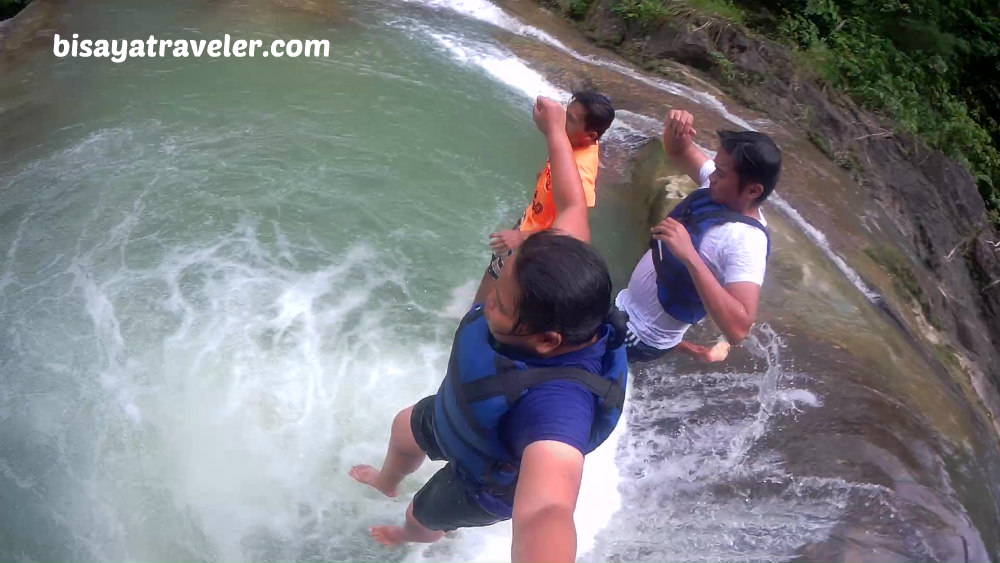 Beth, RJ and the Sugbo PH, meanwhile, went down to check out the backdrop of Danasan Falls.
With its impressive heights and rejuvenating waters, I also felt the urge to descend, and join the rest of the crew.
Later on, we all went down to the 2nd level of Danasan Falls, to see its splendor and beauty.
From there, we finally made our formal introductions to the other team. Yes, folks, it took that long for us to meet them, and shake their hands. And, by the way, did I mention that we're a bunch of introverts?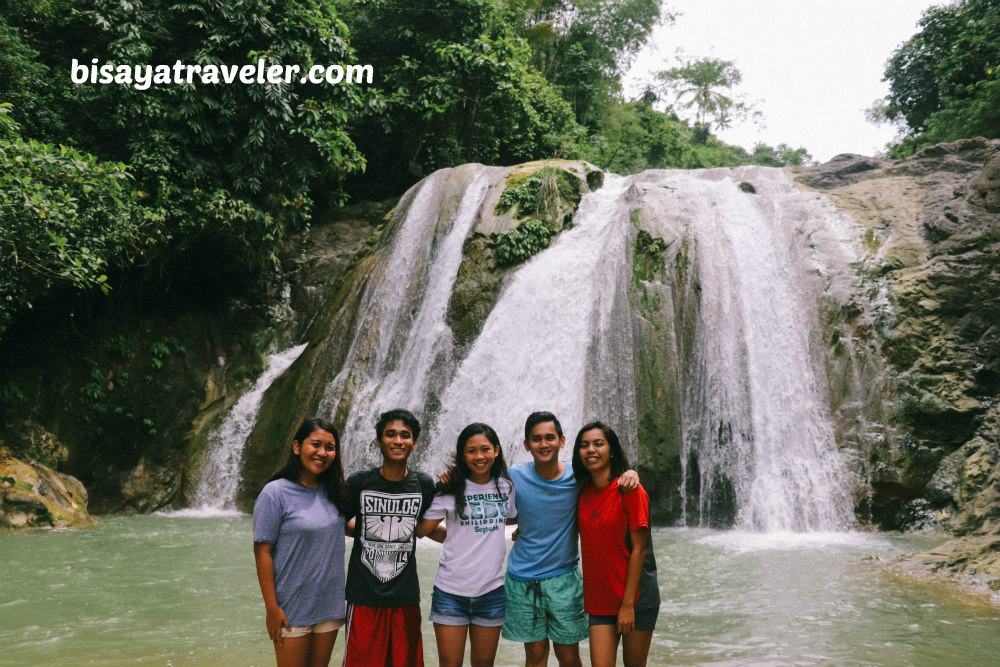 While cherishing the falls, we also made a myriad of poses, including our favorites.
Danasan's cascade has a 3rd level, but we had to skip it because we had a couple of stops in the park in mind.
To keep things rolling, we went back to the base, took the bumpy truck ride, and dropped by the park's wakeboarding area.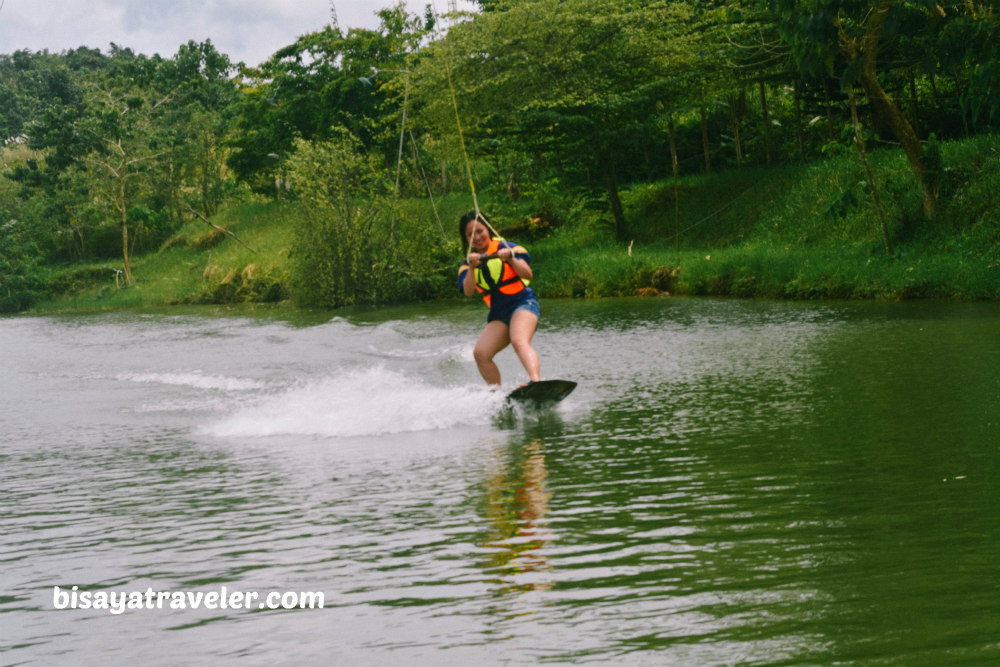 There were, however, folks who were using the wakeboarding facilities by the time we arrive at the area. And with a dozen of grumbling stomachs, we all decided to take a break, and reward ourselves with a hearty and tasty lunch at the canteen.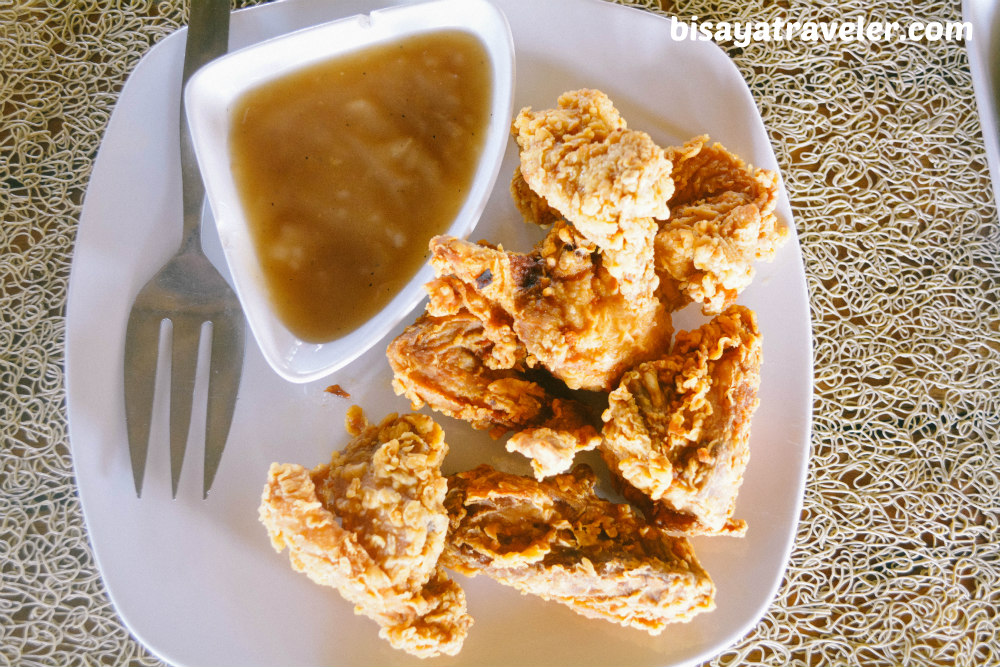 This time, I took photos of the dishes served to us by the hard-working food crew of Danasan Eco Adventure Park.
We were supposed to cap off our weekend getaway with a wakeboarding adventure in Danasan. But, it was getting late, and we have tons of work to do back in the city. And so, we went back to our rooms, packed our bags, and took the next ride from Danasan Eco Adventure Park to Cebu City.
Even though we didn't get to experience the wakeboarding escapade, we all agree that it was a fun and enthralling weekend that we'll remember for years to come.
Danasan Eco Adventure Park contact details:
Danasan Eco Adventure Park rates for attractions and rides:
Entrance: PHP 50 adults (PHP for children below 10 years old)
Sky bike: PHP 380
Speedway: PHP 380
Zipline with horseback ride: PHP 380
Horseback riding: PHP 380
Ropes course: PHP 380
Skydrop: PHP 380
Wake boarding: PHP 380
Waterfalls and trekking (3 levels): PHP 380
ATV: PHP 500
Caving and trekking: PHP 500
Tyrolean rappelling of waterfalls and trekking: PHP 760
Twin Tower: PHP 500
Swimming Pool: PHP 100
Ostrich feeding: PHP 20
Transportation service: PHP 400 per head for Cebu-Danasan round trip (minimum of 10) and PHP 250 per head for Danasan-Danao round trip
Rates for air-conditioned rooms:
Caida 1 and 4 (good for 8 people with breakfast): PHP 4,000
Caida 2,3,5 and 6 (good for 4 people with breakfast): PHP 2,200
Kamagong 1 and 6 (good for 4 people with breakfast): PHP 3,000
Kamagong 2,3,4 and 5 (good for 2 people with breakfast): PHP 2,000
Mahogany 1 to 6 (good for 6 people): PHP 1,800
Yakal 1 to 9 (good for 2 people with breakfast): PHP 1,200
Gmelina (good for 10 people): PHP 5,000
Molave Hall with sound system (good for 20 to 25 people): PHP 5,000
Rates for non-air-conditioned rooms:
Acacia 1 (good for 10 people): PHP 2,800
Acacia 2 (good for 14 people): PHP 3,800
Acacia 3 (good for 26 people): PHP 6,500
Ipil Cottage (good for 15 people): PHP 500
Acascia Hall with sound system for 100 people: PHP 3,500
Other important notes:
Schedule for transportation: 6:30 AM for Parkmall to Danasanm and 09:00 AM for Danao (Jollibee Sands) to Danasan. Van service from Danasan will depart at 05:00 to 06:00 PM.
Barangay Danasan, in general, has a weak mobile coverage for Sun and Globe networks. Bring your Smart simcard, before leaving for the eco park.
Danasan Eco Adventure Park has a variety of barkada and special packages to offer to its guests. Contact them to get more information about their discounted rates.
Pack sweater and socks, if you plan to stay overnight. Danasan has a wondrously chilly climate, especially in the "Ber" months.