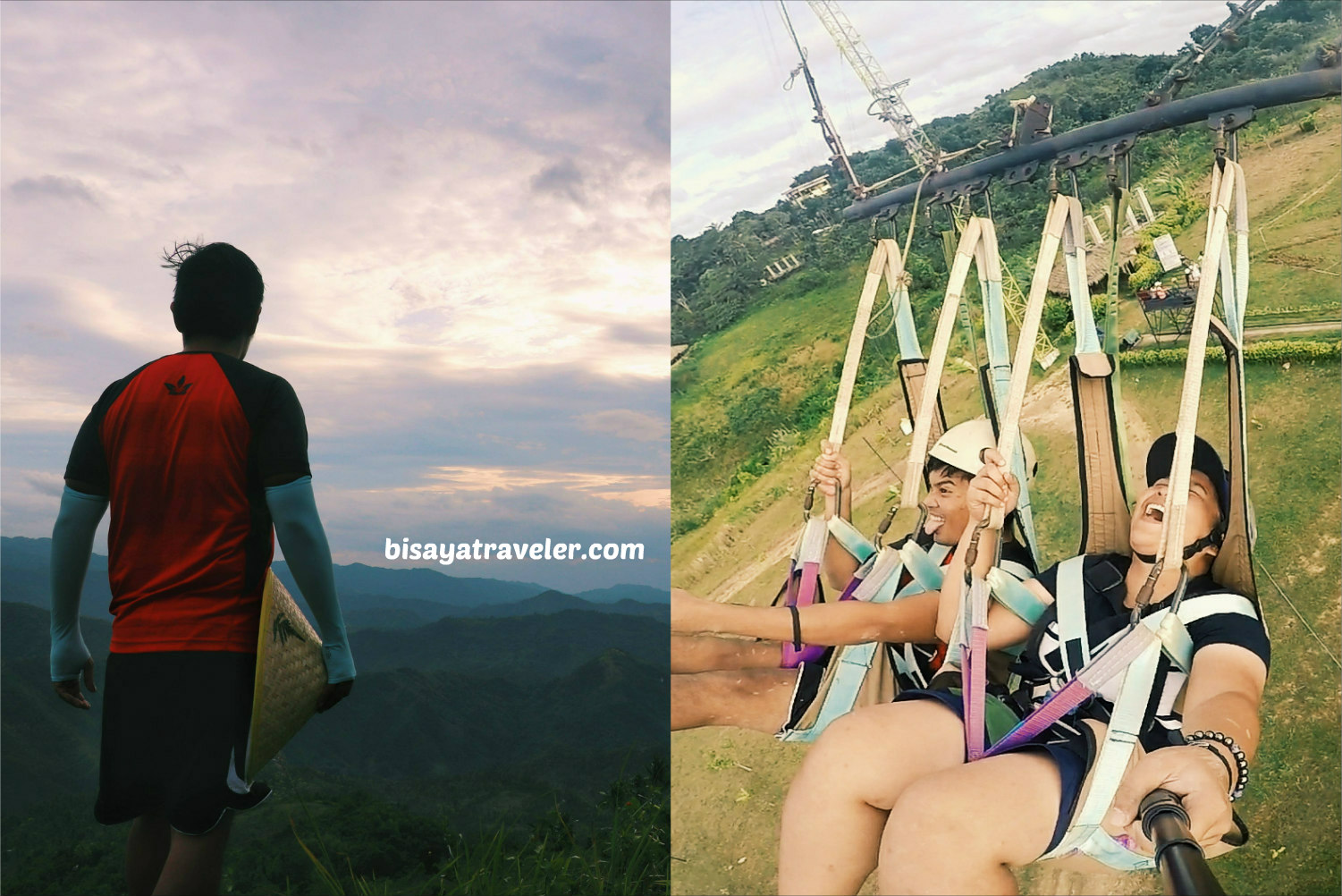 Danasan Eco Adventure Park: Cebu's Ultimate Adrenaline Fix
Treating yourself to a happy adventure land is a must, in today's bustling world.  Not only is cheeriness one of the best and most positive emotions we may experience, but being in high spirits is also the key to a healthy and fulfilled life. What's more, happiness is, as science suggests, linked to a plethora of health benefits, including improved immune system, living longer and better performance at work. And when it comes to happy places in Cebu, very few can rival Danasan Eco Adventure Park, teeming with thrills and mesmerizing sights.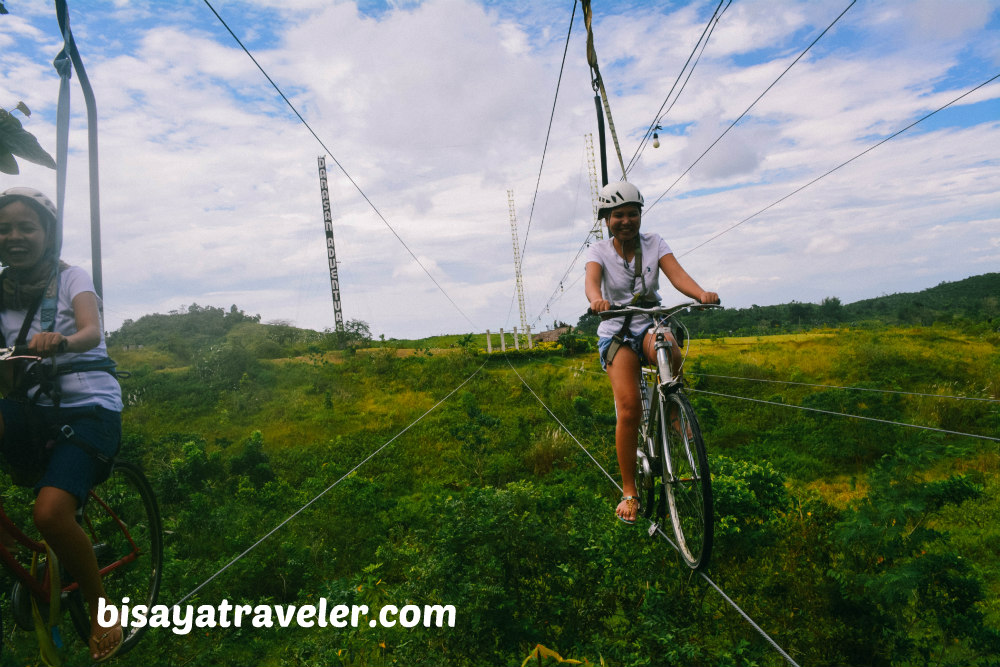 Danao City's Danasan Eco Adventure Park is, to me, quite a mood booster, a stress reliever and a one-stop hub for people seeking unequivocal joy. From its fresh mountain breeze to its mind-blowing thrill rides, Danasan Eco Adventure Park offers a heavy dose of excitement, fun and adventure in so many different ways. In other words, it's a mountainous paradise for people who are yearning to find their bliss and get their adrenaline fix.
And, even though we didn't get to try all its incredible offerings, we still had a blast and a supremely pleasurable experience in Danasan Eco Adventure Park.
Our Danasan Eco Adventure Park experience
A couple of weeks ago, I got a Facebook message from miss Hannah Mae Lawas of Danasan Eco Adventure Park, inviting me to a weekend escapade in their park. With enthusiasm and a huge grin of my face, I answered with a big yes, to miss Hannah.  With its breathtaking mountain backdrop and exciting rides, there was definitely no way I was going to pass up on this opportunity.
And so, together with a trio of Team Bang mainstays – Beth, RJ and Gelique, we ventured into the secluded highlands of Danao, to experience Danasan Eco Adventure Park. Plus, my wife, Rabbie, and a pair of friends – Weng and Rochelle (AKA Friendship) tagged along as well, to add more life and color to our weekend break.
Our weekend escape started with a meet-up at the booking and inquiry office of Danasan Eco Adventure Park in Parkmall. There, we were warmly greeted and entertained by miss Jenky Rolion and her partner.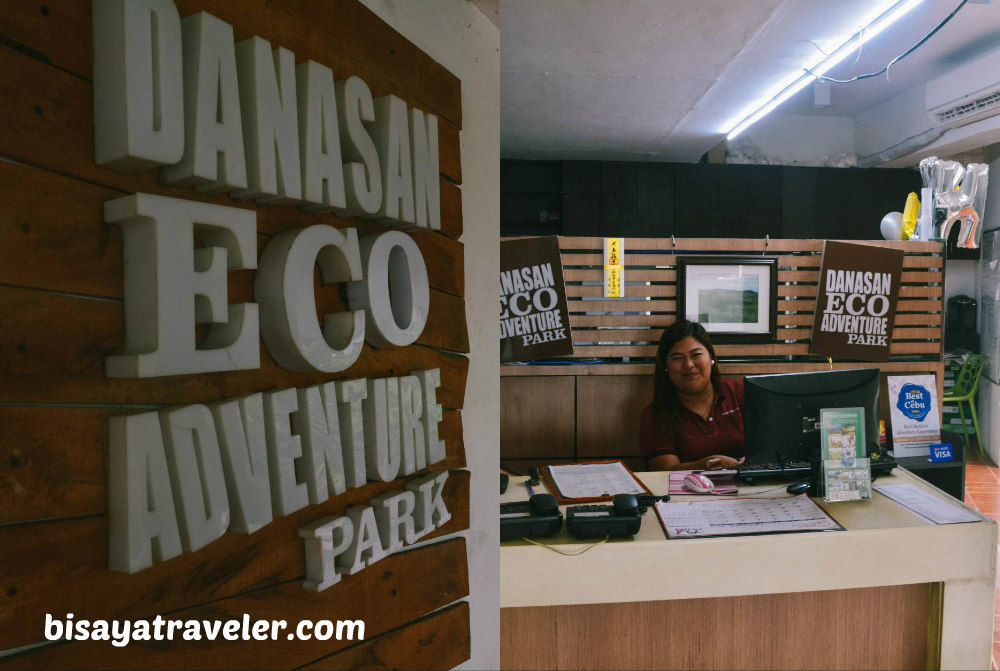 As we were waiting for the other group of bloggers (the ambassadors of Sugbo PH), we took time making final preparations and doing some catch up with one another.
Once everyone was geared up and ready, we wasted no time, and took a 2-and-a-half-hour ride to Danasan Eco Adventure Park from Parkmall.
The ride to the park was fairly long, even by our standards. Without the park's van service, our travel time may go beyond 3 hours, in my own estimation. Not to mention, their van service is a lot more affordable than the other mode of transportation, according to Gelique, who has been to the park years ago.
Ultimately, we arrived at the entrance of Danasan Eco Adventure Park where we got a good view of its Instagrammable sign.  Of course, no Team Bang trip is complete without our trademark solo shots on every eye-catching spot.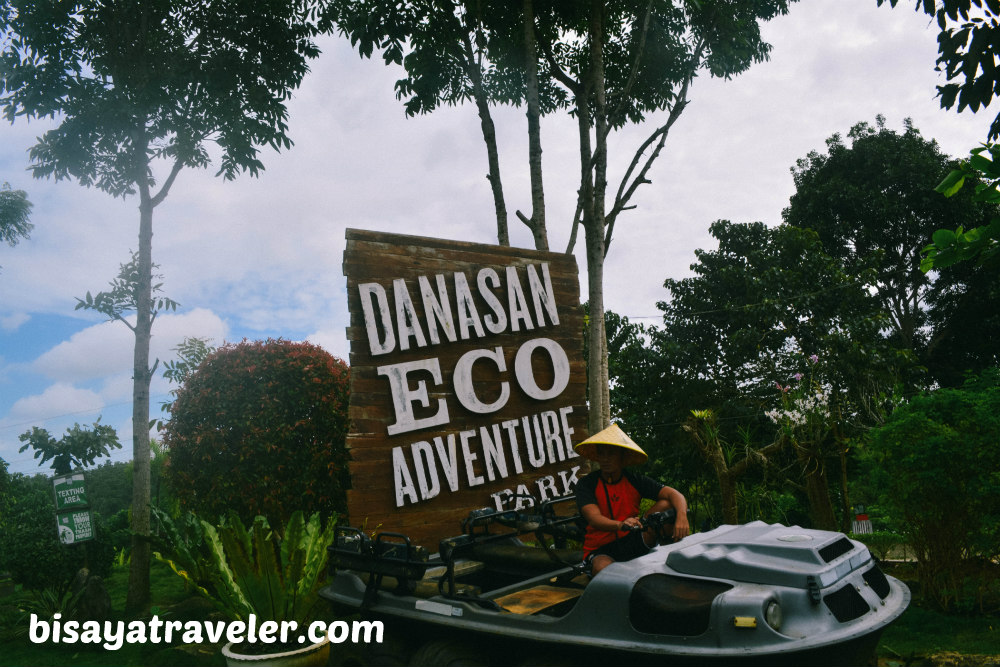 From there, the park's crew drove us to our rooms named as Kamagong, so we can settle in, freshen up, and prepare for a day full of life and adventure.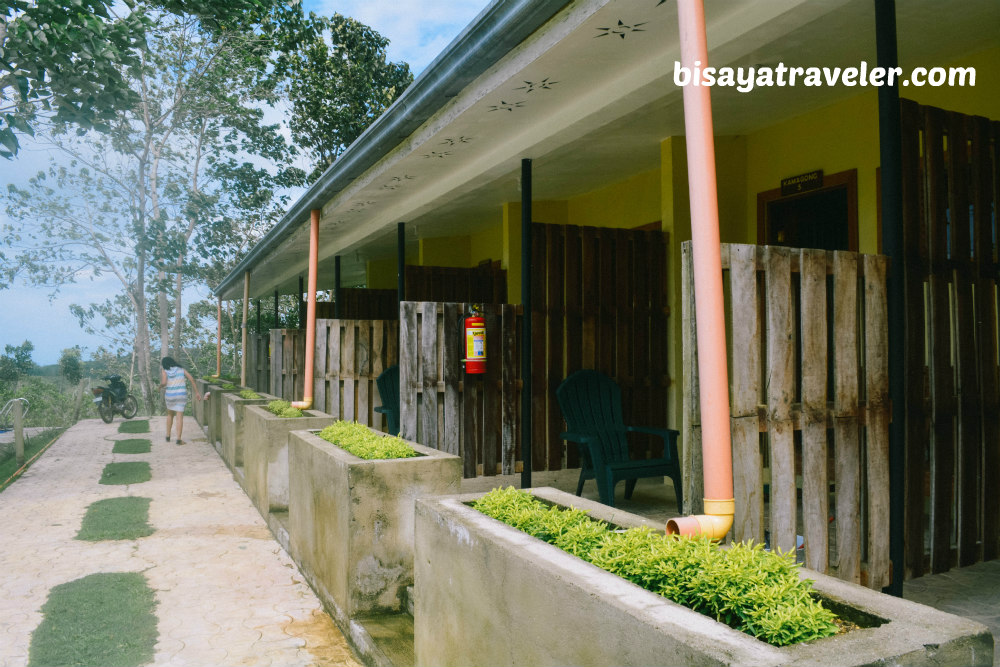 Then, we went back to the entrance of Danasan Eco Adventure Park, to start our adventure on the right foot. Likewise, Jenky and Hannah gave us a quick rundown of this sprawling and mountainous 200-hectare resort in Danao City, Cebu.  To speed things up and cover the attractions at a faster rate, we decided to split up with the Sugbo PH Team.
For our first stop, we tried the park's 440-meter zipline ride. Unlike the typical zipline ride, however, there's a beautiful twist to this beloved attraction in Danasan.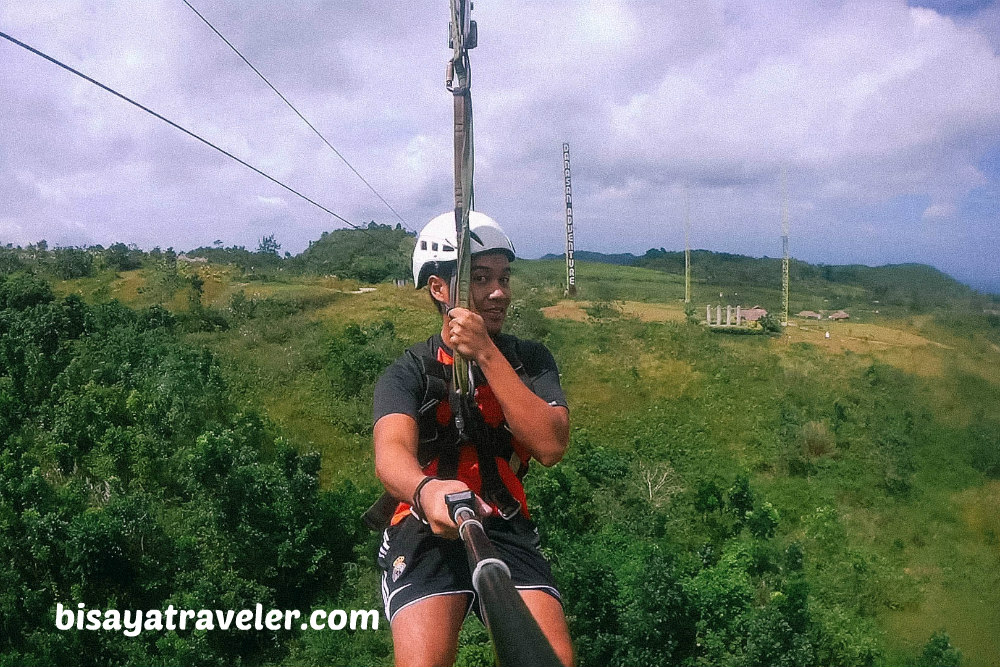 To get back to the starting point, each of us has to take a short horseback ride. What a treat!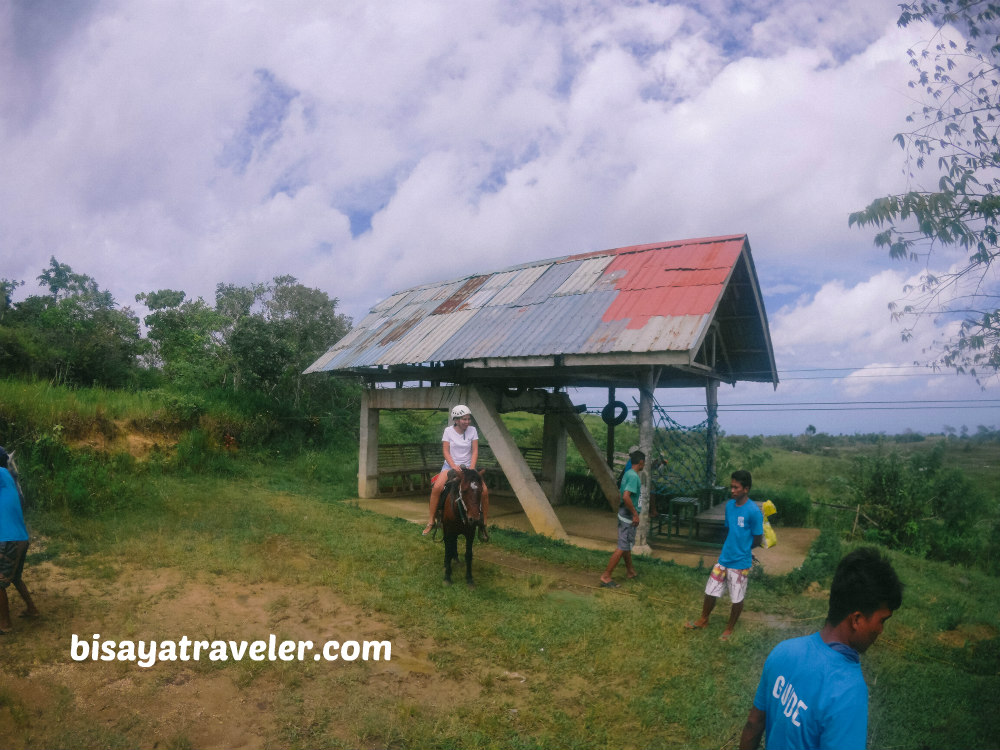 As for the zipline ride, it was short, breathtaking, not-so spine-tingling and a lovely warm-up to the more heart-pounding rides later that day. As far as I'm concerned, it's a great starter and good way to pump up your blood, if you plan to take on the more exciting attractions, like the 120-foot Danasan Skydrop.
If you're afraid of taking this ride, don't worry, as you can experience with your loved one or someone your trust by your side. As a matter of fact, I even saw a couple, the following day, holding hands, as they glided across the cables.
Beth, who was experiencing it for the first time, didn't have an ounce of fear, with RJ on her side.
Since there were 7 of us, Gelique had to fly solo on this adventure. I guess it's time for Gelique to find her "forever". And, by the way, I have someone in mind that I can recommend to her, and that guy, for some reason, loves to show his armpit on IG and FB. Just kidding, Gelique.
Later on, we moved on to the base of our next stop in Danasan Eco Adventure Park – the Sky Bike ride.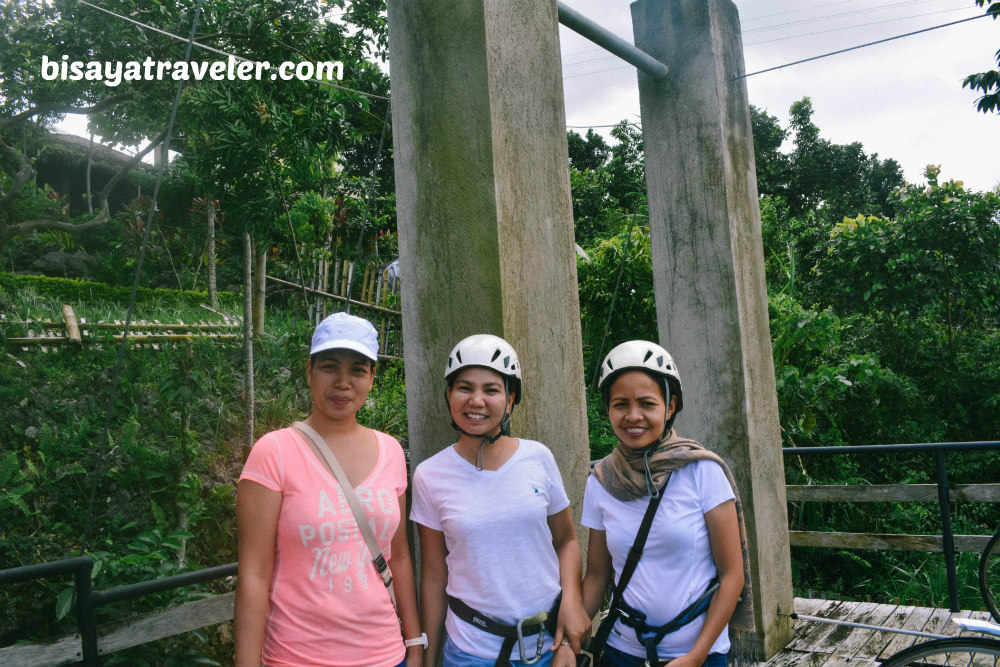 Just like our zipline ride, our Danasan's Sky Bike experience was utterly sweet and relaxing, with great overlooking views of the resort.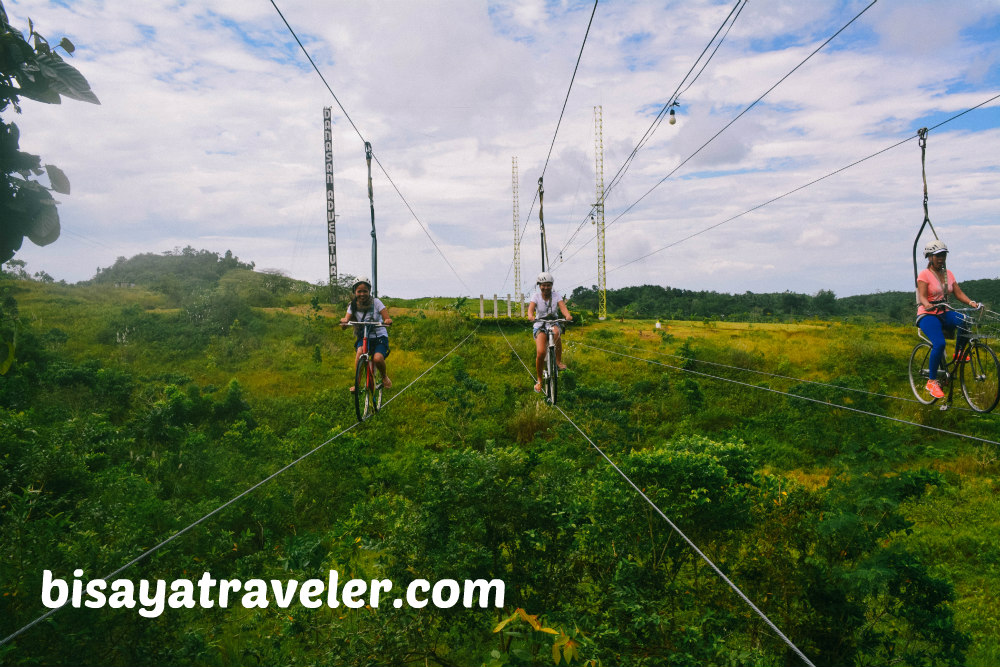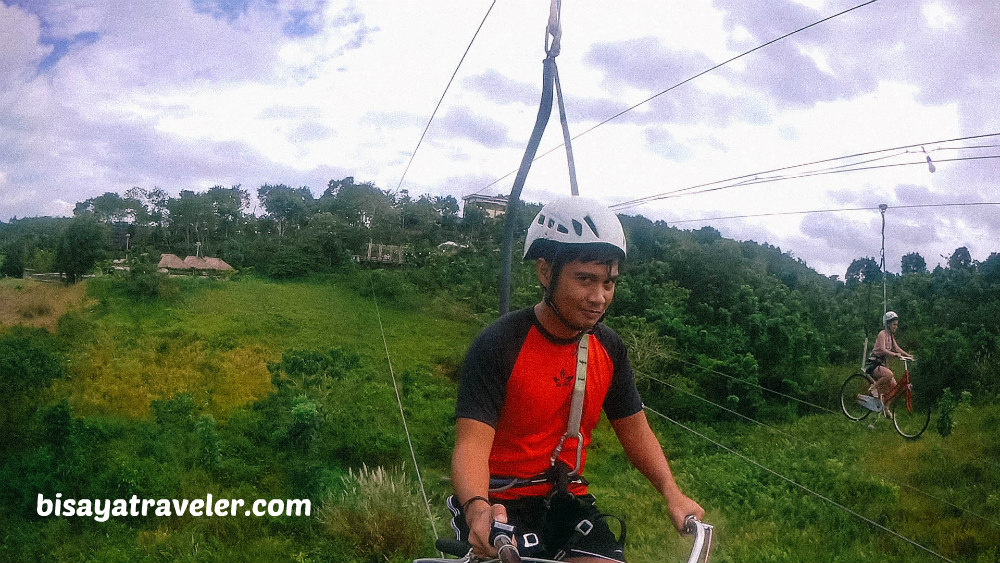 There were only 3 bikes were available for our visit, meaning Gelique has to once again go solo. Maybe, she should start to seriously consider my suggestion. What do you think?
As we were riding the bikes, we saw a teaser of what was about to come in the afternoon. On the backdrop of rides, we caught glimpse of one of the park's newest and most fascinating attractions – the mighty and towering Skydrop.
We could hear screams and giggles, whenever someone gets drop from the ride. And boy, I was psyched and pumped up to experience it.
But, before we can blow our minds with the exhilarating plunge, we had to experience Danasan Eco Adventure Park on wheels.
As a way to end the first half of our day in Danasan on a high note, we accepted the speedway challenge, racing on the well-designed track of the park. While it wasn't the most exciting trip in the park, I did have fun with this diversion in Danasan.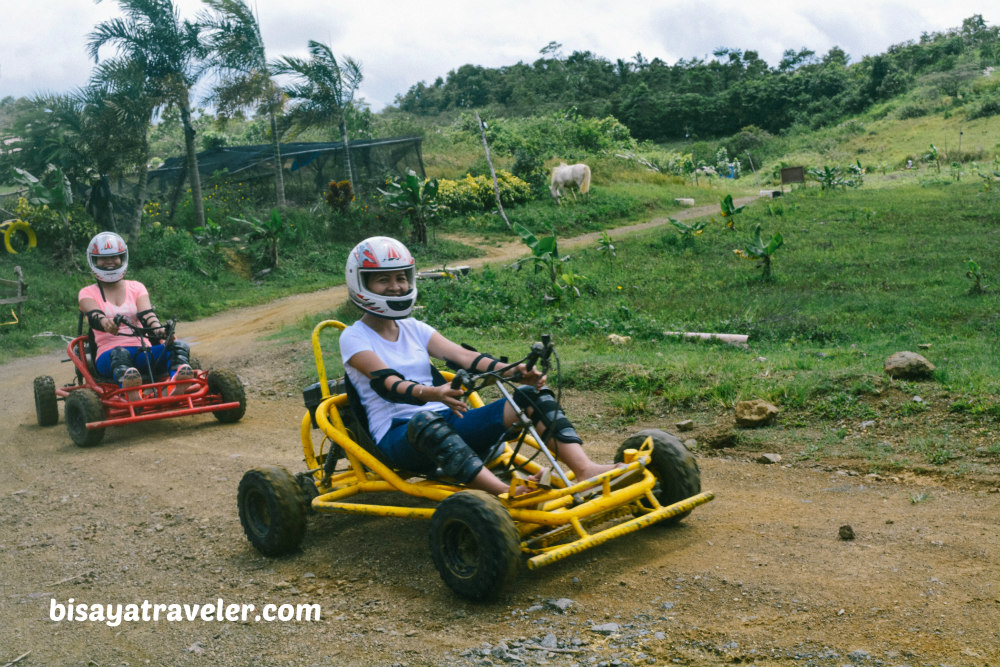 As an added bonus, there were bloopers too, while we were steering the wheels on the track, such as Gelique almost running into the horse, because of her tunnel vision.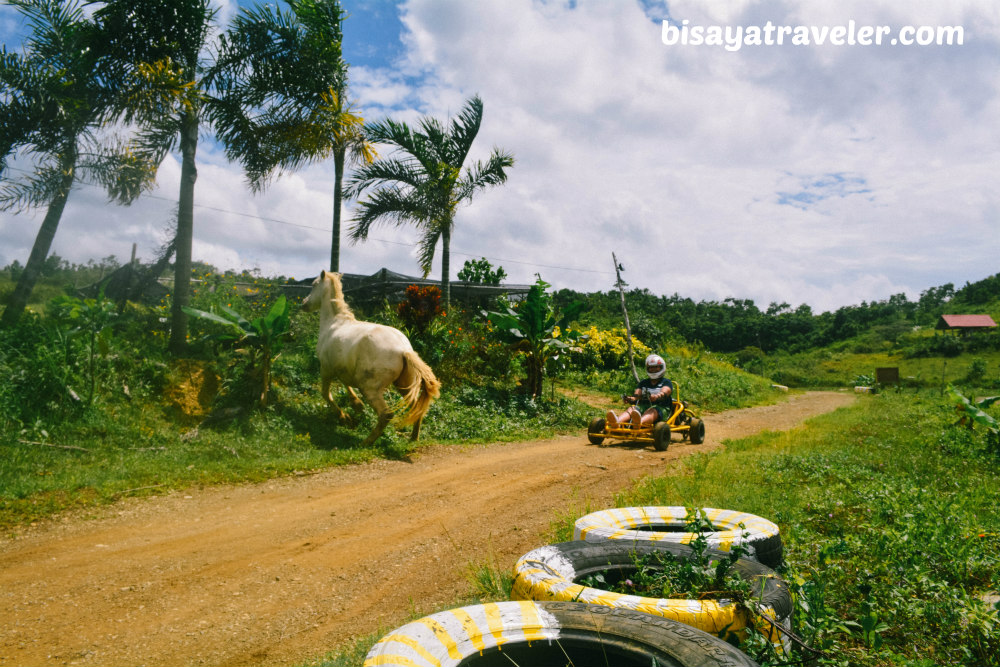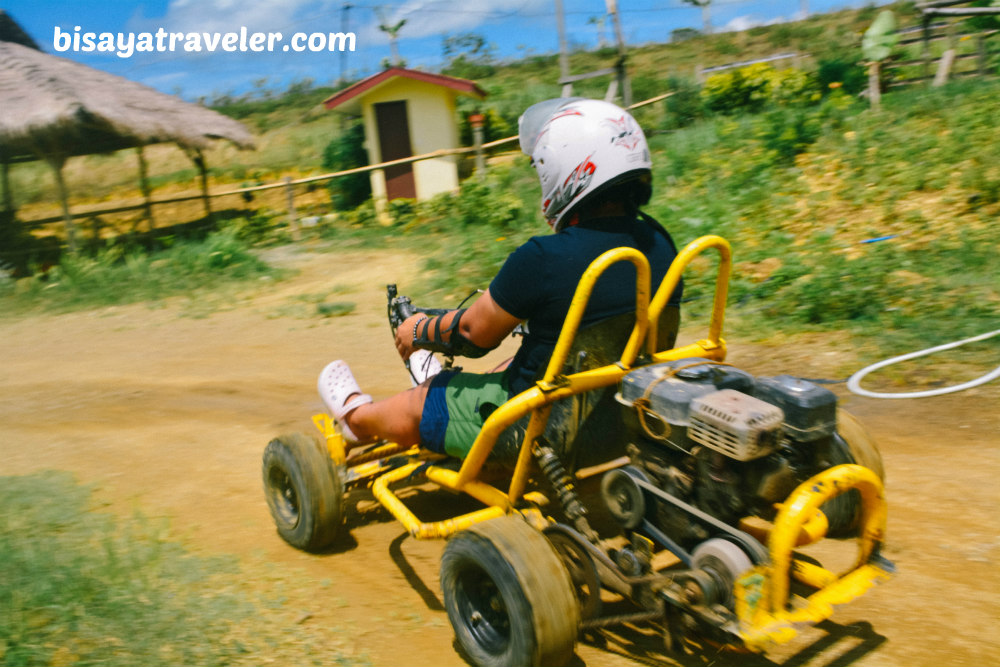 With our stomachs grumbling, we headed to the resort's canteen, for lunch as well as to enjoy a well-deserved rest.
I can't really remember what we ordered or ate because I was on a state of euphoria, after a morning full of thrills and striking vistas. But, I can honestly say that the resort served a tasty smorgasbord of dishes that appeased my palate.
Afterwards, we made our again way to the dirt track, and experienced a remarkable blissful ATV drive.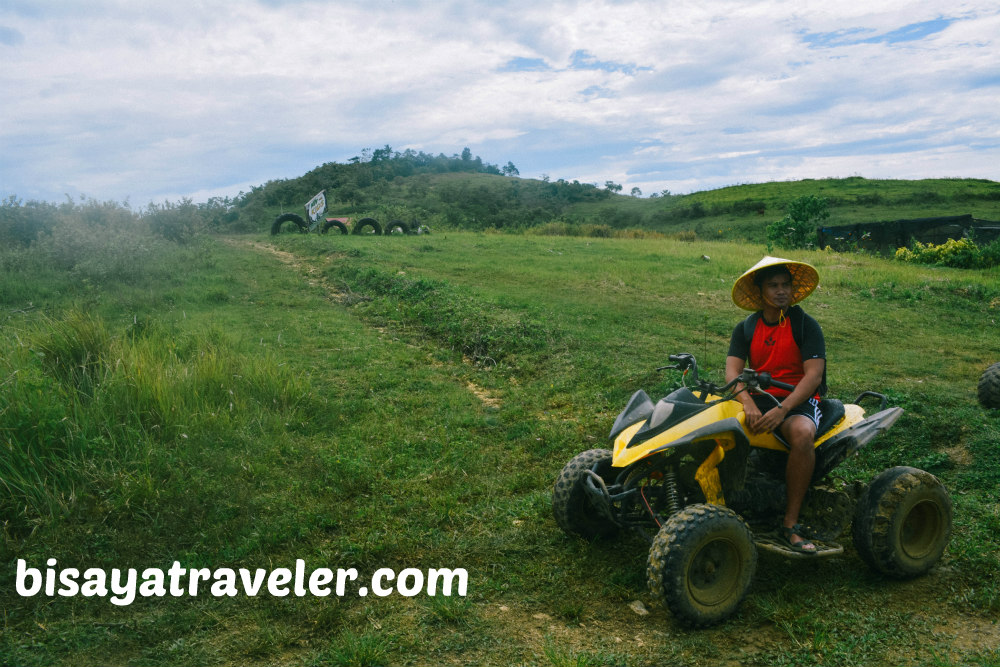 At first, Friendship and rest had some trouble driving through the rough terrain with a heavy ATV bike.
Eventually, they got the hang of it, and were speeding their way across the trail.
I, meanwhile, was simply relishing the ride, driving like a mad man on a highway.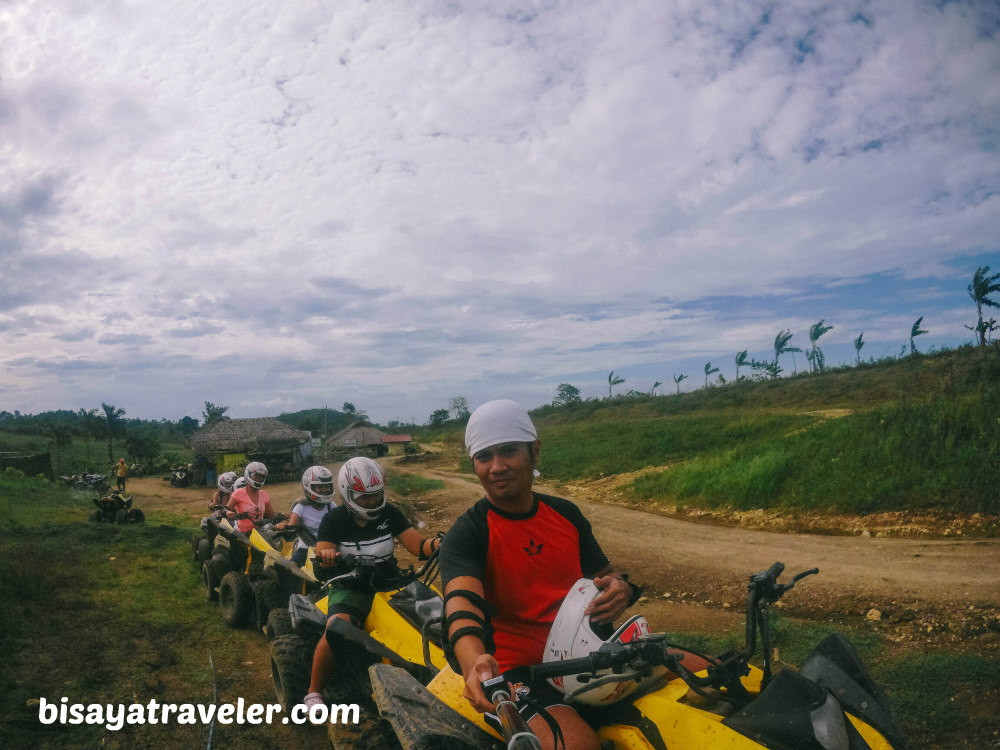 And, for me, the ATV drive is, hands down, one of the highlights and most memorable attractions in the park. Muddy, gritty and rough, it was an awesome, one of-kind adventure that I'll surely do again, when I get a chance to return to the park. They say, it's one of the main leisure activities in Danasan Eco Adventure Park, and I do agree with them.
Except for Weng (she didn't join us for this one), everyone was also enjoying the muddy ride.
With the ATV ride in the books, we went for a short walk to a nearby attraction, to experience the park's undisputed star – the Skydrop.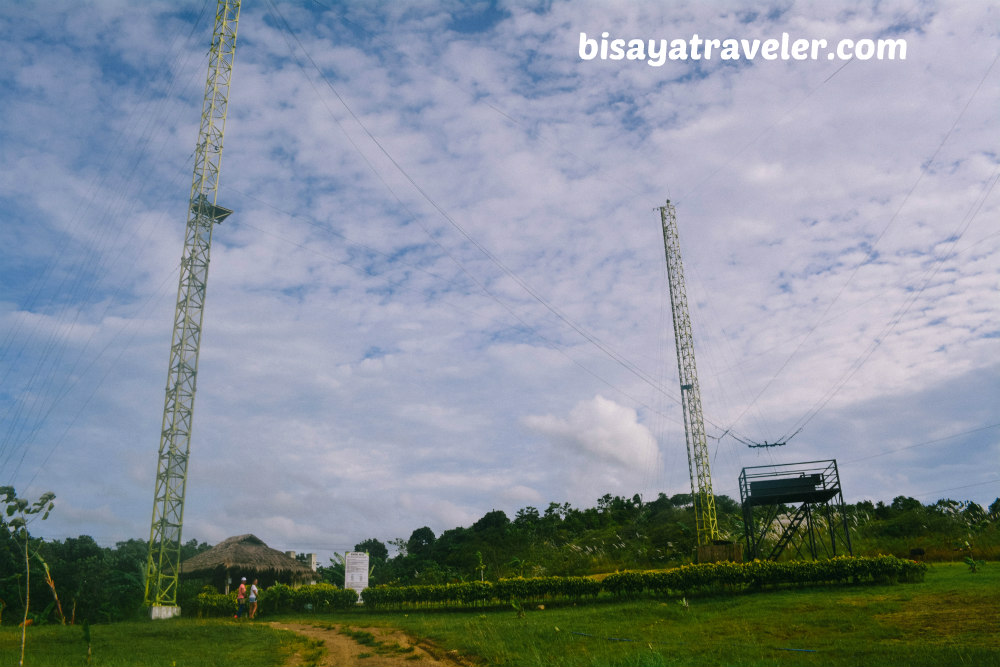 While the guides were preparing the drop, I could notice the rest getting a little anxious, restless and scared. Trust me, the Skydrop in Danasan Eco Adventure Park can scare the daylights out of anyone, especially to those who have fear of heights. Remember, you'll be brought up to the top and suspended 120 feet above the ground.
But, most of the folks in the group were up to the challenge, specifically Gelique and Friendship. Heck, they were even first ones in the group to try the plunge.
Without any hesitation, Friendship and Gelique embarked on the ride, to experience of the most exciting freefall adventures in Cebu. Yes, folks, although their facial reactions don't say so, these gals thrive on thrill.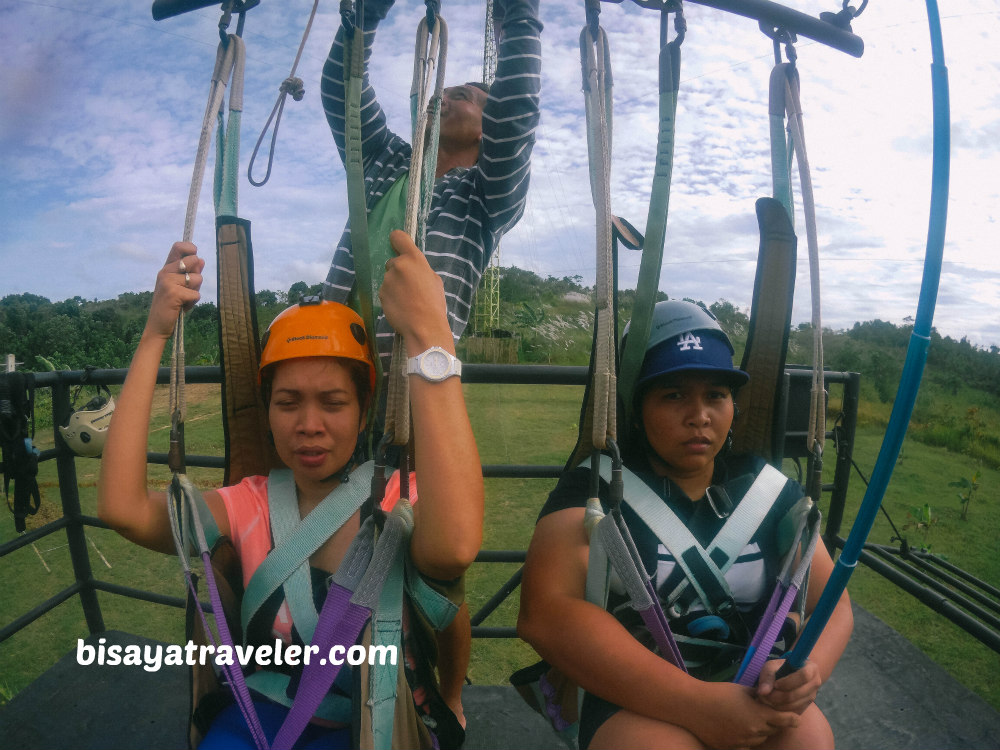 And, the ride does a great job of building tension. Slowly but surely, the pair was brought up to the top – about 120 feet above the ground.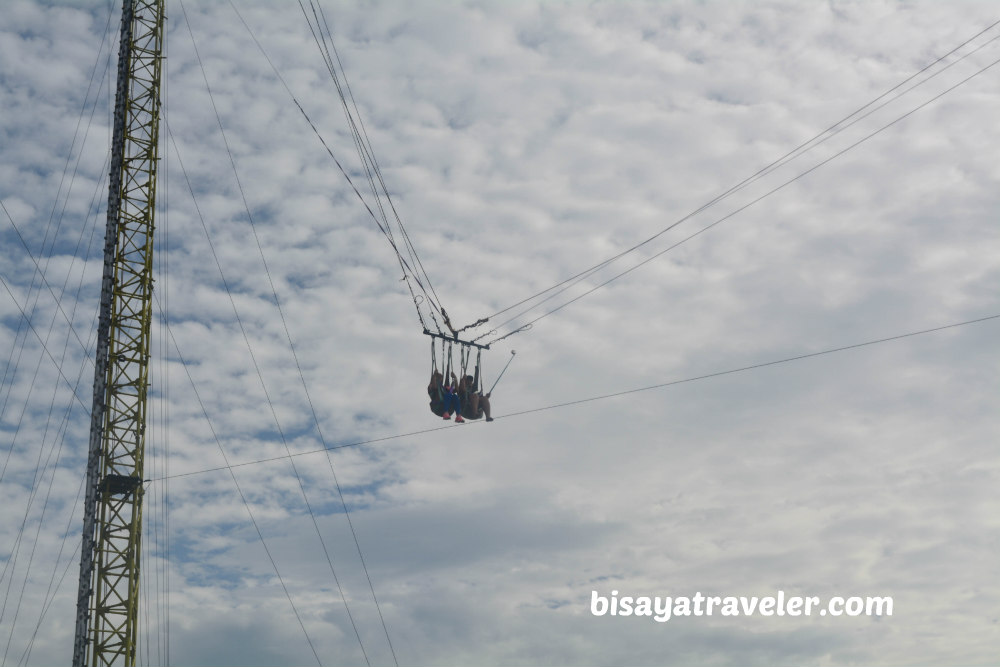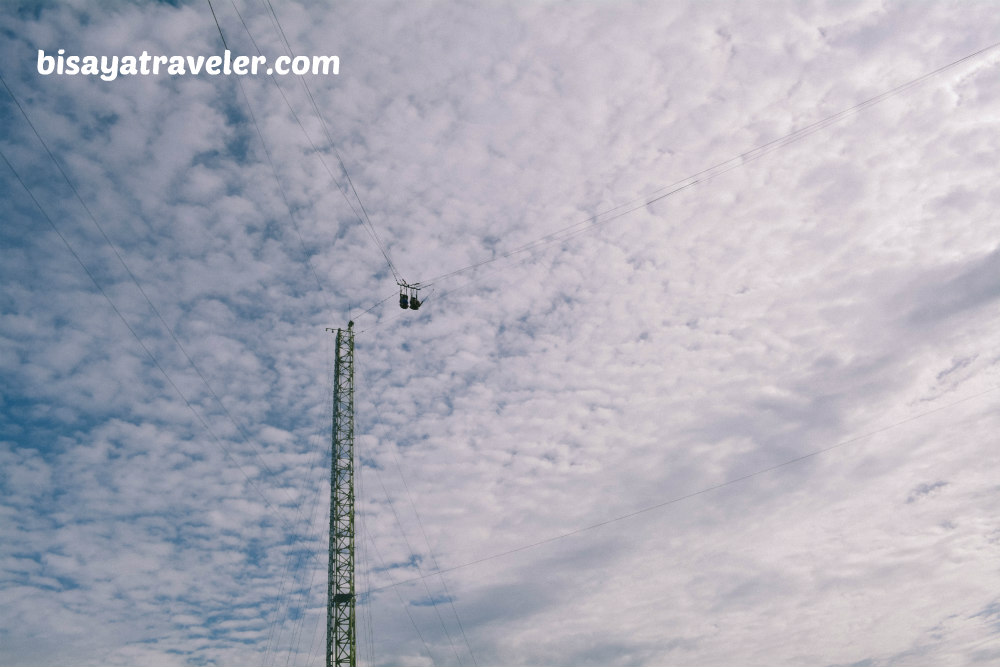 Once there, Friendship had to pull the switch, to ignite the fall. Unfortunately, the switch requires some force, and it did take a while for Friendship to finally ignite the fall.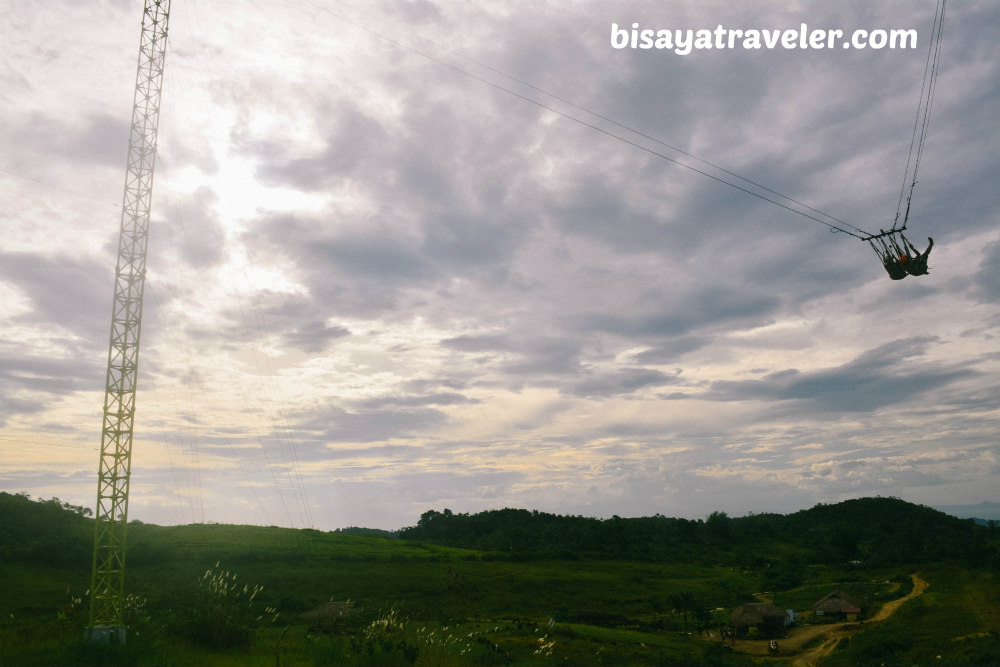 And when the drop started, we could hear them screaming their lungs out, indulging on the freefall thrill. Furthermore, Friendship had a little 45-degree spin, on the way down, which somehow gave us second thoughts on accepting this challenge.
And just like that, Beth's mood and morale, all of a sudden, dropped. As I've said before, it's rather scary, even for bona fide outdoor adventurists.
When the ride was over, however, I could sense of their elated feelings.
They were all smiles, laughing and just happy to conquer this challenge. And, there's a good reason why they were as happy as someone who won a "Swertres" draw.
According to scientific studies, scary yet safe rides make people feel alive and happier. Moreover, terrifying experiences like Danasan's Skydrop can make people feel super euphoric, once they are back on solid ground.
That's why Friendship and Gelique were all smiles on their way back to the base.
Finally, it was my turn to hop on the Skydrop adventure. Sadly, Weng and Mrs. Bisaya Traveler had no plans of trying it. Hats off to this young, dumb and not-so broke daredevil!
But, on the bright side, Gelique – a Danasan Eco Adventure Park veteran (it was her second time in the park and third time in Skydrop) – was willing to do it all over again.
As with the team's first attempt, the ride brought us slowly to the top. Once we reached the top, we paused for a moment, and savored the awe-inspiring bird's eye views of Danasan Eco Adventure Park.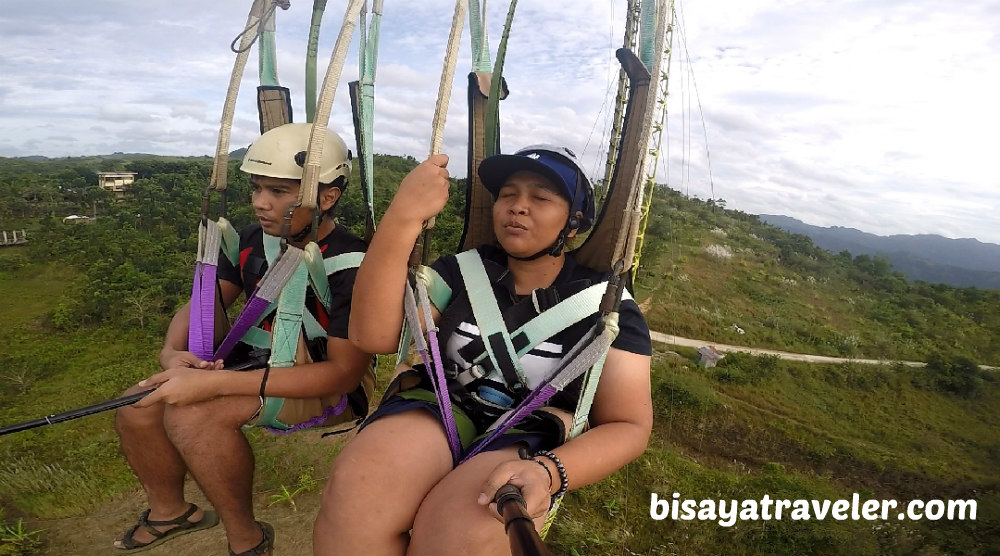 Soon after, one of the guides gave us a signal that we were set for the plunge.
The first time I pulled the switch, nothing happened. On my second attempt, still nothing happened. A few tries later, we were still suspended more than 100 feet above the ground.
I tried a different approach, pulling the switch like I was about to do a one-hand pull-up, and alas!
Unexpectedly, we felt like we were plunging to the ground, without any harness or anything to stop us from falling. Truth be told, it was freaking scary, and I never thought it would feel that way.
Can you imagine yourself falling from a 12-storey building, without any ropes or harness? Yep, it totally feels that way.
Just when I thought I was about to dive into the ground, I experienced one of the best swing rides of my life. Personally, it felt like Darna or Gal Gadot's sultry version Wonderwoman was picking me up and saving me from a disastrous fall.
Gelique, on the other hand, was screaming like a little girl who just saw Sadako or an ugly killer clown.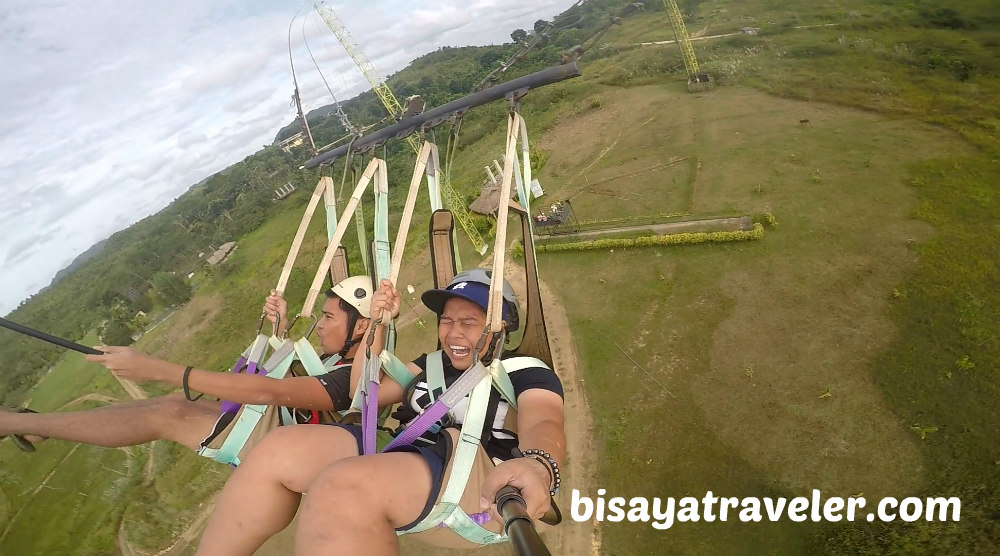 Initially, I thought she was just kidding around, but later on, I found out that her screams were real since she didn't get to anticipate the drop.
As soon as I reached the ground, I felt happier and more relaxed. Boy, these thrill rides have their own unique way to beating stress and giving your bliss.
Next up were Team Bang's sweet lovebirds – Beth and RJ. For some reason, they seemed a bit more relaxed than earlier.
To make the story short, the couple experienced one of the wildest rides in their life. From my point of view, they were having mixed emotions, feeling happy and scared at the time.
Their facial expressions were priceless too, during the drop. As what RJ told us during dinner, he saw flashbacks of his childhood, with him eating a box of Curly Tops, which also happens to be my favorite sweet treat. That's some scary fall, I got to say!
We were supposed to hit the Twin Tower challenge, following our Skydrop challenge. But, it was getting late, and we had another stop in mind to cap off our first day in the park – the Danasan Peak.
For hiking aficionados like us, it's just hard to resist the urge of hiking and admiring the view from a scenic peak.
Not to mention, Friendship and Weng had to return home due to prior commitments.
"We'll give a shot, tomorrow", I said to Miss Jenky and to the rest of the team.
With the sun about to set, we hit the trail leading to one of the more underrated treasures of Danasan Eco Adventure Park. And, upon our arrival, we spent some time soaking up the views and the fresh mountain breeze.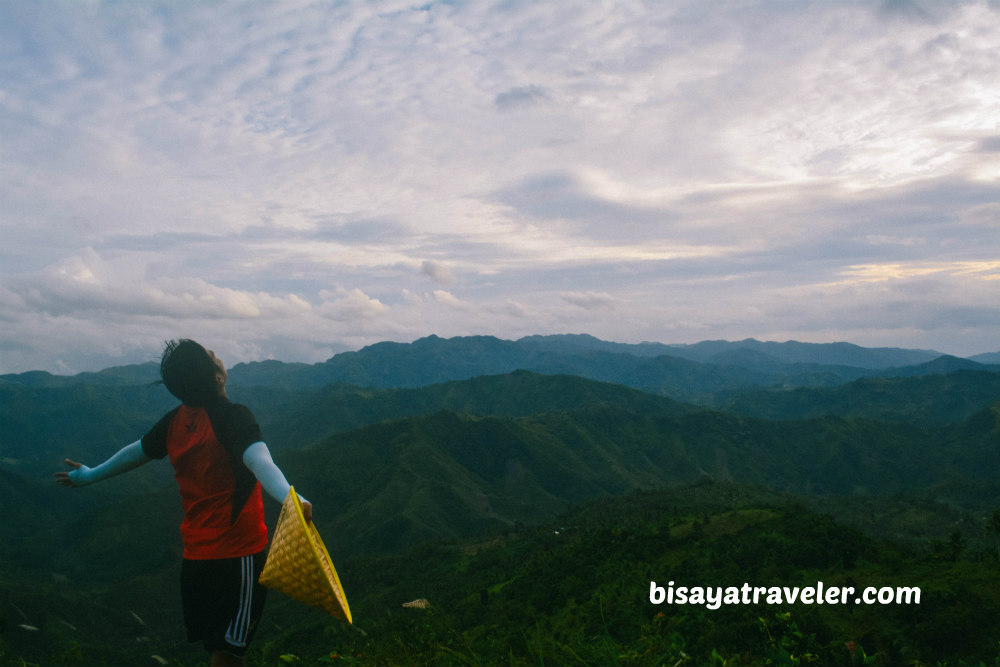 "It absolutely feels so good to be alive", I said to myself as were taking the scenery.
From this vantage point, we got lovely glimpses of Canlaon City and an astounding view of the picture-perfect mountain ranges in Asturias and Balamban.
In some ways, these untouched ranges, with its rivers and green landscapes, remind us of the stunning peaks in Rizal.
The way I see it, Danasan Peak is an enthralling site that will soon become a camper's or a mountaineer's favorite.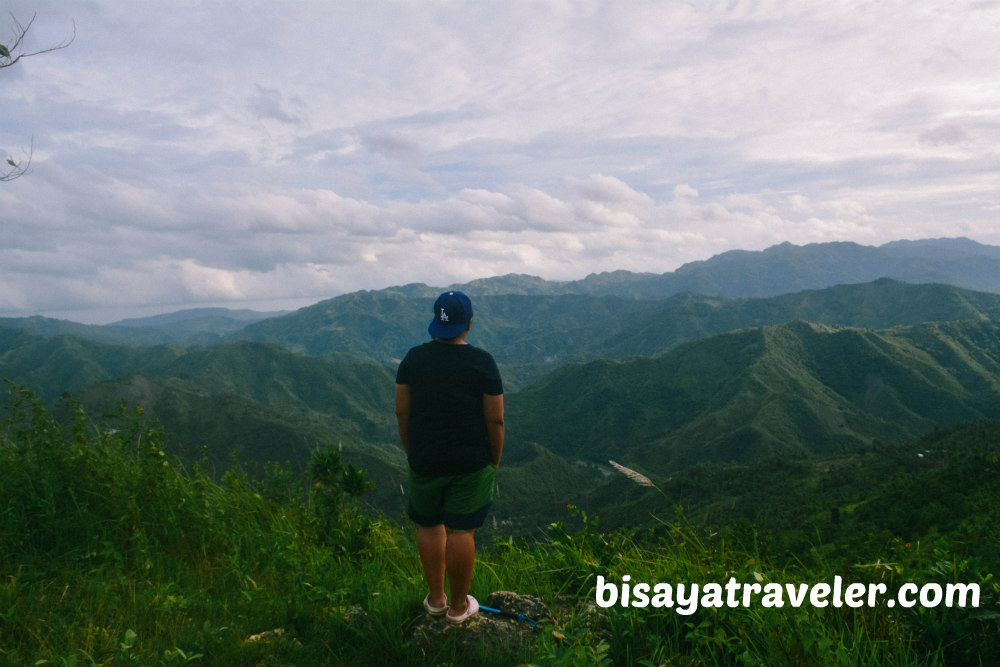 As we were exploring the peak, we saw a cross on the neighboring the hill of Danasan Peak.
And, guess what? We headed to that hill, to breathe in fresh air, and snap dozens of photographs. Not a bad way to end our first day in Danasan Eco Adventure Park, right?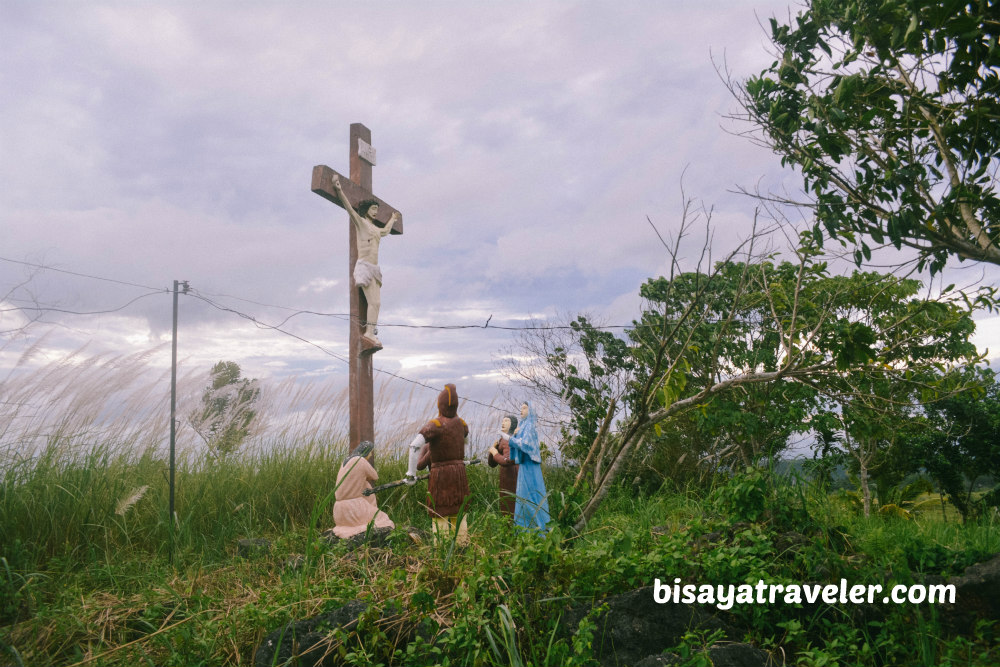 We, then, returned to the resort complex, ate dinner, chilled for an hour, and went to bed.
The next day, we explored one of the grandest waterfalls in Northern Cebu – Danasan Falls (I'll write about it later), and took a dip at its pool.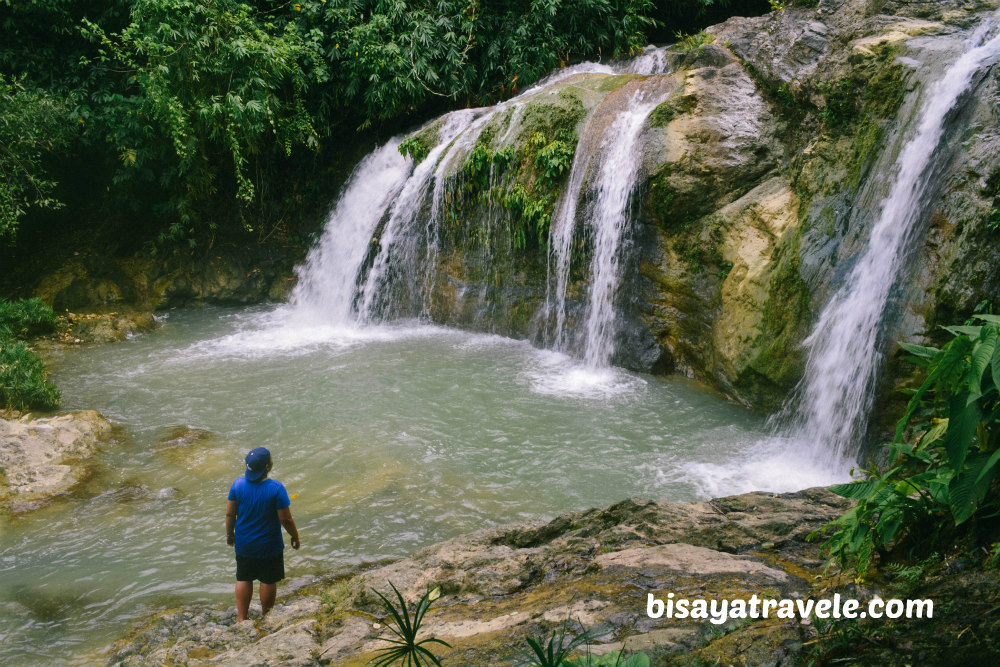 Danasan Eco Adventure Park contact details:
Danasan Eco Adventure Park rates for attractions and rides:
Entrance: PHP 50 adults (PHP for children below 10 years old)
Sky bike: PHP 380
Speedway: PHP 380
Zipline with horseback ride: PHP 380
Horseback riding: PHP 380
Ropes course: PHP 380
Skydrop: PHP 380
Wake boarding: PHP 380
Waterfalls and trekking (3 levels): PHP 380
ATV: PHP 500
Caving and trekking: PHP 500
Tyrolean rappelling of waterfalls and trekking: PHP 760
Twin Tower: PHP 500
Swimming Pool: PHP 100
Ostrich feeding: PHP 20
Transportation service: PHP 400 per head for Cebu-Danasan round trip (minimum of 10) and PHP 250 per head for Danasan-Danao round trip
Rates for air-conditioned rooms:
Caida 1 and 4 (good for 8 people with breakfast): PHP 4,000
Caida 2,3,5 and 6 (good for 4 people with breakfast): PHP 2,200
Kamagong 1 and 6 (good for 4 people with breakfast): PHP 3,000
Kamagong 2,3,4 and 5 (good for 2 people with breakfast): PHP 2,000
Mahogany 1 to 6 (good for 6 people): PHP 1,800
Yakal 1 to 9 (good for 2 people with breakfast): PHP 1,200
Gmelina (good for 10 people): PHP 5,000
Molave Hall with sound system (good for 20 to 25 people): PHP 5,000
Rates for non-air-conditioned rooms:
Acacia 1 (good for 10 people): PHP 2,800
Acacia 2 (good for 14 people): PHP 3,800
Acacia 3 (good for 26 people): PHP 6,500
Ipil Cottage (good for 15 people): PHP 500
Acascia Hall with sound system for 100 people: PHP 3,500
Other important notes:
Schedule for transportation: 6:30 AM for Parkmall to Danasanm and 09:00 AM for Danao (Jollibee Sands) to Danasan. Van service from Danasan will depart at 05:00 to 06:00 PM.
Barangay Danasan, in general, has a weak mobile coverage for Sun and Globe networks. Bring your Smart simcard, before leaving for the eco park.
Danasan Eco Adventure Park has a variety of barkada and special packages to offer to its guests. Contact them to get more information about their discounted rates.
Pack sweater and socks, if you plan to stay overnight. Danasan has a wondrously chilly climate, especially in the "Ber" months.
All in all, it was an extremely pleasant Saturday with a whole lot of pleasant moments, spine-chilling experiences and incredible sights. From the get-go, it was superbly exciting and fun, allowing us to relax, enjoy a bunch of one-of-a-kind diversions and escape our city grind. And the best part was, the park's unrivaled service, loaded with friendly guides who were willing to do what it takes to amuse us. In my book, it's one of the happiest places and parks in Cebu.  Thanks again, Jenky and Hannah!