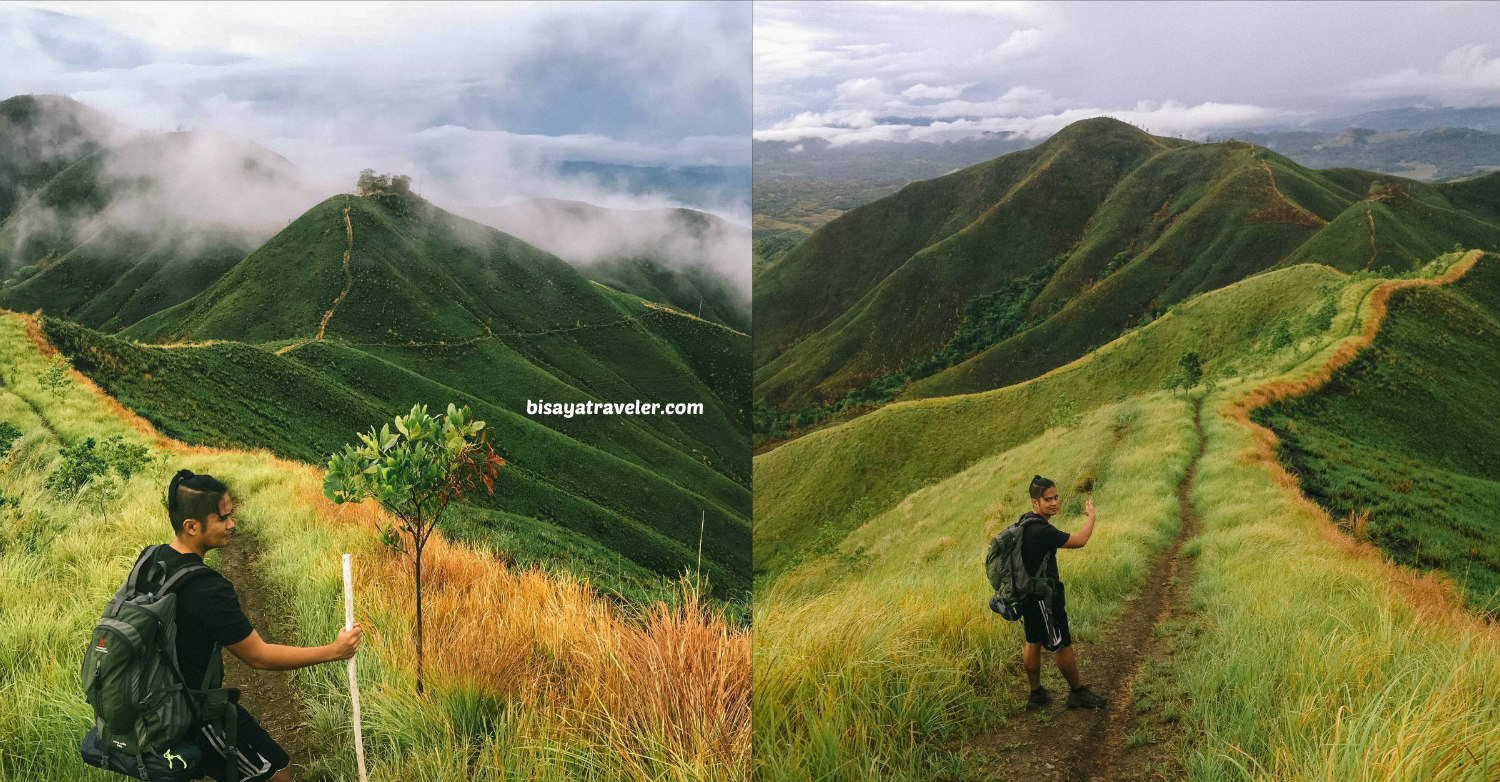 Binabaje Hills, Bohol: Soaking Up Alicia's Strikingly Surreal Beauty
In a fast-paced world where everyone's rushing, patience has become a rare virtue. Whether it's queuing up at a fast-food or searching for info on places like Binabaje Hills, we want everything to be available in the blink of an eye. When we turn on the laptop and the page is loading a bit longer than usual, we call the broadband provider and whine. And, if we want to spark a little excitement in our monotonous life, we look for a quick, unhealthy short-term fix, and develop messy behaviors, like excessive drinking, shopping and even taking drugs.
But, the thing is, being patient, amid the hustle bustle city grind, comes with a ton of perks. For instance, recent studies suggest that patience enhances our happiness, improves self-esteem and helps impede negative emotions. Furthermore, patience can very often lead to something fairly spectacular and memorable.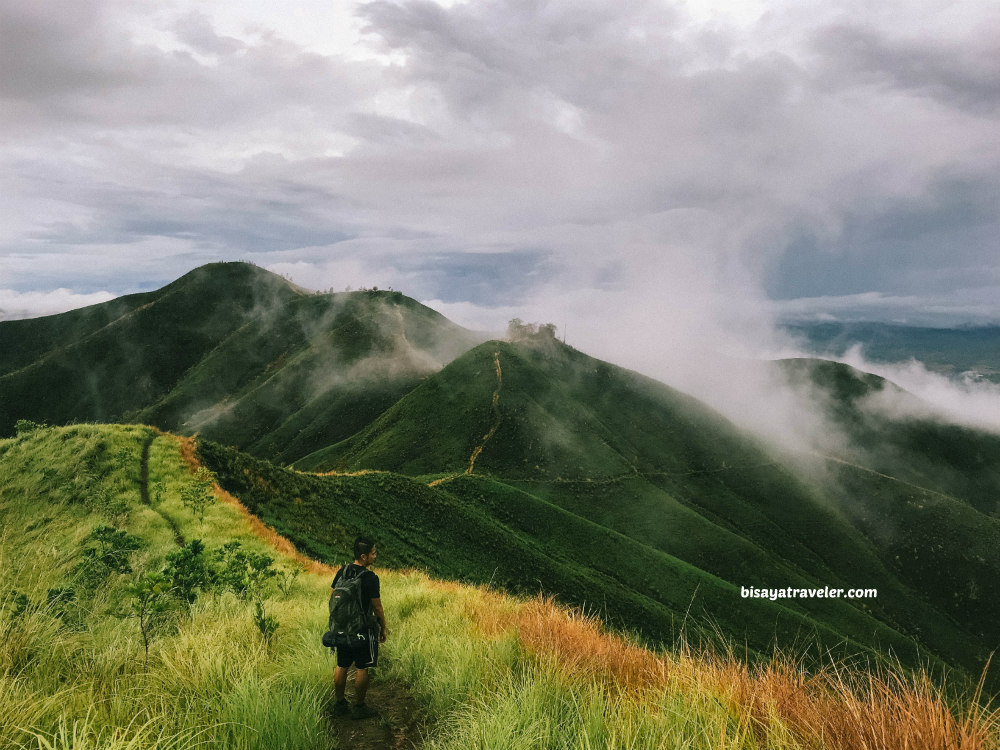 And, my recent trip to Binabaje Hills is the epitome of the saying "patience is bitter, but its fruit is sweet". Days and hours before my visit to Binabaje, I ran into a few hiccups that almost ruined Bohol trip. Yet, even with all the stumbling blocks, I remained patient and optimistic, hoping that I'd see something unforgettable. And guess what? I was rewarded with, hands down, one of the most magnificent sights in the whole Visayas region in the Philippines.  While I didn't get to see a romantic sunrise, I was still in awe, gazing at the postcard-worthy sea of clouds blanketing the hills of Alicia Panoramic Park.
My Binabaje Hills experience
A couple of weeks ago, I was in an utter emotional mess. Stressed out, pressured and overwhelmed, I was extremely moody and mentally fatigue.
I was in dire need of a break. And, thankfully, Mrs. Bisaya Traveler agreed to my request to travel to Bohol, and see Binabaje Hills and Candijay.
And so, on a pleasant Friday afternoon, I made my way to Mariner's Court near Pier 1 in Cebu, to buy tickets to Ubay from J & N Shipping.
At first, everything seemed fine. As a matter of fact, I thought I was going to get my tickets in a jiffy since the line was pretty short.
But, ironically, it took 2 hours, before I could step inside the ticketing office.  And, when I was about to enter the office, the staff announced that there were only a few tickets left.
Yikes!
Finally, I got a chance to grab a pair of tickets. But, there was a catch – only the ferry's seating class available.
"What did you expect?" I said to myself.  The month of May is, after all, Bohol's fiesta season.
Nonetheless, I bought the tickets, so I can escape the clutches of stress, and experience the charm of Binabaje Hills in Alicia, Bohol.
Afterwards, I went to Rabbie's (my wife) office, to make final preparations for our trip.
Hours later, we embarked on our journey to Binabaje Hills via J & N Shipping's ferry.
Sadly, we didn't get any sleep on our way to Ubay. Not only was our seating position rather uncomfortable, but there were also plenty of people passing by and smoking.
Eventually, we arrived at the port of Ubay, and hopped on a bus bound for Alicia Municipal Hall.
And yes, the bus was full, and we were standing for the whole duration of the ride.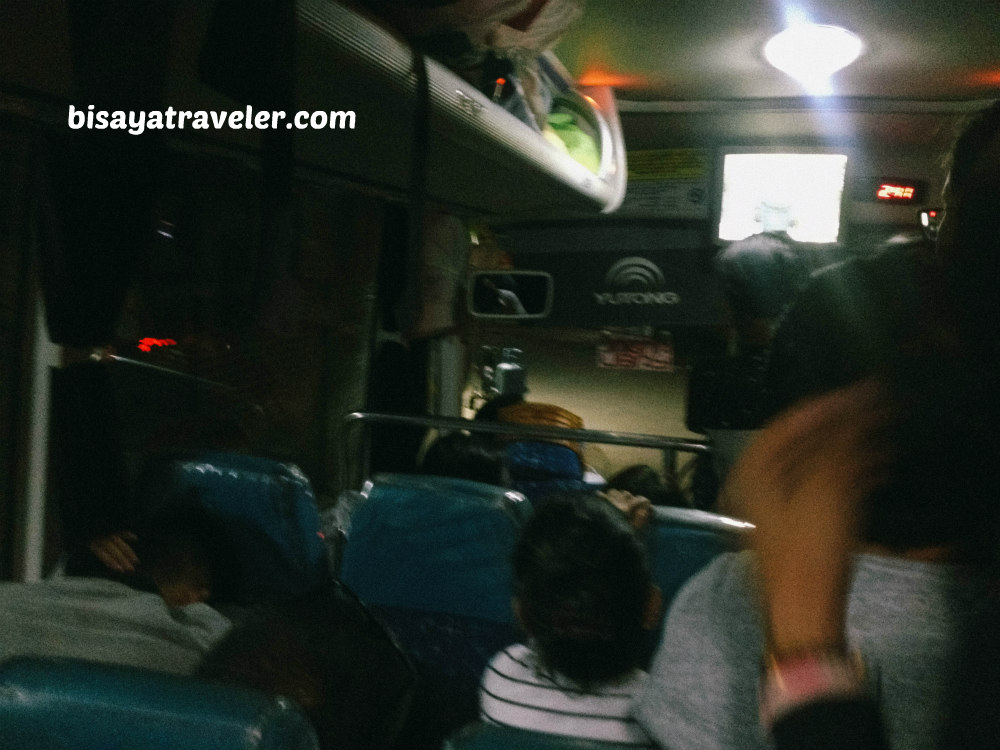 It was perfectly fine, to us, though.
As I've preached over and over again, traveling isn't always beautiful, sunny and cozy. And besides, it was just a short bus ride.
In less than an hour, we arrived at Alicia Municipal Hall where we caught up with our guide, Jun and another habal-habal driver. Once there, we ate a quick breakfast, and, then, took a bumpy habal-habal ride to the base of Binabaje Hills.
As for the habal-habal ride, it can be quite a thrill, especially to those who aren't used to exploring remote hilly lands.
I'm used to these kinds of rides, meaning it was nothing new to me.
Later on, we arrived at the registration center wherein we listed down our names, and rented an old-school traditional trekking pole (or sungkod in Visayan dialect) for my wife.
And, the adventure to Binabaje Hills began! Spearheaded by Jun, we followed the trail leading to the summit of Binabaje Hills.
I forgot to bring a flashlight, but fortunately, Jon's phone was there to save the day, helping us navigate through the dark spots of the trail.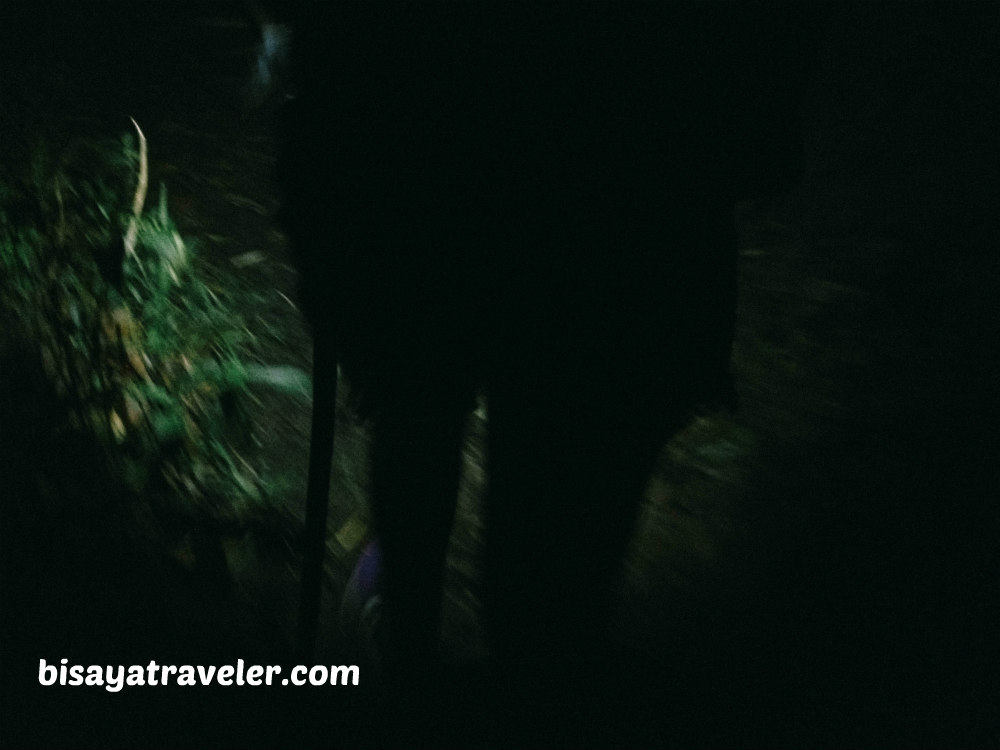 In general, I didn't have any trouble hiking the elevated parts of the trail to Binabaje Hills. Even though I haven't been hiking for weeks, I was still in tip-top shape.
Rabbie, on the other hand, was huffing and puffing, as it's been a while since she last scaled a mountain.
As with any supportive husband, I encourage my wife, to keep moving on, and take a breather whenever she gets tired.
And, after minutes of walking, we arrived at a rustic cottage, took a break, and ate a pair of apples.
As we were resting, the signature dramatic views of Binabaje Hills were nowhere to be found. Keep in mind that it was still slightly dark because we started our hike at around 4 in the morning.
With our energies replenished, we resumed with our hike on the beloved Binabaje Hills of Cambaol, Alicia.
On our way up, Jun told us that there are 3 trails leading to the highest point of Binabaje Hills – A, B, C.
As far as I can remember, we took the shorter and easier path – trail B – in Binabaje Hills.
Moreover, he informed us the some parts of Binanaje Hills look somewhat appealing, following a massive grass fire.
And slowly, the true beauty of Alicia Panoramic Park unveiled in front of our eyes, with the sun starting to rise.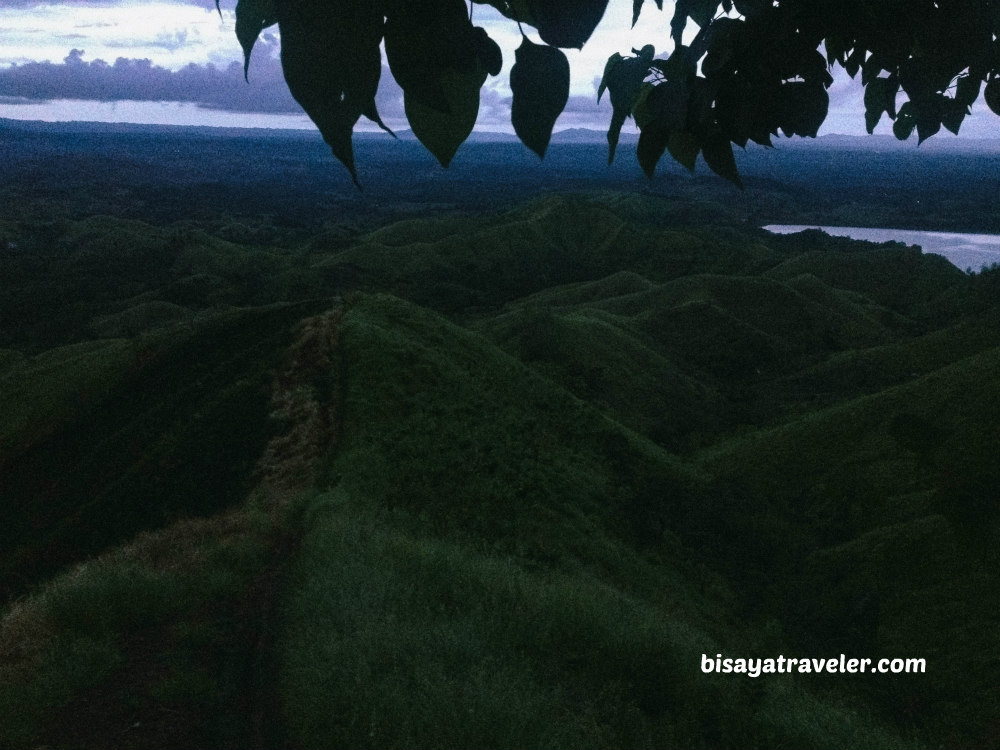 Even so, there was something that was bothering me, along the way. From winged ants to gloomy skies and the intimidating sounds of thunder, there were plenty of signs suggesting a storm was coming in these lofty hills.
My optimistic side kept saying that it wasn't going to rain, and everything will be alright.
I even told Rabbie not to worry and pay attention these signs because they will just pass by.
The realist in me, however, knew that rain is inevitable on our day hike to Binabaje Hills.
Despite the crystal clear signs, we carried on with our hike, passing by the steepest parts of the trail to the Binabaje Hills.
At first, my wife was quite hesitant to climb the steep trail to the peak. She even said that won't hit the trail, and would just sit and wait at the tree nearby.
Of course, there was no way I was going to leave her there, while I'm on top enjoying the bird's eye views of Binabaje Hills. With my convincing words of wisdom and encouragement, she ultimately unleashed her inner hiker, and scaled these tough trails.
Soon, we arrived at this photogenic part of Binabaje Hills, which highlighted the beauty of the park and showcased an overlooking view of Ubay's dam.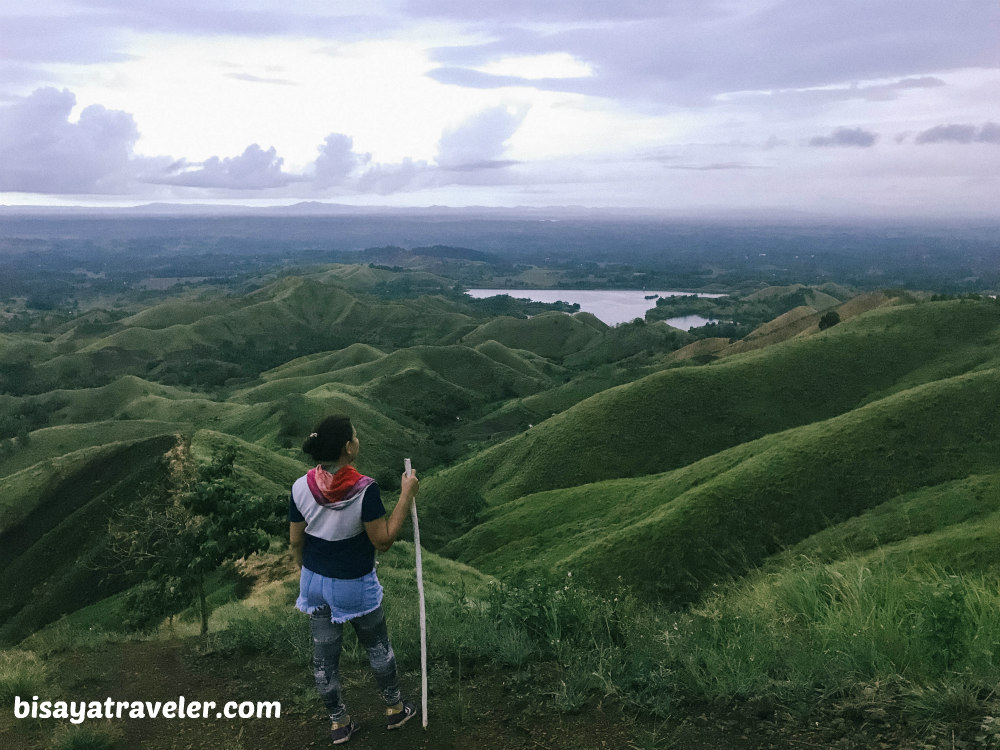 Unfortunately, rain was bit by bit starting to pour. And, that's why we blitzed our way to the top of Binabaje Hills and took shelter on its cottage.
With the rain gently pouring on Binabaje Hills, my lovely wife opted to chill and take a nap.
And, as we were resting, I noticed a sea of clouds formation below the peak.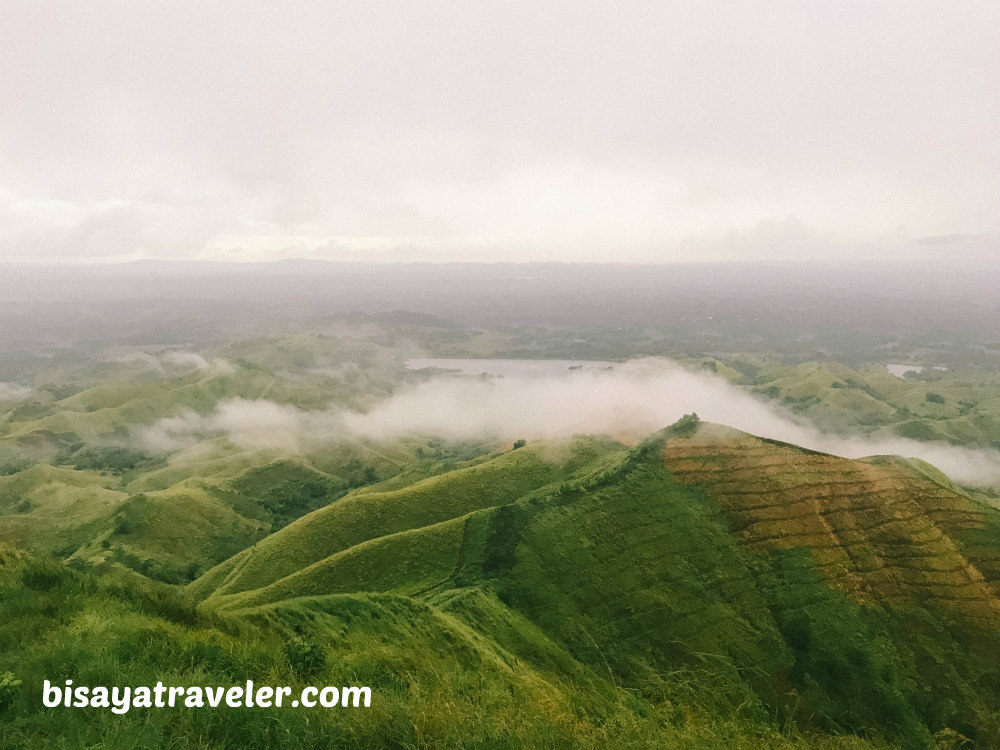 With its tantalizing views, I rushed down, to snap dozens of photographs of this natural phenomenon.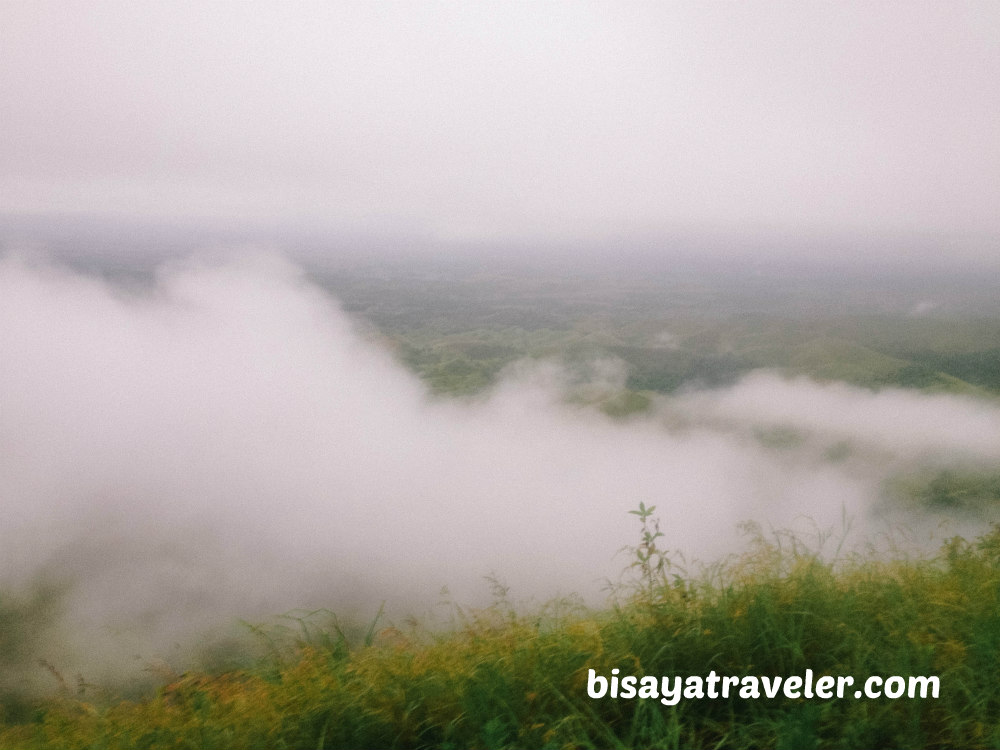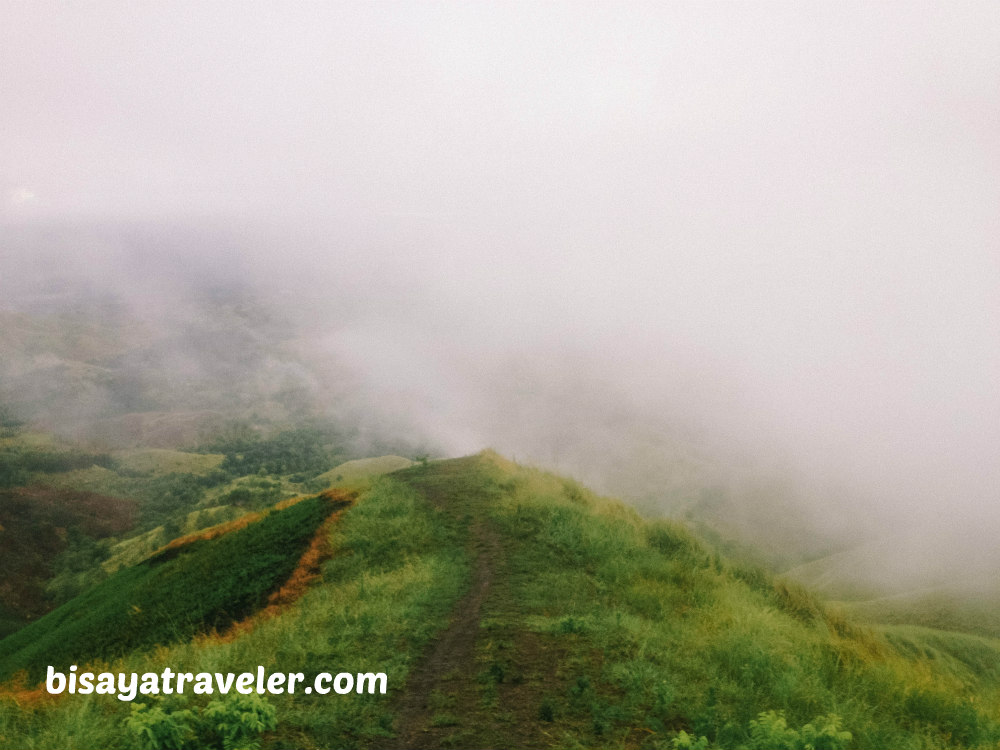 Although the drops were getting heavier, I simply couldn't resist the charm of these hills covered wonderfully by the clouds.
Dripping in sweat and rain, I had to get back to the cottage above, with the winds howling and the rain getting stronger by the second.
And, when I arrived at the cottage, we were literally covered in fog.  Except for some portions of Binabaje Hills, I saw nothing, but white at this moment of our day adventure.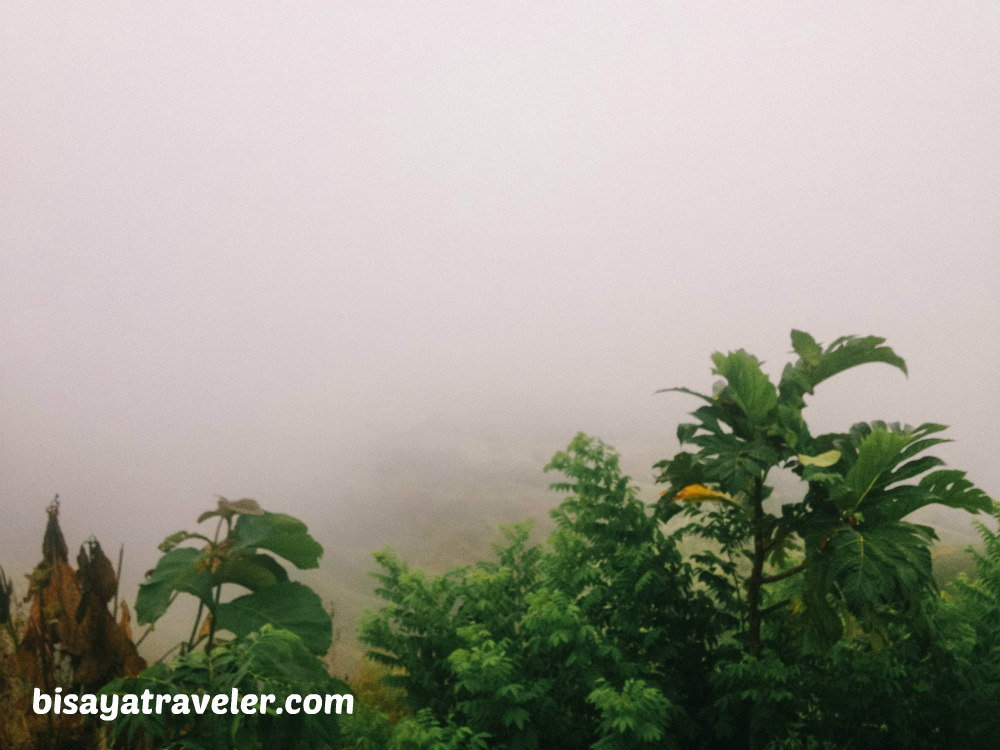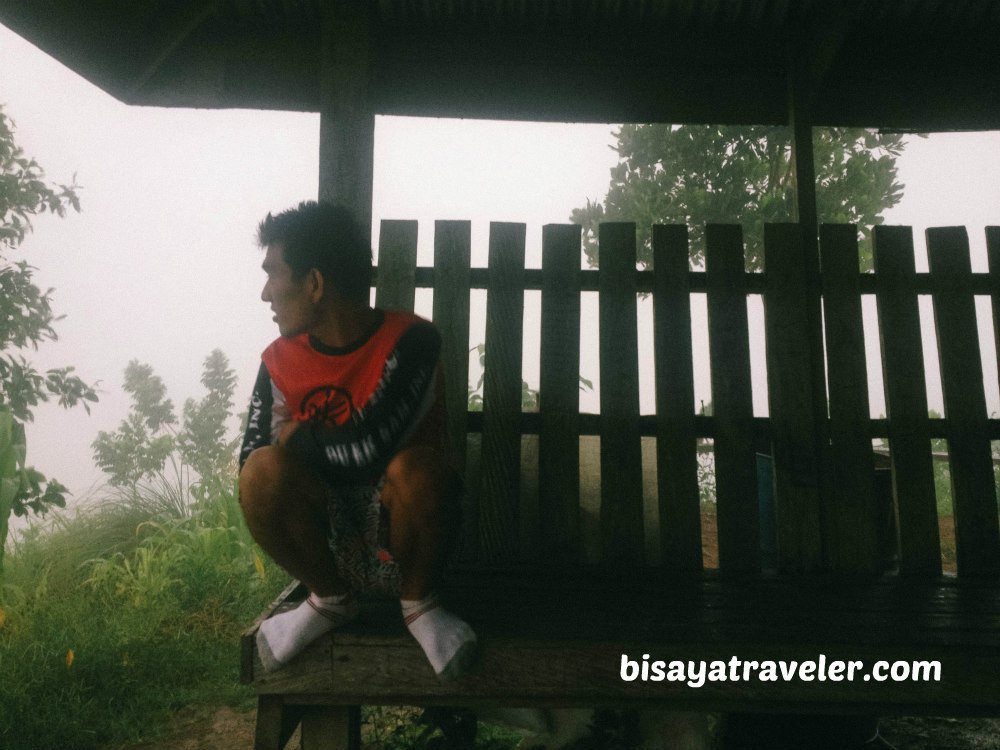 Truthfully, I was pissed off and a bit disappointed with the outcome of our hike at that moment.
Although the views earlier were great, it wasn't enough to appease my wanderlust.
Once, I even wondered if I made the right decision to hike Binabaje Hills on that day.
Throughout the week prior to our visit, I was bogged down by an array of things, from health issues like a never-ending headache to my jam-packed workload.
Plus, there were indications like the unstable weather implying that our hike would turn into a disaster.
"I should have heeded the signs", I uttered these words to myself. "This isn't the Binabaje Hills that I've imagined for days".
But, as I was browsing through the photos on my phone, I got a sweet reminder of the quotes "there's always rainbow after the rain" and "everything happens for a reason". Charoot!
Yeah, I know it's a cliché and melodramatic, but believe me, it's true, especially when it comes to hiking
Soon after, I realized that I've been through these situations on numerous situations.
And, with patience and persistence, they usually turn into a spectacle or a series of memorable moments.
So, instead of complaining, I used the extra time (about an hour) we had to talk to Jun, and learn more about Alicia and surrounding towns.
All of a sudden, the rain stopped. And to my delight, I saw a dazzling and remarkable sight, with Binabaje hills calmly and wondrously revealing its mesmerizing natural beauty.
With my wife rested and ready to finish the hike, we went back to the vantage point we visited earlier, and snapped tons of photographs.
This time, it was totally gorgeous!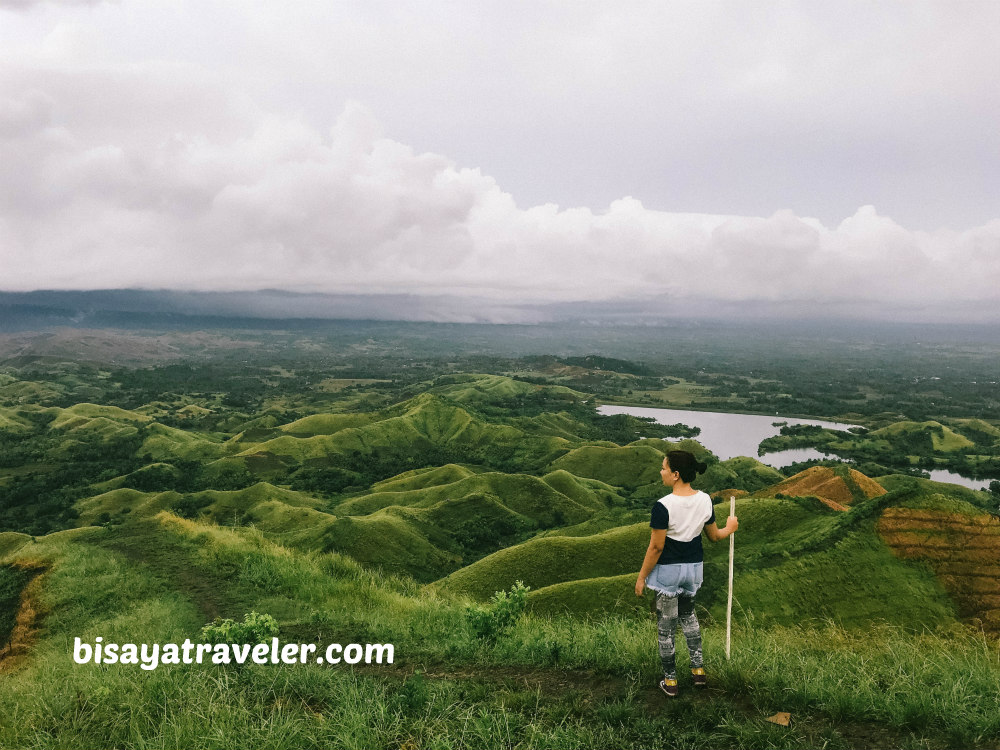 Originally, our plan was to hike the same trail back to the base of Binabaje Hills.
But, thanks to Jun's suggestions, we took a different path – trail C – to the base of our hike.
After some snaps, we continued with our hike, by hitting the cottage and campsite of Binabaje Hills.
From there, we were treated to a bunch of splendid panoramas of this side in Bohol.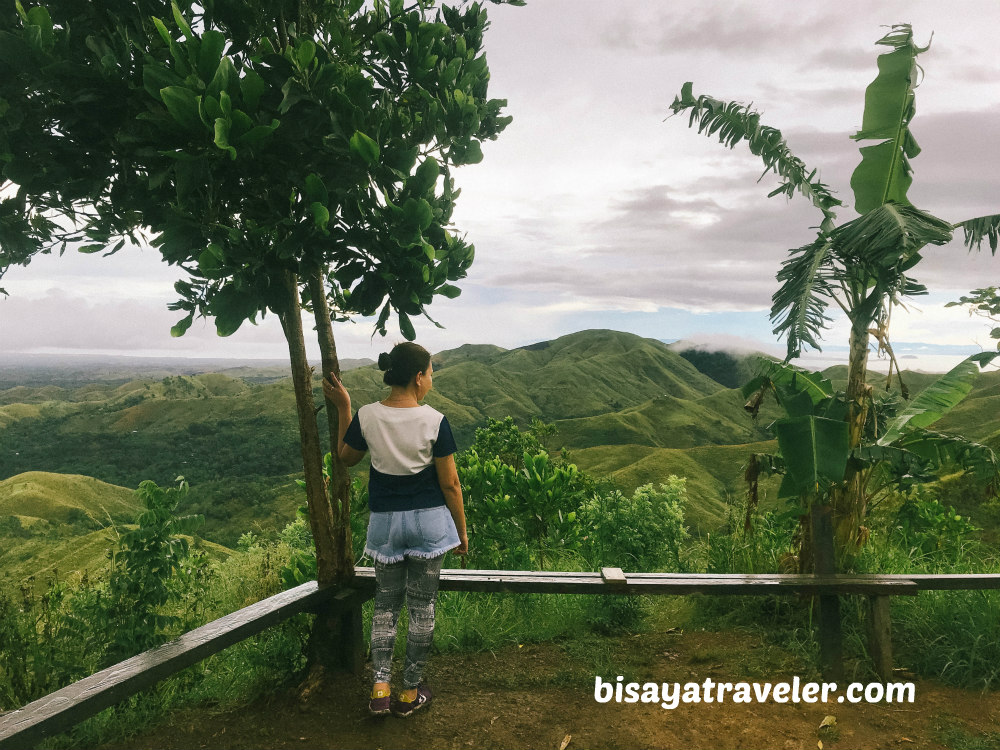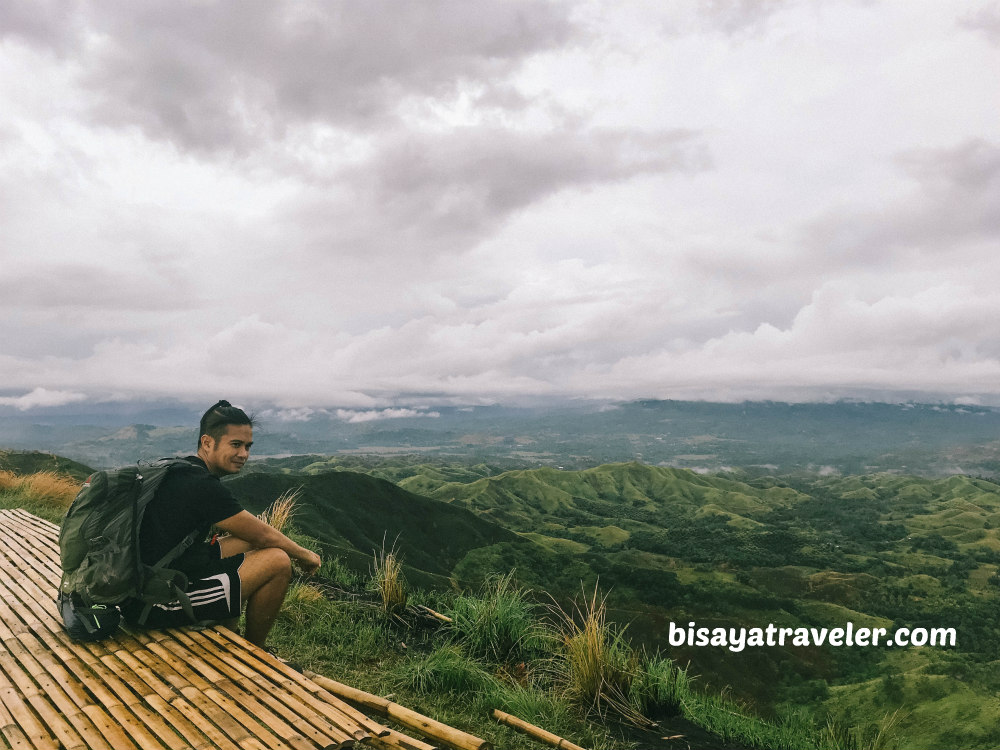 As an added bonus, I discovered that peak serves a border to three towns in Bohol – Alicia, Ubay and Mabini.
In other words, we were standing in three places at once, just like Mount Mago in Cebu. Awesome, right?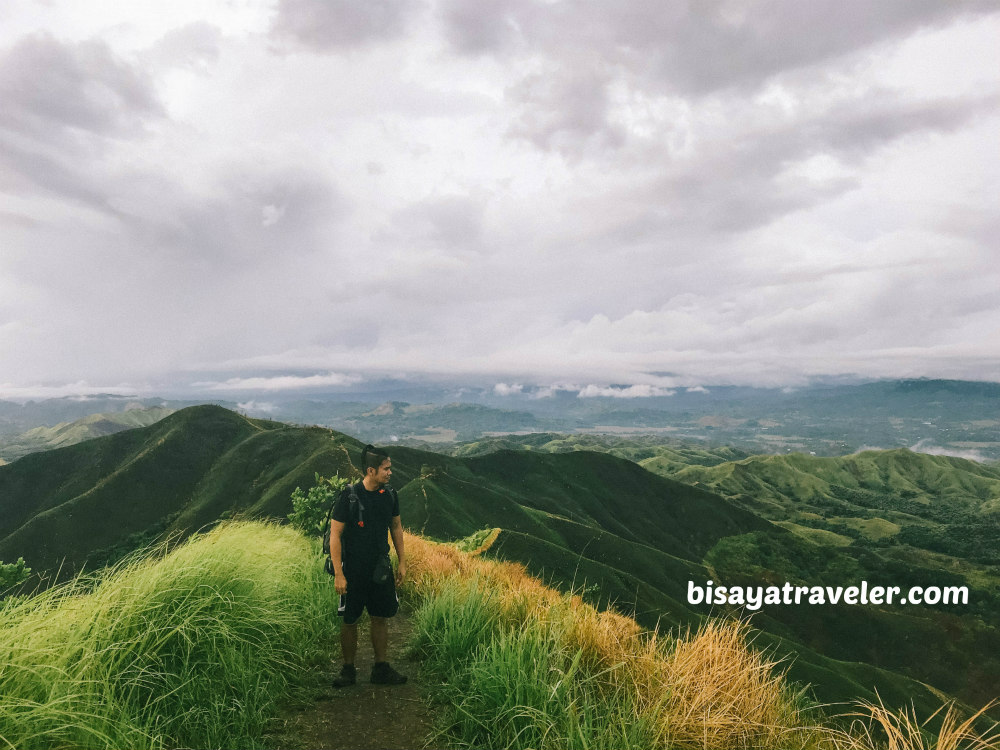 With a refreshing morning breeze and a pleasant weather, we walked leisurely on the Instagram-worthy Binabaje Hills.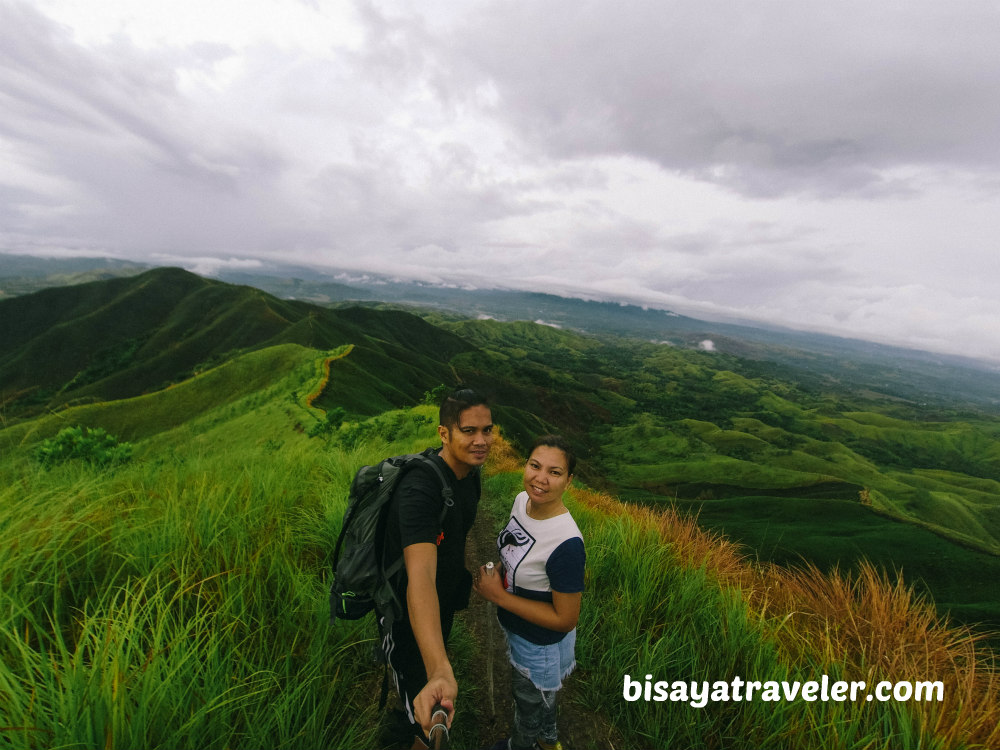 Along the way, we made a ton of stops, to soak up the scenery, and take pictures of these striking mountains and hills in the Alicia Panoramic Park.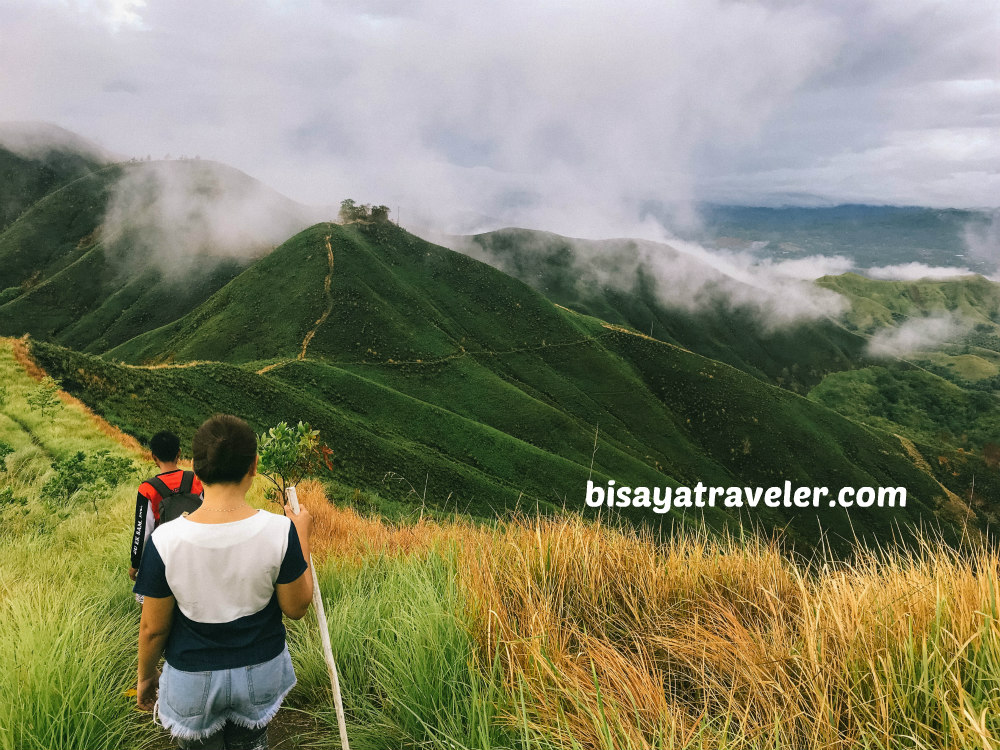 I've seen the iconic Chocolate Hills in Carmen, and was awestruck by the mind-blowing of sea of clouds in Danao. And, in my book, the Alicia Panoramic Park is, without a doubt, one of the best and most visually appealing attractions in Bohol. No hyperbole!
Honestly, I can't remember how many times we paused for photo ops. For the first time in a long while, we were just living in the moment, and savoring the fruits of our patience and persistence. And, I absolutely crave for these moments, and sharing it with the person I love the most just heightened the whole experience.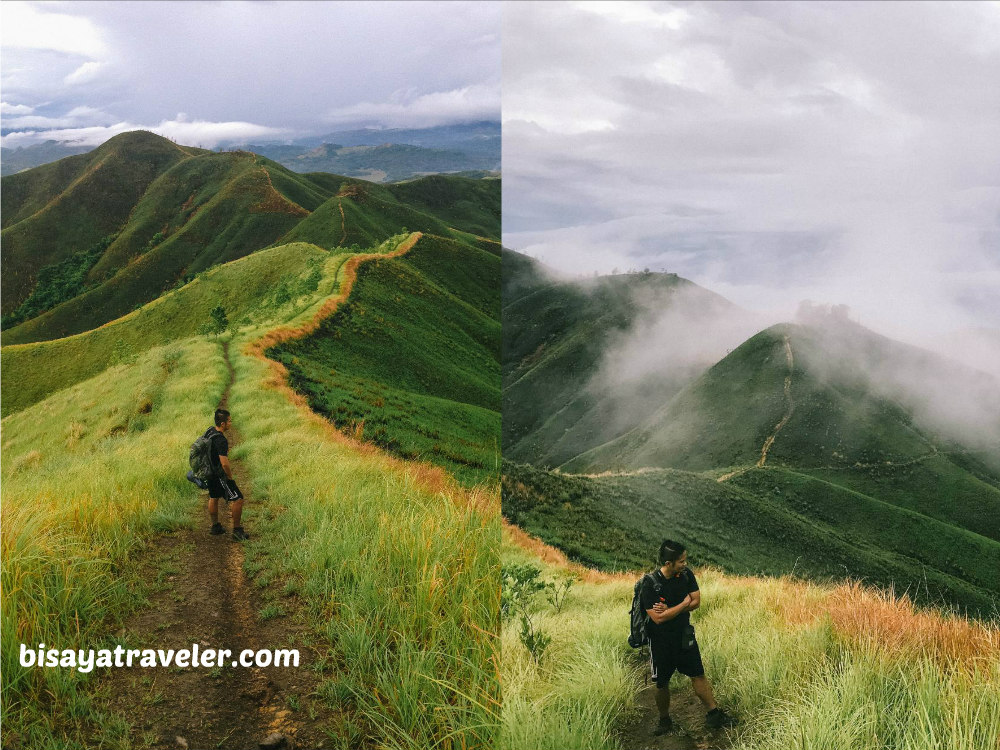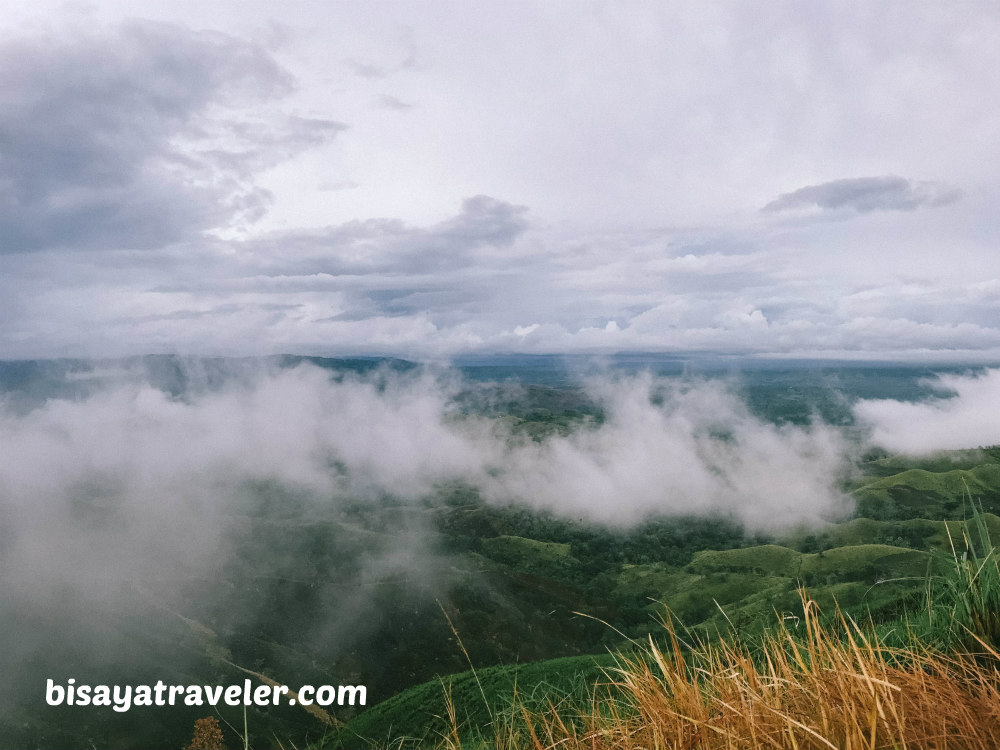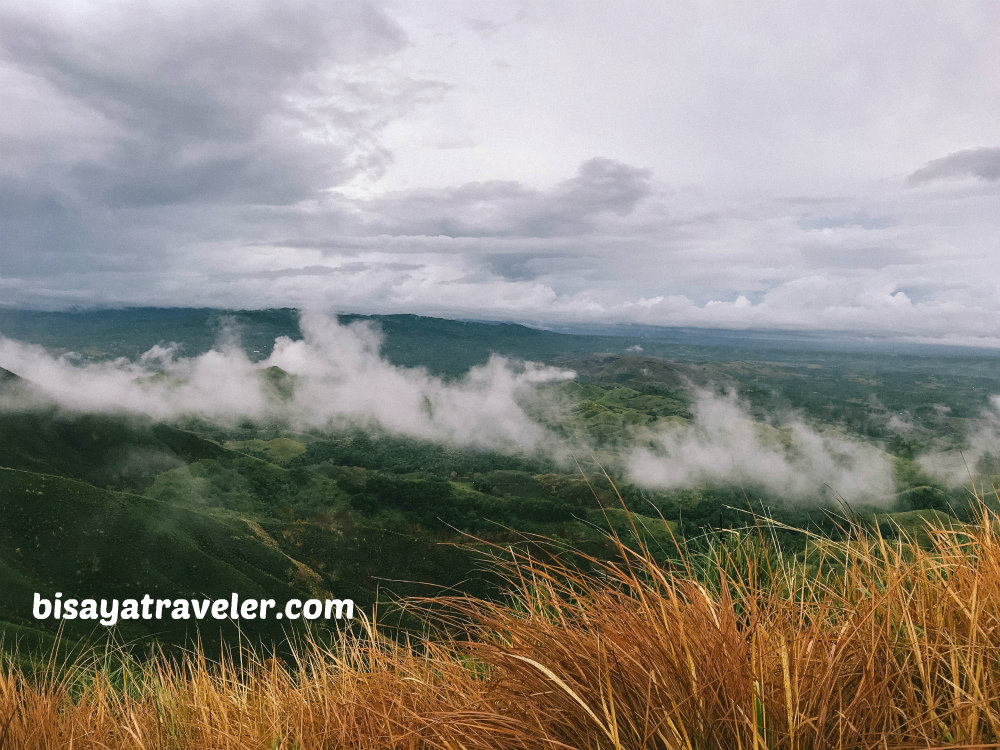 With Jun on the lead, we descended via this picture-perfect C trail, and stopped whenever we saw something Instagrammable.
While walking, we also got a glimpse of the havoc caused by the grass fire a week ago. And surprisingly, there were some bizarrely beautiful spots caused by this grass fire, such as these trees that made Binabaje Hills look like a South Korean destination in autumn.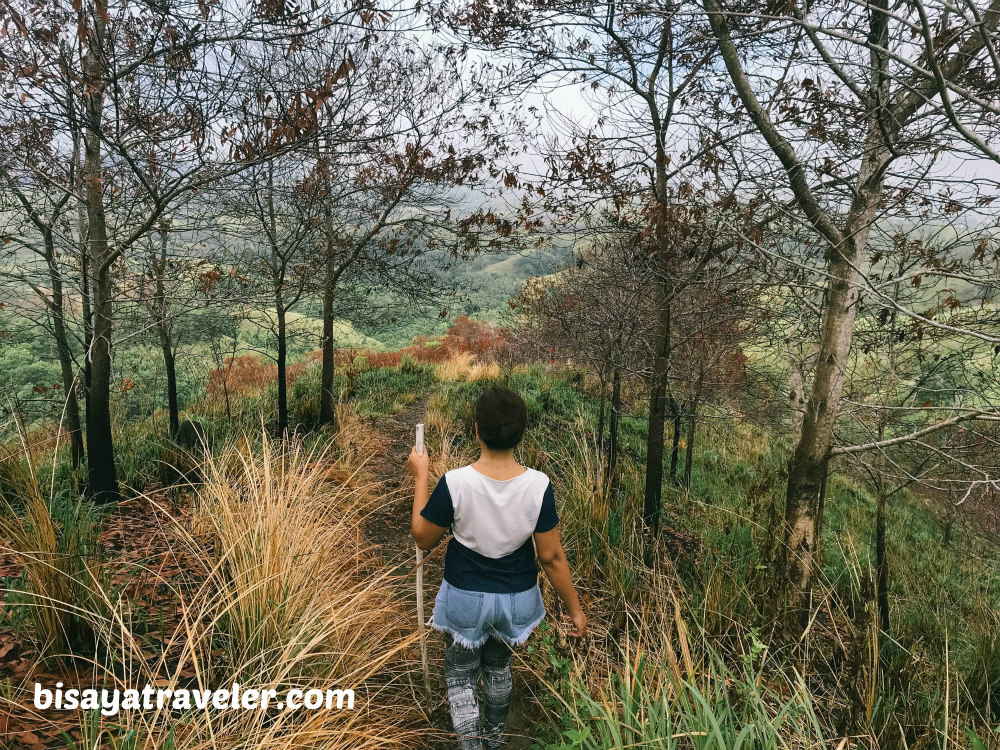 Moments later, we arrived at the base of Binabaje Hills, and headed to the next stop of our Bohol weekend getaway – Candijay.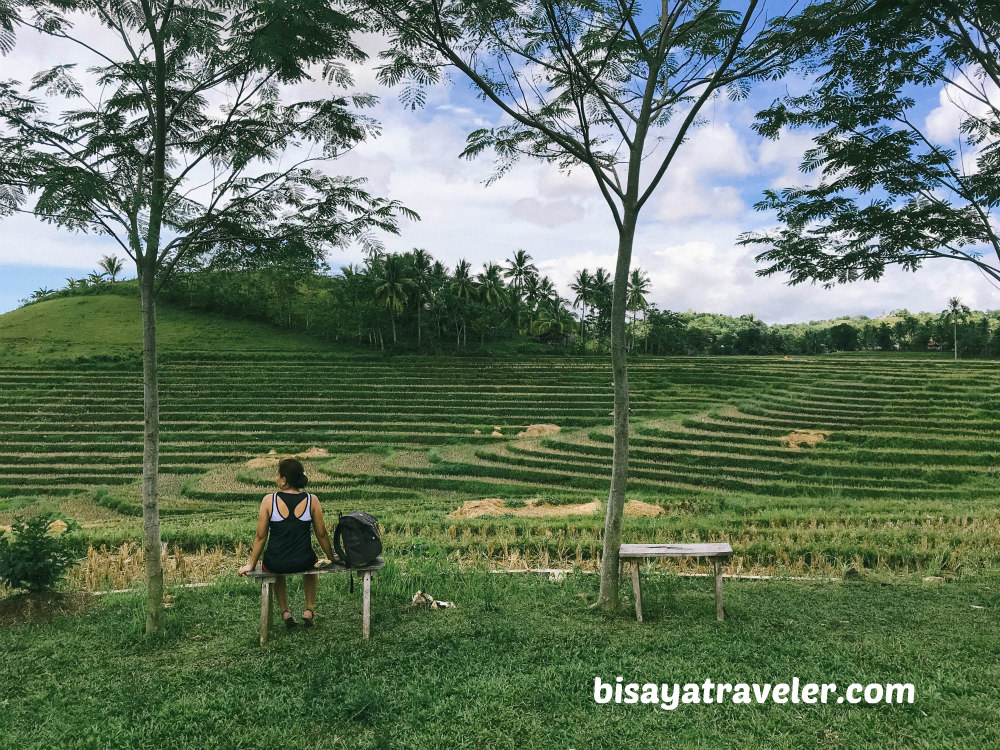 How to get to the Alicia Panoramic Park:
Before you make any plans to Binabaje Hills, make sure to contact Alicia's Municipal Tourism officer, ma'am Godelia Lumogdang, at 0933-8655-650. From assigning a dependable guide to designating habal-habal drivers, she will make things a breeze and a whole lot simpler on your end.
Via Ubay (our preferred route from Cebu):
There's a boat ride from Cebu City to Ubay every 9:00 PM at Pier 1 via J & N Shipping. Travel time is about 5 to 6 hours and fare is PHP 240 to 350, depending on your cabin or class. Upon your arrival in Ubay, take a bus ride (first trip is 3 AM) to Alicia Municipal Hall. Travel time is 20 to 30 minutes, and fare is PHP 30. Once there, take a habal-habal ride to the base of Binabaje Hills.
Take note that J & Shipping only issues tickets at their office in Mariner's Court, Pier 1, from 3 PM onwards.
Via Tagbilaran:
From the city's sea port, take a tricycle ride to Dao Terminal, and catch a bus or van bound for Ubay. Travel time is 2 to 3 hours, and fare is around PHP 100 to 140.
Typical costs for a Binabaje Hills hike:
Habal-habal ride (back and forth): PHP 200 per person
Guide fee: PHP 300 per group, or PHP 500  per group if staying overnight (good for 5 hikers)
Entrance fee (to be imposed soon): PHP 30 per person
Our Bohol weekend getaway itinerary:
Friday
03:00 PM: Buy ferry tickets
06:30 PM: Early dinner
07:30 PM: ETA Pier 1/rest
08:30 PM: ETA J & N Ferry
09:30 PM: Depart from Cebu City
Saturday
02:20 AM: ETA Ubay port
03:00 AM: Depart for Alicia
03:30 AM: ETA Alicia Municipal Hall/breakfast
03: 50 AM: Depart from Alicia Municipal Hall
04:20 AM: ETA Base/start hike to Binabaje Hills
05:30 AM: Summit of Binabaje Hills/rest/wait for the rain to stop
07:00 AM: Resume picture taking
07:25 AM: Start descend
08: 00 AM: ETA Base
08:15 AM: Depart for Alicia town center
09:00 AM: ETA town proper
09:10 AM: Depart for Cadapdapan Rice terraces and Cam-umantad Falls
10:20 AM: ETA Cam-untad Falls and Cadapdapan Rice terraces
11:45 PM: Depart for Lungsoda-an
12:30 PM: Lunch
12:50 PM: Depart for Canawa Spring
01:20 PM: ETA Canawa Spring
01:40 PM: Depart for Anda
02:40 PM: ETA Anda
03:30 PM: Siesta
06:45 PM: Dinner
07:30 PM: Chill at the beach
09:00 PM: Lights off
Sunday
05:15 AM: Wake up
05:30 AM: Check out the sunrise at the beach
06:00 AM: Attend the early mass
07:30 AM: Breakfast at inn/shower/make final preparations
08:30 AM: Depart from Anda
09:30 AM: ETA Bohol's Glowing Garden or AKA Jardin Necesitas
11:30 AM: ETA Tubigon port/buy tickets
01:30 PM: Depart for Cebu City
02:30 PM: ETA Pier 3, Cebu City
03:30 PM: Home sweet home
Things to take note:
Practice the LEAVE NO TRACE principles.
Pack at least 2 liters of water.
Bring trail food/snacks.
If you want to follow our itinerary, I suggest that you buy your breakfast in Cebu, as the market in Alicia opens around 6 AM.
If you plan to stay overnight, don't forget to bring a jacket, sleeping mat, socks and a sturdy tent.
Bring ION drinks like Gatorade or Pocari Sweat.
Wear trekking shoes or sandals with great traction.
Pack full-fingered gloves, leggings and arm guards.
And, by the way, I'd like to say thanks to James Glendon and miss Czarina, or also called as Boholana on the go, for the nuggets of information they have shared.
"Good things come to those who wait". So, the next time you're bogged down by something, stay calm, be patient, and look on the bright side. Who knows? Maybe, you'll see something as grand, majestic and awe-inspiring as the landscapes and sea of clouds in Binabaje Hills.