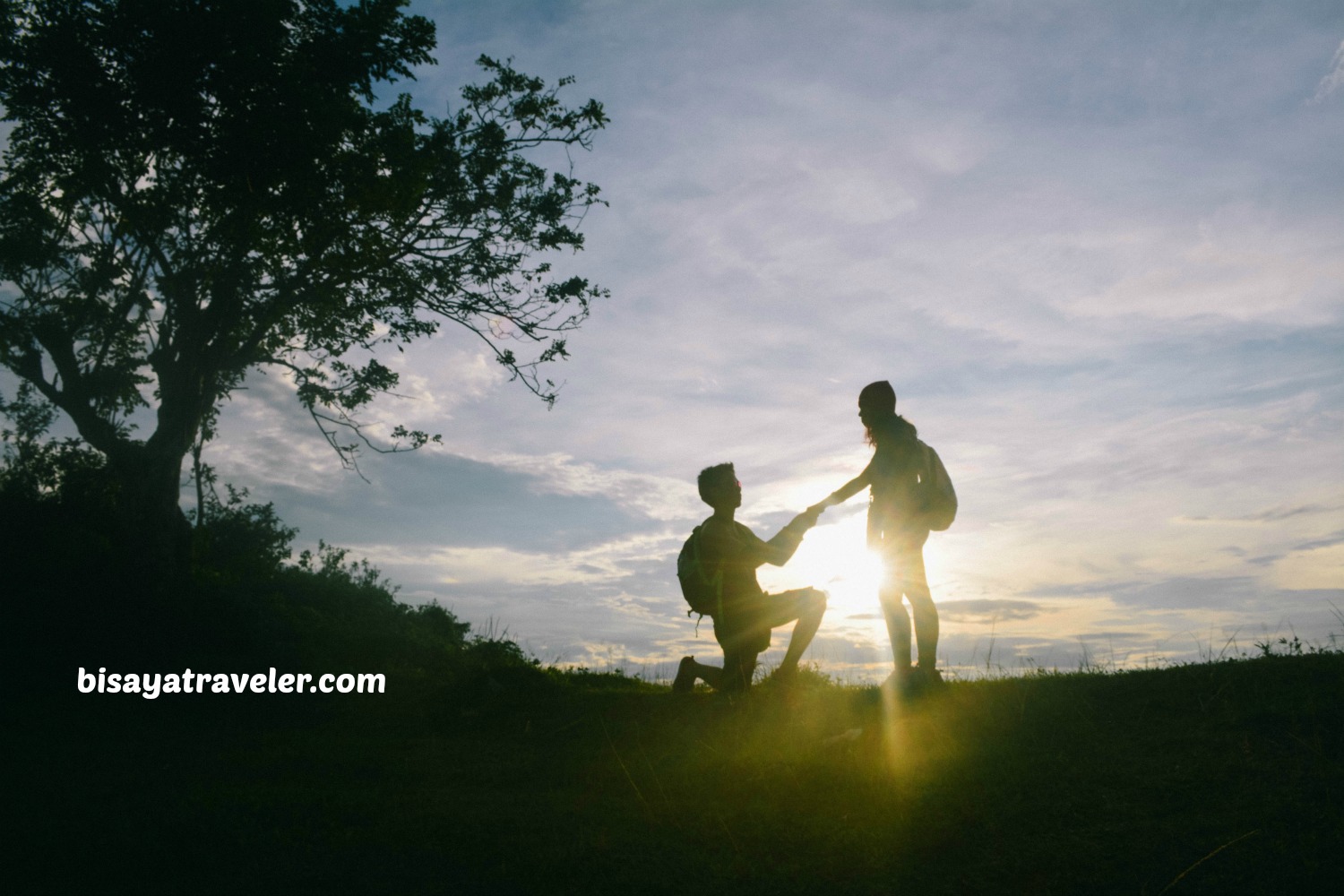 Kabalas: Unwinding At Mount Naupa's Postcard-worthy Neighbor
The first time I laid eyes on Kabalas, I was truly enchanted by its natural beauty. As a matter of fact, I was so engrossed by its charm that we – me, Cherwinn, John Chris and Marc – decided to spend some time there, unwinding and drinking in the serene and beautiful atmosphere. And thanks to a spontaneous and out-of-the-blue hike to Naga, I got another chance to cherish its laid-back, relaxing and postcard-worthy scenery. This time, I was accompanied by a bunch of like-minded adventurers – Kevin, Shiela, Jovy, Mel and Reymund, or fondly known as Idol.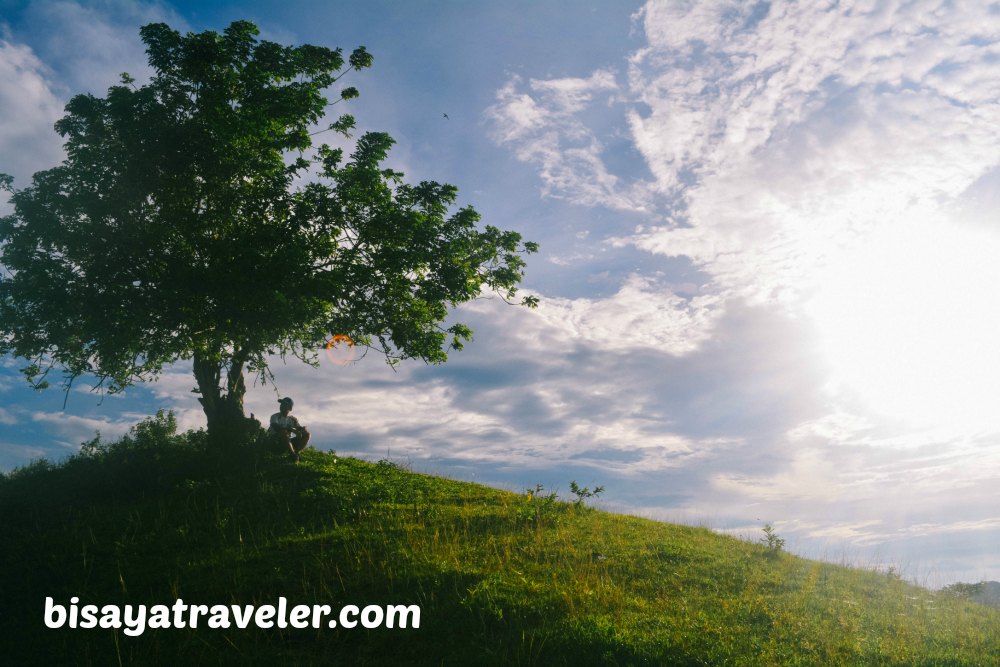 Our Kabalas experience
We were fresh out of a fun hike in Naga City, hitting Pangilatan and Mount Magdook. With plenty of free time in our hands, we, as a team, opted to take a hike on one of Cebu's most popular outdoor destinations – Mount Naupa. From Cantao-an, we hopped on a habal-habal ride bound to Cogon – the base for most Mount Naupa and Kabalas hikes.
Unfortunately, the weather didn't cooperate with us, on our way to Cogon and Kabalas. As we were about to reach the church in Cogon, we unexpectedly got caught in a downpour.
Amazingly, though, the rain didn't curb our enthusiasm to hike Mount Naupa and Kabalas. If anything, it made us more inspired to scale Kabalas since we were all hoping to catch a glimpse of a rare appearance of the striking sea of clouds.  Last time Mel and Jovy were in Mount Naupa, they got to see this awe-inspiring natural phenomenon in person. Although no one exactly knows when this enchanting spectacle appears, the sea of clouds in Mount Naupa (according to sources) usually flaunts its beauty after a rain.
For a few minutes, we waited for the rain to stop on a shady area of the church. And when the rain finally stooped, we wasted no time, and began our hike to Mount Naupa and Kabalas.
Except for Idol, everyone on the team has been to Mount Naupa before.  In other words, there wasn't much excitement along the way since there wasn't an element of surprise. What's more, the magical sea of clouds in Mount Naupa didn't show up, on our hike up to the summit. Little did they know, The Bisaya Traveler had a special treat in mind for these adventurers.
Moments later, we arrived at the well-known boat-like hut near Mount Naupa, wherein the girls of the squad posed one of Team Bang's trademark group shots.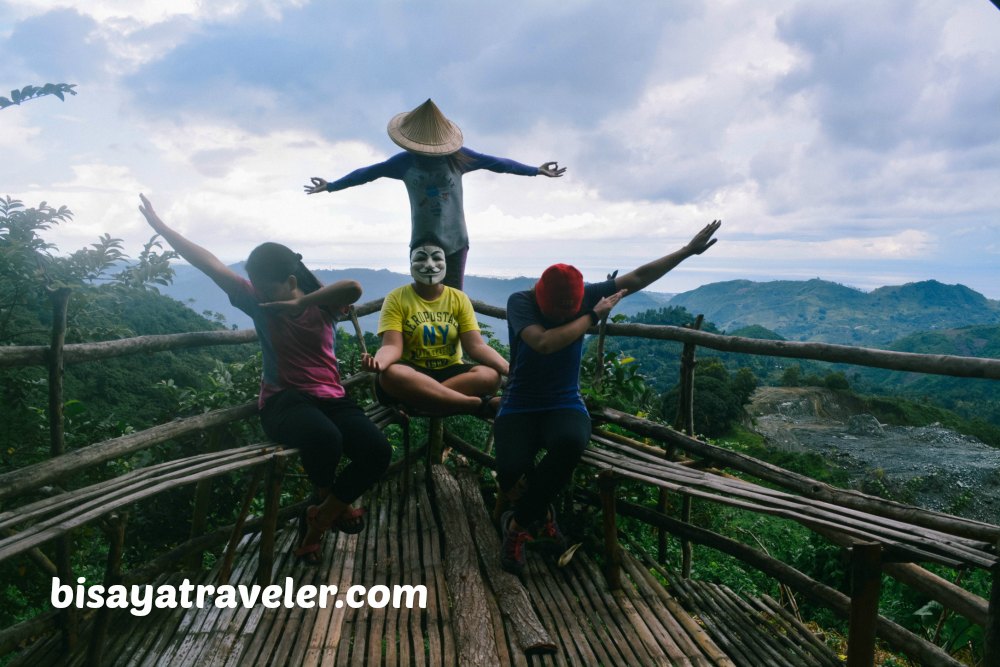 With a looming rainstorm, we were forced to shorten our break, and hasten the pace to Mount Naupa. We, then, paid the required entrance fee, and made our way to one of the camp sites of the mountain.
As far as I know, there are a couple of camp sites in Mount Naupa – the hilly site, and the one closer to the actual peak of Mount Naupa. The latter now has an entrance fee of PHP 20 per person. I was a little taken aback because I there wasn't any entrance fee during my recent visits to this mountain in Naga city, Cebu.
So, we climbed the hilly camp site, and enjoyed the views on the top. Sadly, the weather was once again not on our side. With gusty winds, dark skies and rain approaching, we descended from the hill, and headed for shelter in the nearby hut. While waiting for the rain to stop, the whole group munched a few snacks.
And, all of a sudden, a familiar-looking dog came into sight, begging for food and drinks. If my memory serves me right, this was the brown dog whom we called Predo on our previous Mount Naupa hike. Just like old times, the dog responded fairly, every time we tagged him as Predo.
Soon after, I asked the team, if they are interested in climbing the real peak of Mount Naupa and Kabalas. As you might have expected, they all answered with a resounding yes.
With everyone on board with your new plan, we stepped inside the fenced area of Mount Naupa, and took on the thorny and bushy trail to Mount Naupa.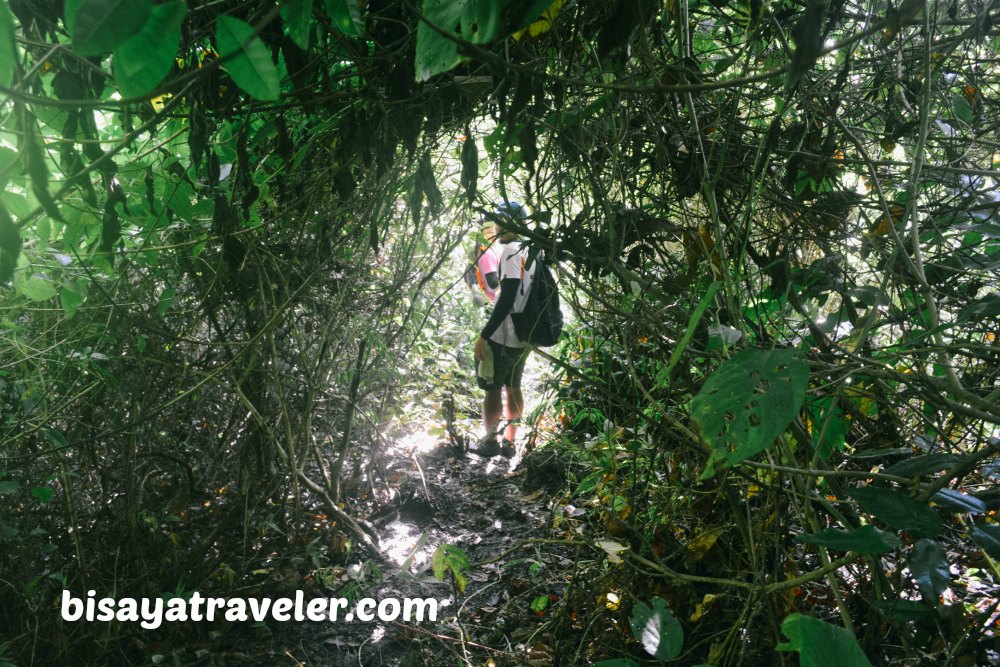 Moments later, we arrived at Mount Naupa's grassy summit.
And guess what? Predo the dog also joined us to the top. Sometimes, I have to carry him to reach some of the difficult spots on the peak. And boy, he was fat and heavy, for an askal.
Despite its lofty elevation, there wasn't much to see on top of this mountain. After all, the peak is surrounded by thick foliage, blocking the breathtaking 360-degree panoramas.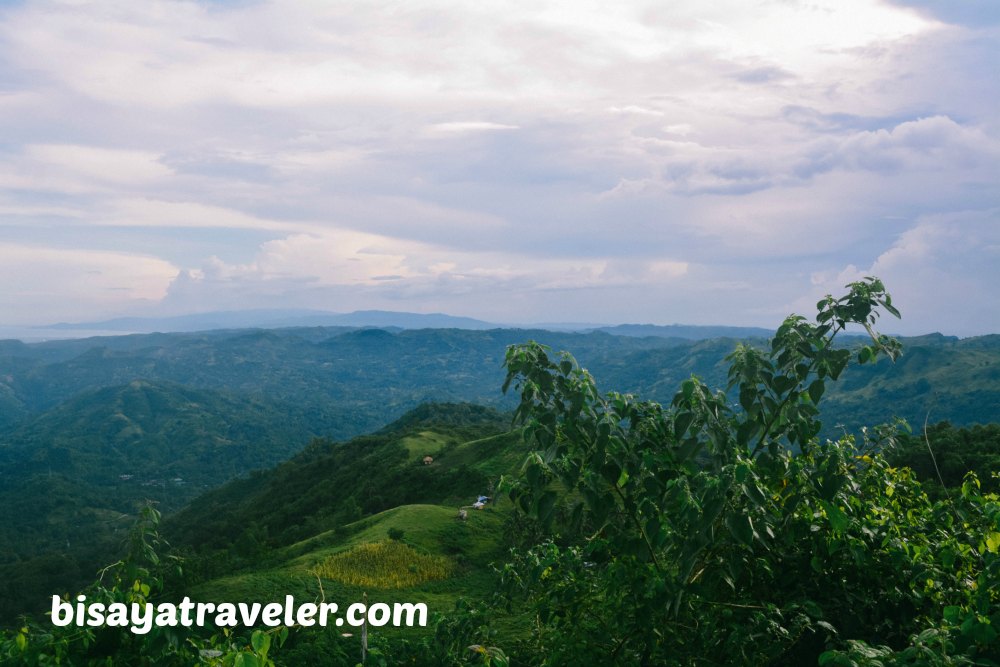 Later on, we descended, and took a right turn to the trail leading to Kabalas. Gelique, however, had to get back to the base because he was working later that night.
For some reason, the trail to Kabalas was even more scenic and atmospheric than the last time I was there. With its gorgeous slopes and perfectly beautiful weather, walking on the pathway to Kabalas felt like walking into the rolling hills of Batanes or the picturesque landscapes of New Zealand.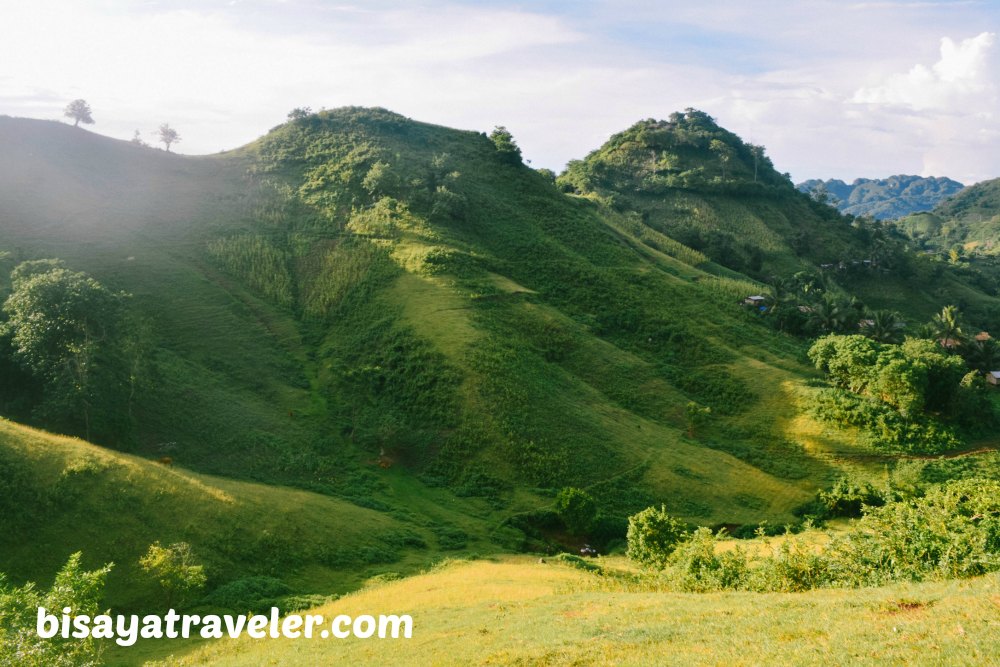 Eventually, we arrived at Kabalas where everybody was utterly enthralled by its majestic scenery.
And the guys can't just stop clicking their cameras, unleashing their inner shutterbugs, with the dramatic views and backdrop of Kabalas. Trust me, you'll also feel the urge to snap dozens of photographs, once you set your sights on Kabalas and its lovely tree and grassy fields.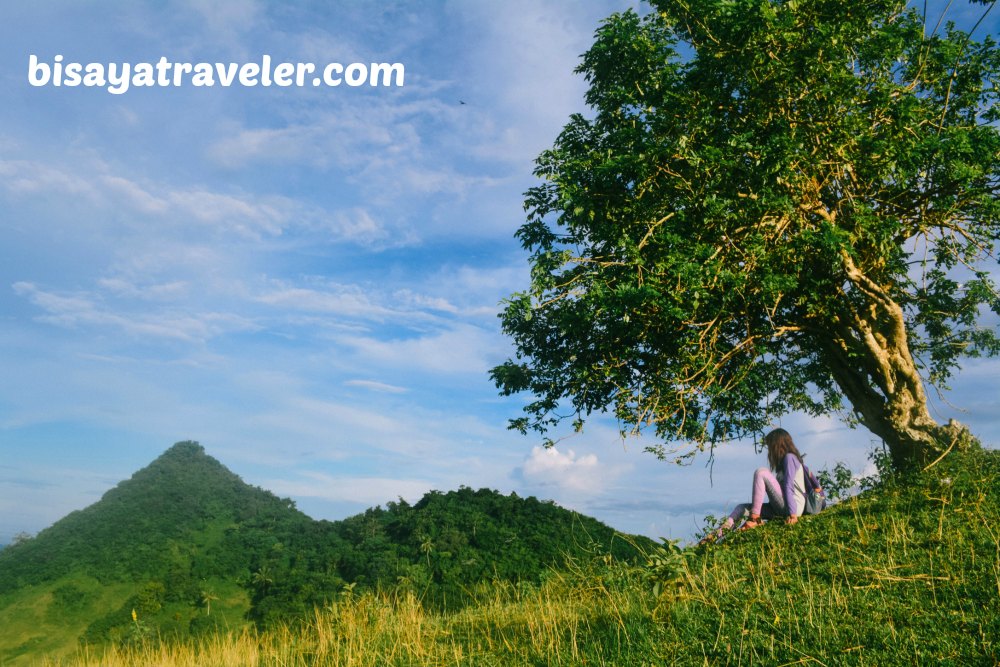 I, meanwhile, climbed to the top of Kabalas, to enjoy the panorama as well as to rest and unwind. Later on, the whole team joined me on top, to chill out and reflect on our wondrous Sunday hike.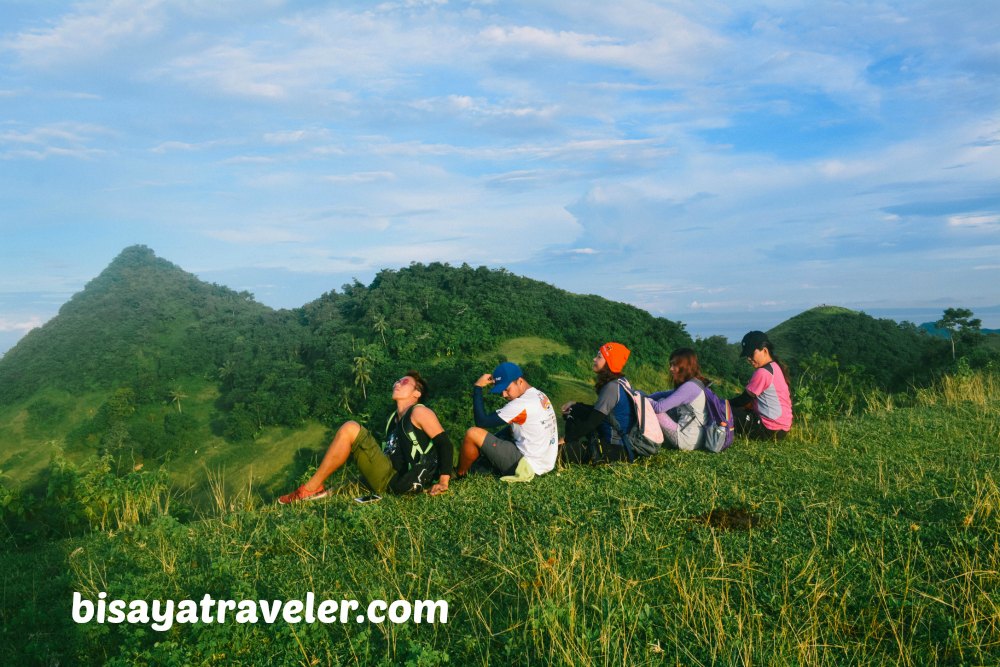 Although the views are nothing short of breathtaking, the best part of Kabalas to me is its serene feel. Unlike its neighbor, Kabalas is free from Naupa's typical flocks of hikers and tourists.
For memorabilia's sake, I asked Idol took a photo of me with the sun about the set in the background.
Since it was getting a little late, we were compelled to descend to the base, and capped off an amazing day.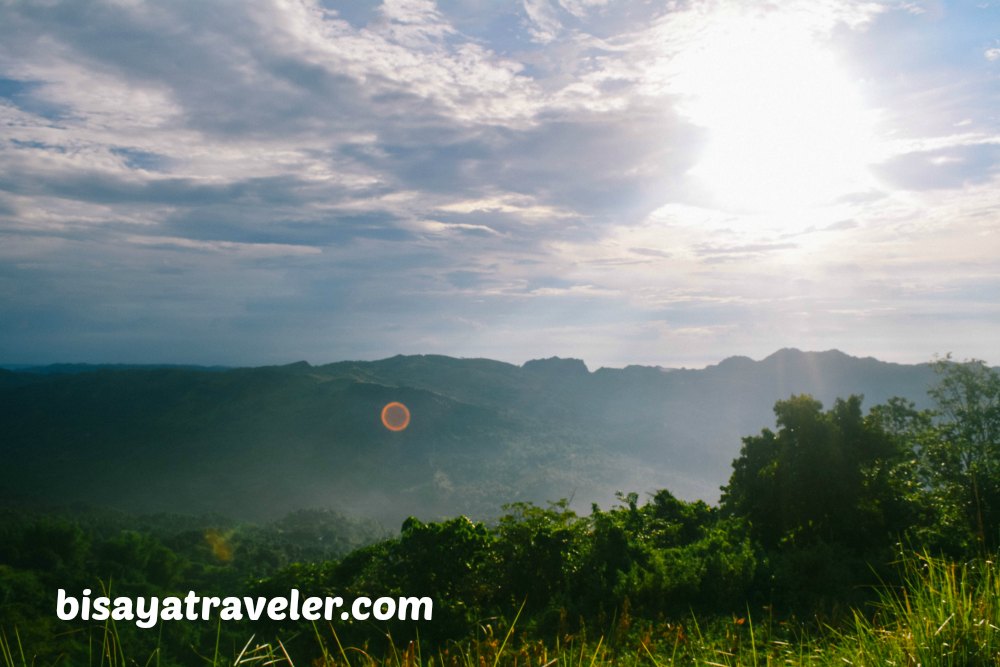 But, before that, we took a few more silhouette shots in the area's lone tree. There were a lot of snaps on this spot in Kabalas, but to me, the best one was Idol and Mel's silhouette shot.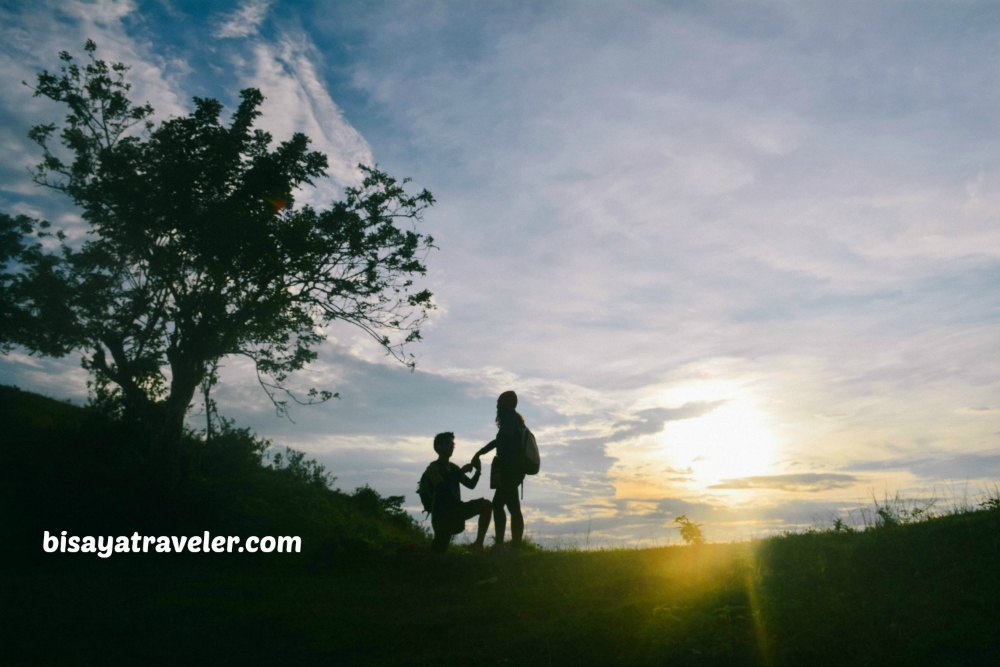 Mel and Idol aren't an item or romantically linked, as of now. Take note, they just met each other on this day hike in Naga city. But, I must admit they look like the real deal in this photo.
As a matter of fact, some of my friends in Facebook and Instagram thought this wasn't staged and was an actual proposal on the mountains. The way I saw it, Idol poured his heart out on this pose, acting like he was about to propose to his Mi Amore!
I guess Idol is a good actor with the potential to be the next Coco Martin or Gardo Versosa. Or maybe, he felt the butterflies in his stomach, the moment he saw Mel. Folks, those are just wild and wacky guesses, and may be a bit far from reality. But, who knows? We'll soon find out, as they continue to share the trail with us.
Just when I thought the pictorials were over, we saw another photogenic spot in Kabalas. Once again, Idol asked for Mel's hand, to make the photo more interesting. Honestly, I think Idol is quite a chick magnet, enthralling ladies with his hugot lines and flowery words.
This time, however, his magic didn't work on Mel. "Nanganad sad ka dah", replied Mel with a chuckle to Idol. And that's why Idol was solo admiring the sunset in this photograph in Kabalas.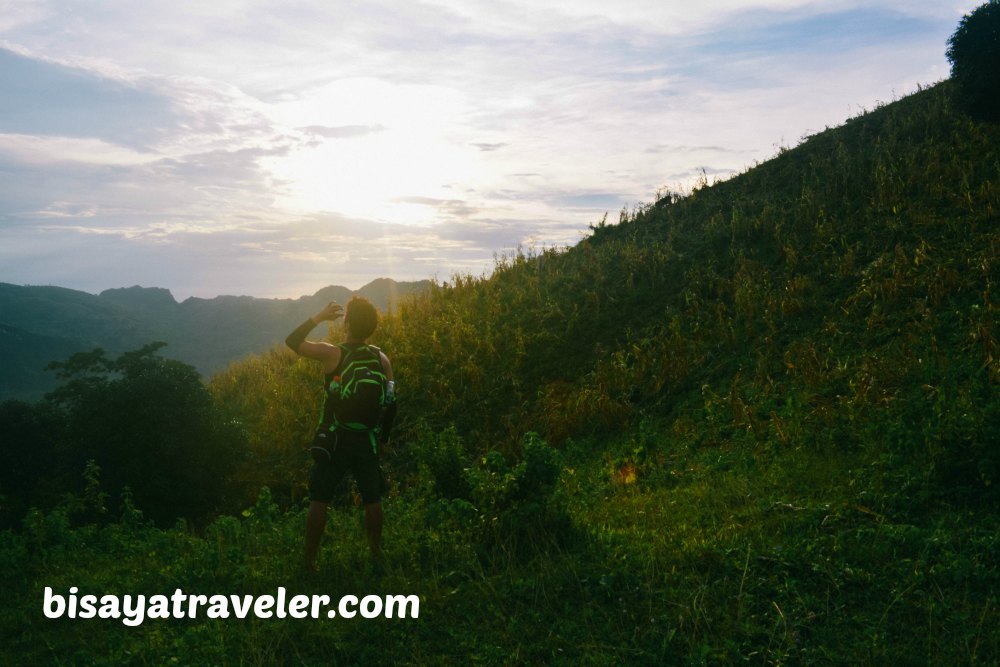 Our expenses including Mount Naupa (fare to Tungkop not included):
Habal-habal ride to Pangilatan: PHP 50
Habal-habal ride to Cogon: PHP 30
Entrance to Mount Naupa: PHP 20
Another entrance fee to Mount Naupa: PHP 20 (yes, you now have to pay twice in Naupa)
Habal-habal ride to Tungkop from Cogon: PHP 50
Guide fee: NADA
As you can see, you can have an exciting adventure, without having to spend a fortune.
 Important notes:
Don't throw your sh!t anywhere. Practice the LEAVE NO TRACE principles, mga bes.
If you don't know the trail to Kabalas, you may hire a local kid to get you to the area. Price is usually up to you and negotiable.
Pack at least 2 liters of water.
Bring ION beverages like Gatorade as well as trail food.
Wear a hat and sunscreen, to protect your skin from the sun's scorching heat.