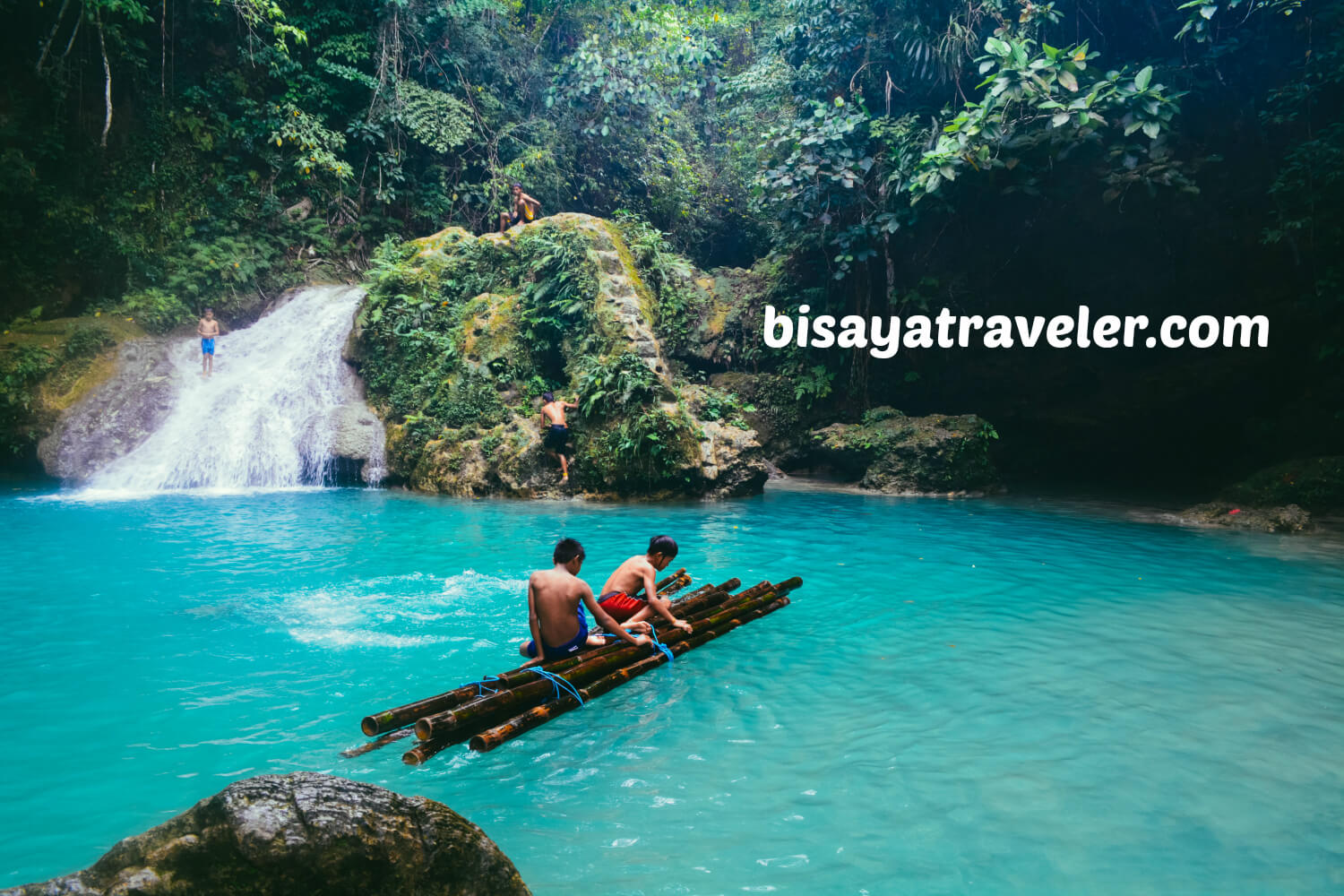 Cancalanog And Cambais Falls: Chasing Waterfalls In Alegria
Waterfalls, such as Alegria's Cancalanog and Cambais Falls, are an absolute godsend for hikers and travelers like me. Whether it's a hike up the mountains or a sightseeing trip in a quaint remote town, a plunge in a refreshing waterfall is, for me, the icing on the cake of every outdoor adventure. Awe-inspiring and simply wondrous, waterfalls are also such a mesmerizing sight to behold and an impressive natural wonder that exudes a rather relaxing feel. Truthfully, I'm not much of a swimmer, but I simply can't resist the sheer majesty and refreshing waters of these natural spectacles.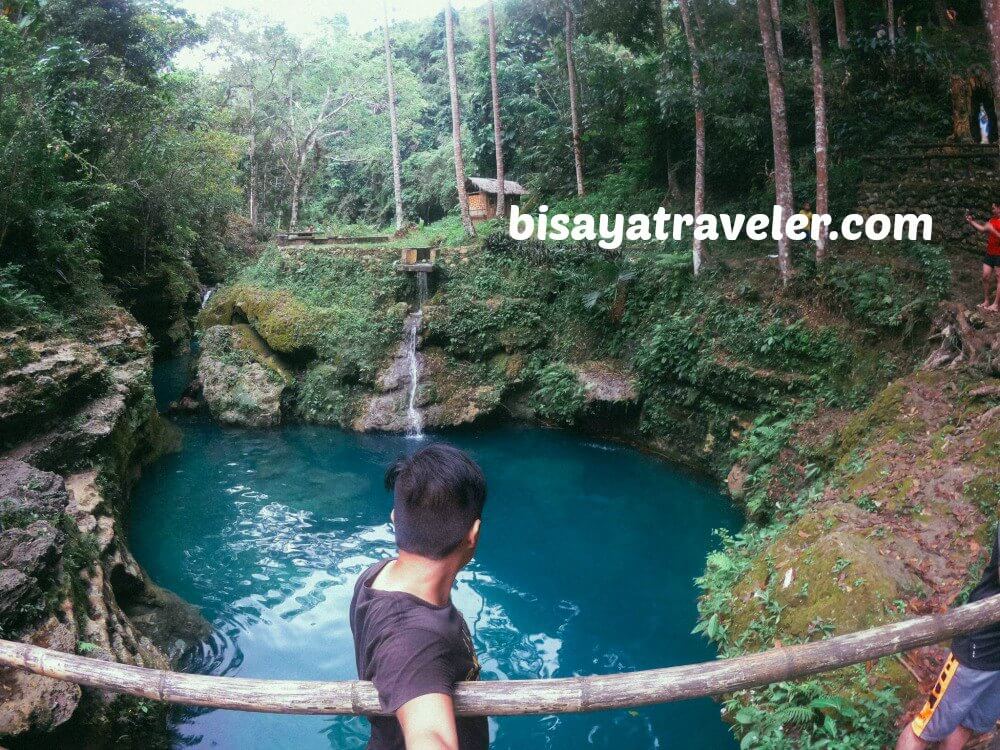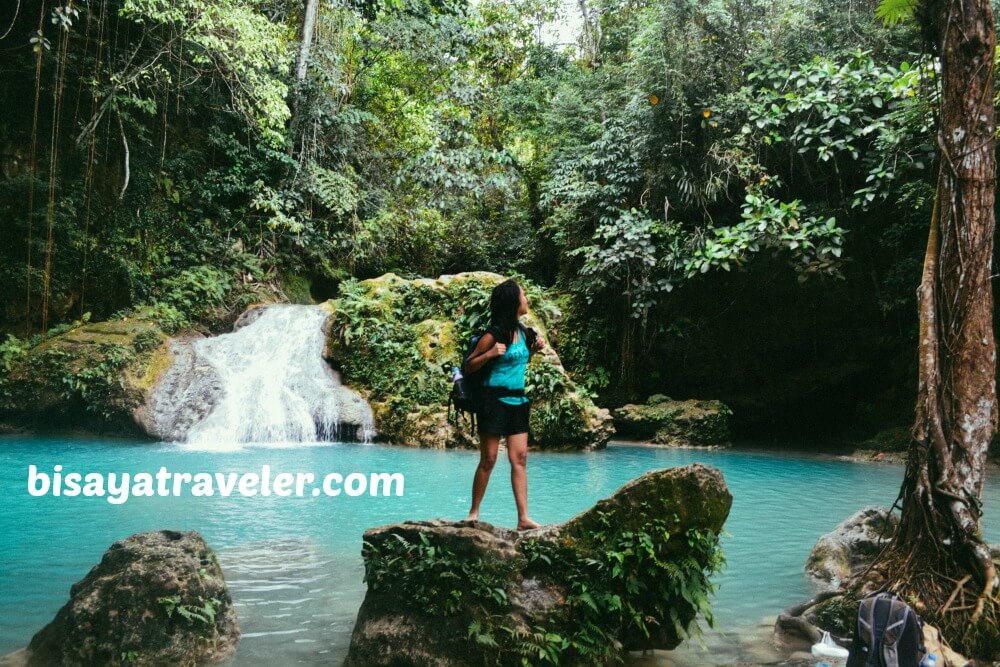 And in our recent trip to Alegria, me and rest of Team Bang were treated to not just one, but a couple of striking waterfalls – Cancalanog and Cambais Falls. Of course, we did have a blast exploring and dipping into these natural spectacles. Even though these falls were supposed to be the cherry on top, they amazingly became the highlight and main course of our trip in Alegria.
Our Cancalanog And Cambais Falls adventure
After wrapping up our Mount Lanaya adventure, we wasted no time, and headed right to our next destination – Cambais Falls. With the help of our speedy and seasoned habal-habal drivers, we arrived safely at the entrance of the Cambais Falls.
From there, we took a short walk on a relatively muddy trail leading to the registration area for Cambais Falls. And though Cambais Falls can be reached via habal-habal, we and the drivers opted to take a hike to the registration area, for safety purposes. Not only was the trail slippery, but it was pretty narrow as well, with a few bumpy spots.
But, on the bright side, there were plenty of awesome sights, along the way, including gorgeous waters, limestone rocks and healthy crops. As a matter of fact, we enjoyed every minute of the trek, taking in the lush scenery and enjoying the fresh mountain breeze.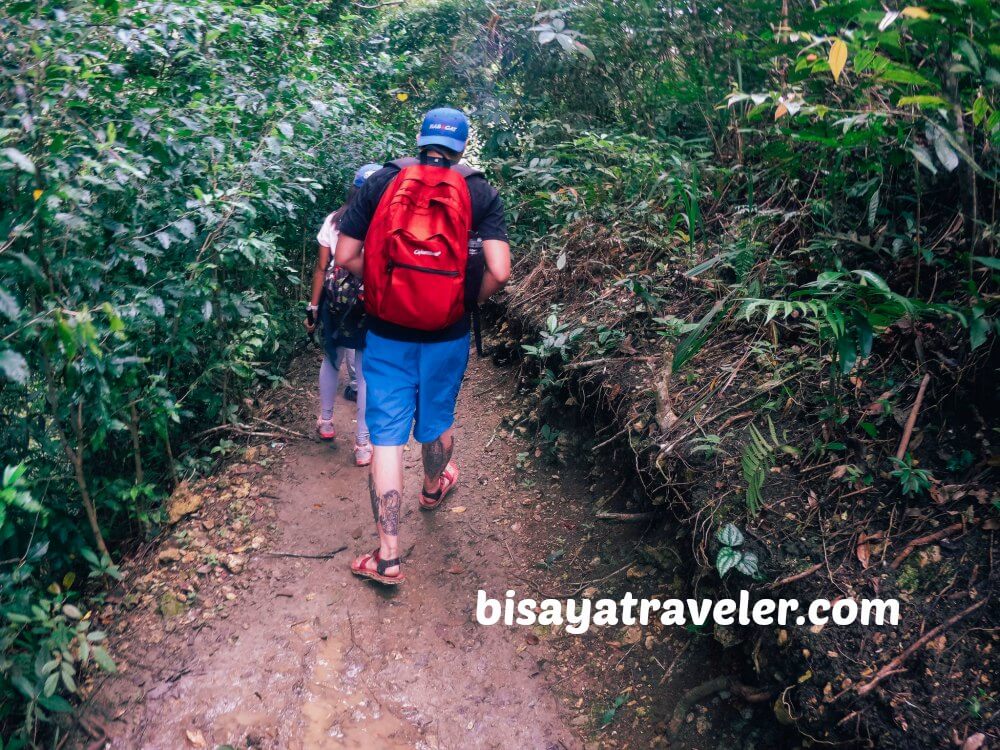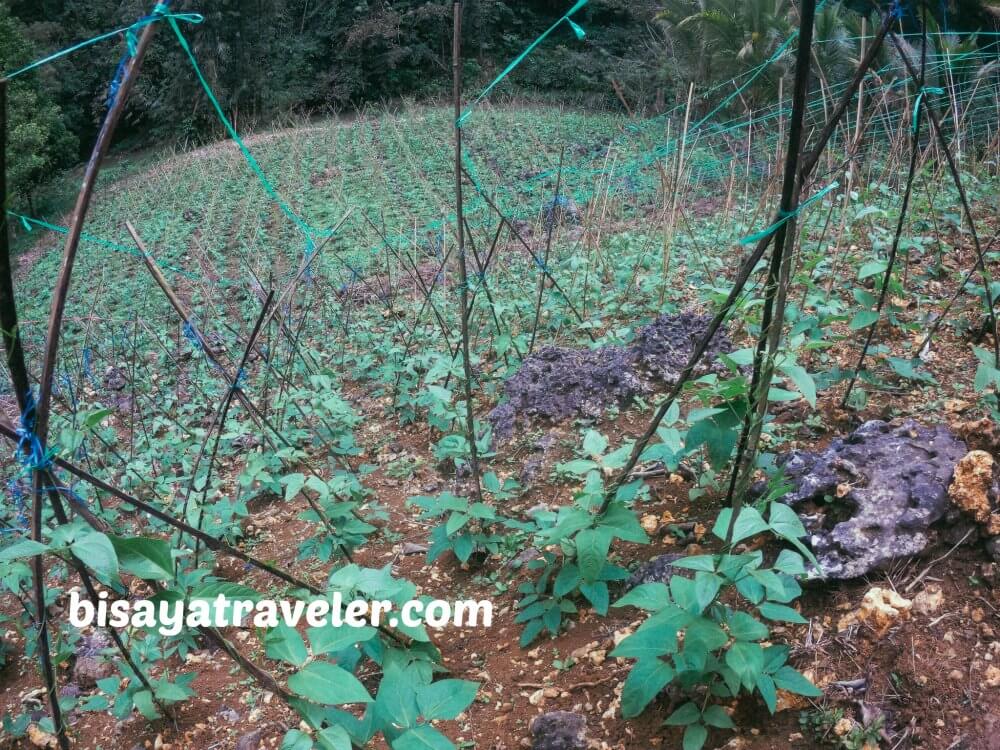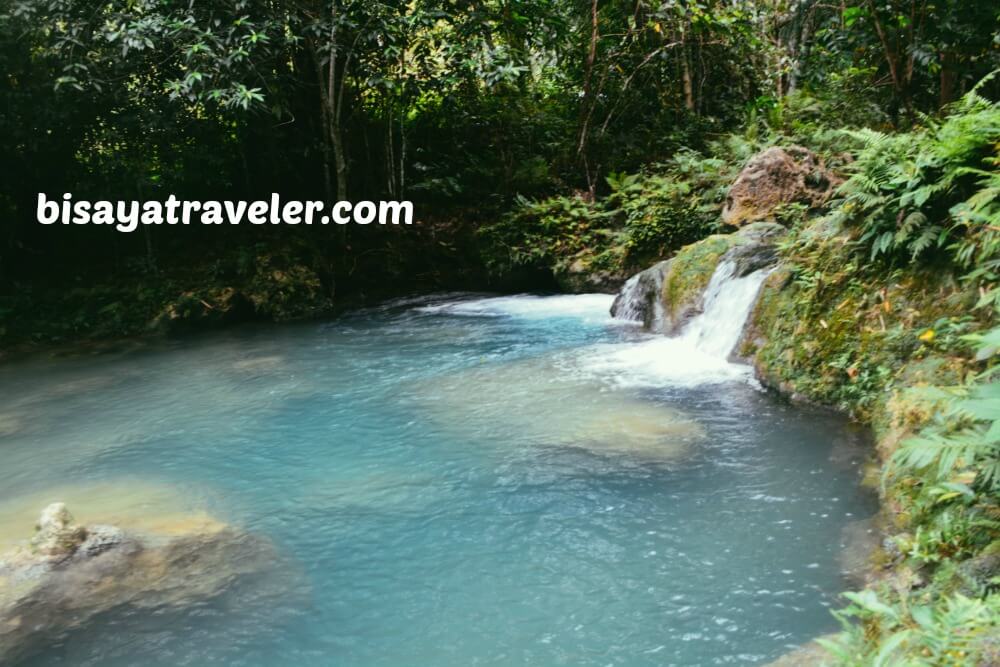 Moments later, we arrived at the registration center of Cambais Falls, where Christine – our newly appointed official treasurer – gathered the money for our entrance fee, which by the way is 30 pesos per person.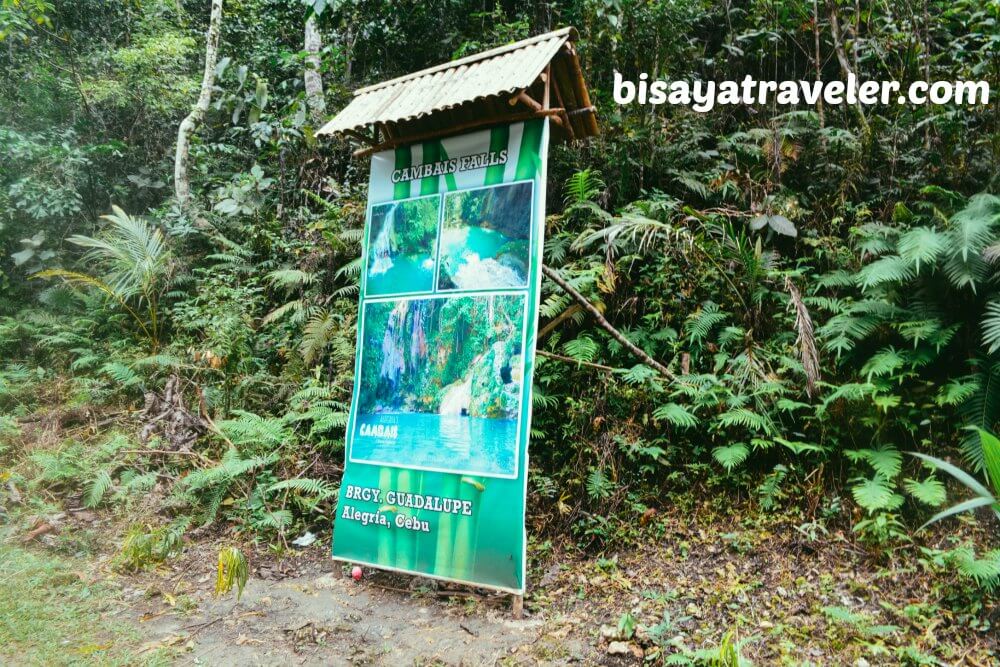 Once we have paid our dues, we went forward with our adventure, to see and experience Cambais Falls.
We didn't need anyone to take us to Cambais Falls, but there was one friendly and charming canine that was kind enough to lead the way.
Ultimately, we arrived on the 1st level of Cambais Falls, and got a sweet view of this quaint and remote gem.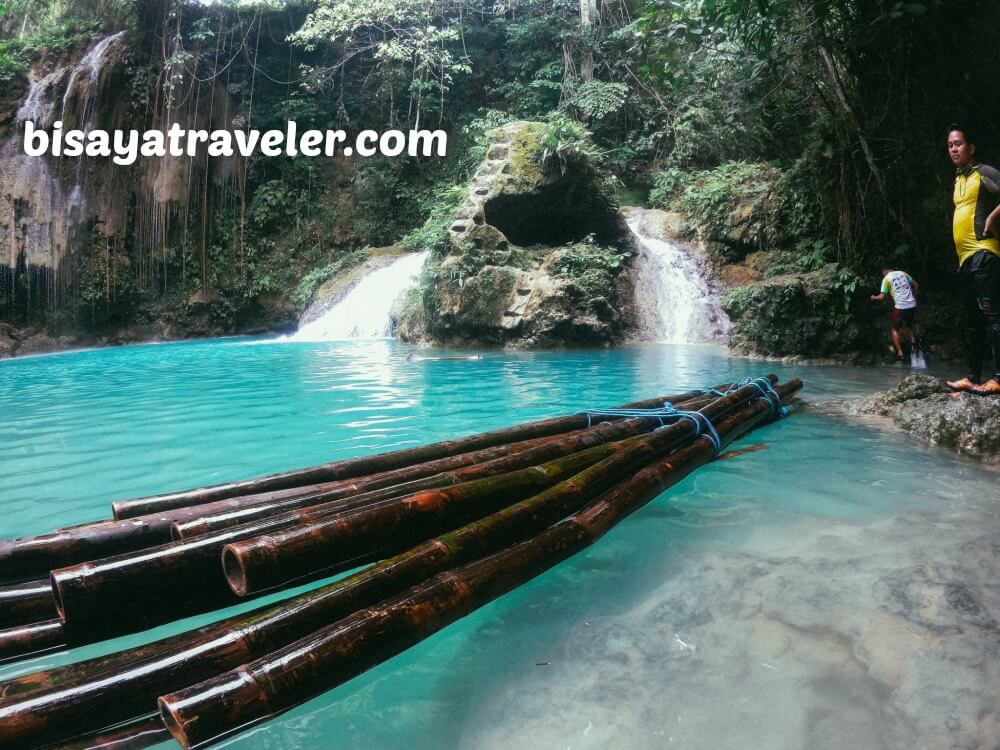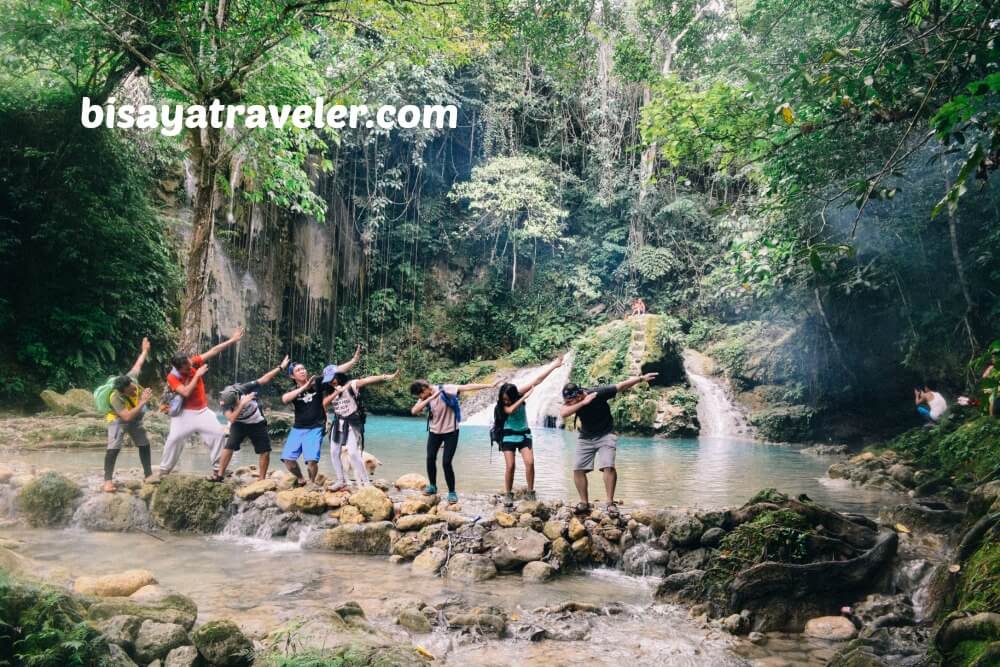 As pleasant as the view was, I could literally feel my stomach grumbling, especially since it was already lunchtime, and I didn't eat anything at Mount Lanaya. And, so, we went straight to the lone cottage in Cambais Falls, so we can finally devour on our lunch.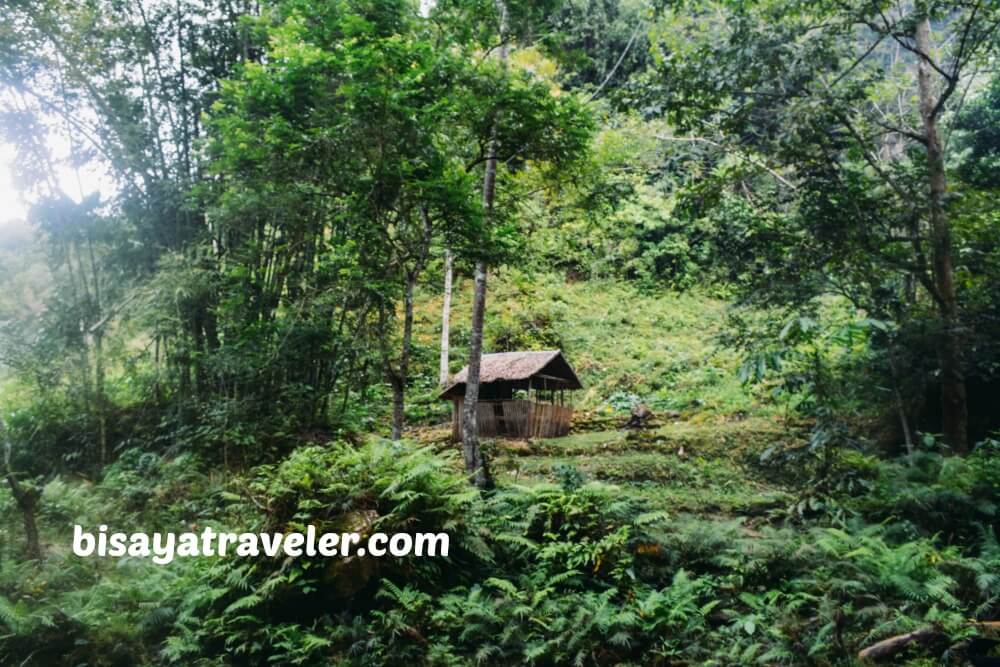 Our lunch break didn't take a whole lot of time, obviously, with everyone so pumped up for a dip at the Instagrammable Cambais Falls.
Without wasting any time, everyone in Team Bang, including yours truly, jumped into the lovely and ice-cold waters on the 1st level of Cambais Falls. Ace and few our buddies, then, took a quick tour around the 1st level of Cambais Falls using the relatively old bamboo raft.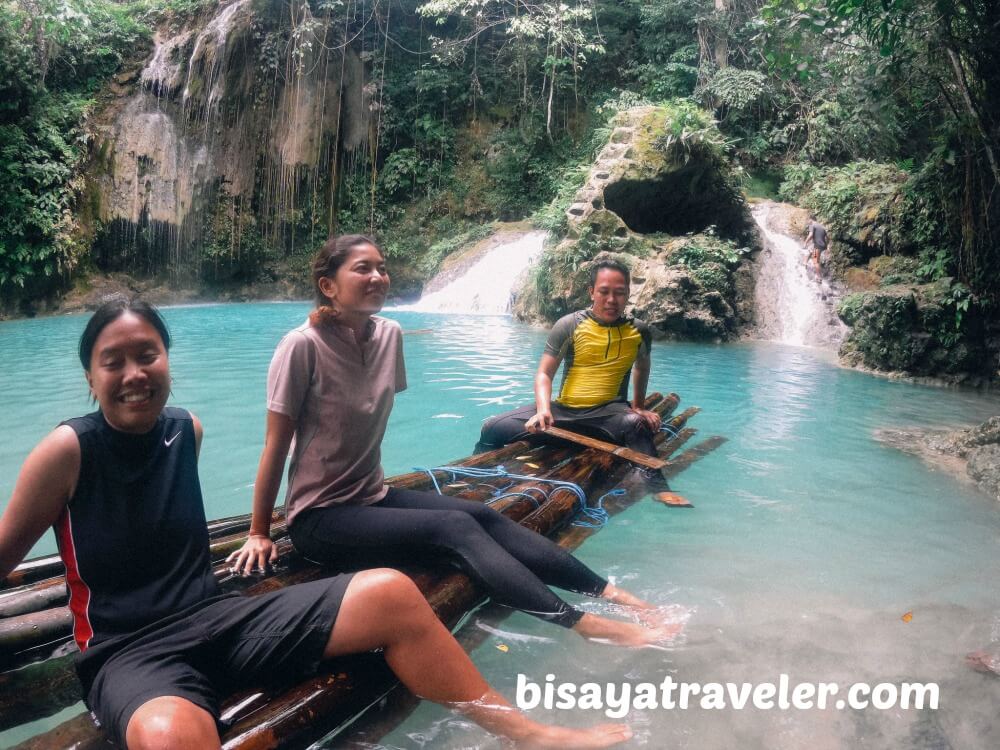 Noel, Christine and I, meanwhile, climbed to the 2nd level of the waterfalls, to snap some pictures. Eventually, the rest of the team followed, and even went to the 3rd level of Cambais Falls.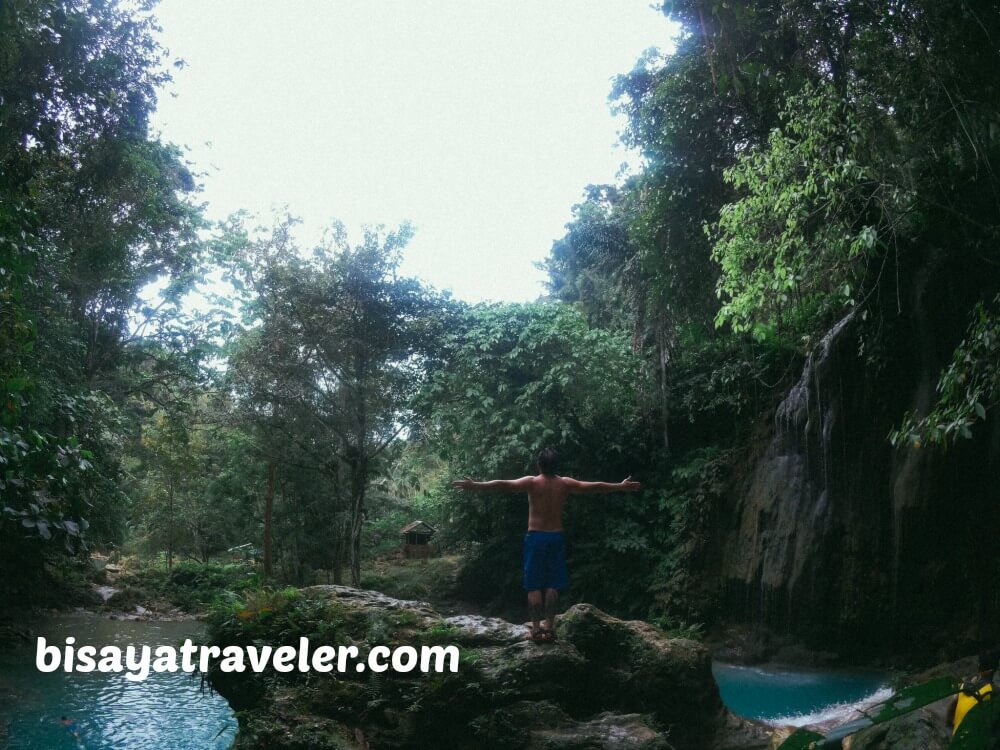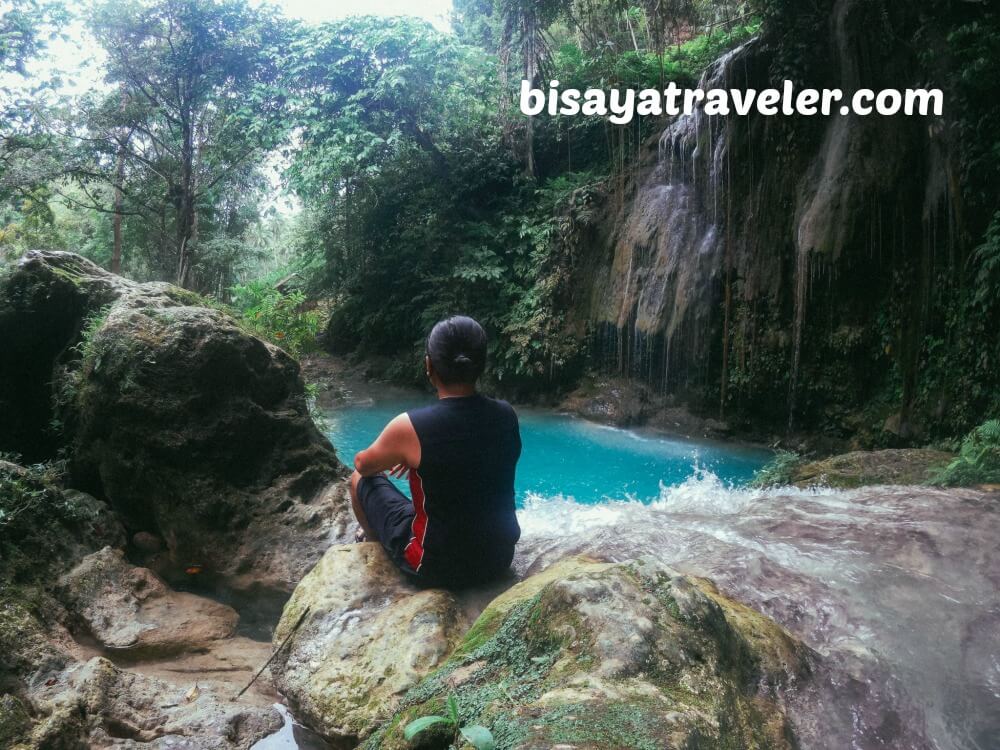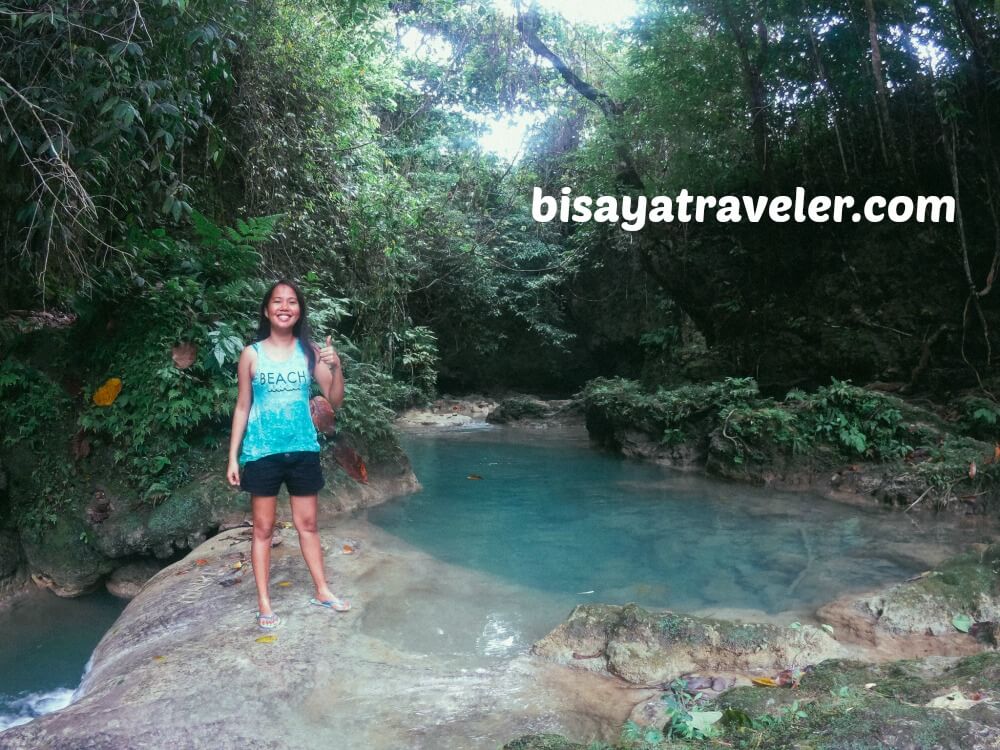 We took our time there, and just lived in the moment because we surprisingly finished our Mount Lanaya trek very early.
And, since we had too much time in our hands, the whole gang decided to make a stop to another beautiful waterfall in Alegria – the Cancalanog Falls.
With everyone on board with our new plan, we hastily went back to the hut and grabbed our bags, to make our way back to the entrance of Cambais Falls.
But before leaving the spot, the folks from Team Bang made some trademark poses in front of the camera, to capture the moment.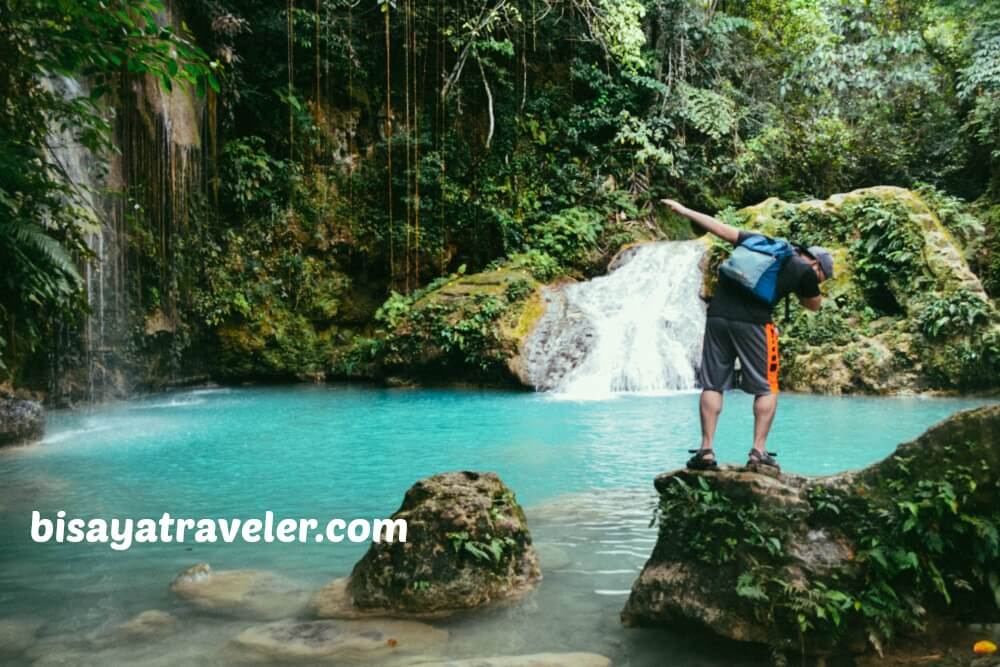 Afterwards, we negotiated with the drivers, and asked them kindly to take us to Cancalanog Falls. Clearly, the drivers agreed to take us to the spot.
To make the story short, we arrived at the parking area of Cancalanog Falls, after a short habal-habal ride. Later on, we took another walk on a slippery trail, to reach Cancalanog Falls. This time, though, it was more slippery than the trail in Mount Lanaya. As far as I can remember, I slipped a couple of times, as we were hiking out way to Cancanlanog Falls. If it wasn't for my Hokage skills, I may have suffered a minor injury on this adventure.
Upon our arrival, we saw a few foreign eye-candies dressed in rather skimpy swimsuits, enjoying the deep ultramarine waters of Cancanlanog Falls.
And yes, the ladies there were pretty easy of the eyes, but it was the clear and gorgeous waters of the falls that really caught my eye. With its inviting blue shades, it reminded me a bit of the internationally famous Enchanted River in Surigao del Sur.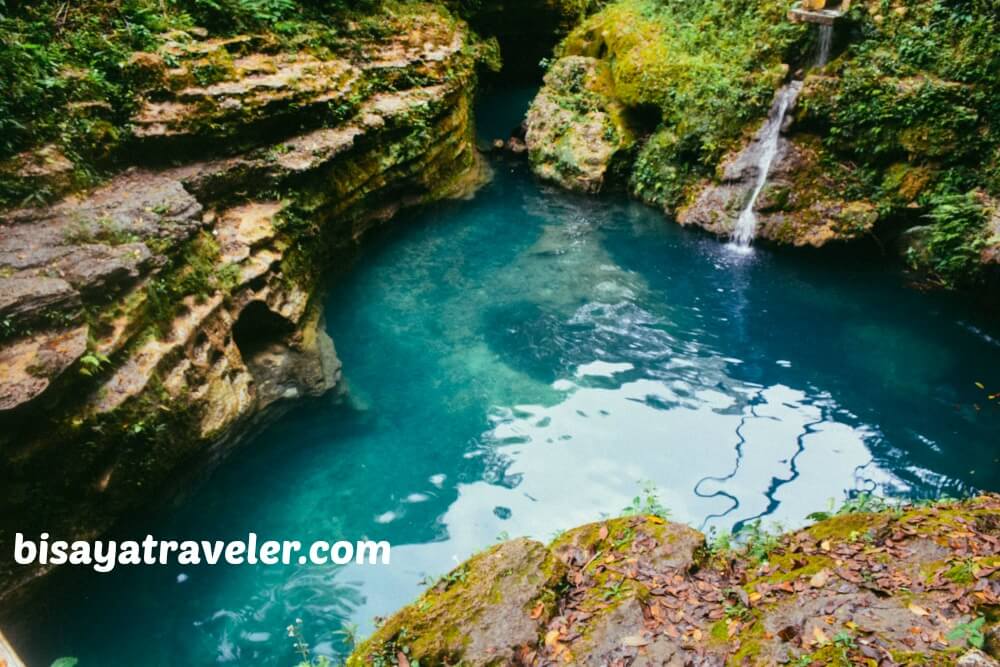 We proceeded to the registration area, where once again our official treasure, Christine, collected the money for the admission fee. Just like Cancalanog Falls, the entrance fee to Cancanlanog Falls only costs 30 pesos.
As far as size, Cancalanog is by far a lot smaller than Cambais. But, I think it has deeper waters and steeper diving platforms than its counterpart.
As with the Cambais Falls layover, we also had a swell time at this incredible site in Alegria.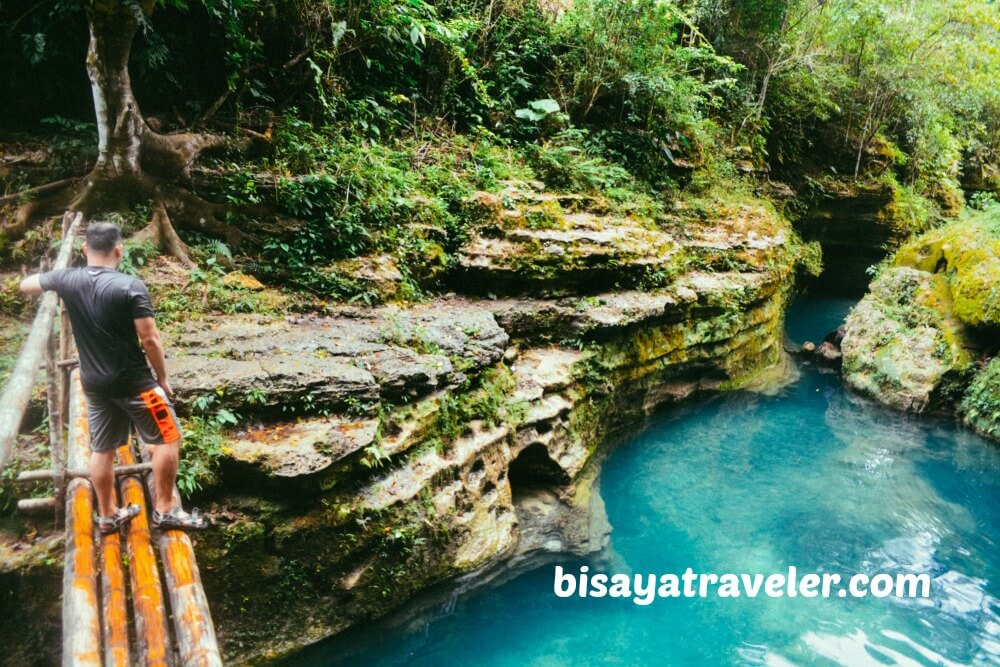 After our short stop in Cancalanog, we went back to Alegria Heritage Park, to snap some poses, buy snacks, and catch a bus back to Cebu. As expected, everyone was dead tired after our trip, with most of us sleeping like a baby on our way back to Cebu City. Even Ace, our ultimate Hokage and energizer bunny, was exhausted, once our early dinner was finished.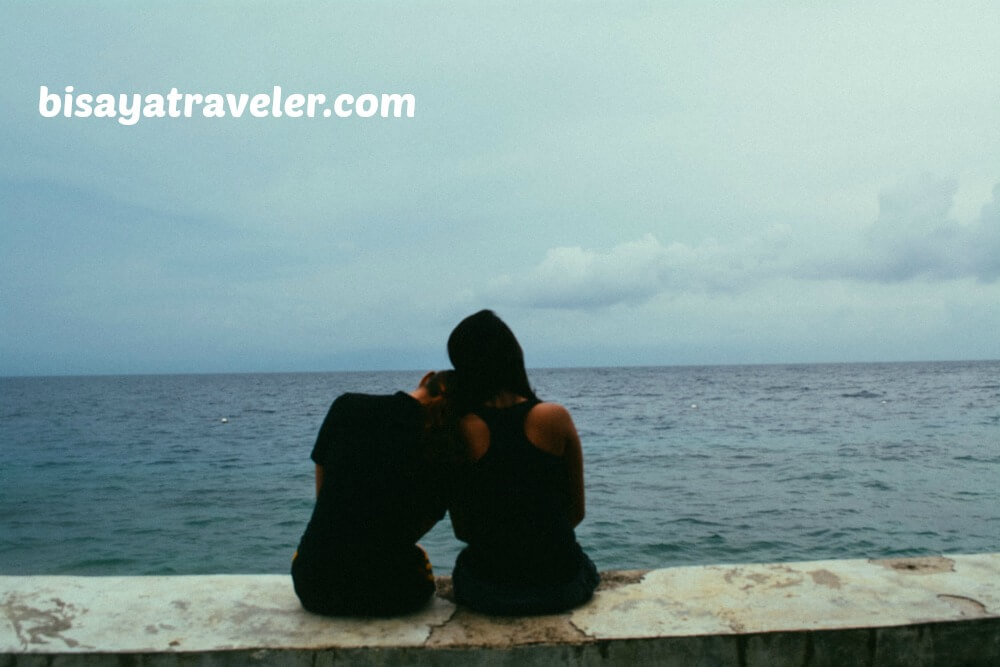 Our Alegria itinerary
04:00 AM: Meet-up at Cebu City South Bus Terminal
05:00 AM: Depart from the terminal
08:30 AM: Arrive at Alegria Heritage Park/ Make final preparations
09:00 AM: Depart from Alegria proper
09:30 AM: Arrive at Barangay Lumpan
09:40 AM: Start of our hike
10:20 AM: Arrive at the summit of Mount Lanaya
11:00 AM: Start of descend
11:30 AM: Arrive at Barangay Lumpan
11:40 AM: Depart from jump off point
12:30 PM: Arrive at Cambais Falls/ Lunch
02:00 PM: Depart from Cambais Falls
02:40 PM: Arrive at Cancalanog Falls
04:00 PM: Depart from Cancalanog
04:40 PM: Arrive at Alegria Heritage Park
05:00 PM: Picture taking/ Early dinner
06:00 PM: Depart from Alegria
09:30 PM: Home sweet home
Expenses (including Mount Lanaya):
Bus fare: PHP 130 to 160 per way
Guide fee: PHP 20 to 50 per person (very negotiable, as long as you take the Lumpan Trail)
Habal-habal services: PHP 350 per person including waiting time and stops to all the places mentioned above
Entrance fee to Cambais Falls: PHP 30 per person
Entrance fee to Cancalanog Falls: PHP 30 per person
For transportation services in Alegria, please contact Reynolds through his mobile phone at 097 546 733 05