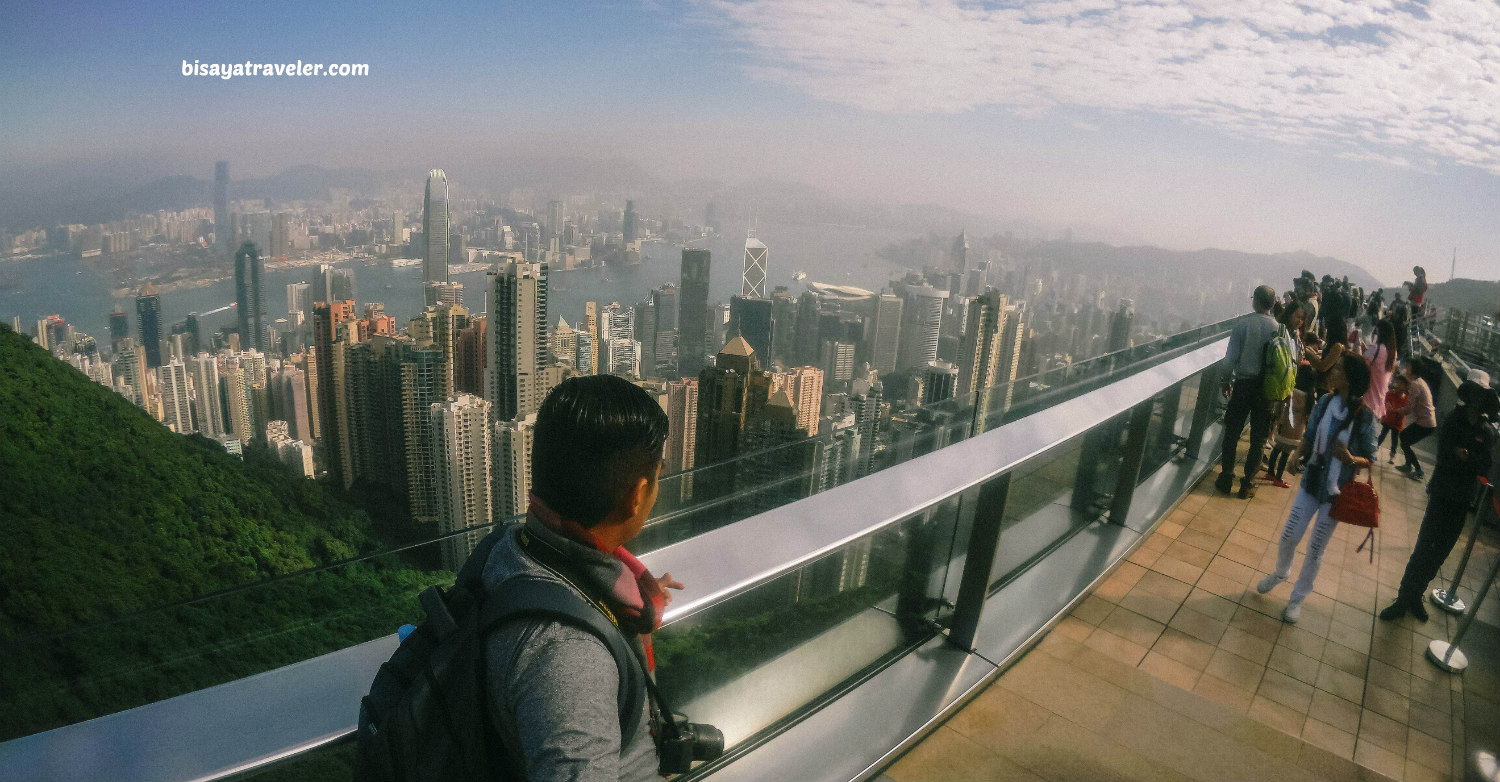 Victoria Peak: Admiring The Most Mesmerizing Panoramas In Hong Kong
The Victoria Peak, or also referred as "The Peak", was truly one of the highlights of our recent couple trip to China. Surreal and extremely scenic, the Victoria Peak just put me in a state of pure euphoria with its jaw-dropping views of the Victoria Harbor, Hong Kong's gleaming skyscrapers as well as the verdant hills of the New Territories. If there's one image that could epitomize Hong Kong, it has got to be the panorama from this world-famous vantage point. Trust me, it is a special site that you can't afford to miss in Hong Kong.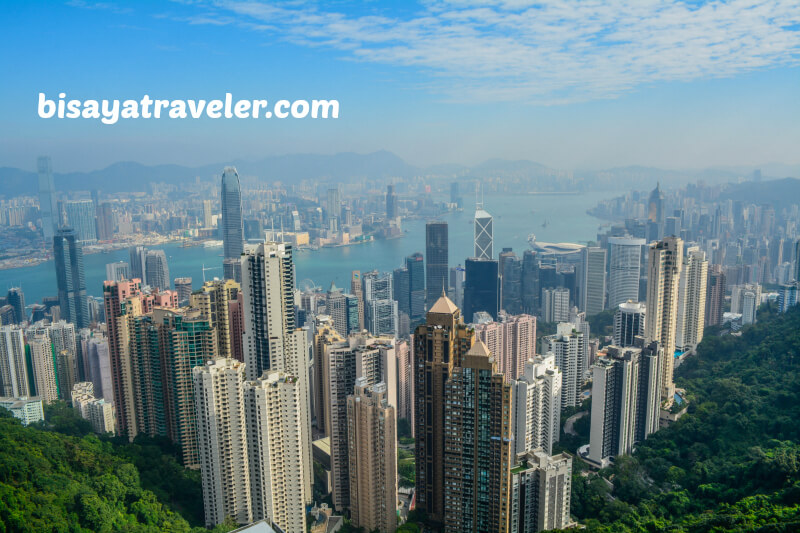 Our Victoria Peak Experience
Our Victoria Peak experience kicked off with an early meet-up with our tour operator at the cozy lobby of the Holiday Inn Golden Mile in Nathan Road, Tsim Sha Tsui. Utlimately, one of the company's tour guides led us to bus where other travelers and tourists from across the world were waiting. After boarding the bus, we took a quick drive to another hotel in Tsim Sha Tsui to fetch a group of Australians who would be joining us for this tour.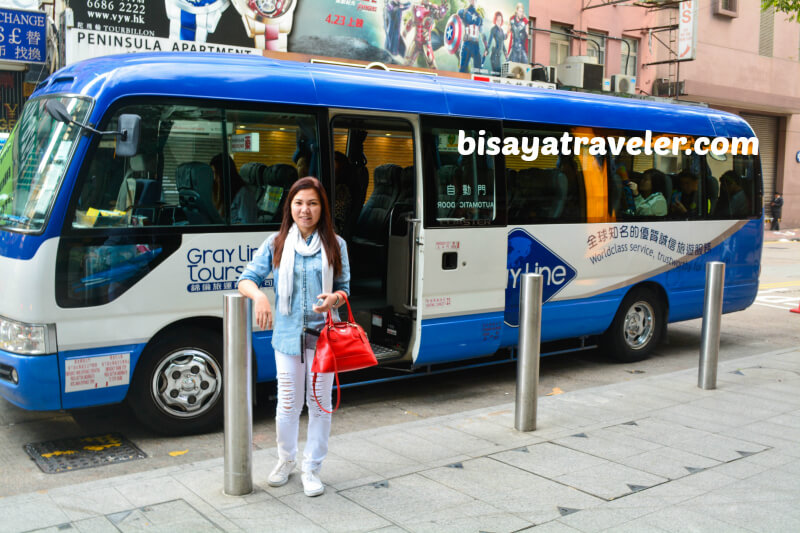 And by the way, before I go on with my story, I just want to let you know that we didn't stay at the ritzy Holiday Inn Golden Mile. Although it was rather snug and lavish, it was way off our budget. Luckily, there was a cheap yet decent place nearby for us to stay at the Chung King Mansions – the Canada Hotel.
With everybody booked for the tour on board, the designated guides – Peter and Tom – introduced themselves to all the participants of this trip. Later on, Peter gave us a roundup of our itinerary as well as some tips that did come in handy in our tour.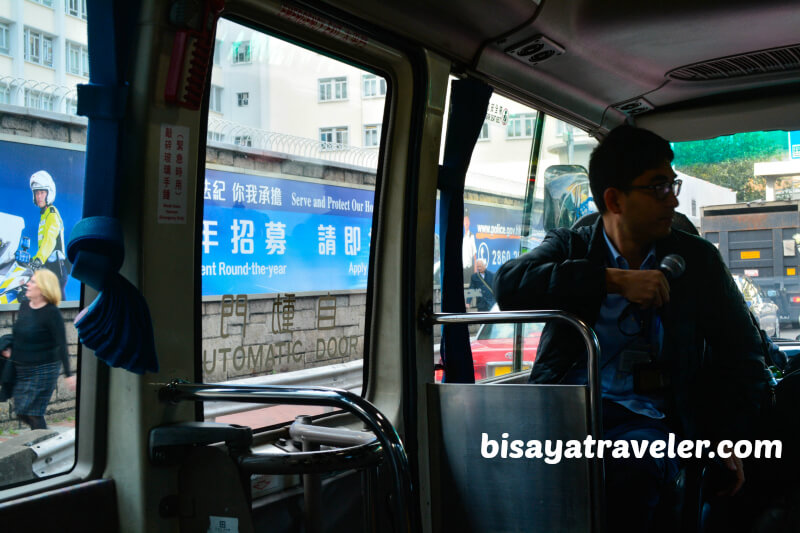 And as we were making our way to our first stop – The Peak Tram Lower Terminus, Peter shared some interesting facts about the city, including the top attractions in Hong Kong and it tallest skyscrapers. As a matter of fact, he even lectured us the differences between Hong Kong and mainland China.
When our tour bus got closer to the The Peak Tram Lower Terminus, Peter handed out to everyone the tickets for our Tram ride to the famed Victoria Peak.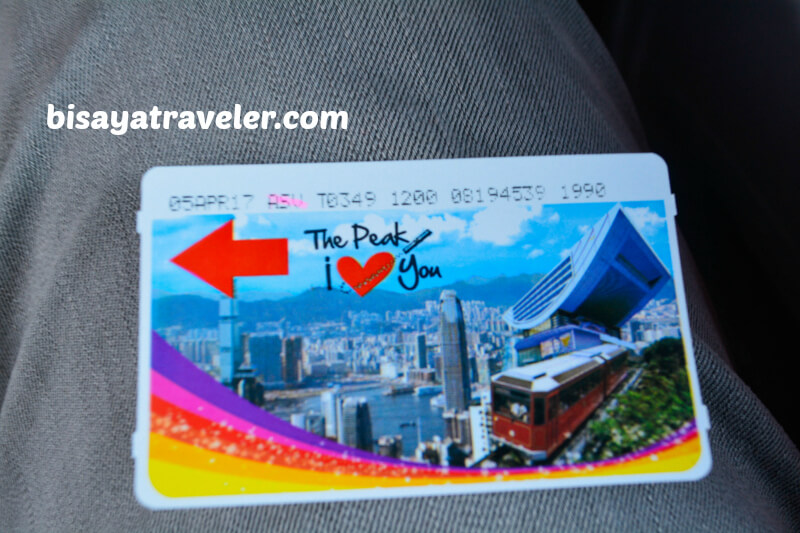 Upon our arrival, we rushed off to the Tram to catch the next ride. Moments later, the historic Tram slowly moved and carried us to our next destination.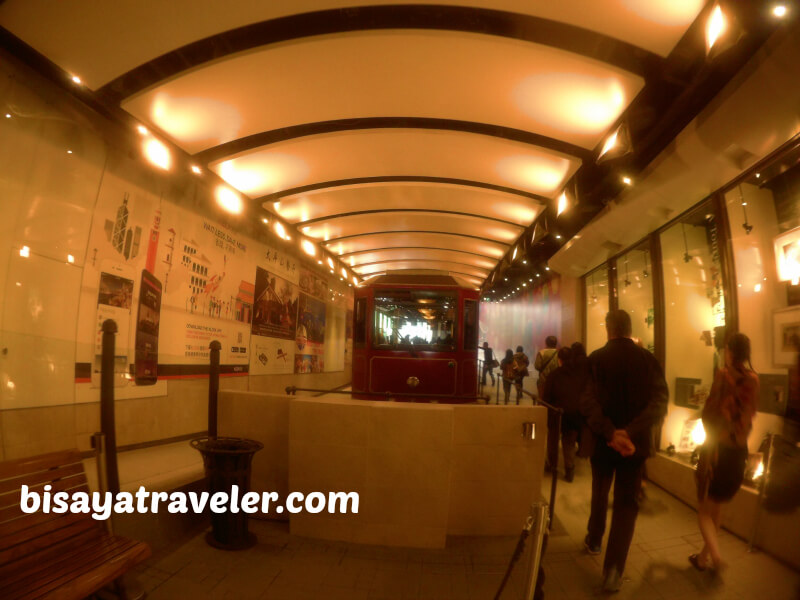 And, make no mistake about it – the Tram was quite an experience in itself. After all, the Peak Tram is an iconic institution that has been around for more than a century, offering its passengers to ride on a piece of history. Not only did exude an old-world feel, but it also gave us mesmerizing views of Hong Kong and its lofty, glistening buildings.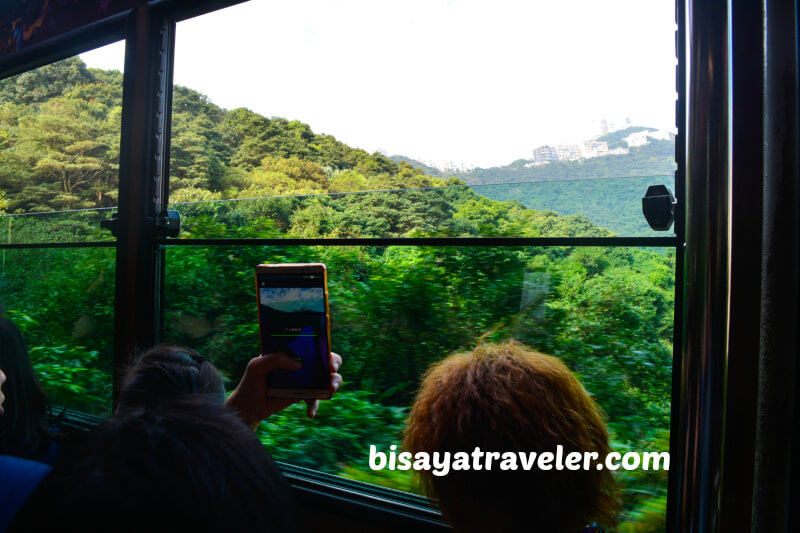 The mesmerizing skyscrapers of Hong Kong Island felt like they were sliding past our windows at what appeared to be impossible angles, as we made the ascent to the Victoria Peak on Hong Kong's 120-year old funicular railway.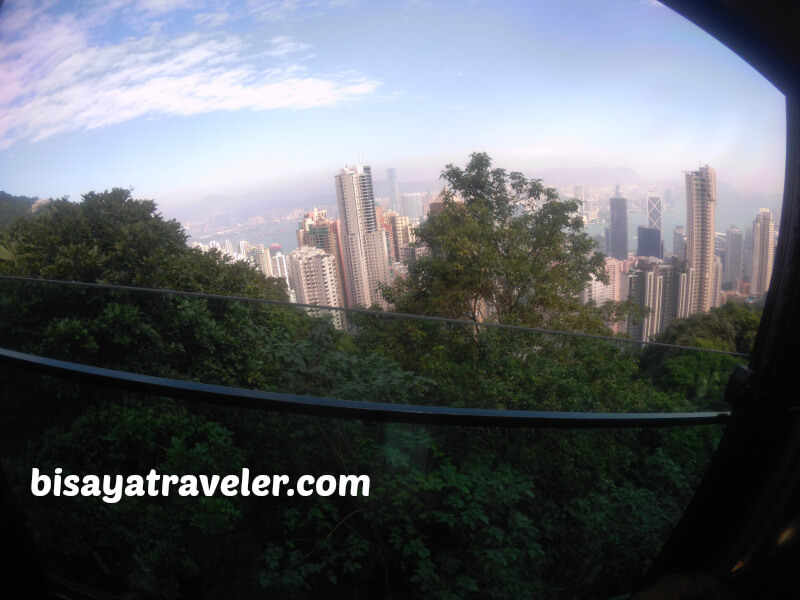 I didn't find a seat, as we boarded the Tram, which is why I don't have a decent shot of it from interior. Fortunately, my wife, using our SJ6 Legend, got some nice shots of the views outside the Peak Tram.
Once we arrived at the end point of the railway, Peter gathered everyone outside, to give us some reminders and instructions. Then, he spearheaded the group to the Peak Tower, so we can feast our eyes on spectacular views of Hong Kong Island. Along the way, we got a glimpse of what's in store for us at the Peak Tower.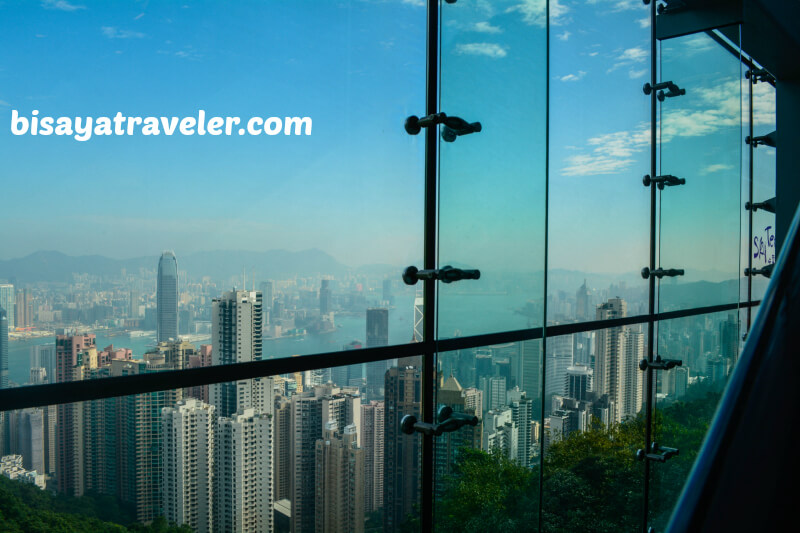 A few minutes later, we arrived at a junction that served as our meeting point, after we've finished exploring the Victoria Peak.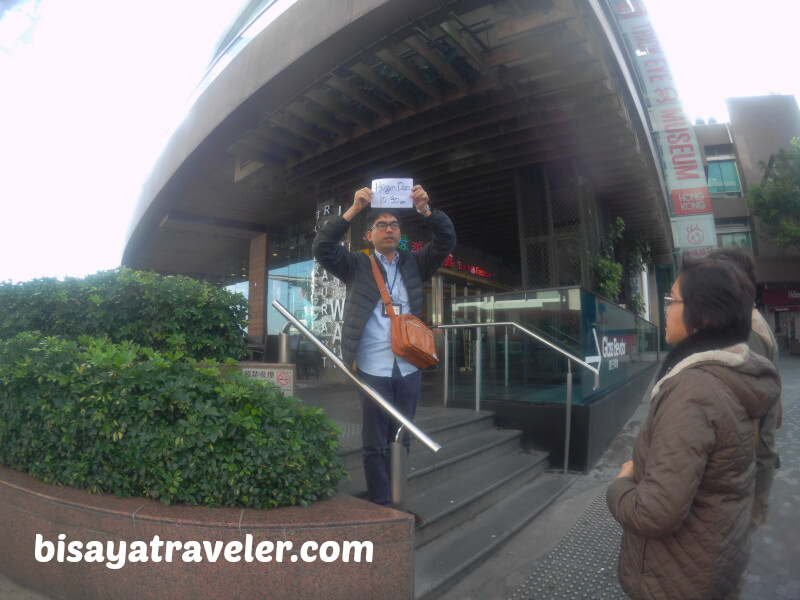 Then, the guides took us to a vantage point in the Peak Galleria where we can indulge on striking vistas of Hong Kong for free. While there, Peter shared a bunch of fun facts about The Peak and pinpointed some of the tallest towers in the city.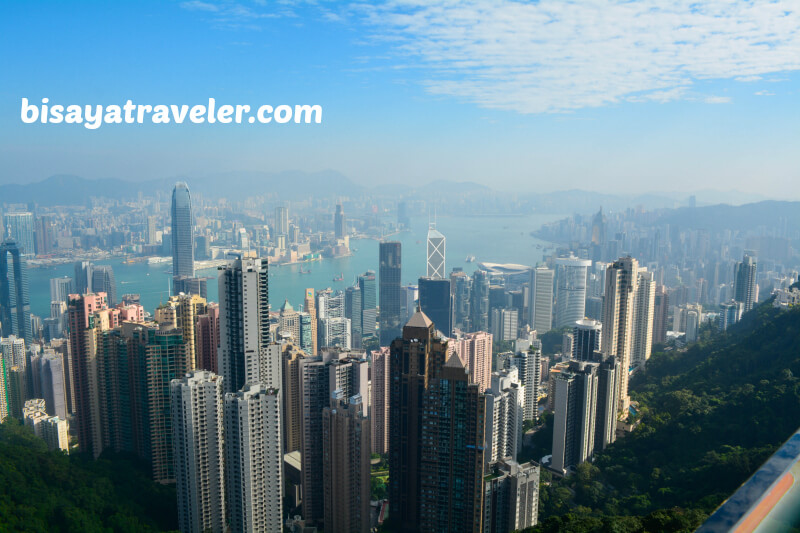 Of course, me and my wife snapped a ton of photographs from different angles of this incredible panorama.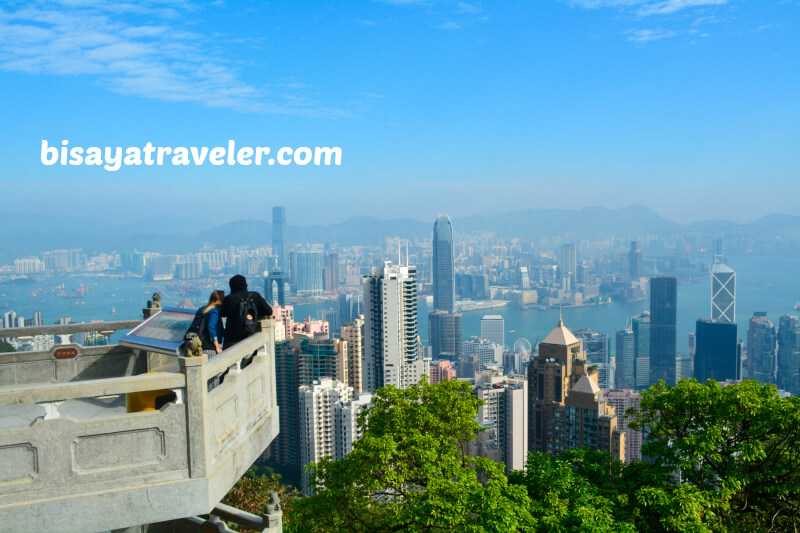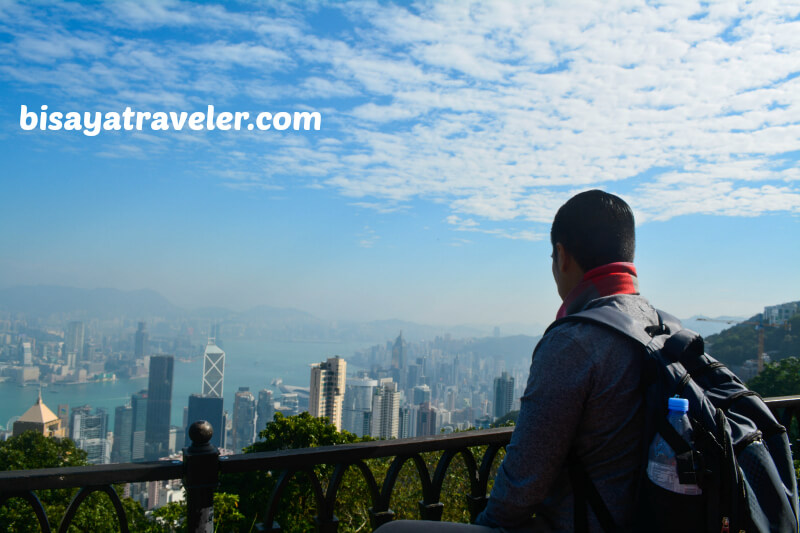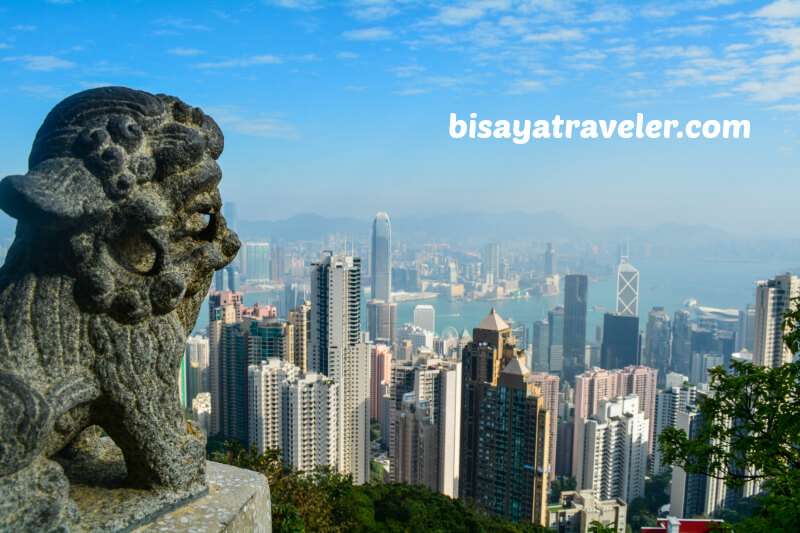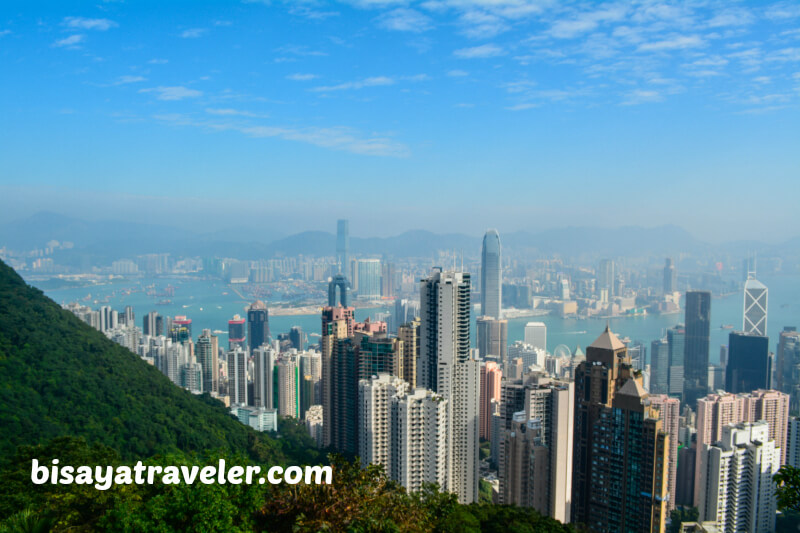 But, the fun didn't end there! When the clock struck 10, we made our way to building, so we can get early access to the Sky Terrace 428 – the highest viewing platform in Hong Kong, boasting an impressive elevation of 1,404 feet above sea level.
Unlike the travelers in the group, we were able to breeze through the long queues at the ticket counter for Sky Terrace 428 since our tickets already include access to this marvelous vantage point.
After a series of escalator rides, we finally reached the entrance of Sky Terrace 428, where a cluster of charming Chinese guides handed out interactive touch-screen devices that offer free tours. I opted not to get the free digital tour because I wanted to fully soak in the amazing scenery from Sky Terrace 428. My wife, on the other hand, gave the tour a try.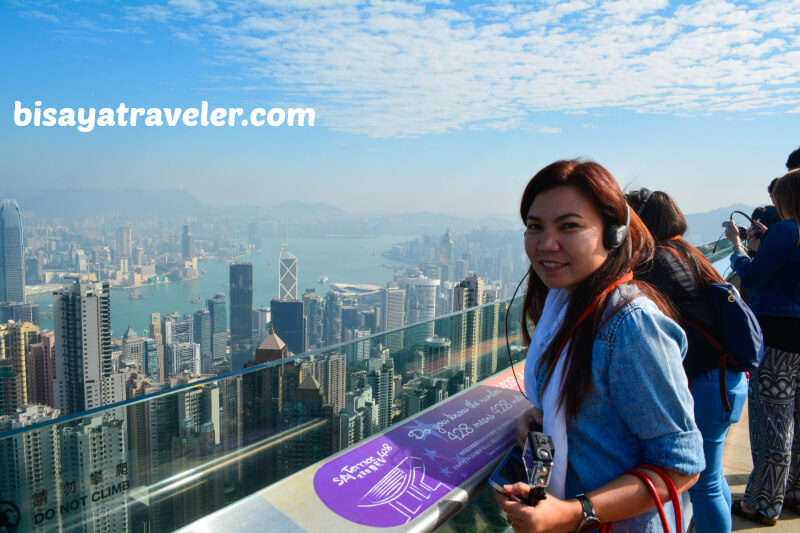 And the views from Sky Terrace 428 were just as good (or even better) as advertised. I climbed few mountains in my lifetime, but I've never seen a panorama as awe-inspiring as this one.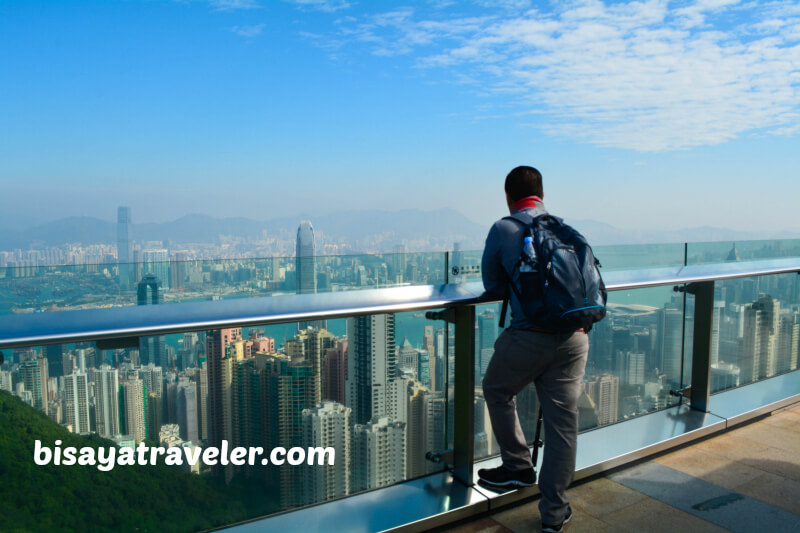 Even though there were plenty of tourists around the terrace, it was still a surreal experience that I'll surely cherish for years to come. The views, paired with the slightly chilly fresh winter air, were magical, outstanding and simply amazing.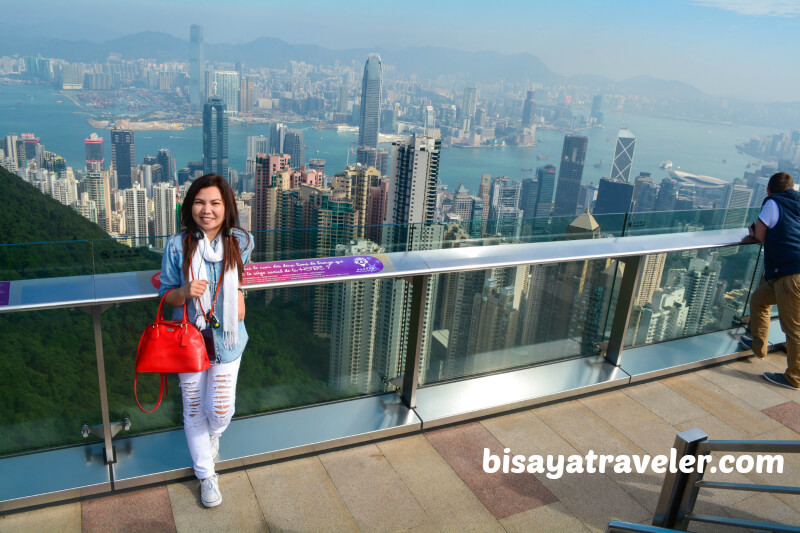 As I looked down at the city from this internationally renowned vantage point, I saw one of the world's finest harbors and a skyline so audacious, lofty and improbable that Cebu's skyline looks provincial by comparison. Everything I've heard about the city's energy and restlessness was reaffirmed dramatically by the view from Sky Terrace 428.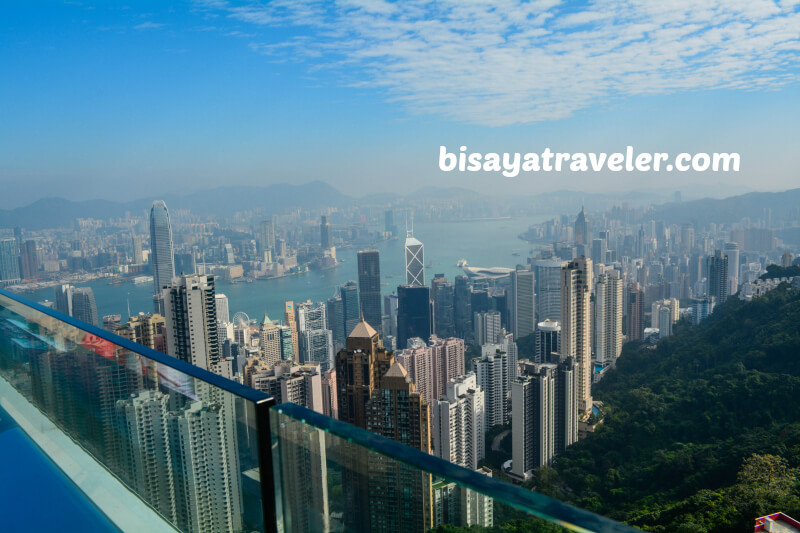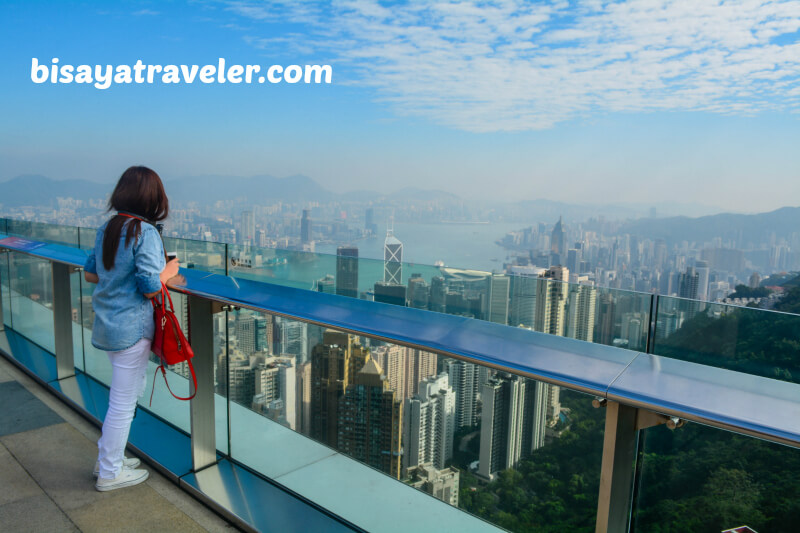 Together with my wife, I roamed around the viewing deck, to admire remarkable bird's eye views of Hong Kong.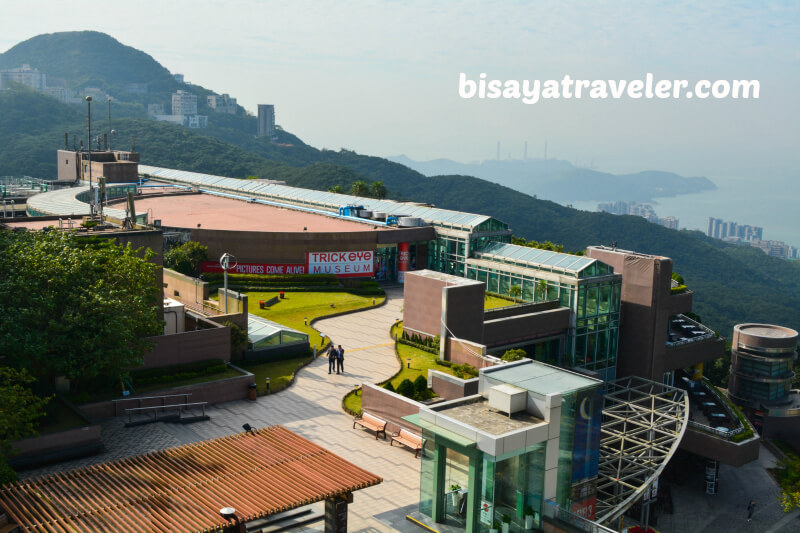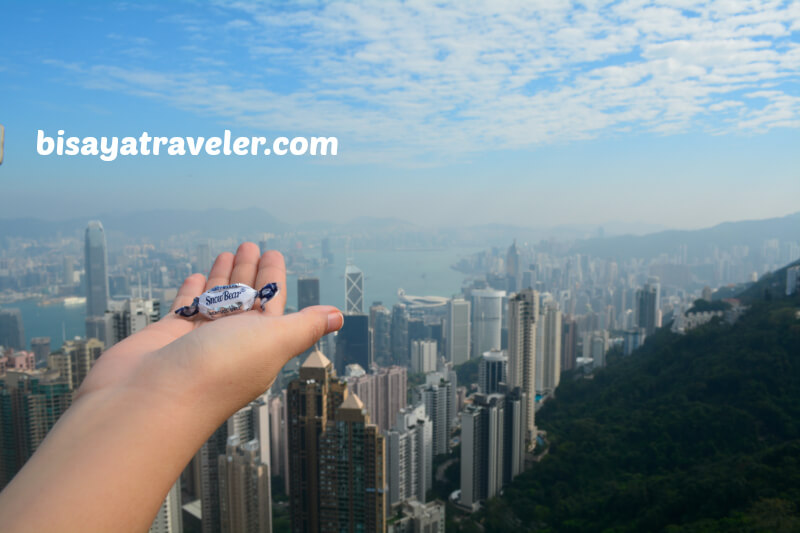 All good things, however, must come to an end. As much as I'd like to spend the whole day there, we had to go back to our meeting point, for our next stop of our Hong Kong Island tour. Thankfully, though, there were plenty of more exciting delights and surprises for us on our Hong Kong Island day tour.
More information:
The Tram Ride, Victoria Peak stop and Sky Terrace 428 were all part of the fun-filled Hong Kong island tour that also includes stops to:
Dynasty Jewelry Manufacturer with free refreshments
Aberdeen Fishing Village
Stanley Market
Rickshaw Open Top Bus Ride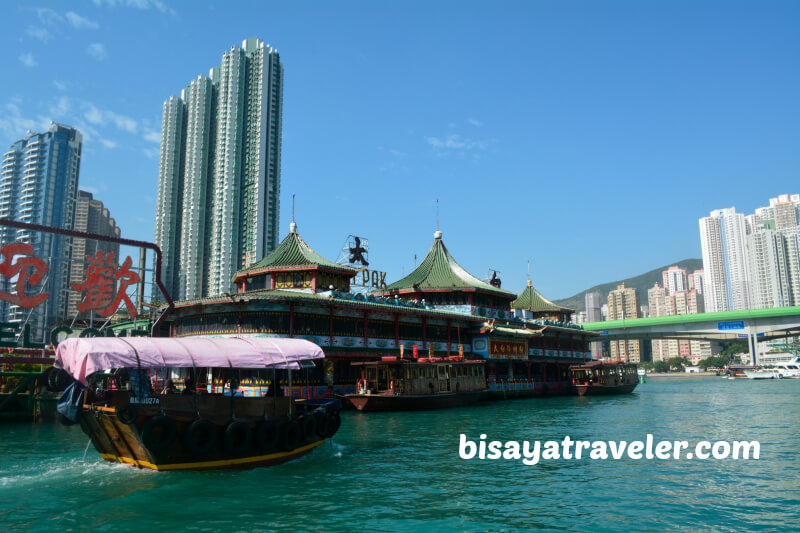 Interested on taking this tour? Reach out to Tickets To Ride, to get more information about the prices and options for this Hong Kong Island tour. Ciao!