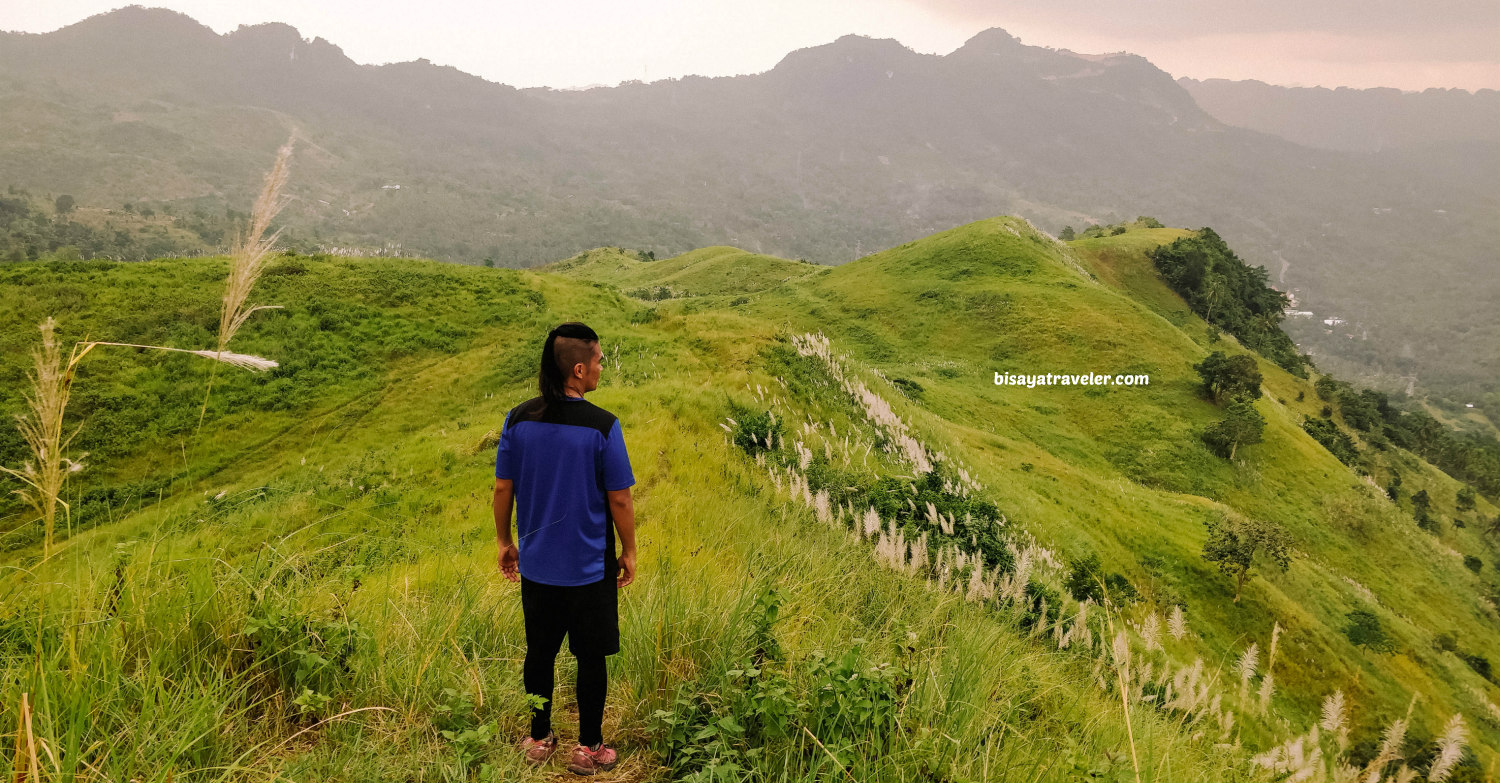 Manayon's Peak And The Free Spirited Dream Girl
She is an enchantress. Every time she casts a spell over me, I find myself craving and yearning to see the world from her perspective. With her optimism and can-do spirit, she has taught me to embrace life and its infinite adventures and mysteries. Adventurous and free spirited, she has led me to numerous escapades and secret bucolic spots like Manayon's Peak. Her name is Sofia, and she is my version of the Manic Pixie Dream Girl.
In film and pop culture, the Manic Pixie Dream Girl is a pretty well-known cliché. It's a term that refers to the girl who sparks a wondrous life of adventure to the male protagonist who's living an emotionless, sheltered existence.
The Manic Pixie Dream is attractive, high on life, energetic and full of idiosyncrasies. You may have seen her in movies like Elizabethtown, Sound of Music, Paper Towns and most of Audrey Hepburn's films.
In "500 Days of Summer", the female lead character is from Tom's point of view, his Manic Pixie Dream Girl.
And, for the most part, the hero and Manic Pixie Dream Girl are romantically linked and enjoy a predictable Hollywood ending.
But, unlike the movies, Sofia and I will never be linked romantically.
I'm, after all, a happily married man with a beautiful daughter. And, for some reason, which you will know at the end of the story, it's impossible for Sofia to have a steady relationship with anyone.
Nonetheless, Sofia has been a godsend to me, pushing me out of comfort zone and leading me to places like Manayon's Peak.
And, on our recent hike for a cause, everyone felt her presence, wowing us with her undying sense of adventure.
With her curiosity and spontaneous spirit, we ended our hike on a high note at a rather unexpected place – Manayon's Peak in Balirong, Naga.
The Unexpected Journey To Manayon's Peak With Sofia
06:12 PM
Thunderstorms, heavy downpours and an annoyed drunk man. These were the things we encountered on our way to Balirong from Manayon's Peak.
Add in a slippery downhill walk, and we've got the recipe for a disaster.
Despite all these not-so favorable moments, everyone was still in high spirits. Even if a fire-breathing dragon appeared out of nowhere, we'd still feel blissful.
And, that's all because of the fascinating and free-spirited Sofia.
With her unquenchable sense of wanderlust, she led us to an unplanned journey to Manayon's Peak, Balirong.
We surely had a blast in Manayon's Peak, and there was nothing stopping us from completing our adventure.
03:30 PM
There's never a dull moment whenever Sofia is around.
She's a ball of energy, willing to dive into the unknown for the sake of adventure. And, when it comes to traveling and hiking, she will indeed enthrall you with an avalanche of ideas.
The truth is, it was her idea to hike all the way to Manayon's Peak in Balirong, Naga from Bungtod Talinis, San Fernando.
In fact, Manayon's Peak wasn't included in our hike for a cause itinerary. Somehow, she has convinced me and the rest of the gang to scale the scenic spot called Panas ( Manayon's Peak) in Balirong, Naga.
She's no Super Girl, Wonder Woman or any heroine who can move mountains. And, she can't alter the fabric of reality either. But, she can change your perception and plans with the promise of a memorable and satisfying adventure.
As we were about to hit the final ascends to Manayon's Peak, I suddenly remembered my inner perfectionist.
Years ago, a younger version of me wouldn't dare to venture into unknown routes, like our Bungtod Talinis to Manayon's Peak hike.
But, when I met Sofia, I began to embrace the beauty of spontaneity. Soon, I learned that the unplanned and spontaneous adventures are the best.
Once, she caught me off guard and surprised me with a plethora of exciting and thrilling experiences.
Since then, I've been yearning to experience spontaneous and unplanned adventures.
I already knew where we were heading. We were bound for Manayon's Peak via a steep and seemingly endless road.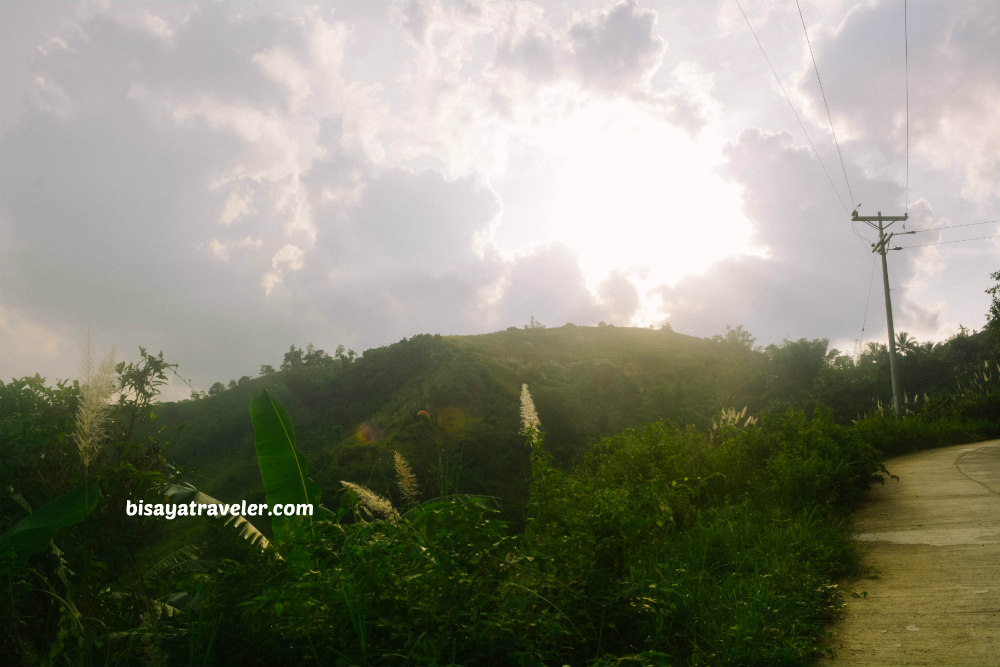 At first, I thought there were no more surprises left on this hike.
Moments later, we found a different, steeper and more scenic path to Manayon's Peak.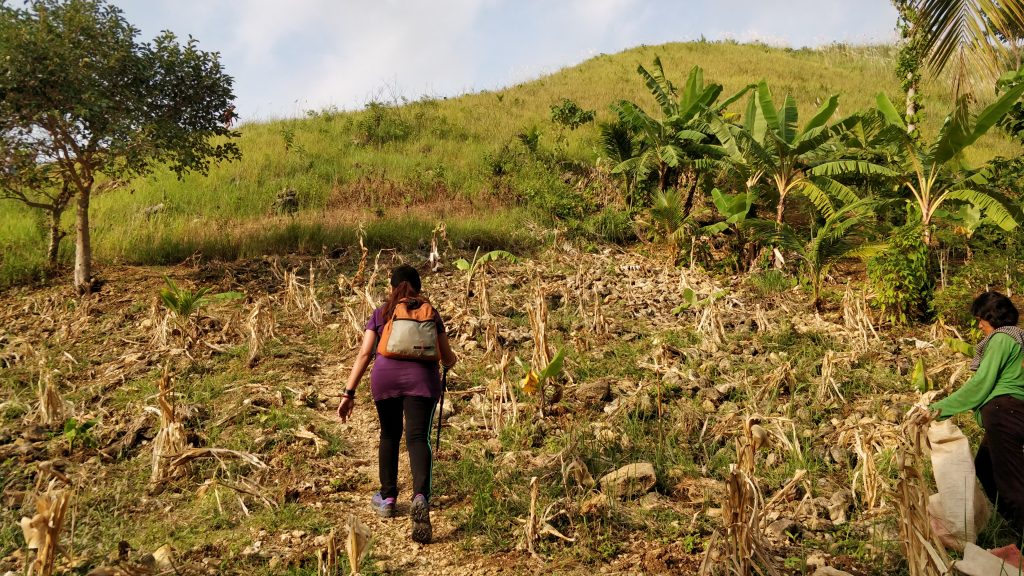 It was Beboy who found this trail, and apparently, Sofia has inspired and influenced him as well.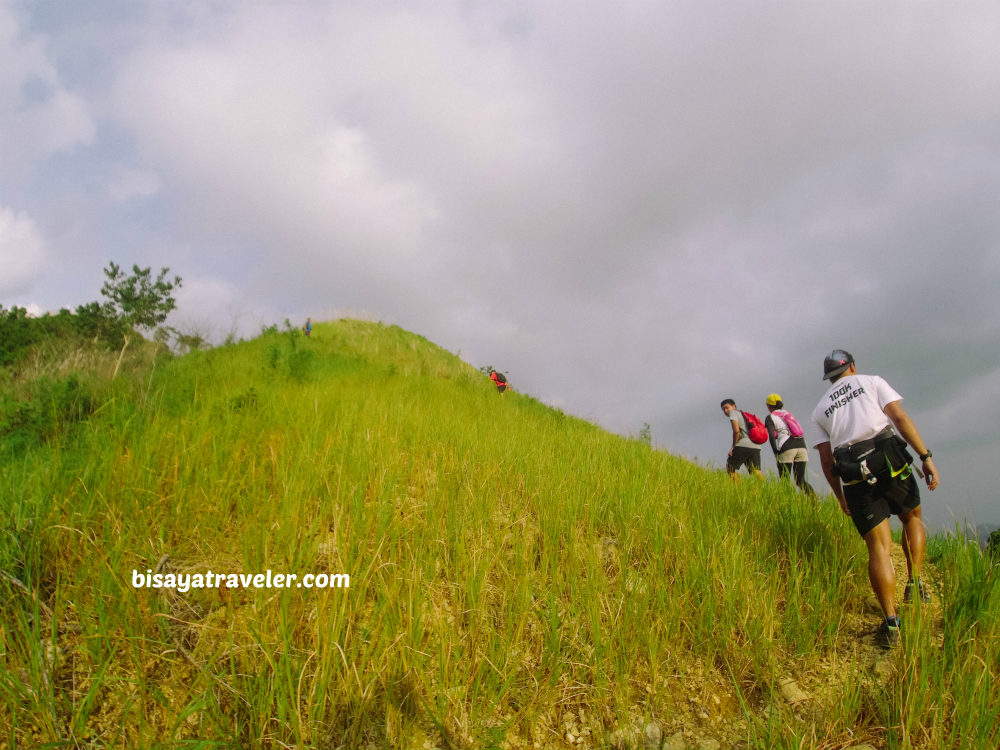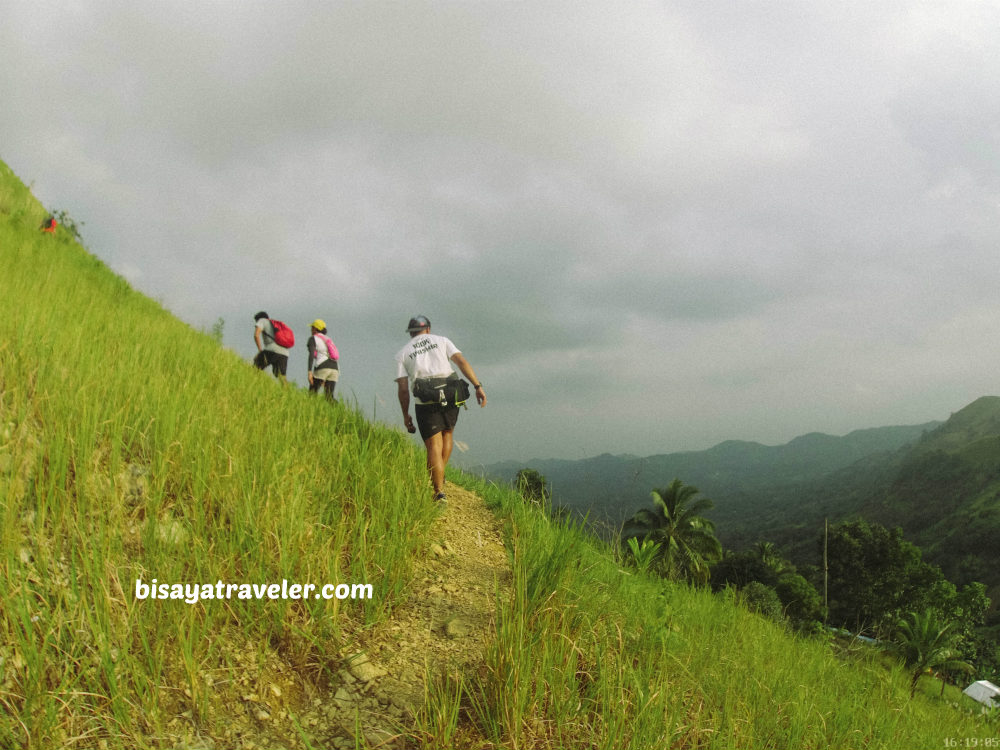 Climbing at our own pace, we eventually arrived at a picture-perfect spot highlighting the beautiful postcard-worthy landscapes of Naga.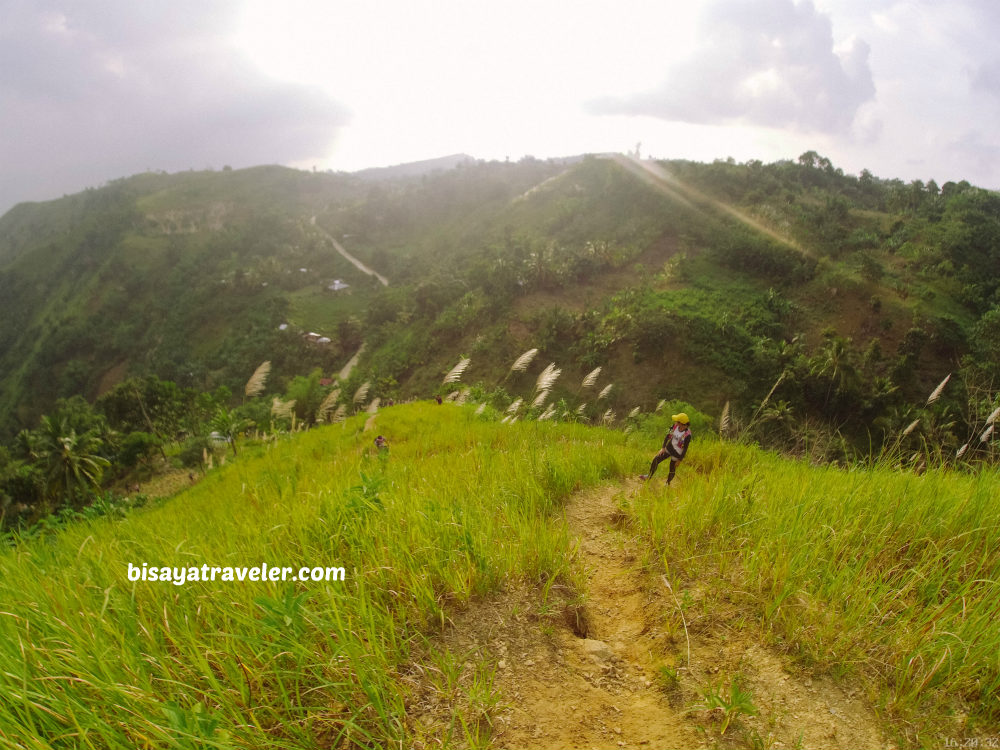 I had been to Panas, Balirong on numerous occasions. But, I didn't see this side of Panas, until now.
And, I may have never seen it if Sofia didn't push us to hike Manayon's Peak that day.
With momentum on our side, we sprinted our way to the top of Panas.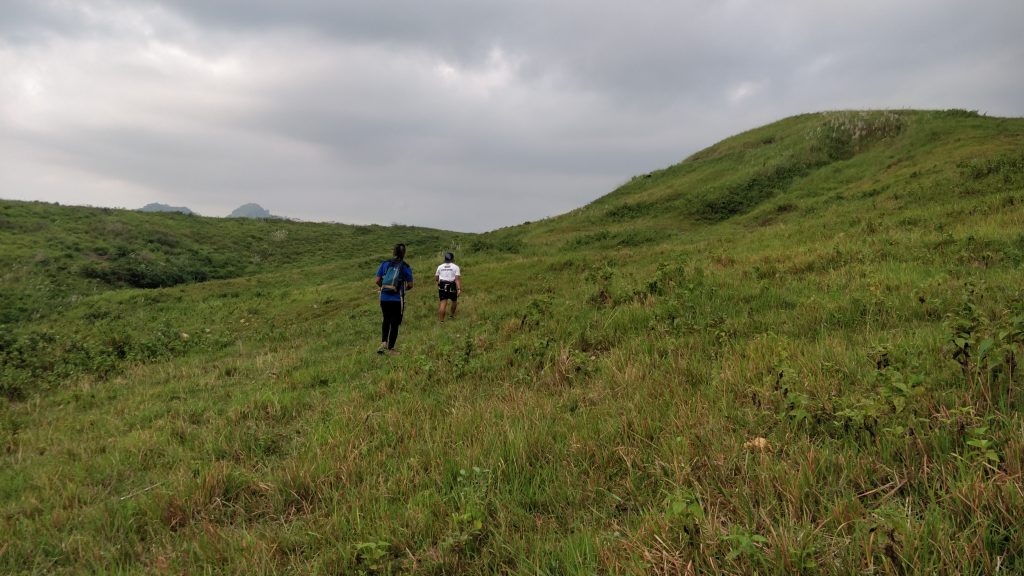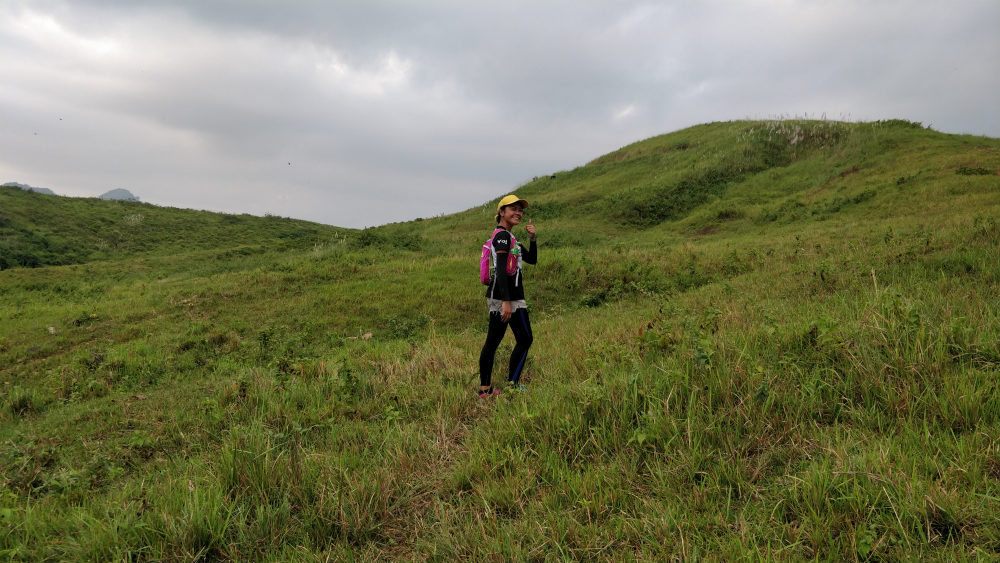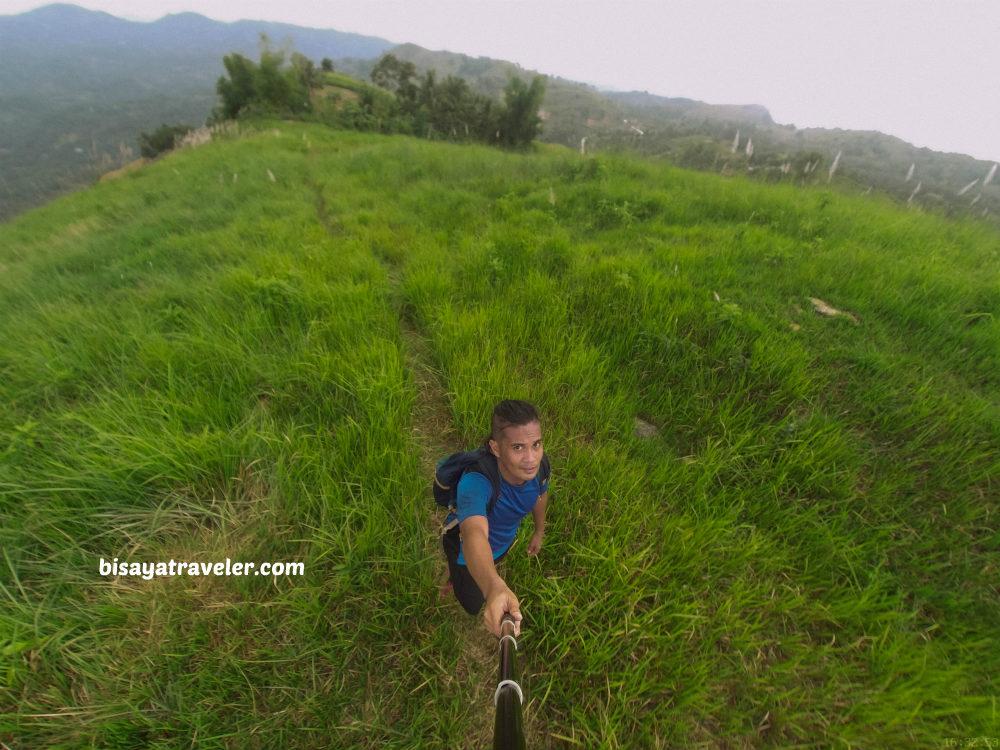 Once there, we soaked up its irresistible beauty and savored the fresh mountain air.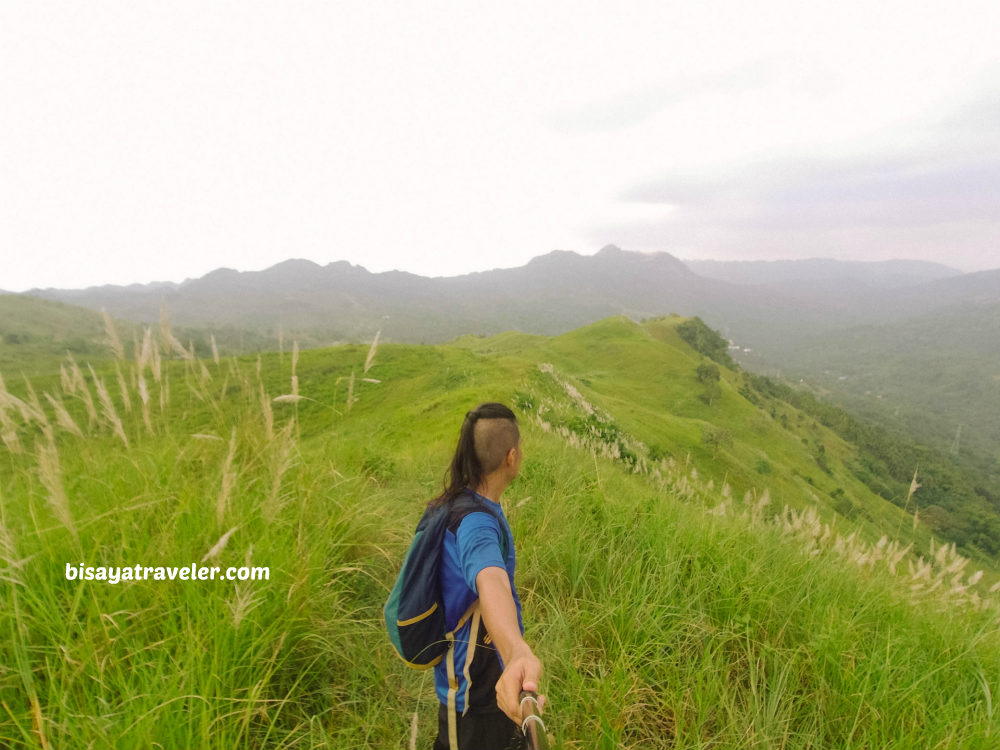 Surreal.
Picture-perfect.
Stunning.
My mind ran out of adjectives as I was cherishing the beauty of Manayon's Peak.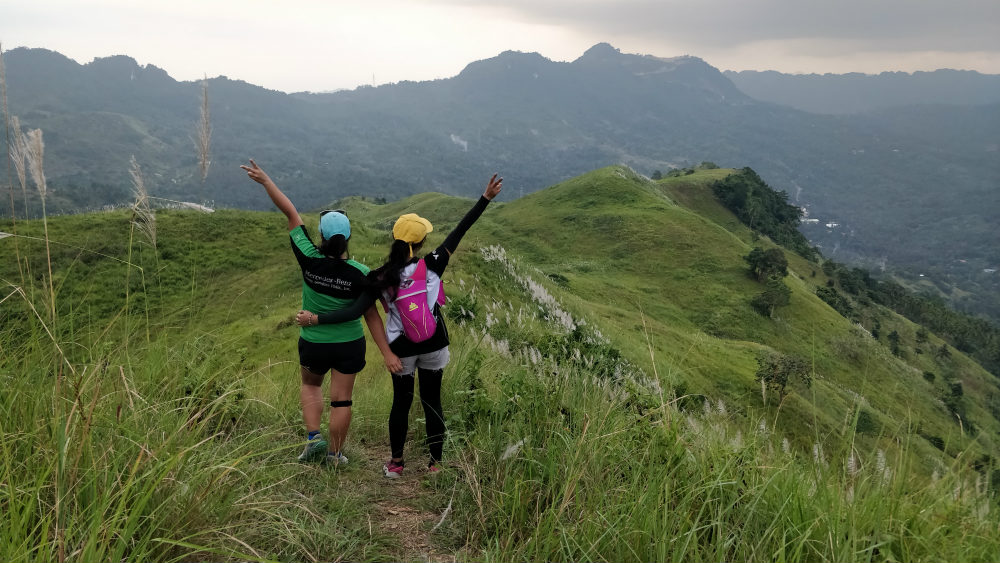 With the rainy season in full effect, the grass seemed greener and the colors of nature were more vibrant.
Everyone had been amazed by the beauty of this mountain in Naga, Cebu.
It was simple yet beautiful.
And, in some way, it felt like returning to a time of bliss and simple pleasures.
Even with sky turning slowly to gray, we couldn't stop admiring the scenery of Manayon's Peak.
And, some were even surprised that a mountain this breathtaking exists in Naga, Cebu.
In a world full of majestic natural wonders, there's surely no shortage of surprises, especially when you're hiking with someone like Sofia.
The beauty of Manayon's Peak wasn't the only thing that enthralled and surprised us that day.
On our way to Manayon's Peak, we saw glimpses of the mountains we passed by.
With a total distance of 19 kilometers, it was indeed quite a long day hike.
And, it was Sofia who pushed us to traverse to Manayon's Peak from Bungtod Talinis in San Fernando, Cebu.
Before I began hiking mountains, I searched for a spark that would hopefully unleash my inner adventurer.
I was at my physical peak, and on the cusp of a breakthrough. But, I didn't have the guts and confidence to explore pristine mountains.
As it turned out, all it took was a voice saying: just go, and do it.
Sofia turned me into the spontaneous, optimistic, fearless, indefatigable adventurer I am today. And, now, she's pushing, inspiring and encouraging others to go beyond their limits.
12:27 PM
She has a curious relationship with long day hikes. Instead of draining her energy, the muscle-burning walks soothe her.
From the awe-inspiring mountain ranges of San Fernando, we hiked our way to an established road in Jaguimit, Naga, Cebu.
There, she saw the charm and allure of Manayon's Peak.
The moment I saw Manayon's Peak and its ranges, I knew we were going to end up there.
She just couldn't resist long day hikes. With plenty of time left, she looked for options for our final destination that day.
And, besides, she wanted to visit the place that she helped us discover.
Whenever Sofia is around, the options for adventures are infinite.
I always expect the unexpected.
Upon her request, I suggested this idea to Beboy and Dian and they, with glee, agreed to it.
We, then, pitched the idea to Tatay Raul who was a little hesitant to hike all the way to Manayon's Peak.
And, speaking of Tatay Raul, the guy has been on the constant lookout for her Manic Pixie Dream Girl.
For years, he has been patiently waiting for the girl who'd lead him to the land of never-ending euphoria. And, he's still looking for that girl who will change his perspective.
Does he really need it, though? Personally, I think he has already found his Manic Pixie Dream Girl. He just doesn't know it yet.
Thankfully, everyone agreed to our idea.
Since they don't know much about Manayon's Peak, I was pretty sure they would be surprised by Sofia's spontaneous idea.
Slowly, we were stepping into Sofia's zone. And, soon, these hikers will get a taste of her world.
11:41 AM
I'm a bona fide introvert. Once, I was even considered a wallflower by my contemporaries.
And, in Hollywood rom-com films, it's the Manic Pixie Dream Girl's role to turn the introverted hero into someone who's outgoing and fun.
But, Sofia is not your typical Manic Pixie Dream Girl.
She doesn't force me to become someone I'm not. Instead, she urges me to embrace the gifts of an introvert and enjoy the perks of being a wallflower.
In addition, she has, silently, been teaching me how to socialize with others.
And, thus far, her lessons have been beneficial to me and tons of other people.
Without Sofia's voice, this hike for a cause wouldn't have been possible.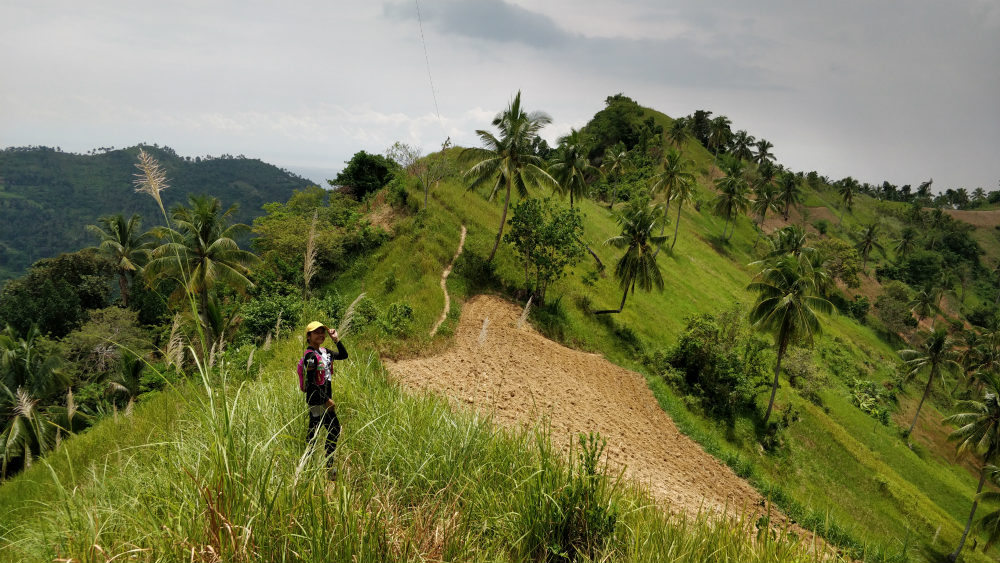 And, there would have been plenty of other outreach programs that didn't happen if she didn't show up in my life.
Of course, I had a lot of fun socializing with others, on our Manayon's Peak hike.
In the words of Sofia, socializing is a learning experience and a great way to see the world from someone else's perspective.
From Jonah's DOH friends to a fellow blogger, there were so many intriguing characters on our Manayon's Peak hike.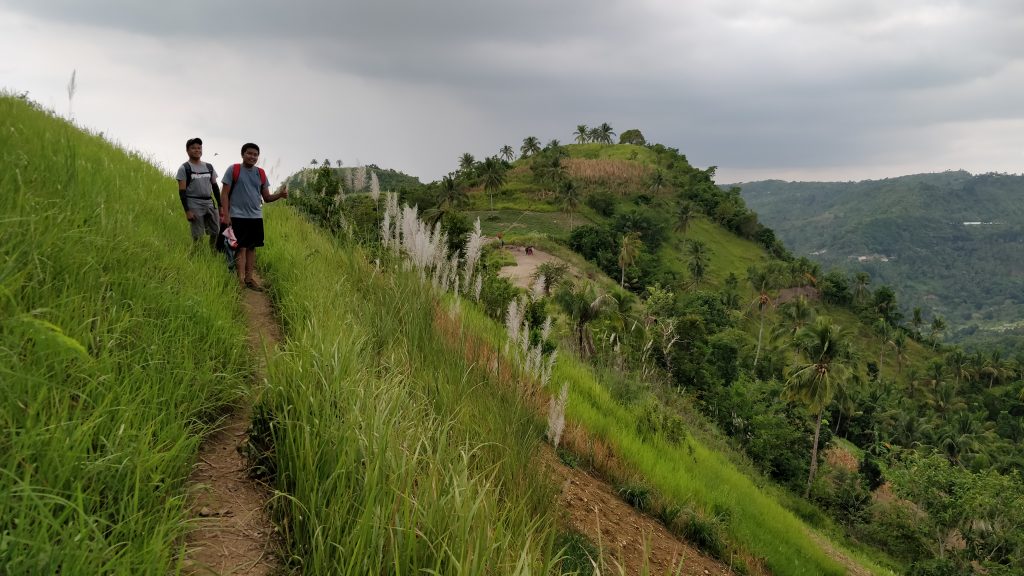 Plus, we, as the organizers of the group, were happy to see the hikers enjoy the scenery of one of Cebu's best kept secrets.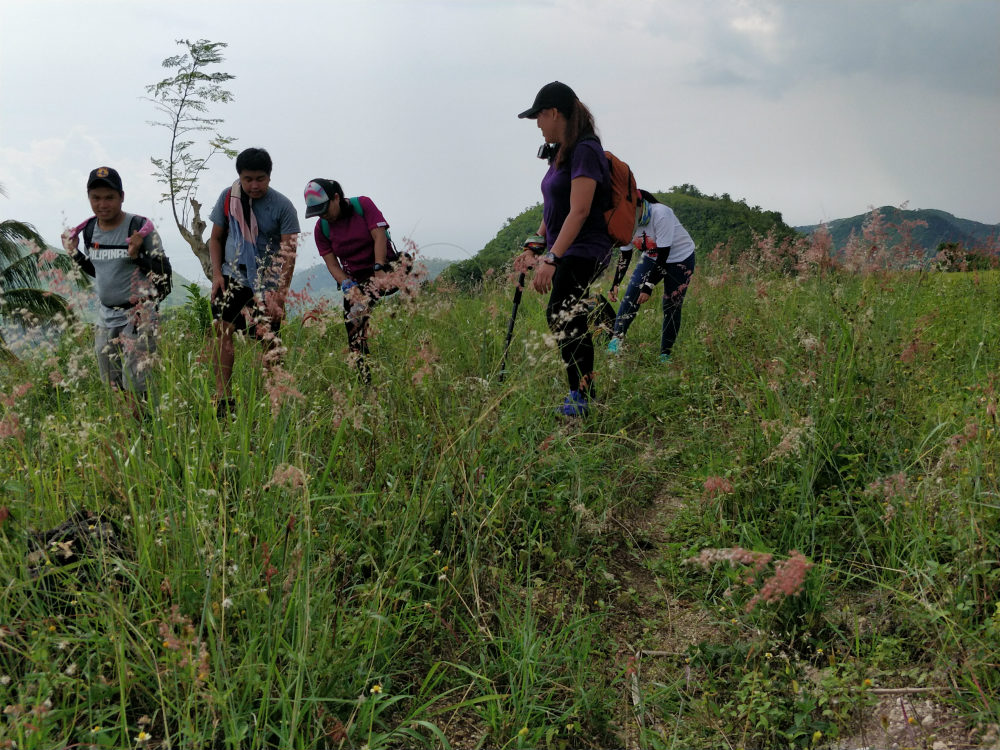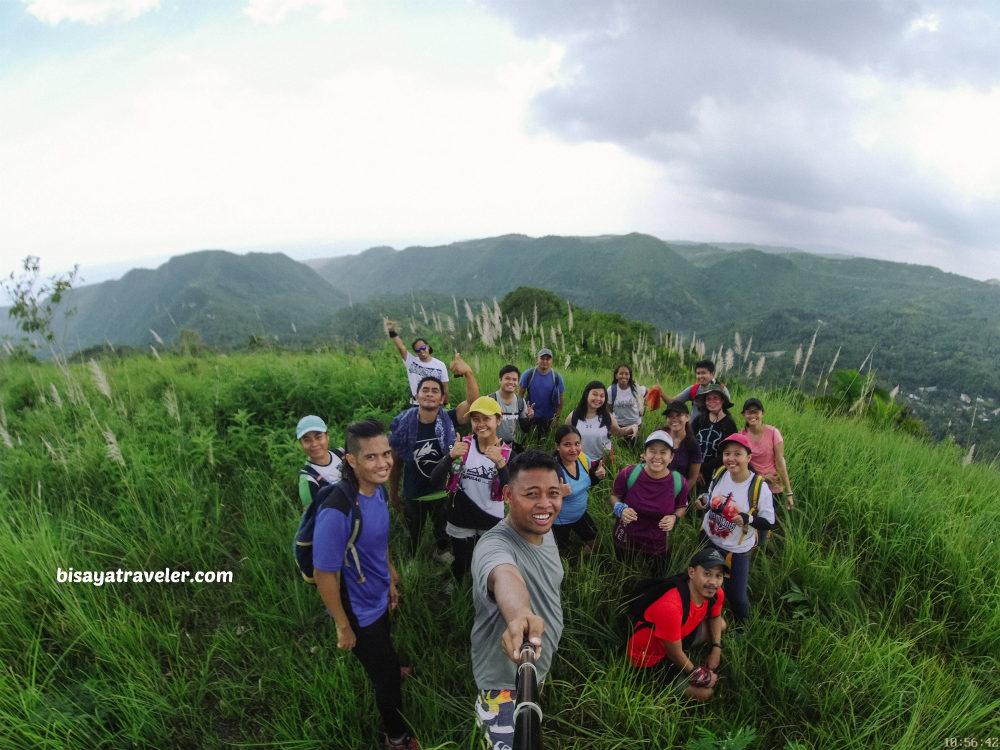 There are perks to being an introvert. But, there's a wonderful world waiting if you step out of your comfort zone. And, that's one of the best lessons that Sofia has ever taught me.
10:16 AM
Eric started it all. Staring at the breathtaking view and relishing the fresh breeze, I saw Eric climbed to where we were standing.
Afterwards, Eric shared his thoughts on our open-minded hikes, and how he wanted to sample it.
And, that, to me, was a sign from the Universe.
Suddenly, I could sense something is coming, with strange sounds echoing inside my head.
From that moment on, I knew we wouldn't be following our original plan and itinerary.
It would be like our exploration hikes – full of surprises and exploring new paths.
Maybe, we'd discover a new mountain or hike all the way to Manayon's Peak.
That's all because Eric triggered it – the voice inside my head.
And, I call this voice "Sofia".
I had to introduce them to Sofia. I had to share the beauty of spontaneous adventures from the eyes of Sofia and my friends.
And, here's the thing.
Sofia isn't the quintessential Manic Pixie Dream Girl that you see in romantic-comedy films.
She is a metaphor and my internal motivator.
She's actually an acronym of one of my personalities: Spontaneous, Optimistic, Fearless, Indefatigable Adventurer.
On the contrary, she is an antithesis to Hollywood's idea of a Manic Pixie Dream Girl.
She represents the idea that people can be happy without their dream lover. She's proof that you don't need an external motivator to live a happy and exciting life.
And, she is my way of saying that we've been fed with purely BS and unrealistic film concepts.
The reality is, some of these Manic Pixie Dream Girls wear a façade to mask their personal issues.
They have problems like you do, and they hide it by putting on a different face and personality.
So, don't expect these girls to save you or lead you to a great adventure because some of them are more f*cked-up than you are.
Remember 500 Days of Summer and 100 Tula Para Kay Stella? How about Clementine in Eternal Sunshine of the Spotless Mind?
The thing is, you don't need Zooey Deschanel, Toni Gonzaga or Kirsten Dunst to spice up your life.
In truth, all you need is a little imagination. Who knows? It might lead to you to unheralded places like Manayon's Peak.
How to get to Manayon's Peak
Take a bus ride from Cebu City Bus Terminal bound for Toledo City. Ask the driver or conductor to drop you off at Balirong (eskina Balirong). Then, ask the locals for directions to Panas or Manayon's Peak.
The hike to the top can be tough if you're not used to hiking. If you're a hiking newbie, take a habal-habal ride that will take you to Panas, Balirong. Fare is about PHP 50 per person, and travel time is 30 minutes.
For more information about Panas, check out my older post, Balirong To Lamac Traverse: Uncovering Naga, Cebu's Unseen Natural Beauty.
About Bungtod Talinis
You get more info about Bungtod Talinis from an old post at this post.