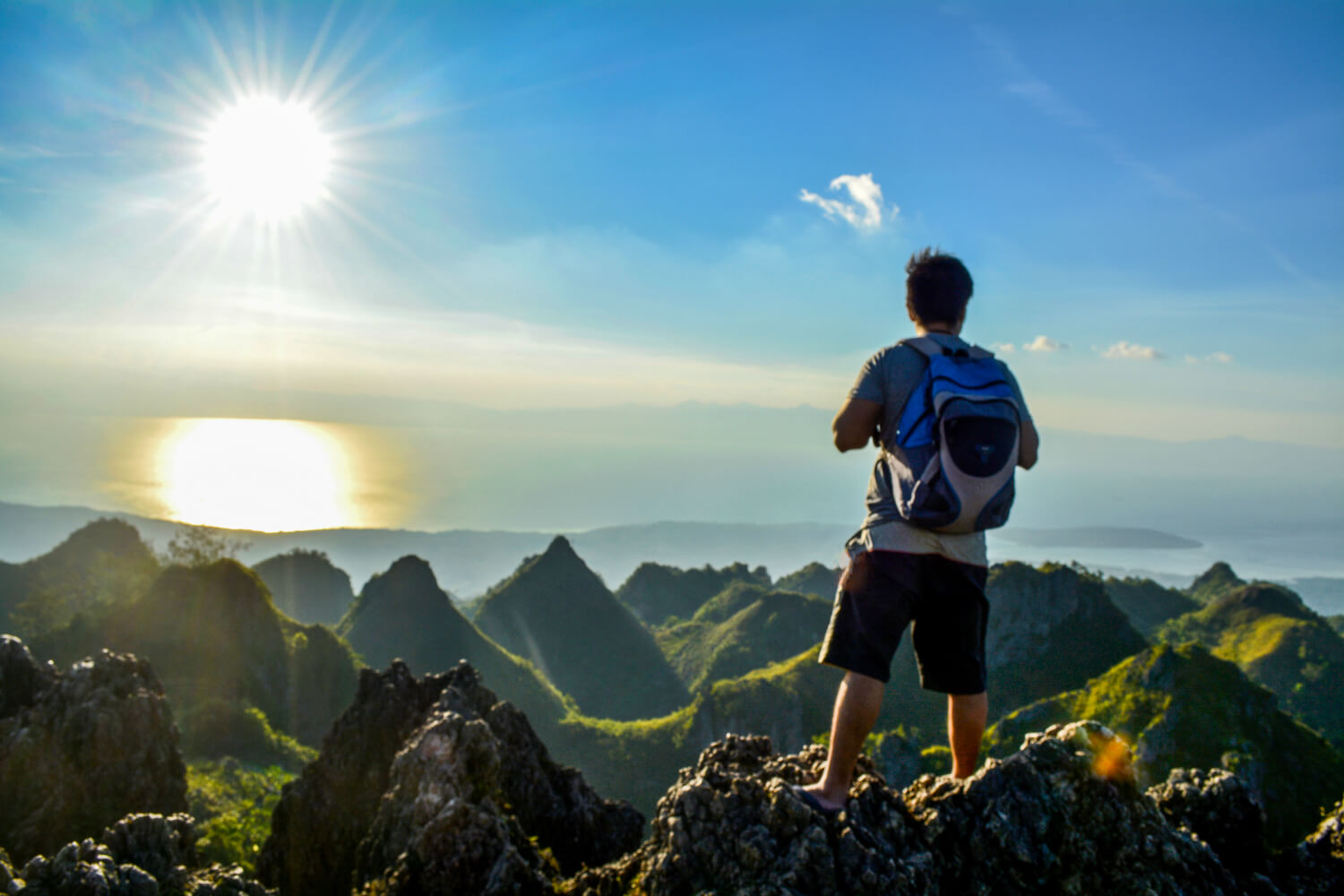 Osmeña Peak: The Ultimate Guide To The Highest Summit In Cebu
Windy, rejuvenating and simply breathtaking, Osmeña Peak – the highest peak in Cebu – is truly a heavenly site that should be in every Pinoy traveler's bucket list. Billed as one of the most spectacular natural wonders in Cebu, O'Peak wows with its visitors with its dramatic views, easygoing vibe and super fresh mountain breeze. What's more, it is wonderfully surrounded with lush, jagged and towering hills that would remind you of Bohol's iconic Chocolate Hills.
I've been blessed and privileged to witness the grandeur of this place not just once, but on a number of occasions. And today, I'm going to help you plan a trip to this charming Cebuano marvel with ease.
Just recently, I went back to Osmeña Peak for nostalgia's sake as well as to introduce my girlfriend to this picturesque site. And though I'm no stranger to Osmeña Peak, this famous attraction on Cebu Island still gave me the chills. Even if you're not an outdoor aficionado, you will, without a shadow of a doubt, fall in love with this place. Once you set foot on the peak, you'll get a sublime feel of being on top of lofty mountain with majestic landscapes begging to be explored.
Where is it located?
Osmeña Peak is located in Mantalongon, one of Dalaguete's 33 barangays. Aptly nicknamed as the "Summer Capital of Cebu", this quaint mountainous barangay is also famous for its cold temperature and laid-back charm. Furthermore, this seclude village is brimming with verdant trees and fresh vegetables, earning the moniker of the "Vegetable Basket of Cebu".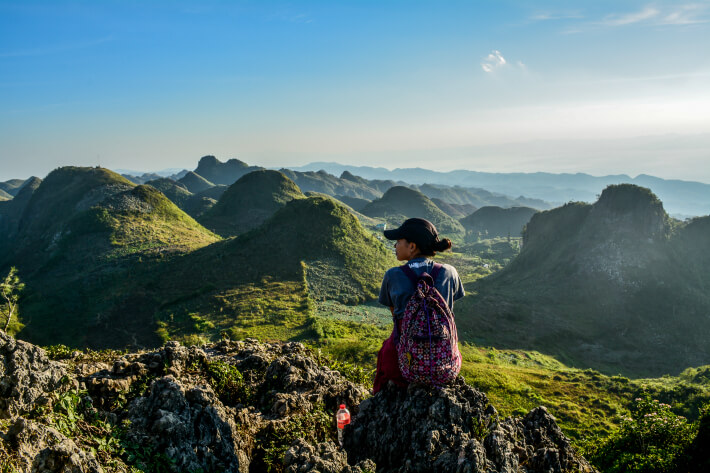 How to get to Osmeña Peak
Make your way to the South Bus Terminal in Cebu, and hop on a bus bound to Bato or Oslob. Travel time is usually 3 hours, and the fare is around 100 to 200 per person, depending on the type of bus you pick. In our case, we only paid 100 PHP each since we took a non-air-conditioned bus to Dalaguete. Afterwards, ask the bus's driver or conductor to drop you off at the Mantalongon-Dalaguete junction.

From there, take a motorcycle or habal-habal ride to the peak's jump off point. Fare is 200 PHP per person (back and forth), and travel time is around 30 minutes. Then, take the trek to the top of the mountain. Depending on your fitness level and trekking experience, the hike will take 20 to 30 minutes.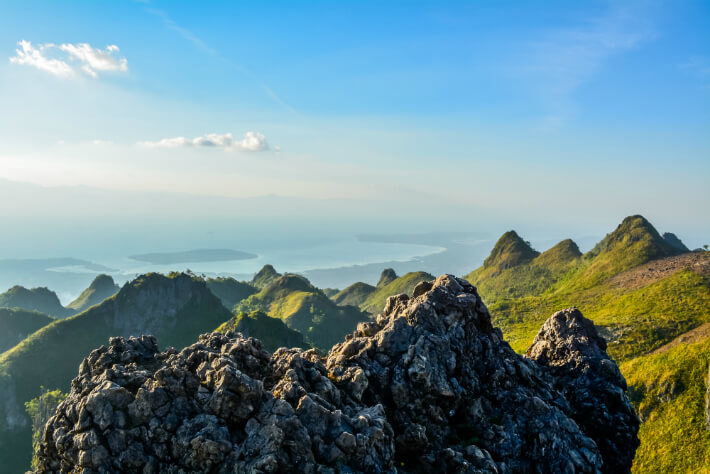 What about the entrance fee?
You don't have to spend a fortune to experience the countryside grandeur and exquisite vistas of this lofty peak. To enter the site, you only have to pay a small fee of 30 PHP (environmental fee) per person, and list down your name at the registration area. Additionally, you need to shell out 5 PHP, if you want to use the site's comfort room.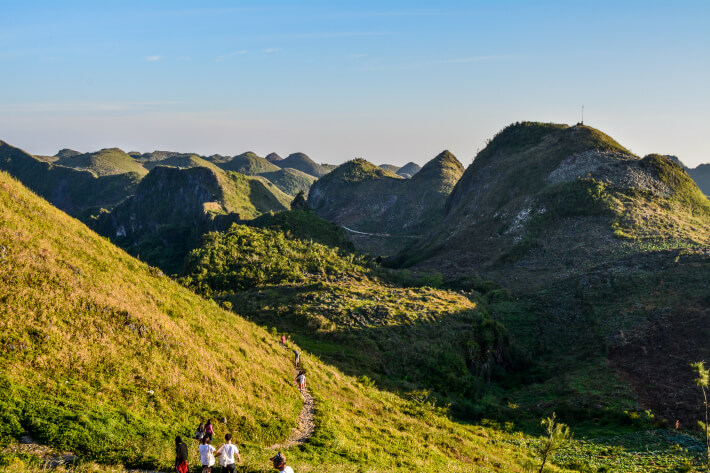 Do I need a guide?
There are tour guides in front of the registration center, offering their services to the peak's visitors, for a price of 200 PHP. As much as I want to help them and the local tourism, I don't think it is a good idea to hire one. Personally, I think the price for their service is a bit steep, considering that you can easily get to the top without any guidance.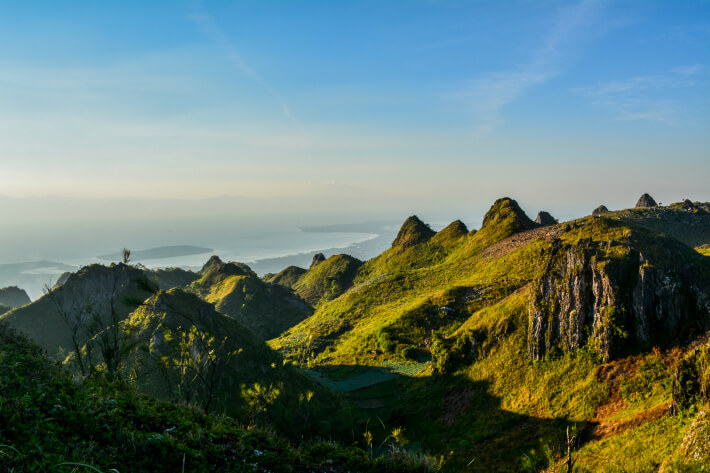 Is it easy to reach?
Are you a newbie, when it comes to trekking? Trust me, you don't have to be seasoned backpacker or hiker to reach this peak. Osmeña Peak is, as far as I'm concerned, an easy climb for outdoor greenhorns, although it is nestled 1,013 above sea level. In fact, I've seen quite a lot of kids as well as elderly folks conquer this famous trail, with ease and in flying colors.
For experienced hikers, Osmeña Peak may not be as challenging and thrilling as some of the peaks and mountains you have climbed. Still, it is a great place to enjoy soothing fresh mountain breeze as well as awe-inspiring panoramas of Cebu and its nearby islands like Negros and Bohol.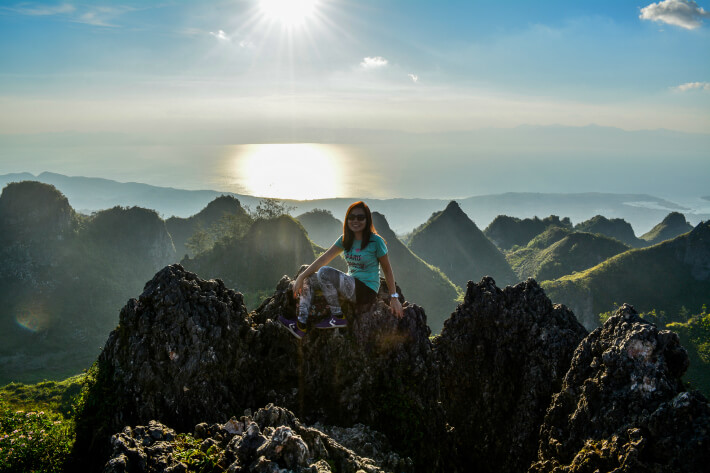 Other important things to keep in mind
Respect Mother Nature
Don't pick up flowers or pull weeds, along the way, for the sake of taking cool selfies. Also, make sure to throw your garbage properly, during your visit to this site. O'Peak is a beautiful place that should be preserved and respected by its visitors.
What to bring
Wear a good pair of trekking or rubber shoes to counter the jagged rocks as well as slippery soils and grass along the way. While I've reached the summit wearing sturdy slippers, I would not recommend visitors to sport them in this situation. Also, wear comfortable shorts, hiking pants and trousers that won't tightly clinch your waist.
A jacket may come in handy as well, especially since the weather in Mantalongon can drop all of a sudden. If you intend to stay there for a few hours, bring ample amount of food and water with you. And most of all, don't forget to bring your camera to capture the best moments of your trip.
And by the way, if you plan to watch the majestic sunset, and stay a little late, make it a point to bring a flash-light with you. The place is rather dark at night, and you might end up with a few bruises and scratches without a light to guide you through the darkness.
Can I camp there?
Absolutely! There are designated camping areas within the site, for those who want to spend a night there. For more information about camping in Osmeña Peak, make sure to check out Pam's post.
The best time to visit O'Peak
Both the Mantalongon range and Osmeña Peak are accessible to mountaineers, hikers and casual tourists all year round. But in my opinion, it is best to climb it in the first half of the year. Keep in mind that the rainy season in the Philippines is from June to October, meaning it gets pretty slippery and wet during this time of the year.
Also, it can get a little congested with crowds of tourists on holidays and weekends, so it would be ideal to visit it on the weekdays.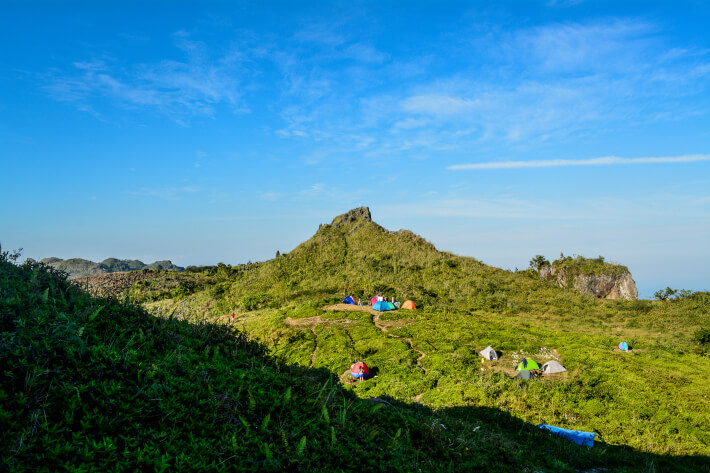 What to do next?
Explore the gorgeous delights and countryside charm of Cebu's southern side. From historic churches and mind-blowing outdoor adventures to world-class beaches and pristine waterfalls like Kawasan Falls, southern Cebu is teeming with marvels, natural wonders and sights that guarantee to put you into a state of euphoria. Not to mention, it has a plethora of sweet and mouthwatering culinary treats to please your taste buds and gastronomic urges. Whether you're a foodie, history buff or an adrenaline junkie, you will definitely find your bliss in this part of Cebu Island.
If you have any other questions, feel free to reach me through my Facebook account. Adios!