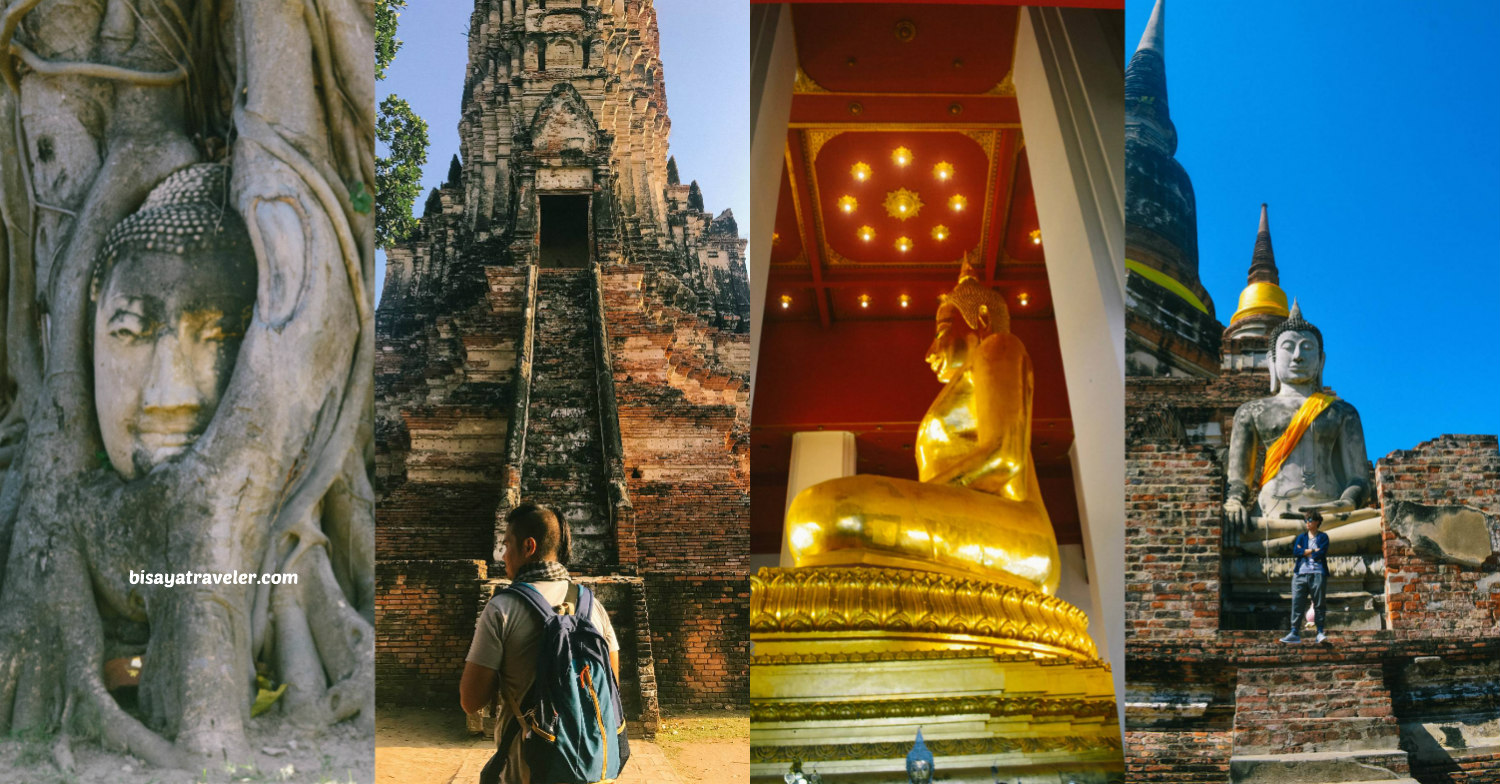 Ayutthaya: Savoring The Remnants Of Siam's Golden Days
A memorable trip to a bygone era! That was our guide's promise on our way to Ayutthaya. "You're going to see Thailand's most important and picture-perfect relics", said our Ayutthaya day tour guide, Roger.
As someone who works in the travel industry, I know it's the guide's job to pump up its guests.
And sometimes, there are tours that just don't live up to the expectations set by the guides and even blogs.
Been there, done that!
Whenever a travel guide says something wondrous about a place, a universe of questions will soon fill my head.
And, in our Ayutthaya day tour, my inner monologue had a plethora of questions, on our way to our first stop.
Is Ayutthaya one of those over-hyped attractions or tours?
Is the ancient Siam capital worth a visit when in Bangkok?
Did we make the right choice booking this day tour?
Yet, somehow, I knew Roger wasn't bluffing or over-hyping up the majesty of Ayutthaya.
My senses and gut feel were saying he was telling the absolute truth. Although I didn't do a lot of research on this history city, I felt like we were bound for an epic trip.
And besides, you really can't go wrong with a UNESCO World Heritage Site. Right?
So, did our Ayutthaya day tour give us a myriad of pleasant memories and enthralling sights?
Was Roger telling us the truth or was he saying something that an optimistic tourist would like to hear?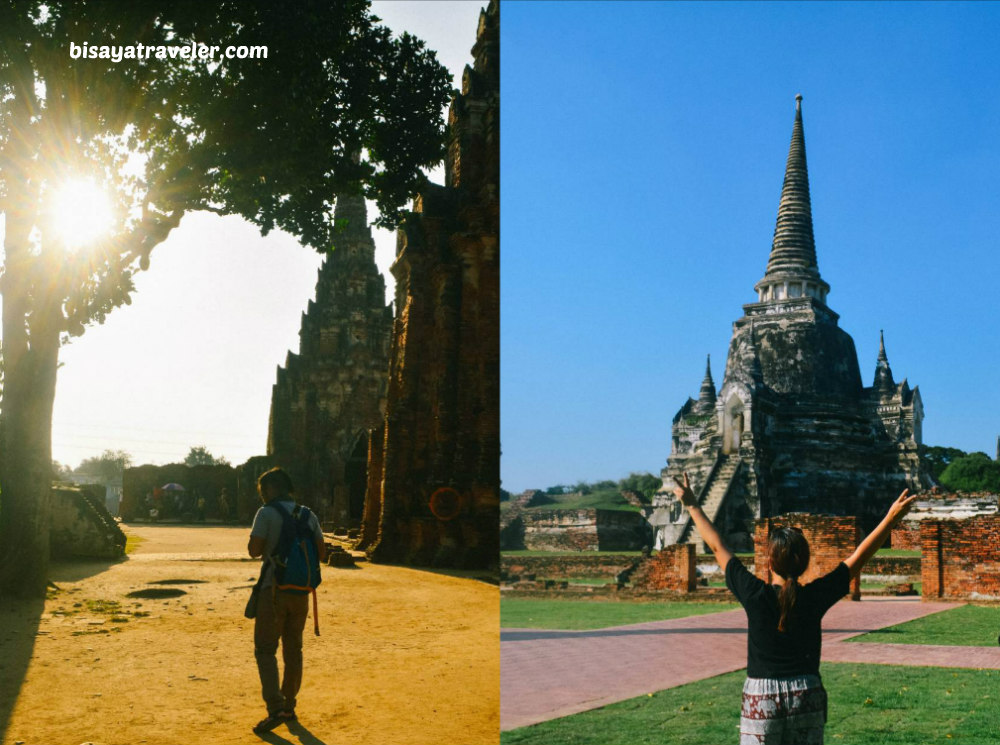 Our Ayutthaya day tour
It was a busy Monday morning in Bangkok.
And, with the maddening Bangkok traffic, I thought we'd be late or even miss our Ayutthaya day tour.
But, alas! We arrived in the nick of time, thanks to our savvy and skilled Grab drivers.
When we arrived at our meet-up (Paragon Mall Gate 1), our guide, Roger, wasted no time and gave us a quick rundown of the tour.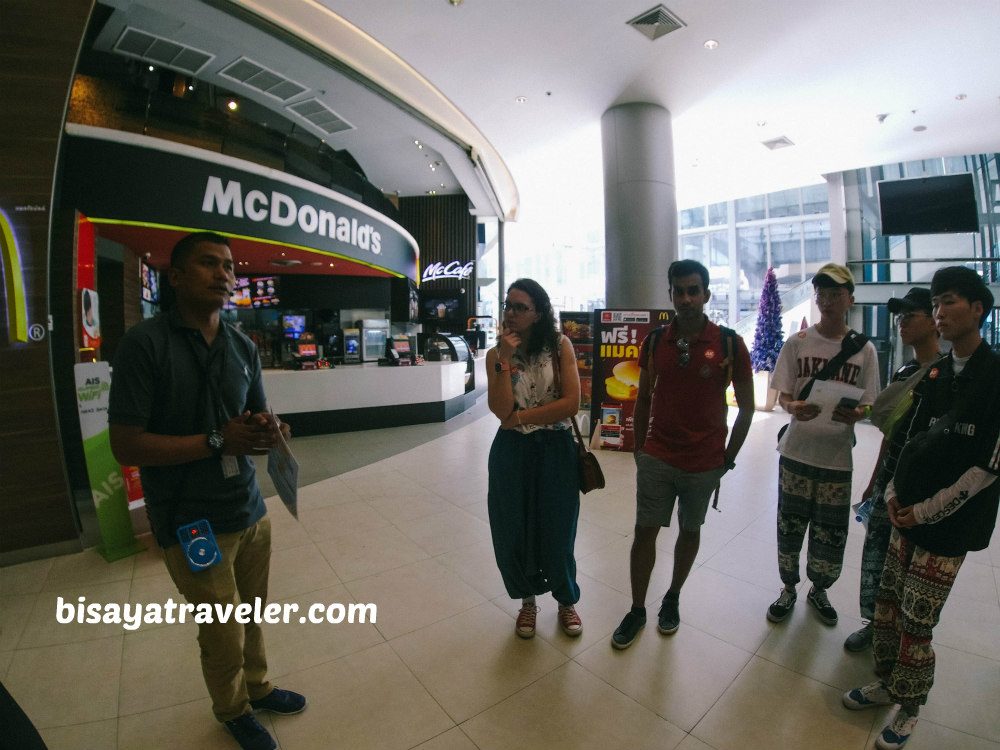 Furthermore, Roger offered a wondrous history lesson of the historic city of Ayutthaya.
And, it was great!
Heck, it did psych me up.
While I've read some write-ups about Ayutthaya, I didn't know it was the world's largest and greatest city in the 1700s.
As a matter of fact, European merchants once called it as the finest city they've ever seen, with its gold-laden palaces.
Kudos to our guide for sharing that piece of information!
After our short talk, my wife and I hopped on our van to kick-start our Ayutthaya day tour.
Of course, our travel buddies – Tiya Nora, Mama Godelia, Sarah Jane, ate Juliet and Sherly – were also on the same van.
From Paragon Mall, we took a one-hour ride to the first stop of our Ayutthaya day tour – Wat Yai Chaimongkon.
First stop: Wat Yai Chaimongkon
I was awestruck and speechless, the moment we arrived at Wat Yai Chaimongkon. With its towering spires and splendid historic ruins, it was truly a sight to behold.
From the parking area, we followed our guide to a lovely spot where he gave us some instructions and history lessons.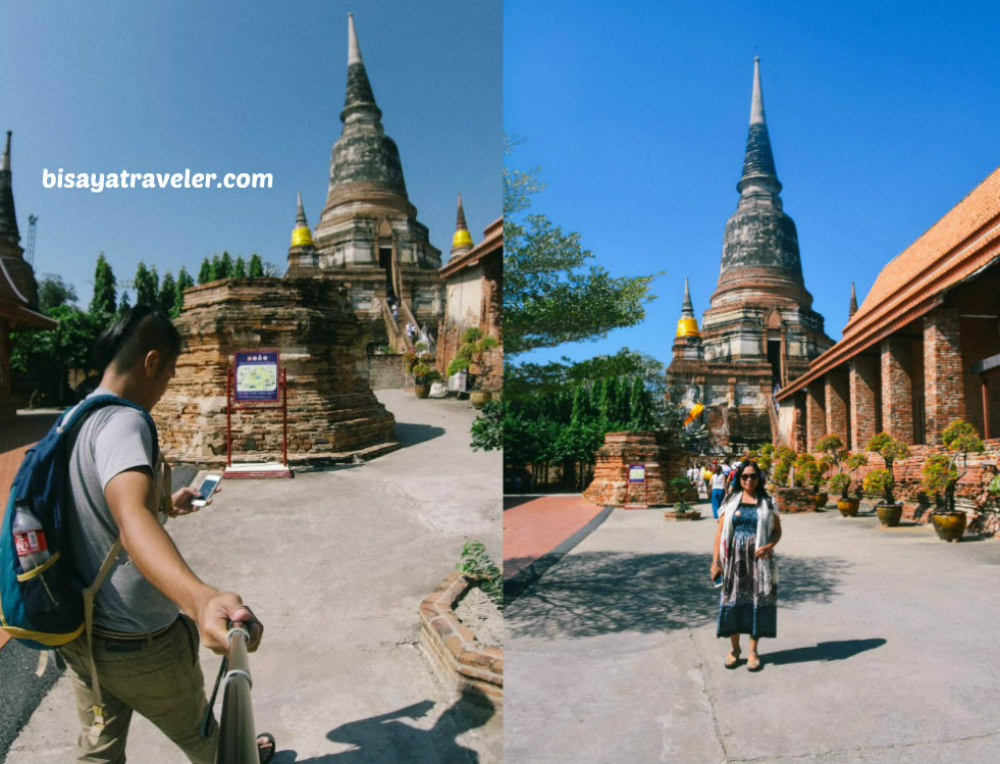 Afterwards, we snapped a few pictures and explored the area on our own.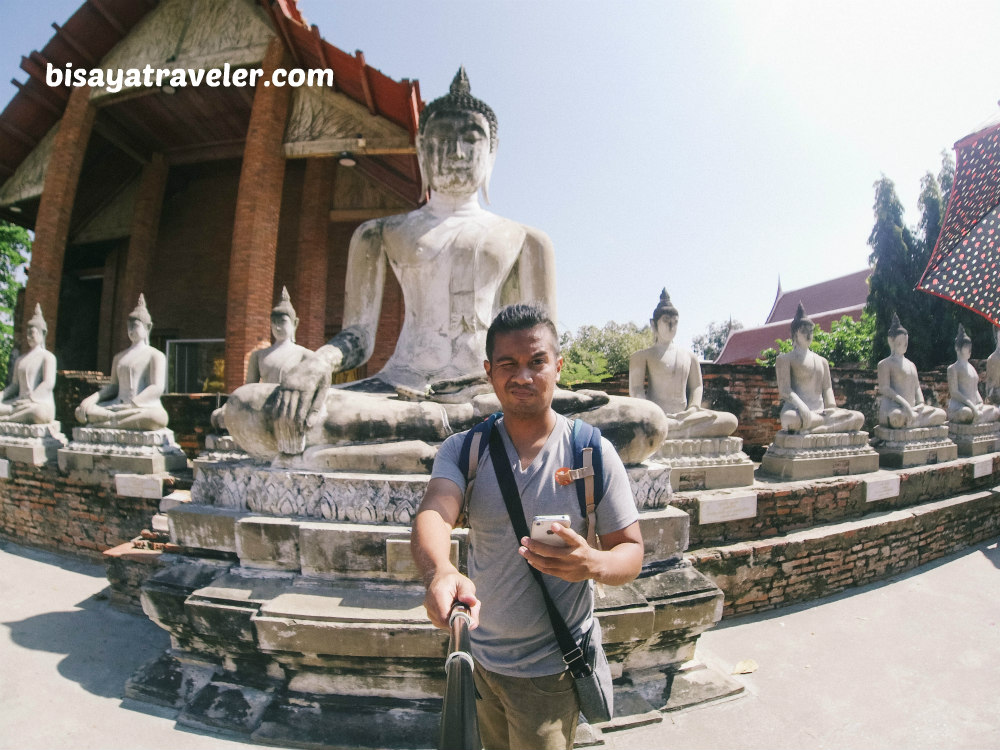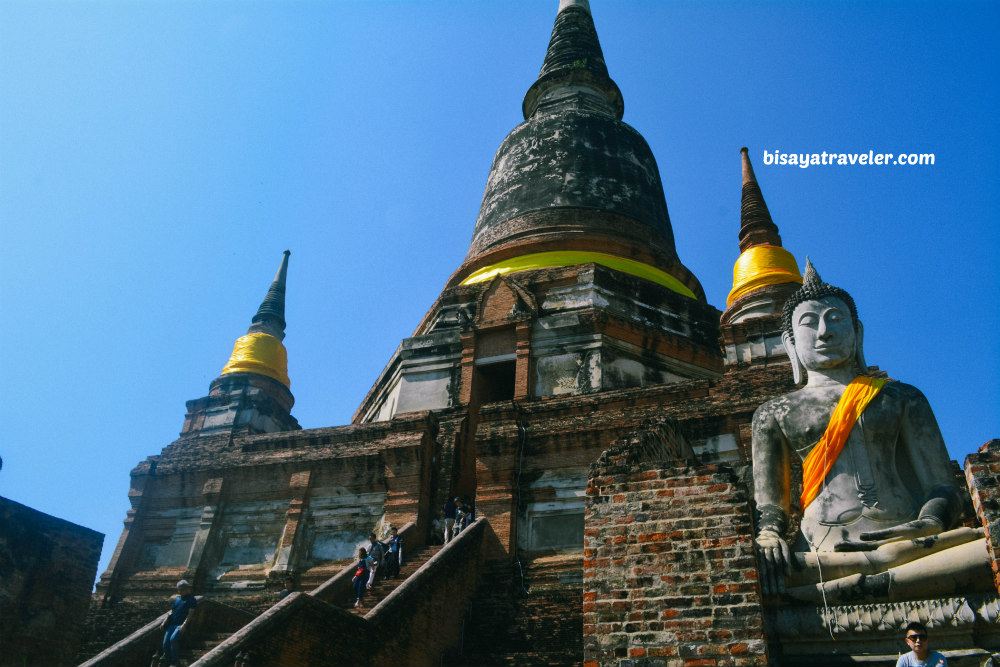 Clearly, we were on a state of pure bliss.
From intricate Buddha statues to eye-catching ruins, Wat Yai Chaimongkon brims with stunning sights.
We, then, climbed our way to the top of the main chedi, and got a beautiful overlooking view of Wat Yai Chaimongkon.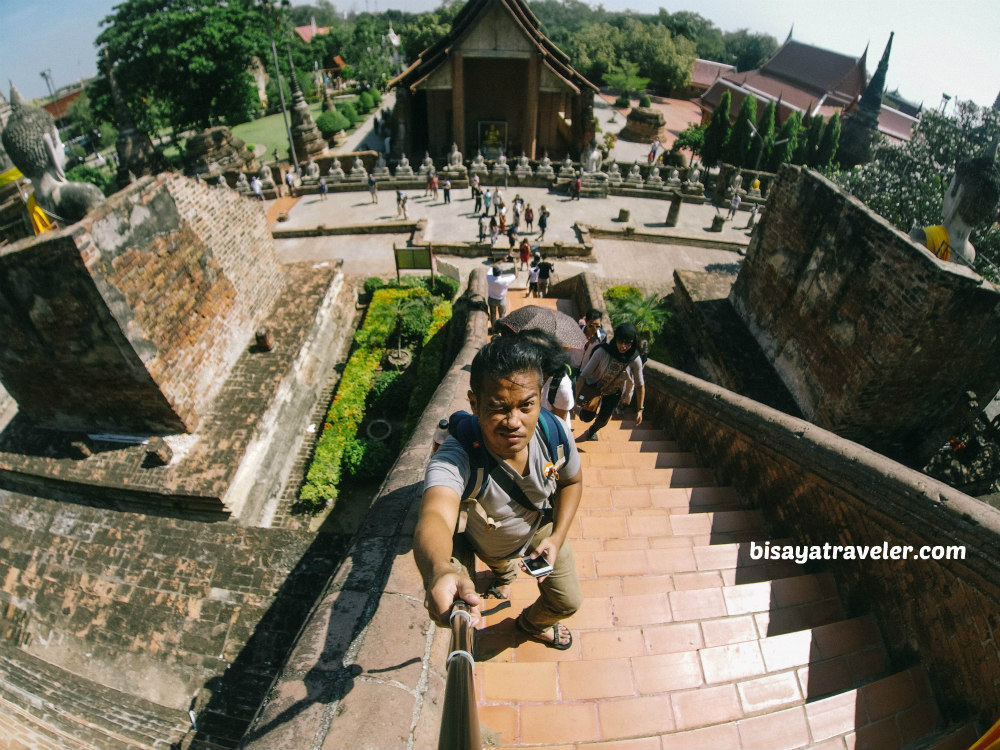 Once there, we went inside, and dropped a few coins for good luck.
Judging by its height, I figured out that the chedi has some wondrous overlooking views.
That's why we explored the area, and snapped a bunch of photographs.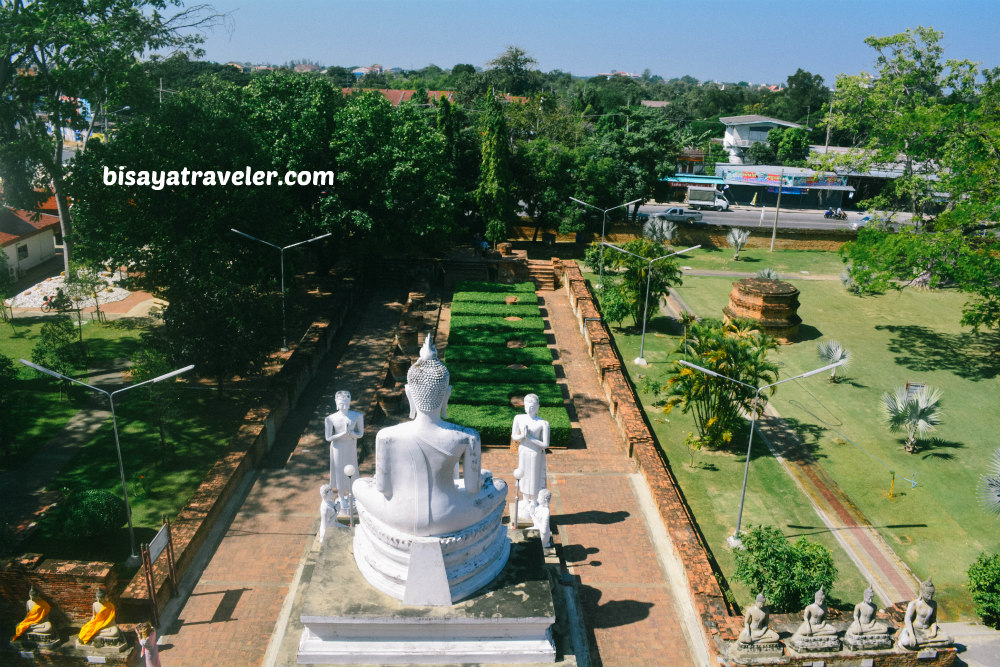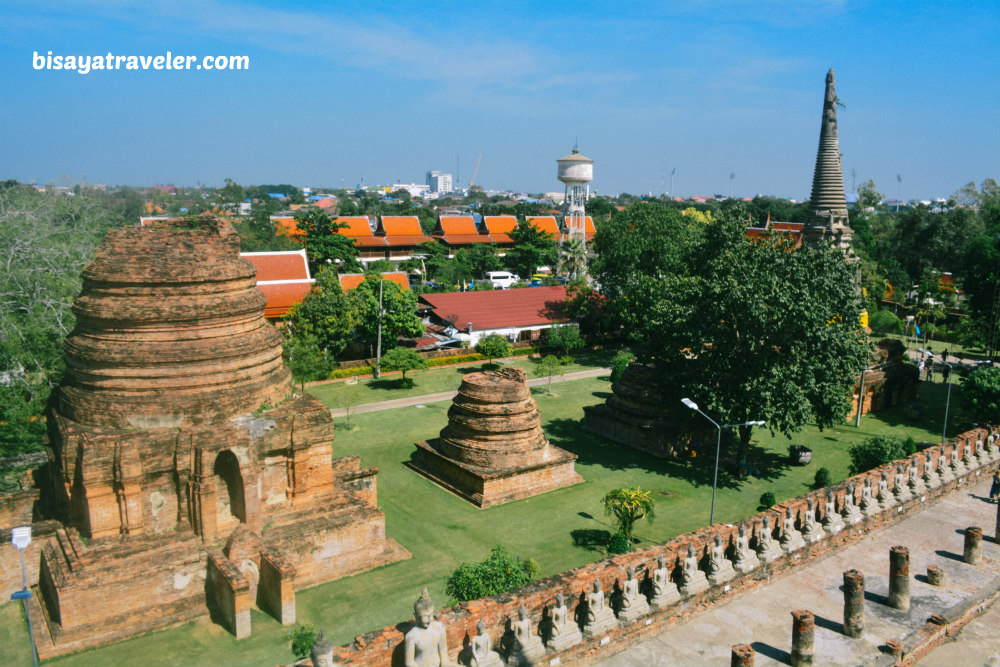 I felt great!
I guess Roger was right.
I even thought it was the ultimate highlight of our Ayutthaya day tour.
After all, most Thais say it is, hands down, one of the most popular and beloved temples in Thailand.
Little did I know, though, there were plenty of other mesmerizing and exciting moments later on.
From this vantage point, we descended, and took turns posing on the gigantic Buddha statues below.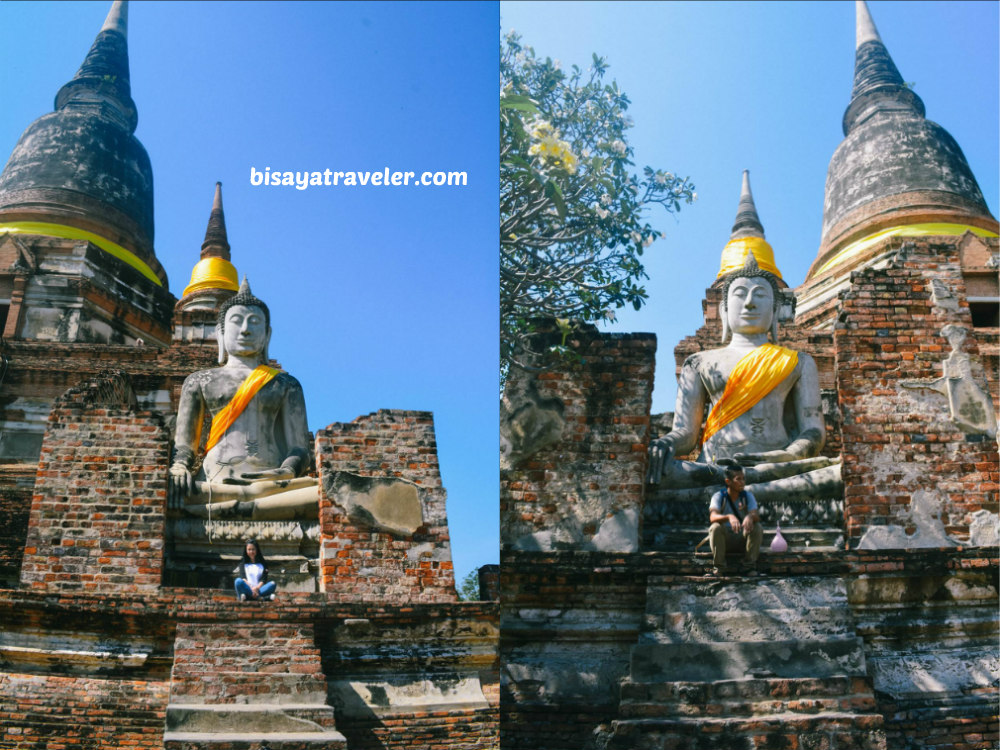 Since we had tons of stops left in our Ayutthaya travel itinerary, we had to return to the parking area, and continue with our tour.
And along the way, we discovered the temple's famed reclining Buddha.
While it's not as grand and big as the one I saw in Wat Pho, it was stunning nonetheless.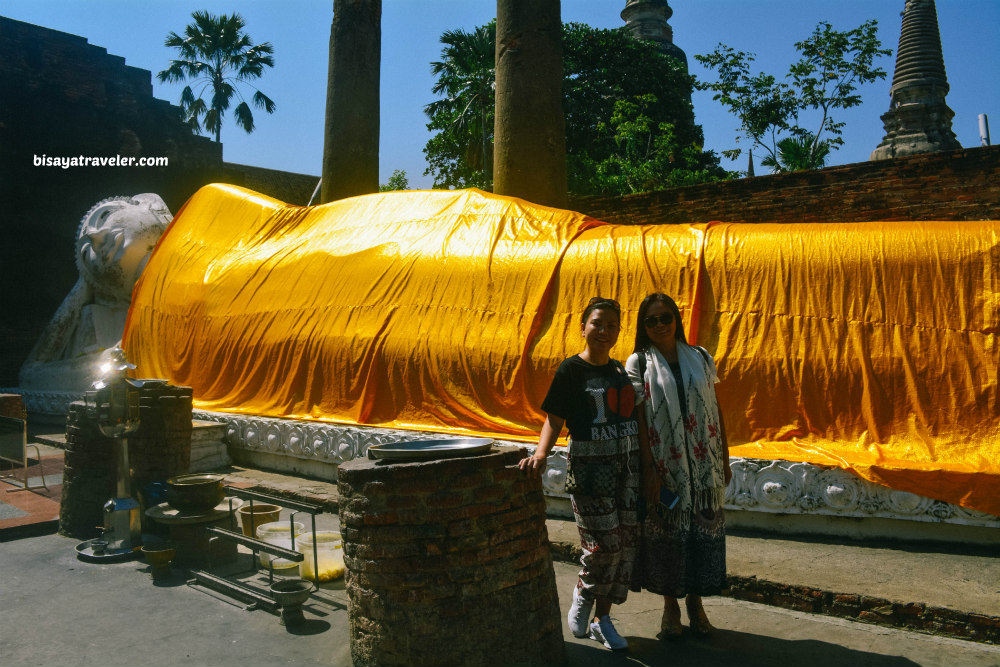 A couple of pictures later, we went inside the van, and took a short ride to Ayutthaya Floating Market.
Second stop: Ayutthaya Floating Market
As part of our Ayutthaya day tour, we went on a boat tour around the floating market.
Despite its small area, I must say it's a little bit more scenic and laid-back than Damnoen Saduak Floating Market, which we visited two days ago.
With the floating market boat tour in the books, we wandered around the area, hoping to find some great bargains and tasty treats.
Eventually, we stopped by an authentic Thai restaurant, and indulged on a hearty and mouthwatering lunch.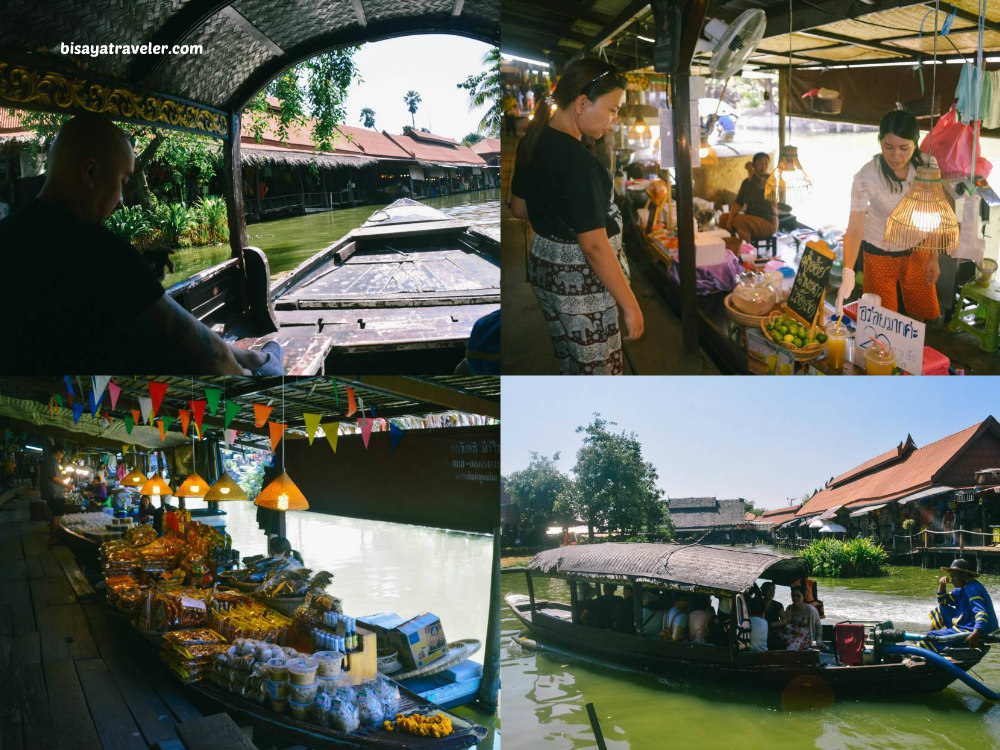 Honestly, there aren't a lot of things to do in Ayutthaya Floating Market, besides shopping and eating.
Still, we had a swell time, with its amazingly affordable souvenirs, food and crafts.
With our bags filled and energies replenished, it was time to move on with our tour in this UNESCO World Heritage site.
Third stop: Wat Mahathat
Wat Mahathat was one of the temples in Ayutthaya that I was looking forward to seeing in person. Nicknamed as "the temple of The Great Relic", it was, as far as I know, the center of Buddhism during the city's glory days.
What's more, it is home to one of the most photographed attractions in Ayutthaya – the famous Buddha stone head entwined wonderfully in the tree roots.
As always, Roger had an overview and a history lesson of the historic temple.
And, I'm utterly glad he did. As far as I'm concerned, it was fantastic.
Roger's introduction to Wat Mahathat opened my eyes to the beautiful history of Thailand.  As what I've found out through the discussion, the temple was built by the kingdom's 3rd king in 1374.  Likewise, I discovered how it was destroyed by the Burmese and later restored in the early 20th century.
And, guess what? I love history lessons.
The truth is, it's one of the reasons why I sometimes enjoy going on group tours.
I know you can find a ton of information on Google, but it's pretty different when you hear it from a local's perspective.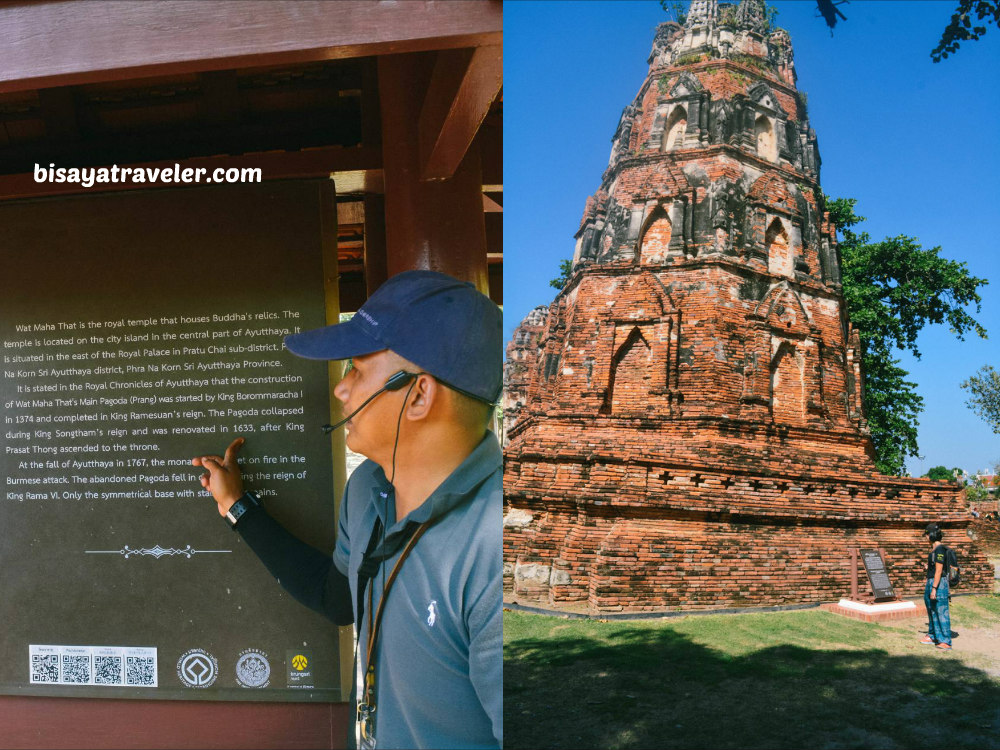 Shortly after, we made our way to the iconic Buddha statue head of Wat Mahathat.
It didn't disappoint at all!
Not only was it a striking image, but it also exuded a rather sacred feel.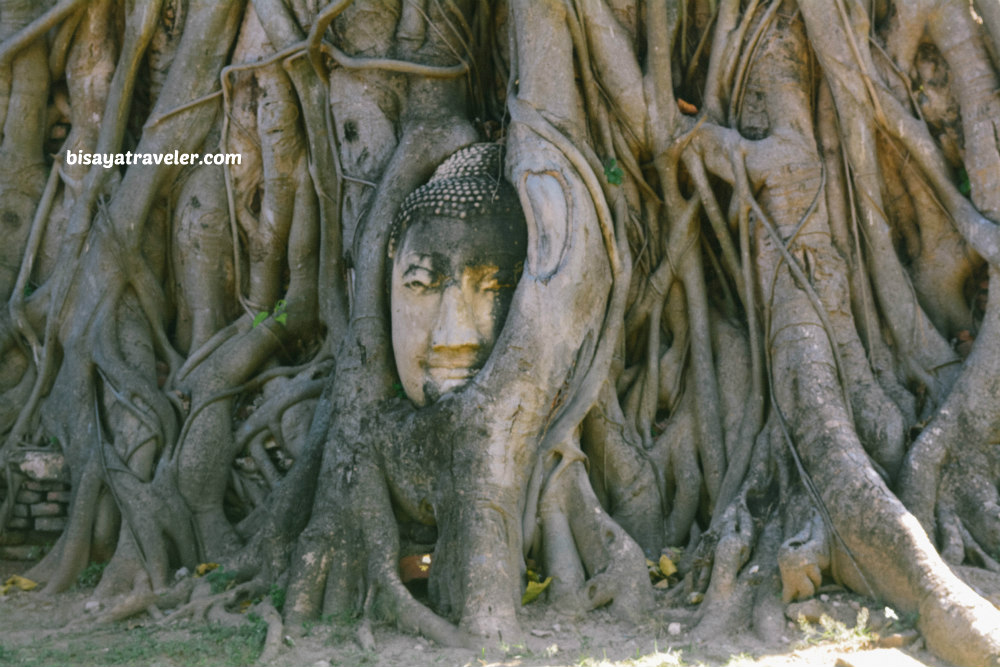 Believe me, it looks a whole lot better in person.
And, for some reason, it seems like the Buddha was happy, smiling on its pilgrims and spectators.
Speaking of which, you can't take a photo of the Buddha while standing up.  In Thailand, it's considered offensive and disrespectful to have a picture with the Buddha below your waist.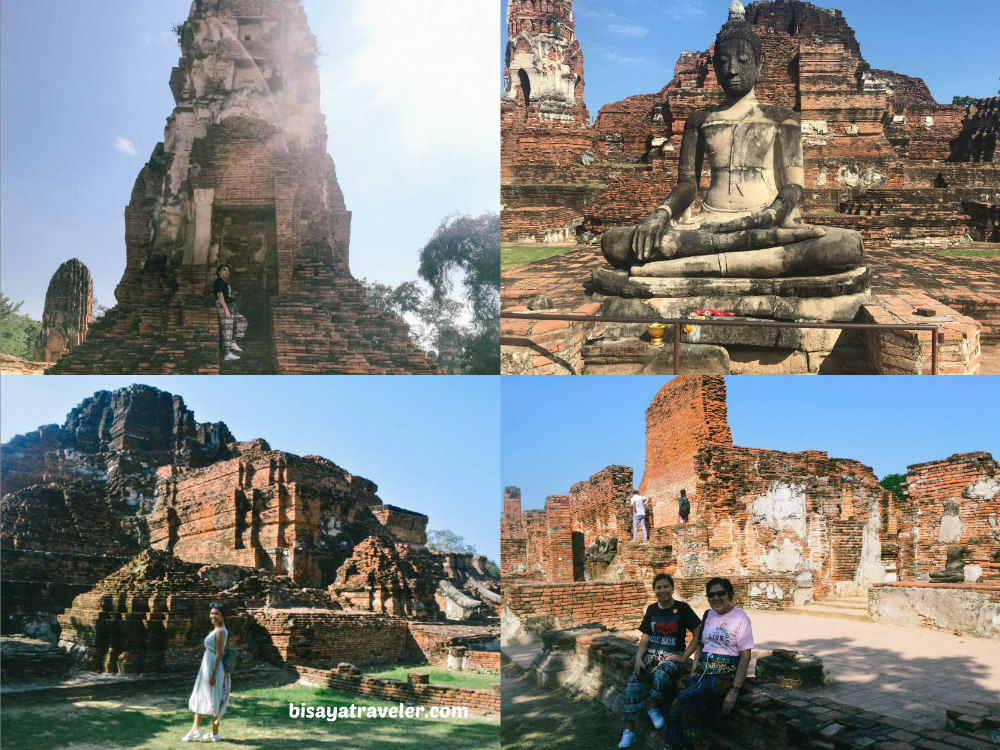 As with all the temples in Ayutthaya on our tour, we had tons of time to explore the ruins of the area.
As we were exploring the area, I noticed the similarities to the designs of Angkor's mountain temples.
Just like what our guide said earlier, it does have hints of the stunning Khmer architecture.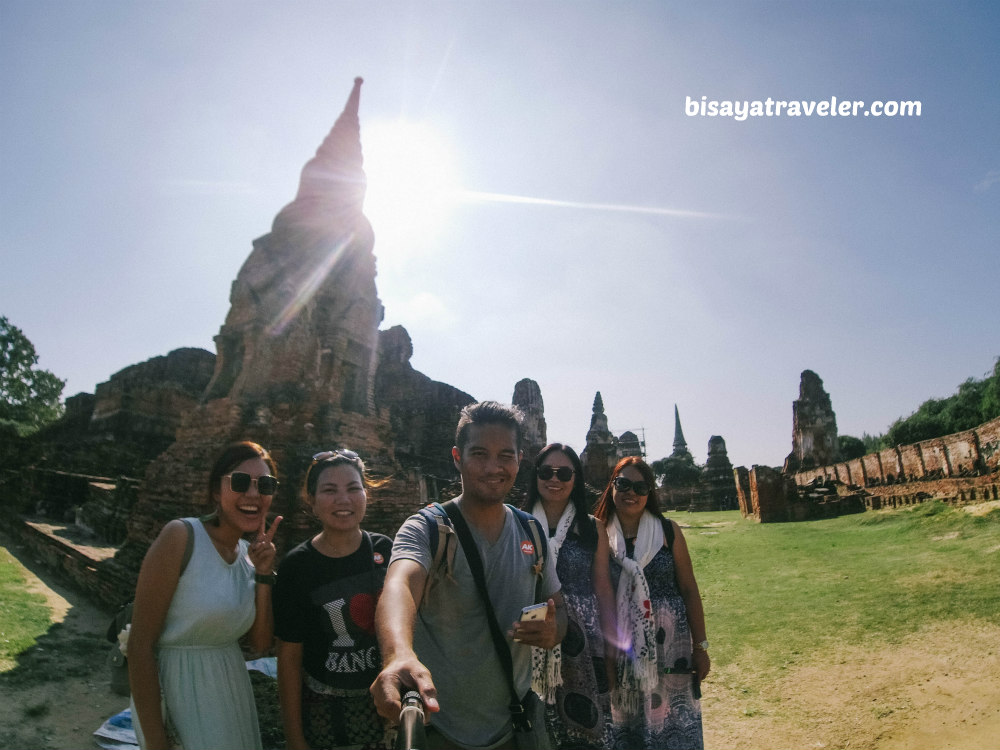 Aside from the lovely ruins, the temple also teems with Buddha statues.
Unfortunately, some of these statues have no heads.
According to the locals and guides, people before cut off their heads and earned a fortune by selling them on the market.
Yikes!
Even with scorching heat of the sun, I had a blast exploring Wat Mahathat. Remember, it's not every day that I get to explore a sacred temple with a long and splendid history.
To keep things rolling, we went to the parking area, bought refreshments, and stepped inside the van to escape the tropical heat of Thailand.
Fourth stop: Wat Phra Si Sanphet
On our way to Wat Phra Si Sanphet, some felt like they had seen too many ruins and temples in Ayutthaya in a day.
And, I get it – some people want a little diversity in their day tours.
I, on the other hand, was thrilled and excited to see more temples and ruins in Ayutthaya.
As I took a glance on our Ayutthaya day tour itinerary, I realized that we had at least one stop left on our itinerary.
And, it was dubbed as "Asia's most sophisticated royal temple" and "Thailand's Angkor Wat".
Sounds interesting!
Ultimately, we arrived at Wat Phra Si Sanphet, and were mesmerized by the visually enticing row of pagodas.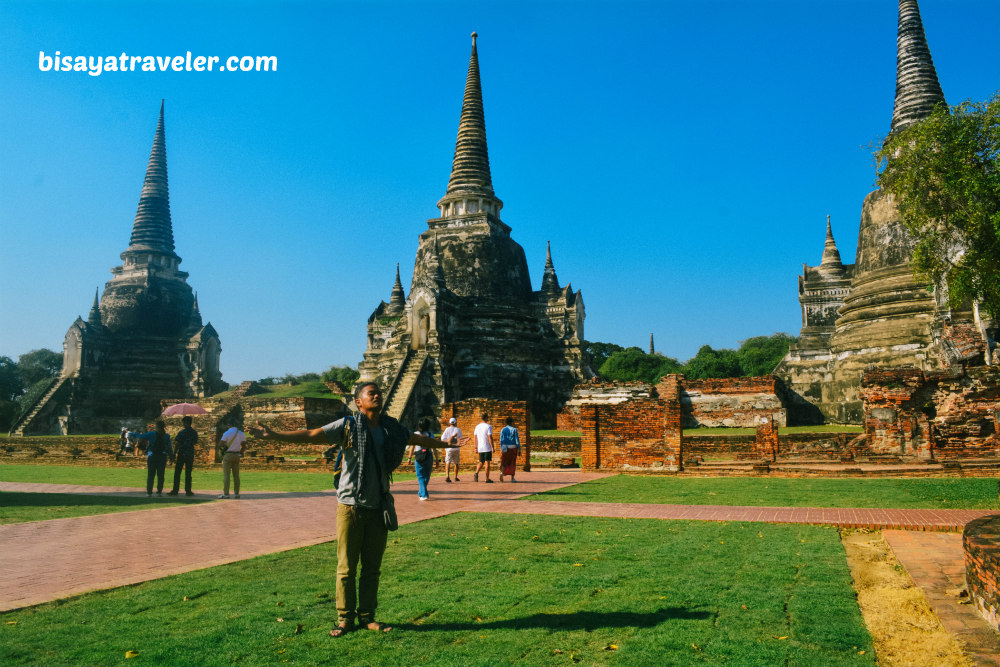 In my book, it's one of the must-see and most picture-perfect sights in Thailand.
To make things even better, it had a fairly easygoing atmosphere, and wasn't as crowded as some of the well-known attractions in Ayutthaya.
From the splendid pagoda row, we went to the nearby hall, to gaze at the humongous and awe-inspiring Buddha statue.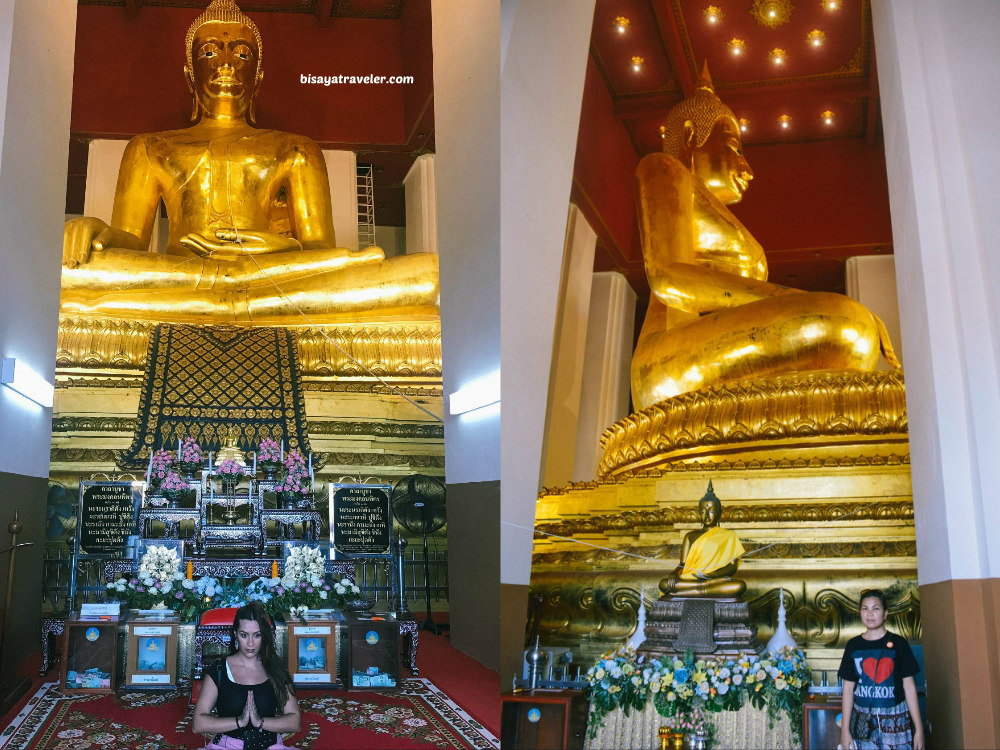 I'm not sure if it's made of bronze or gold, but it was nothing short of amazing.
Some of us thought our Ayutthaya tour was over.
With its remarkable pagodas and ruins, I thought it was the place they call as "Thailand's Angkor Wat".
But, we were wrong.
As it turned out, we had one last stop on our fun-filled Ayutthaya day tour.
Off to the last stop of our sightseeing adventure!
Fifth stop: Wat Chaiwatthanaram
Inside the van, I analyzed the travel itinerary, and found out that we were heading to arguably the most beautiful temple in the historic city.
As soon as we arrived, I, instantly, fell in love with the majestic Wat Chaiwatthanaram.
I couldn't help, but snap dozens of photographs of this temple.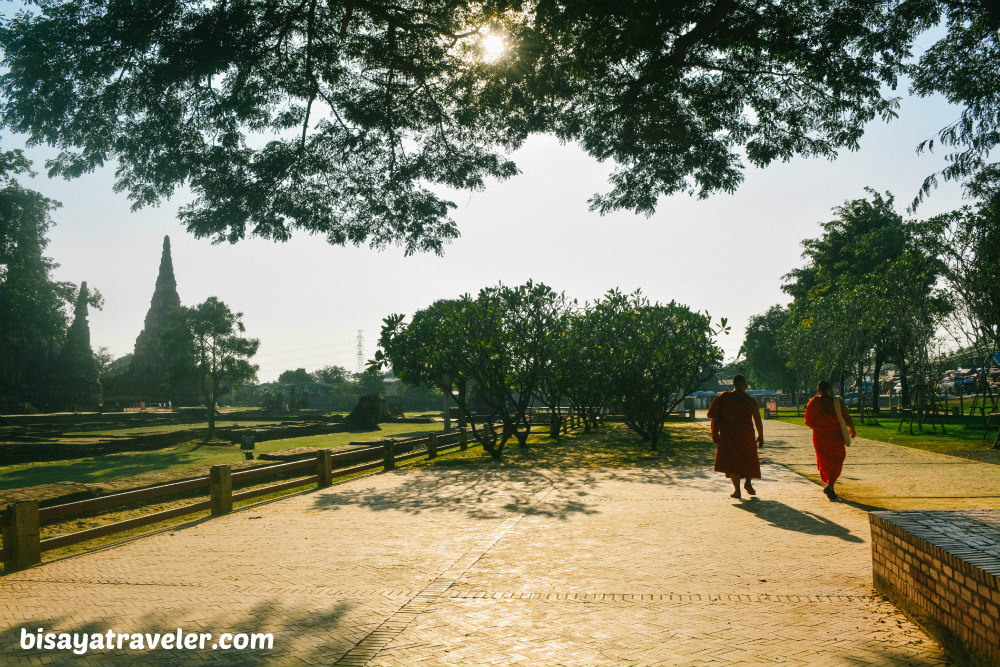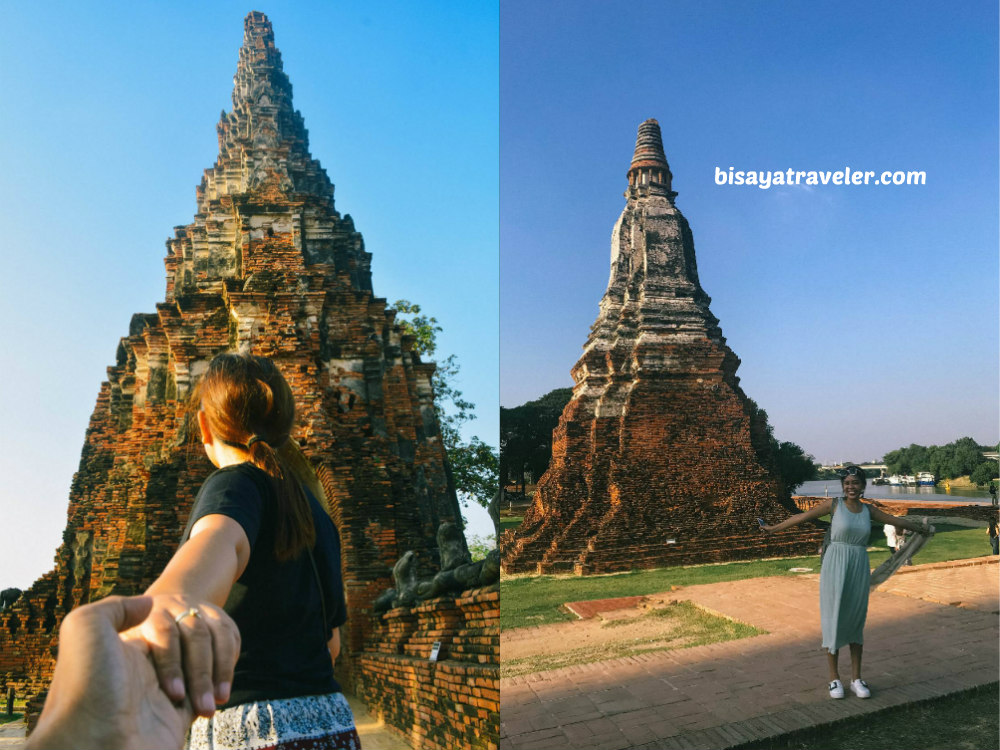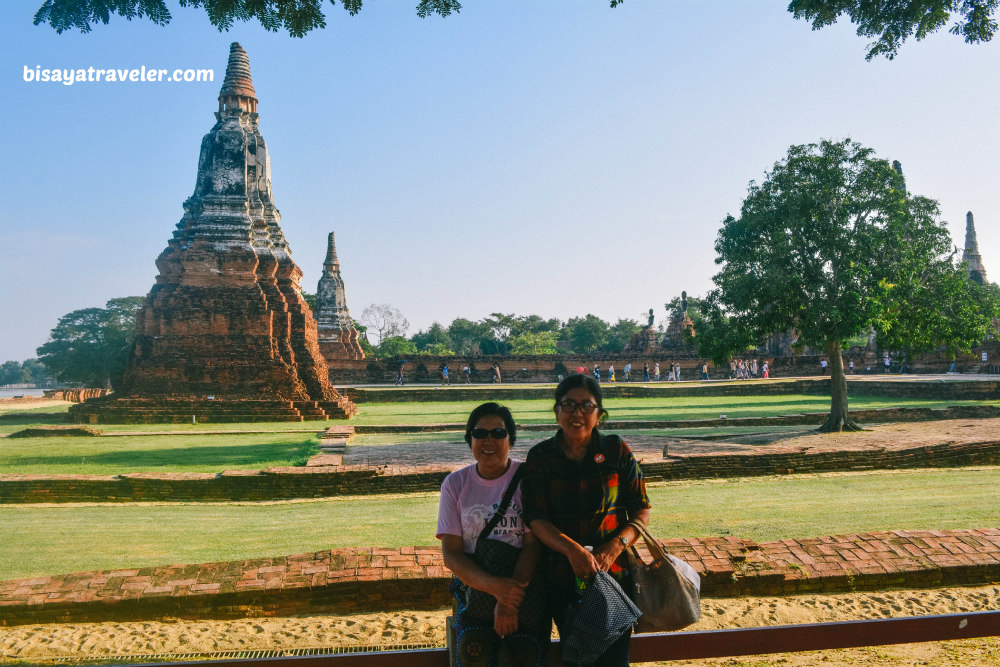 The Angkor-like ruins, paired with appeasing setting sun, made Wat Chaiwatthanaram a fitting finale to our perfect day tour in Ayutthaya.
If I had to pick the best spot in this historic city, I might select Wat Chaiwatthanaram.
But seriously, it's hard to pick which site in this destination is the best one.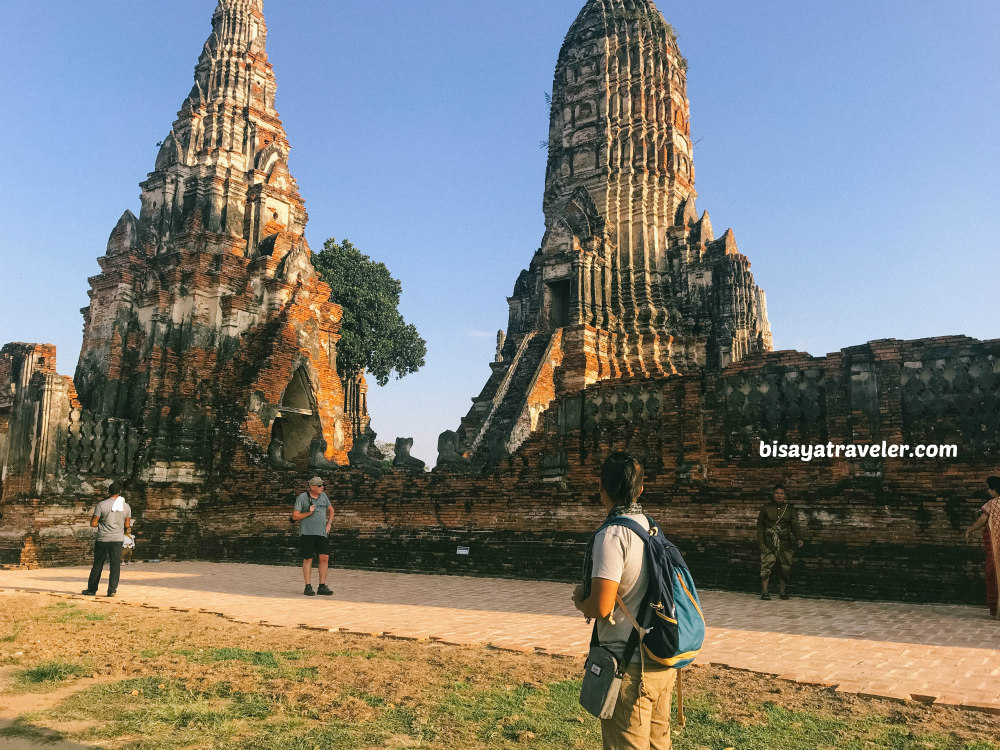 Maybe, you should visit them all, or go on an Ayutthaya day tour.
As we were about to exit the temple, Roger took a photo of us.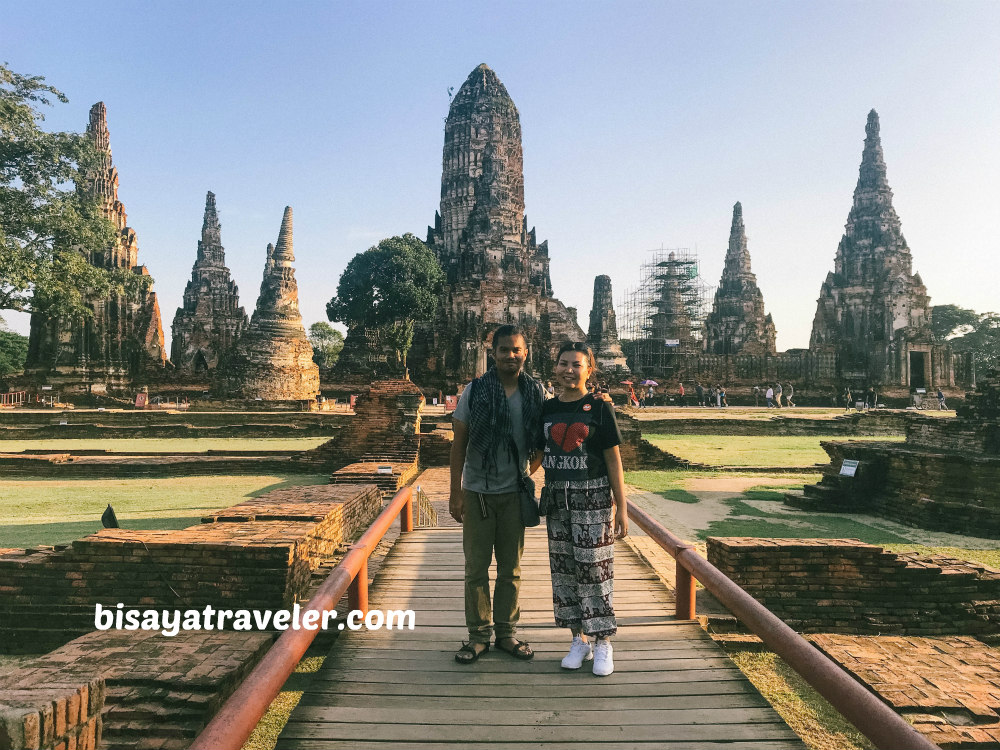 Not a bad shot, I must say.
With his experience in being a guide, I wasn't surprised by his photography skills.
With our Ayutthaya day tour over, we stepped into the van, and made our way to the base of our tour – Paragon Mall.
What a great way to spend a day in Thailand!
Our Ayutthaya day tour itinerary:
09:00 AM: Meet up at Paragon Mall Gate 1 Ground Floor/ Introduction
09:40 AM: Depart for the first stop
10:45 AM: ETA Wat Yai Chaimongkon
11:40 AM: Depart for floating market
11:50 AM: Start of floating market tour
01:20 PM: Depart for Wat Mahathat
01:40 PM: ETA Wat Mahathat
02:30 PM: Depart for Wat Phra Si Sanphet
02:45 PM: ETA Wat Phra Si Sanphet
03:45 PM: Depart for Wat Chaiwatthanaram
04:00 PM: ETA Wat Chaiwatthanaram
05:00 PM: Depart for Bangkok
06:30 PM: ETA Bangkok
Travel tips and reminders:
You can do a DIY tour from Bangkok. But, if you're traveling with your family like me (two senior citizens and a pregnant wife), take this tour. It's more convenient and is also amazingly affordable. The name of this tour is Tour C: Ayutthaya Heritage Tour. You can book it via Klook (link attached). Alternatively, you can also contact Tickets to Ride, to arrange your Bangkok tour.
The tour is available every Monday, Wednesday and Friday.
The tour includes tour guide fee, transportation and entrance fees to the temples.
Meals are not included on the tour.
Prepare THB 50 per person for tip to the driver (mandatory).
Tip to your guide is optional.
Wear sunscreen and sunglasses.
Pack a scarf to protect your skin from the heat of the sun.
Bring plenty of water.
Don't forget to wear clothes that cover your shoulders and knees. That means sleeveless shirts and shorts are not allowed inside the temples of Ayutthaya.
My Bangkok travel itinerary:
Day 1: Fly to Bangkok from Manila, explore the city, Erawan Shrine and NEON market
Day 2: Damnoen Saduak Floating Market and Elephant Show
Day 3: DIY Bangkok Temple Run – The Grand Palace, Wat Pho and Wat Saket
Day 4: Ayutthaya day tour
Day 5: Shopping in Pratunam wholesale market and Platinum fashion mall
Day 6: Fly to Cebu City
All in all, our day tour was fabulous and mind-blowing. Truthfully, I loved every moment of our Ayutthaya day tour. From breathtaking Buddha statues to towering spires, it was a sightseeing adventure for the ages. Moreover, it wasn't as crowded as the Grand Palace, one of the most revered attractions in Bangkok.
And, best of all, it's definitely an extremely wondrous experience to explore a UNESCO World Heritage. Take note, we were standing on the grounds on the world's largest and greatest city in the 1700s. To me, it's an honor and privilege to savor the remnants of a historic city with a long, colorful and intriguing history.
And, yes, Roger was totally on point!