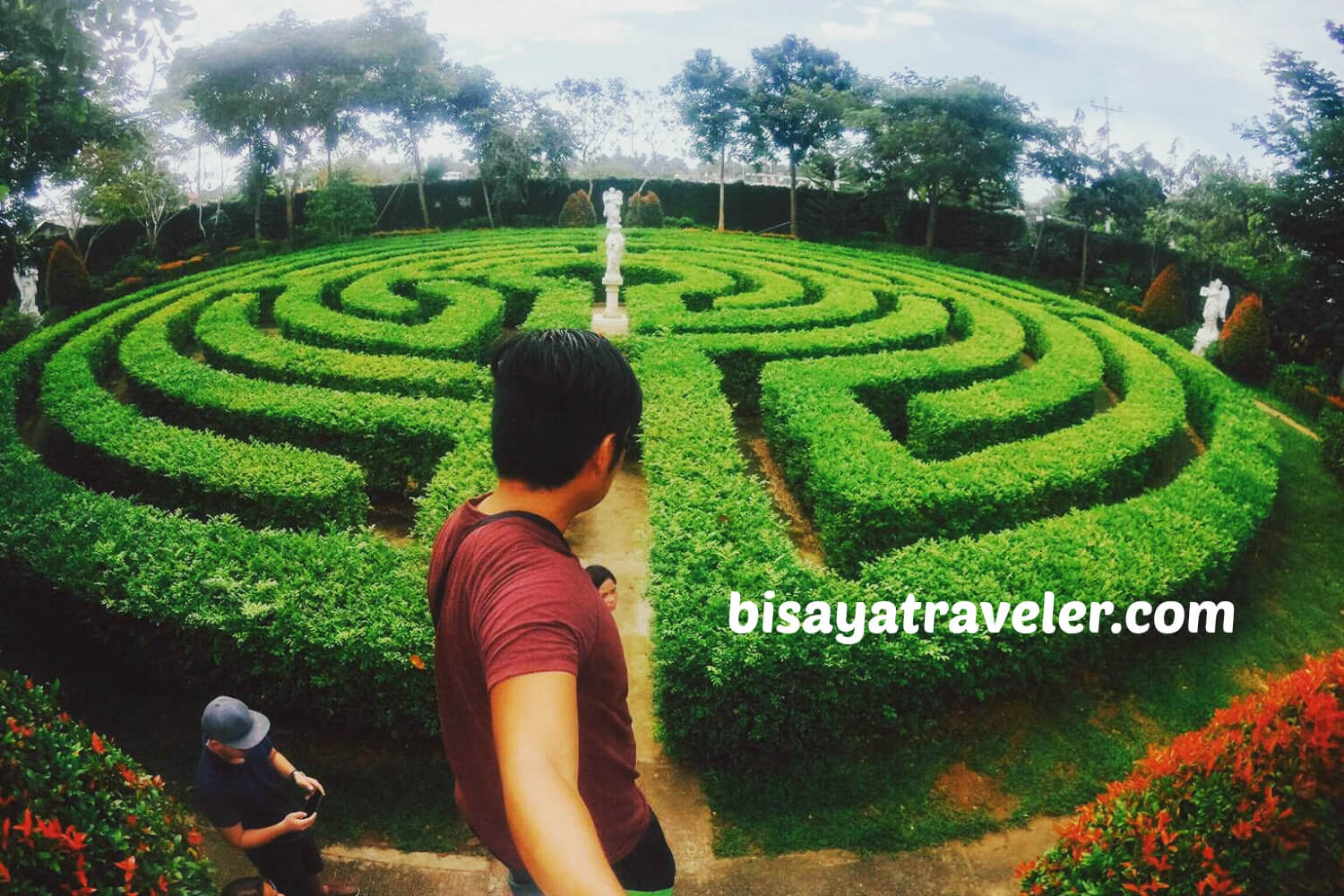 Exploring The Majestic Capilla Santa Ana Museum In Toledo, Cebu
Cebu is, in my book, a thrilling adventure playground and fascinating sightseeing hotbed that will never go out-of-fashion. For years, I've been wholeheartedly and madly in love with my hometown for its immense wealth of one-of-a-kind diversions and picturesque spots like Toledo's Capilla Santa Ana Museum and Community Center. Every year, it seems like there's a new wave of attractions popping up to satiate my wanderlust as well as quench my thirst for adventure.
Whenever boredom strikes, there's always a place in Cebu that can give me a swell time and a worthwhile short trip. As an added bonus, Cebu is also home to tons of sprightly and uber friendly folks that definitely make exciting travel buddies. As a bona fide travel junkie, I really feel so blessed and privileged to be living on one of the world's best islands.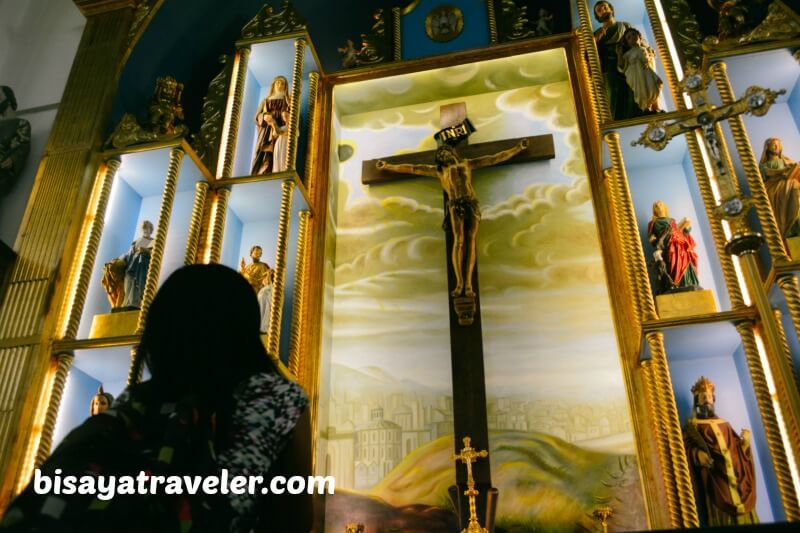 And one of the newer attractions in Cebu that has been gaining some attention lately is the Capilla Santa Ana Museum and Community Center in Toledo. From Instagram feeds to Cebu-based photo-sharing FB pages like "Queen City of the South", I've been seeing tons of snaps of Capilla Santa Ana and its verdant maze-like garden.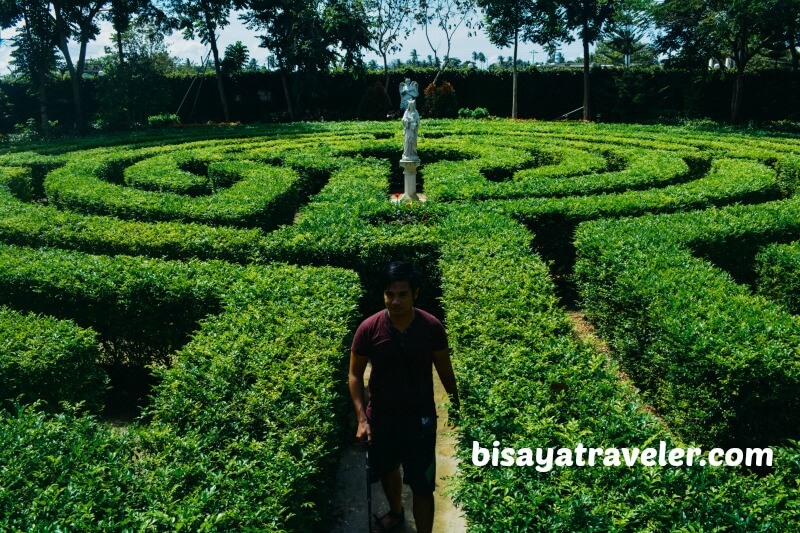 And since I had plenty of time to burn last week, I decided to take an impromptu trip to Toledo City, to catch sight of this relatively new sightseeing spot. I was also joined by a few Team Bang members – Wilfred, Lieve, Marzi, Hannah and Sherlyn, who all made my day trip even more fun.
Our Capilla Santa Ana experience
Our recent impromptu trip to Toledo started with a meet-up at Cebu City South Bus Terminal. As we've expected, the terminal was crowded with passengers who are rushing home to celebrate New Year's Eve (we went there on December 30). As for our bus ride, it was a bit uncomfortable and unusually long, even by Pinoy standards. Not only did make countless of stops, but it also jam-packed with people with an assortment of baggage.
But, like any determined and enthusiastic traveler, there was no hiccup or mountain high enough that could stop us from getting to our destination.
After a 2-hour leg-numbing bus ride, we finally arrived at the towering gates of Capilla Santa Ana Museum and Community Center, where a friendly security guard greeted us, and led us to a small office. We were, then, introduced to a charming and energetic guide who gave us a quick introduction of Capilla Santa Ana, and its owner, Lillian Yared Overs.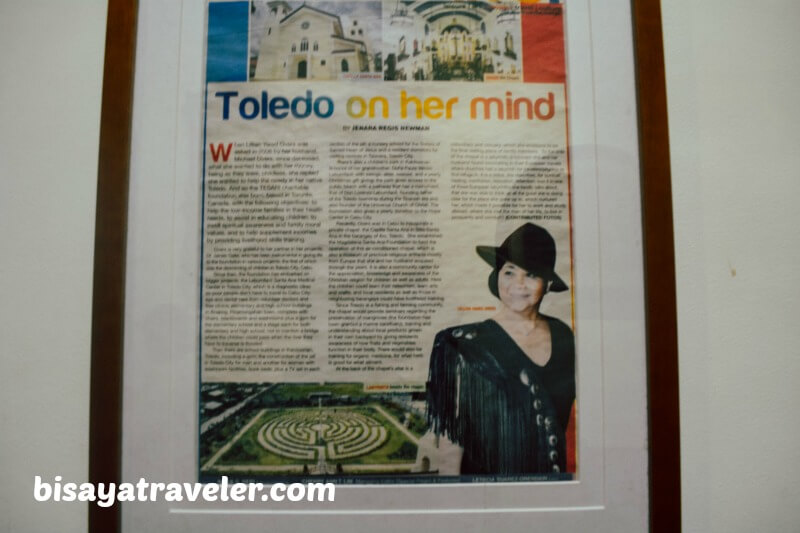 Once the introductions and reminders were done, our youthful guide opened the elaborate door leading to the chapel. The moment I stepped inside the chapel, I was utterly amazed by its nostalgic feel and irresistible grandeur.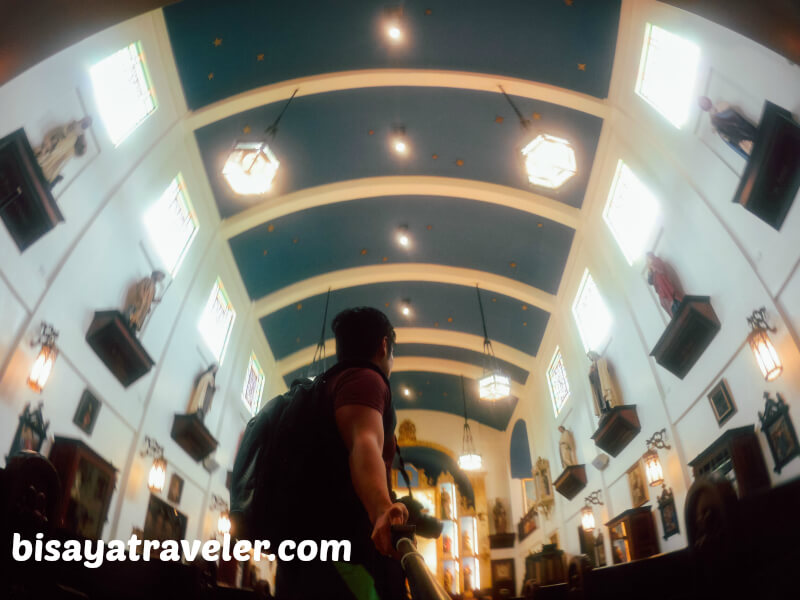 Although the chapel is rather small, it's nevertheless wonderfully adorned with European Renaissance paintings, antiquities, and sculptures that will give you a glimpse of Europe. On the right side, I caught a glimpse of a mesmerizing replica of the Pietà – one of Michelangelo Buonarroti's finest masterpieces.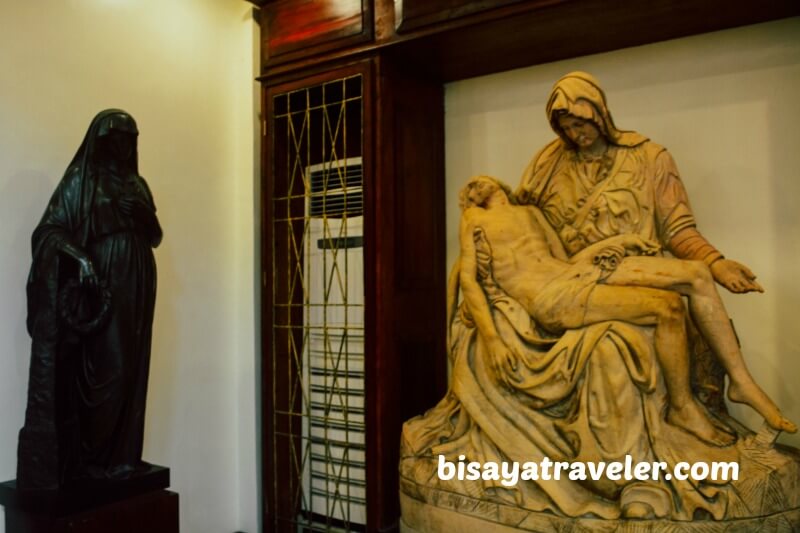 The symmetry of the chapel, paired with its majestic embellishments, just gave us an urge to snap dozens of photos.
Eventually, our guide told us to do the photo shoots later on, so we can finish the tour and see the other glorious treasures of Capilla Santa Ana in their private room. But, before we could set foot on this part of Capilla Santa Ana, our guide reminded us that taking a picture isn't allowed inside the room, for security purposes.
As good and abiding guests, we did obey what our guide told us.
And the room was, as far as I'm concerned, nothing short of amazing. From Peruvian sculptures and 18th century Irish paintings to religious relics, the room was filled with extraordinary, hair-raising, historic exhibits and treasures. As a matter of fact, there's a small statue inside that is believed possess an ability to grant the wishes of its beholders. Plus, there were relics and statues of saints who can help people who love to travel as well as those who are broken hearted (ahem, Mazi).
As much as I love to share my thoughts on these gems, I really don't like giving spoilers to my readers. Just pay a visit to Capilla Santa Ana Museum and Community Center, and see them for yourself. Trust me, you'll love every second of your visit there.
To proceed with the tour, our guide took us upstairs to highlight the other antiques and collections displayed at Capilla Santa Ana, including an old piano, and a handful of sculptures.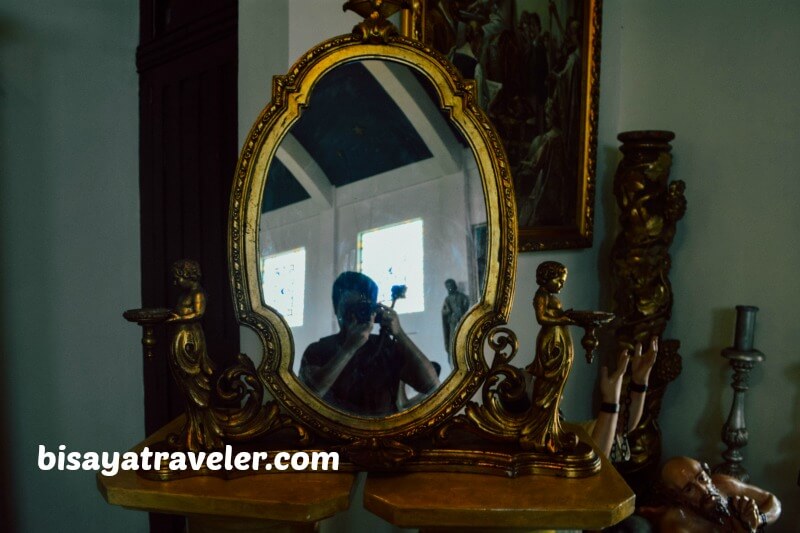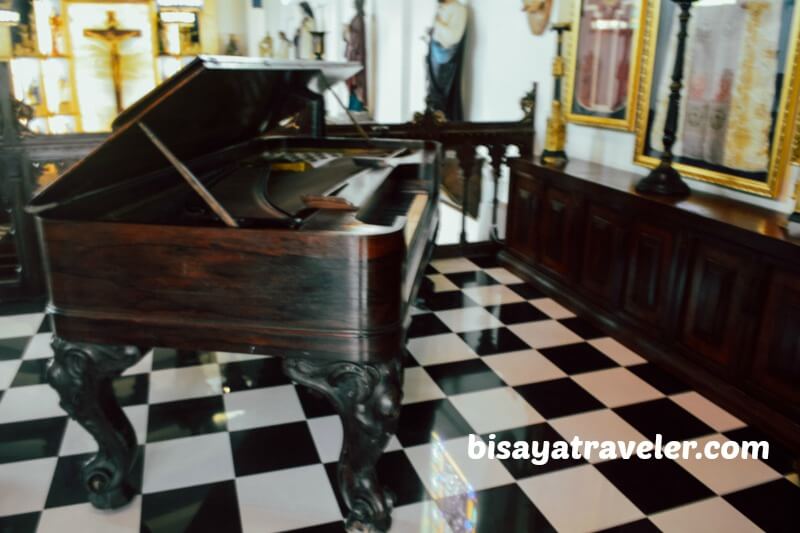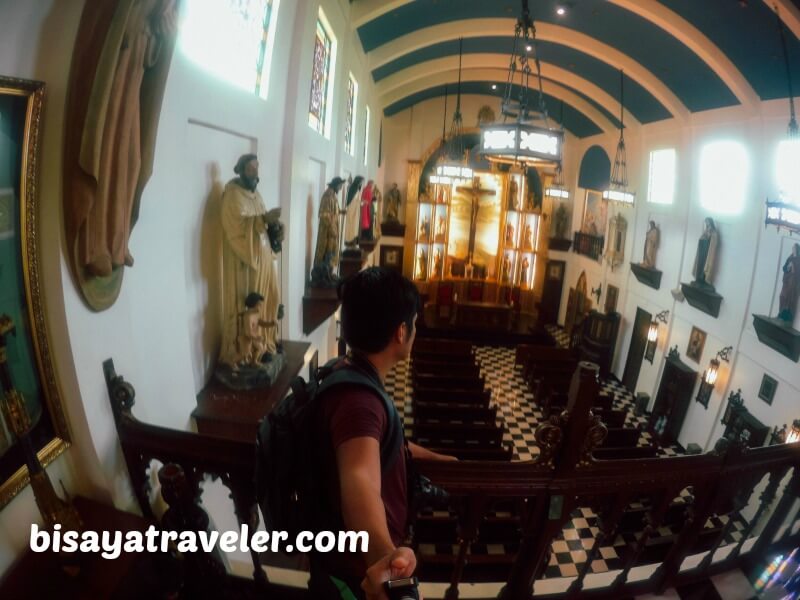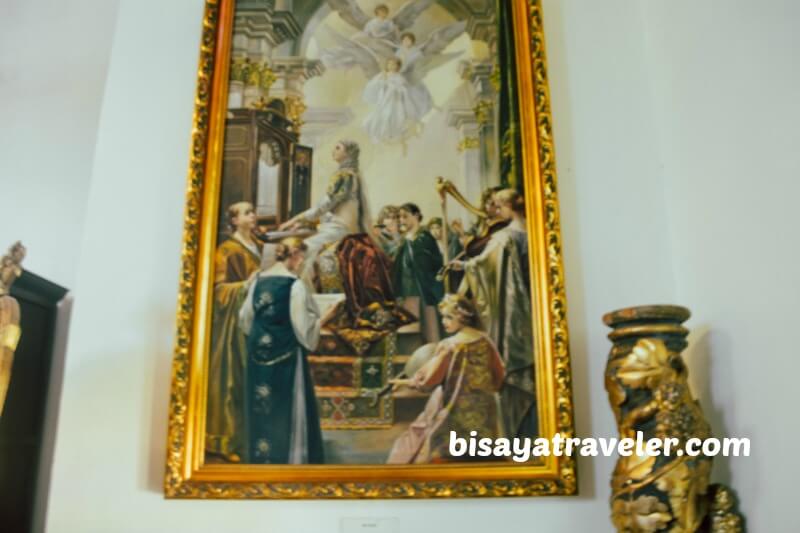 After our guided tour in Capilla Santa Ana Museum and Community Center, we roamed around the chapel, to snap photos and admire its splendor.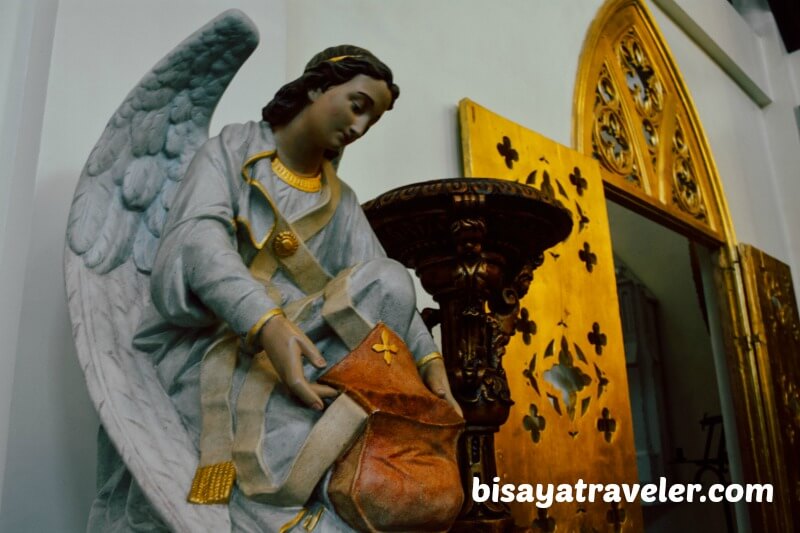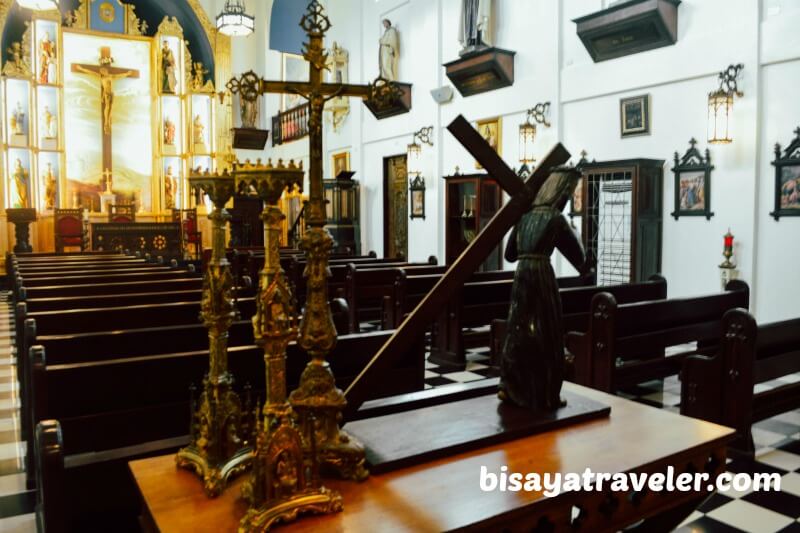 Exploring The Labyrinth of Capilla Santa Ana
The Labyrinth of Capilla Santa Ana was, honestly, the main reason why we traveled to Toledo last week. And, it absolutely didn't disappoint, wowing us with its unique design and sheer size (it has a diameter of 25 meters). According to our guide, it will take around 5 minutes of walking and 2 minutes of jogging to reach the center of The Labyrinth. As our guide also suggested, you may also pray the rosary, as you snake your way to the maze garden.
As with most of Team Bang's adventures, we did take plenty of shots of this scenic spot. Some of us climbed the lanky yet sturdy ladder in front of the garden, to get a better view of this maze. And boy, it was truly a sight behold from that vantage point.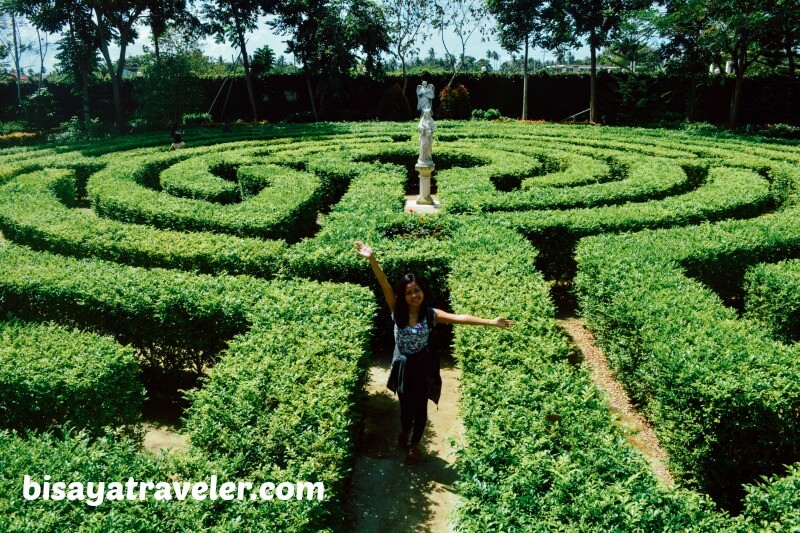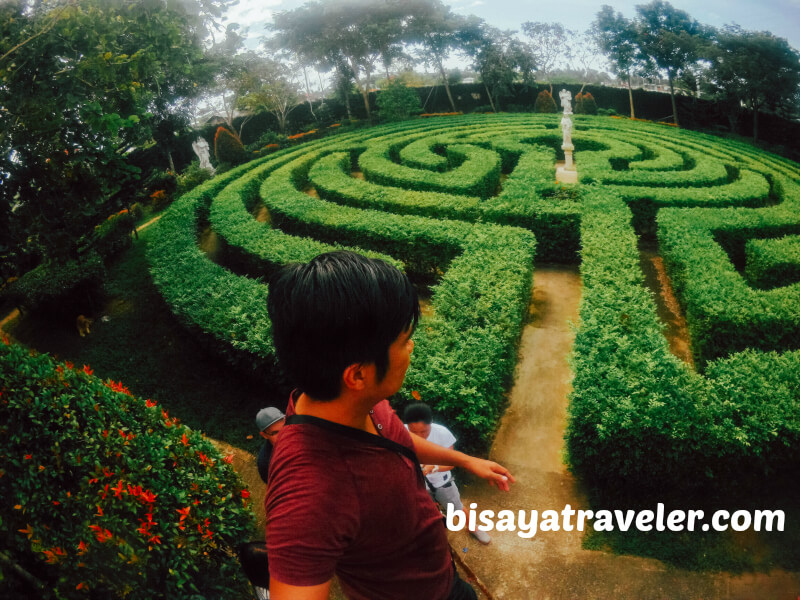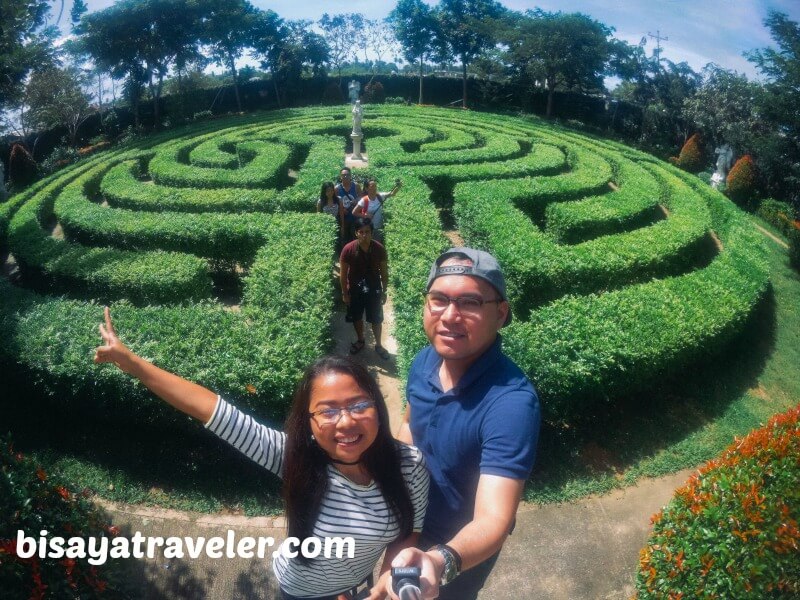 With the Capilla Santa Ana already in the books, we headed to Toledo proper, to catch a ride to our next destination – Biga Pit. I'll write our Biga Pit experience maybe a few days from now. In the meantime, you can check out these shots of Biga Pit.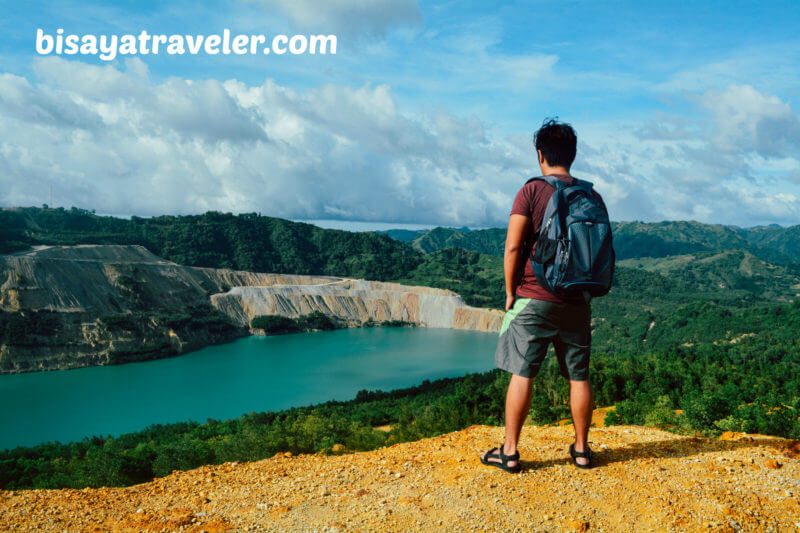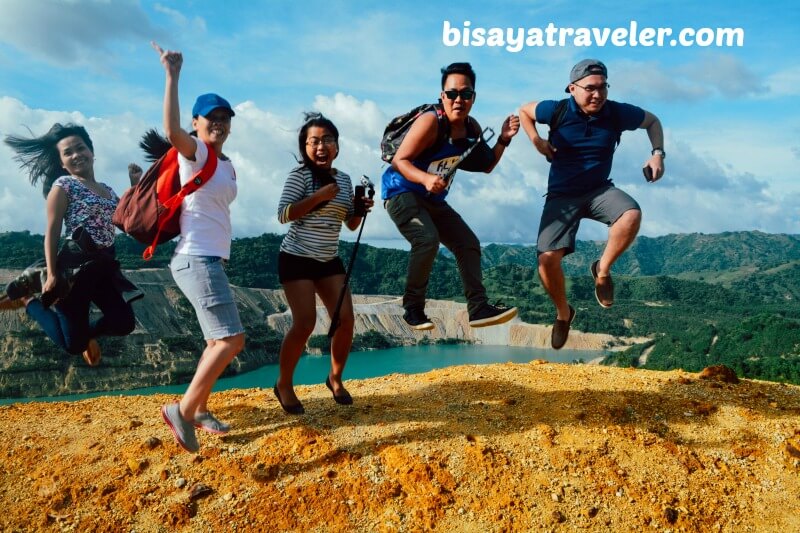 Our Toledo day trip itinerary:
7:30 AM: Meet-up at Cebu City South Bus Terminal
8:30 AM: Depart from the bus terminal
10:30 AM: Arrive at Capilla Santa Ana (Usually it takes less than 2 hours to reach Toledo via Naga)
11:00 AM: Start of the tour in Capilla Santa Ana
11:30 AM: End of the tour/ photo shoots inside the chapel
12:00 NN: Explore The Labyrinth
12:45 PM: Depart from Capilla Santa Ana
01:30 PM: Lunch at McDonalds
02:00 PM: Depart from Toledo fish market
02:30 PM: Arrival at Carmen Copper Corporation in Lutopan
03:00 PM: Depart from the gates of Carmen Copper Corporation via habal-habal
03:30 PM: Arrival at Biga Pit
04:30 PM: Depart from Pit
05:00 PM: Arrival at Bus stop/ Depart from Lutopan
06:30 PM: Arrival at Cebu City South Bus Terminal
Expenses
Bus ride (Jegans) to Toledo City – 60 PHP
Capilla Santa Ana admission fee – 100 PHP
Tricycle ride to Toledo proper – 8 PHP
Lunch – 100 PHP (You may bring your own lunch if you're on a tight budget)
Jeepney fare to Lutupan – 20 PHP
Back-and-forth Habal-habal ride to Biga Pit – 100 to 150 PHP
Bus fare to Cebu from Lutupan – 40 PHP
Estimated total – 478 PHP
Reminders
Hop on a bus bound for Pinamungajan, as it will pass by Capilla Santa Ana. If, however, you took the bus bound for Balamban, tell the driver or conductor to drop you off at Gaisano Metro. From there, take a tricycle ride to Capilla Santa Ana (fare is 7 to 8 pesos)
If you have a GoPro or any camera with a fish-eye lens, make sure to bring it with you.
Keep your voice down, and behave, when visiting Capilla Santa Ana. Remember, it is a place of worship and a community center.
Bring water and snacks.
You can go there directly without prior booking, but I strongly suggest that you contact them a day prior to your visit.
More information about Capilla Santa Ana
Operating hours: 10:00 AM to 12:00 NN and 1:00 PM to 4:00 PM Daily
Entrance fees: 200 PHP for foreign visitors, 100 PHP for locals and 50 PHP for students
Address: 920 Diosdado Macapagal Highway, Poblacion, Toledo City, Cebu
Contact number: (032) 467-8101
Got a question? Reach out to me via my Facebook page! Adios!