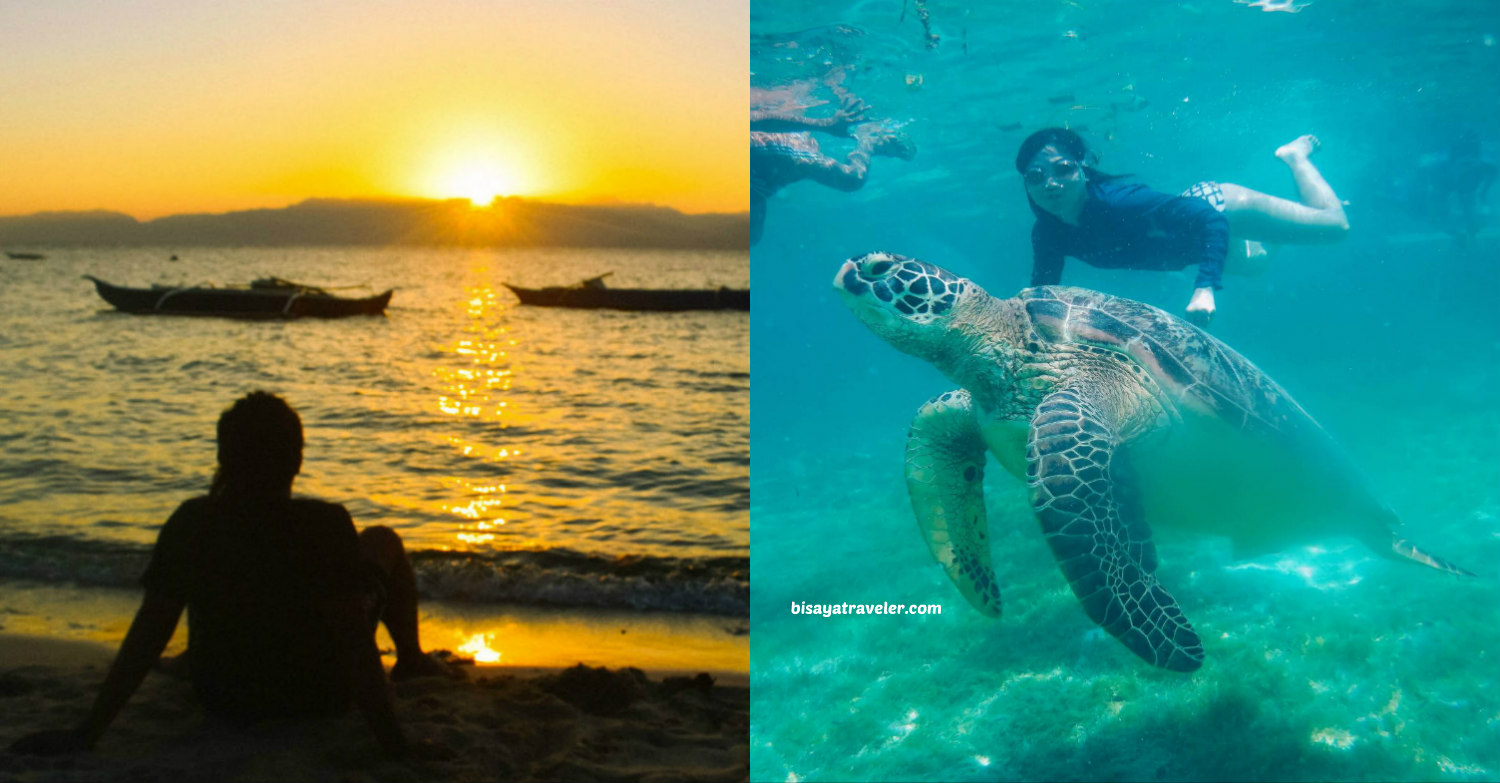 11 Insanely Fun Things To Do In Moalboal, Cebu
Free-spirited, sun-soaked and beautiful, Moalboal is Cebu's wild child. Known for its bohemian ambiance, year-round sunshine and vibrant nightlife, Moalboal, Cebu is a paradise for energetic and fun-loving foreign travelers. Of course, there are plenty of reasons why countless of travelers worldwide flock to Moalboal, Cebu every year. From spectacular underwater treasures to picture-perfect waterfalls, you'll find a plethora of amazing and incredibly exciting things to do in Moalboal, Cebu.
Whether you're a local explorer and a foreign travel junkie, this wondrous beach town will sweep you into bliss in so many ways. What's more, the town offers convenient access to some of the finest and most remarkable South Cebu attractions. To me, it's a burgeoning town hardwired for tropical adventures.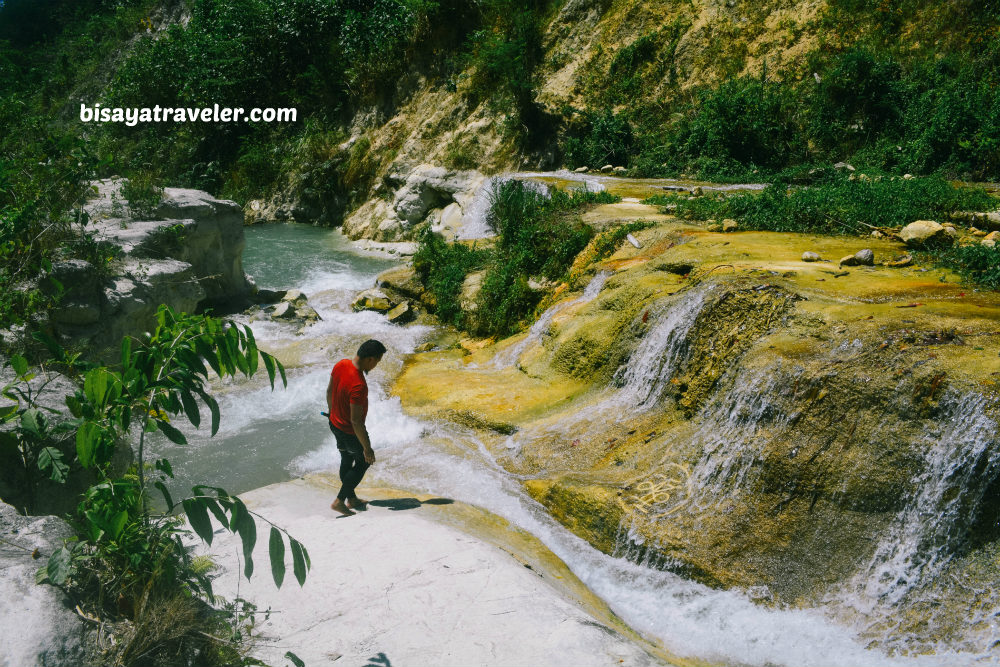 Visiting the town, but got no clue on what to do in Moalboal, Cebu? Need some help building a Moalboal travel itinerary? Guess what? I have a few suggestions that you may include on your own list of things to do in Moalboal, Cebu.
Things to do in Moalboal
1. Experience the mesmerizing Sardines Run
Kick-start your Moalboal, Cebu adventure with a bang by experiencing the enthralling and extraordinary Sardines Run. Nestled in Panagsama Beach, it's truly a sparkling, one-of-a-kind experience that you will cherish for years to come. As you dive into the shoreline of Panagsama, you'll be wowed by a million of sardines swirling like mini-underwater tornadoes in perfect and spellbinding synchronicity. Once you dive underwater, you'll instantly know why they call it as one of the top things to do in Moalboal, Cebu.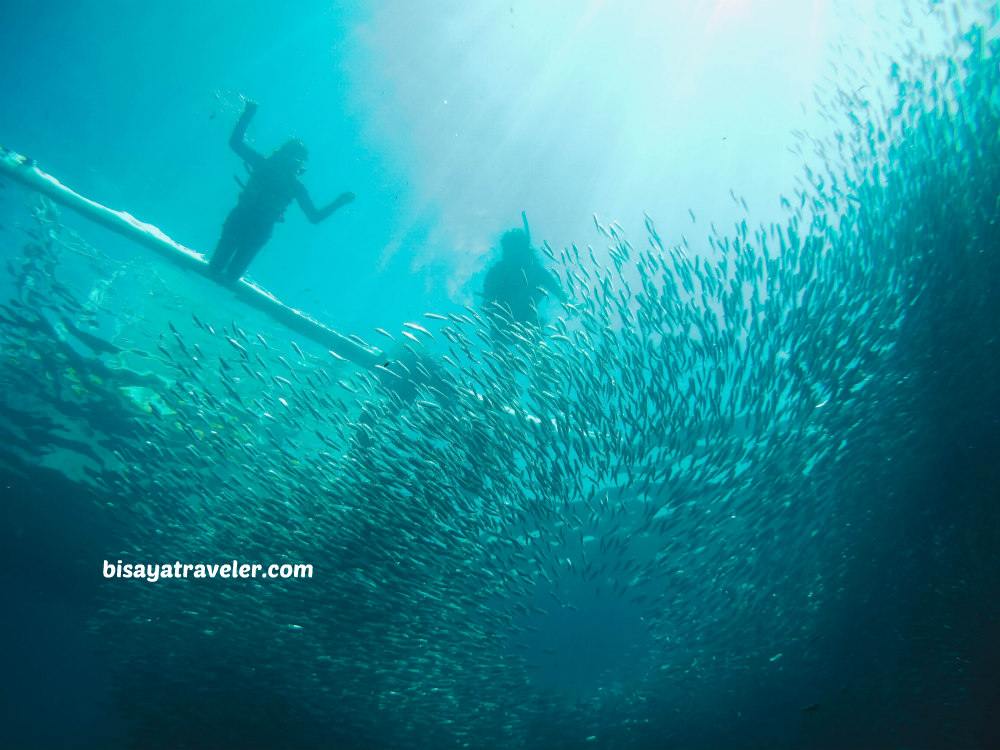 Can't swim or dive like a pro, but still want to experience one of the best things to do in Moalboal, Cebu? Well, the thing is, you don't have to be a seasoned free diver to experience this surreal under-the-sea adventure. With a life vest and a set of snorkeling gear, you can see this spectacle without having to submerge deep into the sea. Heck, you can even see these elaborate silvery braids parting and shifting without getting wet while you're aboard your boat.
Trust me, you surely want to put it on top of your list of things to do in Moalboal, Cebu.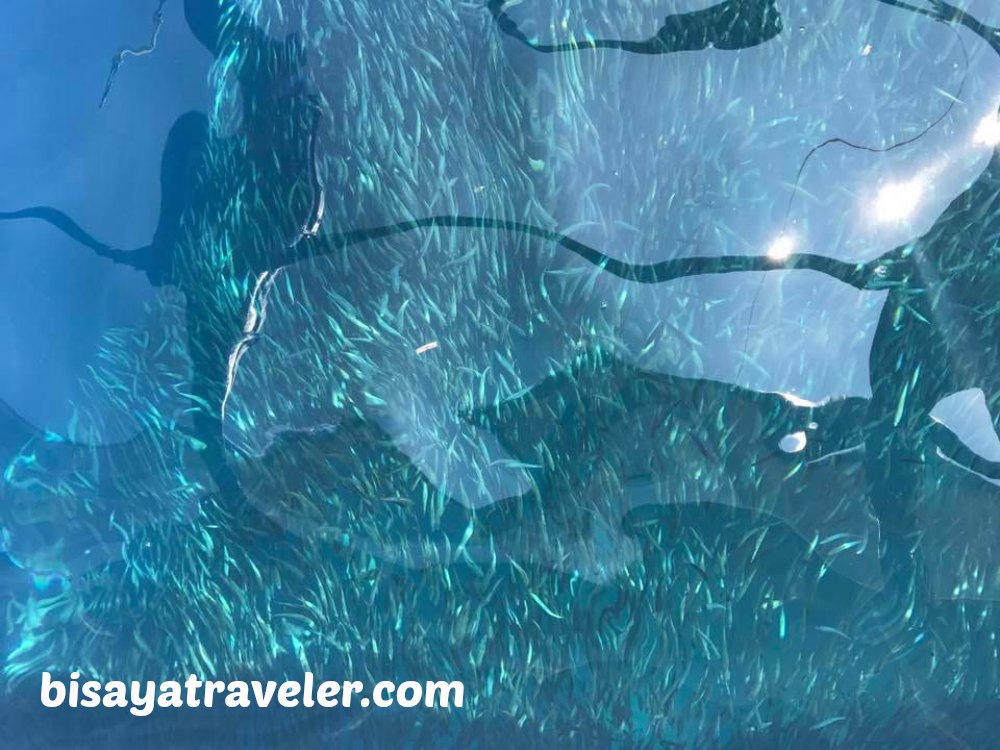 2. Explore Pescador Island
They don't call Pescador Island as one of the top attractions and things to do in Moalboal, Cebu for nothing. A nirvana for divers, the island is a marine sanctuary, boasting an underwater world that can rival internationally beloved dive sites. While there's no sardine run here, you'll discover a seemingly endless array of marine creatures in this marine park.
Unlike Panagsama's sardine run, though, you need to dive, or least snorkel with a life vest, to catch sight of the marine parks' majestic corals and sea creatures. Once you dive into this marine park, you'll uncover a beautiful underwater world filled with gorgeous corals and different fish species, including barracuda, clown fish and many more. In recent expeditions, divers have also spotted the magnificent whale shark on this dive spot.
And, on a good day, you'll see a bunch of playful dolphins on your way to the island, making it one of the top things to do in Moalboal, Cebu.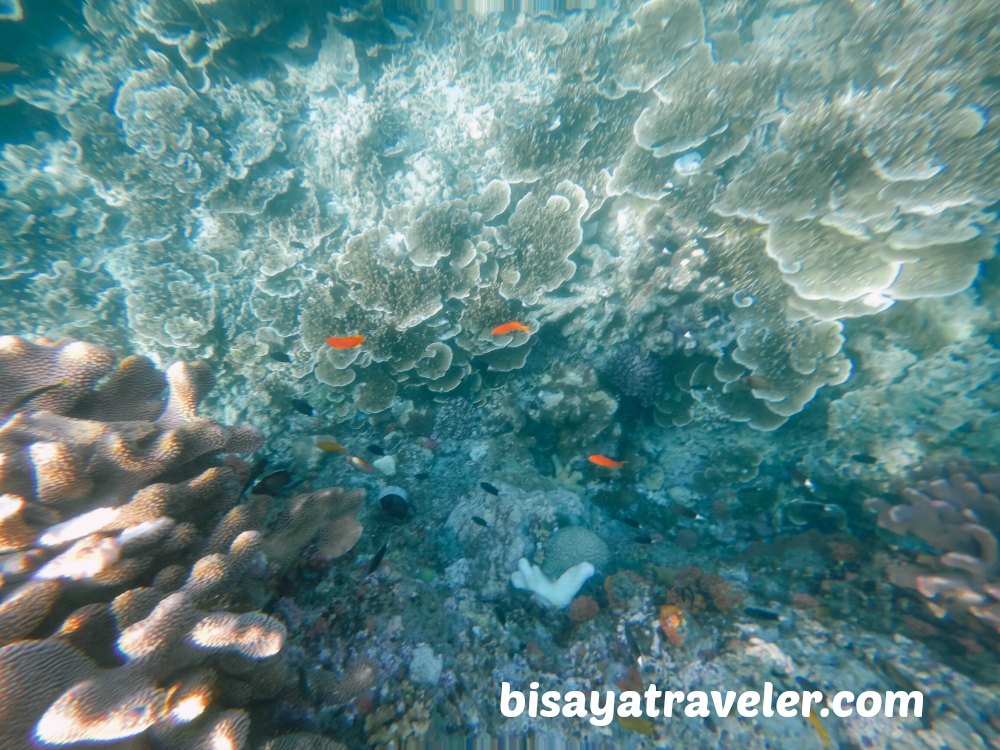 3. Check out the Moalboal Turtle Point 
Can't get enough of the town's underwater wonders? Still looking for more mind-blowing underwater adventures and things to do in Moalboal, Cebu? Then, head to Turtle Point and see a handful of friendly gigantic sea turtles. As far as I'm concerned, it's definitely a great spot to swim with sea turtles around their natural habitat.
For the most part, Turtle Point is the last stop for many island hopping tours in Moalboal, which also feature Sardines Run and Pescador Island.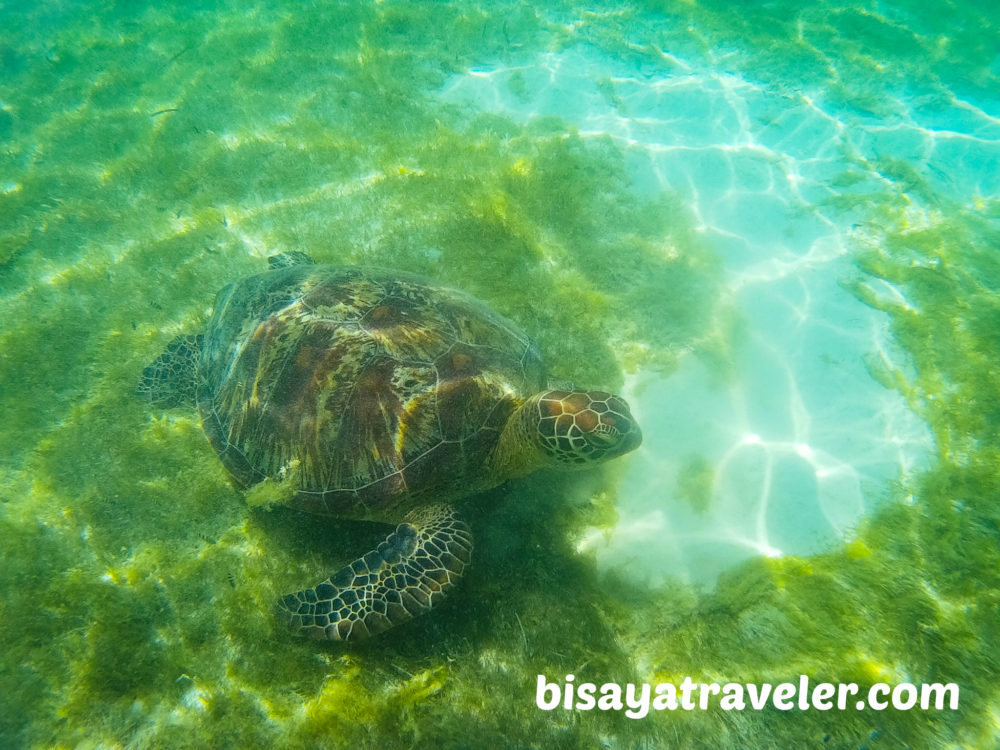 Swimming with sea turtles was on my travel wish-list years ago. I traveled to Apo Island, and even planned a trip to Balabac, Palawan, so I can fulfill this travel experience. Little did I know, there's a sea turtle haven near my hometown – the Moalboal Turtle Point.
Whenever I yearn for that kind of experience, I just head down south and swing by Moalboal Turtle Point.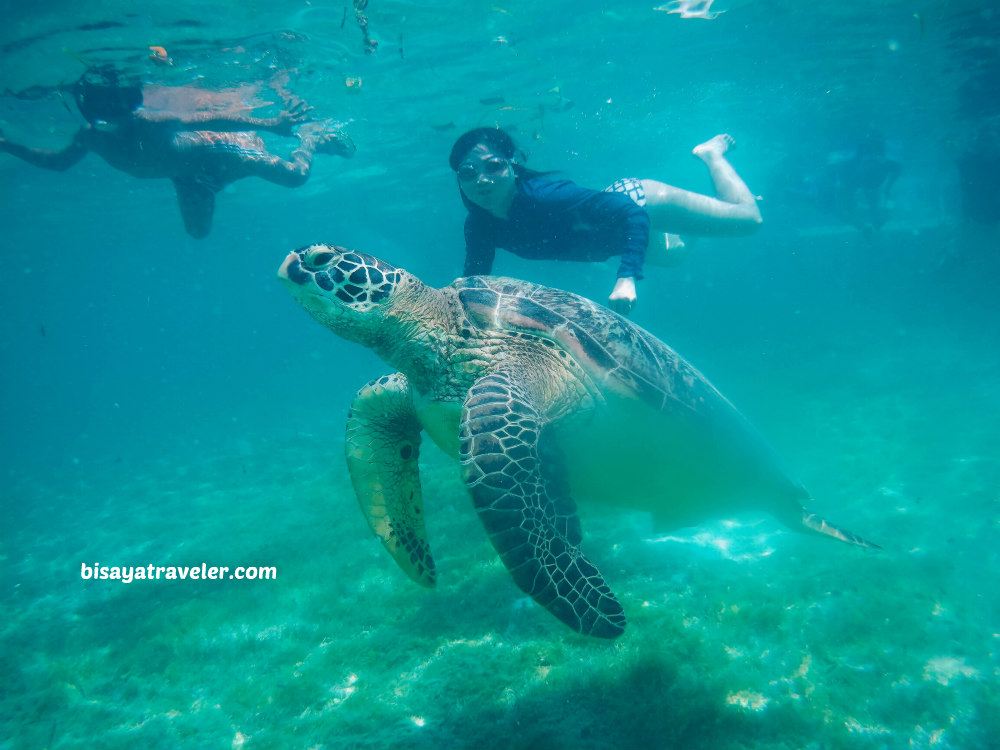 4. Visit Kawasan Falls
No list of the best things to do in Moalboal, Cebu is complete without a visit to the internationally renowned Kawasan Falls. Technically, Kawasan is located in its Moalboal's neighboring town, Badian, Cebu. But, since it's a short ride away from Moalboal, travelers often include Kawasan Falls to their Moalboal, Cebu travel itinerary.
For years, Kawasan has been luring and drawing travelers from all over the world, thanks to its iconic and irresistible natural beauty. With its deep and amazingly cold waters, you'll also have a blast of swimming in the famous Kawasan Falls.
Truthfully, I can spend hours there just swimming and soaking up its charm.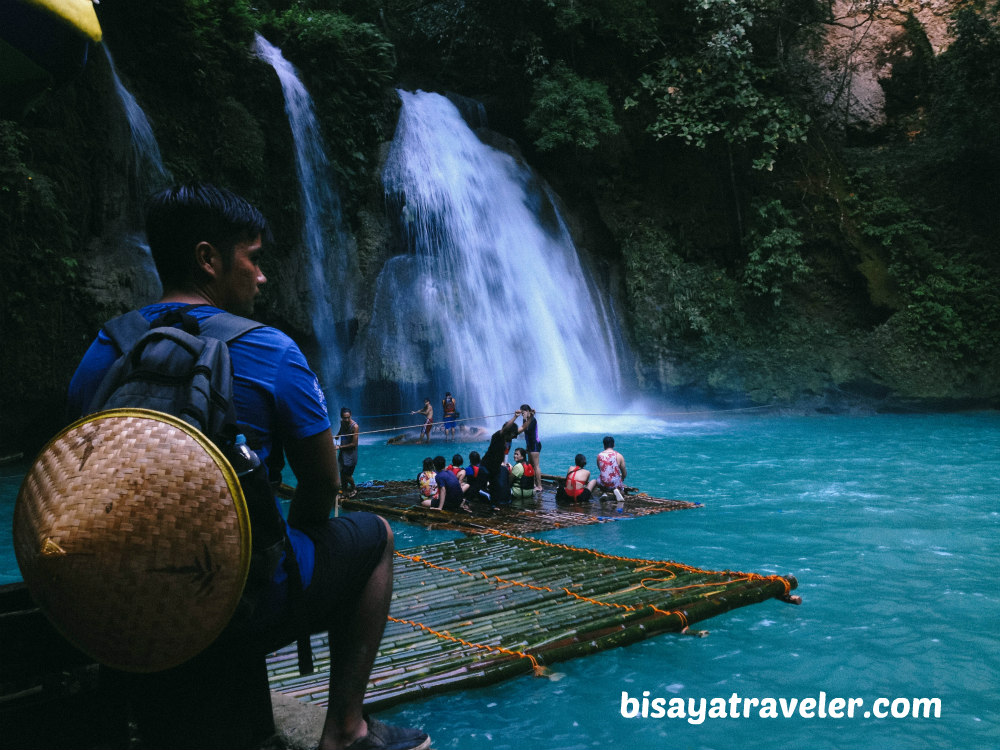 5. Savor the beautiful sunset on Basdaku White Beach
A perfect way to end a perfect day in Moalboal, Cebu is to gaze at the gorgeous sunset on Basdaku White Beach. With a drink in hand, you can just chill on the beach and watch the gold-and -crimson sun as it plunges into the towering mountains of Negros Island.
More than just a prime spot for sunset viewing, the beach also has a host of activities to offer. Here, you can go for a swim, have a tan or play some beach sports, meaning it's one of the can't-miss things to do in Moalboal, Cebu for beach lovers. And, with its powdery white sands, you'll have a ton of fabulous beach and travel snaps on Basdaku as well.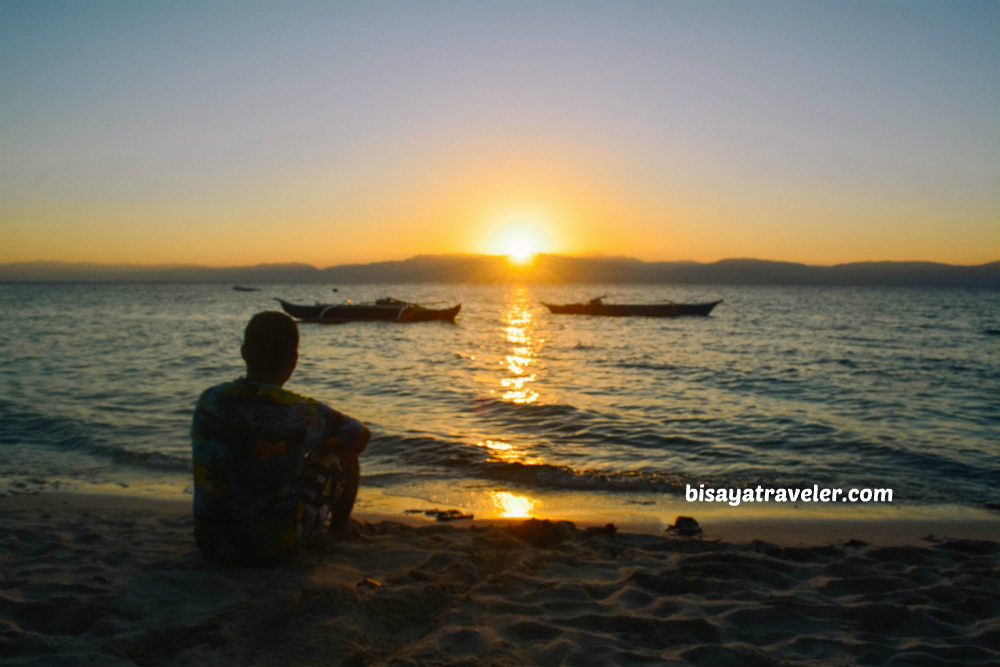 6. Hit Taginis Falls
Searching for offbeat and non-touristy things to do in Moalboal, Cebu? Why not pay a visit to the wondrous Taginis Falls? Tucked away in the highlands of Moalboal, this natural wonder offers a refreshing escape. With its fresh cold mountain waters, this cascade gave me a fantastic and therapeutic outdoor adventure.
Truthfully, it's not as beautiful or picture-perfect as Kawasan Falls or Mantayupan Falls. Still, it's a rejuvenating natural wonder ideal for those who want to steer clear of the crowds. And, did I mention that it's one of the coolest free things to do in Moalboal, Cebu?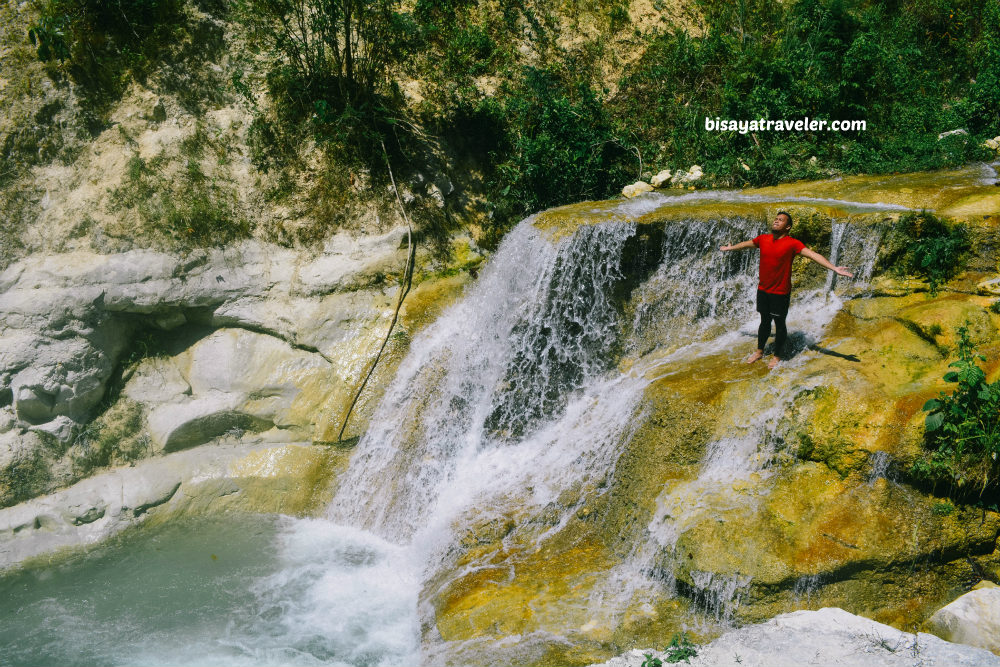 7. Climb Mount Lanaya
Want to spice up your Mowbow adventure? Tired of the non-stop diving, beaching and waterfall exploration? Yearning for mountainous things to do in Moalboal, Cebu?
Venture deeper into the south, and climb one of the highest and most scenic mountains in Cebu – Mount Lanaya. Set perfectly in the mountainous area of Alegria, the impressive mountain offers sweeping and awe-inspiring panoramas of South Cebu. Furthermore, getting to its summit – Kalo-Kalo Peak – can be quite a thrill and blissful for hikers, especially if you take the longer and tougher trail.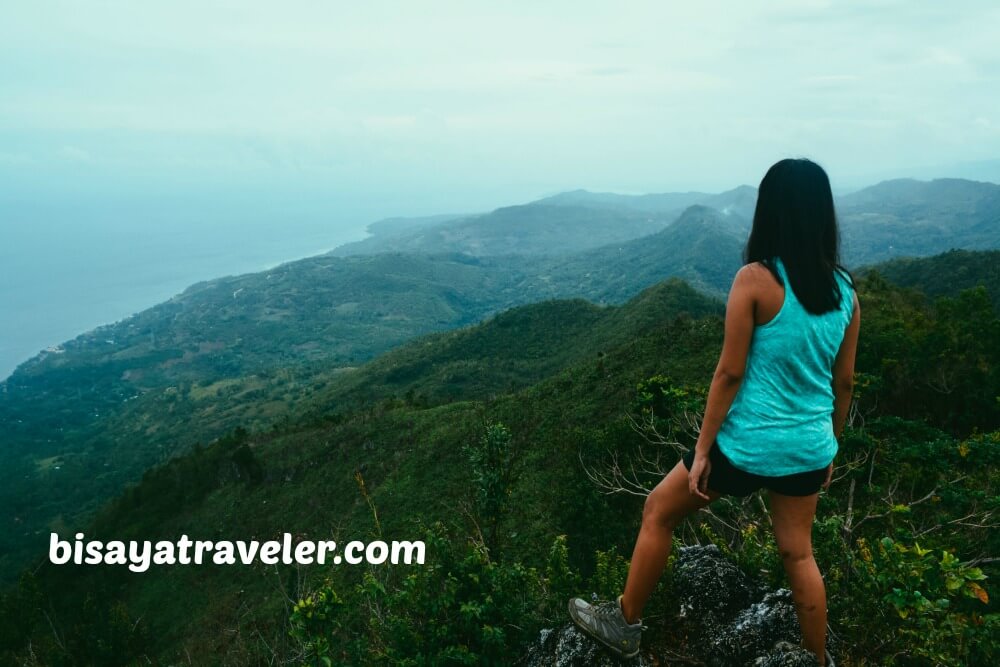 8. Chase waterfalls in Alegria
Home to some of Cebu's most magnificent waterfalls, Alegria is a godsend for people who want to escape Cebu city's heat. After hiking Mount Lanaya, spend some time cooling off at any of three waterfalls of Alegria – Cancalanog Falls, Cambais Falls and Montpellier Falls. Better yet, visit all of them if you still have enough time and energy.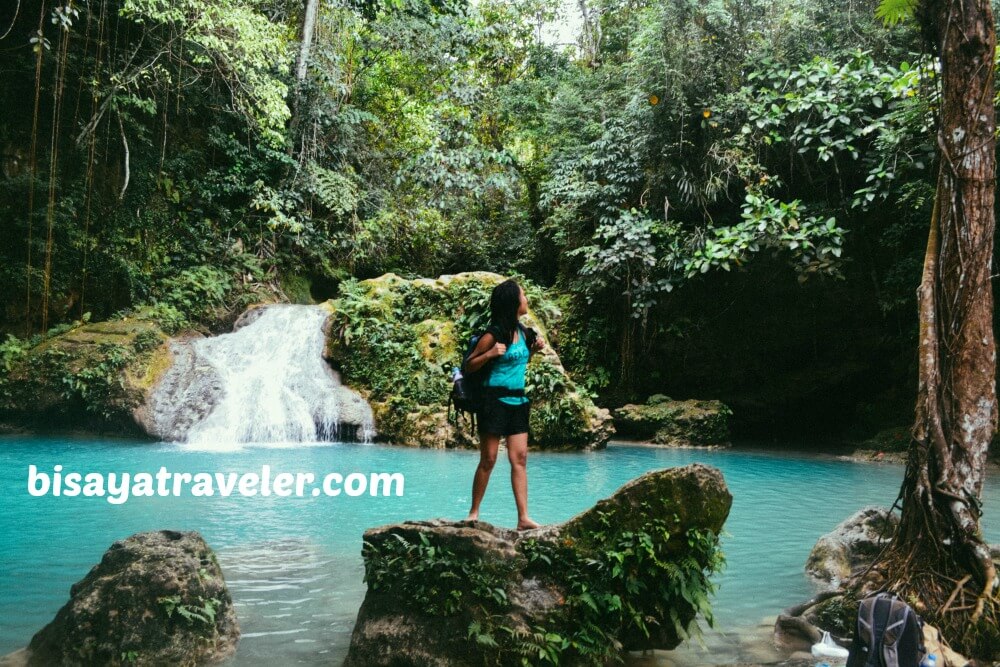 9. Canyoneering
Add a heavy dose of adventure to your trip by going on a canyoneering escapade in Alegria or Badian. Not only will it let you experience the beauty of Kawasan, but it's also an adrenaline-pumping adventure filled with spills and thrills. You get to cross streams as well as rappel, jump, climb, scramble and swim through Badian's rugged yet scenic cliffs.
Like Alegria's waterfalls, canyoneering isn't exactly a part of Moalboal's tourism. Even so, it's an insanely exciting and heart-stopping outdoor trip that should be on your list of things to do in Moalboal, Cebu.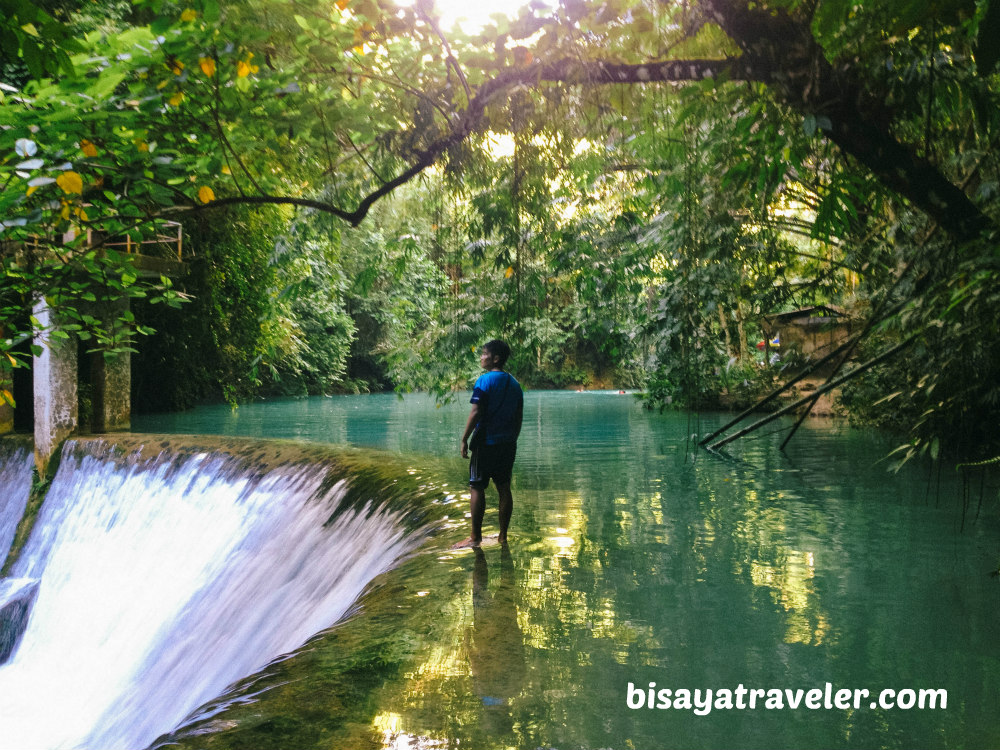 10. Check out Mantayupan Falls in Barili
As I've said above, Moalboal is a great base for exploring South Cebu. And, one of the most fascinating South Cebu attractions you can visit on your Moalboal trip is Barili's Mantayupan Falls. With its steep height and irresistible natural beauty, this striking natural wonder will surely appease your wanderlust. Plus, it has a hanging bridge that adds more visual appeal to the cascades.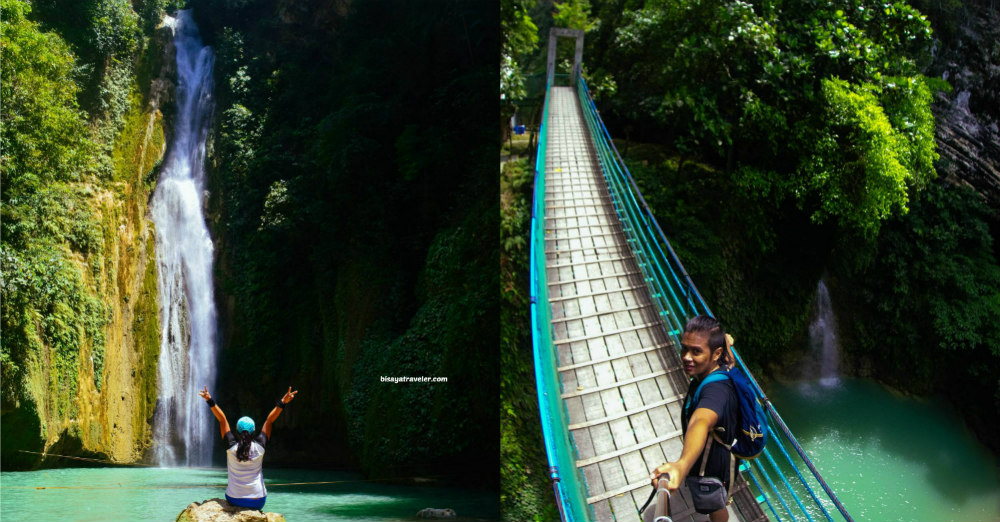 11. Experience the well-known Moalboal nightlife
I'm neither a party animal nor an alcohol connoisseur. So, I can't, honestly, say what Moalboal's nightlife is like from my perspective. Still, a lot my buddies say that it's lit, wild and lively. Heck, some of them even hinted that partying is one of the top things to do in Moalboal, Cebu. And, maybe, they are right.
After all, the beach areas of Panagsama and Basdaku teem with bars with booze, loud music and neon lights.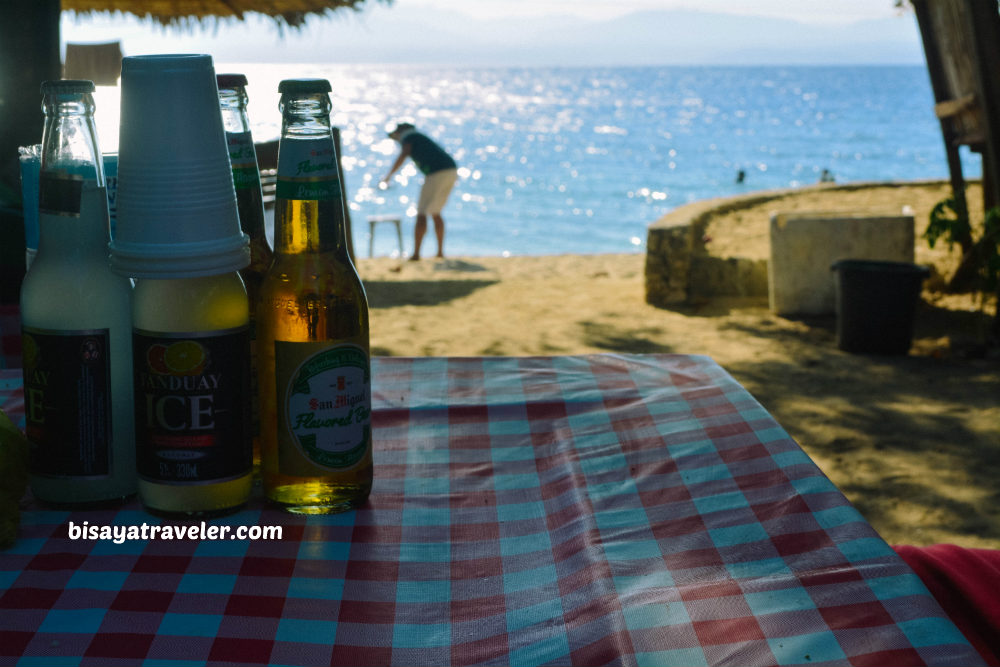 Where to sleep in Moalboal, Cebu
There are plenty of amazing resorts and cushy places to stay in Moalboal. If you're traveling with a group and want to save some cash, book a stay at Ester's Place(link attached) in Basdaku. It's affordable and a great place to stay, after a day of diving into the fun things to do in Moalboal, Cebu.
Alternatively, you may also stay at Sea Fun & Fun Adventures (link attached), which offers Moalboal Island hopping tours.
Where to eat in Moalboal
There's no shortage of options for food in Moalboal, Cebu. But, since it's a touristy town, expect the food and drinks here to be a little pricey. To save some cash on your trip, buy your groceries in Cebu City, and cook your own food (if your hotel allows you to do so).
How to get to Moalboal, Cebu
To get to Moalboal, first you need to travel to Cebu City South Bus Terminal. Once there, look for a bus that will take you to Moalboal, Cebu. Travel time is 2 to 3 hours and fare is PHP 120 to 150.
Sample Moalboal travel itinerary
Day 1:
Visit Mantayupan Falls in Barili
Unwind at Basdaku White Beach
Day 2:
Moalboal Island hopping tour (Sardines Run, Pescador Island and Turtle Point)
Canyoneering in the afternoon
Day 3
Hike Mount Lanaya
Chase waterfalls
For more information about these things to do in Moalboal, check out my older blog posts.
Basdaku Moalboal and the Requiem for a Dream
Pescador Island and Sardines Run: Cebu's Spectacular Underwater Spectacles
From Sea to Summit: A one-of-a-kind South Cebu trip
Taginis Falls Moalboal and the Adventure Alchemist
There's, no doubt, no room for boredom with all crazily fun things to do in Moalboal, Cebu! Truthfully, the options for recreation in Cebu are practically limitless.