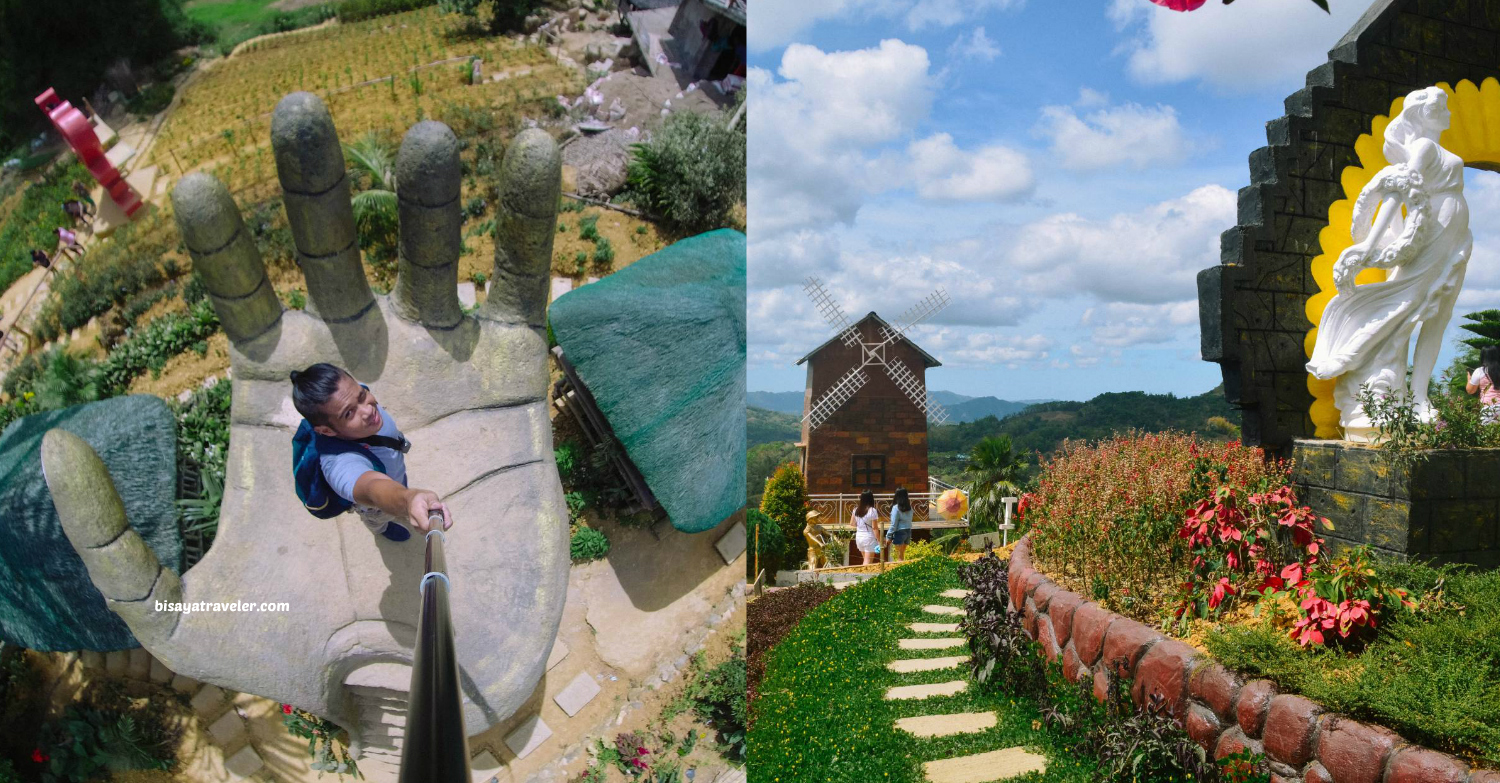 Sirao Garden: Photogenic And Perpetually Evolving Cebu Attractions
What's so special and nice about Sirao Garden? Why do so many people find it enthralling, and amazing? I had been asking those questions way back in 2016. When it opened years ago, I was one of the many locals who were engrossed and intrigued by the viral photos of Sirao Flower Farm.
And, with enthusiasm and optimism, we drove all the way to Sirao, Cebu to admire the vivid celosia flowers of Sirao Garden.
Sadly, Sirao Garden was a major letdown, as far as I'm concerned. And, truthfully, I thought that this new Cebu attraction wasn't going to last for a year.
As I was exploring the farm, all I saw was a sea of tourists abusing a 30-square-feet garden adorned with dying flowers. Not only was it unappealing, but it was pretty compared to the photos.
Even worse, its visitors didn't give a damn about the garden's welfare, stumping on the flowers and plucking its petals just to make their photos catchy.
I took a quick peak on the other side, and saw another Sirao Flower Garden. And, while it was less crowded, I lost my appetite for exploring flower farms that day.
I thought that was my first and last visit to Sirao Garden.
There's no way I'm going to head to Cebu's highlands, just to see this mess, I said to myself.
Even so, there was an optimistic side of me that felt it was going to be something special.
To me, Sirao Garden just wasn't ready at that moment. It was just a mere flower farm, thrust into the limelight by a bunch of social media users. In other words, it wasn't built for tourism back then.
Thankfully, the owners of these flower farms have stepped up to the challenge, adding a plethora of new features. Today, it's, without a doubt, one of the top and most sought-after Cebu tourist spots.
From its gigantic hand statue to sunflowers, the gardens now teem with unique and eye-catching sights. As a matter of fact, it now even has its own infinity pool.
And, on one boring and hot Saturday, I once again ventured to Sirao Flower Garden, to check out its new displays and attractions.
What is it as beautiful as the current Sirao Garden photos circulating online? Did Sirao Flower Garden impress me, this time around?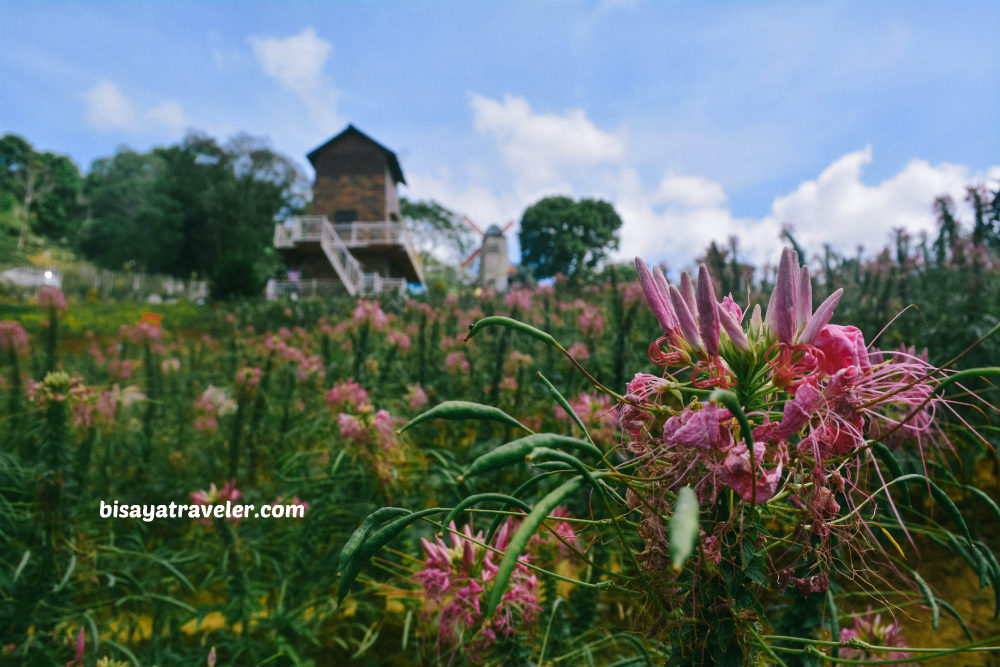 My Sirao Garden Cebu experience
It was a sweltering, sunny morning, when, out of the blue, my wanderlust peaked. With no hikes and outdoor escapades on my schedule, I decided to swing by the famed Sirao Garden.
Normally, I take a V-hire ride from Ayala Terminal to get to Sirao, Cebu. But, some reason, I was in a mood for a thrilling motorcycle taxi ride to the garden via the steep and twisting highway.
And, along the way, I was treated to some fresh mountain breeze and scenic nature sights, like Sirao Peak.
After a few twists and turns, I arrived safely at the first destination of my mountain escape – PGCS.
Sirao Pictorial Garden and Camping Site (PGCS)
The truth is, there are two Sirao Gardens – the PGCS and Original Sirao Flower Garden. So, which one is better? Well, you'll find my answer later.
Upon our arrival, I went straight to the counter, paid the fee, and entered Sirao Pictorial Garden and Camping Site.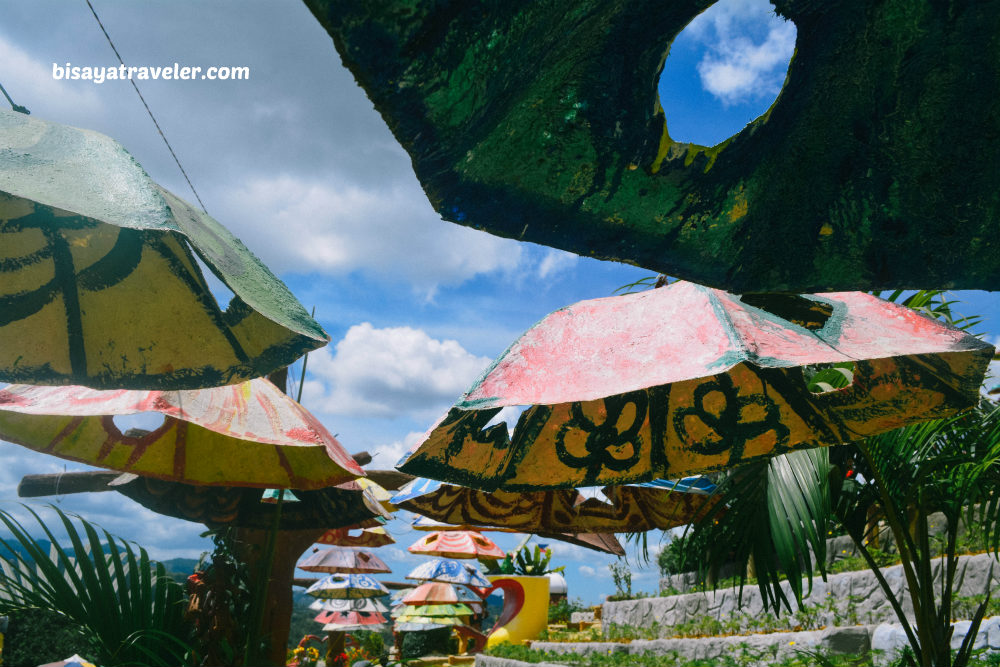 As expected, the garden was pretty busy and noisy. Wherever I turn, I saw plenty of people posing and snapping photos.
As I was exploring the area, I caught sight of the humungous hand statue, which was one of the reasons why I wanted to visit Sirao Garden.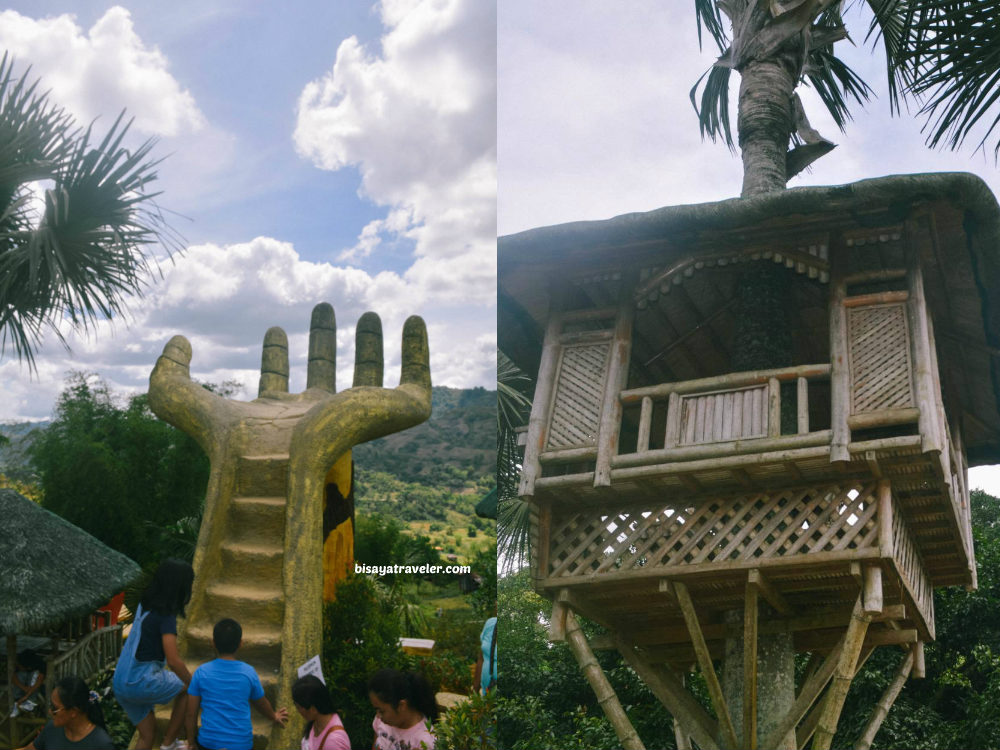 Since "the hand" had a fairly long queue, I opted to roam around. And, eventually, I discovered a handful of new-ish attractions inside this Sirao Garden.
Like these Bali-inspired pictorial paraphernalia.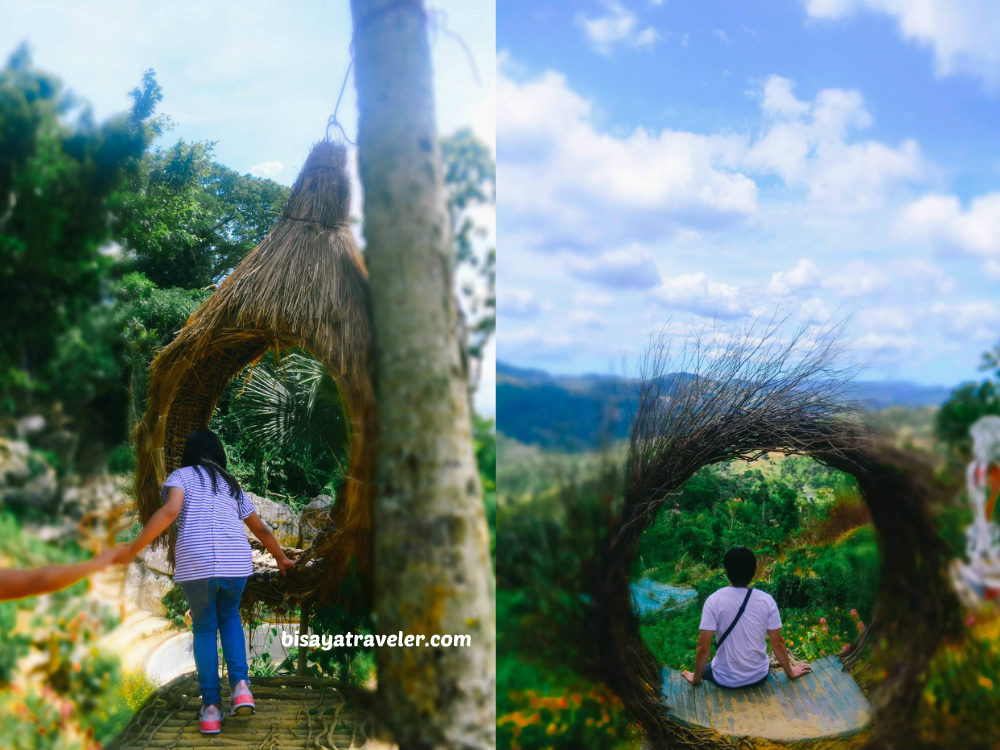 Of course, it also has a windmill to make this Sirao Garden look a little like Amsterdam.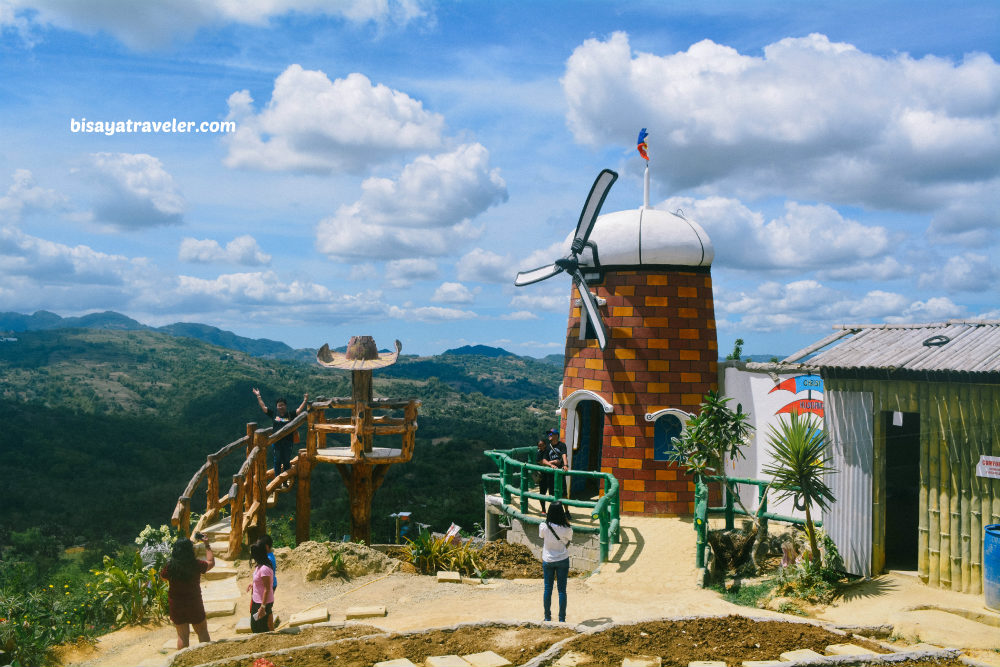 The way I see it, PGCS has amazingly evolved, turning into an Instagrammer's paradise.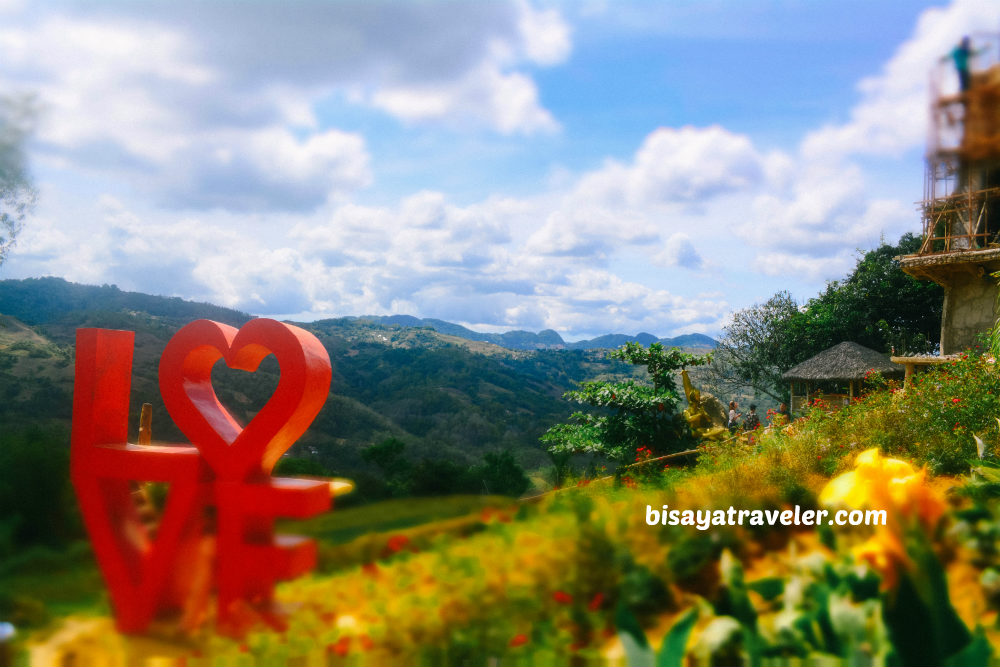 But, there was something that bothered me a bit.
Where were the flowers?
Wasn't Sirao Gardens known for their fiery celosia flowers and blooming buds?
Sure, there were blossoms and greens surrounding the newly built structures. But, I couldn't find the trademark flowers that made it a social media sensation.
I know people love these new artsy creations, but I prefer to smell the flowers and admire nature.
Is this version of Sirao Garden having some identity problems?
Maybe, the flowers weren't blooming yet, especially since it was summertime.
And, we know how warm the Philippines is, during its extreme dry season.
With so many people visiting PGCS that day, I couldn't get a good picture of these arty works of art.
So, I went for a little exploration to see if this Sirao Garden has a surprise for me.
And, guess what? I saw a small area with plenty of lovely buds and greens.
To make things even better, there was nobody around the area, meaning I had it all to myself.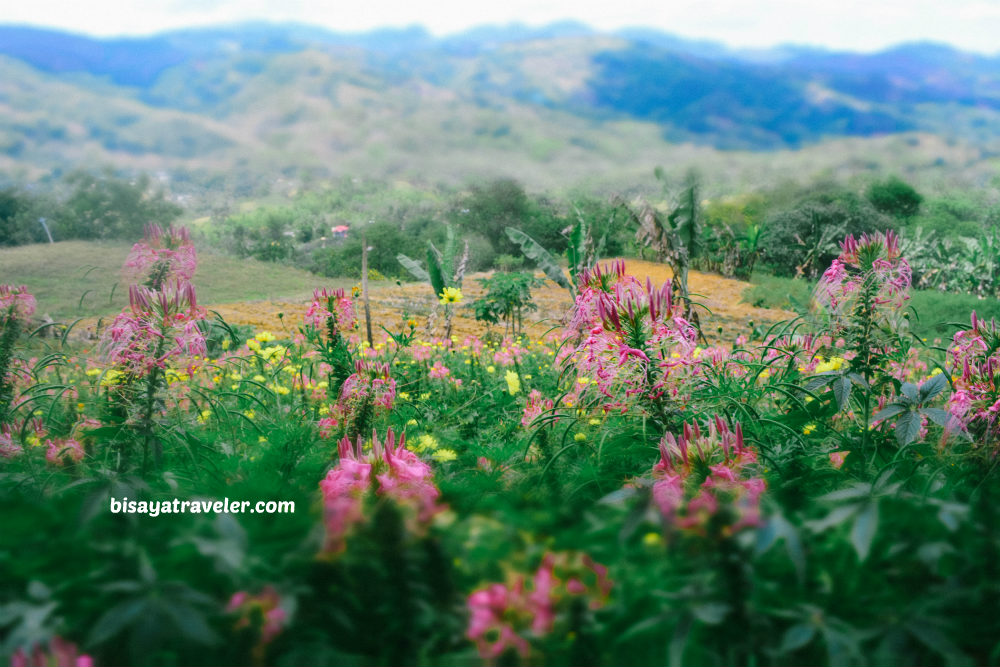 After that, I felt like there was nothing else left to do in Sirao Pictorial Garden and Camping site. To be perfectly honest, it's a tad smaller, as compared to the Original Sirao Flower Garden.
From there, I went up, so I could go on with my quick escapade in Sirao, Cebu.
I checked its pool, but there was nothing great about it.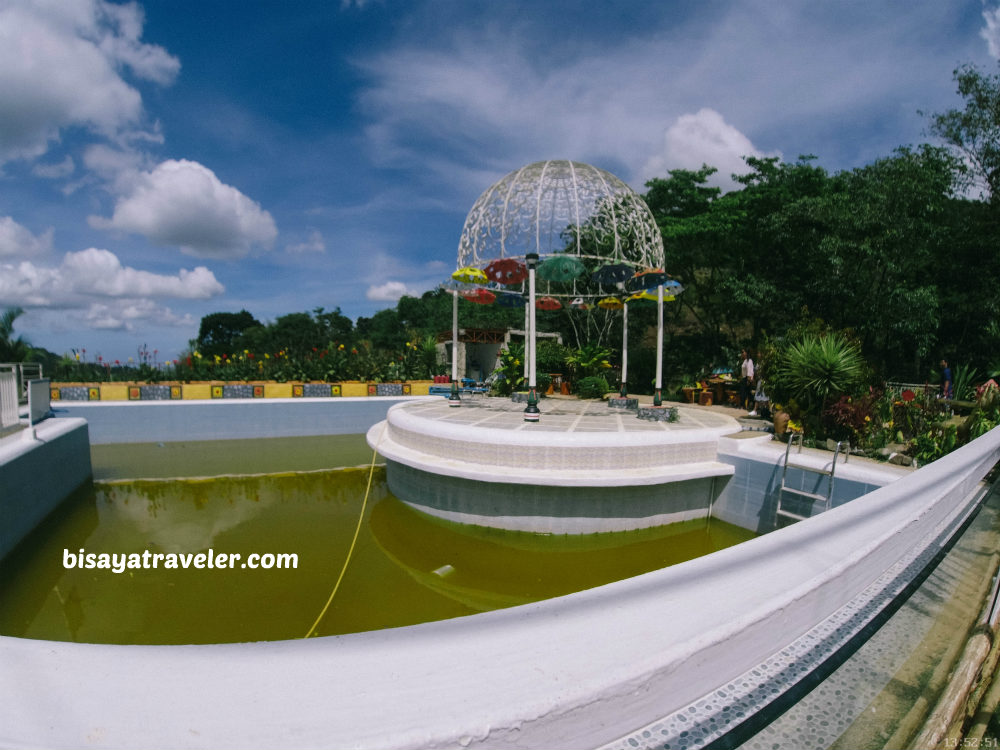 But, as I was heading to the exit, I realized that I have yet to take good photo of "the hand".
I had to take a photo this structure. After all, it's one of the reasons that I felt the urge to revisit Sirao Garden.
Even with the long queue and scorching heat of the sun, I waited for minutes, hoping to get a good photo of the hand.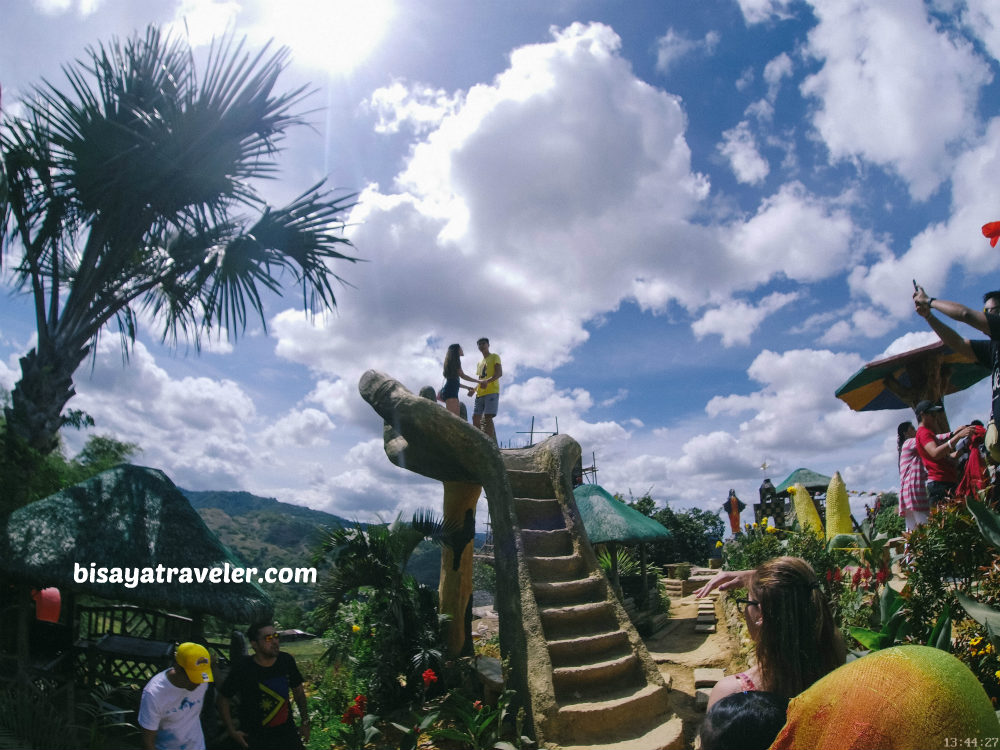 While waiting, I found out that PGCS just has too many man-made structures. And, oftentimes, they block great views of the mountainous backdrop.
On my visit to this Sirao Garden, they were building another feature that somehow made the hand's background not as visually enticing as it should have been.
See that green roof on the lower right of the picture?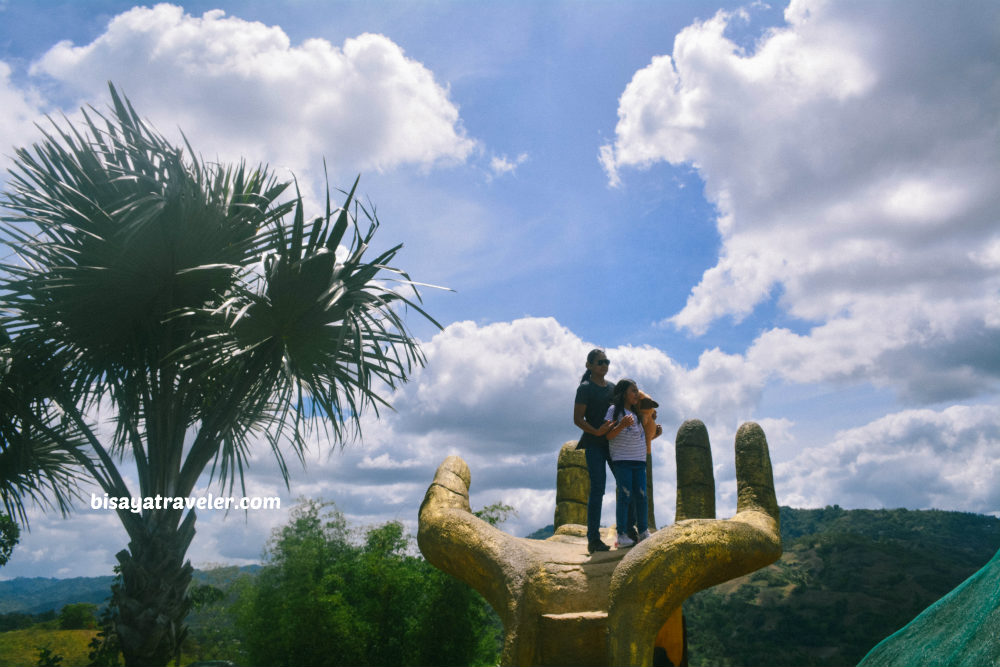 Or, maybe, I'm just a terrible photographer who's got no skills in finding unique angles.
Speaking of unique angles, I had to improvise my photo with the hand because I was traveling alone.
With my action camera, I took an overhead shot of the hand.
As it turned out, it wasn't a bad angle at all.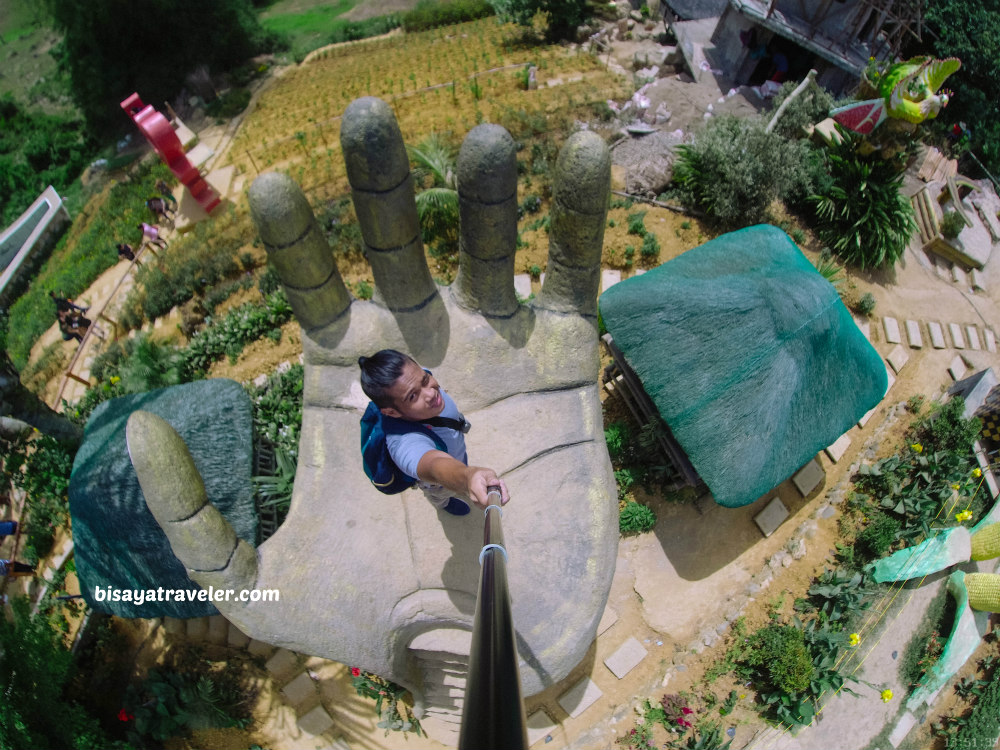 I descended from the hand, and almost stumbled because I rushed down, thinking I was a superhero speedster. Luckily, I regained my balance, and went on with my walk like it was nothing.
Thank goodness! That would have been really embarrassing.
Before I exited this Sirao Garden, I took a final look at it and saw how it has evolved. From a small garden, it has transformed itself into a beloved spot for photographers and so-called influencers.
Although it has a lot of laws, it nonetheless continues to work on improving its aesthetics to lure more visitors.
I'm not much of fan of flower farms in Cebu. But, at least, it gave me a quarter of an hour's worth of entertainment. And besides, it wasn't exactly a costly experience. Let's be real. What can you do with 50 pesos today?
Original Sirao Flower Garden
Quite frankly, I felt like there was still something missing, once I exited the first Sirao Garden Cebu. So, from PGCS, I went for a short stroll to the next stop of my Sirao, Cebu escape – the Original Sirao Flower Garden.
I'm going to share something to you.
Remember the first time I visited a Sirao Garden? The thing is, it wasn't the original one. Actually, it was PGCS.
Would my first impression be different if I visited the Original Sirao Flower Garden instead of its copycat?
Perhaps.
Maybe.
Absolutely?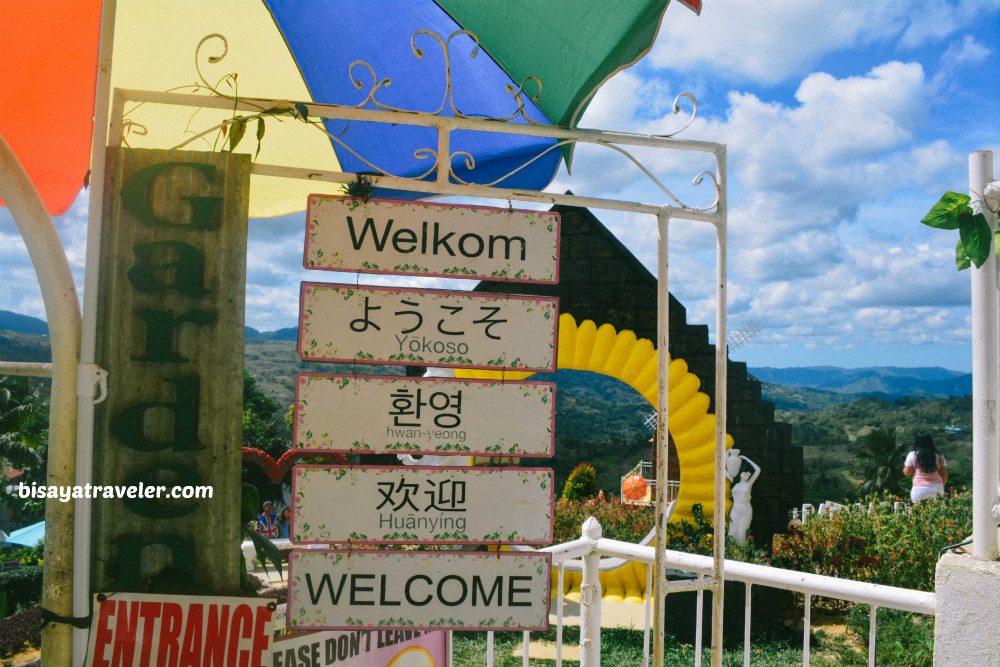 After paying the entrance fee, I went straight inside, and was amazed by a palette of colors.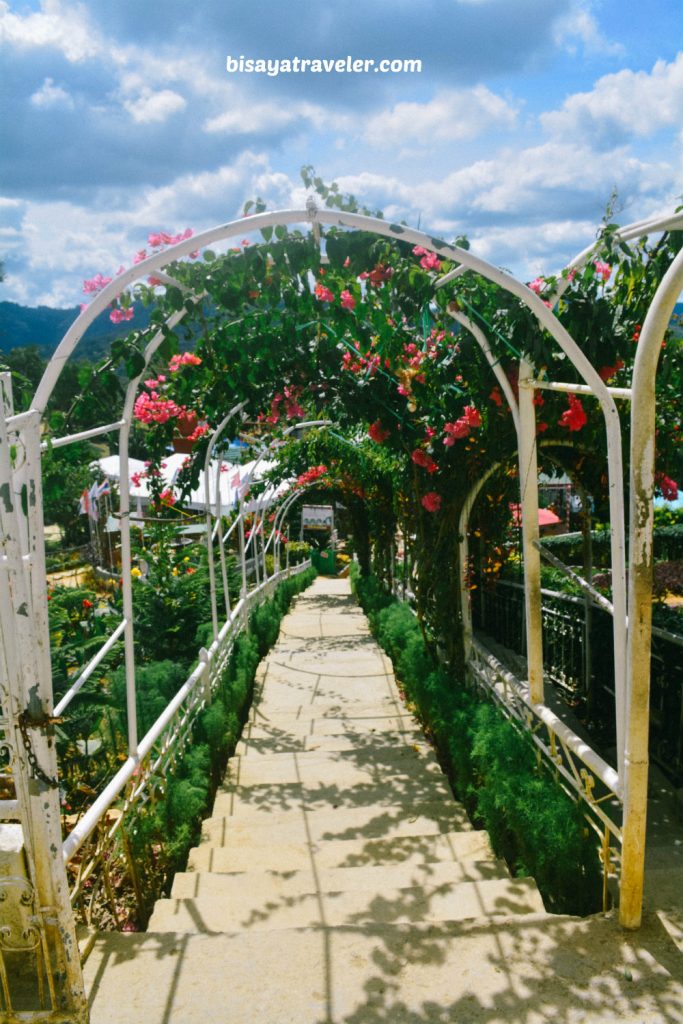 And, yes, it lives up to its moniker as the "Little Amsterdam of Cebu".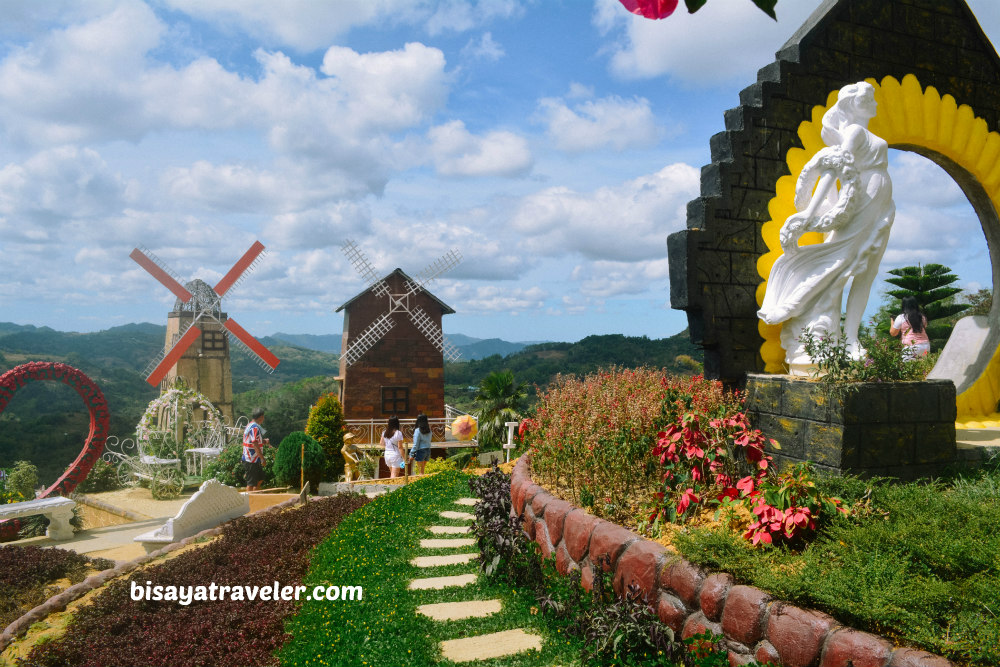 Personally, I think it's the better and more attractive Sirao Garden.
The arches look classy and everything seems so organized here. And, it's more spacious too, with tons of open spaces.
Furthermore, it doesn't try to overdo things.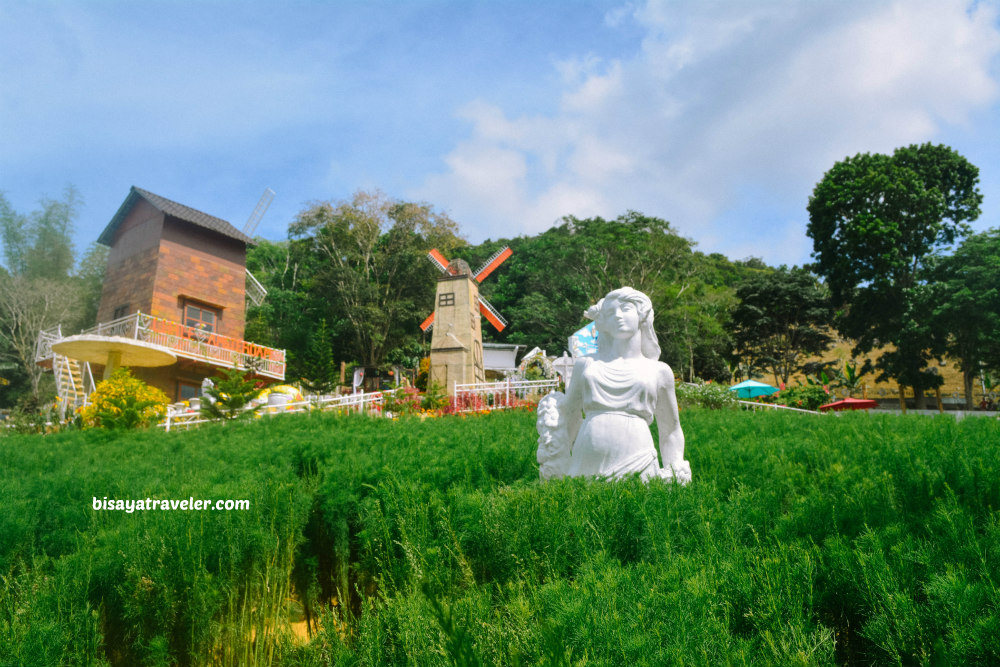 But, the thing that I really like about Sirao Flower Garden is that it's more laid-back than its neighbor.
Like any curious explorer, I wandered around the area, hoping to find some hidden gems and surprises.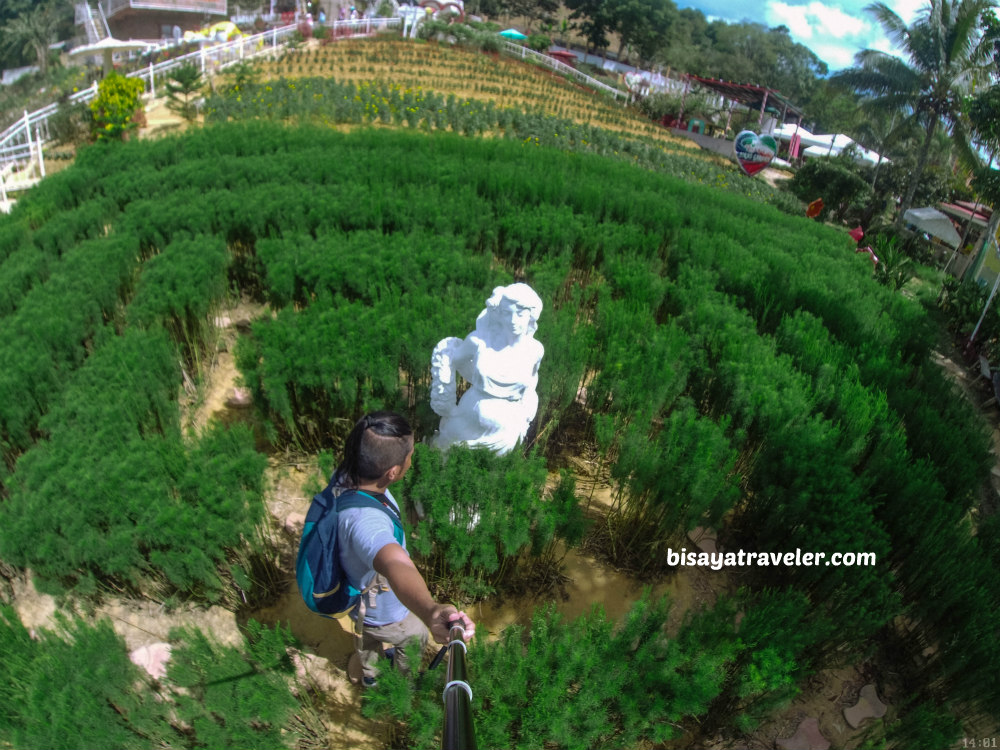 And, there was absolutely no shortage of flowers and beautiful sights in this Sirao Garden.
The giant sunflowers.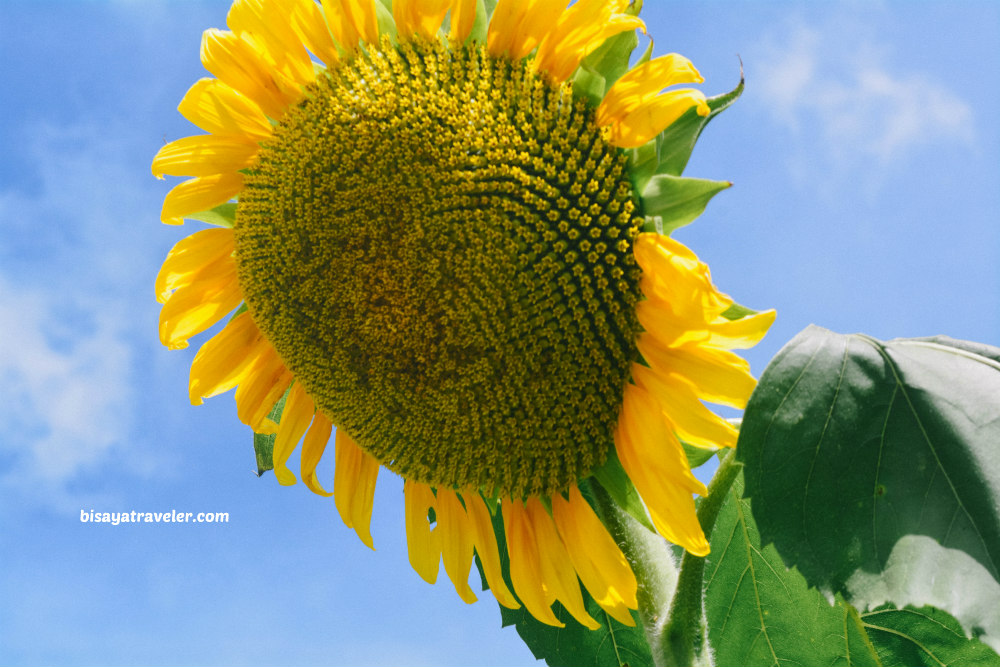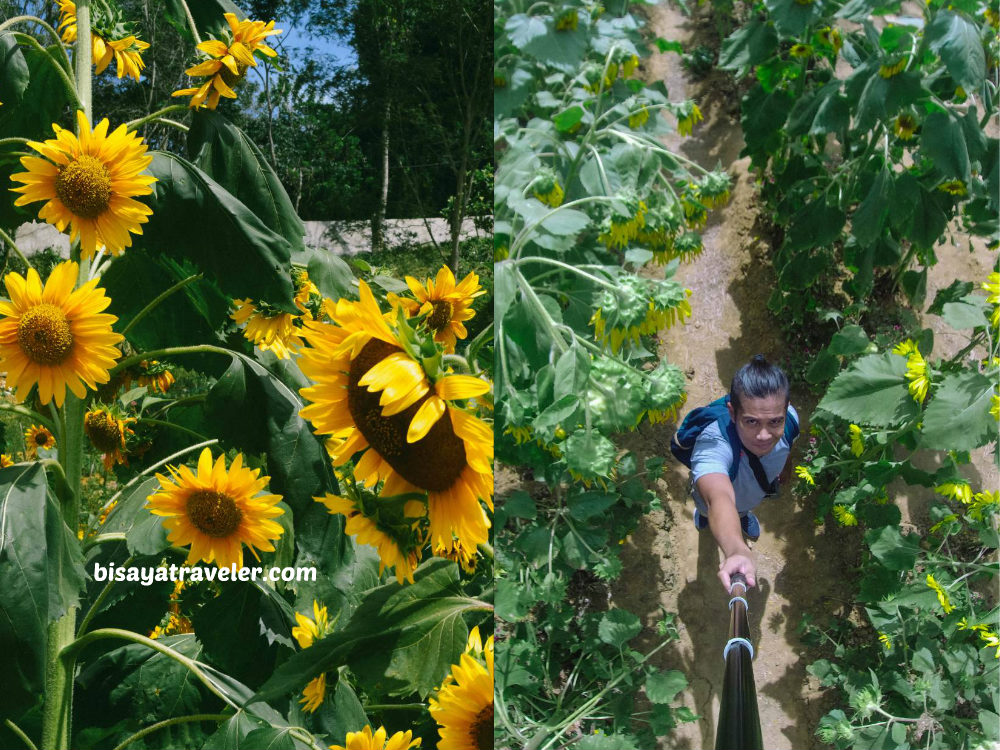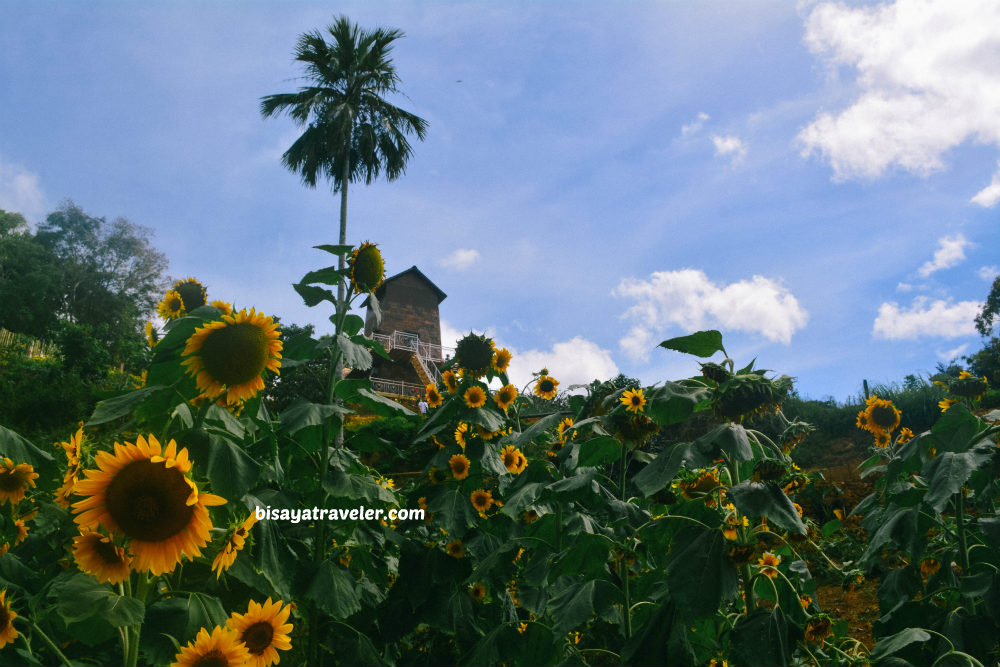 The celosia flowers.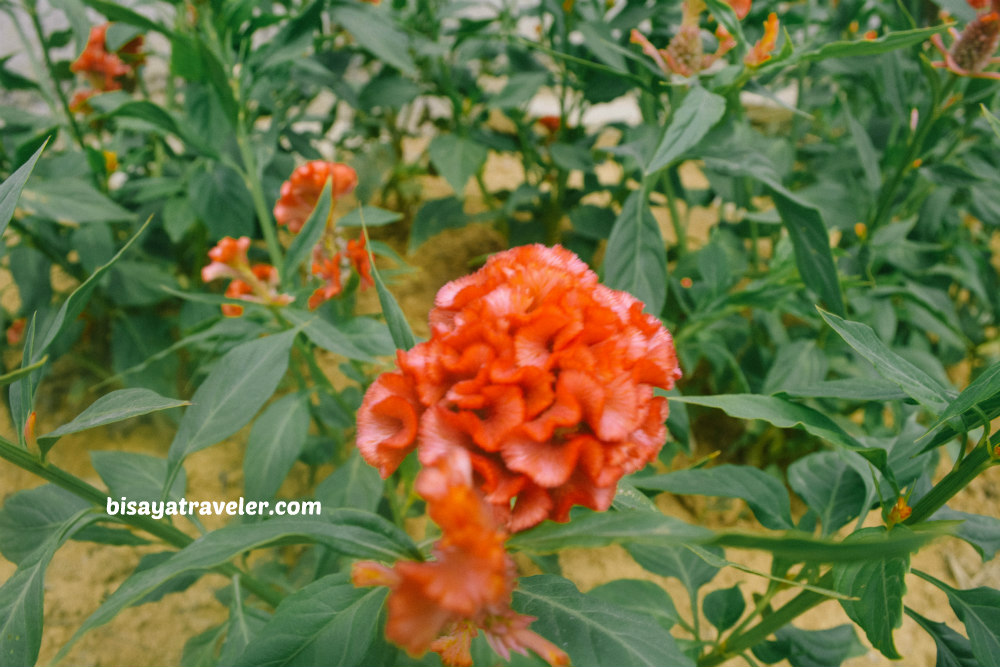 And other types of flora that I'm not quite familiar with.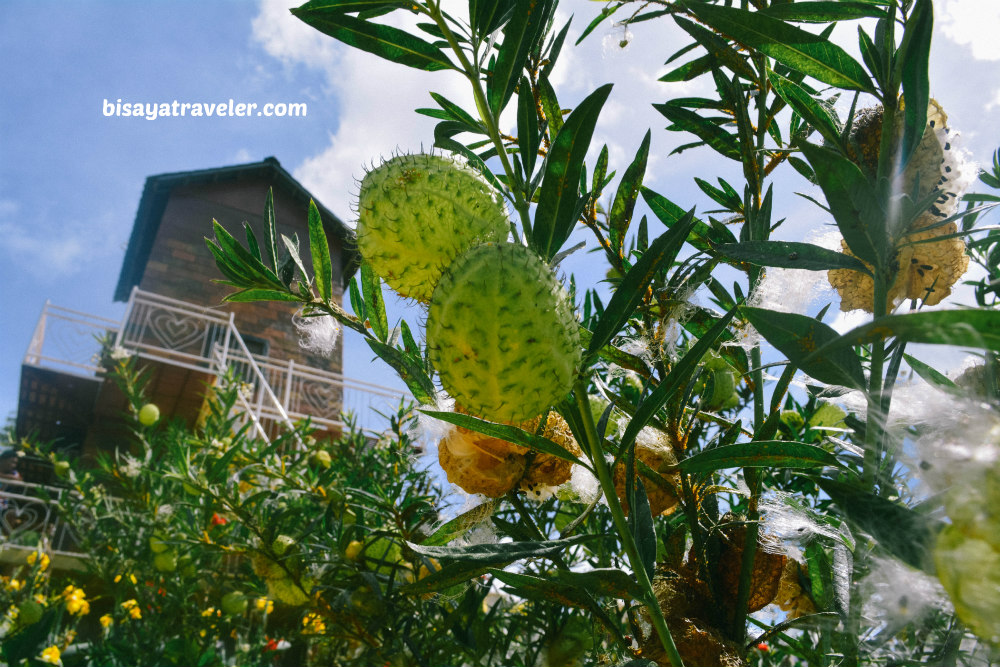 As for the supplemental man-made features, they blend perfectly to the flowers and natural backdrop of Sirao, Cebu.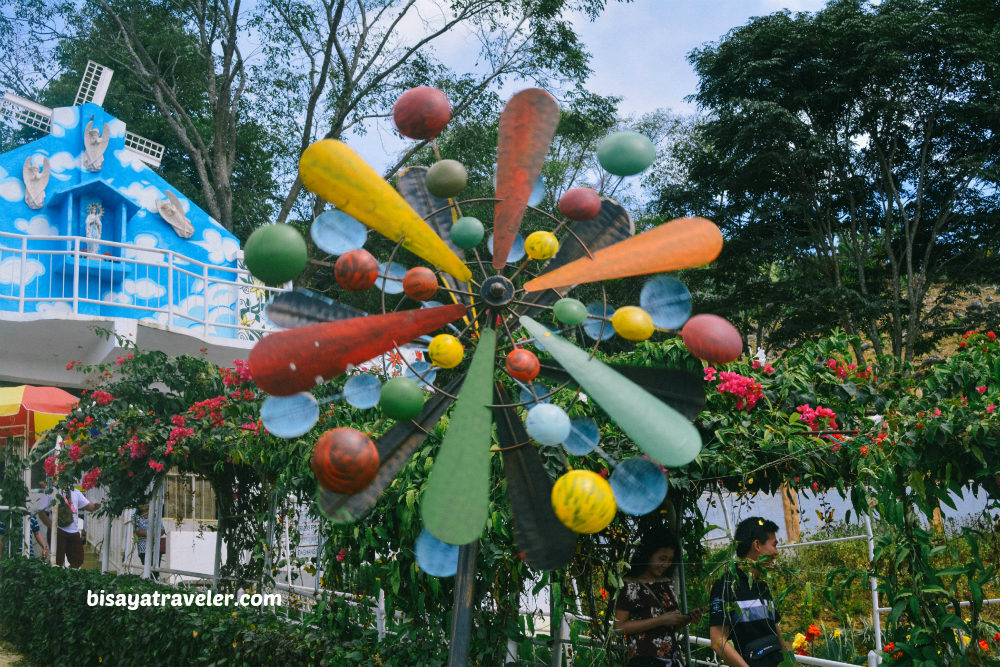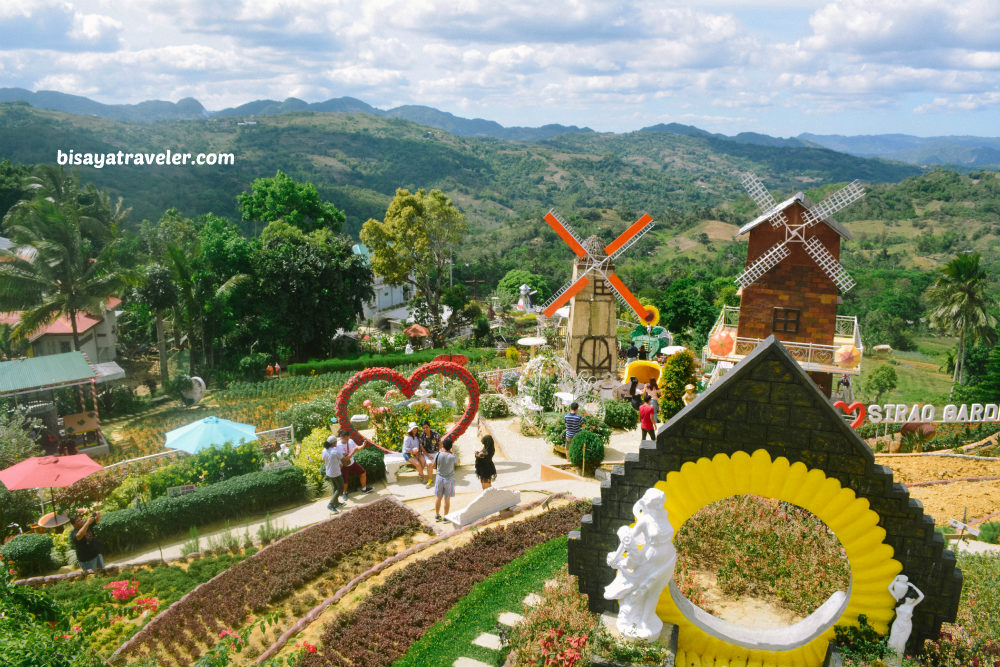 I've visited this Sirao Garden, once before, as a tour guide. And, as with PGCS, it also has wondrously evolved. And, I'm sure, it will continue to evolve and add more features.
With my wanderlust appeased, I exited this Sirao Garden with a big grim and a camera full of colorful snaps.
How do I get to Sirao Garden?
Via habal-habal (motorcycle taxi)
First, you need to get to JY Square Mall in Lahug, Cebu. Once there, charter a motorcycle taxi that will take you to Sirao Garden. Travel time is 30 to 50 minutes. Roundtrip fare is PHP 400 (good for two people). In some cases, the driver will ask for an additional fee for waiting. Normally, the fee costs PHP 100 to 200 an hour.
If you need a trusted habal-habal driver to Sirao Garden, contact Malvin at 0933-625-7398.
Via V-hire
From Ayala Terminal, hop on a bus bound for Balamban via Transcentral Highway. Ask the driver to drop you off at Ayala Heights. Fare is PHP 50 per person. Then, take a habal-habal ride to Sirao Garden. Fare is about PHP 20 to 30.
Via a private car
You can navigate to Sirao Flower Garden using Google Maps or Waze. Parking fee is around PHP 20 to 50.
Cebu city tour
There are operators that offer tours to Sirao Garden and other well-known Cebu tourist spots, such as Temple of Leah, Tops Cebu and many more.
How much is the entrance fee in Sirao Garden?
Sirao Pictorial Garden and Camping site
Admission fee: PHP 50 per person
Contact details: 0946-937-7891
Opening times: 06:00 AM to 06:30 PM. Camp site is available from 06:30 PM to 06:30 AM.
Original Sirao Flower Garden
Admission fee: PHP 100 per person
Contact number: 0943-706-3437
Opening times: 06:00 AM to 06:30 PM
All in all, I enjoyed my visit to Sirao Gardens in Cebu, even though they are cliché and touristy for my taste. They both are great, but if I have to pick one, I'd go with the original one.
From its giant sunflowers to its perfectly designed windmills, the sights in the Sirao Flower Garden are easier on the eyes. Plus, it's more peaceful and less crowded.
Still, I'd give a ton of credit to PGCS for making things a whole lot more interesting.
As they say, competition drives innovation.
The beautiful arches, the new flora and intricate selfie spots may not have existed if there was no competition in Sirao, Cebu.
Like rival basketball teams, they've upgraded their roster, hoping to outshine one another. And, in the end, they've created stunning sights that have made thousands of people happy.
And, that's what make the Sirao Flower Gardens special and beautiful.
As they continue to evolve and compete, we might be something more spectacular from these rival flower gardens in Sirao, Cebu. Hopefully, they won't overdo their designs and structures.