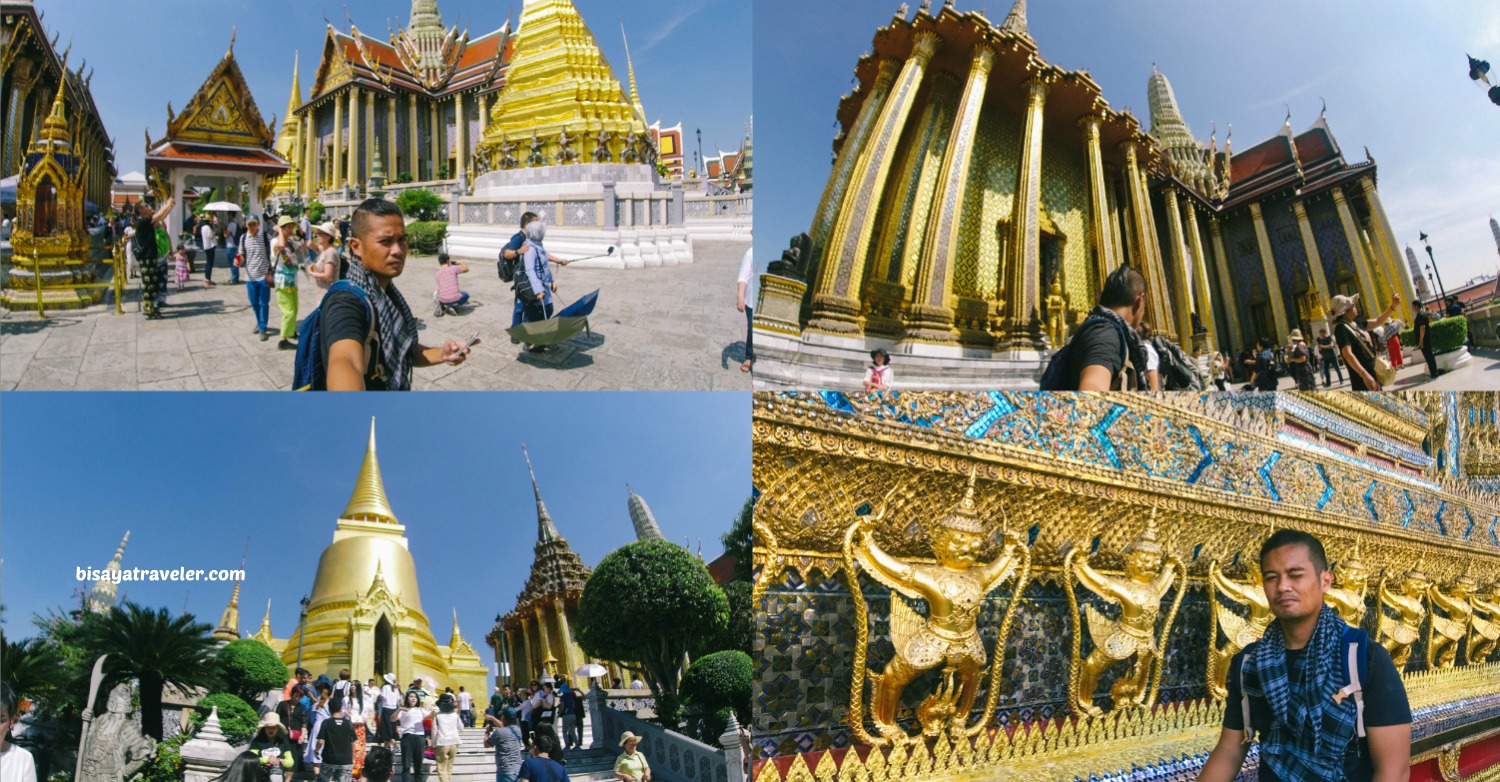 Grand Palace Bangkok: Cherishing The City's Dazzling And Busiest Stop
The Grand Palace, with its tempting and alluring splendor, was truly the granddaddy of my list of things to do in Bangkok. Drenched in culture and history, this Bangkok attraction also gives visitors a taste of Thailand's wondrous past. From beloved social media personalities to backpacking jedis, I've heard tons of praises and seen positive reviews of the Grand Palace Bangkok, prior to our trip. Intrigued, we, on a warm Sunday, ventured into the heart of Bangkok, to lay eyes on one of Thailand's most majestic wonders. As far as I can remember, I even said that I wouldn't miss the Grand Palace Bangkok for the world.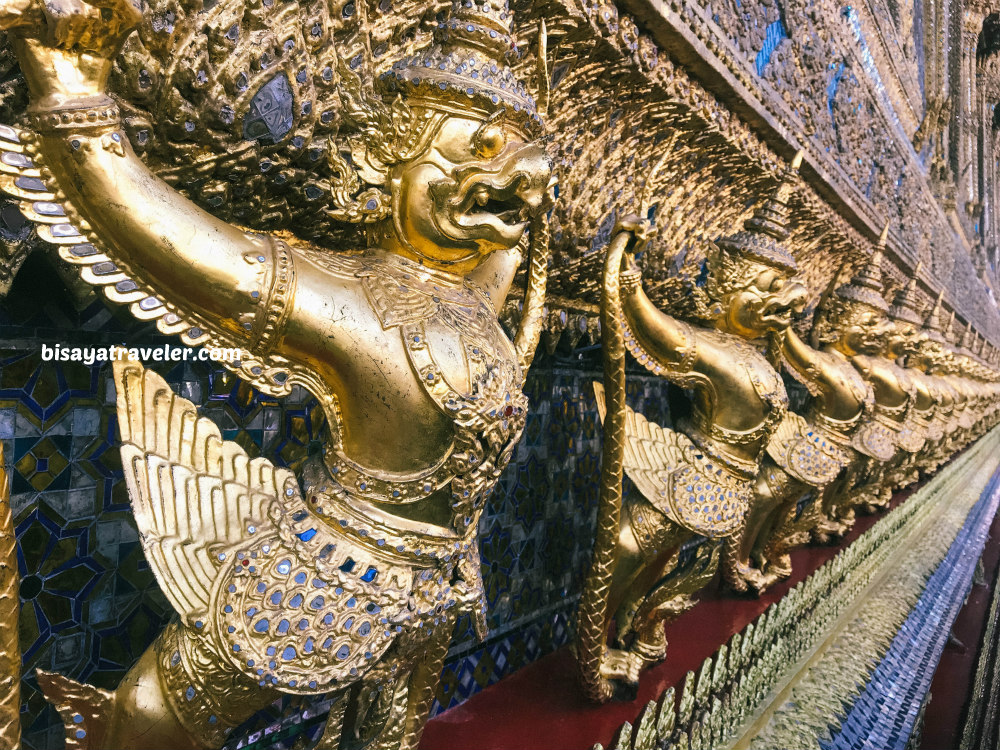 And, when we finally arrived at the gates of the palace, I was truthfully a little disappointed. Don't get me wrong – the Grand Palace Bangkok didn't lose its luster or anything. Even from its gates, the palace wowed me with its elaborate features and clean environment.
Yet, there was something wrong with it.
The endless wave of tourists.
The scorching heat of the sun.
The frenzied vibe that honestly ruins your experience.
And, I felt overwhelmed, as I was waiting for some of my travel buddies. For a while, I was standing in midst of a sea of tourists and fashionistas flaunting their selfie sticks. Clearly, it wasn't the can't-miss and must-see Grand Palace Bangkok that I dreamt of visiting.
Should I skip the Grand Palace, and just move on to the other attractions in Bangkok?
After all, my travel buddies have been itching to explore the Chatuchak Market.
Like a patient and forgiving lover, however, I gave it a second chance.
In most aspects in the life, first impression lasts. But in traveling, sometimes, you need to wait, and be patient to see something really spectacular.
My Grand Palace Bangkok experience
It was the third day of our 6-day getaway in Thailand. From the get-go, everything seemed perfect and spotless. Not only was it a beautiful sunny day, but the streets of Bangkok were surprisingly laid-back. What's more, everyone was in a cheery mode.
Geared up and ready, my wife, mother in law and I took a Grab ride to the Grand Palace Bangkok. Minutes later, we arrived at the Ministry of Defense Thailand, which is just across the street from the Grand Palace Bangkok.
With its eye-catching quintessential Thai façade, the building gave me the urge to snap a bunch of photos. But, as I was about to snap a photo from my DSLR camera, I realized that I forgot to remove its memory card from my laptop at the hotel.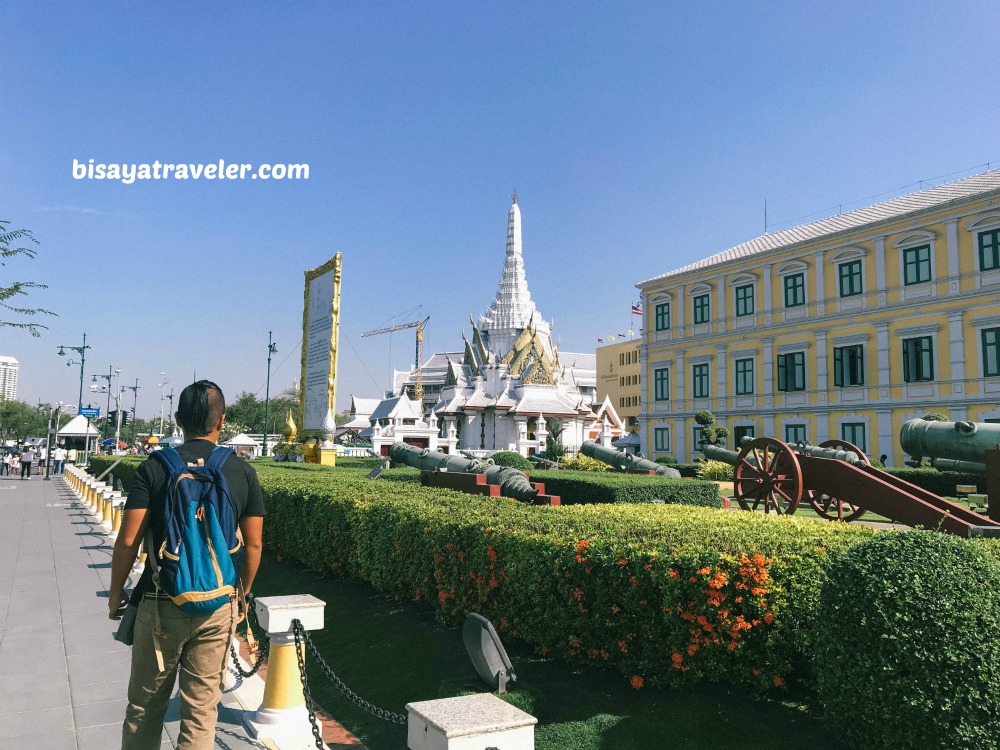 Damn it, Aldrich! On the bright side, I still have my smartphone, action camera as well as my wife's phone.
The infamous Bangkok heat was silently and slowly draining our energy. So, we cross the street, and made our way to the official entrance gate of the palace.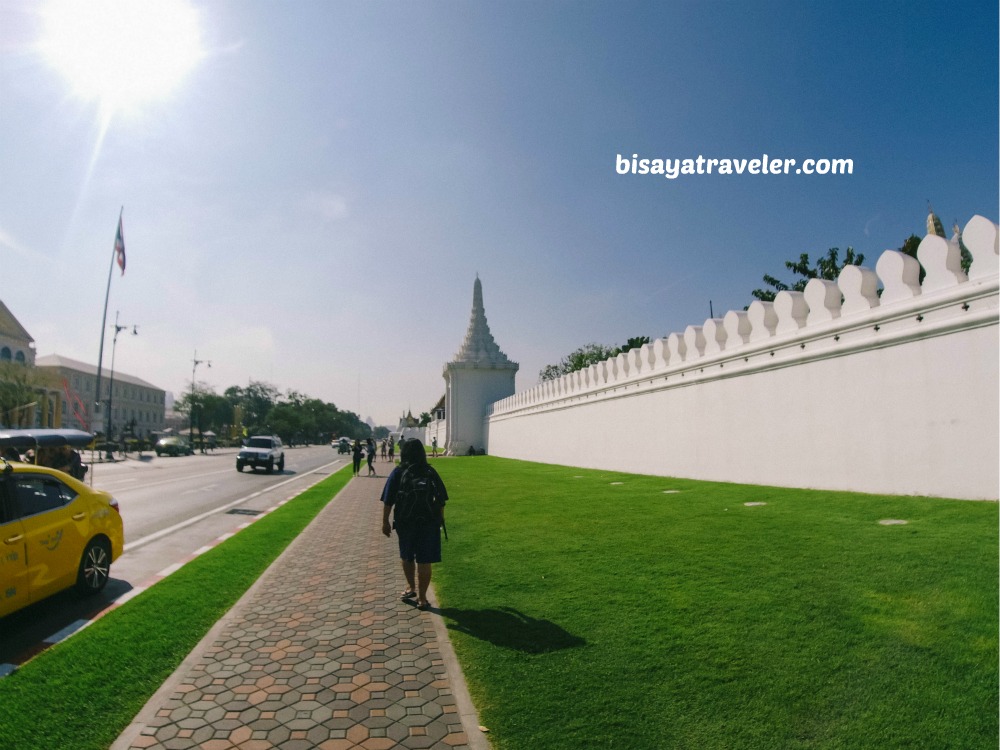 Upon our arrival, I was shocked by what I saw. In my eyes, the Grand Palace Bangkok was swamped by a sea of tourists. The sight of it was simply exhausting.
It was déjà vu all over again. All of a sudden, memories of a renowned flower farm in Cebu flooded over me.
I remembered the time, when I visited an upcoming flower farm jam-packed with stylish visitors and tourists. It was an exhausting and uneventful experience.
While waiting for the rest to arrived, I hoped that it would turn out to be a more pleasant and fulfilling experience than my encounter with that flower farm in Cebu. Moreover, I wondered if the palace was worth its steep admission fee – 500 Baht.
There a few red flags, I thought.
As soon as everyone arrived, we head to the ticket counter to pay the admission fees.
Just when were about to enter it, my mother-in-law and her sister were having second thoughts. And, the cheery mood they had earlier faded, in the blink of the eye.
"Too expensive", they said.
They have a point. Five hundred Baht is too much for a few selfies. But, I didn't come to the Grand Palace Bangkok, just for the sake of photography. Remember, the palace has a long and intriguing history.
While I don't see myself as a bona fide history buff, I do love hitting historic sites. And, there's no way I'm going to miss the chance to see one of the most revered historic sites in Bangkok. Did I mention that it also home to the iconic Chapel of The Emerald Buddha?
Luckily, the senior citizens of the group agreed to our plan, after our persuasion.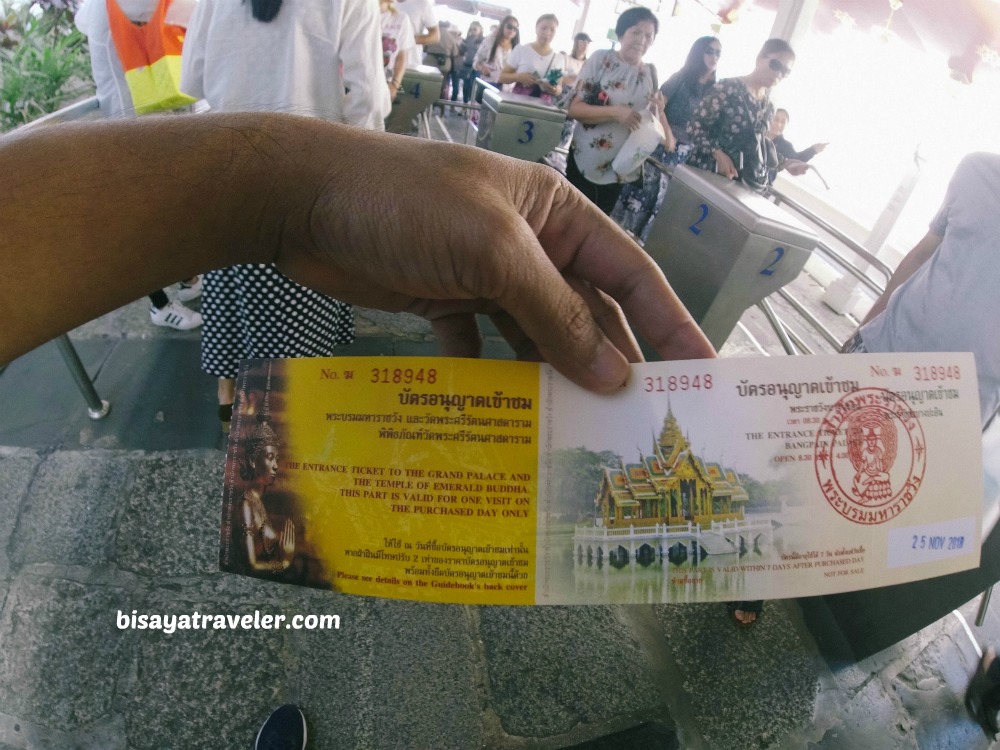 Finished with the dress code and security checks, we entered the palace together with the throngs of other tourists. And, it was extremely crowded and frenetic. It was like going to a jam-packed concert that featured some zombie-looking Korean heart-rob.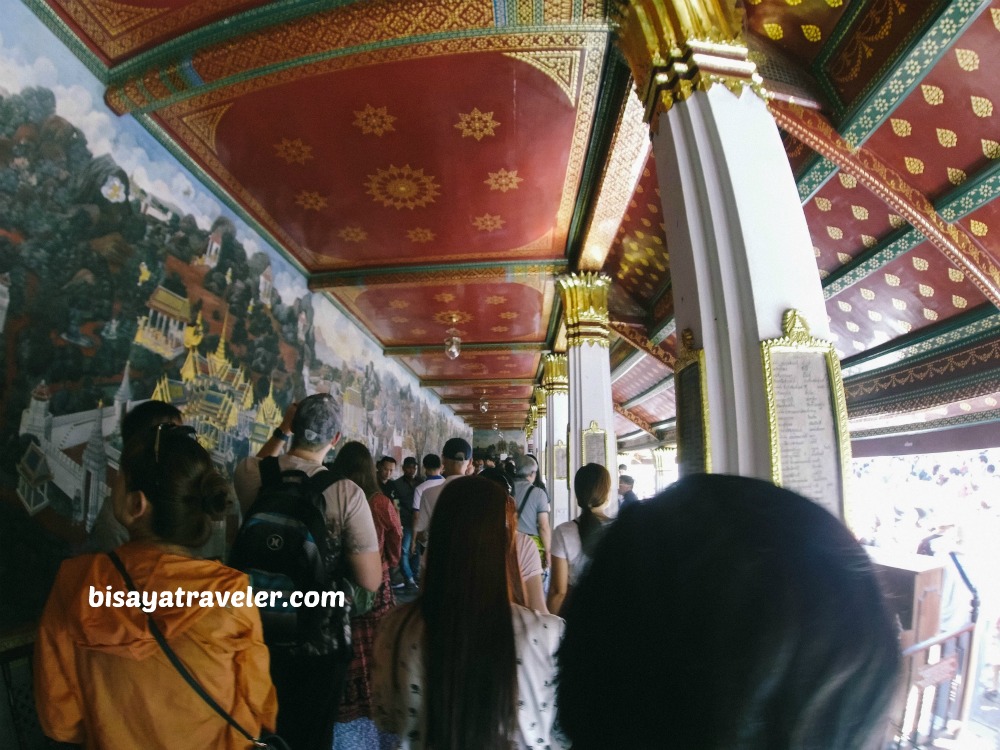 Selfie sticks were everywhere. Laughter and unfamiliar phrases from foreigners bombarded my ears.
What did I expect? It was a Sunday in November – one of the busiest months in Bangkok, when it comes to tourism.
Quickly, I grabbed a visual guide of the Grand Palace Bangkok, to navigate our way around the complex.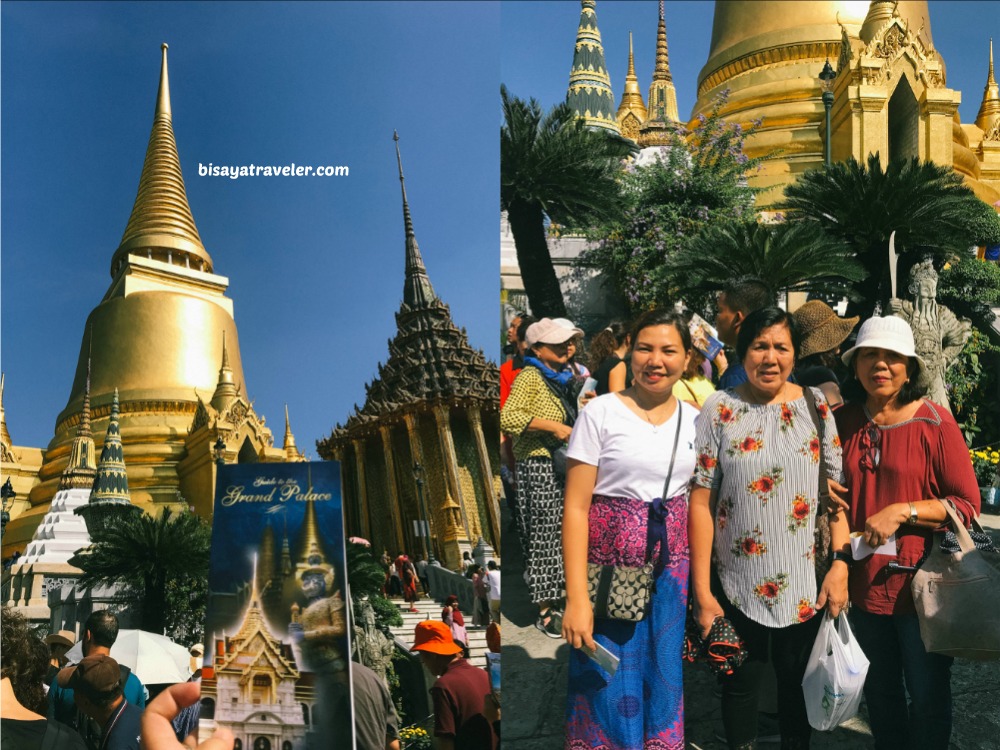 Unfortunately, I couldn't think clearly, with so many people passing by and taking pictures. Not to mention, I was constantly keeping an eye on everyone in the group. As the only male of the gang, I felt like it was my responsibility to make sure everybody is fine
Eventually, I put down the map, and went to the eye-catching spots with fewer crowds.
Slowly, my weary spirit came to life.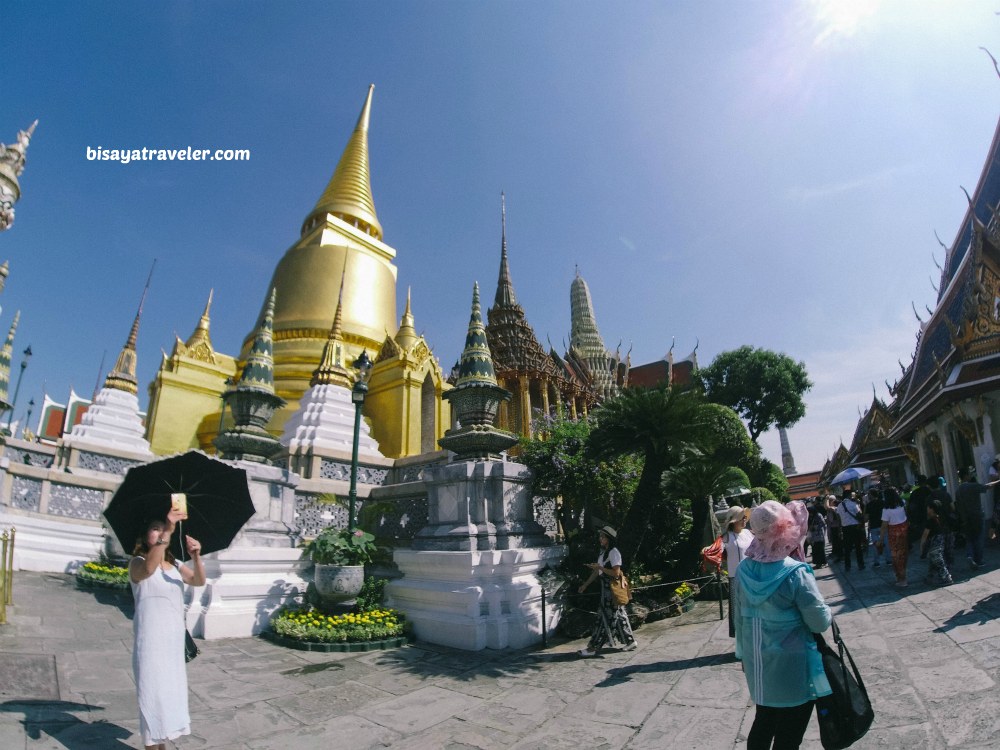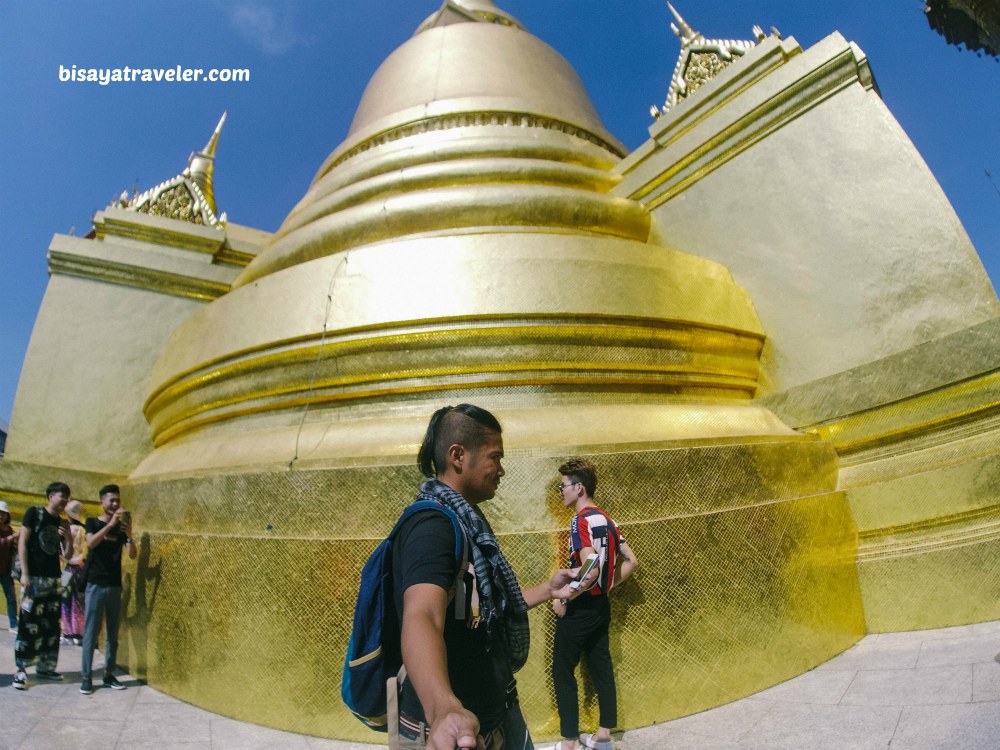 As the crowds got thinner, I saw the majesty that makes the Grand Palace a must-visit attraction in Bangkok.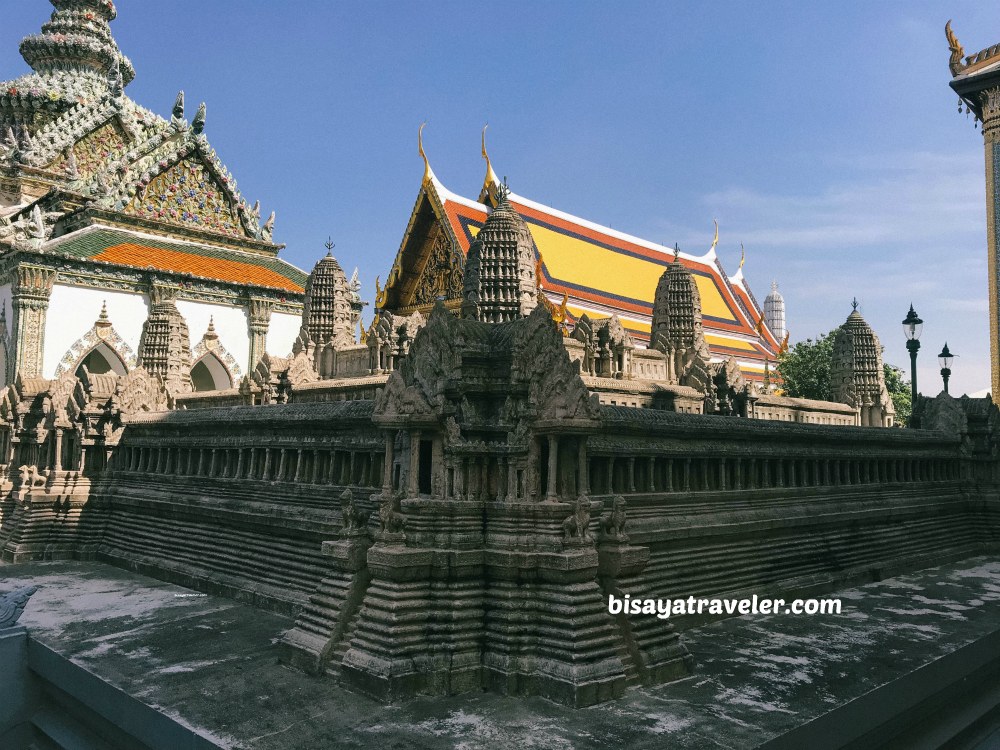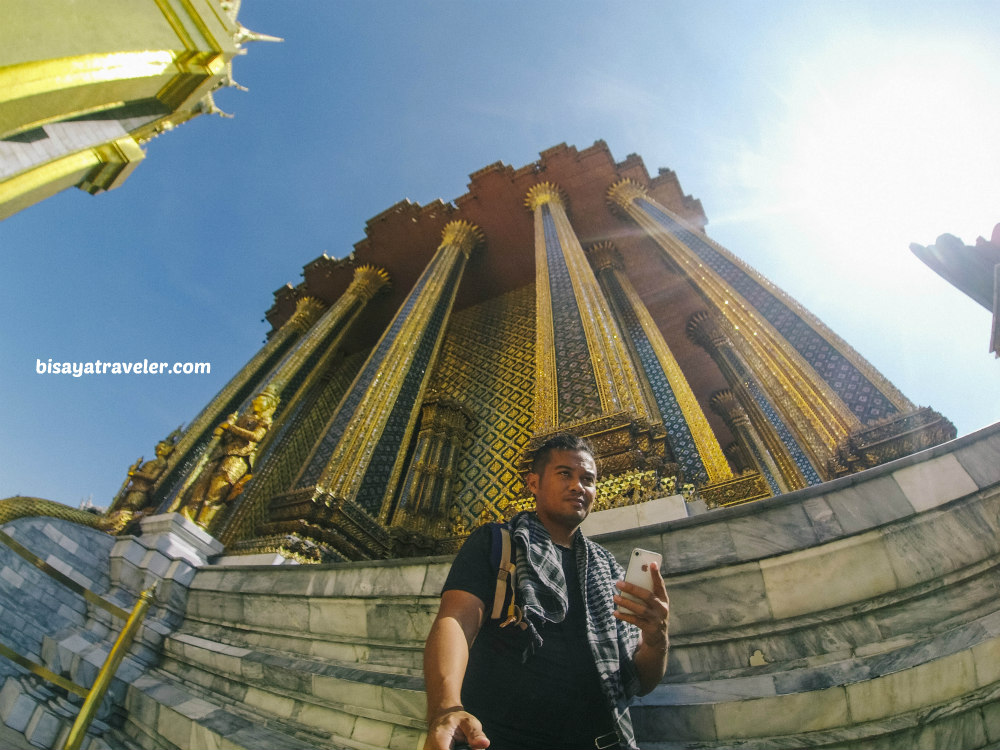 The towering spires, the dazzling stupas, and the elaborate carvings – these features swept me into unadulterated bliss. I couldn't stop taking pictures of the Grand Palace Bangkok.
Although it wasn't exactly a picture-perfect experience, it was becoming fun and memorable. And, with momentum on our side, we roamed around the area, to admire the fine Thai artistry and creativity.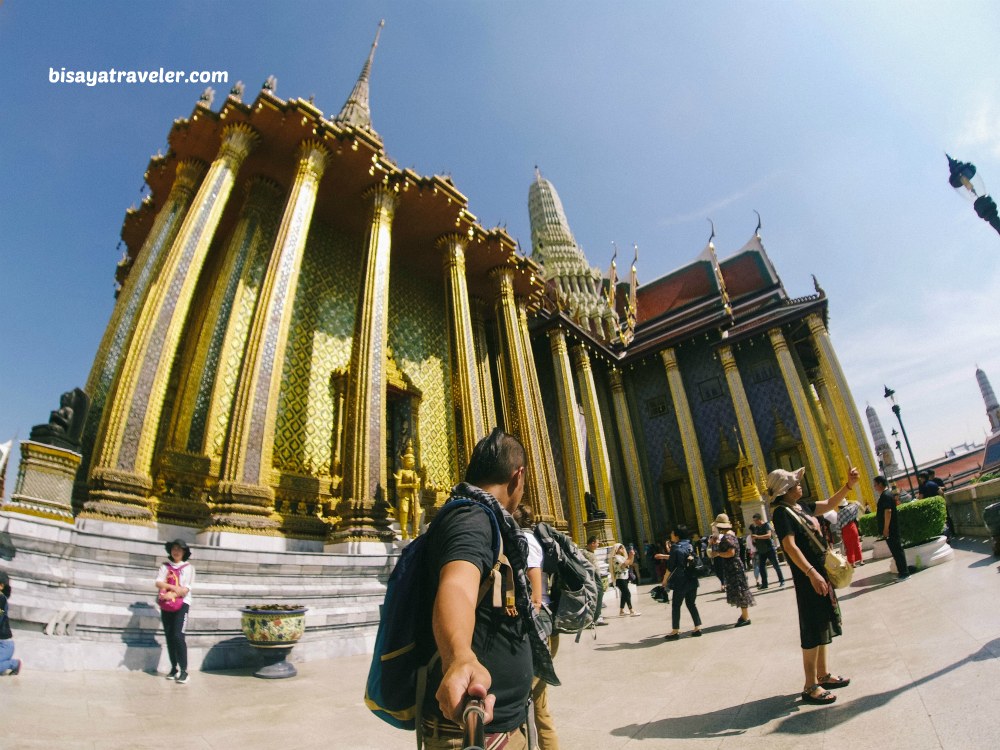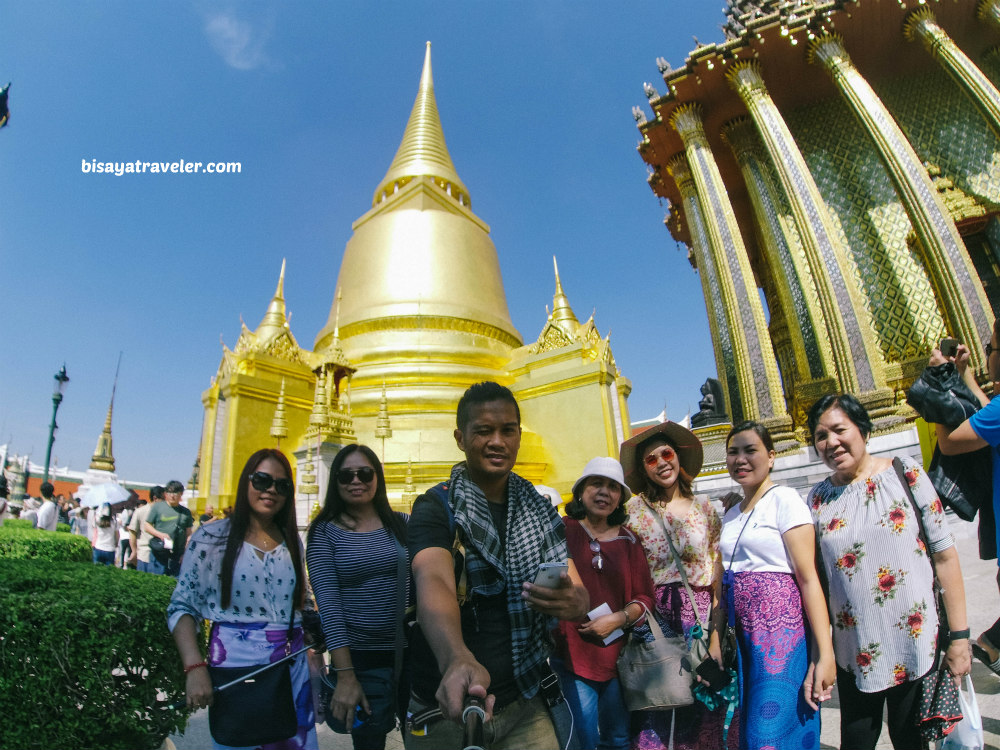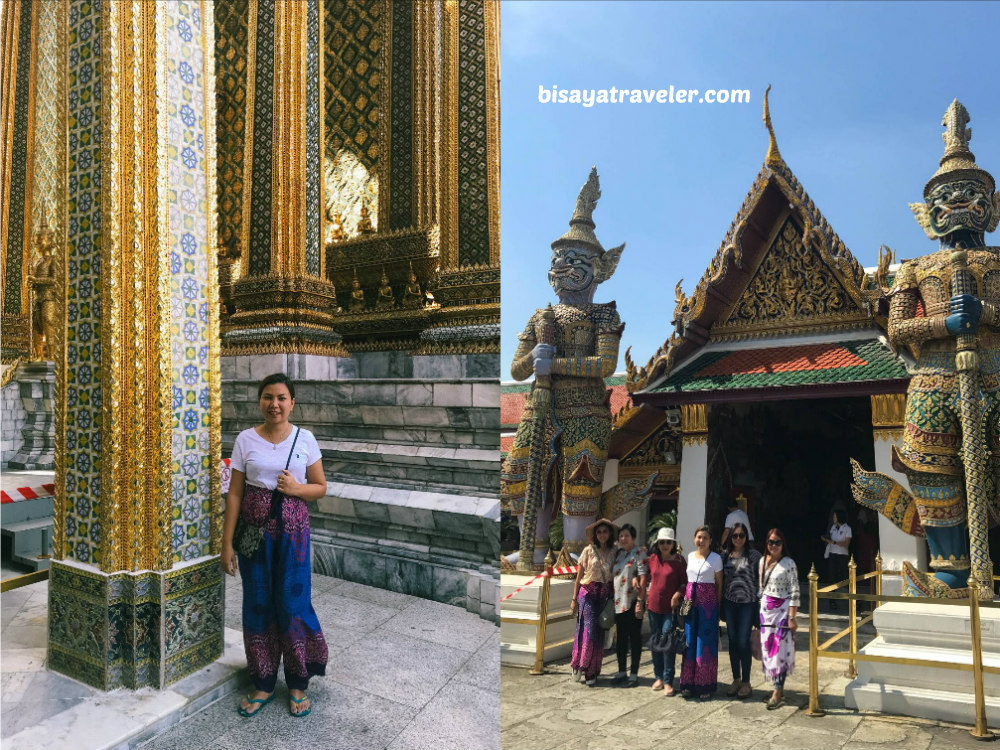 Soon, we decided to check out the celebrated Wat Pha Kaew, or also known as the Temple of Emerald Buddha.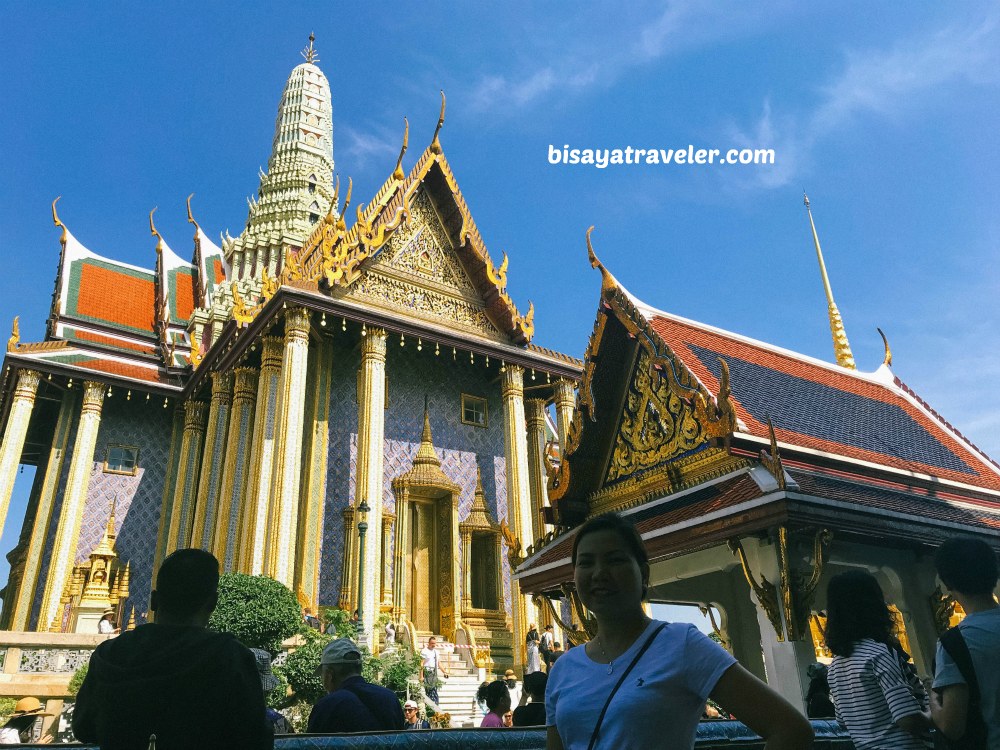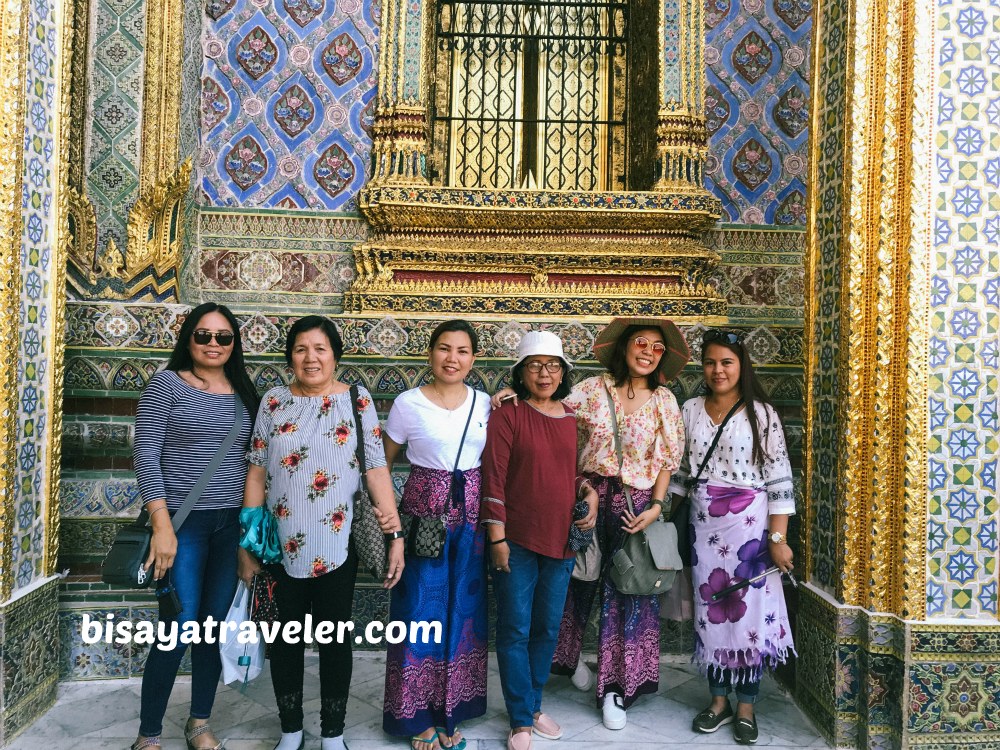 Before setting foot on the temple, though, we had to remove our shoes, as a sign of respect to the Buddha. Plus, we had to resist our cravings to take pictures since photography is strictly not allowed inside the temple.
Inside, we were utterly awestruck by the size, carvings and beauty of the Emerald Buddha. To me, it's, hands down, one of the most enthralling sights in all of Thailand. I stood there for a couple of minutes, amazed by a masterpiece. While there, I also said a short prayer.
As stunning as the jade Buddha is, we didn't spend a ton of time inside the temple. We, then, went outside to plan our next stop for the day.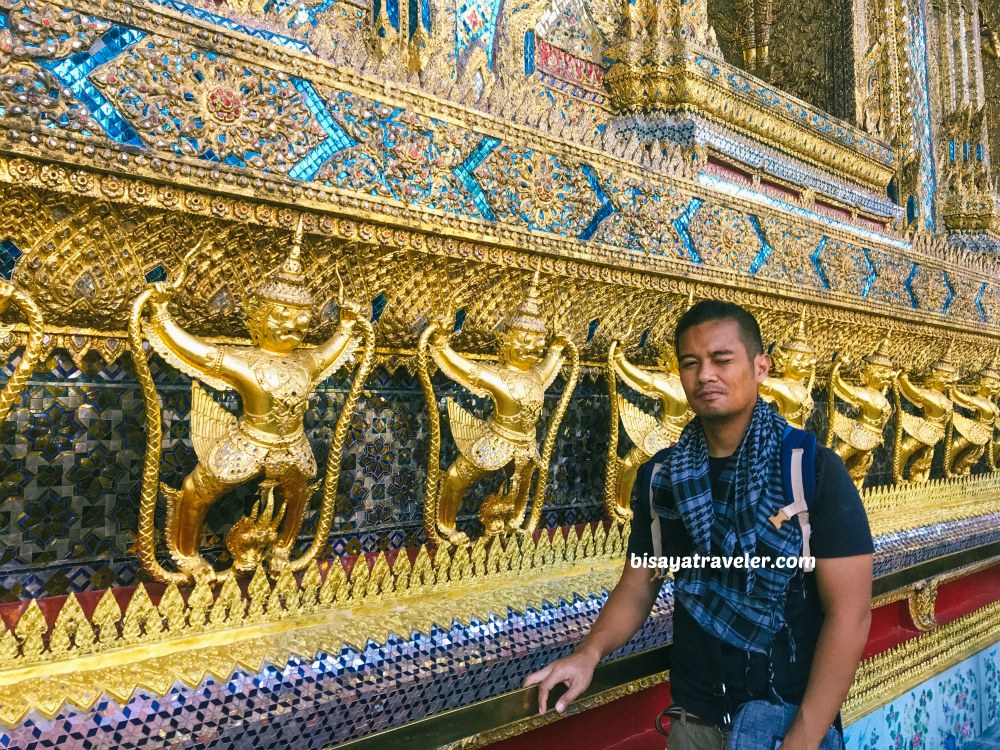 While everybody was excited to go to Chatuchak Market, I wasn't planning on going there. Shopping isn't my cup of tea, anyway.
Since it was still pretty early, my wife allowed me to explore the other temples in Bangkok, specifically Wat Pho and Wat Saket.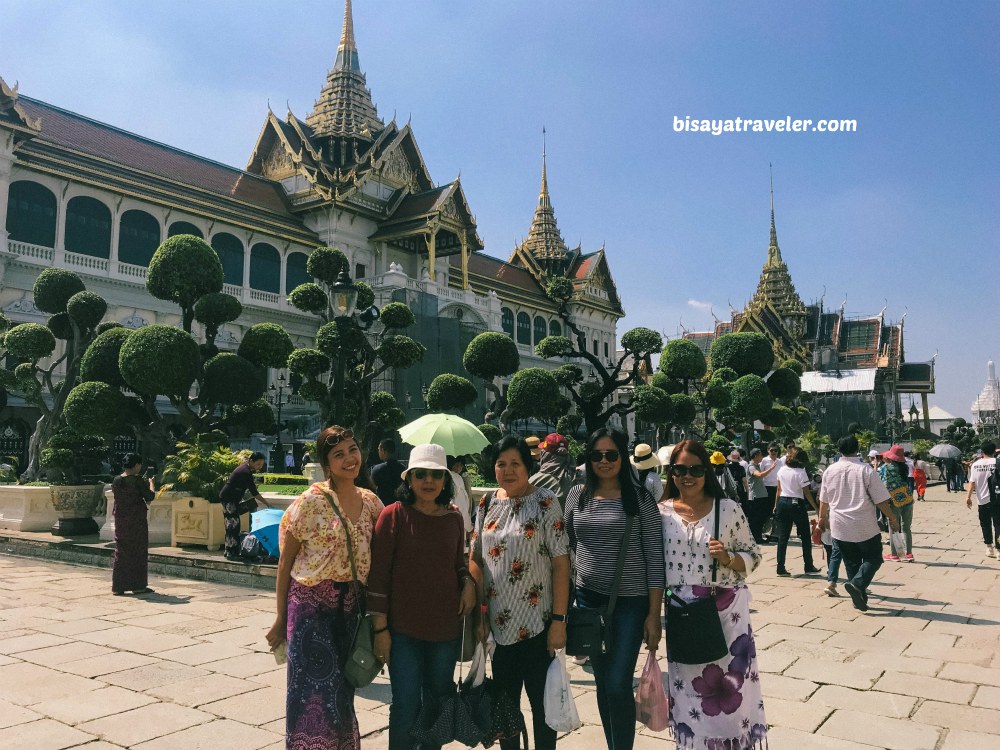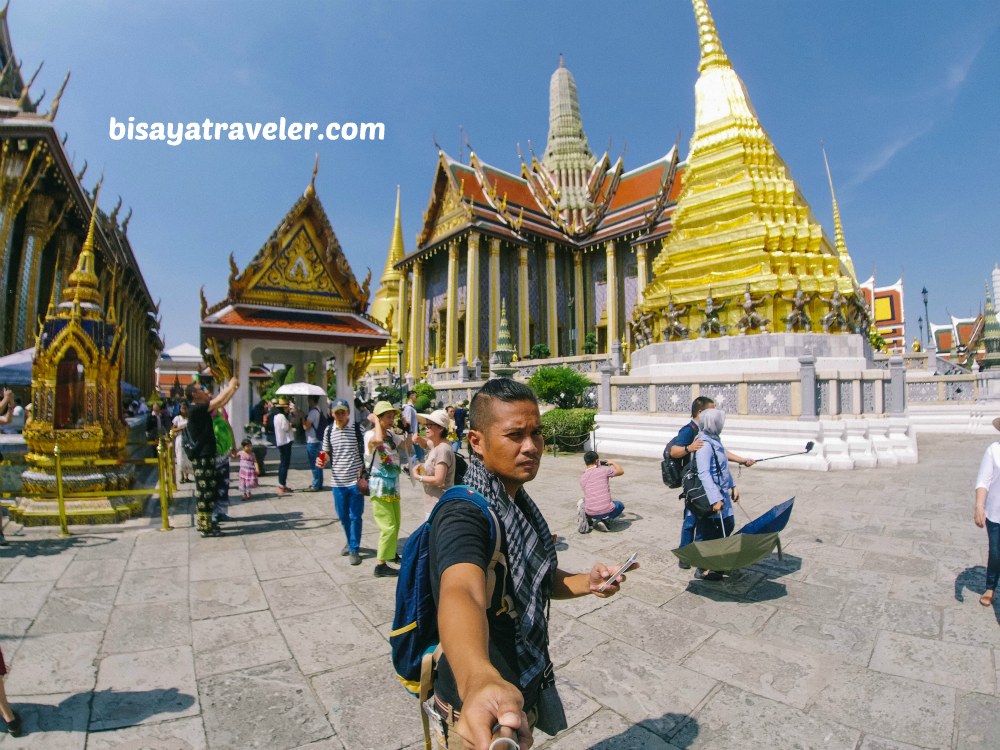 And guess what? My temple hopping adventure was one of the highlights of my trip to Thailand.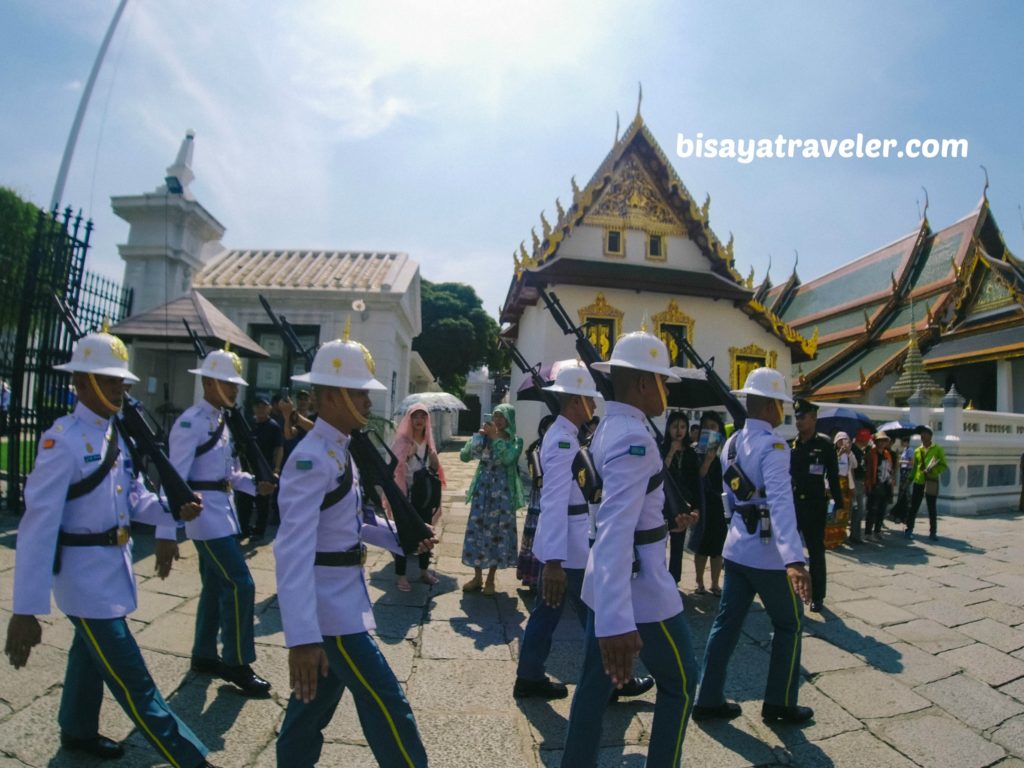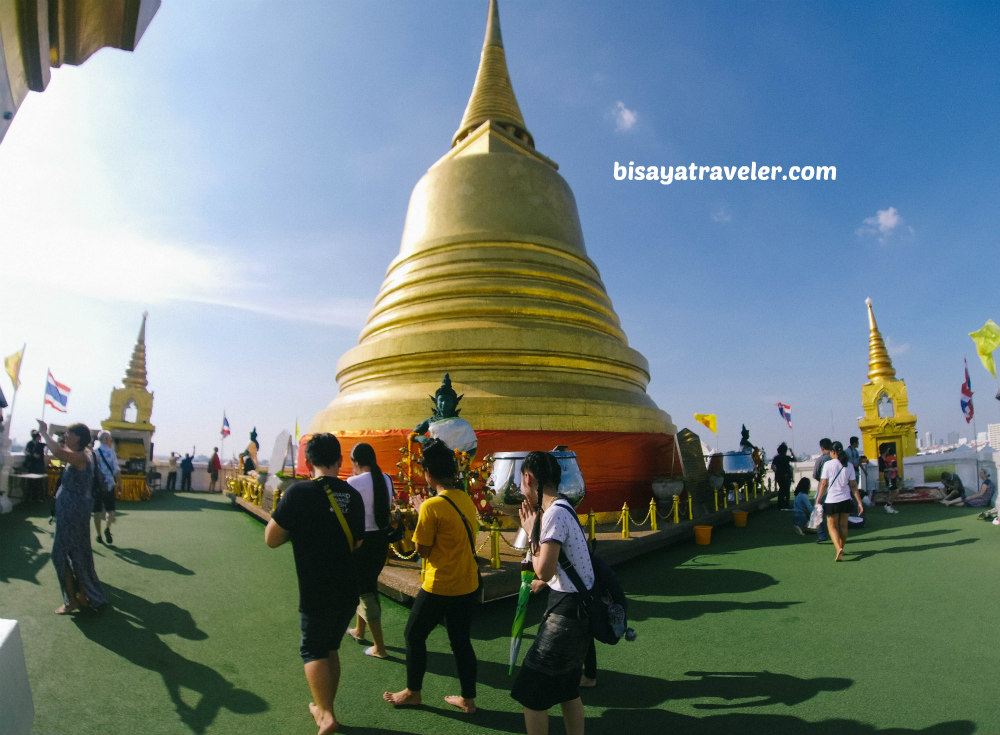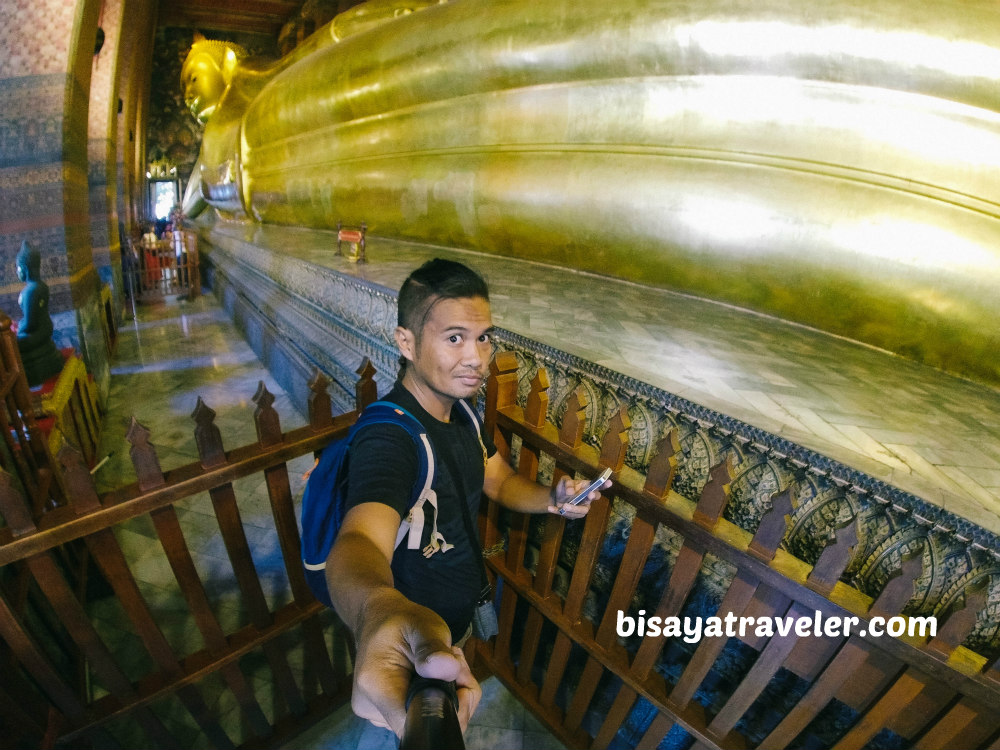 How to get to the Grand Palace Bangkok
There are plenty of ways to get to the Grand Palace Bangkok. Depending on your point of origin, you can take the BTS Skytrain, Chao Phraya River Express Boat and even the bus to get to the place. The easiest way to get there, though, is to book a Grab ride. It's hassle-free and affordable as well. Alternatively, you may hop on a taxi ride to the complex. Just insist on turning on the meter.
Info about the Grand Palace Bangkok
Address: Na Phra Lan Road, Rattanakosin
Opening hours: 08:30 AM to 03:30 PM daily
Entrance fee: THB 500
Time to spend: 1 to 3 hours
Grand Palace dress code
Ladies must cover their legs or their knees at least.
Men are also required to wear long pants.
Revealing clothing and tight-fit stretch pants are a no-no.
Do not wear sleeveless shirts or anything that shows your shoulders.
Do not wear shirts with symbols of death or religious themes.
If they find out that your attire is not acceptable, you'll be asked to wear a sarong. You can borrow a sarong for free, with a refundable deposit of 200 Baht.
Tips when visiting the palace
Arrive at the palace at 8:30 am. That way, you'll have enough time to explore the area, before the Bangkok heat and large tour groups move in.
Wear a hat and sunscreen. You may also bring an umbrella, but it will make it difficult for you to navigate through crowded spaces.
Chill and be patient. The cramped areas and heat can certainly test your nerves.
Be careful of the scams outside the complex, especially the infamous Grand Palace scam. As much as possible, don't entertain the people who pitch anything outside the palace.
The Grand Palace is not a place for peaceful solitude. It's crowded and a bit touristy for some travelers. But, did I regret visiting the Grand Palace? Absolutely not! At least, it paved way to another adventure in Bangkok. And, more importantly, it's a historic site with tons of glittering treasures showcasing the creativity and artistry of the Thais.