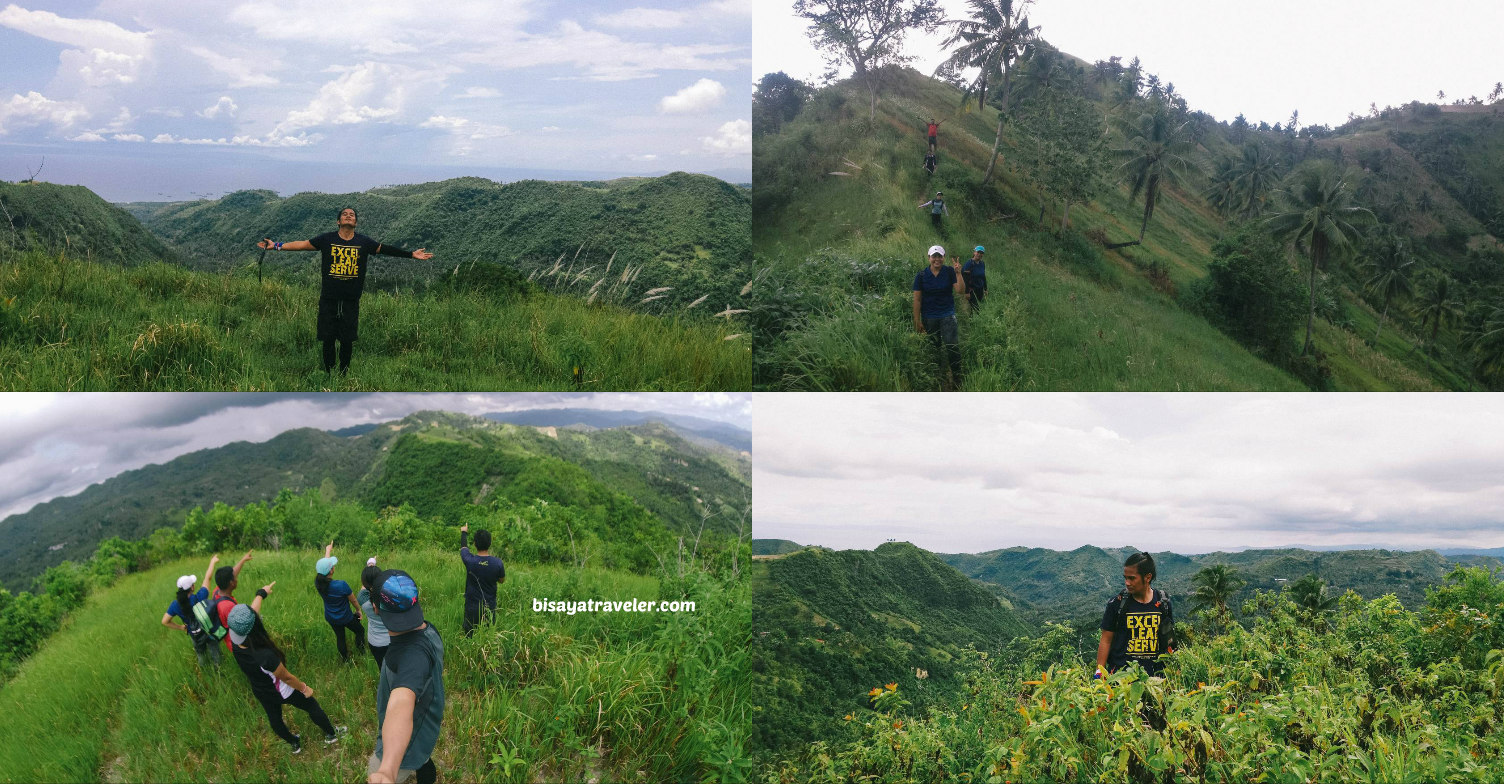 Bungtod Talinis, Cebu: San Fernando's Tantalizing Unseen Ranges
I could feel it. There was something in San Fernando's highlands that kept calling and luring me. I didn't know what it was or where it was, but I did sense something special there. And, with my impulse to hike and explore, I knew there was only one way find it – to get wonderfully lost in San Fernando. Fascinated, intrigued and optimistic, I opened Google Maps, to see if there was any potential hidden gem in this town. And guess what? I saw a 3D overlooking view of a mountain range that we later on found out is called "Bungtod Talinis".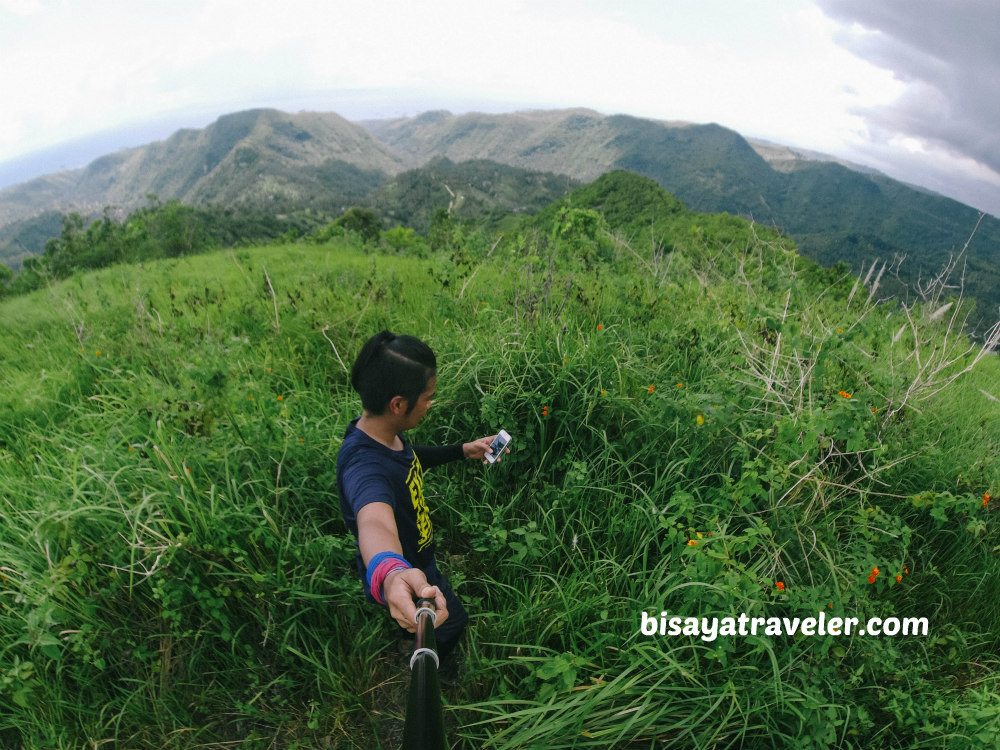 And, it was beautiful!
Even though it was just a 3D image, I had a hunch that it was a picture-perfect peak.
And, it's located in Ilaya, San Fernando, and is pretty close to the famous Bacalla Woods Campsite.
With my skills and experiences in online searching, I found a vital clue that led to our discovery of Bungtod Talinis.
And, it was a picture with the caption "Itok Peak, Lintungaban, Ilaya, San Fernando".
This must be it!
After all, I couldn't find any other picture of a mountain in that specific area on Google Maps.
And so, on one sunny Saturday morning, I gathered some of my friends from OMG and went on an exploration hike to San Fernando from Naga.
For this survey hike, there were 5 adventurers who joined me – Raul, Beboy, Ofelia, Eddy and Aibie.
Thinking it was close to Bandilaan Peak, we started our hike from Balirong, Naga, passing by some secluded green spots in Alpaco.
Along the way, we passed some scenic spots, such as this hill in Bandilaan.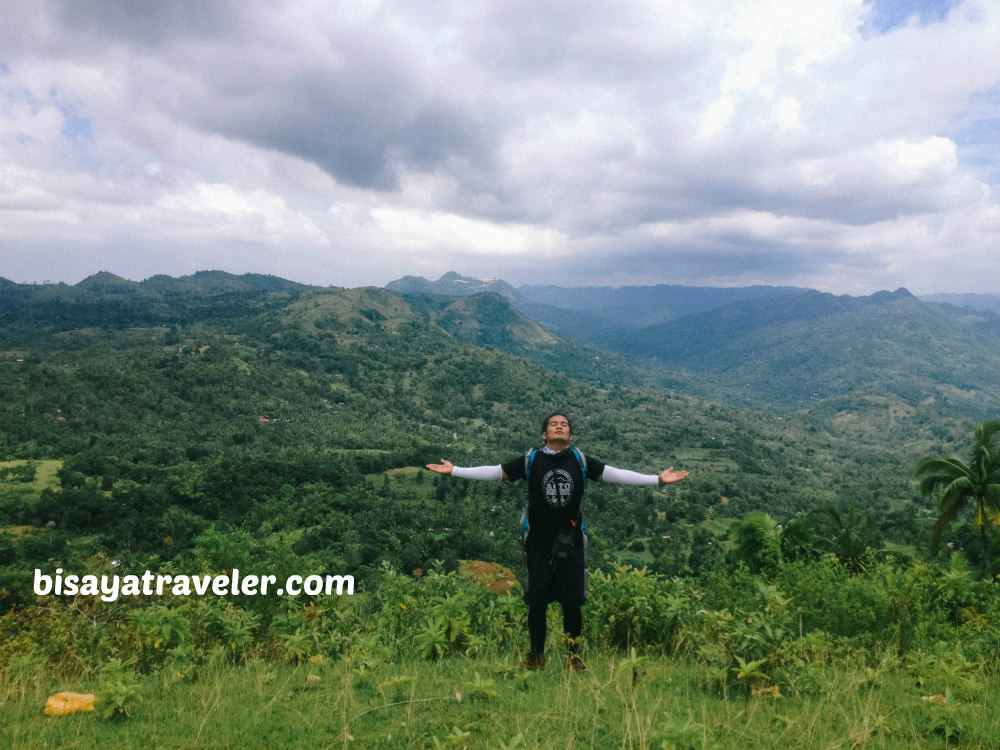 From this lovely hill, we hiked our way to a mountain we scaled earlier this year – Bandilaan Peak.
Since it was already lunchtime, we decided to take a breather and eat in Bandilaan Peak.  Afterwards, we hiked to a spot that we called "The Secret Place".
Shorty after, we descended to Bugho, hoping to find answers to the location of the mountain we saw on Google Maps.
Unfortunately, it seemed like we took the wrong road to Ilaya, as what most locals said.
As a matter of fact, some said that we were too far from Ilaya.
Thankfully, though, a fellow hiker – Donald – from Tribu Wakwak gave us a ride to Ilaya.
Not to mention, he politely asked the locals on the exact location of Itok Peak.
And, as far as I'm concerned, he was the key to unlocking the trail to Bungtod Talinis.
No one in San Fernando, however, knew anything about "Itok Peak".
They weren't familiar with it, and some even suggested that we just go to Bacalla Woods.
And, for a while, I thought that this mountain didn't exist.
On the bright side, there were a couple of locals who knew where Lintungaban, Ilaya is.
Donald, then, dropped us off to that place, before heading home.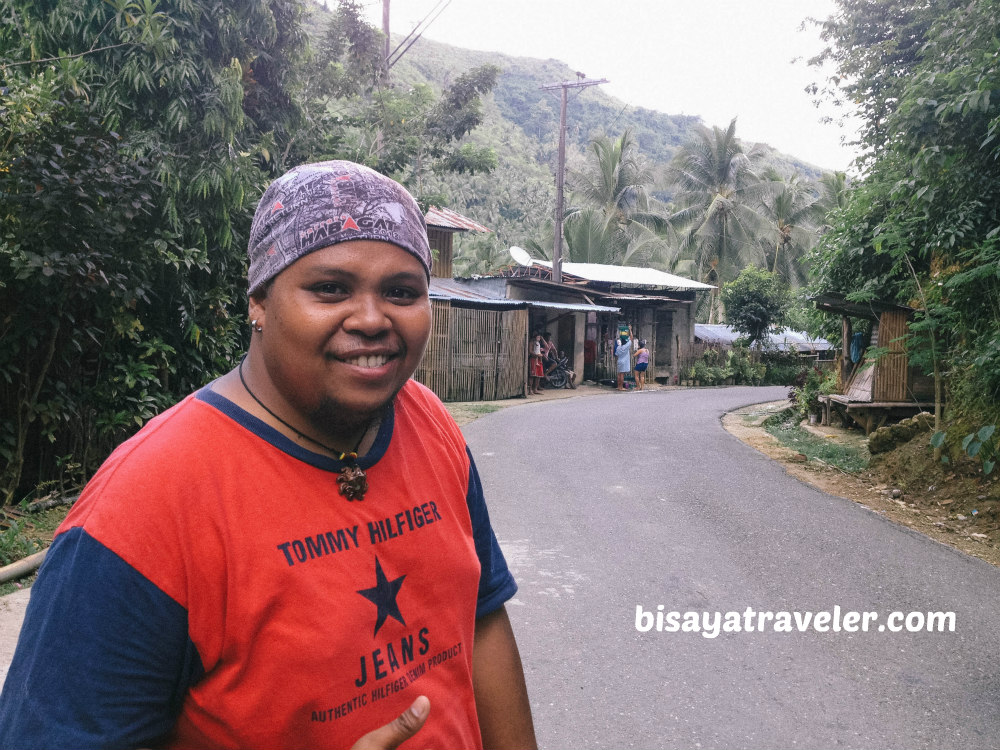 We followed the path, as instructed to us, and asked the locals about Itok Peak.
As I've expected, no one in the area was sure if there's a mountain named Itok Peak.
"There must be a local term for this mountain", I said to myself.
"We must find out its local name. Otherwise, we'll never set foot on this mountain."
And, there was a glimpse of hope, when a local said there's a mountain called "Bungtod Talinis" ahead.
With enthusiasm, we hit the paved road leading to Bungtod Talinis.
But, it was getting late and we were still far from the summit according to a local who passed by.
To prevent any headache or mishap along the way, we decided to call it a day and hike Bungtod Talinis on another day.
Was it a failed attempt? I don't think so.
Just because we didn't reach the summit, I don't think it was a failed exploration adventure.
At least, we found the path that would ultimately lead us to Bungtod Talinis.
What's more, we got more information on how to link Balirong to Ilaya, San Fernando.
My encounter with Bungtod Talinis
The following week, I had a quick rendezvous at Cebu City South Bus Terminal with my pals.
This time, I was joined by Dian, Tatay Raul, Beboy, Nathalia, Eddy and Aibie.
From South Bus Terminal, we hopped on a bus bound for San Isidro Labrador Church, San Fernando.  Afterwards, we charted a habal-habal ride to the base of our Bungtod Talinis hike – Lintungaban, Ilaya.
Led by the Old Man, we said a prayer before hitting the road to Bungtod Talinis.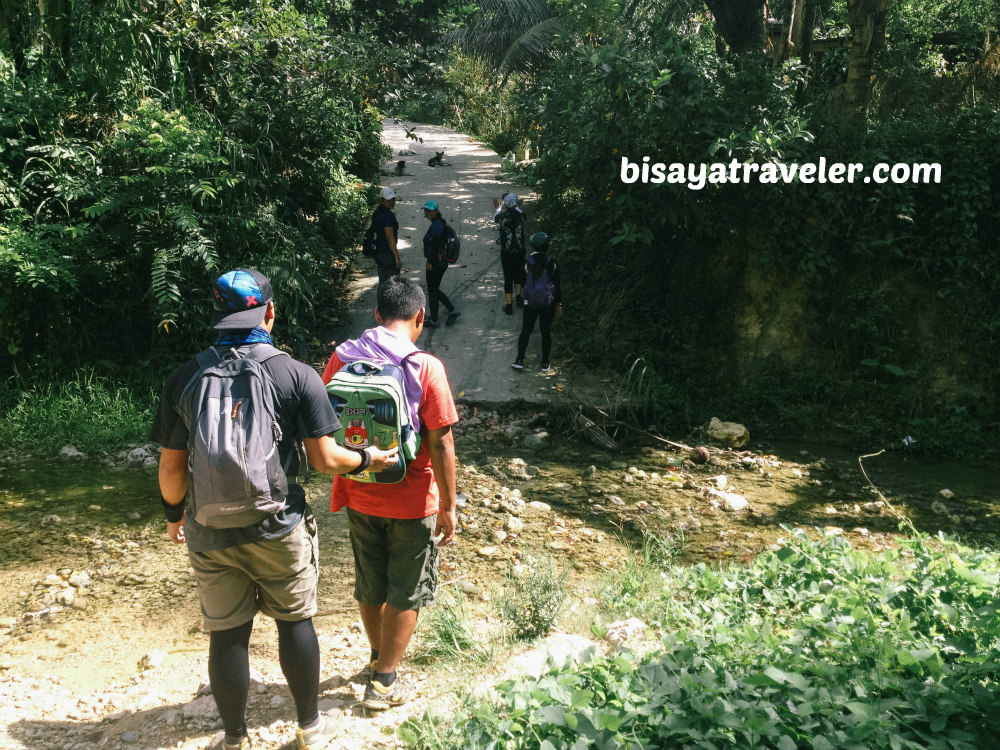 And, we were sweating a lot, as we were making our way to Bungtod Talinis.
While it wasn't really difficult, the ascending road often felt like it was never-ending.
As far as I can remember, we took a couple of breaks on the concrete road leading to the foot of Bungtod Talinis.
We kept on walking and talking, until we arrived at a familiar-looking sight.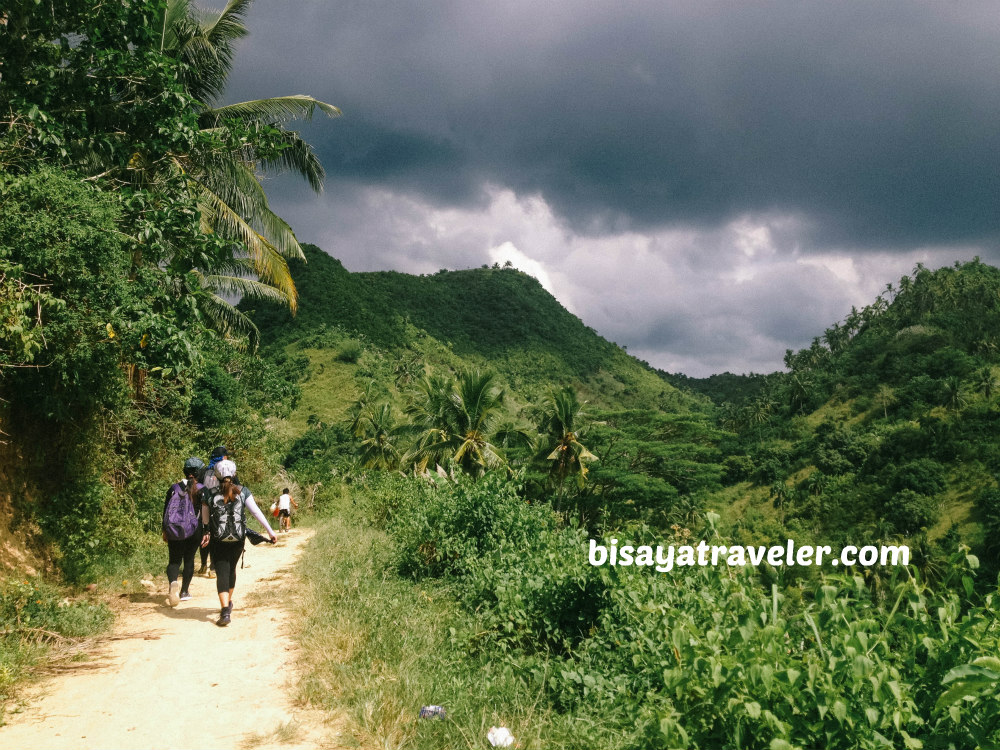 And yes, it was the mountain labeled as Itok Peak that we saw online.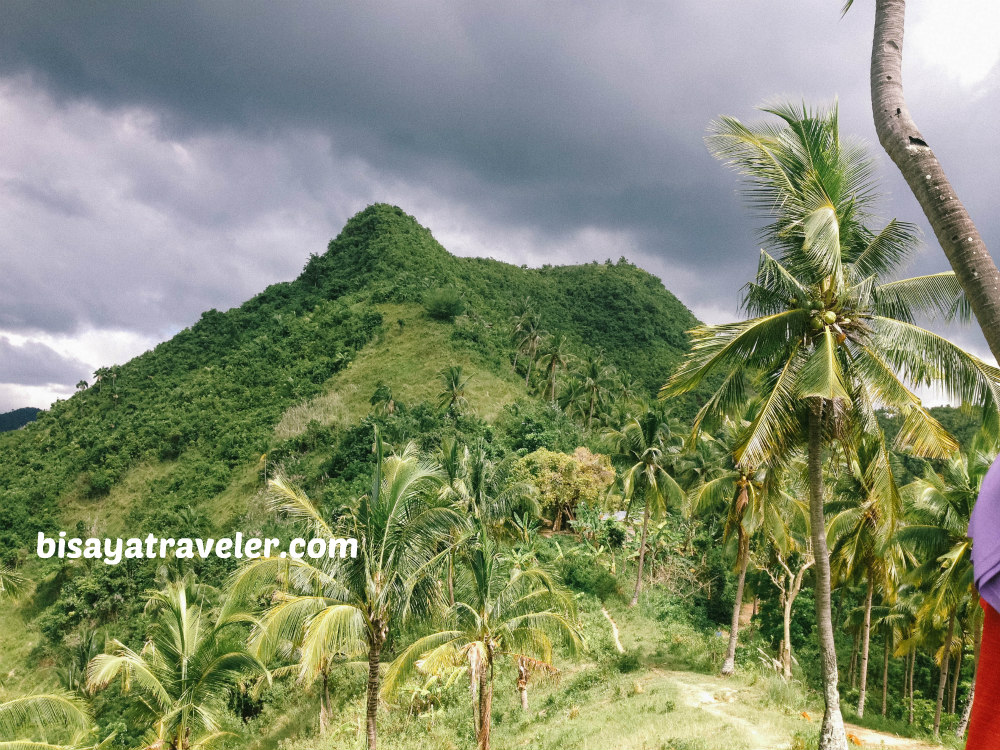 After a short break, we moved on with our hike, scaling the trail to Bungtod Talinis.
To my surprise, the trail was pretty established.  From afar, it looked so bushy, covered wonderfully with healthy green foliage.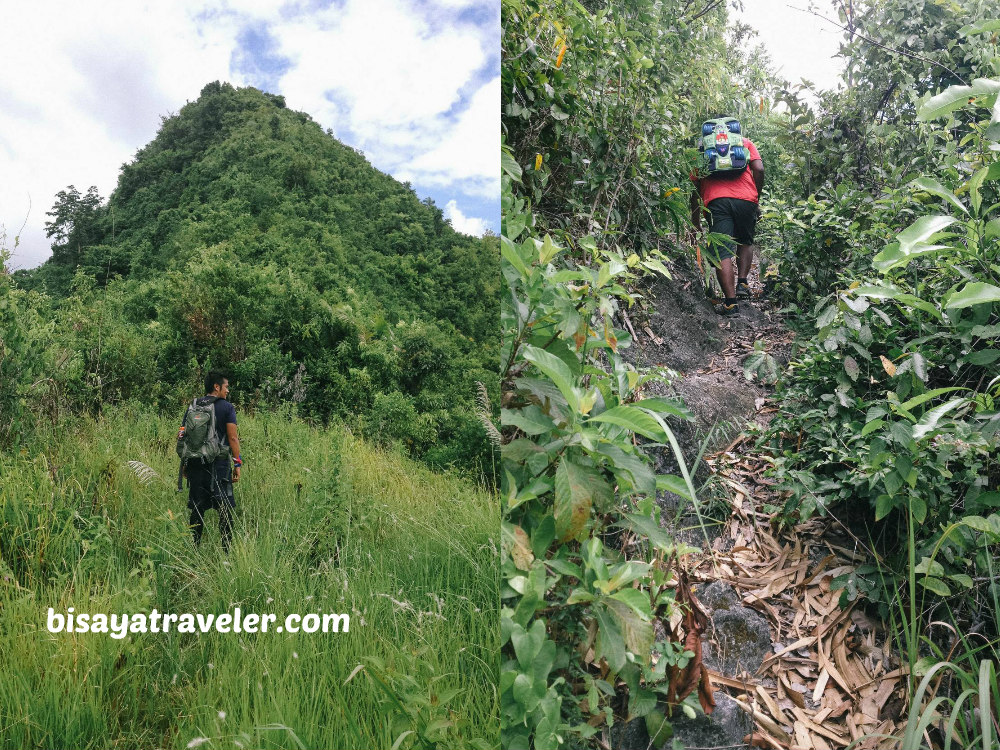 And, I could already sense the beauty and majesty of this place, halfway to the summit.
Truthfully, my spirit was quite weary, the previous week, with everything that has been going in my life lately.
And, I'm glad to take this hike because it was nothing short of refreshing and relaxing.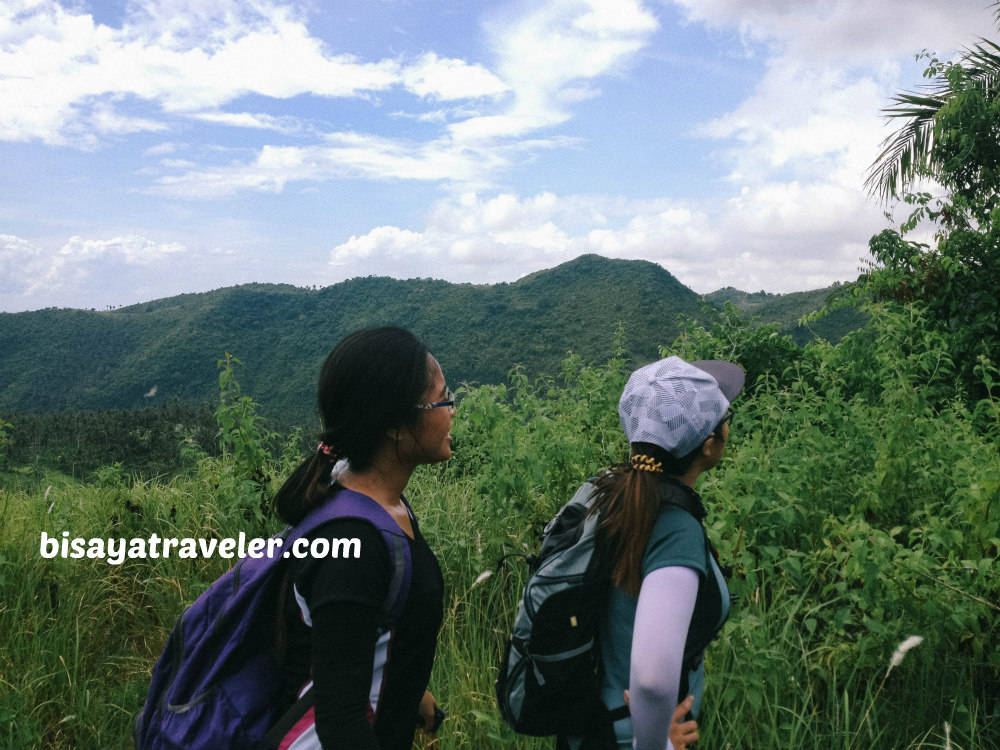 The scent of nature and fresh mountain breeze enlightened my mood, and we stopped to rest and soak it up.
I, however, was so excited that I decided to cut short our rest.
Pumped up and thrilled, I followed the trail that led us to the top.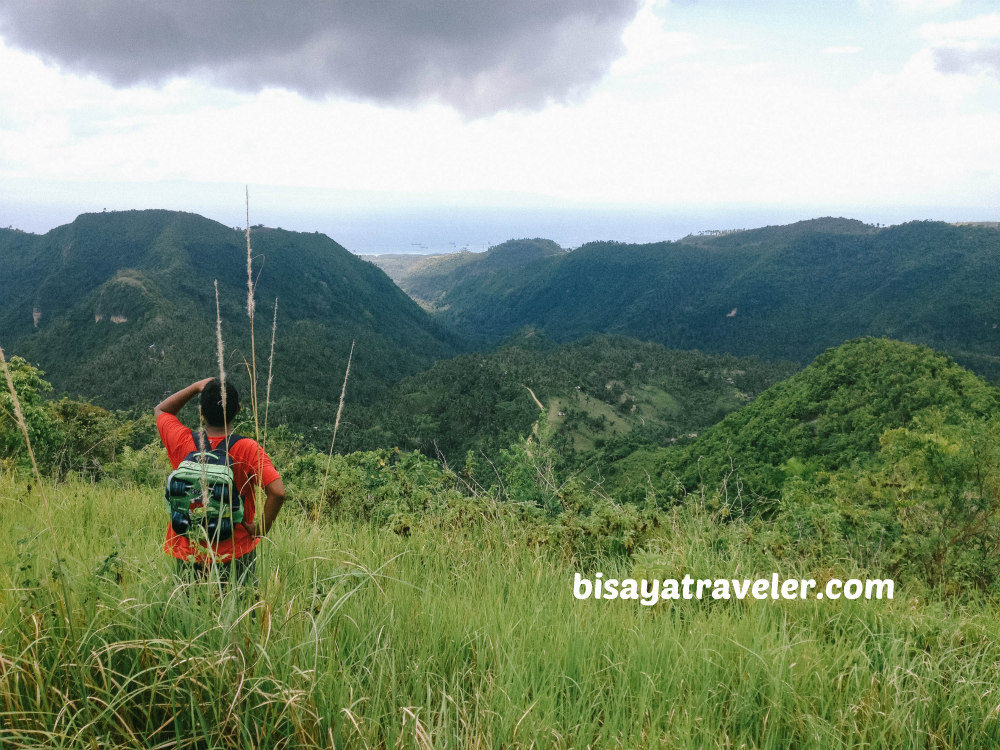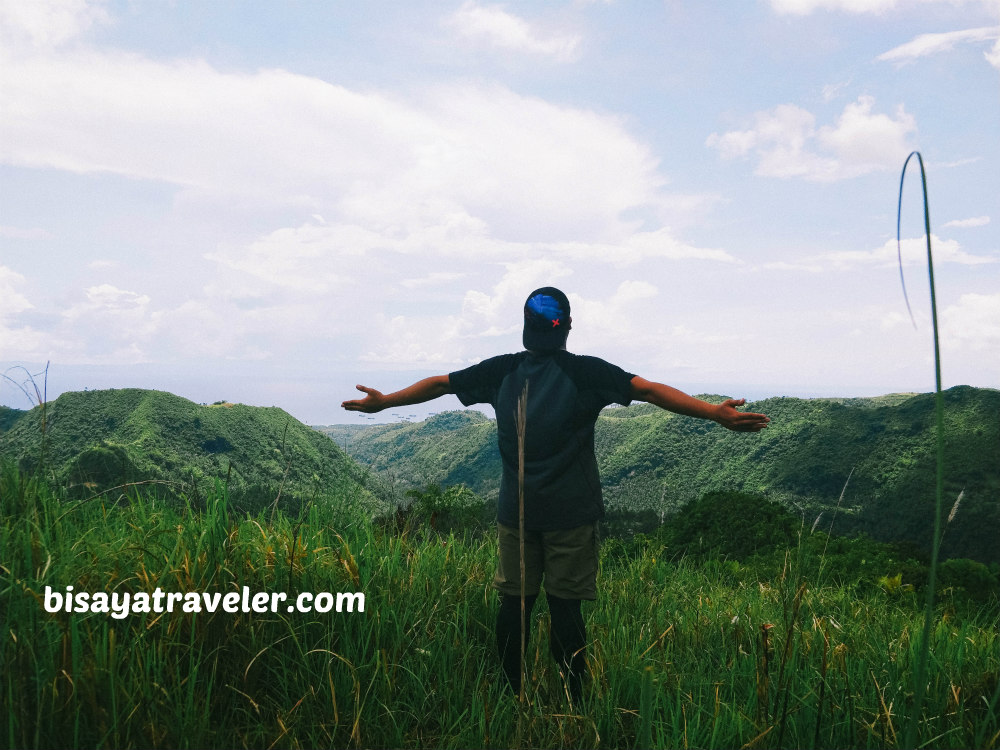 And, it was absolutely picture-perfect! Believe me, the views from Bungtod Talinis are truly awe-inspiring. Honestly, I can't put into words or even capture on photos on how stunning these views are.
From here, I caught glimpse of the mountainous landscapes of San Fernando and Naga City.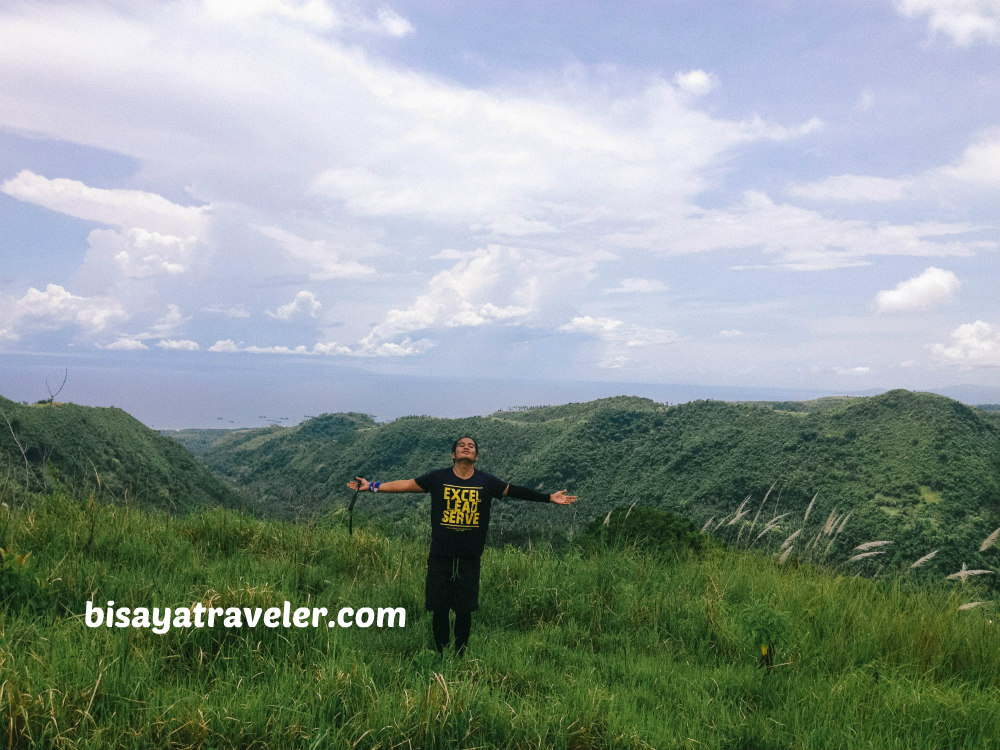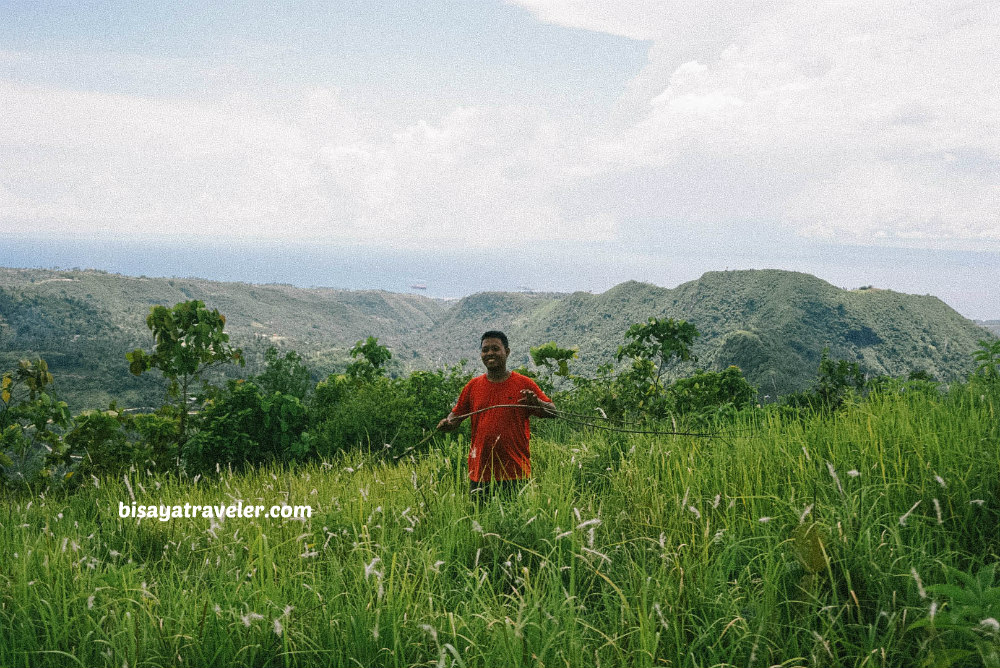 Plus, we also saw a bunch of huge ships as well as the neighboring islands of Cebu – Negros and Bohol.
All I could say was wow!
To me, it's, hands down, one of the most scenic and underrated mountains in Cebu.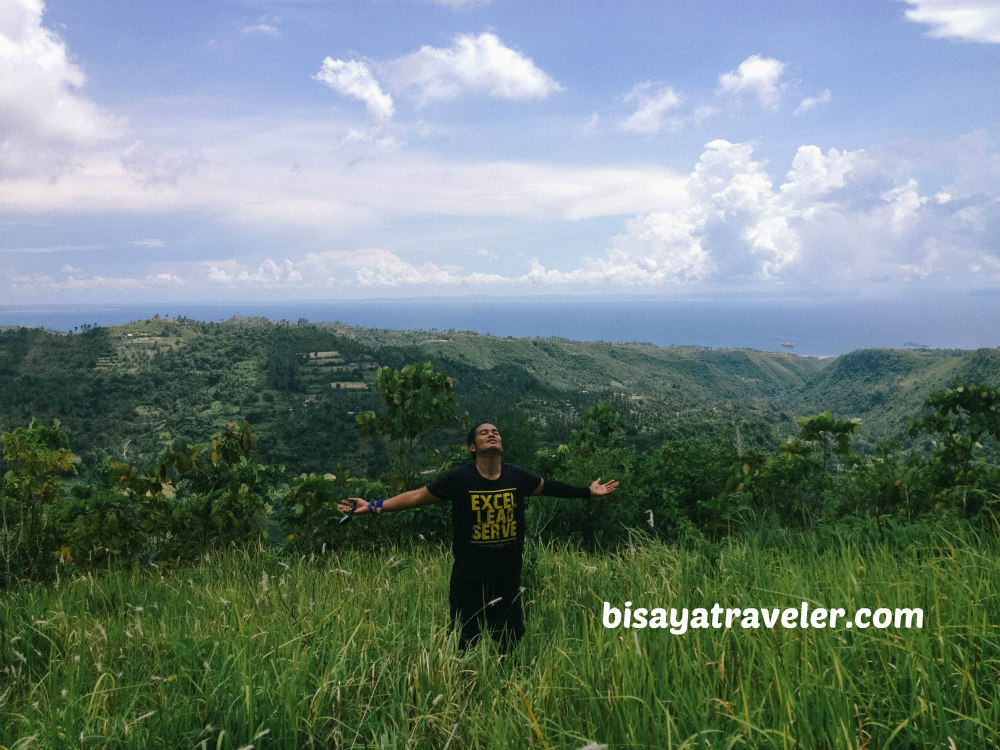 As an added bonus, the weather was extremely pleasant that day.
With its fresh mountain air and sweeping panoramic views, Bungtod Talinis instantly became my favorite mountain in San Fernando.
As much as I hate comparisons, I must say it's more visually appealing than Bandilaan Peak.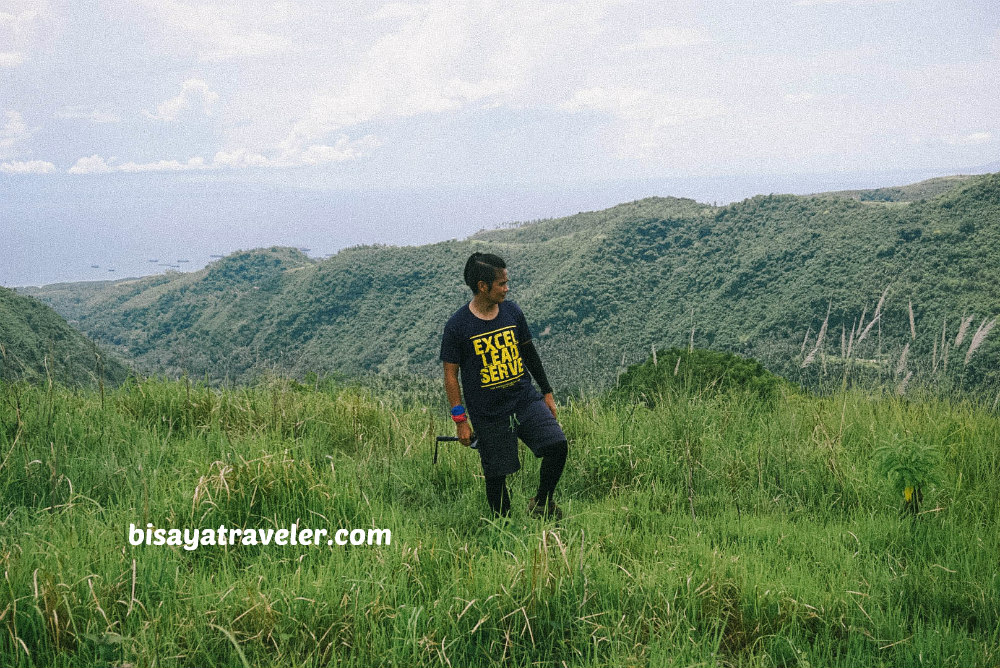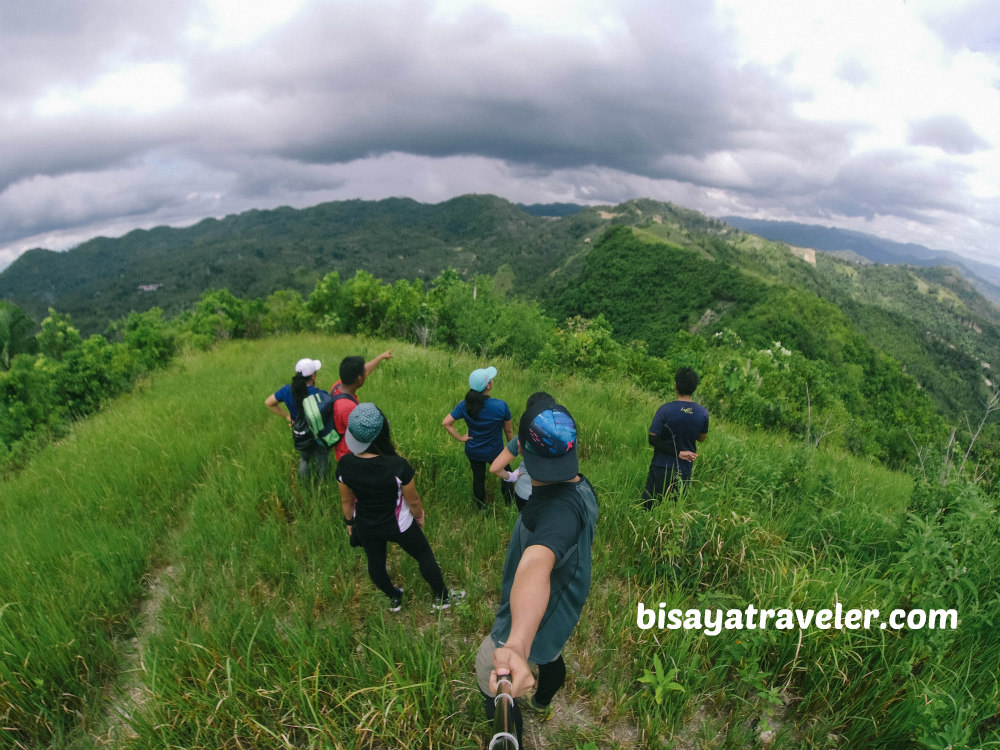 And, while we're no shutterbugs, we did spend some time snapping photos of Bungtod Talinis from different angles.
As always, Raul, or also known as the "Dead Fool", had a ton of quirky and raunchy pictures of the summit.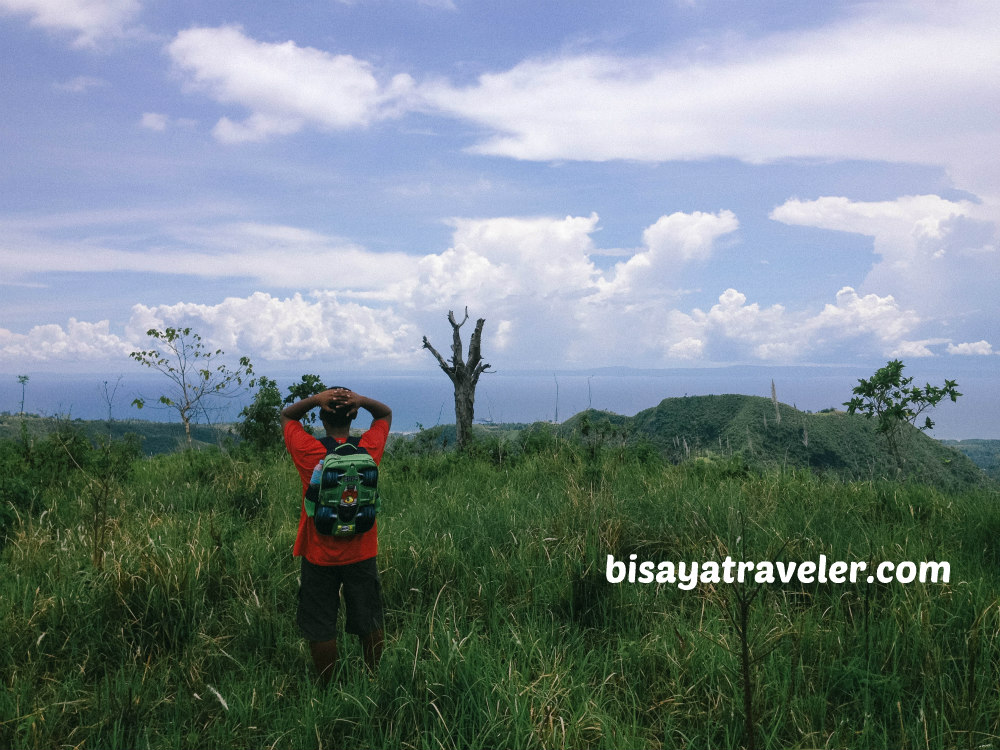 I genuinely thought Bungtod Talinis was the ultimate highlight of our day hike in San Fernando. Little did I know, there were plenty of delights and surprises in store for us later that day.
As we were soaking up the scenery, we thought of a couple of realities, following our hike to Bungtod Talinis.
One was to scale the nearby mountain, and the other was to hike all the way to Alpaco and Balirong, Naga.
Although both trails were easy on the eyes, we took the longer and more challenging option – take a hike to Balirong.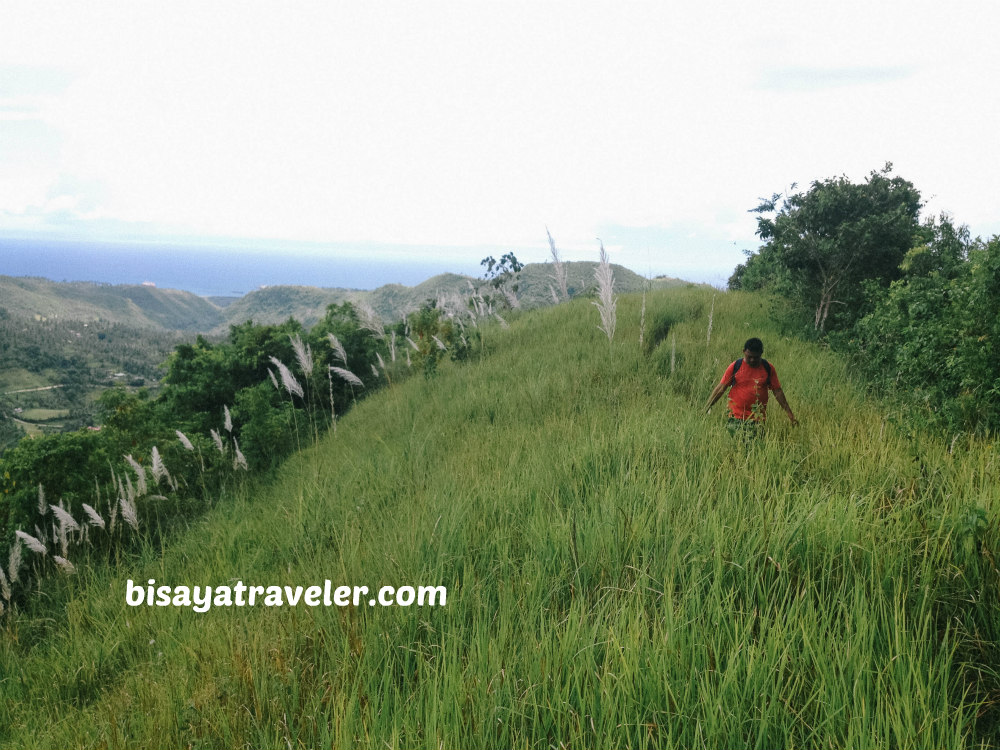 Spearheaded by Beboy, we followed the awe-inspiring trail that would take us to the secluded mountains of San Fernando.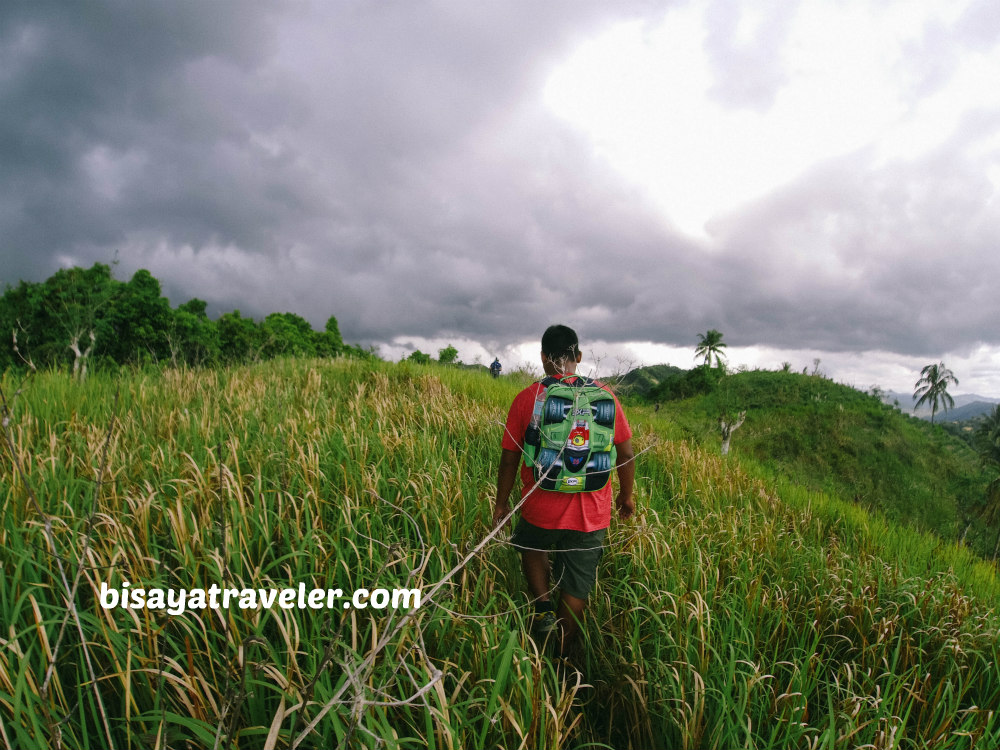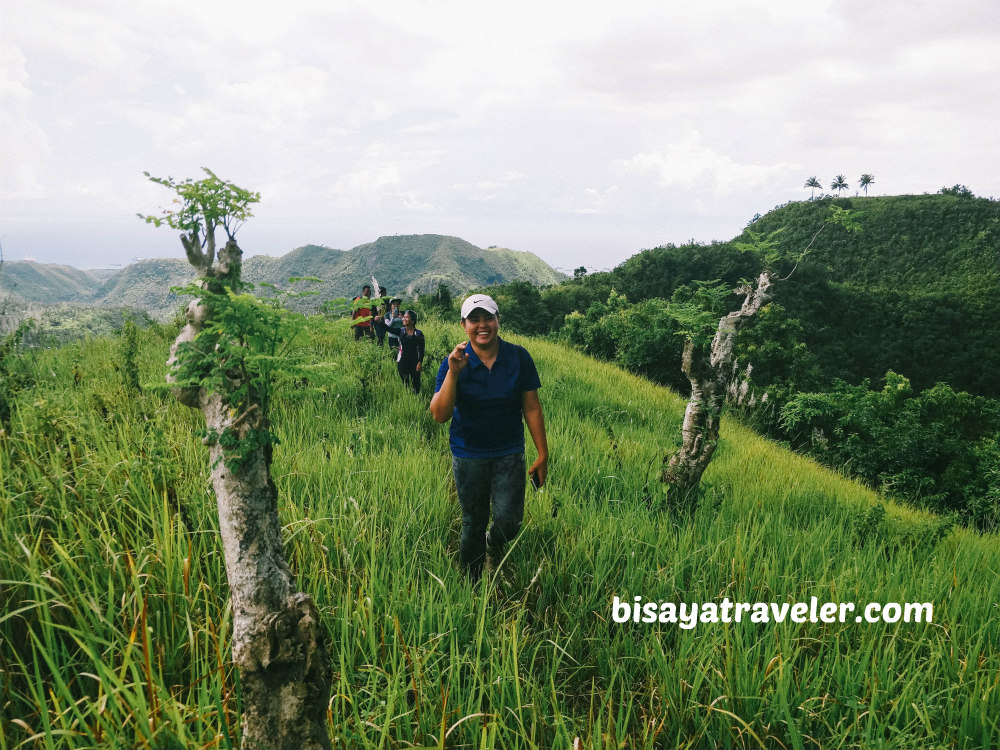 And, it was stunning AF!
There's a beautiful angle on the trail that looks quite like a knife's edge mountain.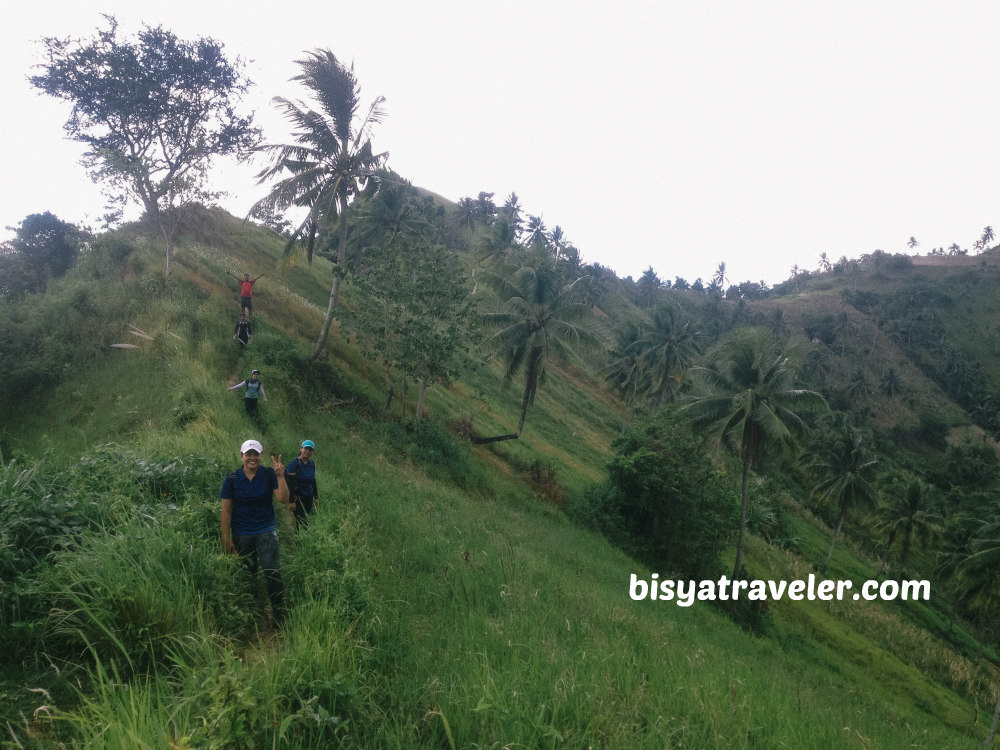 I had to do this hike again!
The scenery and views on this trail are simply lit and spectacular.
Damn it! I should have brought my DSLR camera on that San Fernando day hike!
If someone asks me if I'll do hike this again, I'd say absolutely yes in a heartbeat.
Moments later, we arrived at a small community where we ate our lunch.
But, it wasn't all smiles, butterflies and sunshine for me on this hike.
The truth is, there was an explosion about to happen, as we were looking for a store to buy refreshments.
And nope, I'm not talking about vintage bombs or terrorist attacks.
Actually, I was dealing with an upset stomach, and was on the verge of pooping in my short pants.
And, I felt like I was the unluckiest guy in the galaxy at the moment since no one has a toilet in that community.
Yikes!
With a poop explosion about to occur, I rushed to the provincial road to look for a bushy area where I could drop my waste.
Sadly, I couldn't find any decent and bushy place to leave my extractions.
So, I went to a side of the road, dropped my pants and boom!
I guess you know what happened next.
For a second, no one was around, while I was doing my thing.
Soon, there was a motorcycle carrying a pair of passengers that passed by that road.
Well, that was embarrassing.
It was still fine with me, though.
These people don't know me, anyway.
Ironically, that wasn't my funniest blooper on that day hike.
I, later on, washed my hands and the area thoroughly using the water I had on my backpack.
Eventually, I joined my friends on the hut where they were enjoying some cold refreshments.
With lunchtime in the books, we climbed our way back to the trail and resumed with our hike to Bandilaan.
Once again, I swept away by the scenery of this place.
Simply fantastic!
With Tatay Rau on the lead, we descended from a mountain and climbed another moderately steep mountain.
And, we kept on hiking, until we landed on this Instagrammable spot.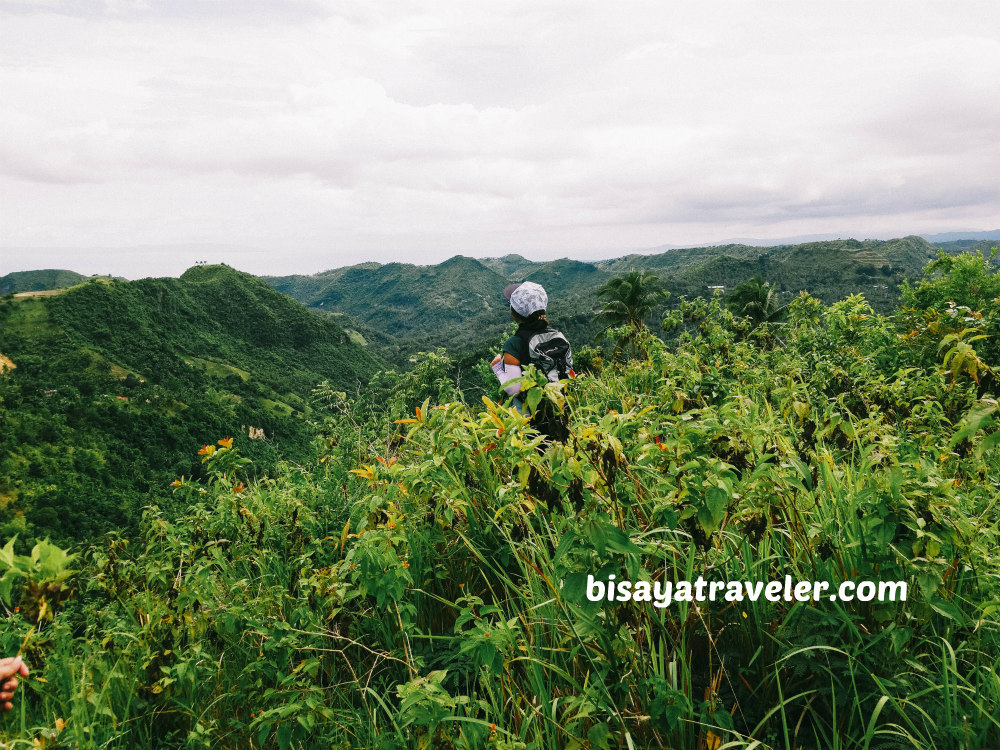 From this overlooking sight, we caught sight of Bungtod Talinis as well as its beautiful trail.
A few snaps later, we made our way to the next mountain, passing by thorny and not-so established trails.
Despite all the struggles and difficulties, we weren't fazed by the challenge.  On the contrary, we had a blast going through these obstacles.
And, finally, we arrived at the provincial road in Sitio Bandilaan, San Fernando, and took a snack break at a local store.
Slowly, we followed the road to Alpaco, Naga from Bandilaan.
Before heading to Alpaco, however, we had to stop by the hill we visited a week prior to our Bungtod Talinis hike.
As we were hiking to the hill, I saw a local farmer with his apparently meek and friendly cow.
And, out of nowhere, the cow became agitated and tried to attack me using his hornless head.
WTF was wrong with this cow?
Like a lightning-quick sprinter, I ran as far as I could away from the cow.
Beboy also flashed his Ninja moves, with the cow on the cusp of attacking us.
The others, meanwhile, were a little shocked with what just transpired.
There are dozens of unsolved mysteries and unanswered questions in life.
And one of them is "why do cows hate me".
Seriously, this is third time that I got chased by a cow while hiking.
Heck, I even got chased by a stallion in Toledo City once.
Am I sending negative vibrations to these animals?
Maybe, they can sense that I ate a ton of lansiao (soup number 5) in my younger days.
Of course, everyone, including yours truly, laughed hysterically.
Even though it was a somewhat scary moment, I did find it fairly amusing. Remember, it's not every day that you get to encounter unfriendly cows on verdant landscapes.
Sadly, nobody captured that moment on camera.
That would have been a hell of a highlight reel!
Moments later, we arrived at the scenic hill bordering Bandilaan, San Fernando and Alpaco, Naga City.
And, instead of relishing the scenery, we kept reliving our funny experience with Naga City's savage cow.
As you can see, my OMG brothers were laughing at me.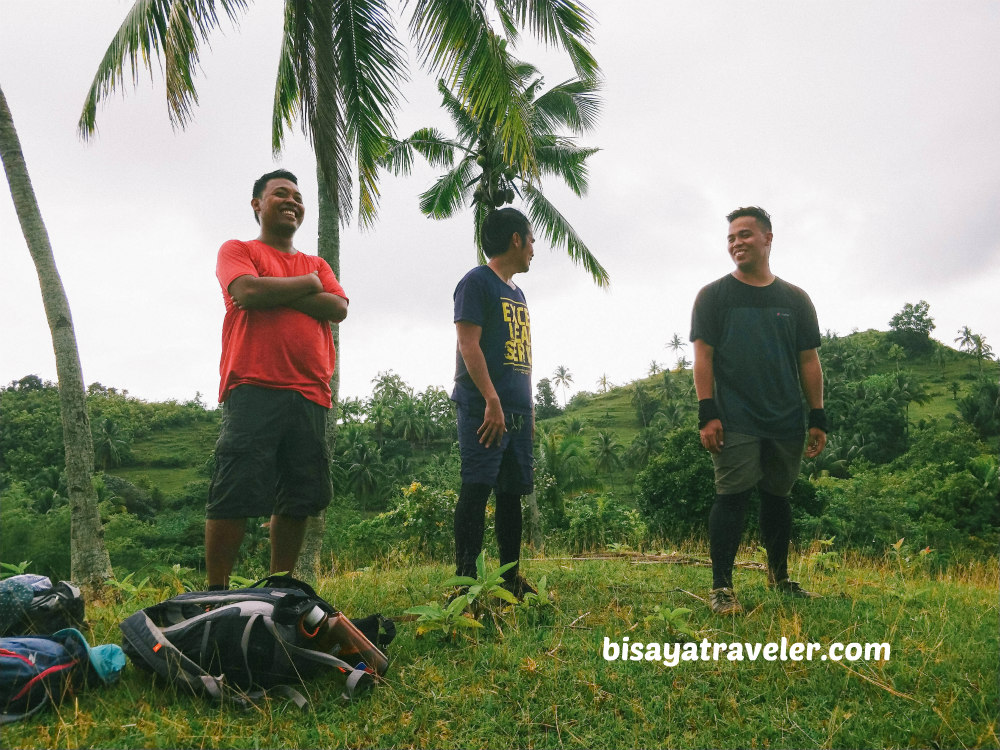 With the sun about to take a plunge, we returned the main road in Alpaco and walked all the way to Balirong and Naga-Toledo Highway.
On our way to Balirong, I just realized that we've unlocked another new trail and playground.
And, though it's a simple achievement, it will certainly have a great role in our future hikes.
For starters, it gave us an insight on where to hike next in this area in Cebu.
Moreover, we will be, soon and in God's time, connecting Bungtod Talinis to Sirao Peak (or even farther) in one multi-day hike.
We already have the blueprint. All we need is time.
How to get to Bungtod Talinis:
From Cebu City Bus Terminal, hop on a bus bound for San Isidro Labrador Church, San Fernando. Then, charter a habal-habal that will take you to Lintungaban, Ilaya. I suggest that you show the picture below.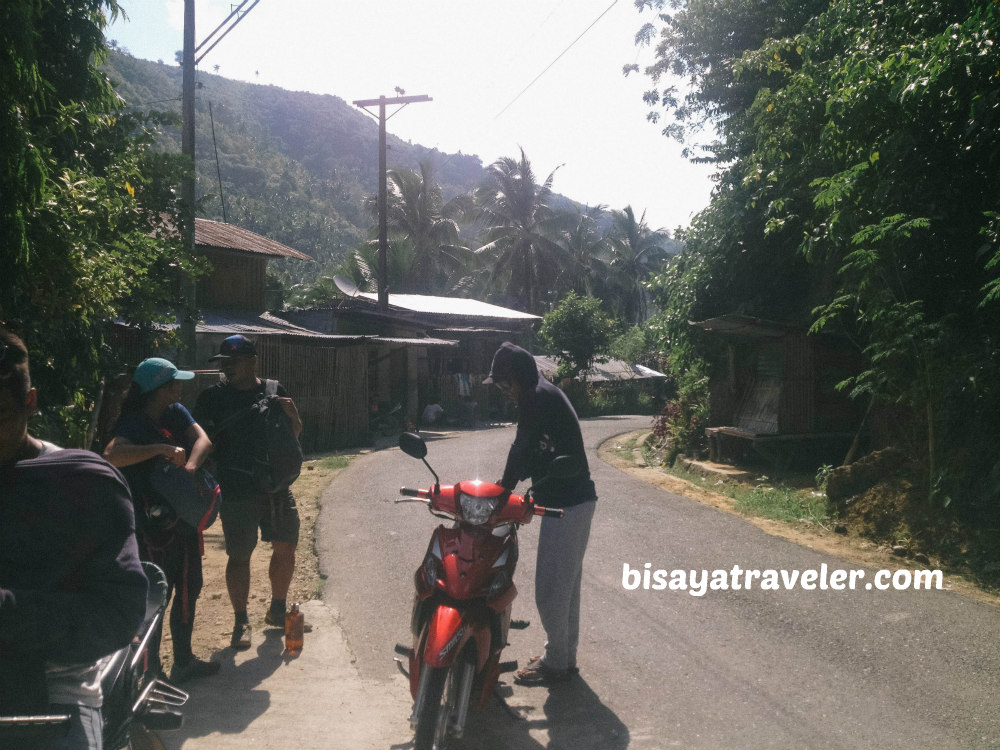 From there, follow the concrete road, and ask directions from the locals for the location of Bungtod Talinis. Once you've conquered Bungtod Talinis, you can either go home or just like us, explore other spots in San Fernando.
My Bungtod Talinis expenses:
Bus fare to San Fernando: PHP 35
Habal-habal fare to Lintungaban: PHP 40
Jeepney ride fare to Naga City proper from Balirong: PHP 14
Jeepney ride fare to Basak from Naga: PHP 15
Our Bungtod Talinis itinerary:
07:00 AM: Meet up at Cebu City South Bus Terminal
07:30 AM: Depart from Cebu City
08:45 AM: ETA San Fernando/take a habal-habal ride to Lintungaban, Ilaya
09:10 AM: Start hike
10:20 AM: ETA Bungtod Talinis/take pictures
11:30 AM: Resume hike
12:10 PM: Lunch
12:40 PM: Resume hike
01:50 PM: ETA unnamed Instagram-worthy spot
02:00 PM: Resume hike
03:00 PM: ETA hill in Bandilaan
03:30 PM: Resume hike
05:00 PM: ETA Balirong/hop on a jeepney to Naga City proper
05:30 PM: Naga boardwalk/early dinner
06:30 PM: Depart for Cebu City
08:00 PM: Home sweet home
Things to take note:
Practice the LEAVE NO TRACE principles.
Pack at least 2 liters of water.
Bring trail food/snacks.
Bring ION drinks like Gatorade or Pocari Sweat.
Wear trekking shoes or sandals with great traction.
Pack full-fingered gloves, leggings and arm guards.
Start early.
Don't attempt this hike, if you're still new to hiking.
Hike in small groups for a faster pace.
I heeded its call, and  Bungtod Talinis didn't disappoint us at all. Not only did it wow me with its outstanding natural beauty, but it also gave us ideas where to hike in San Fernando next. I guess I'll be seeing more of San Fernando's highlands, in the next few months.