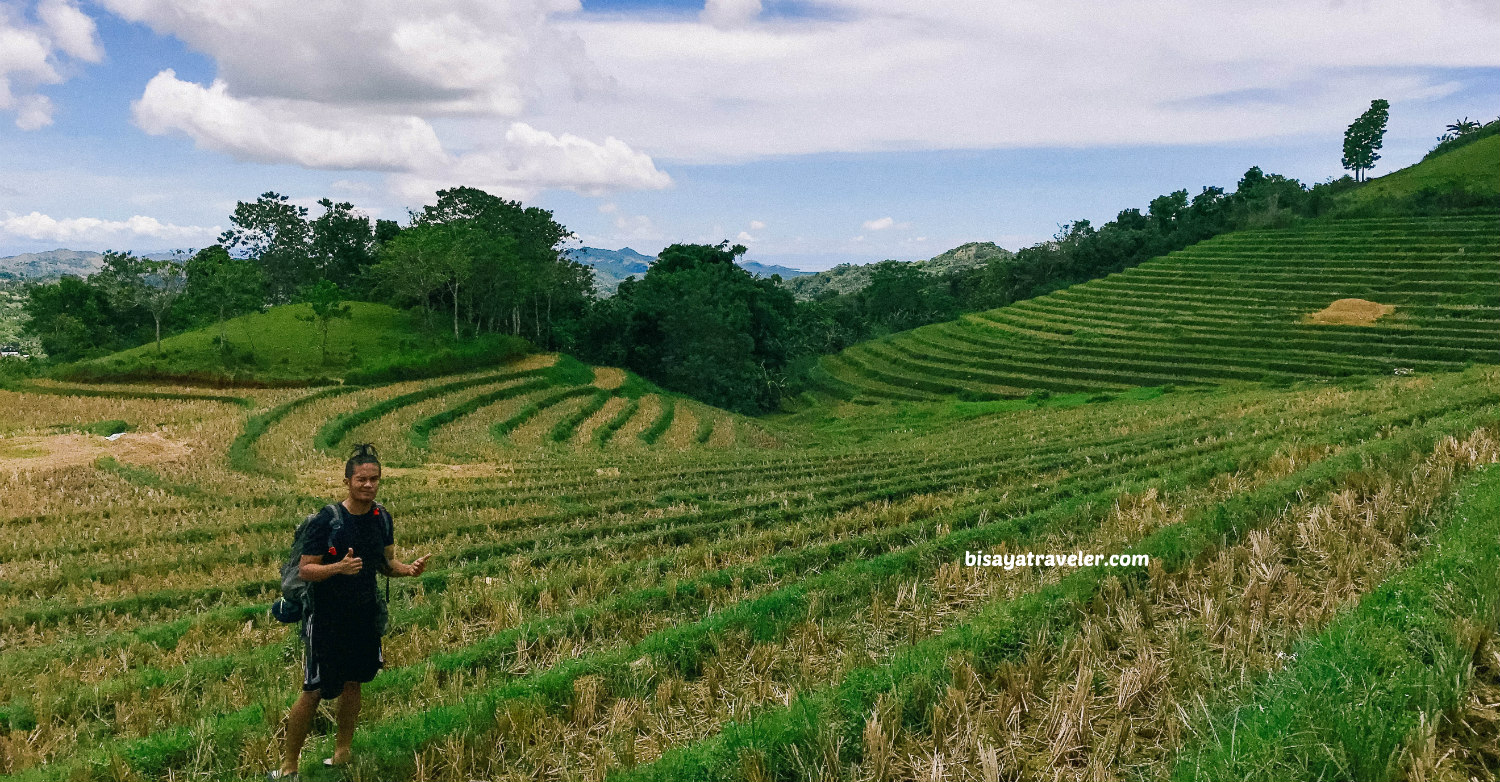 Cadapdapan Rice Terraces And Can-Umantad: An Insanely Enchanting Combo
There's something about rice terraces that make them so irresistible to me. With its symmetry, engineering mastery and eye-catching shades of green, I find these man-made marvels extremely interesting and visually appealing. Once, I've even considered taking a costly day trip from Cebu to Bohol, just to see Candijay's Cadapdapan Rice Terraces. Every time I see it, I feel like I'm under a spell, entranced by its sheer beauty. And, when it's paired with a striking natural wonder like a towering waterfall, it surely feels pure and unadulterated bliss for me.
And speaking of which, the Cadapdapan Rice Terraces have been on my never-ending Bohol travel wish-list for the past couple of years. Originally, I was scheduled to visit the Cadapdapan Rice Terraces and Can-Umantad Falls in 2016, following our Sea of Clouds escapade in Danao, Bohol. But, for some unfortunate reasons, I missed the chance to see it on my first try.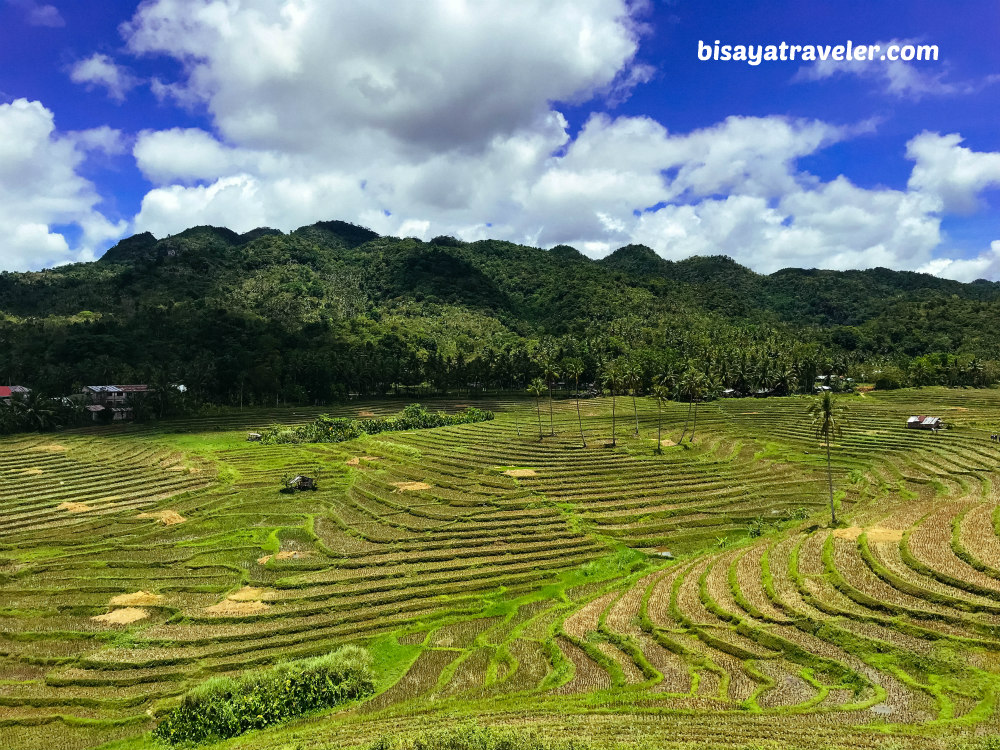 A couple of weeks ago, I didn't let the opportunity to see Cadapdapan Rice Terraces and Can-Umantad Falls, once again, pass by. With the mind-blowing short hike to Binabaje Hills in the books, my wife and I ventured into the highlands of Candinjay to savor the beauty of these striking wonders.
Cadapdapan Rice Terraces and Can-Umantad Falls experience
Our short hike to the Alicia Panoramic Park, or also known as Binabaje Hills, was, hands down, an incredible opener to our Bohol weekend getaway. And, to keep things rolling, we decided to chase the famed enticing wonders of Candijay, Bohol – Cadapdapan Rice Terraces and Can-Umantad Falls.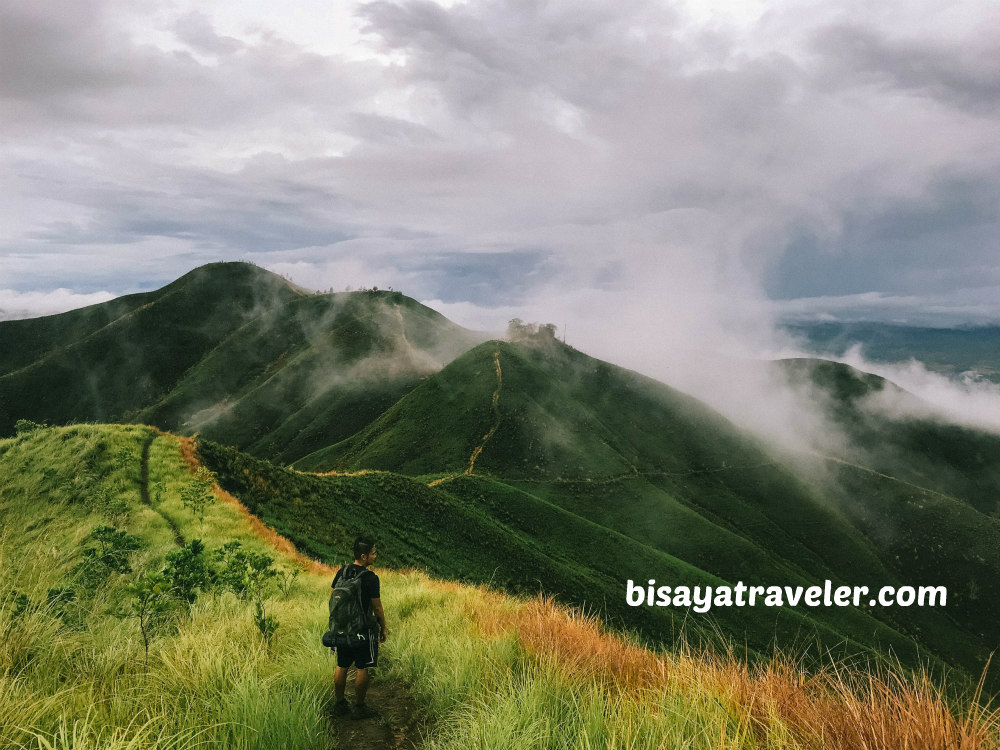 Elated and eager to see the Cadapdapan Rice Terraces, we went back to Alicia town proper, to catch a ride to Lungsodaan – the base to most Candijay adventures.
Before our Bohol getaway, I've reached out to a local habal-habal driver (Edwin Balahay) who was originally going to drive us around Candijay. But, the dude was as busy as a bee that day, and was forced to politely turn down our offer.
Thankfully, he found a trustworthy and seasoned driver who was willing to give us a ride to Cadapdapan Rice Terraces and Can-Umantad Falls. Ironically, our new driver was also named "Edwin".
After splitting up with Edwin (the first one) and Jun (our guide in Alicia), we embarked on our journey to Cadapdapan Rice Terraces and Can-Umantad Falls via a habal-habal ride.
On our way up to these striking marvels, we got glimpses of Candijay's immense wealth of rice paddies. Seriously, the place is loaded with verdant and Instagram-worthy rice paddies.
As much as I want to snap pictures of these brilliantly engineered beauties, we didn't make any stop along the way, so we could save time. And besides, I knew the Cadapdapan Rice Terraces were more stunning and photogenic than these sights in Candijay.
Minutes later, we arrived at the gate of these attractions in Bohol. There, we inscribed our names in their official logbook, and paid the admission fees.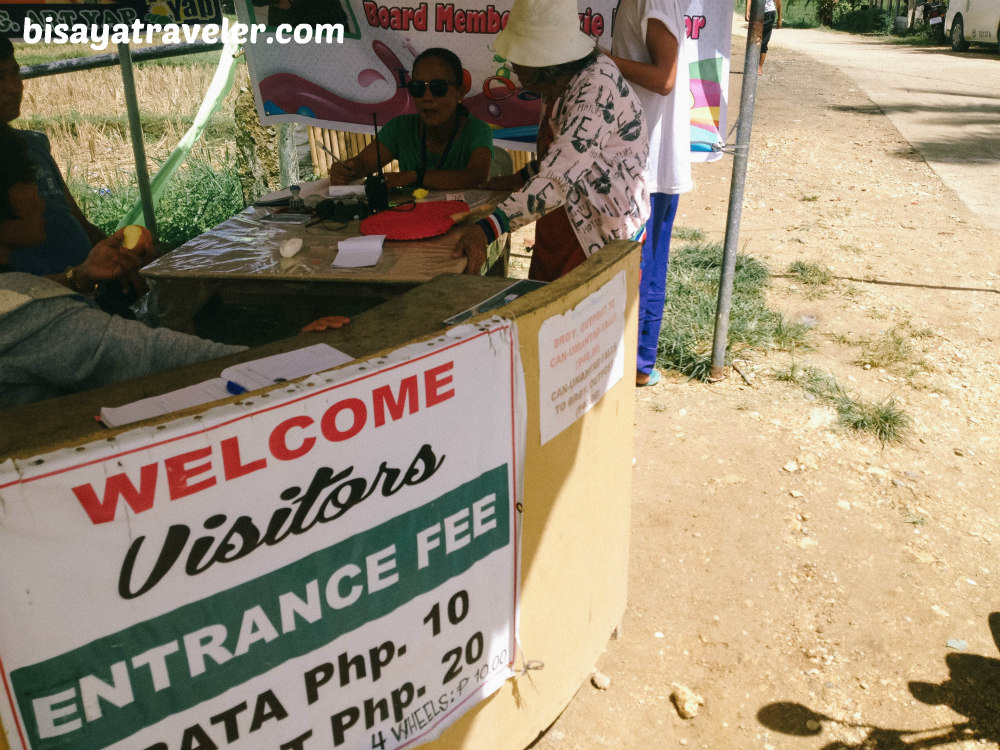 And, off we go!
As we were making our way to our first stop – Can-Umantad Falls, we got a good view of the Cadapdapan Rice Terraces. As far as I'm concerned, these rice paddies mirror those in Sapa, Vietnam as well as Longsheng, China.
While not as grand and dazzling as Sapa and China's rice terraces, these wonders are truly a sight to behold.  The moment I saw the Cadapdapan Rice Terraces, my eyes grew wide, and my level of excitement just went up a notch.
With its wondrous formations and impressive size, I was just in awe, with the beauty of the Cadapdapan Rice Terraces.
In short, I was shookt and pumped up to see it up close!
First stop: Can-Umantad Falls
Before hitting the rice terraces, though, we had to swing by Can-Umantad Falls, to chill and enjoy the refreshing scenery. And, as we were about to descend to the cascade, we got a good overlooking view of Can-Umantad Falls.
So, we paused for a minute, and took pictures of these grand and towering waterfalls.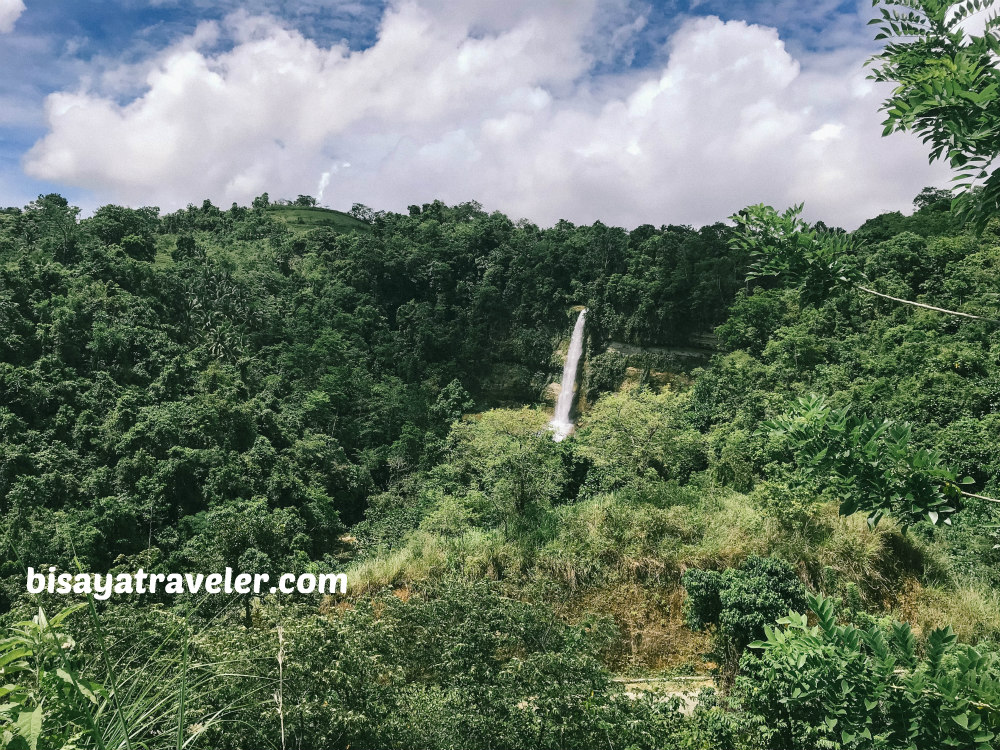 Stunning, right?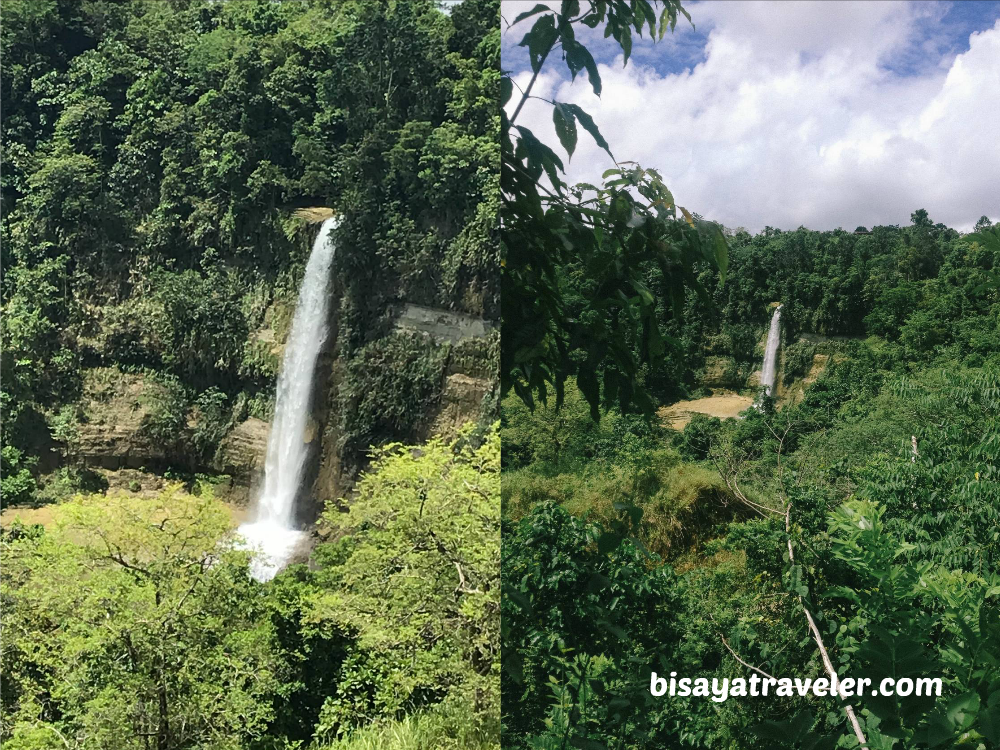 We, then, made our way to the parking area, where we were greeted by a young but not-so energetic female guide.
With our young guide spearheading the hike, we followed the pathway leading to Can-Umantad Falls.
Edwin, meanwhile, ascended to a resting area near the Cadapdapan Rice Terraces, to get some shade while waiting for us.
With the pleasant sounds of gushing water and the refreshing ambiance, we were both thrilled to get an up close look of Can-Umantad Falls, and take a plunge on its waters.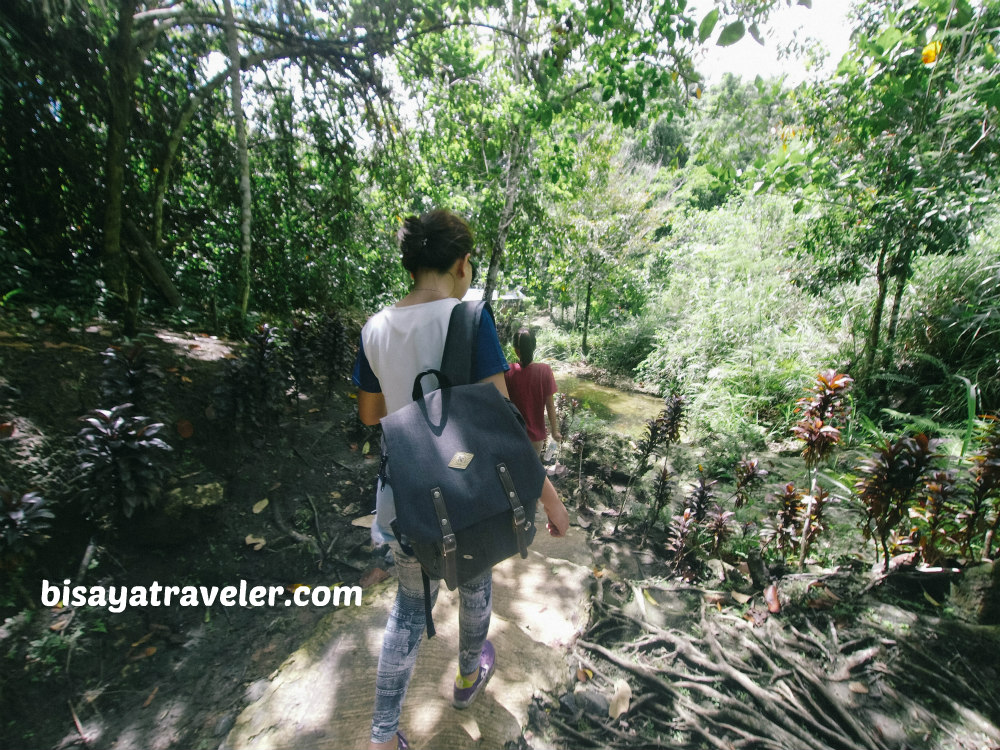 Soon after, we arrived at Can-Umantad Falls, and were mesmerized by its sheer size and outstanding natural charm.
My lovely wife didn't waste any time, and indulged on the soothing and refreshingly ice-cold waters of Can-Umantad Falls.
I, on the other hand, was just sitting on the sidelines, taking the rejuvenating natural backdrop of one of the most beautiful attractions in Bohol.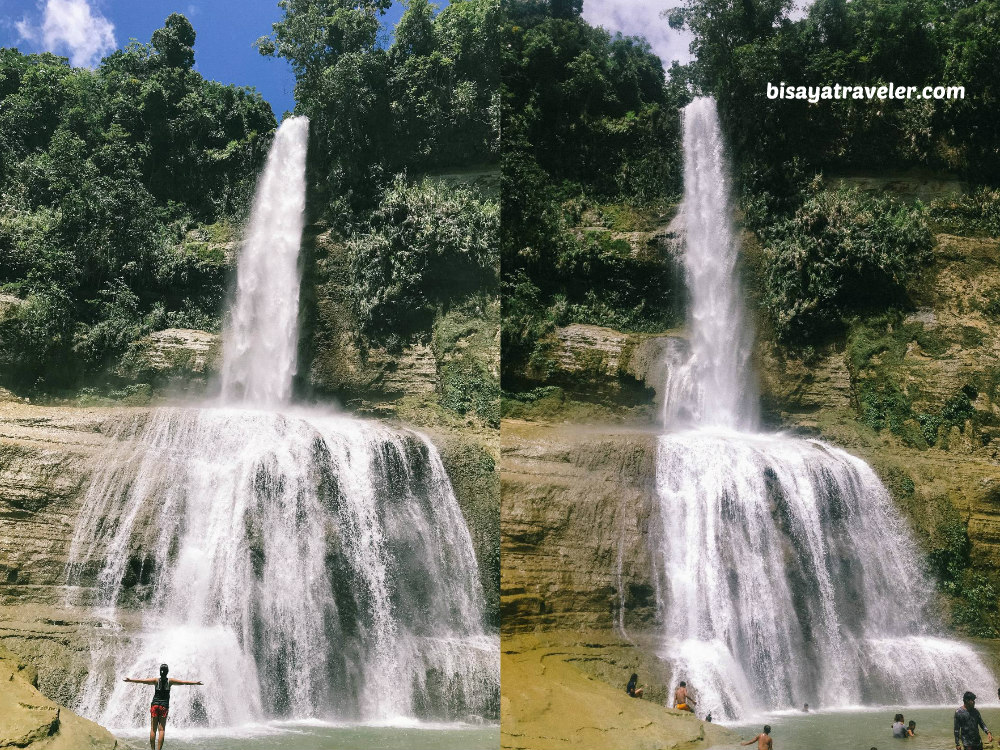 I, usually, don't submerse myself into cold waters, following a hike. But, damn it! These waters are so wonderfully tempting and cold.
And, guess what?
I did relish the refreshingly crisp cold waters of Can-Umantad Falls.
As a matter of fact, I went close to the gushing waters, and got a one-of-a-kind, therapeutic massage.
In recent weeks, I had been a little off and stressed out, with my seemingly endless parade of work and bills.
And, these awesome waters were just what I need to clear away the cobwebs. In less than 5 minutes, I felt relieved and more relaxed.
Once I got my fix for waterfalls, I put on my shirt, and together with my wife, climbed our way to Cadapdapan Rice Terraces through its multi-step stairway.
Second stop: Cadapdapan Rice Terraces
Getting to the Cadapdapan Rice Terraces, or also known as Eleuterio's Rice Terraces & Mountain Resort, wasn't a walk in the park for my wife. With over a hundred steps to climb, it really isn't easy for those who aren't used to hiking and scaling mountains.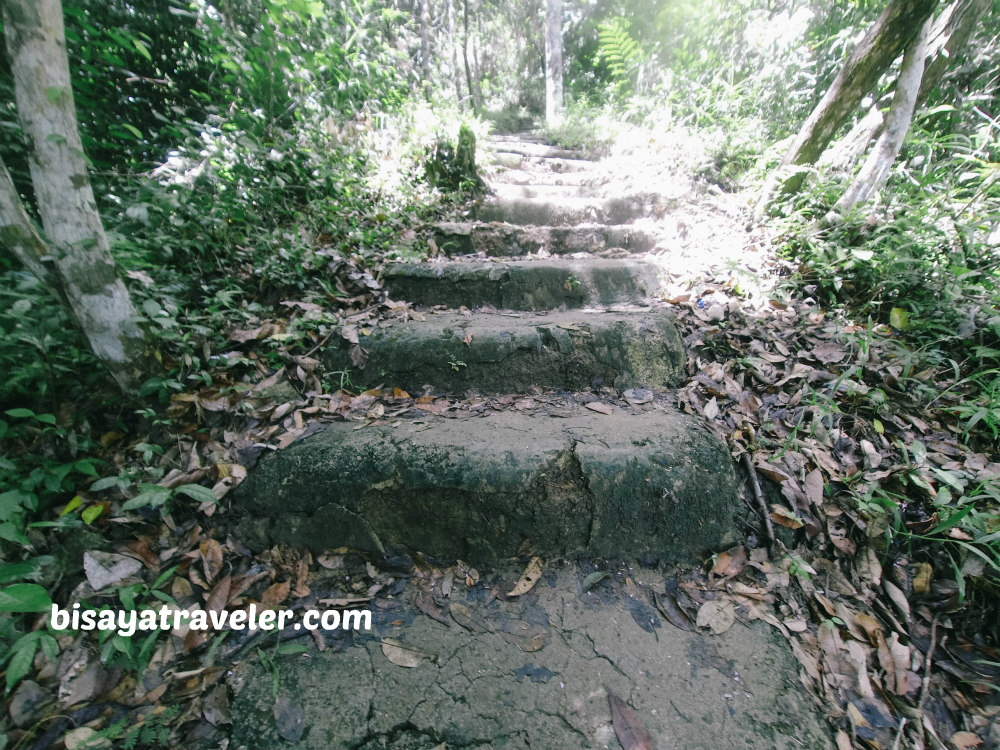 As usual, I, in my own unconventional and unromantic ways, gave some encouragement to my wife.
And yes, she did finish it in flying colors.
Eventually, we arrived at the privately owned Eleuterio's Rice Terraces & Mountain Resort.
At first, I wasn't quite impressed with the charm of these rice terraces.
Truth be told, they looked a bit unappealing, the moment it caught my eye.
I totally get it! After all, it was their harvest season, meaning they don't have the visual allure that they normally exude.
But, as we were wandering around Cadapdapan Rice Terraces, the views got better and more awe-inspiring.
And, soon, we found a great view of the beloved Cadapdapan Rice Terraces.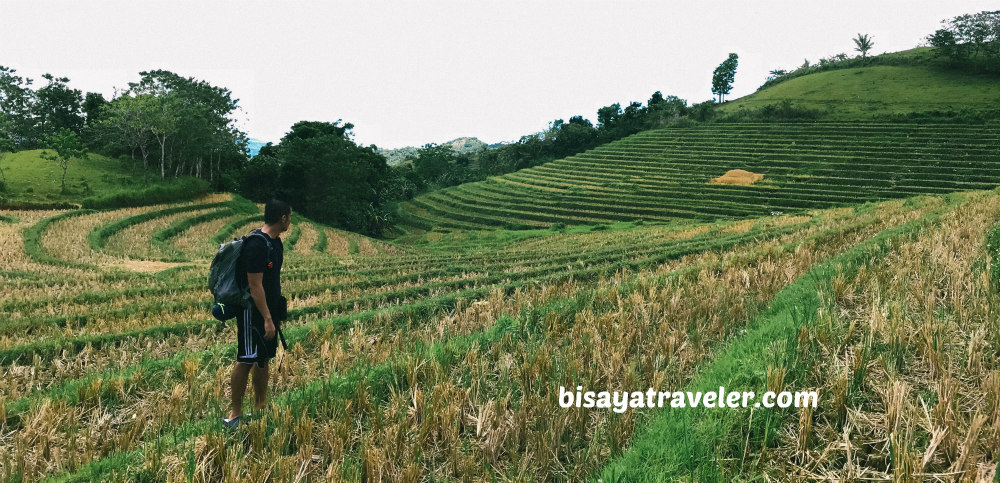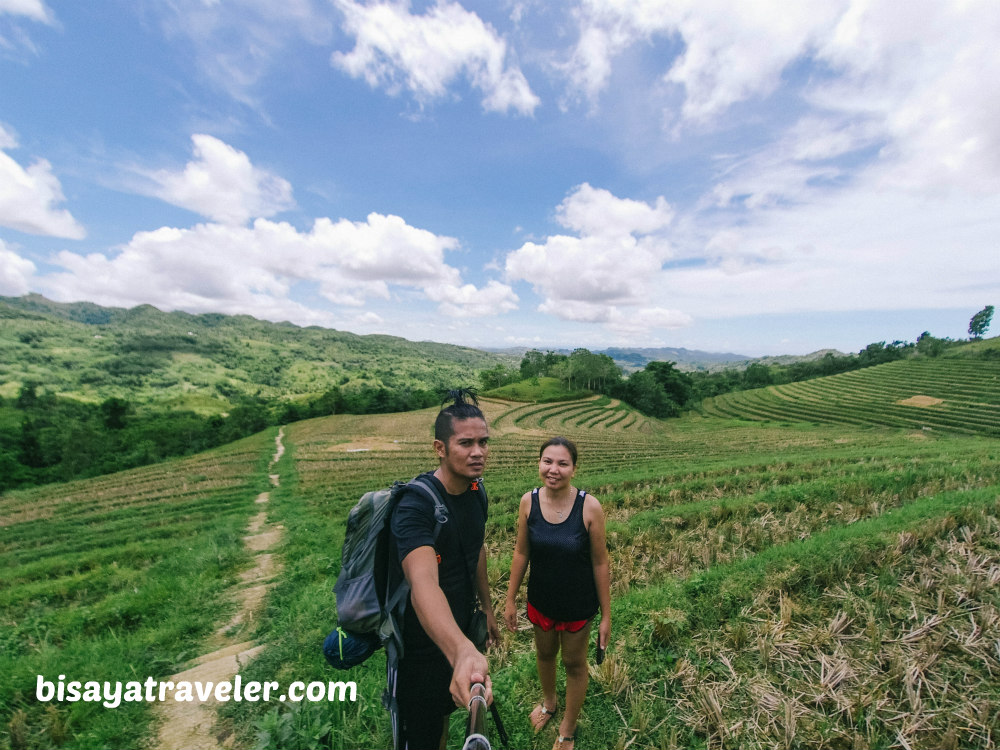 We went on with our Candijay escapade, and got treated to another awesome vista of the Cadapdapan Rice Terraces.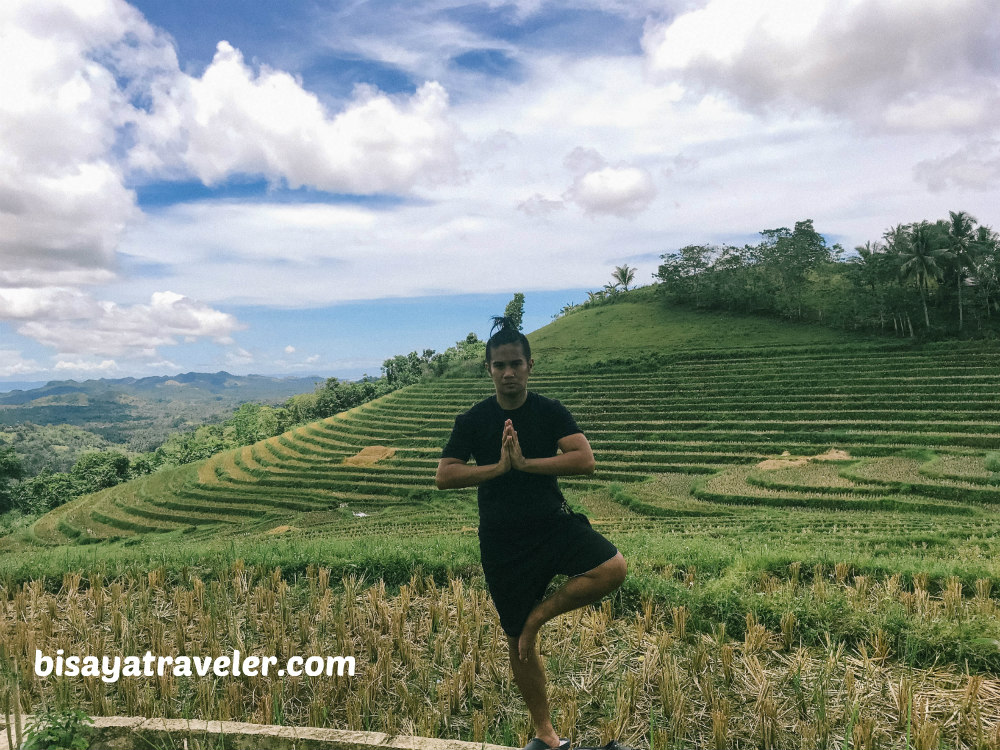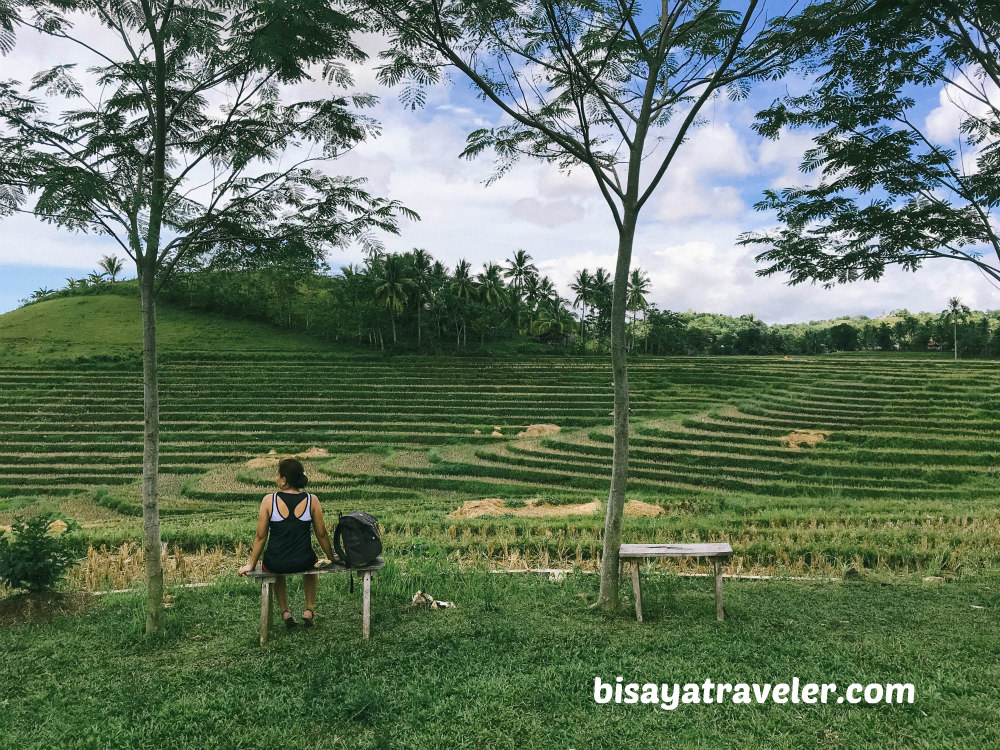 We sat there, for minutes, soaking up the scenery and admiring the views.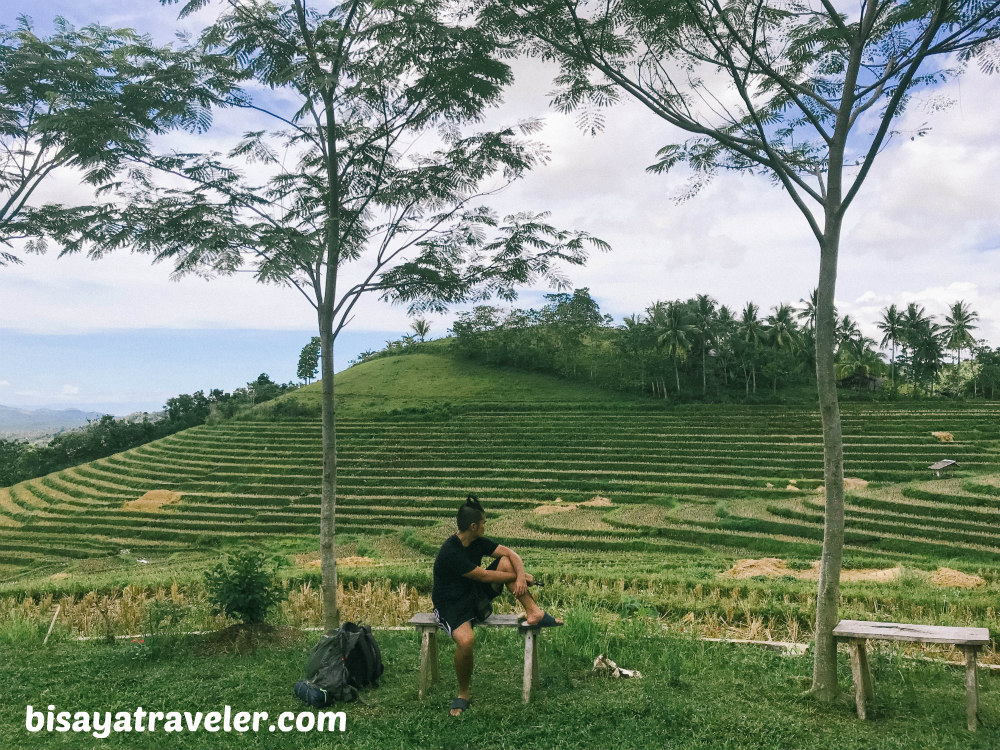 Even with its outstanding feel, we had to move on with our trip, especially since our stomachs were already grumbling.
Later on, we paid the admission fees of Eleuterio's Rice Terraces & Mountain Resort, and exited it.
As we were heading to the waiting shed, I saw a hill with a bunch of tourists snapping selfies.
I was, of course, intrigued by this lush hill in Candijay.
Sadly, my wife refused to go there because the weather was blistering.
With her blessing, though, I rushed to the hill, passing by the striking formations of the Cadapdapan Rice Terraces.
On my way to the hill, I found out that the Cadapdapan Rice Terraces were so much bigger than I thought it was.
Sure, they are not as massive as Banaue Rice Terraces, but the Cadapdapan Rice Terraces are pretty big too.
And, when I finally arrived at the hill, I was rewarded with a sweet panorama of the Cadapdapan Rice Terraces.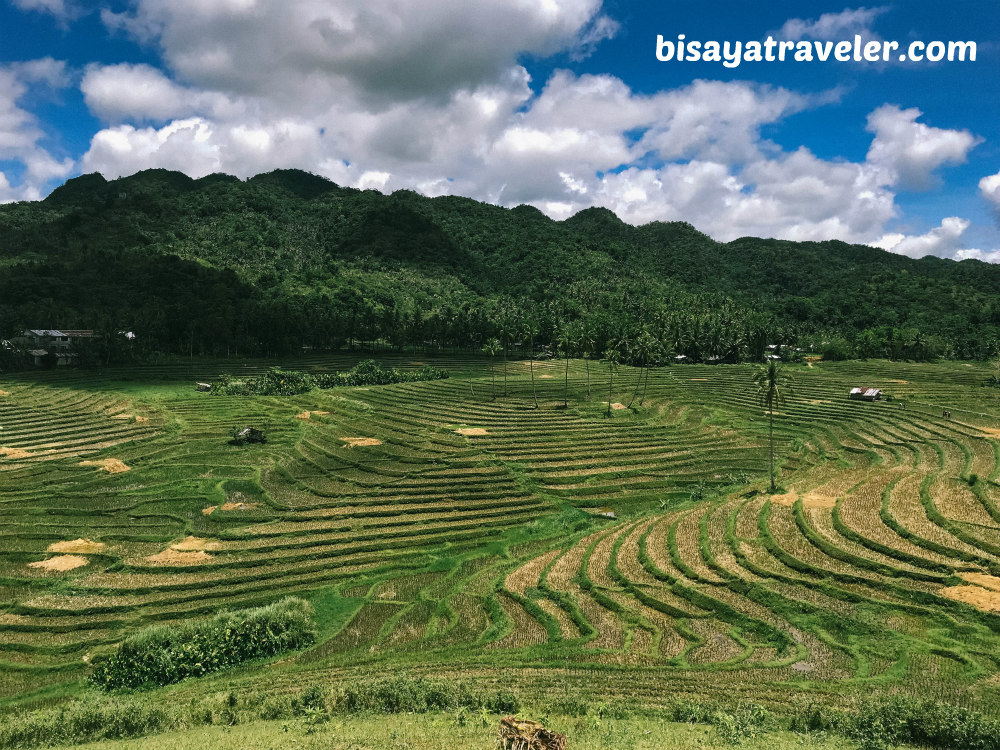 The way I see it, these rice terraces have, in total, a larger land area than a typical football field.
As much as I want to spend some time there, I had to get to the area where my wife was waiting.
Not only was it extremely hot, but I was also getting a little hungry. What's more, we still had a couple more stops in mind for our Candijay, Bohol itinerary.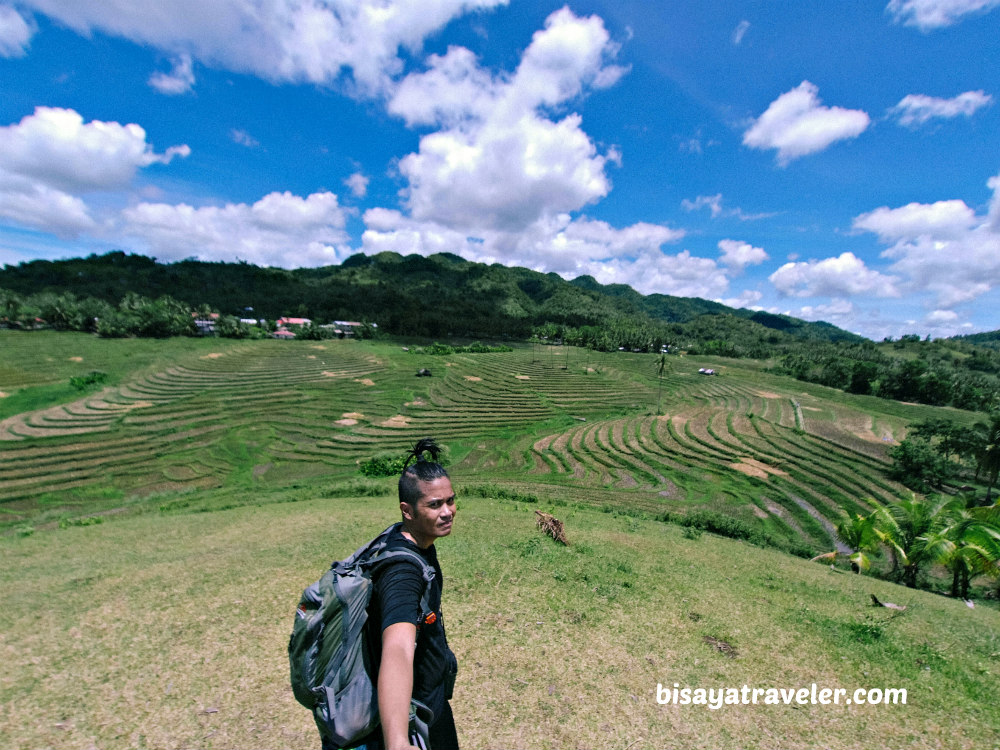 While waiting, my wife savored a freshly plucked coconut, for a rather affordable price. Afterwards, we hopped on Edwin's motorbike, and went to the next destination of our Candijay adventure.
Days prior to our trip, I discovered a new scenic spot somewhere in Abilihan, Candijay – Kangkoka.
Although we figured out a way to get there, we were compelled to skip it since we were all extremely hungry.
As soon as we arrived in Lungsodaan, we walked directly to a local eatery to appease our grumbling stomachs.
Bonus destination: Canawa Cold Spring
I, honestly, thought our Cadijay trip was over. But, thankfully, we still had plenty of time left, to squeeze in another stop in our Candijay travel itinerary. With our energies replenished, we took a bumpy habal-habal ride to Canawa Spring.
Like our trip to the Can-umantad Falls, we passed by a plethora of rice paddies with different sizes and shapes.
I guess Candijay is a paradise for rice terraces lovers like me.
Ultimately, we arrived at Canawa Spring, and cherished soothing spring waters that were literally as cold as ice.  To me, it's by far a perfect retreat to a hot summer day in Candijay, Bohol.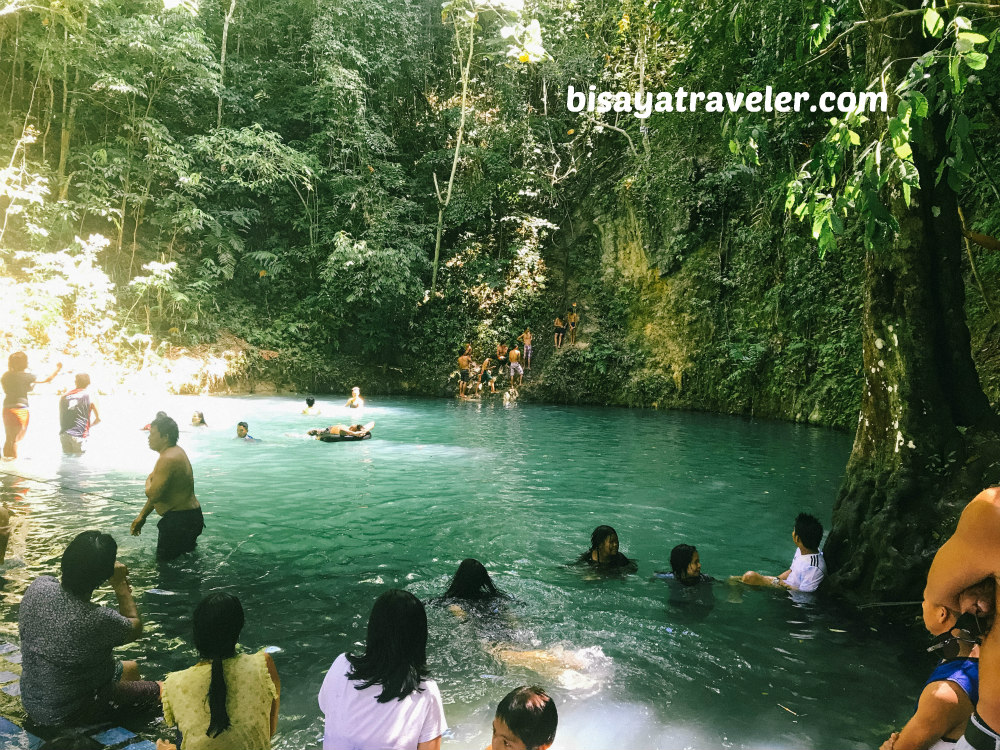 From Canawa Spring, we traveled all the way to Anda, Bohol, with Edwin and his sturdy motorcycle.
Our original plan was to pitch a tent in Quinale Beach, to save some cash for our accommodations in Bohol.
The whole beach, however, was too noisy and crowded, with several groups celebrating their high reunions. Not to mention, we were both so sleepy, when we arrived, as we didn't get any sleep on our way to Alicia.
Luckily, we found a place with a moderately cushy air-conditioned room with an affordable price of PHP 700 night.
And, after checking in, we went into siesta mode in our room.
We woke up at around 6:30 PM, ate dinner, and spend the rest of the night lazing on the pristine powdery beach.  In addition, we caught up with our friends from Cebu – Jingle and Yokyok.
The following day, we woke up early to catch the beautiful sunrise as well as attend the mass in Anda, Bohol.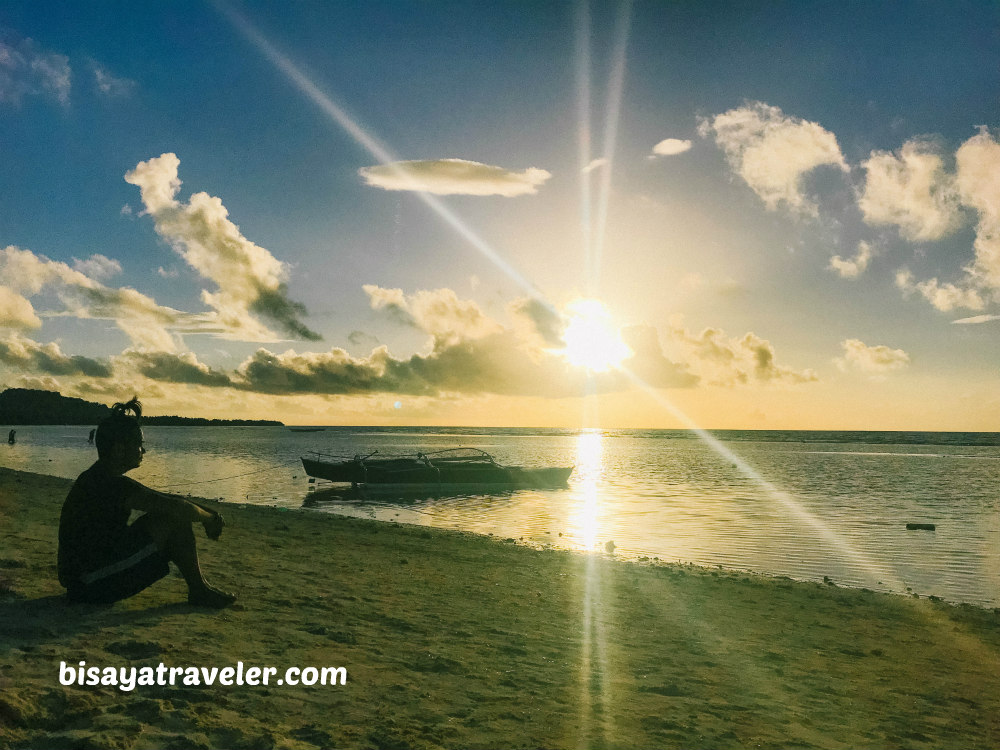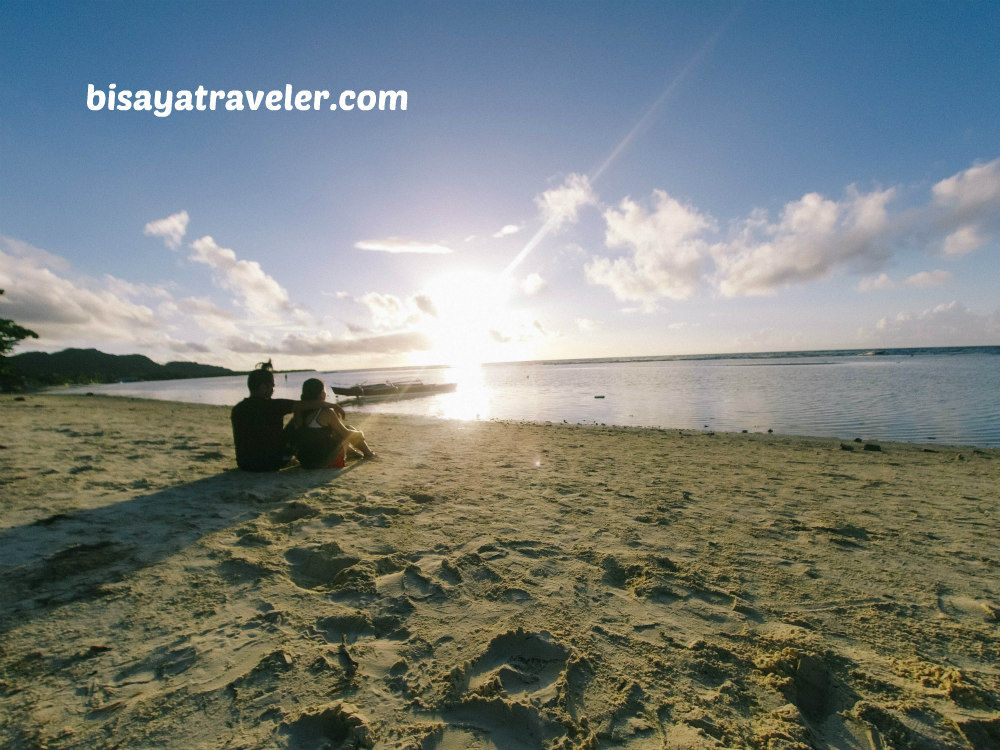 We, then, went back to our room, and ended our trip on a high note. Quite a weekend, indeed!
Our Bohol weekend getaway itinerary:
Friday
03:00 PM: Buy ferry tickets
06:30 PM: Early dinner
07:30 PM: ETA Pier 1/rest
08:30 PM: ETA J & N Ferry
09:30 PM: Depart from Cebu City
Saturday
02:20 AM: ETA Ubay port
03:00 AM: Depart for Alicia
03:30 AM: ETA Alicia Municipal Hall/breakfast
03: 50 AM: Depart from Alicia Municipal Hall
04:20 AM: ETA Base/start hike to Binabaje Hills
05:30 AM: Summit of Binabaje Hills/rest/wait for the rain to stop
07:00 AM: Resume picture taking
07:25 AM: Start descend
08: 00 AM: ETA Base
08:15 AM: Depart for Alicia town center
09:00 AM: ETA town proper
09:10 AM: Depart for Cadapdapan Rice terraces and Cam-umantad Falls
10:20 AM: ETA Cam-untad Falls and Cadapdapan Rice terraces
11:45 PM: Depart for Lungsoda-an
12:30 PM: Lunch
12:50 PM: Depart for Canawa Spring
01:20 PM: ETA Canawa Spring
01:40 PM: Depart for Anda
02:40 PM: ETA Anda
03:30 PM: Siesta
06:45 PM: Dinner
07:30 PM: Chill at the beach
09:00 PM: Lights off
Sunday
05:15 AM: Wake up
05:30 AM: Check out the sunrise at the beach
06:00 AM: Attend the early mass
07:30 AM: Breakfast at inn/shower/make final preparations
08:30 AM: Depart from Anda
09:30 AM: ETA Bohol's Glowing Garden or AKA Jardin Necesitas
11:30 AM: ETA Tubigon port/buy tickets
01:30 PM: Depart for Cebu City
02:30 PM: ETA Pier 3, Cebu City
03:30 PM: Home sweet home
Costs for a Candijay trip:
Habal-habal transporation: PHP 300 (PHP 150 per person). Transportation to Anda isn't included in this rate. You have to negotiate with the driver if you're planning to include Anda to your travel itinerary.
Entrance fee to Can-Umantad Falls: PHP 20 for adults, PHP 10 for kids
Entrance fee to Eleuterio's Rice Terraces & Mountain Resort: PHP 20, PHP 10 for kids
Parking fee in Can-Umantad Falls: PHP 5 motorcycles and PHP 10 for 4-wheeled vehicles.
Entrance fee to Canawa Cold Spring: PHP 20 for adults, PHP 10 for kids
How to get there:
Via Tagbilaran
From Tagbilaran, take tricycle ride to Dao Bus Terminal. Once there, hop on a bus or van bound for Ubay. Ask the driver or conductor to drop you off at Lungsoda-an Public Market. Travel time is around 2 to 3 hours, and fare is about PHP 130. Upon your arrival, charter a habal-habal that will take you to the attractions in Candijay. For the most part, fare is around PHP 200 per person (back and forth).
Via Ubay
I, personally, prefer the Ubay route, especially for those who are from Cebu. From Ubay, take a bus ride bound for Tagbilaran. Ask the driver or conductor to drop you off at Lungsoda-an Public Market. I'm not sure about the fare, but I'm sure they are cheaper than the Tagbilaran option.  Take note, Ubay is closer to Candijay, as compared to Tagbilaran.
Things to take note:
You can contact Edwin Magdales (the habal-habl driver on our Candijay trip) through his mobile number at 0955-765-9031. Since there are two drivers named Edwin in the area, I suggest that you look for the one whose last name is Magdales.
Practice the LEAVE NO TRACE principles.
There's no standard fee for the guides in Can-Umantad Falls, but tipping is recommended.
Pack at least 2 liters of water.
Bring trail food/snacks.
If you want to follow our itinerary, I suggest that you buy your breakfast in Cebu, as the market in Alicia opens around 6 AM.
If you plan to stay overnight, don't forget to bring a jacket, sleeping mat, socks and a sturdy tent.
Bring ION drinks like Gatorade or Pocari Sweat.