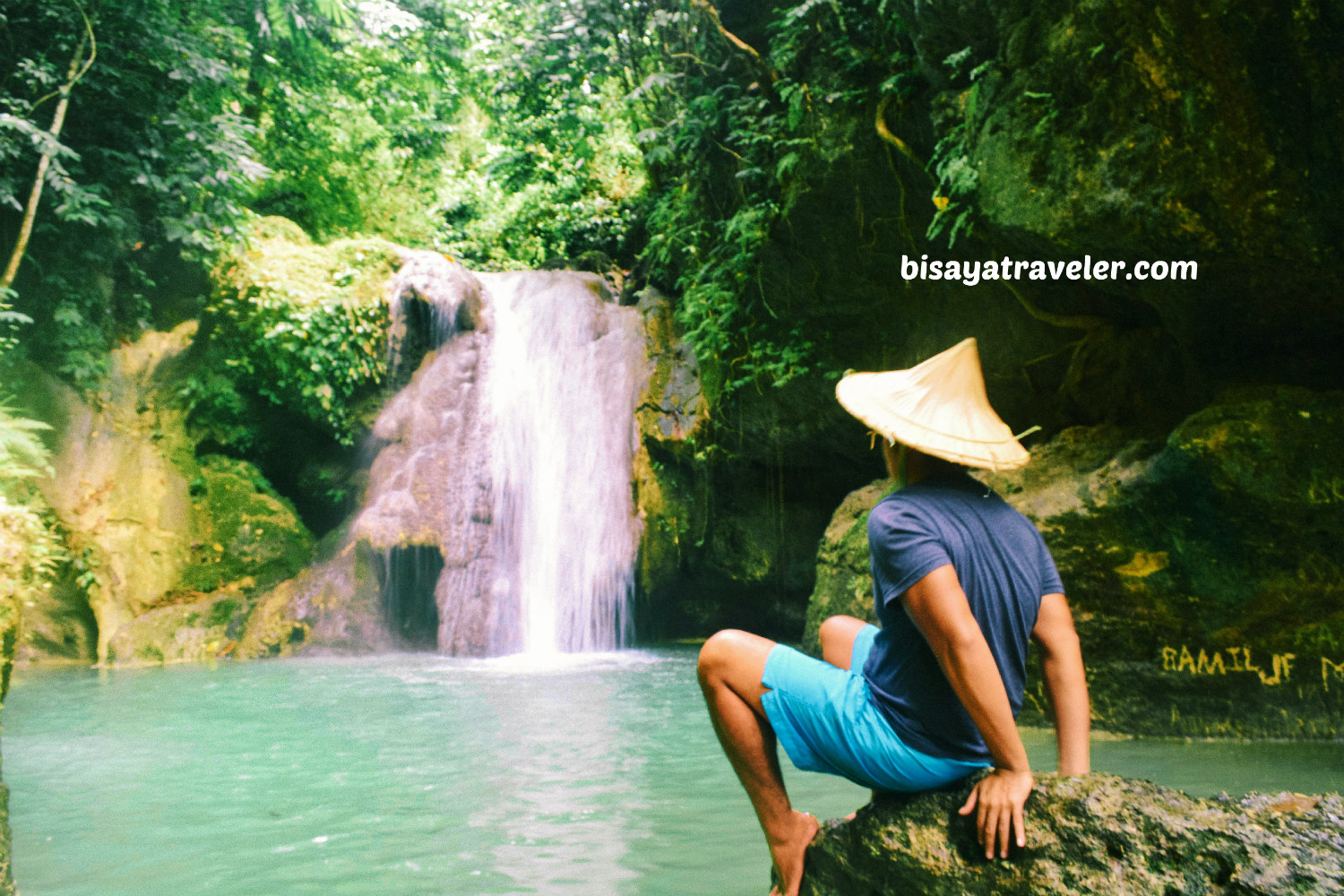 Busagak Falls: Pinamungajan, Cebu's Refreshing And Irresistible Cascade
There are some people who thrive in chaos, and I'm definitely not one of them. Lately, my group hikes seem more of a pageant or a circus than a weekend escape, with all the different faces and wacky costumes. While I admire my tribe's diversity, youthfulness and relentless pursuit for happiness, I'm an introvert, and sometimes, these things drain my energy and curb my creativity. And since I consider travel as the ultimate cure for everything, I felt the urge to travel to a remote and not-so famous place either alone or with a small of group of buddies. Thankfully, I found the solution to my introverted needs in Pinamungajan, with its lovely panoramas and refreshing waterfalls, like Busagak falls.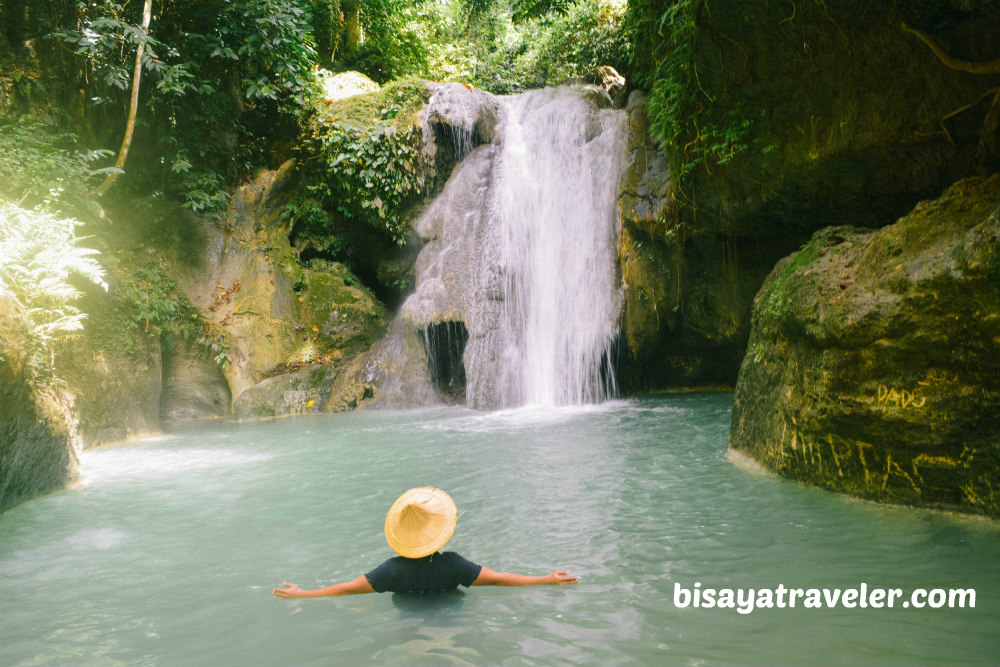 There were plenty of fun and pleasant moments in our trip to Pinamungajan, Cebu. To me, the best part of our trip in this side of Cebu was our rejuvenating stop at Busagak falls. With its gorgeous scenery and soothing emerald waters, Busagak was arguably the highlight of our Pinamungajan escapade.
Our Busagak Falls experience
Our Busagak falls experience didn't start on the right foot. Days prior to our trip, I didn't do any research, as far as the transportation goes. And as a result, we were pretty late for our expected time of arrival in Pinamungajan. Sorry, my bad, folks!
But with our positive outlook in life, we remained optimistic and psyched. Instead of complaining, we used it as an opportunity to do some catching up.
After our 2-hour bus ride from Cebu City South Bus Terminal, we – me, RJ, Gelique and Ofelia – arrived in Pinamungajan proper. From there, we went straight to 711, munched on a quick snack and met up with Beth.
Once snack time was over, we headed to Pinamungajan Chess Club, to meet a fellow adventurer and our guide for this trip – miss Genara Cano.
For some of us, it was our first time meeting miss Gena, so we made proper introductions, before commencing on our trip.
Spearheaded by Gena, we, then, went for a relaxing stroll to our first stop, Cabasaan Peak, passing by some lovely sights and places.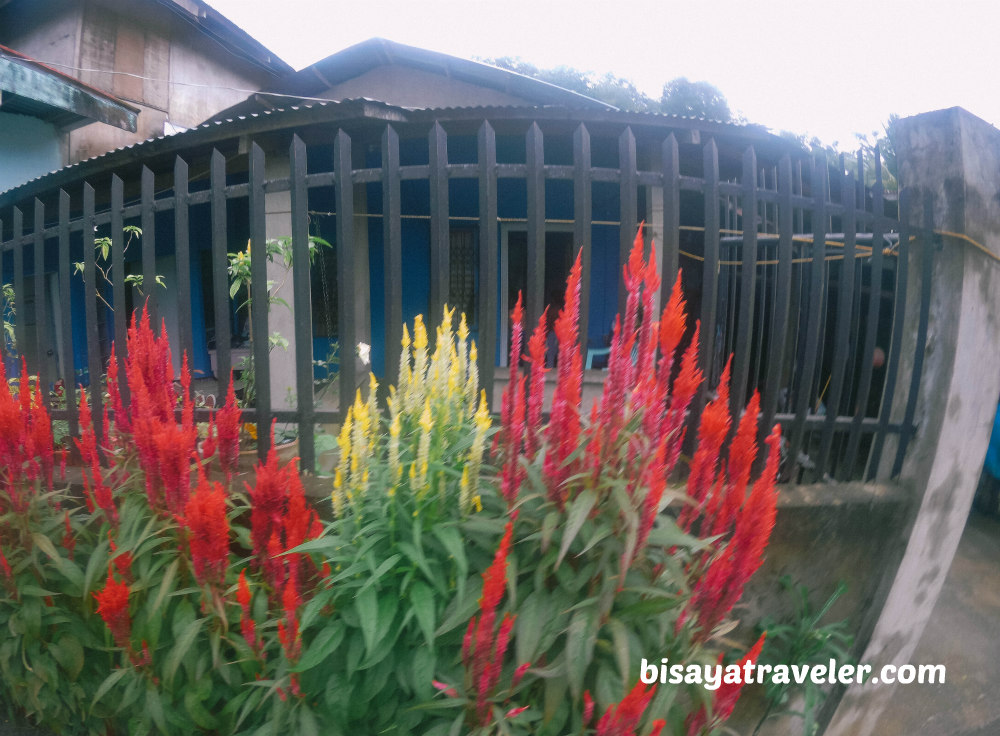 Likewise, we caught sight of a couple of signs, giving us the directions to our destinations for that day – Busagak falls and Liki Falls.
In spite of the concrete pathway, our hike was amazingly pleasant and relaxing.
For the first time in a long while, I felt truly connected with nature and the people I'm hiking with.
With only a handful of no-frills adventurers joining my trip to Busagak falls, it was the kind of laid-back feel that I absolutely missed from my hikes.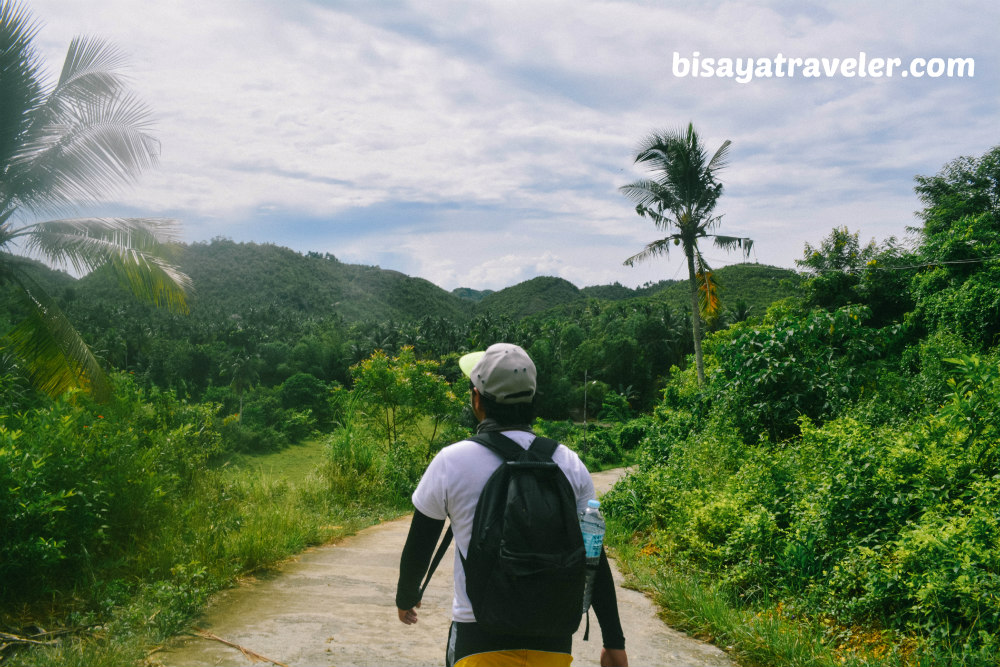 And yes, I enjoyed every minute of our hike to Cabasaan. As a matter of fact, we even had fun talking about our favorite films and anime series, from Dragon Ball Z and Samurai X to Christopher Nolan's mentally-stimulating films.
Moments later, we arrived at Cabasaan where we soaked up the views and indulged on the fresh mountain air.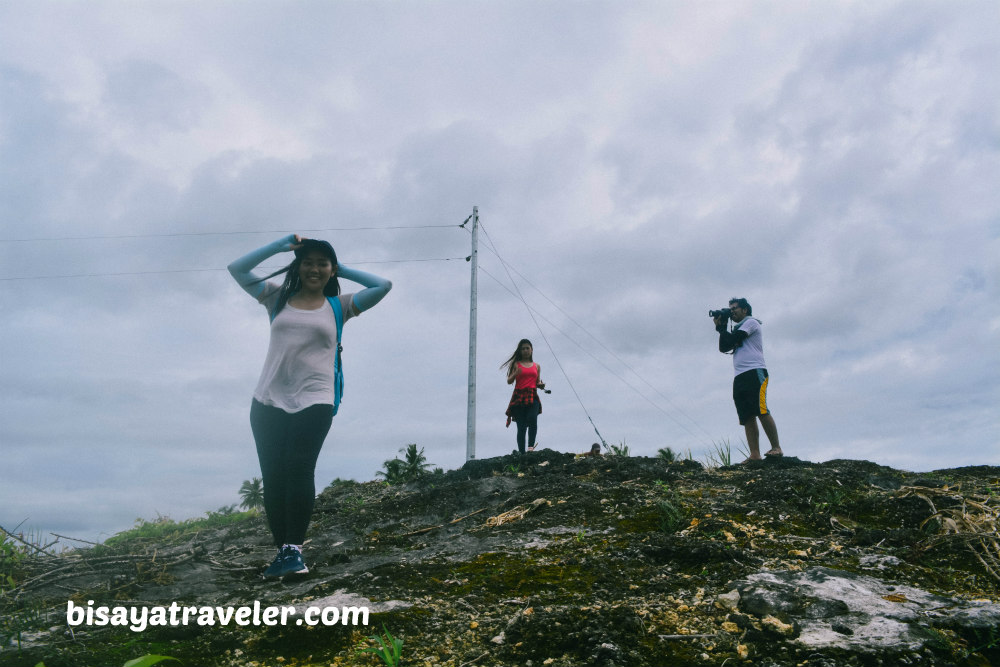 Of course, we took a ton of photos, including our solo trademark shots.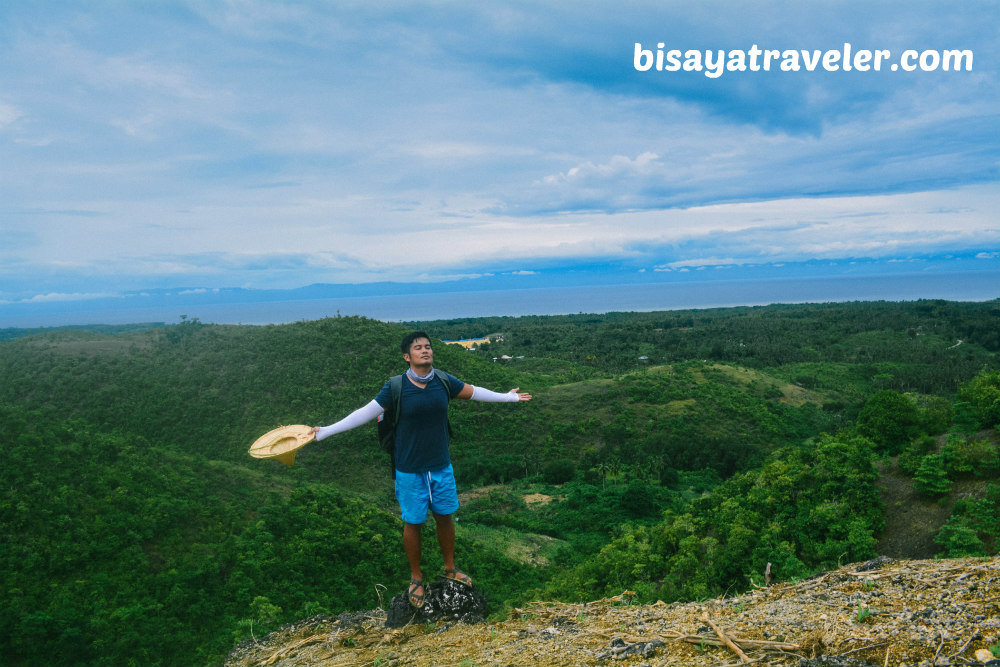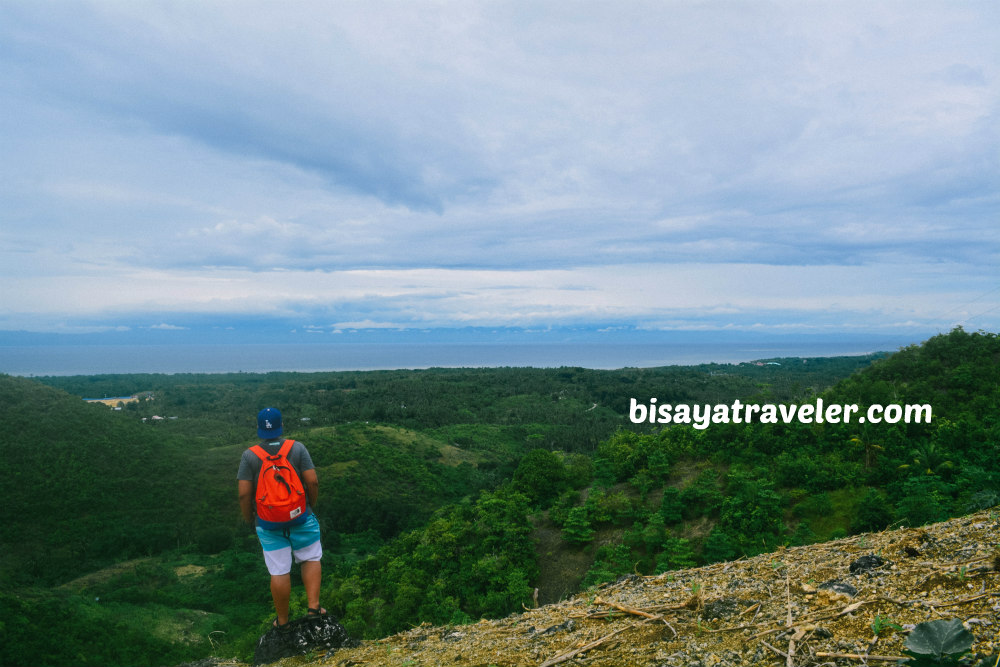 What's more, we got a good bird's eye view of Pinamungajan town proper. From my point of view, it was quite a long walk, but I didn't feel any pain or strain, as we hiked our way to Cabasaan.
I guess that's what happens, when you hike leisurely with a small group.
As we were chatting and taking in the panoramas, we saw another sweet vantage point. As you might have guessed, we climbed the mountain, and had another short pictorial.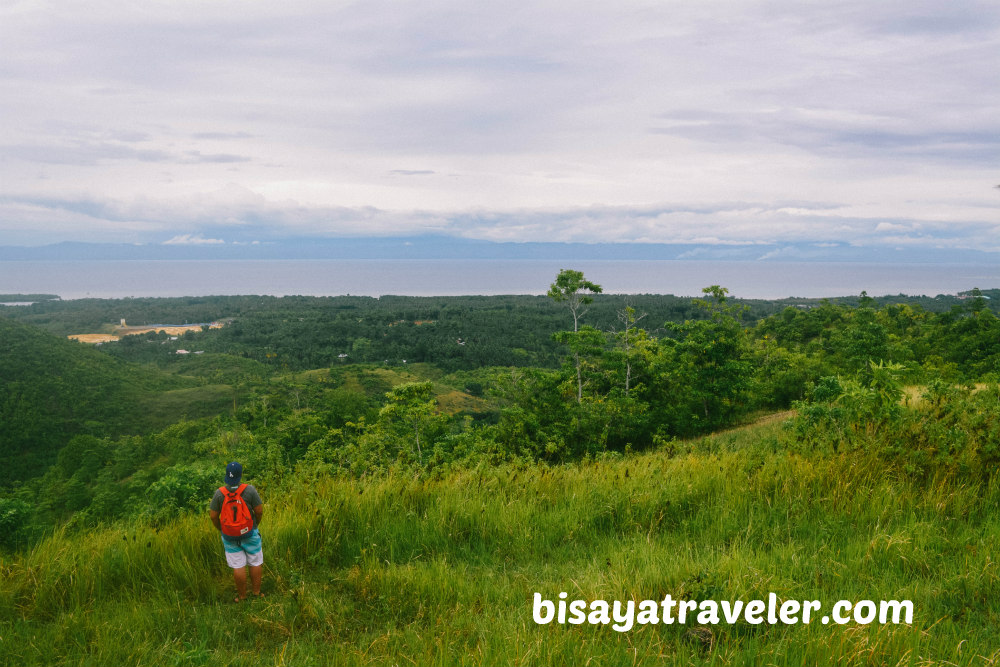 Later on, we descended from Cabasaan, and took the trail leading to Busagak falls.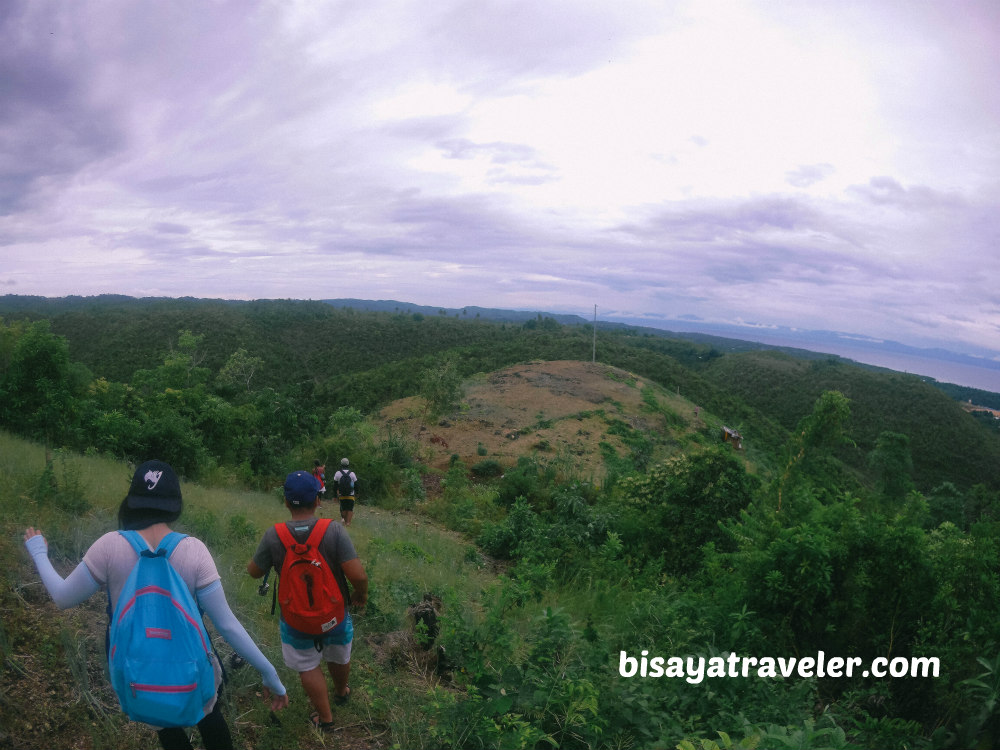 The walk to Busagak Falls from Cabasaan was pretty long, even for seasoned hikers. Along the way, we bumped into a few habal-habal drivers, saying that we were still rather far from our target destination.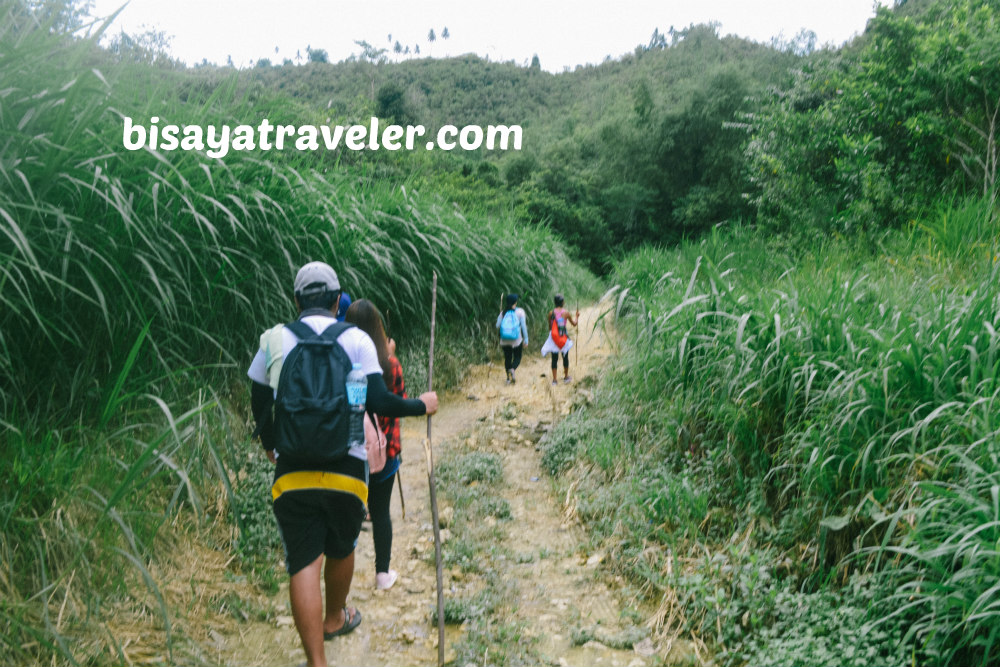 "Layu-a ato dong uy kung inyu lakwun (that's too far, if you plan to get there by foot)" said one of the drivers.
Little did they know, we yearn for long walks in the wilderness and remote areas.  Almost every week, we go on a hike to get a dose of Vitamin D, exercise as well as get away from the monotony of daily life.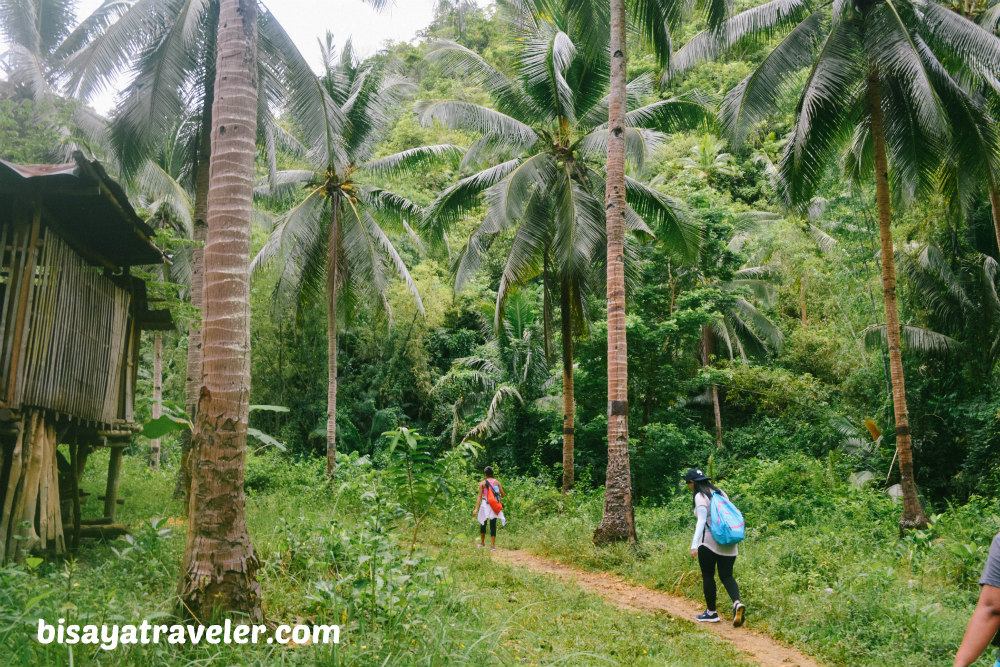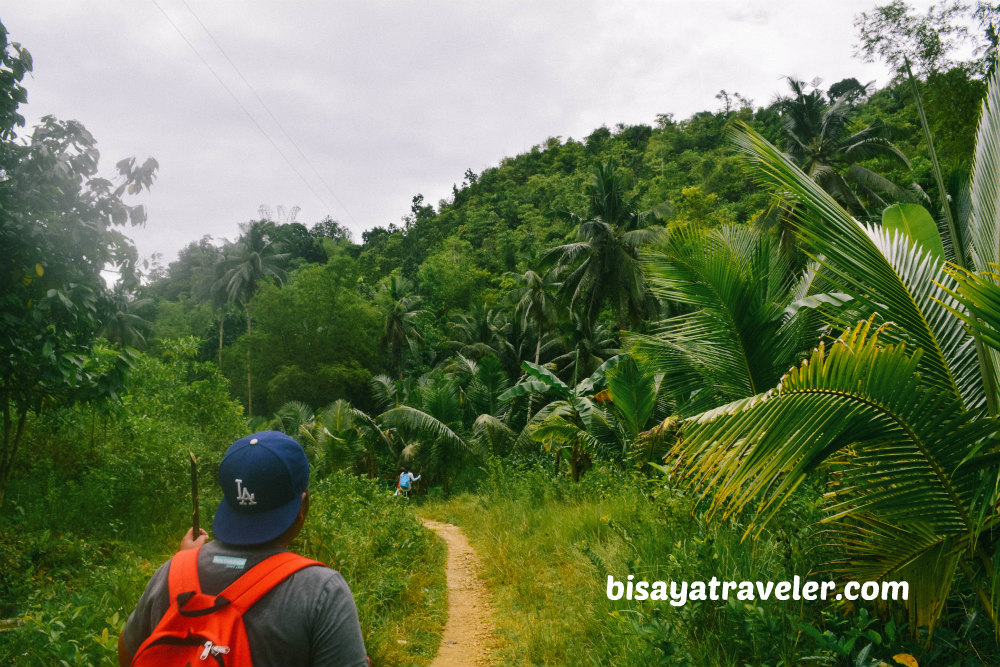 As for the difficulty, there were no steep slopes on the trail, but there were some slippery spots on our way to Busagak falls. Not to mention, there are plenty of prickly plants that sting if you don't have arm guards.
For someone who wears a cheap pair of local sandals, getting to Busagak falls wasn't so easy. While it wasn't really challenging or back-breaking, the wet spots did test my balancing skills a bit.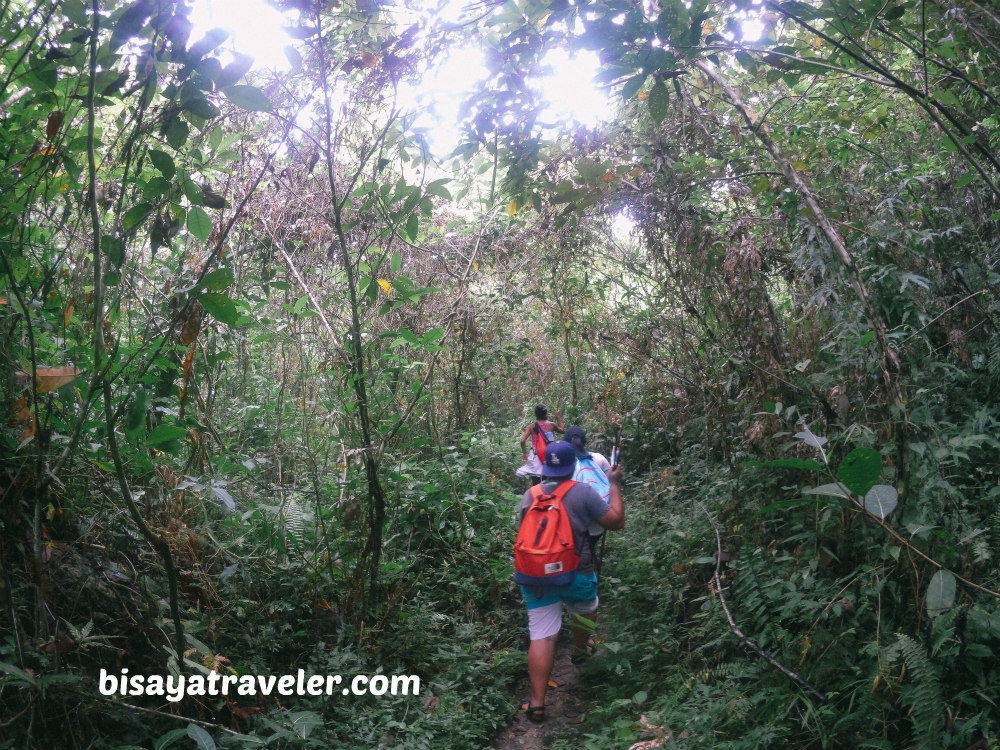 After a few minutes of walking, I could finally hear the roaring sounds of a waterfall. Eventually, we caught of a glimpse of beauty, as we were about to reach Busagak falls.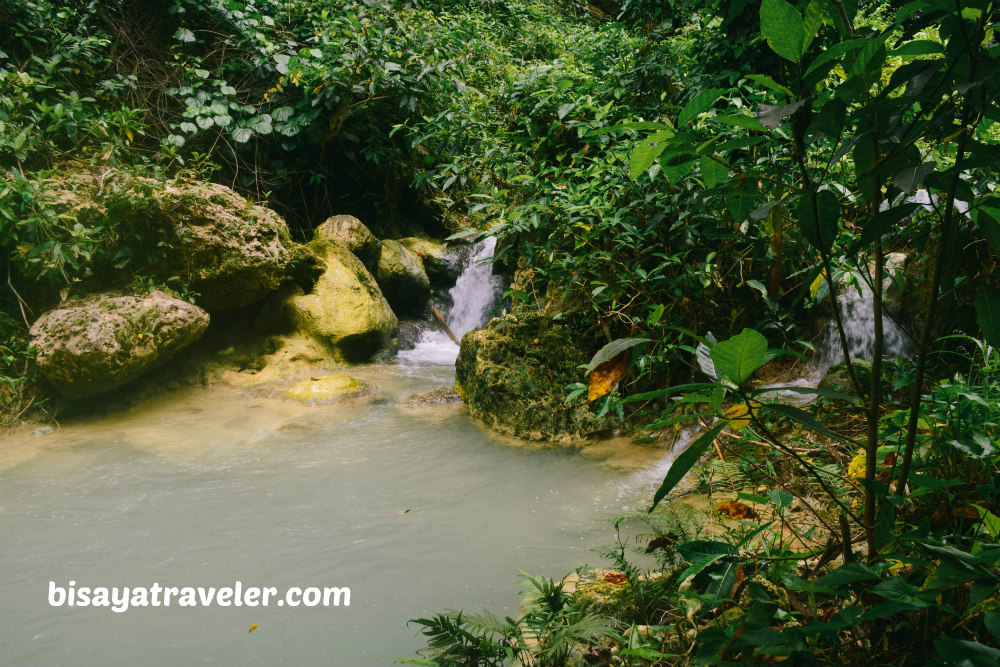 Soon after, we got to see the full beauty of Busagak falls. Except for the vandals on the right side, the waterfall is a total stunner. Although not as grand as Kawasan or Cambais, it's, to me, more gorgeous than Boljoon's Day-hag falls.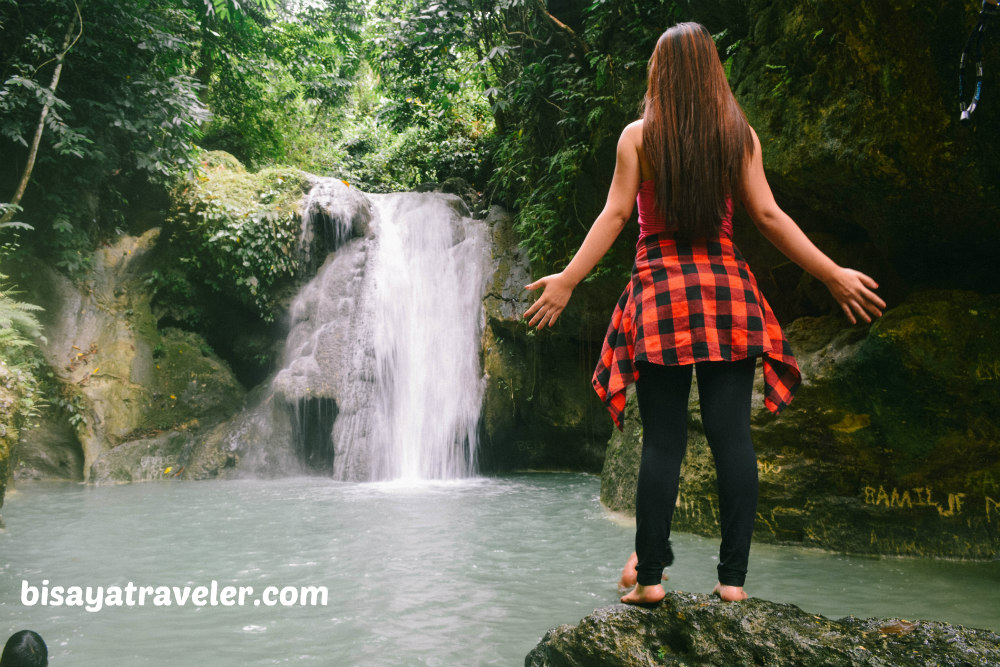 Honestly, I wasn't expecting much from Busagak falls, prior to our trip. I even thought that Busagak falls would be as brown as a Milo drink since it was raining cats and dogs on our way to Pinamungajan.
If it didn't rain that day, it would probably more look more eye-catching and Instagrammable.
And, I'm glad that it was more than what I originally expected. With its cold rejuvenating waters and blue waters, it somehow brought back several wonderful memories of my waterfall adventures in Southern Cebu.
Upon our arrival, we wasted no time, and took dozens of photographs of the cascade as well as the kids playing cheerfully in Busagak falls.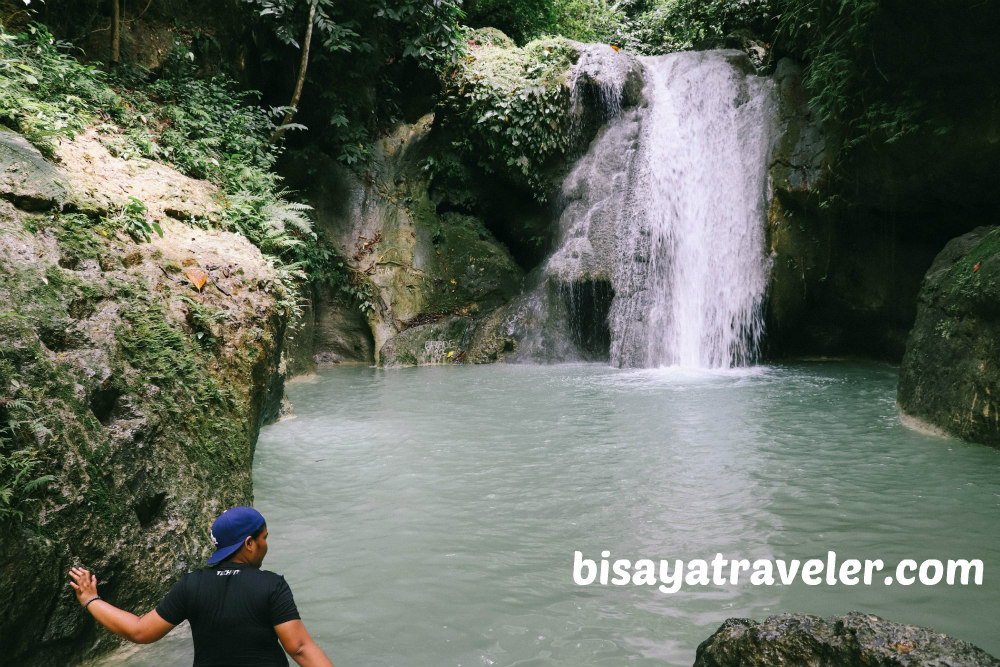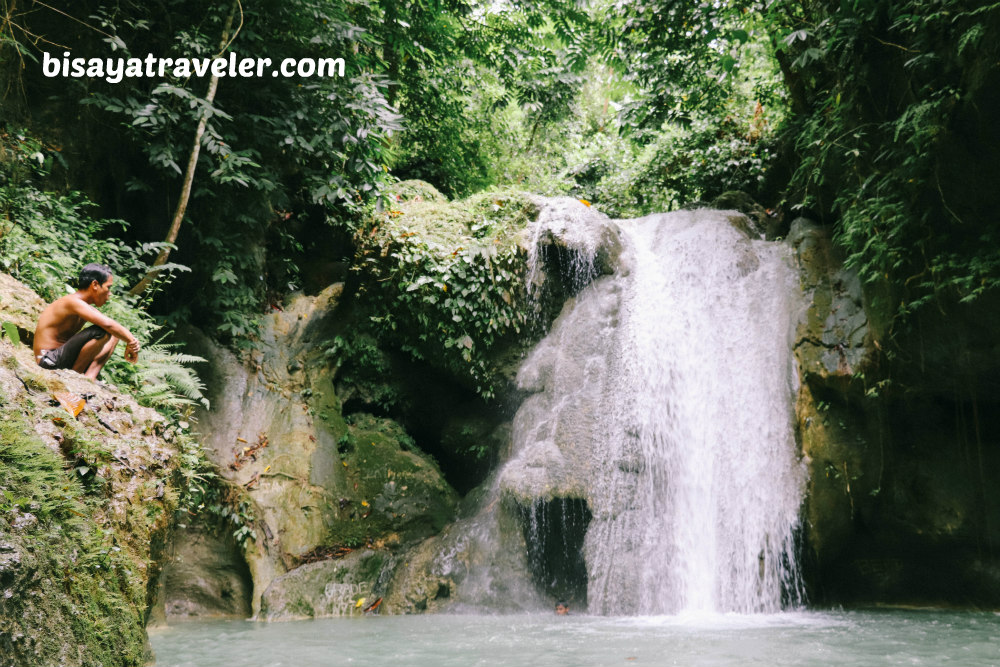 When the kids left, I and the rest of the squad (except for Beth) went for a swim on the pristine emerald waters of Busagak falls.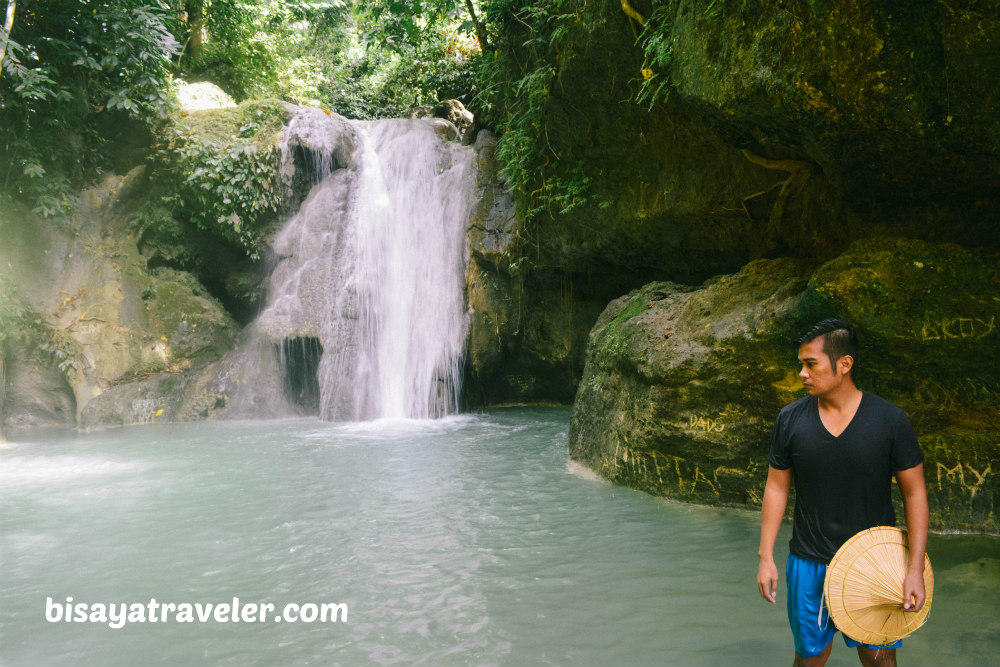 At first, I wasn't planning on taking a plunge on Busagak falls. But with its mesmerizing and tempting waters, I just couldn't control my lust for waterfalls, even though I'm not a great swimmer.
Minutes later, I went for a climb on one of the towering rocks in the area, to take a selfie, and get a different perspective of Busagak falls.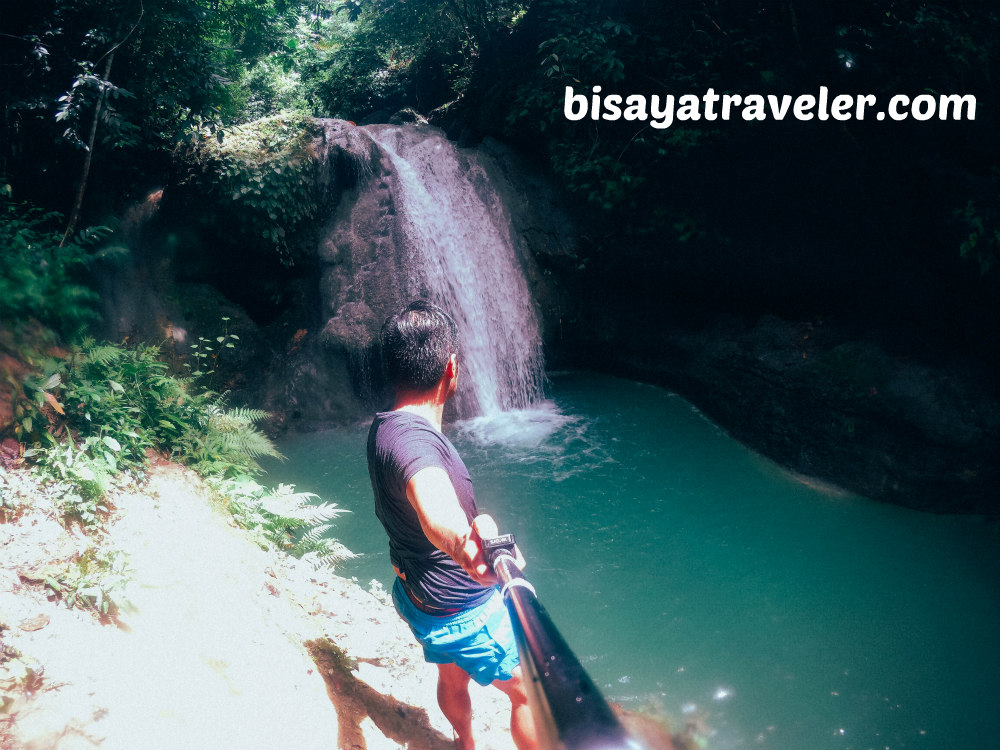 Ultimately, the rest also followed for pictorial purposes.
Ofelia – a first-timer in waterfall getaways – was in a state of pure bliss, cherishing every moment of her Busagak falls experience.
Miss Gena, meanwhile, was busy doing some climbing on the other side of the falls.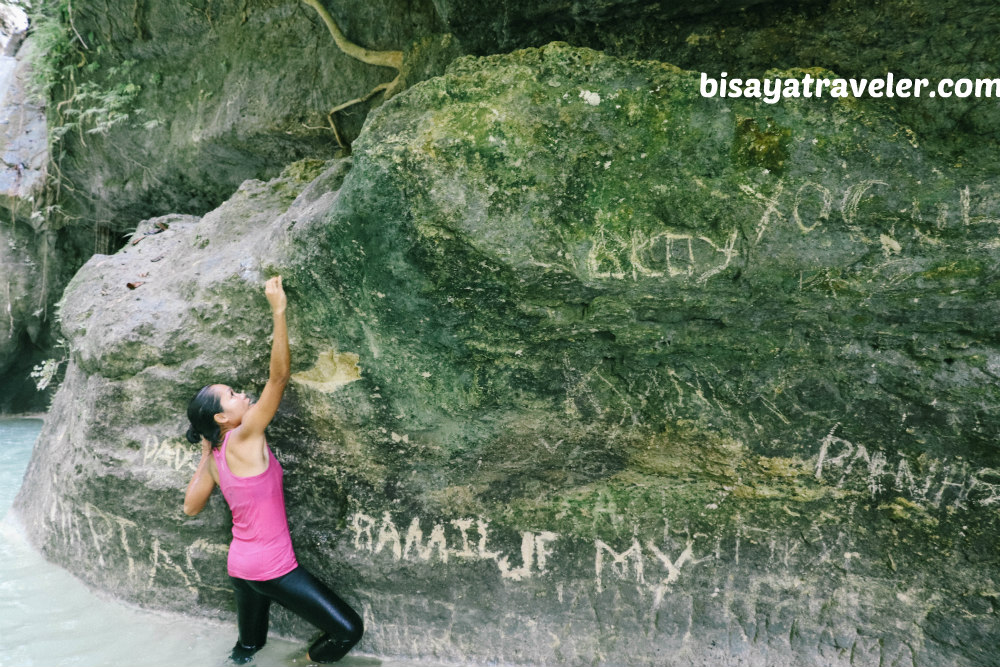 She had some problems scaling the rock because it was fairly slippery and there was a slight damage to the holes.
After a few attempts, however, she conquered the rock, and ultimately dived into the gorgeous waters.
I did my best impression of Spiderman too, climbing the rock. But, just when I was about to pull my whole body, my left had slipped, causing my whole body to crash into the shallow waters of Busagak Falls.
Did I follow it up with another attempt? Nah! For a guy with my size and height, the water was too shallow, meaning I could get injured if I ever fall from the rock again.
So, instead of doing daredevil climbs, I simply chilled, to take in the scenery and enjoy the company of the clique.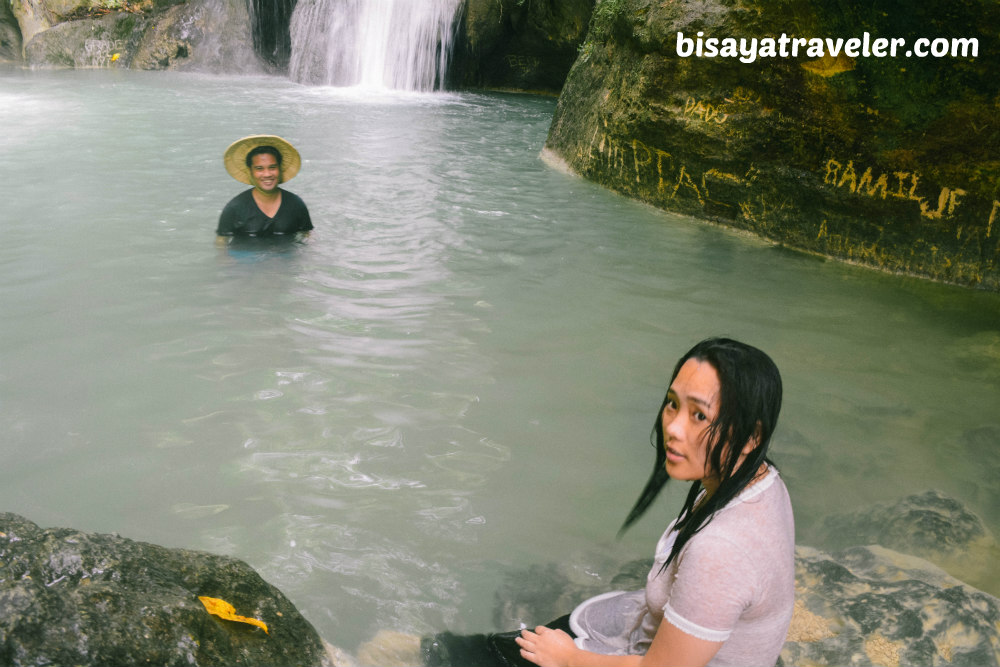 As we were chatting, miss Gen swam all the way to the cascading water, and climbed up Busagak Falls.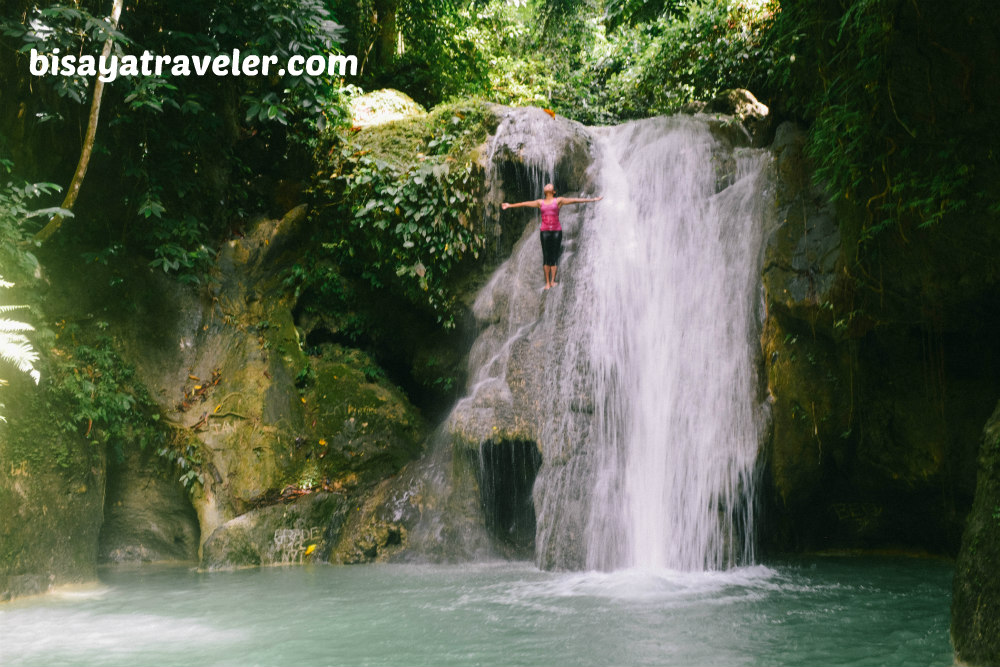 Boy, this woman is quite an adrenaline junkie, and is probably the female version of Team Bang's undisputed thrill seeker – Marc, or AKA "The Weekday Traveler".
It was getting late, and we still had two more stops left in our open itinerary. Truth be told, I truly can't get enough of Busagak Falls, but we had to move on, and hit the trail to Liki Falls.
Nevertheless, we had a blast admiring the splendor of Pinamungajan's Liki falls, which I will write later.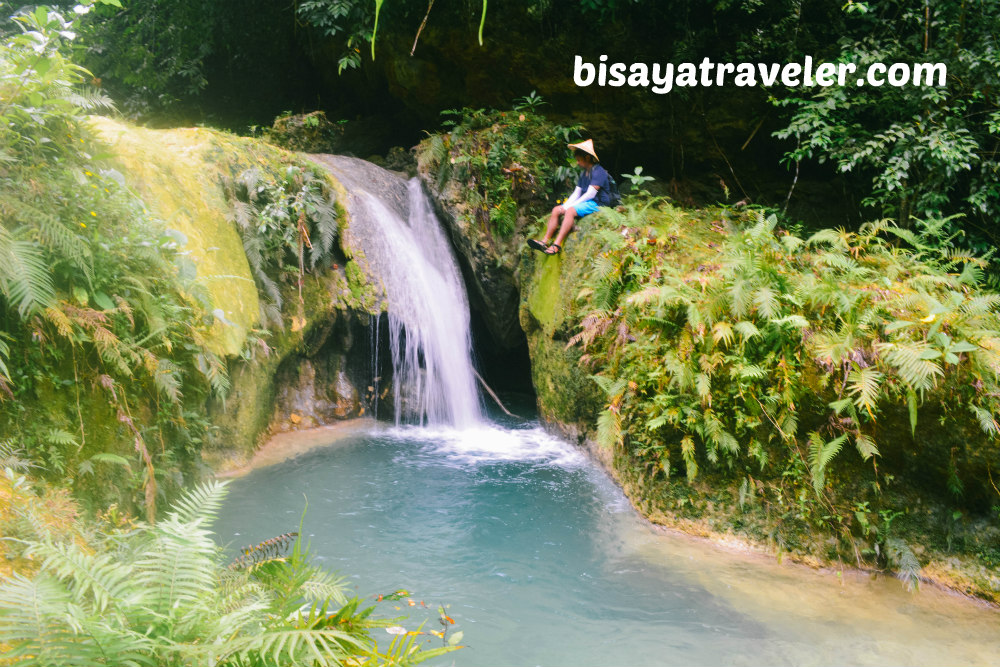 Our Busagak Falls and Pinamungajan itinerary:
04:00 AM: Meet up at Cebu City South Bus Terminal
06:10 AM: Depart from Cebu City
08:20 AM: ETA Pinamungajan proper/buy snacks
08:30 AM: Start hike to Cabasaan Peak
09:20 AM: ETA Cabasaan Peak/Pictorials
09:45 AM: Start hike to Busagak Falls
11:00 AM: ETA Busagak Falls
01:00 PM: Depart from Busagak Falls
02:10 PM: ETA Highway in Pinamungajan
02:30 PM: Depart for Liki Falls
04:00 PM: ETA Liki Falls
05:40 PM: ETA Pinamungajan
06:00 PM: Depart for Toledo
06:30 PM: ETA 711 Toledo/snacks
07:00 PM: Depart for Cebu City
09:30 PM: Home Sweet home
How to get to Busagak Falls:
From Cebu City South Bus Terminal, take a bus that will take you to Pinamungajan town proper via Toledo (fare is PHP 75, and travel time is about 2 hours). If you can't catch a bus to Pinamungajan, make your way to Toledo City, and hop on a multi-cab bound for Pinamungajan town proper (fare is PHP 25).
Then, take a habal-habal ride that will take you to Busagak Falls in Barangay Busay. Depending on your haggling skills, fare to the falls ranges from PHP 40 to 60. As of now, there's no standard fare to Busagak Falls.
Want to try our Pinamungajan itinerary and adventure? I suggest that you reach out to miss Gen at 0915 176 5471.
Important notes:
Practice the LEAVE NO TRACE principles mga bes!
Bring at least 2 liters of water.
Pack an ION drink, like Gatorage and Pocari Sweat.
There are no eateries near the falls, so be sure to bring lunch and trail food. Alternatively, you may also ask miss Gen, to prepare your lunch for you.
Wear a hat, sunscreen and arm guards, to protect your skin from prickly plants and the sun's heat.
Wear trekking sandals with great traction.
Overall, I had fun exploring Busagak falls and the rest of Pinamungajan. Not only was it full of pleasurable moments, but it was also extremely relaxing, and a perfect escape to my everyday grind and woes. Even with all the hike and adventure invites I got last weekend, I couldn't think of a better way spend my day last Saturday. Personally, I think it was an adventure hard-wired for introverts like me. Furthermore, it was a chill trip that I badly wanted for the past couple of months.
And by the way, thank you so much miss Gen for treating us and touring us to your adventure playground. We've got some unfinished business there, and I promise you that we'll be back there sooner than expected.