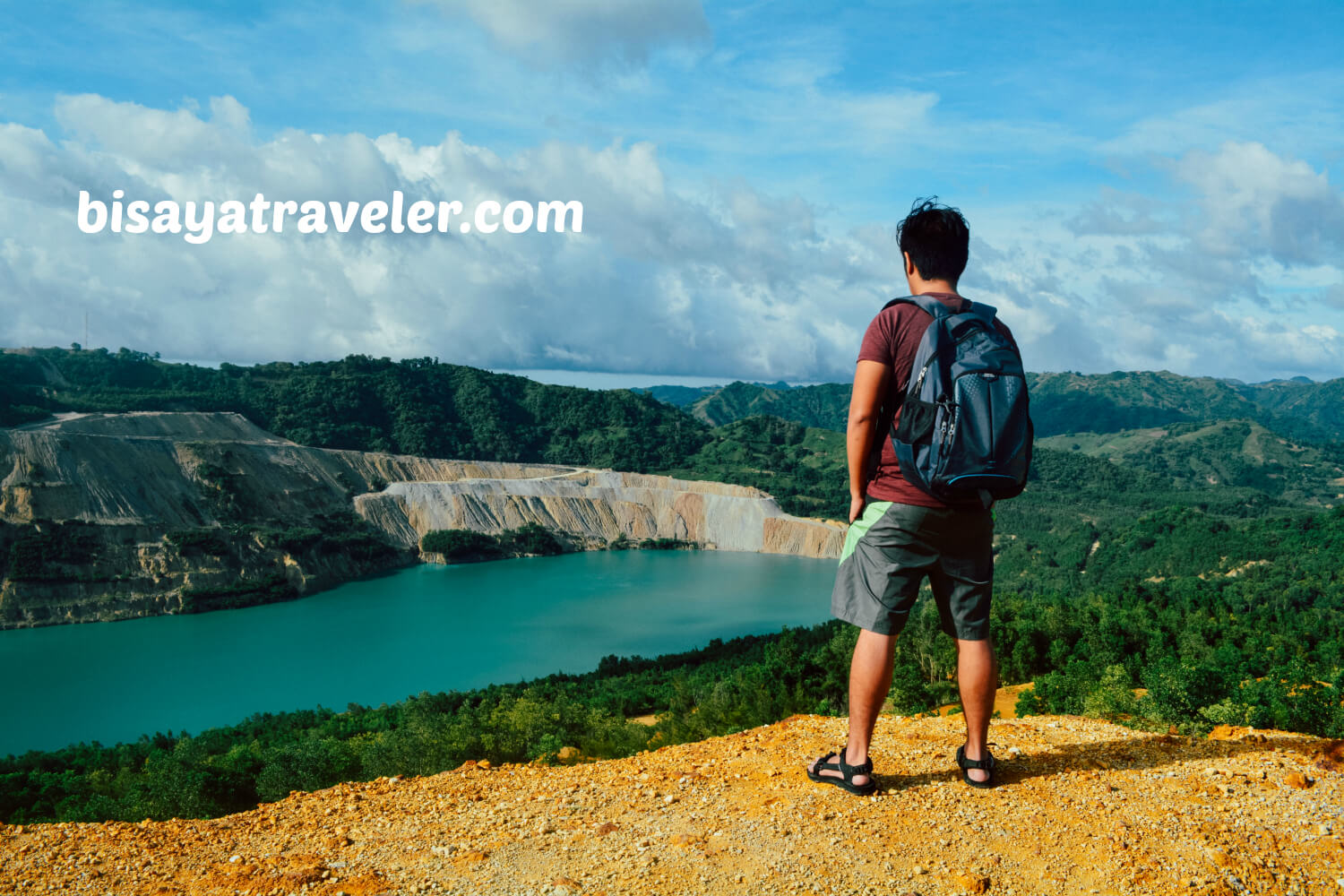 Biga Pit: A Visit To Lutopan's Controversial And Gorgeous Man-made Lake
A tour around the mesmerizing Capilla Santa Ana Museum was a great way to cap off a year full of life, colors and adventures. From elaborate Renaissance carvings to a lush and eye-catching maze garden, Capilla Santa Ana indeed gave us a plethora of striking sights and snaps. But, we didn't travel all the way to the city of Toledo, just to take a short visit around this sweet treasure trove. Just like any of Team Bang's escapades, we did have a side trip in mind to wrap up our Toledo city adventure. And this time, it was the sprawling and wonderfully weird Biga Pit in Lutopan.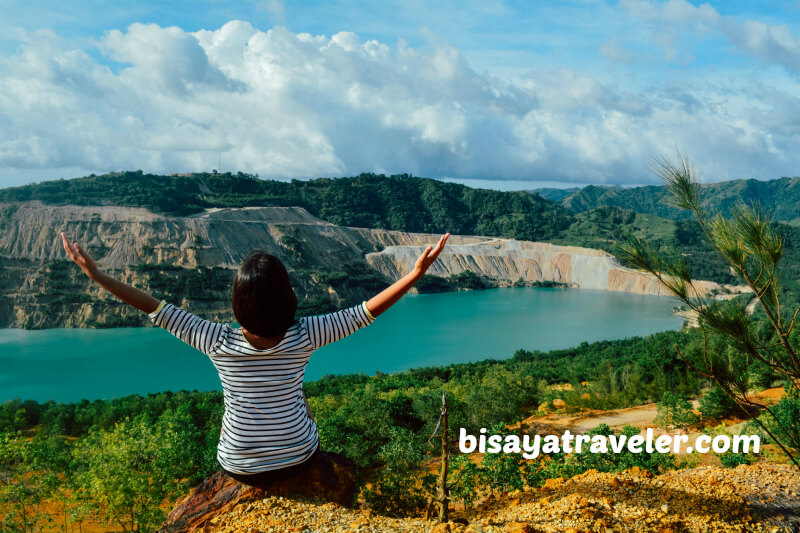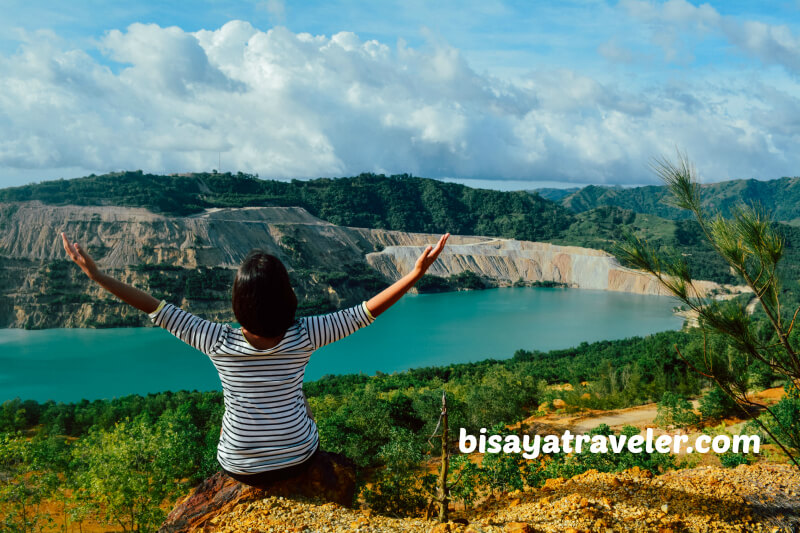 Our quick Biga Pit trip in Lutopan
So, how exactly did we get to Biga Pit? As with most millennial travelers, we at Team Bang rely heavily on blogs and travel guides to get more information about the place we're visiting. As a matter of fact, most of my trips abroad were inspired from blueprints and travel itineraries made by other travel bloggers. But since there were no valuable write-ups about Biga Pit, we had to find this relatively elusive and remote spot in Toledo the old-fashion way – by asking the locals.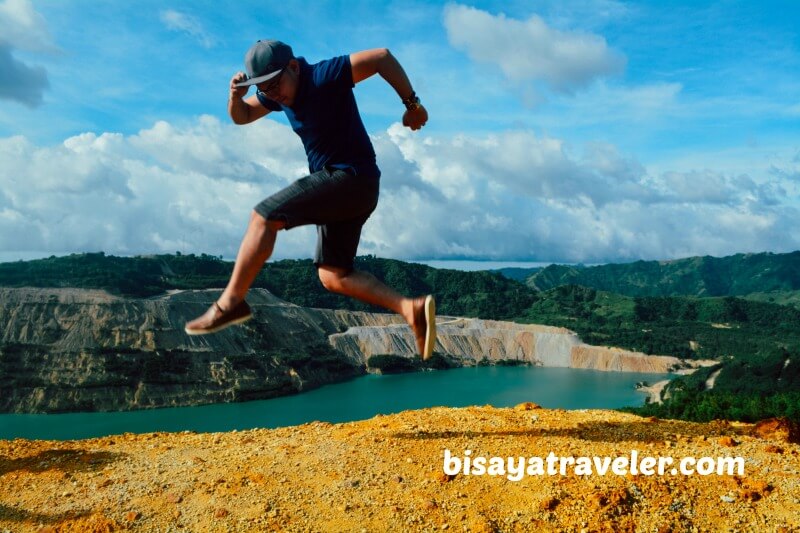 Most of the locals in Toledo proper weren't so sure of the pit's exact location. Unless you mention the names Carmen Copper or Atlas Mining, they usually don't have a clue where or what Biga Pit is all about. Ultimately, though, we found the entrance to Carmen Copper Corporation through the kindness and guidance of the locals in the area.
I thought that was the end of our journey. After all, we were already standing outside Carmen Copper Corporation.
Little did we know, guests, except those who have connections to the top dogs inside, are not allowed from visiting the intriguing pit. Also, the tour must be for educational purposes, and not (as the guards have said) for adventure and recreation.
Lieve and the rest nicely asked permission from head guard, but he didn't give in to our appeal. One of the guards even suggested that there's nothing to see in the site, except for a vast muddy wasteland. Likewise, they told us that Biga Pit isn't as scenic as most of the pictures we see on Instagram and Facebook.
But as you'd expect, we didn't let these small hiccups stop us from getting to Biga Pit. As far as I can remember, it was Idas, or also known as Laag Sparkles, who told me that there are habal-habal motorists that offer back-and-forth rides to Biga Pit.
While Lieve, Marzi, Hannah and Sherlyn were busy talking to the guards, me and Wilfred silently moved our way to the nearest habal-habal drivers, to get more information about Biga Pit. As it turns out, there were a few drivers available who knew the way to Biga Pit.
We, then, gathered the troops, and haggled with the drivers. After agreeing on a price, we took a short and slightly bumpy ride to the infamous Biga Pit of Toledo.
Eventually, we arrived at an overlooking spot where we could get a beautiful view of Biga Pit. And of course, we did have a blast snapping shots of this place.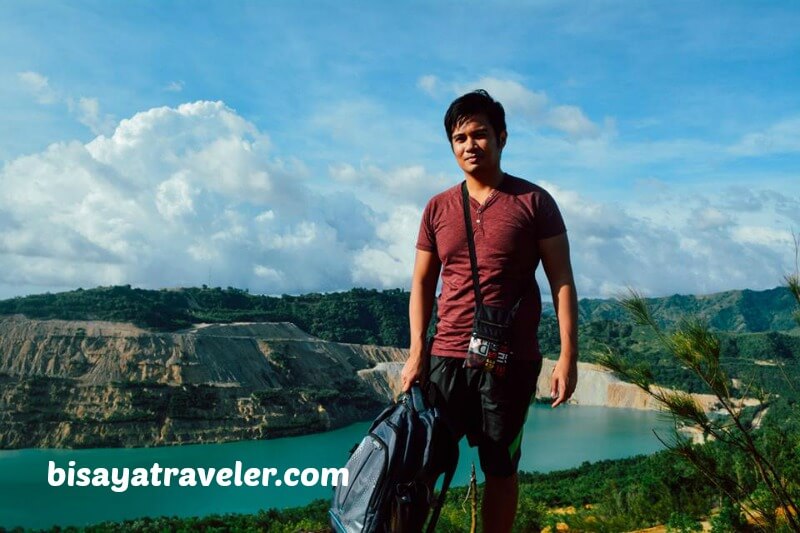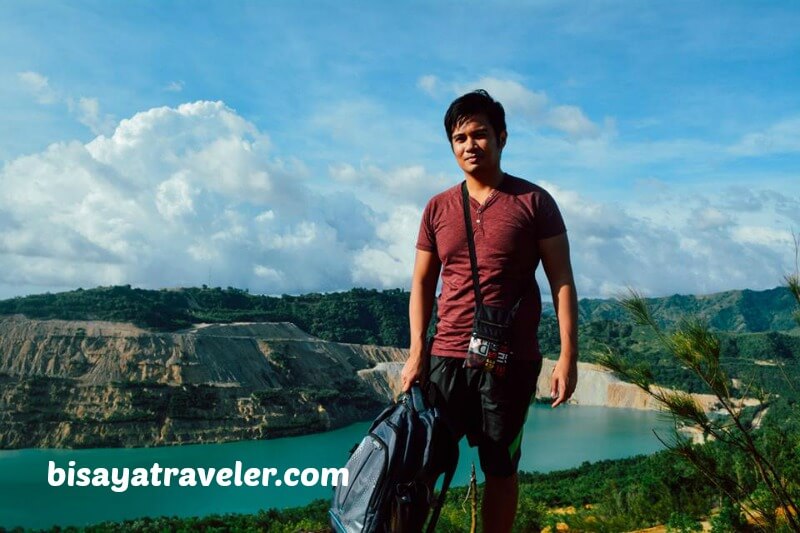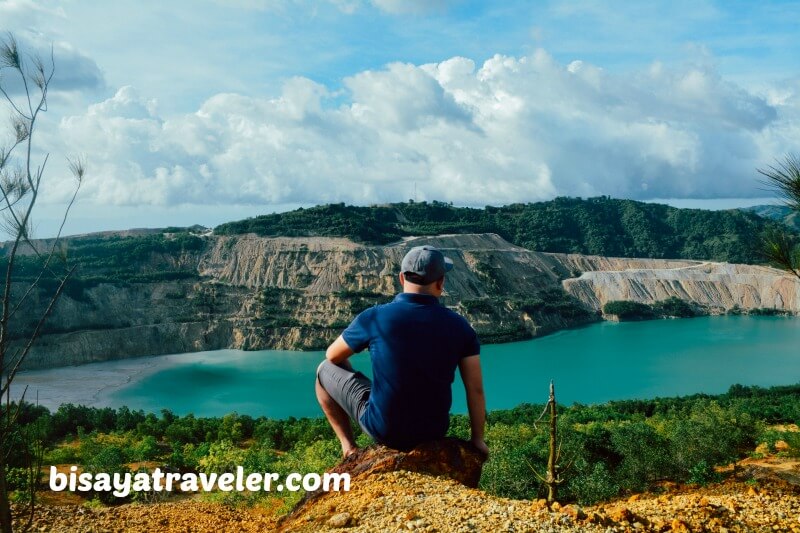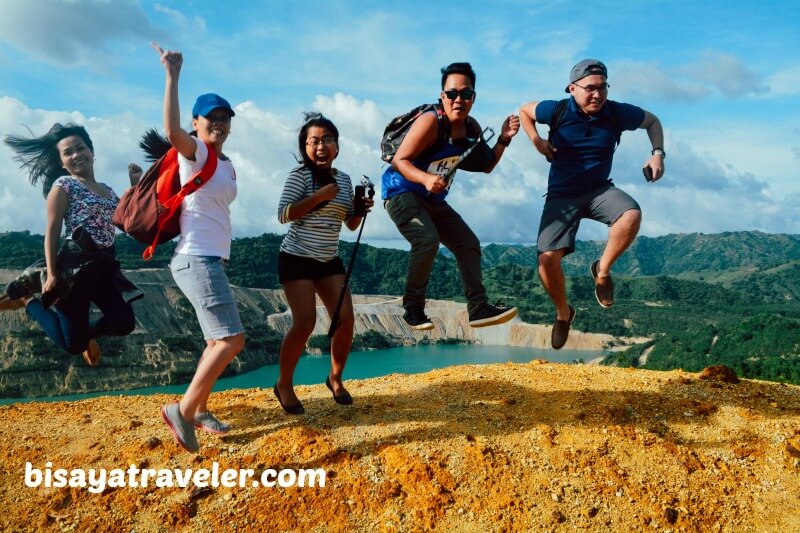 With its surrounding mountains and bluish waters, Biga Pit, in a way, reminds me of Mount Pinatubo and Moraine Lake in Banff, Canada. Unlike these extremely scenic spots, though, the pit wasn't a creation of Mother Nature. According to some folks, this blueish pit is essentially a waste disposal site that has been under fire for reportedly causing a handful of environmental issues.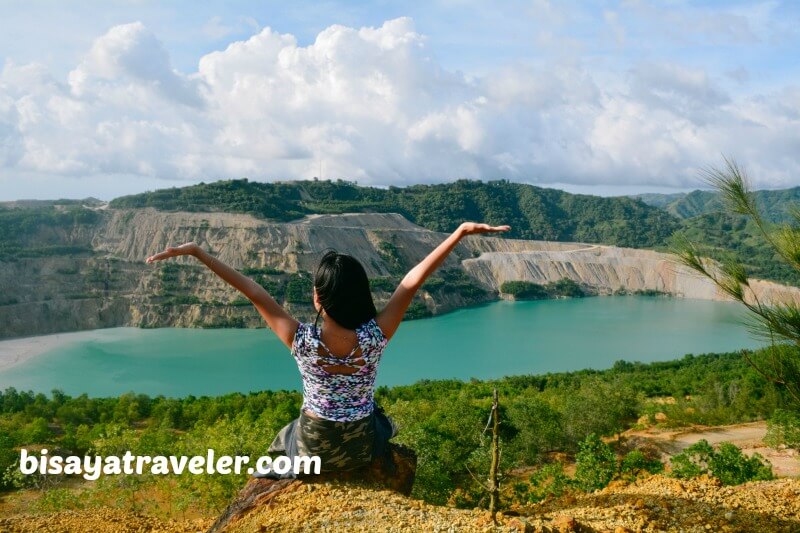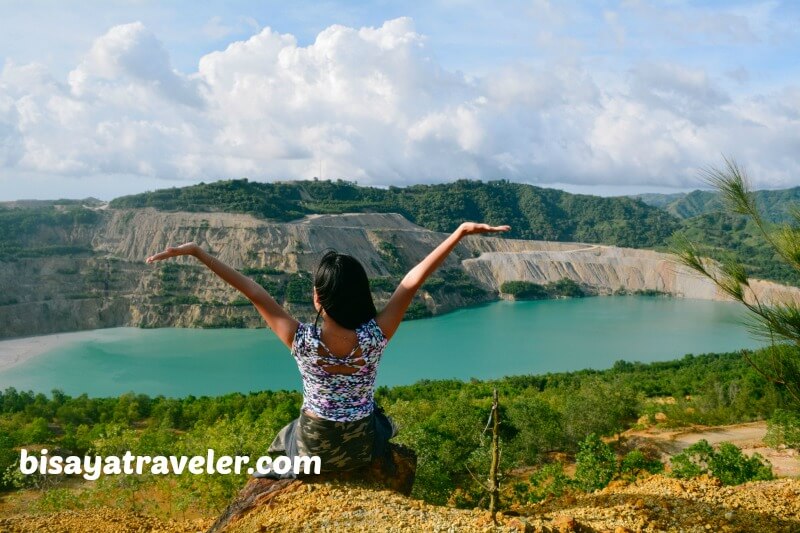 I'm no expert, when it comes to chemistry and environmental conservation, and I really don't know the whole story, so I'm not going to comment about that.
Why does Biga Pit look breathtakingly beautiful, when it is in fact made up of toxic waste? Maybe, I should seek answers from Team Bang's official prayer leader Donna – our charming Miss-Earth-worthy hiker who also happens to be a brilliant chemical engineer.
While it's a little controversial, I must say the pit is quite a sight to behold.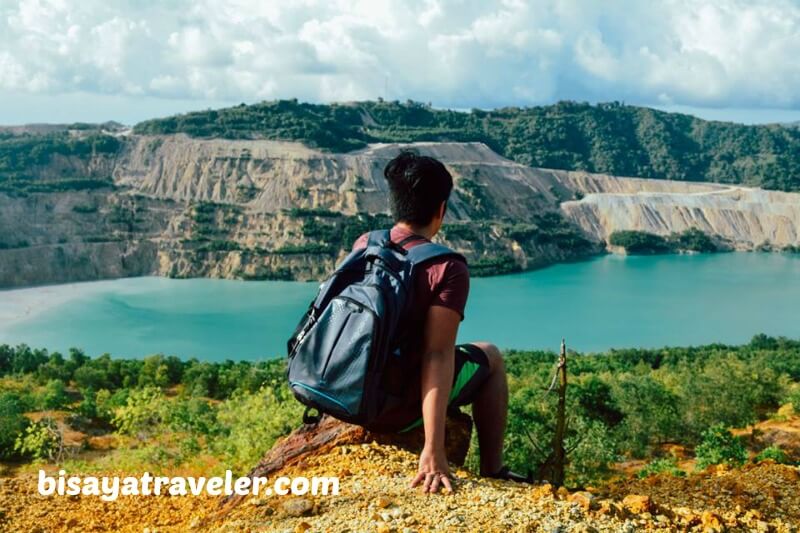 As for the guard's remarks, they could be right! Personally, I don't think there's any awe-inspiring sight of Biga Pit when viewed from below. But, from this vantage point, Biga Pit definitely looks stunning.
Our expenses (including Capilla Santa Ana)
Bus ride (Jegans) to Toledo City – 60 PHP
Capilla Santa Ana admission fee – 100 PHP
Tricycle ride to Toledo proper – 8 PHP
Lunch – 100 PHP (You may bring your own lunch if you're on a tight budget)
Jeepney fare to Lutupan – 20 PHP
Back-and-forth Habal-habal ride to Biga Pit – 100 to 150 PHP per person (Just made another visit Biga Pit recently. Fare is now PHP 100 per person and per way)
Bus fare to Cebu from Lutupan – 40 PHP
Estimated total – 478 PHP
You don't have to go to as far as Toledo city proper to catch a ride to Biga Pit. From Cebu City, you may take a bus to Lutupan (40 PHP), where you can take a habal-habal ride to Biga Pit. In our case, we took a ride to Toledo because we had plans to see and explore Capilla Santa Ana.
Our Toledo city itinerary
Did you miss our Toledo city itinerary from my Capilla Santa Ana post? Then, make sure to check out our travel plan!
7:30 AM: Meet-up at Cebu City South Bus Terminal
8:30 AM: Depart from the bus terminal
10:30 AM: Arrive at Capilla Santa Ana (Usually it takes less than 2 hours to reach Toledo via Naga)
11:00 AM: Start of the tour in Capilla Santa Ana
11:30 AM: End of the tour/ photo shoots inside the chapel
12:00 NN: Explore The Labyrinth
12:45 PM: Depart from Capilla Santa Ana
01:30 PM: Lunch at McDonalds
02:00 PM: Depart from Toledo fish market
02:30 PM: Arrival at Carmen Copper Corporation in Lutopan
03:00 PM: Depart from the gates of Carmen Copper Corporation via habal-habal
03:30 PM: Arrival at Biga Pit
04:30 PM: Depart from Pit
05:00 PM: Arrival at Bus stop/ Depart from Lutopan
06:30 PM: Arrival at Cebu City South Bus Terminal
Biga Pit travel tips:
Wear sunscreen, bring a hat, pack an umbrella, and protect your skin from direct sunlight exposure.
If you're not comfortable saying the word "Biga" in front of other people, save a picture or two of Biga Pit on your smartphone, and show it to the habal-habal driver or to anyone when asking for directions.
Make Biga Pit just a part of Toledo city trip. Besides enjoying the view, there aren't a lot of things to do in Biga Pit.
Bring water and snacks. Keep in mind, there are no stores and stalls selling food and drinks in the area.
Take your time, and live in the moment.
Got a question? Just contact me via my Facebook page, and I'll try my best to answer it, as quickly as I can.